The recent protests and riots in Iran and the widespread reactions to the developments remained the top story of all Iranian newspapers on Saturday.
Many papers particularly covered a recent UN Security Council meeting on the Iran protests, which was held at the request of the US, but turned into a tribune for the member states to express their support for the Iran nuclear deal and to call for avoiding interference in Iran's domestic affairs.
The comments by Ayatollah Ahmad Khatami, the Friday prayers leader in Tehran, about the recent developments also received great coverage.
The above issues, as well as many more, are highlighted in the following headlines and top stories:
19 Dey:
1- VP: Some Want to Turn Iran into Police State
2- Iranian People Renounce Rioters: Wave of People's Presence from Tehran to Khorasan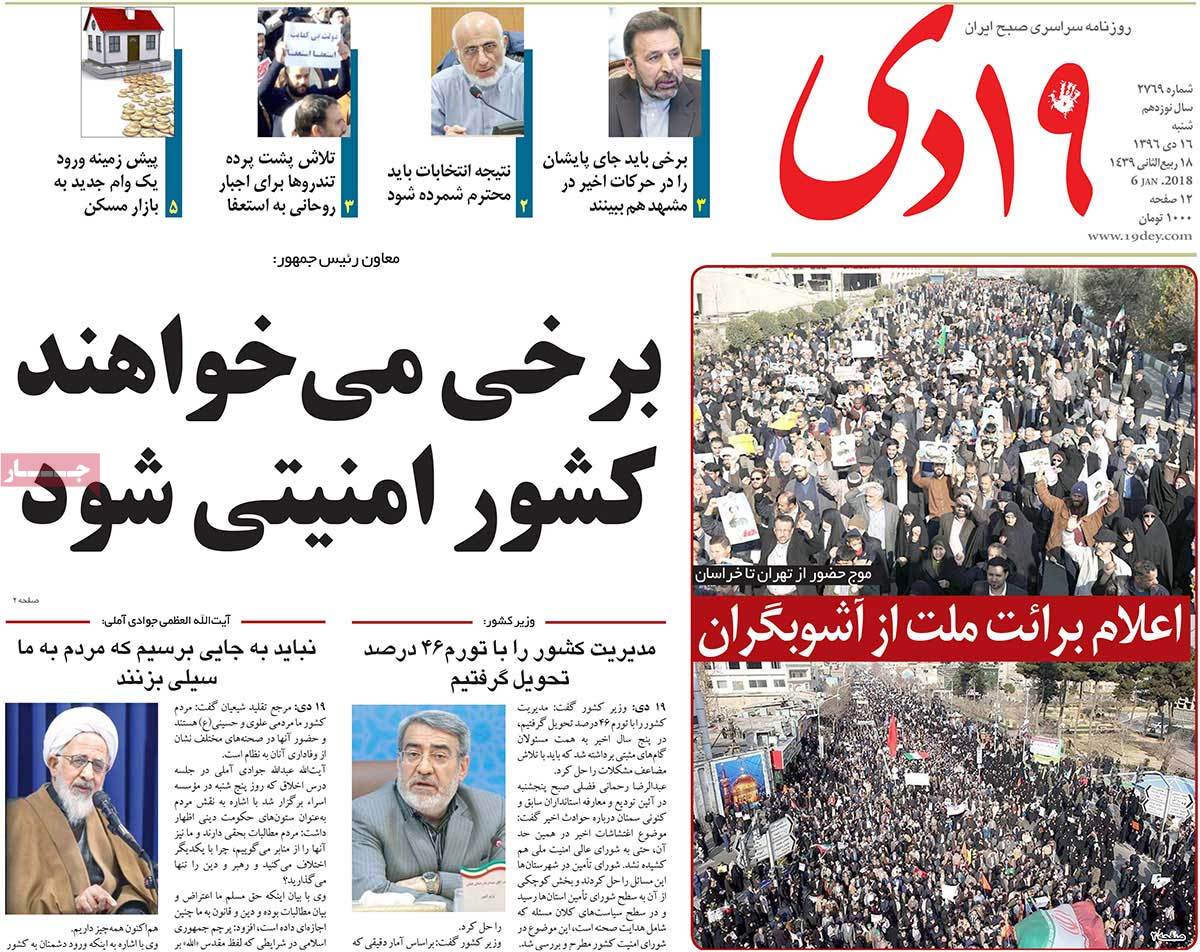 ---
Abrar:
1- Interior Minister: At Most 42,000 People Attended Protest Ralliees
2- Intelligence Ministry's Statement about Arrest of Terror Group in Piranshahr
---
Afkar:
1- Secrets behind Trump's Hasty Support of Riots in Iran
Trump Seeks to Re-Impose Iran Sanctions
2- US Blacklists Five Iranian Bodies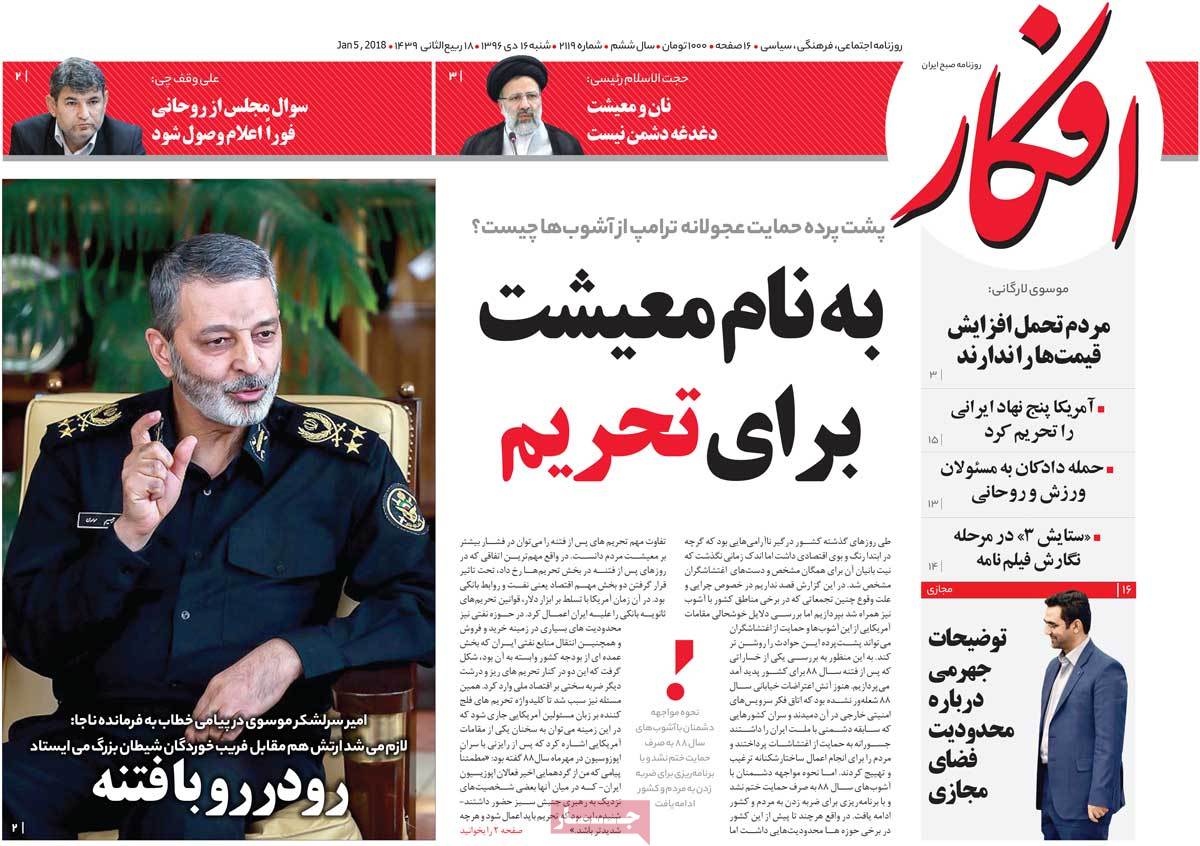 ---
Aftab-e Yazd:
1- People Forced to Buy Low-Quality Chinese Cars!
2- Prosecutor General: Michael D'Andrea Main Plotter of Recent Unrect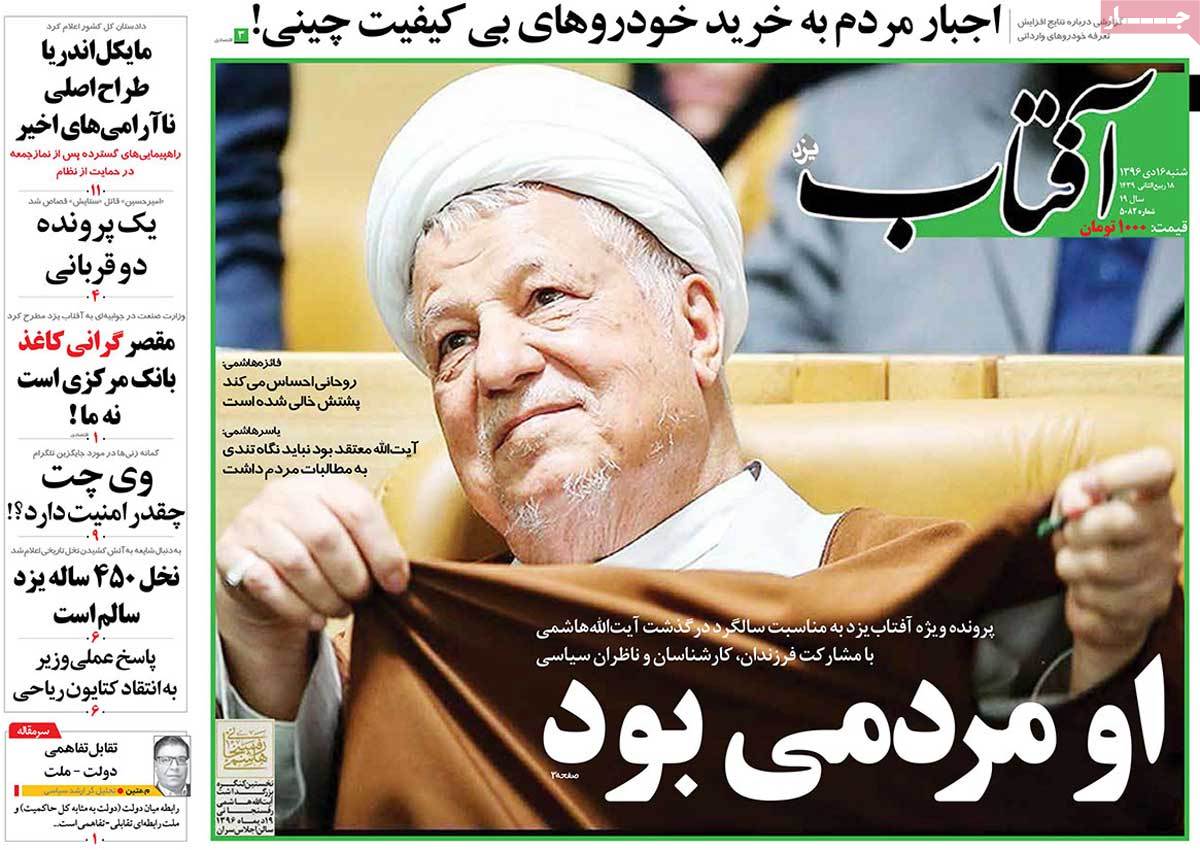 ---
Arman-e Emrooz:
1- Opponents of Gov't in Mashhad Calling for Rouhani's Resignation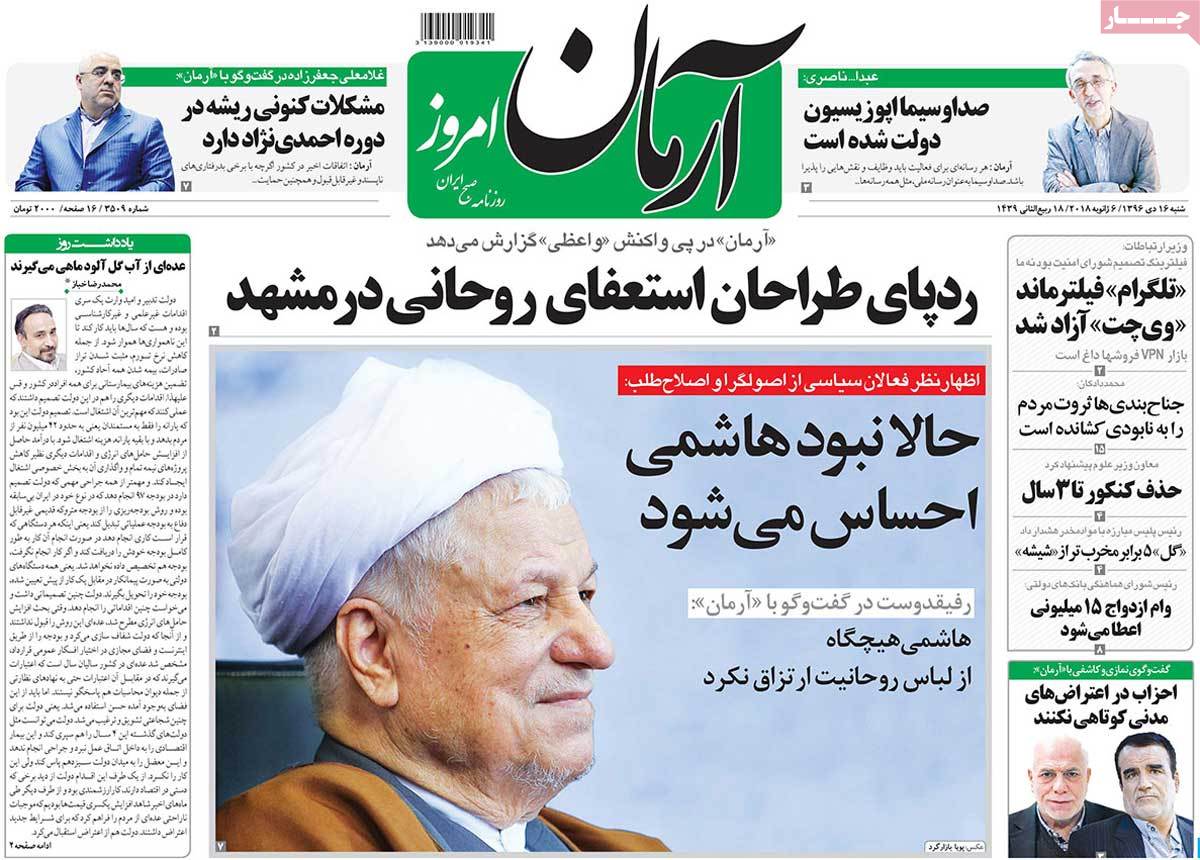 ---
Ebtekar:
1- ICT Minister: Iran's Security Council Imposed Temporary Bans on Cyberspace
2- Trump Planning to Kill Iran Nuclear Deal
Pence: Trump Will Refuse to Certify Iran's Compliance with JCPOA in Near Future
---
Etemad:
1- A Roundup of Recent Developments and Issue of Iran's Security [Editorial]
2- Analysts Underline Need for National Dialogue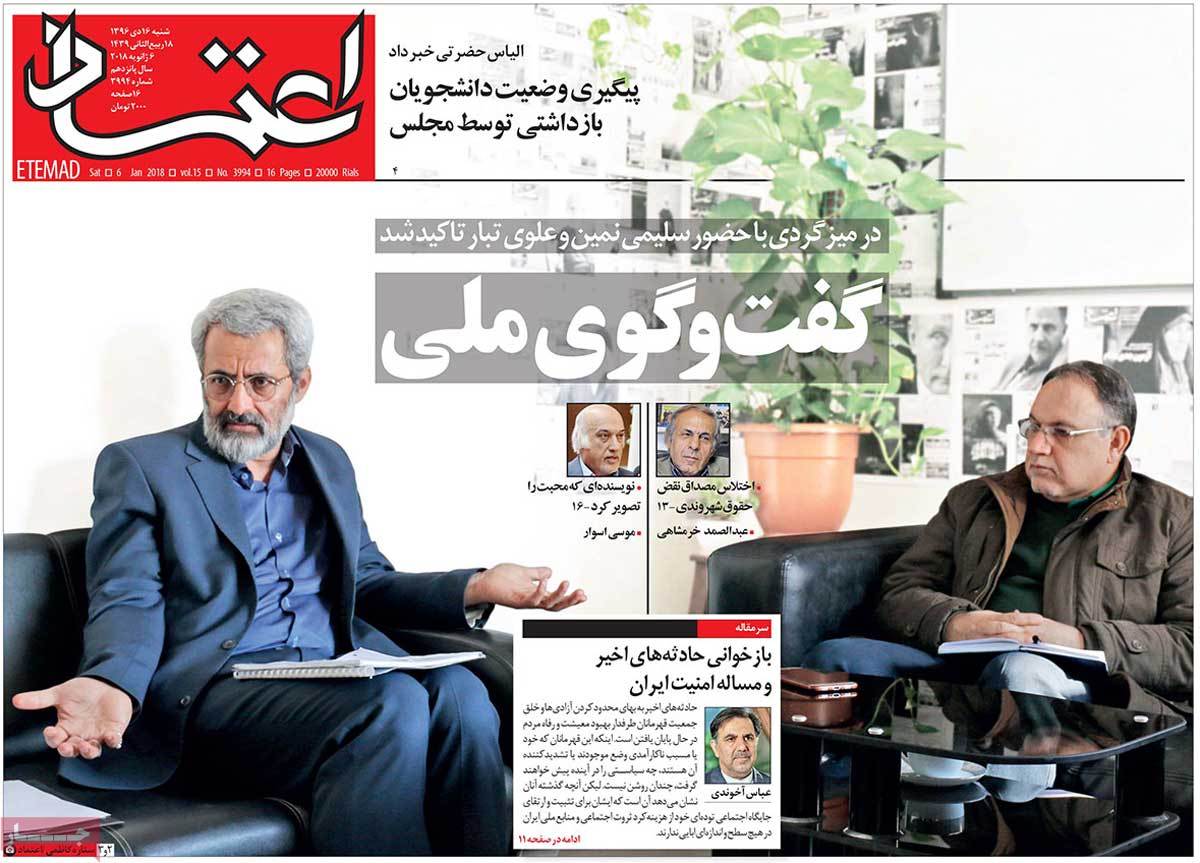 ---
Ettela'at:
1- Worshippers Condemn US' Meddling in Iran's Domestic Affairs
People: Protesters Distinguished from Those Swayed by Foreign Services
2- Nasrallah: Plots of Trump, Netanyahu, Al Saud for Iran Foiled
3- Erdogan Urges Foreigners Not to Interfere in Iran's Internal Affairs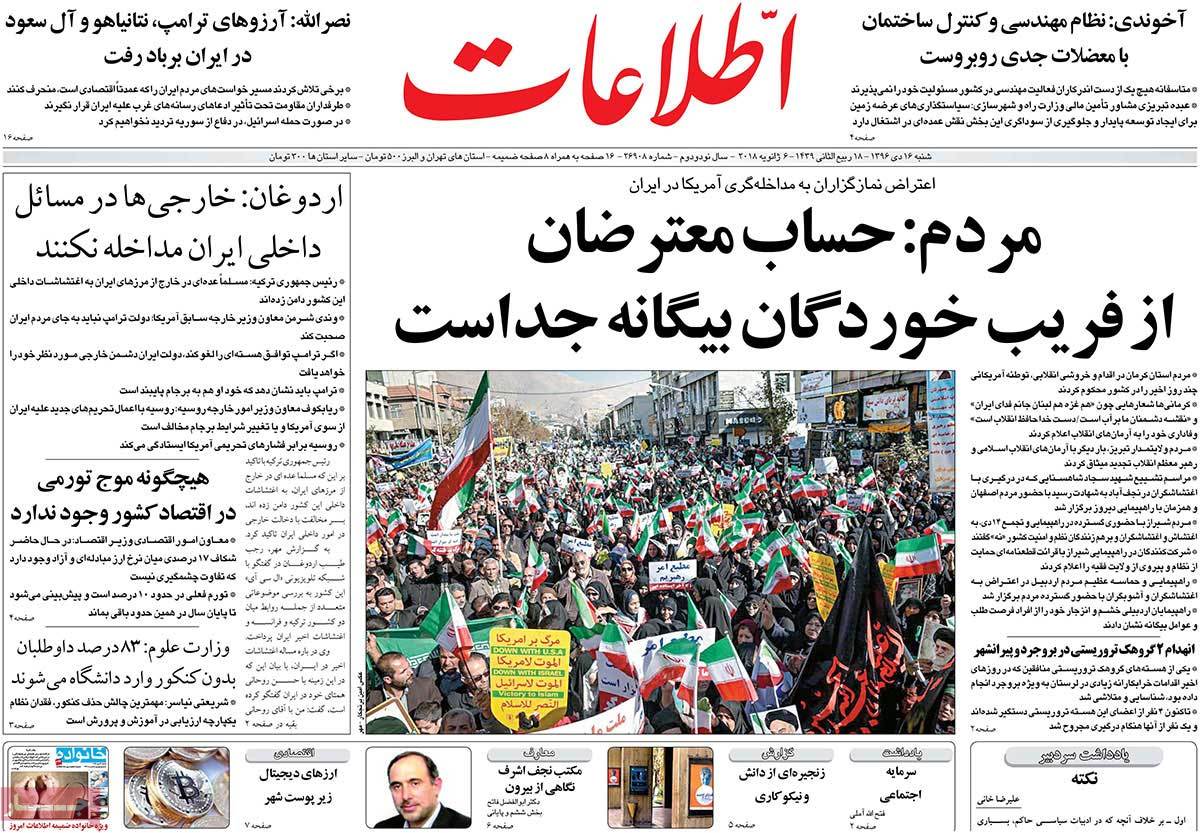 ---
Farhikhtegan:
1- Duel of Iranian Government, Telegram: Future of Social Media in Iran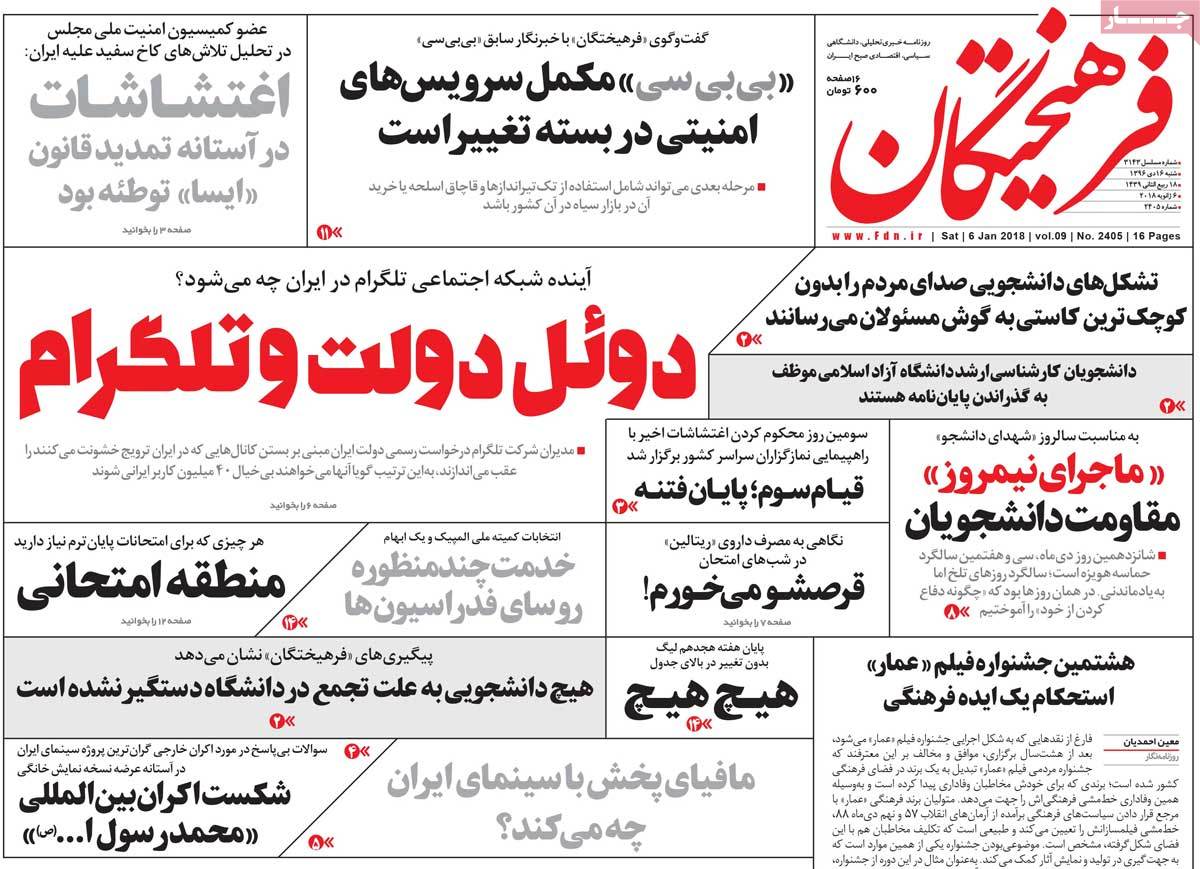 ---
Iran:
1- Iran's Economy Harmed by Street Violence
2- Russia: Iran's Domestic Affairs Have Nothing to Do with UN Security Council
---
Javan:
1- Chinese President to Communist Party: Prepare for War against US
2- Bin Salman Offspring of Trump's Coup
3- Pakistan's Closeness to Iran, China, Turkey amid Tension with US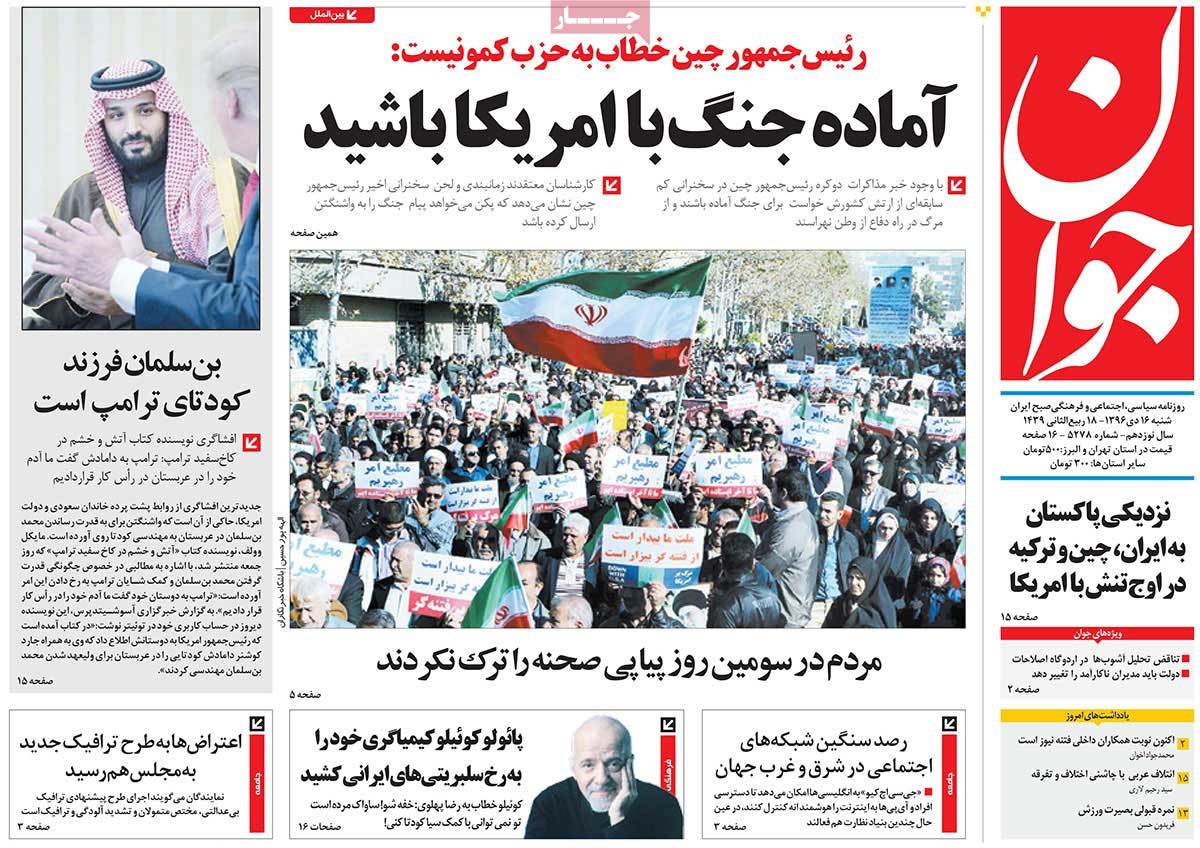 ---
Jomhouri Eslami:
1- Int'l Protests against Trump's Interference in Iran's Domestic Affairs
2- US Writer: Trump Said We'll Help Our Own Man Rise to Power in Saudi Arabia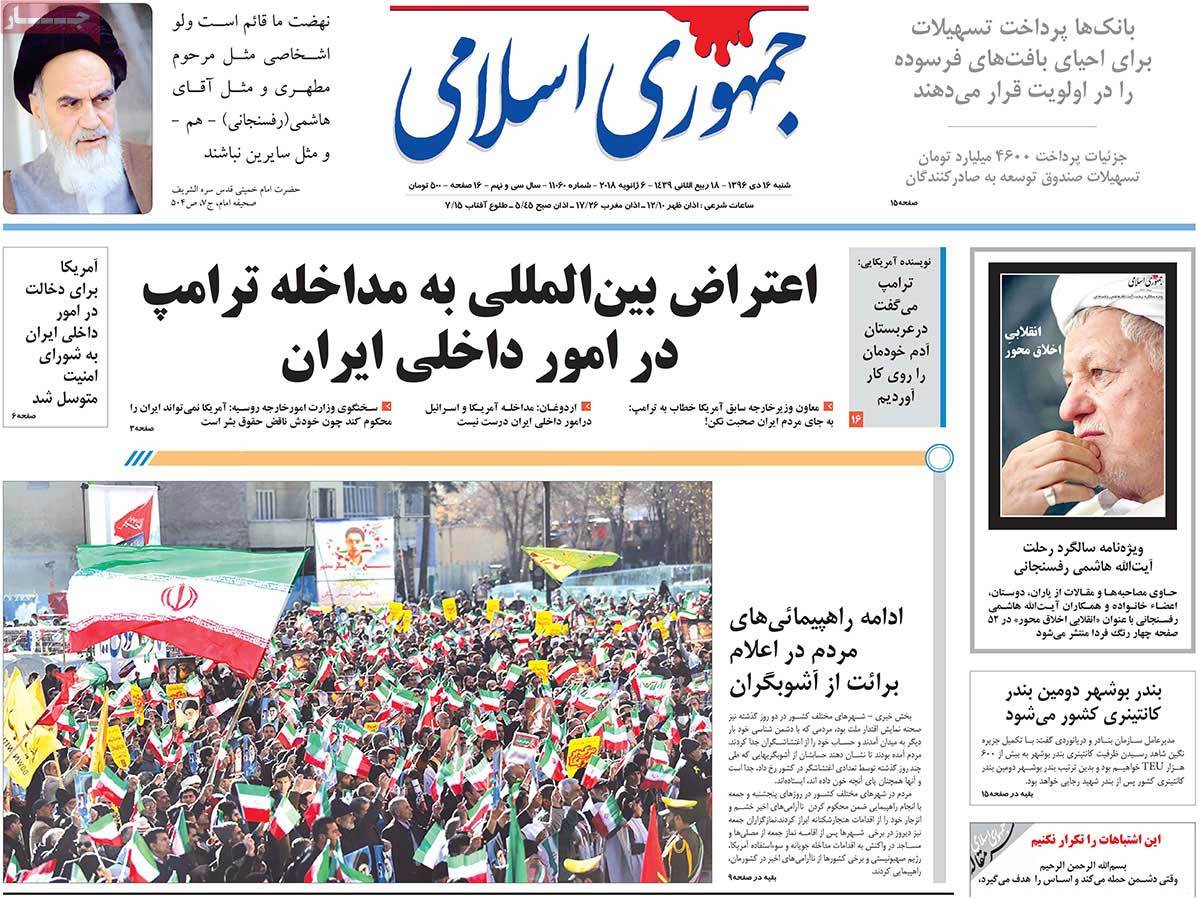 ---
Ka'enat:
1- Security Official Rejects Reports about Cultivation of Marijuana in Tehran
It's Mostly Planted in Provinces Surrounding Tehran
---
Kayhan:
1- People Did Their Best, It's Now Officials' Turn
2- ISIS' Criminal Mufti Arrested by Iraqi Security Forces in Mosul
3- Zionists Overexcited about Rioters' Moves against General Soleimani
---
Khorasan:
1- Trump Outraged by Mr Strategist's Whistleblowing
Trump Harshly Attacks His Former Strategist
2- Nation Rises against Riot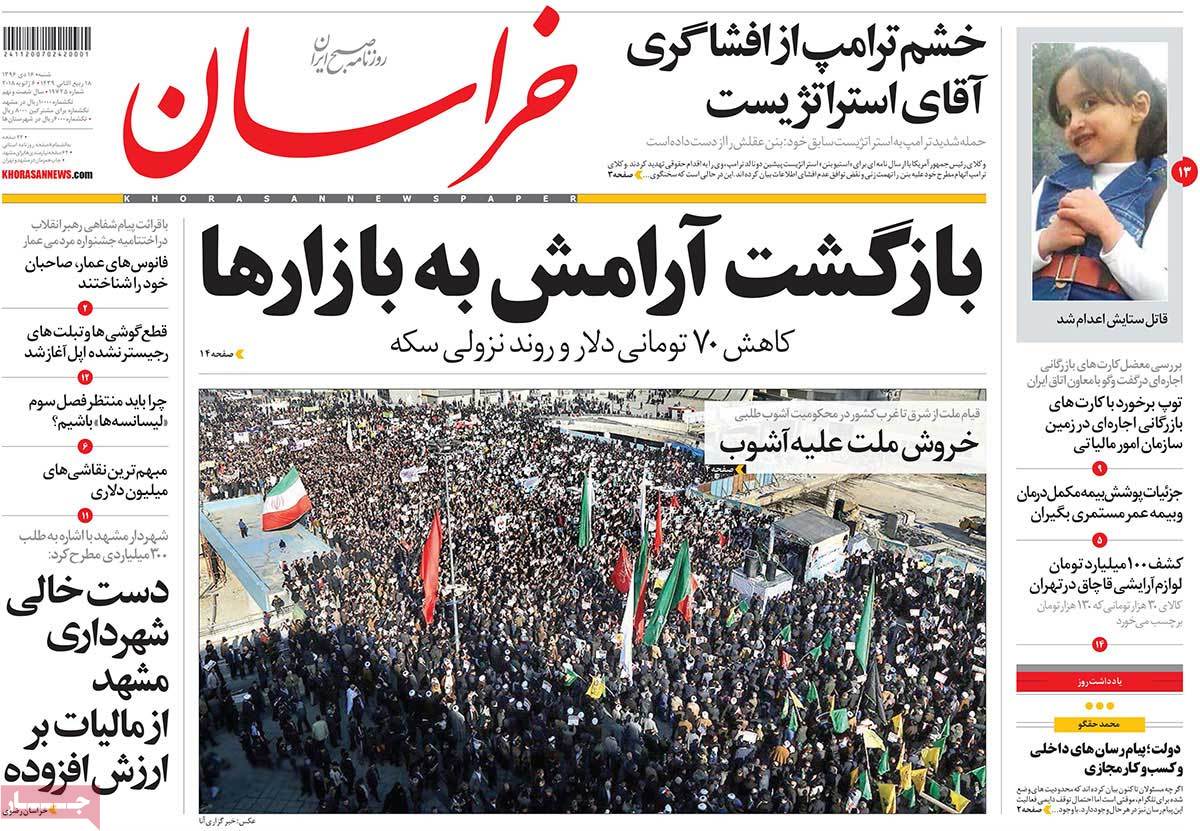 ---
Resalat:
1- Ayatollah Khatami: Trump, Netanyahu Defeated in Recent Sedition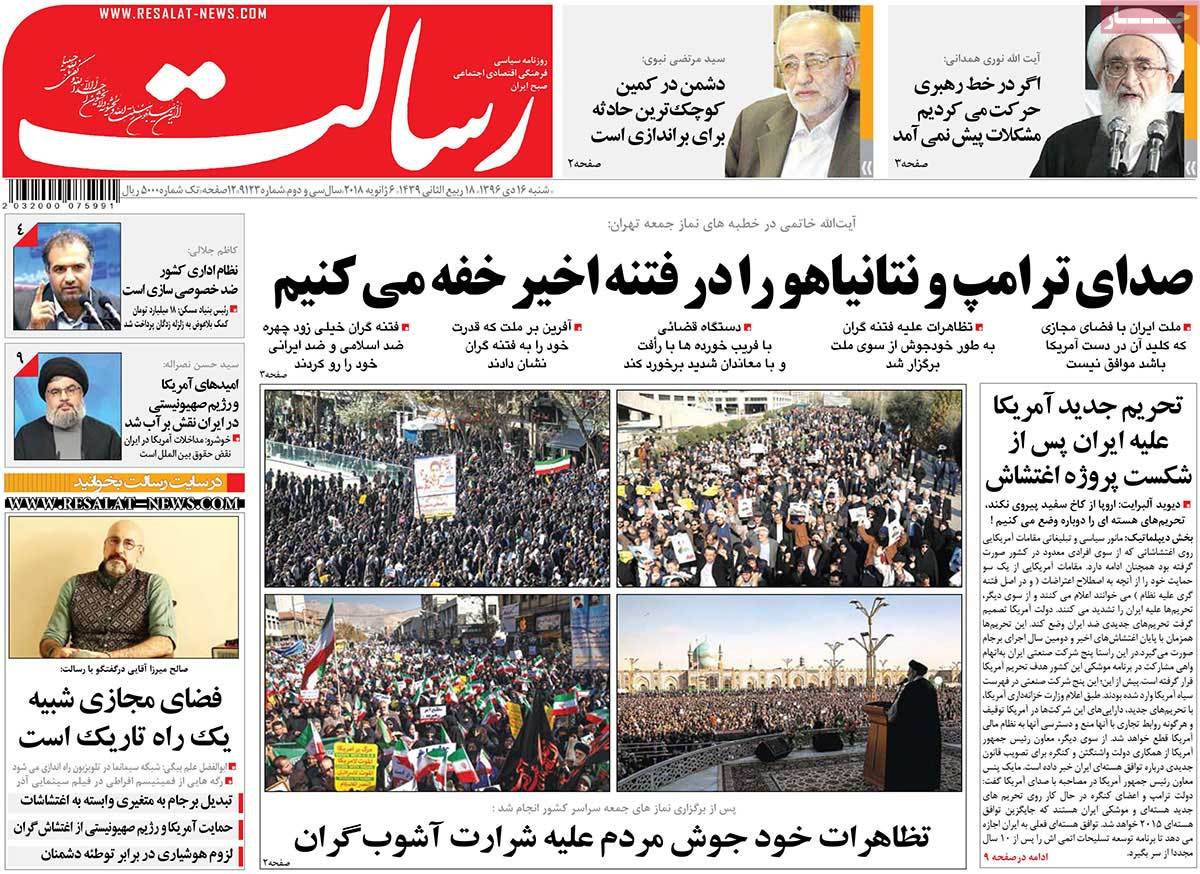 ---
Shargh:
1- Ayatollah Khatami: "Death to Price Hikes" Is Our Slogan Too
2- Washington Holding New Stances against Iran
US Threatens to Impose Sanctions on Iran for Human Rights Violations
3- Who Pays Prices of Protests [Editorial]