Newspapers today widely covered the remarks made by Iranian Foreign Minister Mohammad Javad Zarif about the nuclear deal between Tehran and world powers and Trump's upcoming decision about the JCPOA.
Zarif left Tehran for Moscow on Wednesday to hold talks with his Russian counterpart Sergei Lavrov, and then departed for Brussels where he later met his counterparts from Germany, France, and Britain as well as the EU foreign policy chief. The talks are mainly focused on the nuclear deal and Iran's compliance with its commitments.
The recent unrest in Iran and the ensuing developments, particularly the situation of detainees and those behind the riots, also remained a top story today.
The above issues, as well as many more, are highlighted in the following headlines and top stories:
Abrar:
1- Zarif: Even Trump Himself Doesn't Know What He's Going to Do with JCPOA
2- Iran's Water Condition below Normal Level
3- Tehran Province Justice Chief: People Want Judiciary to Issue Fair Sentences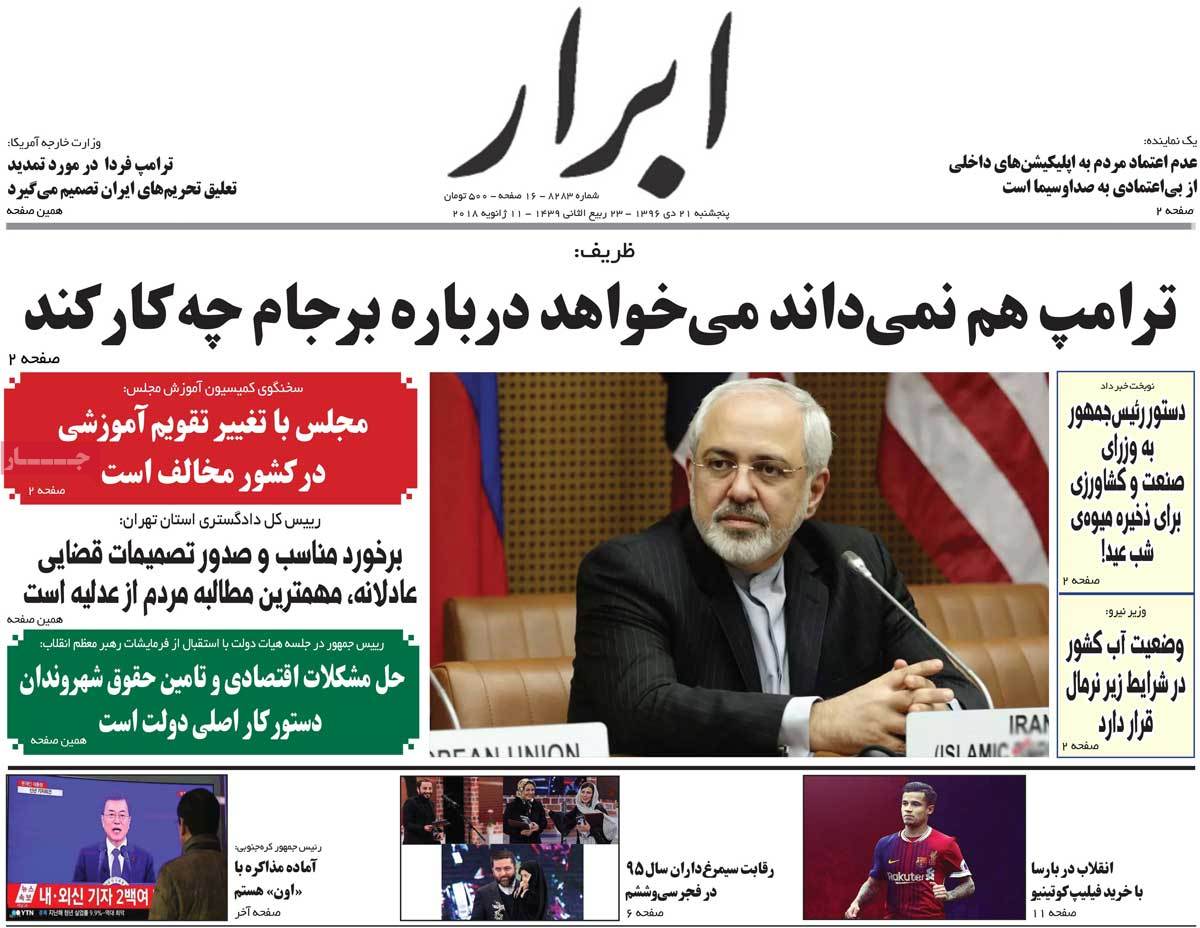 ---
Aftab-e Yazd:
1- China Not Taking Risk in Containing Fire of Iranian Ship
2- Reformist Figure: Economic Rift between Europe, US Opportunity for Iran
3- Telegram Filtering, Test for Rouhani; Telegram Messenger Still Unblocked
---
Arman-e Emrooz:
1- Ayatollah Mousavi Bojnourdi: We Should See People as Priority
2- Rouhani Welcomes Leader's Remarks about Recent Unrest
Don't Attack Gov't, Wait and See How We Resolve Problems
3- Countdown Begins: US to Make Decision about Iran Nuclear Deal
---
Ebtekar:
1- Interior Minister Tasked with Starting Probe into Casualties of Unrest
2- Zarif: Europe Does Not Know What Decision Trump Will Make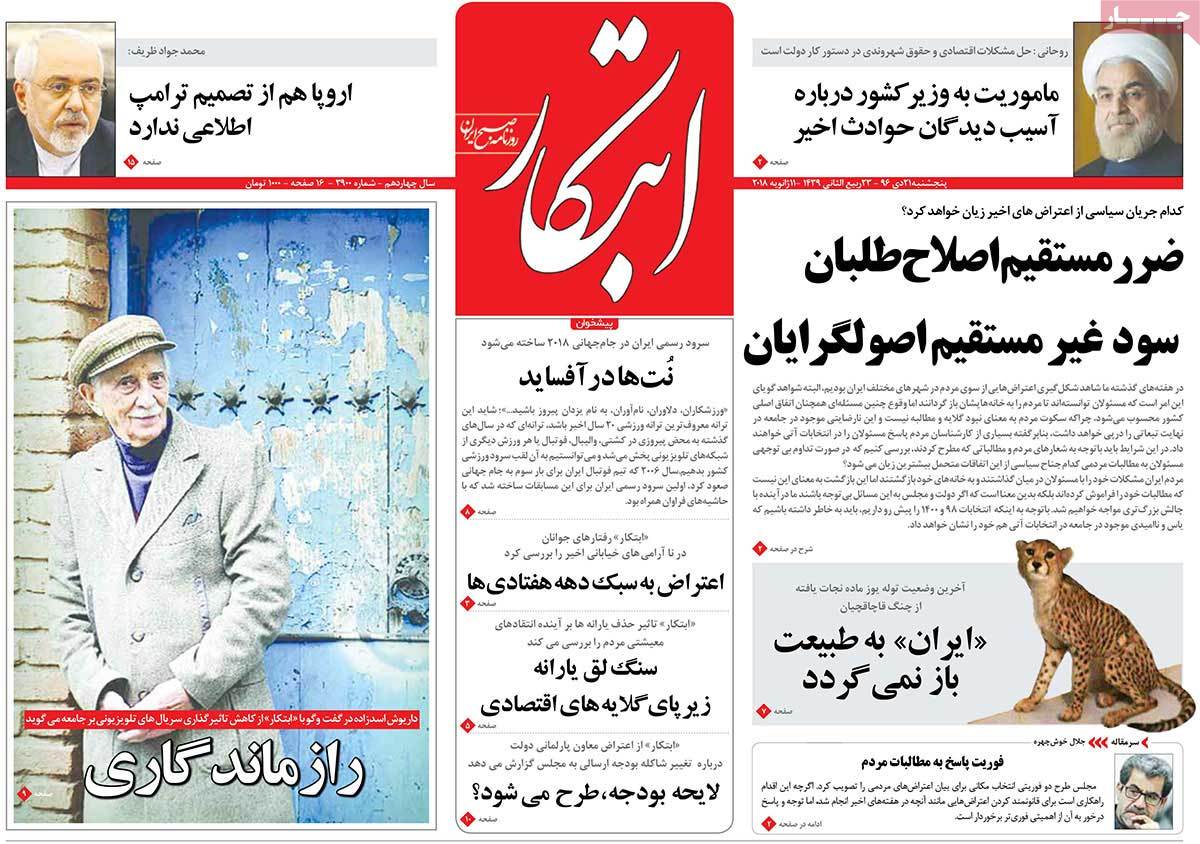 ---
Ettela'at:
1- Zarif: World Community Must Stand against Anti-JCPOA Measures of US
2- Islamic Awakening Growing in Oppressed Countries: Iran Leader's Chief of Staff
3- Iranian Doctor Malekzadeh Receives Honorary Medal of Int'l Cancer Research Agency
4- Rouhani: Government to Focus on Eradication of Absolute Poverty Next Year
5- Nasrallah: Resistance Forces Will Definitely Enter al-Quds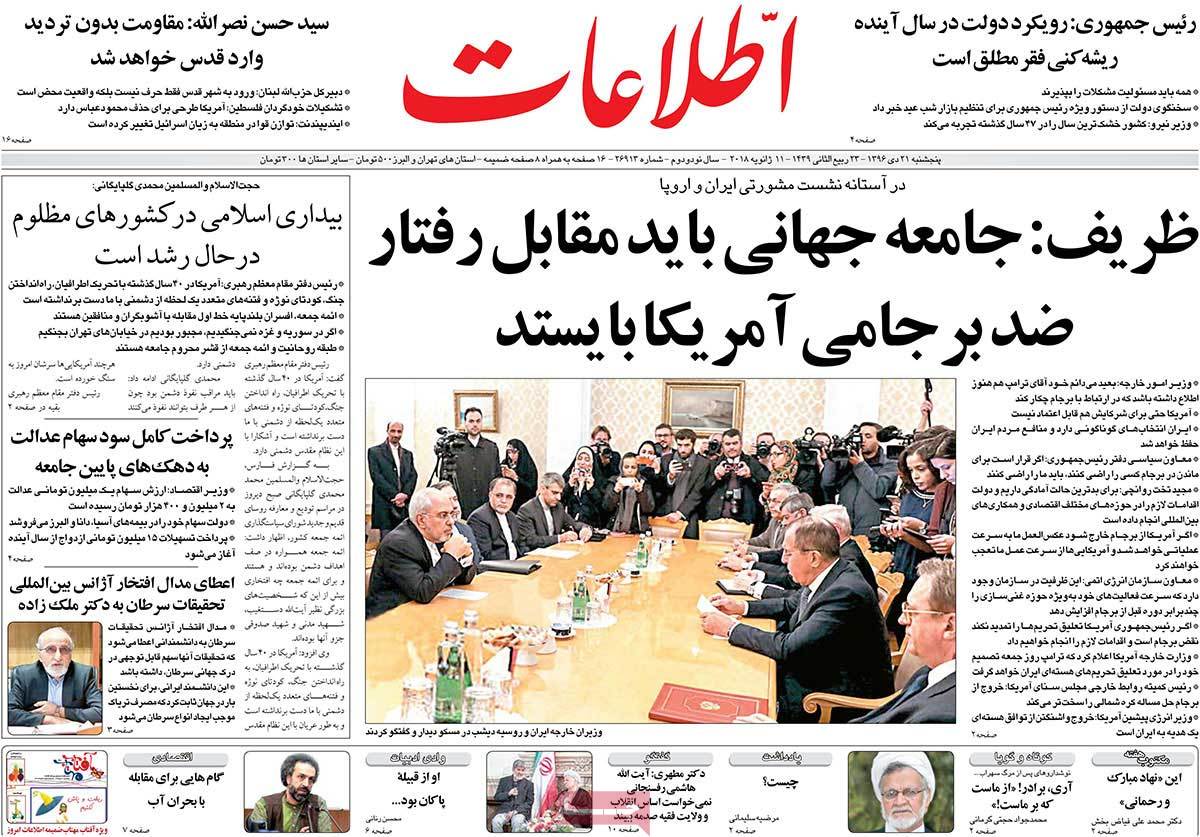 ---
Iran:
1- Gov't Expects Parliament to Complete Proposed Budget, Not to Change It
2- Rouhani: We Are All Responsible
3- Iran Enters Driest Year in 25 Years
---
Javan:
1- Iran's Uranium Warning to US Withdrawal from JCPOA
If Trump Violates Iran Nuclear Deal, We'll Speed Up Uranium Enrichment
2- Raising Issue of Sanctions on State TV Makes IRIB's Responsibility Heavier
3- European JCPOA like Swimming in Mirage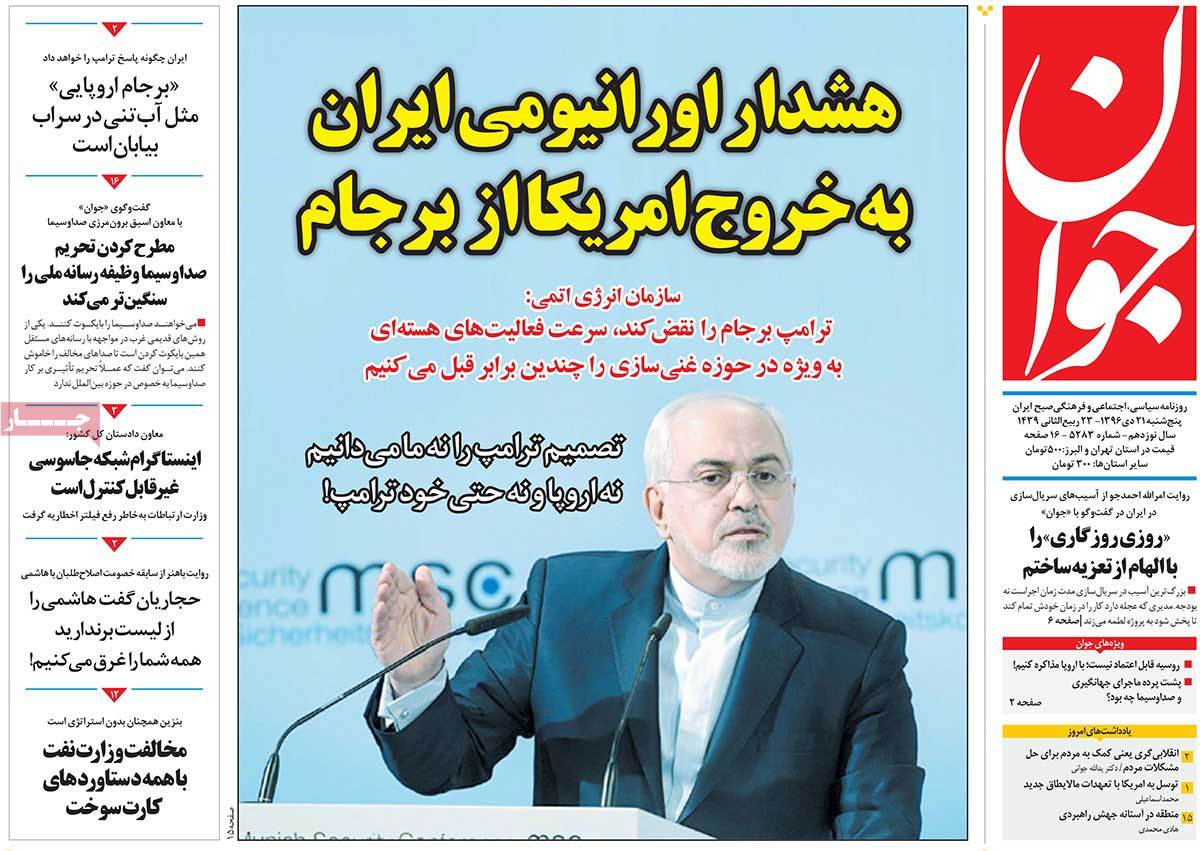 ---
Jomhouri Eslami:
1- Foreign Ministry Shows Harsh Reaction to US Congress' Support for Rioters
US House's Meddlesome Resolution Stems from American Rulers' Hegemonic Nature
2- Rouhani: Resolving Economic Problems, Securing People's Rights Main Priority of Gov't
3- Deviant Elements Try in Vain to Question Ayatollah Khamenei's Appointment as Leader
---
Kayhan:
1- Next Year's Budget: Remedy or More Pain for People?
2- Malaysian Int'l Board: Al Saud Not Capable of Running Mecca, Prophet's Mosque
Muslim World Must Take Action
3- Anti-Iran Resolution Passed in US House to Support Rioters
4- Red Carpet for Enemies: Giving Management of Public Opinion to Aliens
5- European Institute: Several Saudi Princes Executed; Al Saud Plans to Control Protests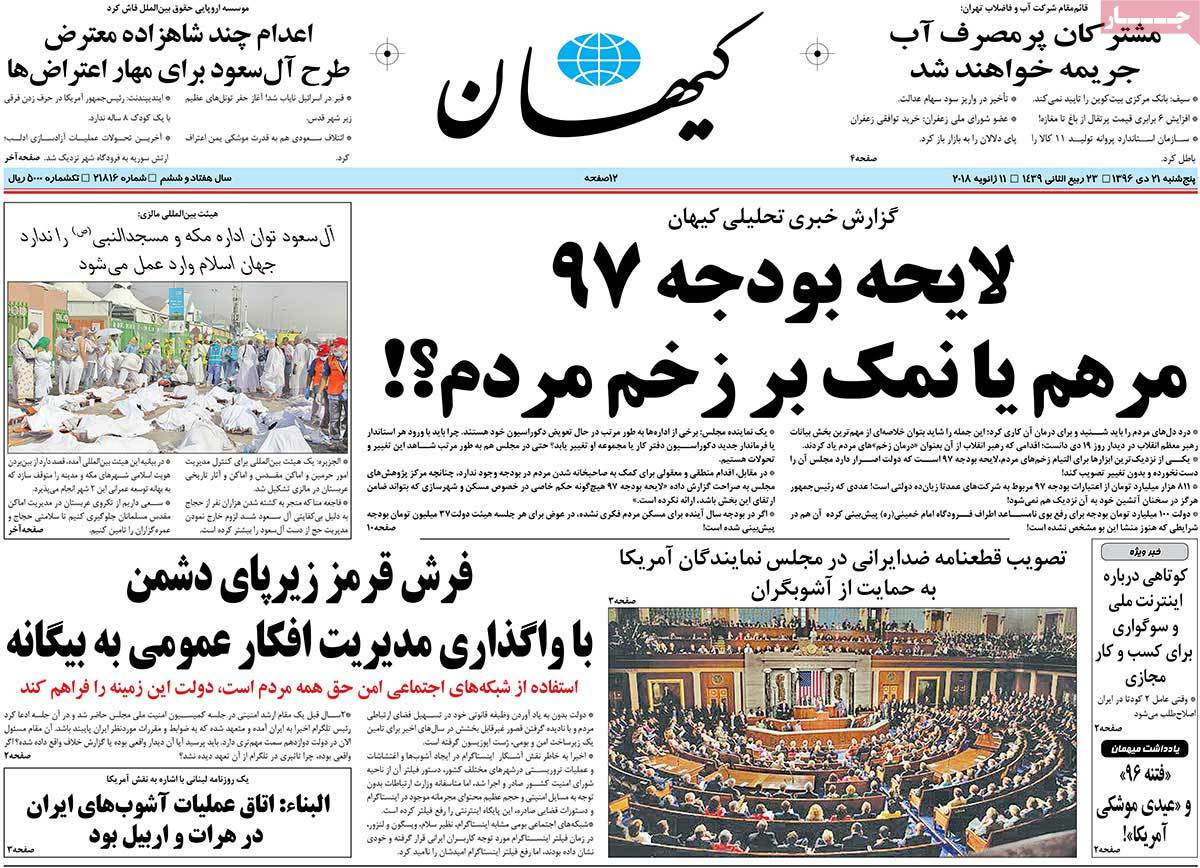 ---
Resalat:
1- We Should Beware of Enemy's Infiltration: Iran Leader's Chief of Staff
2- Central Bank Governor: We Don't Approve of Bitcoin; People Should Be Careful
3- Ayatollah Makarem Shirazi: Officials Should Visit People, Listen to Their Demands
4- Similarities between 1953 Coup, Recent Unrest
5- Iran's Traditional Medicine Accepted by World Health Organization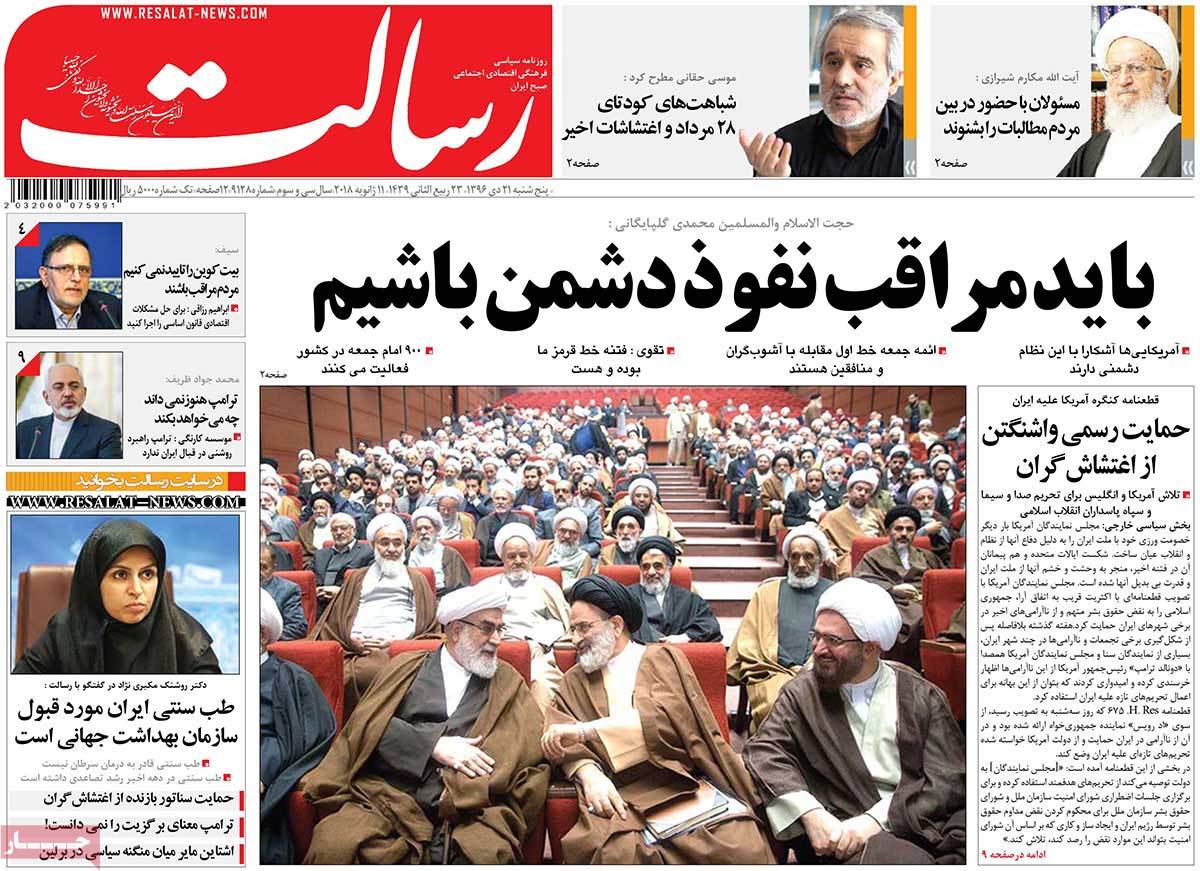 ---
Shargh:
1- Reformist MPs Call for Visiting Evin Prison
2- Interior Minister Holds Talks with Economic Activists
3- Scenario of Iran's Elimination from FIFA World Cup