The failed attempt by the UK and its allies at the UN Security Council to pass an anti-Iran resolution remained a top story today.
Several papers also covered the fluctuations in dollar rate and the ongoing actions taken by the Central Bank to control the forex market.
Also a top story was the measures taken by the Rouhani administration to make people prepared for a water crisis in the country, especially a recent conference attended by Deputy Foreign Minister Seyyed Abbas Araqchi and former IRGC Chief-Commander Major General Rahim Safavi on the need to cope with the danger of water shortage.
The above issues, as well as many more, are highlighted in the following headlines and top stories:
19 Dey:
1- Forex, Achilles' Heels of Economy
Iran's Economic Index to Break Records Next Year
2- Bank Accounts of 1,300 People Blocked on Charge of Disrupting Forex Market
3- Ahmadinejad Must Reconsider His Behaviour: Bahonar
4- US, UK Suffer Heavy Defeat in Approving Anti-Iran Resolution
---
Abrar:
1- Abdullah: Nowhere in Afghanistan Safe
2- Zarif: Trump Knows What Price He Should Pay after Scrapping Iran Nuclear Deal
3- American Diplomat: We'll Continue Our Anti-Iran Stances until Tehran Stops Its Measures
4- Seoul: Pyongyang Must End Its Missile, Nuclear Activities
5- Washington Post: JCPOA Complicates Nuclear Deal between US, Saudi Arabia
---
Afkar:
1- Evading Responsibility
Those behind Anti-Iran Resolution Misleading Others about Yemen: Qassemi
2- IRGC General Rezaei: Without Iran's Fight against ISIS, Europe Would Be Scene of Blasts Today
3- Return of European Terrorists to Their Countries Biggest Concern for Europe
4- Larijani: General Soleimani's Sacrifices Strategic for Iran's Present, Future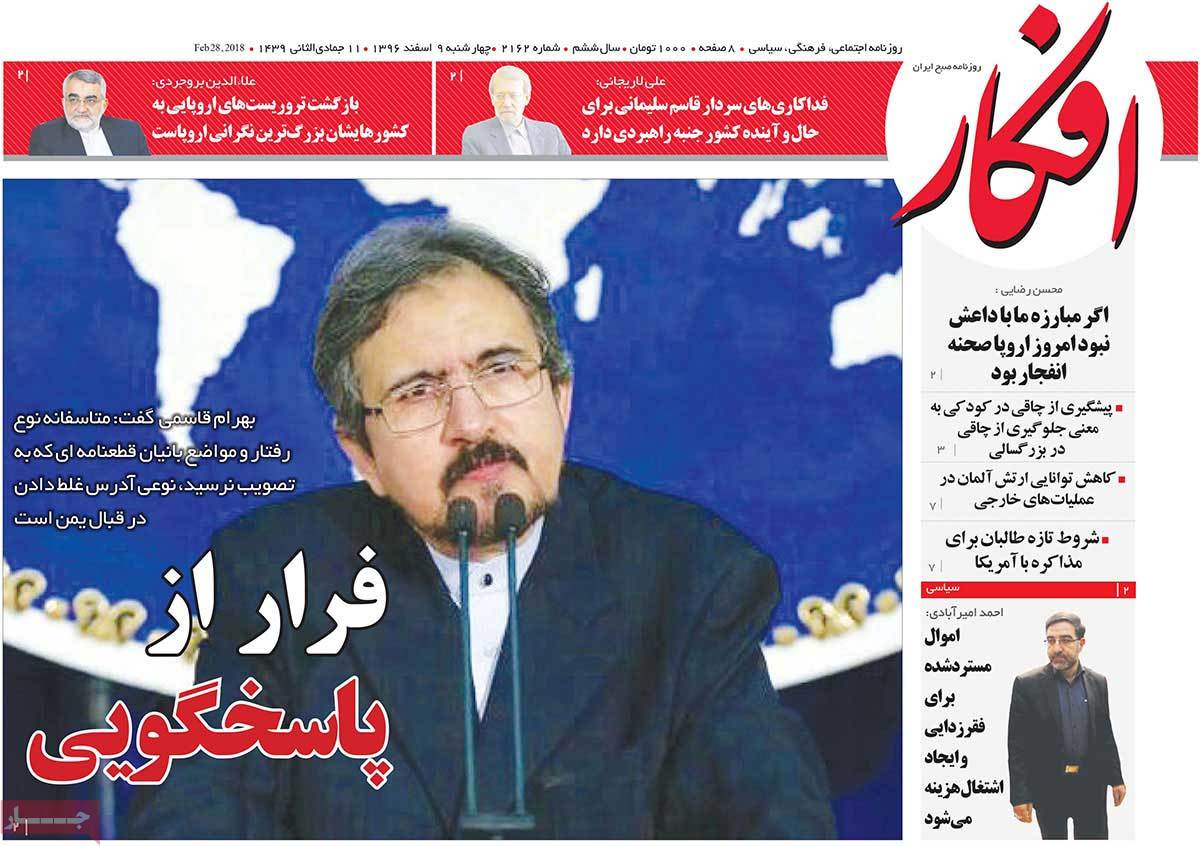 ---
Aftab-e Yazd:
1- Germany to Make Free People's Use of Subway; Iran to Hike Prices!
2- Gov't Spokesman: We Hope House Arrest of Opposition Leaders Will Be Lifted Soon
---
Arman-e Emrooz:
1- Distribution of Money in Iran against Development: Analyst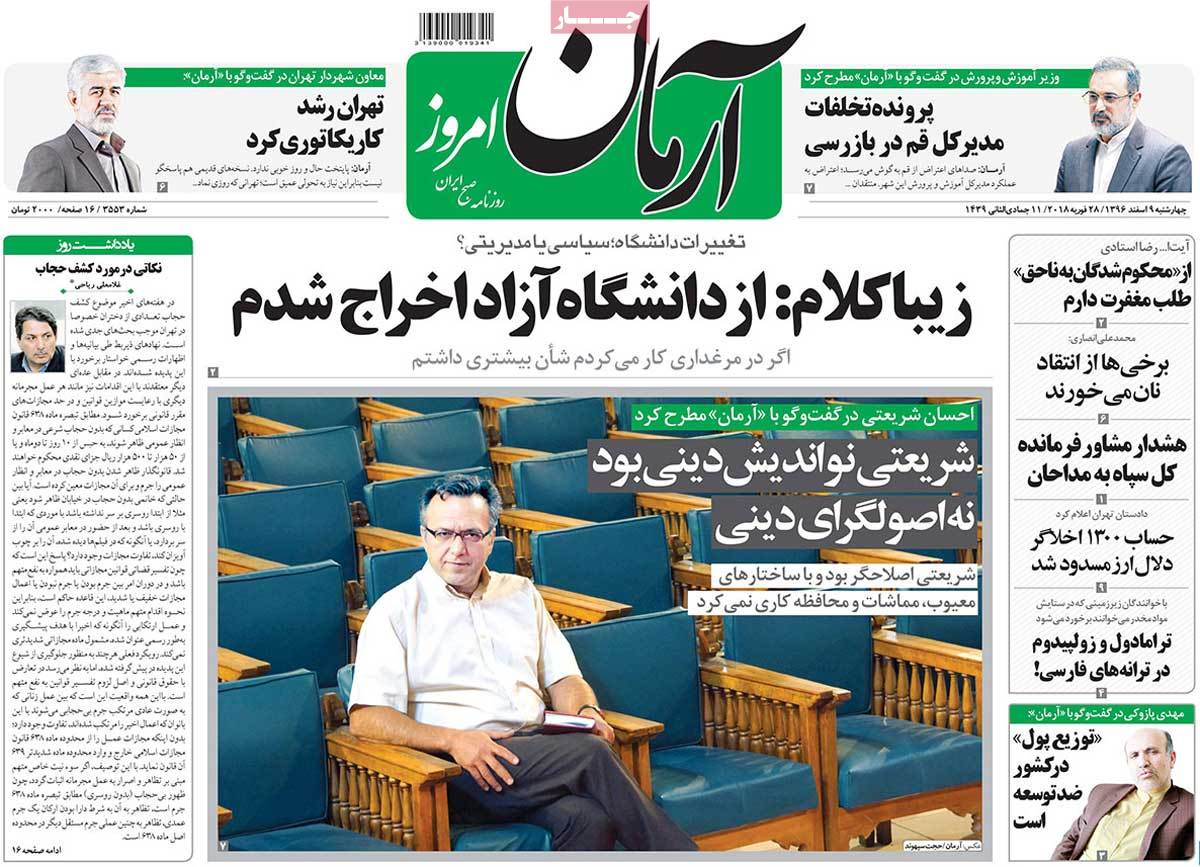 ---
Asrar:
1- Gov't Spokesman: All Iranian People to Receive Cash Subsidies Next Year
2- Monetary Policies Starting Point for Moving towards Financial Stability, CBI Independence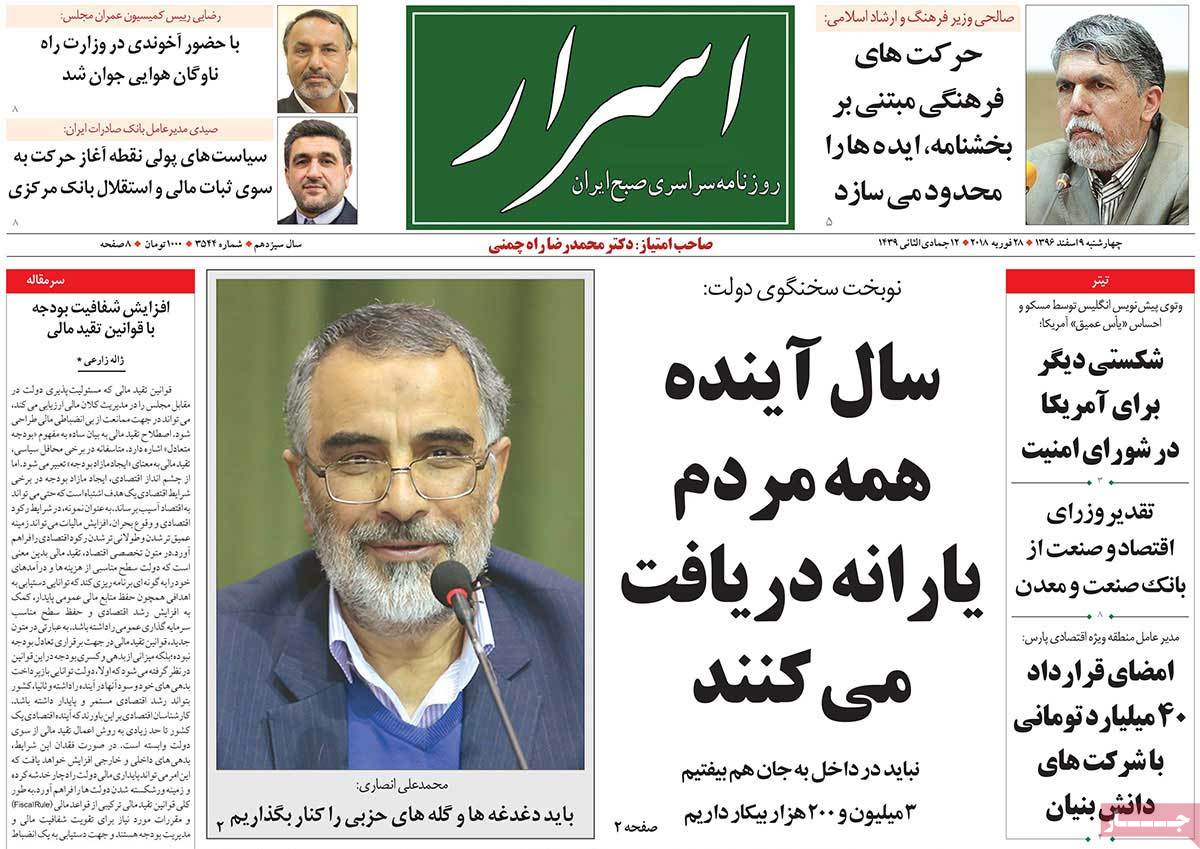 ---
Ebtekar:
1- MPs Insist Labour Minister Must Resign
2- Washington Once Again Fails in New York
UK, US Fail to Have Anti-Iran Resolution Passed at UNSC
3- Queues for Buying Dollar in Tehran: Supply-Demand Balance Upset
4- Parliament to Start Investigation against Car Mafia
---
Etemad:
1- Late Ayatollah Beheshti Didn't Believe in "Sending People to Heaven by Force"
2- Saudi Arabia's Ambiguous Face: Saudi King Sacks His Commanders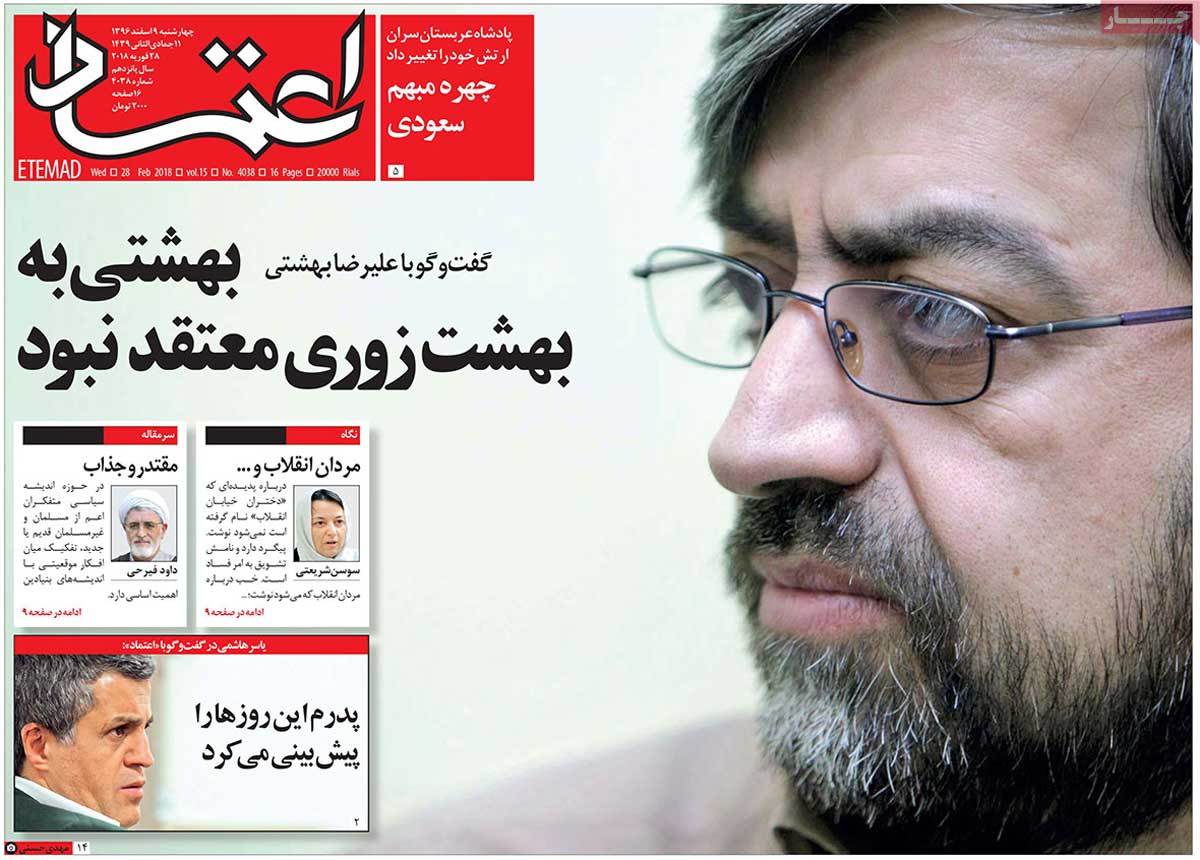 ---
Ettela'at:
1- Government's Policy Focused on Decreasing Poverty
2- People Have Not Stopped Defending Imam Khomeini, His Causes
3- Situation of Water in Tehran Severe, We're Worried about Future: Mayor
---
Ghanoon:
1- Electricity, Hidden Treasure of Iranian Economy
Situation of Power Industry, Exports, Its Problems Analyzed
2- Transparency with Shaky Hands: Tehran City Council to Probe into Hamshahri Publications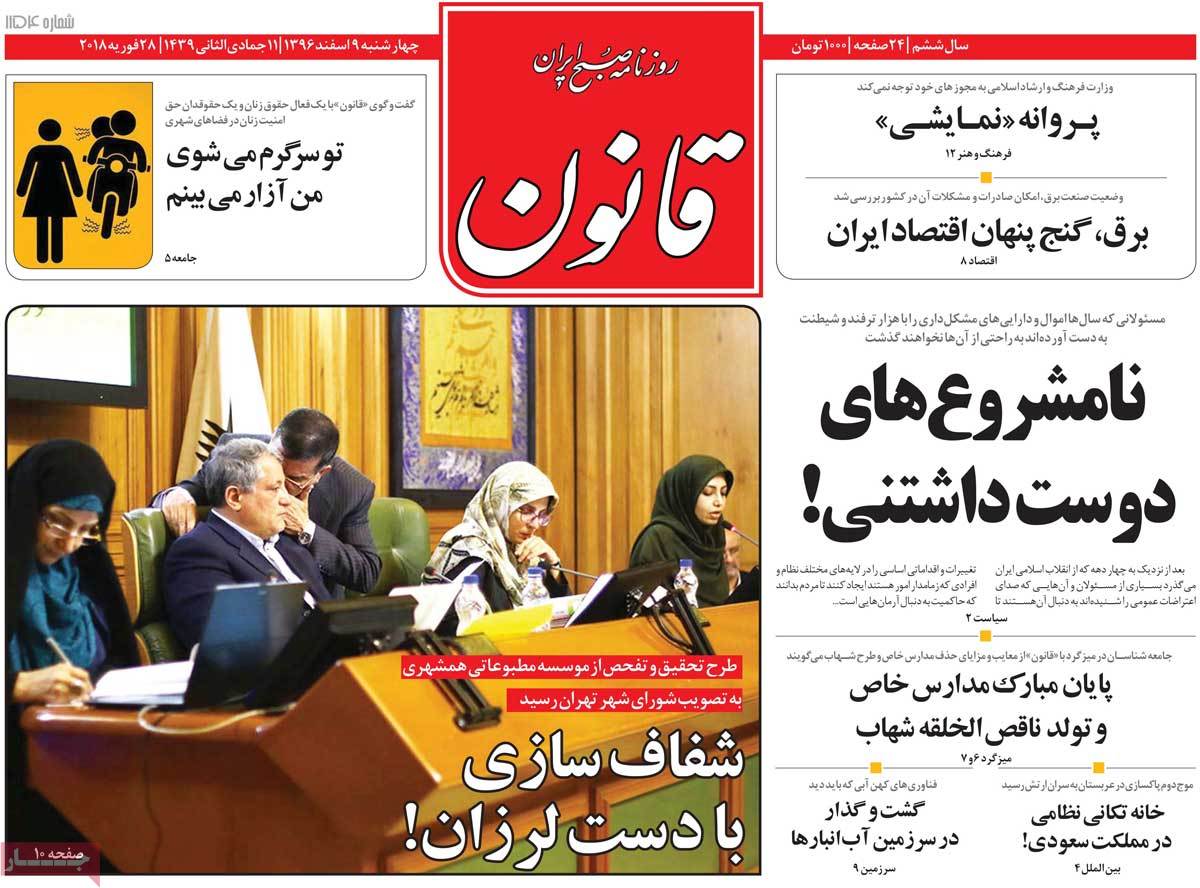 ---
Iran:
1- Worst Year in Past 50 Years in Terms of Rainfall
2- Rouhani Praises Sacrifices Made by General Soleimani
3- Kashan Becomes Book Capital of Iran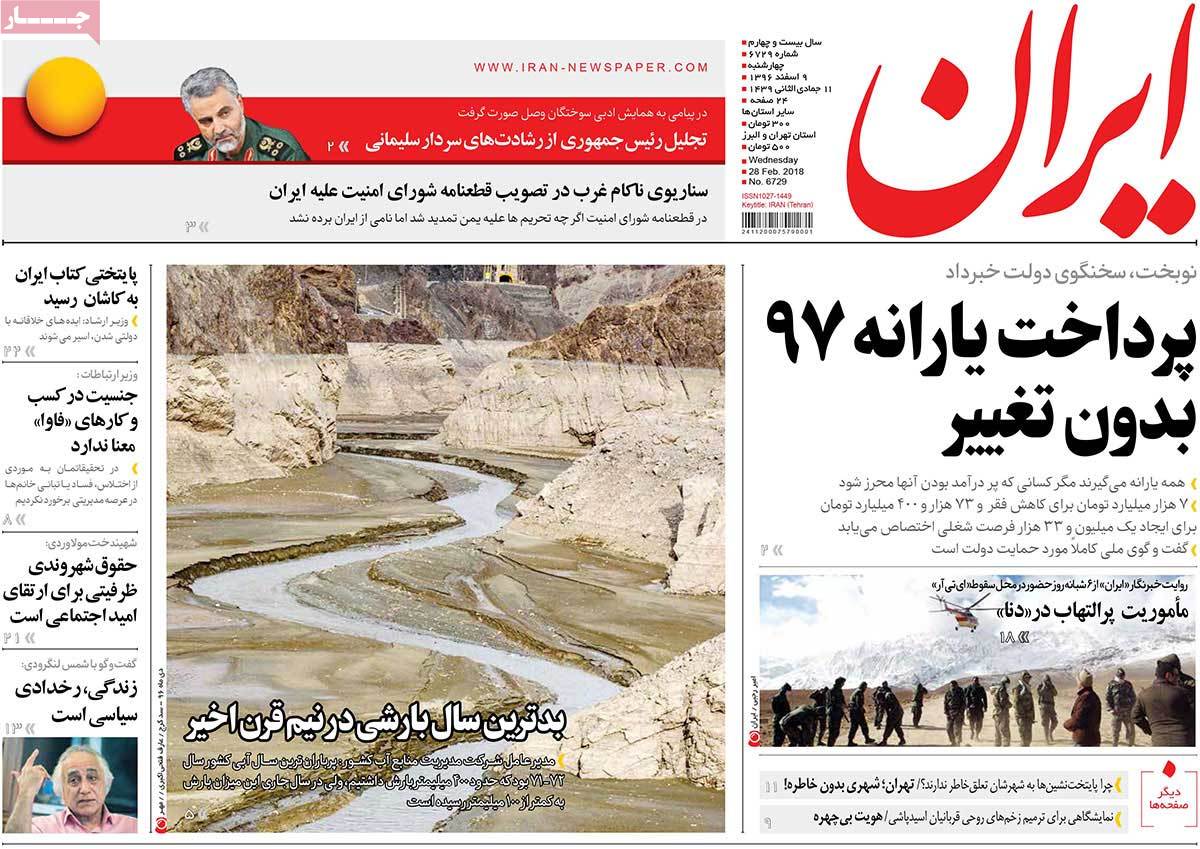 ---
Javan:
1- Even Foreign Ministry Spokesman Admits Iran Must Withdraw from Futile JCPOA
2- My Son Was Martyred in Heart of Tehran in ISIS Style: Mother
3- Piece of Worthless Paper Vetoed after Show of Worthless Wreckage
4- Several Thousands of Suicides in CCTV-Equipped Prisons in Europe, US
---
Jomhouri Eslami:
1- Central Bank Urges People Not to Refer to Dealers for Buying Forex
2- National Working Group for Coping with Water Shortage Established by Four Ministers
3- Russia FM: Scrapping Iran Nuclear Deal Very Dangerous
4- Tens of Palestinians Arrested in Zionist Troopers' Overnight Raid
5- Trump Seeks to Equip US Destroyers with Nuclear Missiles
---
Kayhan:
1- They [Reformists] Robbed Rasht Electric Company, Now Create Scenarios for Stadium, Hijab
2- Secrets behind Overnight Dismissal of Top Saudi Commanders
Defeat in Yemen or Fear of Coup?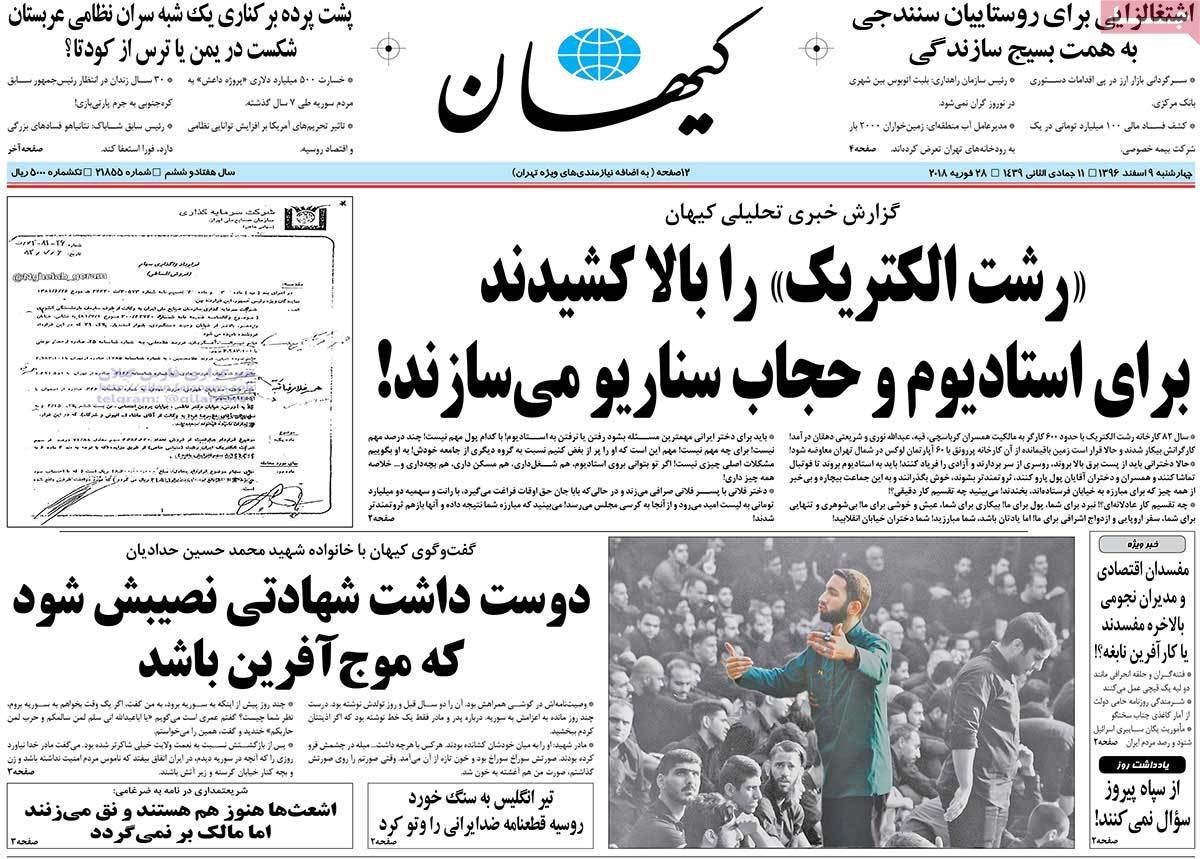 ---
Khorasan:
1- Political-Security Alerts for Water
Araqchi, General Safavi Discuss Water Diplomacy, West Asia's Hydro-Political Opportunities
2- Leader Allows IKRF to Allocate Part of Donations to Employment for Needy People
3- The Lunch Provided by Washington for Ambassadors Made Pointless by Russia!
US Outraged by Russia's Veto of Anti-Iran Resolution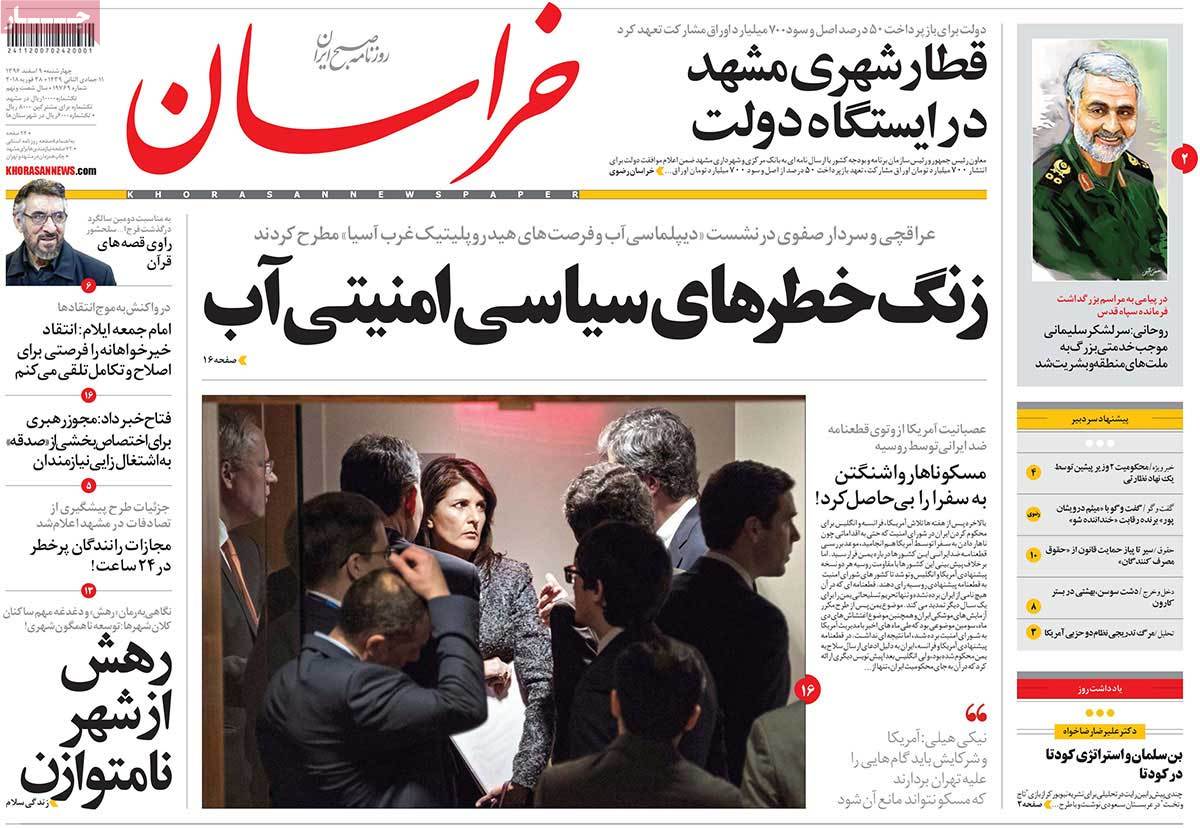 ---
Resalat:
1- People Want Officials to Declare List of Their Assets: Official
2- FM Zarif: Iran's Influence in Region Gained by Virtue of Resistance
3- Amir-Abdollahian: We Won't Let Zionists Play with Regional Security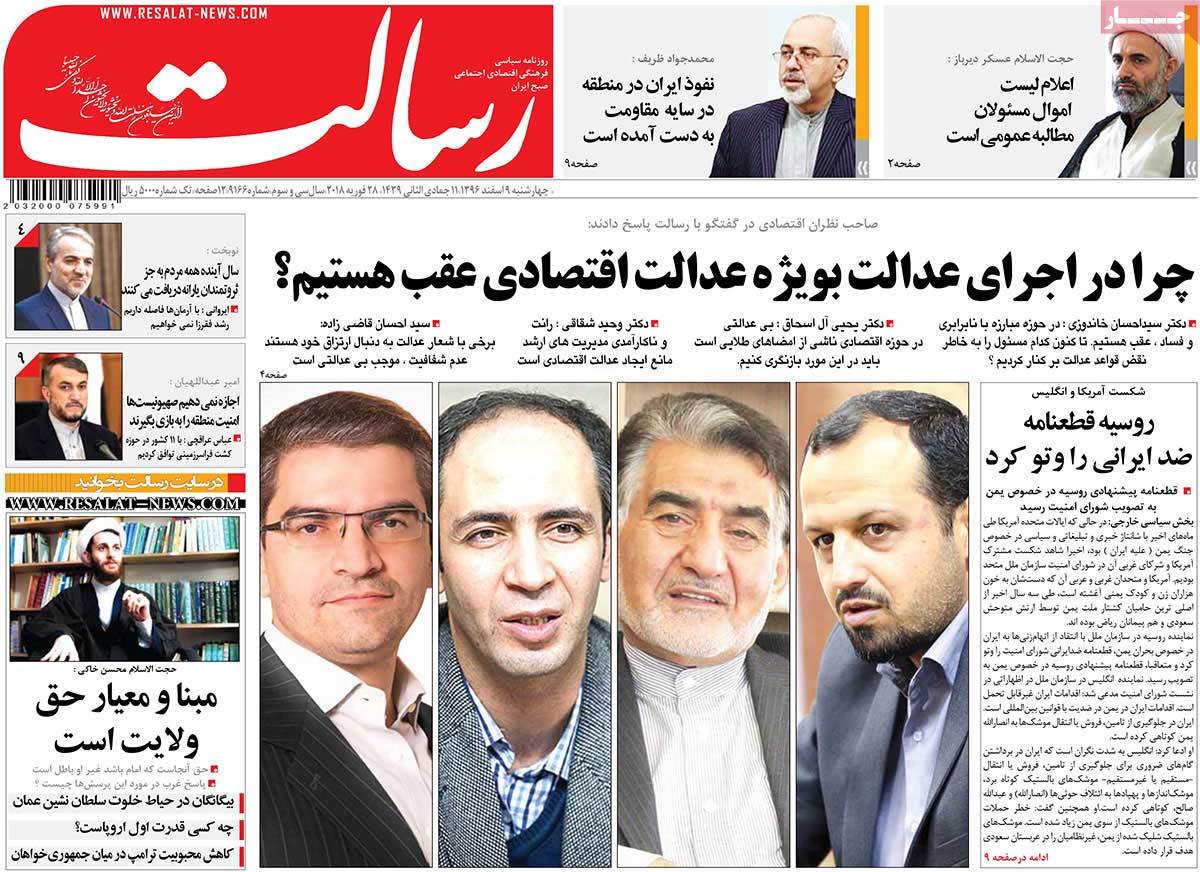 ---
Rooyesh-e Mellat:
1- Biased Accusations: Iran's First Reaction to UK's Failed Attempt at UNSC
2- US Blasts Turkey for Buying S-400 Missile Defence System from Russia
---
Sayeh:
1- Majority of Social Media Users Are Housewives: ICT Ministry
2- Taking Action against Those Who Remove Their Hijab Is Legal Must: Mohsen Hashemi
---
Shargh:
1- Gov't Spokesman: Parliament's Move to Summon Rouhani Great Opportunity for Us
2- Rouhani's Aide in Civil Rights: Police Forces Must Be Educated on How to Deal with Citizens
3- Bahonar: Ahmadinejad Had Illusions in the Past Too