Several papers today covered the remarks made by the Leader of Iran's Islamic Revolution Ayatollah Seyyed Ali Khamenei about the Iranian workers' vigilance and the failed attempts by anti-Revolution forces to incite labourers to take action against the Islamic Republic.
Also a top story was an anti-Iran resolution drafted by the United Kingdom, which was vetoed by Russia at the United Nations Security Council.
The ongoing conflict in Syria's Eastern Ghouta also received great coverage by both reformist and conservative papers. The former ones seem to be blaming both sides for the deaths of civilians, but the conservative papers blasted the terrorists for the ongoing violence.
The above issues, as well as many more, are highlighted in the following headlines and top stories:
19 Dey:
1- Judiciary Chief: No Toleration on Iran's Security
2- Leader: Anti-Revolution Forces Failed to Provoke Workers against Islamic Republic
---
Abrar:
1- Iran Consulting with UNSC Member States on Yemen: Spokesman
2- Moscow Worried about Washington's Threat to Use Force against Syria
3- UAE's UN Envoy Raises Accusations against Iran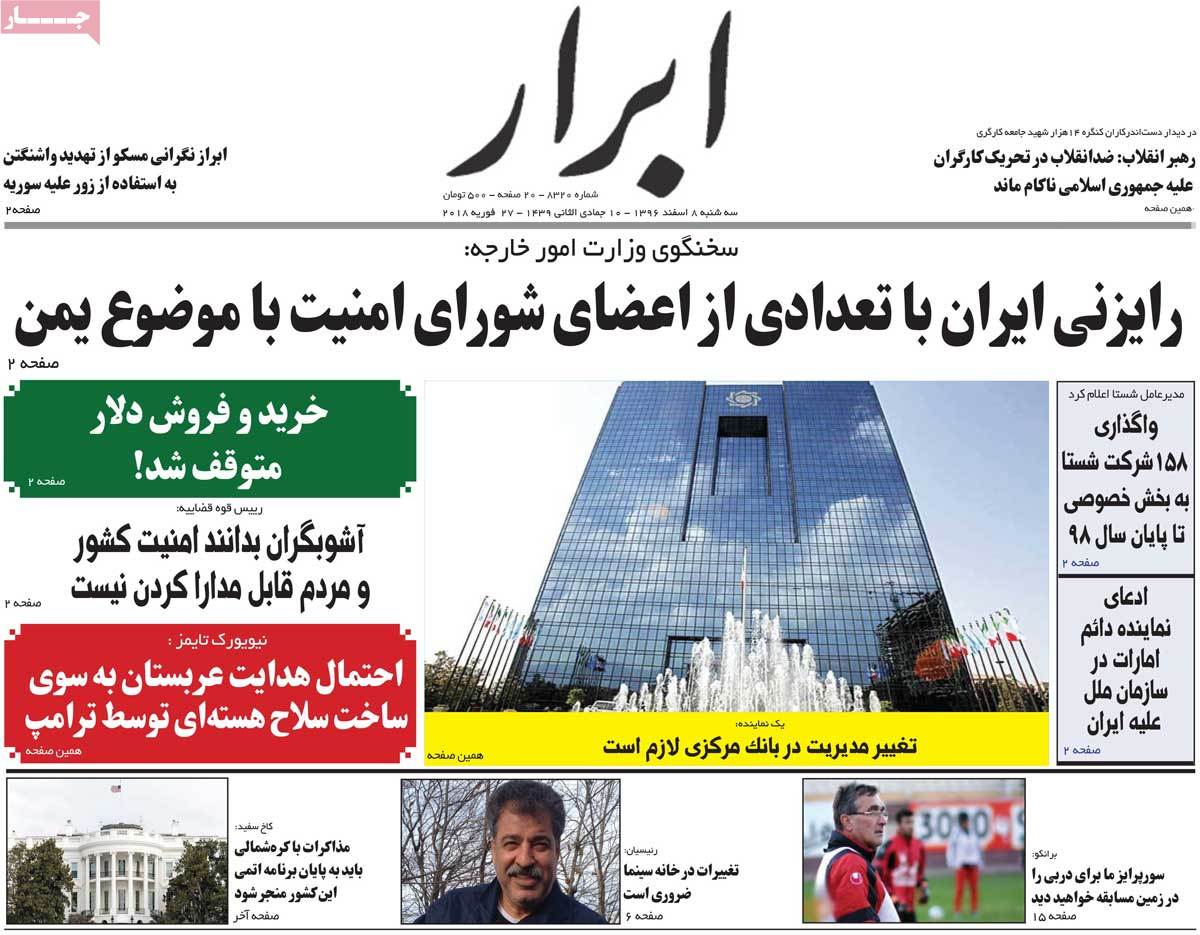 ---
Aftab-e Yazd:
1- Iran Leader: Workers Remained Vigilant during Revolution, Sacred Defence
2- Zoroastrian MP: I'll Resign If Zoroastrian Councilor Not Allowed to Get Back to Work
3- A Report on MPs' Plan to Summon Rouhani to Parliament: Will He Turn into Whistleblower?
---
Arman-e Emrooz:
1- MPs Call for Paying another Visit to Prison
2- Imam of Ilam Friday Prayers Sparks Controversy after Using SUV!
We Use This Car for Mountainous Areas
---
Asrar:
1- Iran First VP: Cessation of Dialogue to Exert Great Pressure on Society
---
Ebtekar:
1- 39 Concerns for Justice: A Report on Failure to Realize Society's Demand for Justice
---
Etemad:
1- Ghouta Still on Fire: Ambiguity in UN Security Council Resolution's Implementation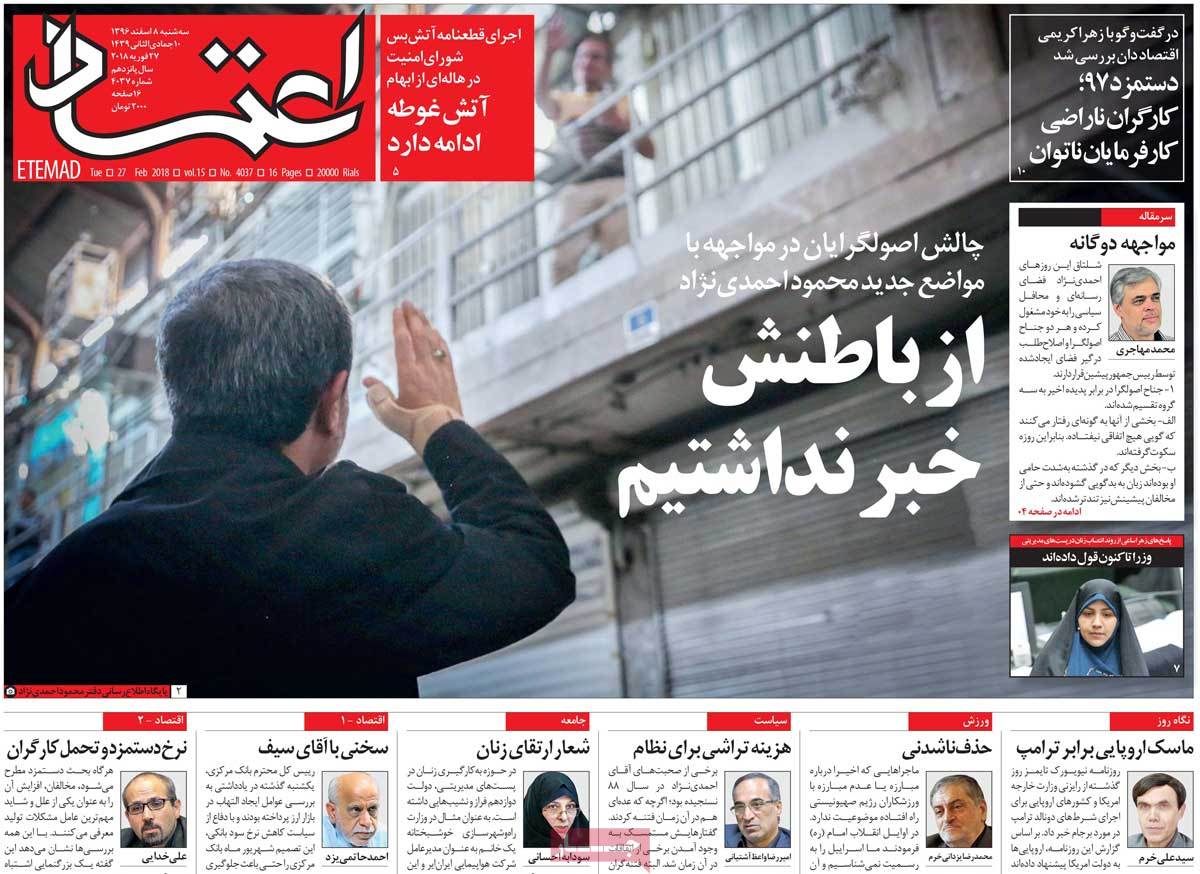 ---
Ettela'at:
1- Supporters of Resistance Warmly Welcome Gen. Soleimani's Memoirs in Lebanon
2- We Must Release Mothers from Jail: VP for Women Affairs
---
Iran:
1- Search Teams Once Again Deployed in Dena
---
Jame Jam:
1- Ghouta in Blood: Details of Terrorists' Inhumane Moves in East Ghouta against Women, Children
2- Memories of Mysterious General!
Book of General Soleimani's Memoirs Released in Lebanon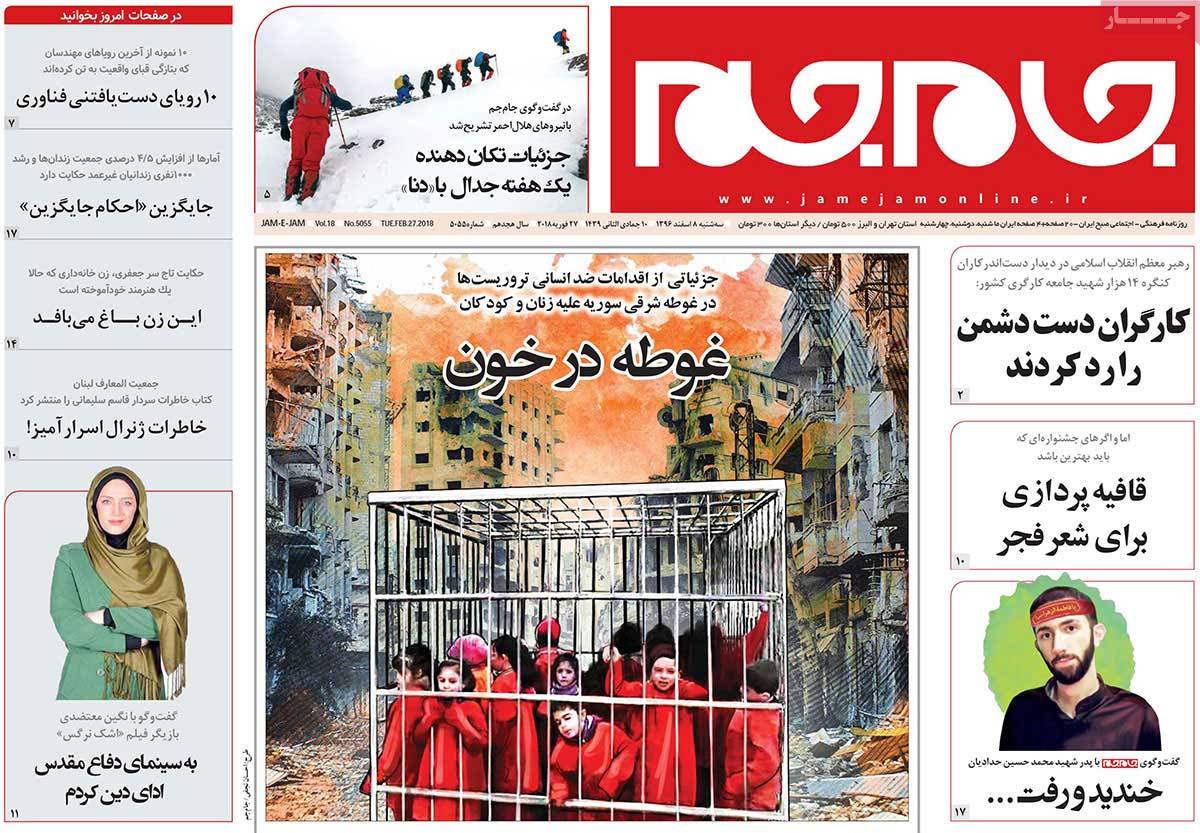 ---
Javan:
1- Europe Joins Europe in Revising Iran Nuclear Deal!
2- Chemical Scenario for Syria Disintegration
Yes Vote for UNSC Resolution 2401 Didn't Work
---
Jomhouri Eslami:
1- Yemeni People on Verge of Widespread Epidemic of Dangerous Diseases
2- Russia: Ceasefire in Syria Not to Include Terrorists
3- Iran Ranks First in Region in Health Sector
---
Kayhan:
1- How UK Milking Al Saud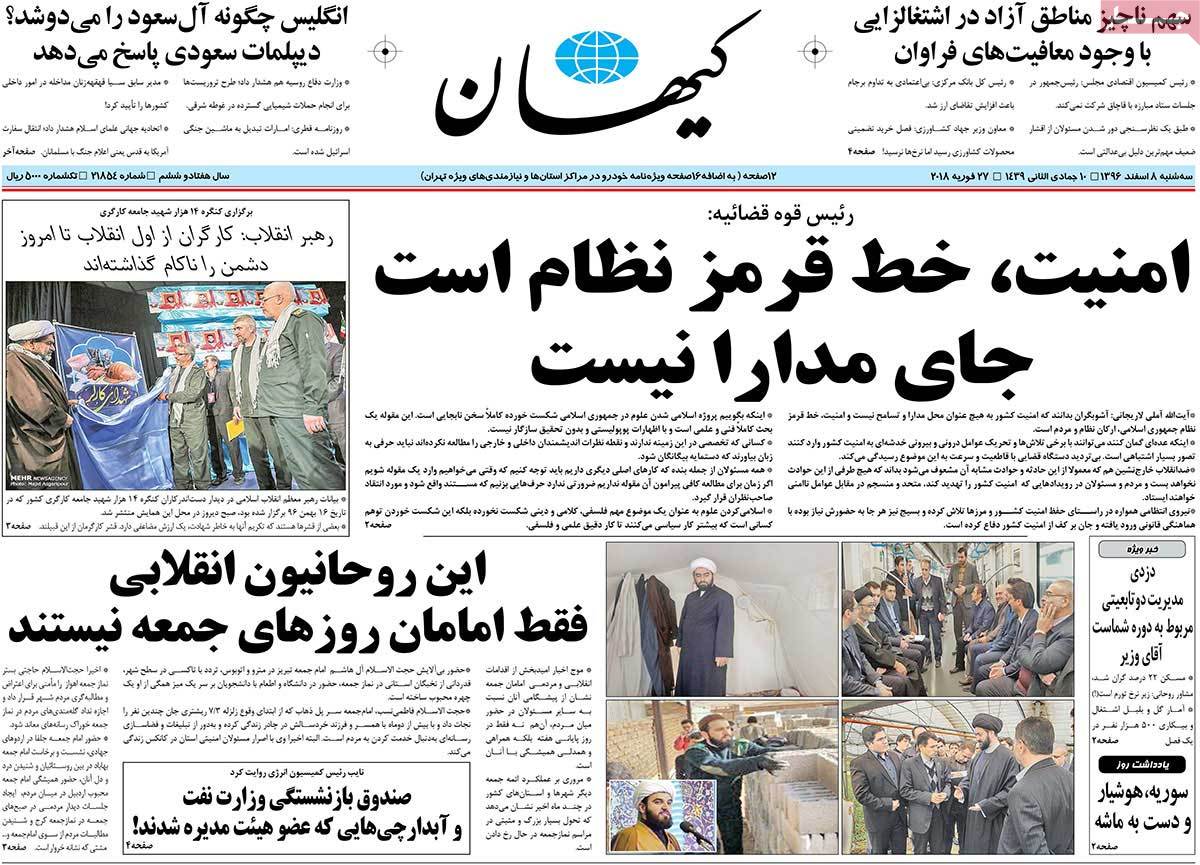 ---
Kelid:
1- Iran, Oman Agree on Expansion of Maritime Tourism: VP
---
Khorasan:
1- Iran First VP Criticizes Political Parties for Not Sitting for Talks with Each Other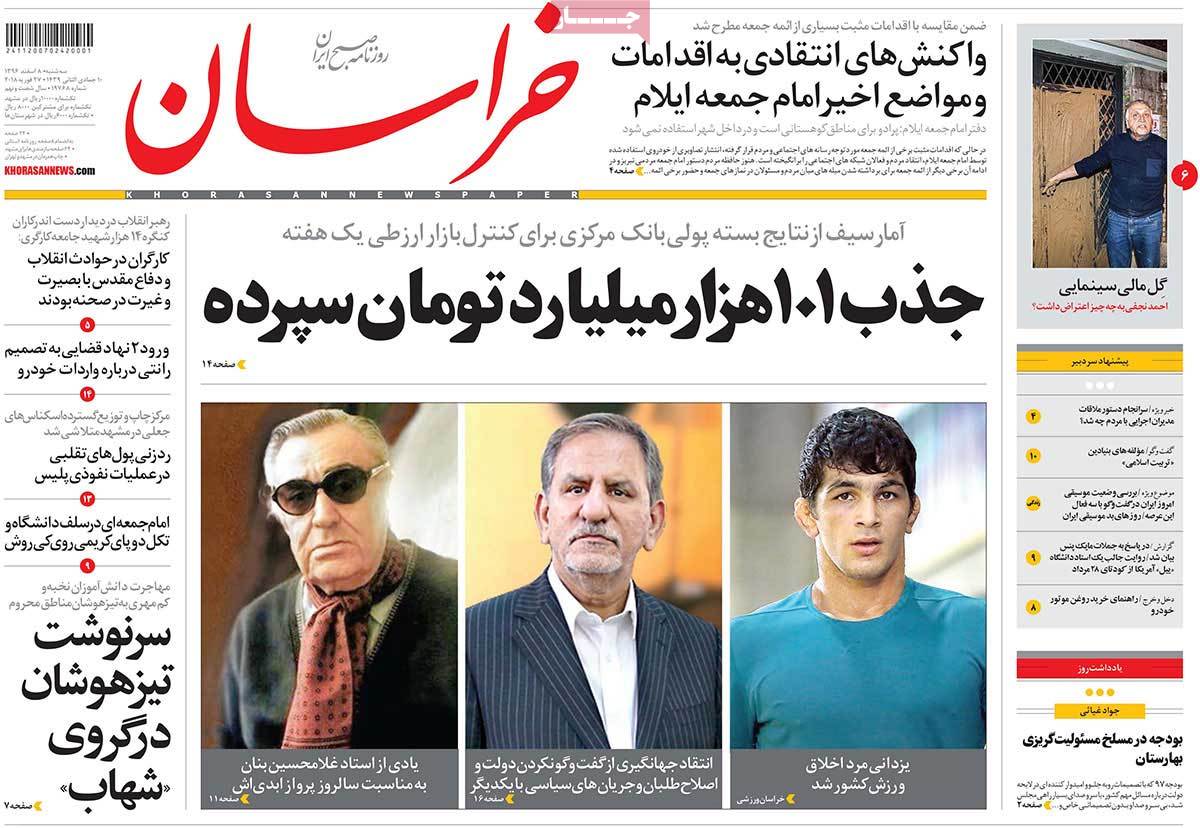 ---
Payam-e Zaman:
1- Qassemi: US Preventing Iran from Reaping JCPOA Benefits
---
Quds:
1- Is Europe Betraying Iran Nuclear Deal?
New York Times Says UK, Germany, France to Support Trump's Changes to JCPOA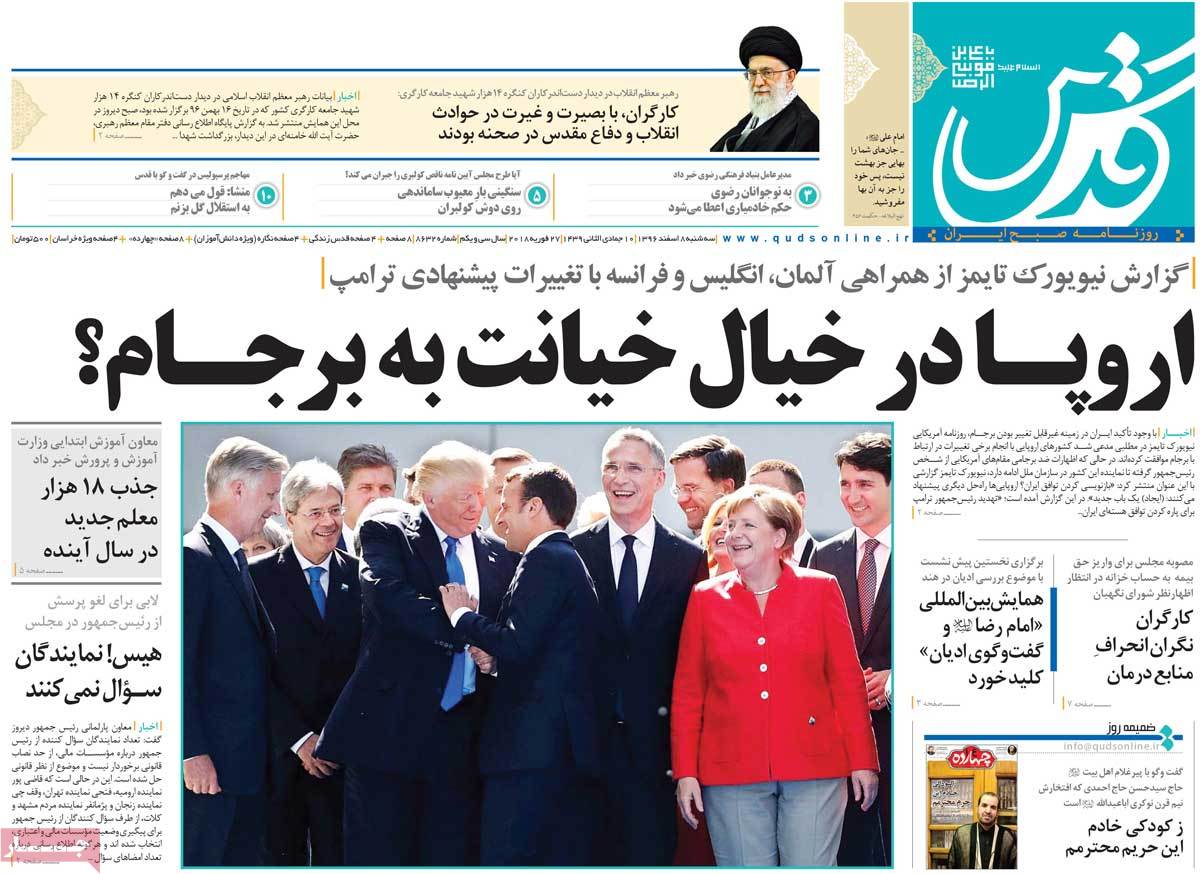 ---
Rah-e Mardom:
1- Happiness Is What Society Needs: Health Official
---
Resalat:
1- Iran First VP: We've Ceased to Talk, Resorted to Conflict
---
Rooyesh-e Mellat:
1- Velayati Rules Out Iraq's Mediation in Iran-US Ties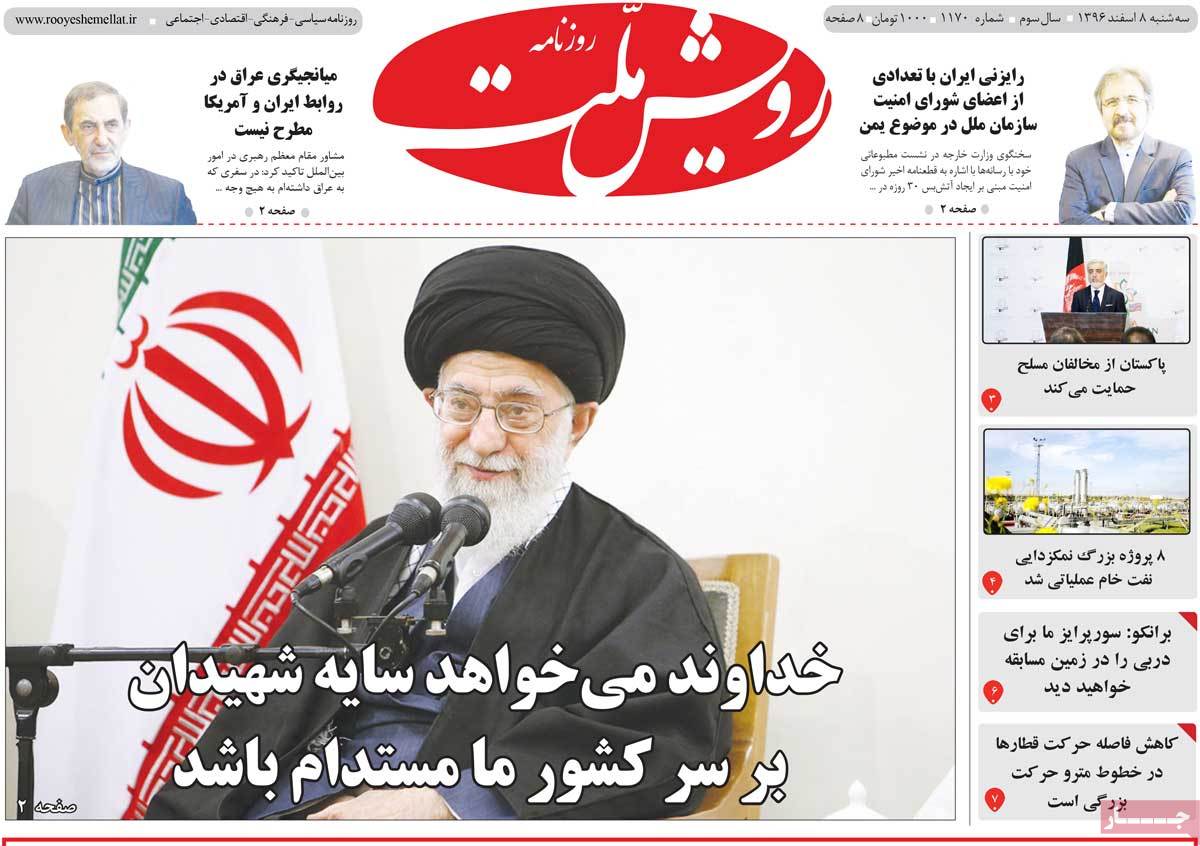 ---
Shahrvand:
1- Iran Thirsty for Hope: Sociologists Talk of Iranian People's Need for Social Hope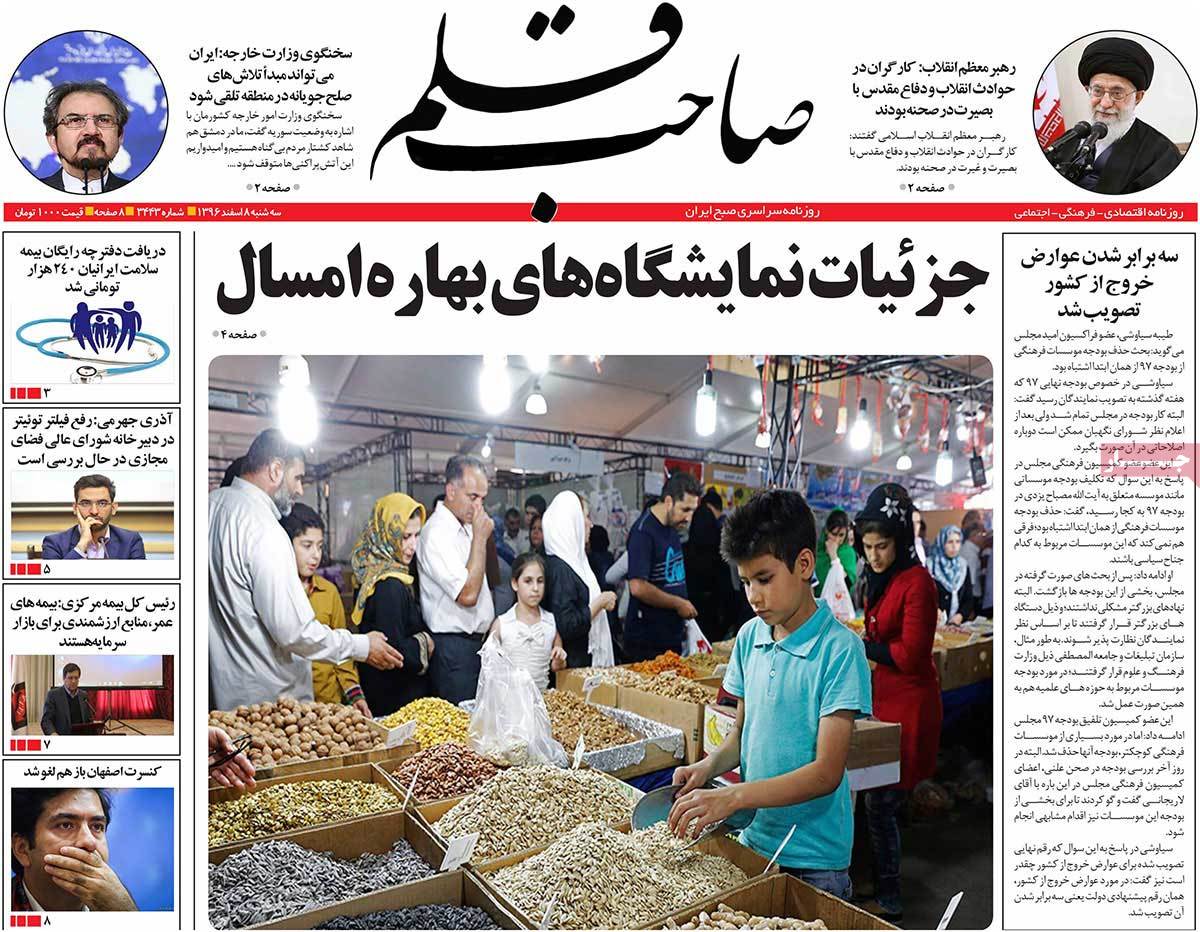 ---
Shargh:
1- Major General's Frankness
Firouzabadi: Mir-Hossein Mousavi Knew about Real Face of Ahmadinejad, We Didn't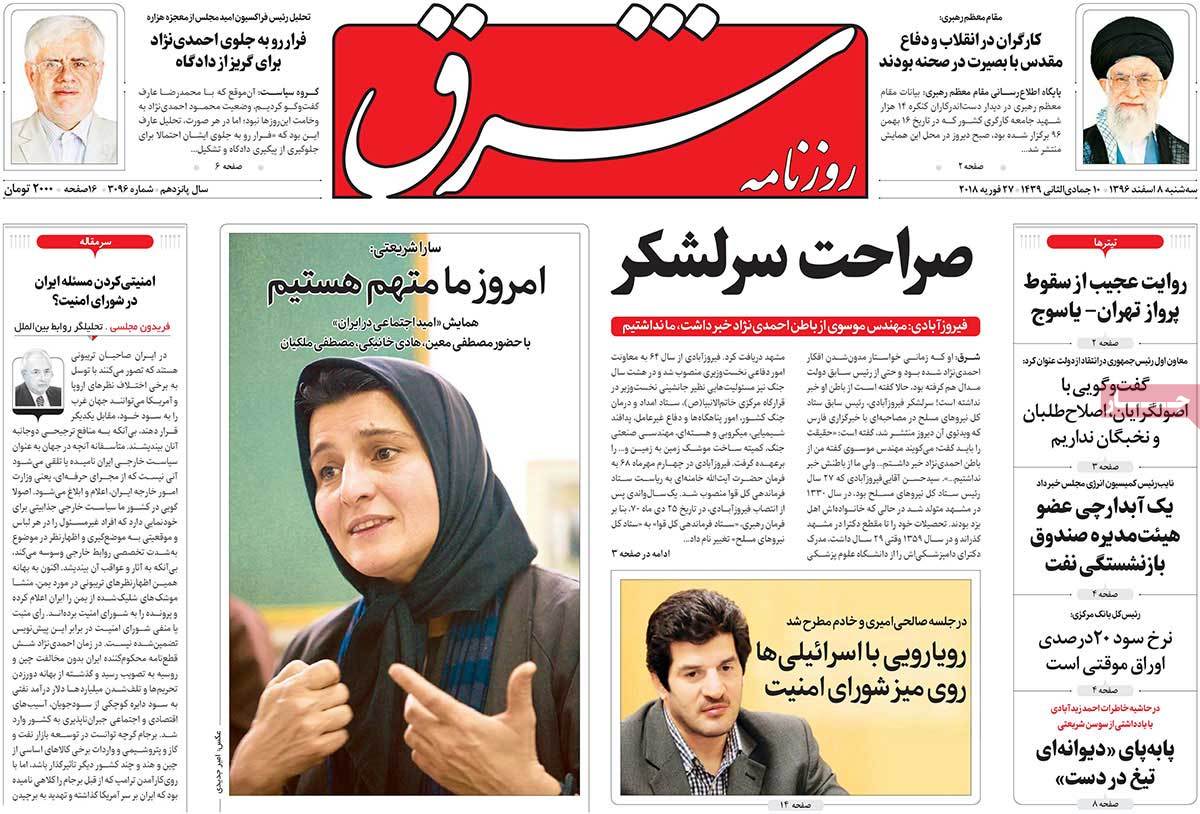 ---
Vatan-e Emrooz:
1- Three Jewish People Were in Green Espionage Network
Which Iranian Missile Site Were Spied by Environmentalists?