The top story in today's papers was the remarks made by Iranian Foreign Minister Mohammad Javad Zarif about the post-ISIS era and the continuation of the Takfiri ideology in the region. Several papers also covered his comments about the conditions set by the US for the Iran nuclear deal as well as those about Saudi Arabia's dependence on the West in terms of security.
Iranian President Hassan Rouhani's remarks in rejection of attempts to Islamize sciences also received great coverage.
Also a top story was the recent arrest of environmentalists on charge of espionage and the prosecution of criminals affiliated with Dervishes involved in the recent violence in Tehran.
The above issues, as well as many more, are highlighted in the following headlines and top stories:
19 Dey:
1- Zarif: ISIS Not Over Yet
2- Iran MP Rejects Conditions Set by Trump for JCPOA Revision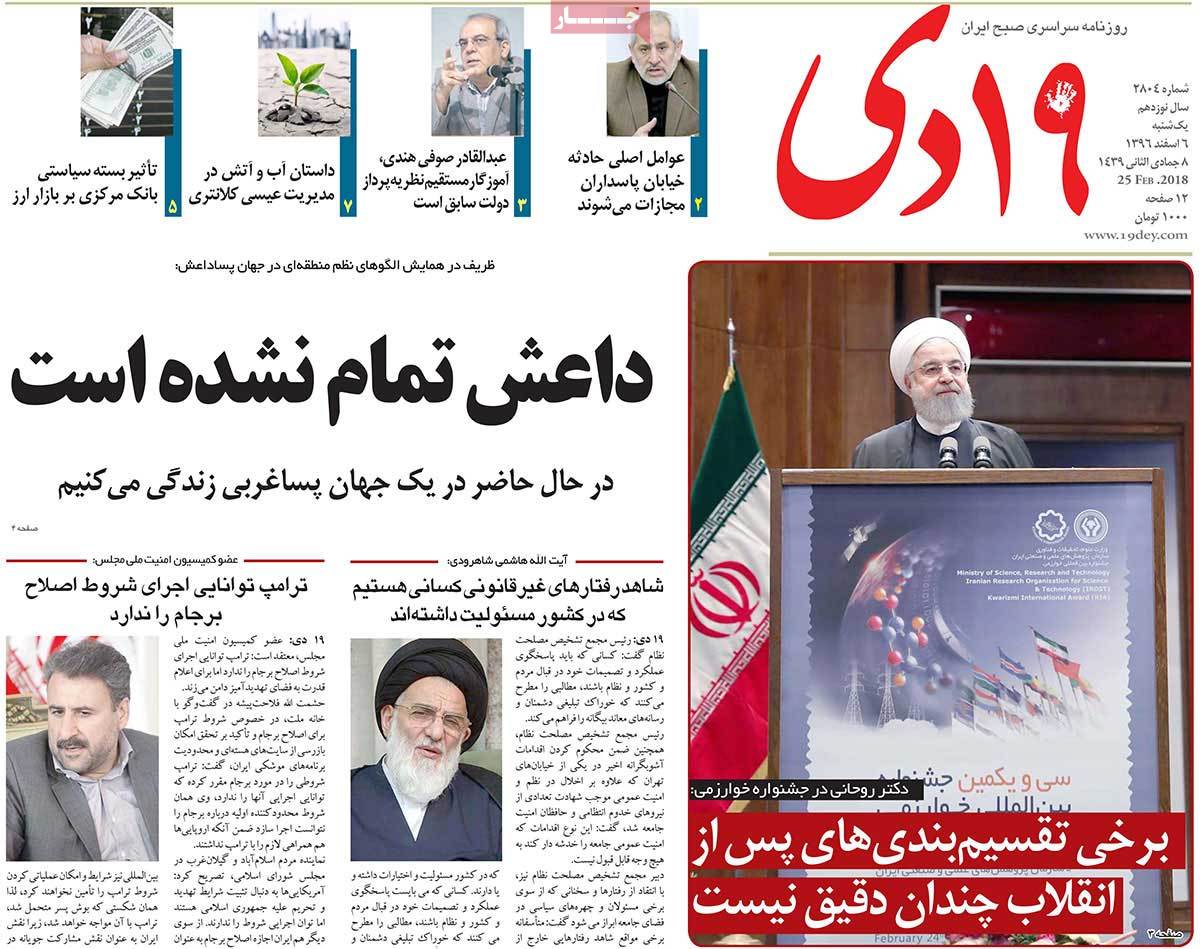 ---
Abrar:
1- US Official: We Don't Want to Engage in Fight against Iran-Backed Forces in Iraq, Syria
2- Iraqi Kurdistan MP Urges Iran, Russia to Make Turkey Stop Afrin Operation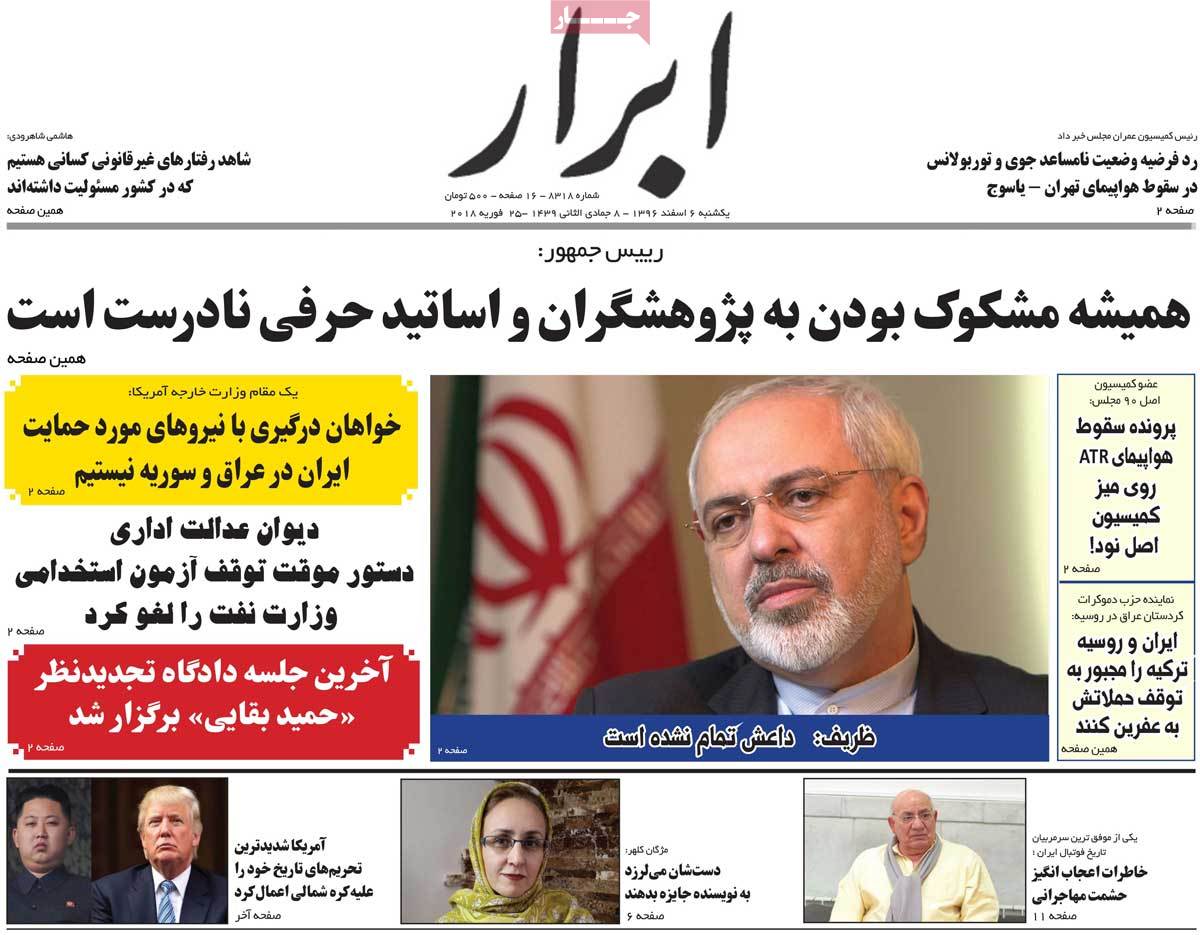 ---
Abrar-e Eqtesadi:
1- ATR Plane Crash Case Discussed in Parliament: Ministries of Roads, Welfare Guilty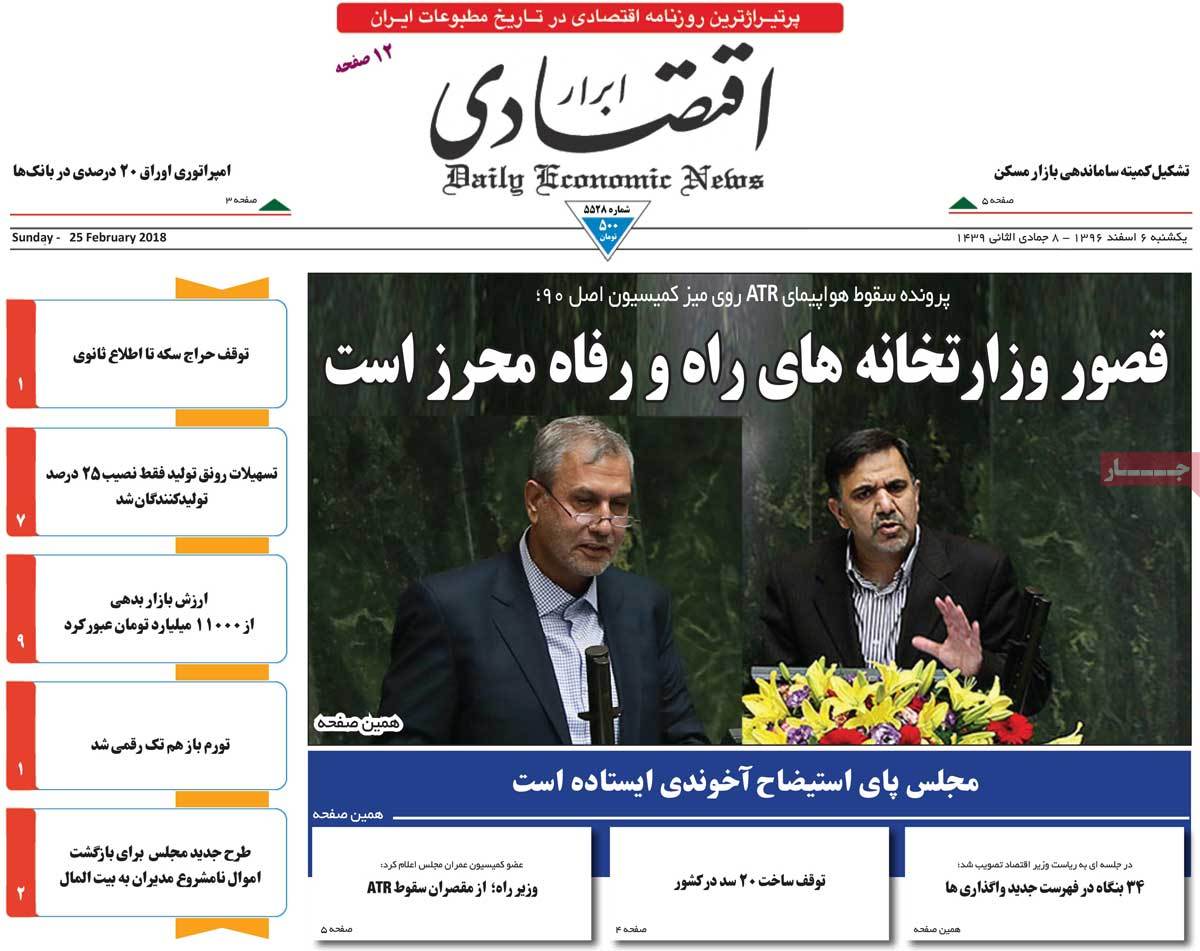 ---
Afkar:
1- Zarif: Our Neighbours Have Based Regional Security on Making Anti-Iran Coalitions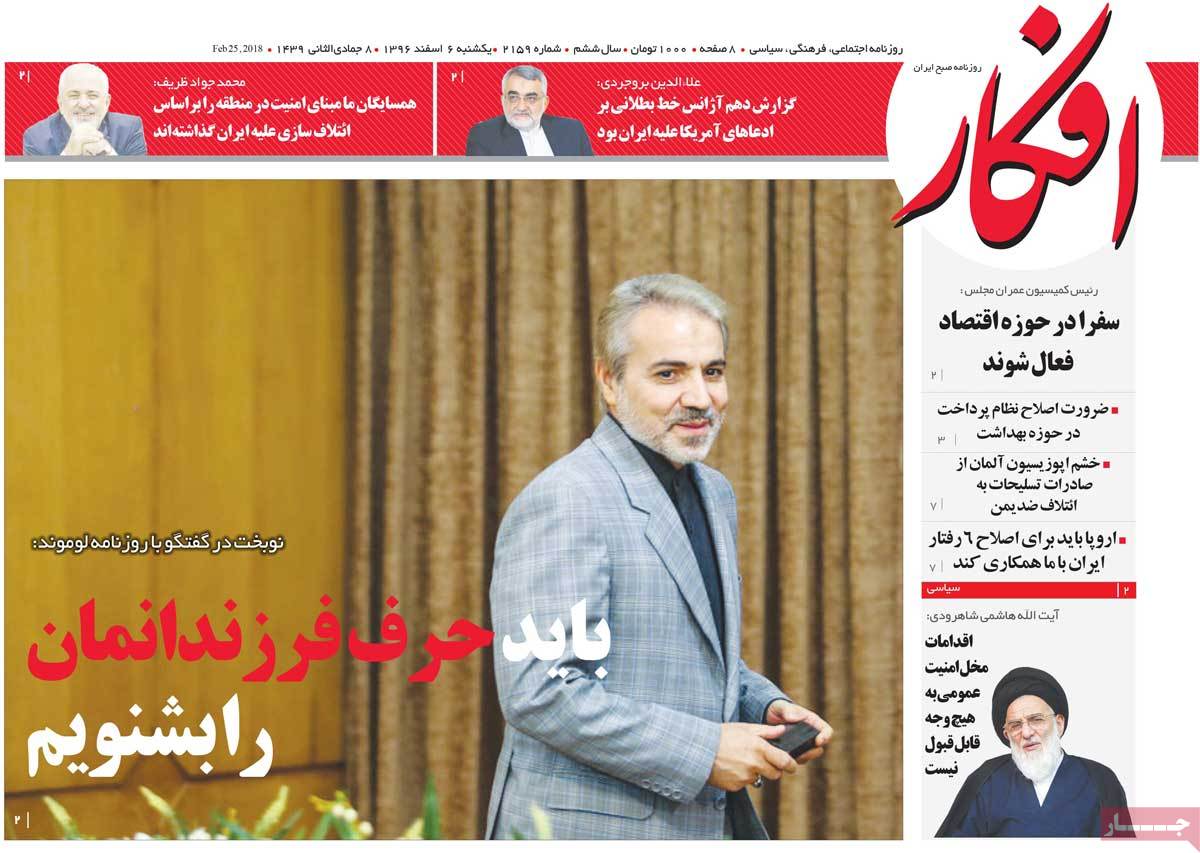 ---
Aftab-e Yazd:
1- Negative Signals from Land of Ice
Russian People Not Interested in Tehran-Moscow Cooperation
2- Baghdad's Unkindness to Tehran: Iraq Continues to Impose Restrictions on Iranian Traders
3- Iran's Points in Fight against Corruption Improved
---
Arman-e Emrooz:
1- Ahmadinejad Might Be Arrested: Conservative Figure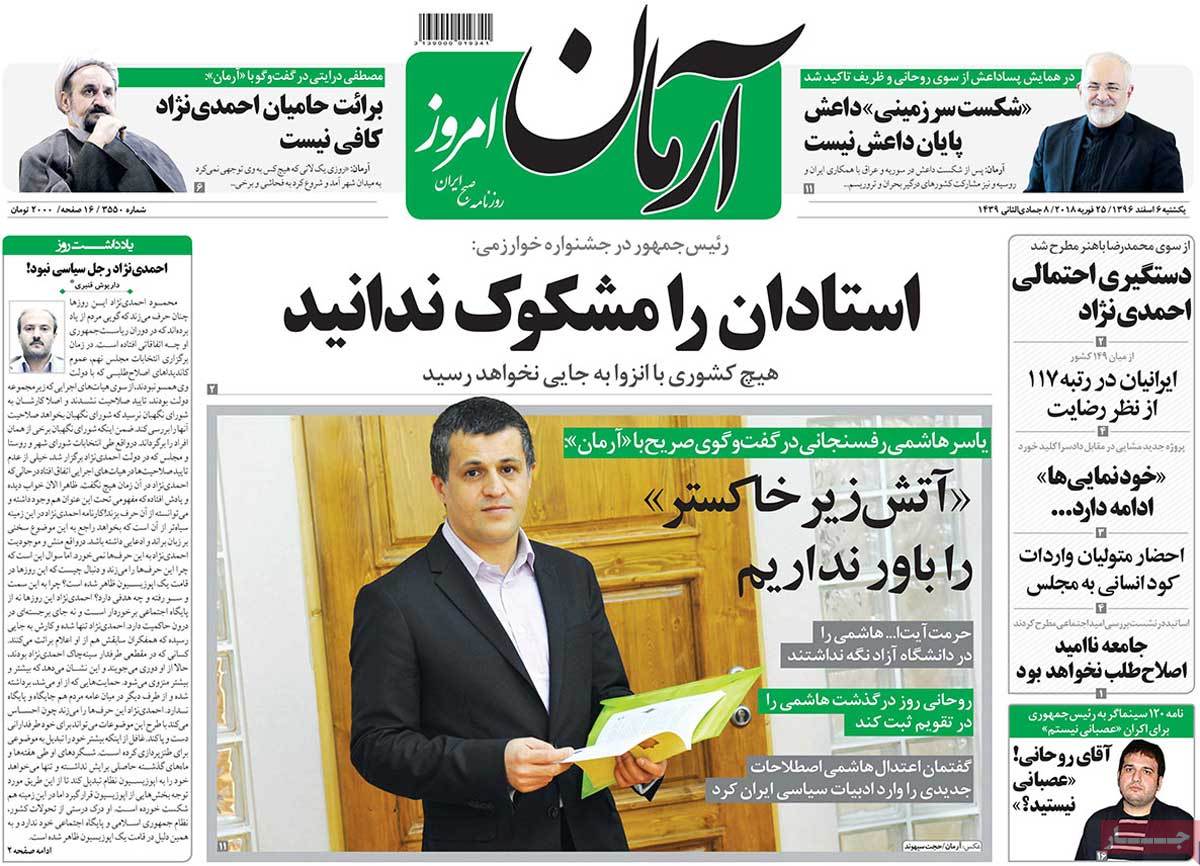 ---
Donya-ye Eqtesad:
1- Zarif: Regional Security Cannot Be Bought from Outside Anymore
---
Ebtekar:
1- Crisis Circulates from Afrin to Ghouta
---
Etemad:
1- US Planning for Permanent Presence in Iraq, Syria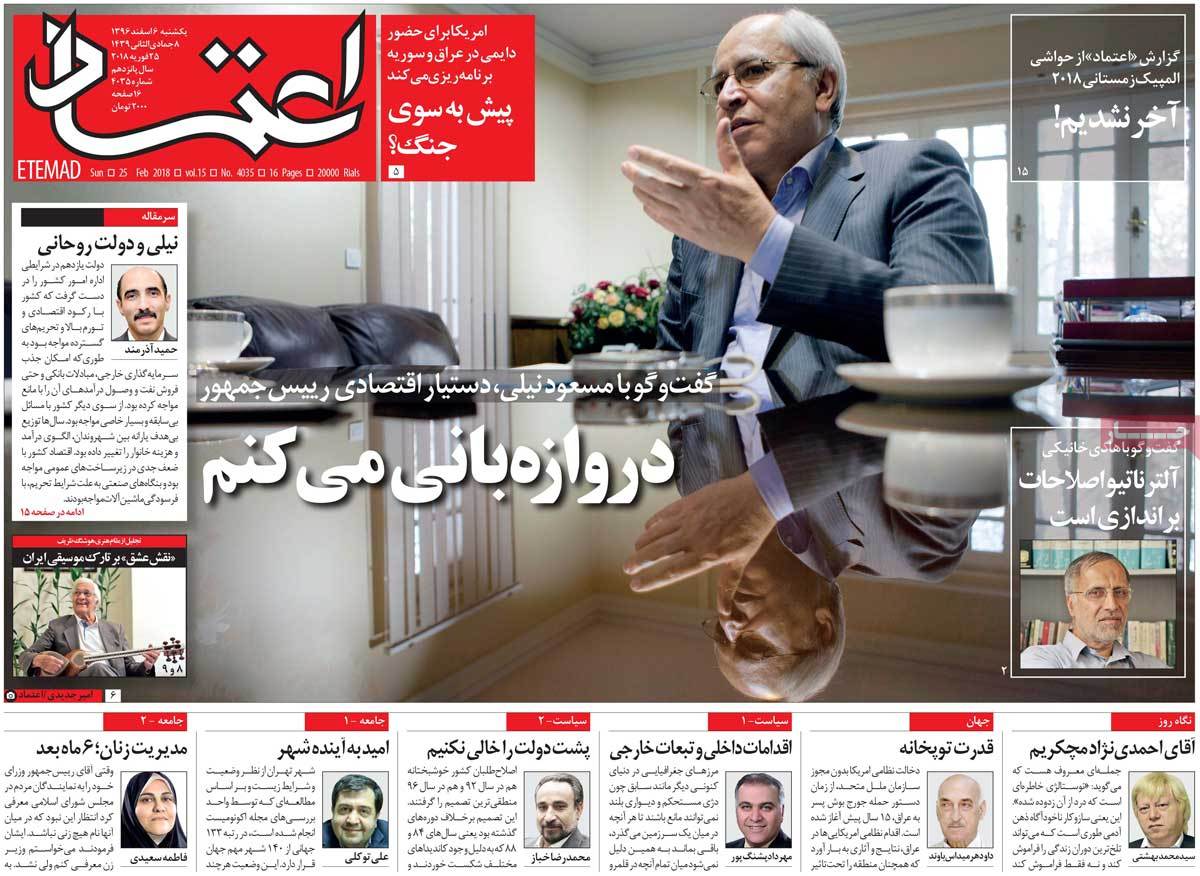 ---
Ettela'at:
1- No Country Will Progress in Isolation: Iranian Cultural Official
2- Zarif: World Moving towards Post-Western Era
3- Gov't Spokesman: Iran Not to Negotiate Over Its Nat. Security, Defence Capacity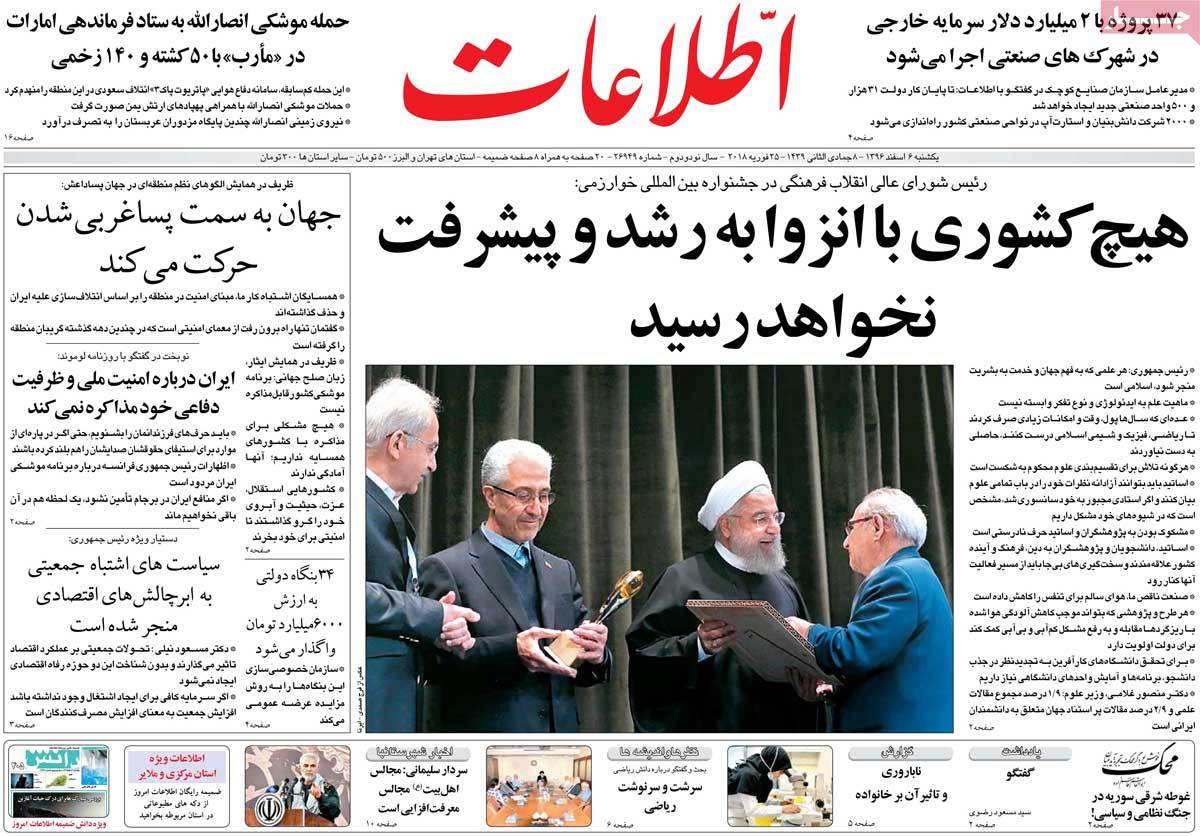 ---
Iran:
1- School Built in Underdeveloped Sistan and Baluchestan in Memory of Mirzakhani
2- Culture Minister: Visual Arts Language of Iran's Dialogue with World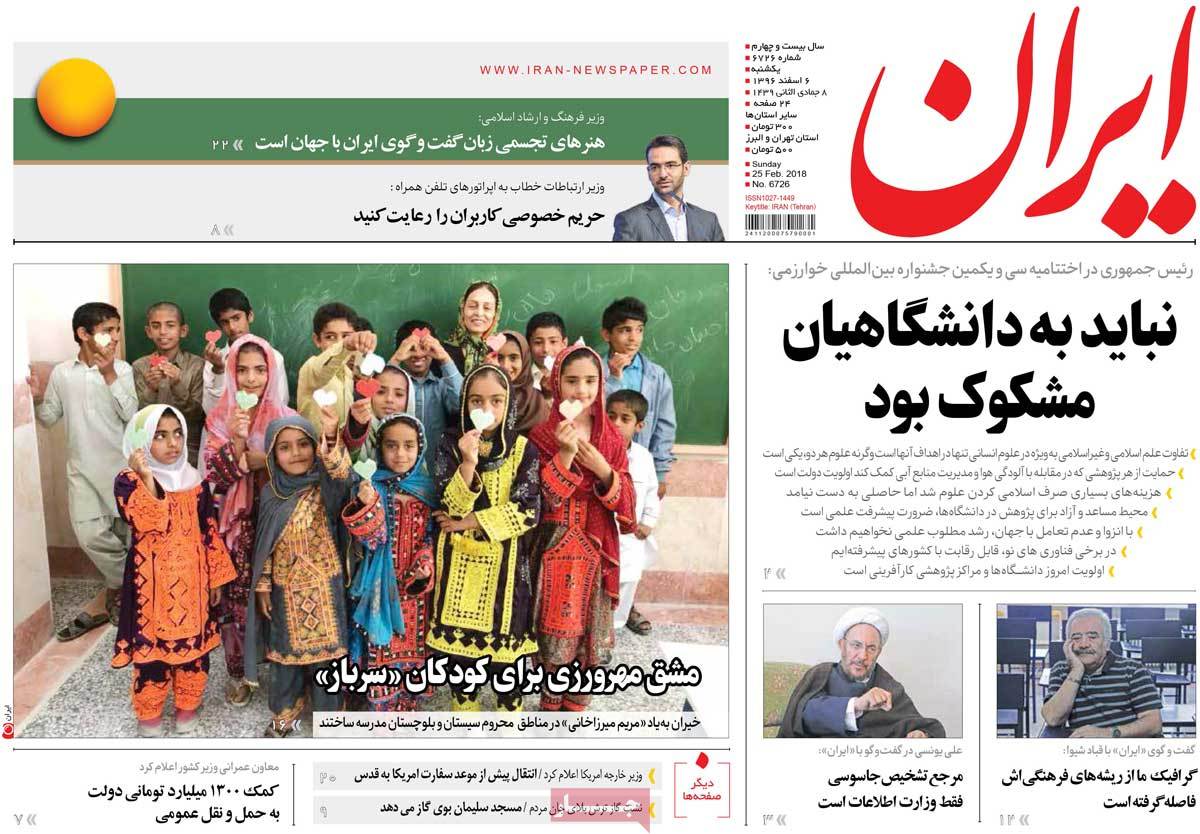 ---
Javan:
1- Tehran Prosecutor: Criminals Affiliated with Deviant Cult to Be Prosecuted Soon
---
Jomhouri Eslami:
1- Rouhani Expresses Opposition to Unnecessary Restrictions in Scientific Places
2- US Decision on Embassy Relocation Widely Condemned
---
Ka'enat:
1- Addressing Conference on Post-ISIS Era, Zarif Explains Post-Western World, ISIS Ideology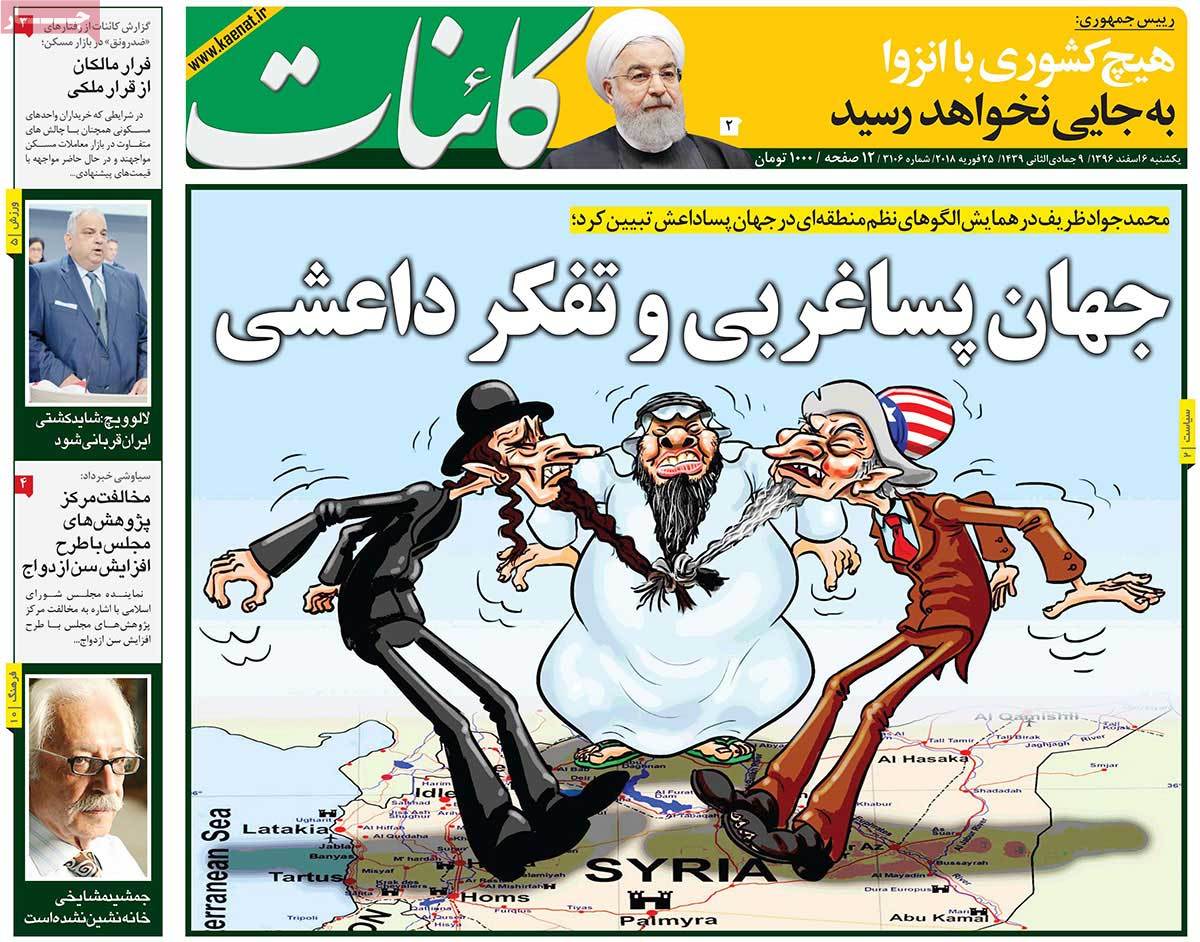 ---
Kayhan:
1- Professors Are Respected; Prevent Spies from Moving Around Freely
Rouhani: We Shouldn't Be Suspicious of Our Professors, Researchers
2- FATF Says Iran Must Criminalize Funding Resistance Groups!
3- Ansarullah's Missile Hits Saudi Command Base in Ma'rib, Defeats Patriot System
---
Payam-e Zaman:
1- Zarif: Iran Most Powerful, Safest Country in Region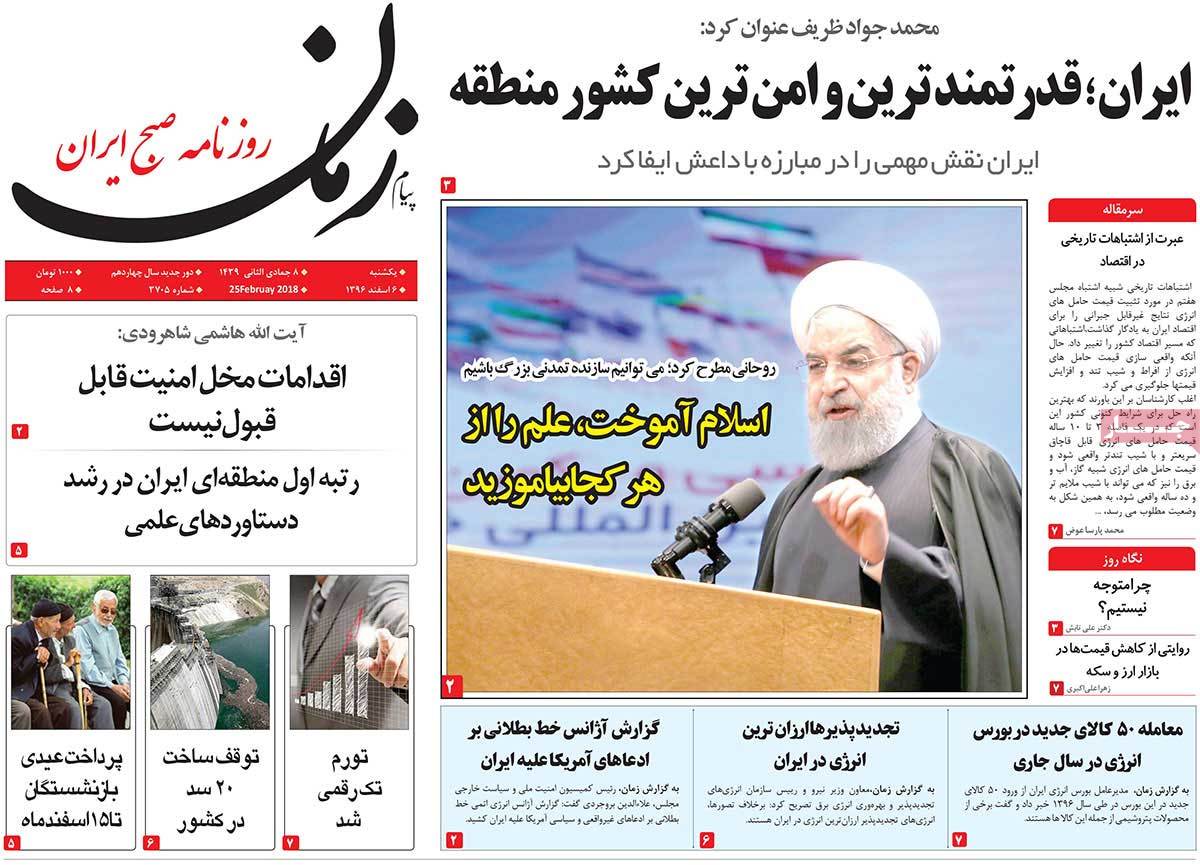 ---
Resalat:
1- Zarif: US Cannot Set Conditions for Iran Nuclear Deal
2- Rouhani: Industry Has Stolen Our Fresh Air
3- US Preventing Improved Ties between Two Koreas
Washington to Impose Harshest Sanctions on Pyongyang
---
Rooyesh-e Mellat:
1- Zarif: ISIS Fruit of US Invasion of Iraq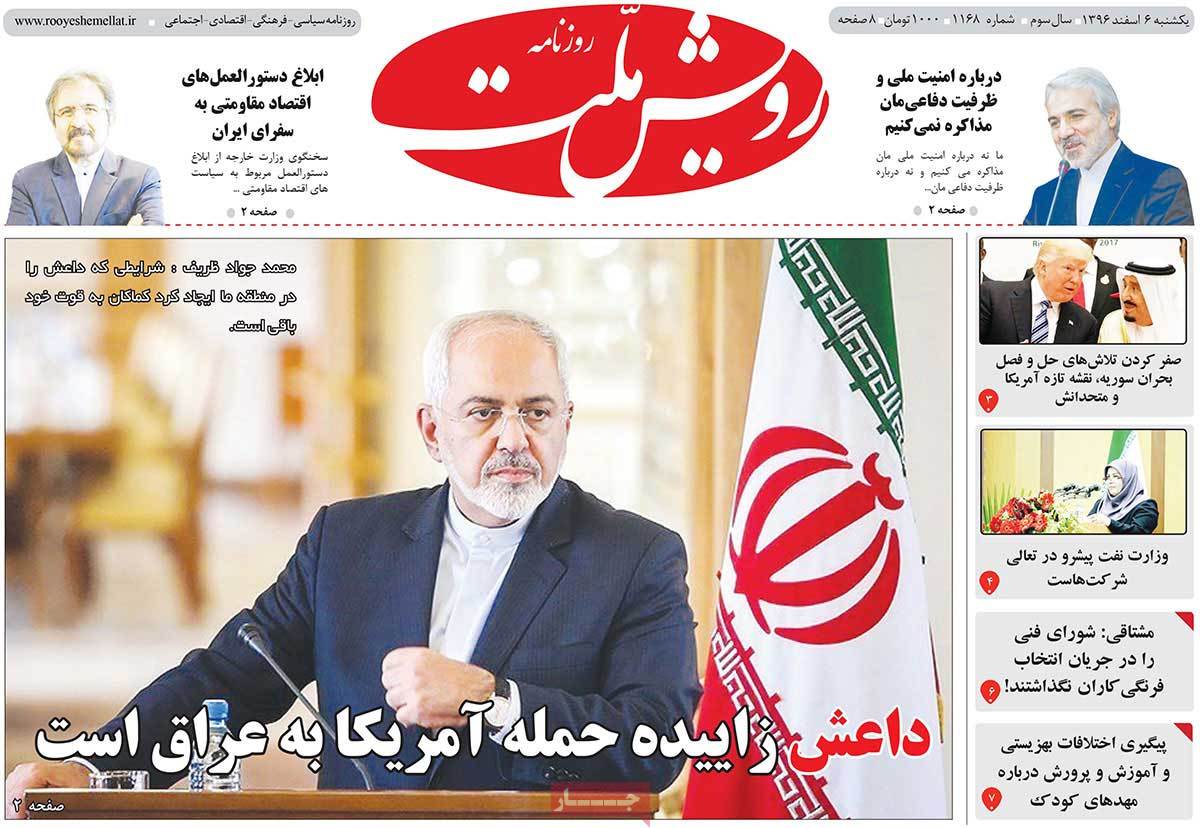 ---
Roozan:
1- Middle East on Verge of War on Jerusalem al-Quds
---
Sepid:
1- Beginning of New Chapter in Iran-Japan Health Ties
---
Shahrvand:
1- Mobile Gas Station: New Form of Delivering Gas to Citizens
2- Advisor to Iran's Science Minister: Iran's Education System Must Be Transformed
---
Shargh:
1- Rouhani: Science Cannot Be Linked to Ideology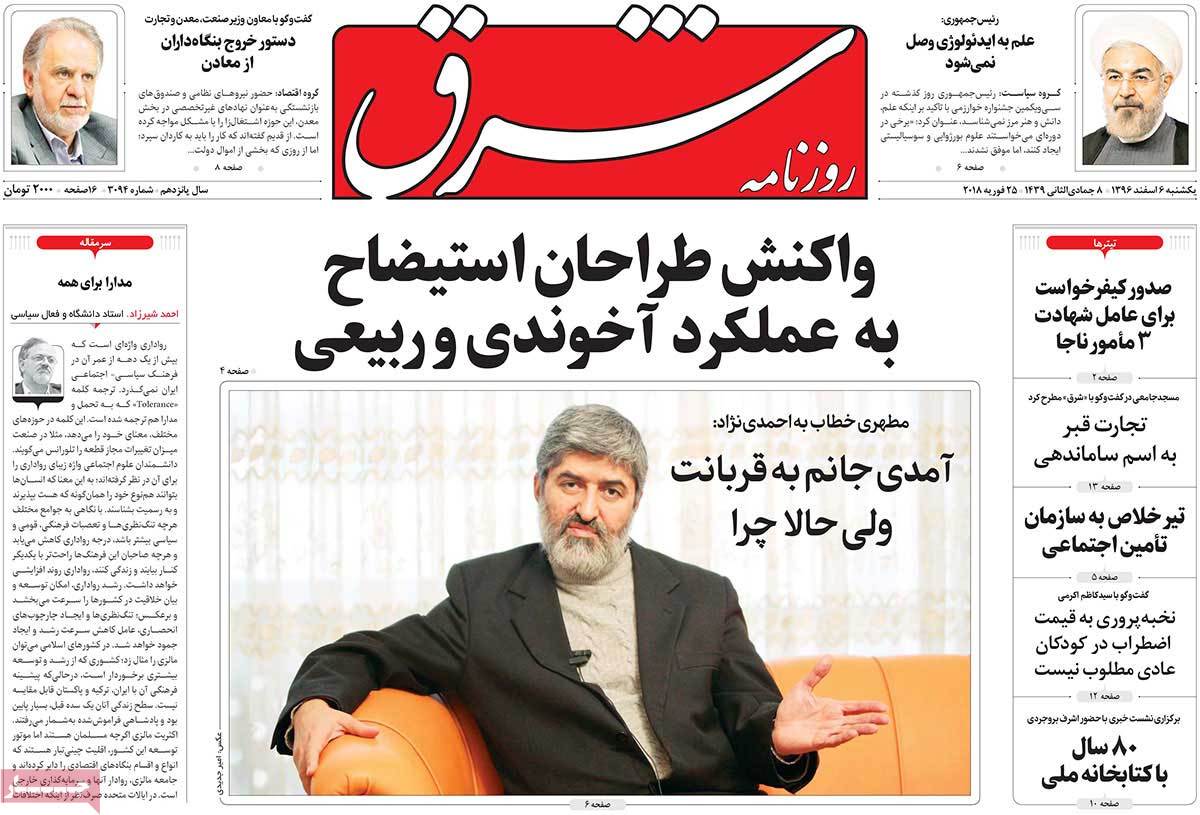 ---
Sobh-e Now:
1- ICT Minister Says Two Operators to Be Tried for Disclosing Clients' Information
2- Nasrallah Declares Time for Picking Fruit of Resistance