Newspapers today widely covered the remarks made by Iranian President Hassan Rouhani in an address to a huge gathering of Muslim worshippers in the Indian city of Hyderabad on the need for Islamic unity.
The plans implemented by the Central Bank of Iran to control the foreign exchange and gold coin markets also received great coverage today.
Several papers also highlighted the comments made by Sayyid Hassan Nasrallah, the Secretary-General of the Lebanese Hezbollah movement, against the Israeli regime.
The above issues, as well as many more, are highlighted in the following headlines and top stories:
19 Dey:
1- Controlling Gold Coin, Forex Markets: From Arresting Disrupters to Giving Incentives
2- Rouhani Addressing Hyderabad Friday Prayers: No Way But Unity among World Muslims
---
Abrar:
1- 3,000 Killed, 7,000 Wounded in Afghanistan in 2017
2- Turkey, US Agree on Improvement of Ties, Devising Joint Mechanism for Syria
3- Netanyahu Claims Iran Had Role in Recent Golan Heights Developments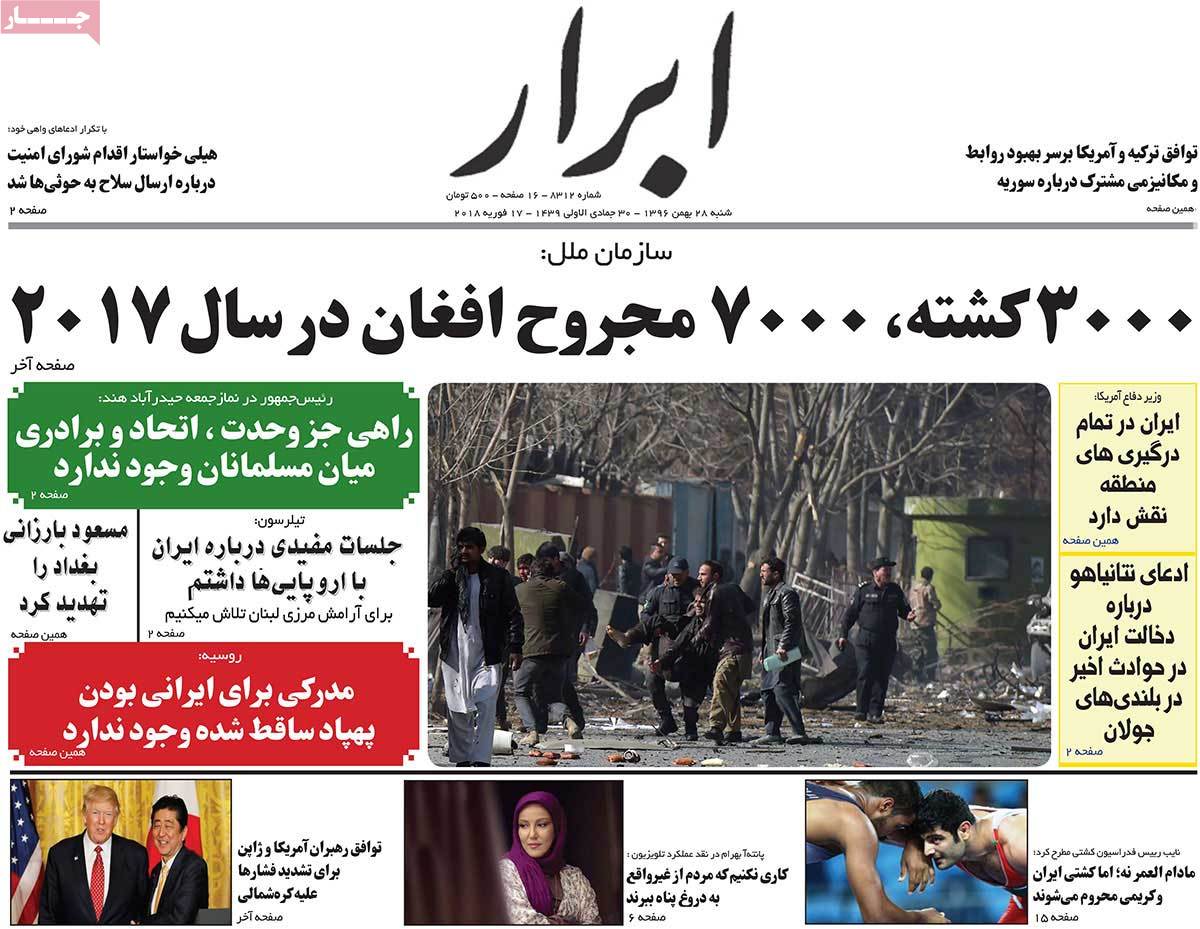 ---
Afarinesh:
1- Rouhani: India Subcontinent's Ties with Iranian Nation Special, Unique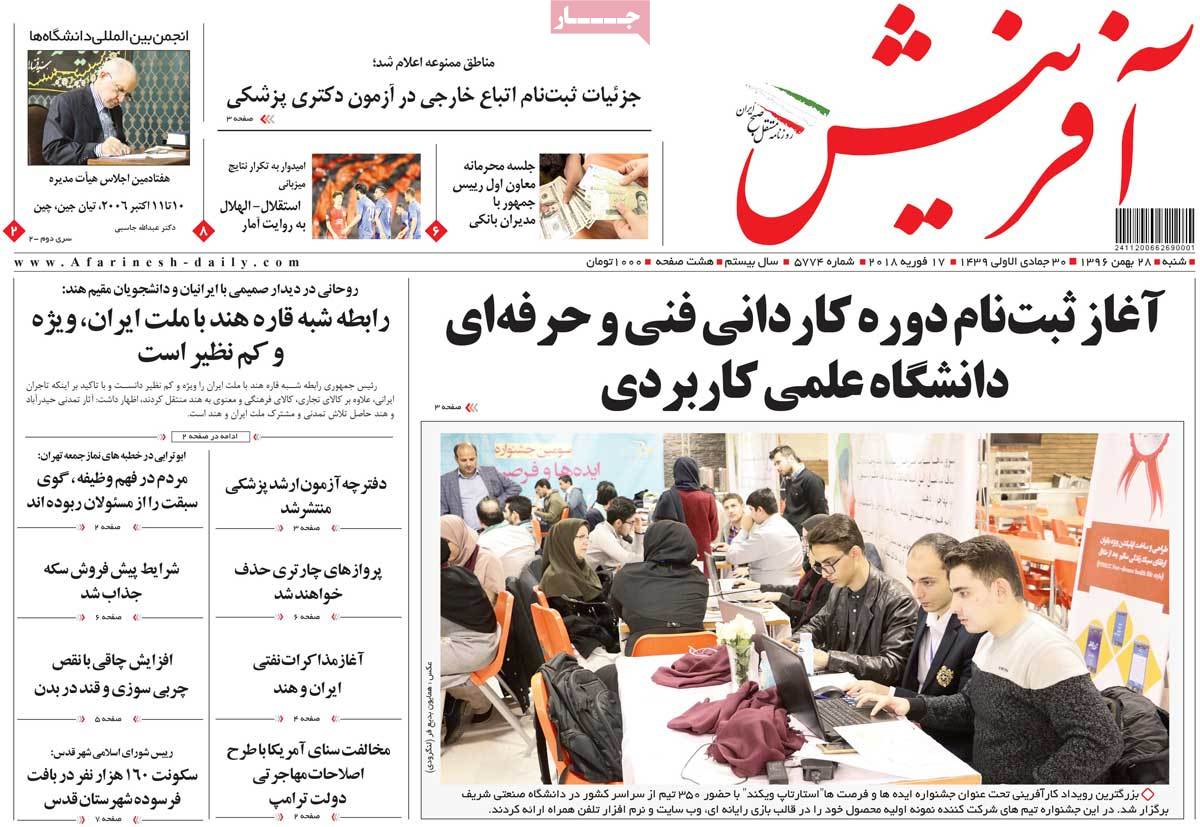 ---
Aftab-e Yazd:
1- Analyst: National Dialogue Should Not Lead to Silencing People
2- Tehran-New Delhi Ties under Shadow of Pressures
---
Arman-e Emrooz:
1- Rouhani: We Showed to World We Have Great Power in Negotiations
2- Health Minister: Iran Suffering from Epidemic of Two Different Flu Types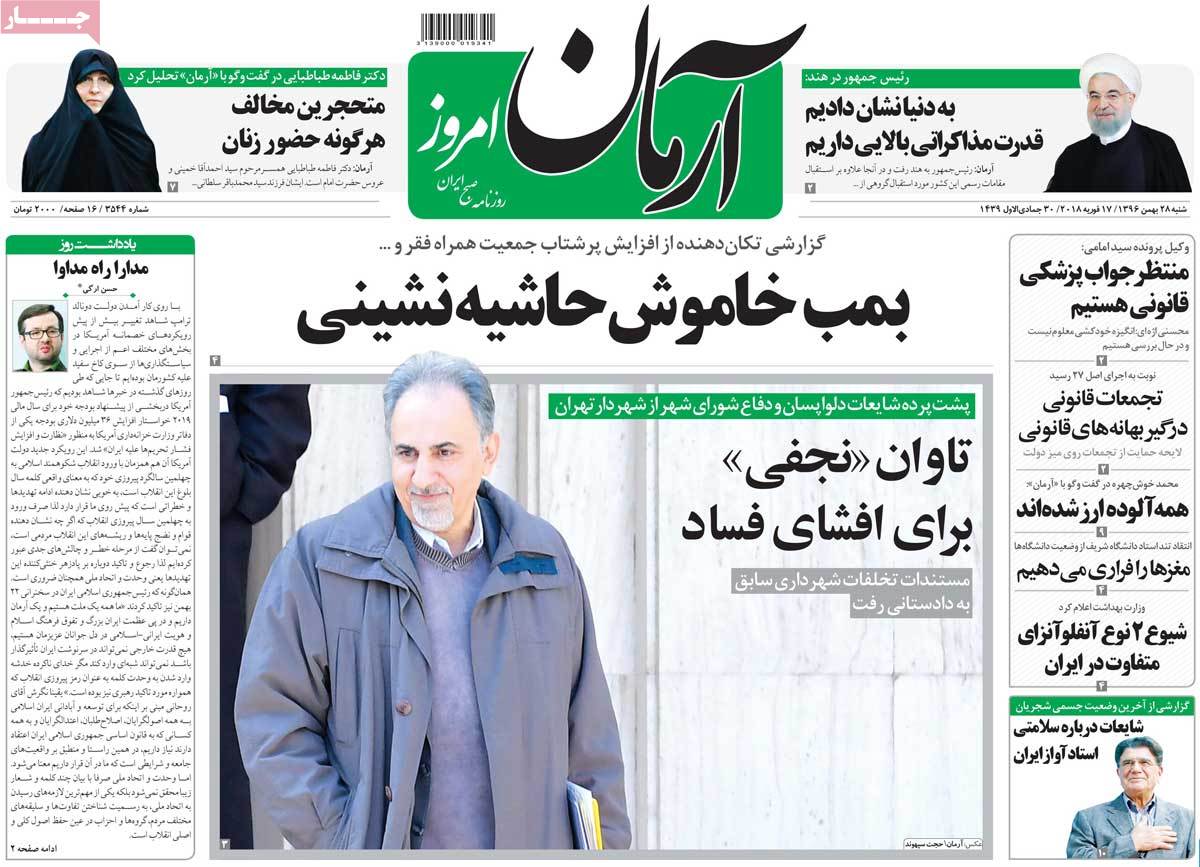 ---
Asrar:
1- Legal Ways for Rallies, Gatherings Discussed at Interior Ministry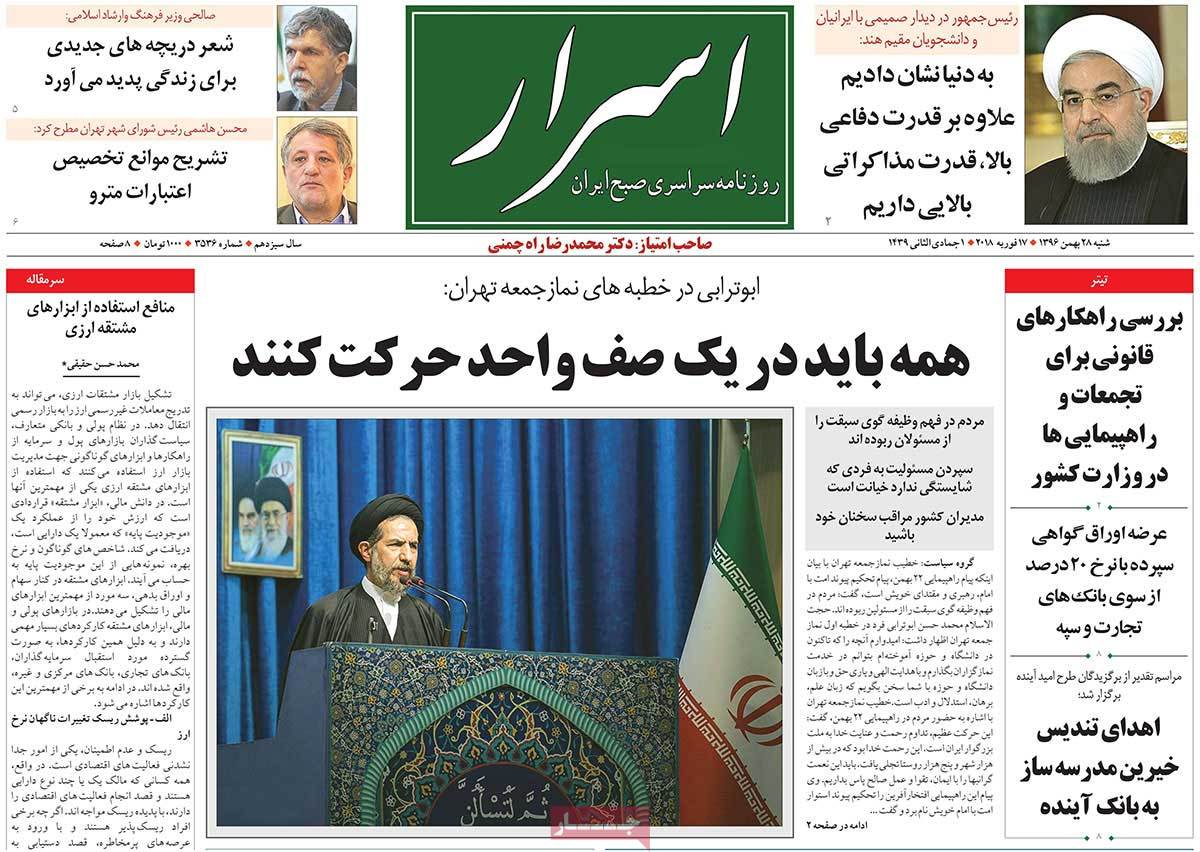 ---
Ebtekar:
1- Parliament's Attempt to Control Forex Market: Economy Minister on Verge of Impeachment
---
Etemad:
1- Rouhani in Meeting with Hyderabad Clerics: Guns Not to Resolve Muslim World's Problems
---
Ettela'at:
1- Rouhani: We Shouldn't Let Cultural Resources of Muslim World Be Looted
2- Gen. Soleimani: Israel Must Be Destroyed in Revenge for Imad Mughniyeh's Life
3- Hezbollah Chief: US Has Its Eyes on Syria's Oil, Gas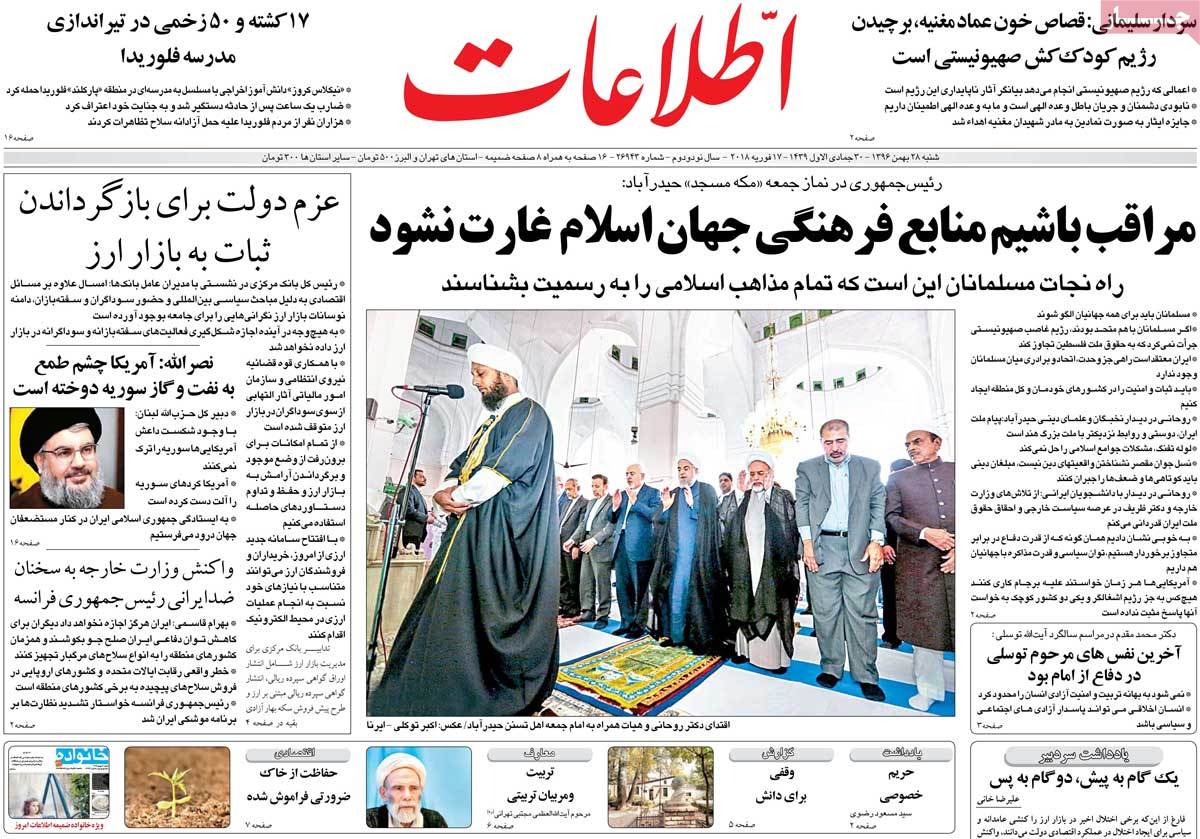 ---
Farhikhtegan:
1- Iran's Velayati: Tillerson's Mideast Visit Result of US Failures in Muslim States
---
Hemayat:
1- Nasrallah: Oil, Gas Conflict Has Engulfed Region
2- Britain Using Deceit to Cover Up Crimes in Yemen
London Urges UN Security Council to Praise Roles of Saudi Arabia, UAE in Sana'a
---
Iran:
1- Rouhani in India: Enemy Introducing Islam as Religion of Violence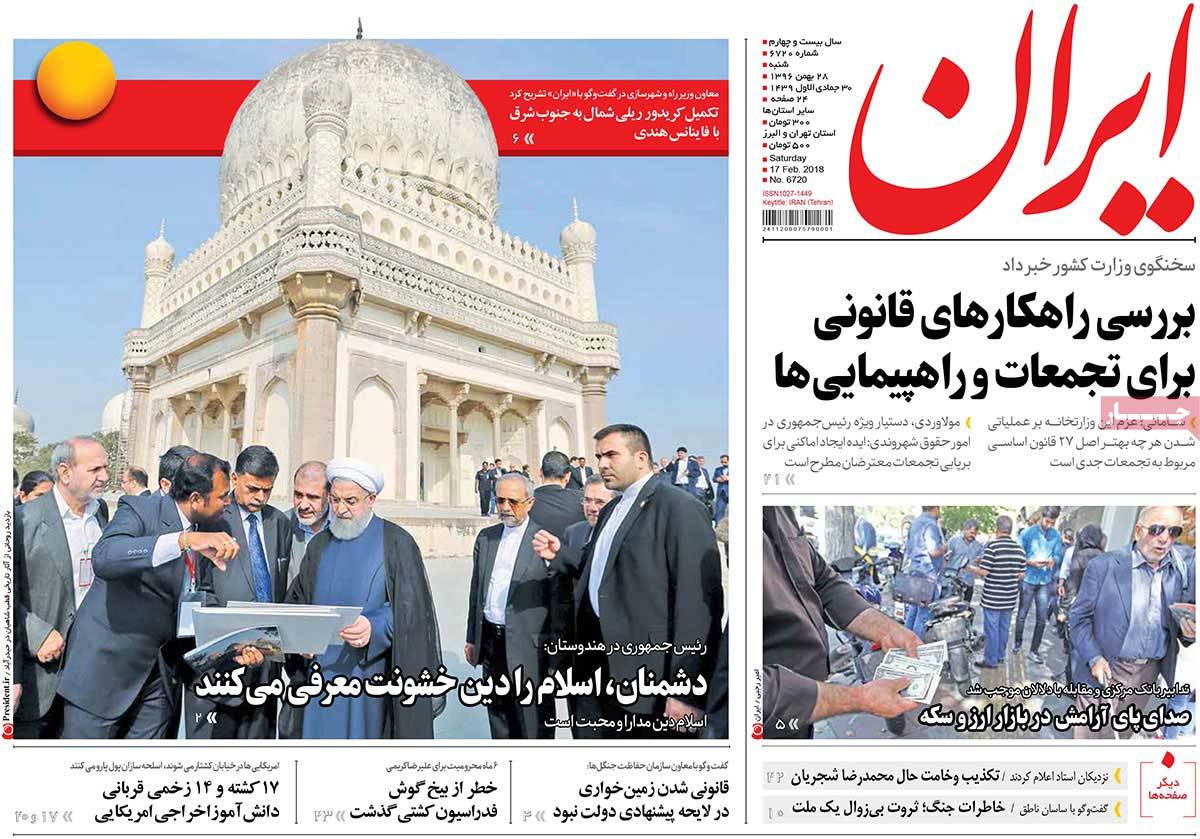 ---
Javan:
1- Nasrallah: We'll Target Israel's Gas Facilities If Lebanese Gov't Asks Us to
2- Rouhani at Hyderabad Friday Prayers: Israel Wouldn't Dare to Invade Palestine If Muslims United
3- Former American Student Kills 17 Classmates!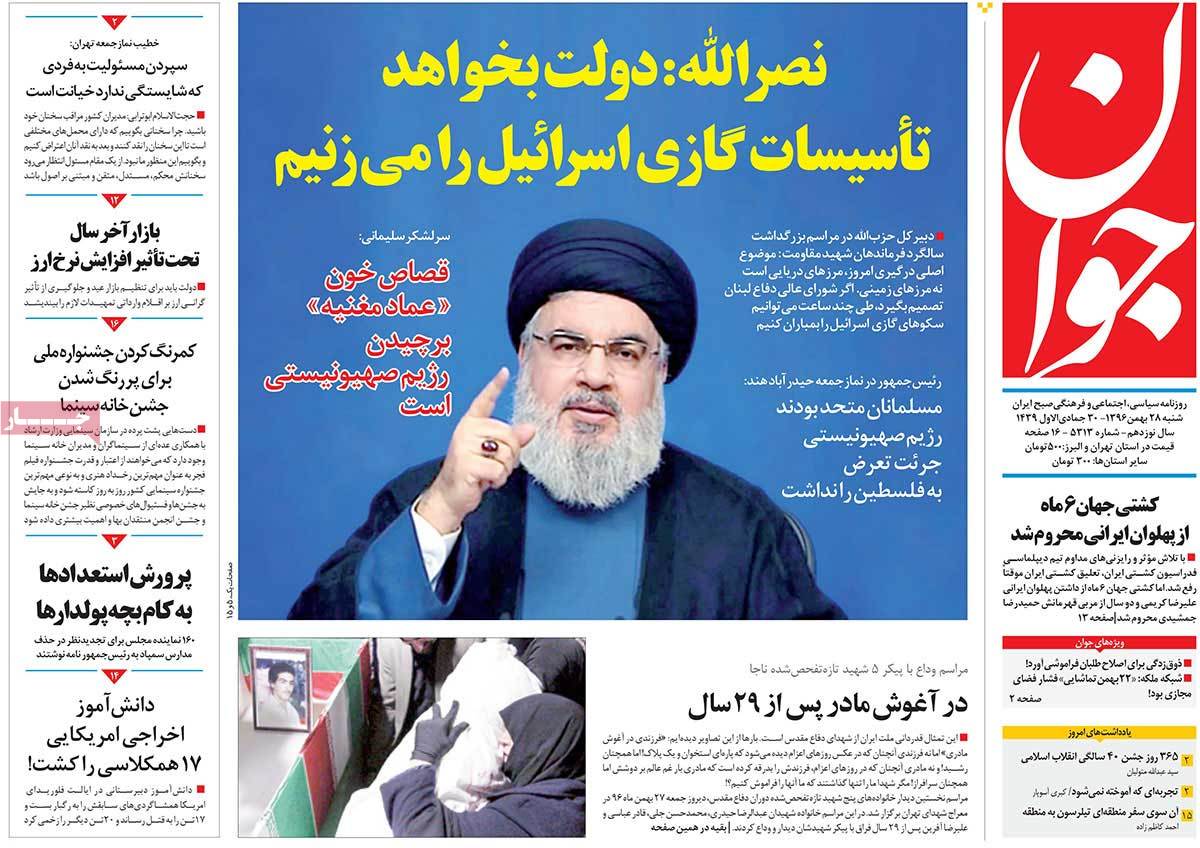 ---
Jomhouri Eslami:
1- Iran, India Take Big Step to Develop Economic Ties
2- Nasrallah: Zionist Regime Using Trump, Arab World's Ignorance to Occupy Golan
3- Turkey's Offer to US: Joint Rule over Syria's Minbaj
4- US Senate Opposed to Trump's Anti-Immigration Plan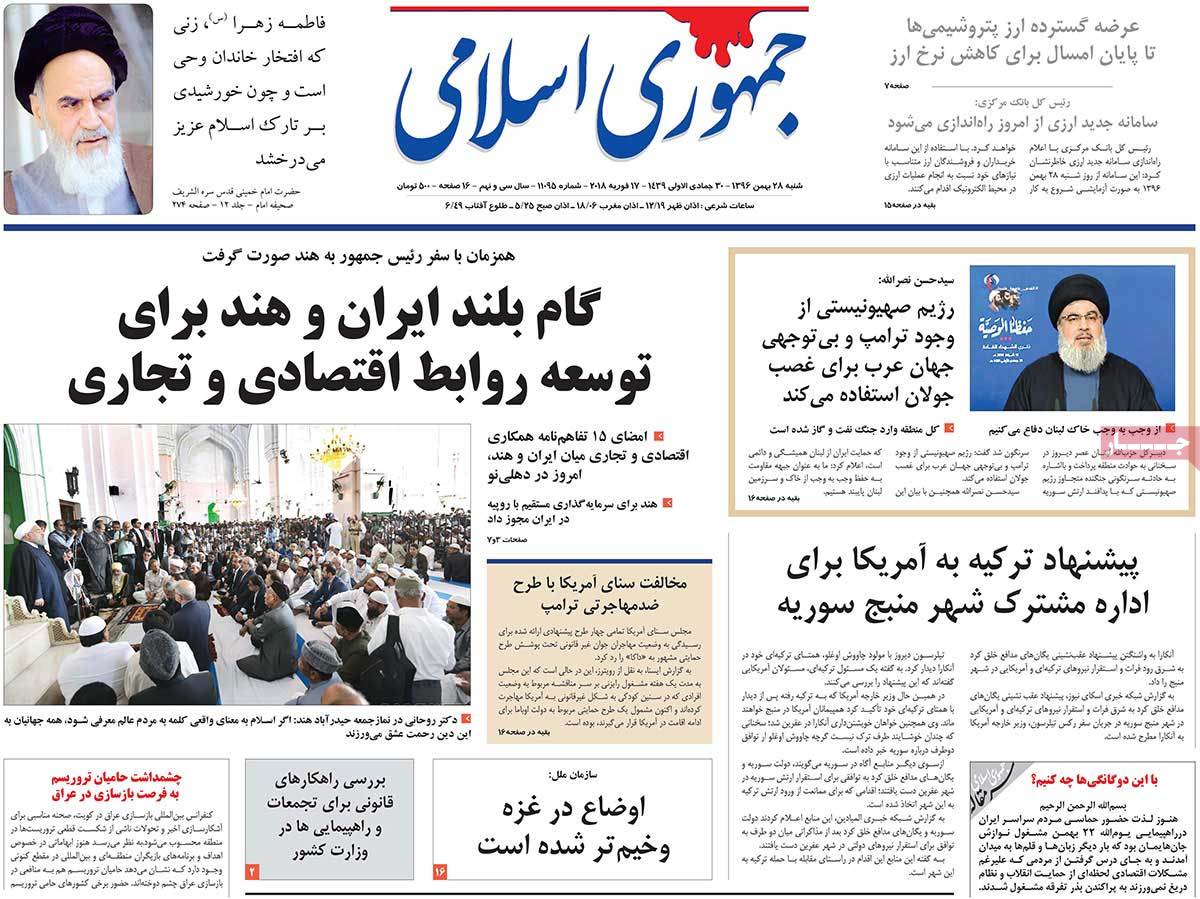 ---
Kayhan:
1- So-Called Advocates of Reformism Show Questionable Support for Missile Spy
2- Import of British-Made Products to Iran Increased by 133%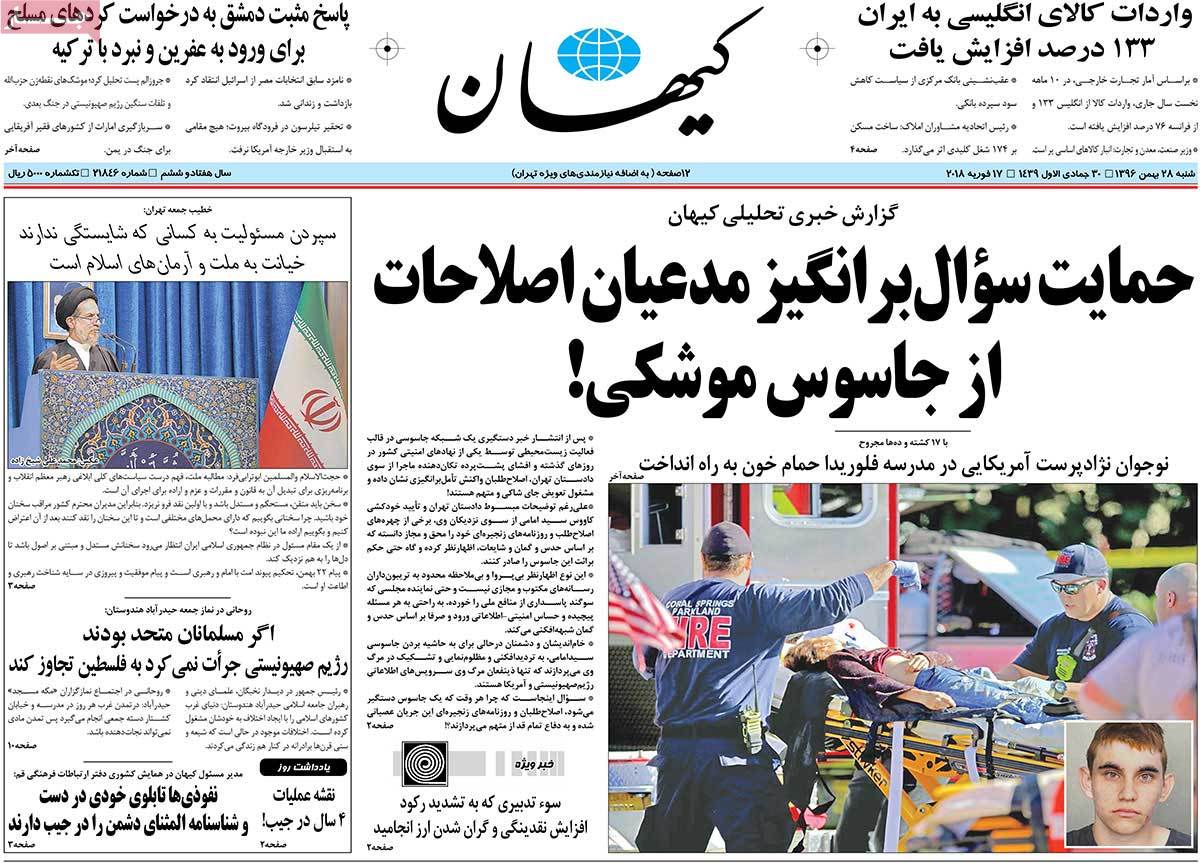 ---
Kelid:
1- MP Claims US Plays Role in Disruption of Iran's Forex Market
---
Khorasan:
1- 30,000 Annually Killed by Gunshot in US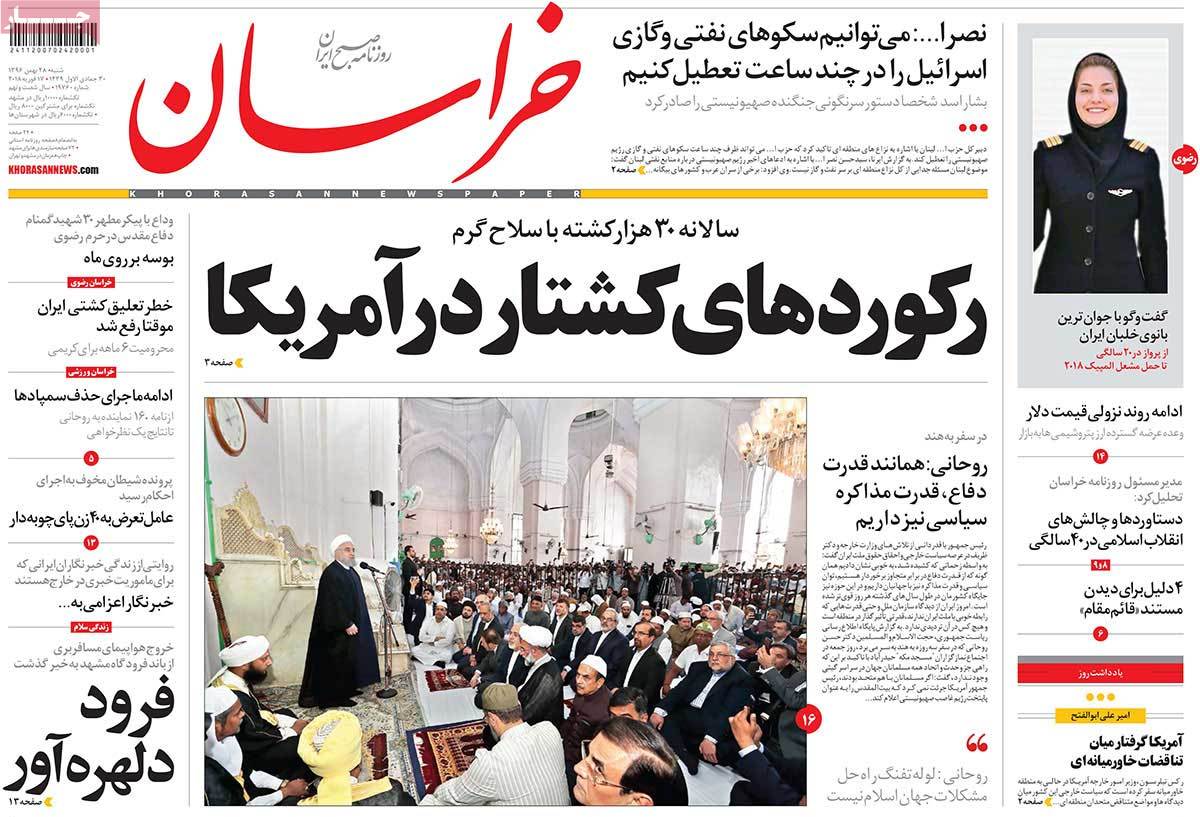 ---
Resalat:
1- Iranian Cleric: People Want Gov't to Implement General Policies Outlined by Leader
---
Rooyesh-e Mellat:
1- Shamkhani: US Must Deal with Its Own Security Instead of Meddling in Other Countries' Affairs
---
Setareh Sobh:
1- Robert Mueller Questions Bannon for 2 Days over Cooperation with Russia
---
Shargh:
1- Friday Prayers Leaders against Referendum
2- Mandela's Oil Ally Becomes President of South Africa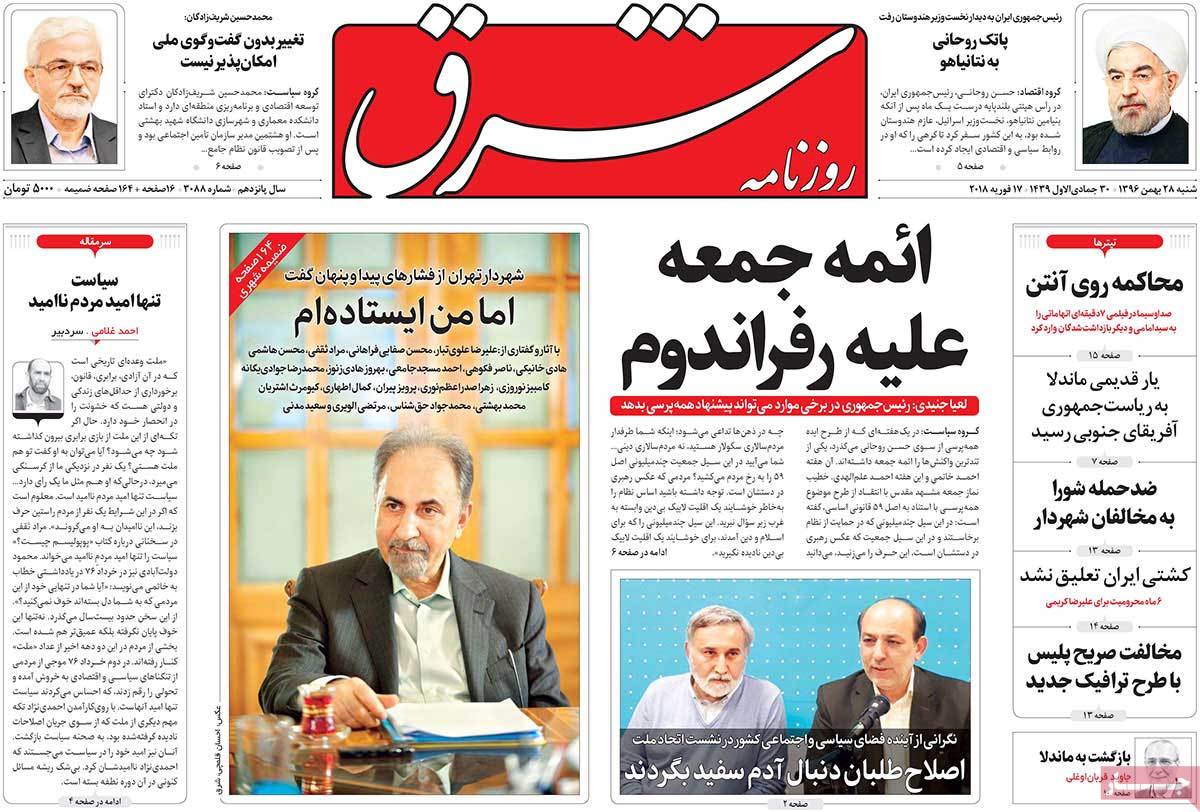 ---
Vaghaye Ettefaghieh:
1- American Historian: Trump's Nightmare to Be Over Soon
2- Iran's Wrestling Not Suspended: Wrestler Suspended for Six Months
Consequence of Not Playing against Israeli Athlete