The top story in many newspapers today was President Hassan Rouhani's recent call for a referendum on certain issues where there is a strong dispute. Reformist papers mostly welcomed the idea, while conservatives strongly criticized and condemned it as an insult to millions of people who took part in the February 11 nationwide rallies.
The arrest of several environmentalists, and the death of one of them, Kavous Seyyed-Emami, also received great coverage today. The Judiciary says Seyyed-Emami has committed suicide when he was in Evin Prison.
The above issues, as well as many more, are highlighted in the following headlines and top stories:
19 Dey:
1- Iran Leader Praises People's Epic Turnout
2- Larijani: People Disturbed by Political Arguments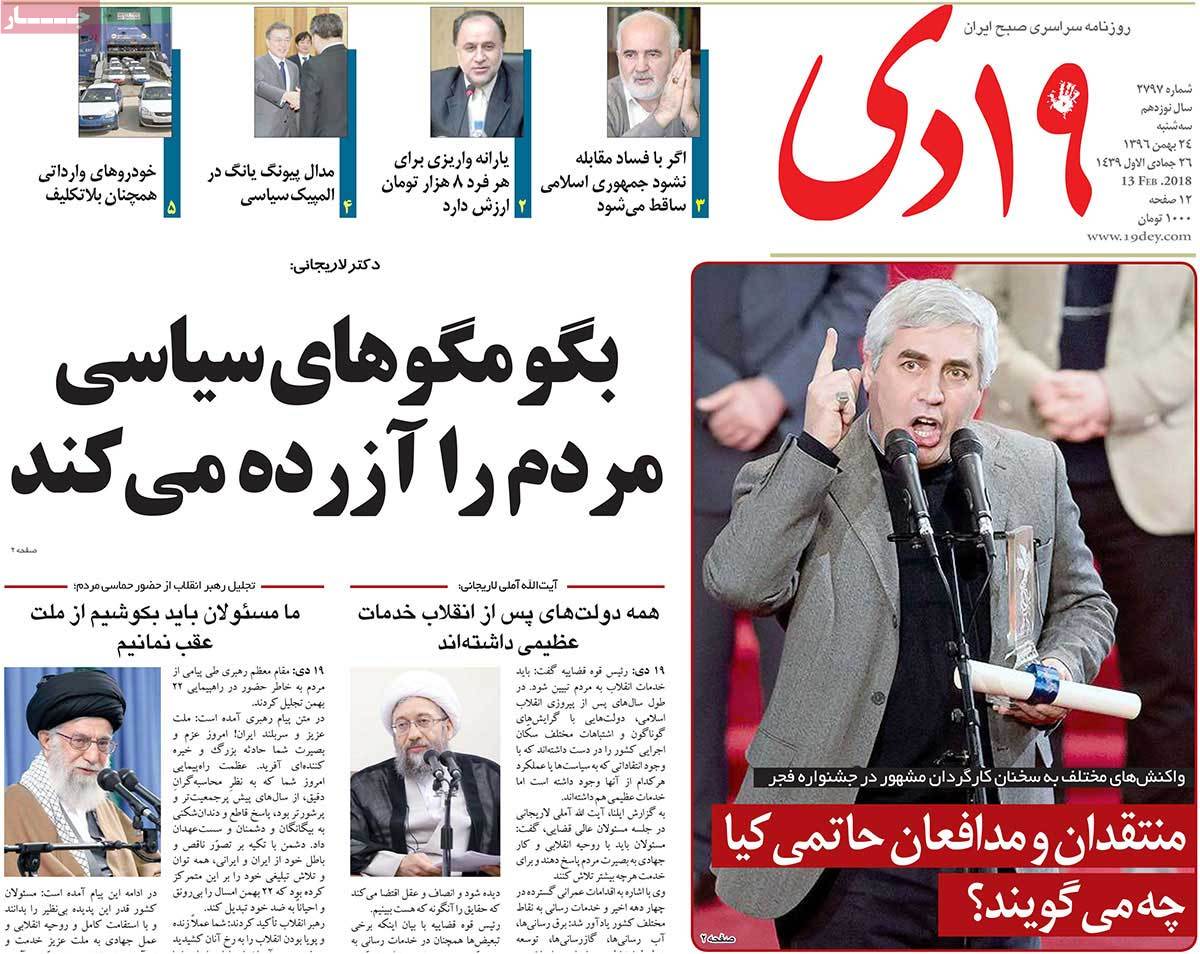 ---
Abrar:
1- Iran Leader Praises People's Turnout in Revolution Rallies
2- Zionist Media: Netanyahu Warns Iran through Europeans
3- Iran Nuclear Deal Disastrous for Israel: Trump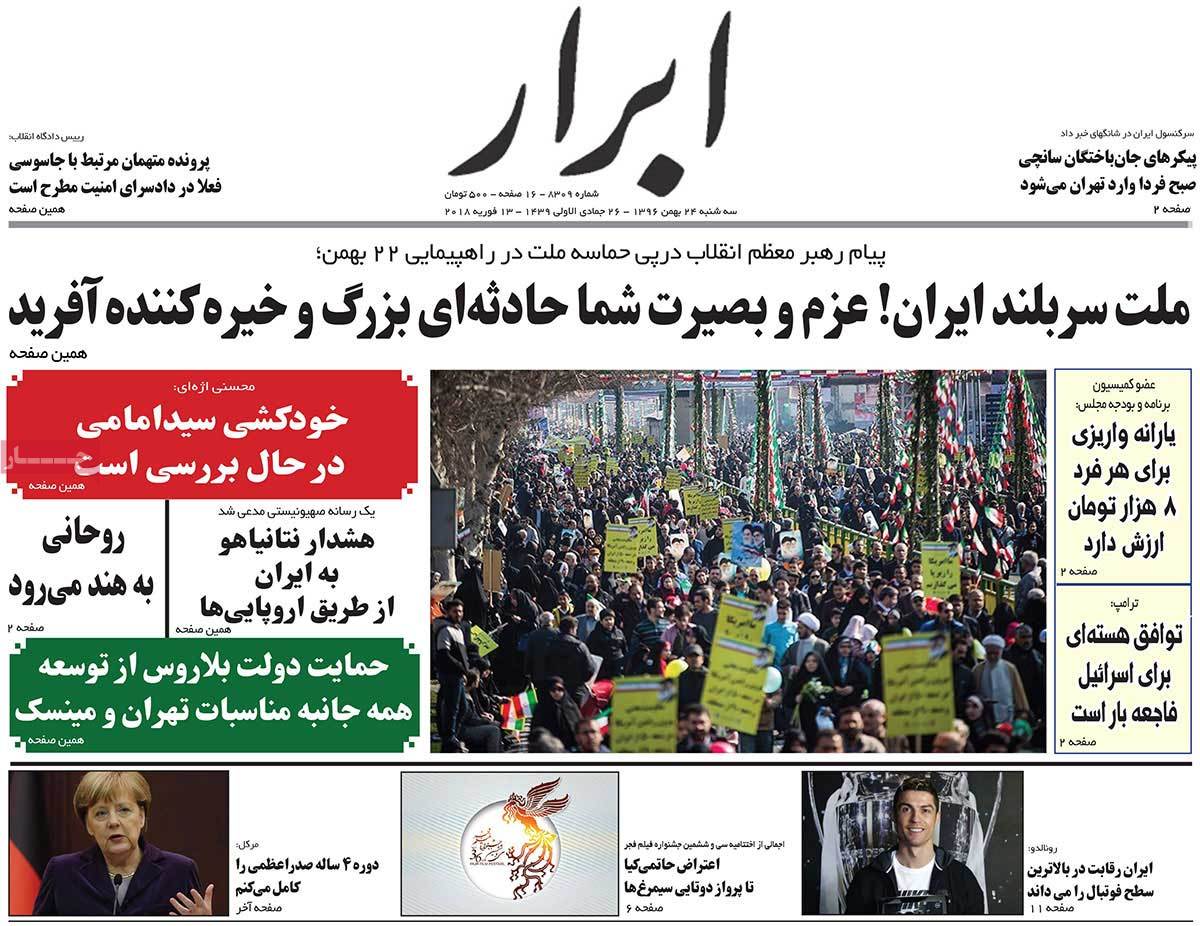 ---
Abrar-e Eqtesadi:
1- Russia's Air Show to Convince Iran to Buy Its Passenger Plane
2- Total CEO Holds Talks with Trump over Iran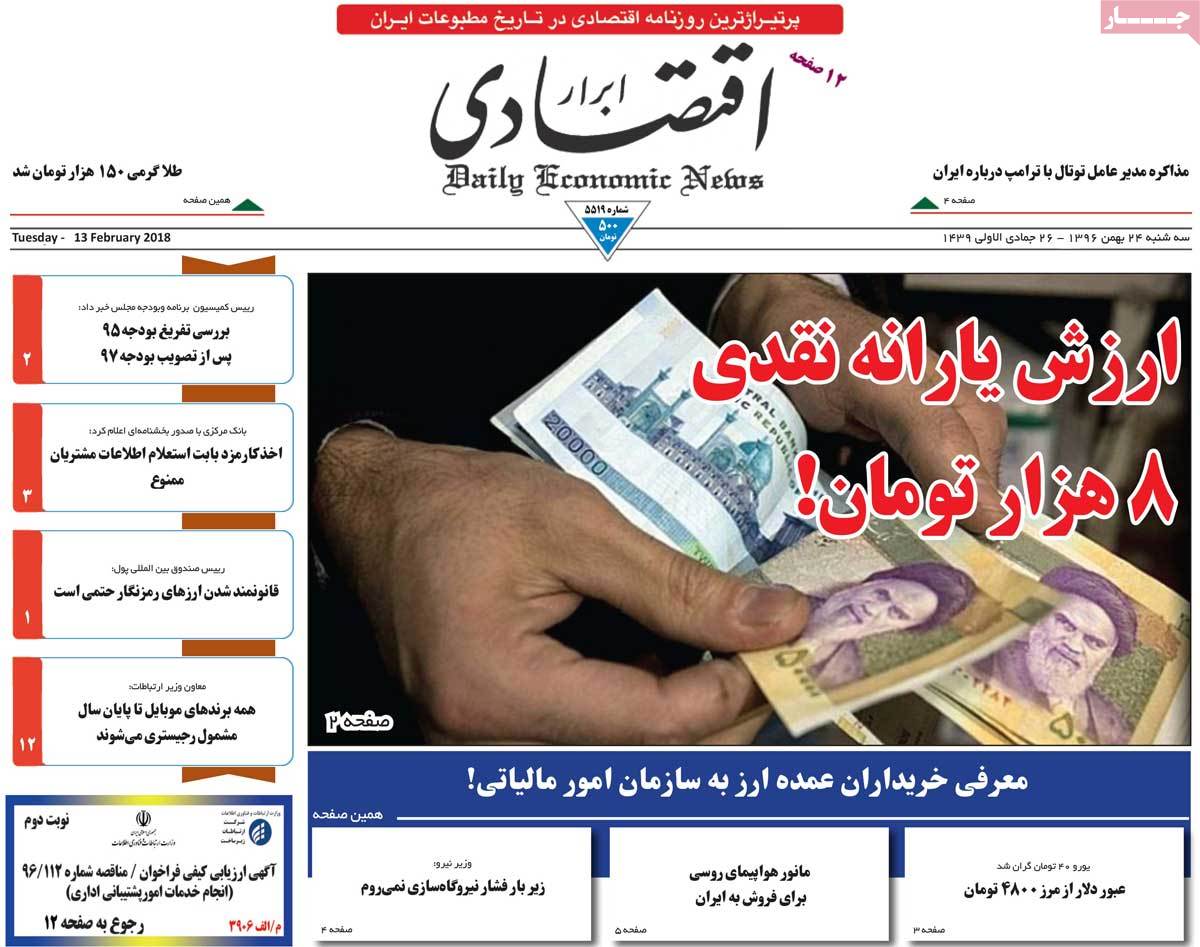 ---
Afkar:
1- Cases of Several Other Spies in Rouhani's Administration Spark Controversy
---
Aftab-e Yazd:
1- Path of Referendum
Experts Discuss Rouhani's Offer to Hold Referendum on Controversial Issues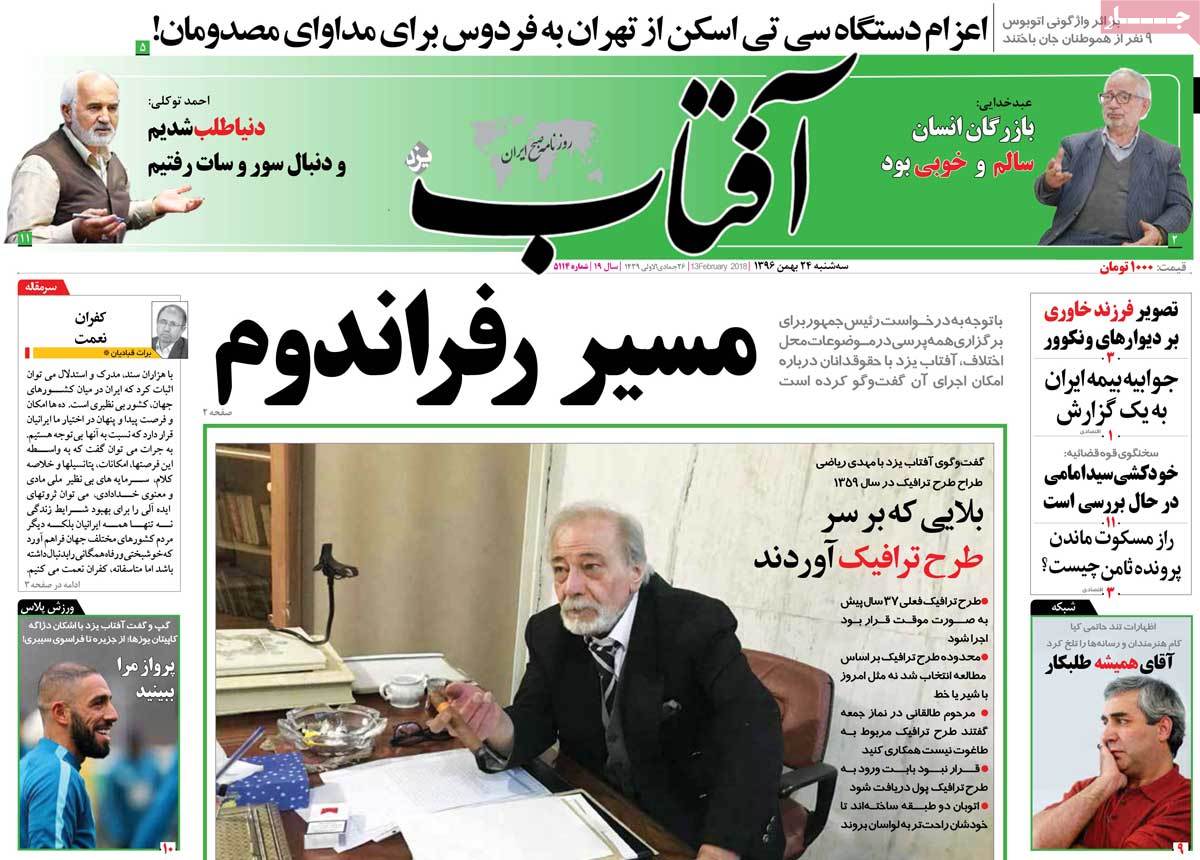 ---
Arman-e Emrooz:
1- Parliament May Impeach 3 Ministers for Suicides Committed in Jail
2- Health Ministry Warns about Increased Marijuana Use among Girls
3- Germany, Japan to Help Tehran Fight Severe Air Pollution
For Now, $11 Million Given as Aid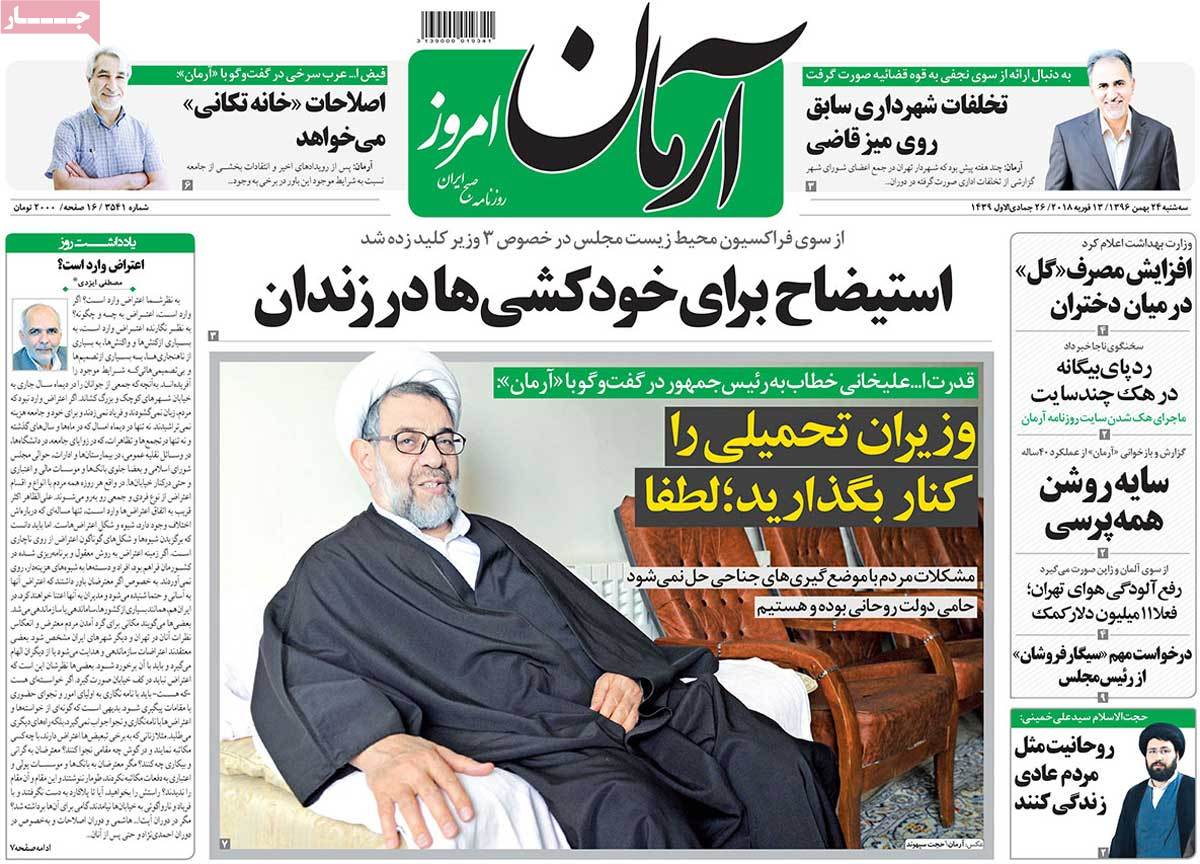 ---
Asrar:
1- Larijani: Society Disturbed by Efforts to Cause Rift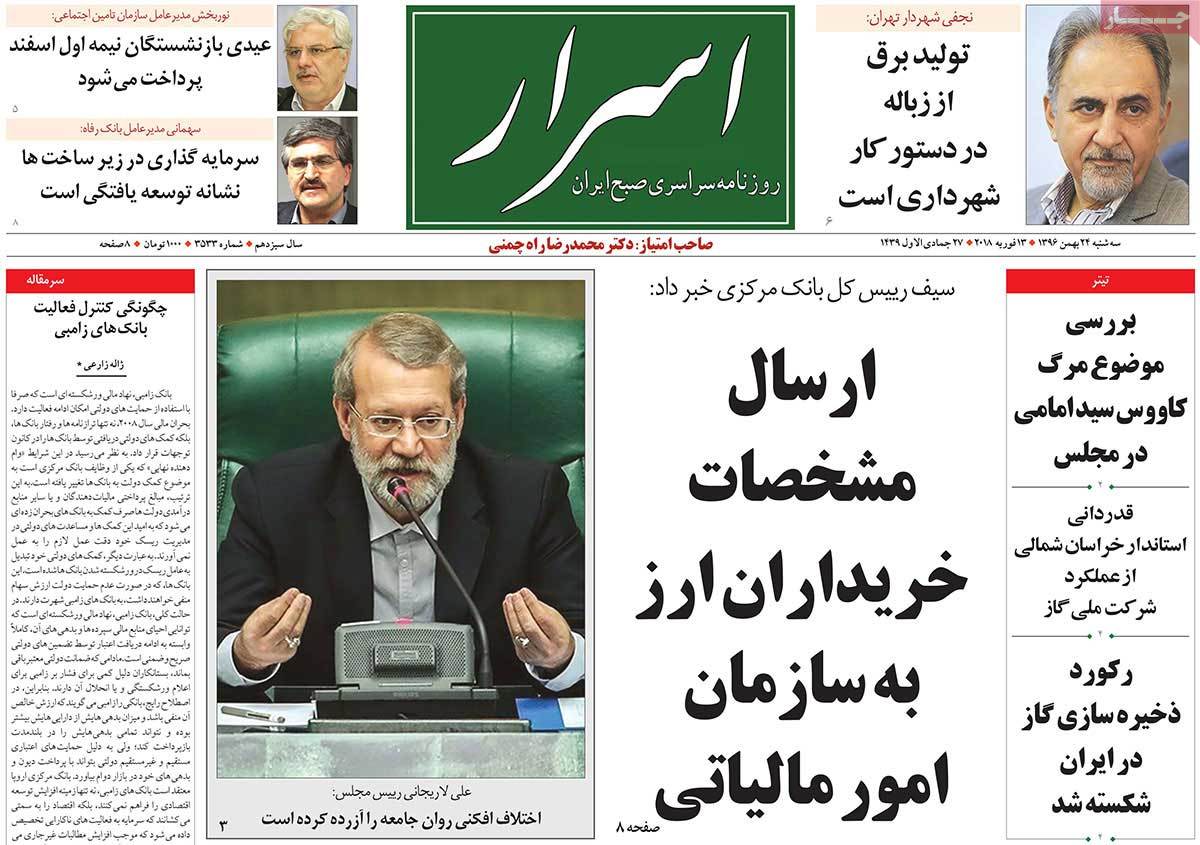 ---
Ebtekar:
1- Judiciary Spokesman: Environmentalist's Suicide in Jail under Investigation
2- Dusty Road to Referendum: Analysis of Rouhani's Referendum Bid
3- Frankness, Courage in Rouhani's Words [Editorial]
---
Etemad:
1- Analyst: Iran's Hands in Nuclear Talks Full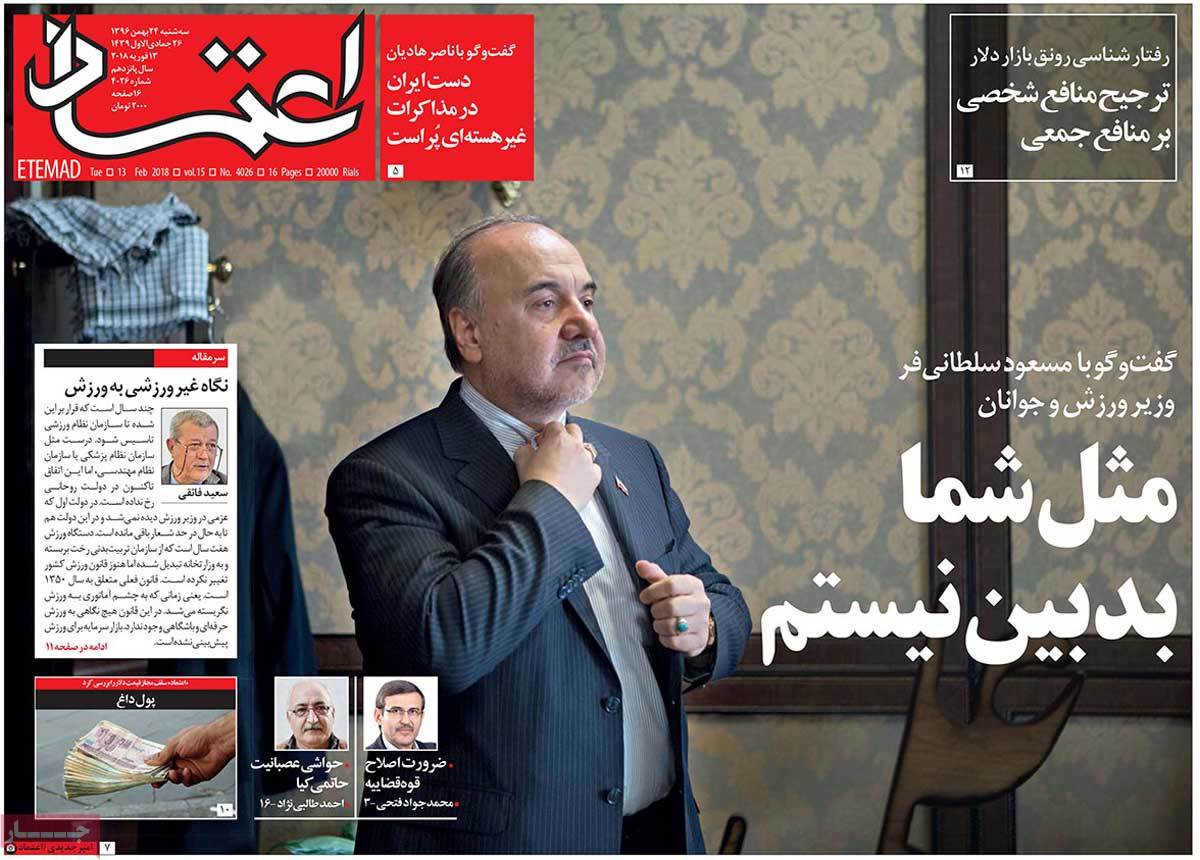 ---
Ettela'at:
1- Lebanon's Hezbollah Warns Israel against Any Adventurism
2- Energy Ministry Welcomes IRGC's Cooperation in Cloud Seeding: Minister
3- Baghdad Officially Calls for Iran's Participation in Iraq's Reconstruction
---
Ghanoon:
1- Referendum Not a Taboo!
Certain Political Factions Afraid of Rouhani's Call for Implementing Constitution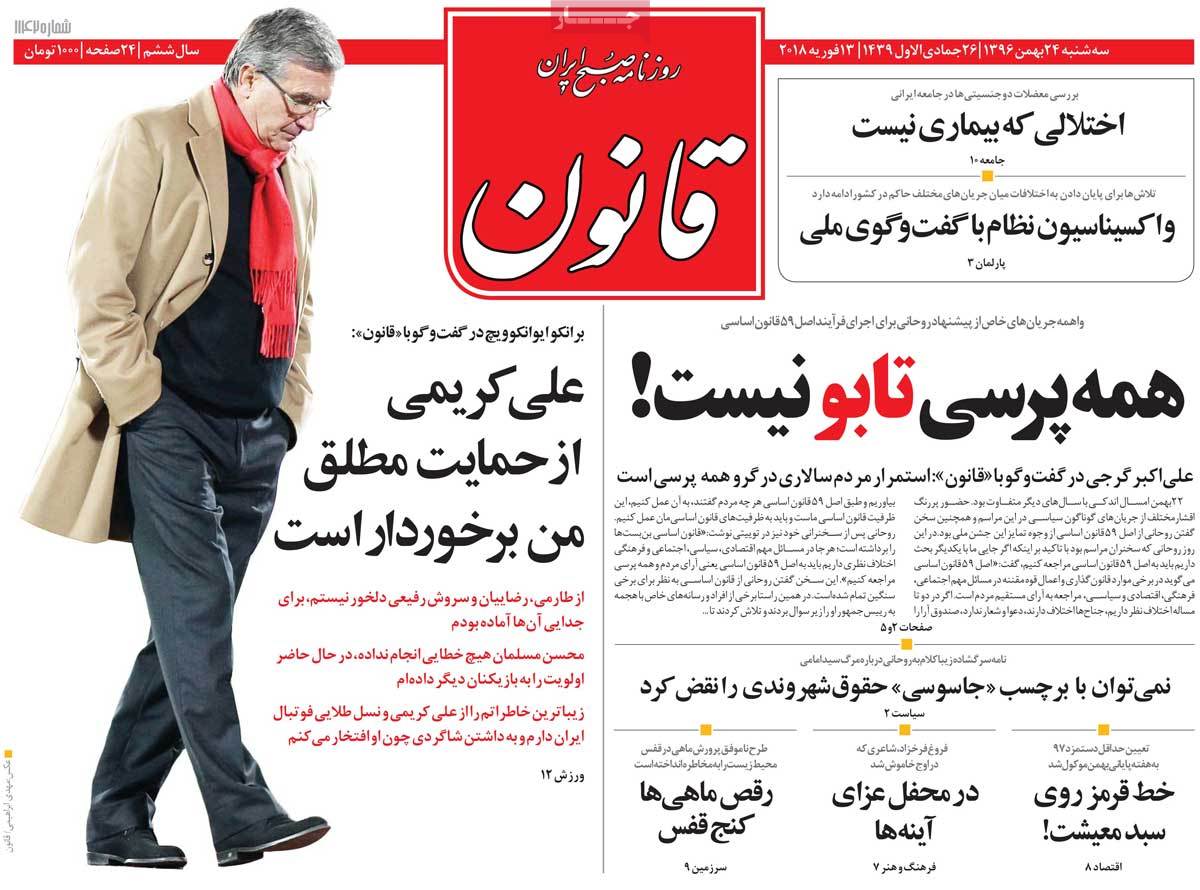 ---
Hemayat:
1- Russia FM: US Measures against Iran Discriminatory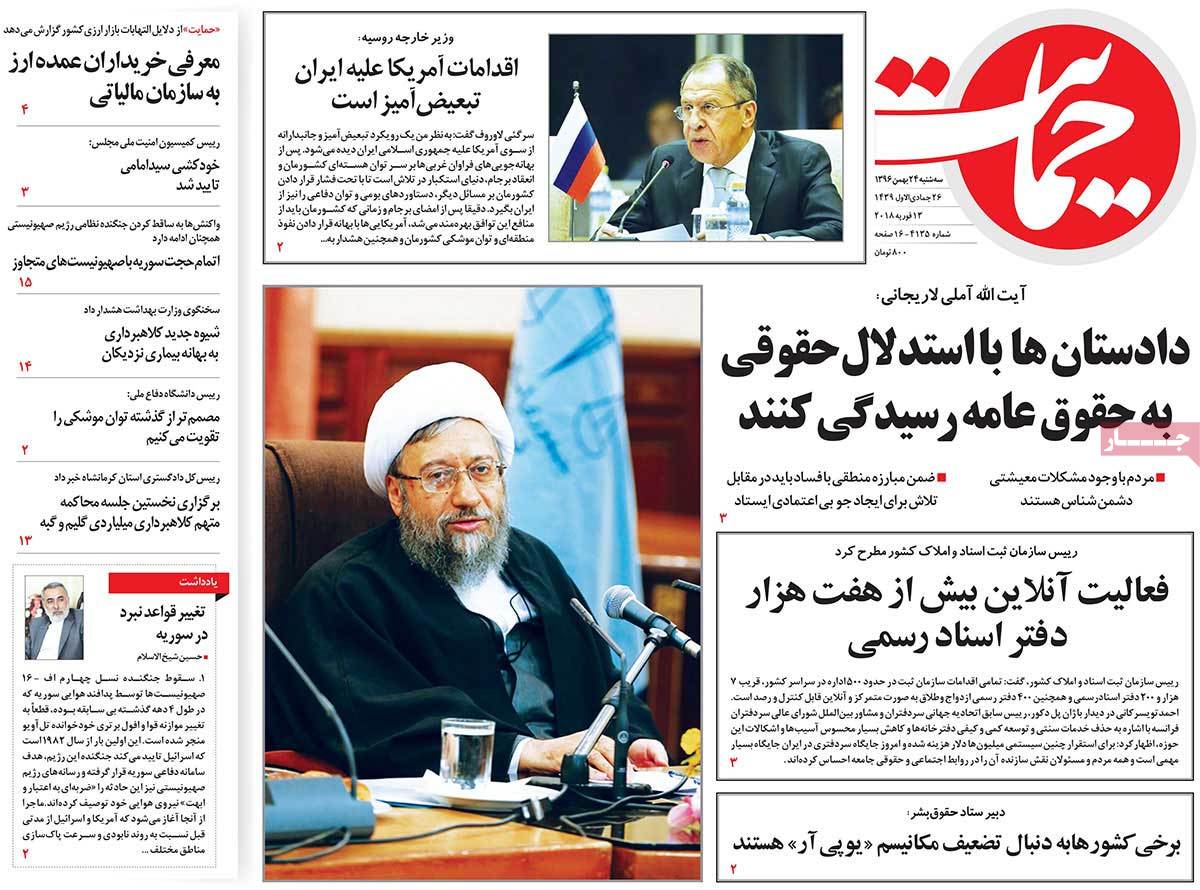 ---
Iran:
1- Referendum; Topic of the Day in Political Gatherings
---
Jame Jam:
1- Environment Chief: People Must Adapt Themselves to Shortage of Water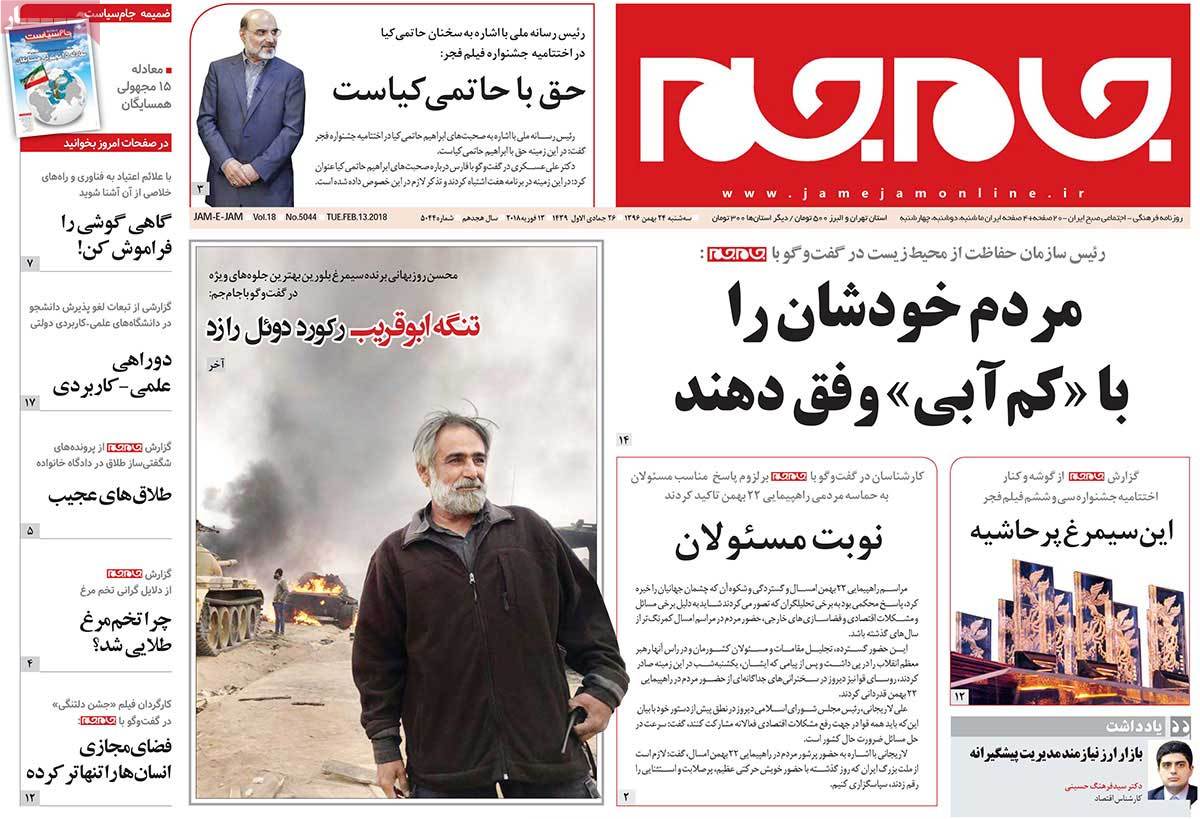 ---
Javan:
1- Resistance Forces' Cyber Power Hunts Even F-35 Jet Fighters of Zionists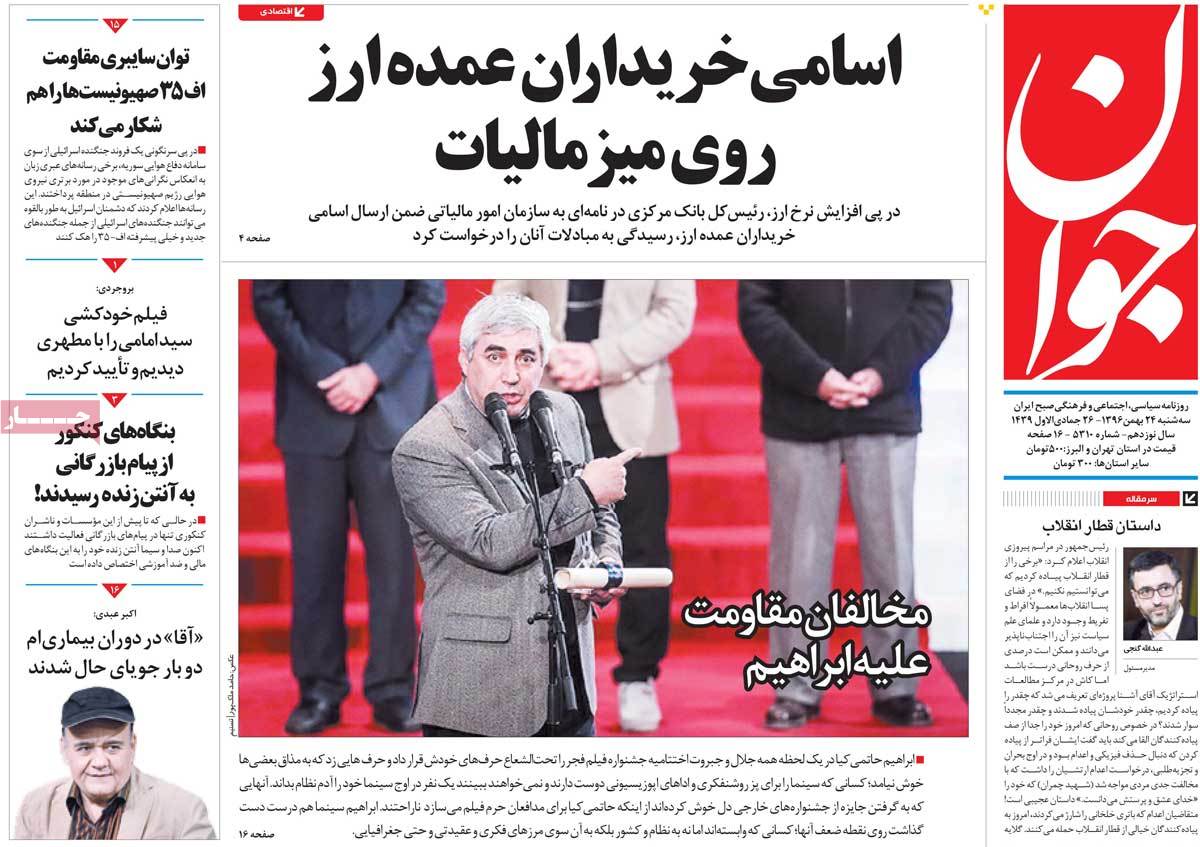 ---
Jomhouri Eslami:
1- Iran Leader: People Showed Off Lively, Dynamic Nature of Iran's Revolution
2- Lebanese Hezbollah: Era of Unanswered Israeli Attacks Over
3- Japan to Spend $14 Million to Equip Two Hospitals in Tehran
---
Kayhan:
1- People Standing behind Their Revolution; Gov't Shouldn't Play in Enemy's Field
2- British Foreign Secretary after Visiting Myanmar: I Hadn't Seen Such Crimes in My Life!
3- Kayhan Chief: Rouhani's Call for Referendum Insult to Tens of Millions of Demonstrators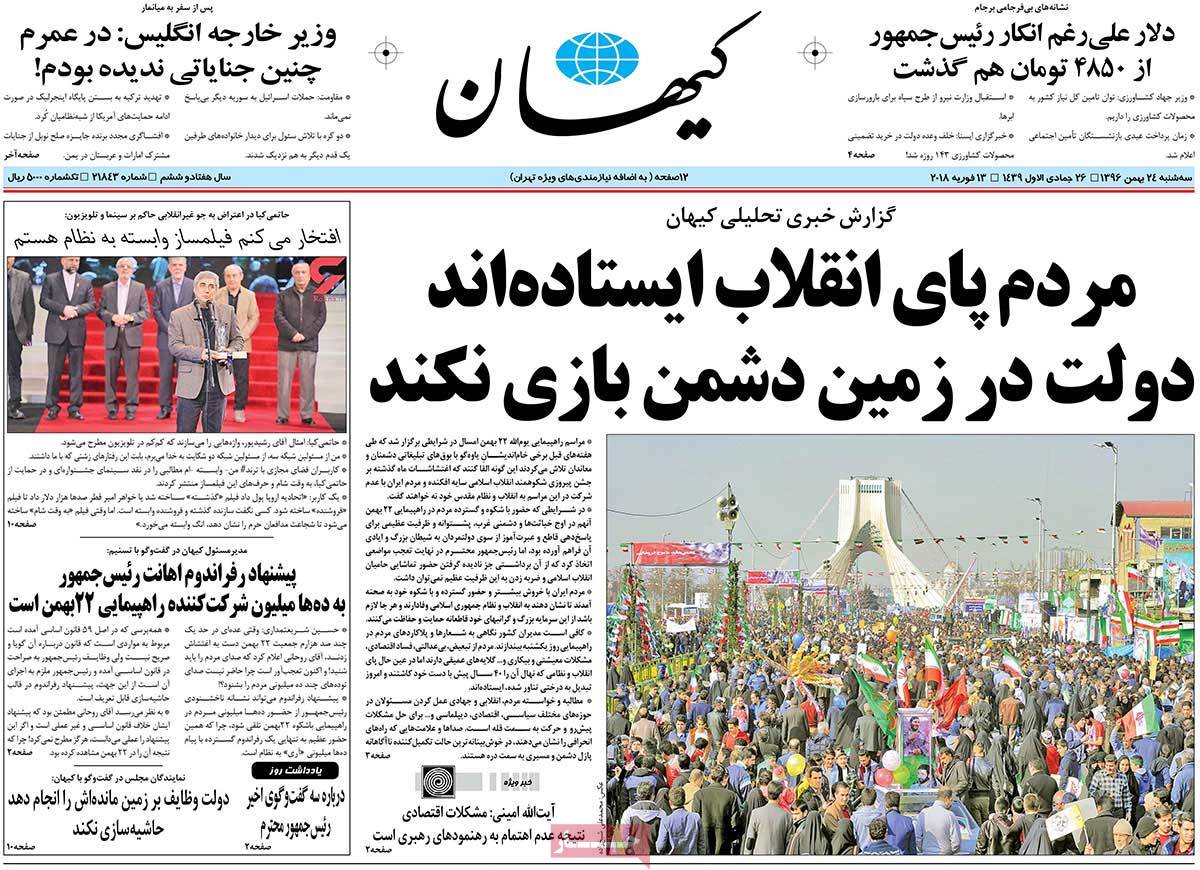 ---
Payam-e Zaman:
1- Health Ministry Spokesman: 55,000 Iranians Die of Smoking Annually
---
Resalat:
1- Iran Leader Urges Officials to Serve Nation with Revolutionary Spirit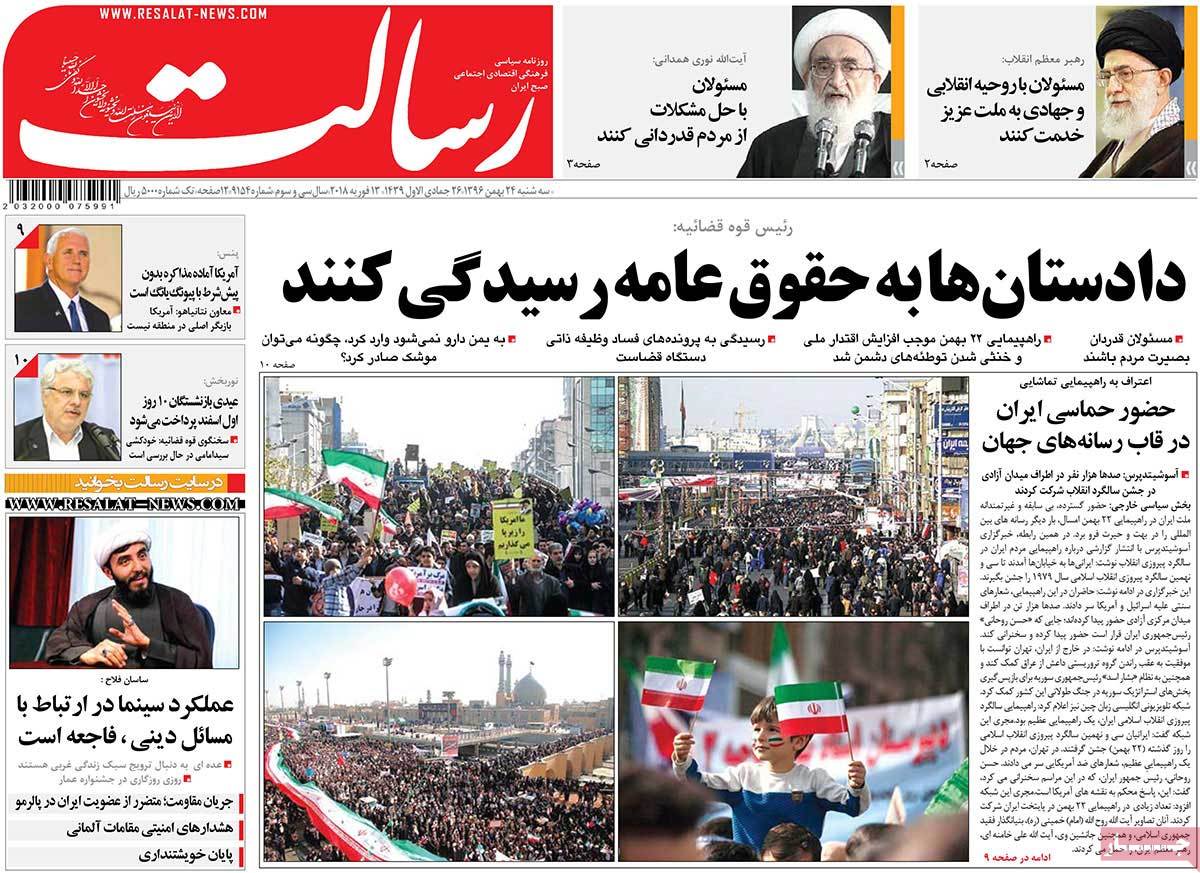 ---
Rooyesh-e Mellat:
1- Russia FM: Those Who Call Iran's Missile Program Destabilizing Should Provide Proof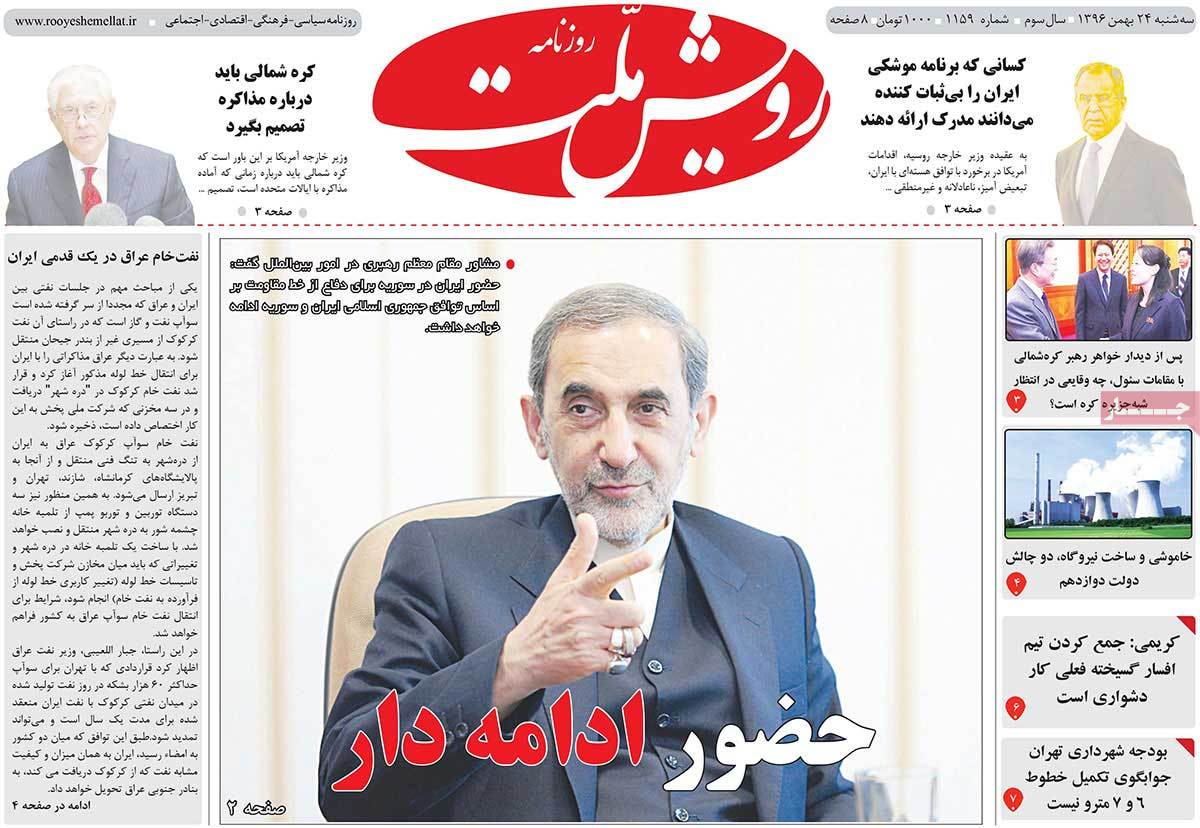 ---
Seda-ye Eslahat:
1- Hotel of Dogs in Tehran: IRR 1.6m [$34] per Night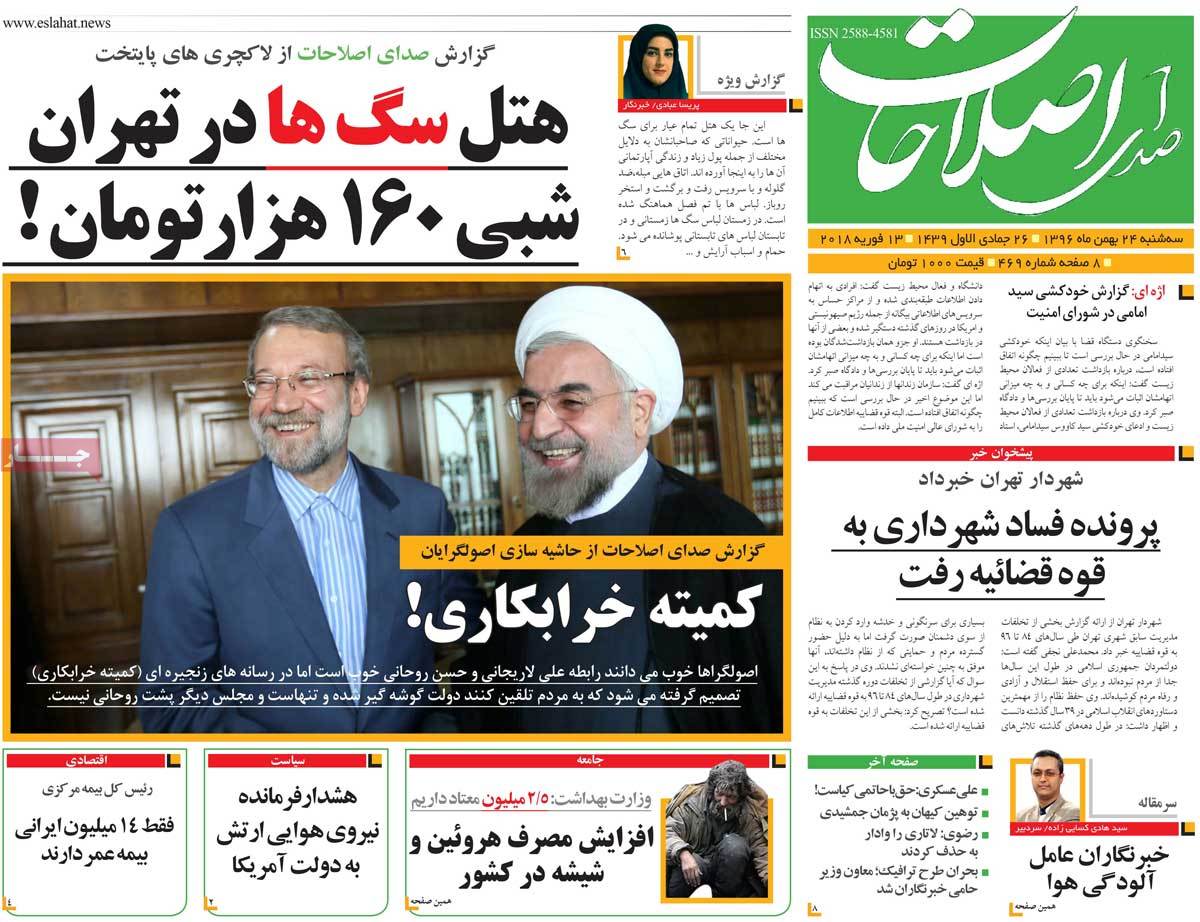 ---
Shargh:
1- Last Minutes of Seyyed-Emami's Life Shown in CCTV Footage to MPs
2- Judiciary Chief: Enemy Wants to Imply There's Widespread Corruption in Iran
3- Harsh Reaction to Rouhani's Call for Referendum: Conservatives against President
4- Winning Europe's Trust on Missile Issue [Editorial]
---
Sobh-e Now:
1- Security Case of Environmental Activists in New Phase: Evin Footage Seen by MPs
---
Vaghaye Ettefaghieh:
1- Gary Sick: Iran Has Right to Become Frustrated with US