Several papers today covered the recent protest rallies held across the country over economic woes including growing prices and high unemployment rate.
Newspapers particularly referred to efforts by anti-Iran media and foreign officials who tried to take advantage of the protests and provoke the Iranian people to rise against the Establishment.
Also a top story was the eighth anniversary of "Dey 9" demonstrations held in 2009 in support of the Islamic Establishment, which put an end to the post-election protests.
The above issues, as well as many more, are highlighted in the following headlines and top stories:
19 Dey:
1- Iran First VP Warns about Mashhad Protest Rallies
Economic Woes Just a Pretext
2- Rouhani: Attacking Gov't, Exaggerating Problems Will Lead to Division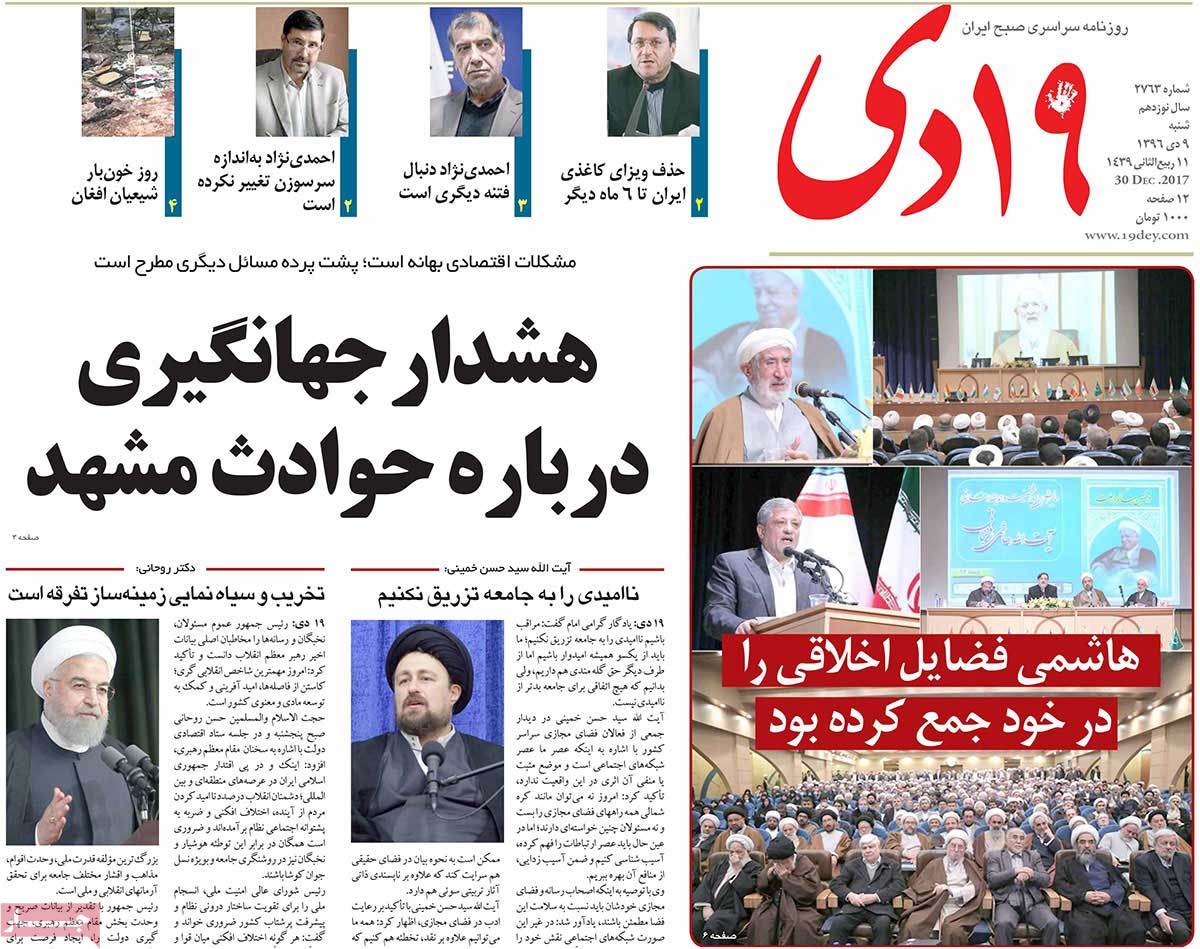 ---
Abrar:
1- Haftar's Forces Declare Full Liberation of Benghazi
2- War of Words over Iran in Arab Parliament
3- Erdogan: Turkey Not after Creating Base in Sudan
4- Russia Spokesman: Positive Developments Underway in Syria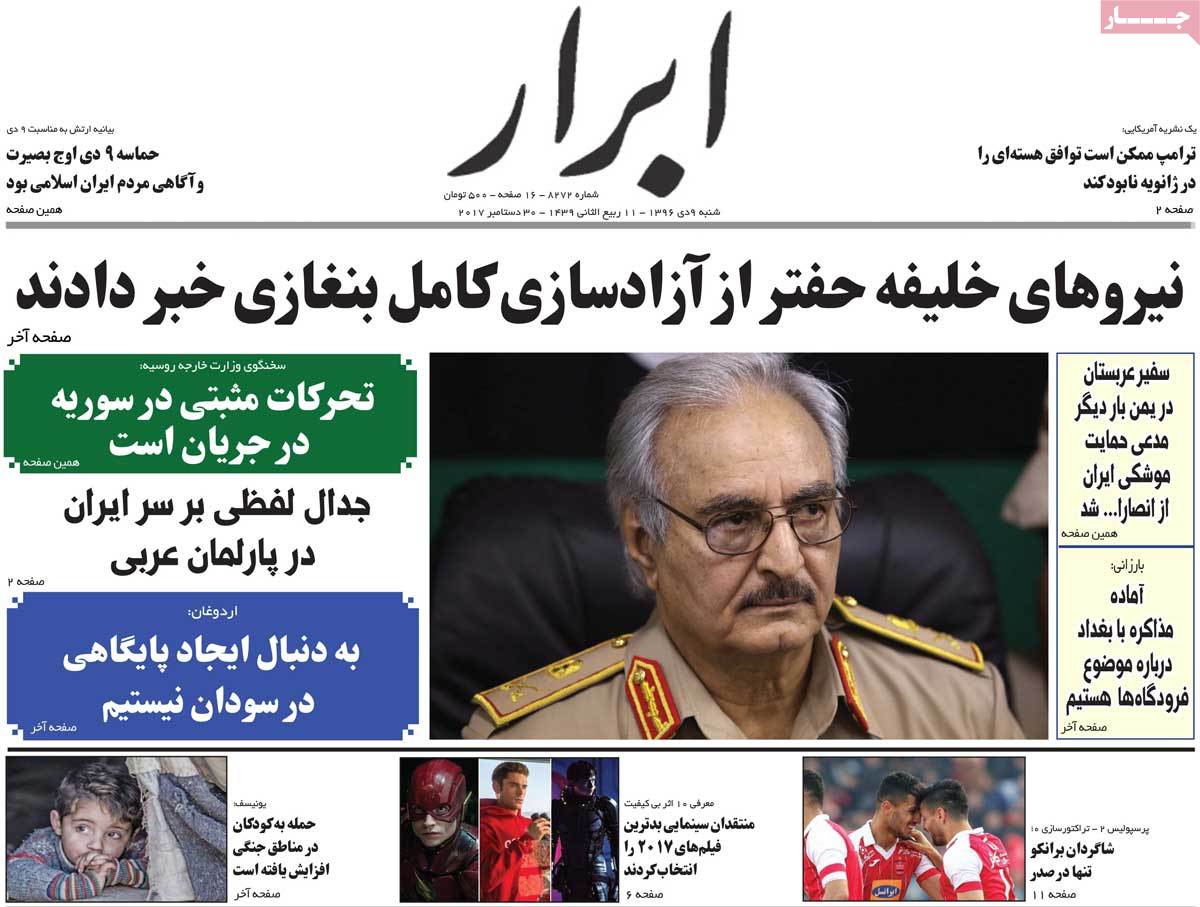 ---
Afarinesh:
1- Deputy FM: Iran Plans to Lift Visa Requirements for All Tourists
2- It's Been 10 Years Buildings Are Constructed on Faults: Tehran Official
3- Parliament Allows Gov't to Increase Fuel Prices
---
Aftab-e Yazd:
1- IRGC Statement: It's Necessary to Review Dey 9 Epic
2- Quake-Hit People of Bam Still Living in Connex after 14 Years!
3- Mr Rouhani! Please Talk to People!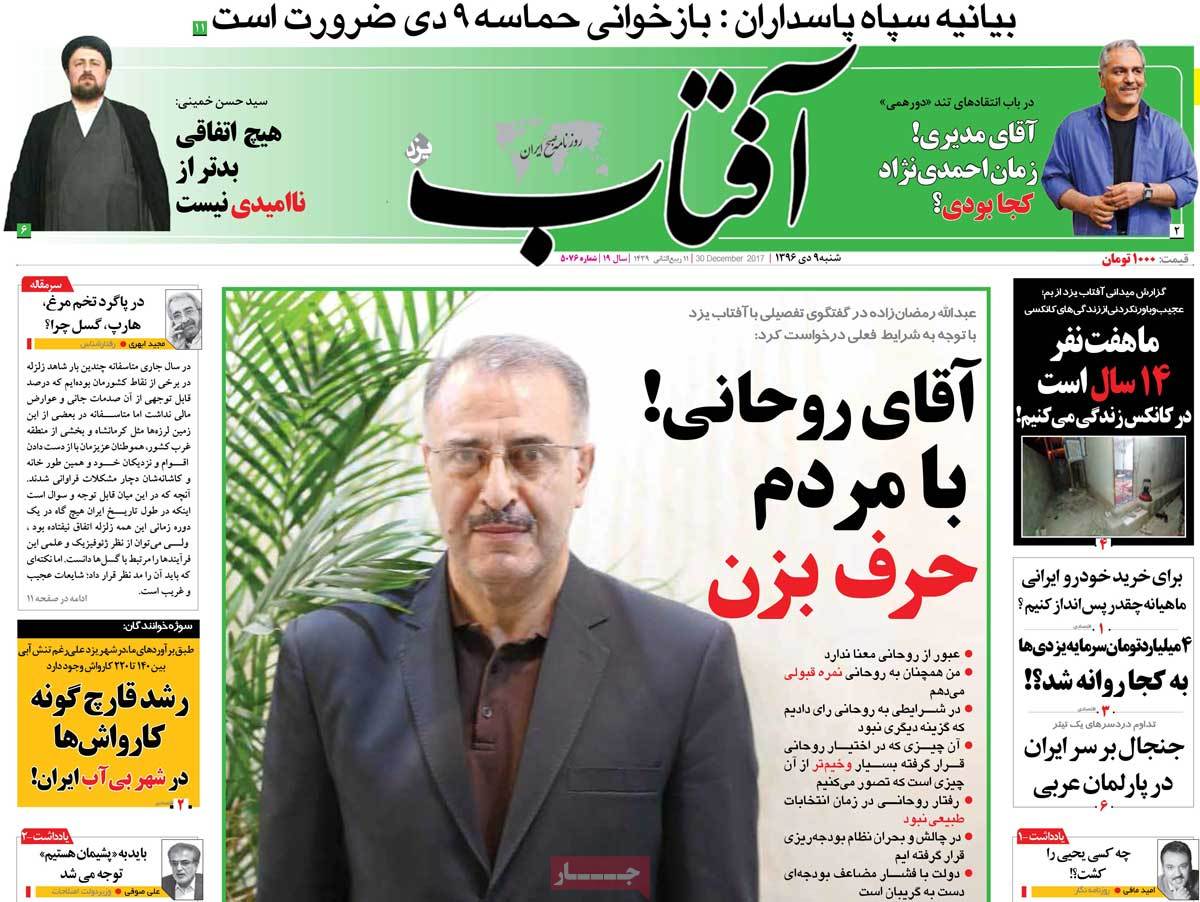 ---
Arman-e Emrooz:
1- Iran First VP: Protest Rallies to Be Counterproductive for Those Who Started Them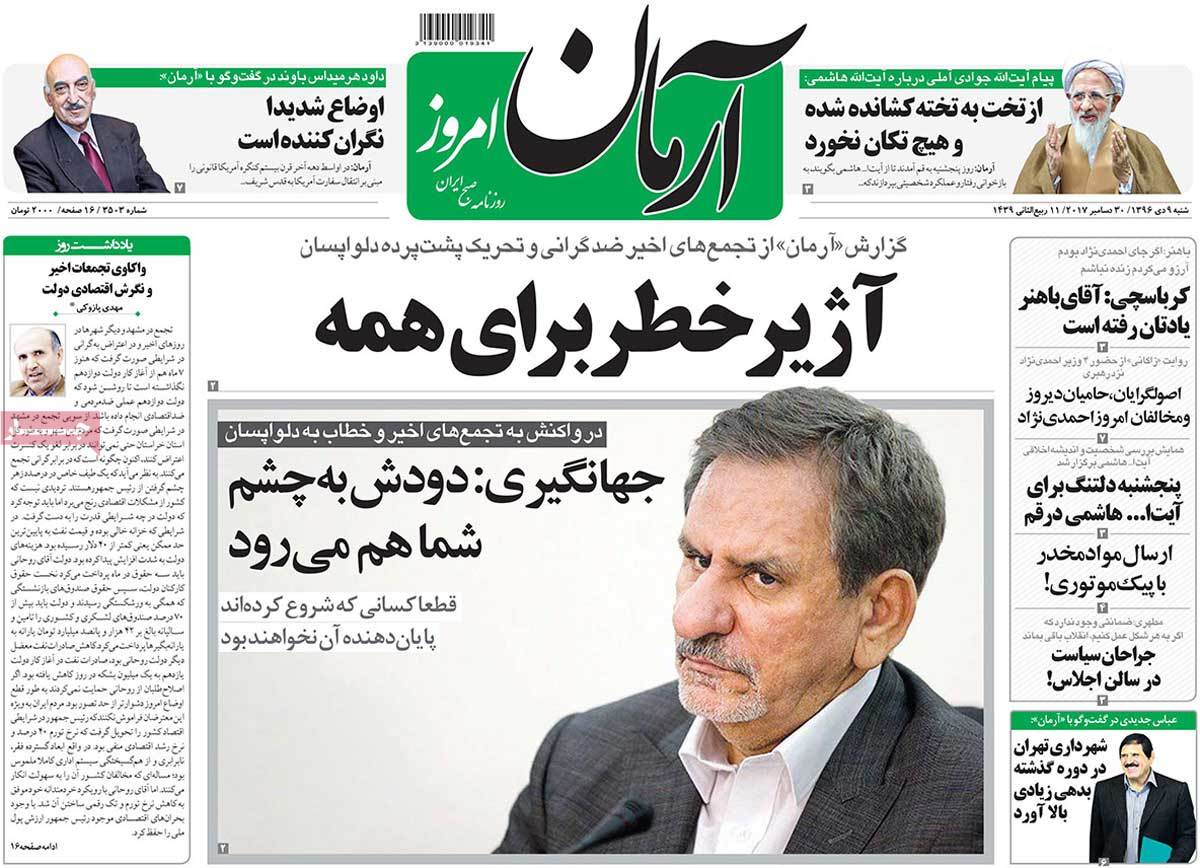 ---
Bahar:
1- Please Listen to People
Lack of Management: How Did Protest Rallies in Mashhad, Other Cities Begin?
---
Ettela'at:
1- Rouhani: Enemies Trying to Disappoint People, Cause Division
2- Oil Minister Hails Heroic Performance of Firefighters Who Contained Oil Well Fire
3- Overcoming Domestic, Int'l Crises Needs National Reconciliation: First VP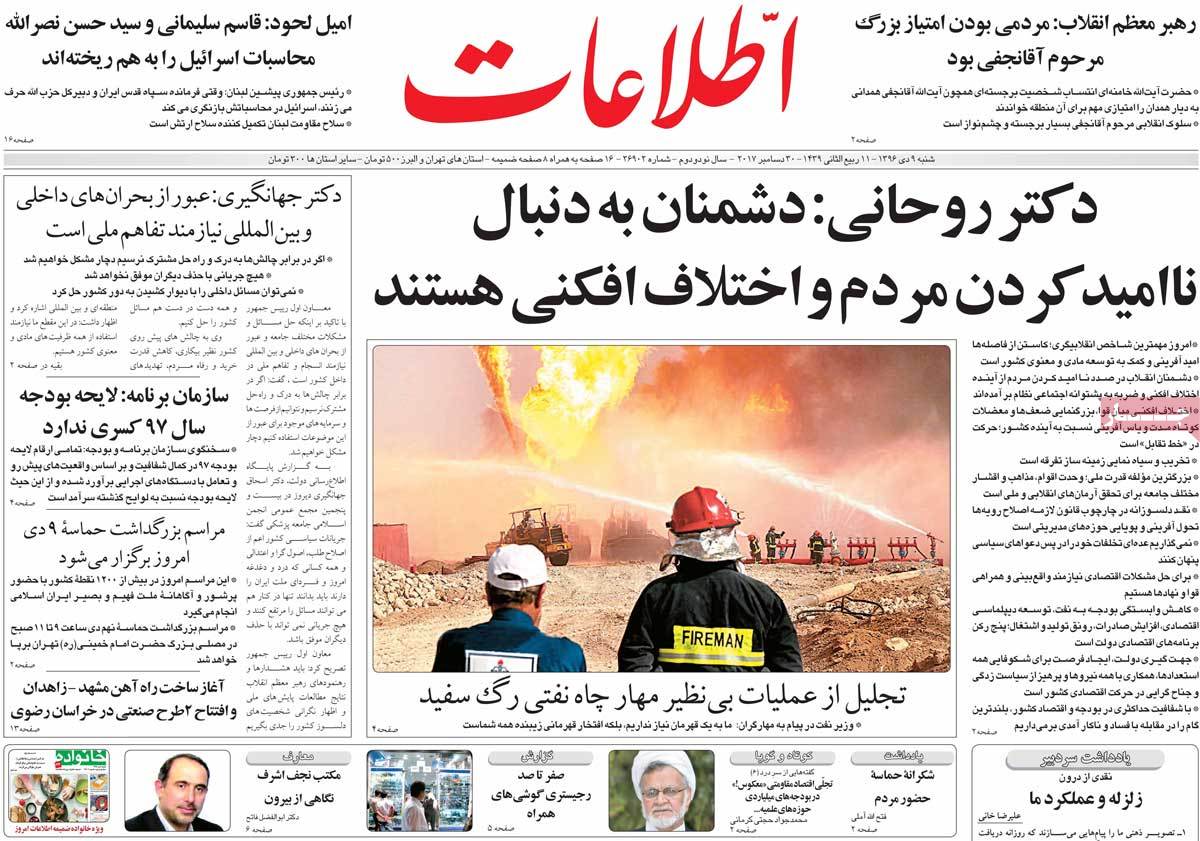 ---
Iran:
1- Rouhani: Being a Revolutionary Means Filling Gaps, Creating Hope
2- Share of Smugglers in Iranian Market to Decrease to $10 Billion: Official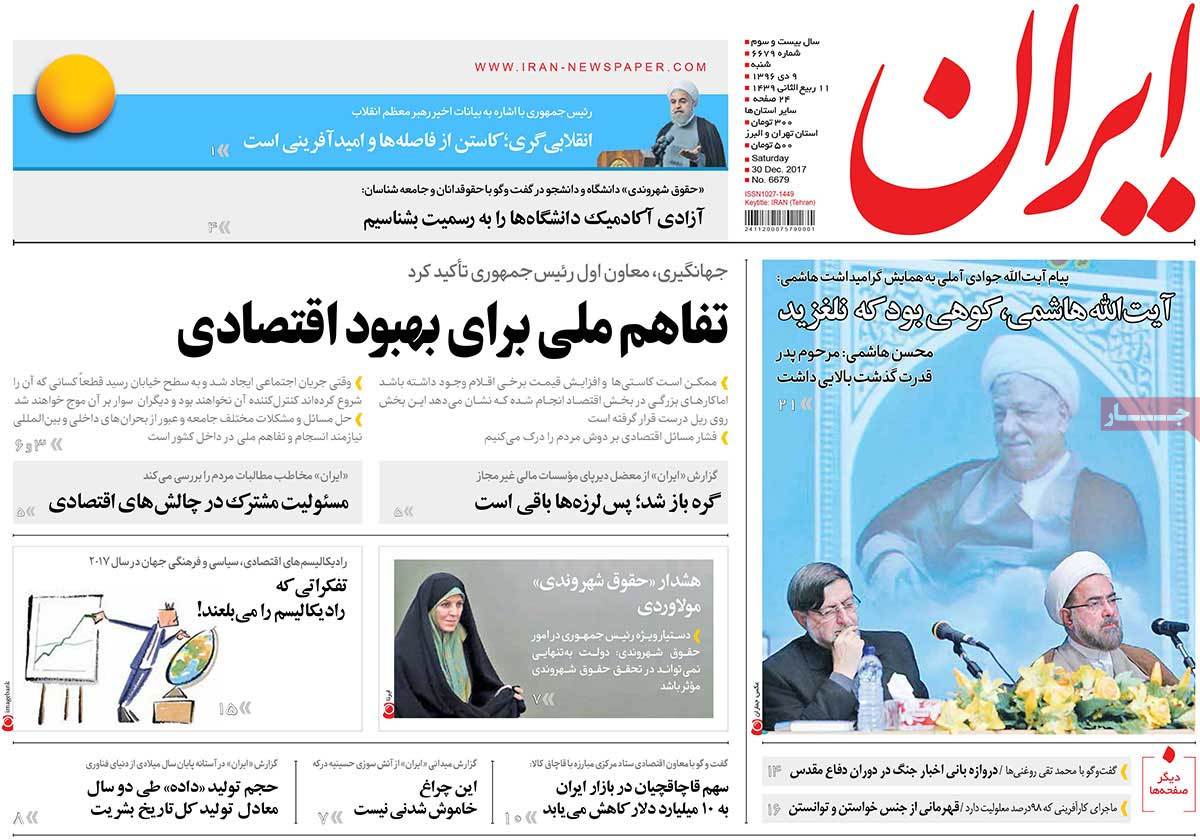 Jame'eh Farda:
1- Clash over Nature of Protest Rallies in Past Two Days
---
Javan:
1- Rouhani: Enemies Have Targeted Social Assets of Iran Establishment
2- People's Rallies over Economic Woes, Efforts by Counter-Revolutionaries to Take Advantage
3- Bloodbath of ISIS in Kabul: 140 Killed, Wounded in Triple Blasts in Afghanistan
---
Jomhouri Eslami:
1- Glorious Ceremony Held in Qom to Commemorate Ayatollah Rafsanjani
2- Iran, China Sign $1 Billion Contract on Refineries
3- Tenth, Eleventh Planes Arrive in Tehran after Iran Nuclear Deal
---
Kayhan:
1- Seditionists Who Helped US Impose Sanctions on Iran Now Hindering Iranian Economy
Rouhani's Gov't Must Denounce Seditionists to Remove Economic Woes
---
Khorasan:
1- Day of Giving Response to Enemy
* Everyone to Attend Rally of Unity Despite Economic Woes
---
Resalat:
1- Imam Khomeini's Grandson: Online Campaign Needed to Urge People to Write Politely
2- Iran First VP: Unemployment, Decreased Purchasing Power Two Super-Challenges of Gov't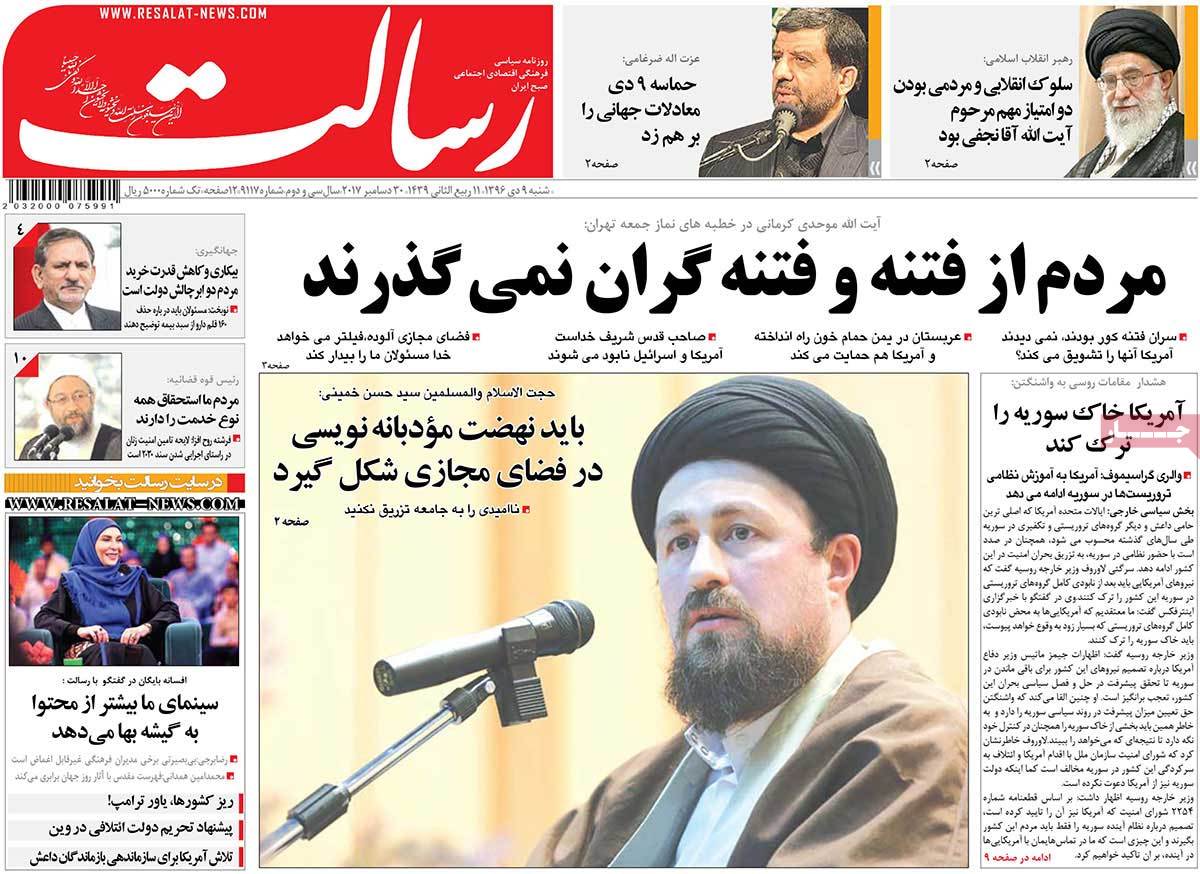 ---
Shahrvand:
1- 350,000 Citizens of Tehran Have Migrated in Past 5 Years Due to Pollution, Traffic Jam
---
Shargh:
1- Citizens' Rights Not a Fantasy, It's Nation's Problem: Rouhani's Aide
---
Siasat-e Rooz:
1- Dear Officials! Wear Glasses [to See People's Demands]
* People Should Be Cautious about Those Who Want to Create Division
---
Sobh-e Now:
1- Tens of Cultural, Media Elites in Afghanistan Killed in ISIS Attack