The top story in several newspapers today was the remarks made by Iranian President Hassan Rouhani during his visit to Sistan and Baluchestan province in southeastern Iran. In his address to a large group of students in the underdeveloped province, Rouhani talked about a range of issues, from regional affairs to the development of the province and criticisms of his government.
Some papers also covered an indirect war of words between Iranian Foreign Minister Mohammad Javad Zarif and his Saudi counterpart Adel al-Jubeir in two separate days of MED-Rome conference.
The recent controversial comments by Trump's former advisor Michael Flynn also received great coverage in Iran.
The above issues, as well as many more, are highlighted in the following headlines and top stories:
19 Dey:
1- Rouhani: We Don't Want to Have Distance with Regional Countries
2- Intelligence Minister: Over 120 Terrorist Teams Smashed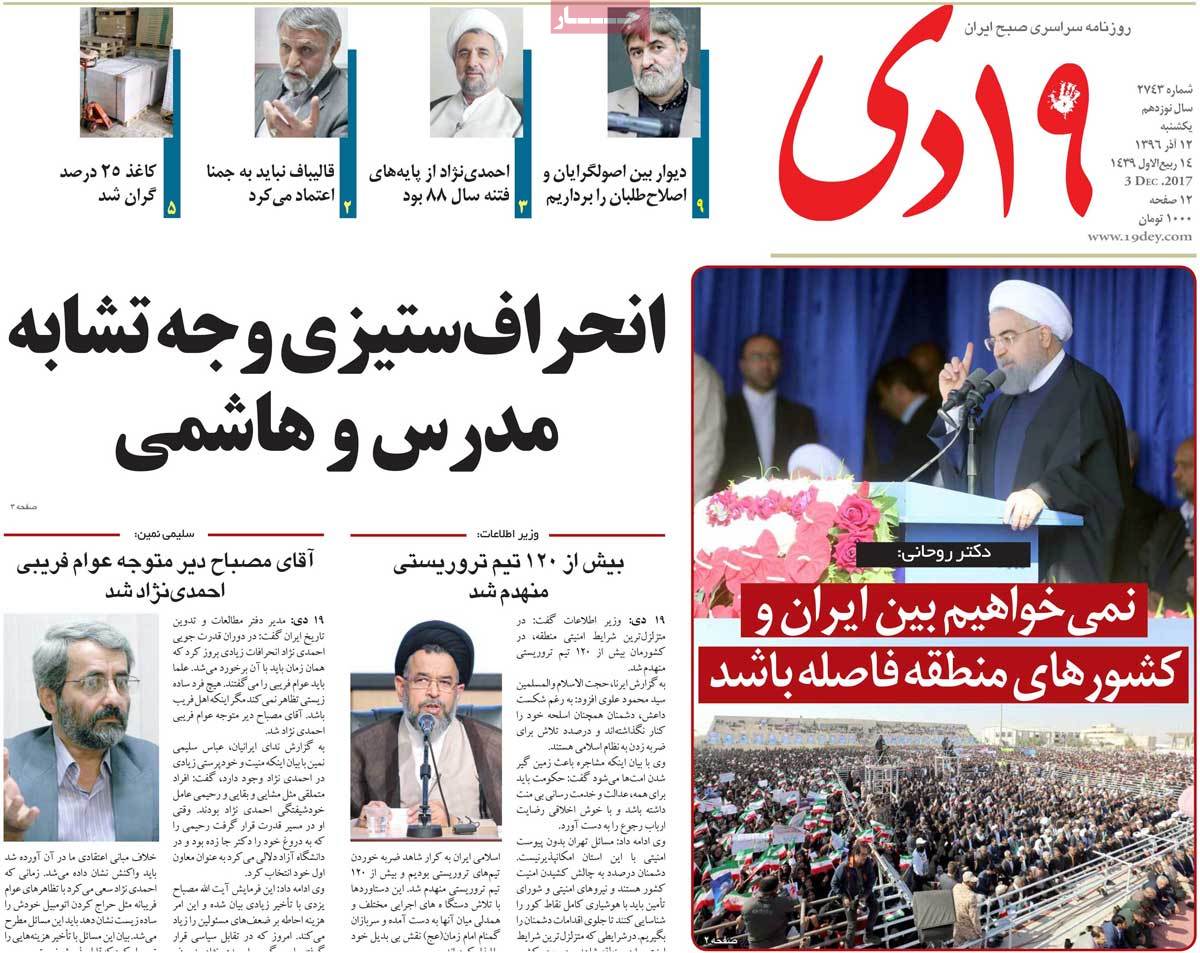 ---
Abrar:
1- Iranian Commander Rules Out any Negotiation over Missile Program
2- Erdogan: We Haven't Given US Any Guarantee on Iran Sanctions
3- Hariri: Hezbollah Won't Use Its Weapons inside Lebanon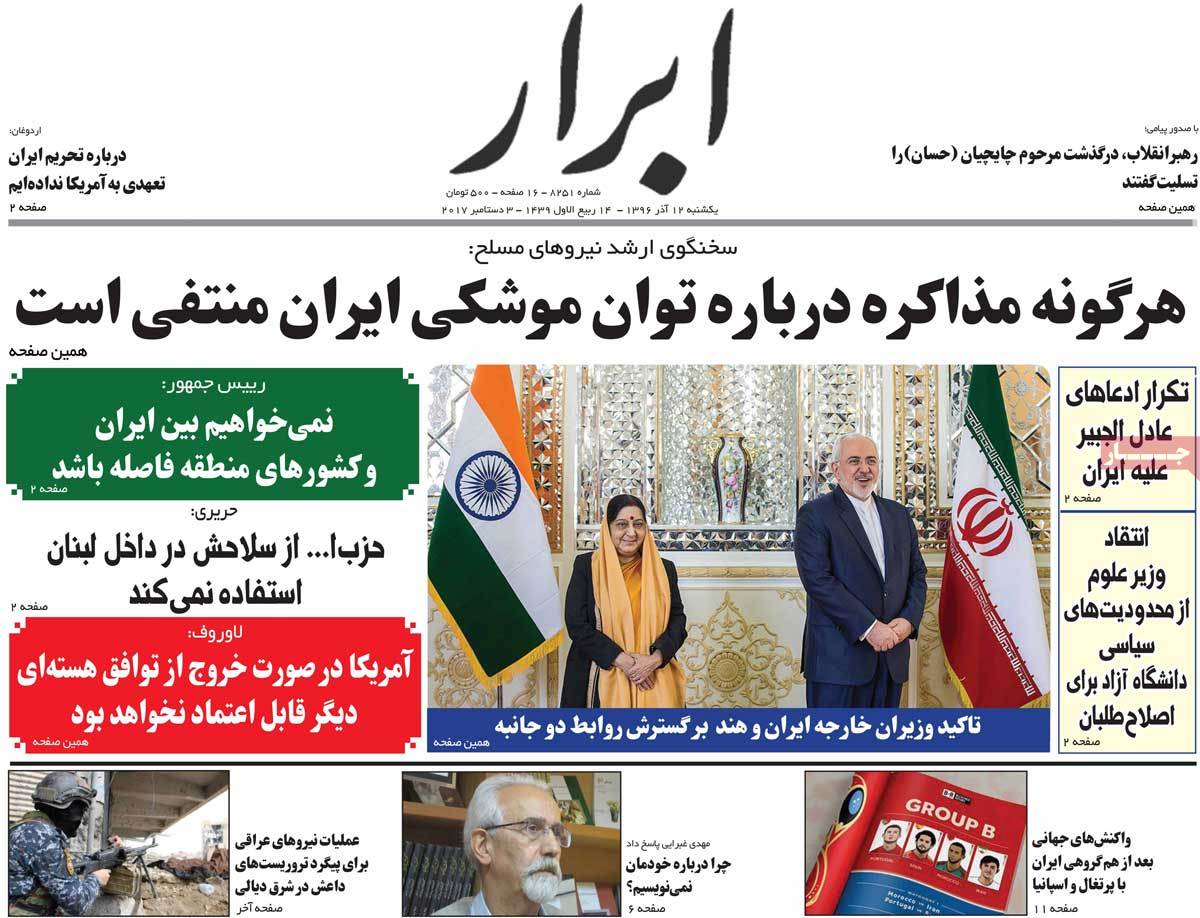 ---
Afkar:
1- Rouhani Repeats His Promises Instead of Fulfilling Them
2- Iran Will Succeed in FIFA World Cup If Iranians Believe in Themselves: Schäfer
---
Aftab-e Yazd:
1- Figo's Expensive Appearance in Iran State TV Sparks Controversy
2- Pope's Emotional Apology to Rohingya Muslims
3- A Review of Iran-Russia Trade under Barter System
We Give Our Oil in Return for Low Quality Russian Goods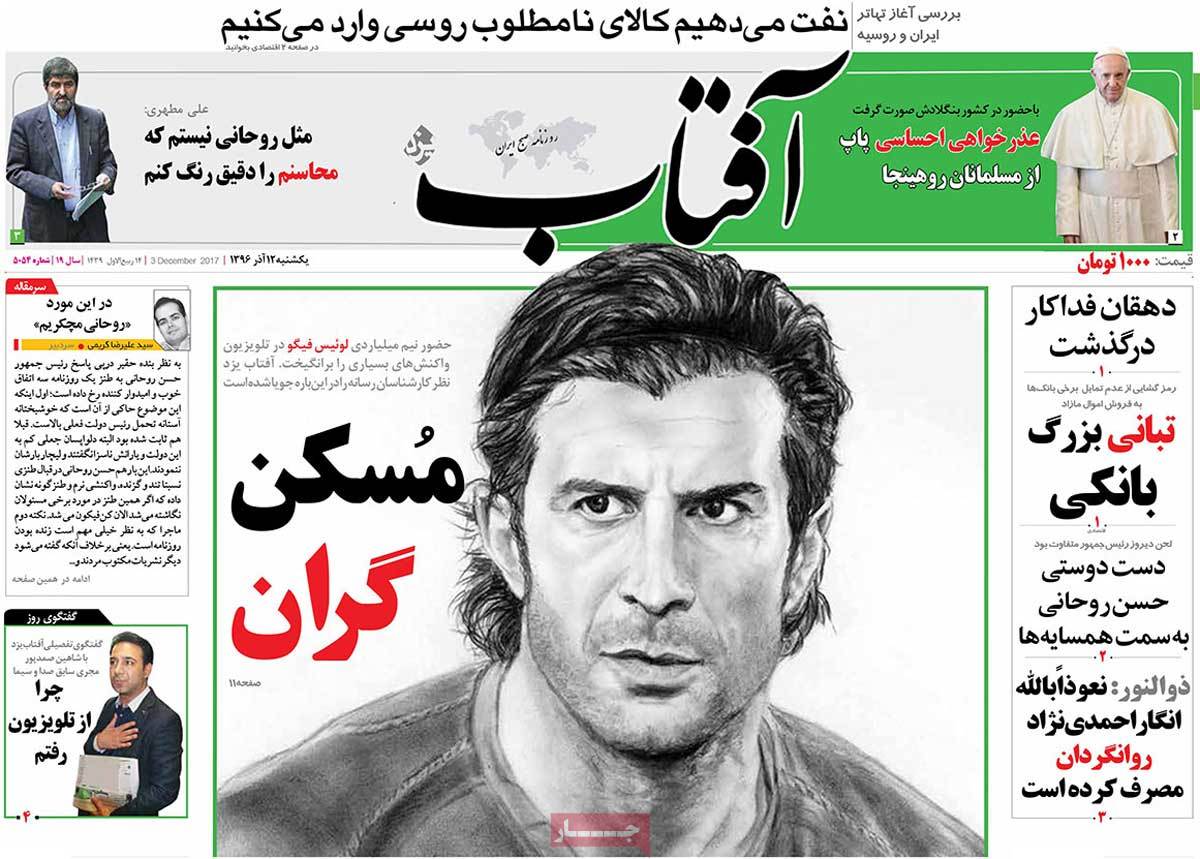 ---
Arman-e Emrooz:
1- Rouhani Asks Students to Criticize His Gov't More
2- Warning: Iranian Carpet Becoming Chinese!
---
Asman-e Abi:
1- Standing on the Feet You Don't Have: International Day of Disabled Persons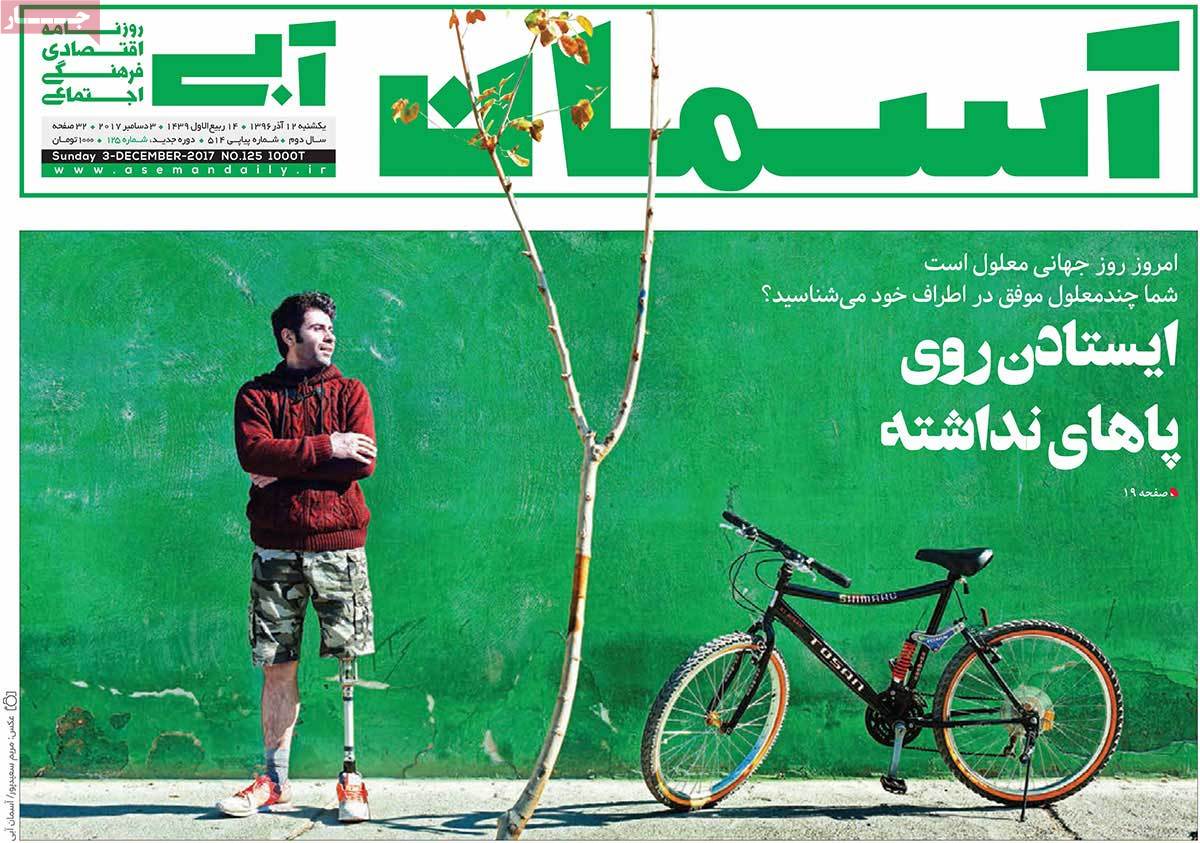 ---
Ebtekar:
1- Domino of Crisis in White House
2- Serious War of Words between Zarif, Saudi FM
---
Etemad:
1- Line of Unity: Officials of Sistan and Baluchestan Province Welcome Rouhani
2- Turkey Calls Reza Zarrab's Trial Political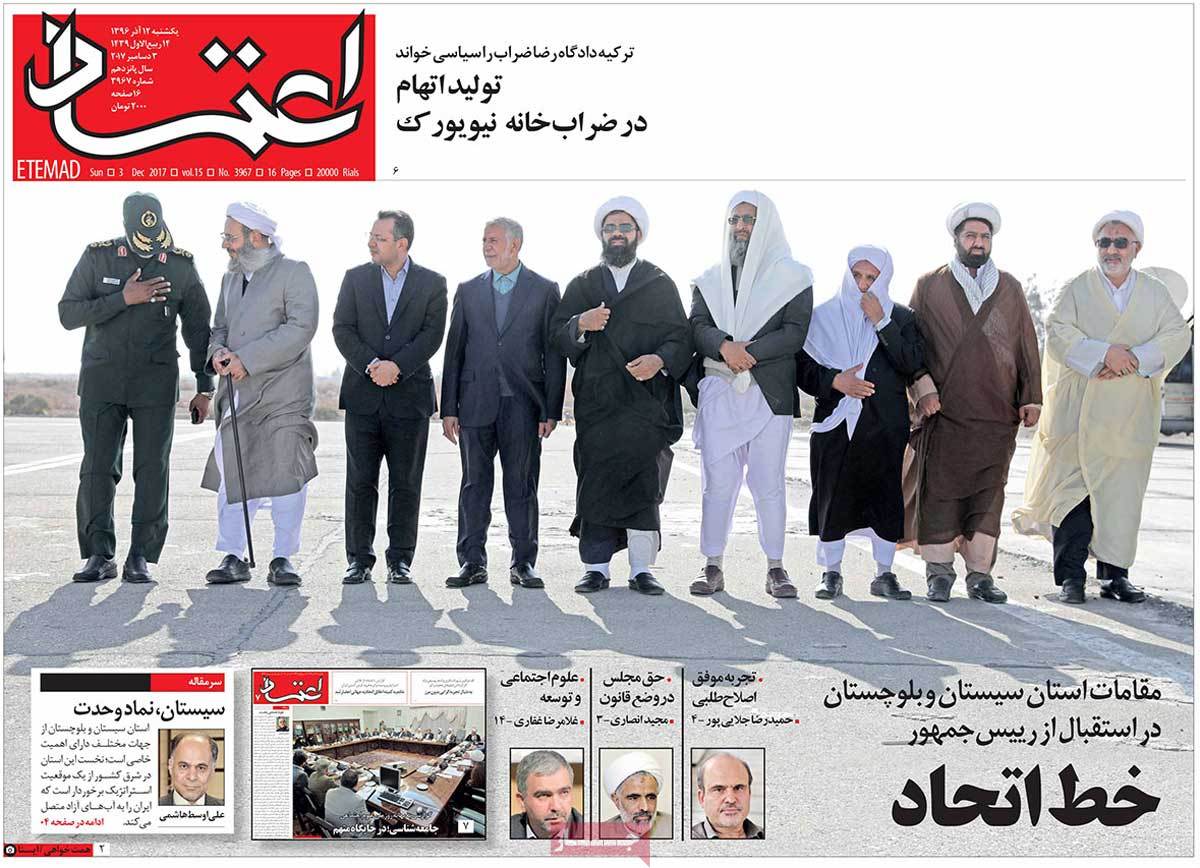 ---
Ettela'at:
1- Car Imports Possible Only If Foreign Carmakers Take Part in Domestic Production
2- Syria's Air Defence Forces Respond to Israel's Latest Aggression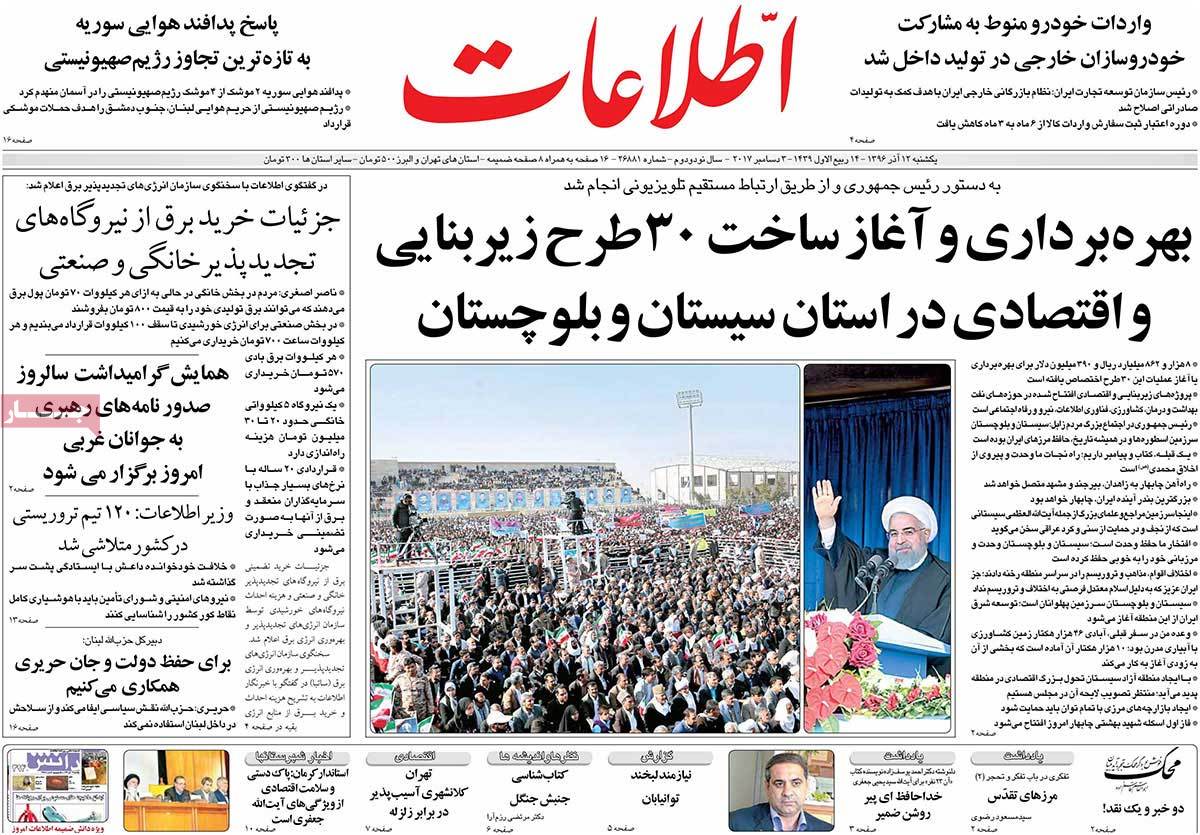 ---
Iran:
1- €720 Million Deal between Iran, South Korea to Build 450 Wagons
2- Wedding Ceremony among Ruins: A Report on a Marriage in Quake-Hit Village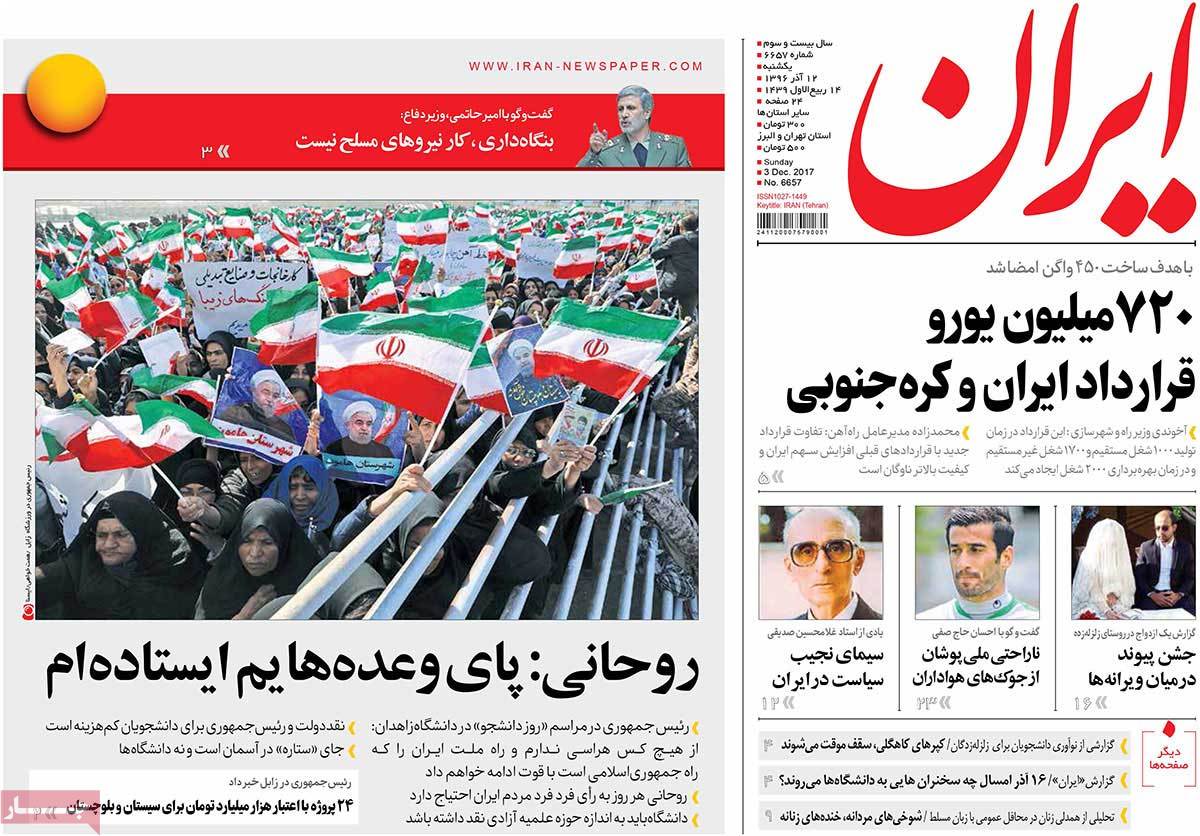 ---
Jame'eh Farda:
1- Mr Kushner's Secret Ties
Trump's Son-in-Law Had Told Flynn to Contact Foreign Governments
---
Javan:
1- 18 Individuals with Huge Bank Debts Freely Working in Iran!
2- Iranian Nation's Unity Prevents Religious Sedition
3- Washington Post: End of Trump Near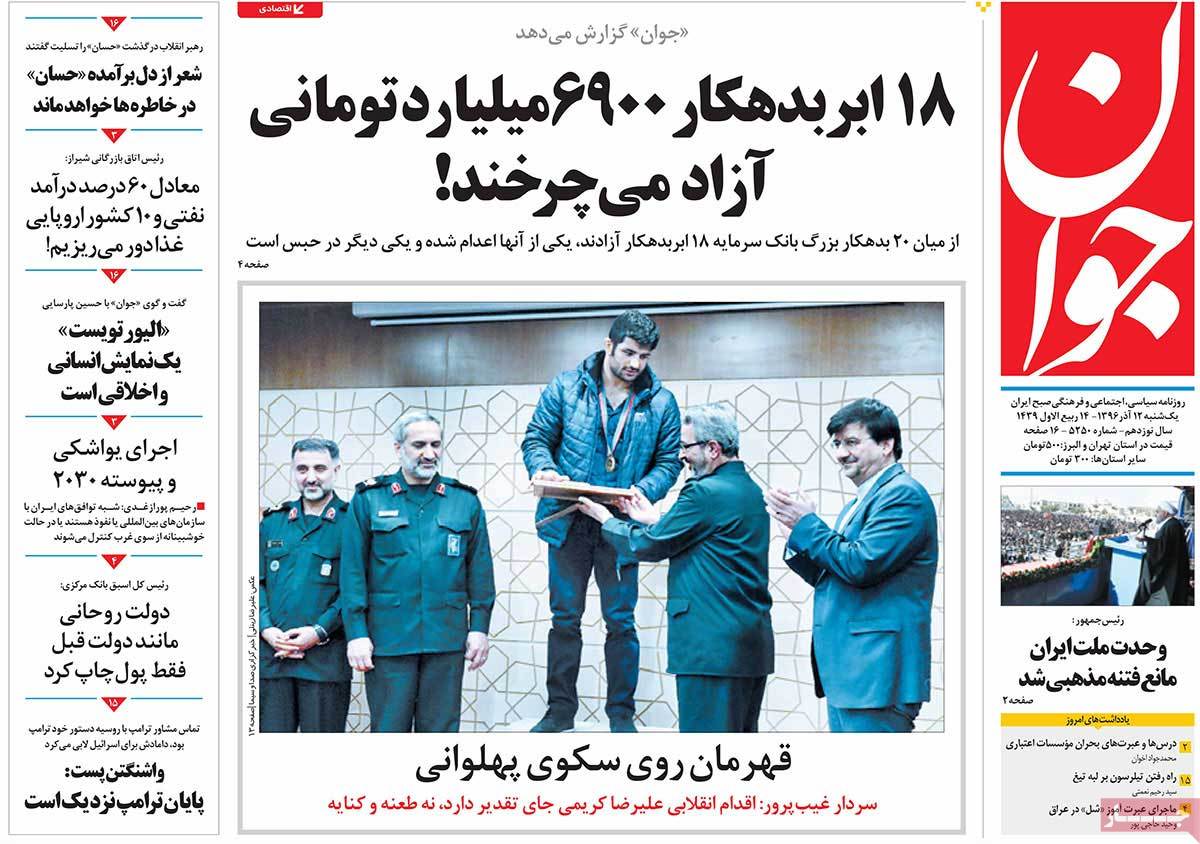 ---
Jomhouri Eslami:
1- Former US Official's Confessions Shock White House
2- Nasrallah: Hezbollah Supports Hariri to Reinforce Lebanon Stability, Prevent Sedition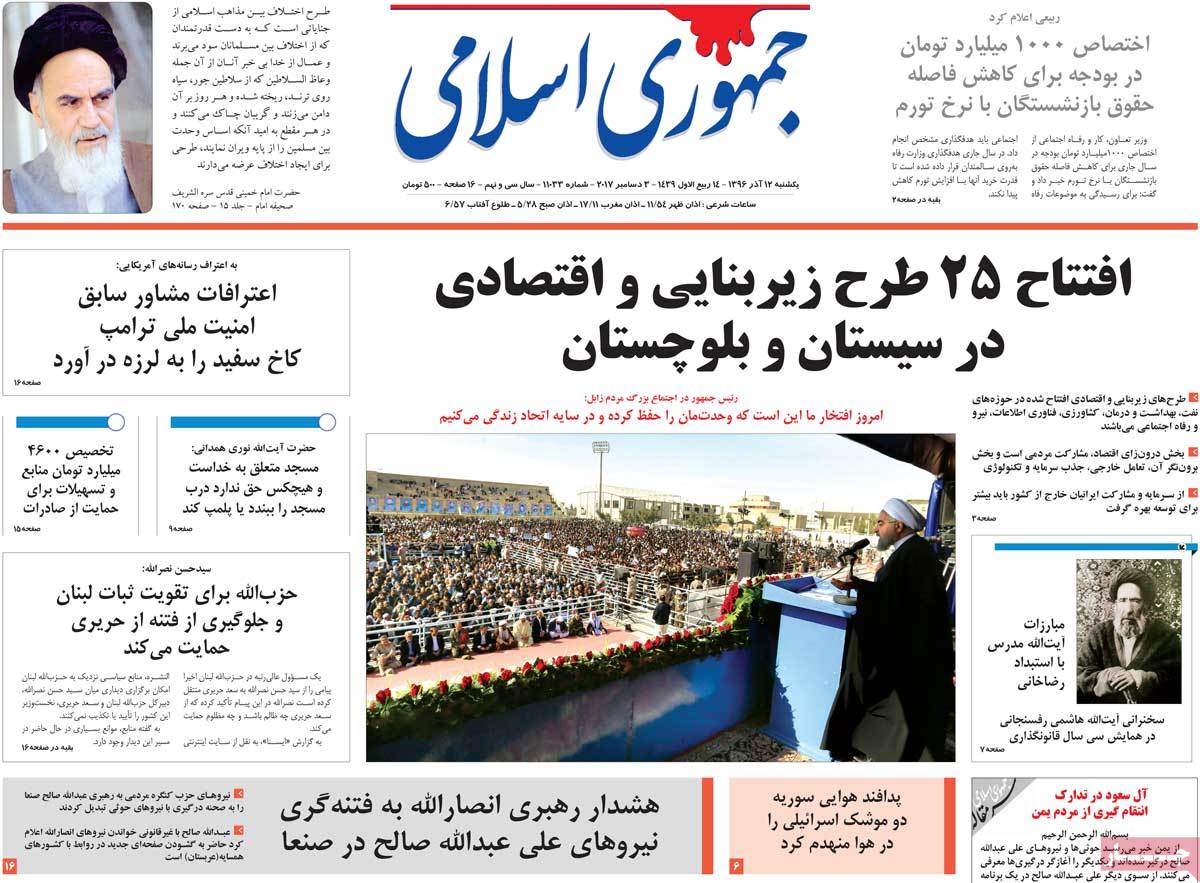 ---
Kayhan:
1- Macron's Nonsense Remarks Result of Giving One-Way Concessions to France!
2- Haaretz Correspondent: Israel One of the Most Savage Regimes in the World
3- Rouhani to Students: Criticize the Government, It's Easier, Less Costly!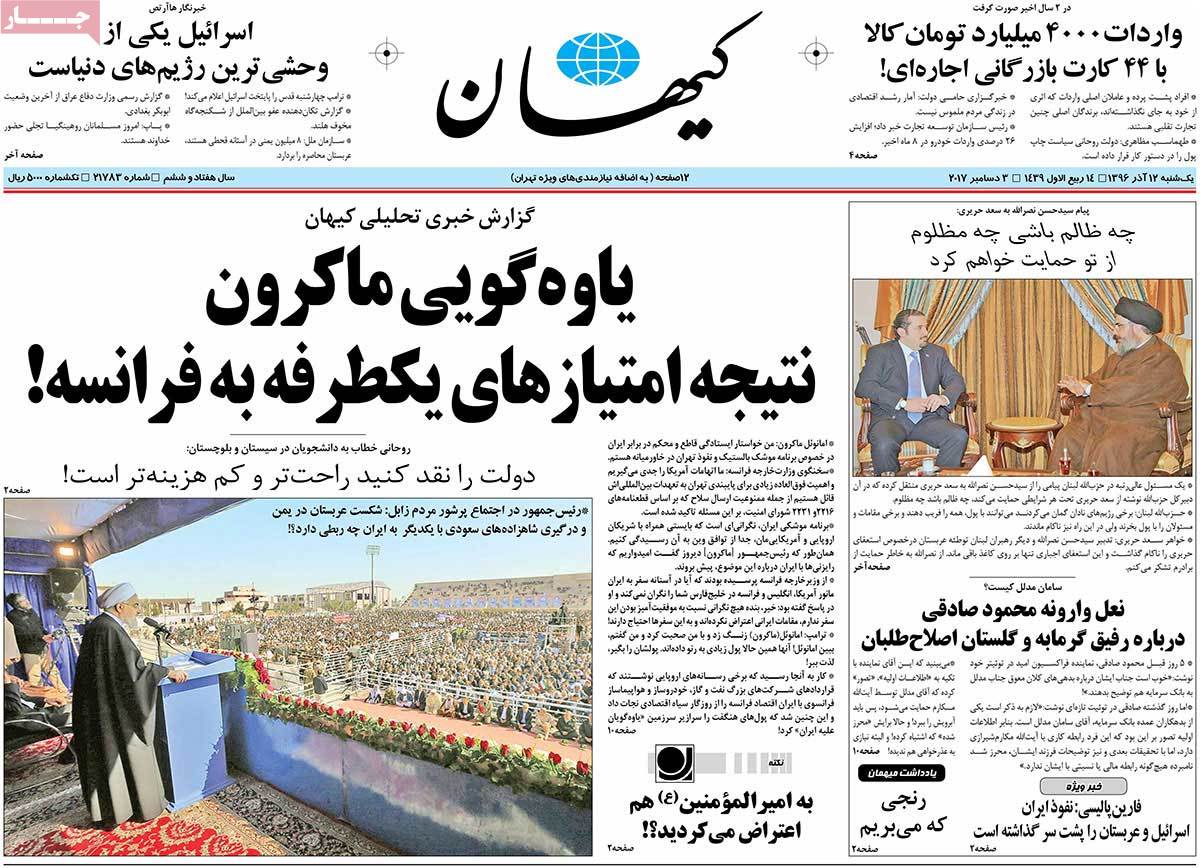 ---
Khorasan:
1- Flynn's Earthquake in Washington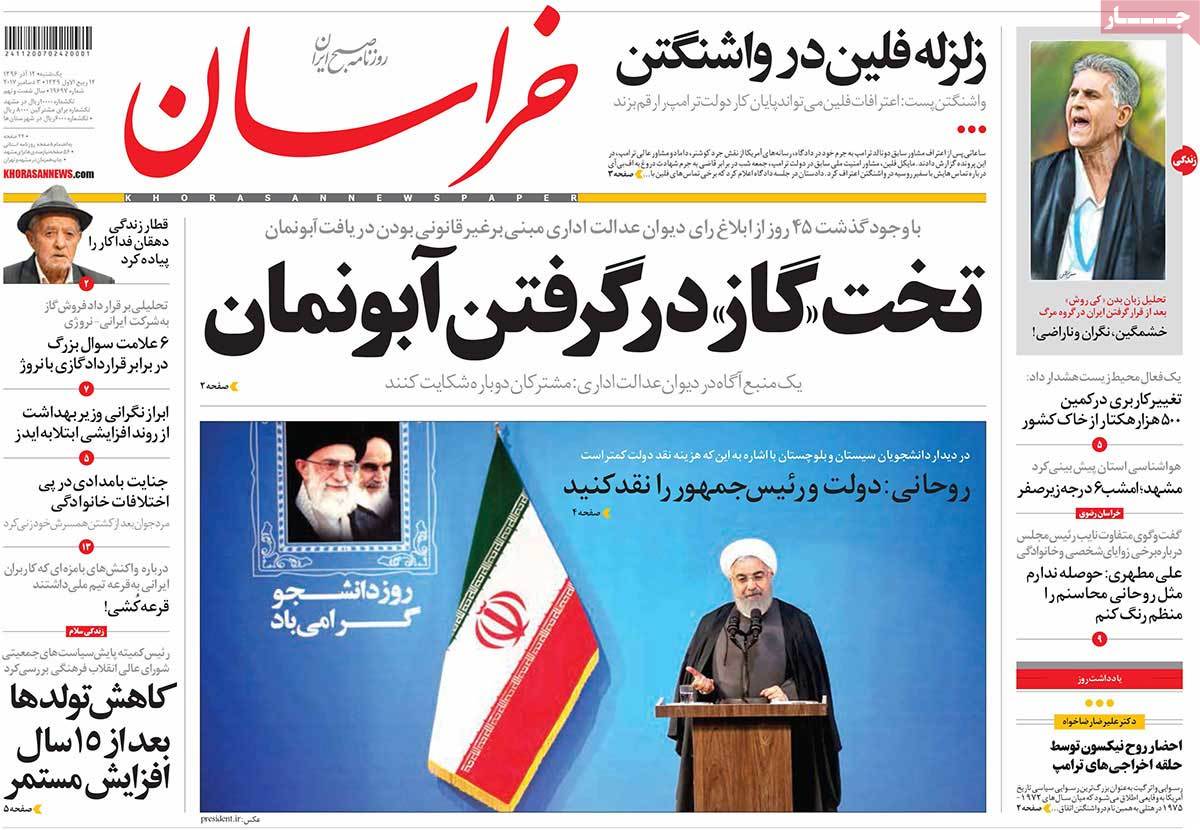 ---
Seda-ye Eslahat:
1- Rouhani: We Keep Our Promises
2- Queiroz: If You Don't Like What I Say, Fire Me
3- Health Minister: More People Getting Affected by HIV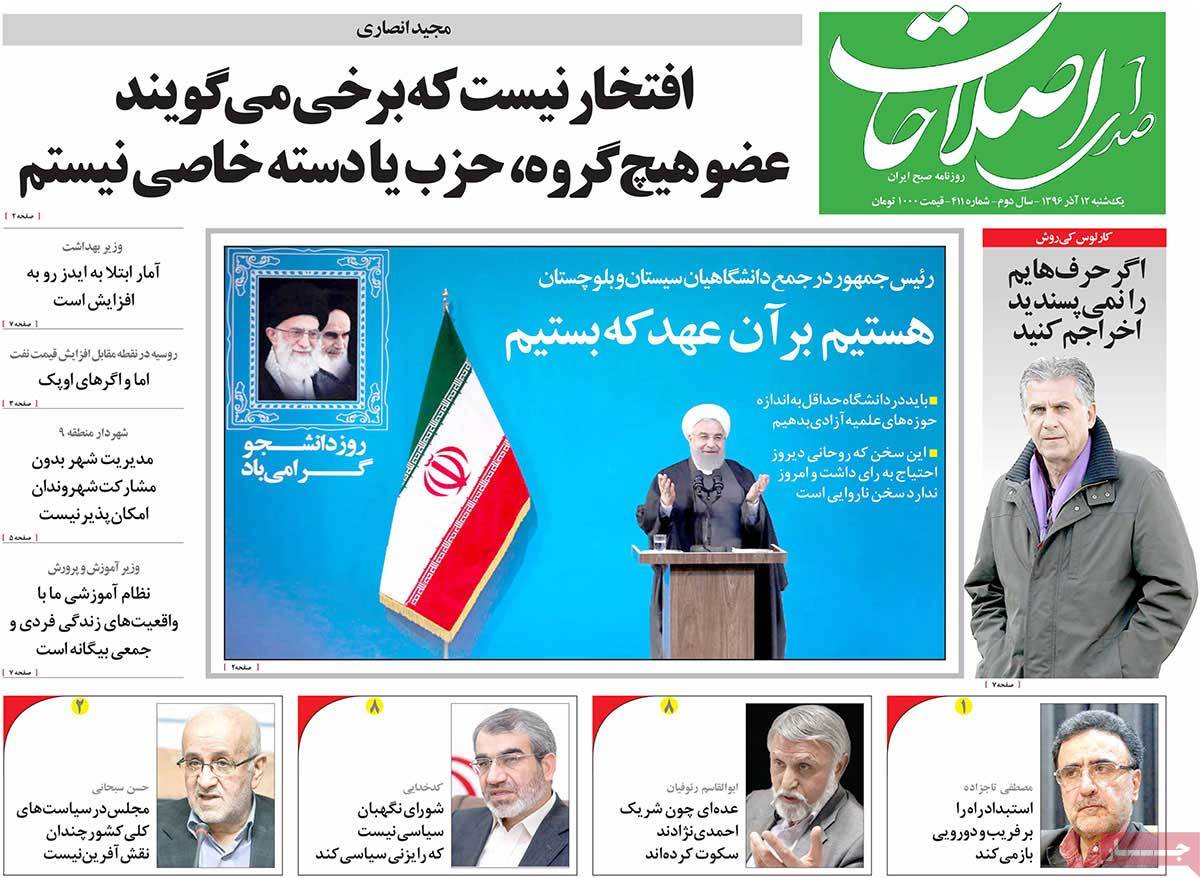 ---
Shahrvand:
1- Iranian Social Media Users Once Again Attack Pages of Other Players
---
Shargh:
1- Indirect Duel between Zarif, Jubeir
2- Camp Hosting Queiroz's Cheetahs in Russia Costs $2.5 Million
3- Amir-Abdollahian: Danger of Disintegration Threatening All Regional States
---
Siasat-e Rooz:
1- Saudi Trap for Saleh
2- US Poised to Fully Destroy Palestine
3- Iran Leader's Prudence Prevents Talks over Defensive Capabilities
4- Mogherini's Illusion of Talks over Iran's Missile Power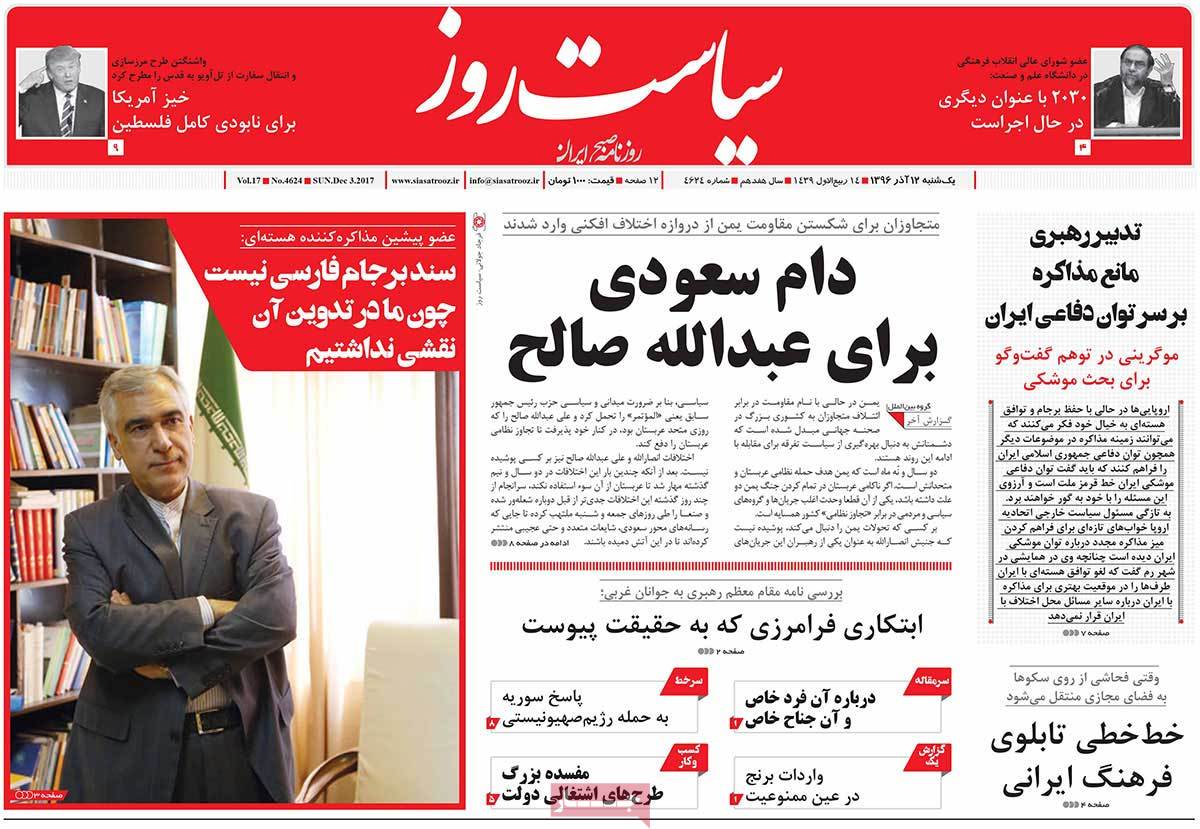 ---
Vatan-e Emrooz:
1- Aoun: Crisis in Lebanon Over
2- Israelis Supporting JCPOA
Israeli DM Joins Groups in US Opposed to Withdrawing from Iran Nuclear Deal