A major story in several newspapers today was the air pollution in Tehran and other megacities, and a protest rally held by the citizens of Tehran in front of the municipality.
The issue of earthquake and the absolute necessity of preparing for the incident also remained a top story today.
The above issues, as well as many more, are highlighted in the following headlines and top stories:
Abrar:
1- UN Security Council Unanimously Pass New Sanctions against N. Korea
2- Bin Salman's Condition for Release of Bin Talal: Paying $6 Billion
3- Fuad Masum Underlines Support of Iran-Iraq Investment
---
Arman-e Emrooz:
1- 48,000 Killed by Air Pollution: Shocking Statistics
---
Asrar:
1- Intelligence Minister: To Save Establishment, It's Necessary to Avoid Conflicts, Sedition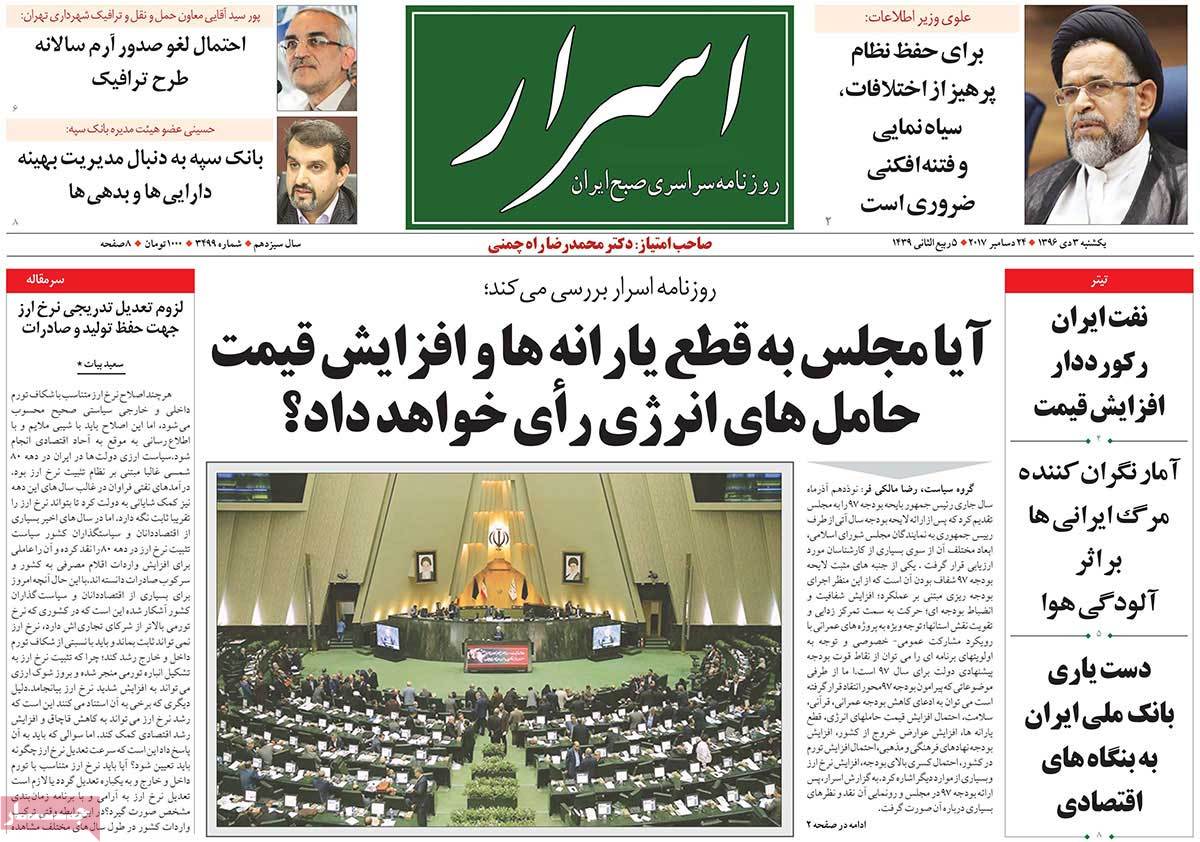 ---
Emtiaz:
1- 12% of Iranian People Illiterate
2- Minister: Iran to Build Its First ICT Town
---
Etemad:
1- Nonstop Efforts to Contain 57 Days of Fire in Oil Well Southern Iran
---
Ettela'at:
1- Labour Minister: Gov't Strategy Based on Increasing Cash Subsidies of Poor
2- Judiciary Chief, President, Parliament Speaker to Meet on Air Pollution, Quake
3- First VP: Gov't Resolved to Revise Administrative System
4- Zionist Regime Withdraws from UNESCO in Protest at UN's Anti-Israel Resolution
---
Iran:
1- Tehran Mayor: End of Red Alert in Capital; No Concern over Bigger Quake
2- Azeri Maestro: Iranian Tar Must Be Introduced to World Academically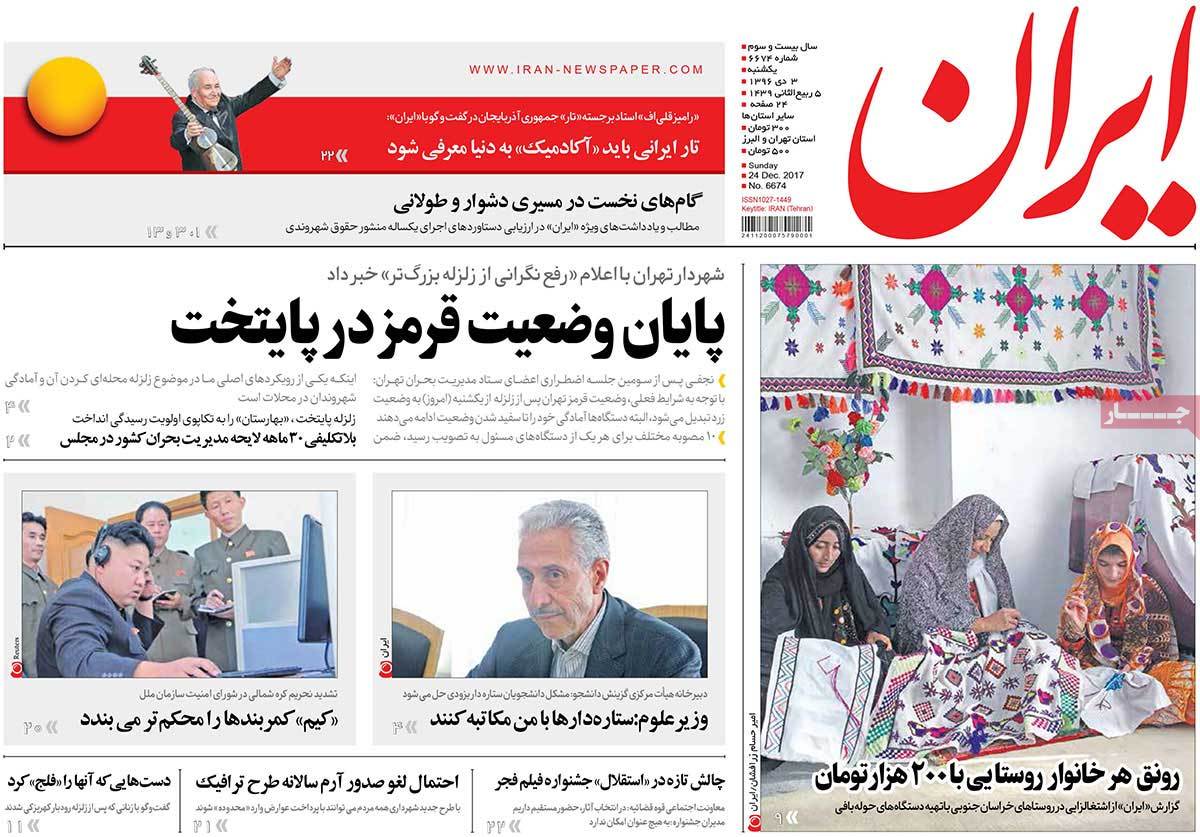 ---
Jame Jam:
1- Less than One Book for Each Iranian Citizen
A Report on Total Number of Books Published in Past 8 Months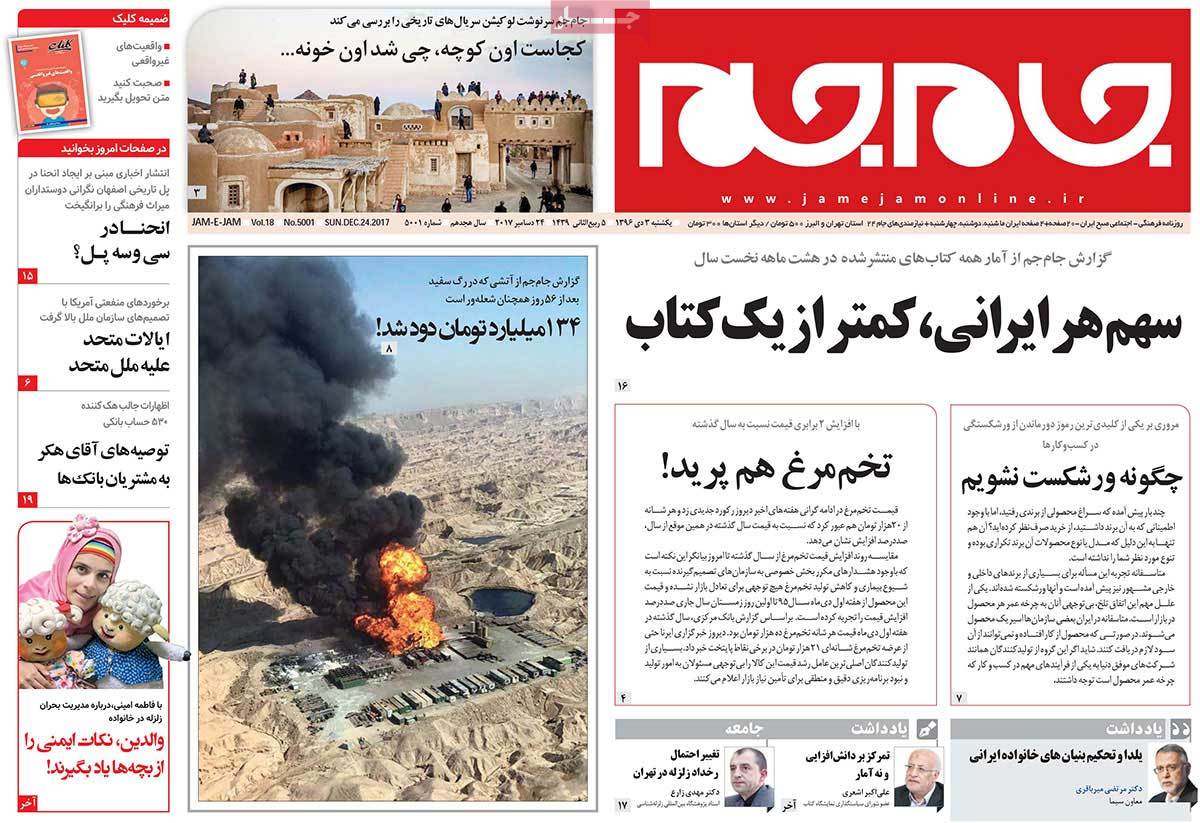 ---
Javan:
1- Golden Maserati Spotted in Tehran!
---
Jomhouri Eslami:
1- Iran to Receive New Cargo Ships as of March 2018
2- France Prepares for Christmas by Deploying 100,000 Security Forces
3- Iran, Switzerland to Cooperate on Promotion of Nuclear Safety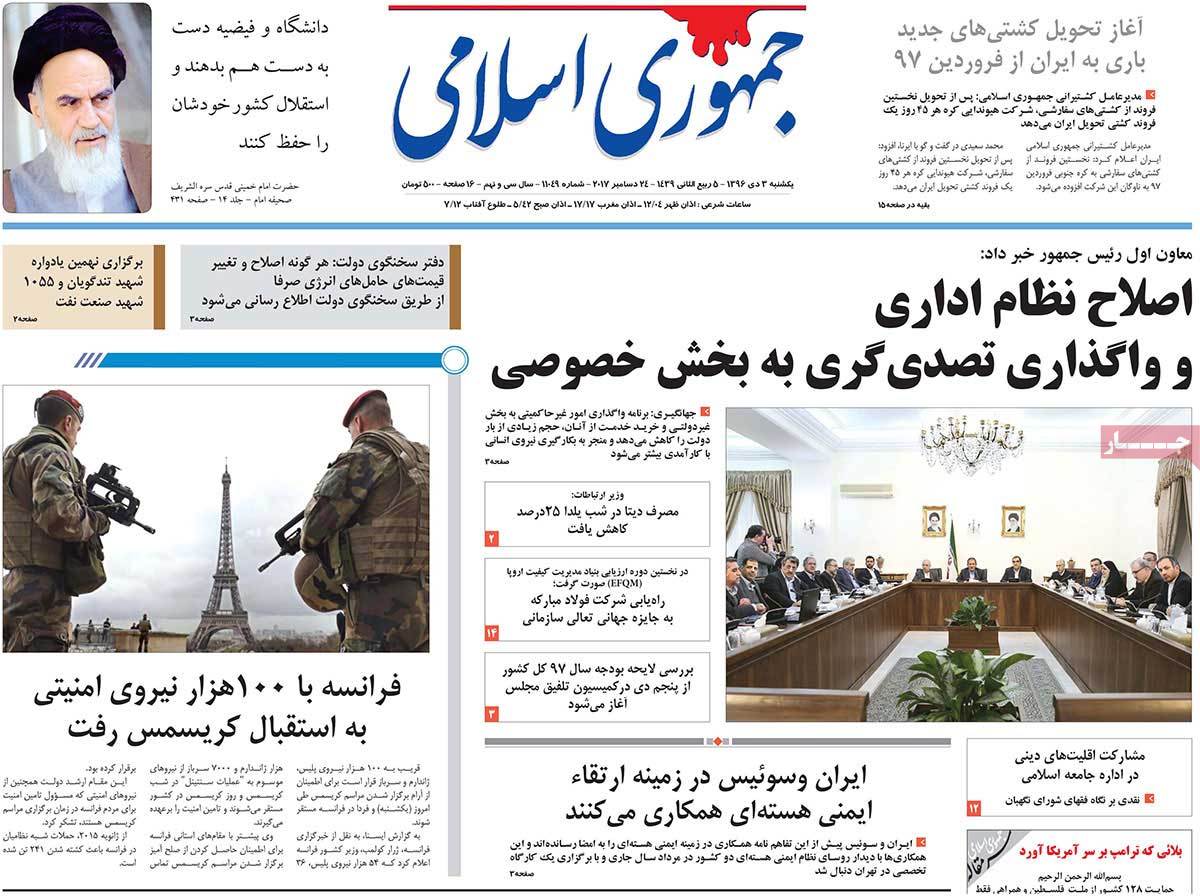 ---
Kayhan:
1- Advocates of Reformism: Those Who Regret Voting for Rouhani Are Conspirators!
2- Popular Front: Palestinians' Legitimate Goal Is to Attack US Interests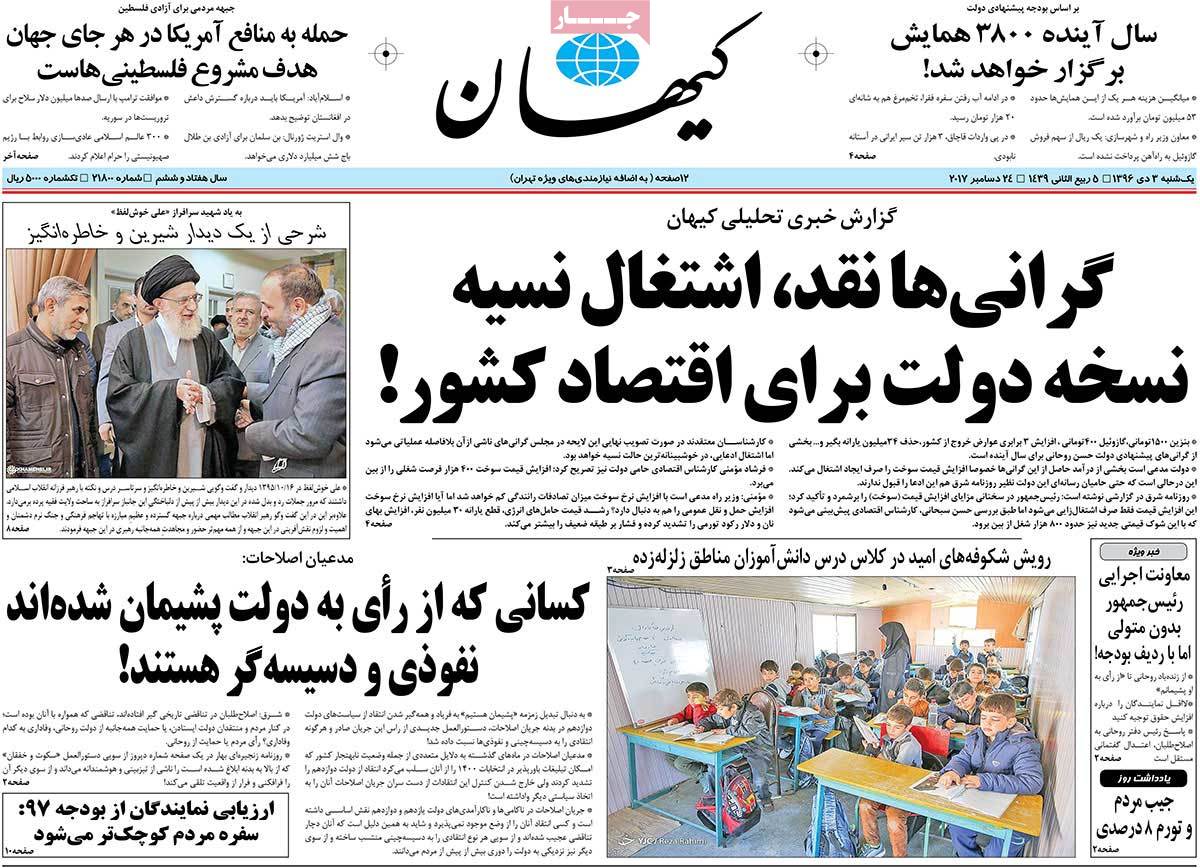 ---
Khorasan:
1- One Million Yemenis Suffering from Cholera
TIME Portrays Saudi Coalition's Crimes in Yemen
2- Telegram to Release Digital Currency Inspired by Bitcoin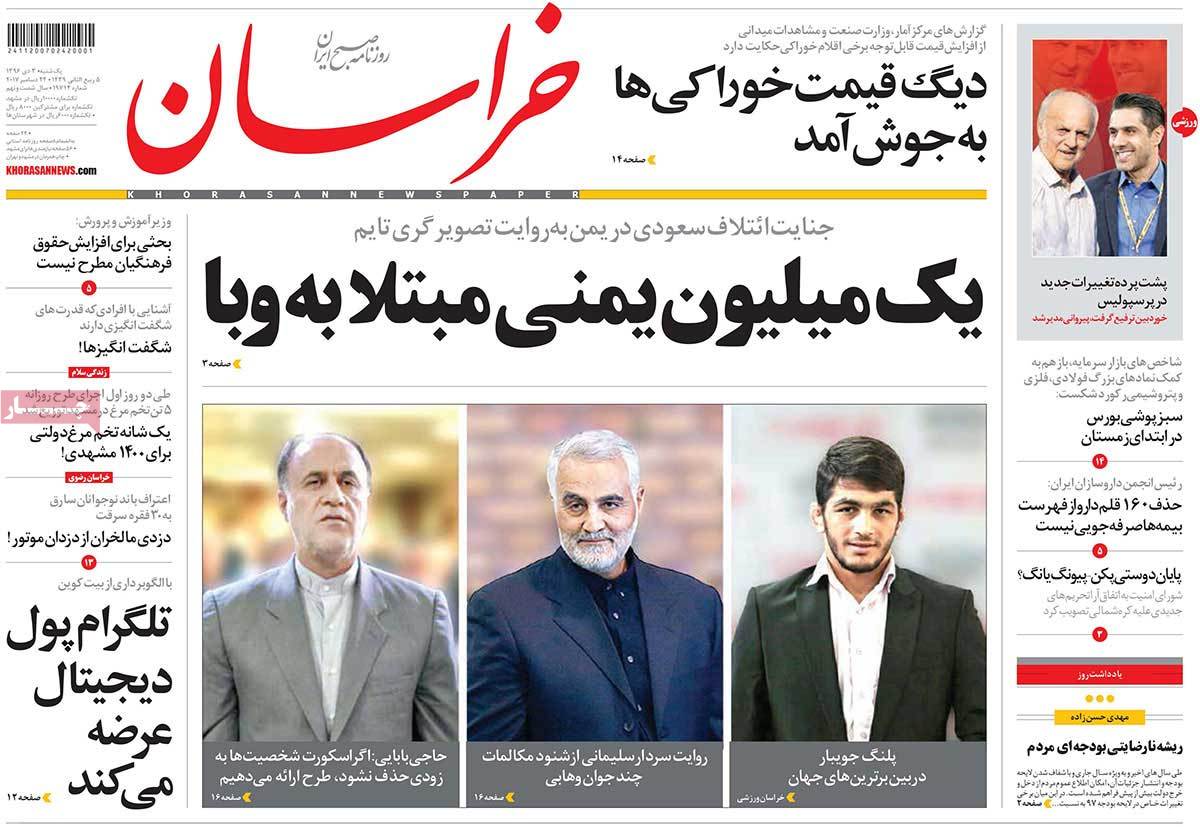 ---
Resalat:
1- Parliament Speaker: Terrorism in Mideast Not Over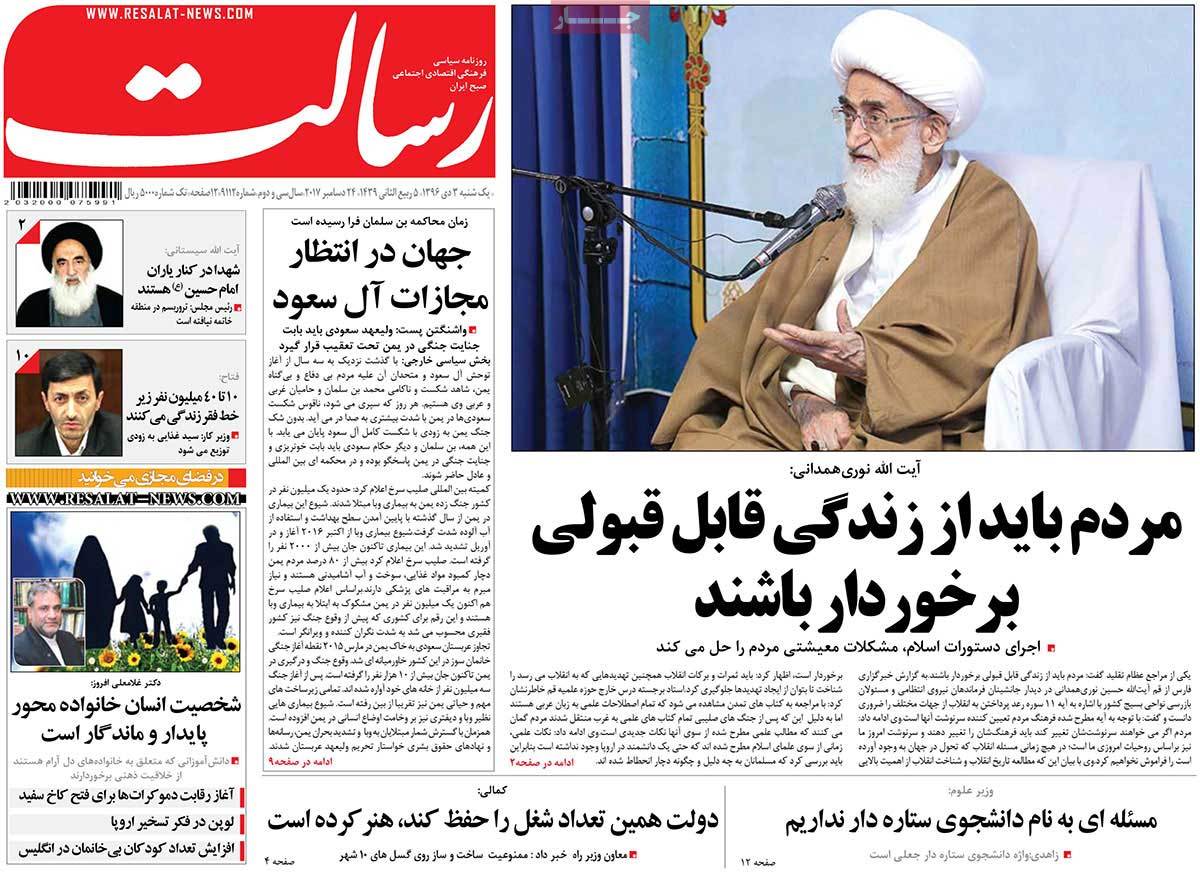 ---
Shahrvand:
1- We Want Fresh Air
Tehran Citizens Hold Protest Gathering in Front of Municipality