A magnitude 5.2 earthquake that jolted Tehran and Alborz provinces late Wednesday made the headlines in a few newspapers on Thursday.
Several papers also covered the severe air pollution in the capital and other megacities of Iran, reporting that Wednesday has been the most polluted day of the year in Tehran.
The UN General Assembly's vote for a Resolution on Palestinians' right to decide their fate also received great coverage. The vote came after the US vetoed an Egyptian-drafted UNSC Resolution against Trump's controversial decision on Jerusalem al-Quds.
The above issues, as well as many more, are highlighted in the following headlines and top stories:
Abrar:
1- Anti-Iran Human Rights Resolution Passed in UN
2- Erdogan's Rival Makes Promises on Turkey's Presidential System
3- UAE, Bahrain Accuse Iran of Being Involved in Yemen Missile Attack on Saudi Arabia
4- UN Security Council Expresses Support for Lebanon Stability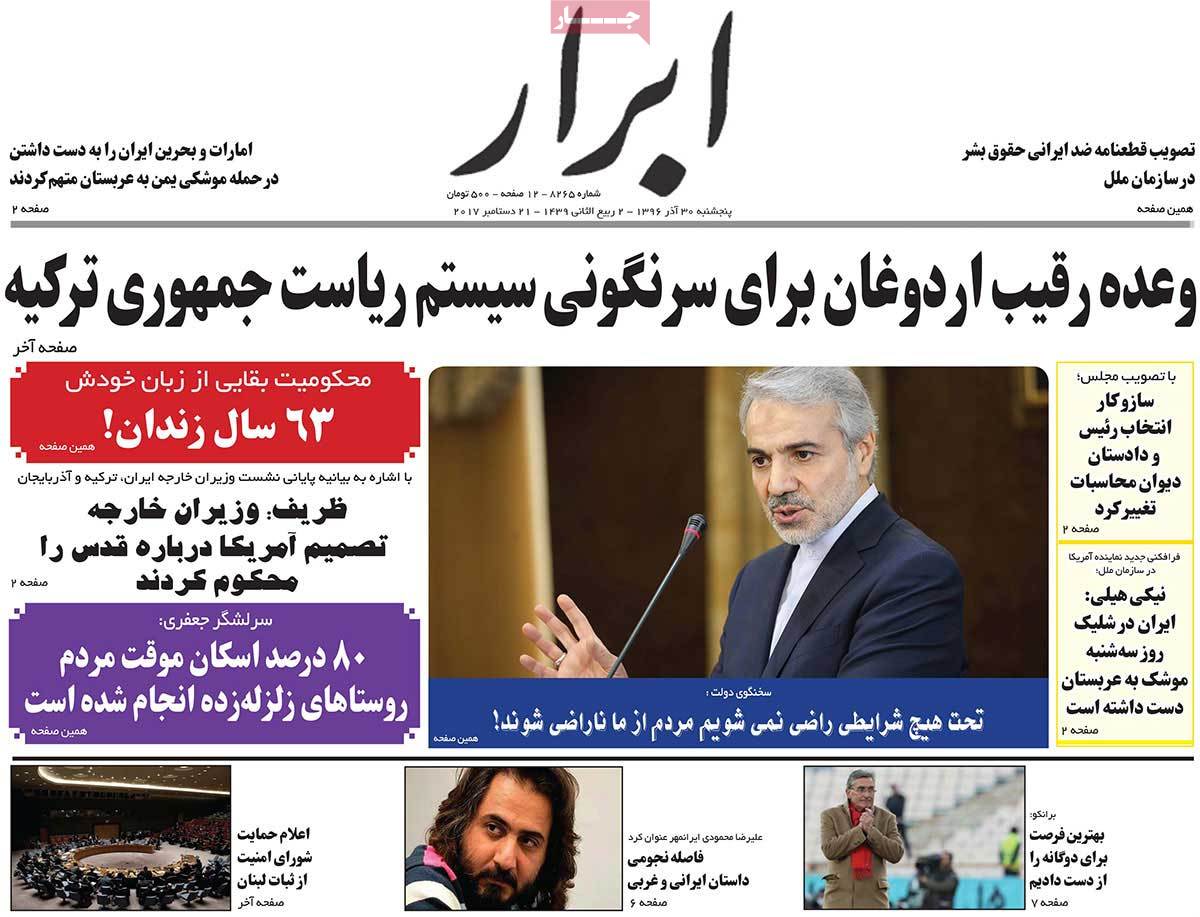 ---
Afkar:
1- Senior Cleric Criticizes Gov't for Indifference to People's Protests at High Prices
2- Every Single Day Off in Tehran Causes Over $23m in Damages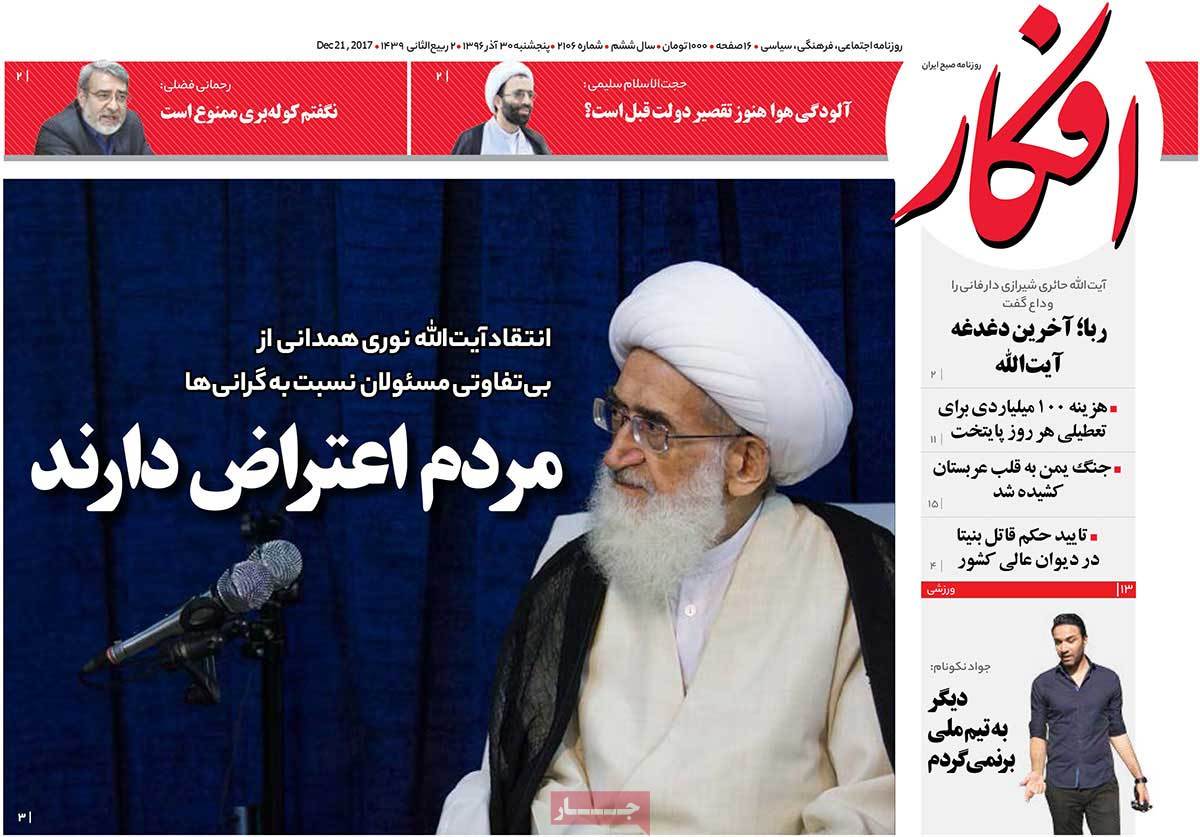 ---
Aftab-e Yazd:
1- IRGC Chief-Commander: Temporary Accommodation of Quake-Hit People 80% Complete
2- Ayatollah Haeri Shirazi Passes Away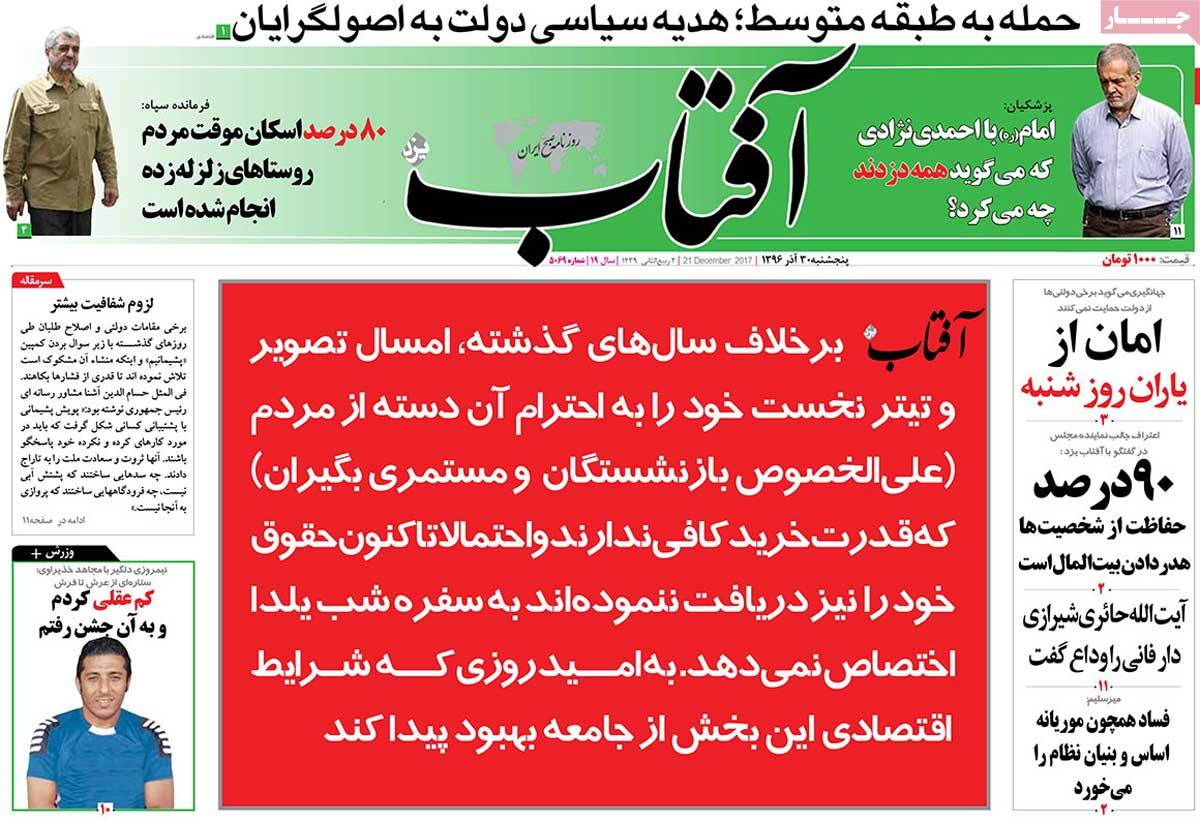 ---
Arman-e Emrooz:
1- Missile Accusations against Iran, and Iran's Vow to Legally Pursue Them
2- Details of Magnitude 5.2 Quake in Tehran: People Stayed Outdoors Wednesday Night
3- Happy Yalda Night! A Report on Customs of Longest Night of Year
---
Ettela'at:
1- UNSC: JCPOA Implementation Necessary for All Sides
2- Spokesman: Government's Success Hinges on People's Satisfaction
3- UNGA Votes for Resolution on Palestinians' Right to Decide Their Fate
4- Kurdistan Region's Government on Verge of Collapse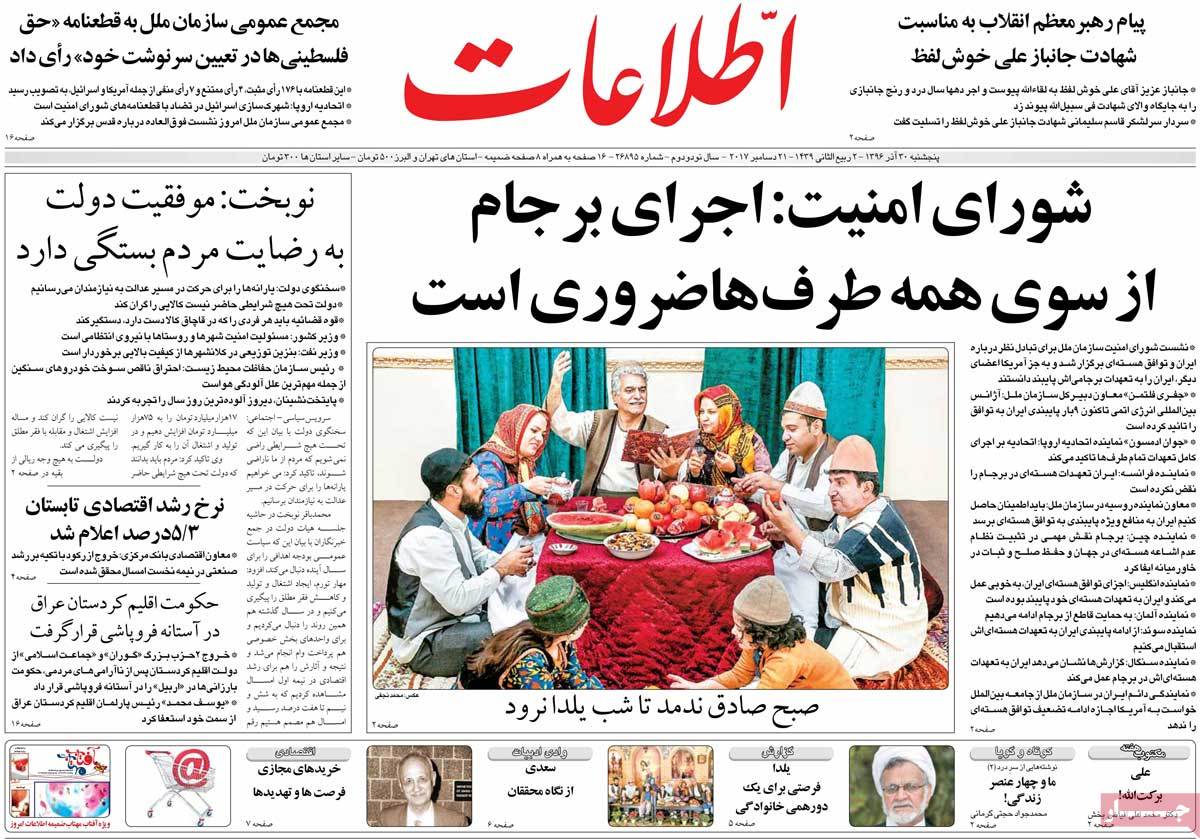 ---
Iran:
1- National Document of the Elderly Approved by Iran's High Council of Health
2- Wednesday, Most Polluted Day of Year in Tehran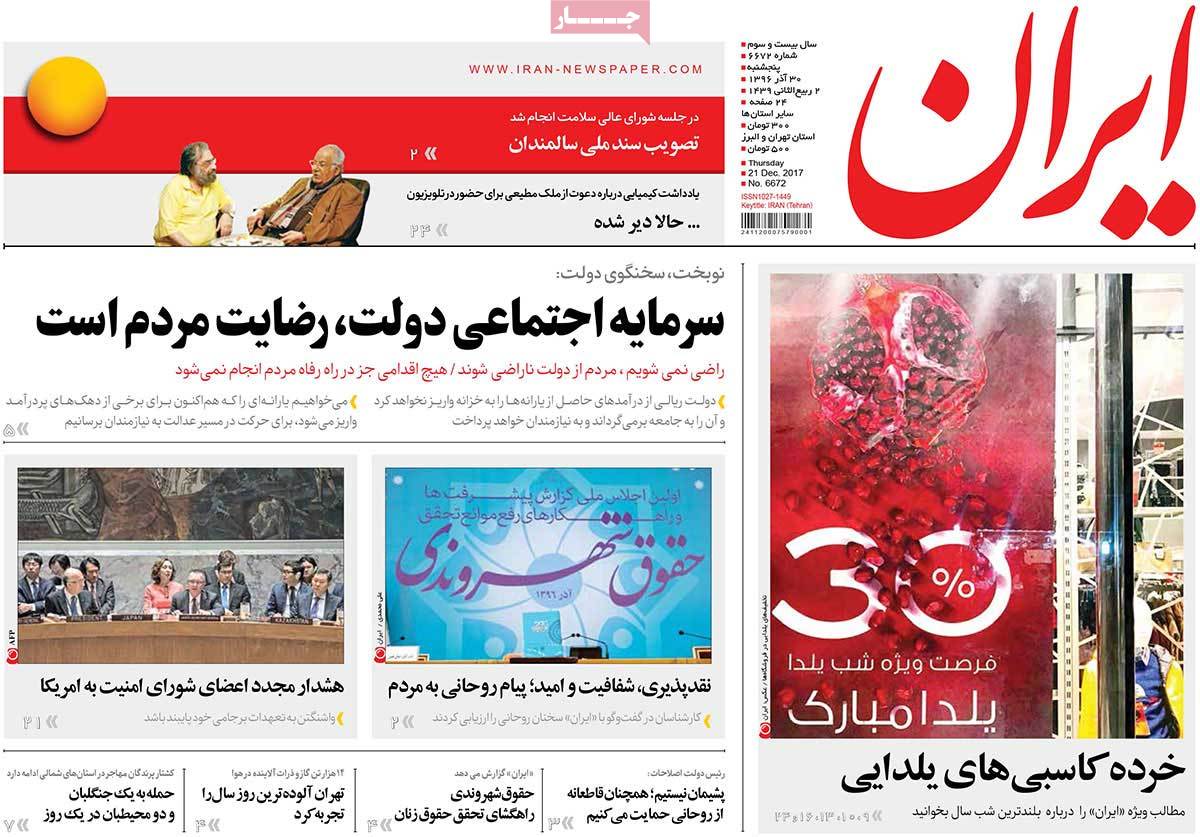 ---
Javan:
1- Recession in House Market Thanks to 5.3 Empty Houses
2- Kurdistan Independence Referendum Leads to Riot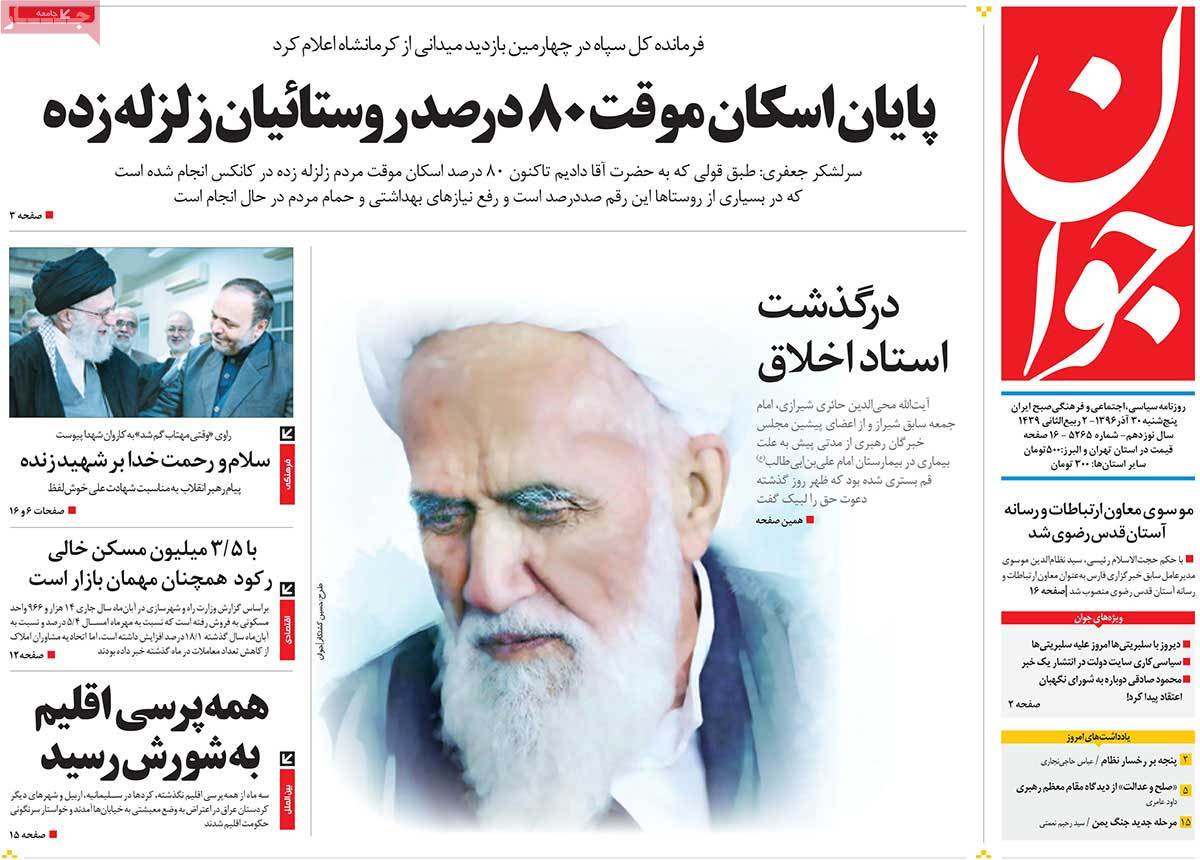 ---
Jomhouri Eslami:
1- 183 UNGA Member States Vote for Palestinians' Right to Decide Their Fate
2- Labour Minister: Gov't Resolved to Help Livelihood of Retired People
3- Kremlin: Assad Is and Will Be Legitimate President of Syria
4- Iraqi Gov't Warns Kurdistan Region about Protecting Lives of Kurds
---
Kayhan:
1- Government of Secrets Calling for Transparency!
2- Ansarullah Managed to Take Yemen War to Heart of Saudi Arabia
3- Central Bank: Industrial Units Out of Recession
4- Quake-Hit People Thank IRGC Chief-Commander
5- Intifada (Uprising) of Quds Enters Third Week
Reuters: Situation at Critical Level