The top story in all newspapers today was the remarks made by Iranian President Hassan Rouhani in the first national conference on citizens' rights.
Conservative and economic papers mostly focused on Rouhani's comments about the increase in fuel prices and his reaction to the criticisms against his government, while reformist papers mostly covered his remarks about citizens' rights and freedom of expression.
A missile fired by Yemen's Houthi Ansarullah movement at a Saudi royal palace in Riyadh also received great coverage today.
The above issues, as well as many more, are highlighted in the following headlines and top stories:
Abrar:
1- Rouhani Urges People to Continue Looking into Next Year's Budget
2- French DM: I'll Discuss Ballistic Missiles in Visit to Iran
3- Larijani: Iran Leader Allowed $200m Withdrawal from Development Fund for Quake-Hit People
4- Nuclear Chief: IAEA Sole Body for Certifying Iran's Compliance with JCPOA
5- Trump: Iran Deviated from JCPOA!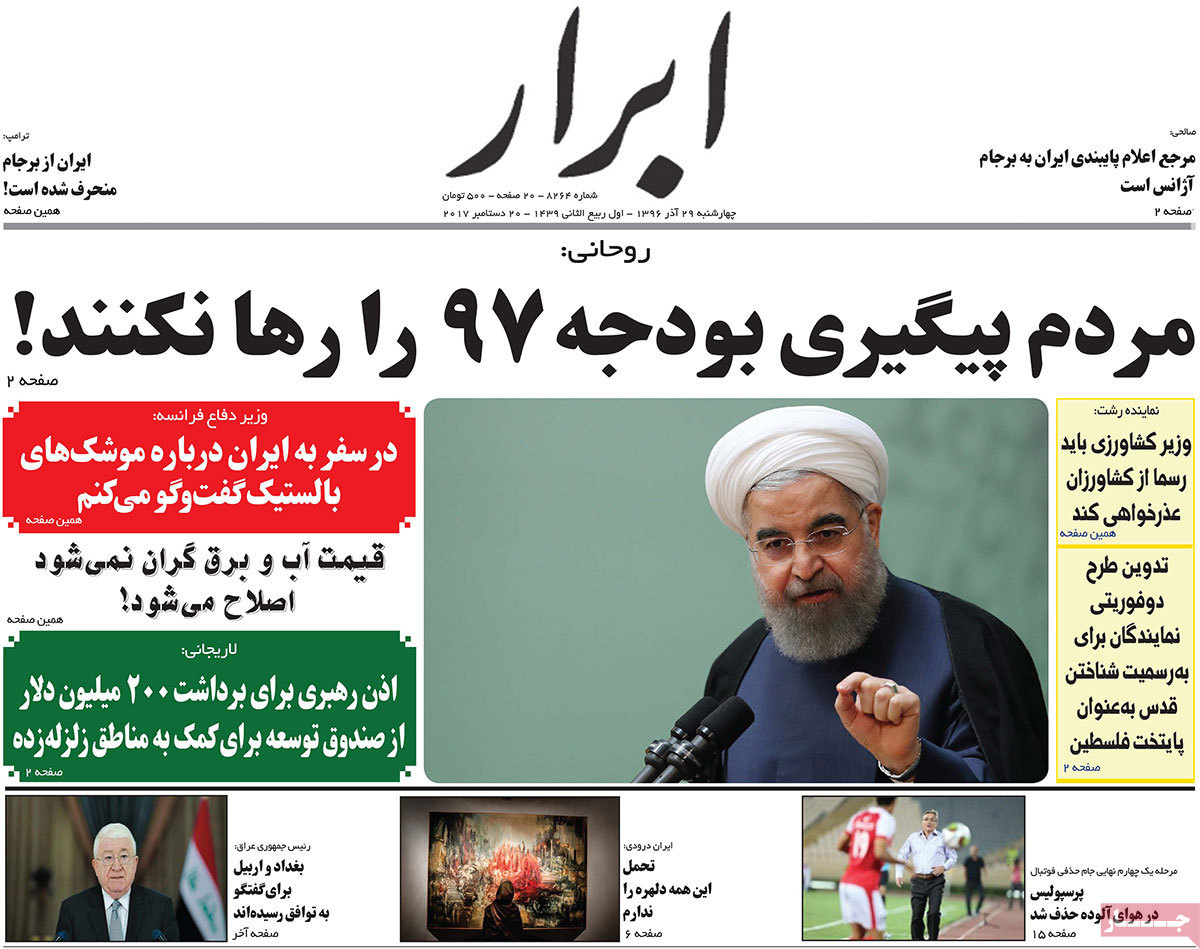 ---
Abrar-e Eqtesadi:
1- Rouhani to People: Price of Nothing Will Be Raised Unless You Accept It!
2- Forex Offices Not Allowed to Exchange Bitcoin: Official
---
Aftab-e Yazd:
1- Shamkhani: Problem of Those under House Arrest Being Resolved
2- Turkey Exporting Cars to Germany, US
3- Saudi Palace under Fire of Ansarullah Missile: Riyadh Claims It Intercepted Missile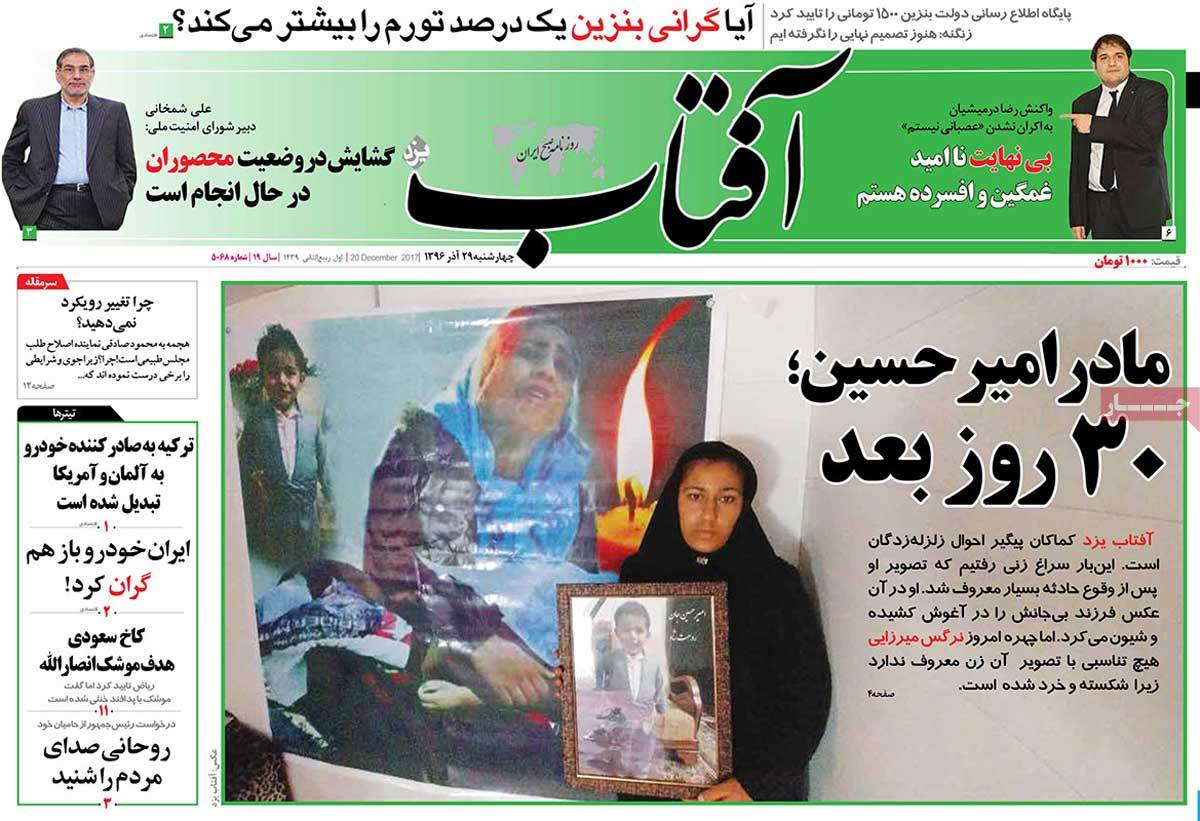 ---
Arman-e Emrooz:
1- Rouhani: Eavesdropping Was Not What Prophet Muhammad Would Do!
Don't Interfere in People's Lives: Iran President
---
Asrar:
1- Rouhani: People Are Free, Everyone Should Know What's Going on
Transparency Only Way to Eradicate Corruption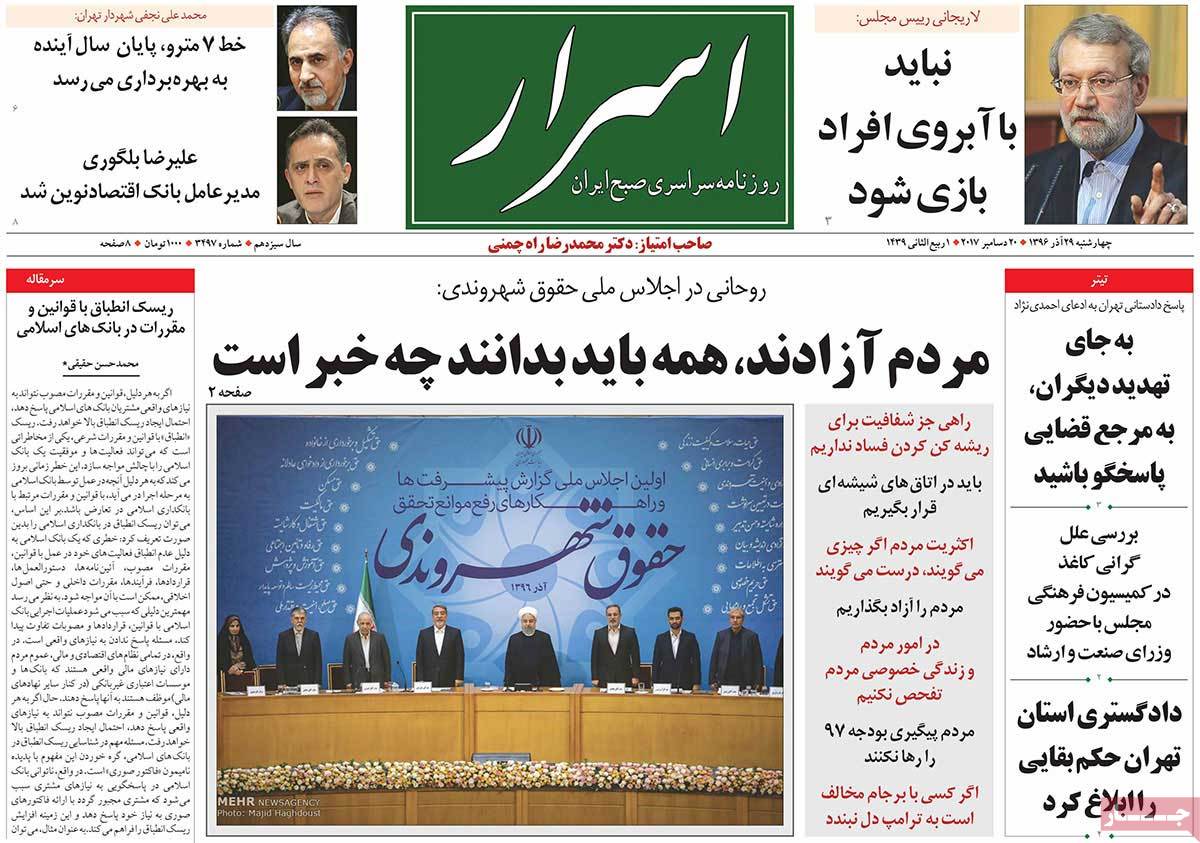 ---
Ettela'at:
1- Rouhani: We All Should Work in Transparent Rooms in Order to Fight Corruption
---
Iran:
1- Rouhani: People Have Every Right to Criticize Gov't
I'll Fulfil My Promises, but I Want You to Maintain Your Support
No Price to Be Increased Unless People Agree with It
---
Jame Jam:
1- Building Hospital Using Gold Medal
Wushu Champion Puts Medal on Auction to Raise Money for Quake-Hit People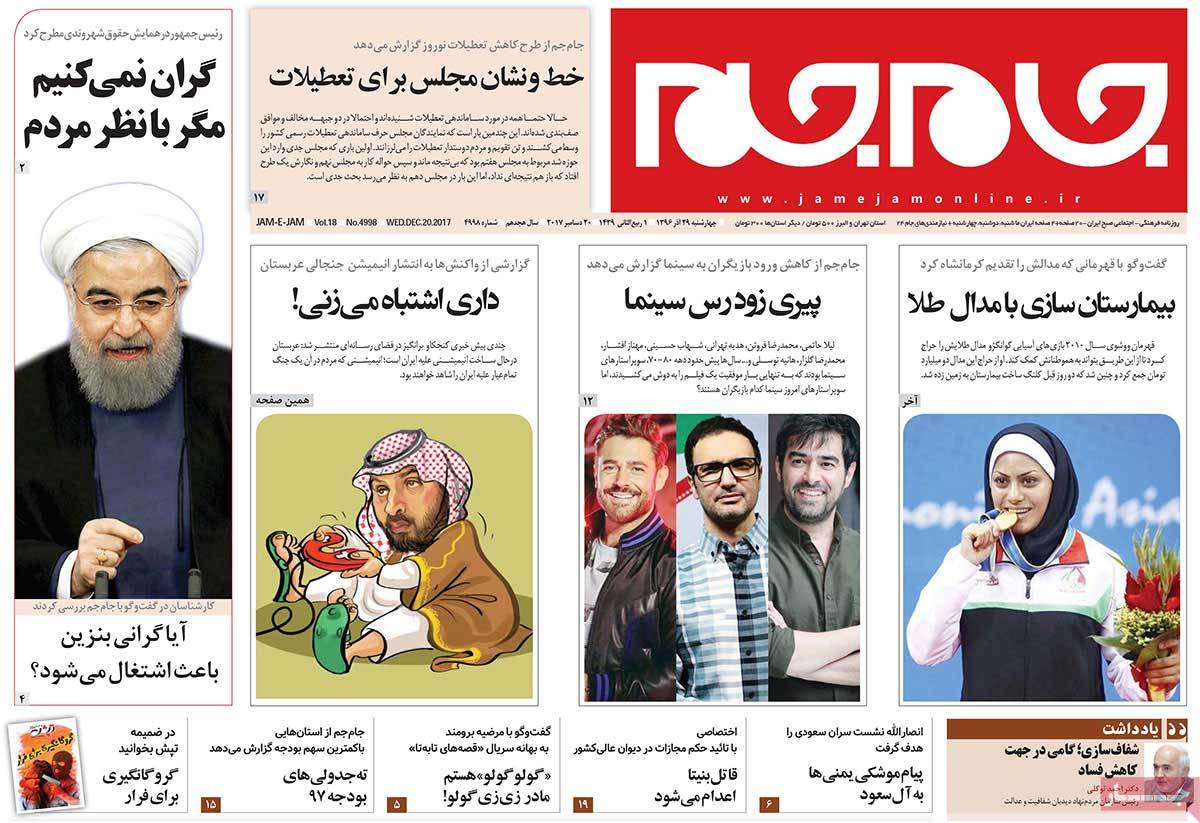 ---
Javan:
1- Rouhani: Increase in Fuel Prices Aimed at Creating More Jobs
Parliament: Increasing Fuel Prices to Threaten 480,000 Jobs!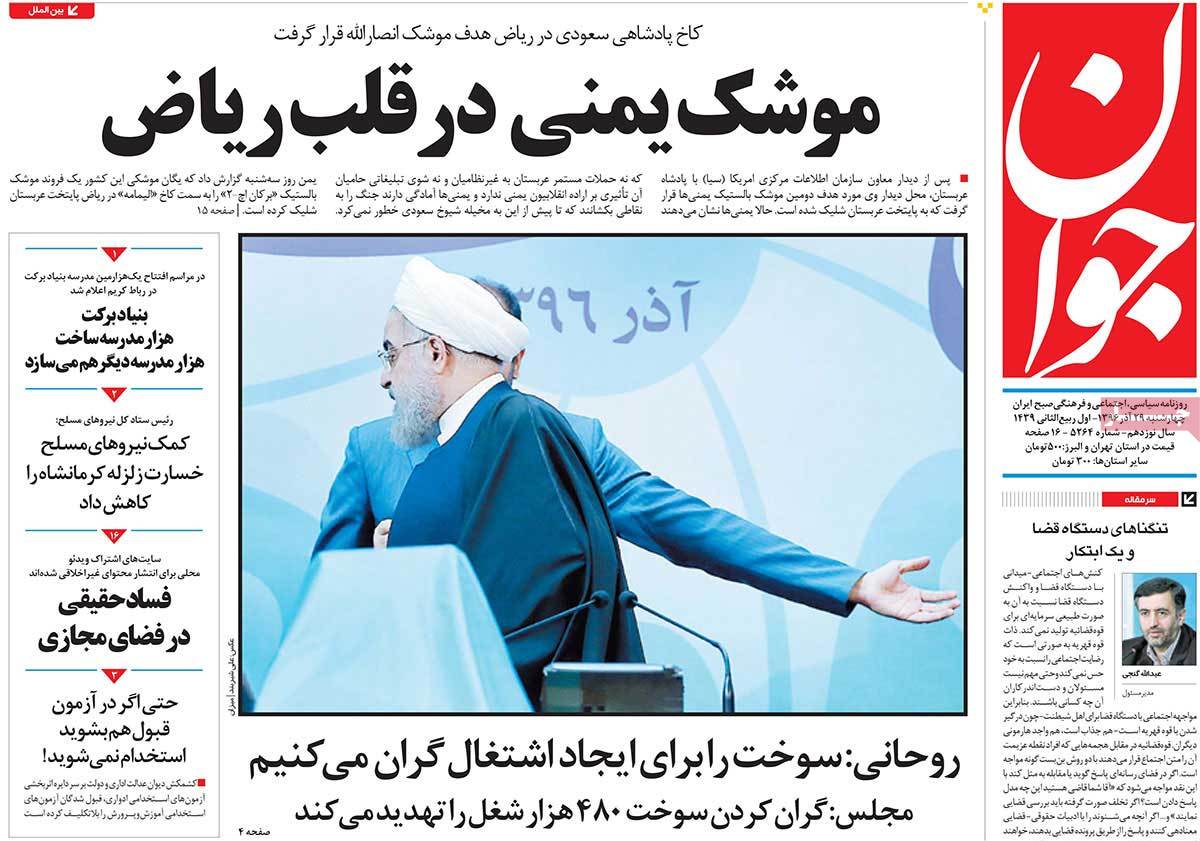 ---
Jomhouri Eslami:
1- Rouhani Calls for Accountability of Those Who Receive State Budget
2- 3 Killed, 8 Wounded in Second Day of Massive Protest Rallies in Iraqi Kurdistan
3- Islamic Clerics: Ties with Zionist Regime of Israel Forbidden
4- Arabic Version of Book on Iranian Anti-Colonialism Hero Amir Kabir Published
5- Industry Minister: $2.7 Billion in Foreign Investment Approved for Industries, Mines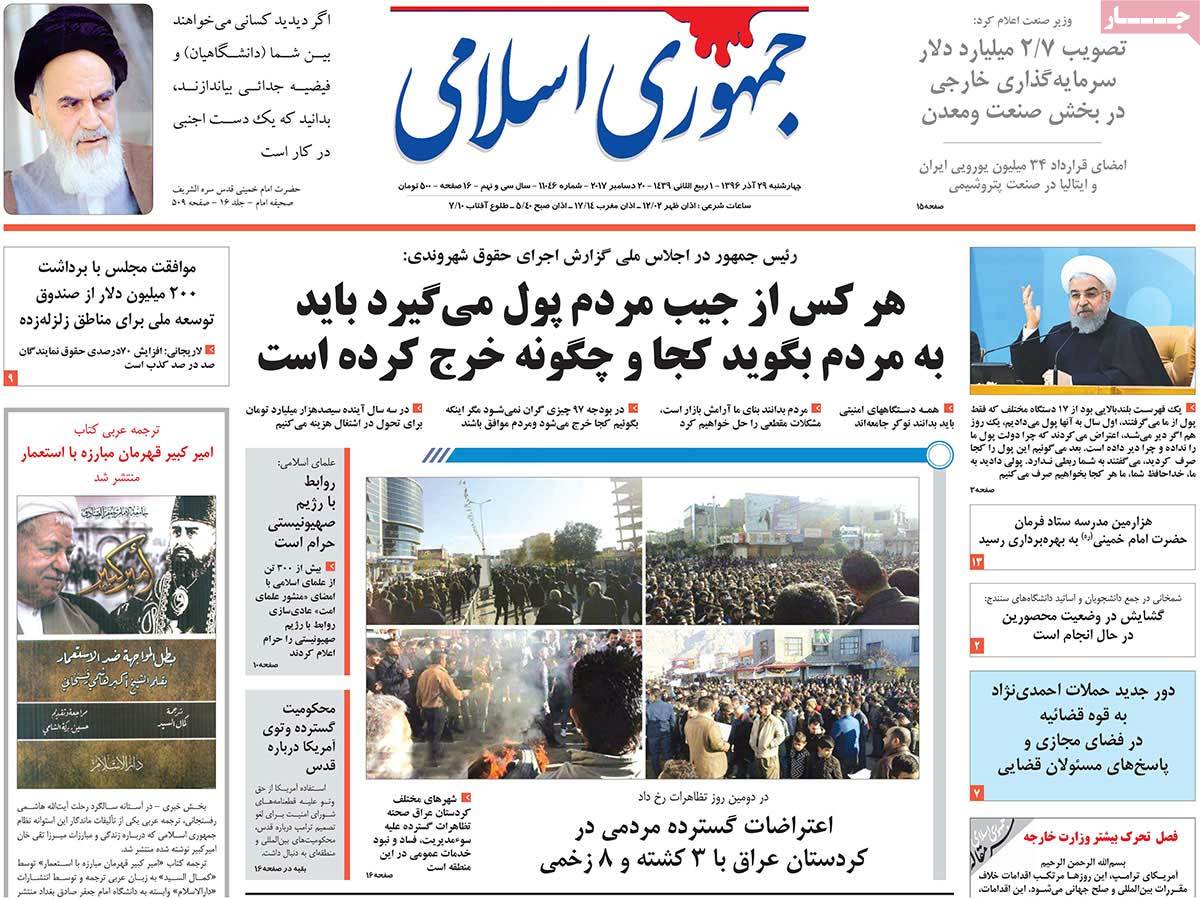 ---
Kayhan:
1- Riot in Iraqi Kurdistan: People Set Fire on State Buildings in Protest at Livelihood Issue
2- In 1000th Day of Saudi Aggression on Yemen: Ansarullah Fires Missile at King Salman's Palace
3- Assad: France Supports Terrorists, Not Allowed to Talk of Peace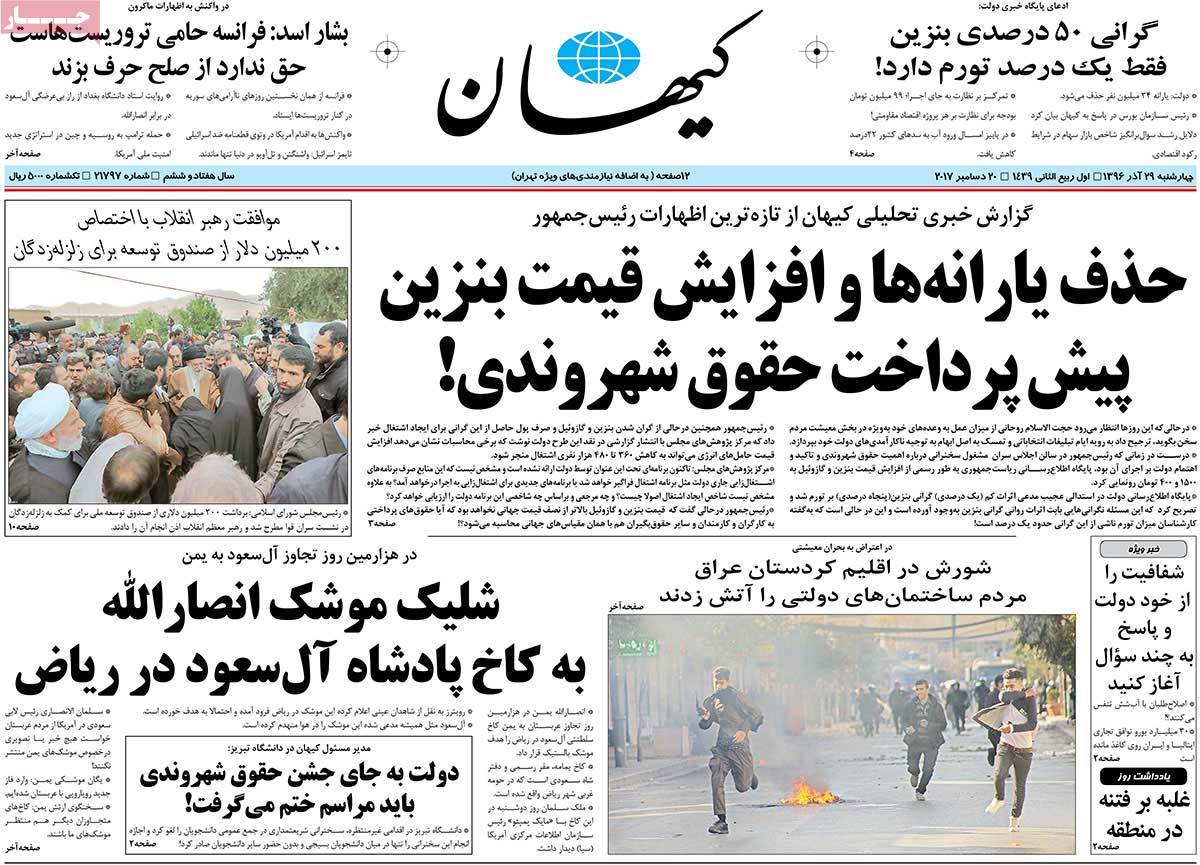 ---
Resalat:
1- Rouhani: Increased Petrol Price Not to Exceed Half of Global Price
2- Iran First VP: Country Suffering from Inefficient Economic Management
---
Sobh-e Now:
1- "Don't Unfollow Me!" Rouhani Asks People, Artists to Keep Supporting Him