The top story today was the US claims about Iran's supply of ballistic missiles to Yemen and the Iranian officials' reactions to the accusations.
Several papers today covered the remarks made by the Iranian Government's Spokesman Mohammad-Baqer Nobakht about a decision to increase the fuel prices. He was widely criticized, by both reformists and conservatives, for saying that the increase in prices is aimed at creating more job opportunities.
The ongoing uprising in Palestine and the Israeli regime's violent reaction to the protest rallies also received great coverage today.
The above issues, as well as many more, are highlighted in the following headlines and top stories:
Abrar:
1- IRGC Chief-Commander: Iran Can Now Easily Respond to Security Threats
2- UN Chief: There's No Clear Evidence that Shows Origin of Missiles Fired at Saudi Arabia
3- Iran: Issue of Caspian Sea Demarcation Not Finalized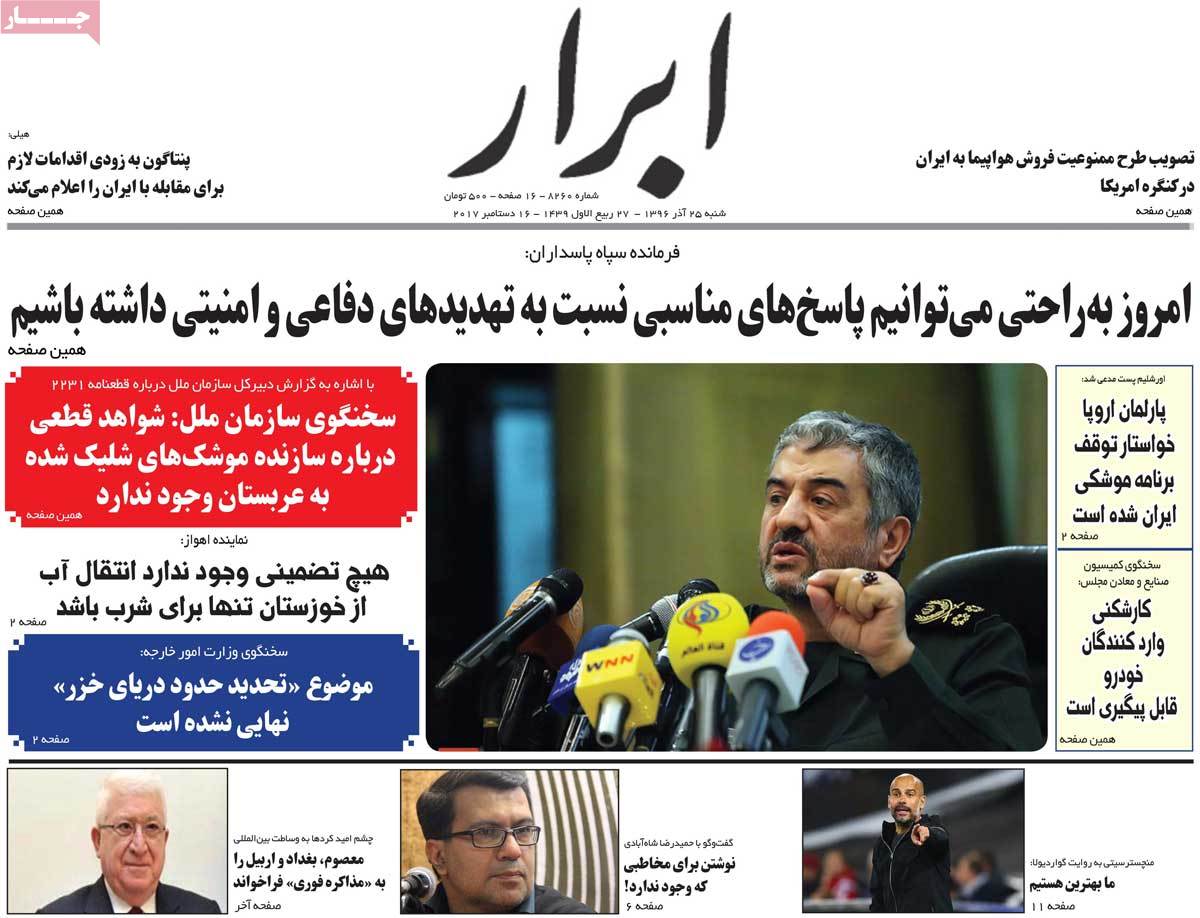 ---
Aftab-e Yazd:
1- Gov't Spokesman: We'll Increase Petrol Price to Create More Jobs for You!
2- Children in Kermanshah Scream of Earthquake Nightmare at Nights
---
Asrar:
1- Minister: People Should Feel Calm When They Here Name of Intelligence Ministry
2- Americans Seek to Divert Global Attention Away from Issue of al-Quds: Iran UN Envoy
---
Ebtekar:
1- Iran Deputy FM: West Asia Not to Be Better Place without JCPOA
2- Playing Blame Game at Expense of Drought-Hit Children's Blood
Realities about Yemen War Ignored by Haley
---
Emtiaz:
1- Iran's Kish Island May Host FIFA World Cup 2022
Persian Gulf Island Being Prepared in Qataris' Presence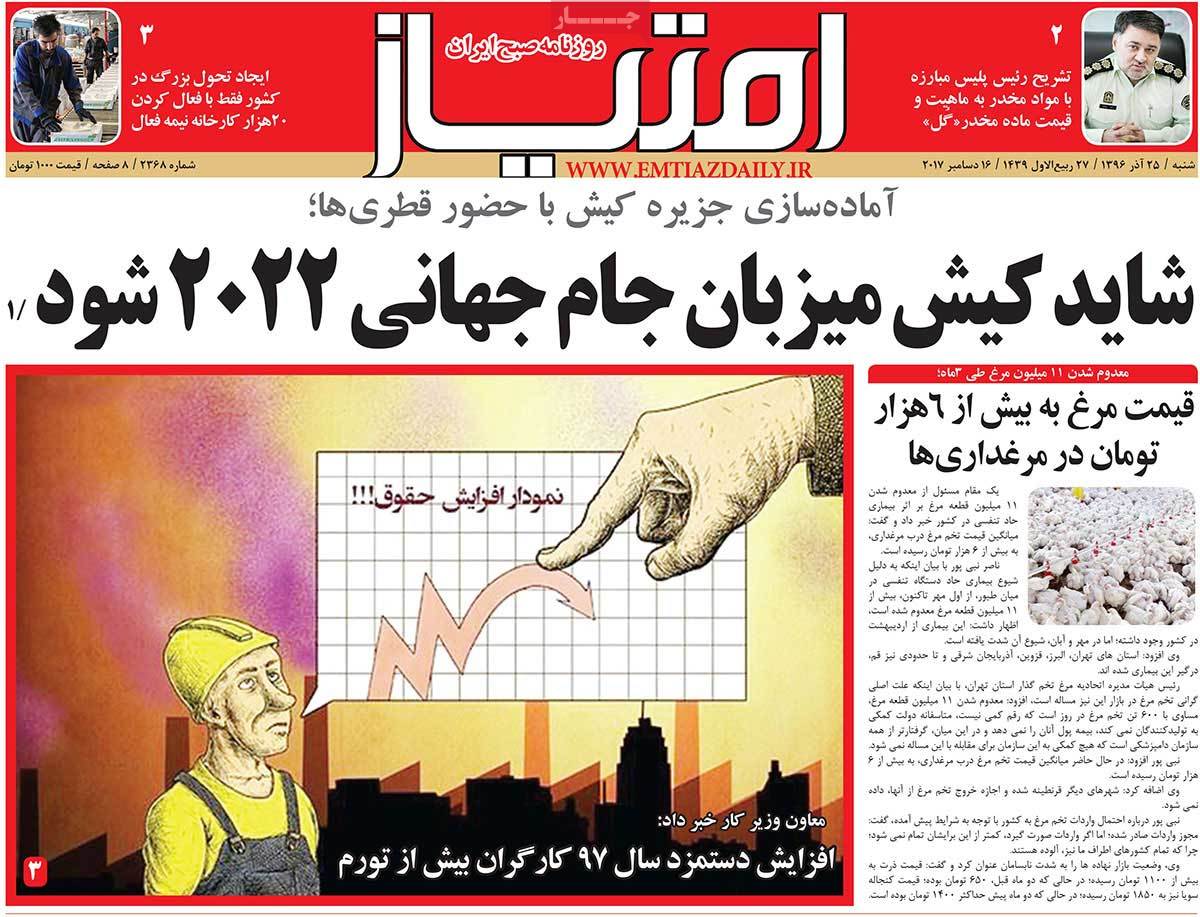 ---
Ettela'at:
1- Weak-Minded Arab Regimes Emboldened Trump on al-Quds: Palestinian Jihad Envoy
2- Gov't Spokesman: Iran Economy Only Treatable through Surgery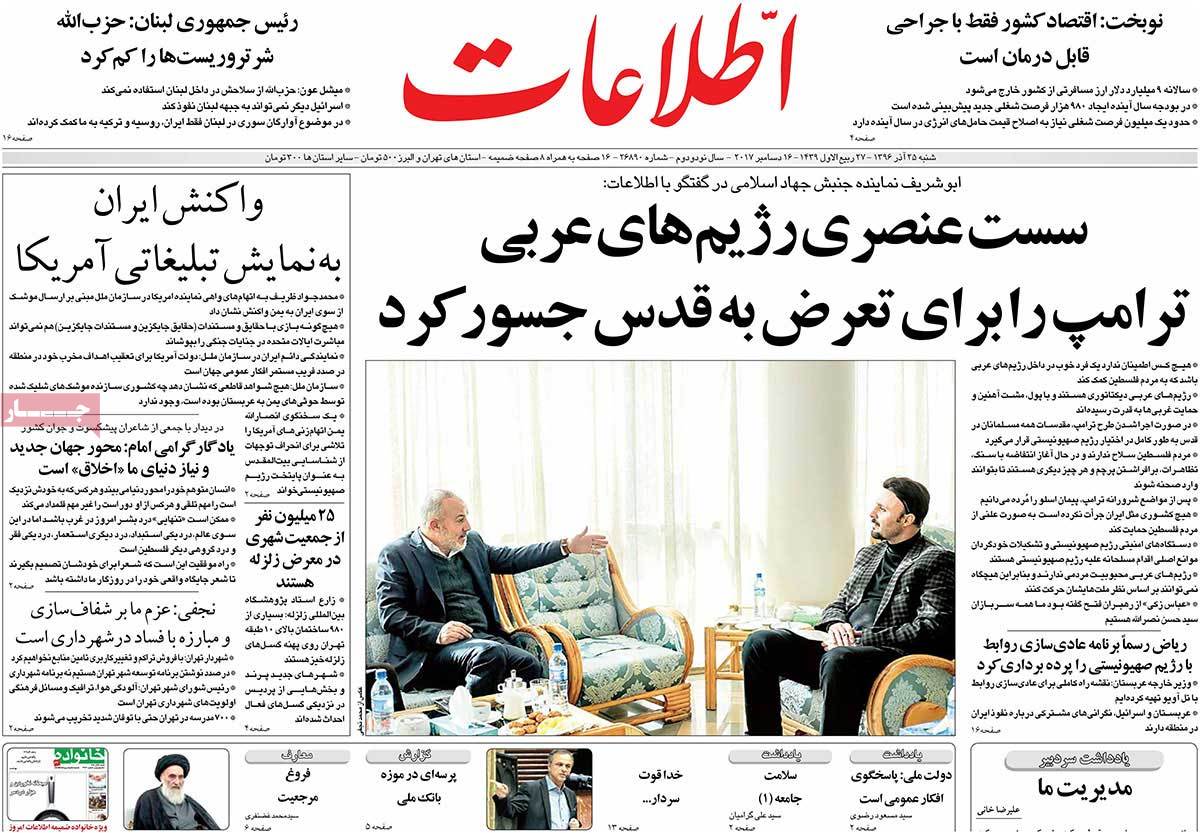 ---
Iran:
1- British Research Centre: American, Saudi-Supplied Arms in Hands of ISIS
2- Bloody Uprising: Israeli Forces Kill 3 Palestinian Protesters, Wound 263
---
Jame Jam:
1- Nikki's Missile Show: A Report on Reactions to US Envoy's Anti-Iran Accusations
US Once Again Isolated in Reviving Iranophobia Project
2- Gov't Spokesman: Rouhani Upset by Increase in Dollar Rate
---
Javan:
1- Gov't: We'll Raise Fuel Prices because There Are 3 Unemployed People in Every Family!
2- IRGC Chief-Commander: We Easily Counter Any Security Threat
3- UN Rejects US' Show of Missile Wreckage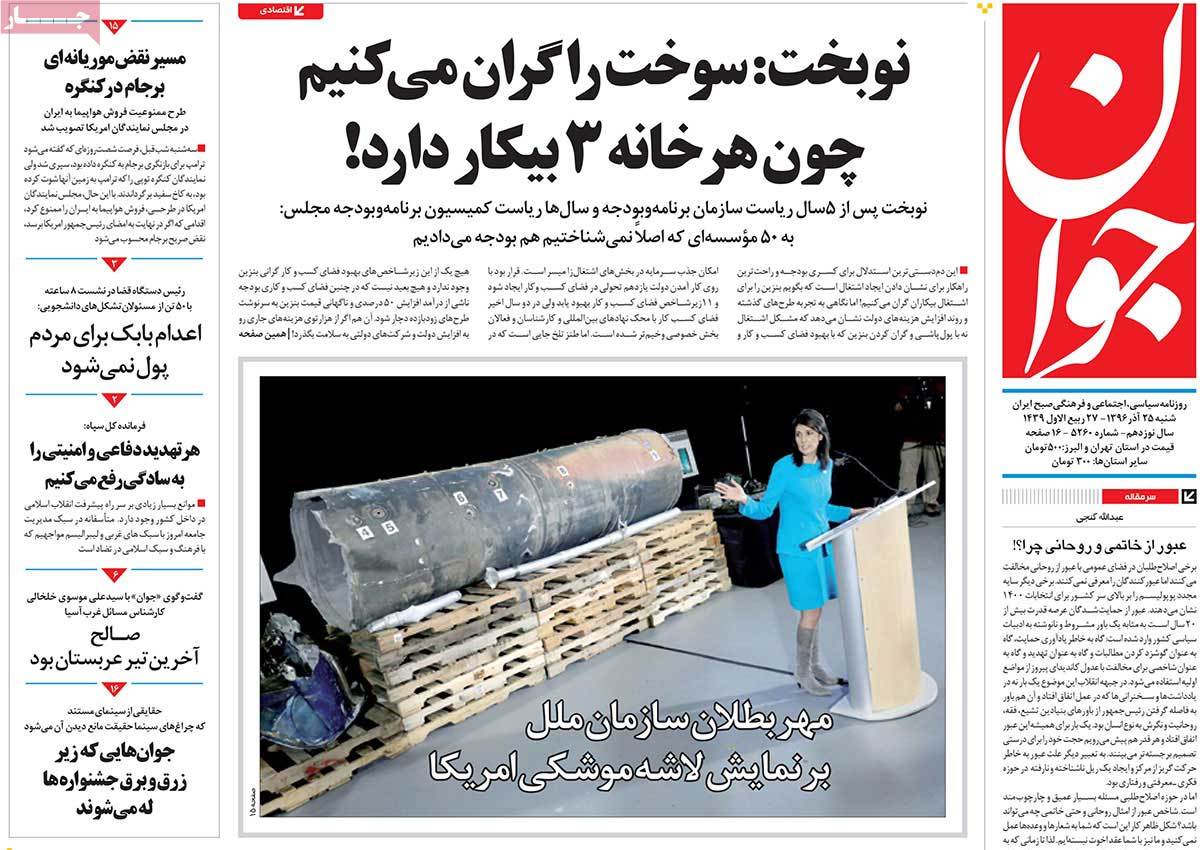 ---
Jomhouri Eslami:
1- US' Failed Attempt to Divert Attentions Away from al-Quds
2- Zarif: US Complicity in Yemen War Crimes Cannot Be Covered up
3- Saudi FM Admits: Saudi Arabia Has Full Road-map for Diplomatic Ties with Israel
4- Putin: US Preventing Fight against Terrorists in Syria
5- Health Minister: South Korea to Build 3 Hospitals in Iran
---
Kayhan:
1- US Equips ISIS with Modern Arms under Cover of Fight against Terror: EU Findings
2- Latest US Achievement: US Congress Approves 2 Other Anti-Iran Bills
---
Resalat:
1- Judiciary Chief: Judicial Offences Decreased through Covert Supervision
2- Spokesman: Judiciary's Budget Halved
---
Shargh:
1- Haley Makes Anti-Iran Speech at UN
Zarif: I Had Earlier Seen This Show
2- Total Doubtful about Staying in Iran