The top story in all newspapers today was IRGC Quds Force Commander Major General Qassem Soleimani's phone conversations with Palestinian resistance leaders, during which the Iranian commander said all regional resistance forces are prepared to protect Al-Aqsa Mosque.
The recent magnitude-6.2 earthquake in Kerman's Hojadk and the speculations about a possible devastating quake in Tehran also received great coverage.
Another top story was Iranian President Hassan Rouhani's trip to Turkey to attend an extraordinary OIC summit on the issue of Jerusalem al-Quds, and the remarks by Rouhani about Palestine before leaving Tehran for Istanbul.
The above issues, as well as many more, are highlighted in the following headlines and top stories:
19 Dey:
1- Intelligence Minister: Religious Extremism Will Lead to Irrational Moves
2- General Soleimani Holds Phone Conversation with Commander of Palestinian Resistance Forces
3- Tehran's Possible Magnitude-7 Quake to Kill One Million People: Research Centre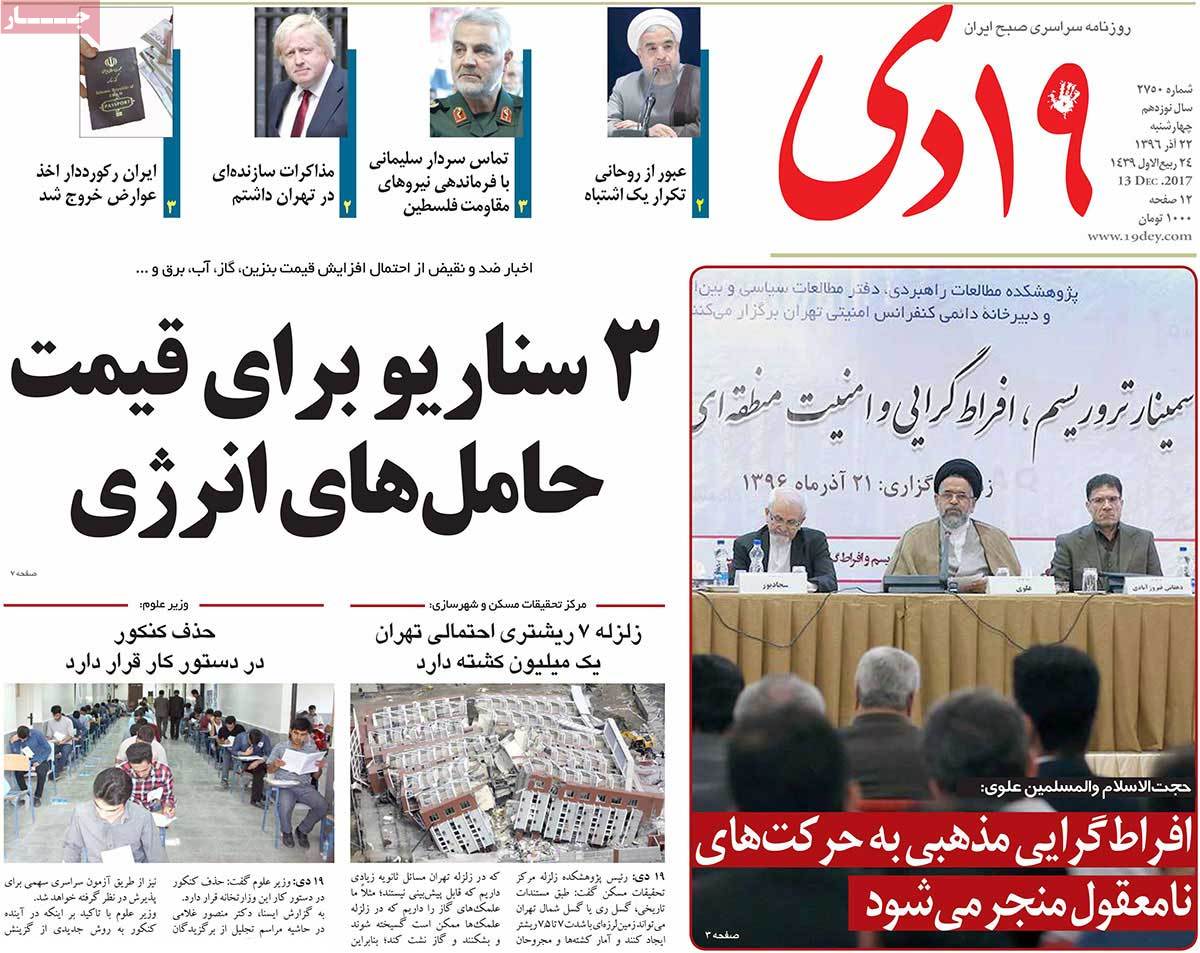 ---
Abrar:
1- Johnson: I Asked Iran to Free Zaghari on Humanitarian Grounds
2- 235 MPs Condemn Trump's Decision on Jerusalem al-Quds
3- Hariri: Some Stabbed Me in My Back
---
Aftab-e Yazd:
1- Iran First VP Criticizes Lack of Motivation among Executives
---
Arman-e Emrooz:
1- Chairman of Tehran City Council: Tehran's Traffic Jam More Dangerous than ISIS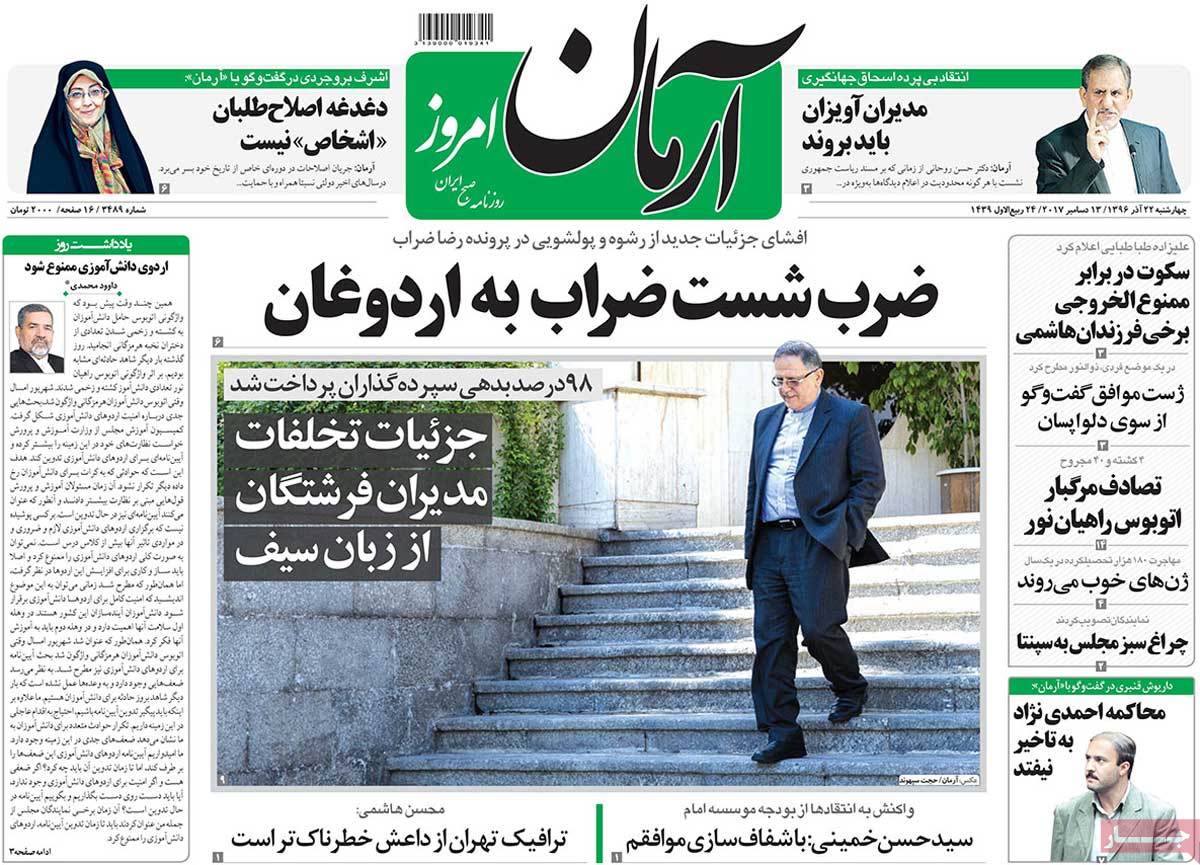 ---
Asrar:
1- Rouhani: There's No Way but Unity; All Muslims Must Condemn Trump's Decision
---
Ettela'at:
1- General Soleimani: Iran Ready for All-Out Support of Palestinian Resistance
2- Intelligence Minister: ISIS Has Not Laid Down Its Arms
3- Magnitude-6.2 Quake in Kerman Leaves 30 Wounded
---
Iran:
1- Tillerson: US to Remain in Iran Nuclear Deal for Now
2- Science Minister: Iran to Stop Holding Concours (National University Entrance Exam)
3- Iran Celebrates Recognition of Kalpourgan as Global Pottery Village
---
Jomhouri Eslami:
1- 235 MPs Call on Muslim States to Sever Ties with Zionist Regime
2- UN Chief: Iran Totally Committed to Nuclear Deal
3- Saudi Crown Prince to Mahmoud Abbas: Forget about al-Quds and Return of Refugees
4- Bahraini People Set Fire on US, Israel Flags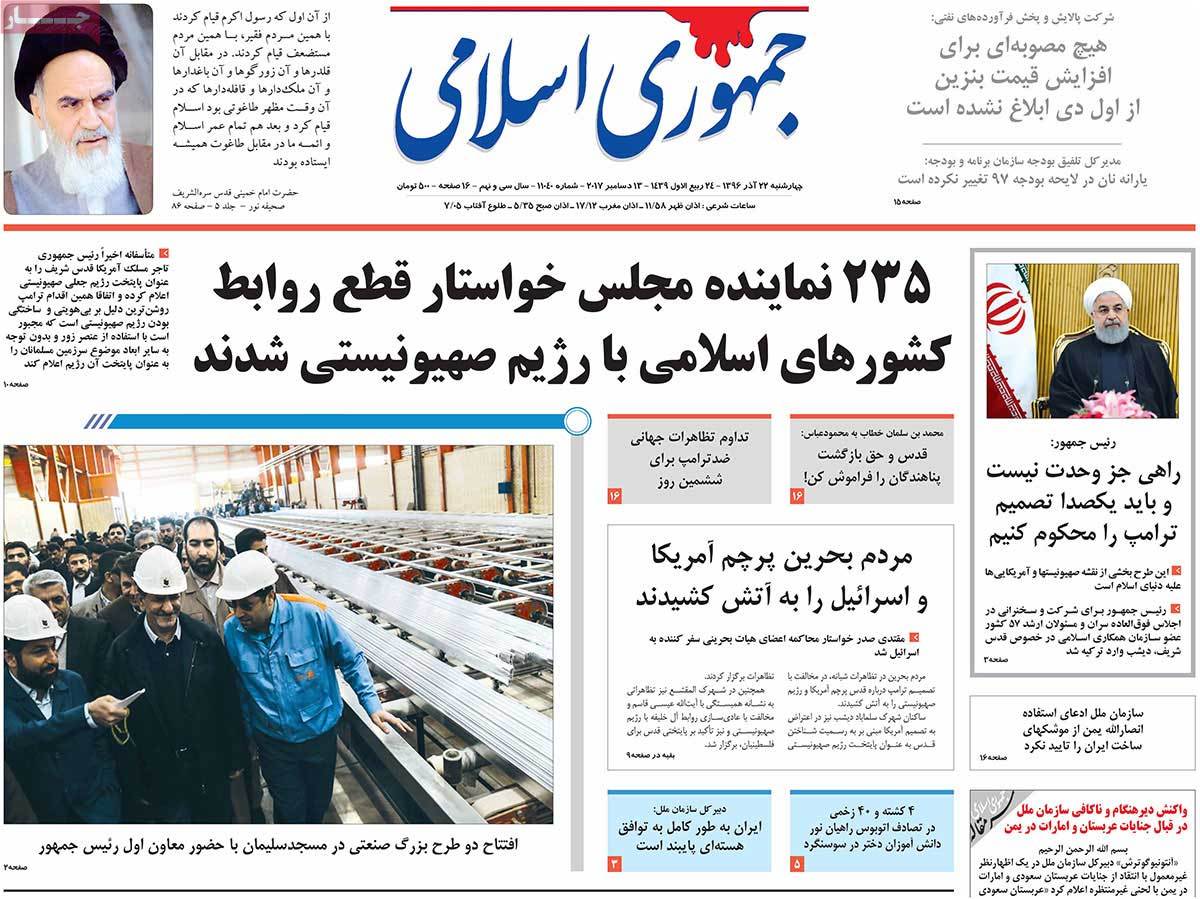 ---
Kayhan:
1- Government's First Move to Fulfil Its Promises: Increasing Petrol Price!
2- Qatar Releases Documents on Saudi Arabia's Cooperation with Israel
From Disintegration of Syria to Invasion of Gaza and West Bank
3- Government's Staunch Supporters Now Regretful: Kayhan Chief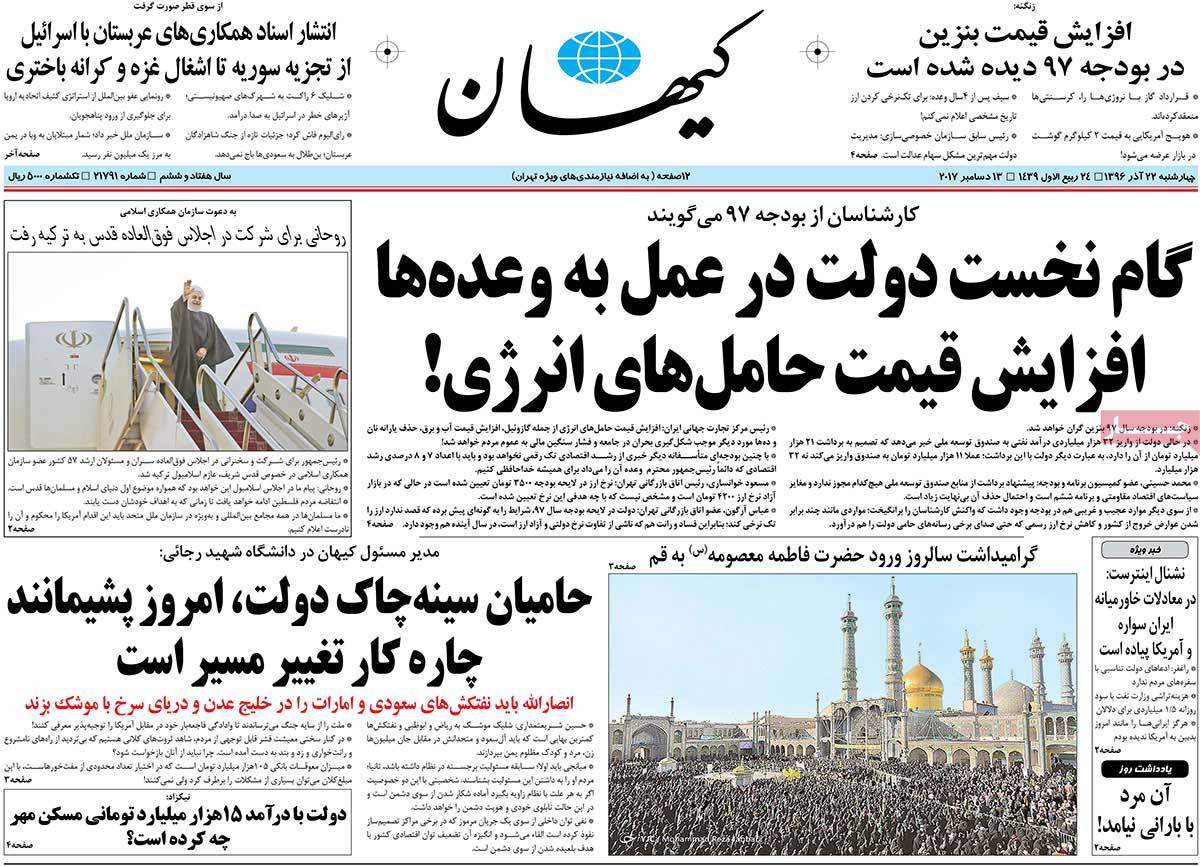 ---
Resalat:
1- General Soleimani: Regional Resistance Forces Ready to Defend Al-Aqsa Mosque
2- Oil Minister: Increase in Petrol Price to Be Included in New Budget