Almost all Iranian newspapers today covered the remarks made by the Leader of Iran's Islamic Revolution Ayatollah Seyyed Ali Khamenei in a Sunday meeting with Alireza Karimi, the wrestler who intentionally lost his match against the Russian rival in order to avoid facing an Israeli wrestler. The Leader praised Karimi for what he did, and said he felt proud that the wrestler gave up on his right to defend the high cause of Palestine.
The visit of UK Foreign Secretary Boris Johnson to Tehran and his meetings with top Iranian officials also received great coverage.
Meanwhile, the top story today was President Hassan Rouhani's submission of his proposed budget for the next fiscal year. The details of the budget have been widely discussed, praised, and criticized by both reformists and conservatives.
The above issues, as well as many more, are highlighted in the following headlines and top stories:
19 Dey:
1- IRGC in Pursuit of Tehran's Bullies, Thieves
2- Iran Leader Praises Wrestler Who Avoided Facing Israeli Rival
---
Abrar:
1- US Congress to Discuss New Anti-Iran Sanctions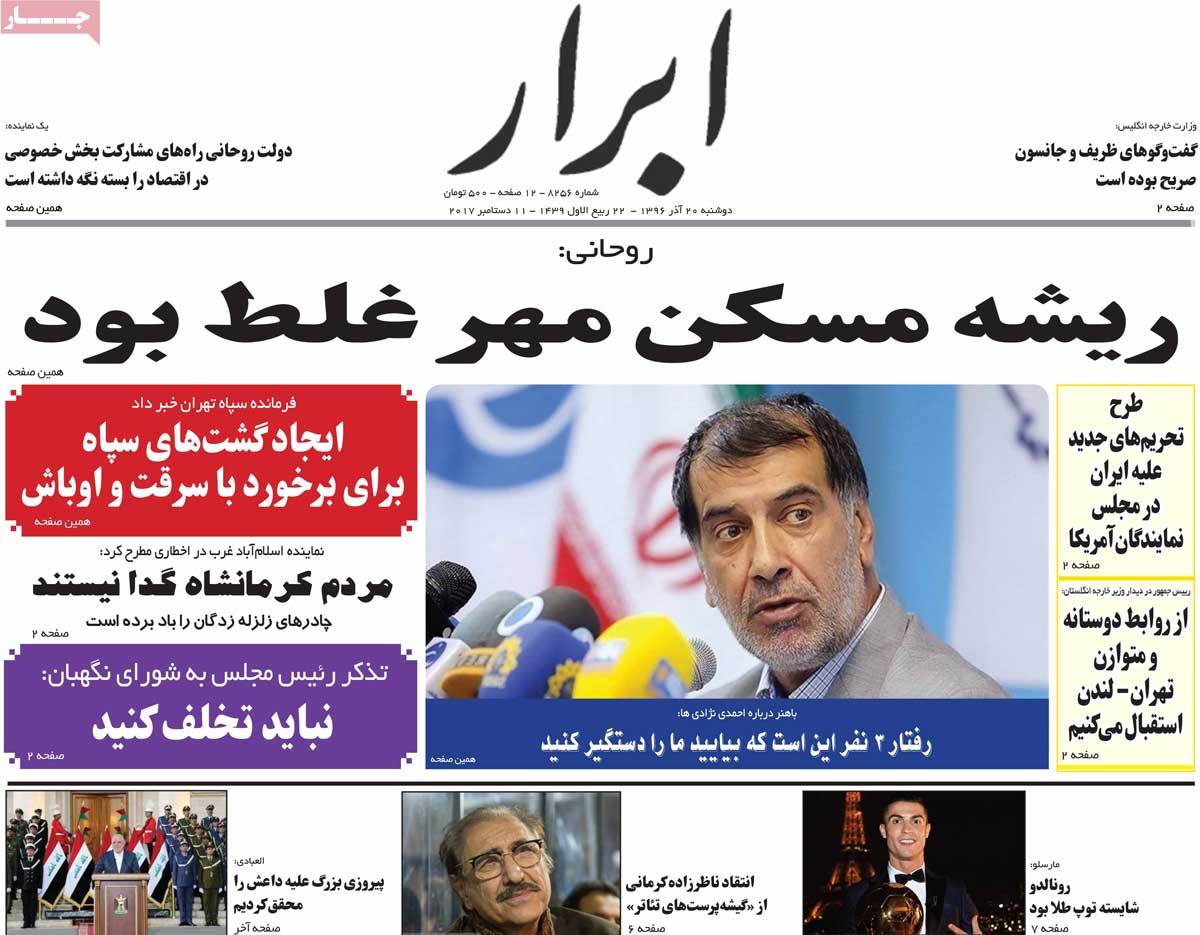 ---
Aftab-e Yazd:
1- Rouhani against Those Who Are Not Transparent
2- Chief of Women's Basij: Women's Presence in Stadiums Cancelled Forever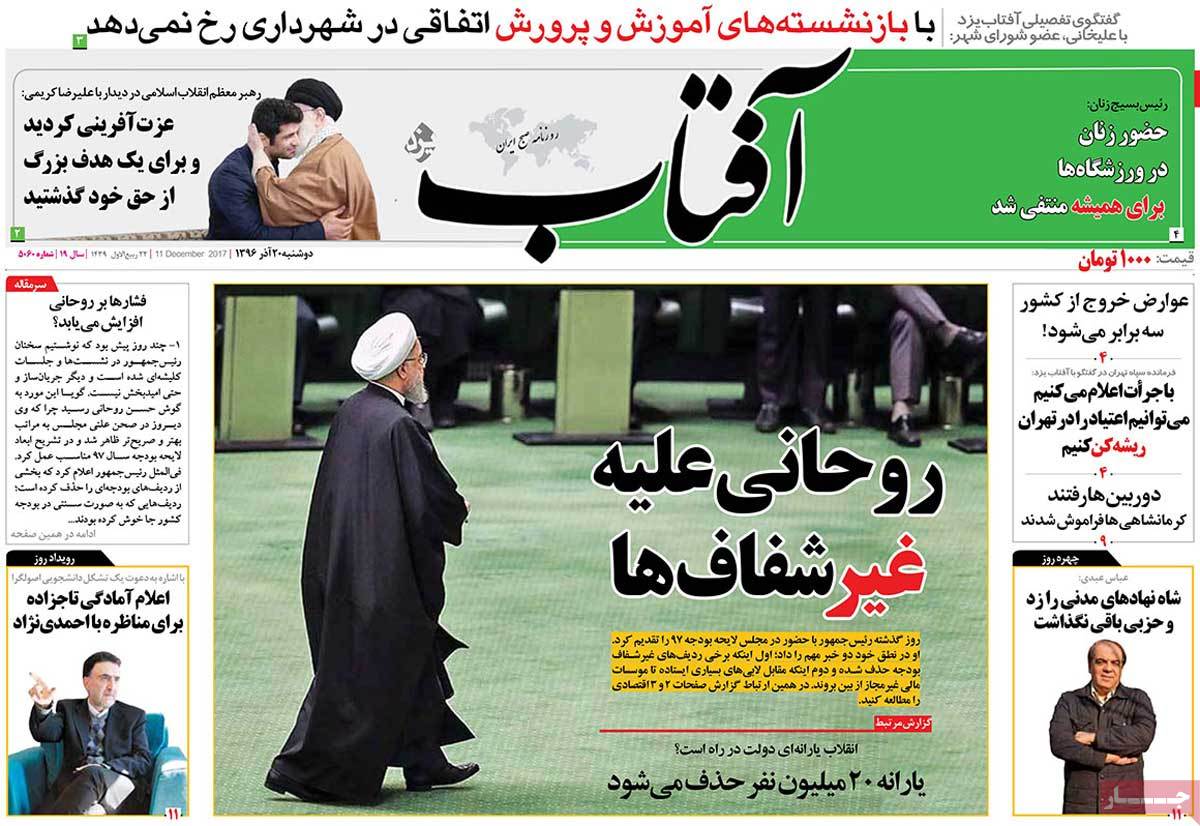 ---
Arman-e Emrooz:
1- Earthquake-Hit People's Tents Destroyed by Storm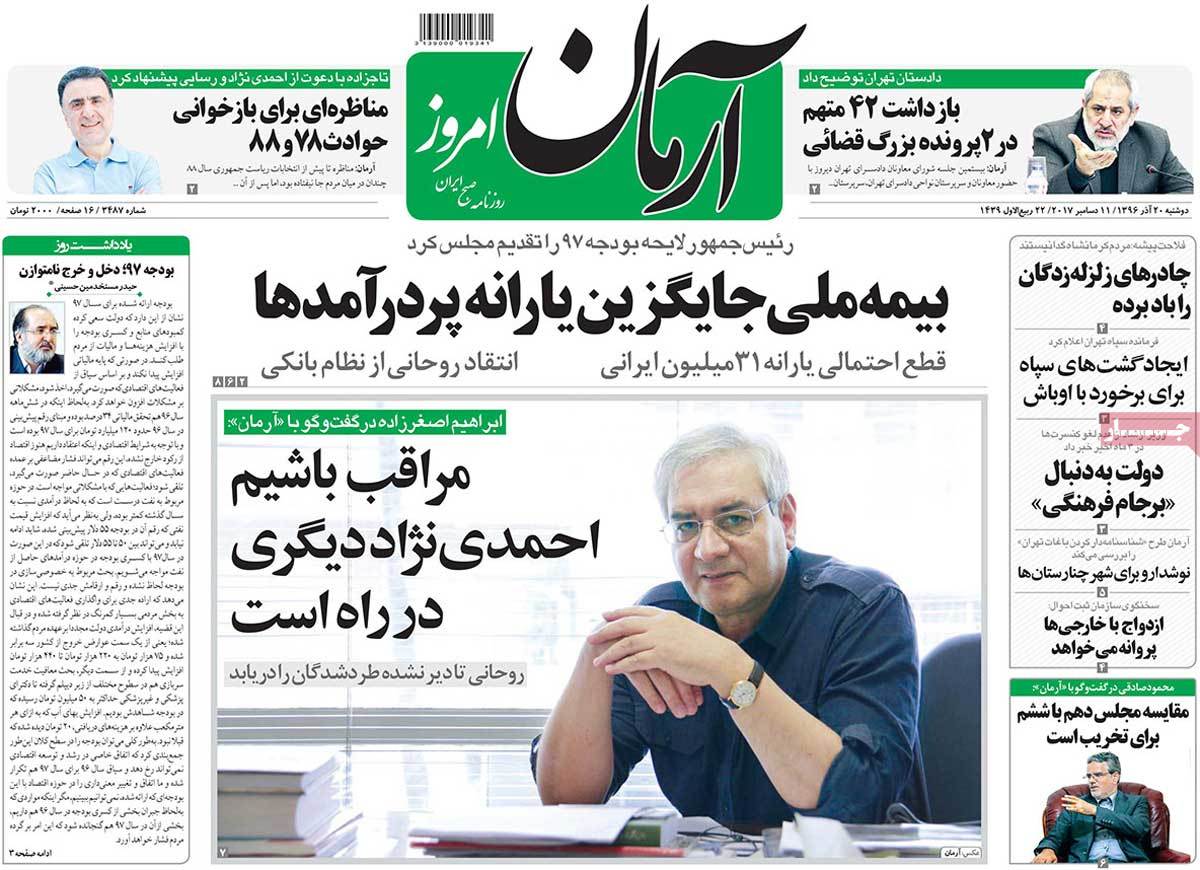 ---
Ebtekar:
1- 265 Schools of Tehran in Red Situation
2- Departure Taxes to Be Tripled
3- VP: "Eliminating Violence against Women" Bill in Final Stages
---
Etemad:
1- "Special" Institutions Can Now Be Monitored with Government's New Budget
2- Iran Leader: What Alireza Karimi Did Was like Pourya Vali's Deeds (mythical Iranian champion)
---
Ettela'at:
1- Rouhani: We Have Plans for All Challenges
2- Russia: US Preventing Full Eradication of ISIS in Syria
3- Rouhani: Tehran-London Dialogue Will Lead to Further Regional Stability
---
Iran:
1- Rouhani: Iran Should Be Able to Reap Benefits of Nuclear Deal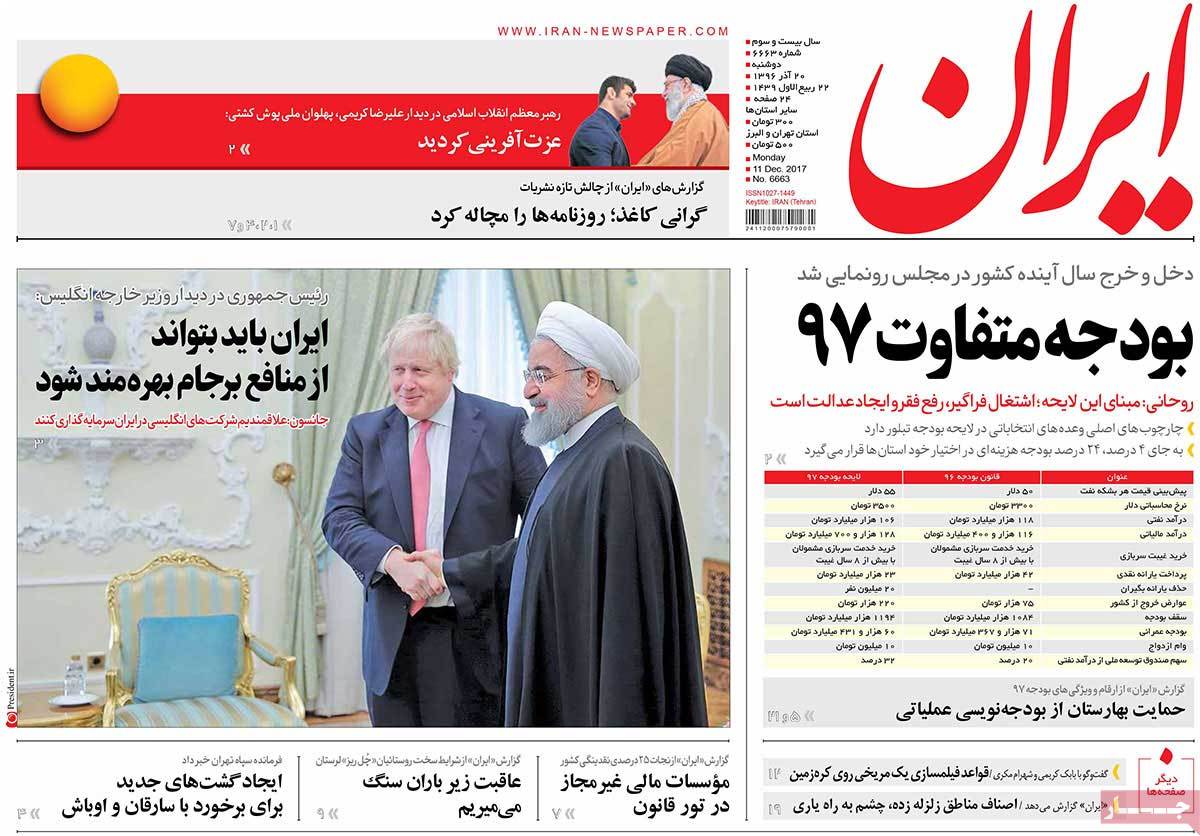 ---
Jame'eh Farda:
1- Rouhani Urges Parliament to Help Gov't Overcome Crisis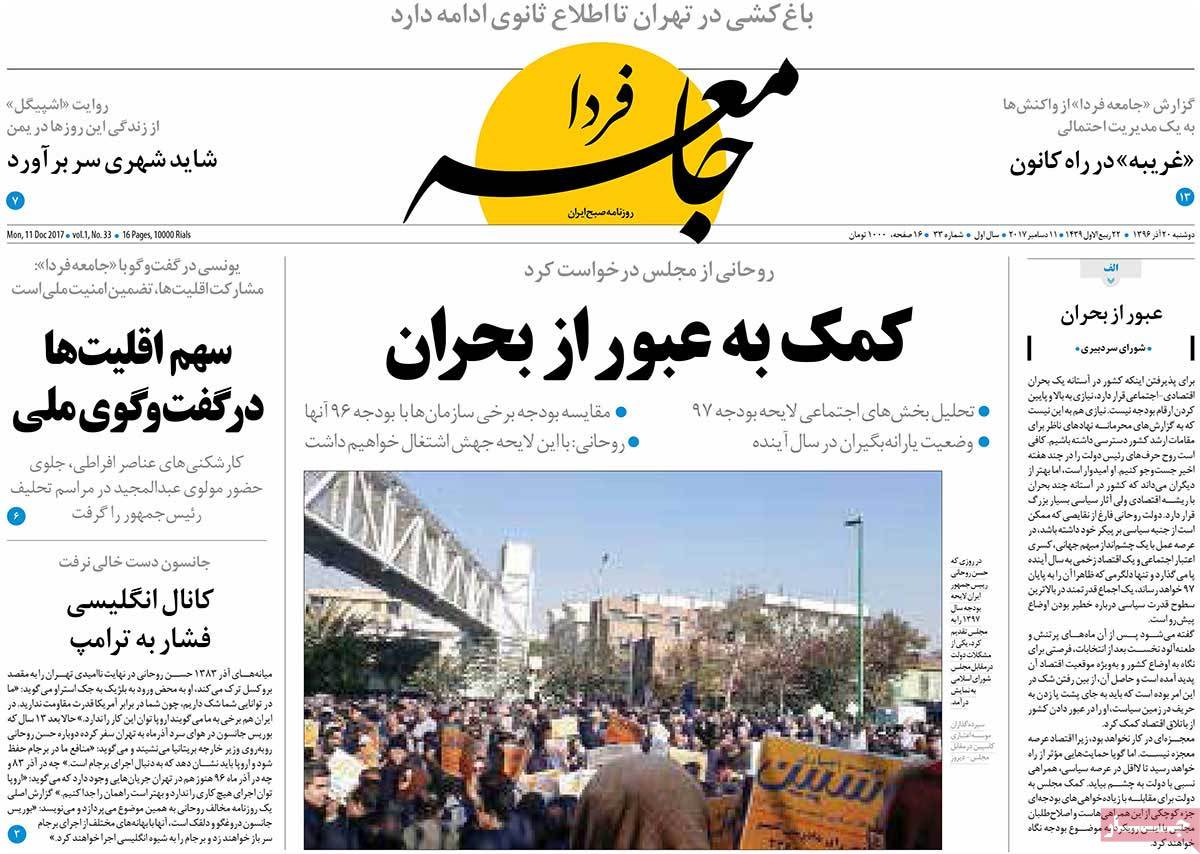 ---
Javan:
1- Larijani: JCPOA Even Failed to Resolve Banking Problems of Iran Embassy in London
2- Environment Chief: We're in Critical Conditions Both on Water and Soil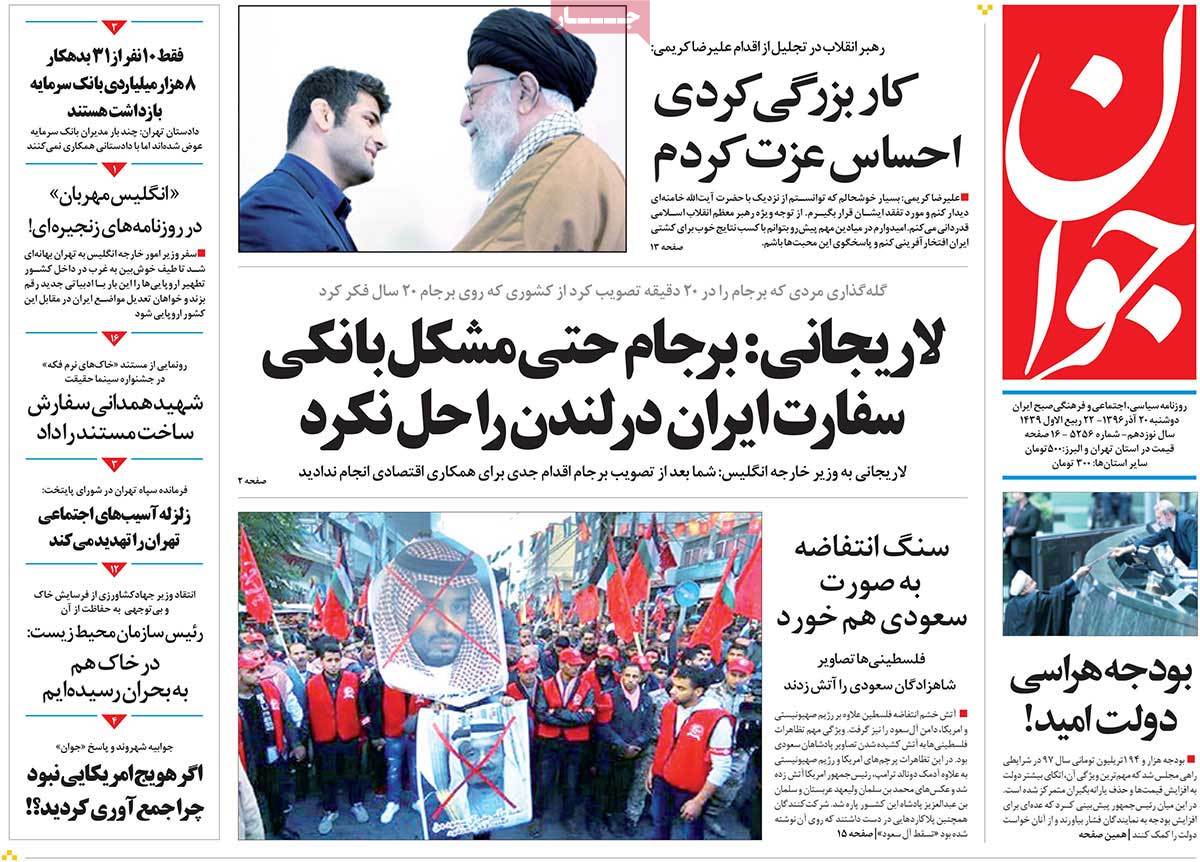 ---
Jomhouri Eslami:
1- Trump's Wrong Decision on Jerusalem Fans Fuel of Mideast: Rouhani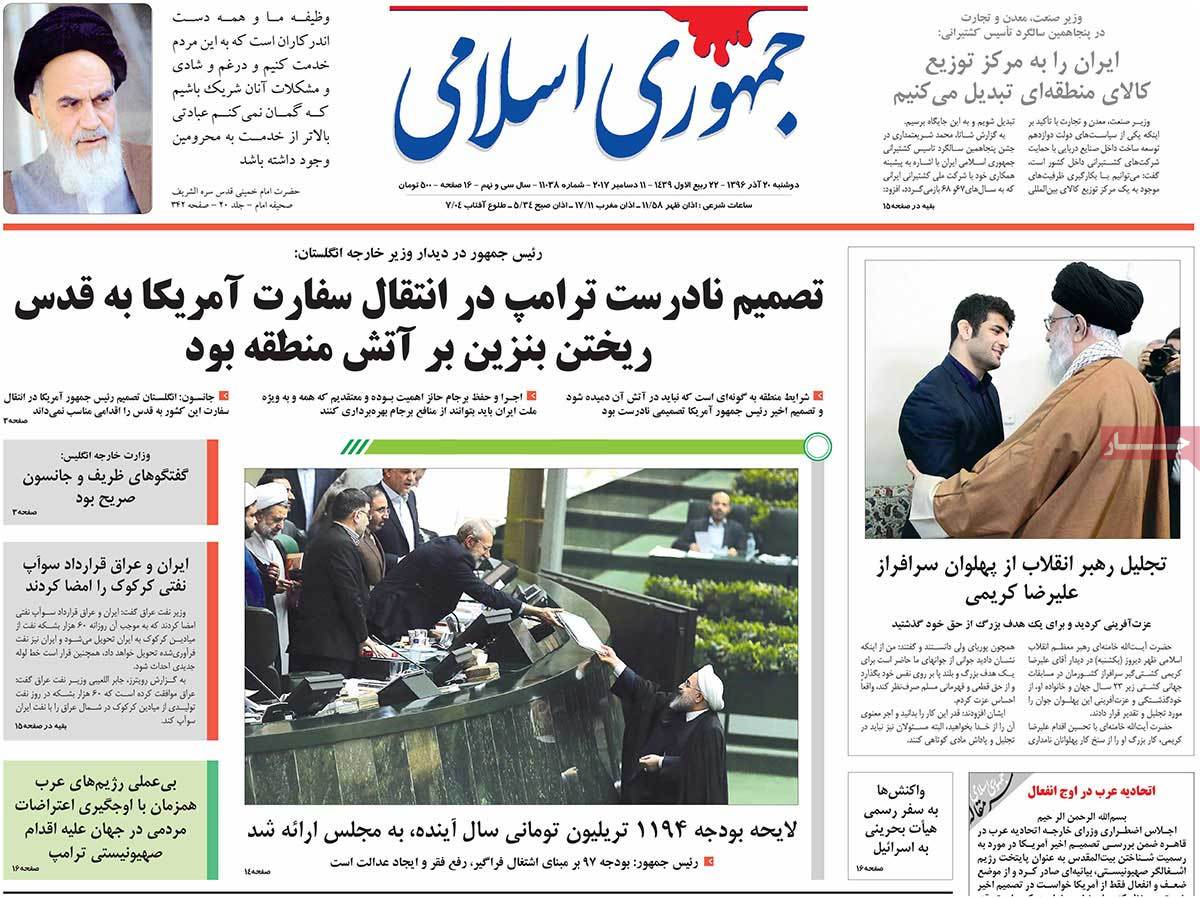 ---
Kayhan:
1- Rouhani's New Promise: Budget for New Fiscal Year Includes All Previous Promises!
---
Seda-ye Eslahat:
1- Rouhani's Behaviours Show He's Not Going to Fulfil His Promises
2- Rouhani: New Budget Based on Inclusive Employment, Eliminating Poverty, Promoting Justice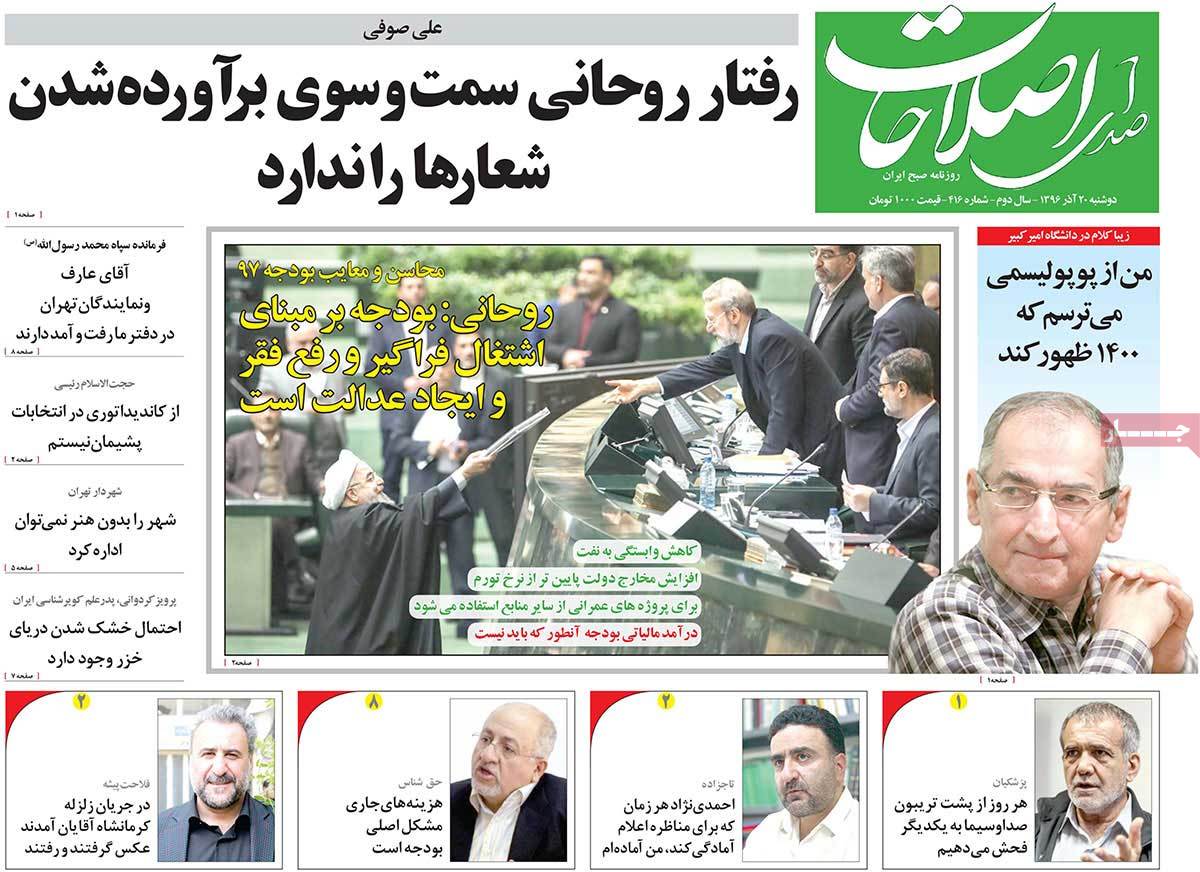 ---
Shargh:
1- Parliament to Oversee "Special" Budget Receivers
2- France Enters Middle East Equations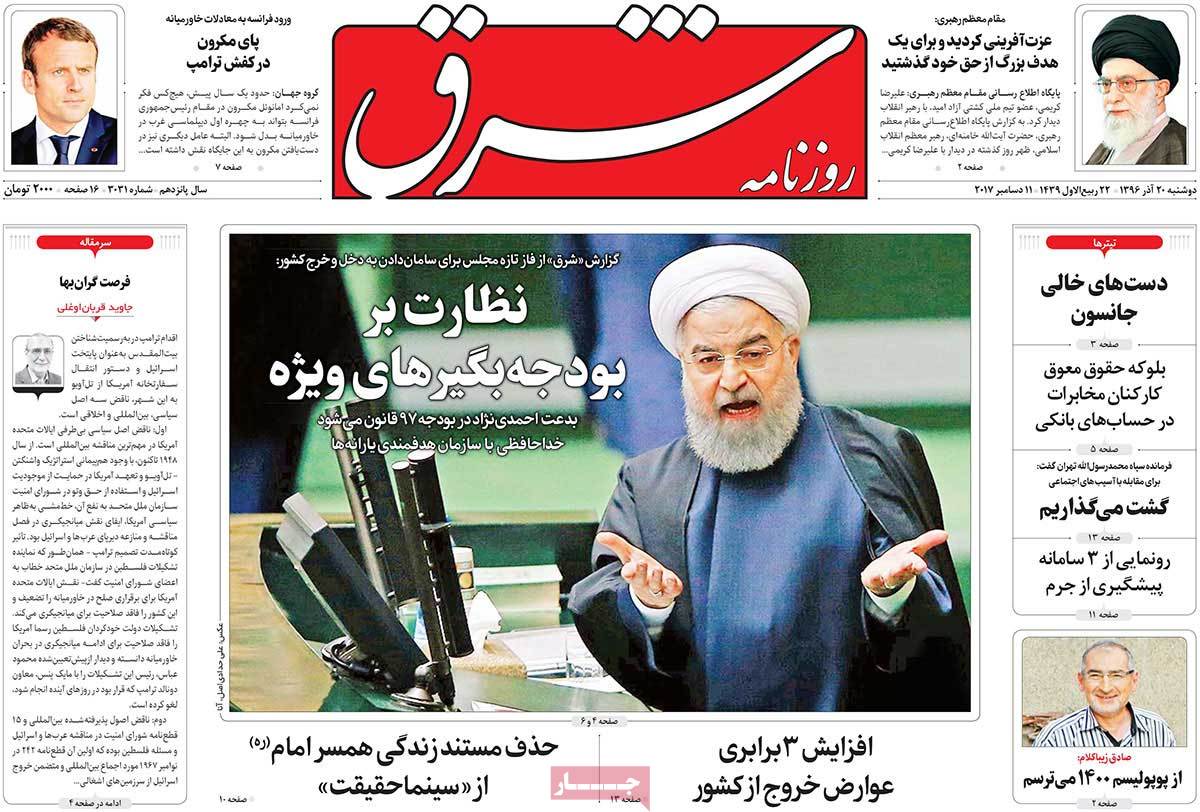 ---
Vatan-e Emrooz:
1- End of Boris Johnson's Visit to Tehran: Britain Says It Was Constructive!
2- France Hosting Anti-Iran Negotiations: Bibi in Paris after Visiting UK