Newspapers on Monday covered the ongoing visit of Iranian President Hassan Rouhani to the Azeri capital of Baku, where he held a meeting and signed several MoUs with his Azerbaijani counterpart Ilham Aliyev, and is due to meet Russian President Vladimir Putin as well.
The execution of Shahram Amiri, an Iranian nuclear academic who had spied for the US and given Iran's secret information to the CIA, also received great coverage. Judiciary Spokesman Gholam-Hossein Mohseni Ejei on Sunday confirmed the earlier reports about his execution.
A Saturday night TV debate between the reformist Sadegh Kharrazi, the chief of Vaghaye Ettefaghieh, and the conservative Hossein Shariatmadari, the chief of Kayhan, was also a top and hot story.
The following headlines cover the above issues and many more:
Abrar:
1- Negotiations of Rouhani and Putin for Expansion of Military Cooperation
2- WikiLeaks Has Emails that Would Send Clinton to Prison: Julian Assange
---
Arman-e Emrooz:
1- Judiciary Spokesman: Shahram Amiri Has Been Executed; We Outsmarted the US
2- Baku Close to a Trilateral Treaty
3- Government's Performance in Field of Women Not Acceptable: Academic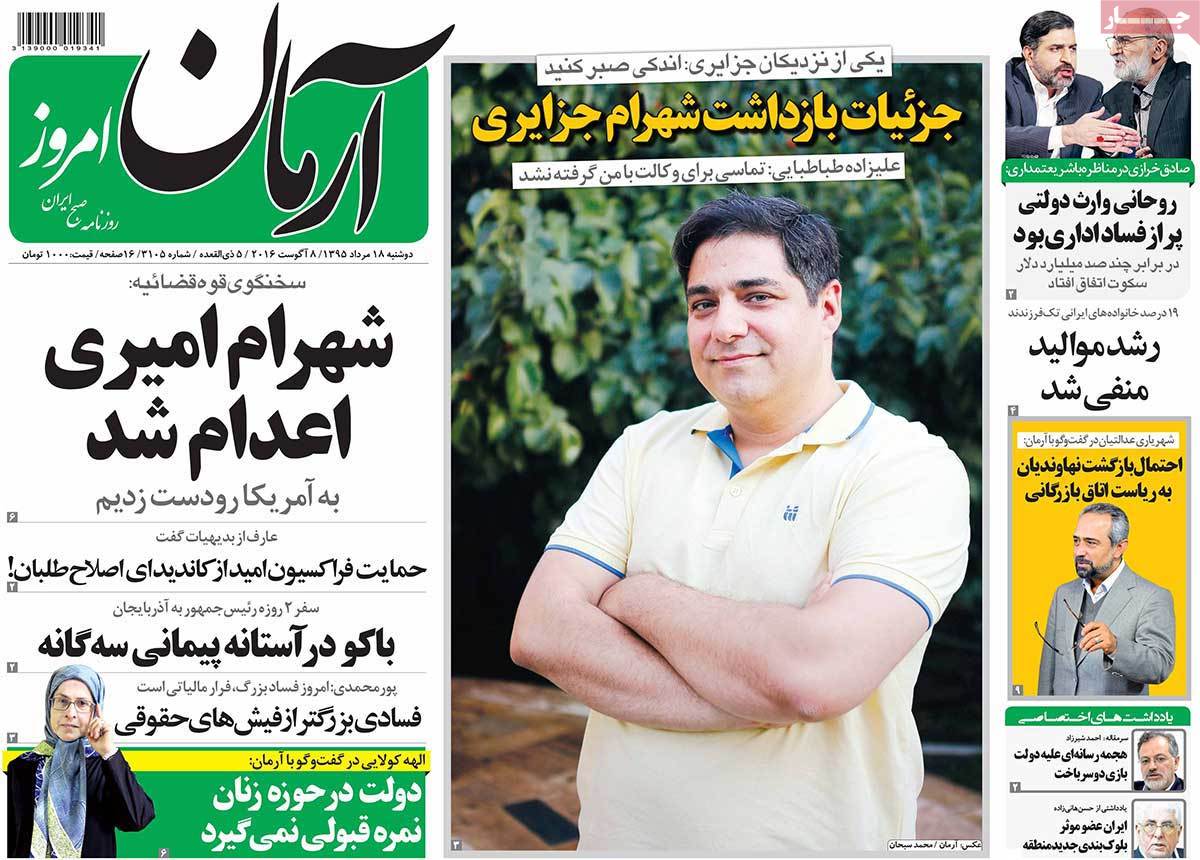 ---
Asrar:
1- Ahmadinejad's Trips Are Believed to Be Campaigns for Next Year's Presidential Elections: Tehran Governor-General [it is illegal to start the campaigns as of now]
2- Fordow to Be Constructed in Depth of Earth with Help of Russians: Nuclear Expert
3- Europe to Be Connected to Persian Gulf through North-South Corridor: Rouhani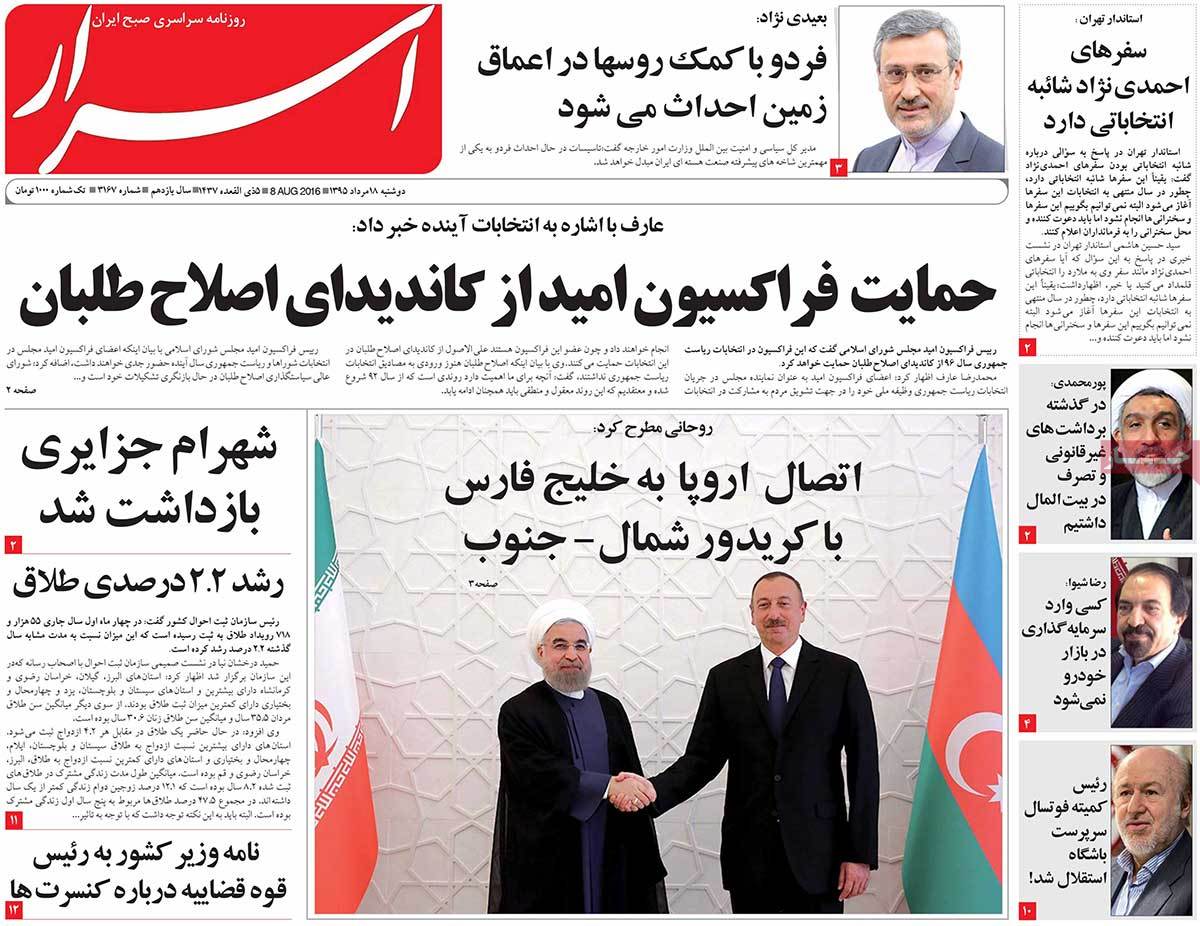 ---
Ebtekar:
1- 6 Documents of Cooperation and MoUs Signed between Tehran and Baku
2- Shahram Amiri Had Been Sentenced to Death from Beginning: Spokesman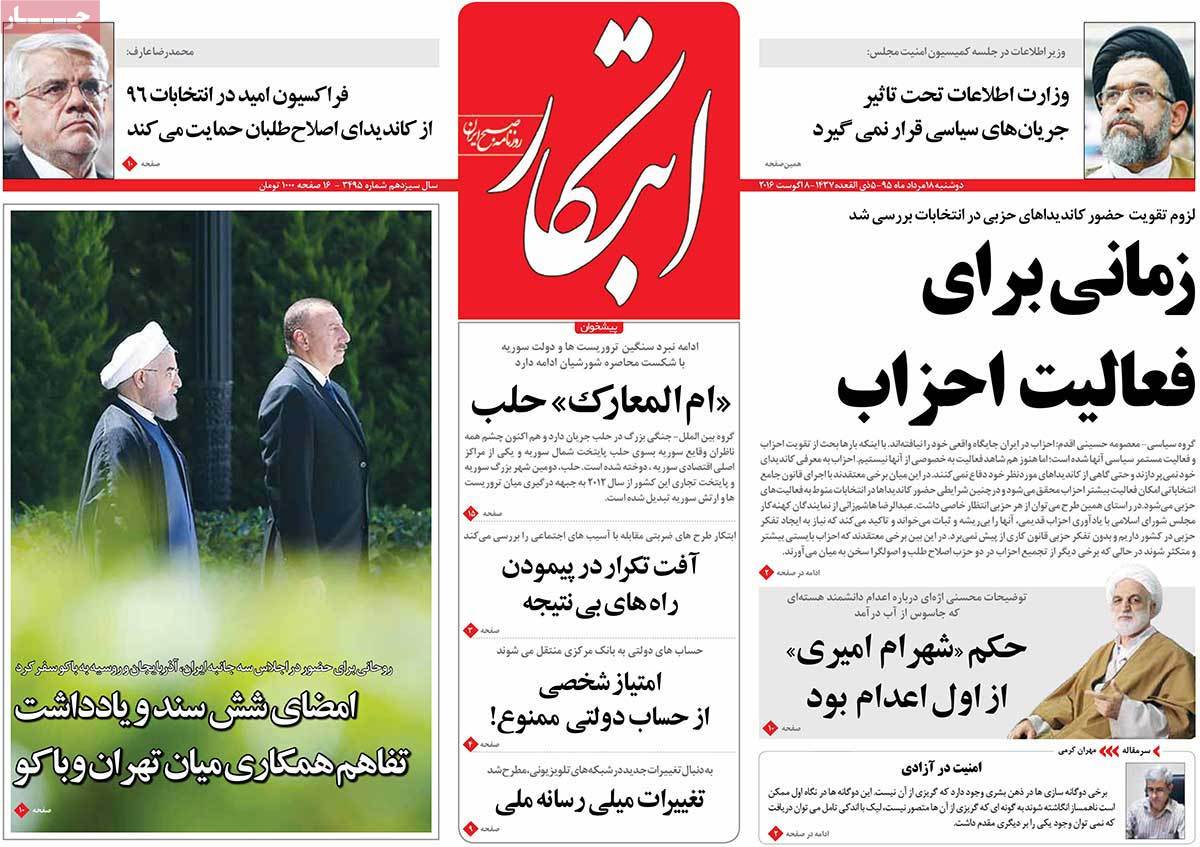 ---
Etemad:
1- Tehran-Baku without Need for Visa
2- Trump Is Symbol of Rise of Lower Class against Ruling System: Analyst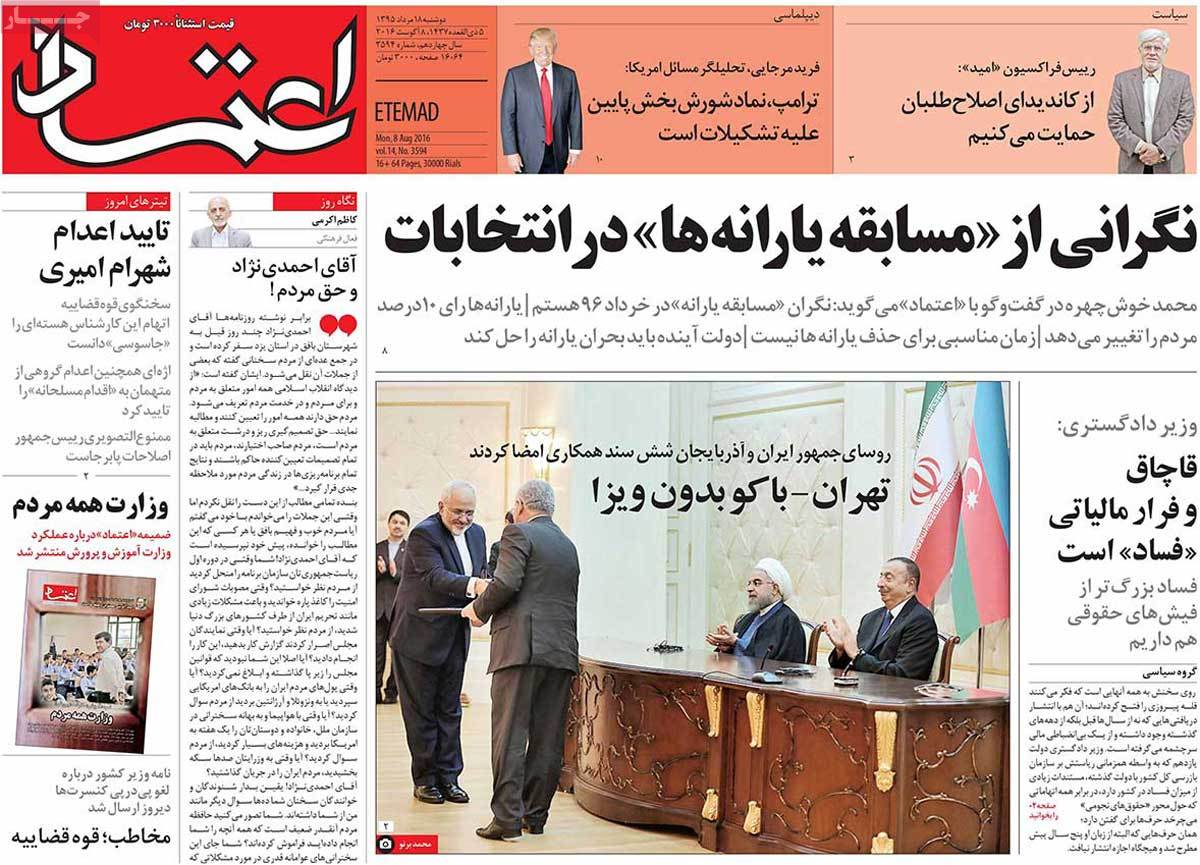 ---
Ettela'at:
1- Promotion of Bilateral and Mutual Cooperation between Iran and Azerbaijan Republic
2- US and Saudi Arabia Were behind Turkey Coup: WikiLeaks
---
Jame Jam:
1- Iran's Apparel Market Infected with 'Brand' Virus
2- Liberation of Aleppo Is Like Breaking the Back of Terrorists
---
Javan:
1- Iran-Azerbaijan Cooperation against Terrorism
2- Execution of Nuclear Spy
3- American Company that Used to Produce Poison in WWII Is Now Producing Genetically Modified Products
---
Jomhouri Eslami:
1- Pakistani People Protest at Cooperation of Their Air Force with Zionist Regime [Israel]
2- Iran Has Ties with 450 Foreign Banks: VP
---
Kayhan:
1- Fear of the Fate of Aleppo War, the Clue to US Coup in Turkey
2- Bahrain Is Governed by a British Security Team: Sheikh Qassim's Representative
3- Clinton Has Trade Ties with ISIS: Assange
---
Khorasan:
1- Birth Rate in Iran Turns Negative: 18% of Iranian Families Only Have One Child, 14% Have No Child
2- The Good Day of Journalists
3- Hot Debate between Reformist Figure Kharrazi and Conservative Shariatmadari about JCPOA, Huge Salaries, and Ahmadinejad's Gov't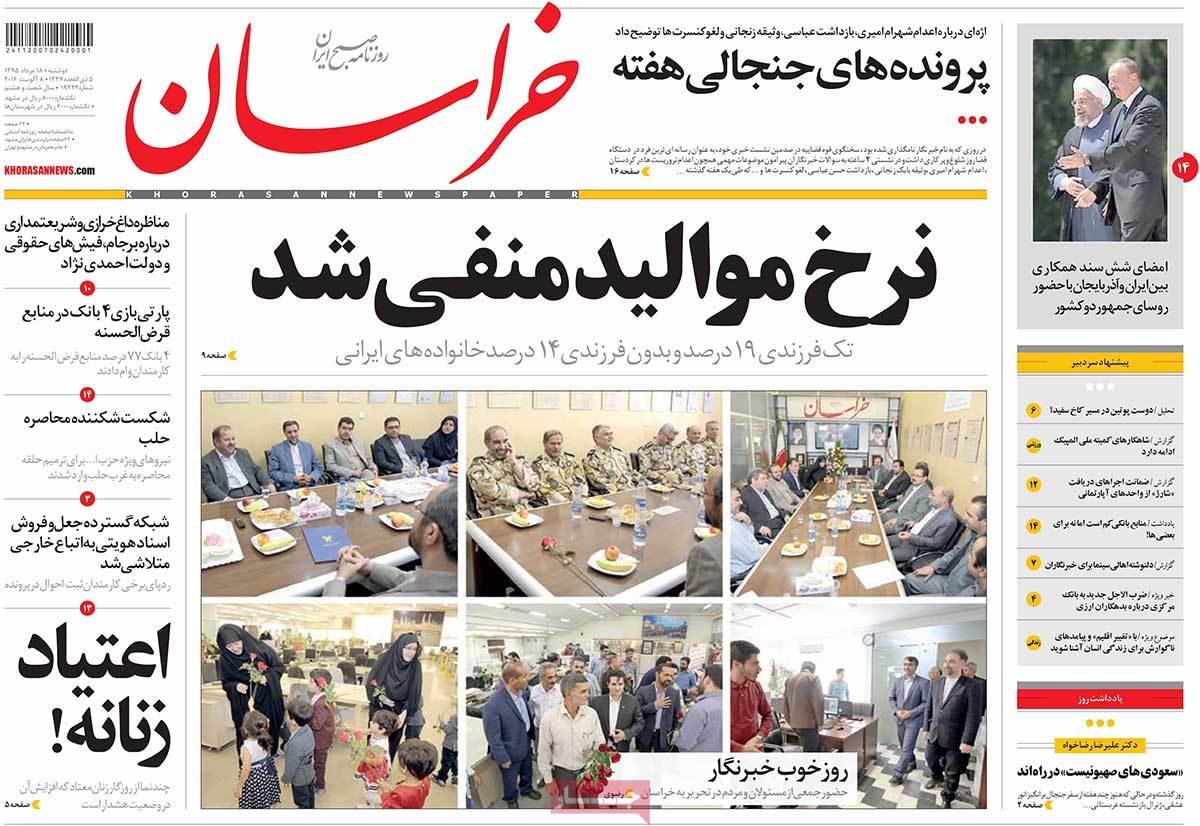 ---
Mardom Salari:
1- WikiLeaks' Blade on Throat of Hillary Clinton
2- 2 Iranian Prisoners Pardoned by Putin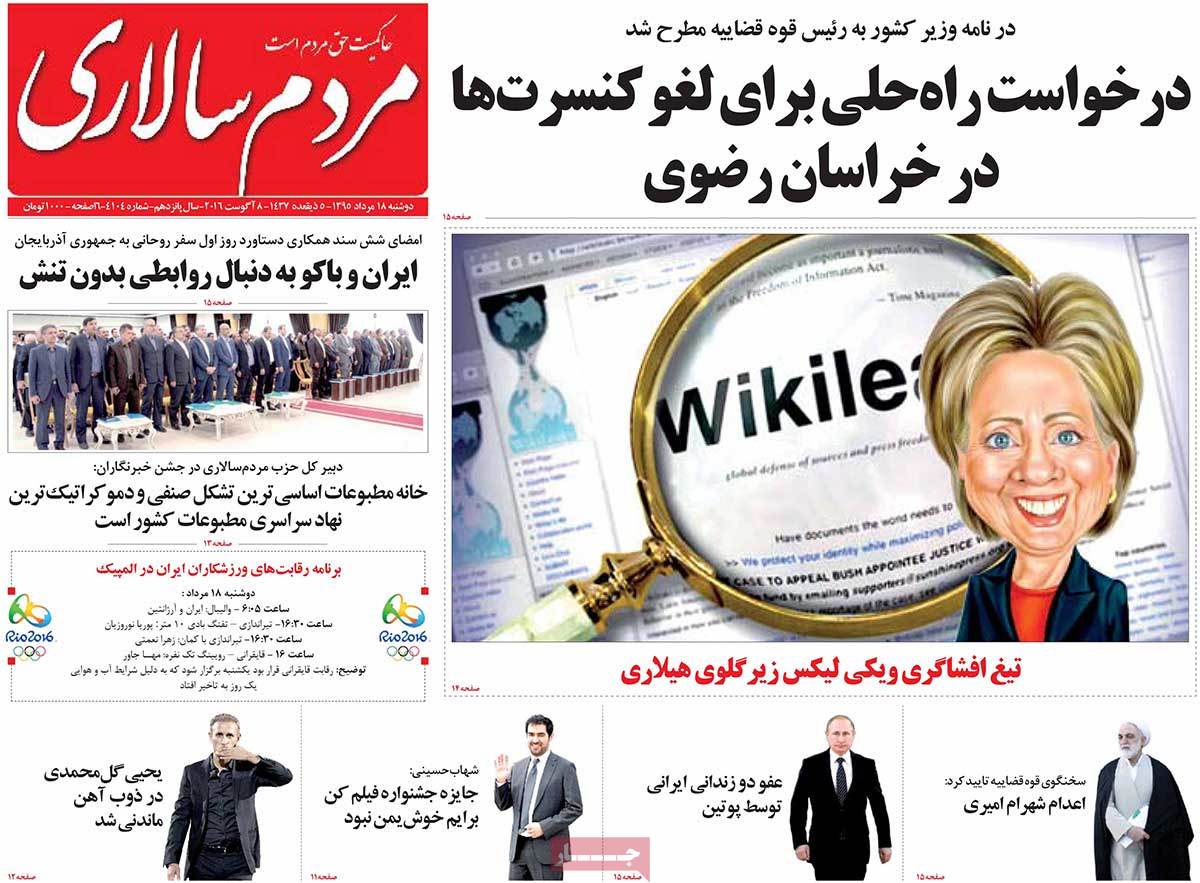 ---
Payam-e Zaman:
1- Zarif Warns: US Will Lose Top Gains in JCPOA Breaches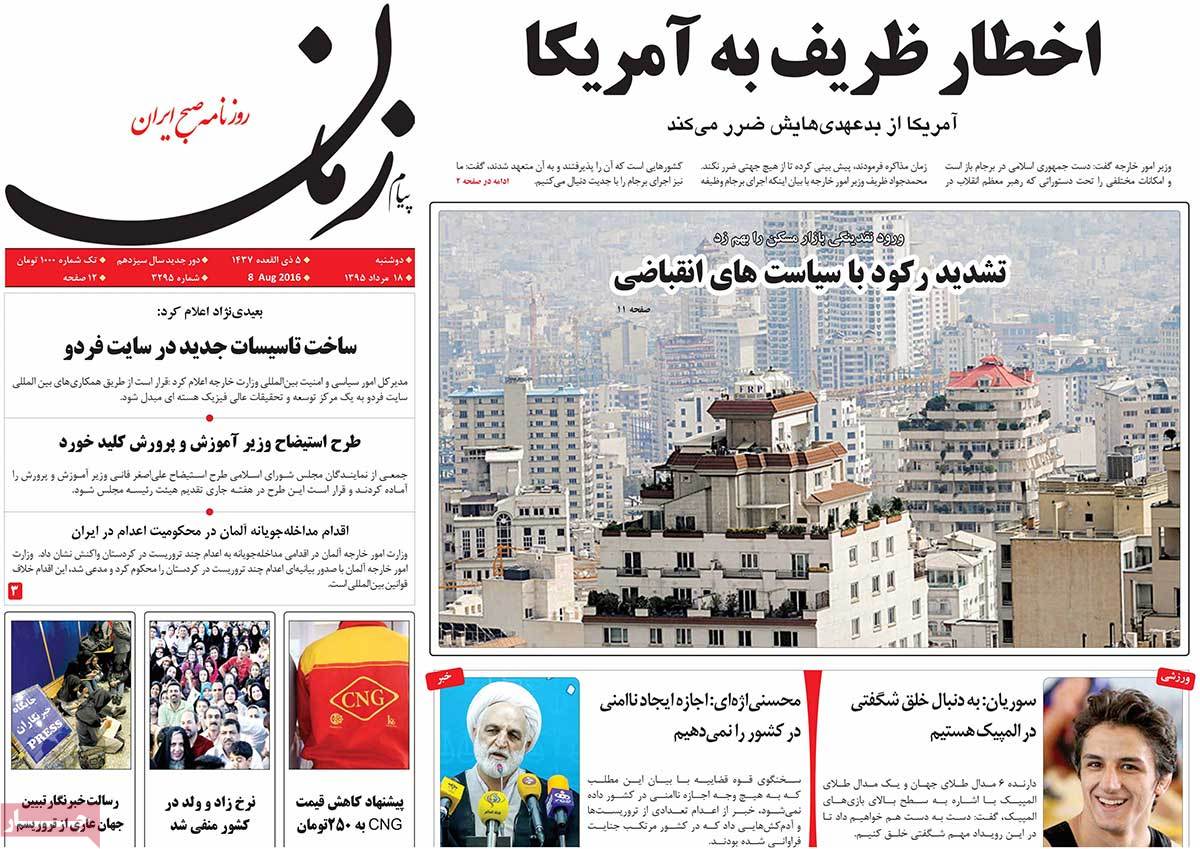 ---
Resalat:
1- We're Not Paid for the Oil We Export: Shariatmadari
2- Test of Nuclear Weapon with Destructive Power: What Does It Mean? What Happened to Global Efforts for Nuclear Disarmament?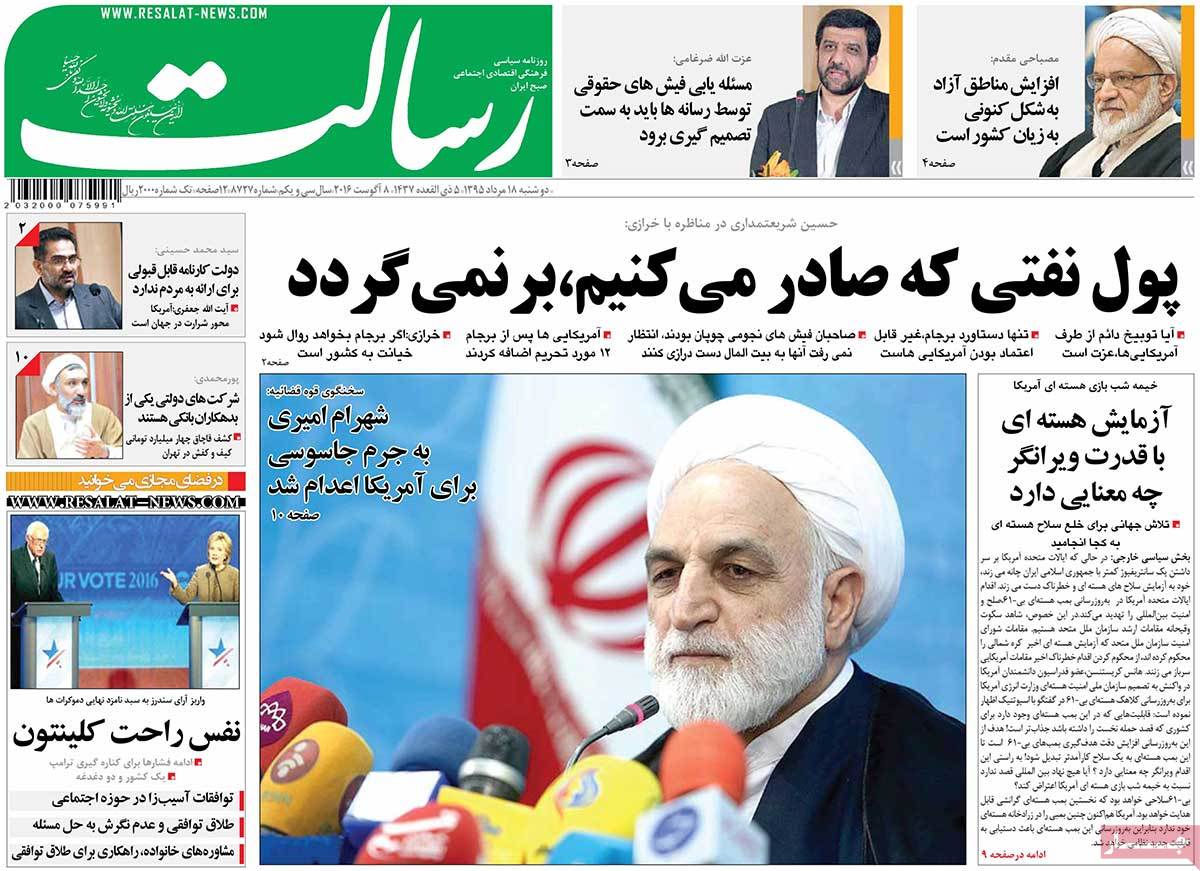 ---
Sepid:
1- Officials Visit Sistan and Baluchestan Province When There's a Storm, and Leave It When It Ends: Endless Hygiene and Medical Problems Caused by 120-Day Winds for People
2- Domestic Water Consumption 80% More than Consumption Models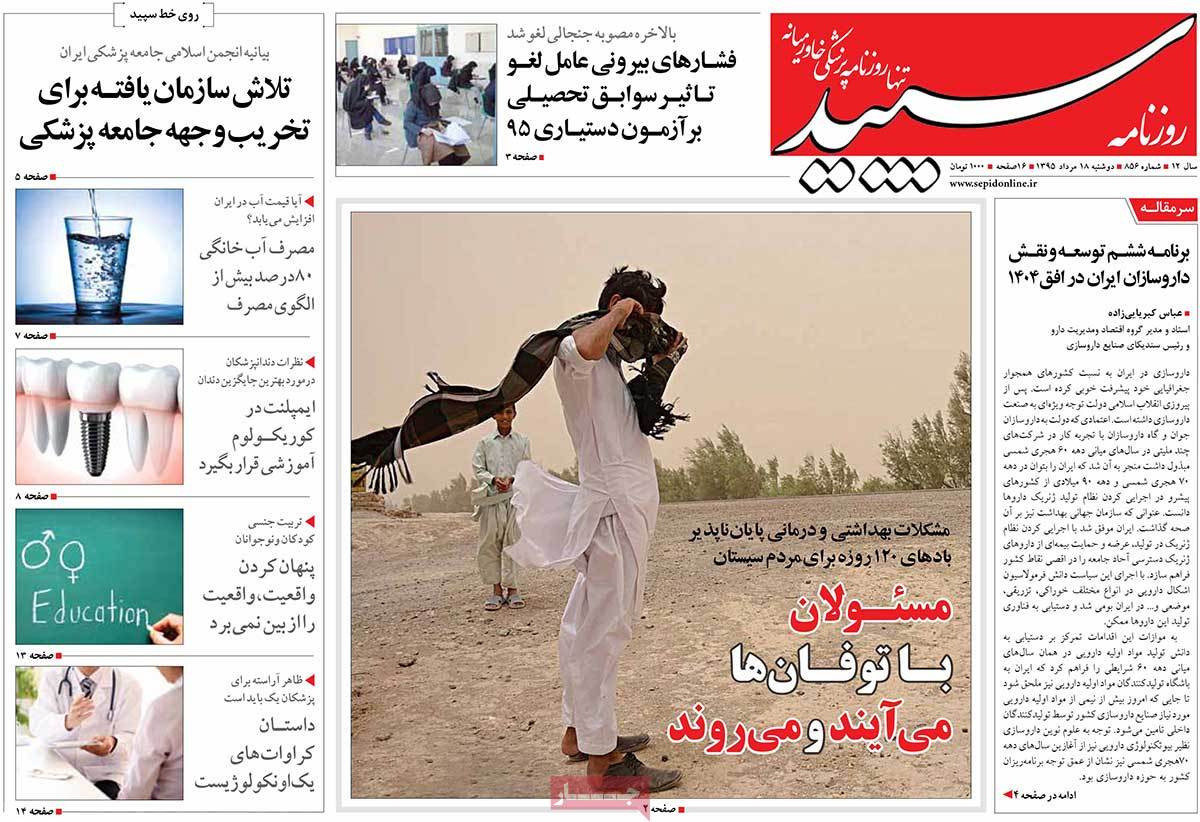 ---
Shargh:
1- Oil Conspiracy: Foreigners Spend Money inside Iran to Prevent Oil Contracts, First VP Says
2- Debate between Shariatmadari and Kharrazi Continues between Social Media Users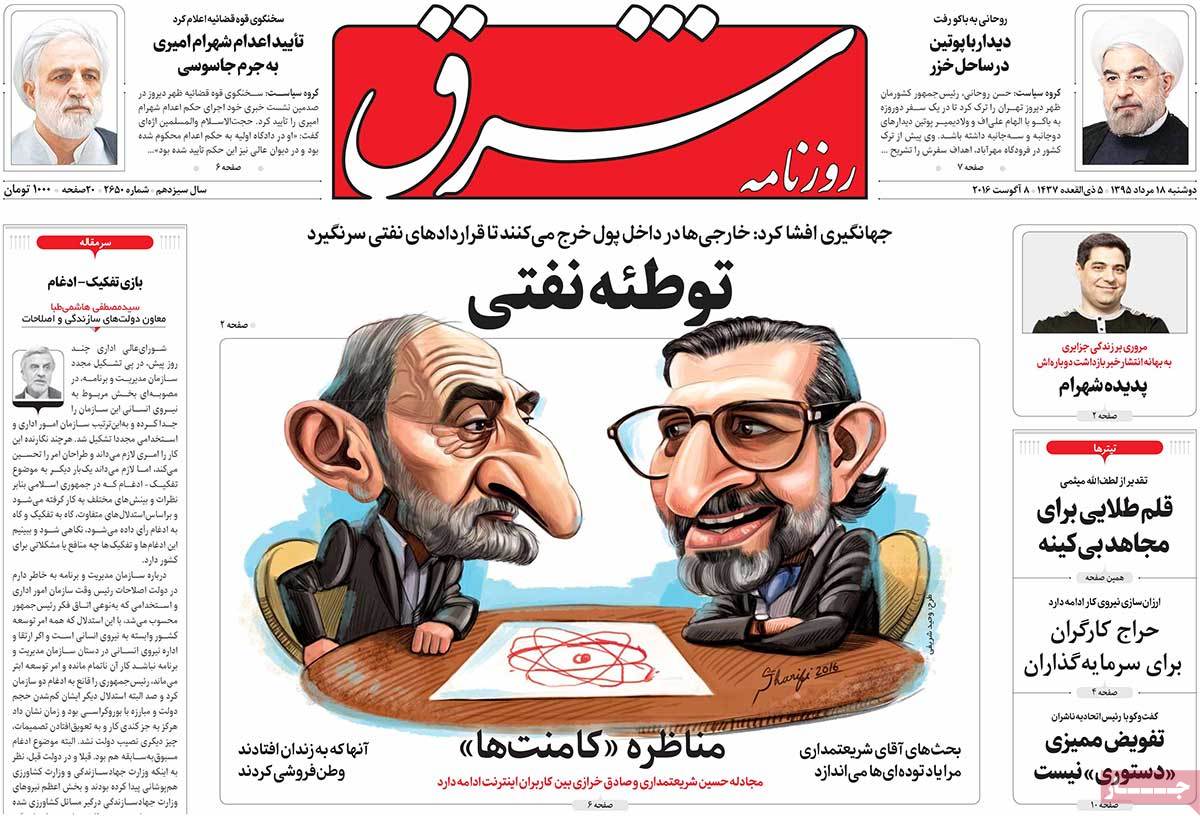 ---
Siasat-e Rooz:
1- Special Forces of Resistance Have the Upper Hand: Siege on Terrorists in Aleppo Enters New Phases
2- Iran Ready to Help Resolve Karabakh Dispute: Rouhani in Joint Presser with Aliyev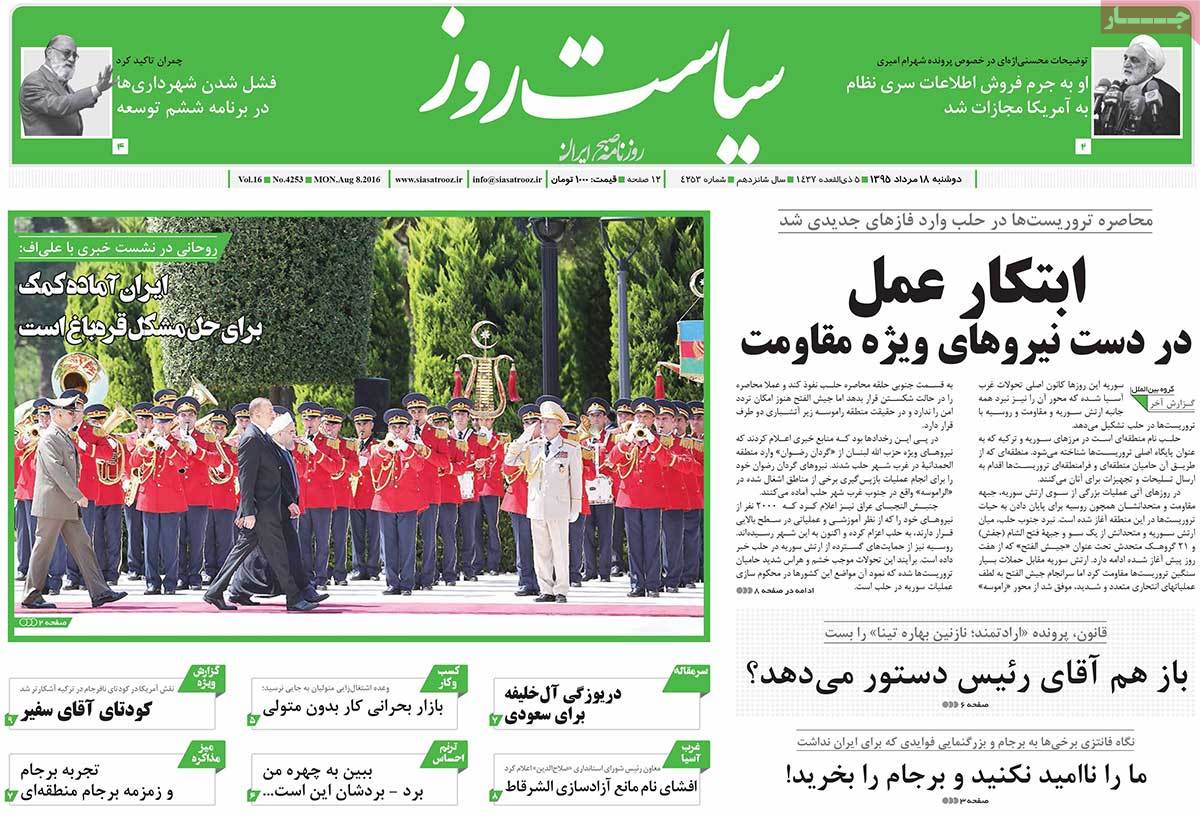 ---
Sobh-e Now:
1- Alarming Increase in Number of Parents with Only One Child in Recent Years: Iranian Families Shrinking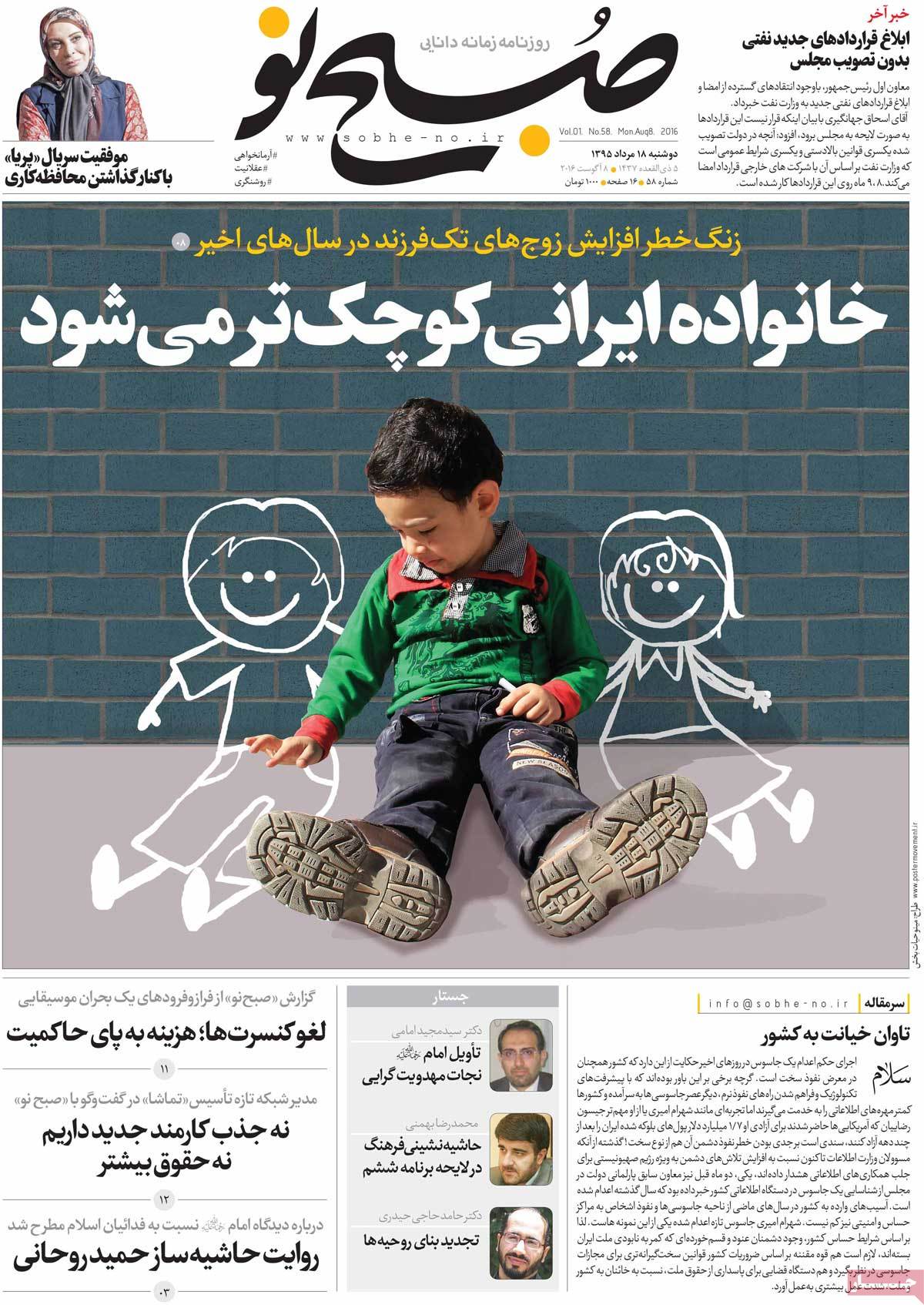 ---
Vaghaye Ettefaghieh:
1- Kharrazi and Shariatmadari Challenge Each Other in Live TV Debate
---
Vatan-e Emrooz:
1- Details of a Spy's Case: US Outsmarted by Iran in Amiri's Case
2- Secrets behind Cancellation of Concerts: Why Culture Minister Doesn't Tell the Truth?