Almost all newspapers on Sunday covered the national Journalists' Day and the remarks made by various government officials in praise of the role of reporters and journalists.
They also highlighted the trilateral meeting due to be held between Iran's President Hassan Rouhani and his Russian and Azeri counterparts in Baku.
The opening ceremony of Rio 2016 Olympics and the parade of Team Iran also received great attention.
The above issues as well as many more are covered in the following headlines:

Abrar:
1- Letter to Heads of Iran's Judiciary, Gov't, and Parliament: Why Oil Ministry Insists on Questionable IPC Model?
2- Trump: Obama Is Lying about Payment of $400m to Iran
3- Zarif to Head Economic Delegation in Visit to Latin America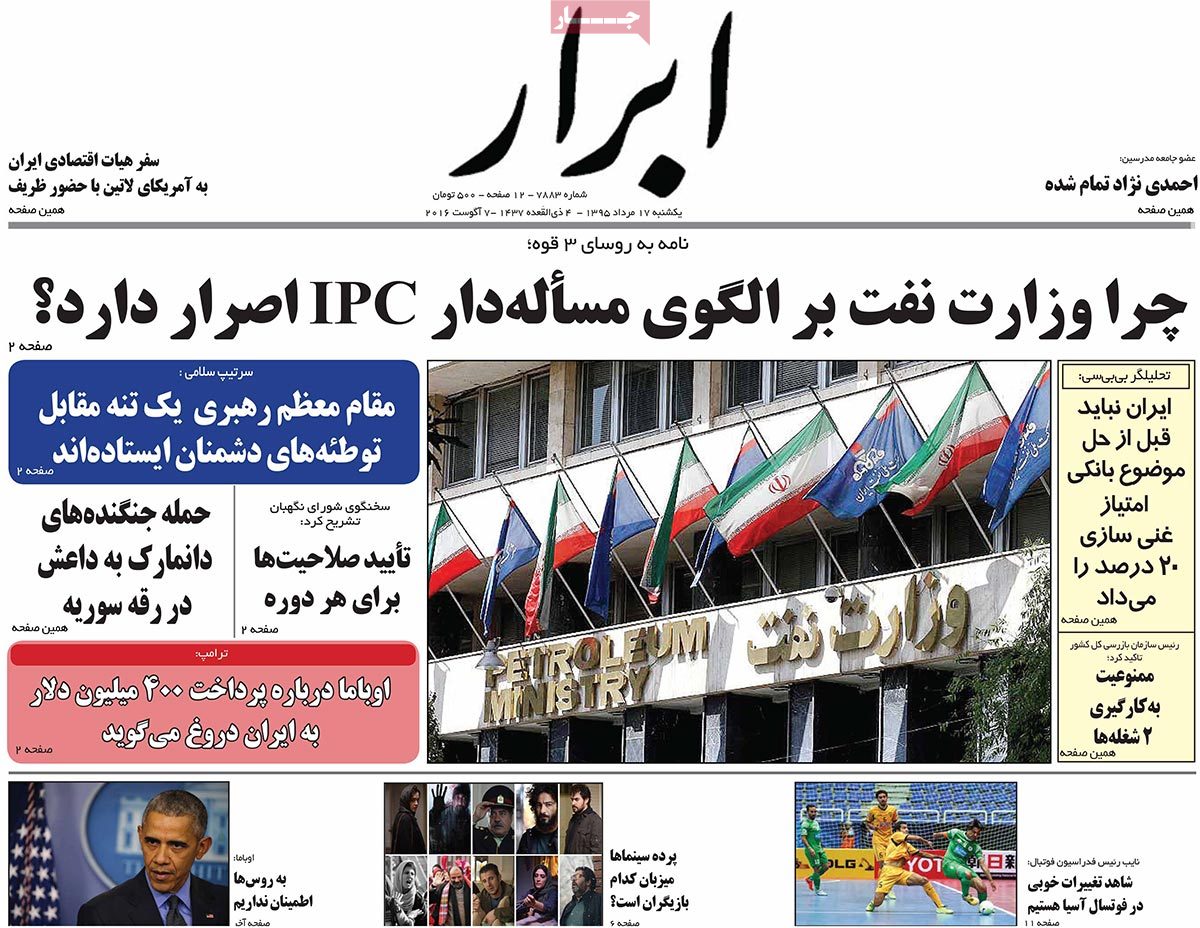 ---
Aftab-e Yazd:
1- Reformists Call on Rouhani to Form Legal Committee Given the Increased Attacks against Gov't
2- We Talk in Swiss Style, But Behave Like Africans: Cleric
3- Ahmadinejad Has 6 Cases in the Parliament: Reformist Politician
4- Reformist Media Are Left Alone; On Journalists' Day, Aref Visits the Conservative Tasnim, Nobakht [VP] Visits the Conservative IRIB, and Nahavandian [Rouhani's chief of staff] Goes to Government's News Agency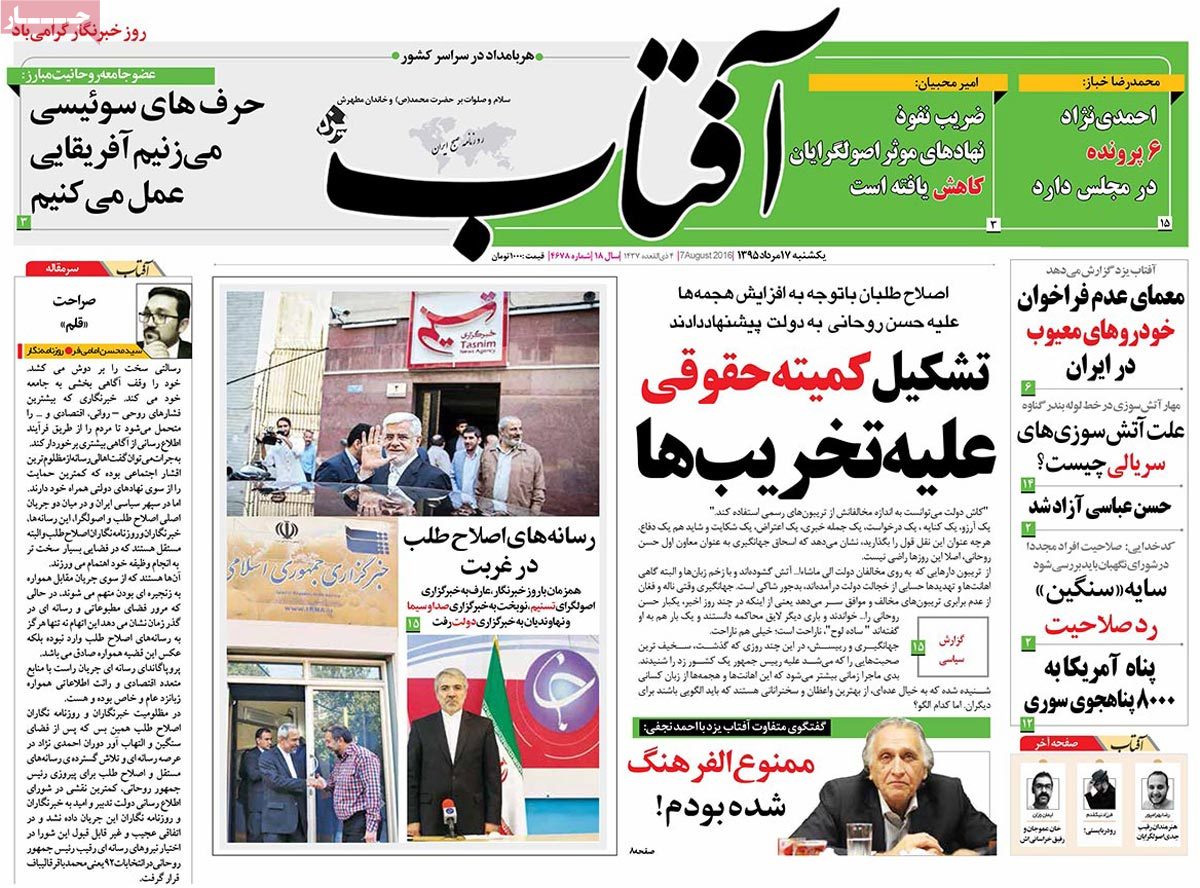 ---
Arman-e Emrooz:
1- Putin and Rouhani to Hold Talks: New AK-47 Weapons Arrive in Iran
2- Payment of Money for Export of Gas! New $250m Trouble Caused by Ahmadinejad
3- Impact Factor of Influential Conservative Media Has Decreased: Conservatives Warn Conservatives
4- We're in State of Economic War: Reformist Figure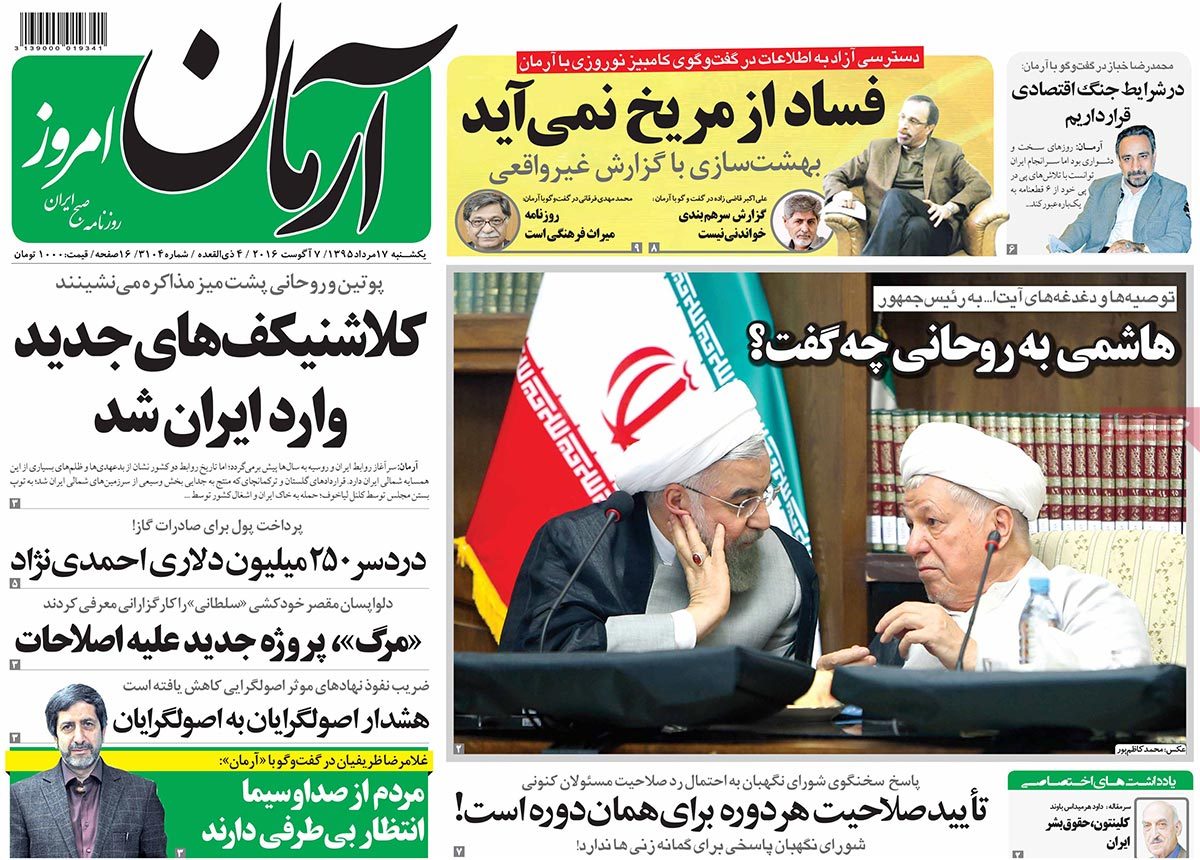 ---
Asrar:
1- Attacks against President Rouhani Are Unprecedented in Iran's History; Government Doesn't Have as Many Official Tribunes as Its Opponents: First VP
2- Moderates Don't Use Lies and Swear Words in Response to Radical Attacks: Rouhani's Chief of Staff
3- Beginning of Water Diplomacy between Tehran and Kabul: Top Security Official
4- Problems of Reporters in Iran Are Fundamental: Vice-Speaker
5- On Giving Permissions to Concerts, We Act Based on Leader's Fatwa: Culture Minister
6- Opposition of Police to Fashion Shows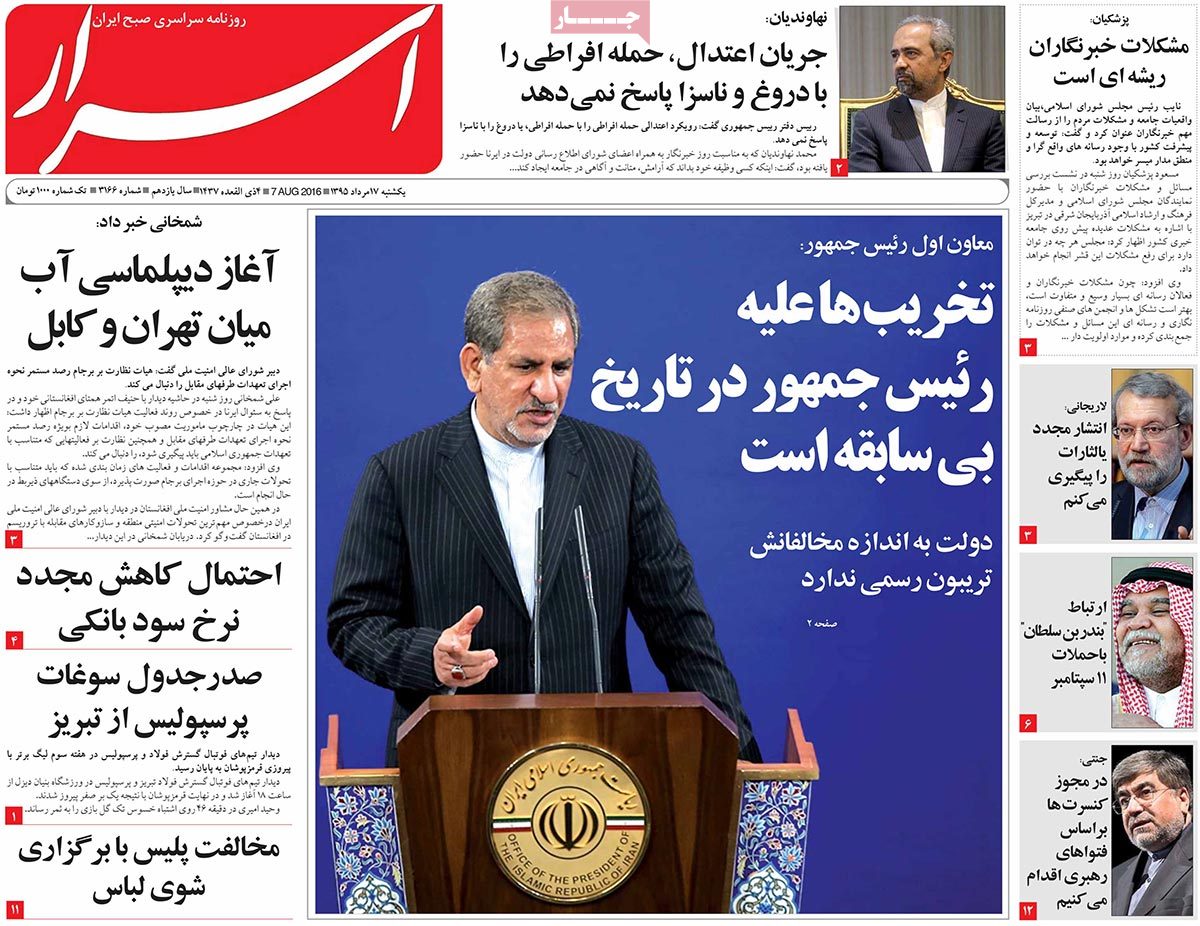 ---
Ebtekar:
1- Some Want to Imply that Investment in Iran Is Risky; Stonewalling in Favour of Enemies
2- Larijani in Ceremony to Commemorate Journalists' Day: Media's Vigilance to Reinforce Iran's Security Foundation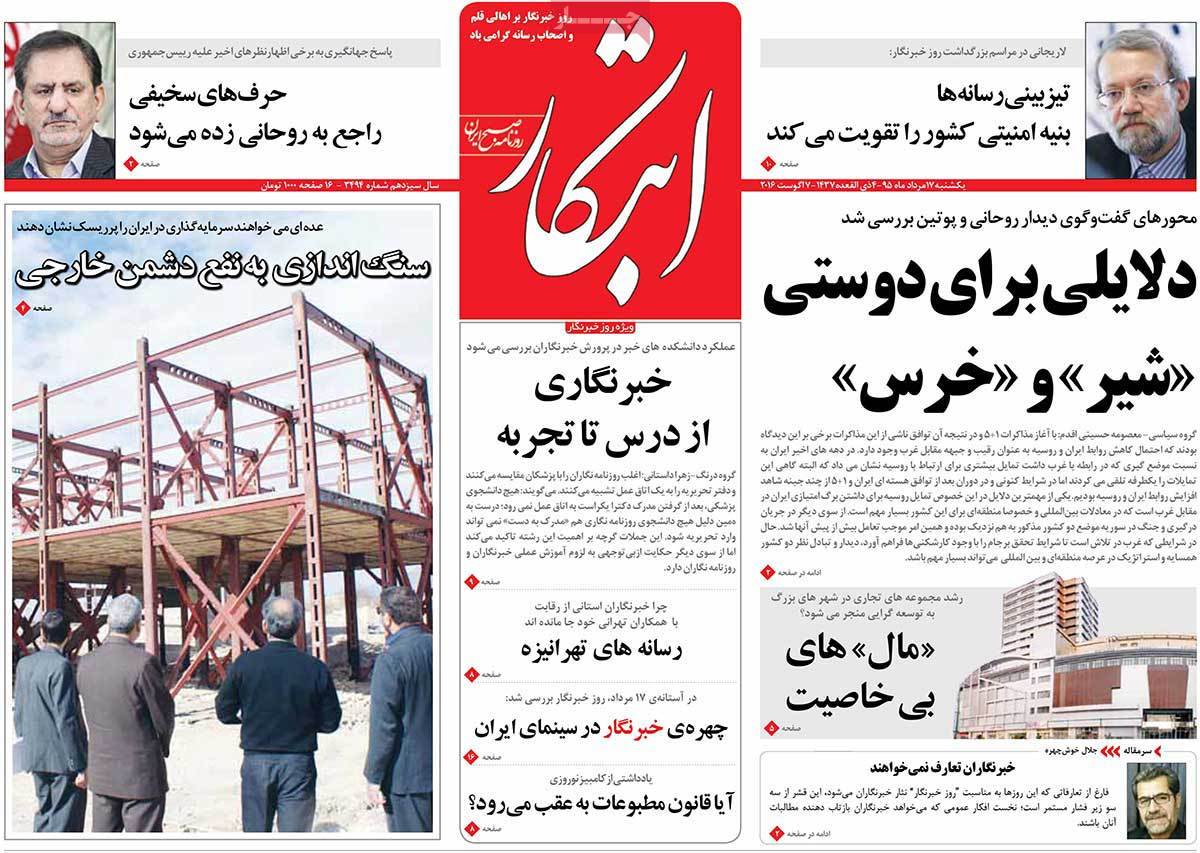 ---
Etemad:
1- Deputy Oil Minister on Case of Babak Zanjani: No One Knows Where the Money Is
2- We Should both Criticize and Appreciate Rouhani: Sociologist
Without Rouhani, We Would Be Expecting the Fate of Venezuela
Rouhani's Re-Election Is His Opponents' Nightmare
3- Venice Architecture Award Given to Late Iranian Painter Parviz Kalantari
4- A Report on People's Interest in Reading Newspapers: Day of Journalists without Audience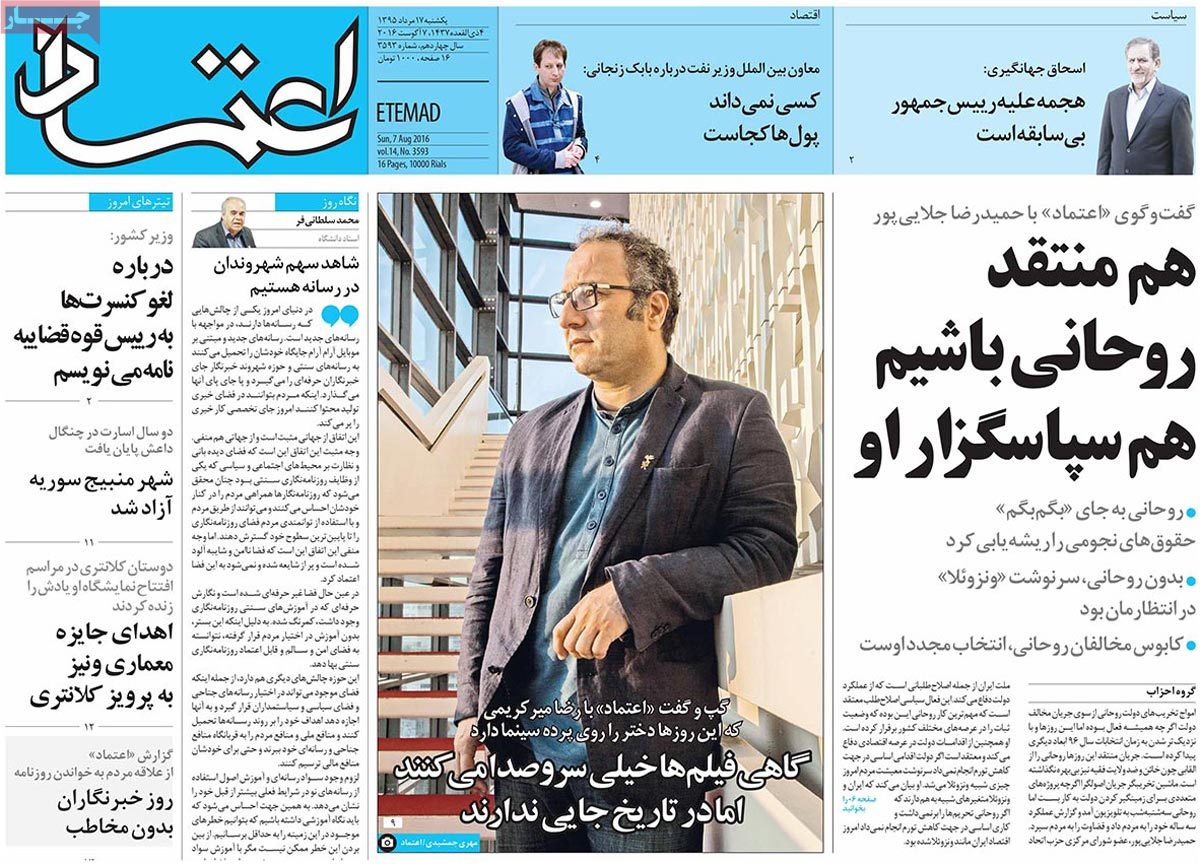 ---
Ettela'at:
1- Iran's Establishment Behaved Wisely on Nuclear Deal: Parliament Speaker
2- Media Professionals Appreciate Zarif's Efforts in Foreign Policy
3- First VP: Government Welcomes Free Flow of Information in Media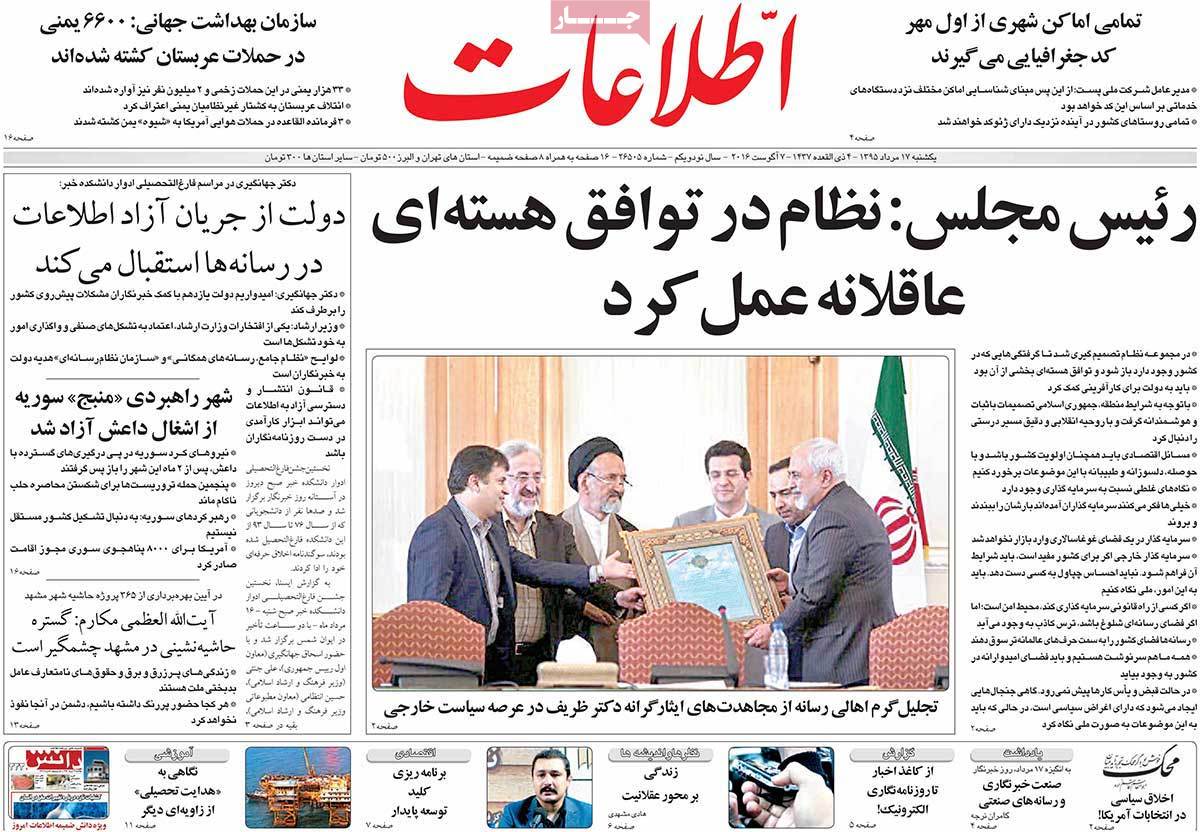 ---
Hemayat:
1- Parliament Speaker Urges Foreign Ministry to Pursue West's Stonewalling in JCPOA Implementation
2- Filtering of Pornographic Websites Not against Human Rights: Iran's Prosecutor-General in Reaction to UNHRC
3- Pre-Marriage Genetic Counselling to Become Obligatory
4- Winners of Islamic Human Rights Award: West's Abuse of Human Rights to Put Iran under Pressure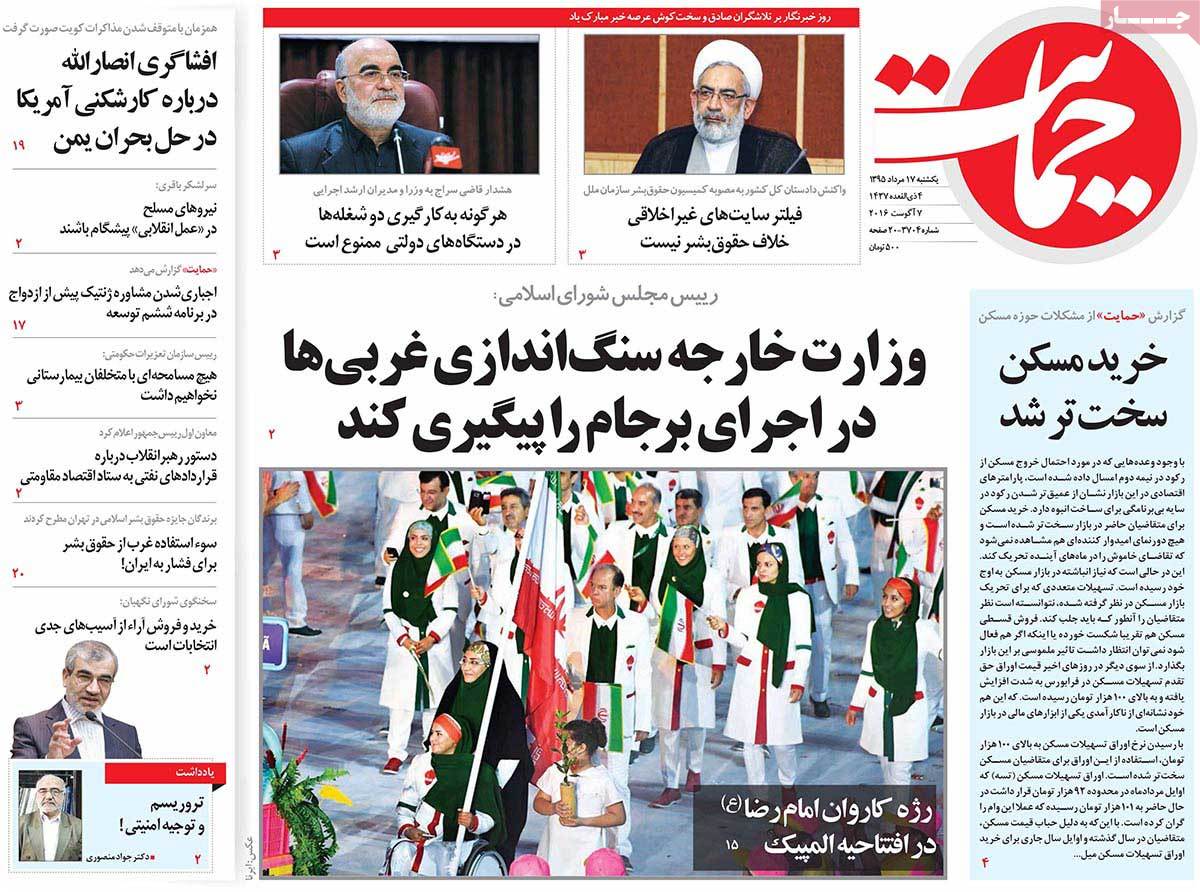 ---
Iran:
1- Rio Olympics Start with Strict Security Measures: Parade towards Honour
2- Syrian Kurds Liberate Syria's Manbij; ISIS's Main Route to Turkish Border Blocked
3- Give Logical Responses Even to Harshest Criticisms: Rouhani's Chief of Staff to Reporters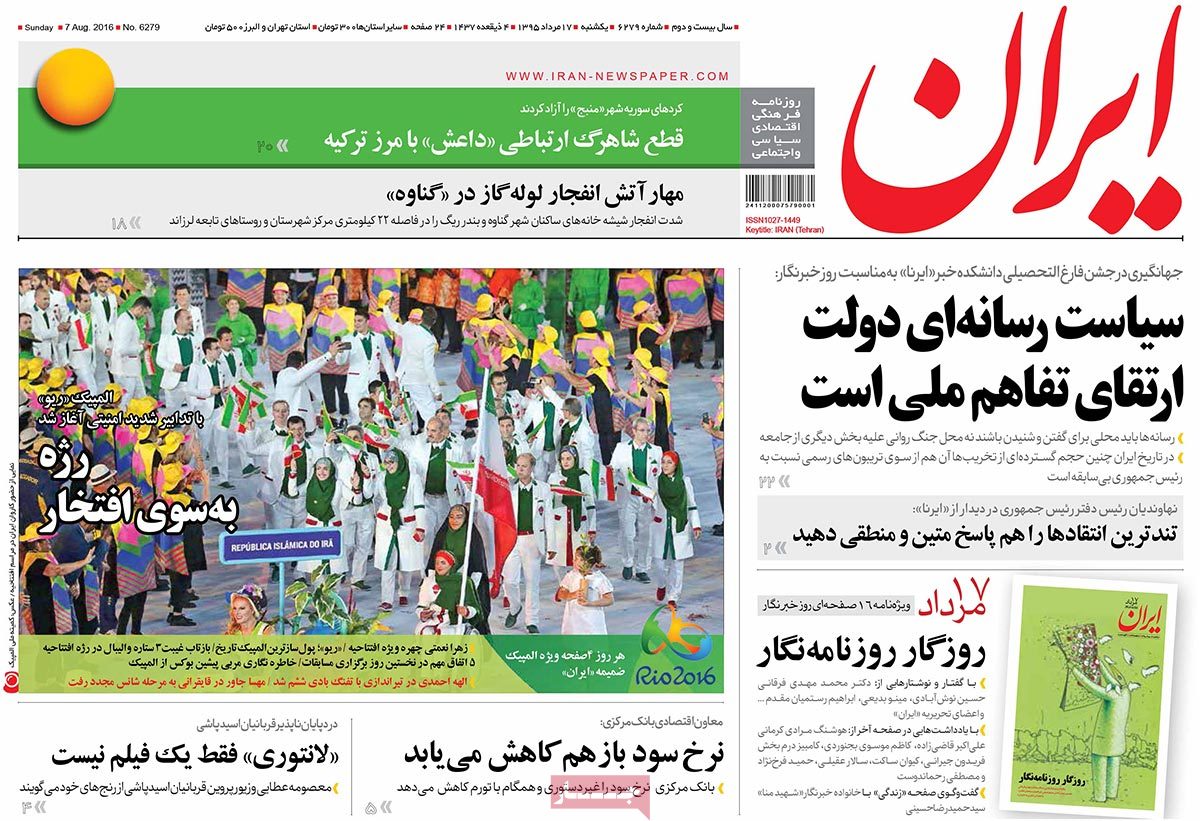 ---
Jame Jam:
1- Rouhani to Visit Azerbaijan Republic; Baku Summit, a Model for Regional Cooperation
2- Editorial by IRIB Chief Ali Asgari: Reporters Are Warriors of Soft War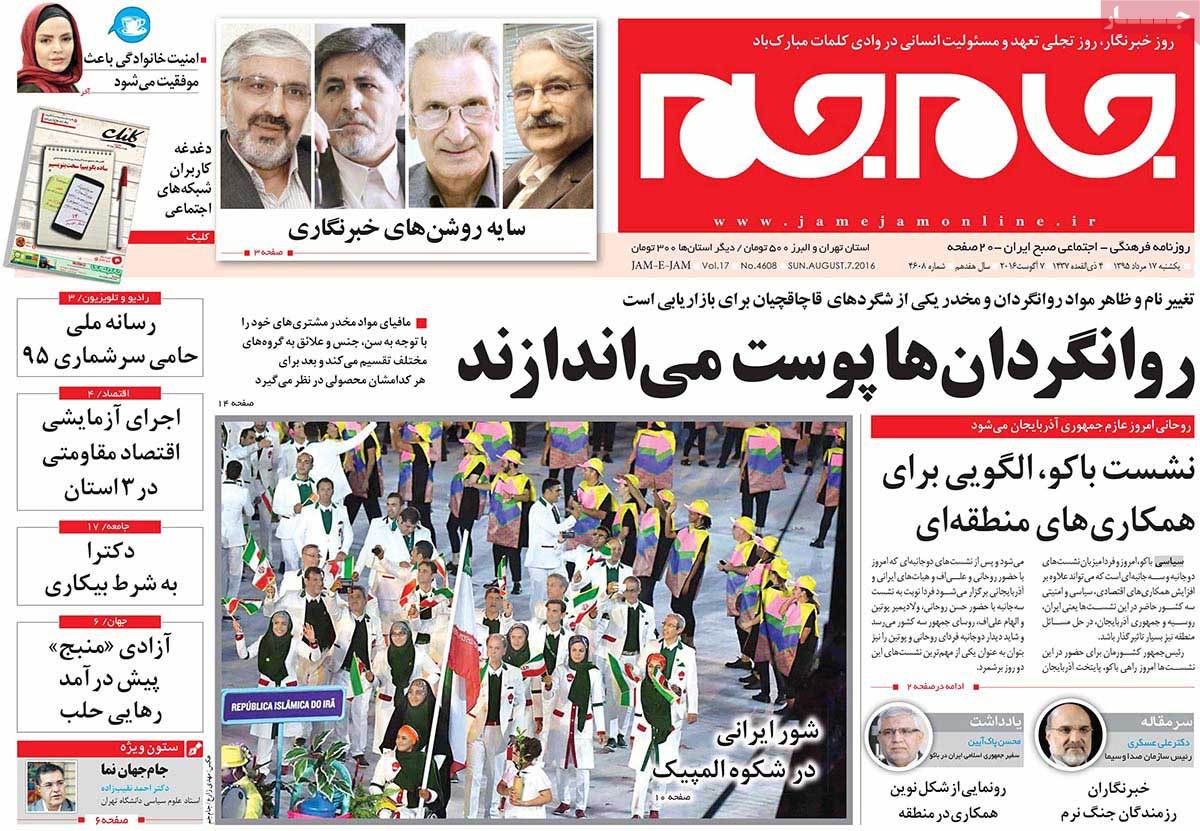 ---
Javan:
1- Obama's Remarks When Aleppo Is Fully Surrounded: Syria Is Turning My Hair Grey
2- Critics' Letter to Trio Government Bodies: Stop Plunder of Iran's National Assets in Oil Contracts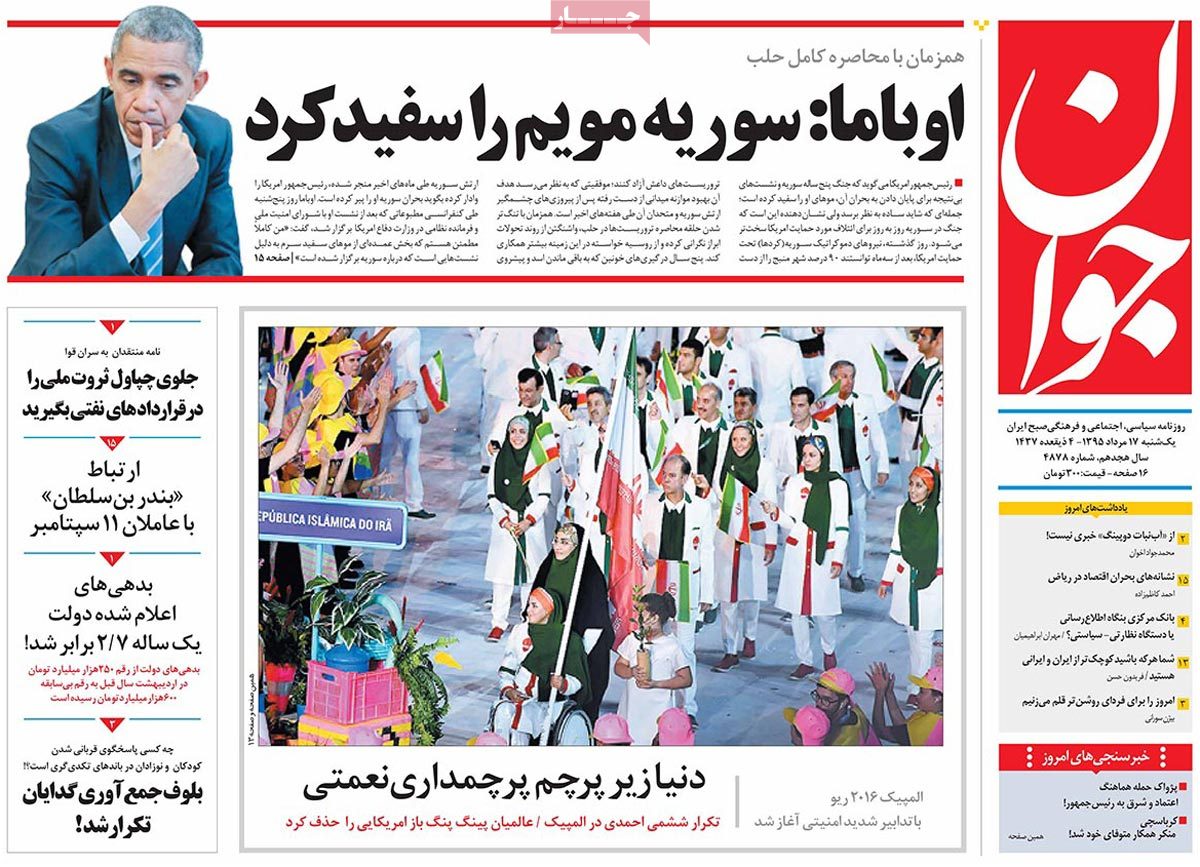 ---
Jomhouri Eslami:
1- Authorities' New View of Media's Role
First VP: Media Should Be a Place for Saying and Listening, Not a Place for Psychological War against Other Parts of Society
FM Zarif: Diplomacy and Media Are Tied Together
2- Legal Member of Iran's Nuclear Negotiating Team: Airbus and Boeing Deals to Be Implemented Soon
3- Saudis Confess to Their Defeat in Yemen
4- Trilateral Meeting between Rouhani, Putin, and Aliyev in Baku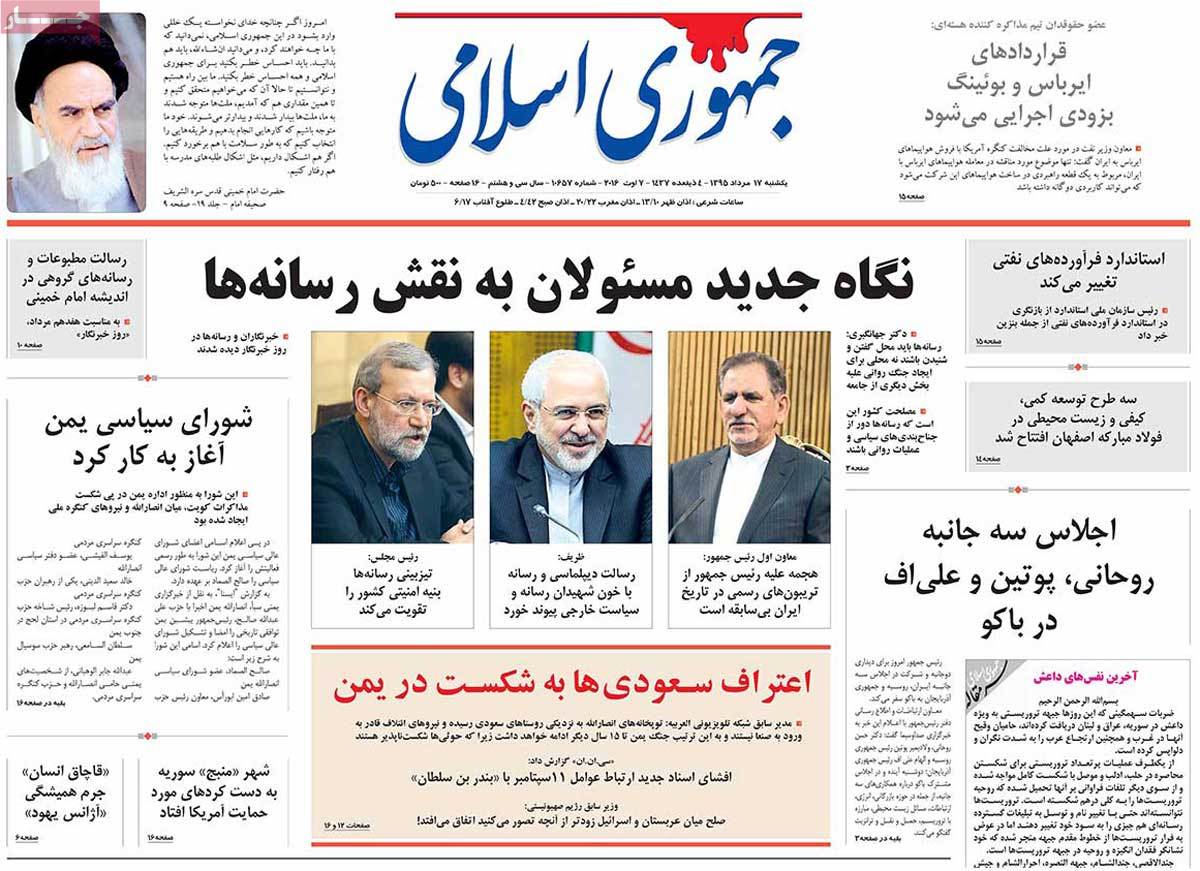 ---
Kayhan:
1- Danger of Long-Term Commitments in Last Year of Rouhani's Term: A Look at Repercussions of a Number of Questionable Accords
2- 71st Anniversary of Hiroshima Bombing: 60 Seconds of Silence for Massacre of 140,000 People!
3- Senior Government Official: Foreign Banks Don't Cooperate with Iran Even for Import of Soya!
4- ISIS Is a Product of US, Not the Shiite-Sunni Conflict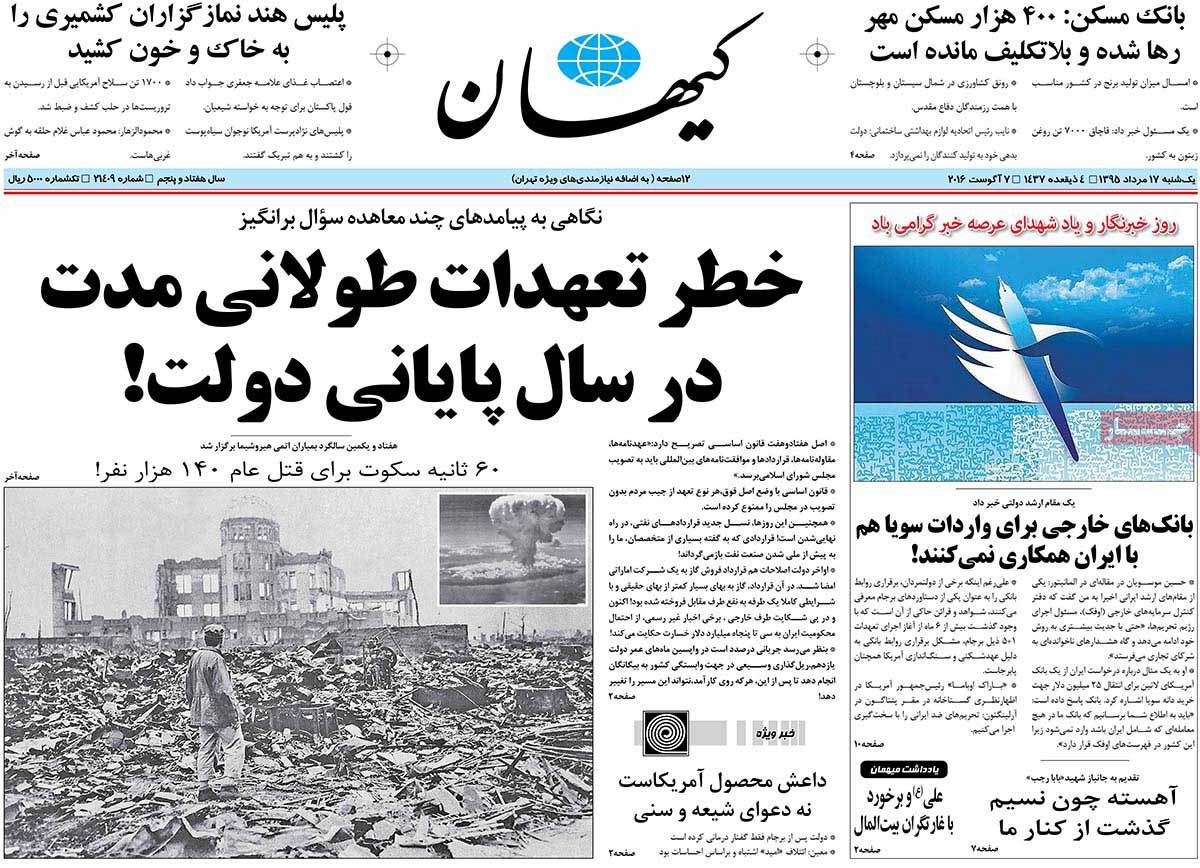 ---
Khorasan:
1- World's Eyes on Iran's Olympic Team; Bild Describes Zahra Nemati as Champion of Opening Ceremony
2- Cyberspace Official: Telegram Is Ready to Transfer 1,000 Servers to Iran
3- Government's Performance in Past 1,001 Days: Promises More than Actions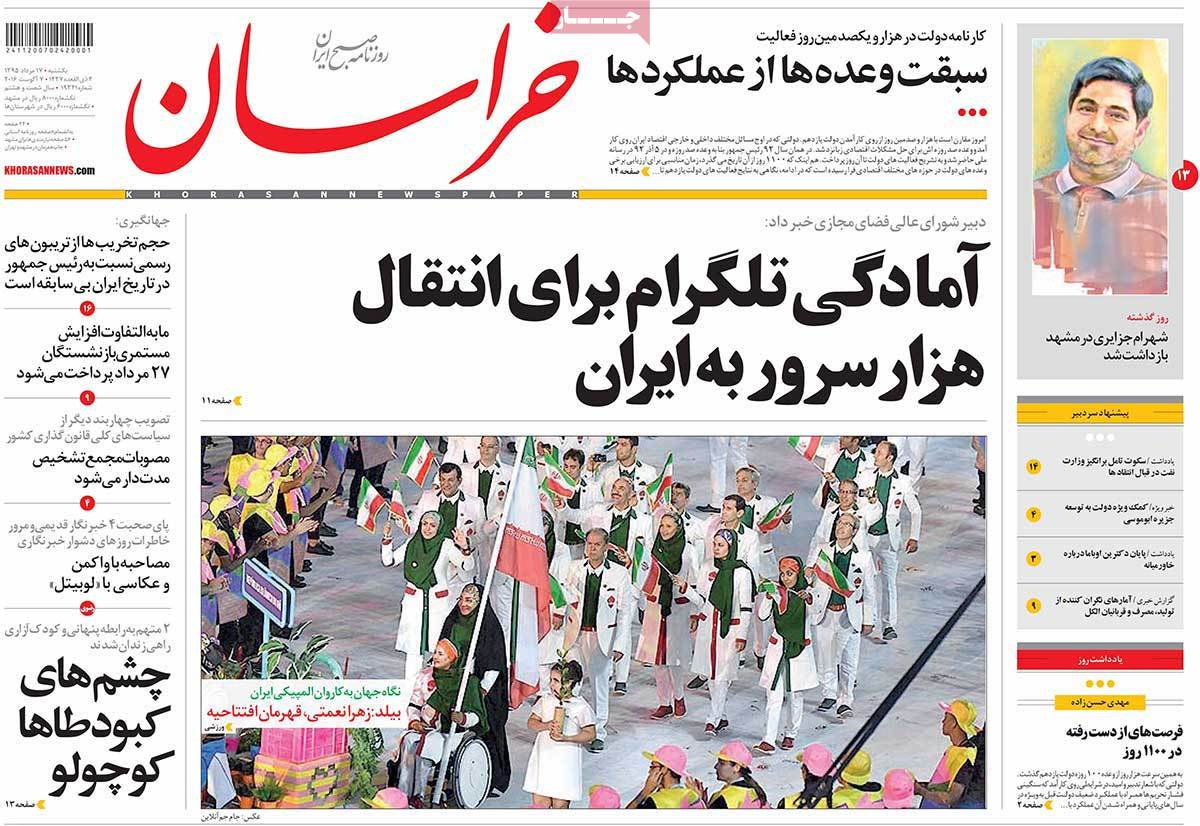 ---
Resalat:
1- Businessman: Government's Economic Executives Have Conflicting Opinions
2- Ex-FM: Support for Axis of Resistance Is Iran's Honour
3- Washington Doesn't Show Mercy towards Its Allies: Trust in US Is Expired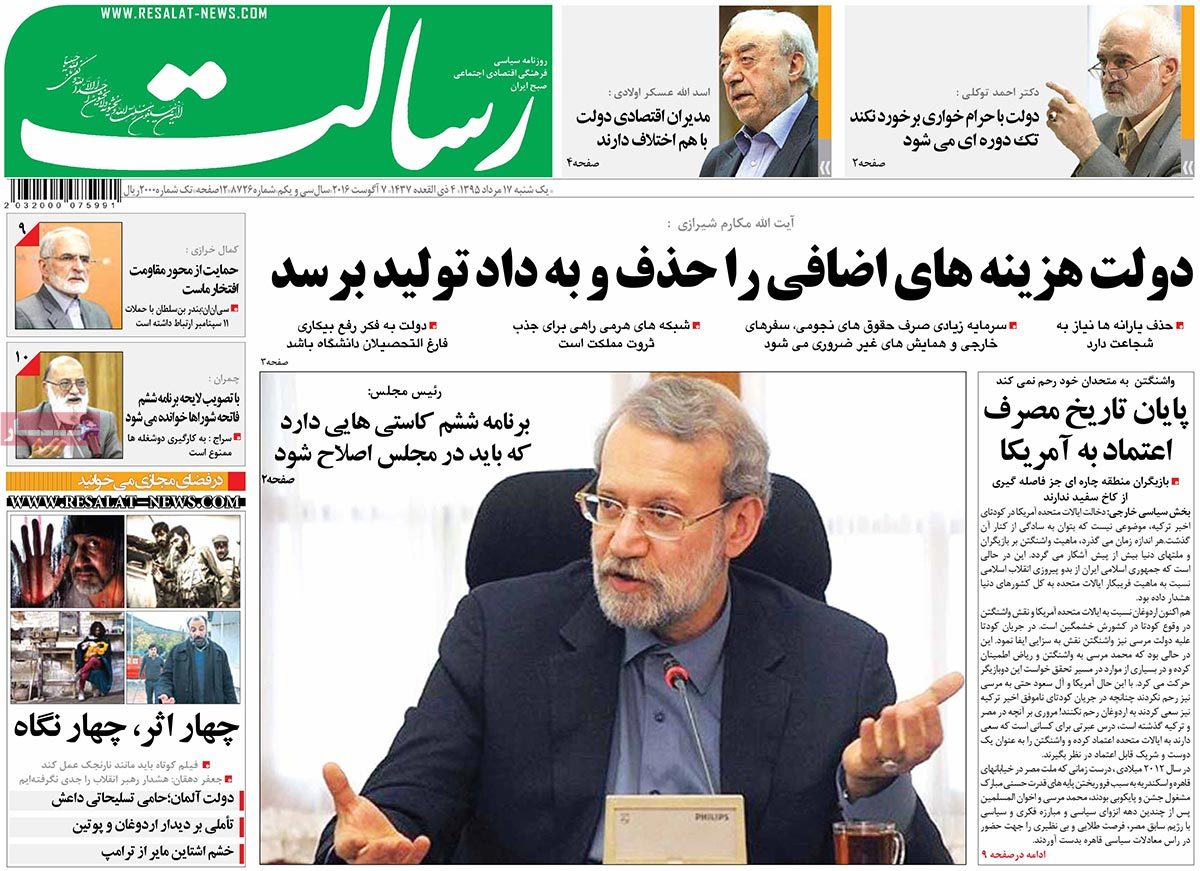 ---
Roozan:
1- First VP: Obscene Remarks Are Made against President Rouhani
2- 80% Increase in Iran's Oil Exports in Post-JCPOA Era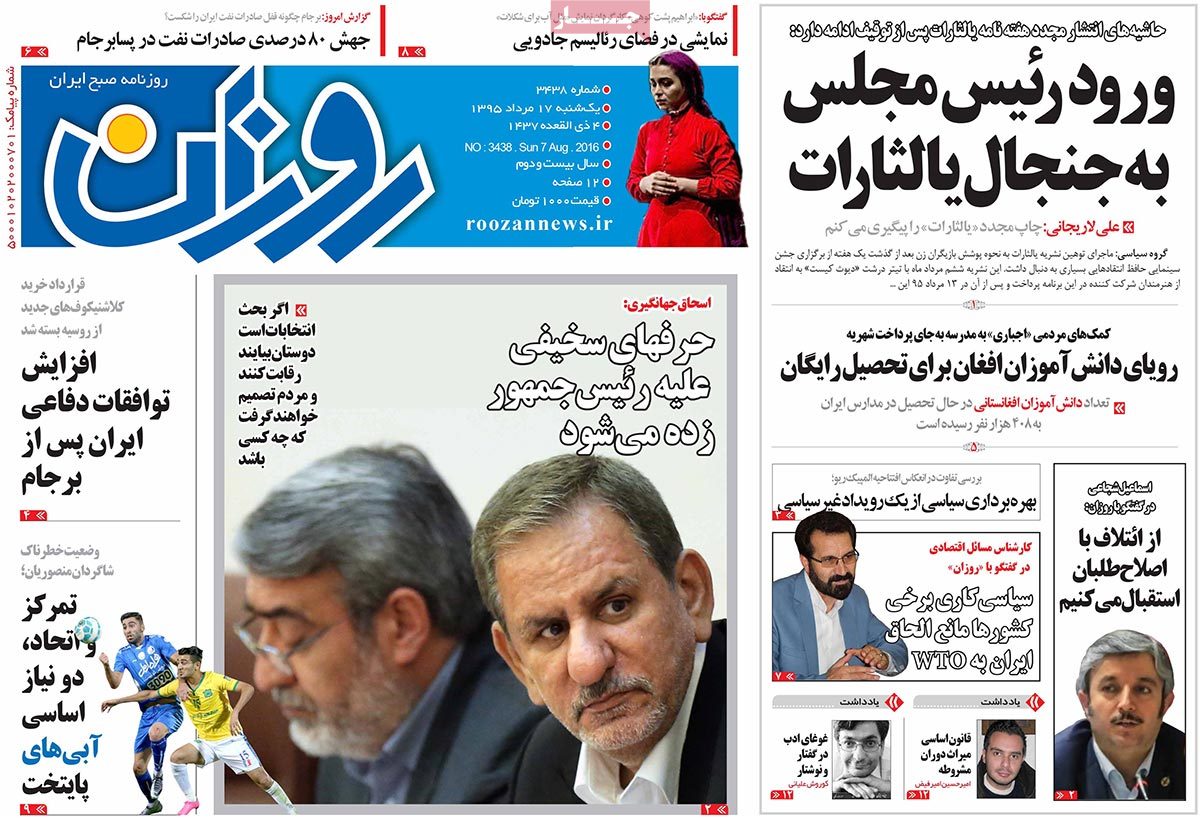 ---
Shahrvand:
1- Increase of Corruption in Absence of Media: First VP
2- Job Security Is the Best Gift to Reporters: Culture Minister
3- A Report on What Happened in Rio Olympics' Opening Ceremony: From Volleyball Players' Strike to Norm-Breaking Flag Bearer of Iran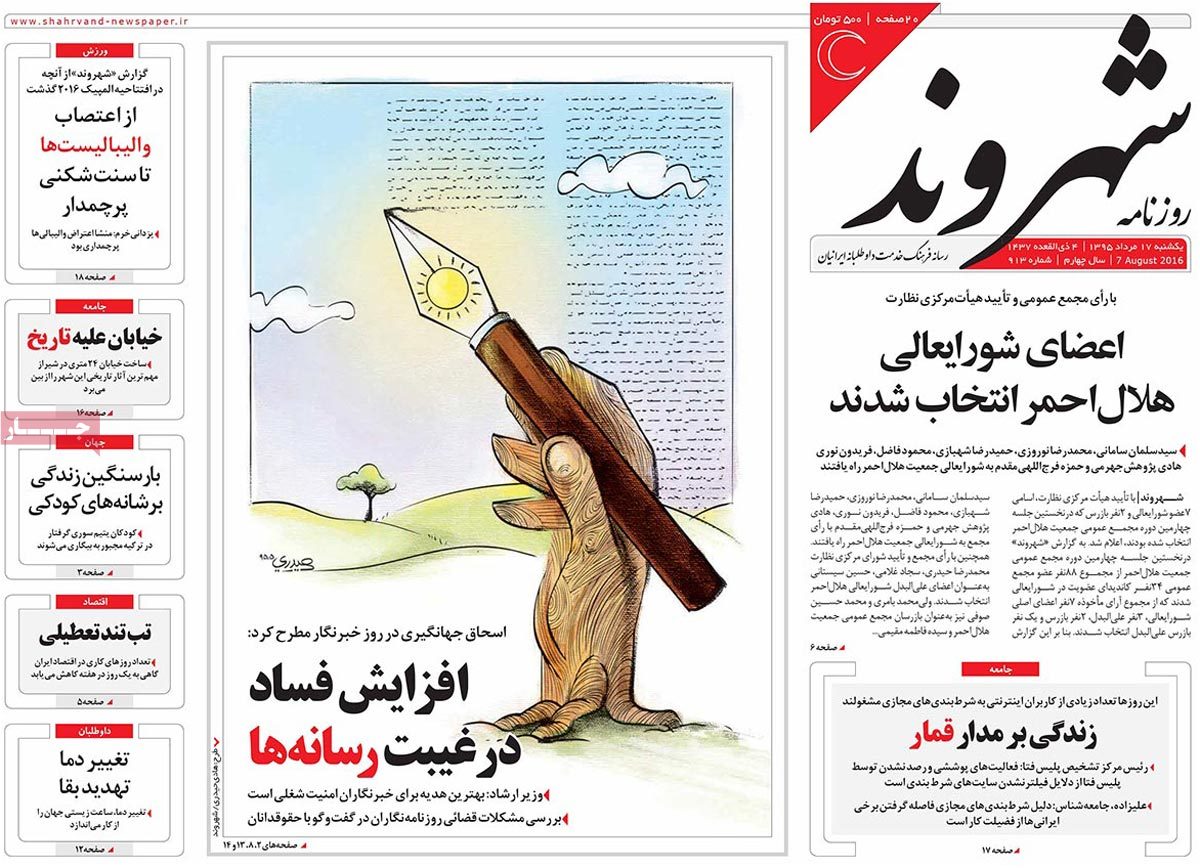 ---
Shargh:
1- A Report on a Scenario for Eliminating Rouhani
2- They Have Put Pillars of Islamic Revolution against Each Other: First VP
3- Turkish Ambassador to Tehran: We Had No Doubt about Iran's Support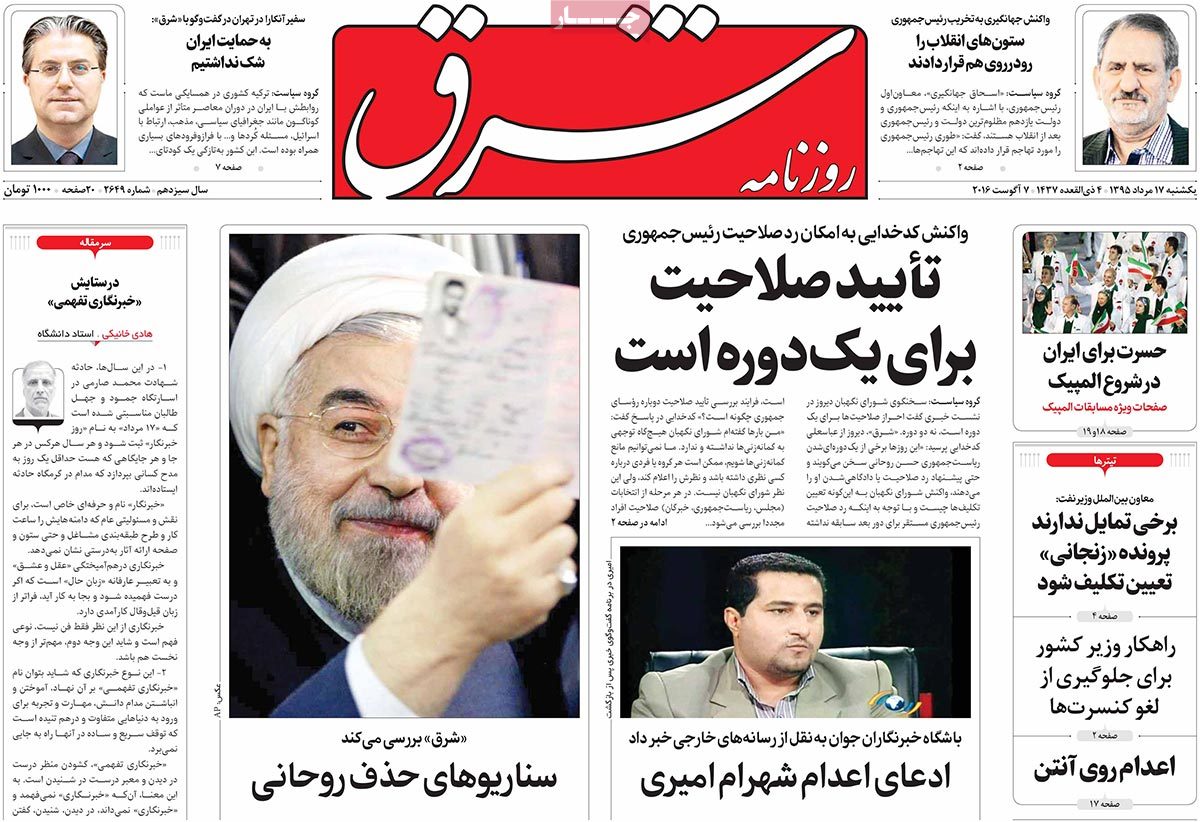 ---
Vaghaye Ettefaghieh:
1- People's Protest at Deadly Roads: High Rate of Death in Road Accidents
2- Guardian Council Member: Actions against Violations of Electoral Law Are Fruitless and Slow