The top story in Iranian newspapers today was the controversial selfies a number of Iranian lawmakers tried to take with EU Foreign Policy Chief Federica Mogherini amid President Hassan Rouhani's inauguration ceremony.
The diplomatic meetings of President Rouhani and Foreign Minister Mohammad Javad Zarif with high-ranking foreign officials also received great coverage.
The above issues, as well as many more, are highlighted in the following headlines and top stories:
Abrar:
1- Iraqi PM: We Won't Let Others Claim Iraq's Victory
2- First VP: Iran Ready to Have Regional, Int'l Cooperation with Ghana
3- Interior Minister Vows to Form Advisory Council for Ethnicities, Religious Minorities
---
Aftab-e Yazd:
1- Troublesome Selfie
Iranian MPs' Strange Photos with Mogherini Spark Controversy
2- Mirsalim: This Is How I Dress up as I Don't Believe in Wearing Tie
3- Hamas Representative: Haniya Will Soon Visit Tehran
4- Reformists Not Seeking to Earn Money from Politics: MP
5- Government's Distribution of Narcotics Approved by Parliamentary Commission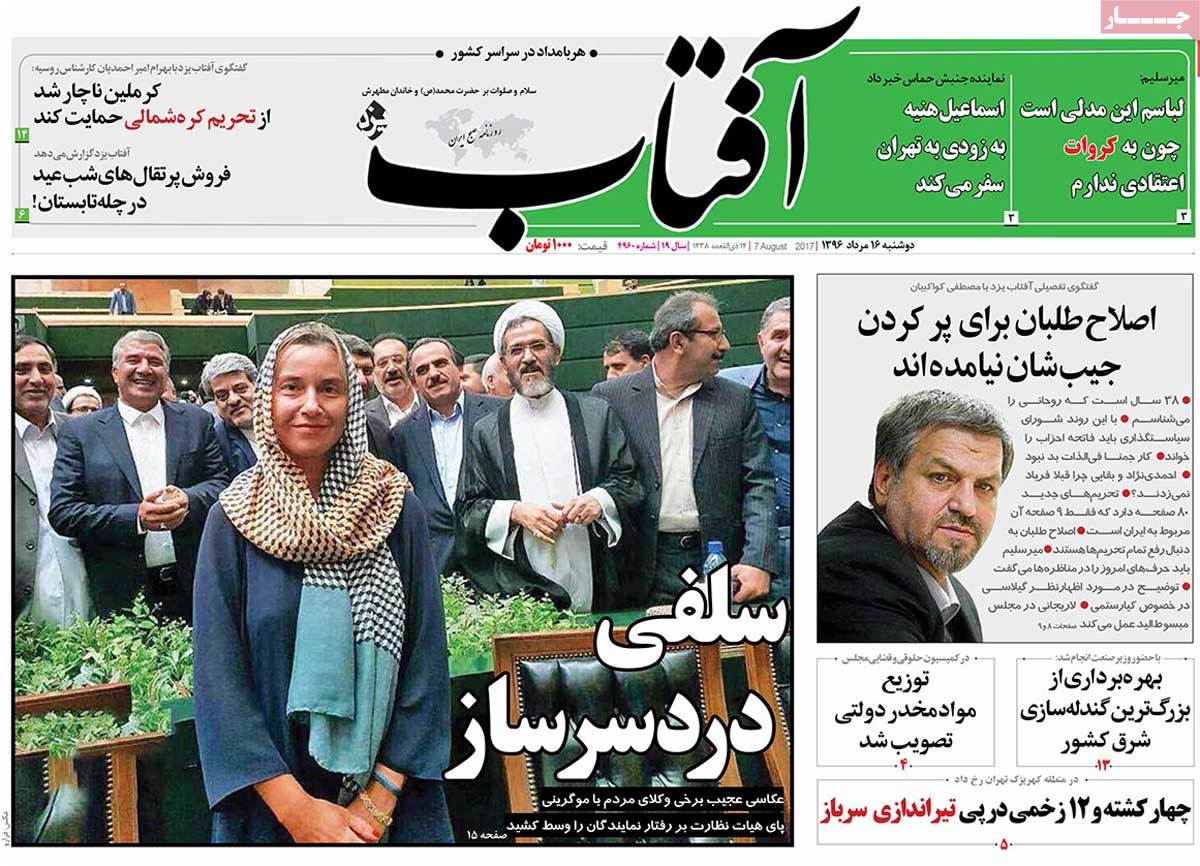 ---
Arman-e Emrooz:
1- MPs' Selfie Stirs Controversy: Will They Be Punished for Taking Selfie with Mogherini?
2- We've Not Trained Women for Governing the Country: Female MP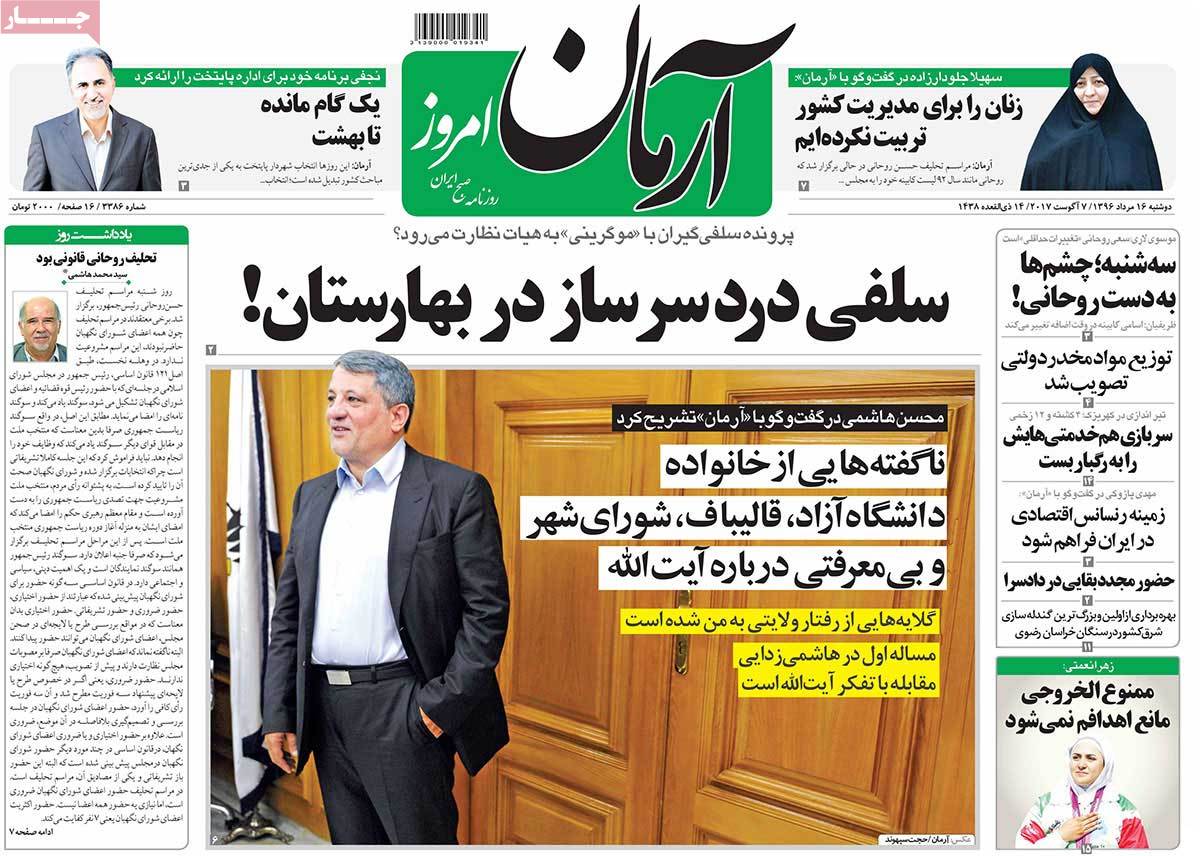 ---
Asrar:
1- First VP: Iran to Always Support Syria's Legitimate Gov't
2- Iran Seeks to Export Its Technical Knowledge of Drilling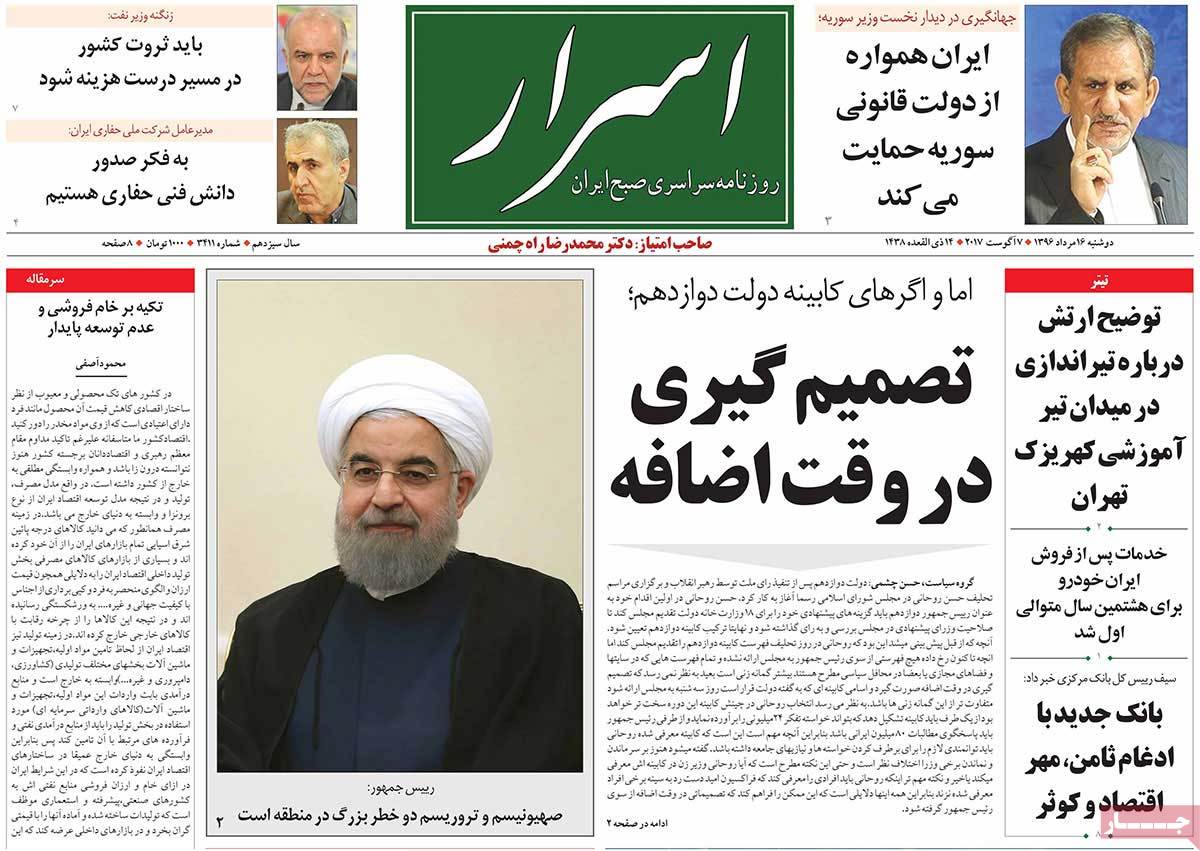 ---
Etemad:
1- Not Appointing a Female Minister Is Stagnation: VP for Women Affairs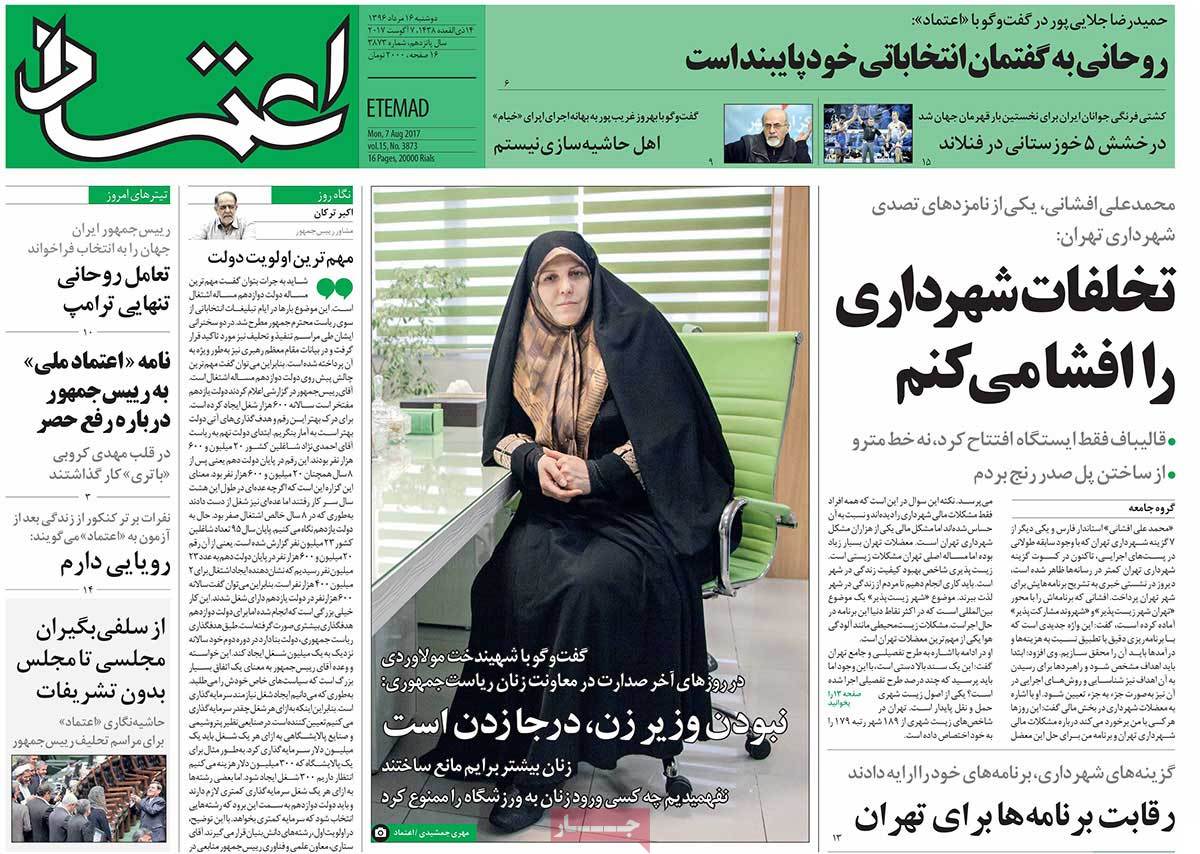 ---
Hosban:
1- Judiciary Chief: Wahhabism, Salafism Roots of Extremism in Mideast
2- Iran's Shamkhani Underlines Syrian-Syrian Talks for Achieving National Reconciliation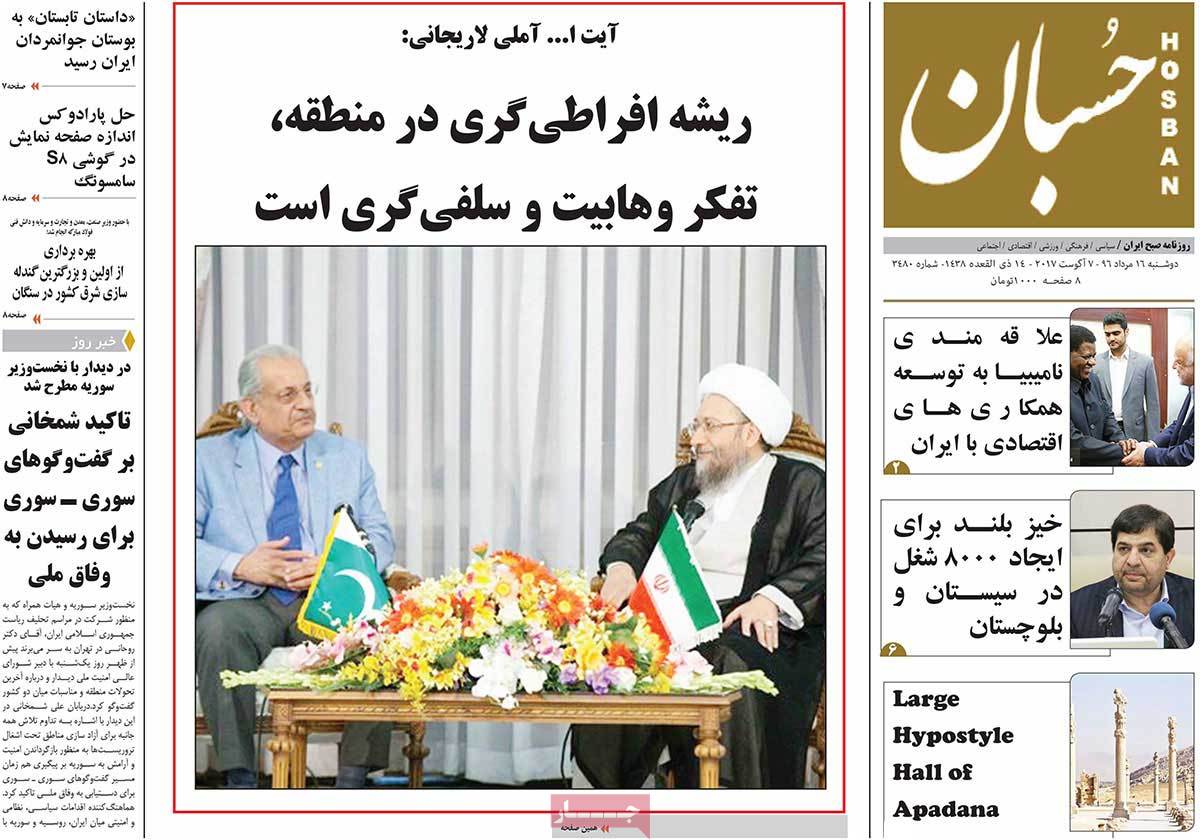 ---
Iran:
1- No Water, No Chopper: 200 Hectares of Miankaleh Forests Burn
Fifth Fire in Region in Past 5 Months
2- Rouhani's Diplomatic Meetings after Inauguration
3- President: We Should All Beware of Danger of ISIS Expansion
4- Experts: Message of Inauguration Ceremony Was Promotion of Iran's Global Standing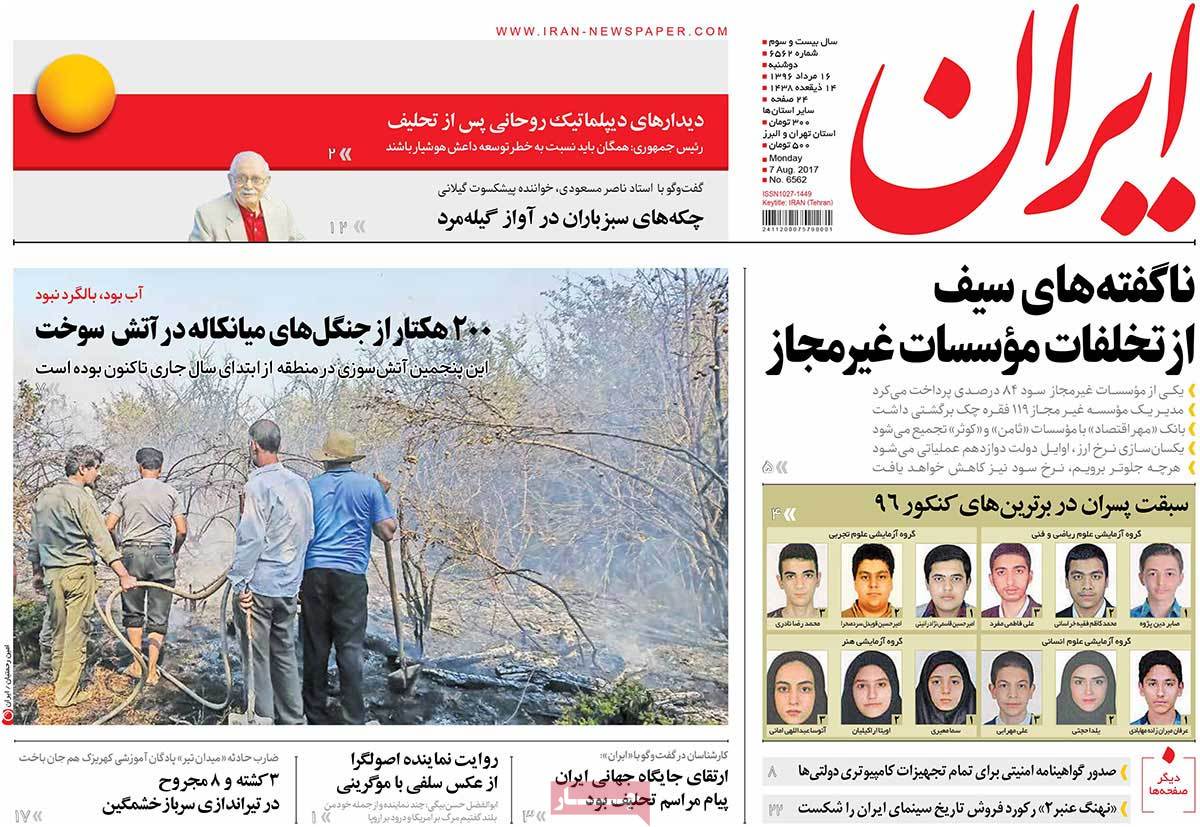 ---
Javan:
1- Iranian Nation Feeling Bad
2- Rare Phenomenon of Increased Imports Aimed at Selling at Higher Prices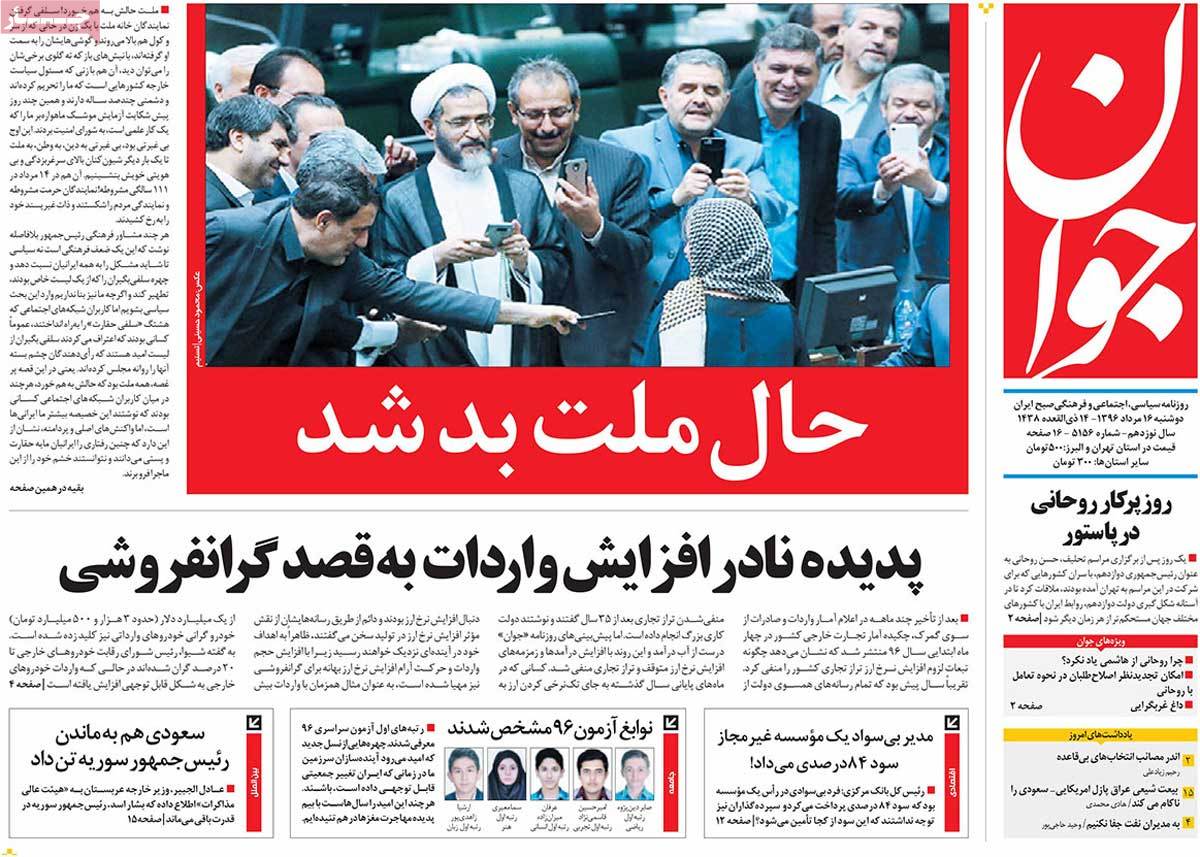 ---
Jomhouri Eslami:
1- Rouhani Underlines Expansion of Cooperation with Africa, European, Neighbouring States
2- British Daily's Shocking Report of Saudi Crimes in Shiite-Majority Al-Awamiyah
---
Kayhan:
1- Selfie of Humiliation
Are These MPs Ones Who Want to Give Response to 'Mother of Sanctions'?
2- Iran to Sign Car Deal with France Today, Again Secretly!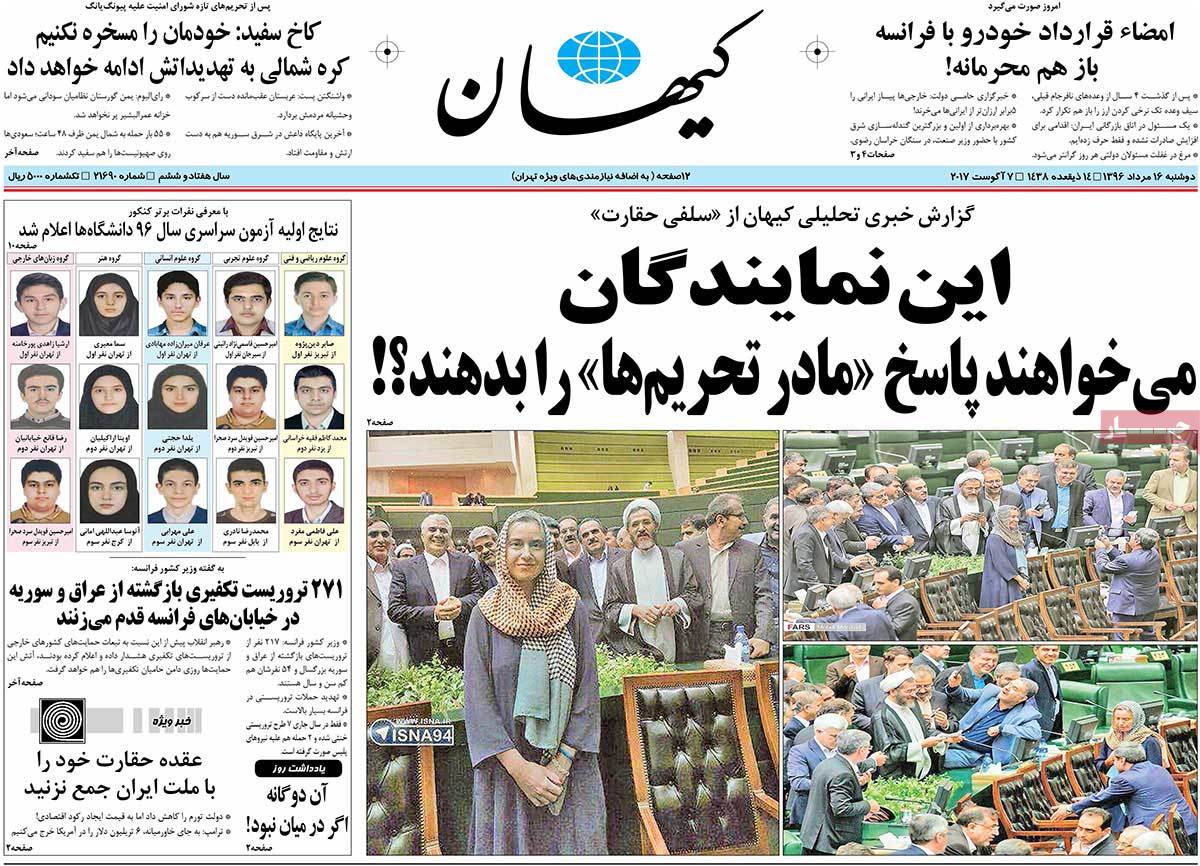 ---
Khorasan:
1- Selfie of Humiliation Widely Criticized
Harsh Reactions to MPs' Controversial Photo with Mogherini
2- Turkey Earns 10 Trillion Rials [$265m] in 6 Months Thanks to Iranian Tourists
---
Resalat:
1- Europe to Counter US Sanctions If They Harm EU-Russia Ties
2- Iran's Islamic Revolution Has Crossed Borders: Ayatollah Jannati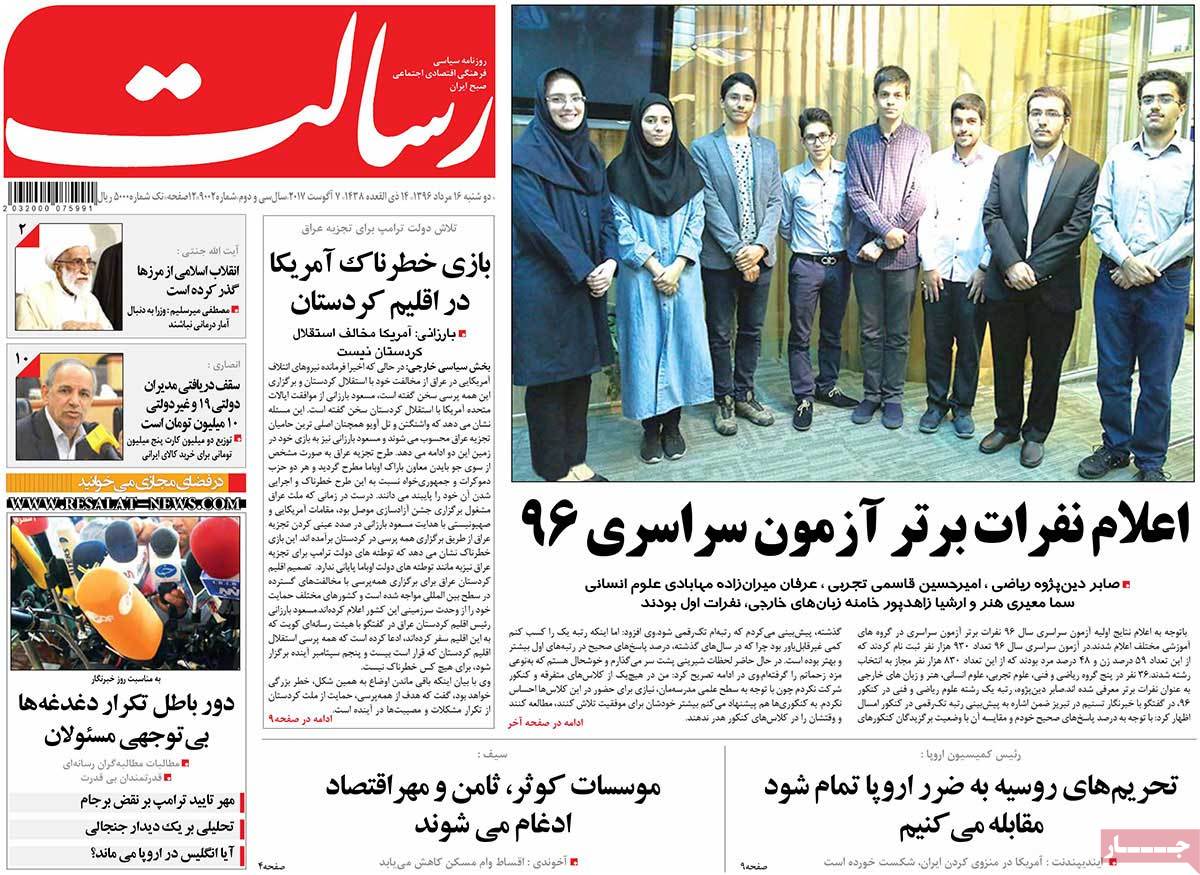 ---
Rooyesh-e Mellat:
1- Larijani Vows Iran's Everlasting Support for Syria
2- Board Monitoring MPs' Behaviours: Selfie with Mogherini below MPs' Dignity
---
Shahrvand:
1- Young Iranians Daydreaming about Finding Job
Research Shows 32% of Them Don't Know How to Work with Computer
37% Have No Familiarity with English Language
17% Don't Know How to Work with Internet
2- World Standard's Special Respect for Iran: First Female Chief of Standard Org.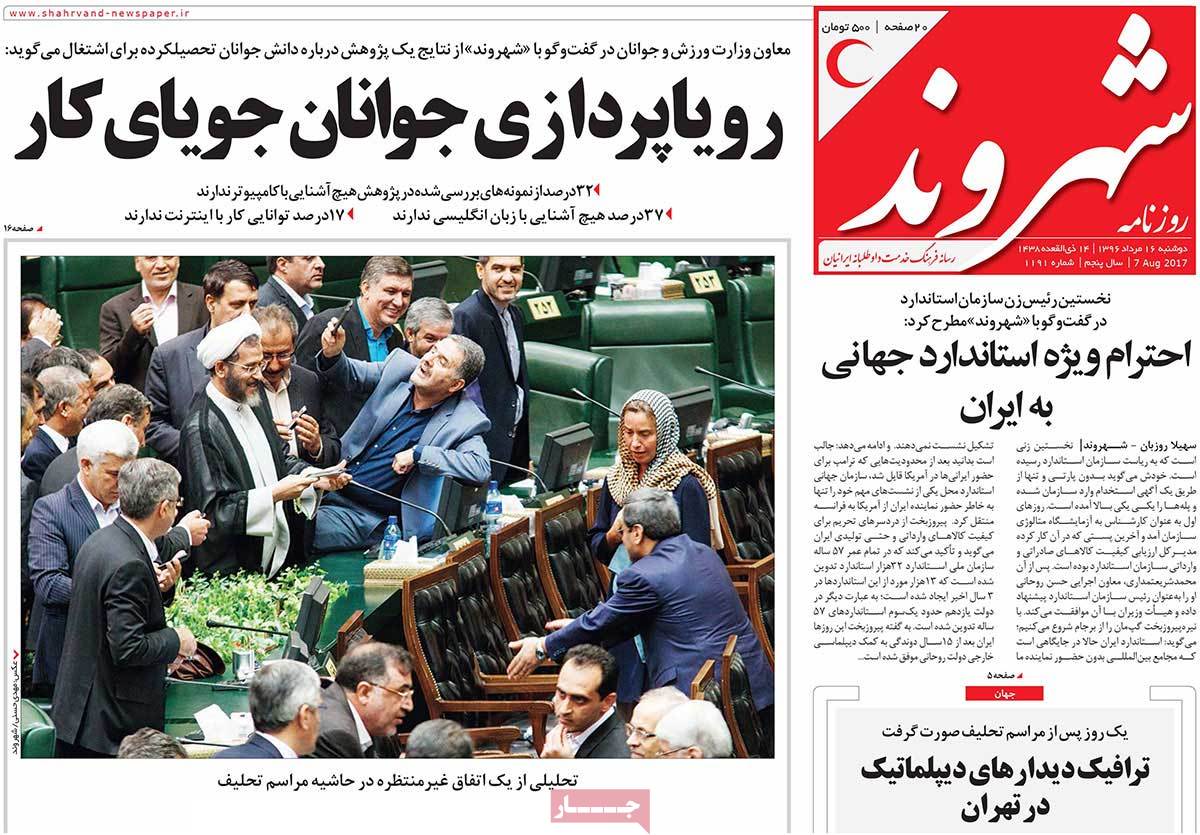 ---
Shargh:
1- Frames without Masks: Huge Controversy over MPs' Selfie with Mogherini
2- Rouhani's Diplomatic Talks after Inauguration
3- Iran Sends Message of Peace, Dialogue, Fight against Extremism to World: Rouhani
4- Last Clash between Urban Development Minister, Tehran Mayor
Municipality Warned against Opening New Subway Line to Imam Khomeini Airport