Reports on the 3-year performance of President Hassan Rouhani's government were among the top stories in many newspapers. Newspapers mainly covered the remarks by clerics in Qom who had expressed their satisfaction with the government's performance in meetings with Rouhani's representative.
The ongoing developments in Iraq and Syria's wars on terrorism and the results, particularly the liberation of Darayya in Syria, were also widely covered by Iranian papers.
The above issues, as well as many more, are covered in the following headlines:
Abrar:
1- Al-Baghdadi's Aide Killed in Iraqi Army Attack
2- US and Russia Closer to Syria Truce
3- White House: Iranian Speedboats' Operation Not Acceptable
4- ISIS Mines Found in Fruit Basket, Kettle, and Refrigerator
5- Russia's Military Presence Is in Favour of Iran's Security: Russian Analyst
6- Iran Is 100% Opposed to Disintegration of Iraq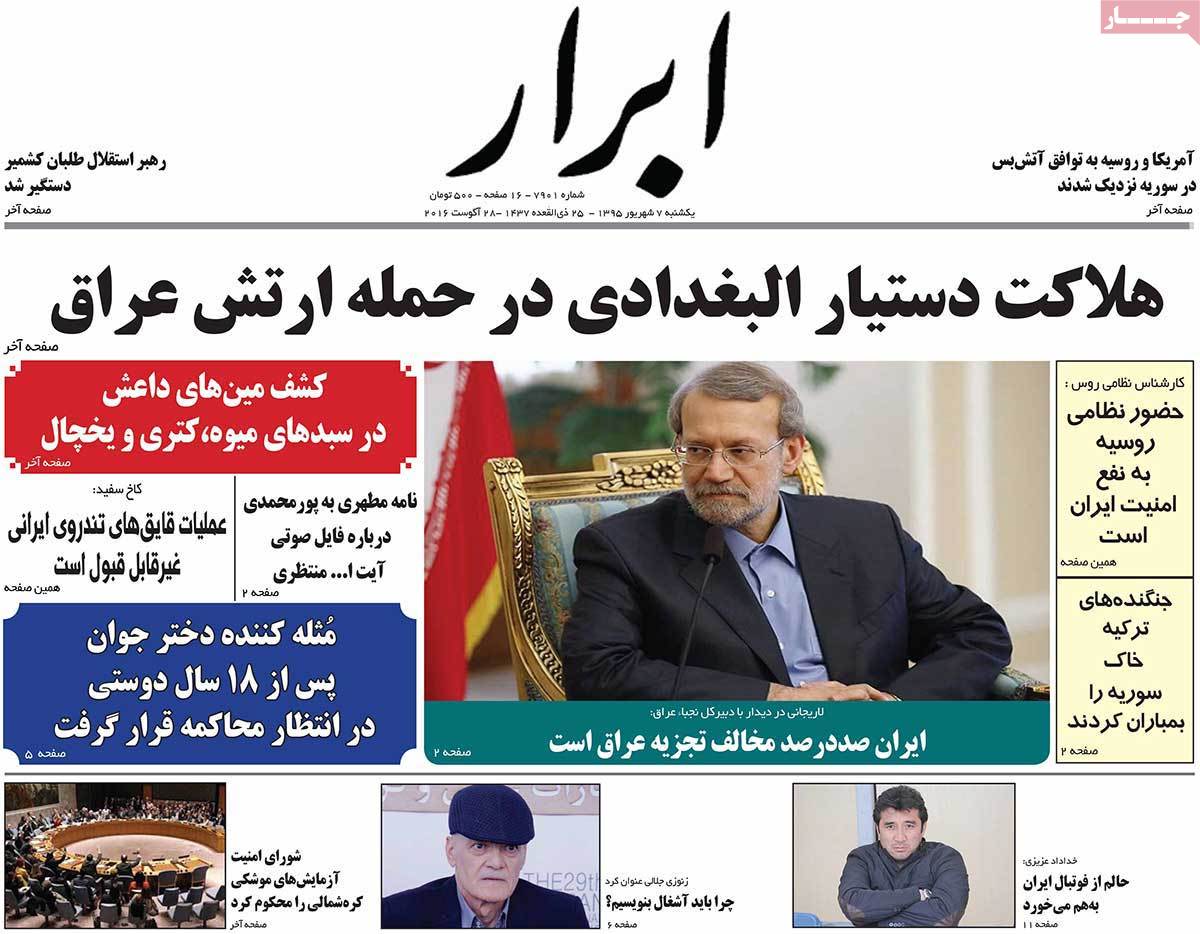 ---
Abrar-e Eqtesadi:
1- Return of the French to South Pars Gas Field
2- Ahmadinejad Government's Insistence on Importing Non-Standard Iron from Russia
3- Oil Swap to Begin in 2 Weeks
4- Increase in Competitiveness of Iranian Goods: Al-Monitor
5- Decrease in Iran's Oil Dependency in Rouhani's 3-Year Performance
---
Afkar:
1- 3 Scenarios for Future of Iran-US Ties
2- Turkish Jet Fighters Bomb Syrian Territory
3- Worrying Statistics of Antibiotic Use in Iran
4- Sea Trips between Iran and Oman to Be Facilitated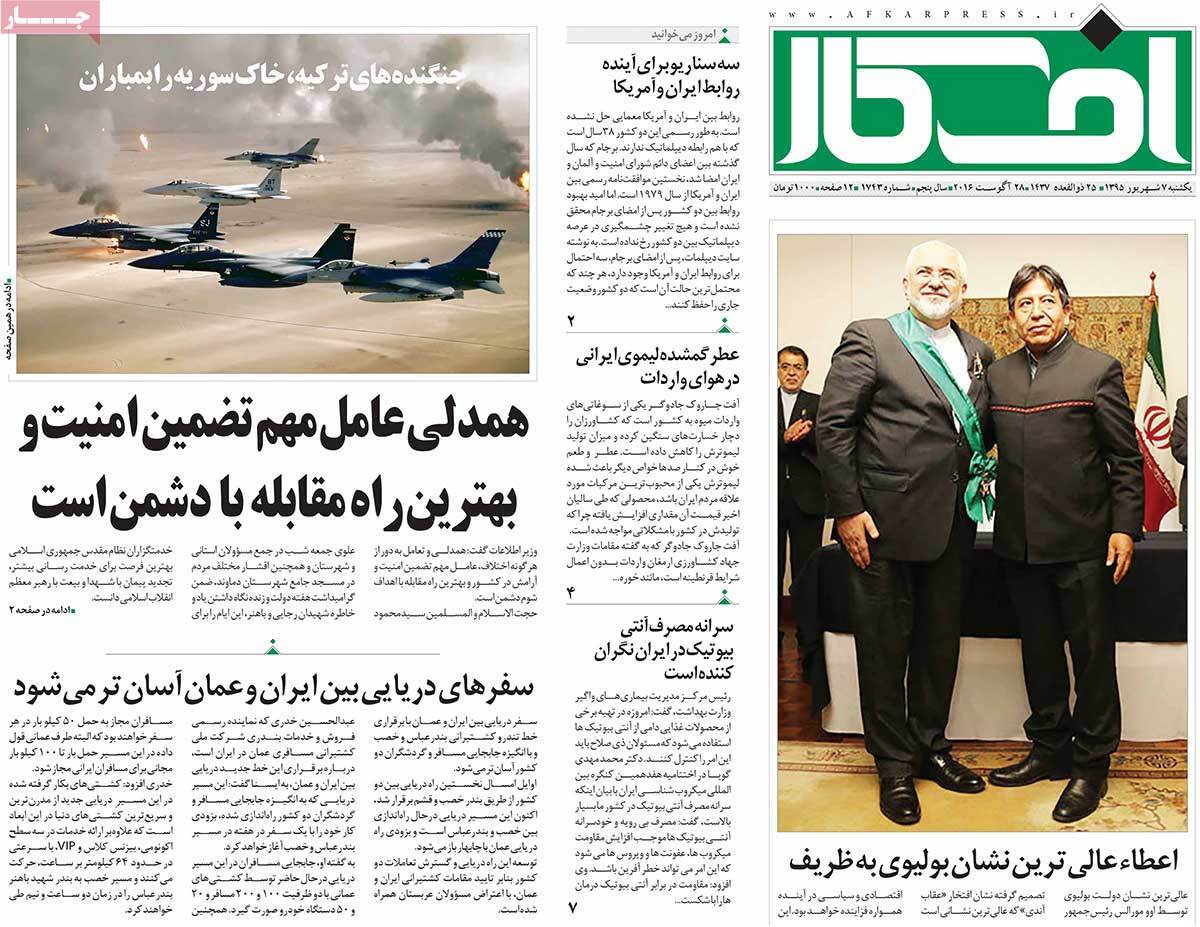 ---
Aftab-e Yazd:
1- New Challenge for 'Jihadi' Management of Tehran: Mayor's Generosity [to City Council Members]
2- Russians Say They Can't View Iran as a Real Ally
3- Millions of Dollars of Loss If Parliament Goes on Summer Leave
4- Recent Insults to Rouhani Increased His Credit: Politician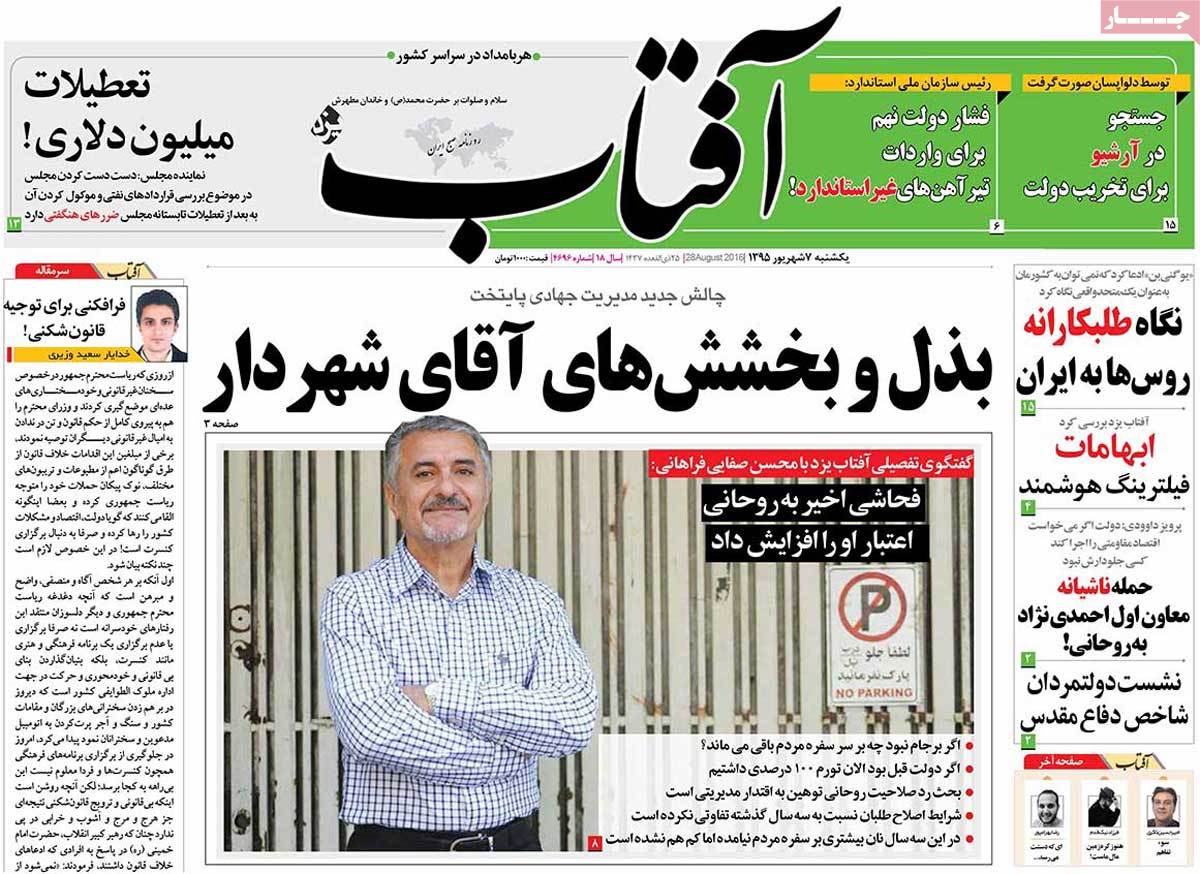 ---
Arman-e Emrooz:
1- Continuation of Sanctions Could Be an Introduction to another War: Rafsanjani
2- Outspoken Vice-Speaker Motahari Writes Letter to Justice Minister over 1988 Executions
3- Tehran Might Be Victim of Next Earthquake
4- As Iran, Turkey, and Russia Enhance Their Ties, US Should Say Goodbye to Middle East
5- Prosecutor-General: Police Should Be Allowed to Film All Concerts
---
Asrar:
1- It's No Longer Effective to Filter Social Media: Grand Ayatollah Makarem Shirazi
2- Rouhani Has Been Successful in Past 3 Years: Aref
3- Economic Growth Rate to Be Increased to 5% This Year: CBI Governor
4- Reformists Throw Their Entire Weight behind Rouhani: MP
5- Tehran, New Delhi, and Moscow to Become Allies: Shamkhani
6- Special Inspection Teams to Be Dispatched to Check Hijab Conditions in Hospitals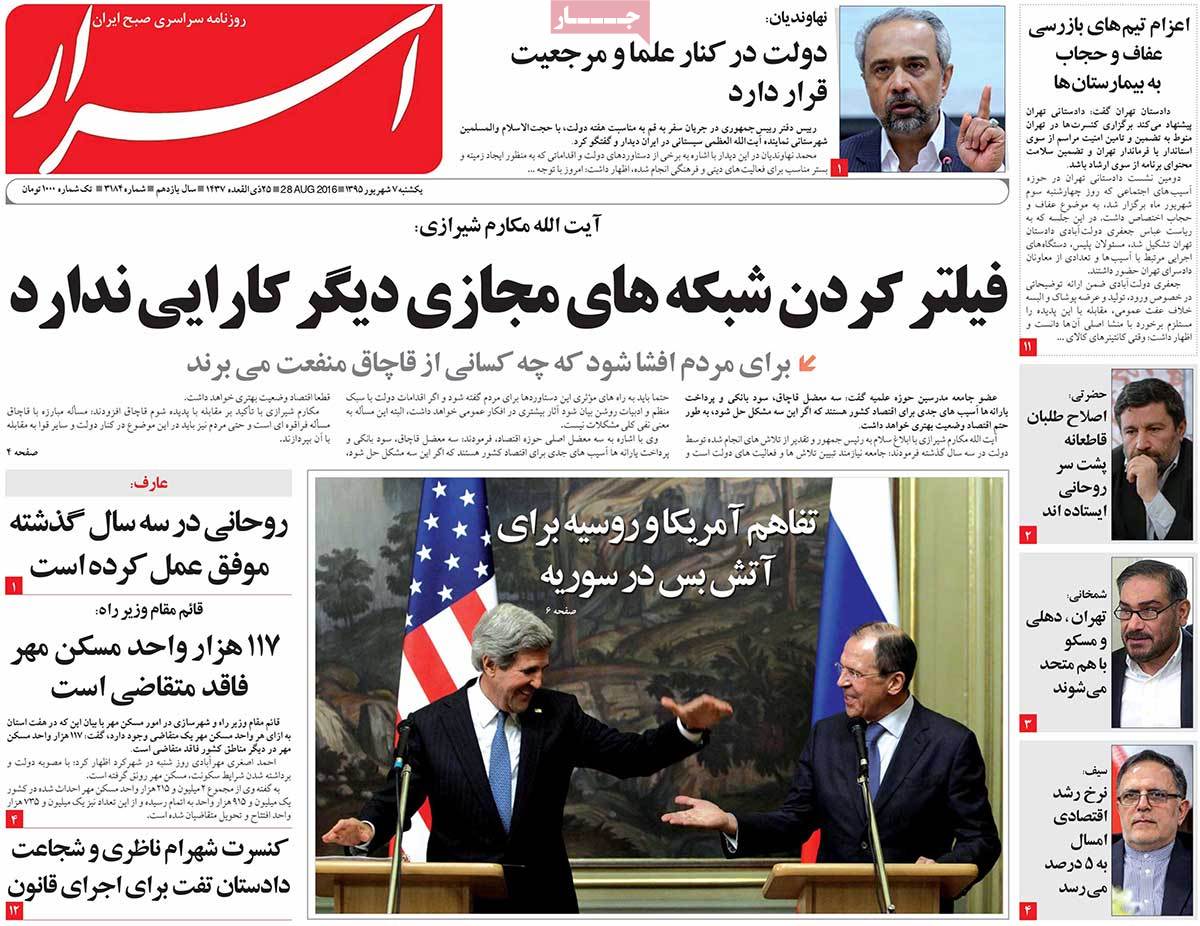 ---
Ebtekar:
1- A Report on a 'Legal' Violation of Law: Why Tehran Municipality Has Sold Its Buildings to Certain People in Low Prices?
2- Secret behind Iran-Russia Friendship
3- There's No Way But to Remain United: Rouhani
---
Emtiaz:
1- A Number of Sport Managers Arrested over Financial Corruption: Ministry
2- Growth in Number of Tourists Arriving in Iran 2 Times More than Global Norm: Official
3- Hijab Becomes Legal for Turkish Police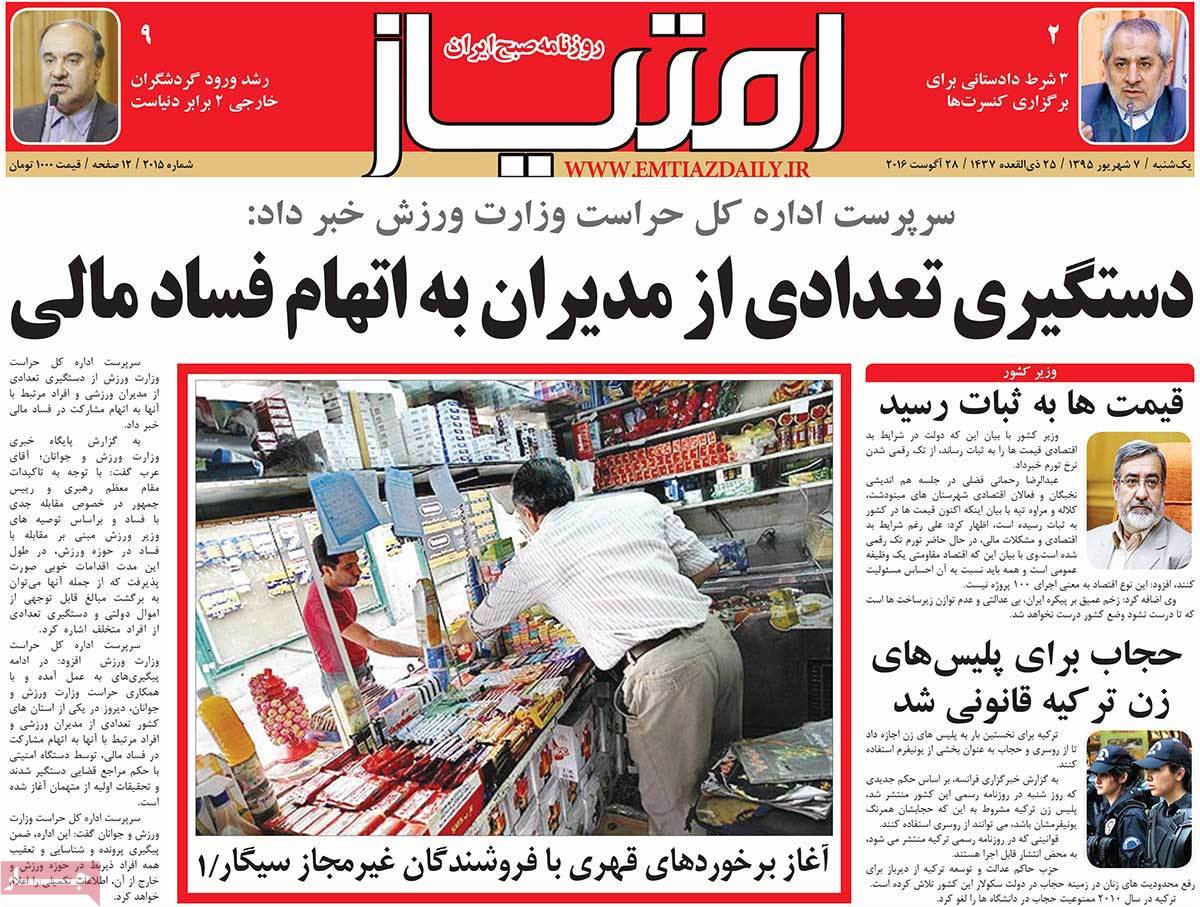 ---
Etemad:
1- Now Rouhani Needs Reformists More than 2013: Politician
2- Envoy to Qom: Rouhani's Representative Briefs Clerics on Government's Performance
3- Cyber-Attacks on Some Petrochemical Complexes
---
Ettela'at:
1- Darayya, a City near Damascus, Liberated after 4 Years
2- People Should Not Get Annoyed by Fight against Social Ills: Prosecutor-General
3- First Phase of National Information Network to Be Inaugurated Today
4- Reproduction of Terrorism in Afghanistan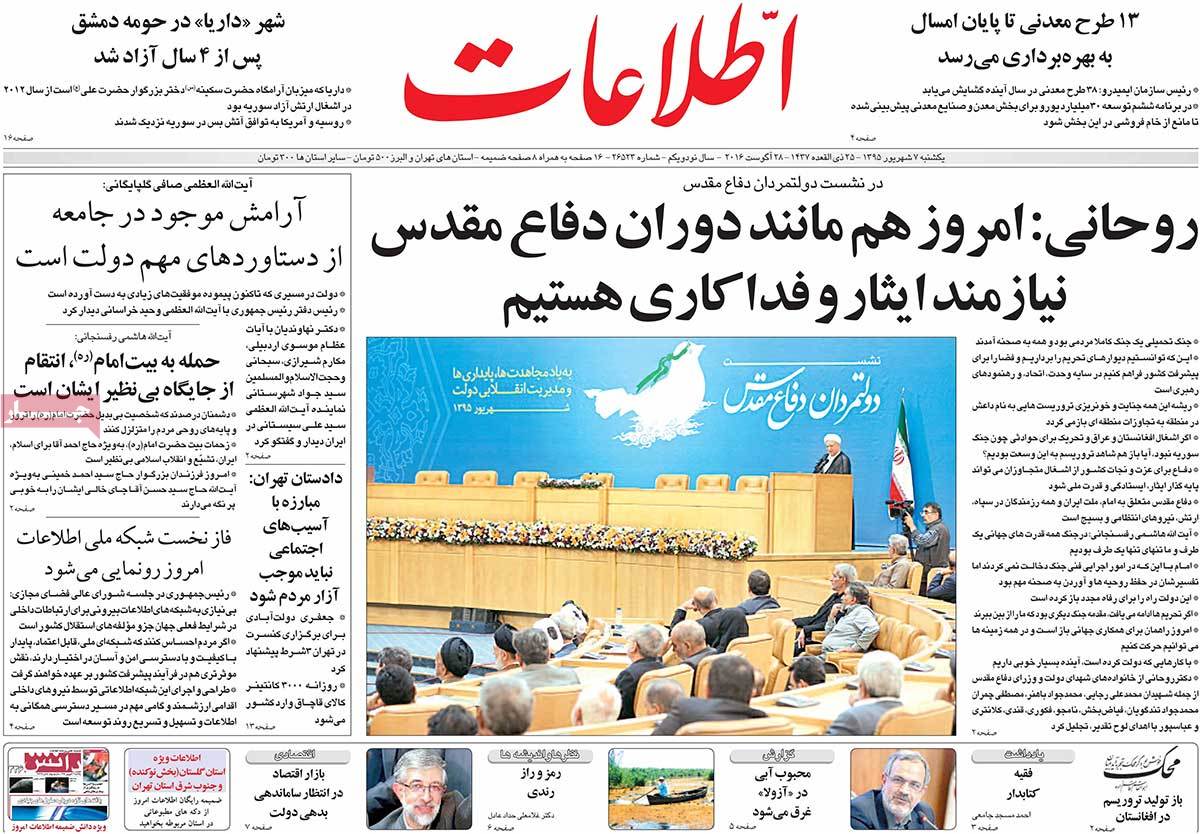 ---
Haft-e Sobh:
1- 3 Conditions Proposed by Prosecutor-General for Concerts
2- Rain of Gold and Rewards over Kimia [Iranian taekwondo player who became first female medallist of Iran's history]
3- Which Ones Get Broken More Often: Korean or Japanese Cars?
4- In Tragic Incident, Young Father Was Drowned in Park Pool [While Trying to Save His Child]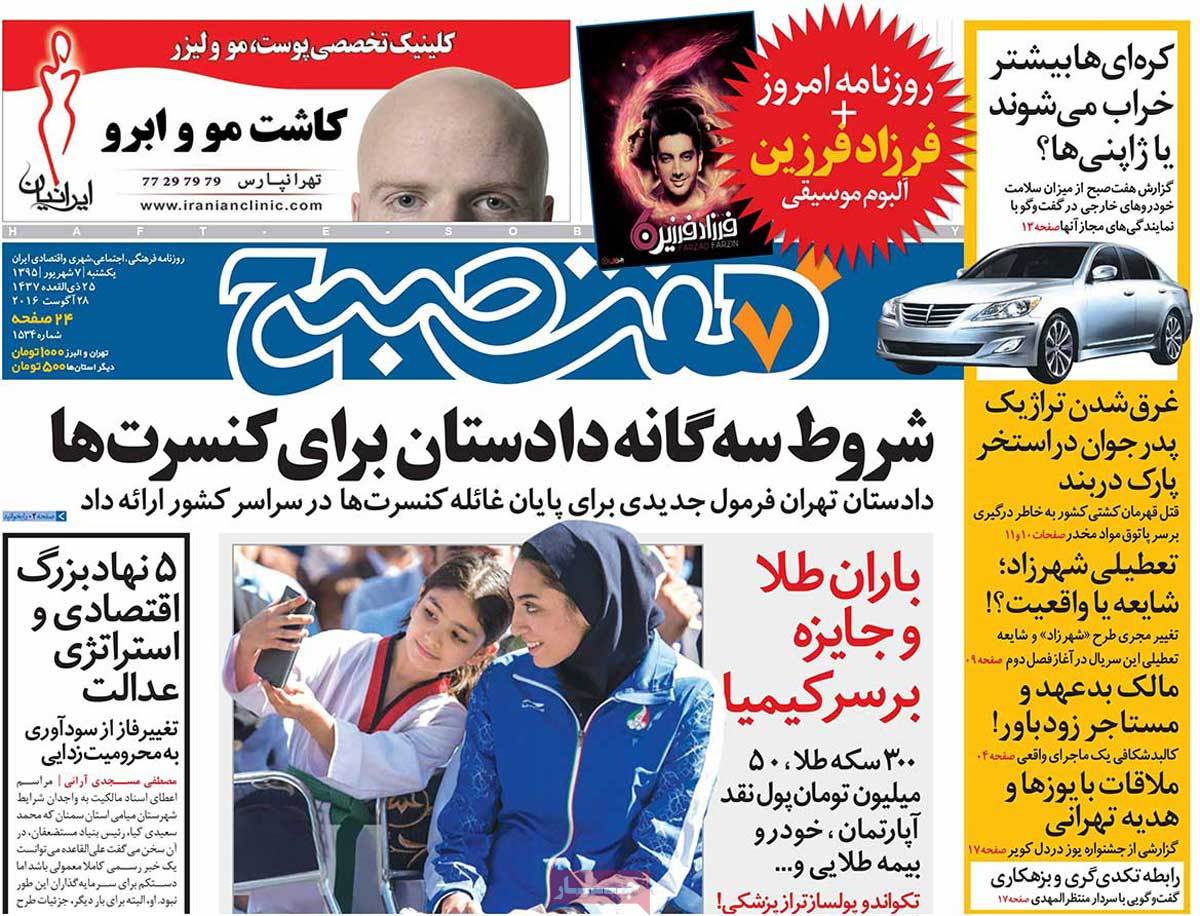 ---
Hemayat:
1- Ahmed Shaheed's Interventionist Move in Support of Drug Traffickers!
2- Darayya Returned to Damascus after 4 Years
3- Controlling the Inauspicious Phenomenon of Goods Smuggling Requires Officials' Serious Resolve
4- Ansarullah Opposed to US Plan for Yemen Crisis
---
Iran:
1- Clerics Approve Government's Performance
2- No Legal or Religious Problem with Concerts: Culture Minister
3- Iran Ready to Revive Security Cooperation between Iran, Russia, and India: Shamkhani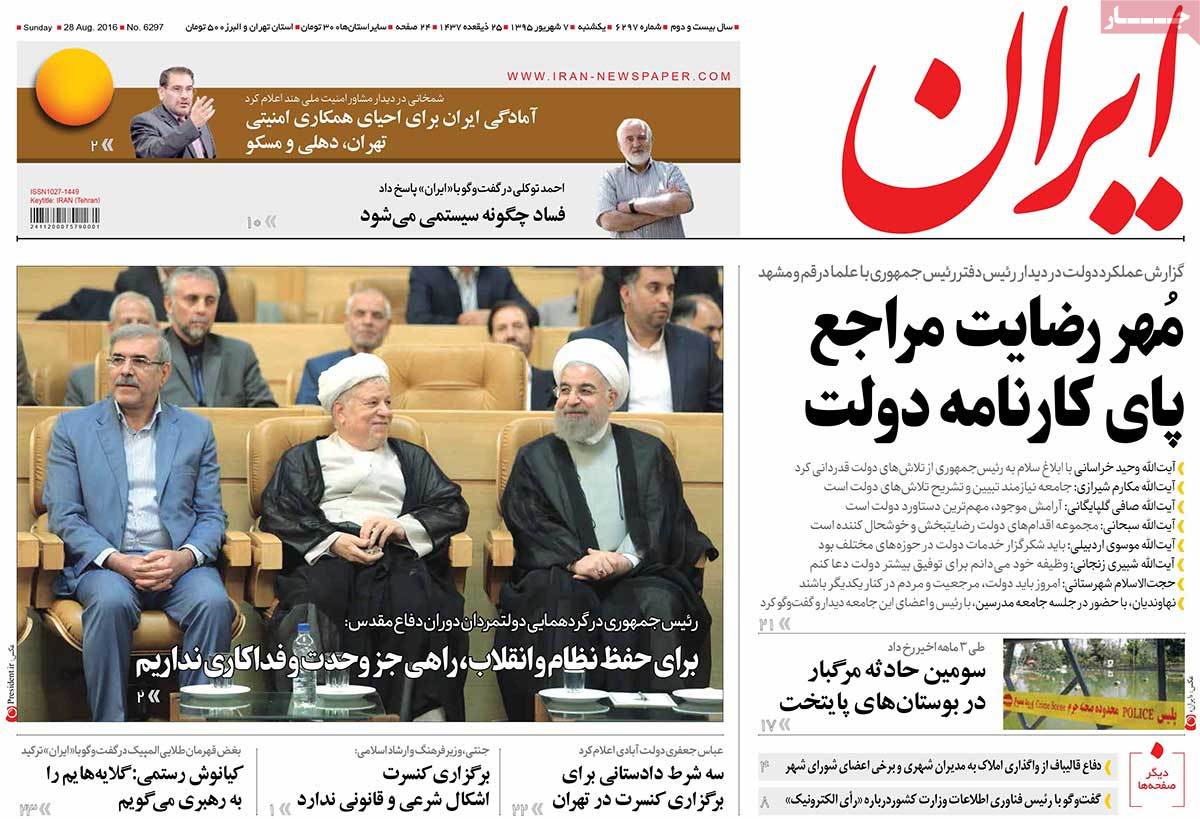 ---
Jame Jam:
1- Cultural Attack through Imported Stationary: Islamic-Iranian Stationary's Share in Market Is Just 10%
2- $8.5m Sale of Iranian Rugs in One Night
3- Saudi Arabia and US Shedding Crocodile Tears for Yemen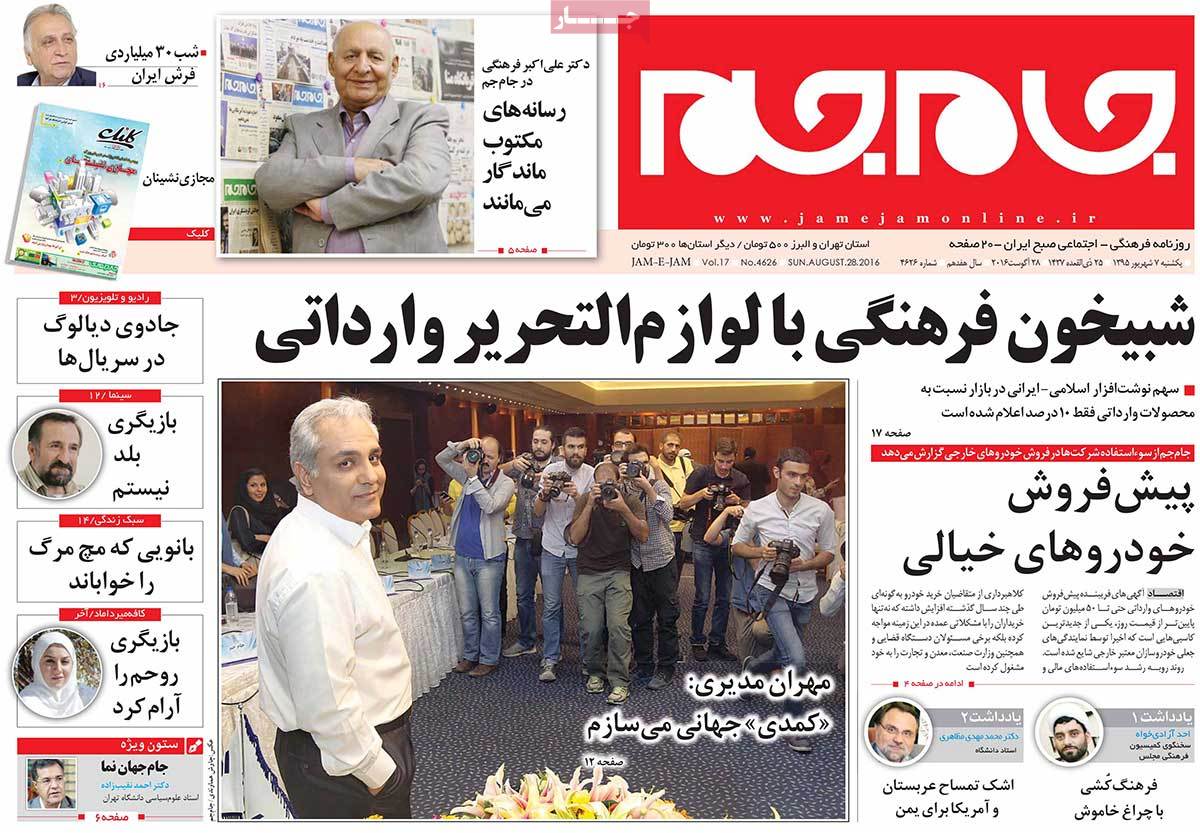 ---
Javan:
1- They Attack Ayatollah Jannati Because He's Influential: Cleric
2- No One Supports Iranian Stationary: Market Dominated by Foreign Products
3- US Kills 23 Afghans, Taliban Seizes Jani Khel
4- Fire in Petchem Complexes Had Nothing to Do with Cyber-Attacks: Official
---

Jomhouri Eslami:
1- Iran Swaps 120,000 bpd of Azerbaijan Republic's Oil
2- Agriculture, the Driving Force of Iran's Economic Growth
3- Iran Becomes Self-Sufficient in Wheat Production: Official
4- Rafsanjani: They Want to Take Revenge from Imam Khomeini's Outstanding Position in History by Attacking Him
5- ISIS Turns Mosul into a Huge Barracks ahead of Iraqi Army's Operation
---
Kayhan:
1- MI-6 and NATO Directly Managing Takfiri [Extremist] Media through Funding and Training
2- Shutting the Mouths of Critics: Last Prudence by Oil Ministry!
3- Iran Once Again Humiliates US in Persian Gulf
4- Trump Has Asked His Fans to Pour into Streets with Arms If He's Not Elected!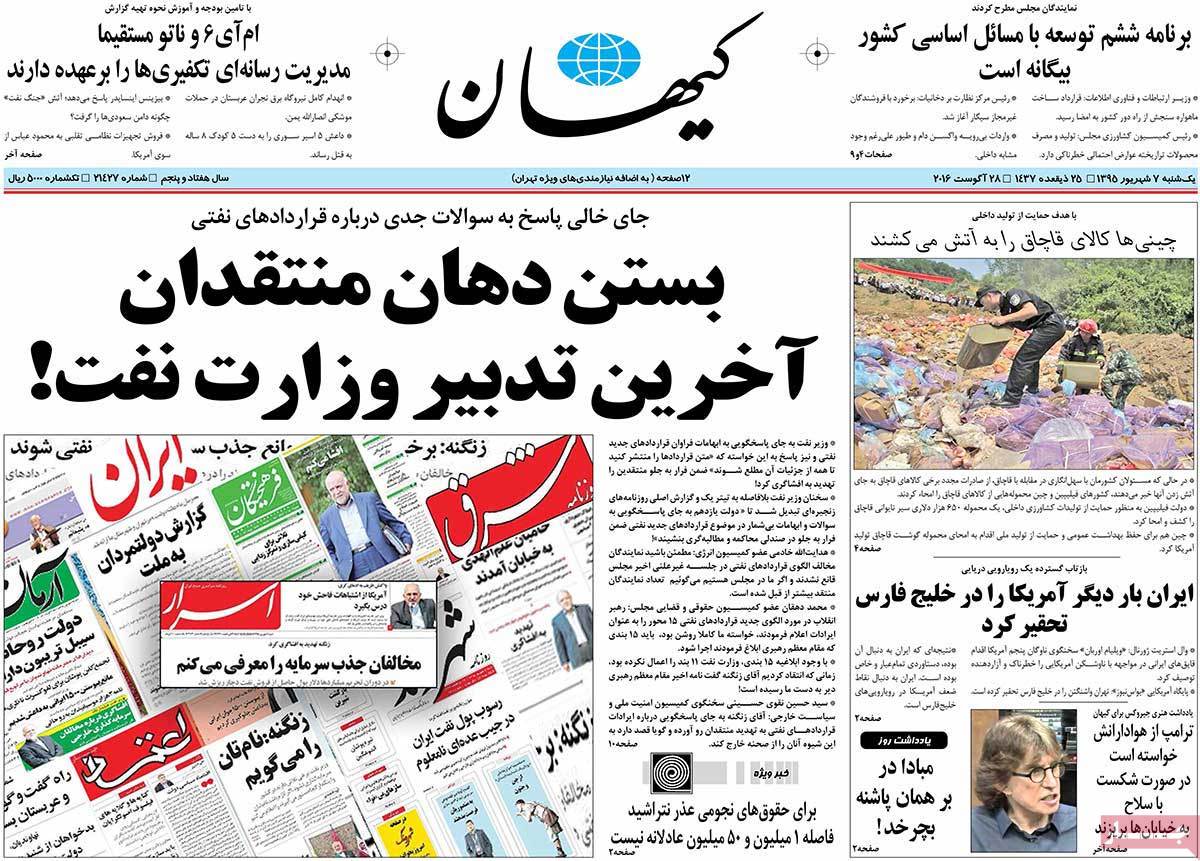 ---
Resalat:
1- Turkey's Invasion of Syrian Territory: Erdogan Should Learn from Recent Coup
2- Imam Khomeini Said Such Figures as Ayatollah Khamenei Are Available for His Succession: Rafsanjani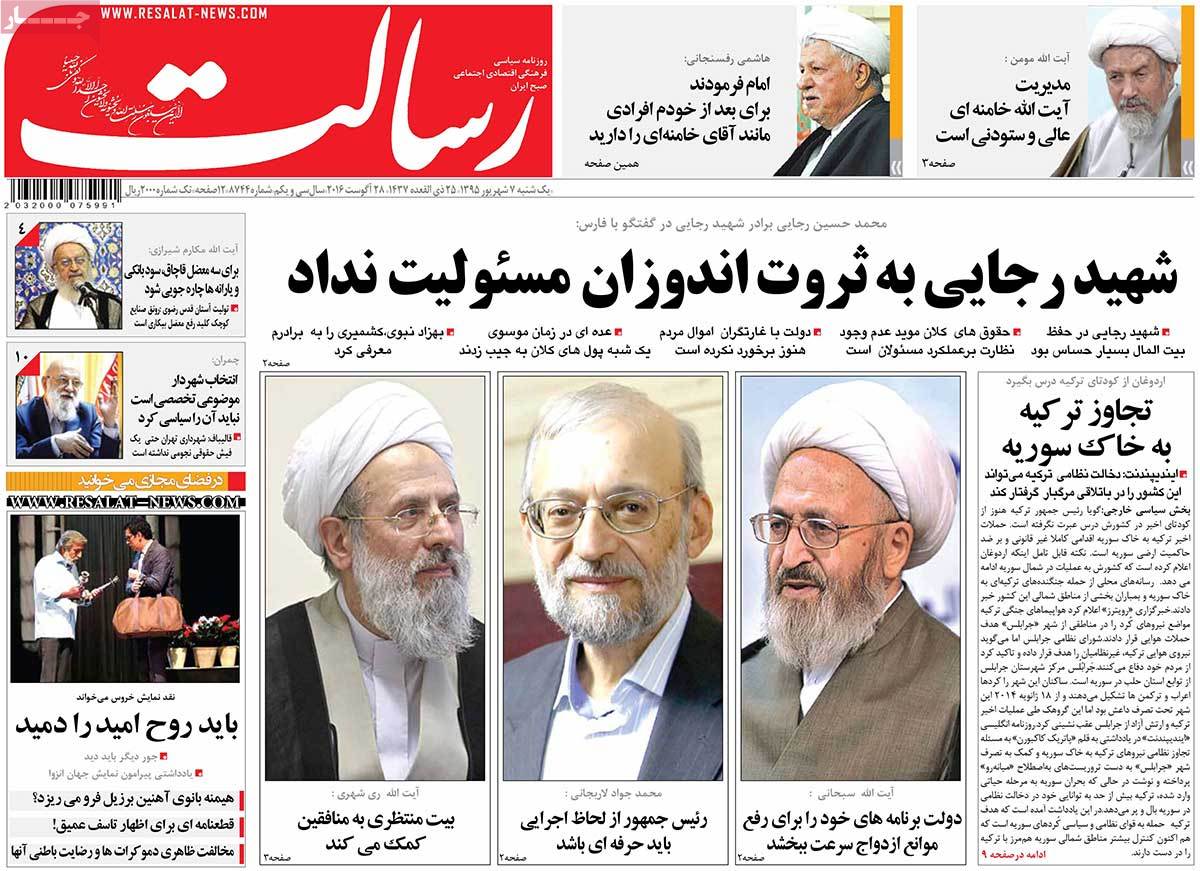 ---
Roozan:
1- Secret of Qalibaf [conservative Mayor of Tehran] and These 7 People: Violation of Law in Selling Municipality's Buildings to Particular People
2- Iran National Football Team to Resume Cooperation with Adidas after 40 Years: Deal with Givova Is Over
3- Hillary Clinton Starts Attacks on Trump to Reciprocate!
4- Cancelling Concerts Have More Harms than Benefits: Cleric
5- Russian-American Solution to Syria Crisis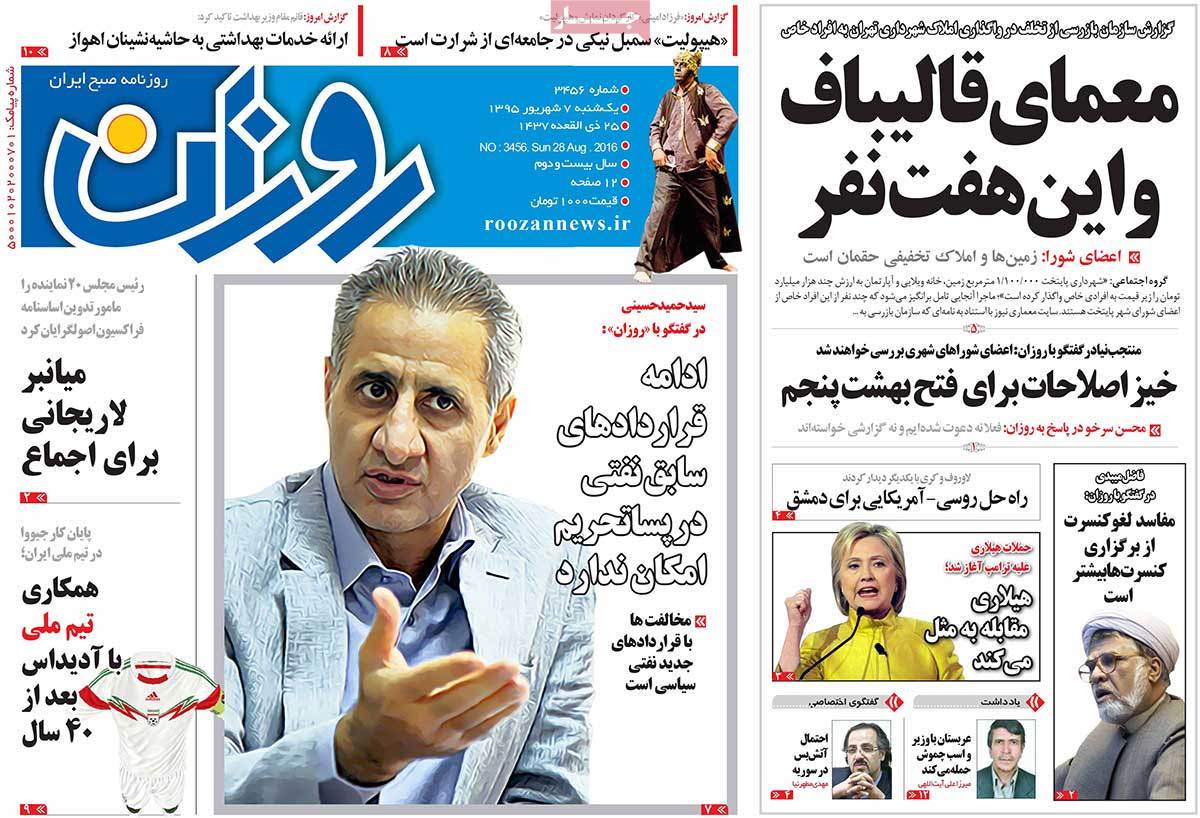 ---
Sepid:
1- Iran Has Had the World's Highest Growth in Life Expectancy: Official
2- Cultural Considerations Prevent 40% of Those with Urinary Disorders from Visiting Doctors
---
Shargh:
1- Children of Carnage: 5 Kids Execute Kurd Prisoners in Latest ISIS Video
2- Motahari Urge Justice Minister to Elaborate on 1988 Executions
3- Mayor of Tehran Defends His Sale of Municipality Assets: I Have Permission from City Council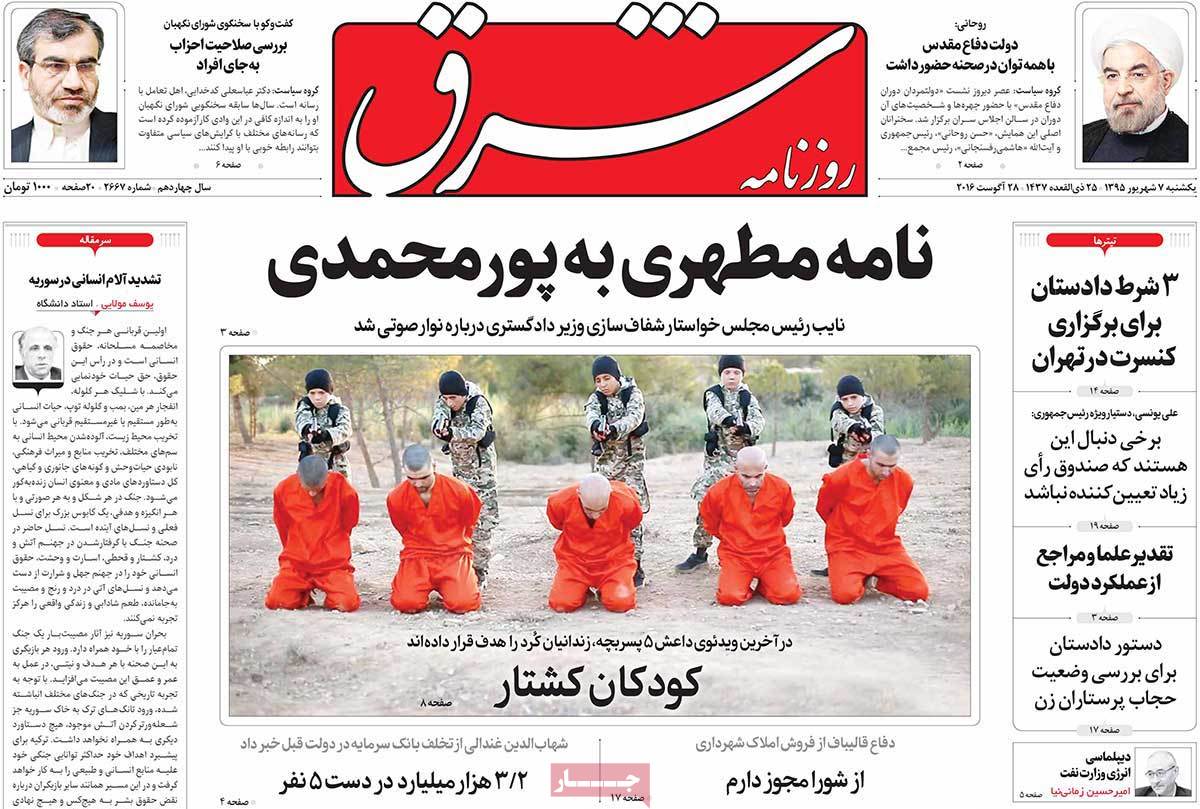 ---
Vaghaye Ettefaghieh:
1- We Shouldn't Be Afraid of Cooperation with Russia: President's Aide
2- Explosion of Wrath in Iraq: A Report on a Collapsed Society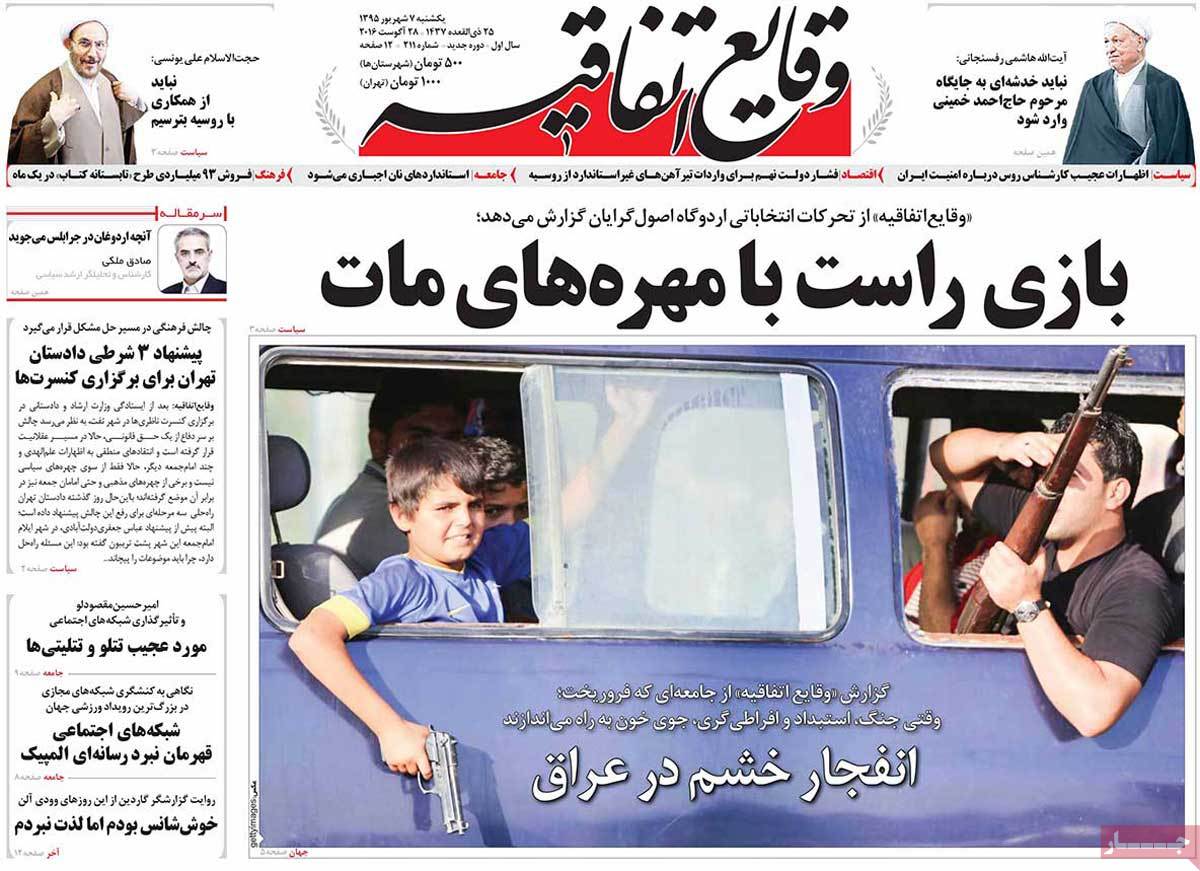 ---
Vatan-e Emrooz:
1- Rouhani's Aide: Today, Centrifuges Are Working and People Are Also on Welfare
2- Patient Killed in Hospital Fire
3- Darayya, Symbol of the Beginning and End of Syria War
4- Will Those Who Received Astronomical Salaries Be Punished?