IFP has taken a look at the front pages of Iranian newspapers on Monday, August 28, and picked headlines from 19 of them. IFP has simply translated the headlines and does not vouch for their accuracy.
Newspapers today widely covered the remarks made by Iranian President Hassan Rouhani in a visit to the mausoleum of Imam Khomeini, the founder of the Islamic Republic.
Another top story was the comments made by the head of Atomic Energy Organisation of Iran (AEOI) Ali Akbar Salehi about the possibility of a meeting between Iranian Foreign Minister Mohammad Javad Zarif and his counterparts from members of the P5+1 member states, including the US.
The above issues, as well as many more, are highlighted in the following headlines and top stories:
19 Dey:
1- Conservative Figure: We May Even Have to Change Our Name
---
Abrar:
1- Nuclear Chief: Zarif May Call for Ministerial Meeting of Iran, P5+1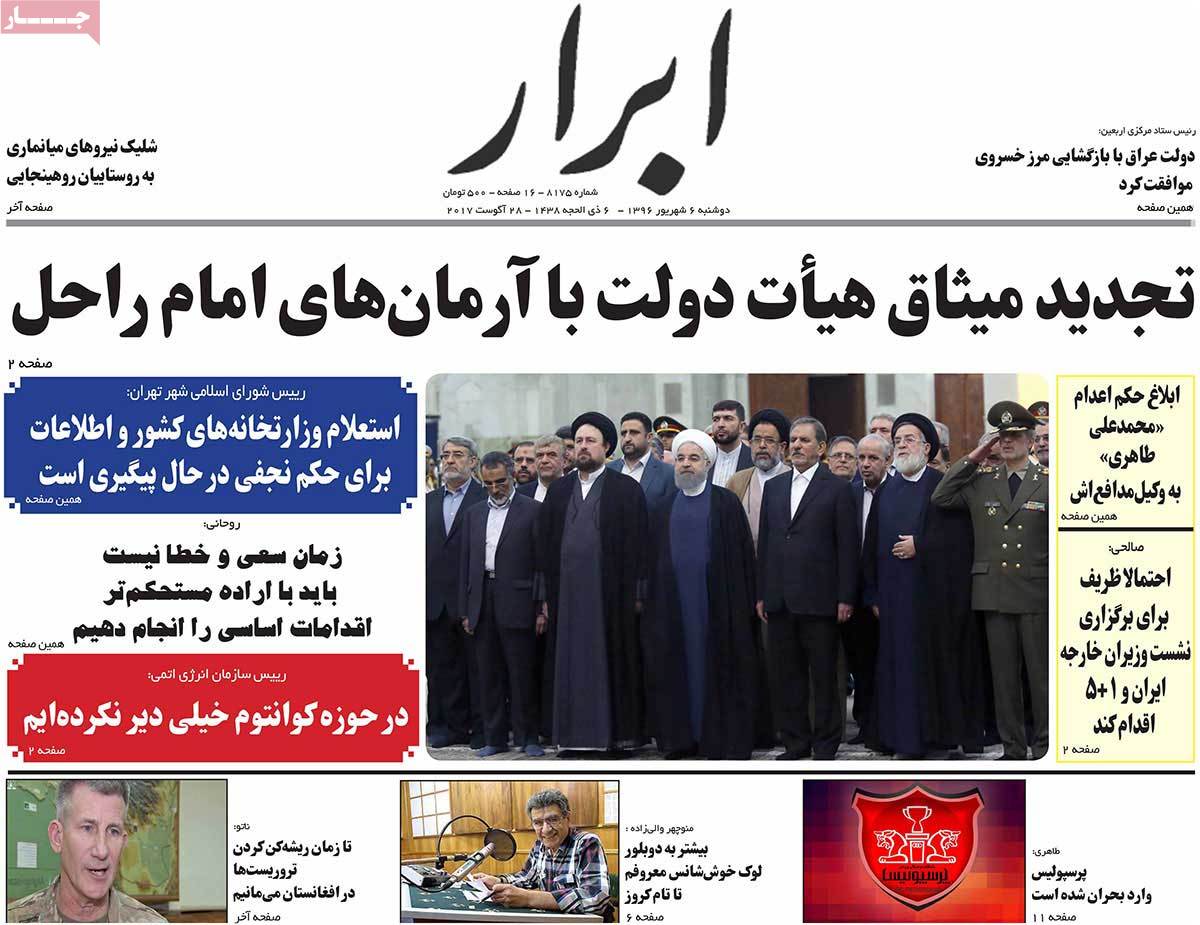 ---
Aftab-e Yazd:
1- Interior Minister: Security Cannot Be Ensured Using Stick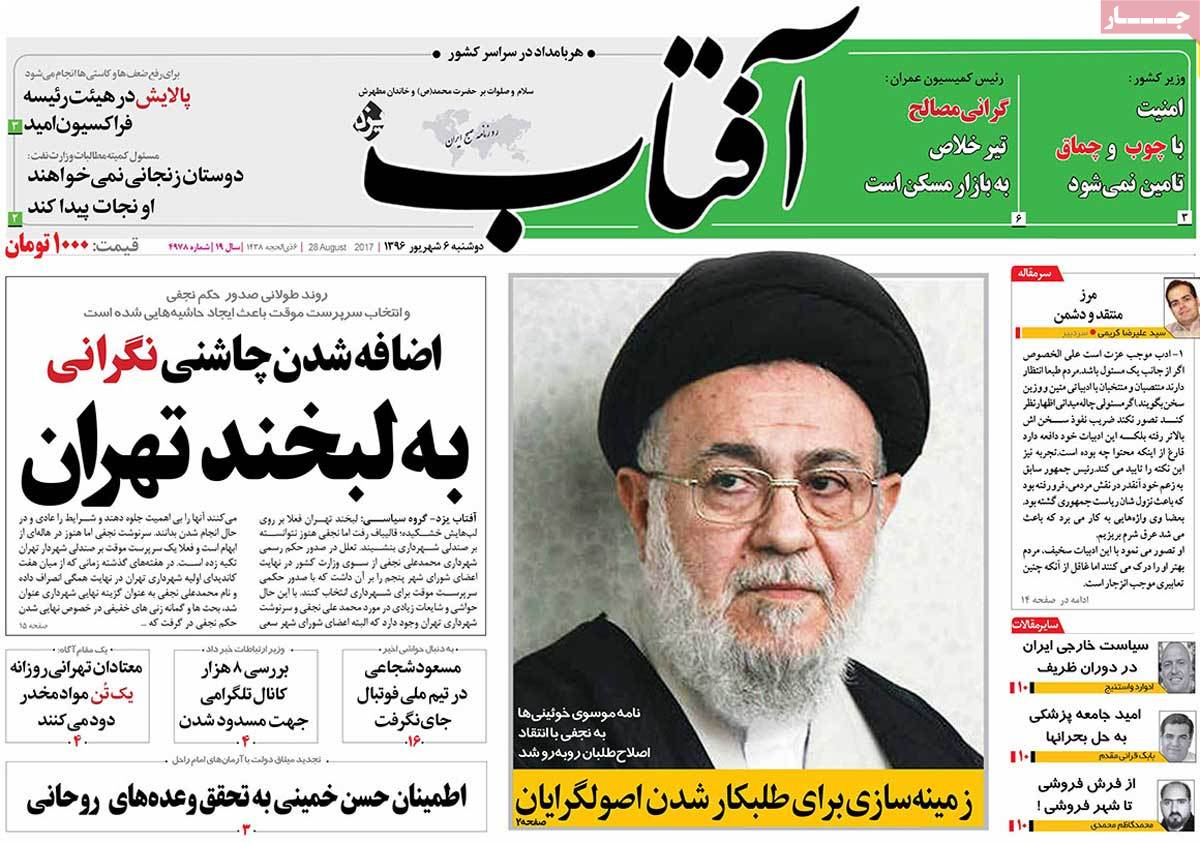 ---
Arman-e Emrooz:
1- ICT Minister's First Test: Judiciary Asks Ministry to Filter 8,000 Telegram Channels
---
Asrar:
1- Imam Khomeini's Grandson: Everyone Expecting Rouhani to Fulfil Campaign Promises
---
Donya-ye Eqtesad:
1- New US-Europe Era: Imminent End of America's Reputation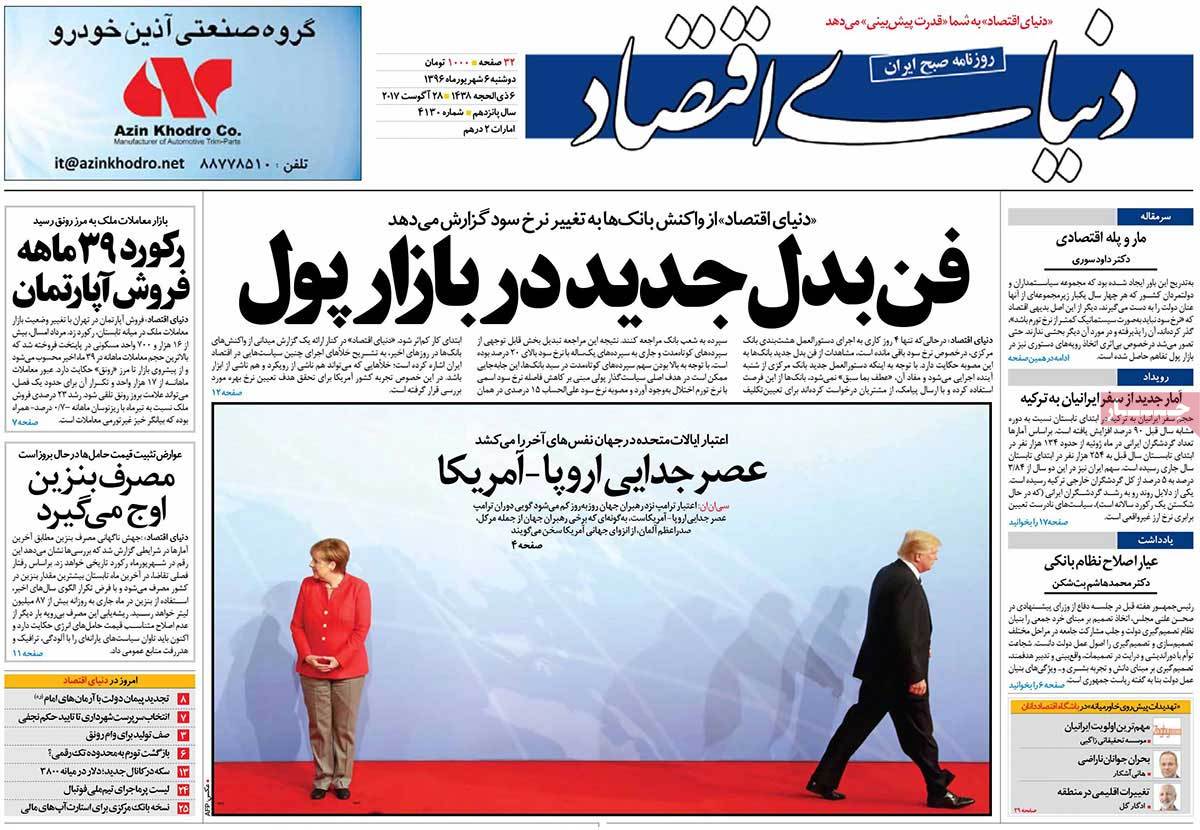 ---
Ebtekar:
1- Political Activists: Rouhani's Gov't under Scrutiny of 24m Voters
http://www.jaaar.com/assets/images/pishkhan/1396/6/6/82cec960.jpg
Emtiaz:
1- Child Labourers to Be Organized in Iran by Early September
---
Etemad:
1- Zarif, Tillerson May Meet for First Time in New York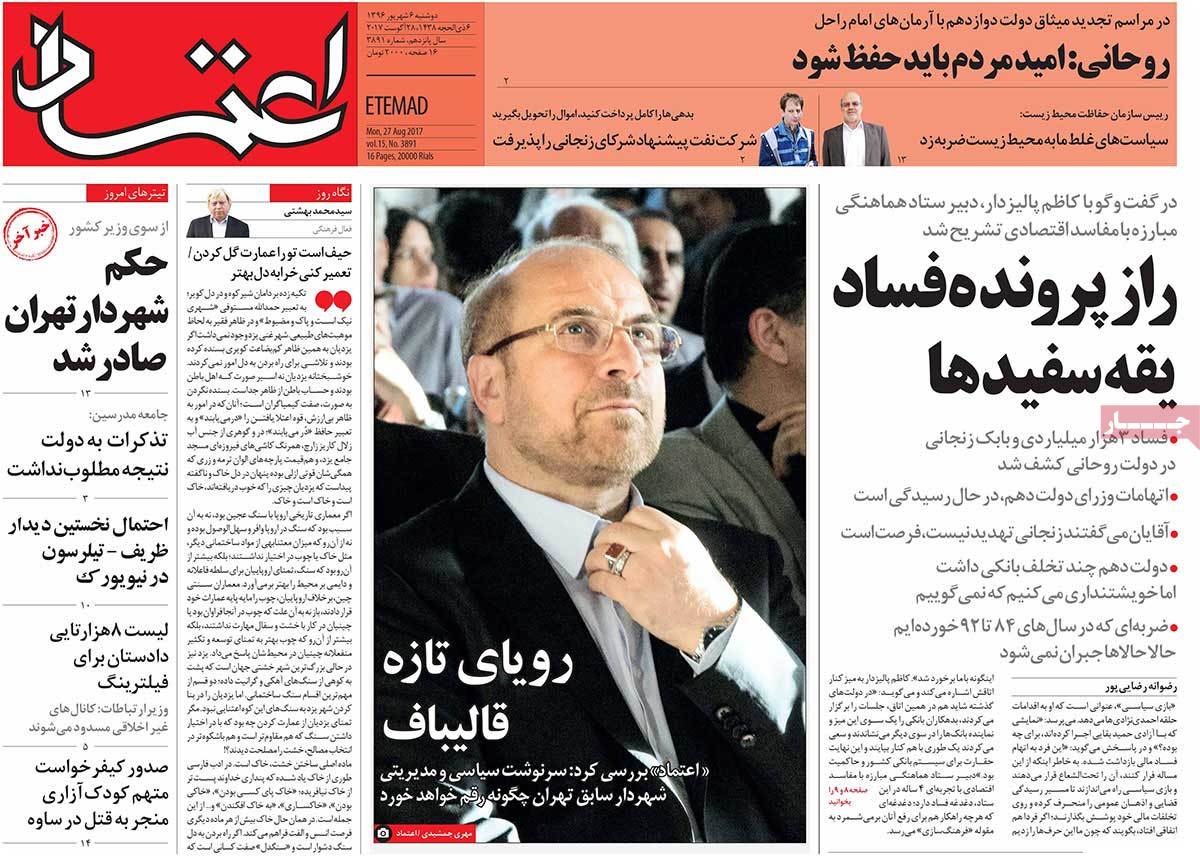 ---
Ettela'at:
1- Rouhani: Hope for Future, People's Trust in Establishment Should Be Maintained
2- Iran Nuclear Chief: US Looking for Spoiling Nuclear Deal
3- ISIS in Lebanon Surrenders to Hezbollah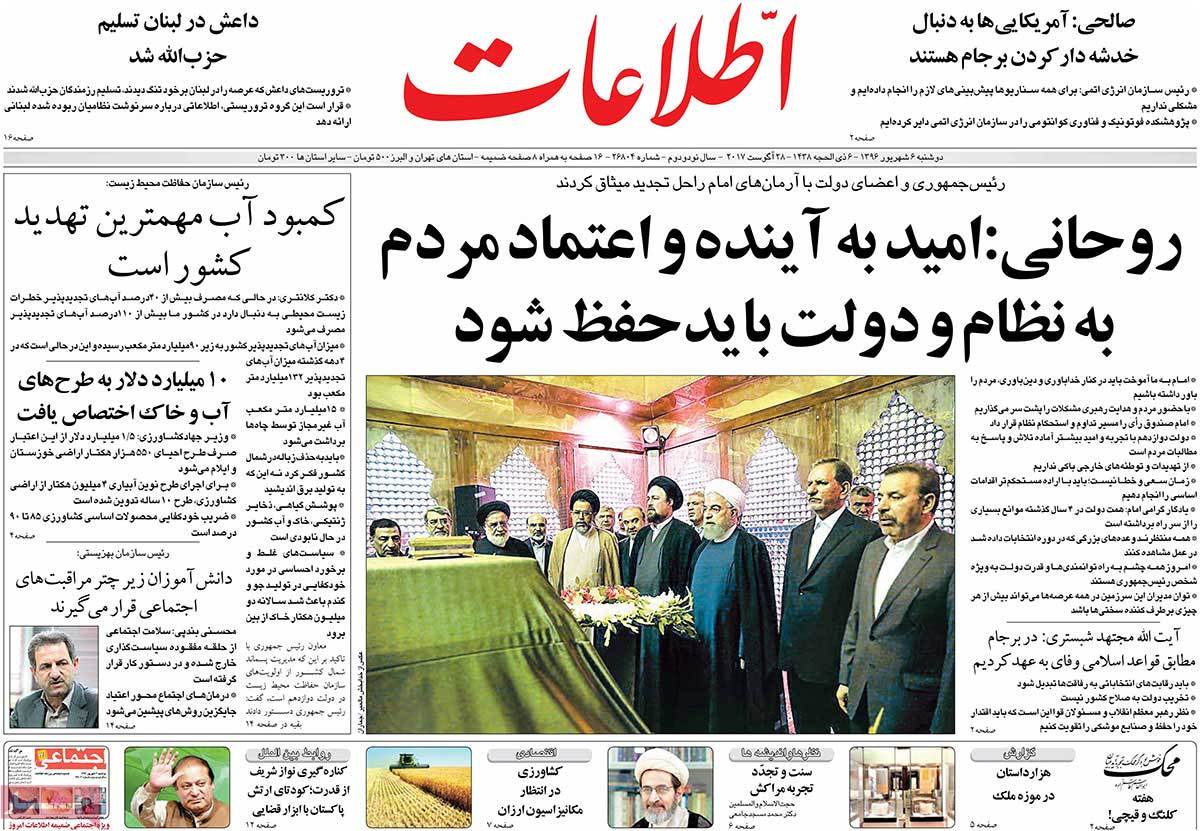 ---
Hemayat:
1- Victory of Iraqi Popular Forces in Tal Afar; ISIS Units Destroyed
---
Iran:
1- Rouhani: Imam Khomeini Believed Ballot Box Strengthens Establishment
2- Iranian Executive Managers to Become Younger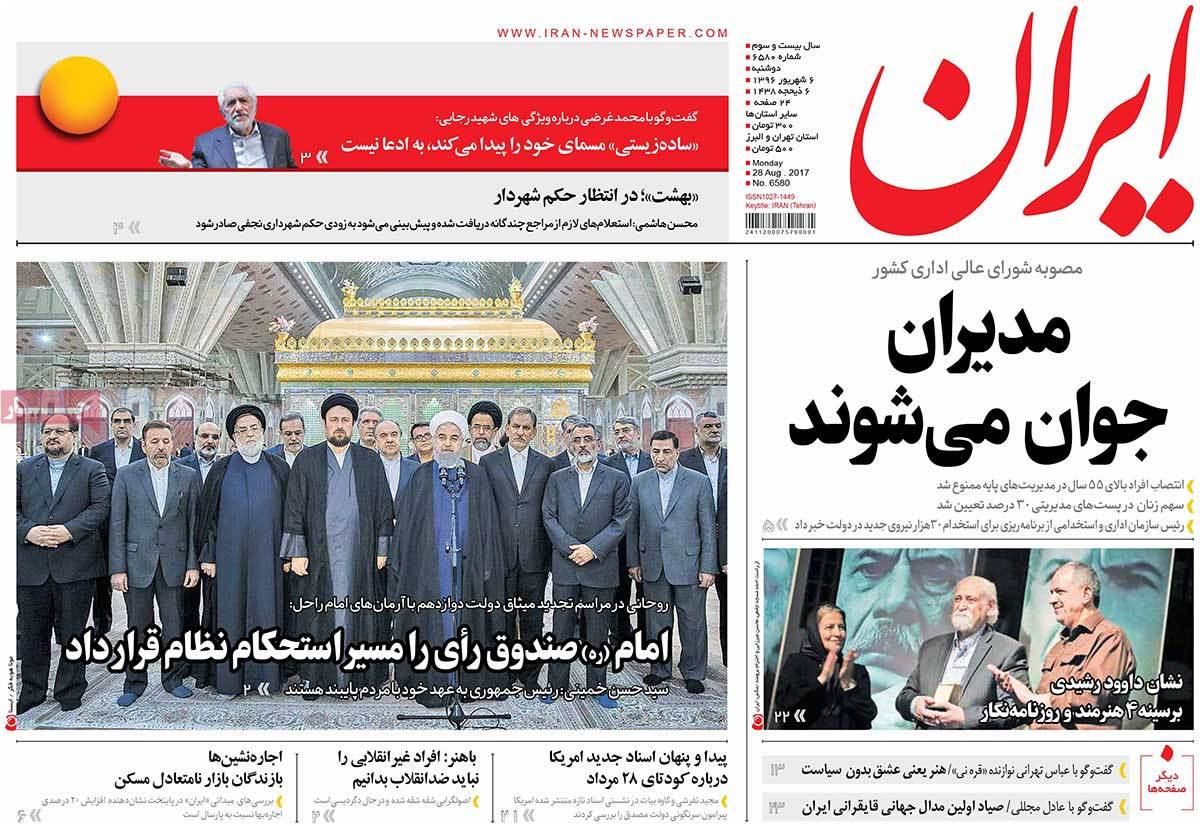 ---
Javan:
1- 10 Days of Civil Disobedience until Seizure of Washington
Anti-Racism Protesters Start Demonstrations in Charlottesville to Impeach Trump
2- End of ISIS in Iraq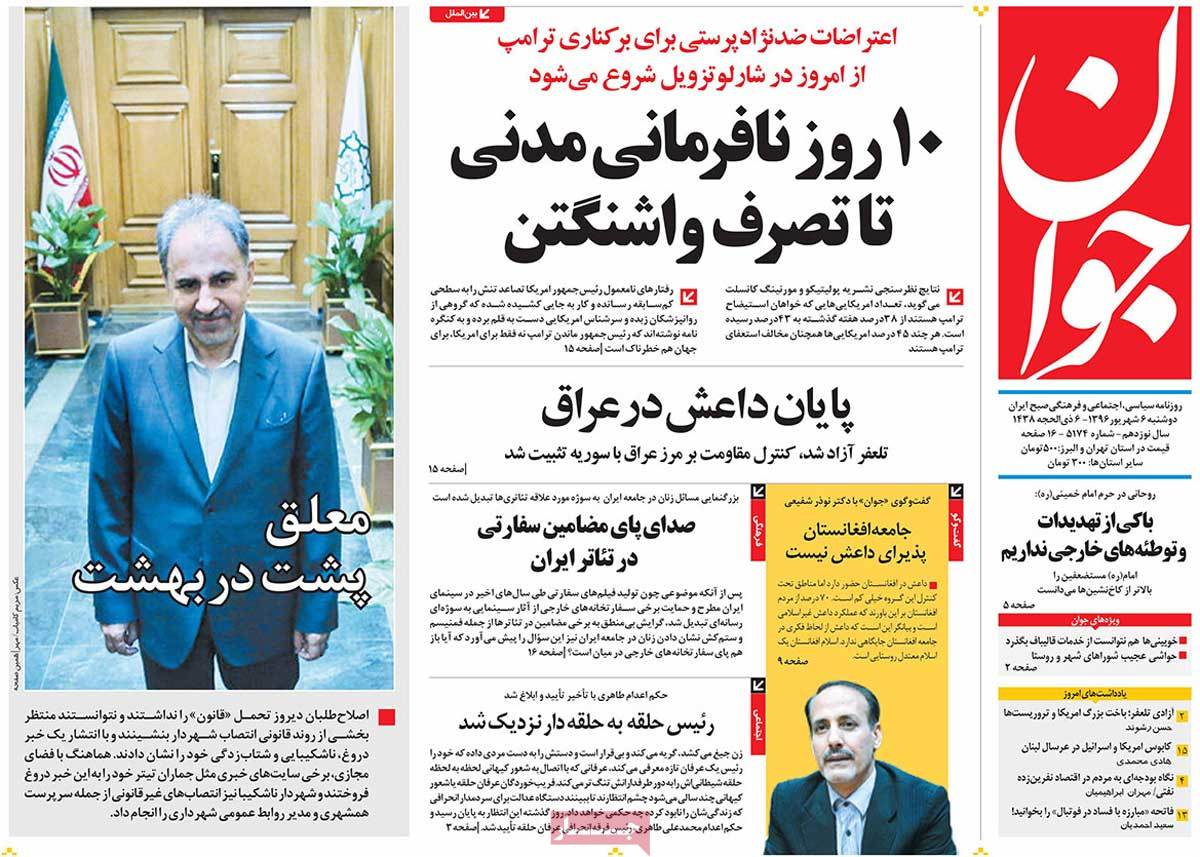 ---
Jomhouri Eslami:
1- Beginning of Civil Disobedience March against Trump in US
10-Day March to Impeach Trump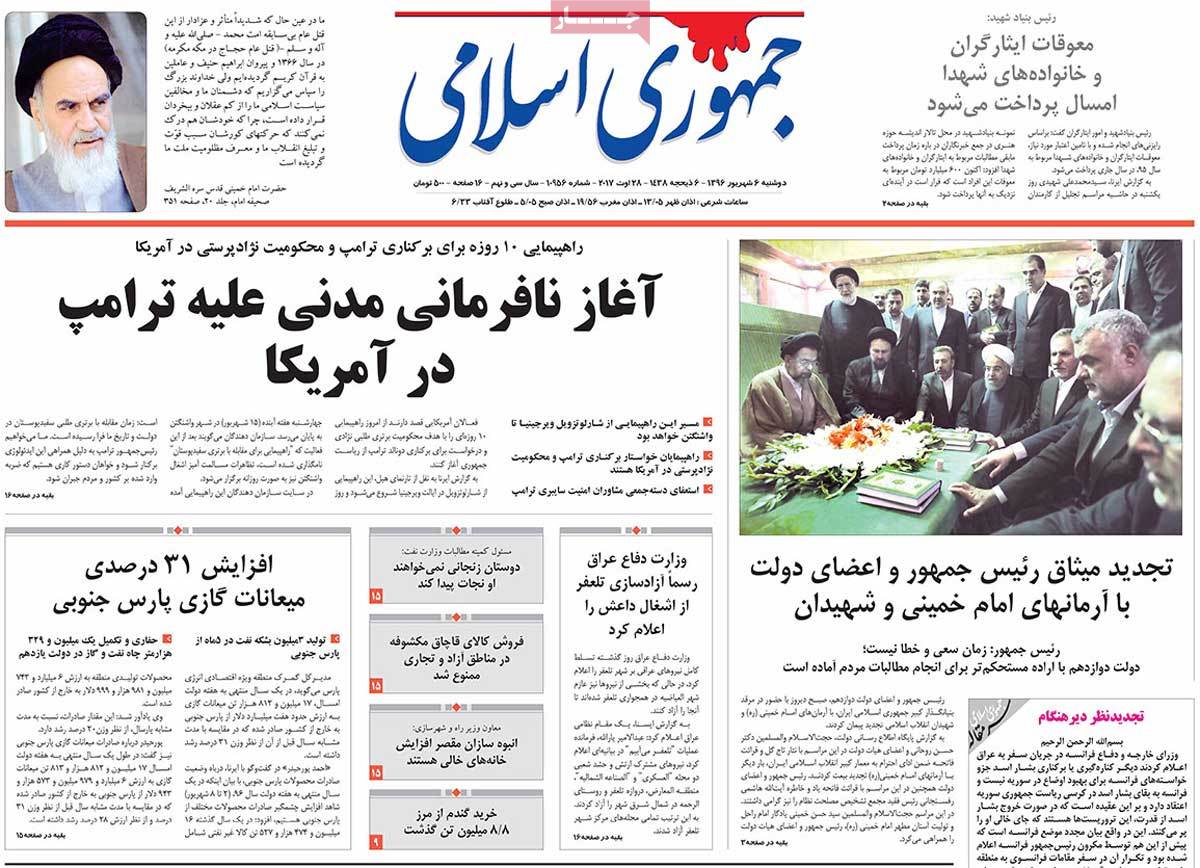 ---
Kayhan:
1- People Expect Government to Get Statistics Closer to People's Real Lives
2- Aftershocks of Resistance Victories in Syria: Syrian Dissidents Seek Asylum in Israel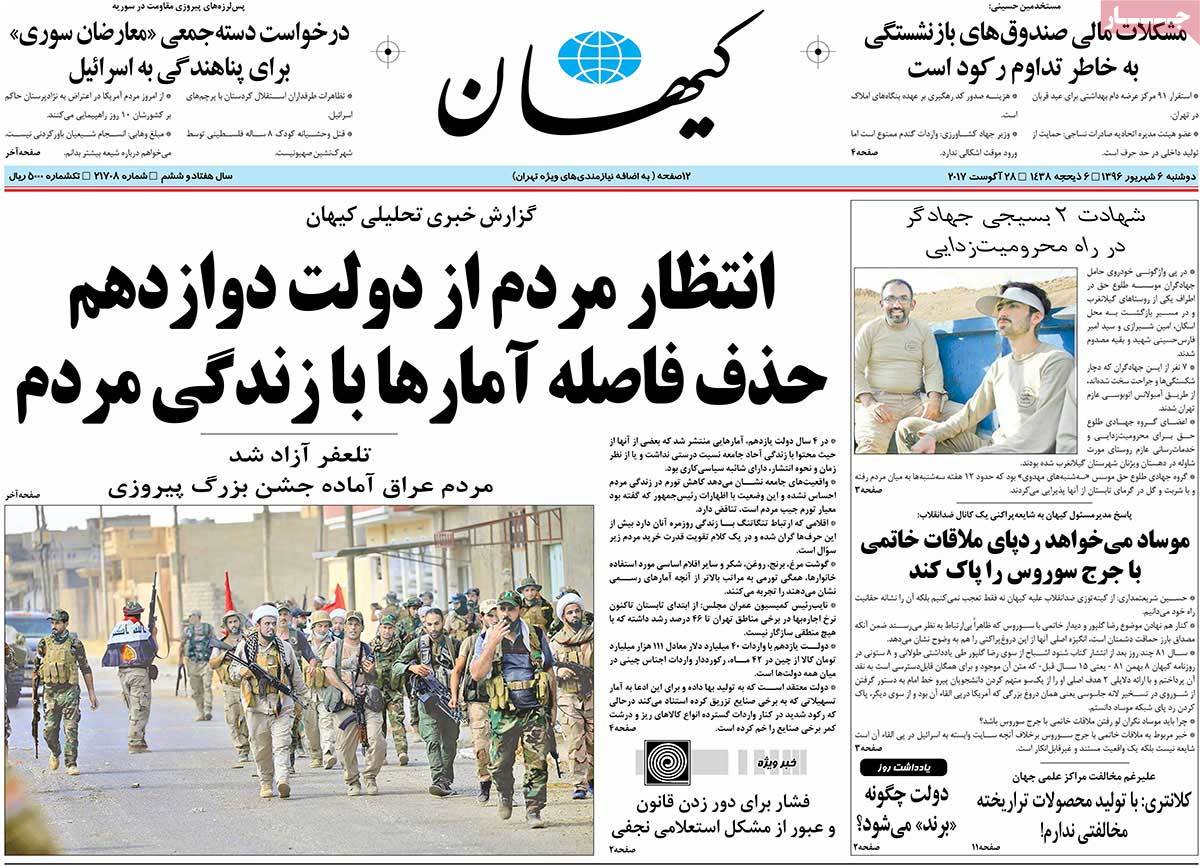 ---
Setareh Sobh:
1- Analyst: Finance Is Iran's Win-Win Game with South Korea
2- Issue of Kurds Serious to Turkey: Analyst
---
Shahrvand:
1- Iran One Step Close to Vice-Presidency of Red Cross, Red Crescent in Asia-Pacific
---
Shargh:
1- Iran Claims World Title in U-19 Volleyball Championship
2- Why Turkey Is Building War in Iran Front [Editorial]
---
Siasat-e Rooz:
1- Return of Tal Afar to United Iraq
2- Rouhani: We're Not Afraid of Foreign Threats