The majority of newspapers on Thursday covered the remarks made by the Leader of the Islamic Revolution Ayatollah Seyyed Ali Khamenei in a meeting with President Hassan Rouhani and his cabinet members. Almost all reformist newspapers, and even a moderate one Ettela'at, dedicated their headline to the Leader's comments against oppression and dogmatism in the field of culture, which seemed to be in reaction to the recent cancellation of concerts in Mashhad, northeastern Iran. However, conservative media covered the priorities outlined by the Leader for Rouhani's government, particularly the advice on refraining from getting involved in electoral campaigns for next year's presidential elections.
The papers also highlighted the green light given by the Parliament to the government for receiving a $5bn loan from Russia.
The 3 oil tankers missing in the time of ex-President Mahmoud Ahmadinejad also received great criticisms, especially by reformist media outlets.
Turkey's recent moves and operations inside the Syrian territory is also a top story today.
The above issues as well as many more are covered in the following headlines:
Abrar:
1- Russian Official: Russia May Restart Its Use of Hamadan Base in Iran to Fight Terrorists
2- Turkey's Tanks Enter Syria for Fight against ISIS
3- Zarif Meets Nicaraguan President Ortega
---
Abrar-e Eqtesadi:
1- Iran's Accession to AIIB [Asian Infrastructure Investment Bank] Approved
2- Government to Receive Up to $5bn Loan from Russia
3- Afghanistan's Export of Iran's Saffron!
4- Iran May Participate in Oil Freeze Summit
5- First Iran Oil Contracts to Be Signed in Second Half of 2017
6- Talks with 4 New Countries for Export of Iran's Natural Gas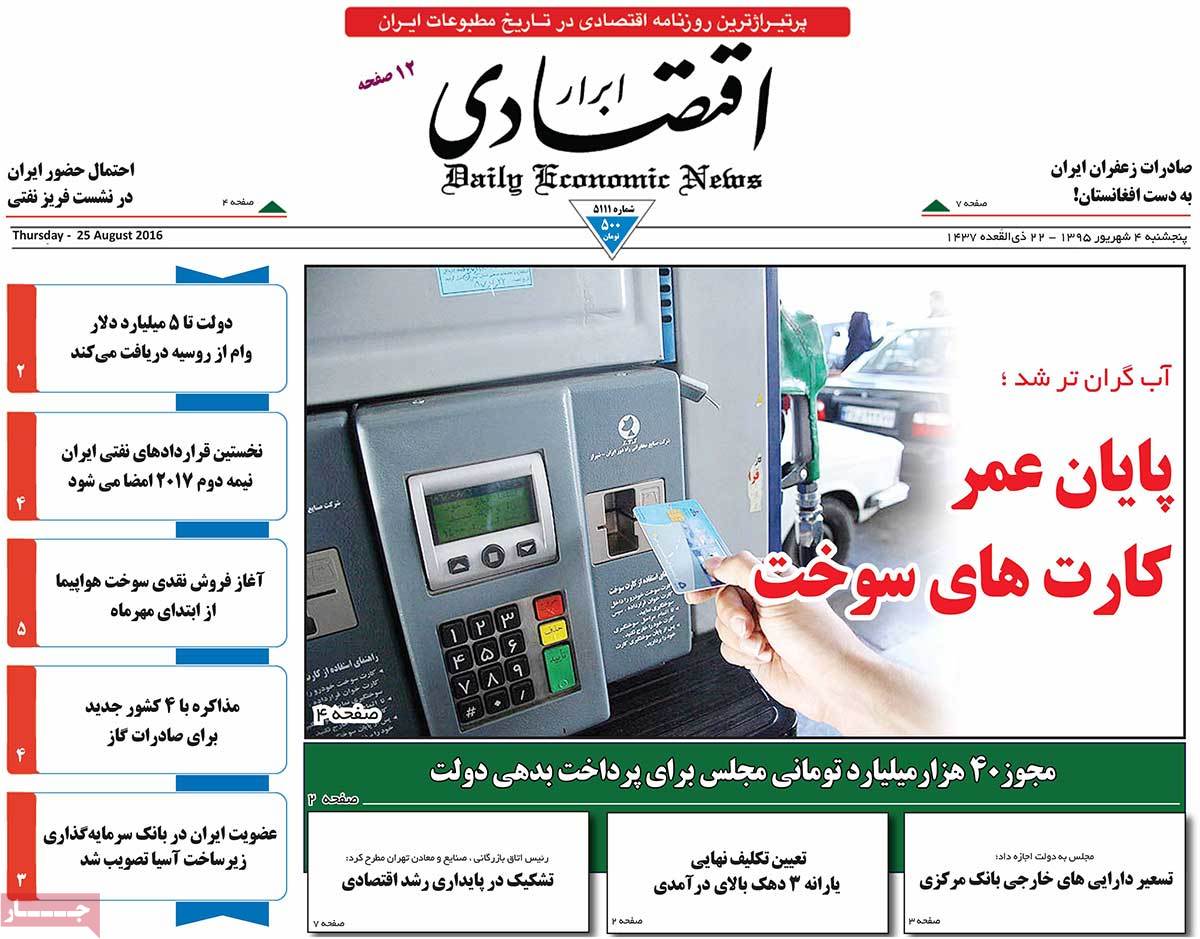 ---
Aftab-e Yazd:
1- Leader: I'm Not Interested in Dogmatism, Pressure, and Oppression in the Field of Culturex
2- Details of $5bn Loan Iran Is Going to Receive from Russia: Continued Give and Take between Tehran and Moscow
3- 'Weird' Narcotics En Route to Iran
4- Finding Spies among Iran's Nuclear Negotiating Team: Second Scenario by Gov't Opponents
5- Another Corruption in Ahmadinejad's Term: 3 Oil Tankers Missing!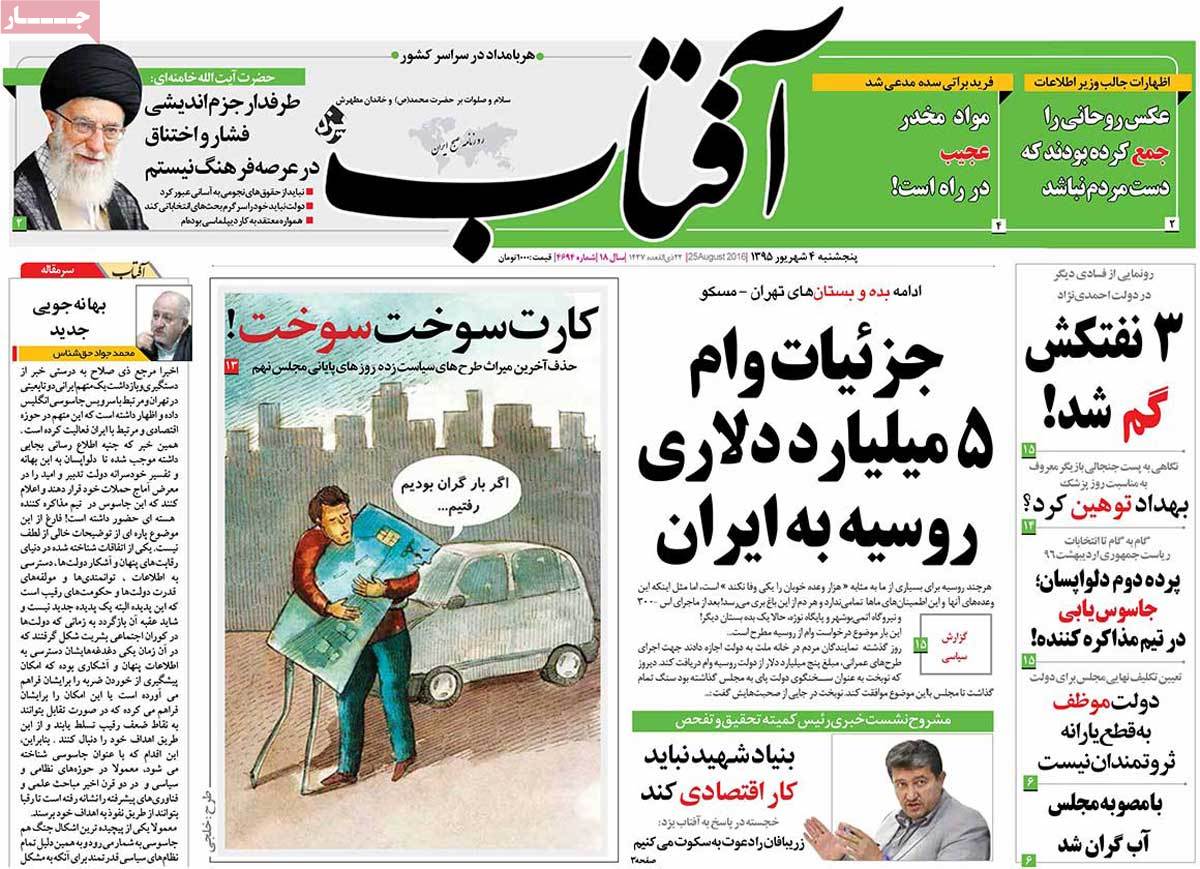 ---
Amin:
1- $30m Lost in Time of Anti-Iran Sanctions
2- Story of Concessions Iran Received from US
3- Any Candidate Is Better than Rouhani: New Strategy Adopted by Conservatives
4- Russia's Wishful Thinking about Having a Permanent Base in Iran: Russian Newspapers
5- Why Iran's Marathon Runner Crossed Finish Line on Hands and Feet?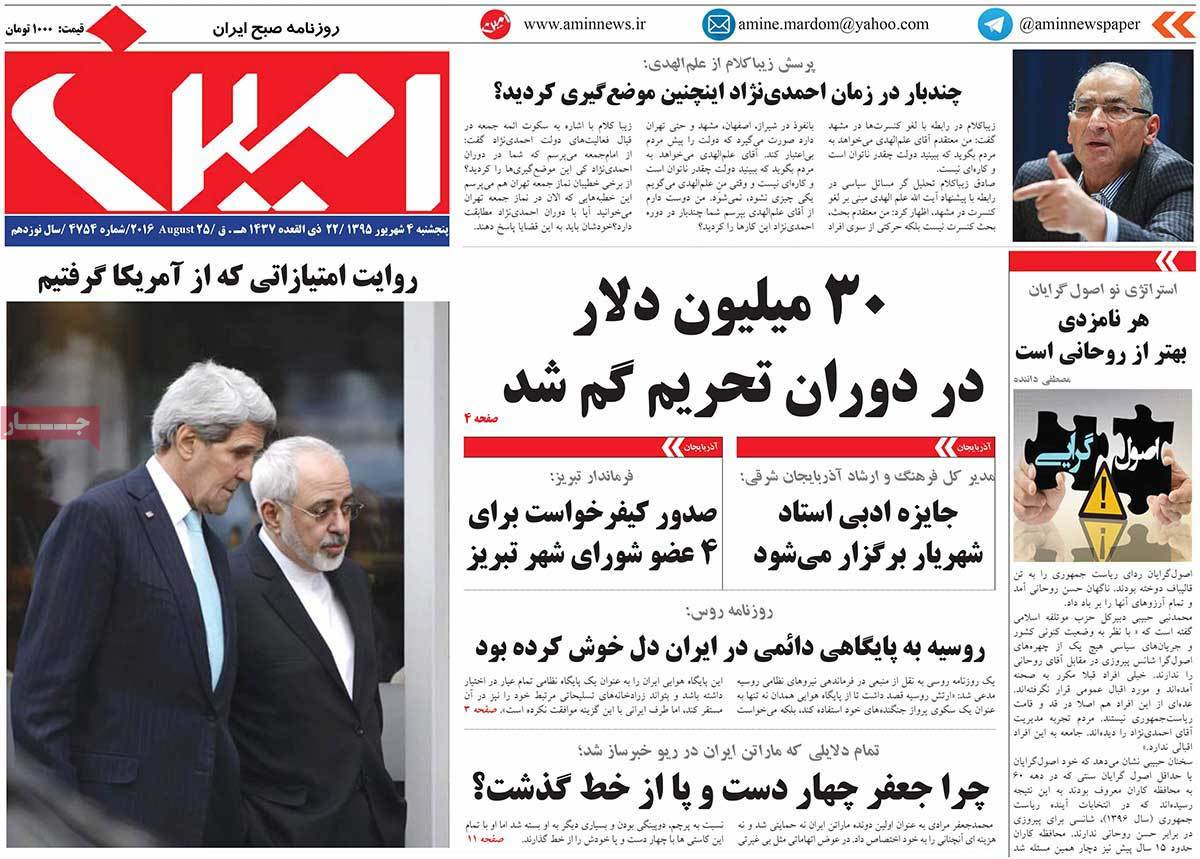 ---
Arman-e Emrooz:
1- Leader Urges Gov't to Stay Away from Electoral Debates and Stick to Country's Affairs
2- After Oil Rigs, Now It's Time for Tankers: Speculations about 3 Missing Oil Tankers
3- Senior Cleric Ayatollah Sobhani: We Can't Force Everyone to Wear Chador
4- Women Are Easily Fired: MP
---
Asrar:
1- We're Grateful for Efforts Made by Members of Our Negotiating Team: Leader
2- Rouhani: Stability and Economic Calm Are Most Important Achievements of Gov't
3- Without JCPOA, Iran's Progress Was Not Possible: Senior Conservative Bahonar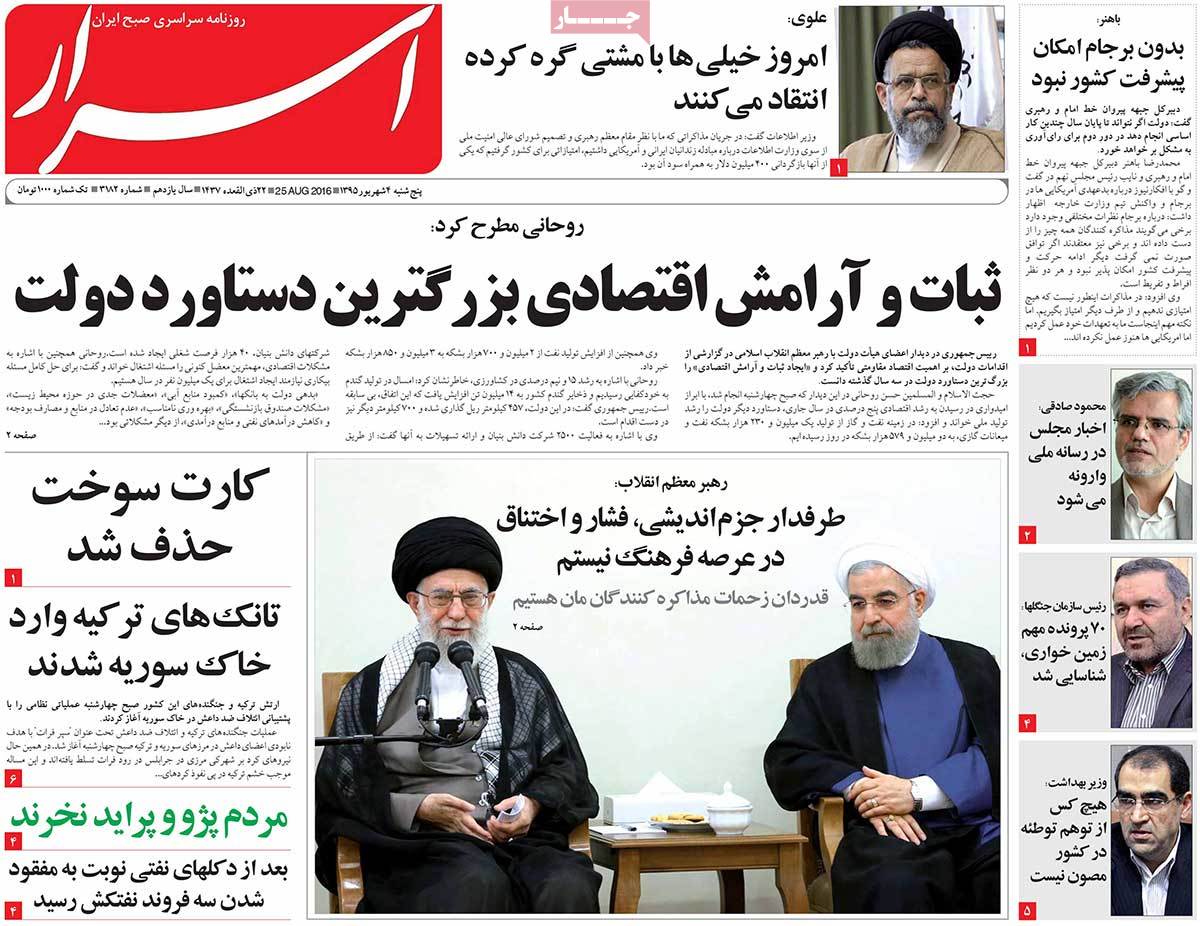 ---
Besharat-e Now:
1- Turkey's Water Conflict with Kurds and the Harms It Has for Iran
2- Over $48,000 per Minute for Making a 7-Minute Video-Clip
3- Tourism Income, a Substitute for Oil
4- IRIB Is Censuring Some MPs' Remarks
---
Ebtekar:
1- 3 Oil Tankers and Their Oil Gone Missing: Last Heritage of Ahmadinejad Gov't
2- Is Calligraphy Being Forgotten with Advent of Keyboards?
3- Intelligence Minister: Government Would Kiss the Lips of Its Critics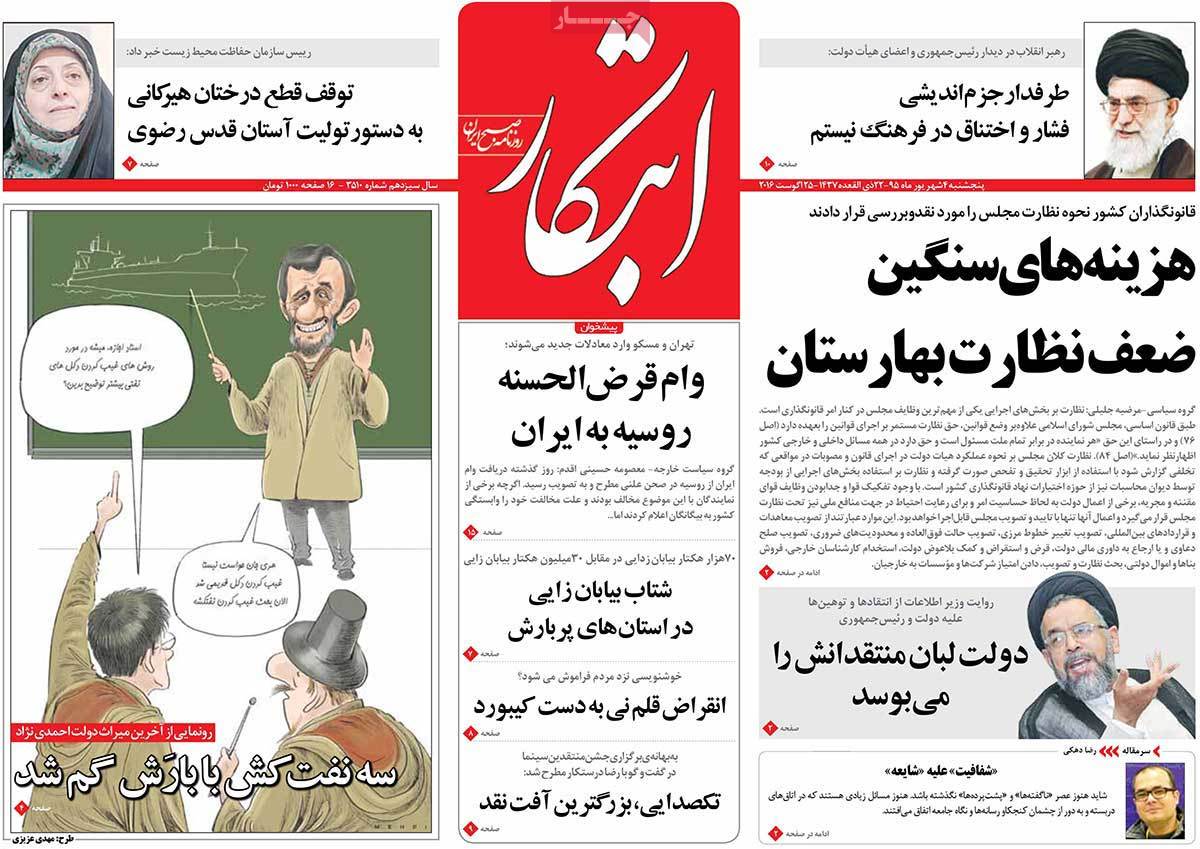 ---
Emtiaz:
1- Increase in Number of Female University Students Addicted to Psychedelics
2- Parliament Approves Government's Bill on Increase of Water Price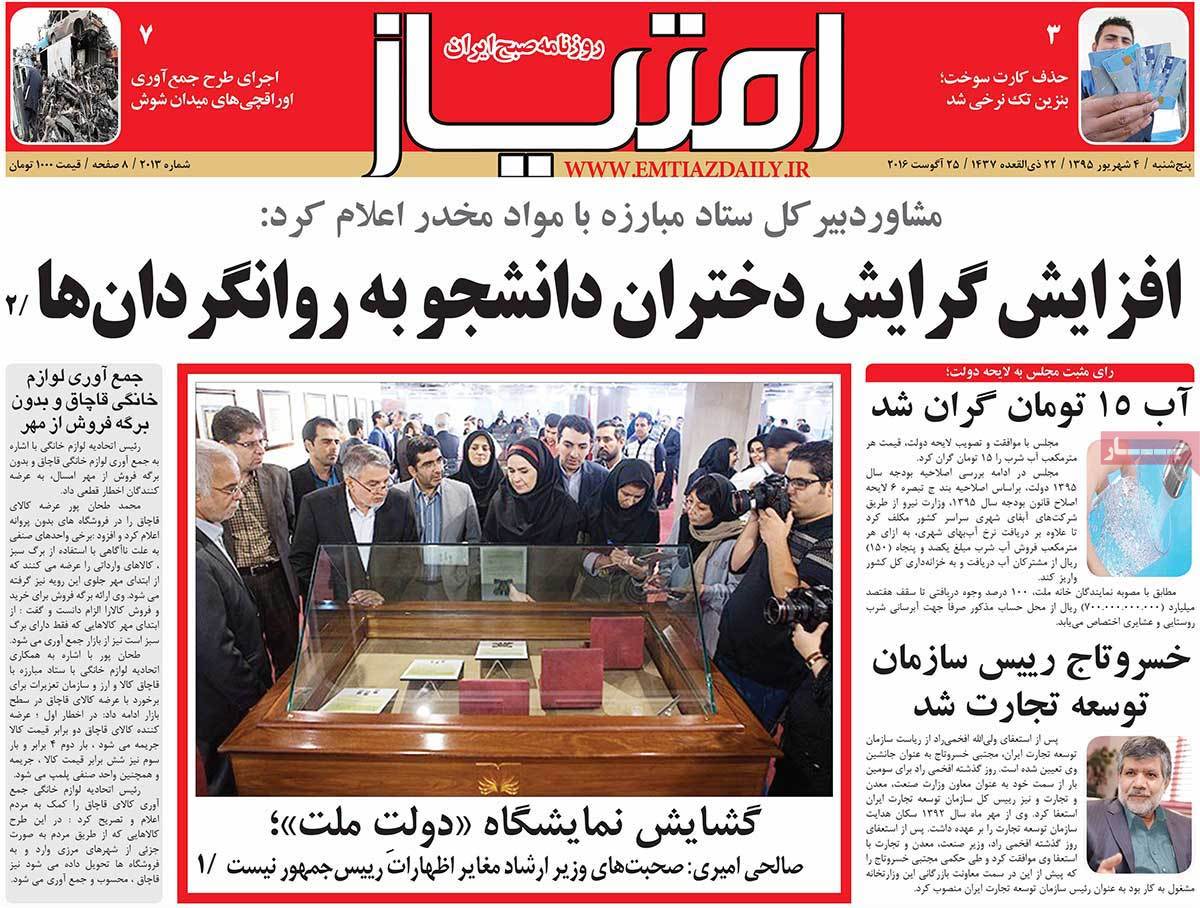 ---
Etemad:
1- We've Come to Strengthen Political Commonalities through Economic Cooperation: Zarif in Ecuador
2- Daily Lives of a Butler and a Ranger in Social Media
3- More than 120 Killed in Italy's Earthquake: Quake in a City Which Is No Longer There
4- Ankara's All-Out Entry to Syrian Territory: US and Turkey Carry Out Joint Operation
---
Ettela'at:
1- I Deeply Believe in Thinking Freely: Leader
2- Saudi Troopers Run Away after Yemen's Progress in Najran
3- $3.1bn Spent on Fast Food in Iran Each Year
4- People Should Feel the Improvement in Their Livelihood: Clerics to ICT Minister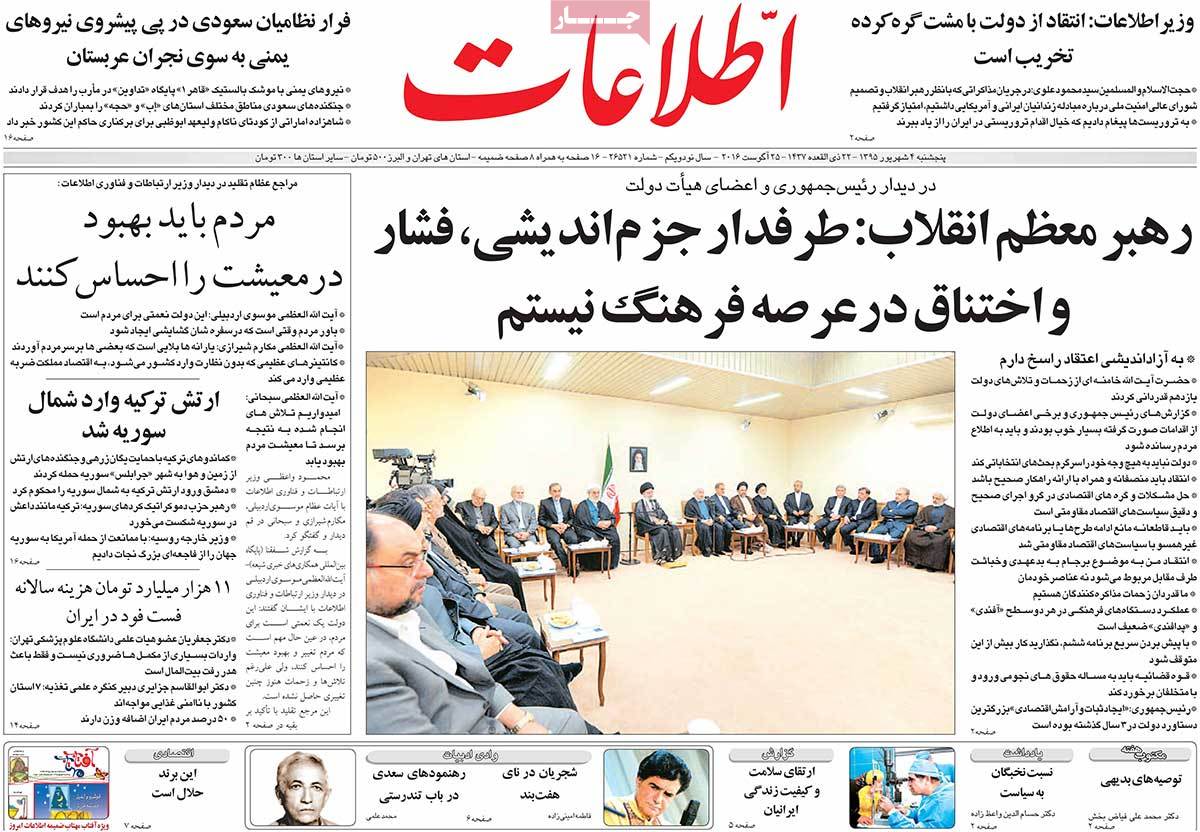 ---
Haft-e Sobh:
1- All the Fuss Made by Underground Musicians: Prosecution of Underground [R&B] Singer; One Decade of Iranian Culture's Confrontation with Illegal Phenomena
2- 82-Year-Old Stars: Ayatollah Hashemi Rafsanjani and [famous actor] Ali Nasirian Both Are 82, and Both Are Still Influential, One in Politics and One in Cinema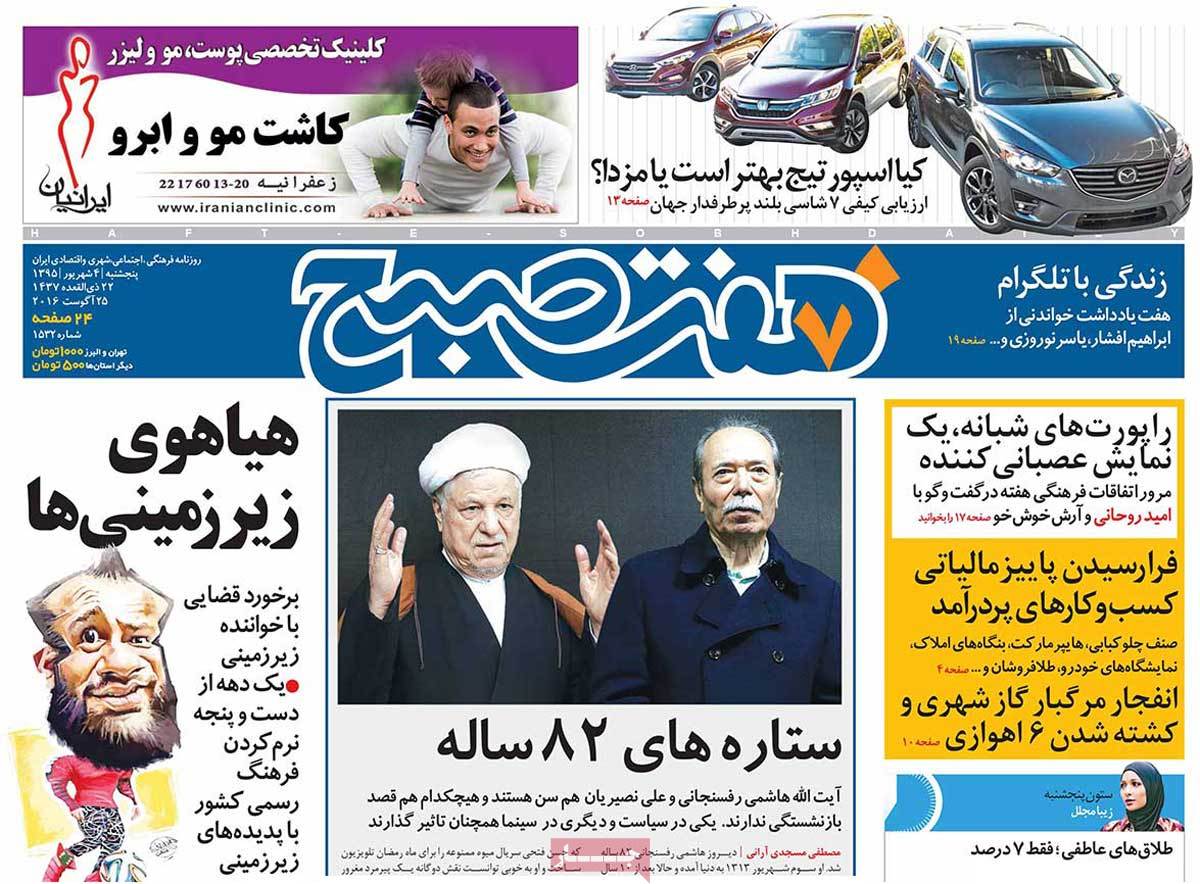 ---
Hamshahri:
1- Two Deadly Quakes in Europe and Asia
2- Football Match between La Liga Legends Team and Iran All-Stars [football veterans]
---
Iran:
1- People and Their Trust and Hope Are the Main Capital: Leader
2- No City Is Left Here: Heavy Earthquake in Italy
3- Root Causes of 3-Year Stability in Foreign Exchange Market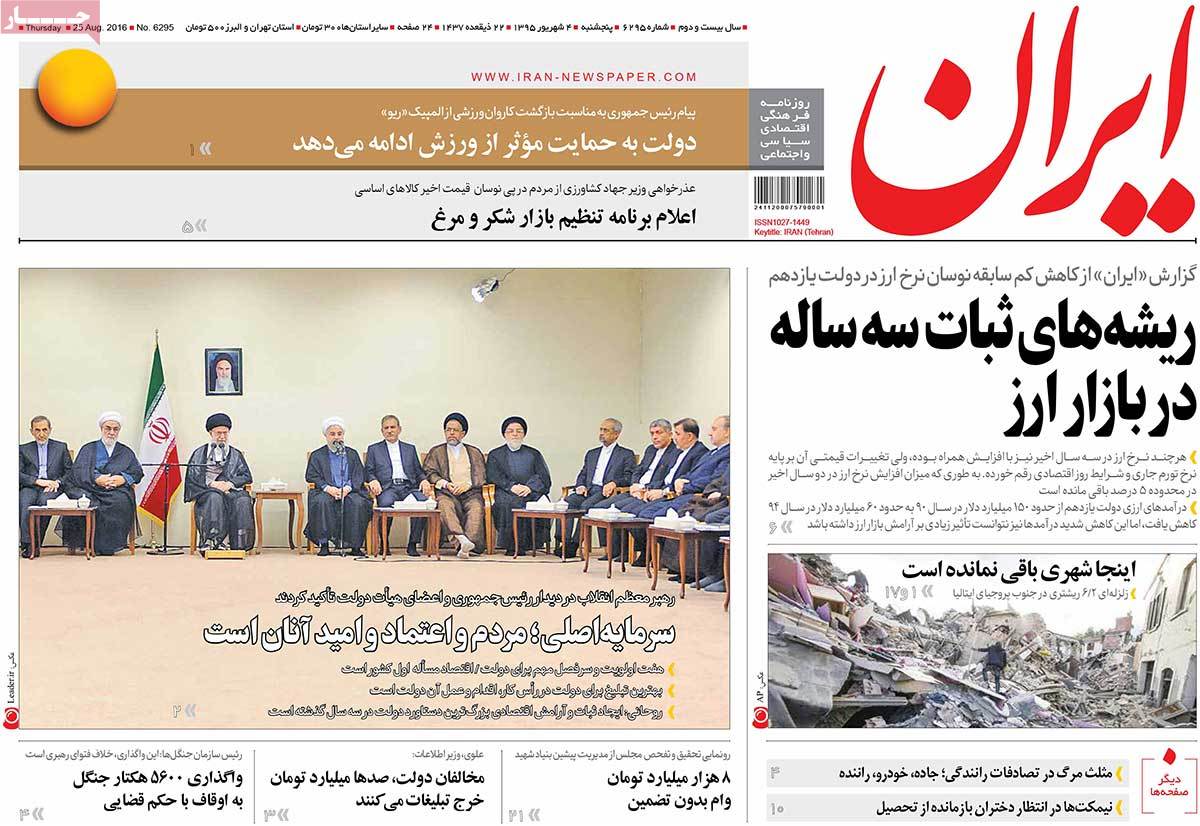 ---
Jame Jam:
1- Leader Outlines 7 Priorities for Rouhani's Government
2- Barriers to Population Growth in Iran
---
Javan:
1- Government Should Work [for Country's Affairs] and Refrain from Getting Involved in Elections Debates: Leader
2- Turkey Enters 'Kurdish Project'
3- Parliament Gives the Green Light for All Demands of the Government
4- Zarif's Visit to Latin America Worries US Congress
5- Khordad 2nd Ideology [proponents of reformist ex-president Mohammad Khatami] Is Looking for a Halt to Islamic Revolution: IRGC Commander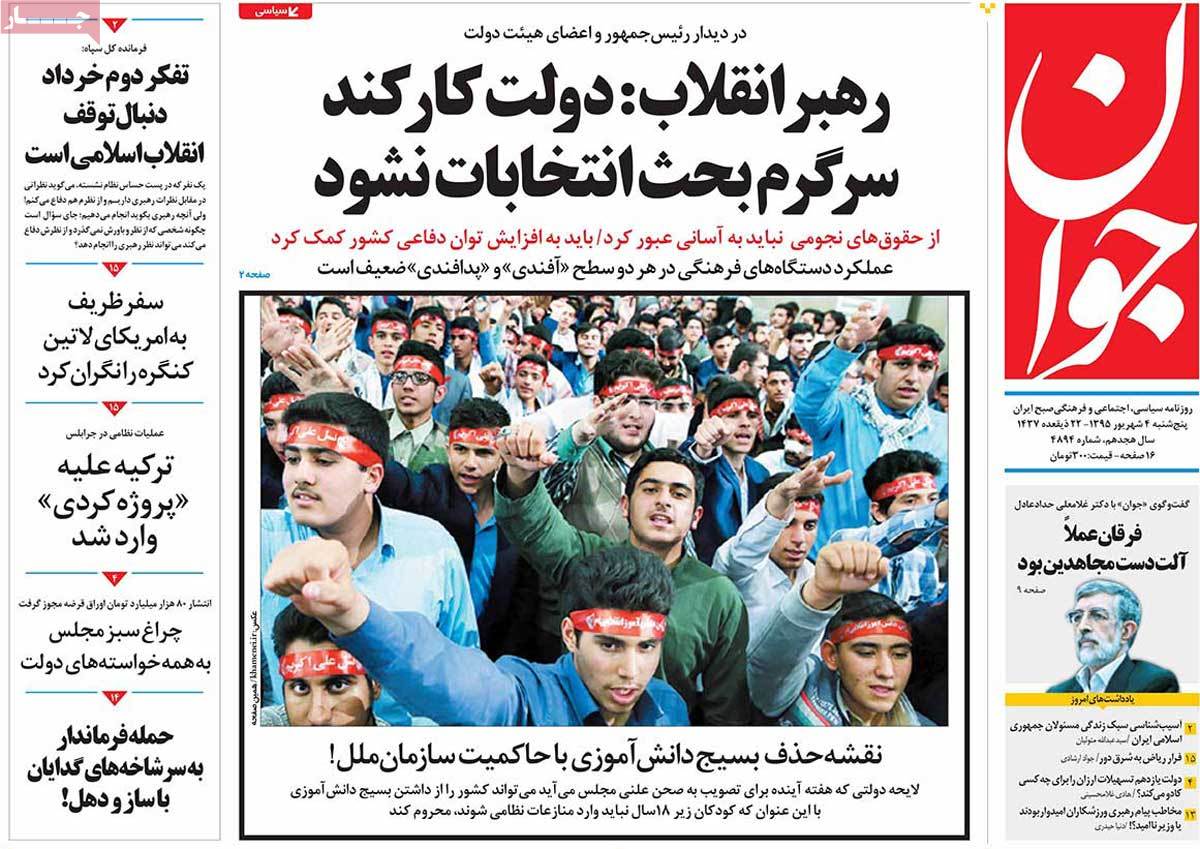 ---
Jomhouri Eslami:
1- Iran's Non-Oil Foreign Trade Stands at $35.8bn in 5 Months
2- NATO Armies' Joint Operations Deep in Syrian Territory
3- Heavy Fight in Mosul Suburbs between Iraqi Army and ISIS
4- Syria Questions UNSC's Performance
---
Kayhan:
1- People Want Answers, Astronomical Salaries Should Not Be Easily Forgotten: Leader to Gov't
2- Serious Actions to Resolve Economic Problems Is Best Advertisement for Government [for future elections]: Leader
3- Foreigners Hopeful about "Attractions" of Iran's New Oil Contracts! A Red Carpet Due to
4- Turkey's Double-Standard Policy toward Syrian Developments
5- Kayhan to CBI Governor: We're OK with Transparency, But Not for Enemies of Iran
6- Fresh Round of Pressure on Shiites in Pakistan and Afghanistan
---
Khorasan:
1- Economic Problems, Foremost Priority of the Country: Leader to Government
2- Even Antalya Becomes Unsafe: 3 Soldiers Wounded in Attack on Turkish Military
3- Legal Chains and Shackles on Hands of National Production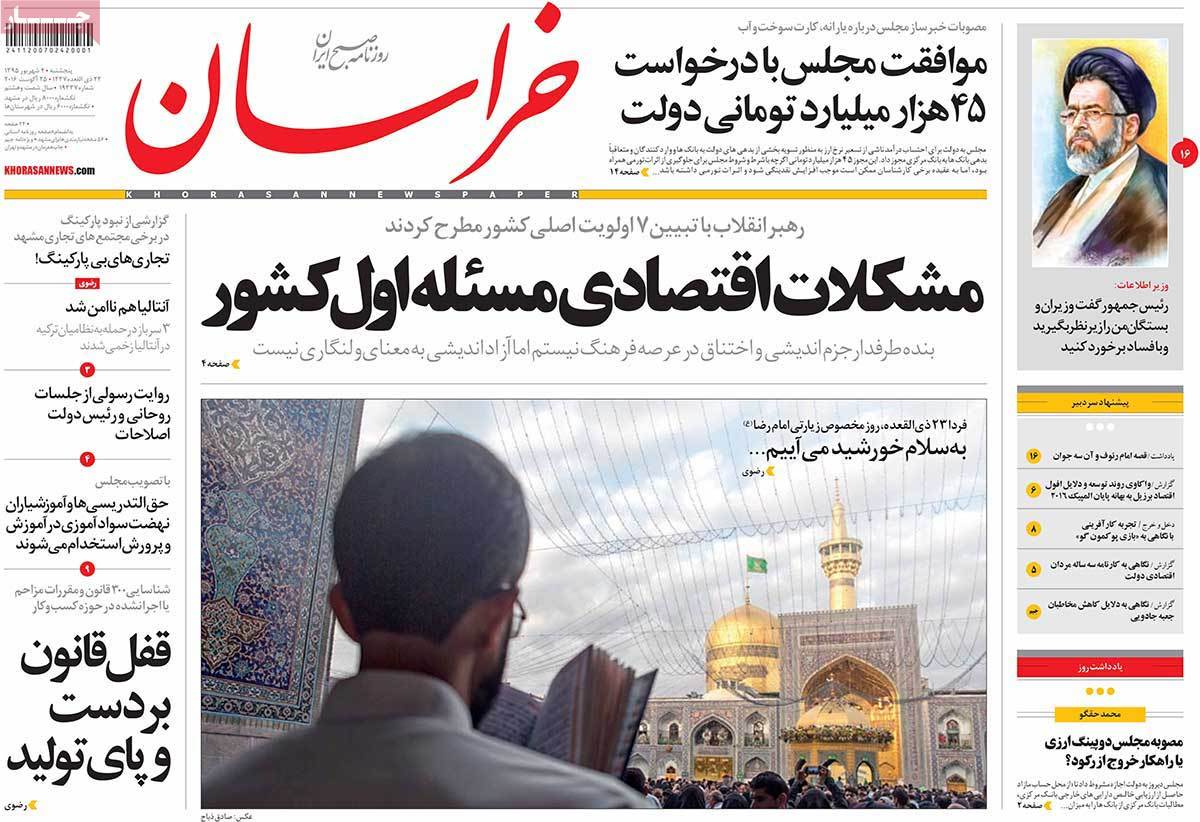 ---
Resalat:
1- We Should Tap into Latin America's Potentials: Iran's Diplomacy Focused on South and Central America
2- Why Is US Always Looking for Coups in Latin America?
3- Payment of Astronomical Salaries Not Stopped; They're Still Being Paid: Former IRIB Chief
4- Senior Cleric Urges Gov't to Resolve Issues of Unemployment and Livelihood
5- Mosques Should Be Places for Resolving People's Concerns: Mayor of Tehran
6- Agriculture Minister: I Apologize to People Because of Recent Fluctuation of Prices
---
Roozan:
1- Leader: Criticisms of Government Should Be Fair
2- 30% of Iranians Are Starving, 50% Are Overweight
---
Sayeh:
1- Tehran, Safest City in the World in 2016
2- Concerts Continue to Be Held in Historical Sites
3- And Suddenly a Reaction: Russia's Controversial Use of Iranian Airbase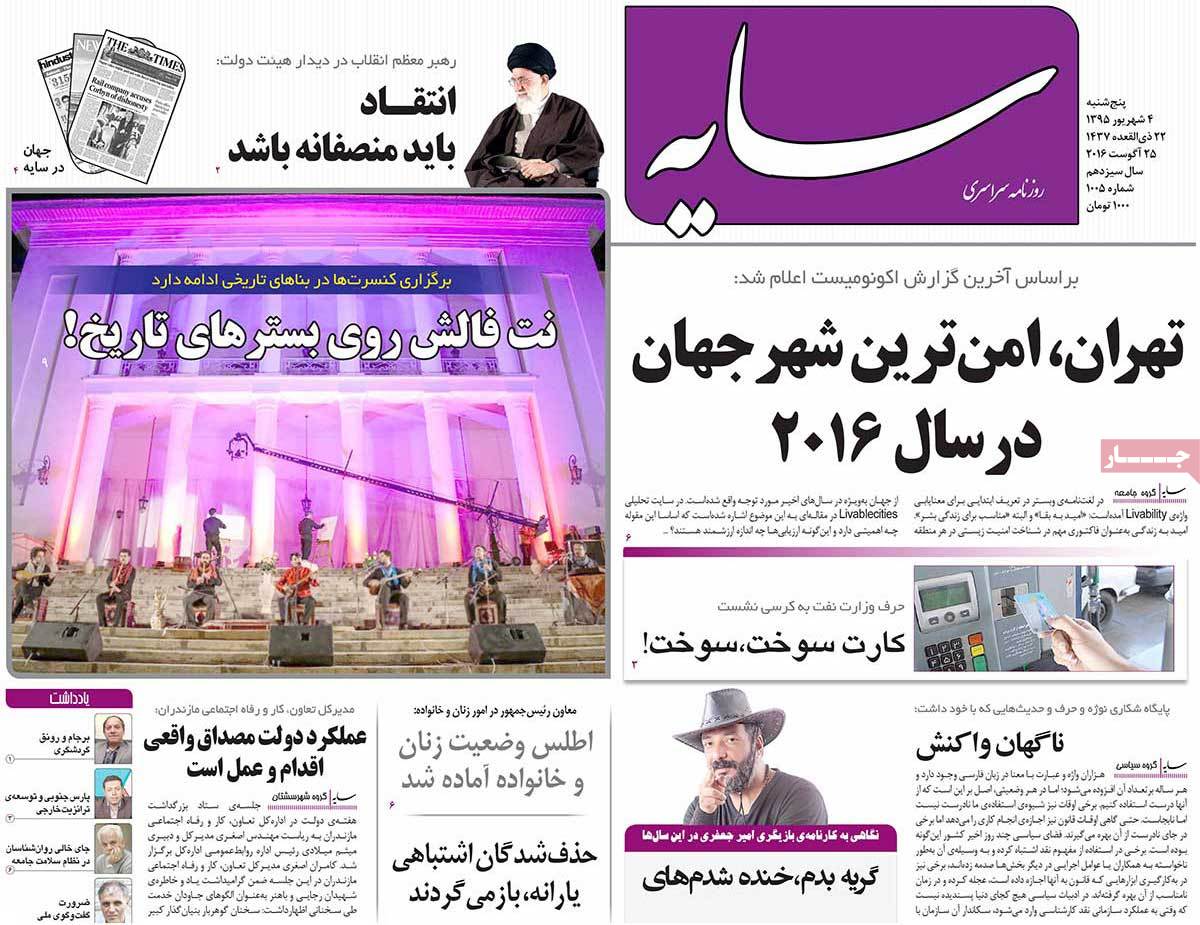 ---
Shahrvand:
1- Parliament Gives Permission to Government for Increasing Water Price
2- Faghani, Iranian Referee of Olympic Final Match: Our Work Is Not Comparable with Athletes' Medals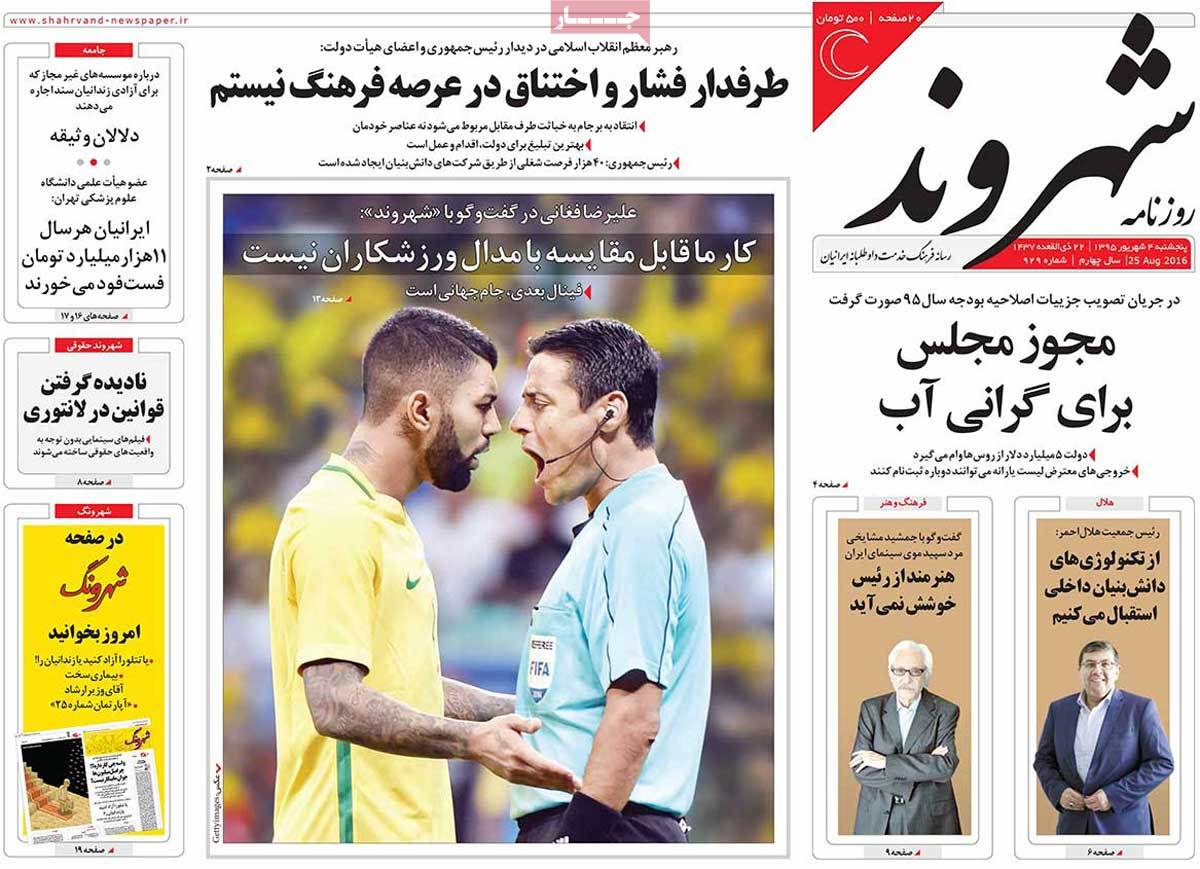 ---
Shargh:
1- If I Criticize JCPOA, I'm Complaining about Other Side's Faults, Not Those of Our Own Team: Leader
2- 3,000 Musicians Write Letter to Rouhani: Music Community Breaks Its Silence
3- Removing Child Labourers from Streets to Improve City's Face
---
Vaghaye Ettefaghieh:
1- Foreign Ministry Strongly Rejects MP's Remarks about Arrest of Iranian Nuclear Negotiating Team Member on Espionage Charge
2- They Say We're Revolutionary, But They Act against Leader's Opinion: IRGC Commander