All newspapers today covered the almost unanimous vote of confidence Rouhani's proposed ministers received from the Parliament in the Sunday session.
Some papers, both reformist and conservative, criticized the Parliament for approving so many of Rouhani's ministerial nominees, but several others welcomed the support and highlighted the heavy burden on his administration's shoulders.
Another top story was the remarks made by IRGC Quds Force Commander Major General Qassem Soleimani about the dangers of dividing people into reformist/conservatives and those who observe or don't observe the Islamic dress code.
The above issues, as well as many more, are highlighted in the following headlines and top stories:
19 Dey:
1- Parliament Did Its Best
---
Abrar:
1- Kissinger: Nuclear Deal Postpones Emergence of Iran's Nuclear Capabilities
2- Barzani: Iran's Influence in Iraq More than Any Other Country's
3- ISIS Front Line Destroyed in Tal Afar
4- Iran Topic of Netanyahu's Discussions with Putin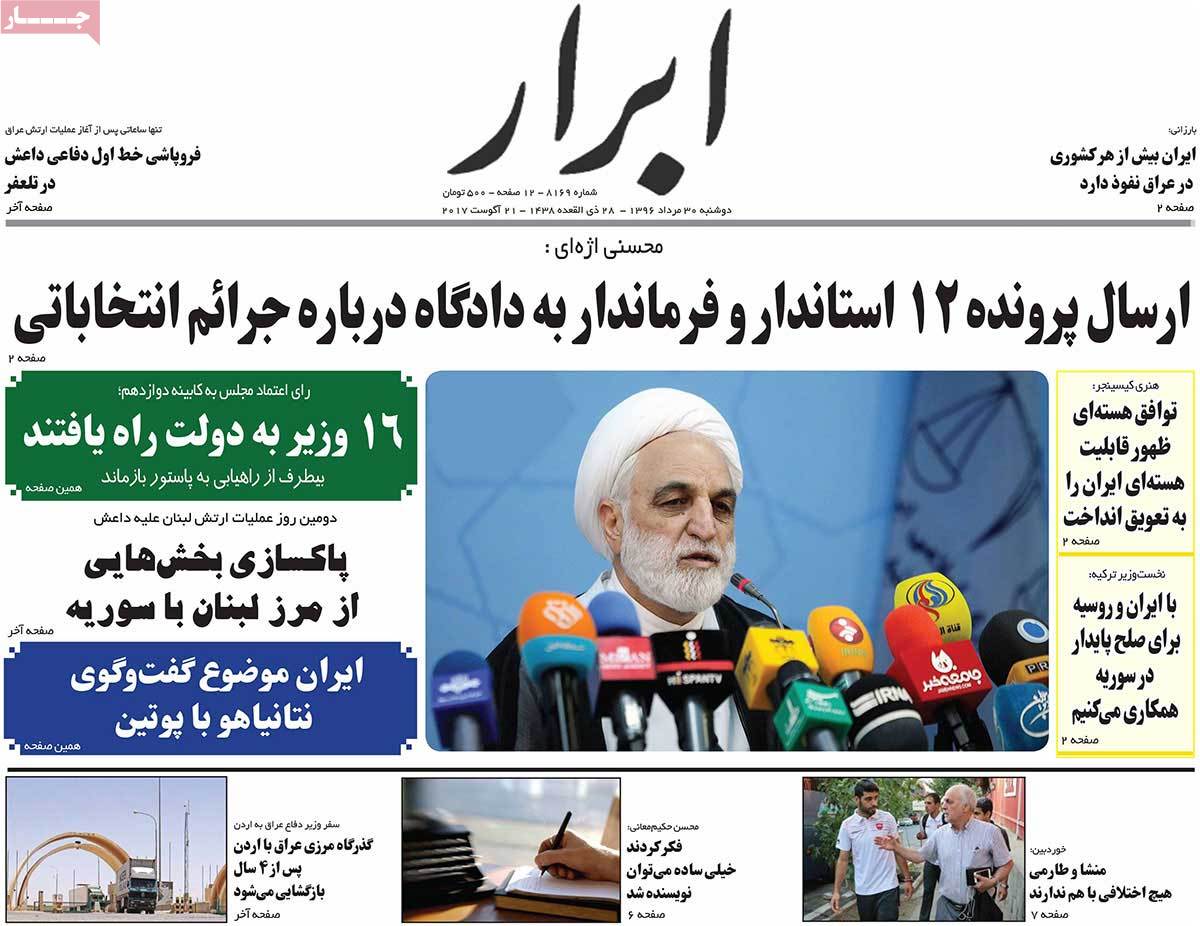 ---
Abrar-e Eqtesadi:
1- Iran to Export 100,000 Barrels of Oil per Day to Russia as of Late September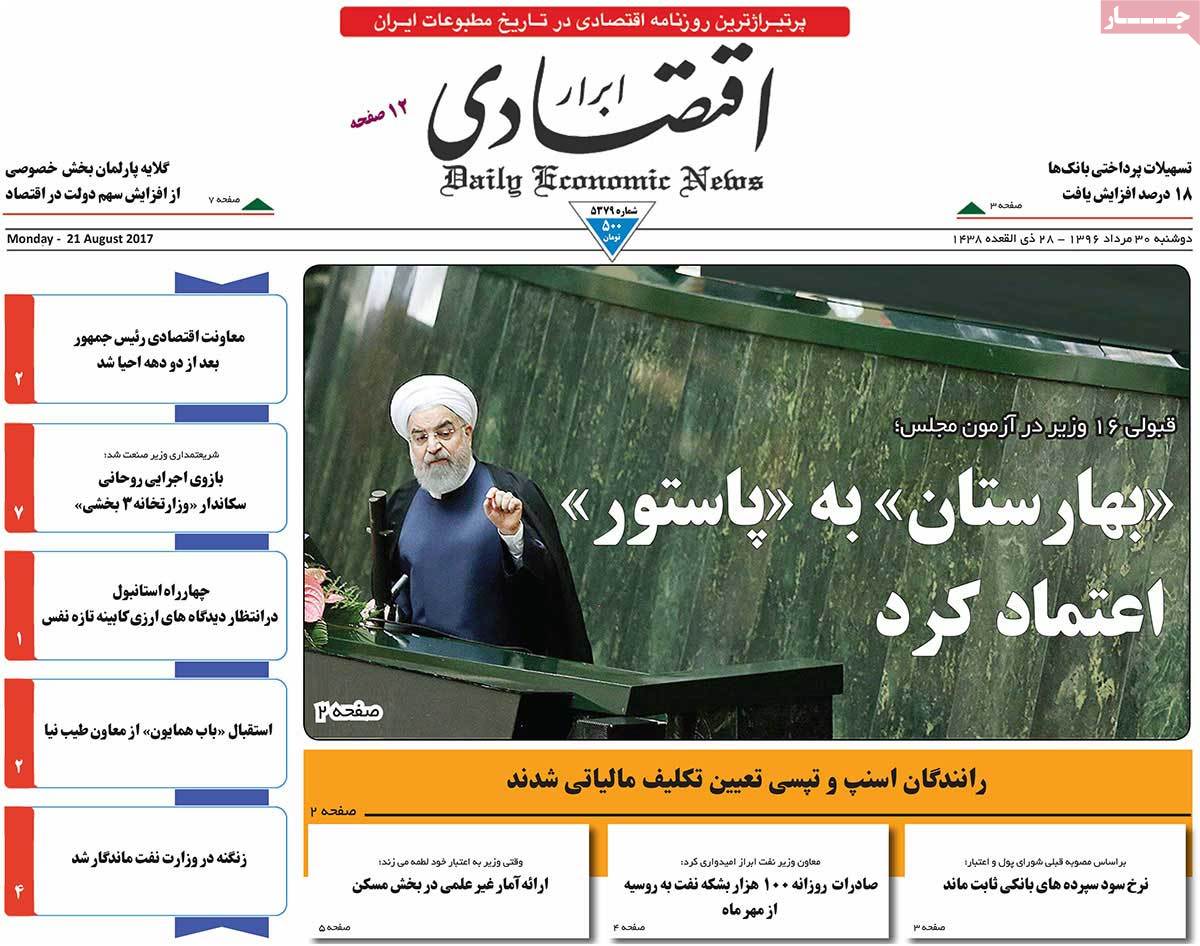 ---
Afkar:
1- General Soleimani: We Prevented Sectarian War Using Religion
2- Iraq on Verge of Conquering Last ISIS Stronghold
3- Assad: Arab Countries Have No Role in Int'l Political Issues
---
Aftab-e Yazd:
1- Parliament's Red Carpet for Government
Unprecedented Vote of Confidence for Proposed Ministers
---
Arman-e Emrooz:
1- Rouhani: People Haven't Given Us Blank Cheque
2- Politician: Reformists' Reputation Hinges on Rouhani's Performance
3- Political, Meaningful Vote of Lawmakers [Editorial]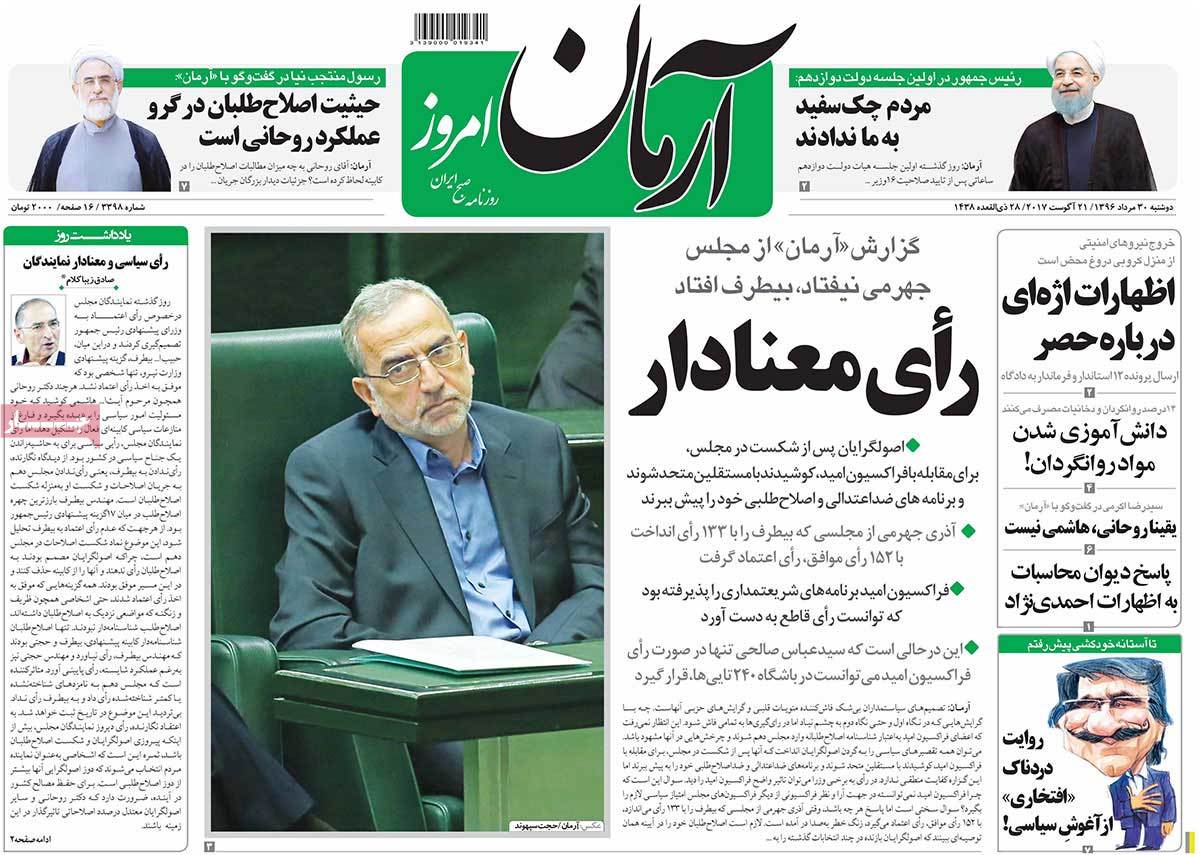 ---
Ebtekar:
1- 17 Minus 1: Parliament's Great Gift for Rouhani
2- Once Again Mr Diplomat: Challenges Faced by Zarif in Second Term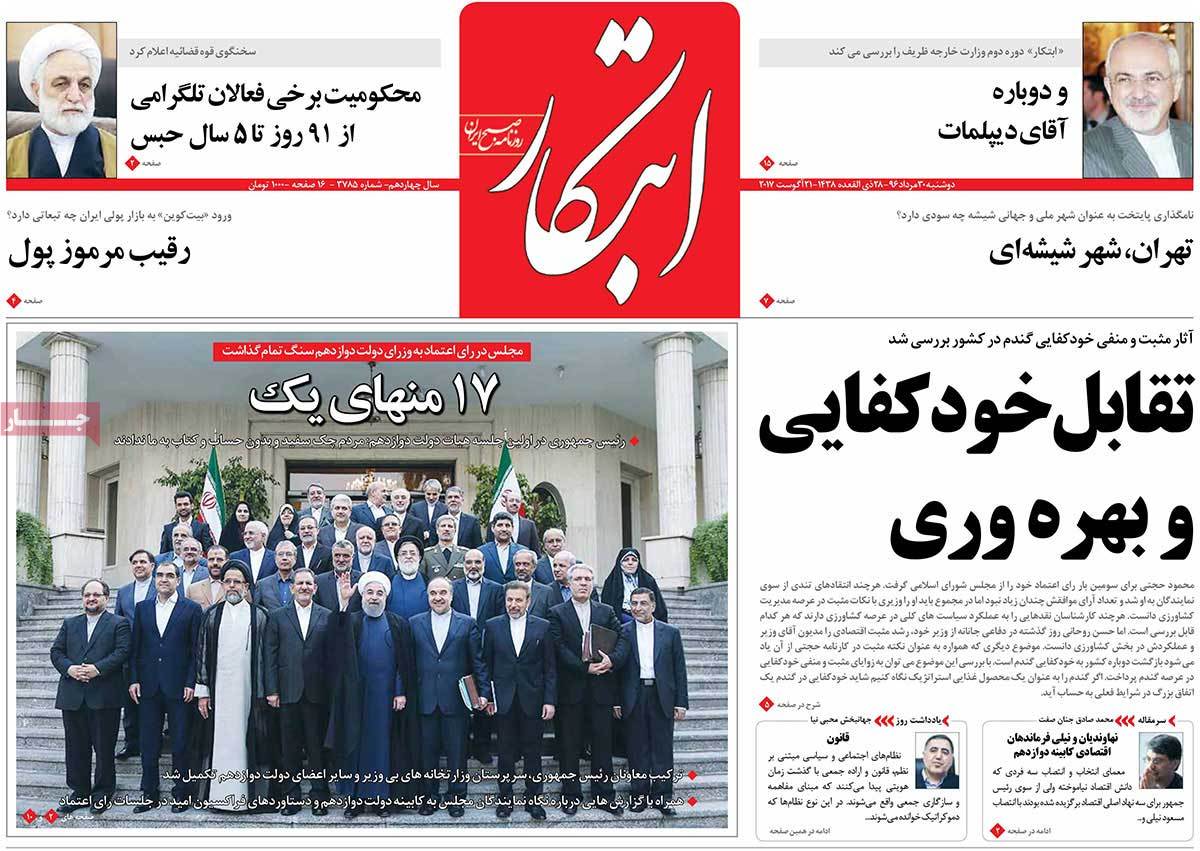 ---
Etemad:
1- Parliament's Unexpected, Different Vote for Rouhani's Second Cabinet
2- Reformist Analyst: No Serious Barrier for Rouhani in Second Term
3- General Soleimani: Why Do You Keep Dividing People into Reformist/Conservative?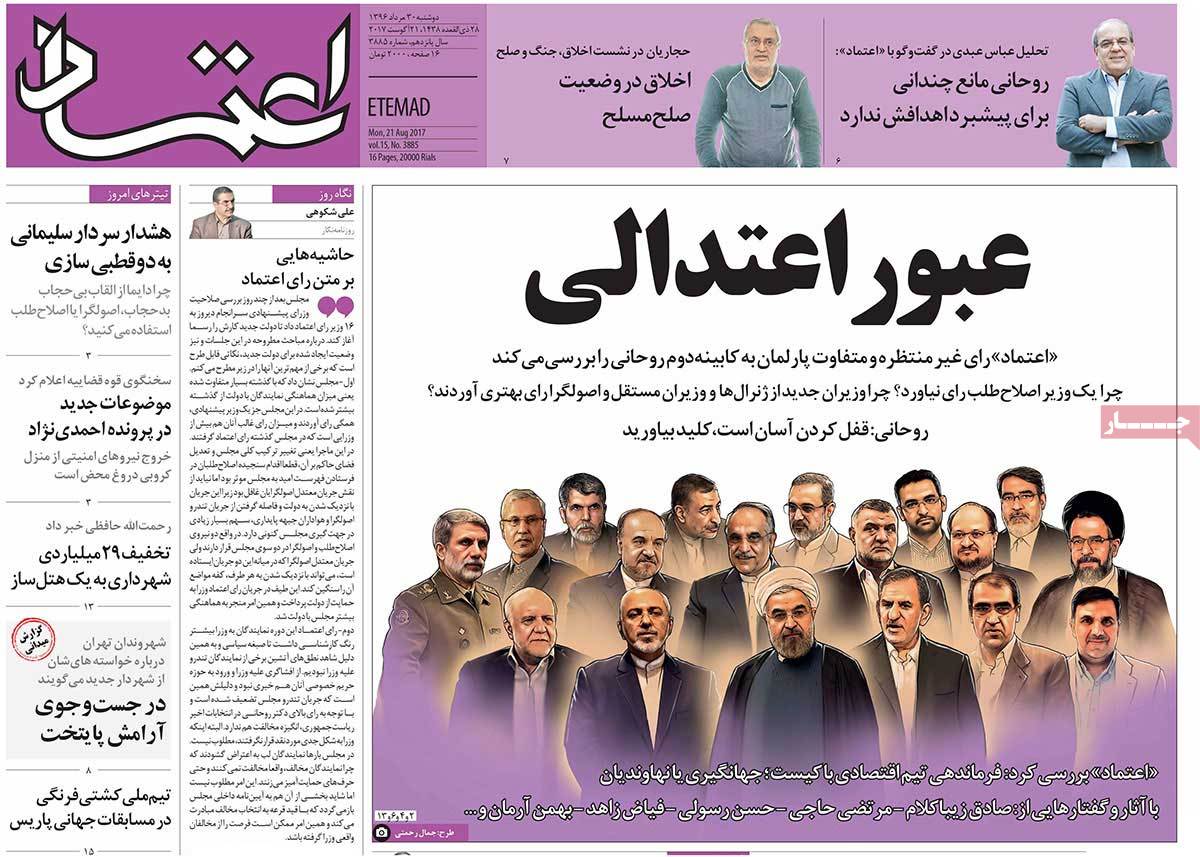 ---
Ettela'at:
1- Rouhani: Government's New Plan Is to Establish Security, Freedom, Progress
2- Our Legitimacy Hinges on Giving Service to People: President
3- Al Jazeera Reveals Documents on Saudi Support for ISIS, Al-Qaeda
4- Judiciary: US Condemned to Pay Iran Compensation for Role in Chemical Attack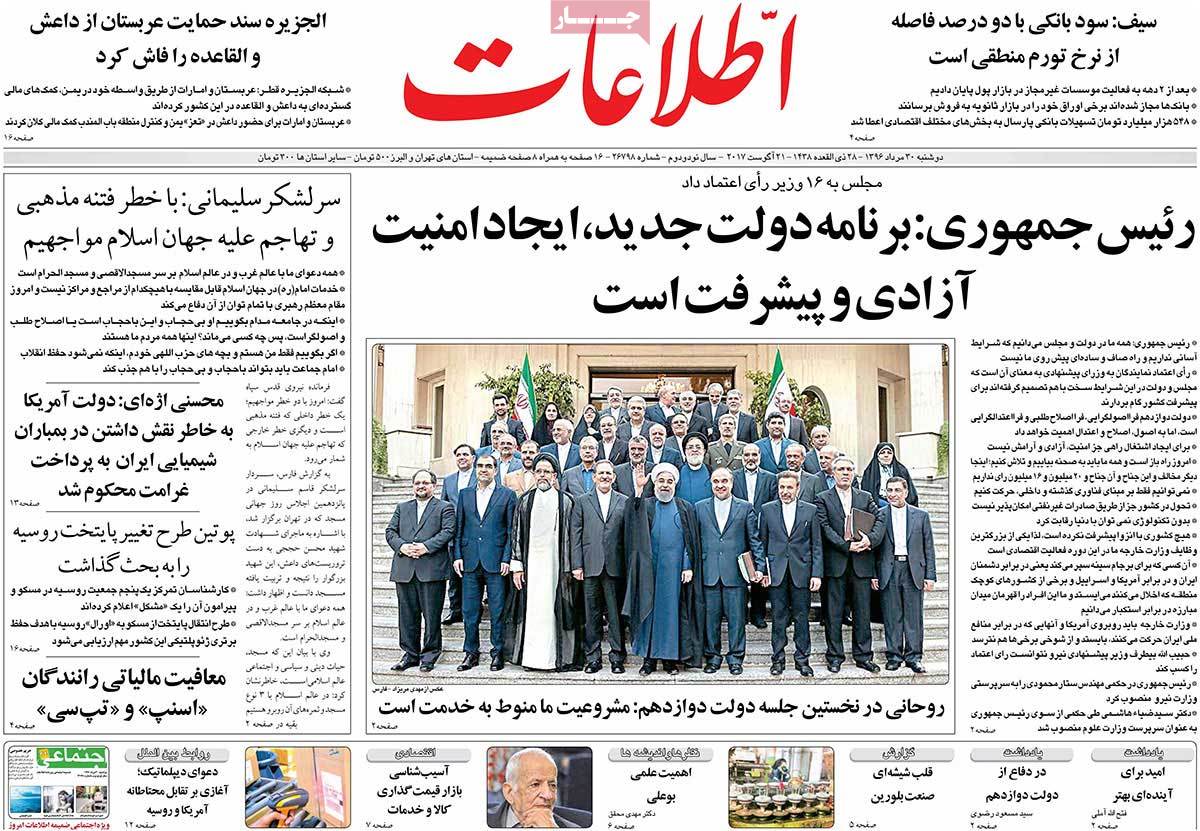 ---
Haft-e Sobh:
1- Shadow of Water on Cabinet: All Ministers, but Power Minister, Receive Vote of Confidence
2- Damn Crystal Vases: Interview with Famous Rapper Accused of Killing Step-Father
---
Hamshahri:
1- Mosque Helping People Quit Drug Addiction for Past 10 Years
---
Iran:
1- Trust in Moderation: 16 Ministers Receive Vote of Confidence
---
Javan:
1- Rouhani: Parliament Acted Professionally This Time!
2- 75% of Proposed Ministers Receive Over 225 Votes of Confidence
3- Judiciary Spokesman: Opposition Leaders to Remain under House Arrest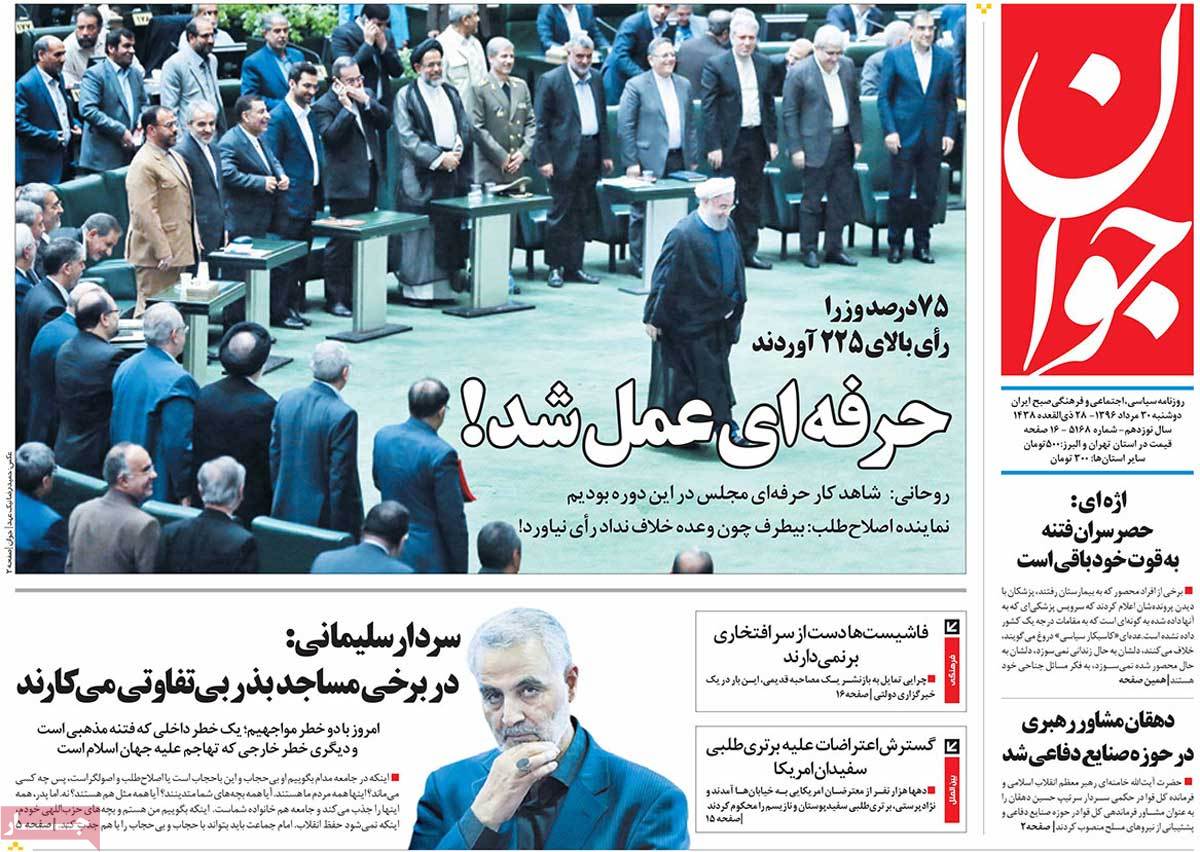 ---
Jomhouri Eslami:
1- $468m Increase in Iran's Petchem Exports in Past 4 Months
2- Various US Cities Rise against Trump's Racism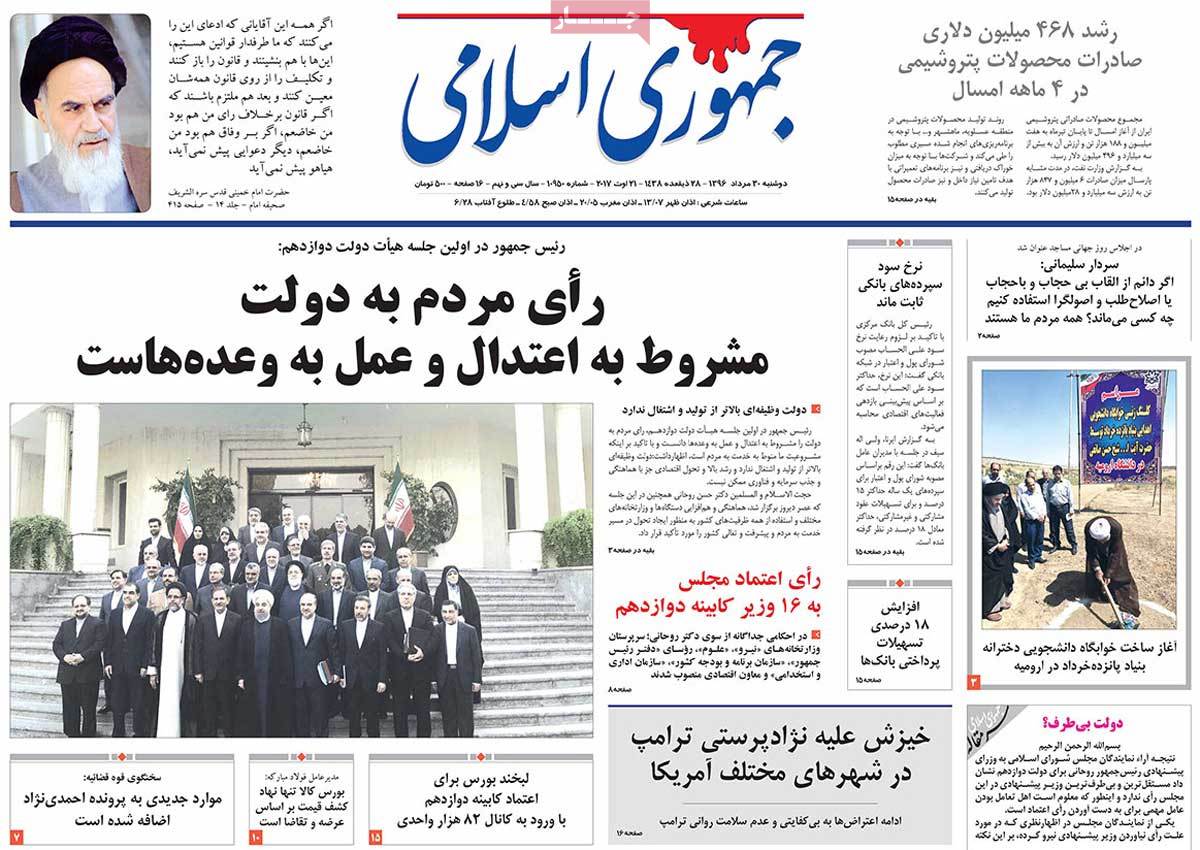 ---
Kayhan:
1- Government Officially Starts Work: It's Now Time to Work for People
---
Setareh Sobh:
1- Analyst: Continued Racism in US
2- Heavy Burden on Gov't Shoulders after Vote of Confidence for 99% of Cabinet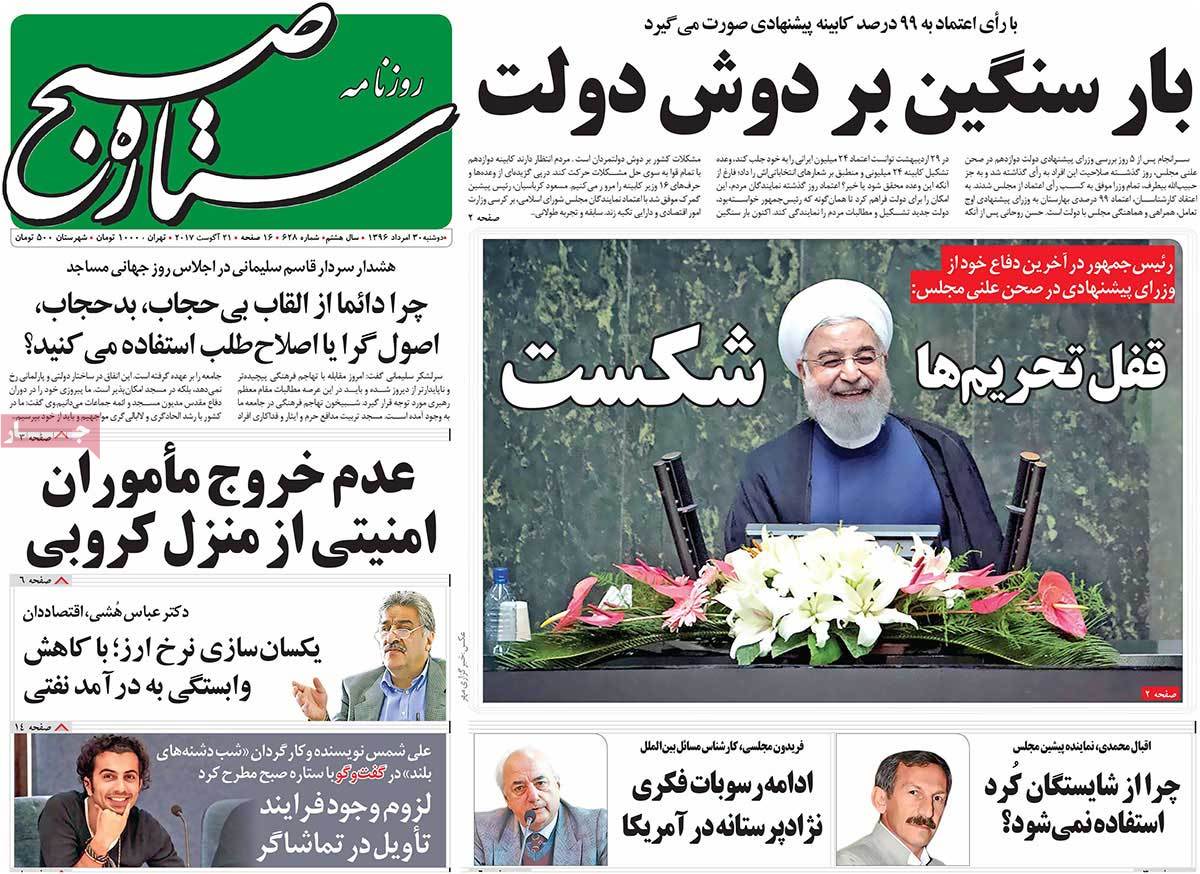 ---
Shargh:
1- Post-Election Rouhani: New Gov't Officially Starts Work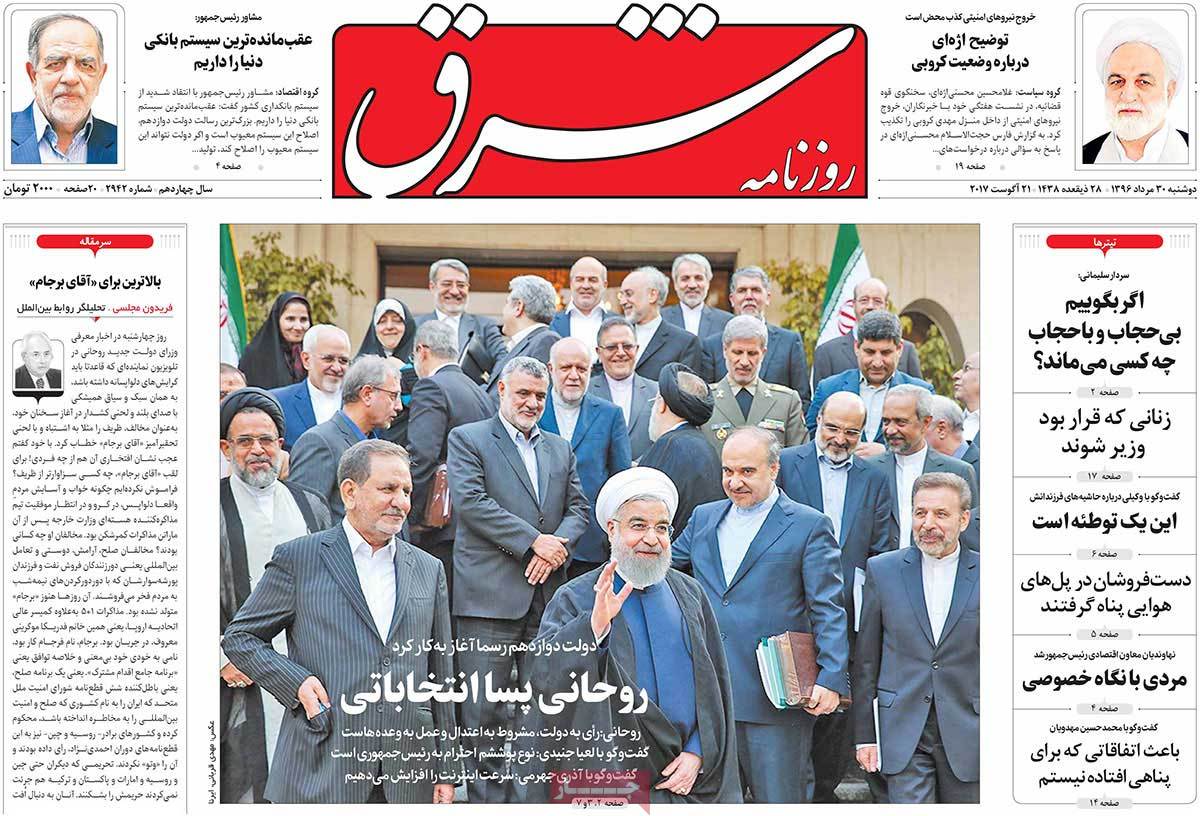 ---
Sobh-e Now:
1- Friendly Gathering! Parliament Smiles at Government
---
Vaghaye Ettefaghieh:
1- Zarif Once Again Takes Control of Iran's Foreign Policy
2- Three Groups Trying to Take Over Trump's Administration [Editorial]
---
Vatan-e Emrooz:
1- Several Captains in Rouhani's New Economic Team!