Newspapers on Thursday continued to discuss the recent reports and comments on Russia's use of Iranian airbase to attack ISIS positions in Syria.
They also covered the controversial failure of Behdad Salimi, the Iranian weightlifter, to win a medal at Rio Olympics.
The remarks made by Ali Motahari, the outspoken vice-speaker of Iranian Parliament, against the decision to cancel concerts in Mashhad also received great coverage.
The above headlines as well as many more are highlighted in the following headlines:
Abrar:
1- On Syria, We Have Close Cooperation with Russians: Larijani
2- US Has Paid $1.3bn in Cash to Iran: Weekly Standard
3- MKO Terrorist Group Has Committed the Highest Number of Crimes against Iranian Nation: Police Chief
4- Zionist Website: Russia Will Deploy Its S-400 Missile Defence System in Iran's Nojeh Base
5- Documents of Cooperation to Be Signed between Zarif and Norwegian Counterpart Brende in Tehran
6- Russia Had Informed US of Using Iranian Airbase: American Official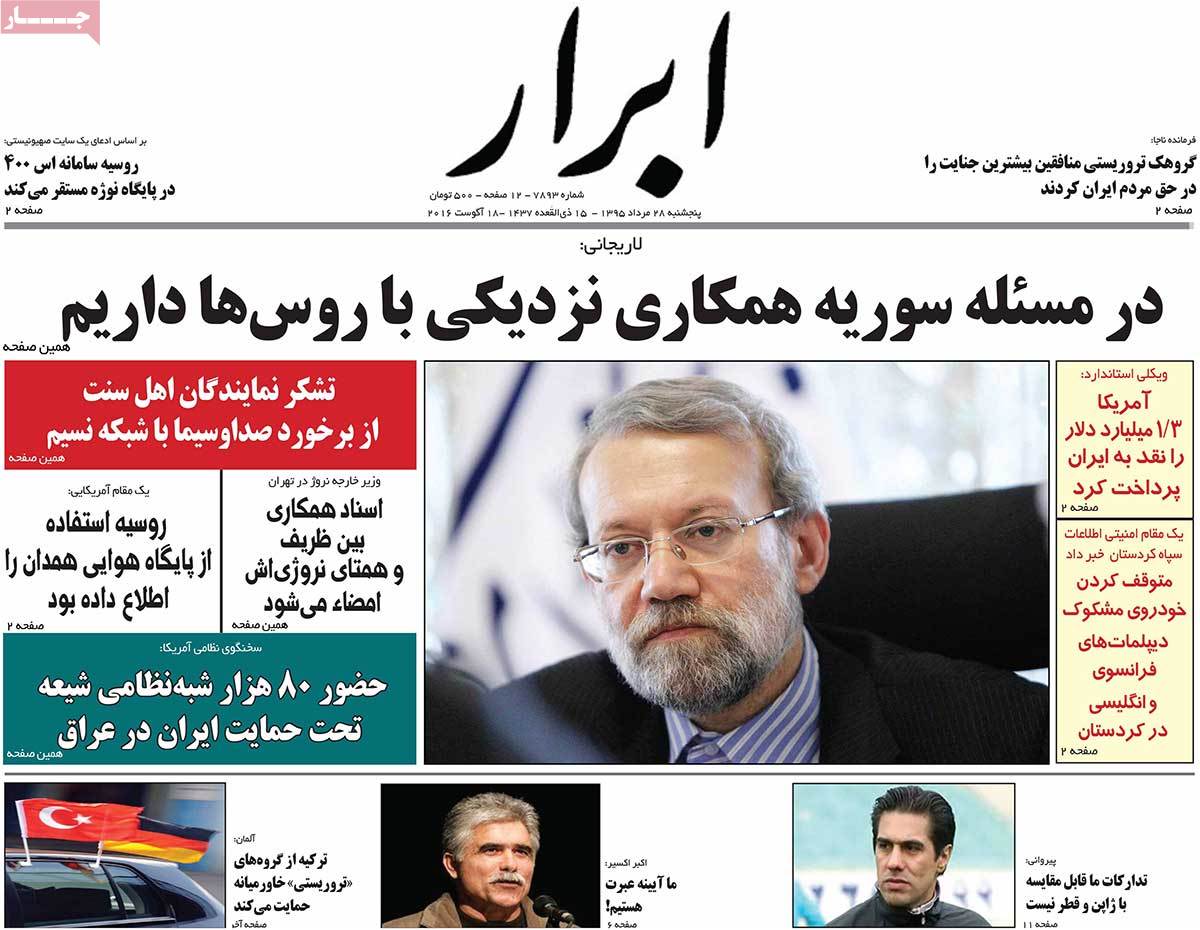 ---
Abrar-e Eqtesadi:
1- Iran and Germany Start Talks on Job Opportunities
2- US Pays Second Instalment of Its Debt to Iran
3- Because of Ahmadinejad's Performance: Iran Failed to Earn $500bn Income Due to Cessation of Oil Swap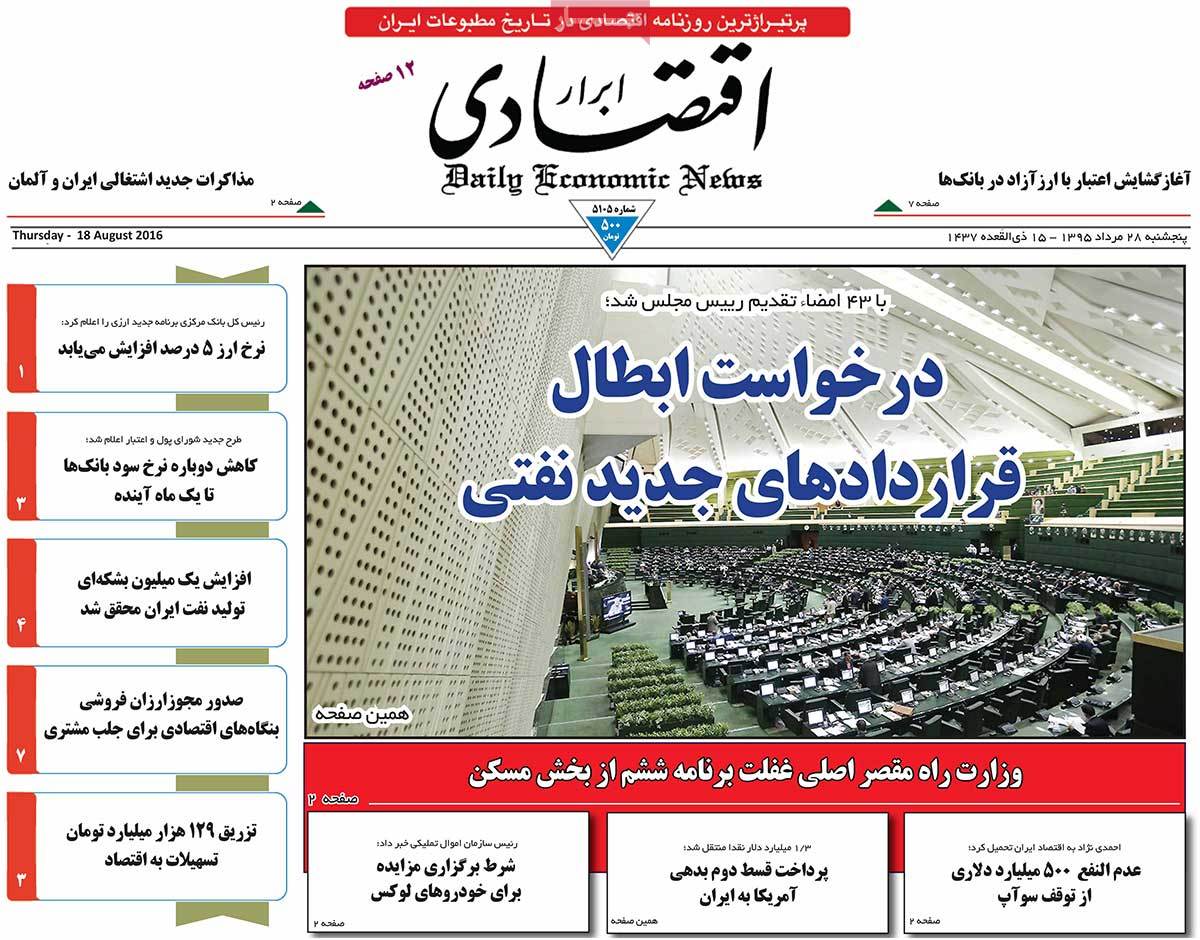 ---
Afkar:
1- Iran Protests at Australia for Violation of Iranian Refugees' Rights
2- Drug Addiction Increasing among Iranian Women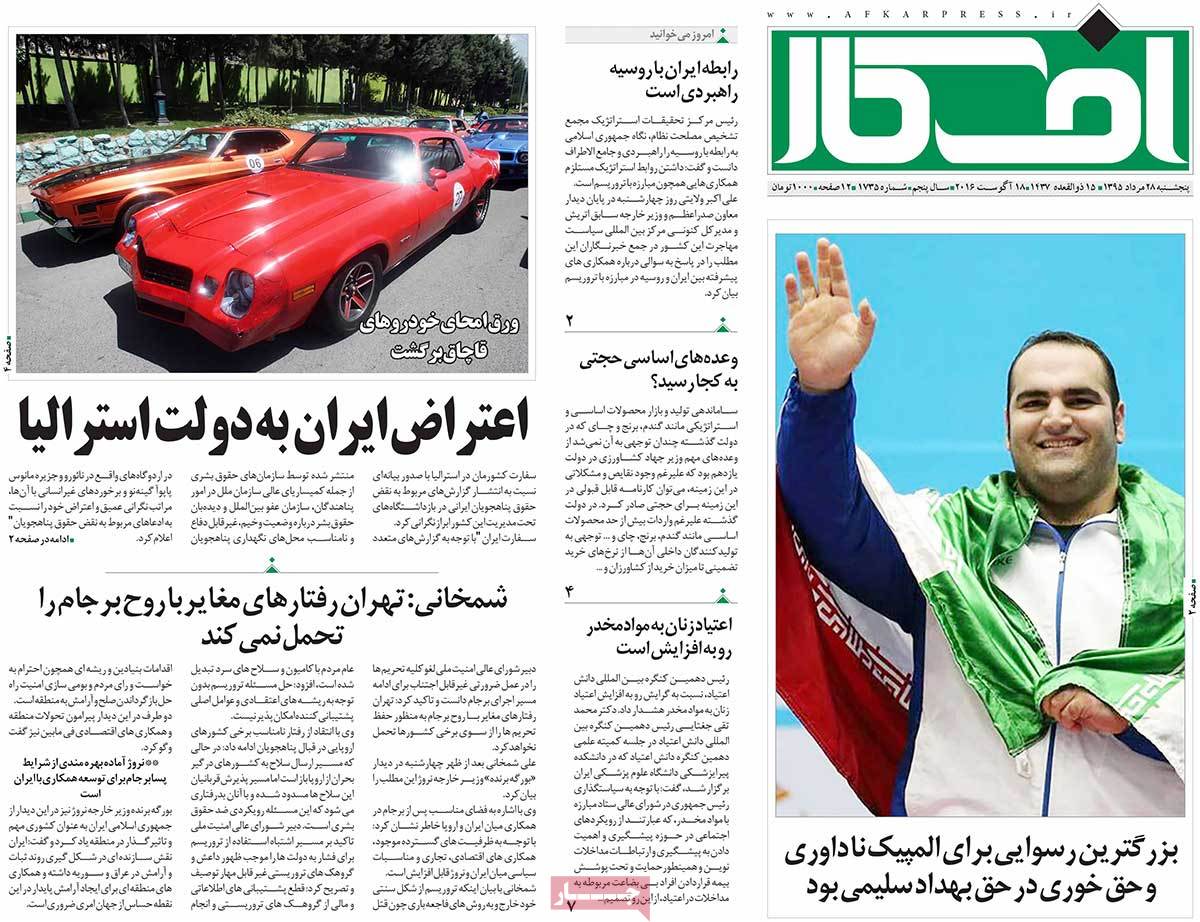 ---
Aftab-e Yazd:
1- Reformist Gov't of Khatami Was Fighting Astronomical Salaries: A Letter Reveals
2- You're a Champion, Even without Winning a Medal [about Behdad Salimi, Iran's weightlifter in Olympics]
3- Street Vendors in Tehran Earn $850 per Month [Almost three times more than a labourer]
4- Should We Crush or Export the Smuggled Porsche and Lamborghini Cars?
---
Amin:
1- A High-Ranking ISIS Member Killed in Iran
2- Turkey May Give Concessions to Iran and Russia: Stratfor
3- Opponents of 'Iran Connect' Seek to Tarnish Government: ICT Minister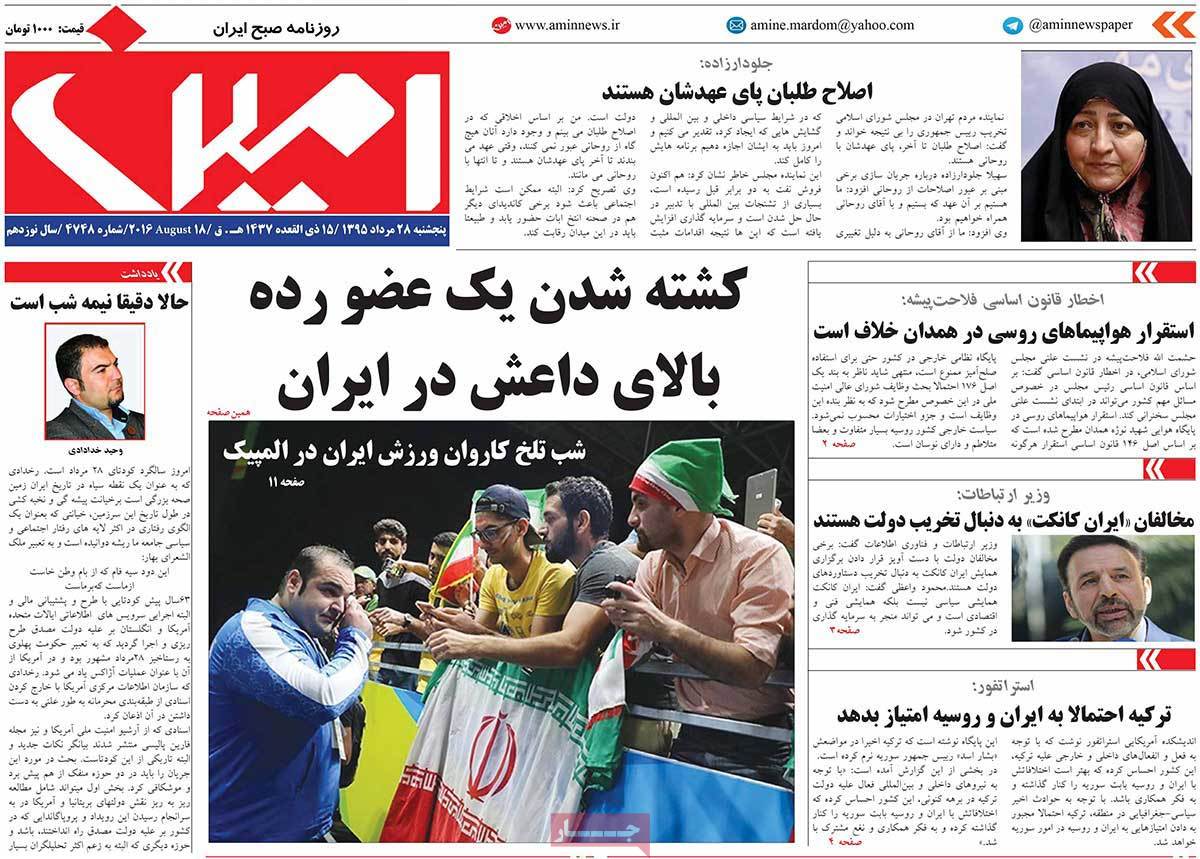 ---
Arman-e Emrooz:
1- Russia's Puzzle in Iran's Nojeh Airbase: Larijani Says No Base Has Been Put at Russia's Disposal
2- Investigations Reveal 4 Faults in Kiarostami's Case
3- Mehr Mass Housing Project [started by Ahmadinejad] Has Polluted Underground Waters
4- Motahari Slams Senior Cleric Alamolhoda's Remarks about Prohibition of Holding Concerts in Holy City of Mashhad: It's Nonsense that Mashhad Has Special Conditions
5- Hardline Cleric Rasaei [former MP] Criticizes Ice-Cream Packaging [with picture of American animated movie Frozen's main characters Anna and Olaf]
6- 10 Economists Write to Mayor of Tehran: Officially Recognize Street Vendors
7- Zibakalam: Why There Is No Mention of Domestic Perpetrators of 1953 Coup in Iran
8- How Far Does Iran Trust Russians [Editorial]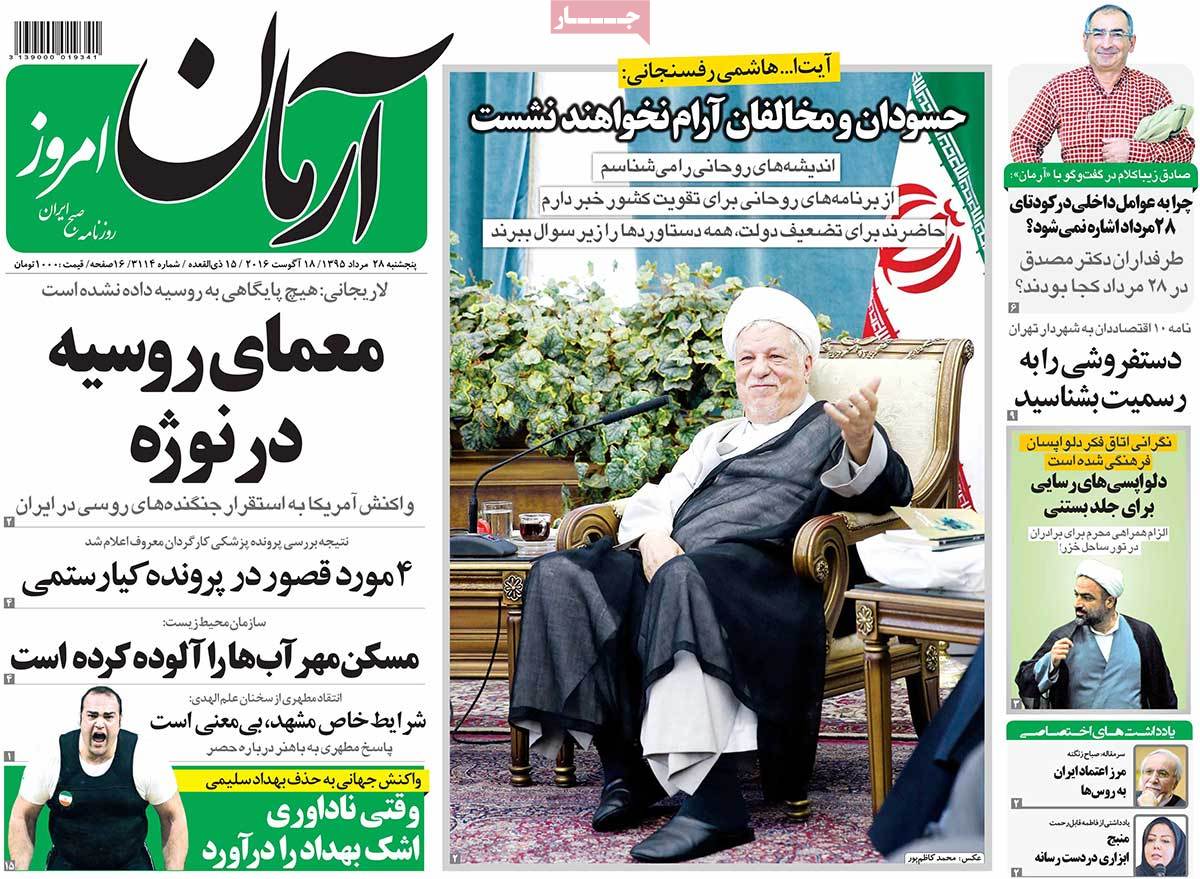 ---
Asrar:
1- Parliament's Opposition to Guardian Council's Disqualification of Candidates after the Elections
2- Supreme National Security Council Has Authorized Russia's Use of Iranian Airbase for Refuelling: MP
3- South Korea's Oil Imports from Iran Doubled in Second Quarter of 2016
4- Iran Not to Tolerate Moves against Spirit of JCPOA
5- Zarif to Start His Post-JCPOA Diplomacy in Latin America as of Sunday
---
Ebtekar:
1- Iran-Russia Cooperation Not Surprising: Leader's Adviser
2- Popular Medal for Behdad Salimi: Jury Deprives Behdad of Olympics Medal in Spite of Judges' Positive Vote
3- What Are Russian Planes Doing in Hamadan? MP Says It's against Article 146 of Iran's Constitution
4- JCPOA Opponents Are Even Ready to Echo Zionists' Remarks in Opposition to Nuclear Deal: Rafsanjani
---
Emtiaz:
1- 126 Iranian Schools in 76 Countries
2- Smuggled Goods Destroyed across Iran
3- Cosmetics Factory Moves from Turkey to Iran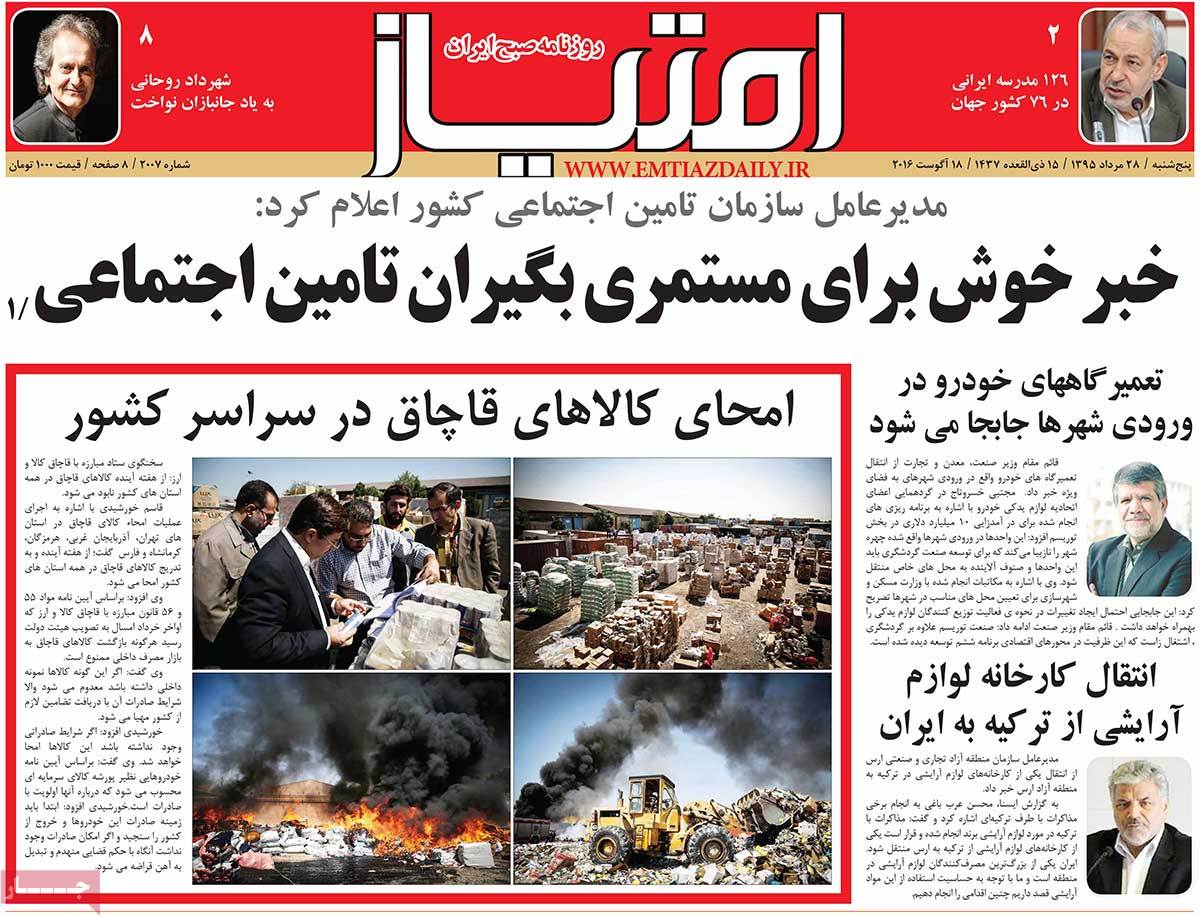 ---
Etemad:
1- Iran Is Not a Federal State: Motahari in Opposition to Cancellation of Concerts in Mashhad
2- Plan Approved for Creating 140,000 Jobs to Promote Iran's Tourism and Handicrafts Industry
3- Iran Has No Military Alliance with Latin American Countries: Deputy FM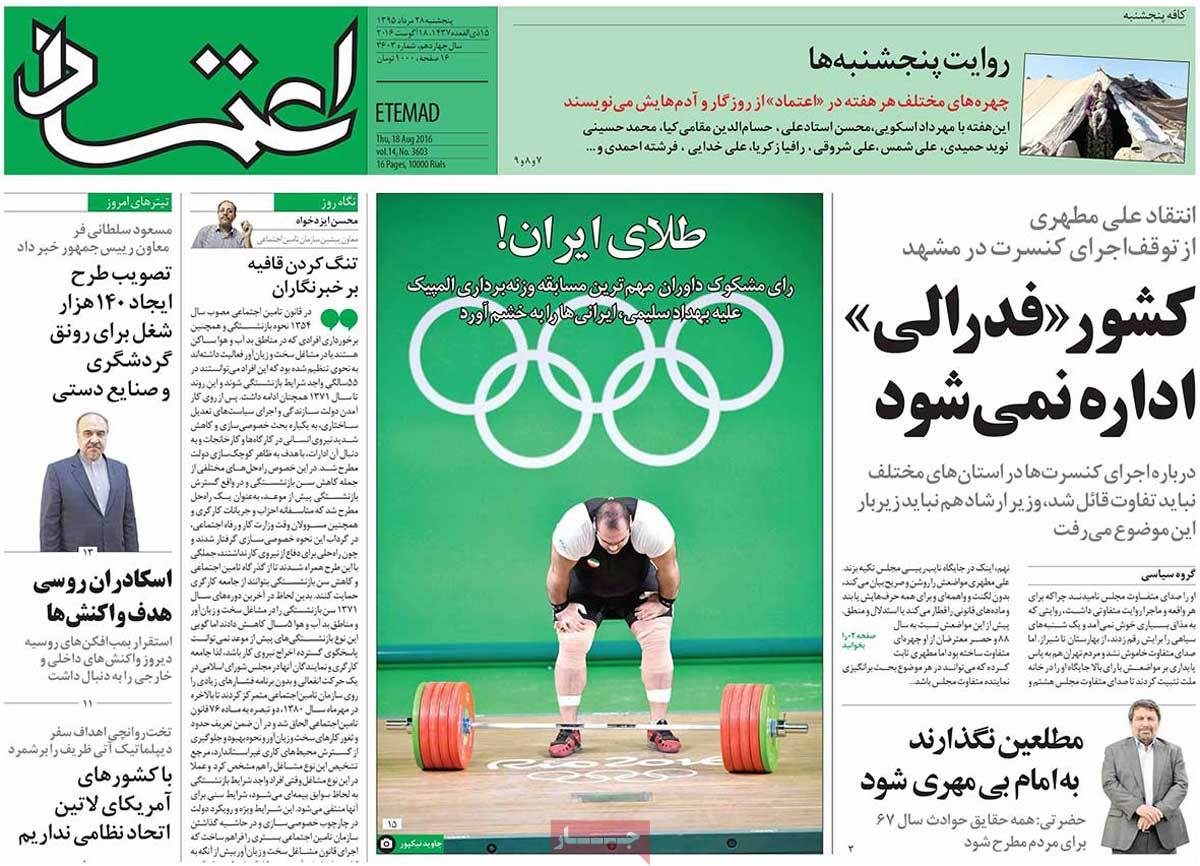 ---
Ettela'at:
1- Taking Advantage of Post-JCPOA Opportunities Requires Rapid and Full Implementation of Commitments: Rouhani in Meeting with Norwegian FM
2- EU Condemns Saudi Arabia's Attack on Yemeni Hospital
3- Intelligence Ministry to Probe into Possible Sabotage in Recent Fires in Iran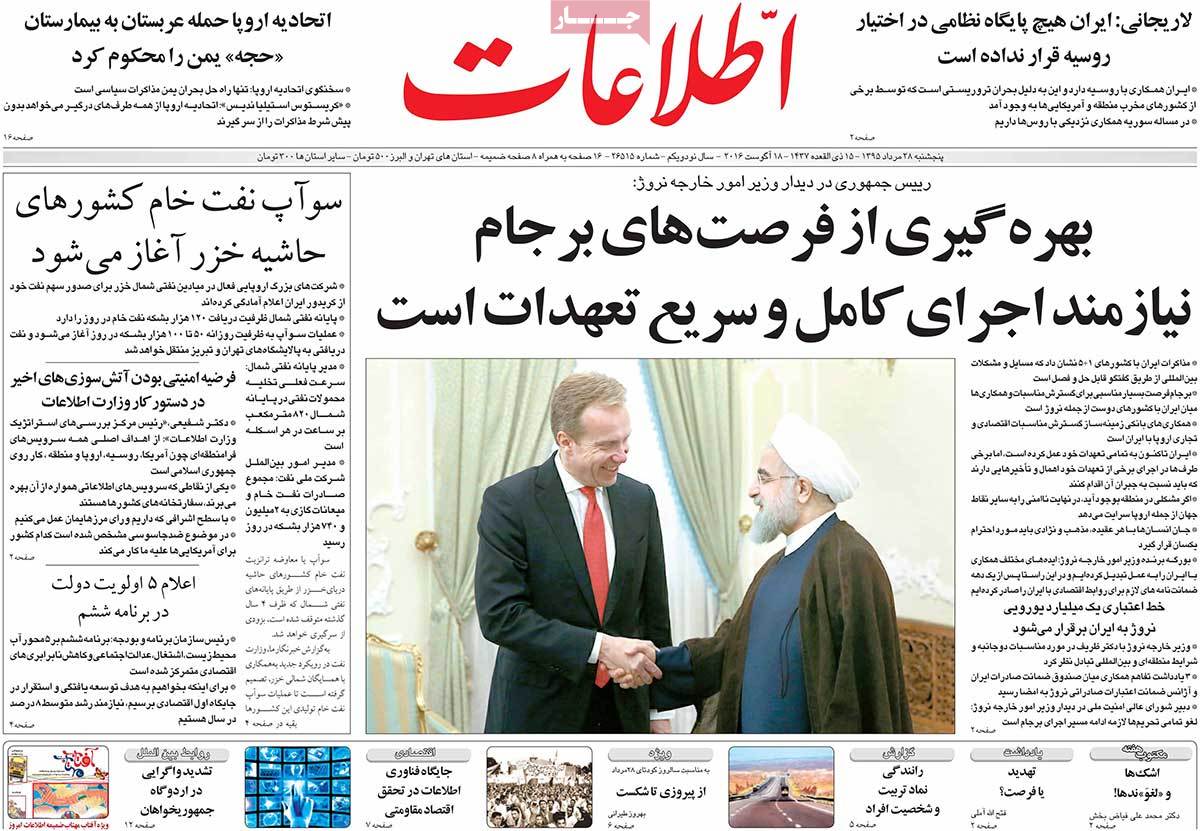 ---
Haft-e Sobh:
1- Iranian Politicians Mostly Use German, Japanese, and Korean Cars on Contrary to What They Preach!
2- Tears instead of Pride: We Should Wait for another Generation of Champions [Iran's defeats in Olympics]
---
Hamshahri:
1- Roles of BBC and Bahaism in 1953 Coup
2- Unprecedented Intervention of China in Syria Military Equation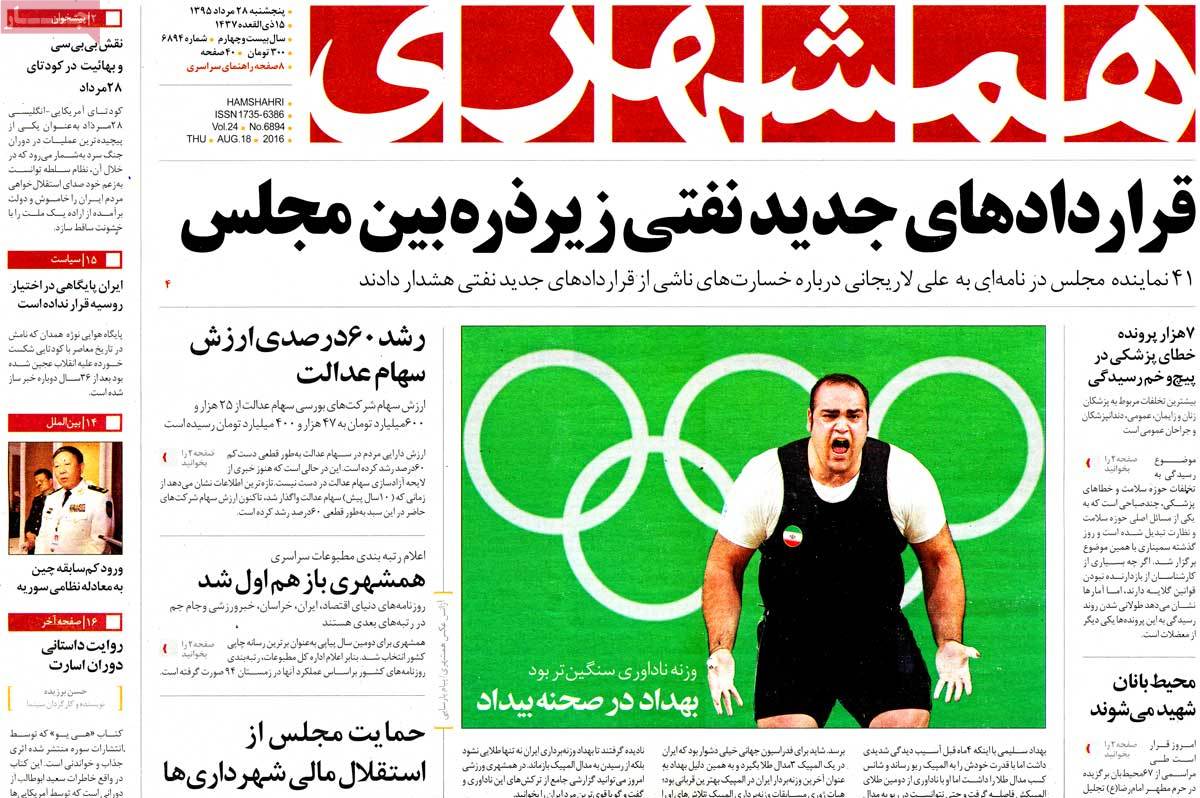 ---
Jame Jam:
1- Eastern Coalition in Fight against Terrorism
2- Troubles of the 'Syndrome' of Having Only One Child
3- Smuggled Goods to Be Crushed under Wheels of Law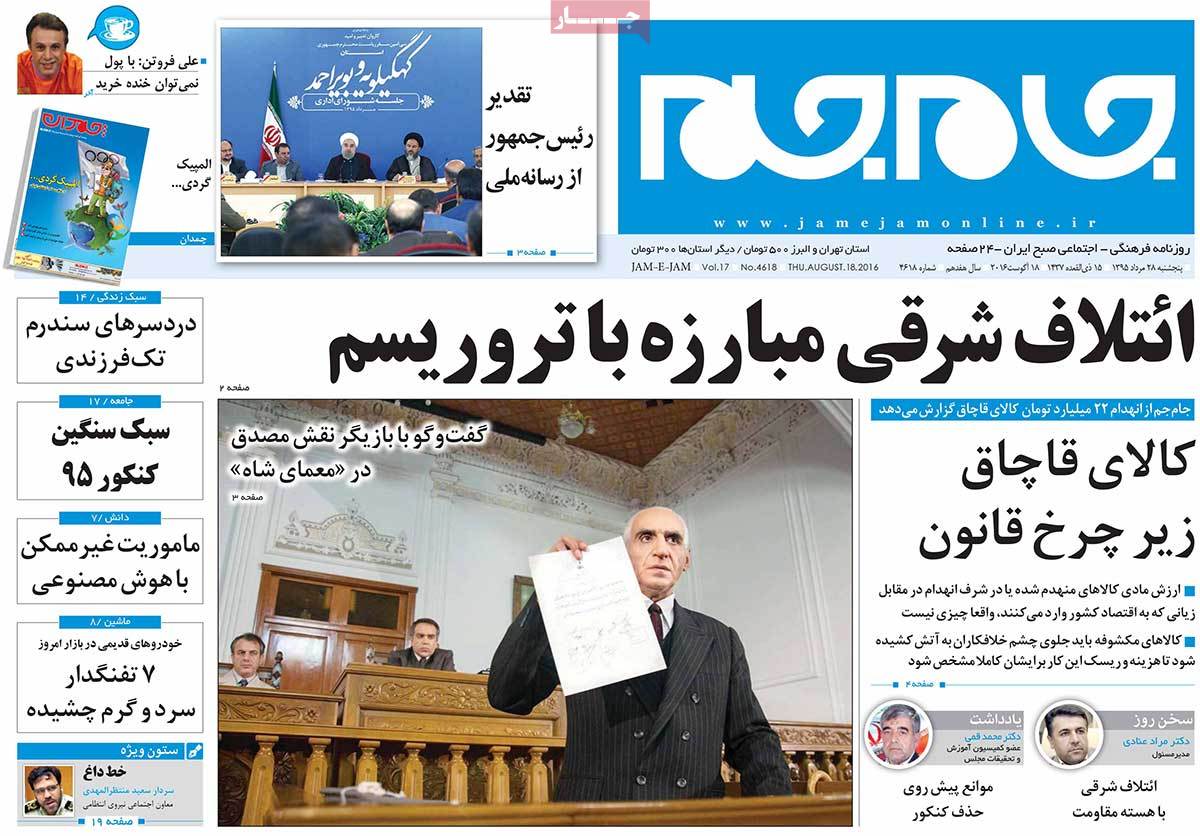 ---
Javan:
1- 40 Thieves of Baghdad in Rio! Unfair Judgement of 2 [Iraqi] Jury Members Prevents Behdad from Winning Olympic Medal
2- US Support for ISIS Using UNSC Card: Washington Says Russia's Use of Iranian Base Is against UNSC Resolution 2231
3- Majority of Divorces Are Recommended by Psychologists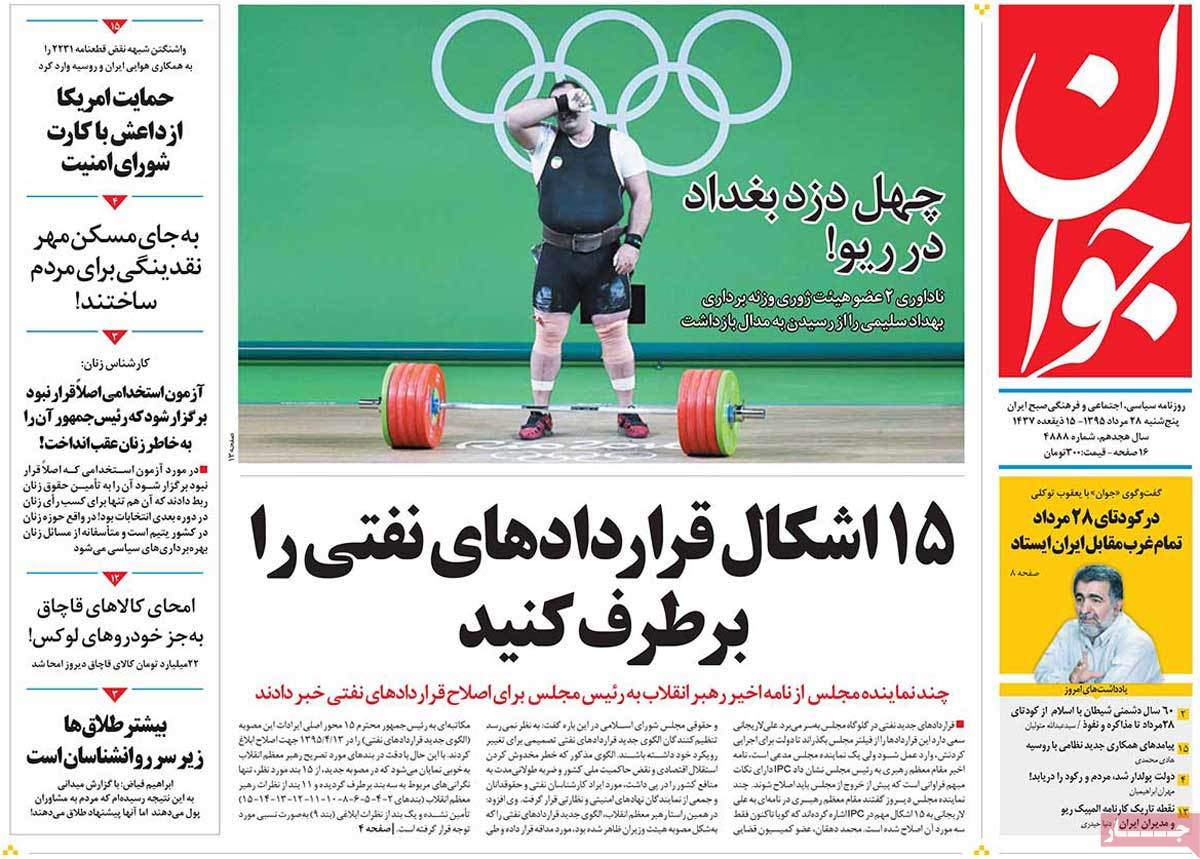 ---
Jomhouri Eslami:
1- Iran's Major Steps for Expansion of Banking Ties in Post-JCPOA Era
2- Russia Rejects US Claim of Violating UNSC Resolution 2231 on Iran
3- Smuggled Porsche Cars to Be Exported instead of Being Crushed
4- Britain's Secret Deal to Train Bahraini Oppressors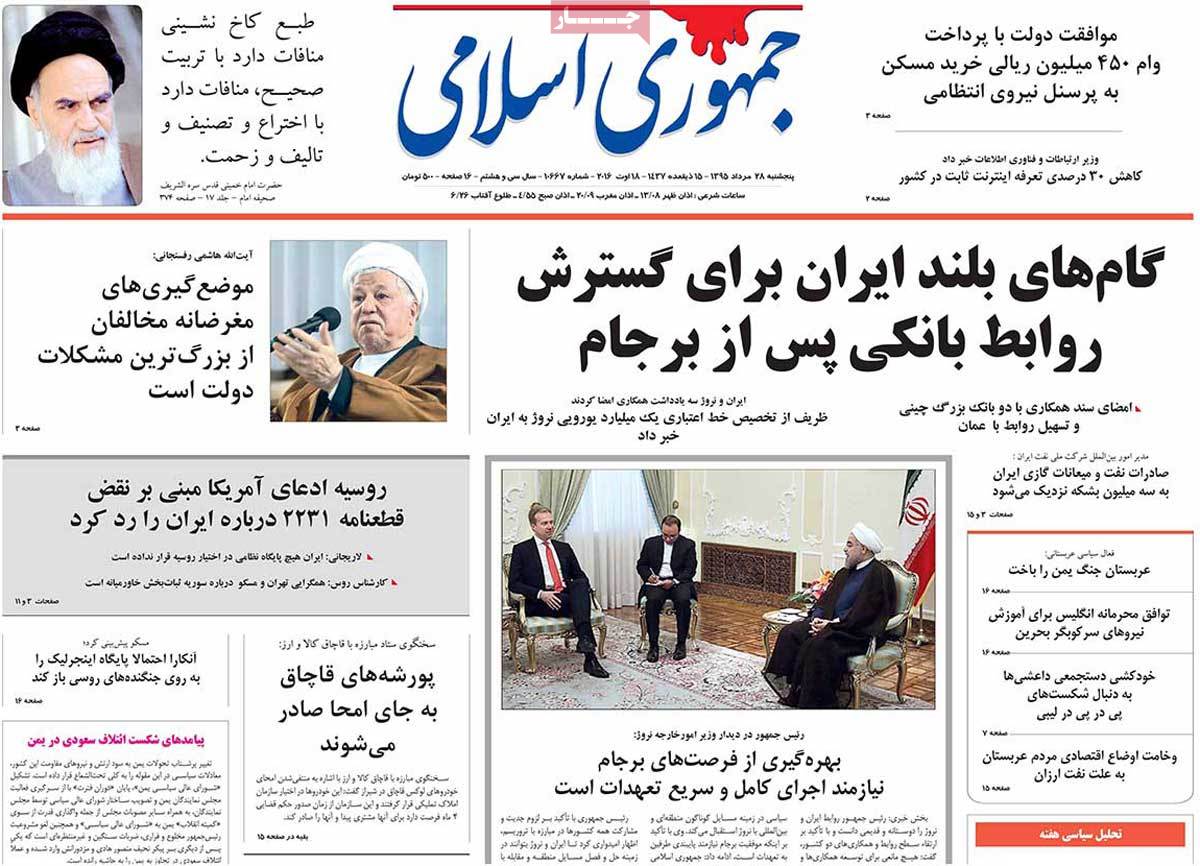 ---
Kayhan:
1- ISIS Godfathers Scared of Iran-Russia Military Coalition
2- Terrorists Returning from Iraq and Syria to Europe and US: UN Warns
3- Al Saud Was Defeated by Ansarullah in Military, Intelligence, and Politics: Saudi Prince
4- Selective Fight against Smuggled Goods: Goods Are Burnt, But Luxury Cars Not Crushed
5- 100,000 Anti-US Military Forces Are in Iraq
---
Resalat:
1- 1953 Coup Was Result of Trust in US: CEO of Fars News Agency
2- Government Has Not Taken Any Effective Measure on JCPOA: MP
---
Roozan:
1- Parliament to Amend Level of Guardian Council's Authority over Elections
2- Iran to Make Its Ties with Latin America Logical: Deputy FM
---
Setareh Sobh:
1- Mosaddeq, a Jurist Prime Minister Who Defeated Britain in The Hague and UNSC
2- Salimi Breaks Olympic Record, But Was Disqualified
3- Shortage of Water, a Crisis that Isn't Taken Seriously
---
Shaharvand:
1- 4 'Secret' Faults in Kiarostami's Case
2- Amount of Annual Smuggled Goods Equal to Iran's Oil Income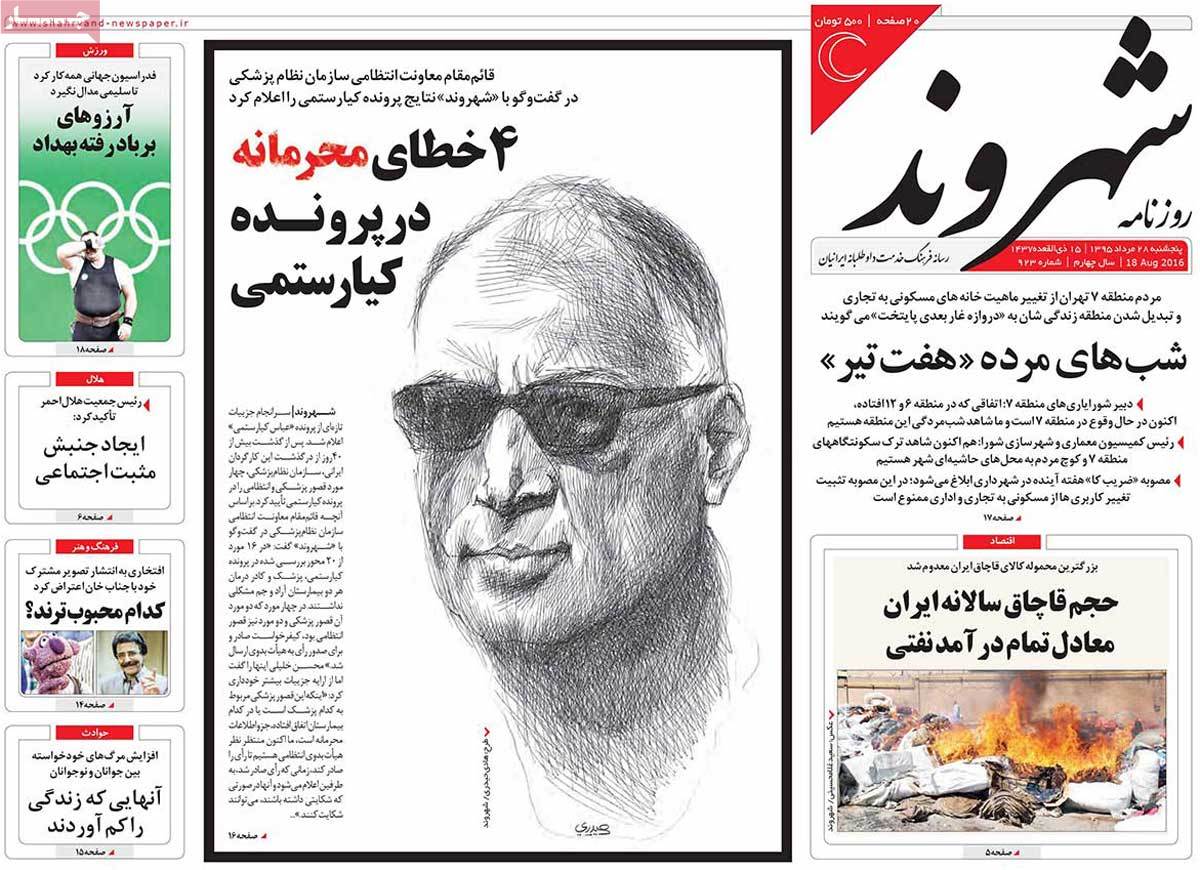 ---
Vaghaye Ettefaghieh:
1- Document Published after 65 Years Reveal: Mosaddeq's Wall against US Nuclear Attack
2- Opposition Figures Who Are under House Arrest Love the Iranian Revolution: Motahari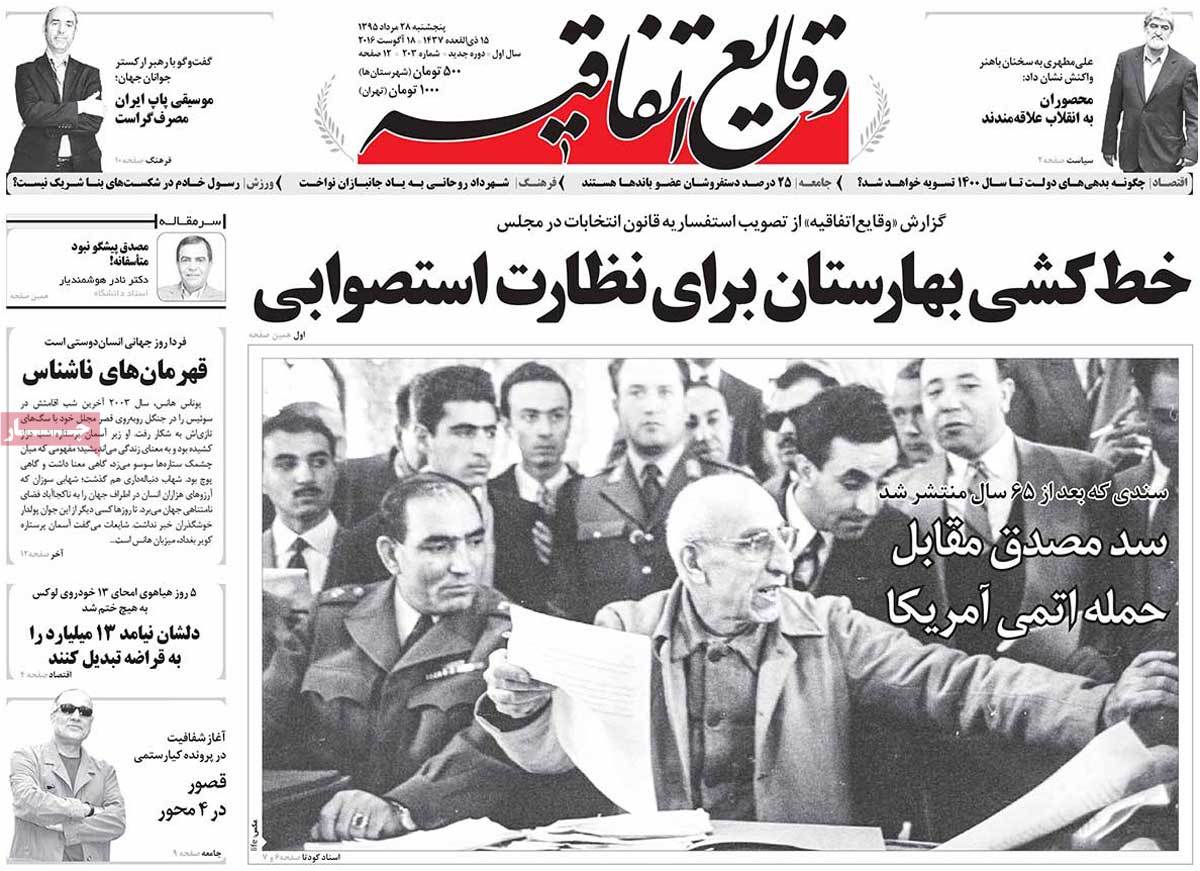 ---
Vatan-e Emrooz:
1- Watchdogs of ISIS Stopped by Security Forces: New Details of British and French Diplomats' Filming Barracks in Western Iran
2- Saudi Arabia Lost the War in Yemen
3- CIA Had Role in Turkey Coup: Trump
4- MPs Urge Government to Nullify New Oil Contracts