IFP has taken a look at the front pages of Iranian newspapers on Saturday and picked headlines from 21 of them. IFP has simply translated the headlines and does not vouch for their accuracy.
Newspapers on Saturday widely covered the visit of Iranian Foreign Minister Mohammad Javad Zarif to the Turkish capital of Ankara, where he was warmly received by his counterpart, and held separate meetings with Turkish high-ranking officials including President Recep Tayyip Erdogan.
A new triangle of cooperation between Iran, Turkey, and Russia was also discussed by many papers. Zarif's visit to Turkey and his remarks as well as the restoration of Moscow-Ankara ties have increased the possibility of such alliance.
The above issues as well as many more are covered in the following headlines:
Abrar:
1- Reformists Want Rouhani to Continue His Work in Second Term
2- Iran Welcomes Close Ties with Turkey and Russia
3- Russian Ambassador to Iran: Tehran Wants to Have Latest Weapons Made by Russia
---
Afkar:
1- Kidneys of 8% of Iranians Form Stones
2- Muslim World Endangered Because of Saudi Arabia's Money: Cleric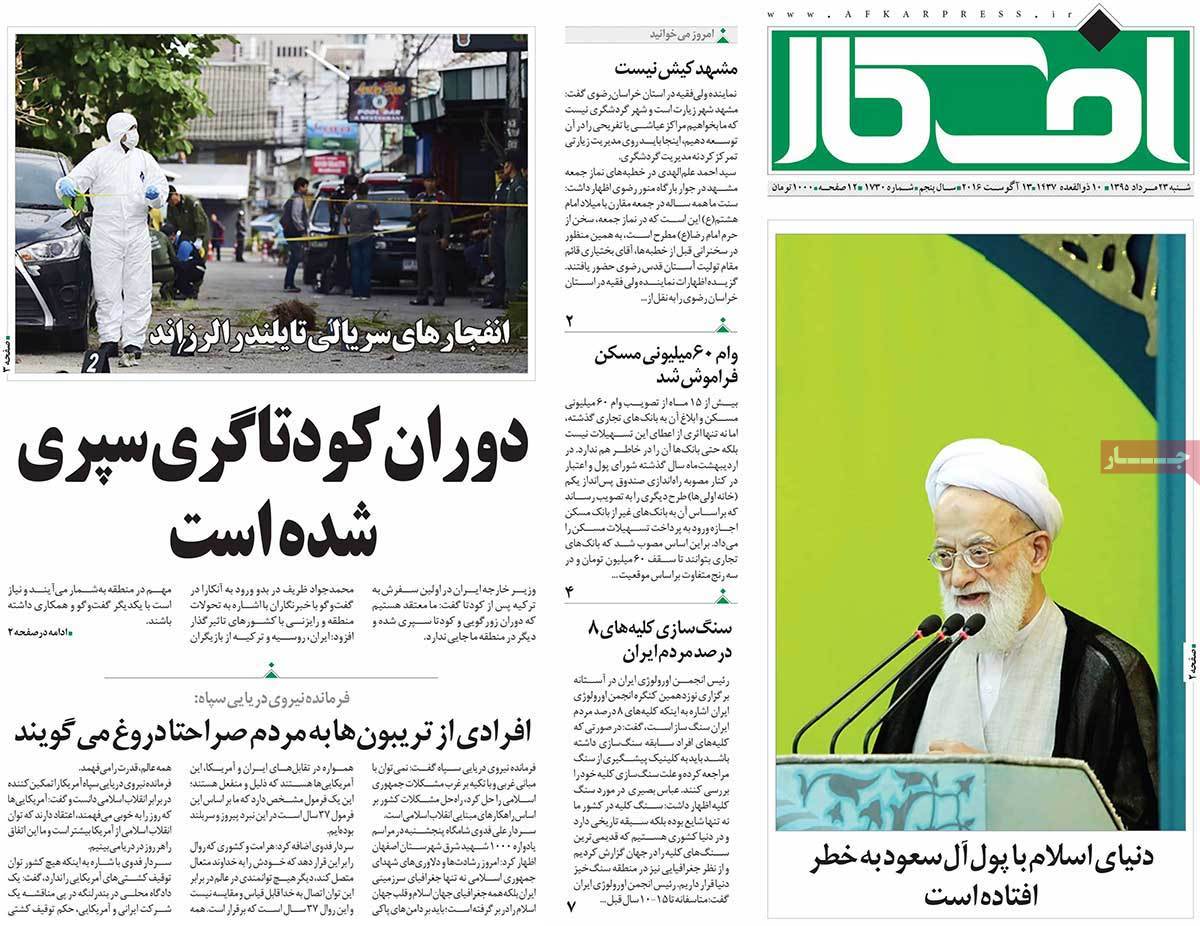 ---
Aftab-e Yazd:
1- Russian Ambassador to Iran: Iran's Withdrawal from Its Lawsuit against Russia in Delivery of S-300 Missile Defence System
2- Interior Ministry's Strategic Mistake: Action to Be Taken against Ahmadinejad's Electoral Meetings
3- Anti-JCPOA Mission Given to Embassies: Increase in Saudi Arabia's Activities against Iran Nuclear Deal
4- Israel Terrified by Zarif's Visit to Turkey: Reinforcement of Tehran-Ankara-Moscow Triangle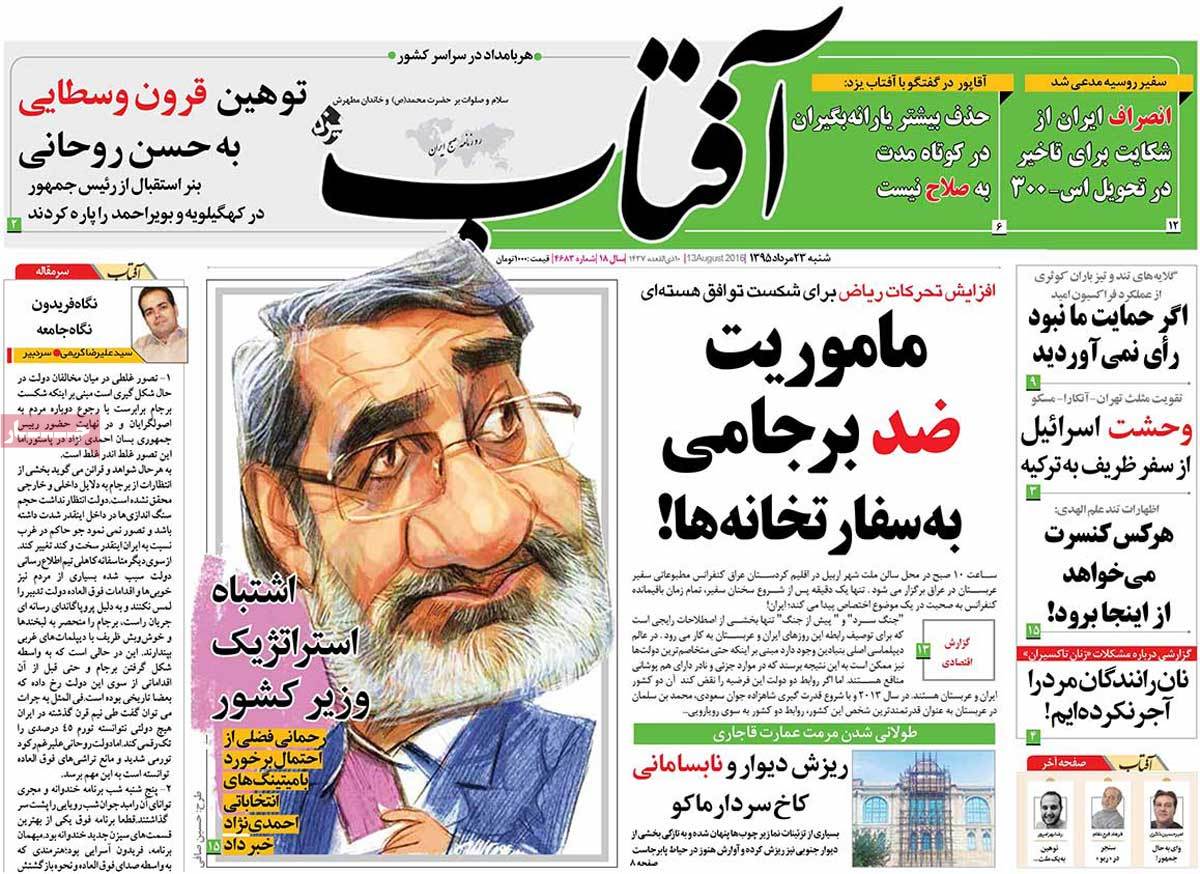 ---
Arman-e Emrooz:
1- Secrets behind Efforts to Have Rouhani Disqualified from Running for Presidency
2- Possible Role of Turkey's Gulen in Babak Zanjani's Case
3- Trip to Turkey in Post-Coup Era
---
Asrar:
1- Zarif in Ankara: Era of Bullying and Coup Is Over
2- 11 Explosions Hit Thailand
---
Ebtekar:
1- Millions of Dollars Earned by Iranian Cinemas Show People's Reconciliation with Cinema
2- Interior Ministry Gives Warning to Ahmadinejad
3- Fears and Hopes of Close Ties between Tehran, Ankara, and Moscow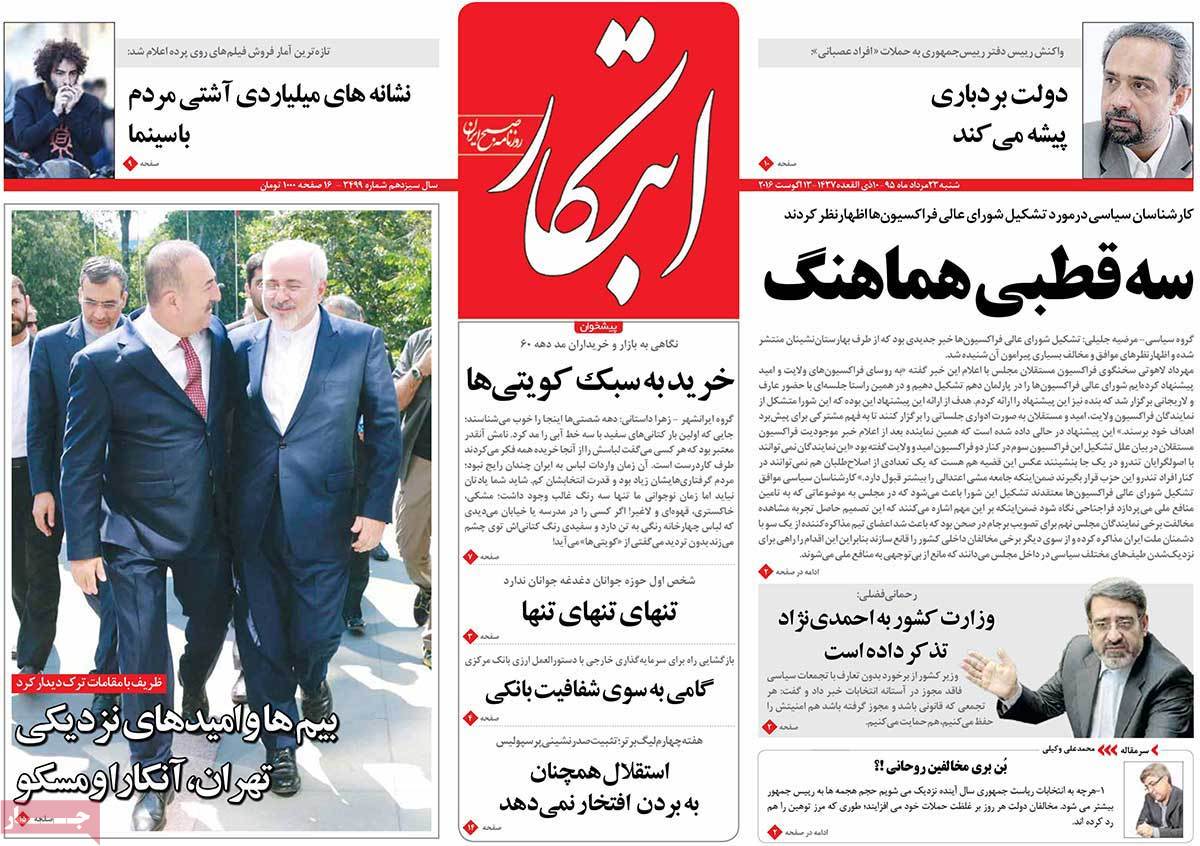 ---
Emtiaz:
1- Even Those Absent from University Entrance Exam Are Allowed to Apply
2- Ebtekar: Government's Serious Will to Save Environment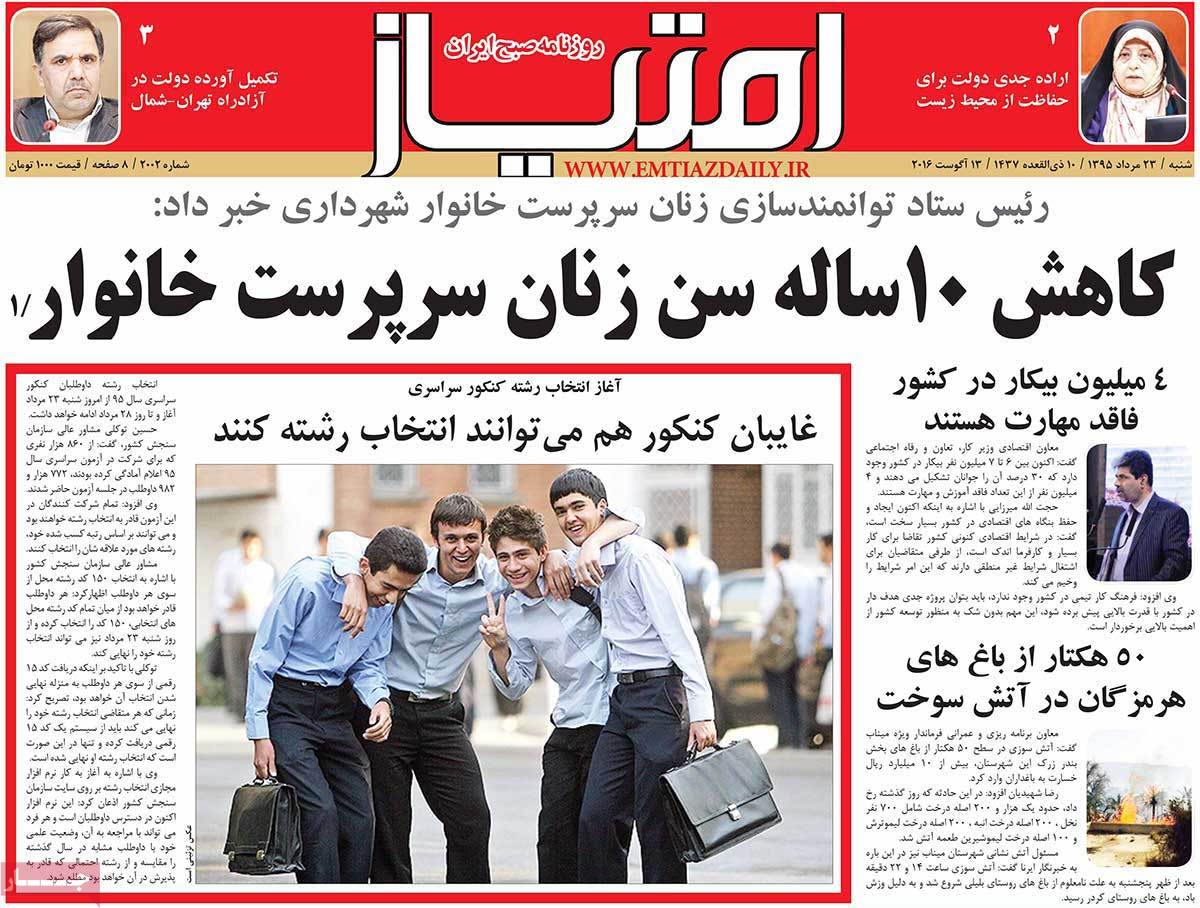 ---
Etemad:
1- Diplomatic Hello after the Coup
2- Ending the Economic Downturn Should Be Iran's Top Economic Priority
---
Ettela'at:
1- Talks between Zarif and Erdogan in Ankara
2- Zarif: Joint Campaign against Terrorism, Extremism, and Sectarianism Is the Common Goal of Iran and Turkey
3- Iranian FM, His Turkish Counterpart, Erdogan, and Turkish PM Say Their Prayers in Same Line
4- Saudi Arabia Is Our Notorious and Unreliable Ally: US House Speaker
5- Parliament's Plan to Prevent Villagers' Migration to Cities
---
Haft-e Sobh:
1- Iranians to Visit Caucasia: Baku, Yerevan, and Tbilisi Trying to Attract Iranian Tourists
2- Apple Hasn't Given Representation Licence to Anyone in Iran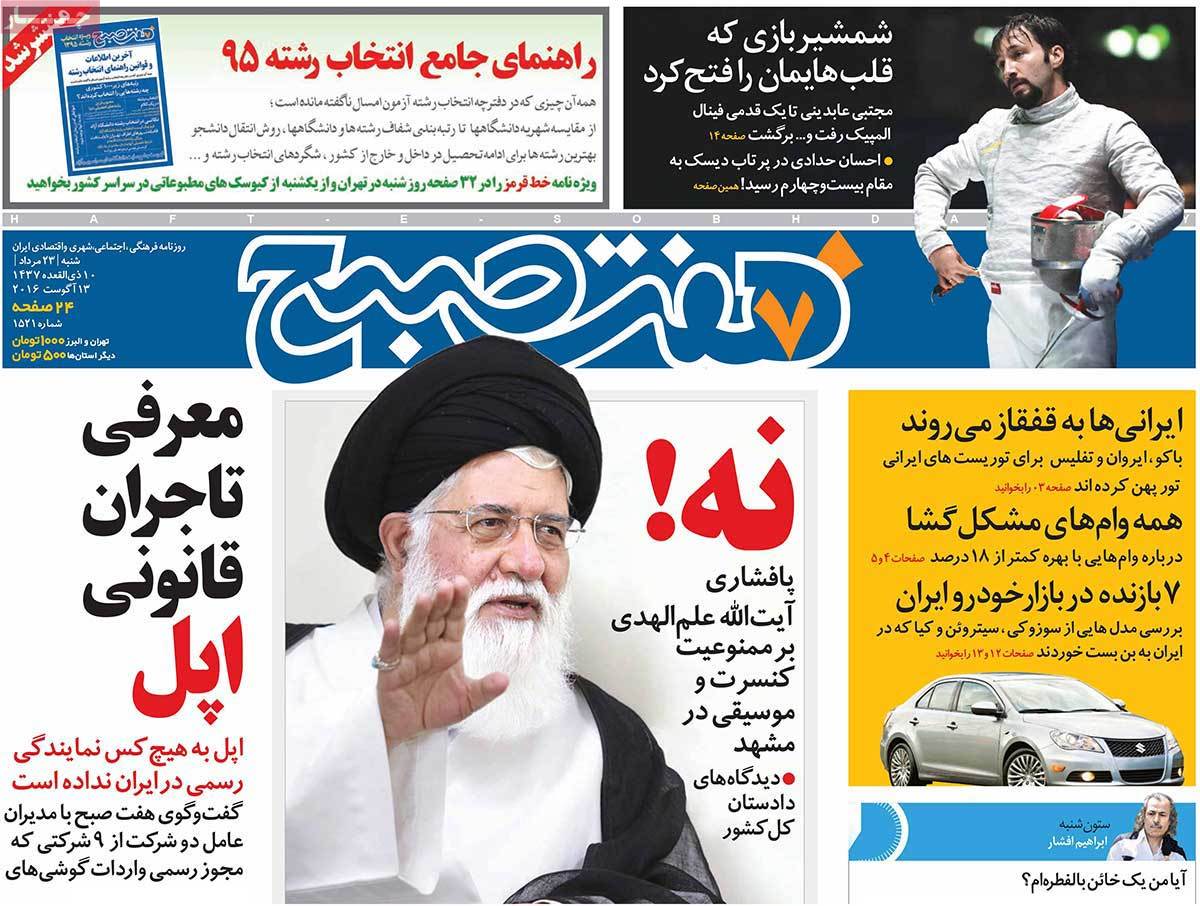 ---
Iran:
1- First Talks after Failed Coup
2- Iran's Wheat Reserves Were Enough for 18 Days, Now They Suffice for 6 months
3- First Post-JCPOA Finance on Tehran-Qom-Isfahan Railway: Rapid Railway Financed by the Chinese Is First Achievement after Nuclear Deal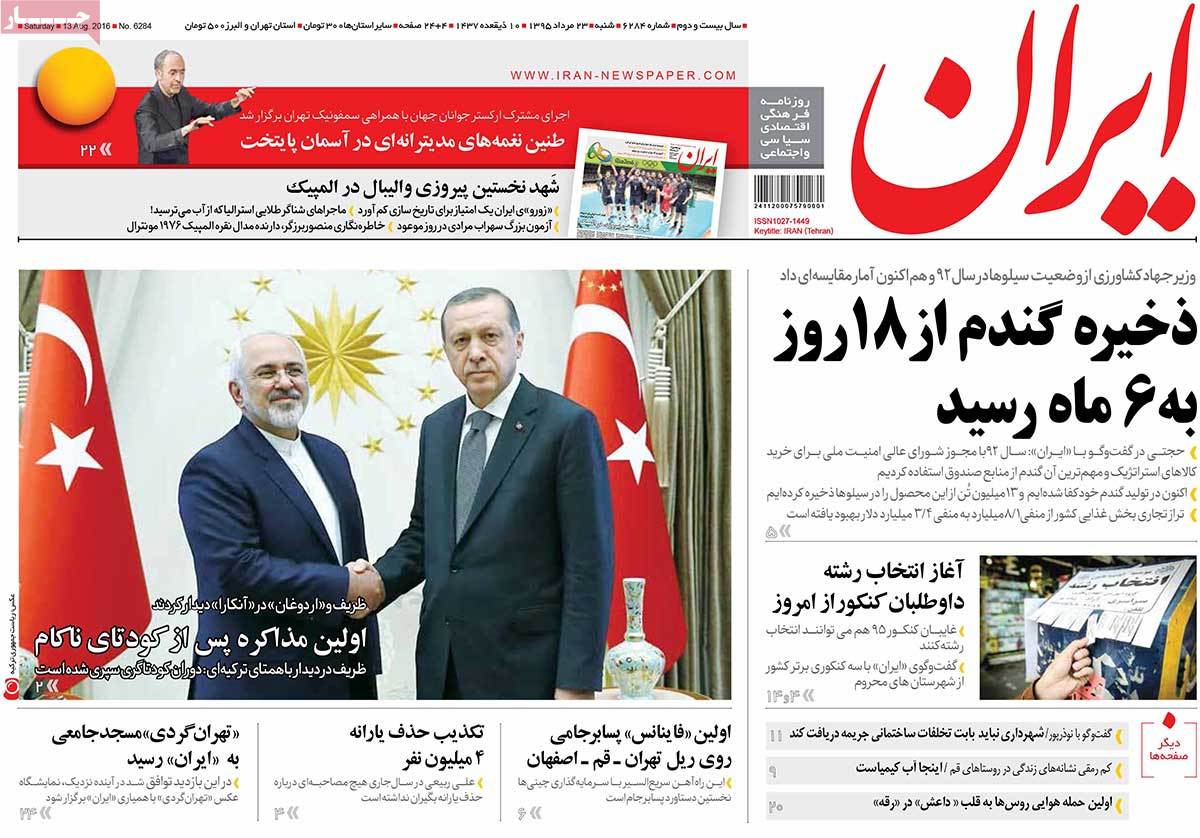 ---
Jame Jam:
1- Change in Iranian Society's View of HIV Thanks to IRIB TV Series: Actress
2- Trilateral Consultations for Peace in Syria
3- "No" to Plastic Bags in "Green Supermarkets"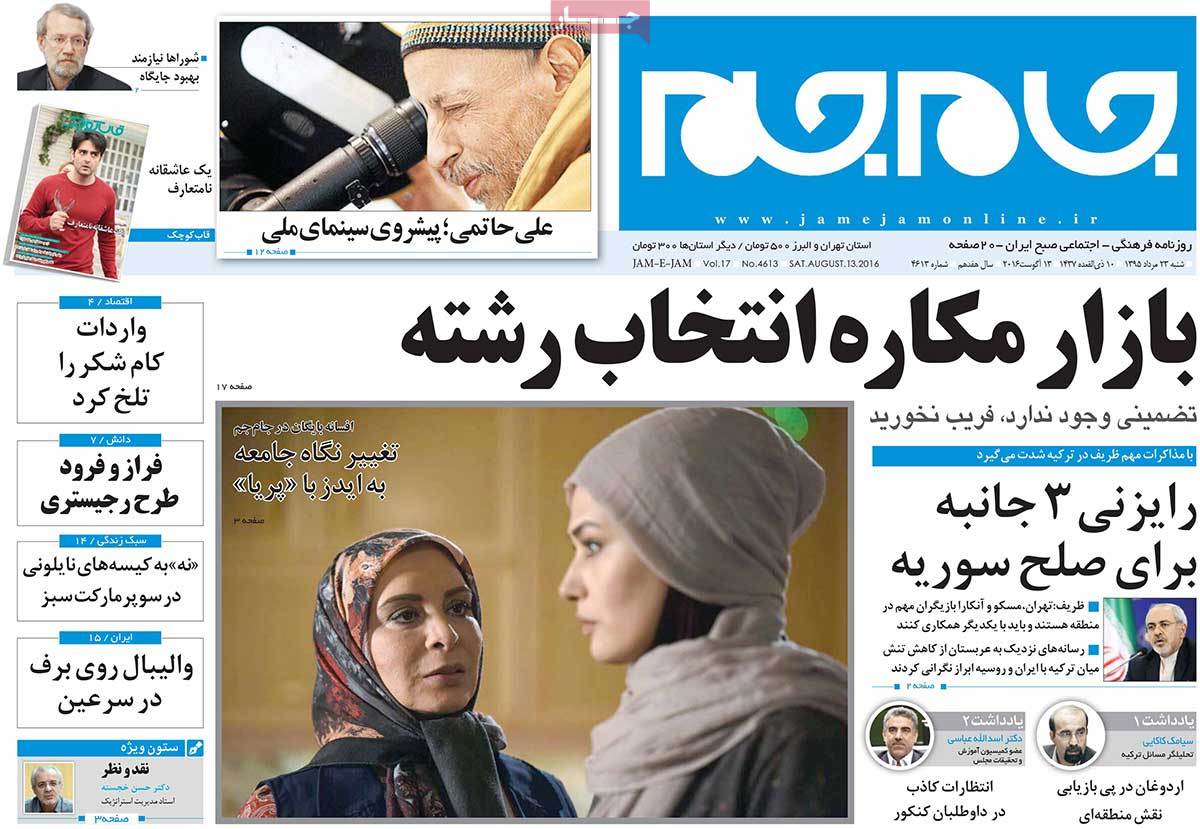 ---
Javan:
1- Turkey's Hand in That of Syria's Allies: Iran-Russia-Turkey Cooperation Announced by Zarif in Ankara
2- Popular Campaign Urges Government, Which Is Busy Buying Airplanes, Not to Forget 1,000 Metro Wagons It Has Promised to Supply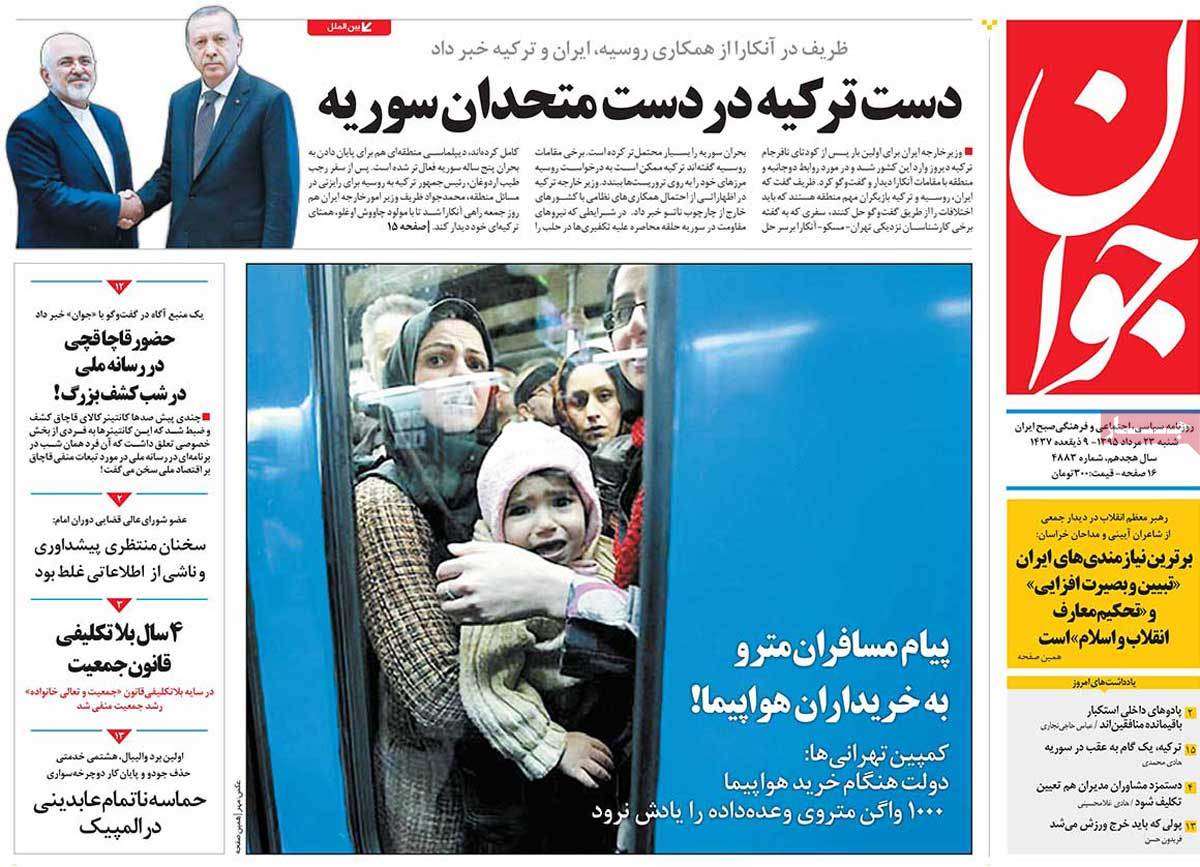 ---
Jomhouri Eslami:
1- Terrorist under Fire of Syrian Army and Russian Fighters from Aleppo to Raqqa
2- US Black Movement Call for Boycott of Israel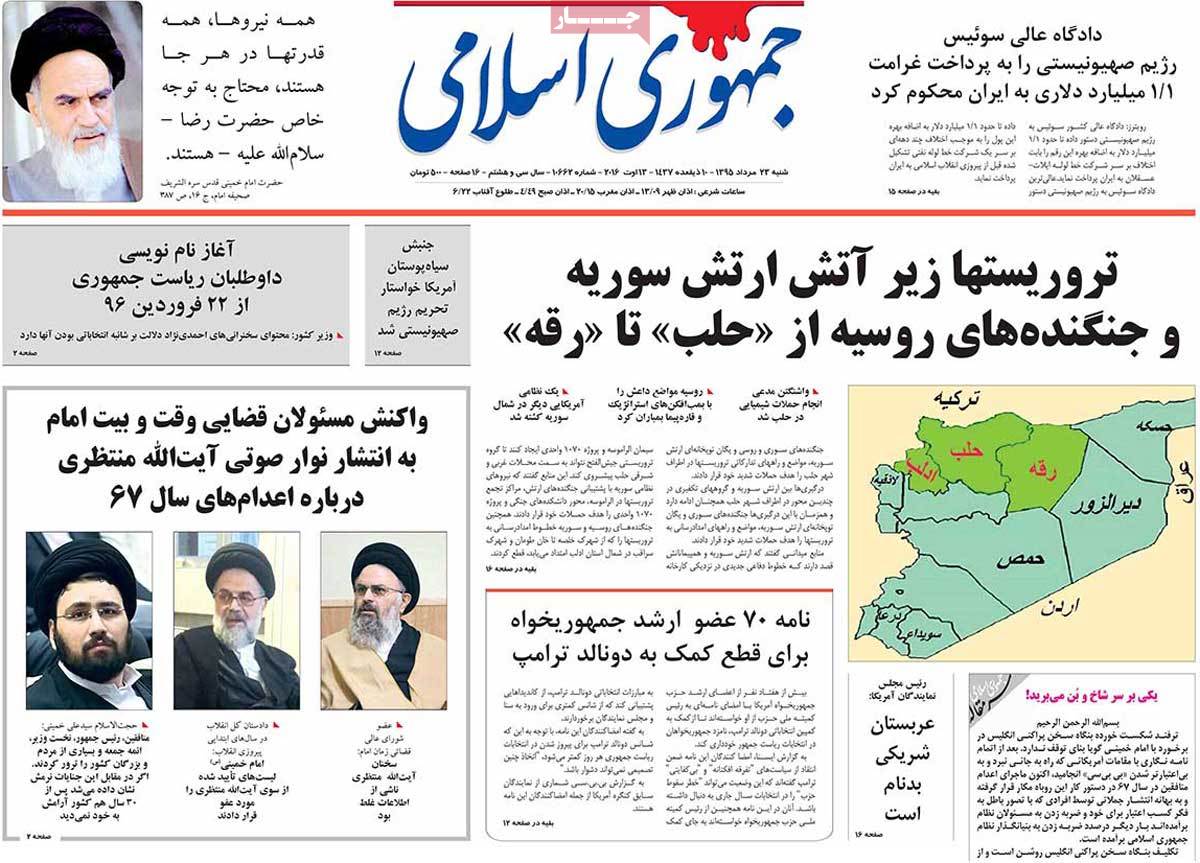 ---
Ka'enat:
1- Iranian Oil Tankers Resume Navigation in European Waters: Official
2- Shock to Iran's Sports in Olympics: Ehsan Haddadi Disqualified Very Soon
3- 530 New Industrial Units to Be Added to Iran's Production Cycle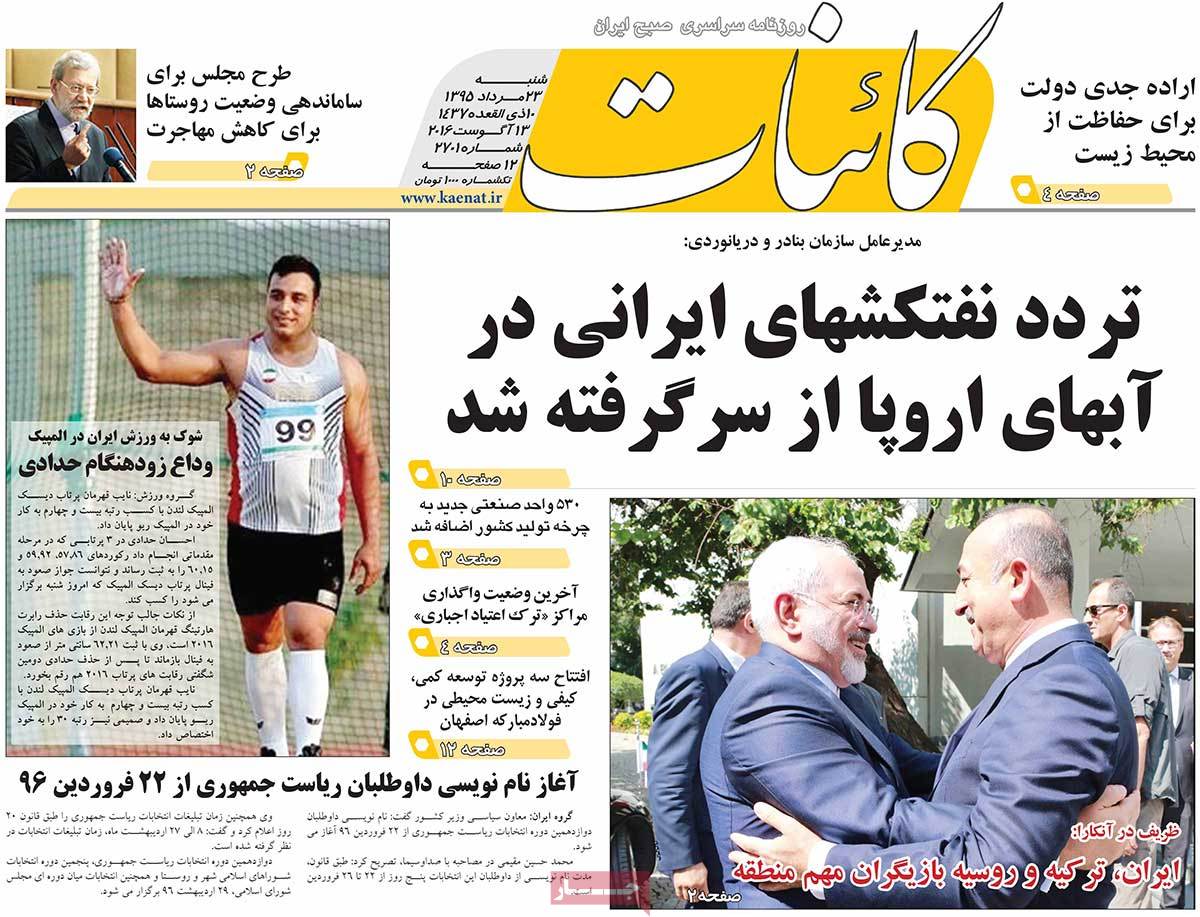 ---
Kayhan:
1- 330km Rally Held by Nigerian Shiites for Release of Sheikh Zakzaky
2- American Goods Are Still Imported Based on Statistics
3- ISIS Terrorist Beheads His Father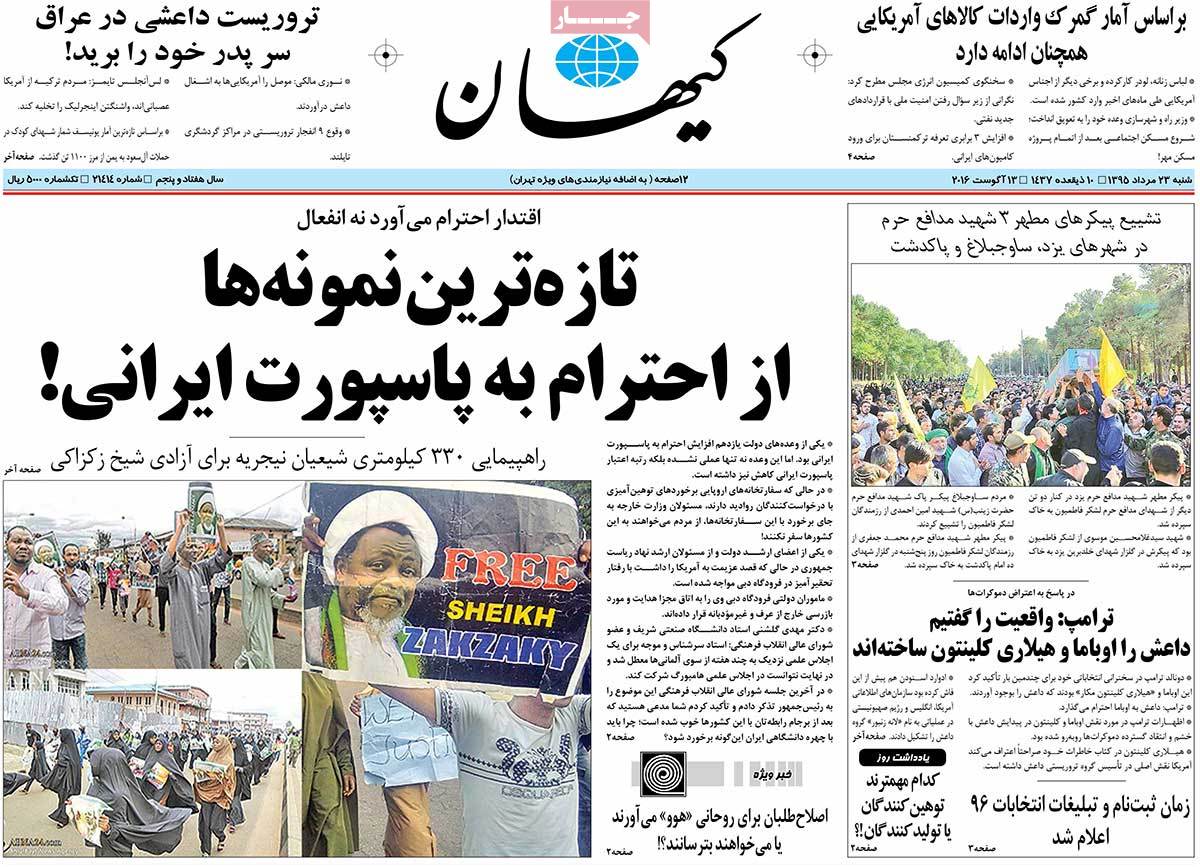 ---
Khorasan:
1- Cancer Vaccine Successfully Tested in Iran
2- Signs of Trump's Defeat
3- Beginning of Olympic Games for Iran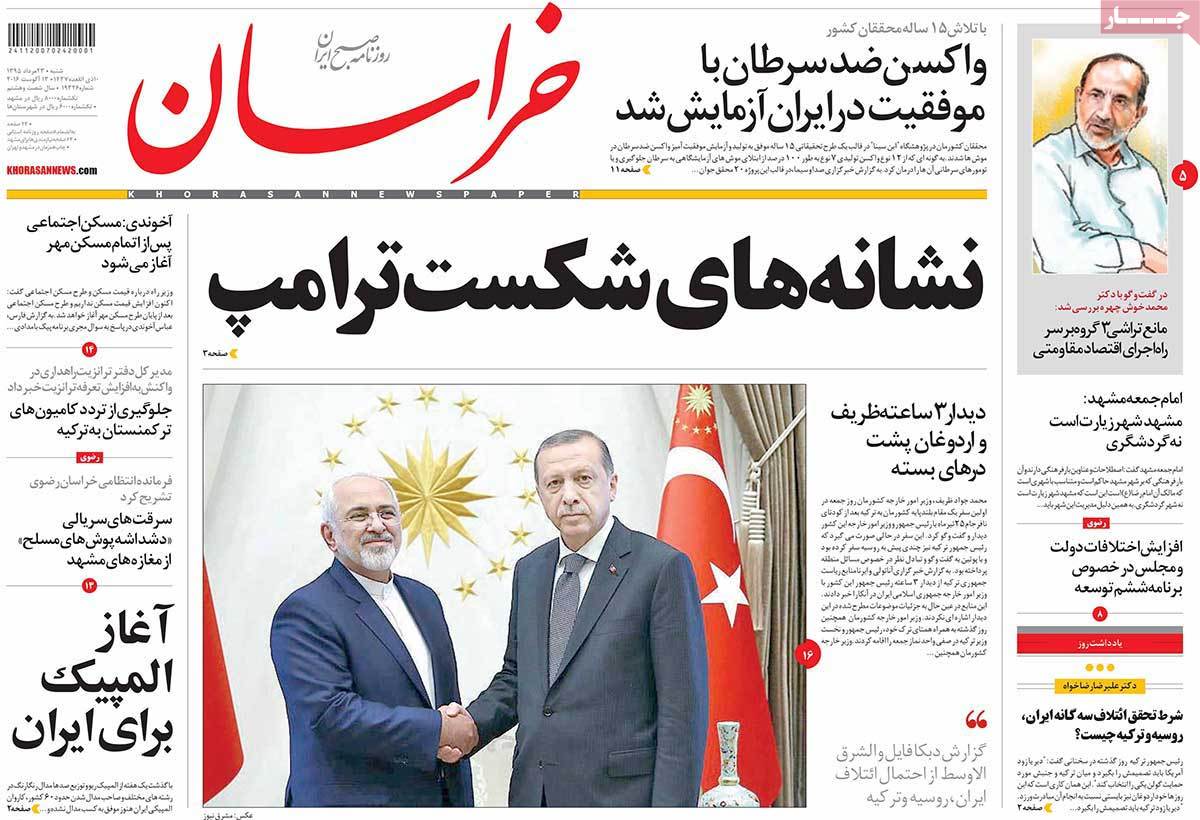 ---
Payam-e Zaman:
1- Restoration of Closed Industrial Units
2- Al Saud Is Training and Reinforcing ISIS: Senior Cleric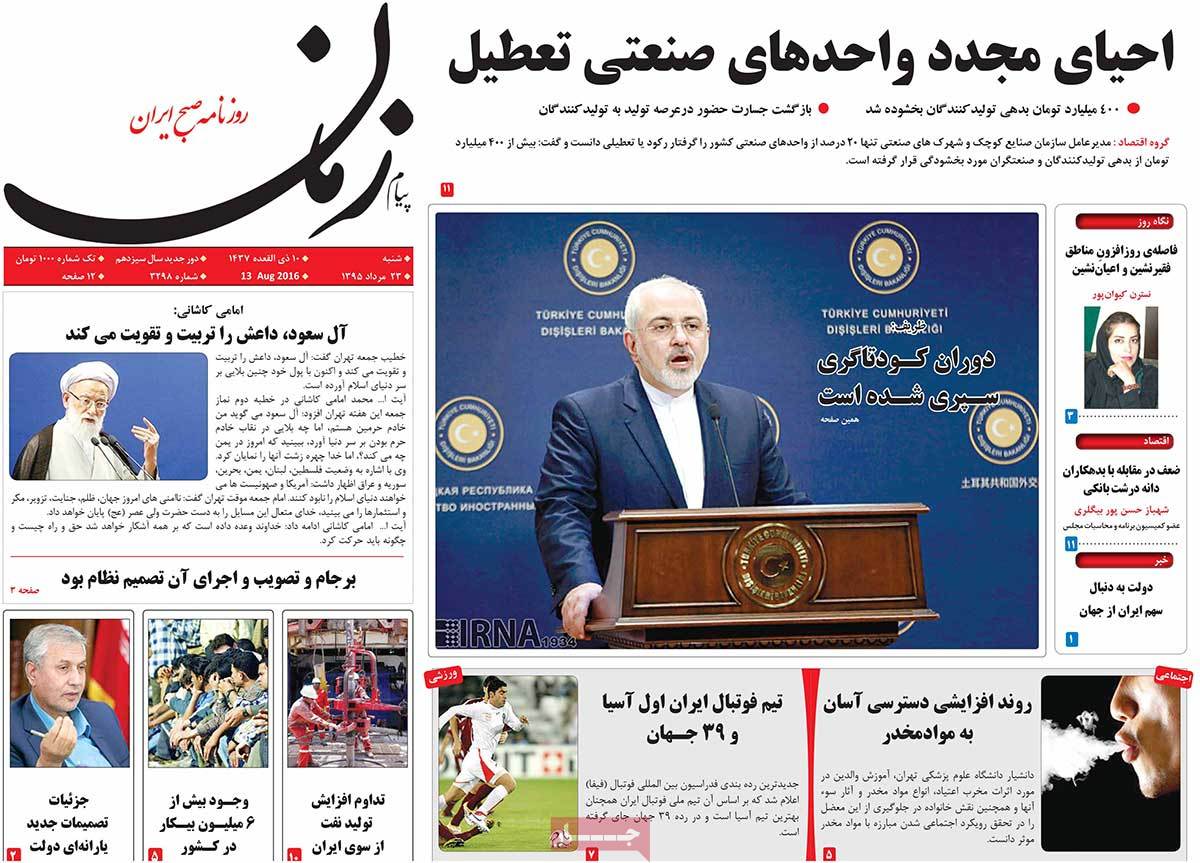 ---
Resalat:
1- US Afraid of Iran's Power: Judiciary Chief
2- Ministers to Receive Salaries Less than $2,900 as of This Month: Gov't Spokesman
3- Clerics Are Not Opposition of Government: Ayatollah Khatami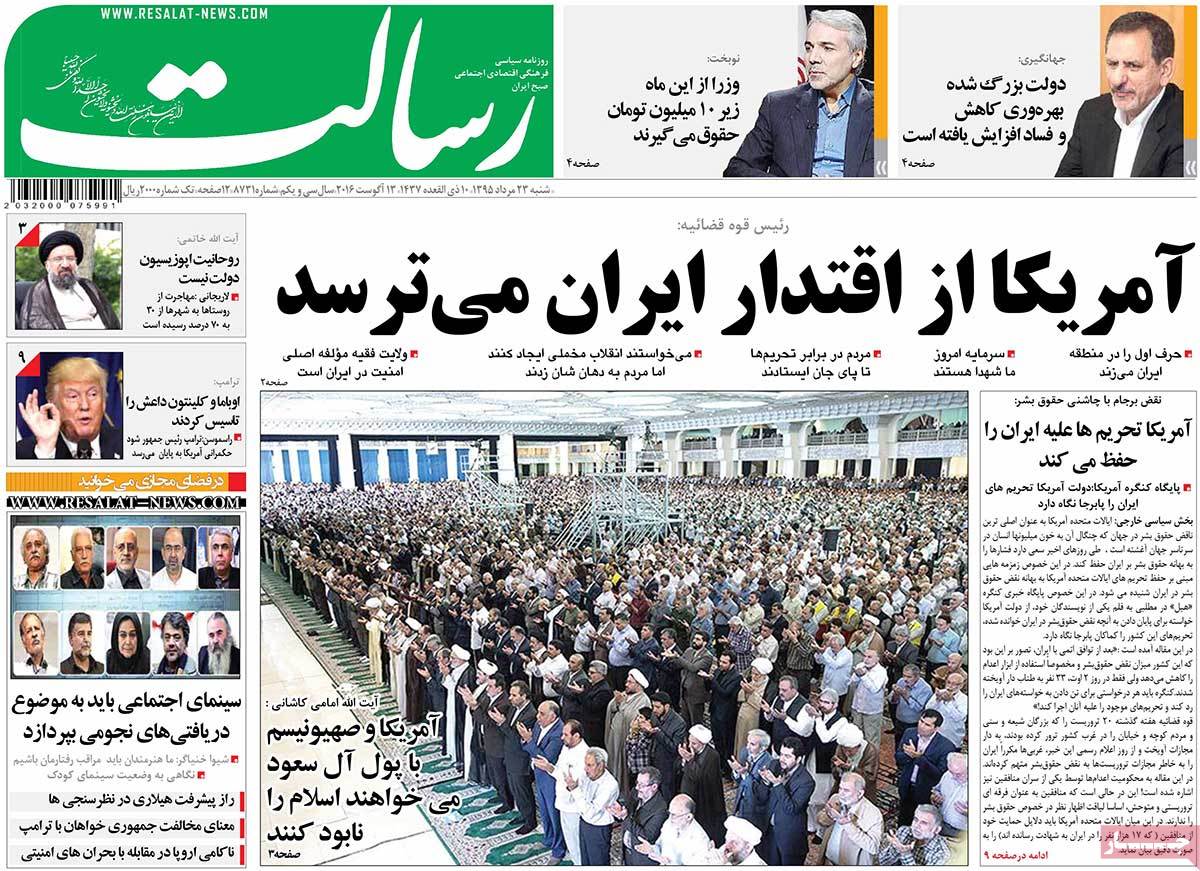 ---
Vaghaye Ettefaghieh:
1- A Review of 116 Years of Iran's Presence in Olympic Games
2- Triangle of Understanding in the Region: New Round of Iran-Turkey-Russia Talks Started
---
Vatan-e Emrooz:
1- MKO Terrorists Are Worse than ISIS: Imam Khomeini's Grandson
2- Possibility of Closure of Turkey-Syria Border