Newspapers on Thursday covered the remarks made by President Hassan Rouhani in an address to an education conference held in Tehran. President Rouhani noted that censorship and filtering do not solve any problem, and that the young generation should be taught how to use the means of communication.
The comments by the Chairman of Iran's Expediency Council Ayatollah Akbar Hashemi Rafsanjani in praise of President Rouhani also received great coverage. Ayatollah Rafsanjani stressed that the current problems will be resolved in the second term of President Rouhani.
The above issues as well as many more are highlighted in the following headlines:
Abrar:
1- Return of 160,000 Iraqi Families to Areas Cleansed of ISIS Terrorists
2- Smart Roles of Iran and Russia in Turkey's Failed Coup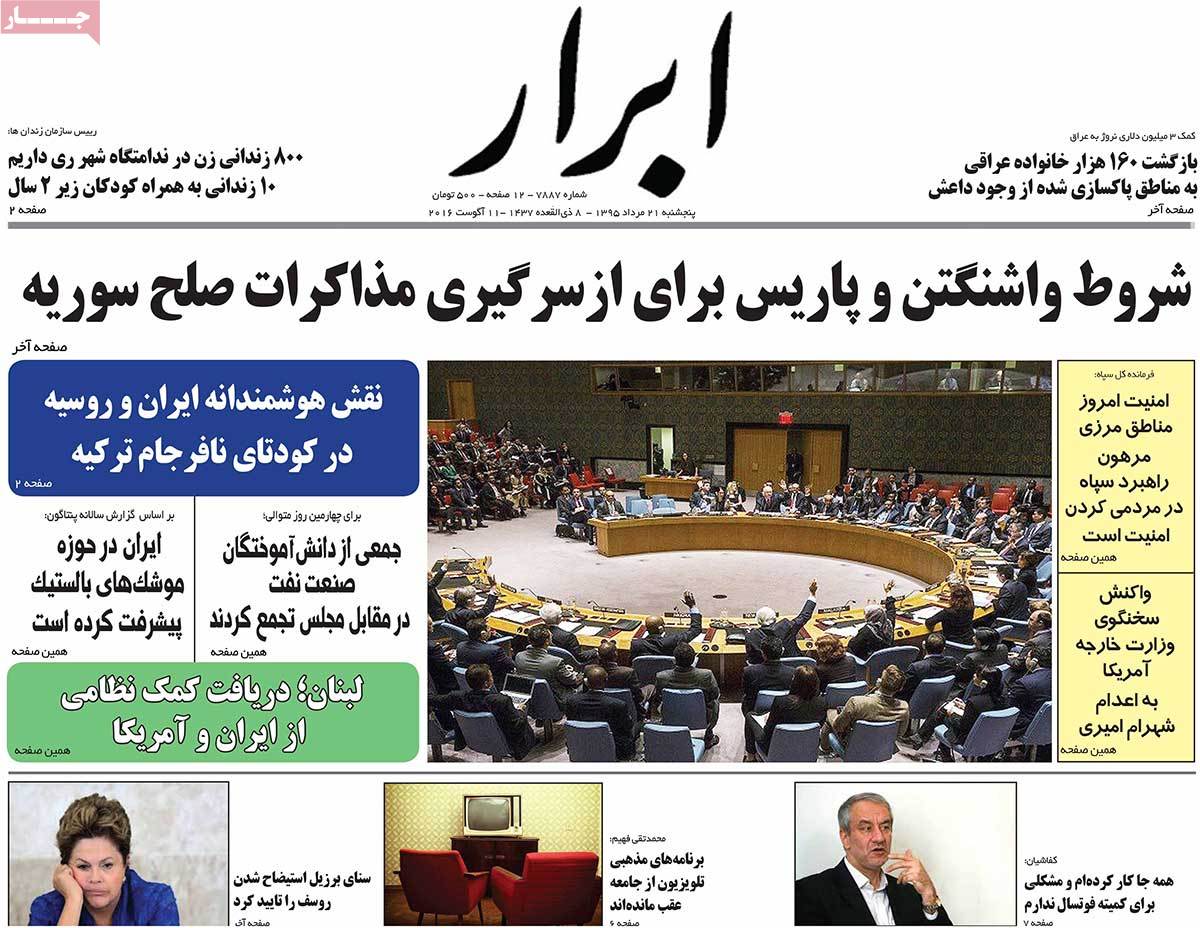 ---
Afkar:
1- Iraqi Market Ready for Prosperity of Iranian Brands
2- Iran's Parliament Planning to Impeach Education Minister
---
Aftab-e Yazd:
1- Rafsanjani's Strong Support for Rouhani: President Rouhani Will Be Re-Elected in Next Year's Elections
2- Iran's Capital, a Paradise for Beggars: 600 Foreign Beggars Removed from Tehran Streets
---
Arman-e Emrooz:
1- President Rouhani: Problems Can't Be Solved by Filtering
2- Rafsanjani: They Set Fire on Foreign Embassies in the Name of Being Revolutionary
---
Asrar:
1- Judiciary Should Prosecute Previous Government's Negligence: President Rouhani in Reference to US Seizure of Iranian Assets
2- White House Ignores Ahmadinejad's Letter to Obama
3- 29 Iranian Prisoners Pardoned in UAE
---
Asr-e Iranian:
1- New Oil Contracts Will Offer Iran to Foreigners for 30 Years: MP
2- Hundreds of Tons of Saudi Bombs on Yemeni People
---
Asr-e Rasaneh:
1- 25% Increase in Iran's Exports of Food and Medical Products and Cosmetics
2- First Iranian City to Be Provided with CNG
3- 1.5m Useless Phones in Tehran: ICT
4- Iran's Red Crescent Society Ask for Giving Help to Wounded and Needy Syrians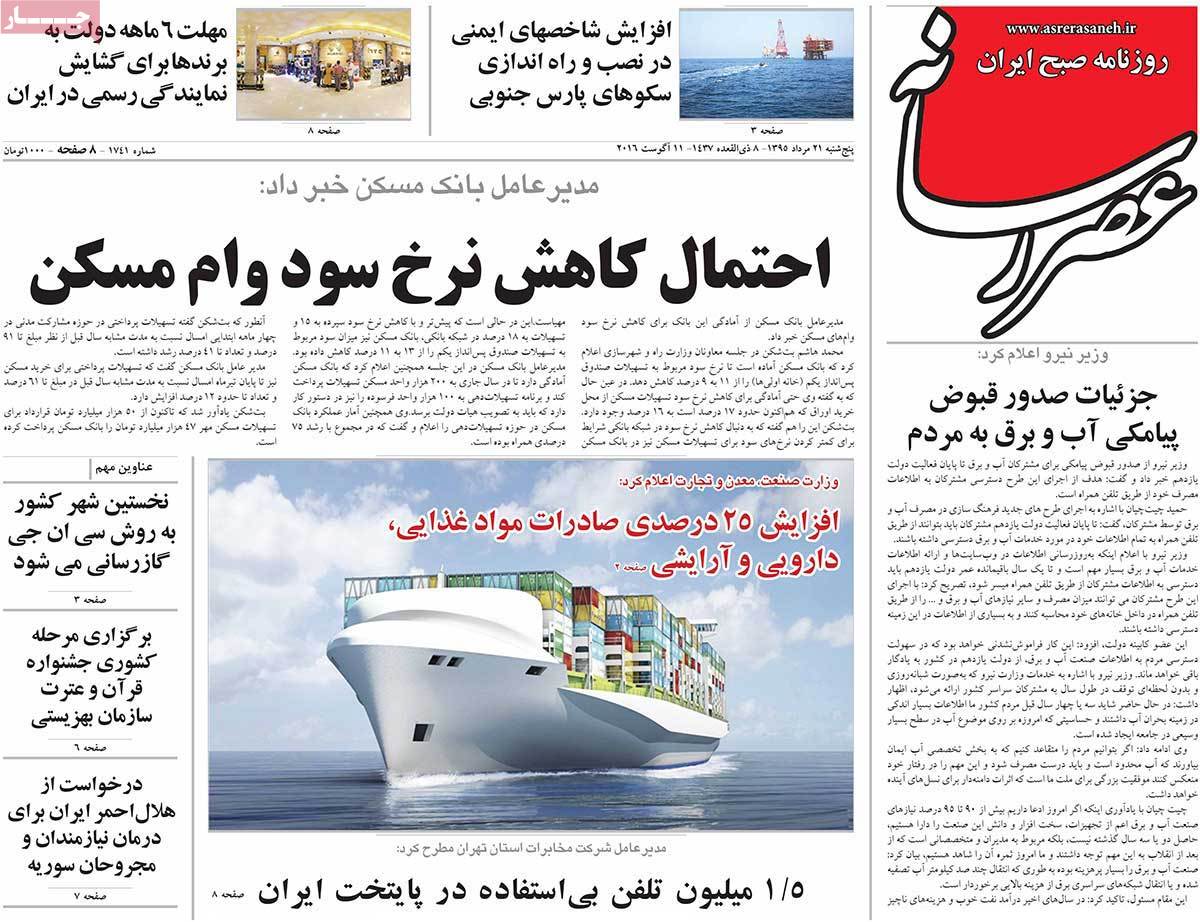 ---
Ettela'at:
1- We Should Interact with the World; Iran's Ties with the World Should Continue Based on Our Interests and Principles: Rouhani
2- Tens of Terrorists Killed in Drone Attacks of Lebanese Hezbollah on Aleppo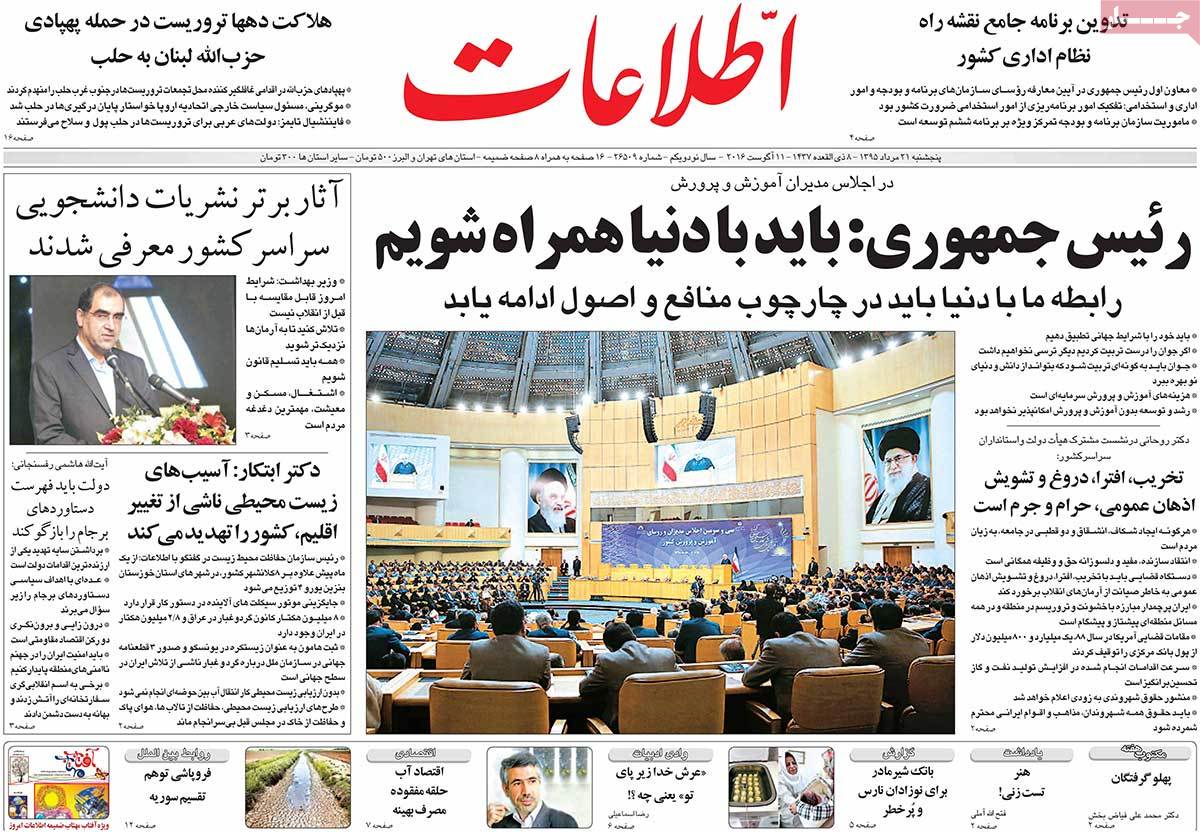 ---
Iran:
1- Rafsanjani: One of Rouhani's Greatest Works Was to Prevent Expansion of Anti-Iran Sanctions
2- 1,070 Kilometres of Highway to Be Inaugurated by Mid-March 2017
3- All Body Organ Transplant Procedures Will Be Carried Out for Free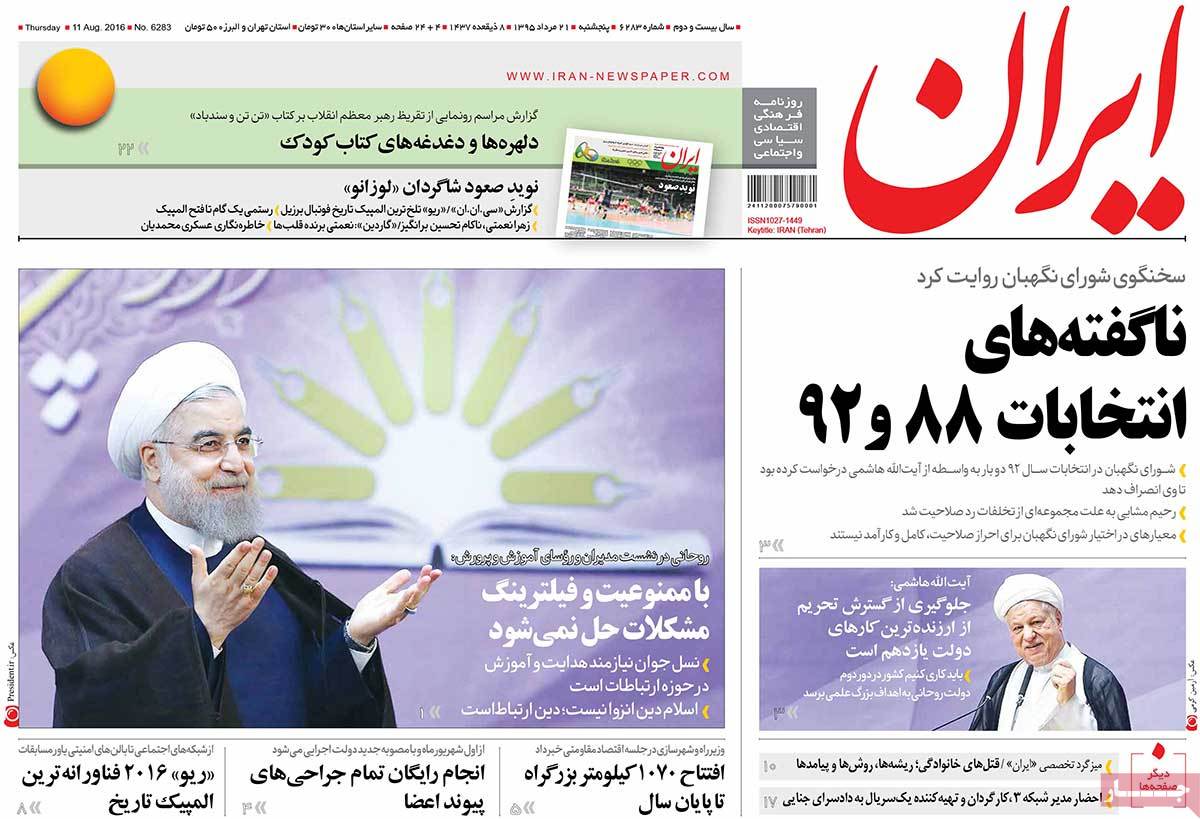 ---
Javan:
1- Prosecutor-General to Investigate into Paycheques of 1,600 Executives
2- Weakened ISIS for Controlling Iran: Joint Plan by Think Tanks of Zionists, Saudis, and Americans for Post-JCPOA Middle East
3- Rouhani: It Is Dangerous to Give Mobile Phones to Young People without Care and Guidance
4- IRGC Commander: Danger of Enemy's Infiltration Has Become Serious after JCPOA
---
Jomhouri Eslami:
1- German Company Seeks to Make $4bn Investment in Iran's Petchem Industry
2- Saudi Arabia's Use of Cluster Bombs in Yemen's Saada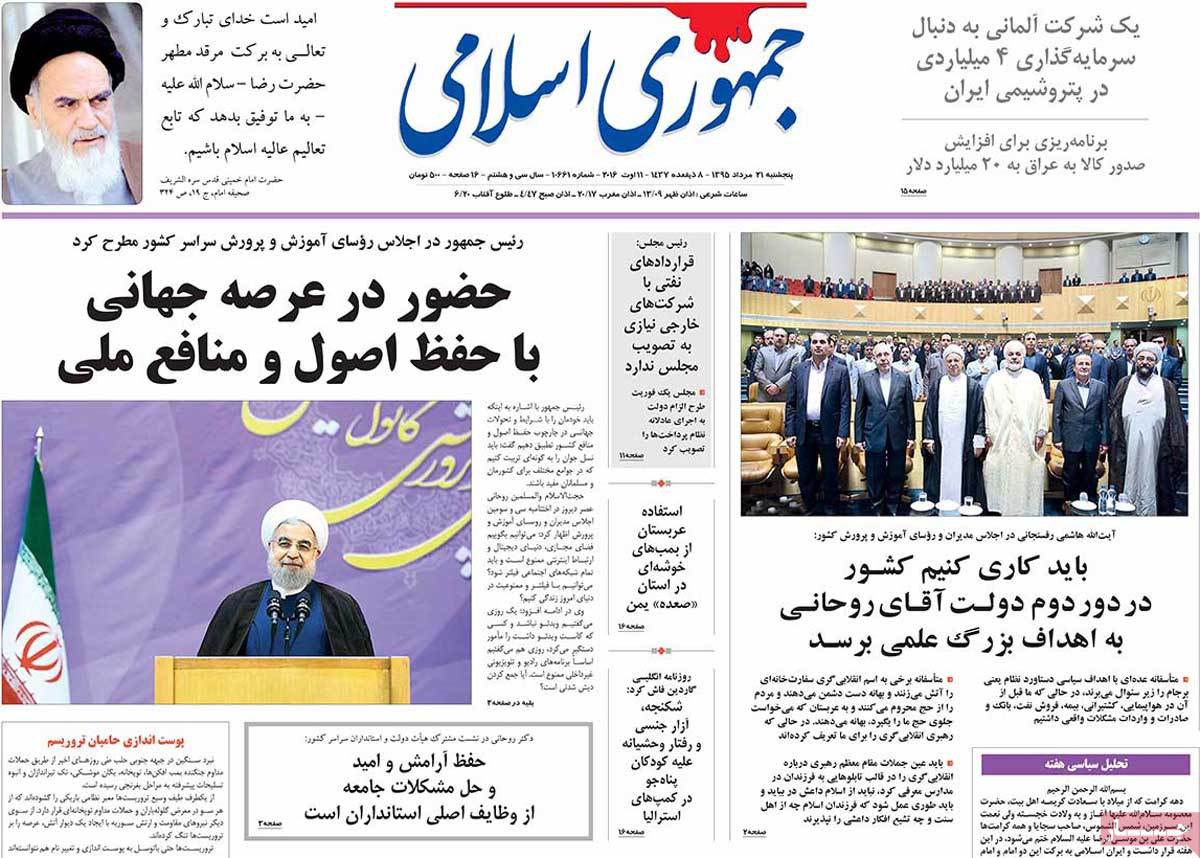 ---
Kayhan:
1- ISIS Is Useful for Countering Iran, Don't Annihilate It: Zionist Think-Tank
2- FATF Implementation to Undermine Iran's Economy and National Security
3- Problems Will Be Solved in Rouhani's Second Term: Rafsanjani
---
Khorasan:
1- Iran's Military Power Has Been Reinforced after JCPOA: Pentagon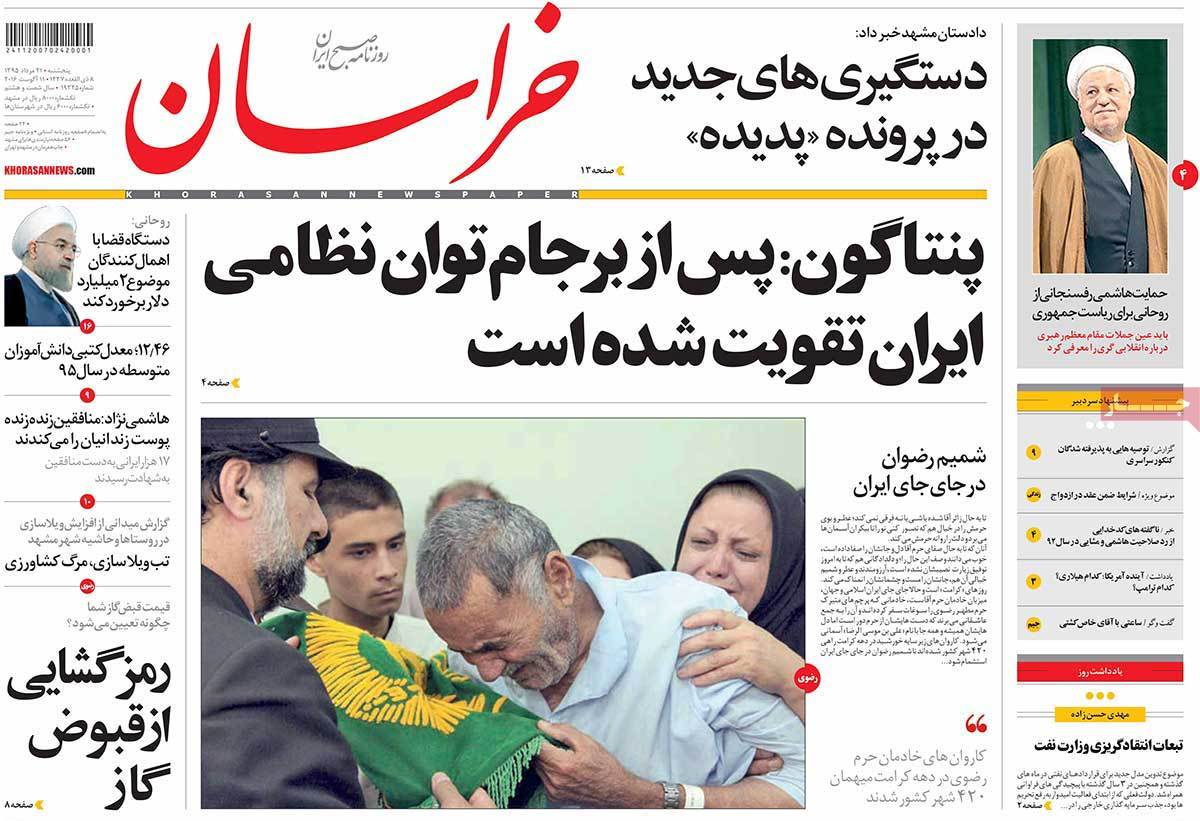 ---
Rah-e Mardom:
1- Isn't It the Time for Moving towards New Energies?
2- Clean Energies Can Create 8m Jobs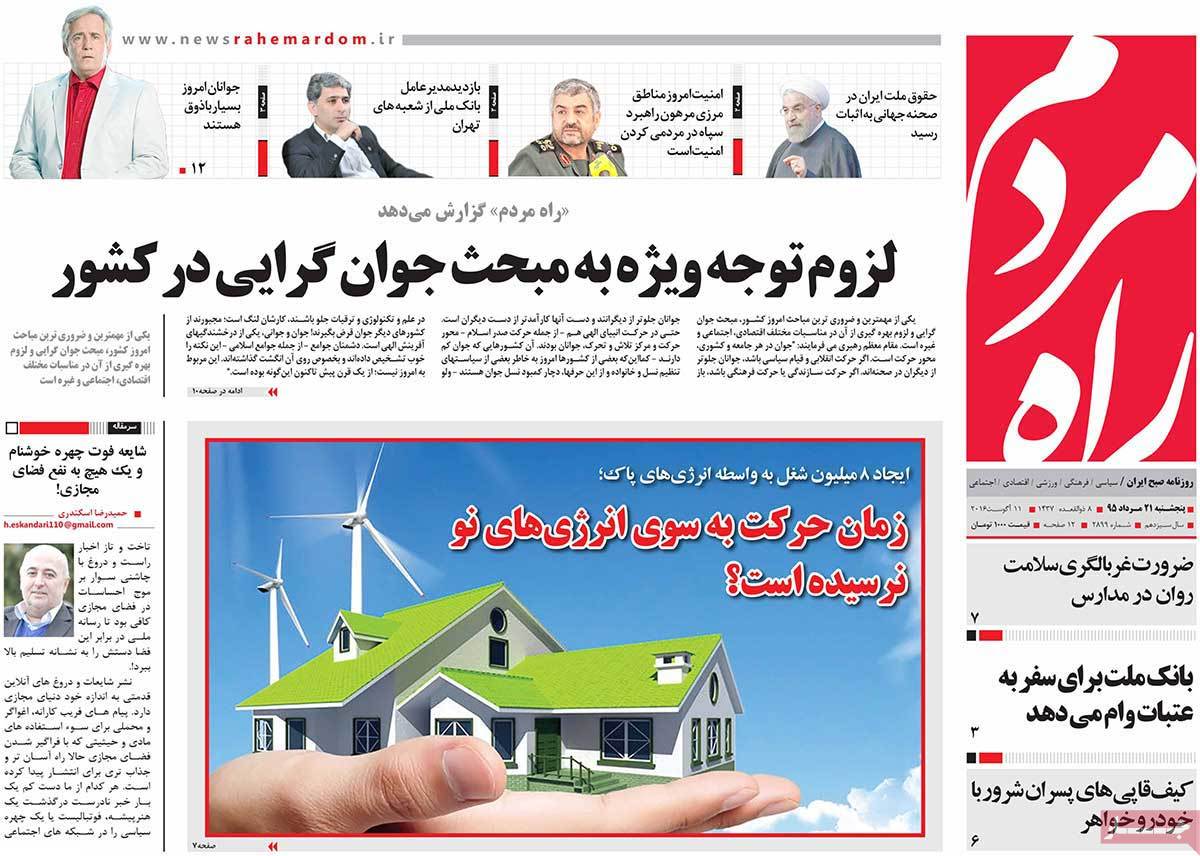 ---
Resalat:
1- President: Iran's Society Isn't Polarized
2- Oil Minister: We Allayed Concerns of Oil Contract Critics
---
Sayeh:
1- Iran Poised to Conquer Regional and Int'l Markets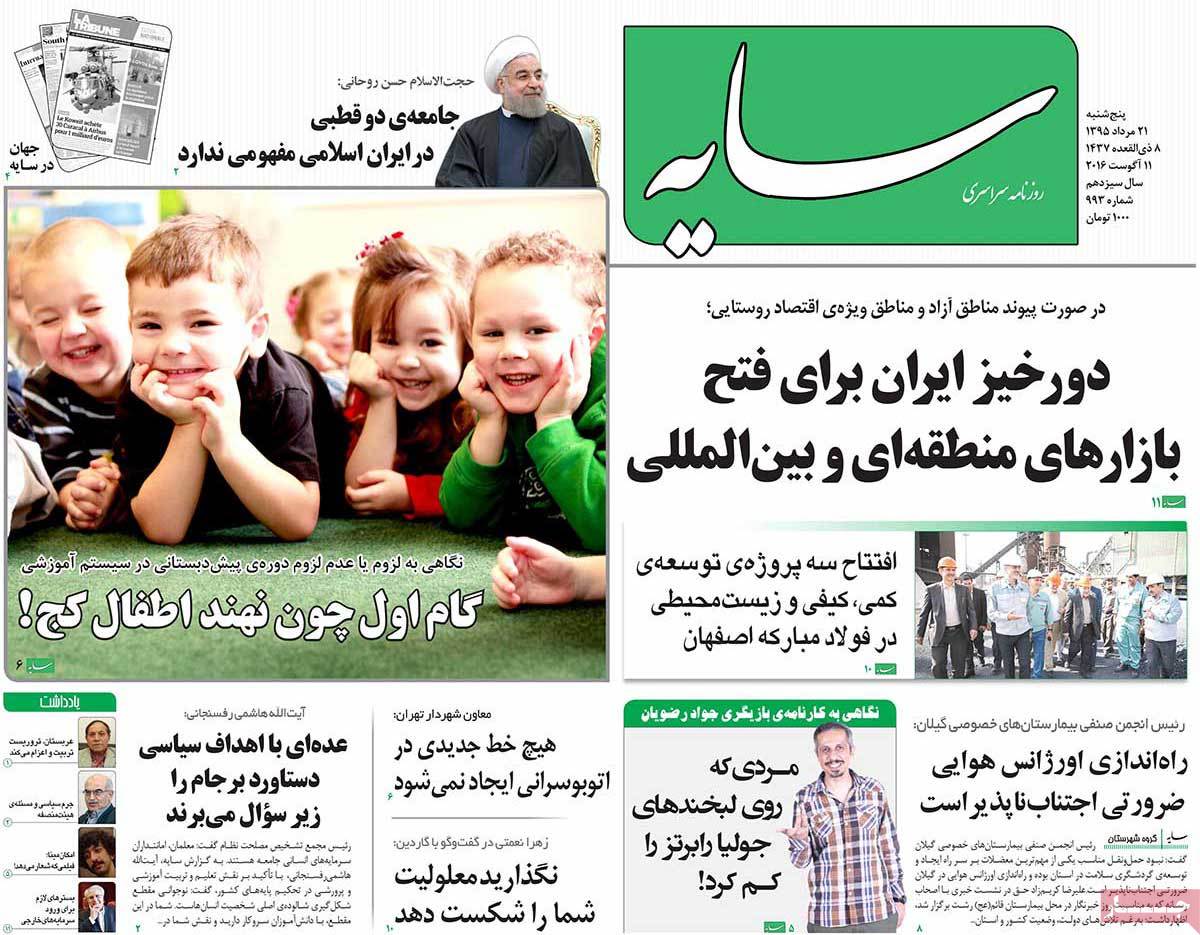 ---
Setareh Sobh:
1- New Record in Oil Output: Average Production of 4.1m Barrels per Day, Average Export of 2.3m Barrels per Day
2- Good News for Iranians: Gradual Revival of Lake Urmia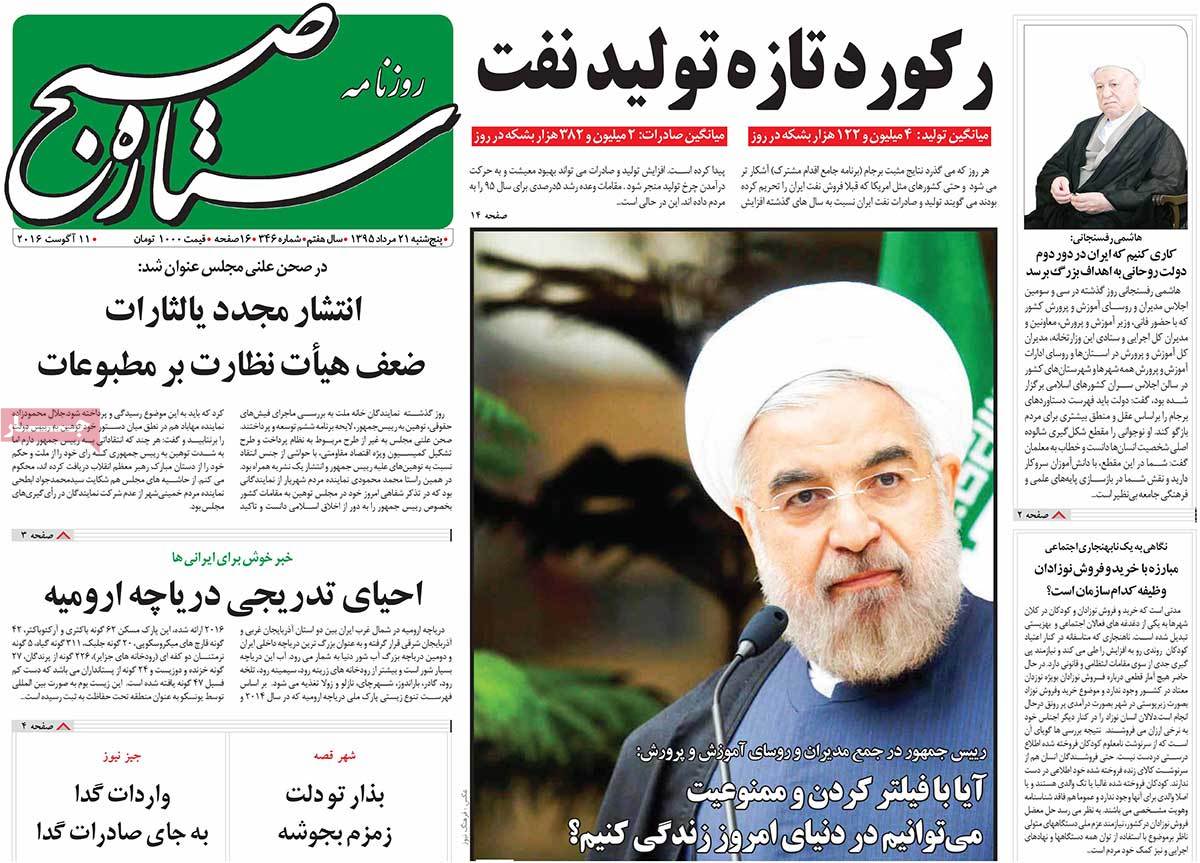 ---
Shahrvand:
1- In Every Iranian Family, One Is Involved in Video Games
2- Rouhani Urges Judiciary to Pursue Seizure of $2bn