Wednesday newspapers covered the remarks made by the Leader of the Islamic Revolution Ayatollah Seyyed Ali Khamenei in a meeting with Iran's Intelligence Ministry officials in Tehran.
The first phone call between Iranian President Hassan Rouhani and British Prime Minister Theresa May was also a top story.
The papers also covered the historic meeting between Russian President Vladimir Putin and his Turkish counterpart Recep Tayyip Erdogan in Saint Petersburg. It was the first meeting of the two after the Turkey coup and the tensions between Ankara and Moscow, and is regarded as a turnaround in Erdogan's stances.
These issues as well as many more are highlighted in the following headlines:
Abrar:
1- Ahmadinejad's Letter to Obama, and Our Letter to Ahmadinejad
2- Moscow: We've Fulfilled Half of Our S-300 Commitments
3- 99% of US Black People to Vote for Clinton
---
Abrar-e Eqtesadi:
1- Purposes behind South Korea's Willingness to Expand Ties with Iran
2- Talks with Europe and Japan for Enhancement of Safety in Iranian Petchem Complexes
3- Nissan and KIA Motors Restart Cooperation with Iran
4- Iran-Russia Railway to Gain Shares from Suez Canal Market
5- 47% Increase in Iran's Oil Exports to Asia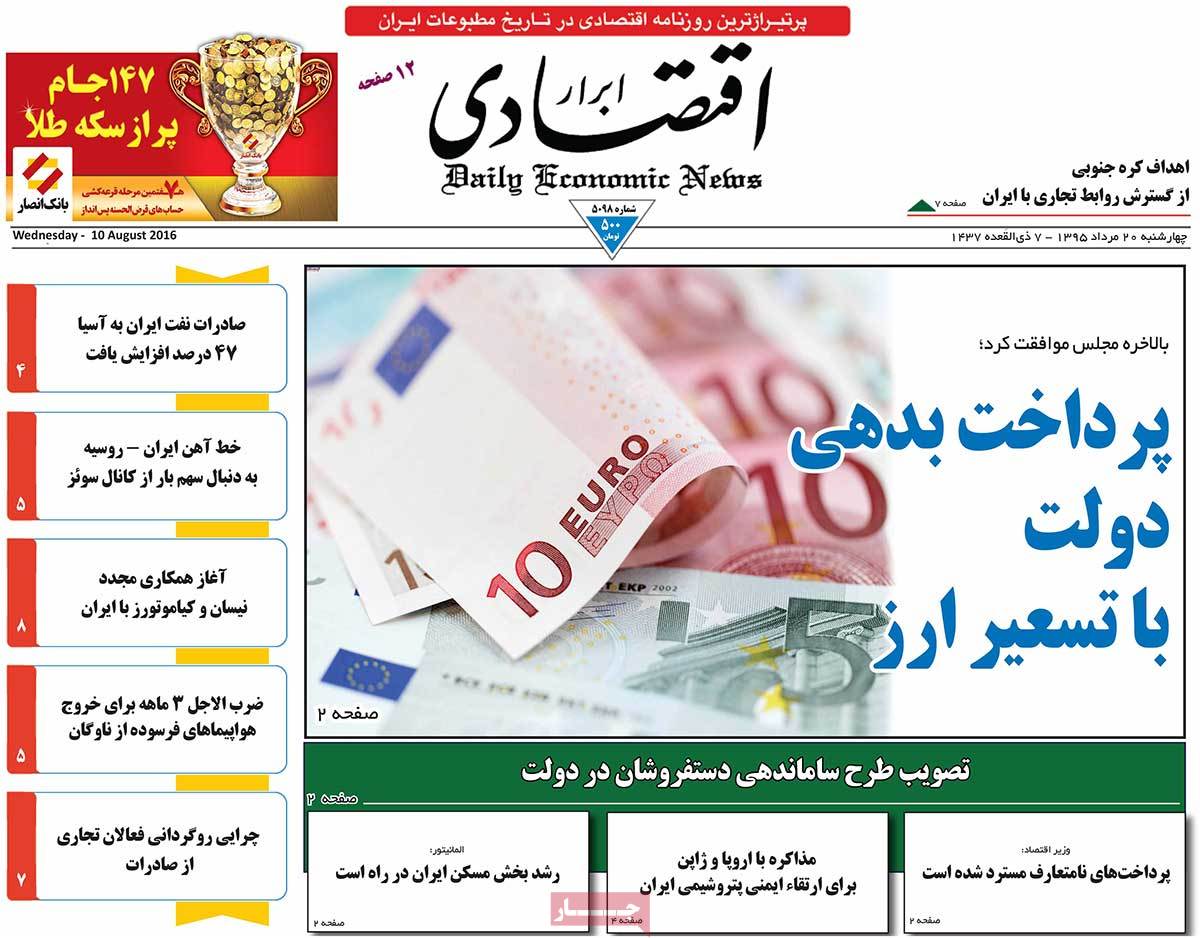 ---
Afarinesh:
1- Sardar Azmoun on Schalke 04's Radar
2- Zarif in Meeting with His Estonian Counterpart Gives Top Score to JCPOA
3- Ban on Import of Olive Continues
---
Aftab-e Yazd:
1- Intelligence Ministry Is Vigilant Eye of Islamic Establishment: Leader
2- It Has Nothing to Do with Sanctions that Major European Banks Don't Cooperate with Iran: Economist
3- First Phone Call between British PM and Iran's President
4- Parliament Speaker Talks about 'Complicated' Situation of Iran's Nuclear Case before JCPOA
5- Unemployment Rates in Different Countries: 17% in Iran, 20% in Spain
6- Everyone against Trump: 50 Republicans Write Letter, Warning People Not to Vote for Trump
7- Strange Silence of Conservatives over Ahmadinejad's Letter to Obama
8- Iran's Economy Is Not Just Controlled by Government: Interior Minister
---
Arman-e Emrooz:
1- Intelligence Ministry Is Hard Shell of the Establishment: Leader
2- Warning against Domestic Cultivation of Marijuana
3- First 'Political Crime' Case Opened in Iranian Court: Political Prisoners or Imprisoned Politicians?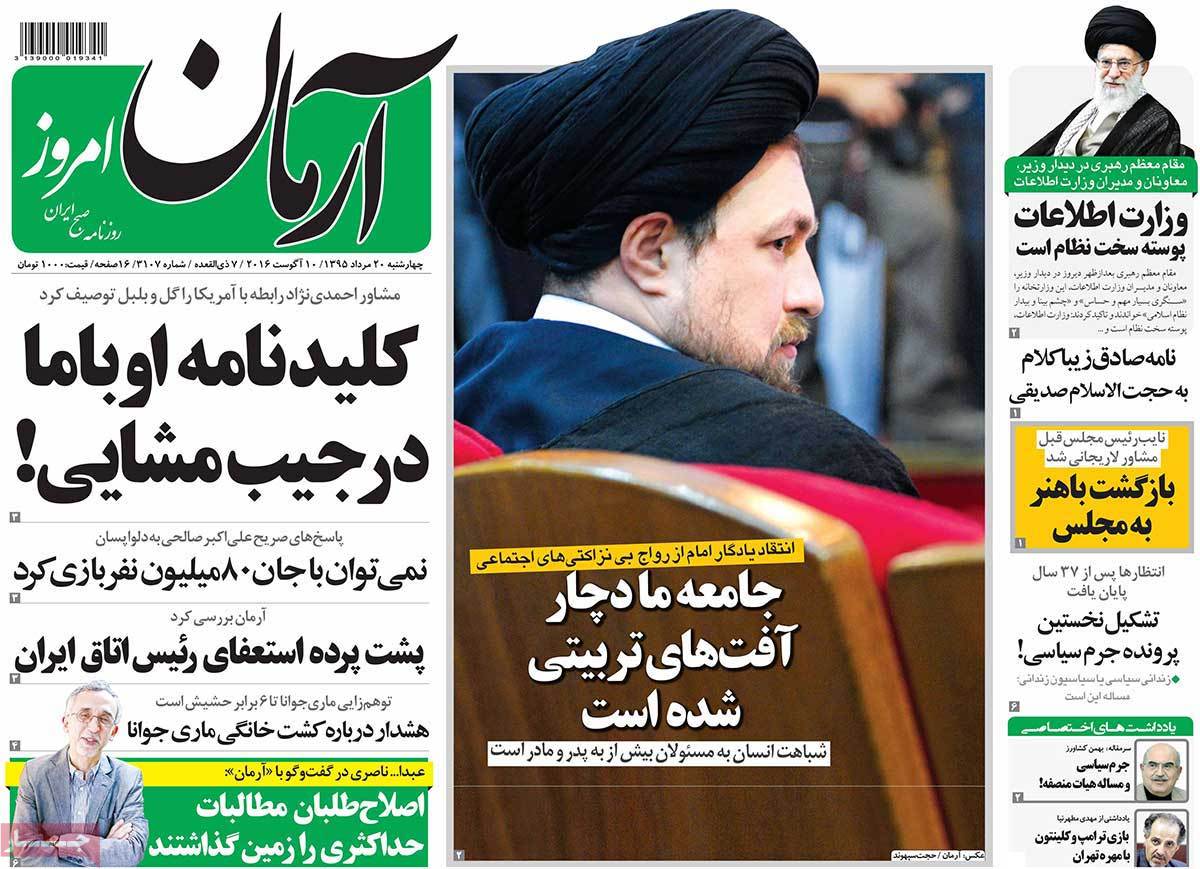 ---
Asrar:
1- Intelligence Ministry Should Not at All Become Vulnerable: Leader
2- London Calls for All-Out Expansion of Ties with Tehran
3- Some Countries in Region Don't Want Eradication of ISIS: Shamkhani
4- In Future, We May Make Weekend Trips to Mars: Analyst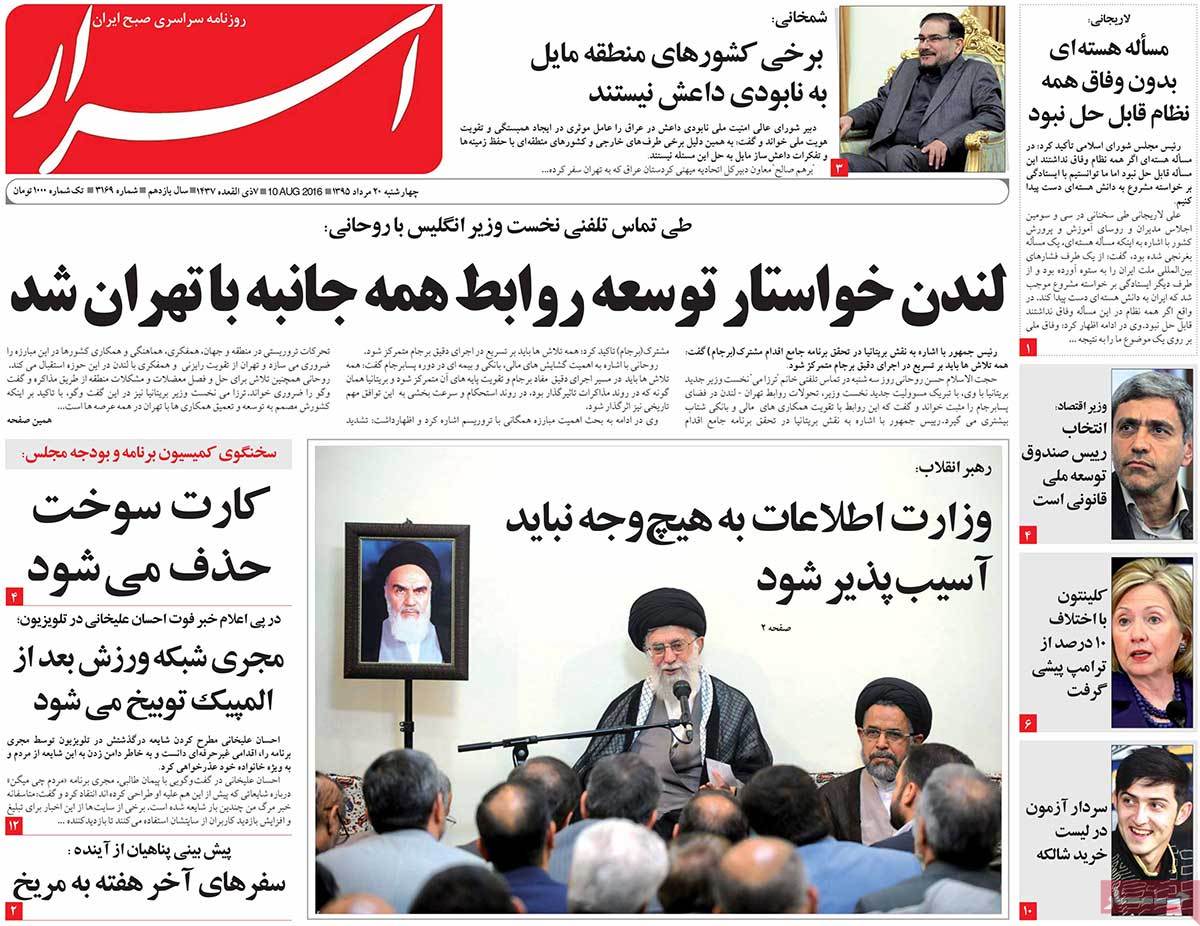 ---
Etemad:
1- Economic Downturn More Dangerous than War and the US: Economist
2- Repercussions of Close Ties between Two Quasi-Authoritarian Governments [Erdogan and Putin's]
3- Good Progress to Be Made in Iran-Afghanistan Cooperation: Afghan Official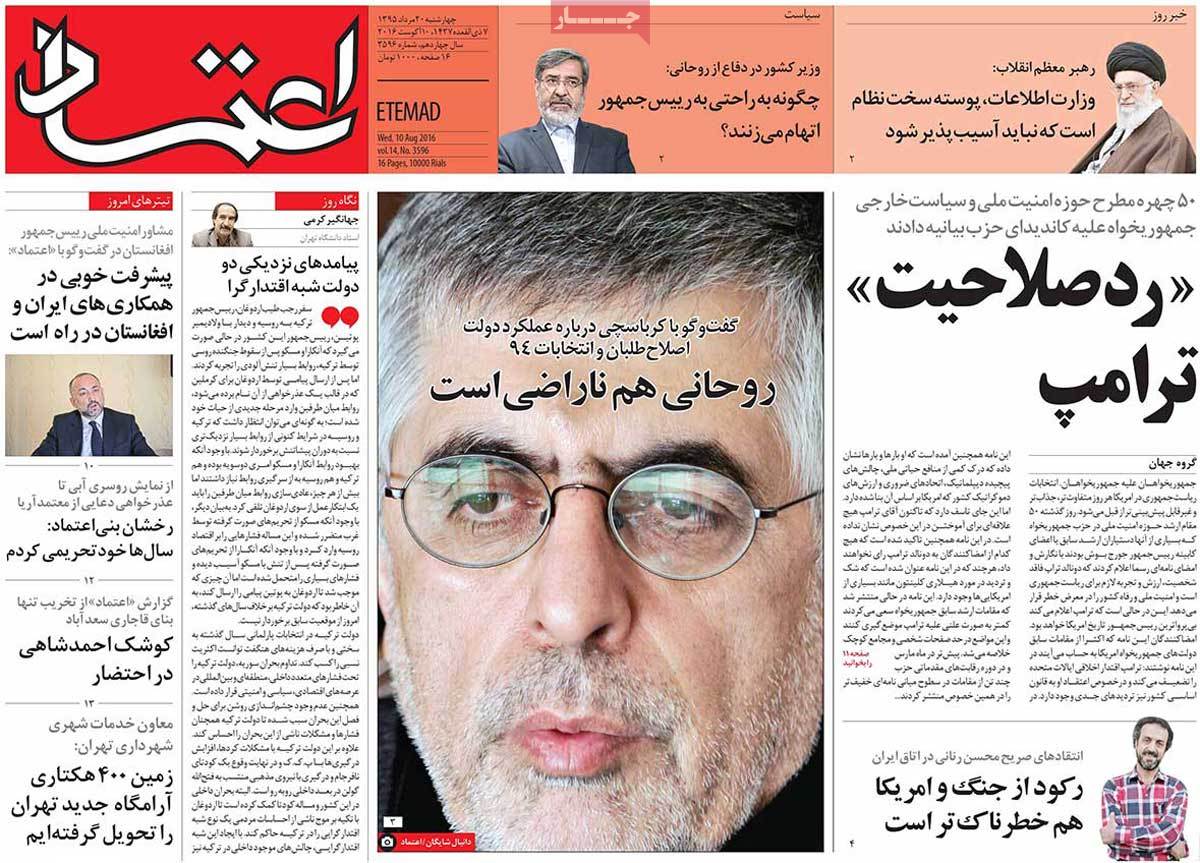 ---
Haft-e Sobh:
1- 25 Major Challenges Faced by Modern Iran: A Report on Most Important Domestic and Foreign Threats Challenging Iran in 4 Different Fields
2- So Where Are Female Students? [The results of Iran's university exam were announced. This time, unlike previous years when girls were dominant, a considerably more number of boys are among the first 100 ranks.]
3- Rouhani's View Returns to the East
---
Hemayat:
1- Major Banks Don't Work with Iran: Nuclear Chief
2- Change in Tehran's Behaviour Is US Condition for Talks with Iran
3- Concerts Are Cancelled to Prevent Commitment of Crimes: Judiciary Official
---
Iran:
1- Theresa May: London Committed to Accurate and Speedy JCPOA Implementation
2- Republican Security Experts Afraid of Trump Nightmare
3- Nuclear Industry Is Not Shut Down: AEOI Chief
4- Government Has Been Successful in Controlling Inflation: Parliament Speaker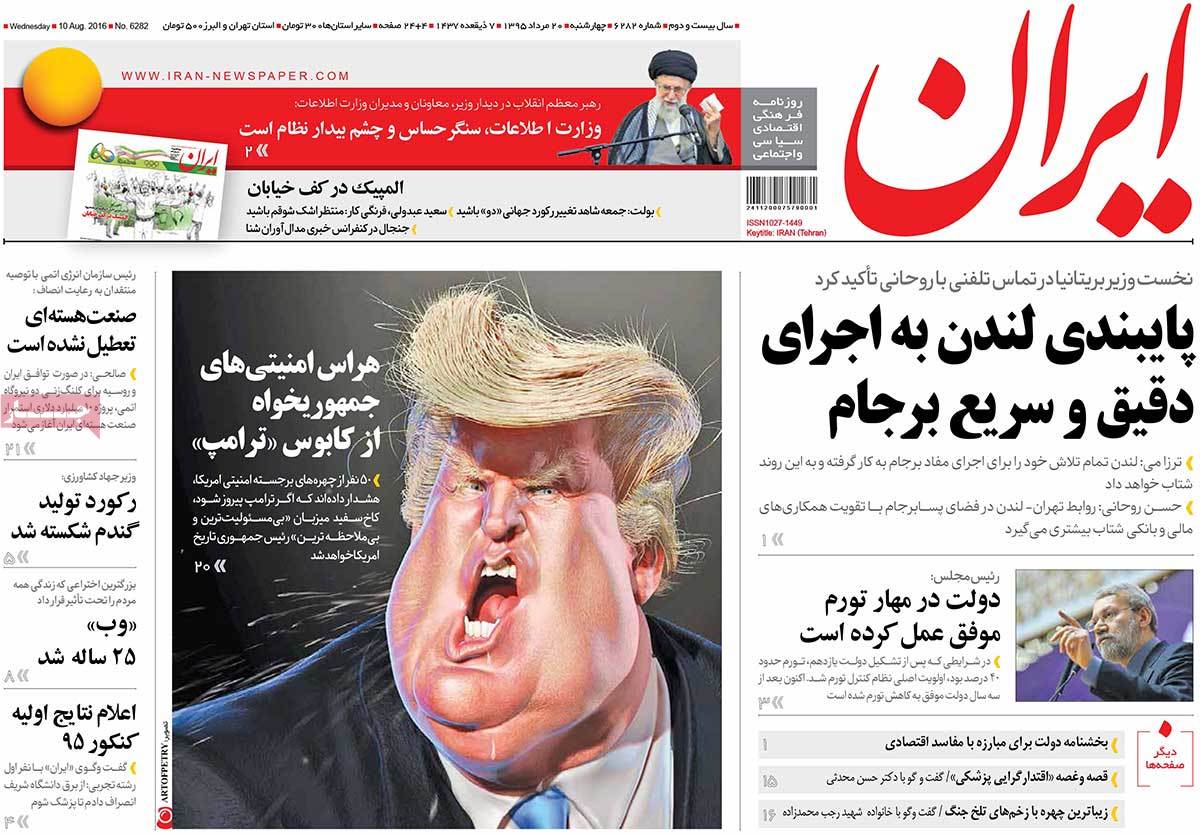 ---
Javan:
1- Keep Your Distance from the US: Leader
2- Rouhani Asks for May's Help for Speedy Implementation of JCPOA
3- Once Again the American Ceasefire Plan in Aleppo
4- Health Ministry Advising People to Prevent Pregnancy!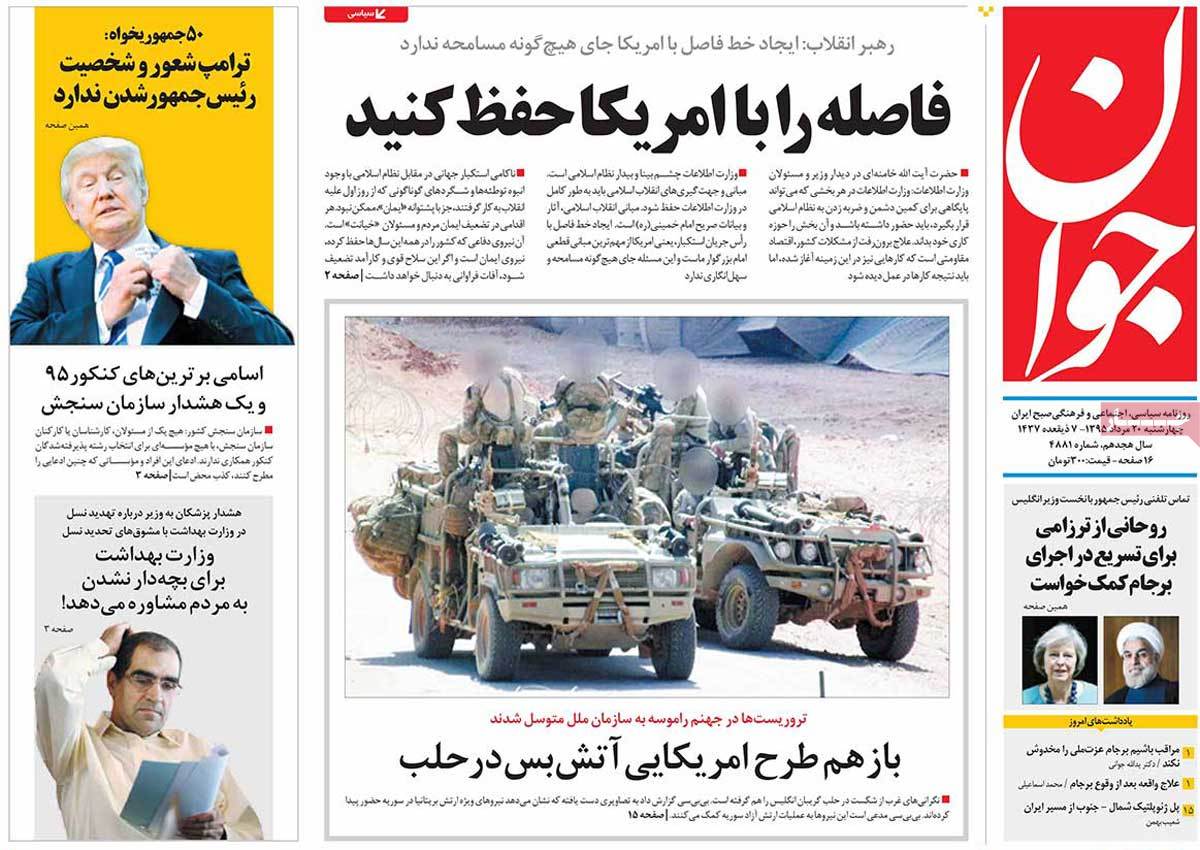 ---
Jomhouri Eslami:
1- Revolutionary Principles and Stances Should Be Fully Maintained in Intelligence Ministry: Leader
2- Iran and Russia Agree on Construction of Railway to Replace Suez Canal
3- Treasonous Role of Al Saud in Supporting Israel against Palestinian Cause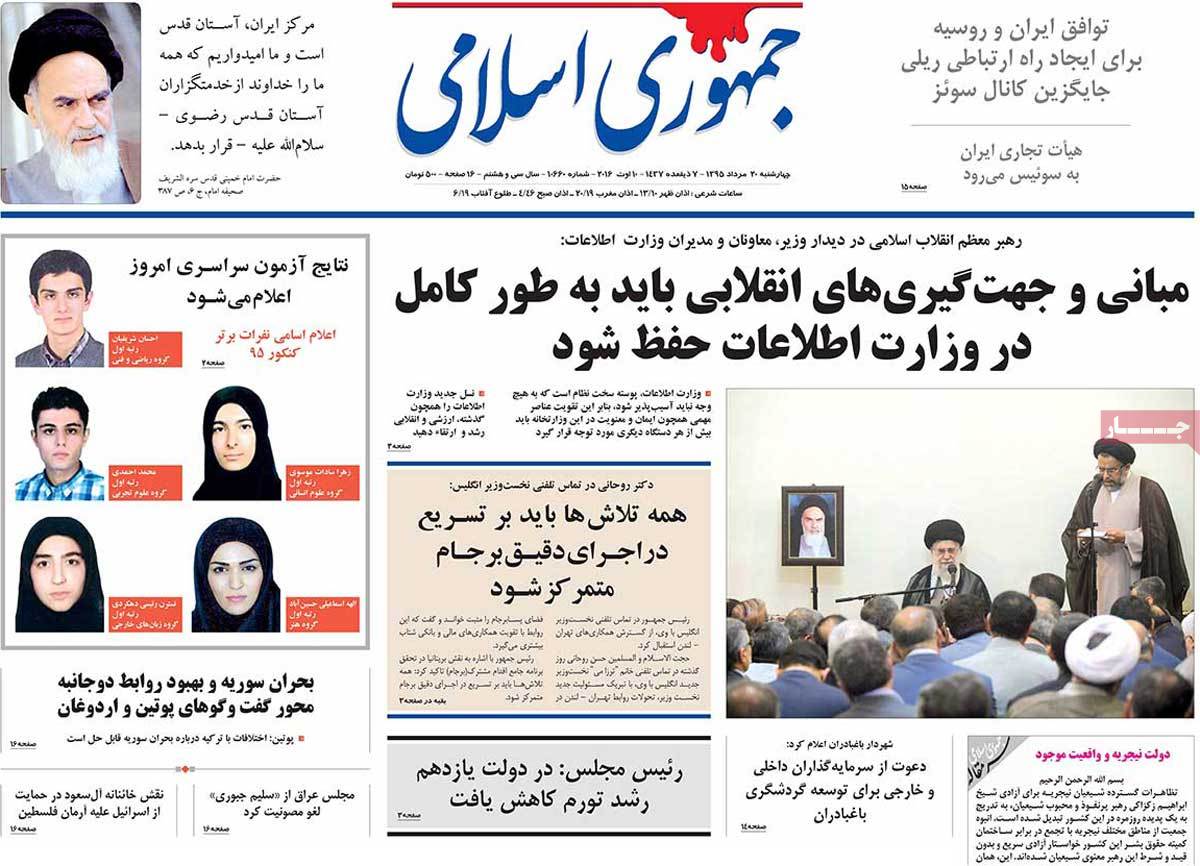 ---
Kayhan:
1- Keeping a Distance with the US a Major Principle Set by Imam Khomeini: Leader
2- Rouhani Has Been Informed of His Government's Violation of Law for Several Times: Prosecutor-General
3- Zarif Gives Top Score to What He Himself Has Created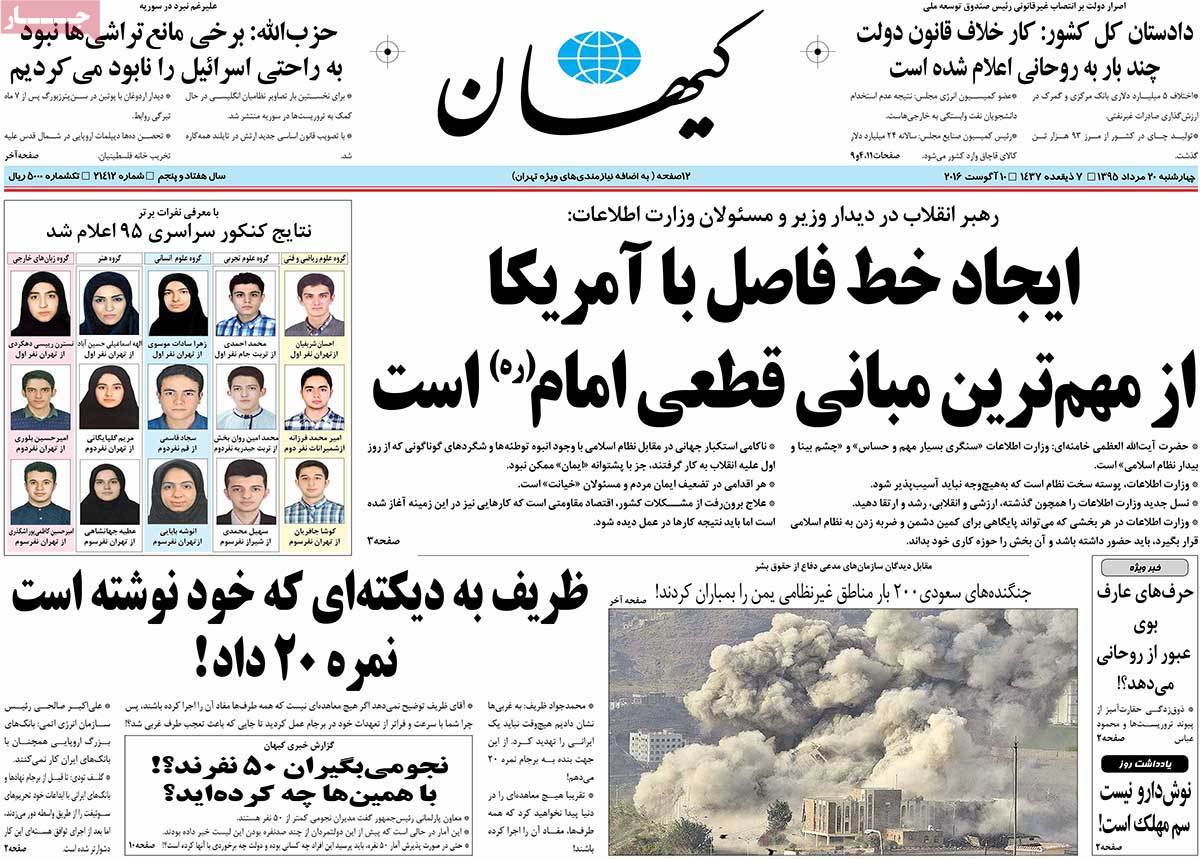 ---
Resalat:
1- Iran's Economic Growth Rate Is Close to Zero in JCPOA Implementation Year: Chamber of Commerce
2- West Left Us Alone: Erdogan
3- Ambiguous Fate of Europe's Most Powerful Woman Merkel
---
Roozan:
1- Post-Coup Turnaround of Erdogan
2- War of 72 Nations: Conflicts of Opinion Increase among Conservatives ahead of Presidential Elections in Iran
3- Iran's Ties with the West Have Become Logical: Analyst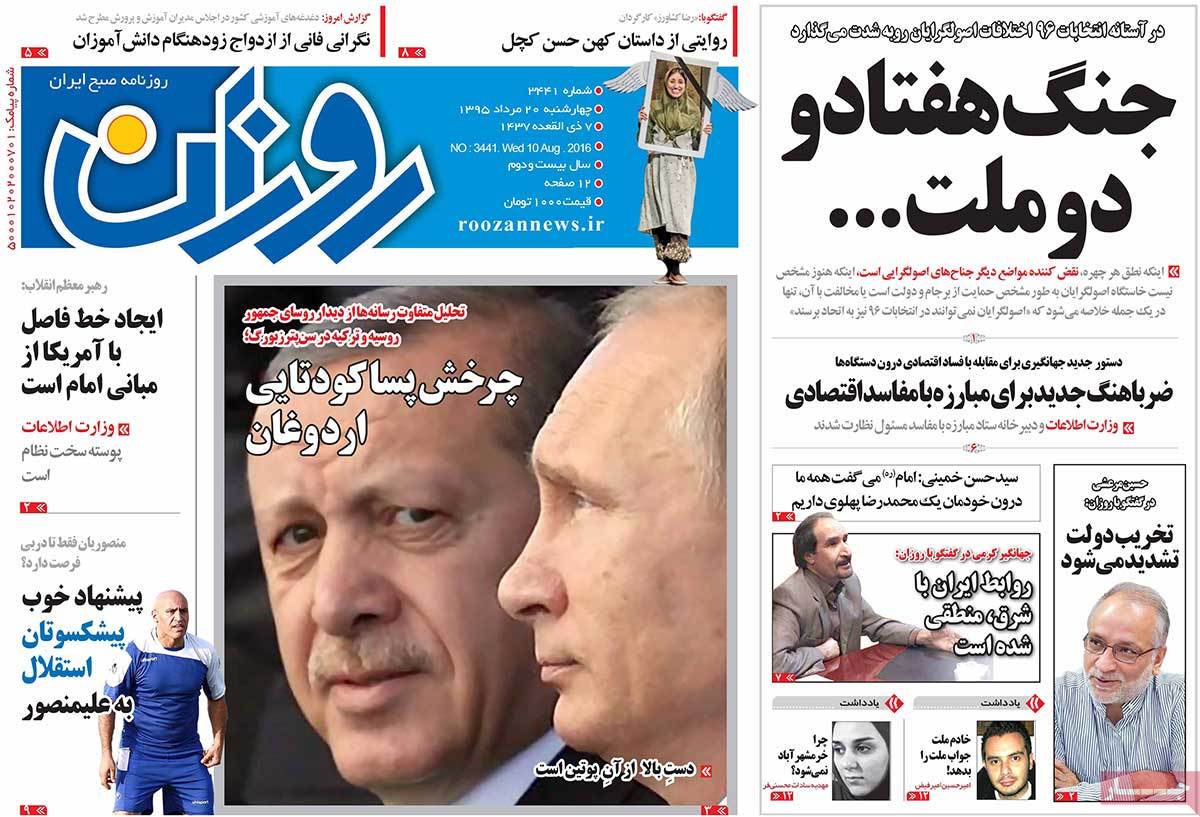 ---
Sayeh:
1- Regional Planes Flying All over Iran's Sky: Predictions Come True
2- Qazvin Declared as Permanent Secretariat of Silk Road
---
Shahrvand:
1- Yearning for Only One Second: Interview with Mahsa Javar, Iran's Rowing Athlete Who Was Unsuccessful in Rio 2016 Olympic
2- Iranians Who Are Non-Iranians! Iranian Nationals Who Represent Other Countries in Rio Olympics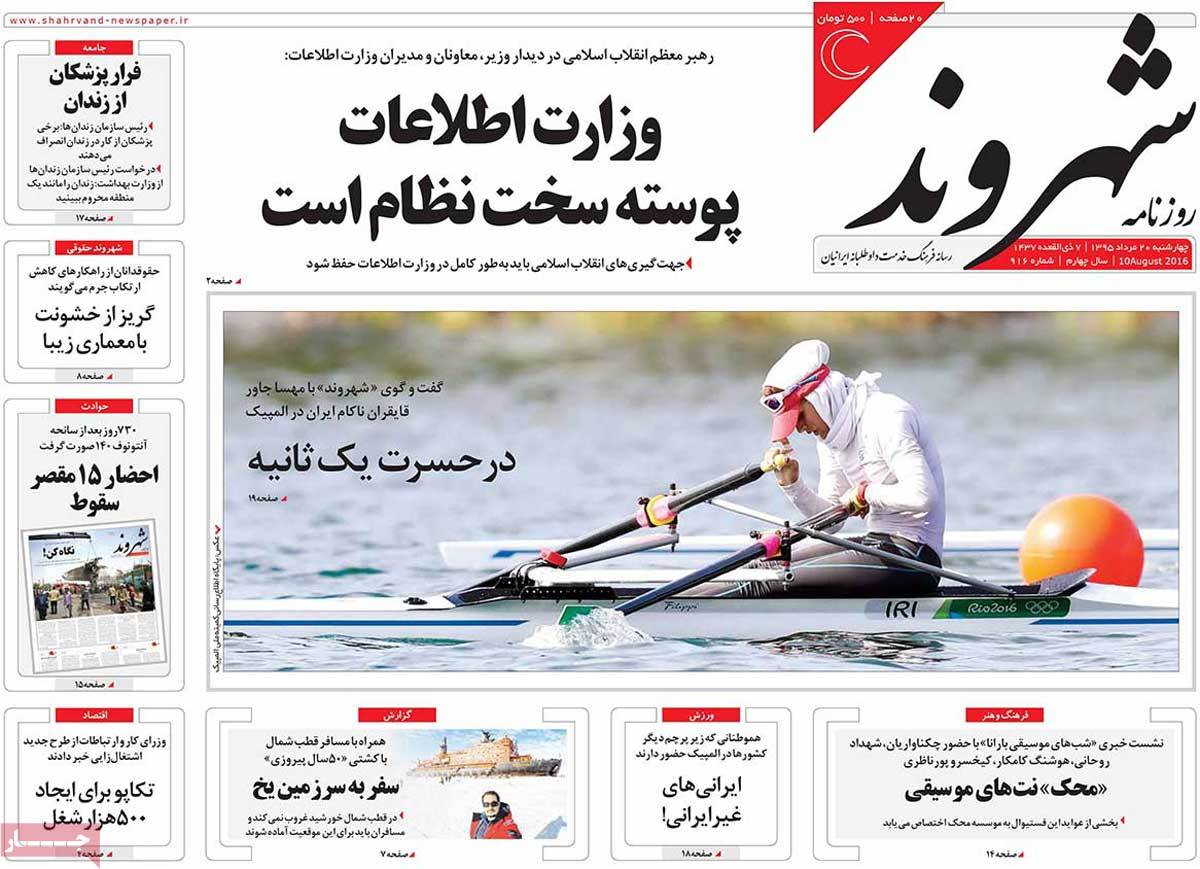 ---
Shargh:
1- Clinton's Emails Led to Execution of Iranian Scientist: Trump
2- US State Dept. Spokesman: Emails Related to Shahram Amiri Were Not Confidential
3- We All Have a Mohammad Reza Pahlavi [last Shah of Iran] inside Ourselves: Imam Khomeini's Grandson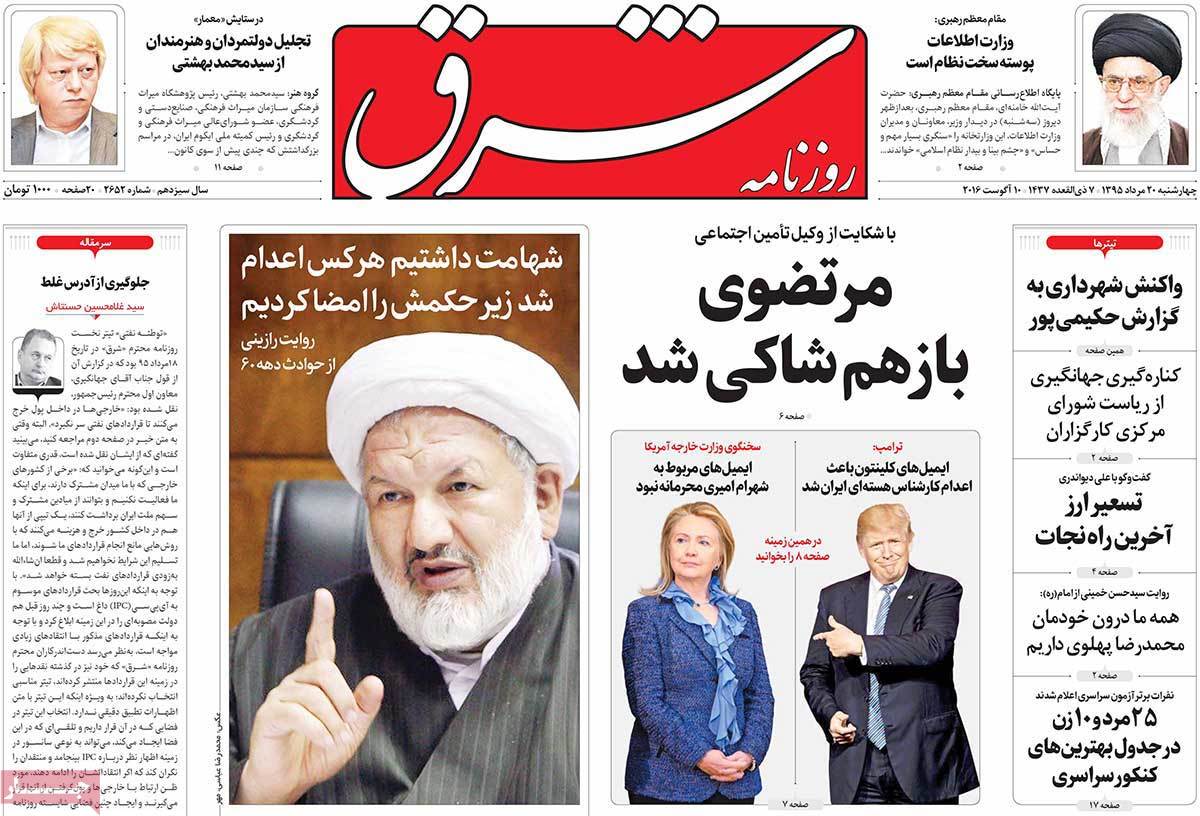 ---
Siasat-e Rooz:
1- A Harsh Response to the West: Putin and Erdogan Meet in Saint Petersburg after Months of Tension
2- Iran's Aerial Defence System to Become Stronger
3- Yemen under Fire of Saudi Insanity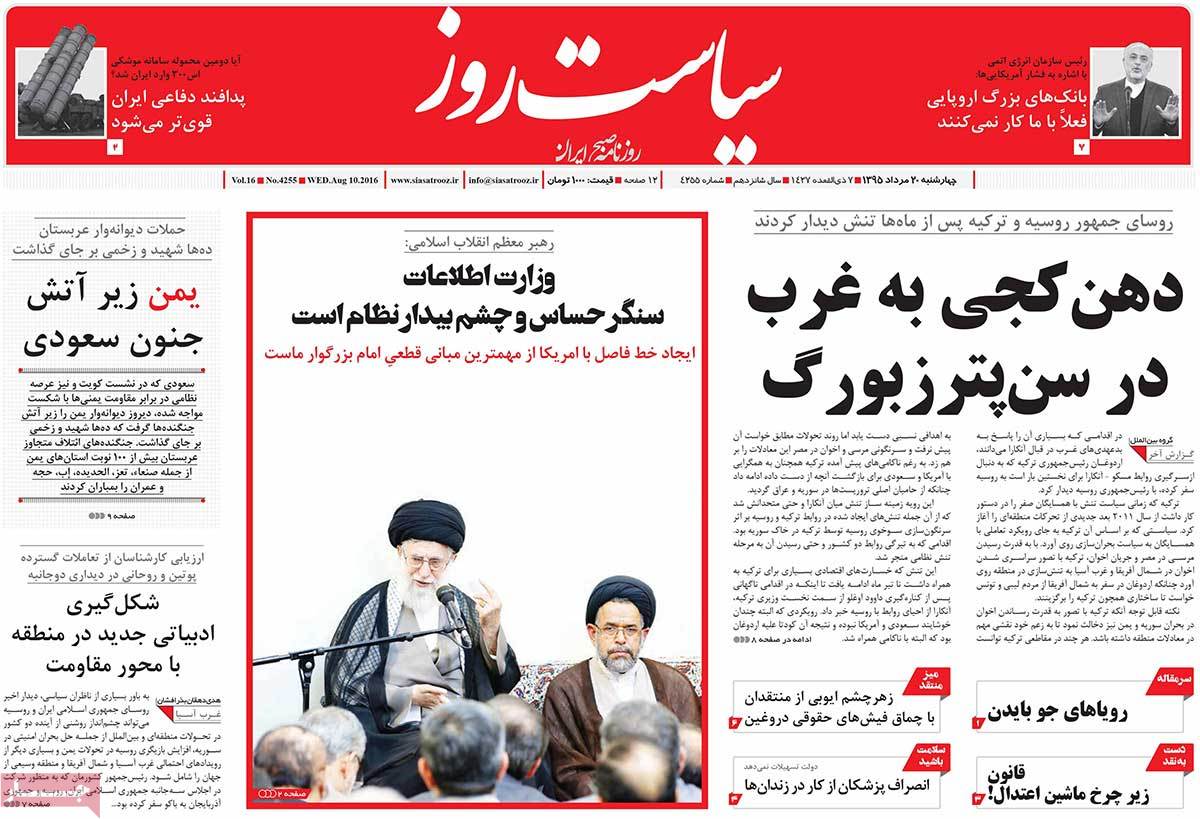 ---
Sobh-e Now:
1- Stuxnet 2 Activated: Cyber Attacks against Iran, Russia and China
2- Millions Spent on Tanning in Summer
3- Four Reasons that Aleppo Siege Was Broken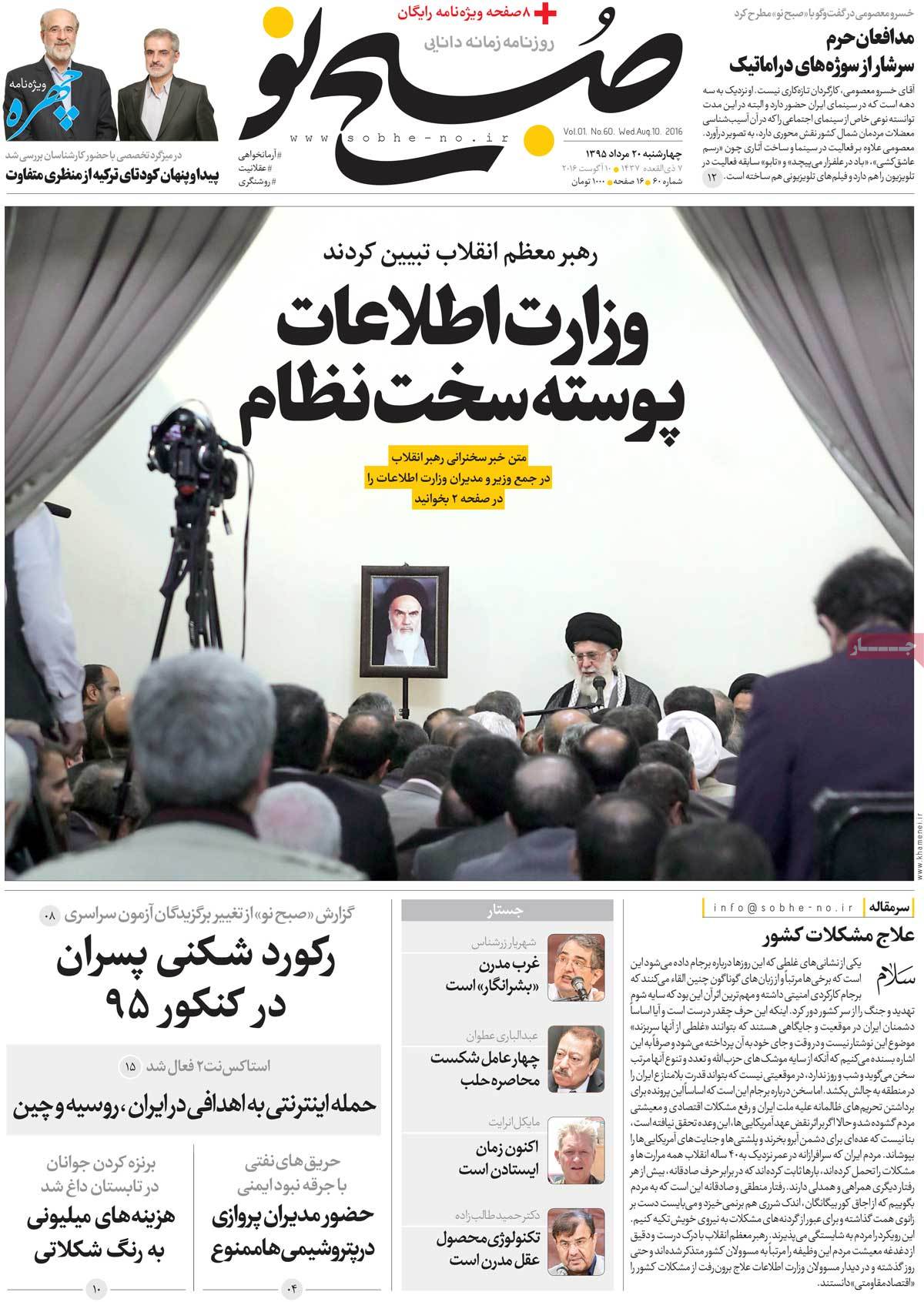 ---
Vaghaye Ettefaghieh:
1- Nuclear Case Couldn't Be Resolved without Consensus among All Officials in Iran's Establishment: Larijani
2- No One in the World Says JCPOA Is against Iran: Zarif
3- Labour Minister Vows to Create 500,000 New Jobs
4- Why Gulenists Are Hostile towards Iran: Gulen Uses Iranophobia as an Instrument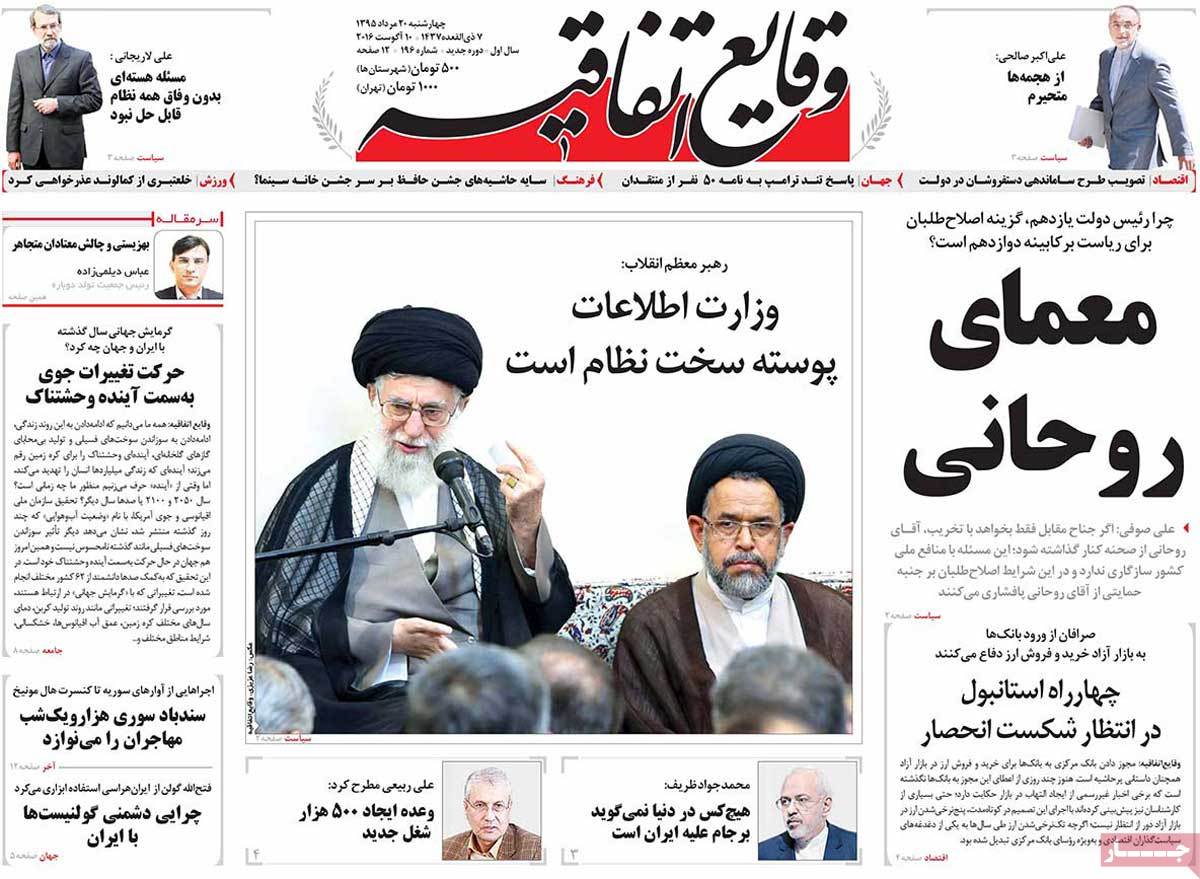 ---
Vatan-e Emrooz:
1- Which Banks Are Working with Iran? Only Those from Lilliput
2- Turkey's Turnaround to the East?