Newspapers on Monday covered the recent controversy over the remarks by a so-called strategist and political scientist, Hassan Abbasi, who had criticized the Iranian Army's indifference to the country's incidents. The remarks were strongly slammed by the Islamic Revolution Guards Corps and many other bodies and figures, who described such comments as being aimed at causing rift between the Armed Forces.
The papers also highlighted the statements made by the Secretary of Iran's Guardian Council Ayatollah Ahmad Jannati, who admitted to the Council's mistakes during the recent elections, and also criticized the moves by certain candidates to buy votes.
The European Union's support for Iran's accession to the World Trade Organization was also a top story.
The above issues as well as many more are covered in the following headlines:
Abrar:
1- Iraqi PM Welcomes Shut-Down of Ba'ath Party
2- Armed Conflict and Explosion in Somalia's Capital
3- S-300 Missile Defence System Installed in East of Tehran: US Website
4- We're Ready for Mosul Operation: Iraqi DM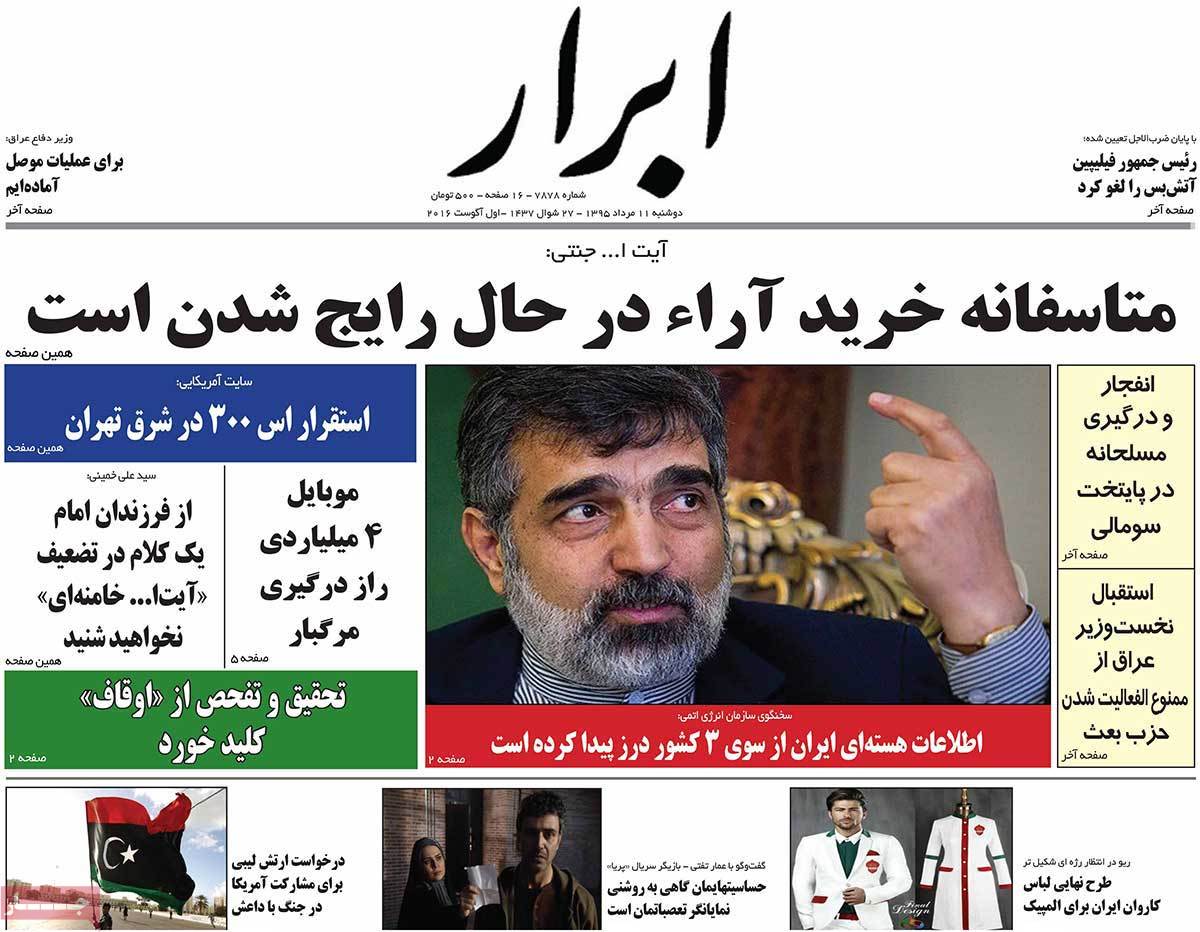 ---
Abrar-e Eqtesadi:
1- Gov't to Study Plan to Change Weekends
2- Sri Lanka's Oil Minister Offers to Settle Its Oil Debts by Giving Tea to Iran!
3- Japan's Investments in Iran's Construction Projects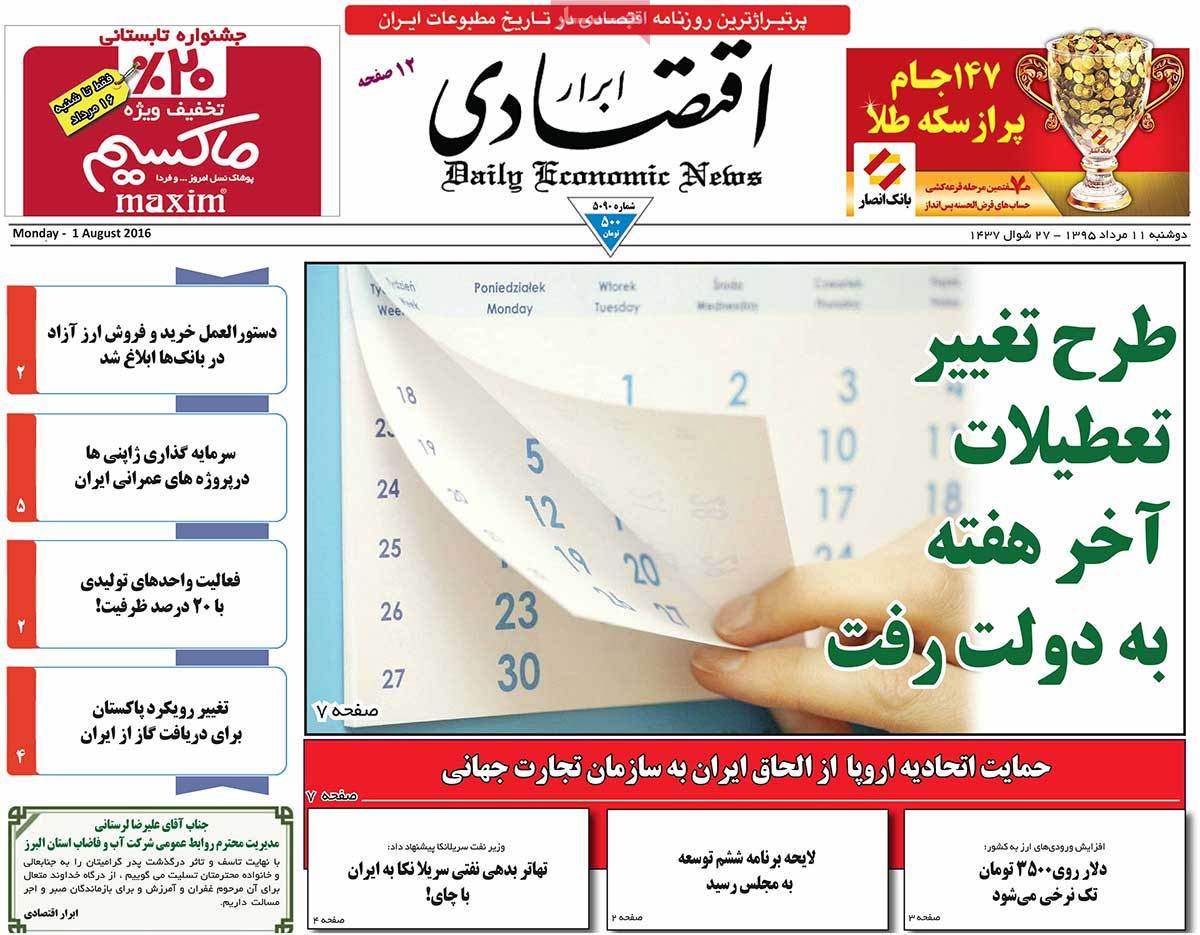 ---
Aftab-e Yazd:
1- What Ahmadinejad's Sons Do: Mahdi and Alireza Are Labourers These Days, Advisor Claims
2- Messages of Mahmoud Abbas' New Mission
3- MP Warns Iranian People against Being Deceived by Appearance of Chinese Cars
4- Rouhani's Gov't Isn't Strong in Defending Itself
5- Japan's $3bn Investment in Iran: Tokyo Outperforms Airbus and Boeing
---
Arman-e Emrooz:
1- Rouhani Postpones Government's Nationwide Employment Test to Ensure Women's Rights and Equality between Male and Female Applicants
2- It Has Become Customary for Candidates to 'Buy' Votes: Ayatollah Jannati
3- IRGC Slams the Remarks Made by a So-Called Strategist against Iranian Army
4- Growing Trend of Divorce among Newly-Weds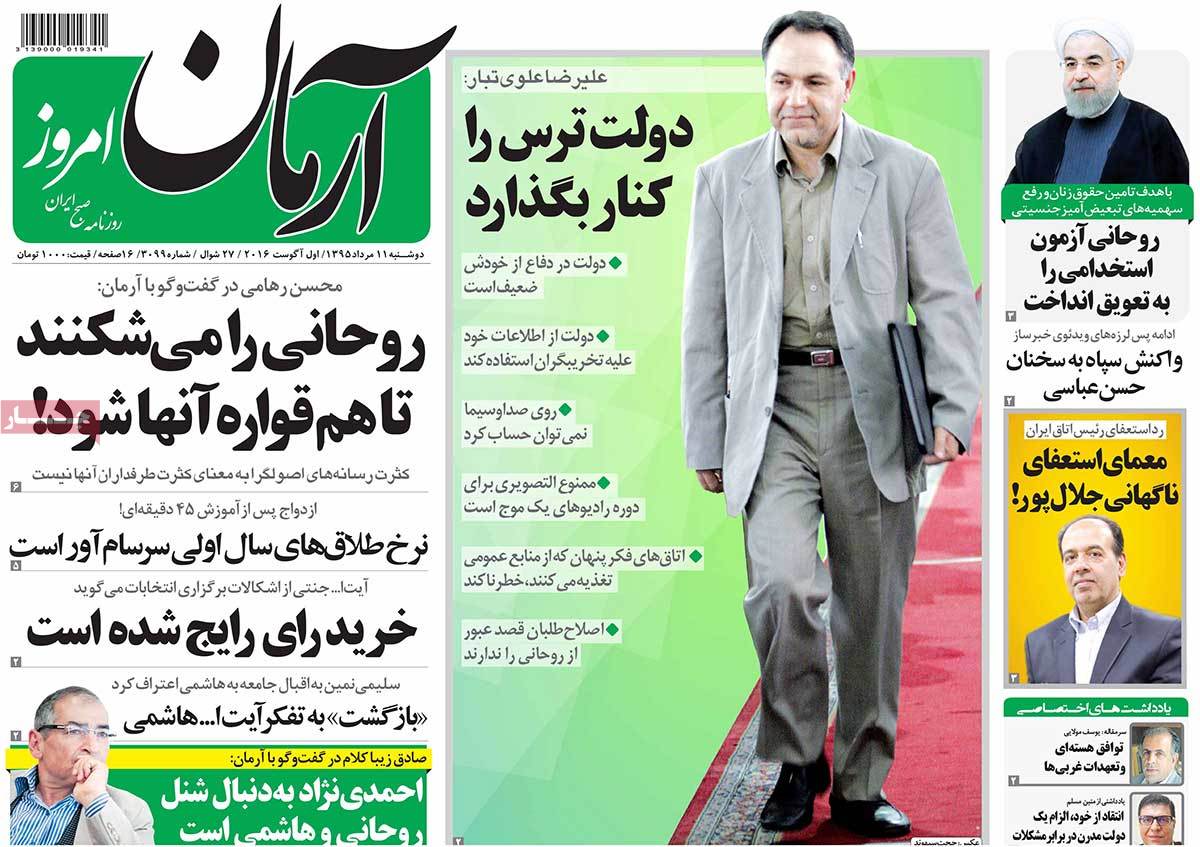 ---
Asrar:
1- IRGC Spokesman Condemns Any Move that Causes Rift between Armed Forces
2- EU Officially Supports Iran's Accession to WTO
3- Worrying Growth of Cyber Crimes in Iran
4- UAE Had Funded Turkey Coup: Turkish Intelligence Sources
5- Palestinian Authority President Mahmoud Abbas Meets Leader of MKO Terrorist Group
6- We Had Problems in Qualification of Candidates: Jannati
7- Iran's Human Rights Case Is Honourable: Official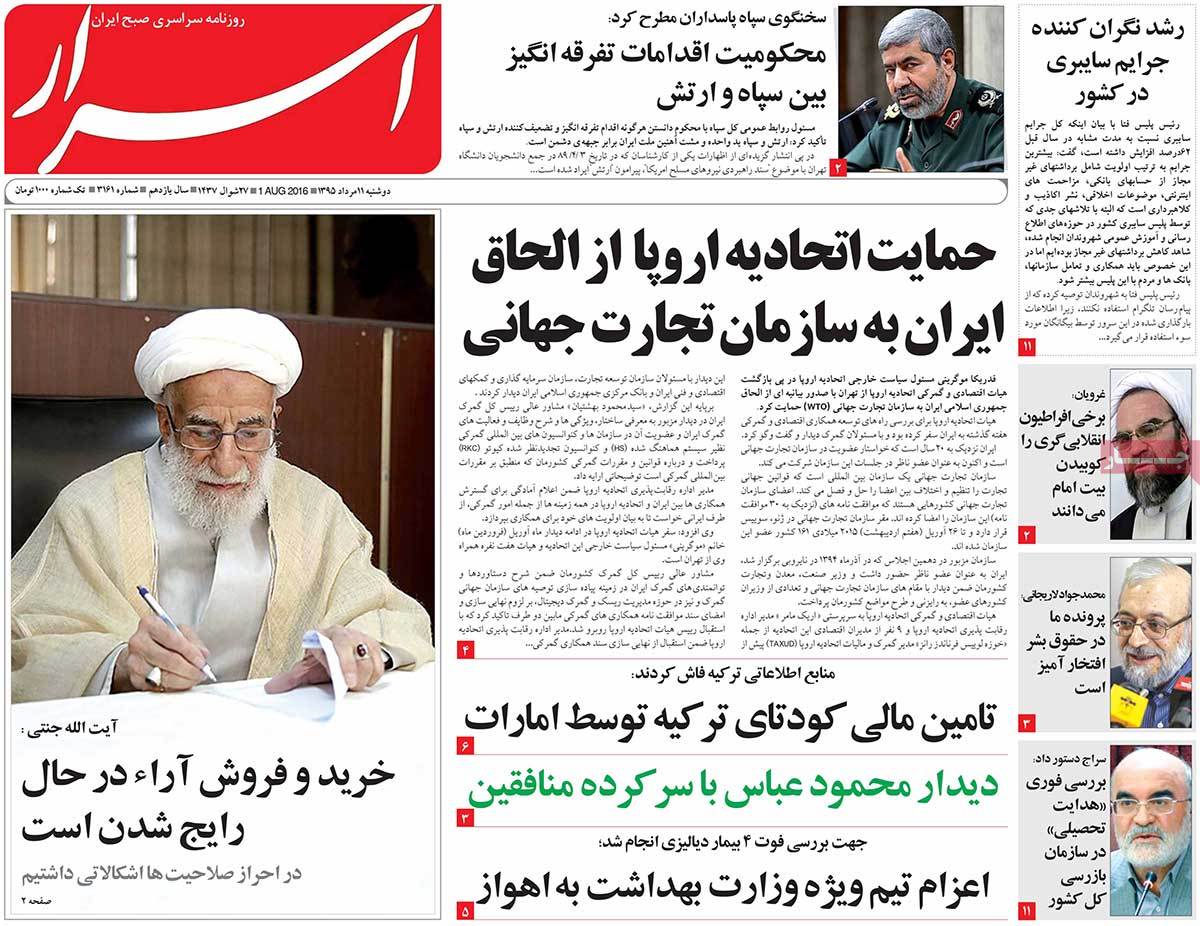 ---
Ebtekar:
1- Parliament Has Turned to a Centre for Rich People: Guardian Council Secretary
2- Death Penalty Is People's Right, Not that of the Government: Human Rights Official
3- Leakage of Iran's Nuclear Data Was Aimed at Putting US under Pressure: AEOI Spokesman
4- IRGC and Army Are the Iranian Nation's Single Hand against Enemies: IRGC Public Relations in Reaction to Hassan Abbasi's Anti-Army Comments
5- Iran's General Inspection Office Starts Investigating Education Ministry's Plan to Guide Students in Choosing Their High School Major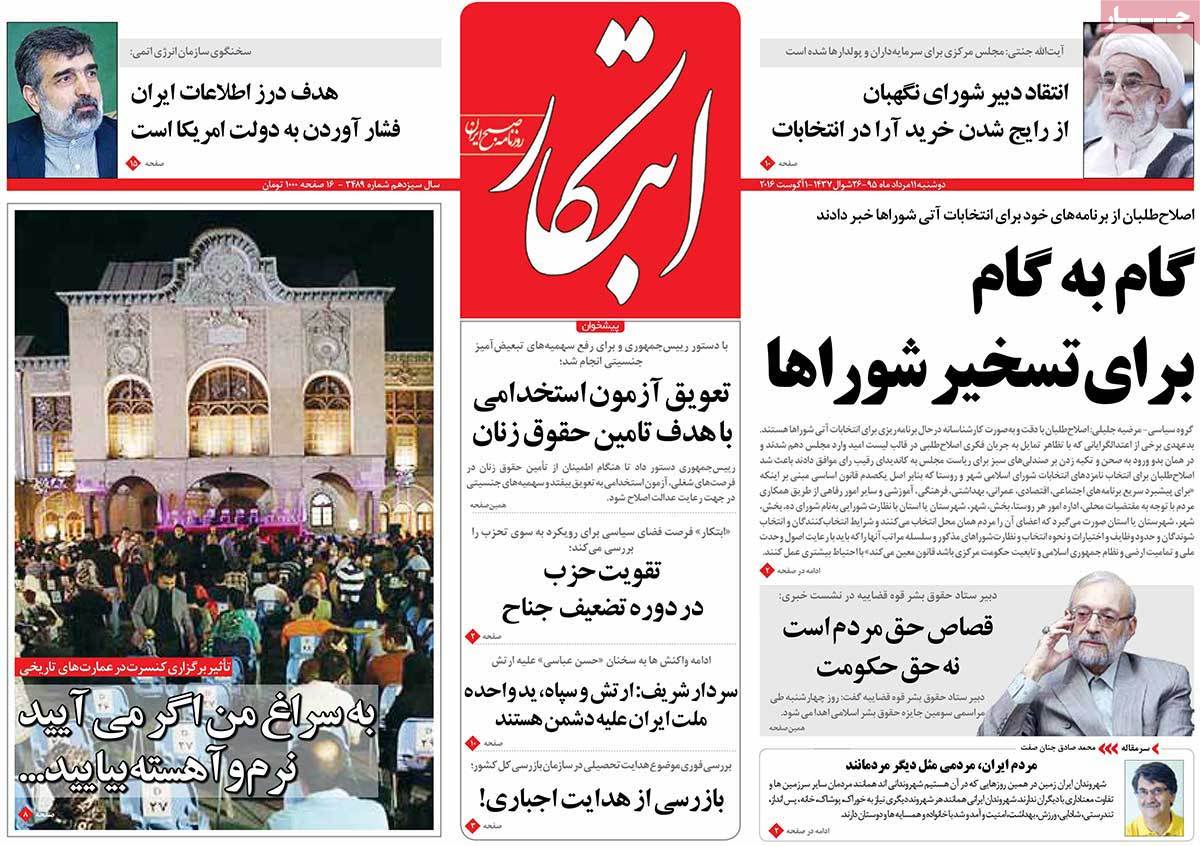 ---
Etemad:
1- Cessation of Employment Test in Favour of Women: Gender Quotas Should Be Revised and Become Fair
2- Reformists Are Waiting for Cabinet Reshuffle
3- Land Subsidence, a New Danger Threatening Persepolis Historical Site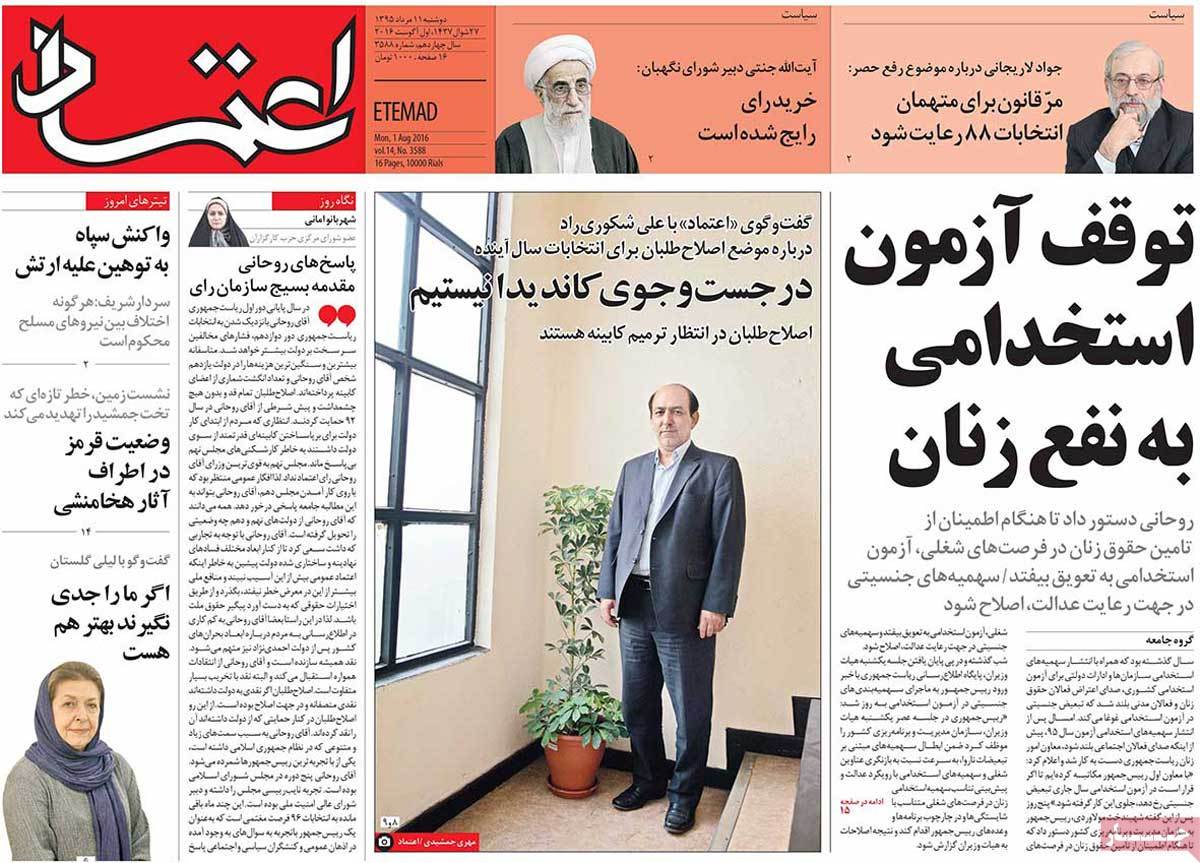 ---
Ettela'at:
1- National Information Network to Be Launched in Late August: Minister
2- 7,000 Turkish Troops Surround Incirlik Air Base in Fear of New Coup
3- People in Scotland Call for Separation from Britain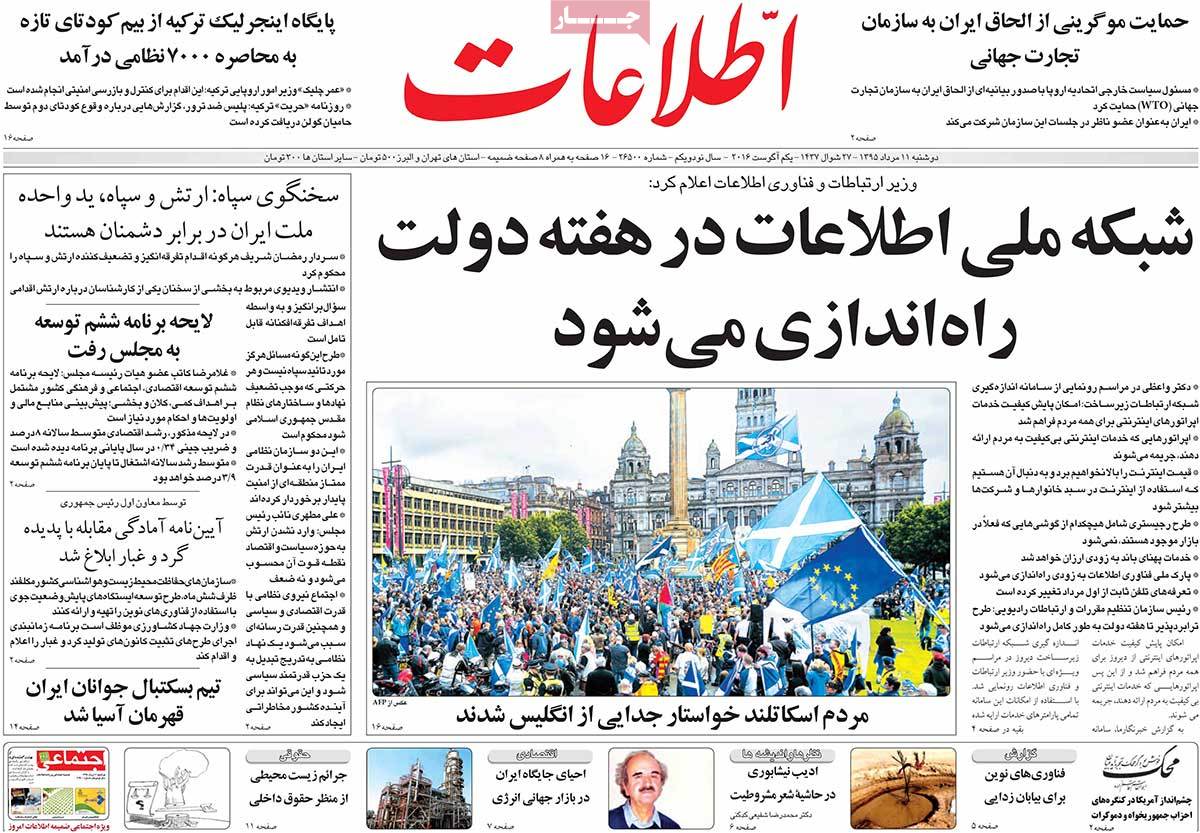 ---
Haft-e Sobh:
1- A Cleric from Mashhad Who Is a Bowling Champion
2- A Report on Use of Internet among Iranian People: Iran Is One of the World's 20 Countries with Most Use of Internet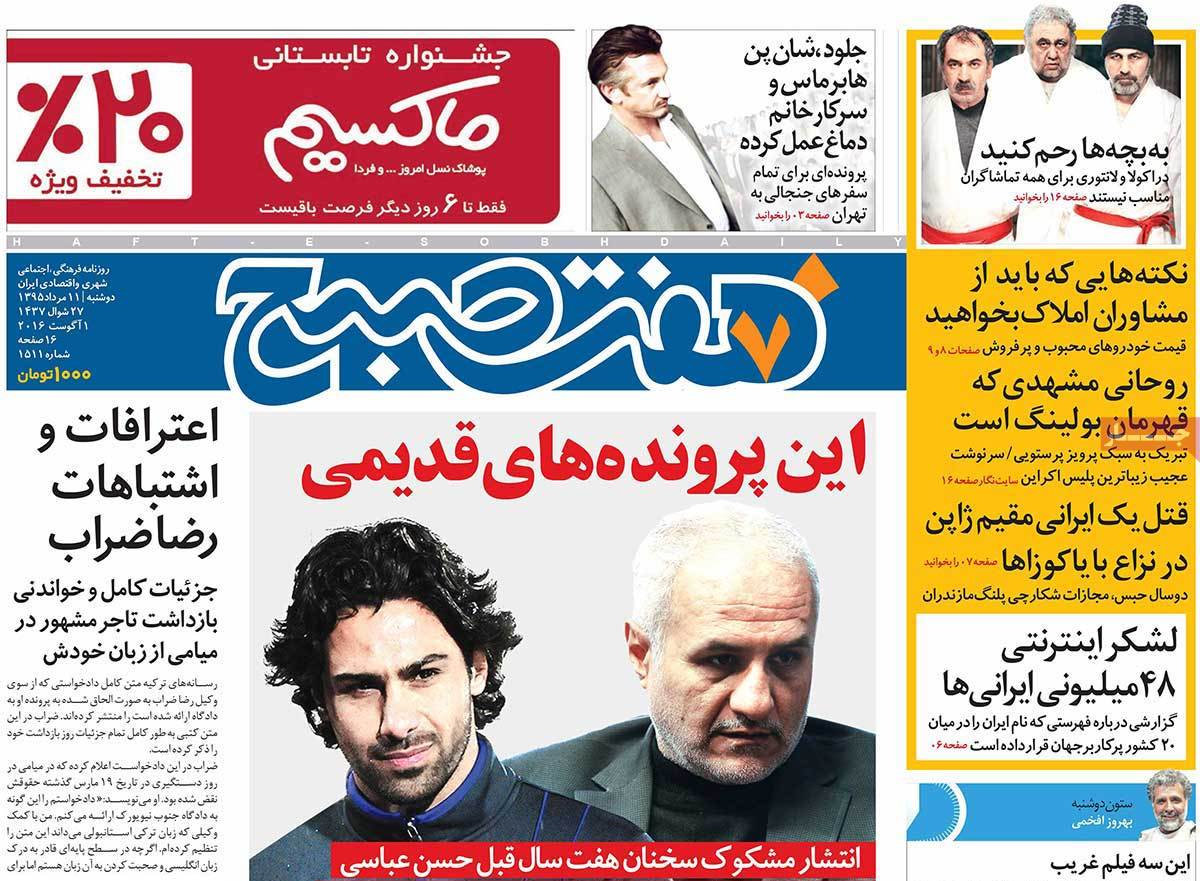 ---
Iran:
1- We Had Many Mistakes and Errors in Elections: Guardian Council Secretary
2- Ahmadinejad's Gov't Had Many Payments to Foreign Countries out of 'Excitement': Former CBI Chief
3- Talks for Purchase of 20 Planes from Japan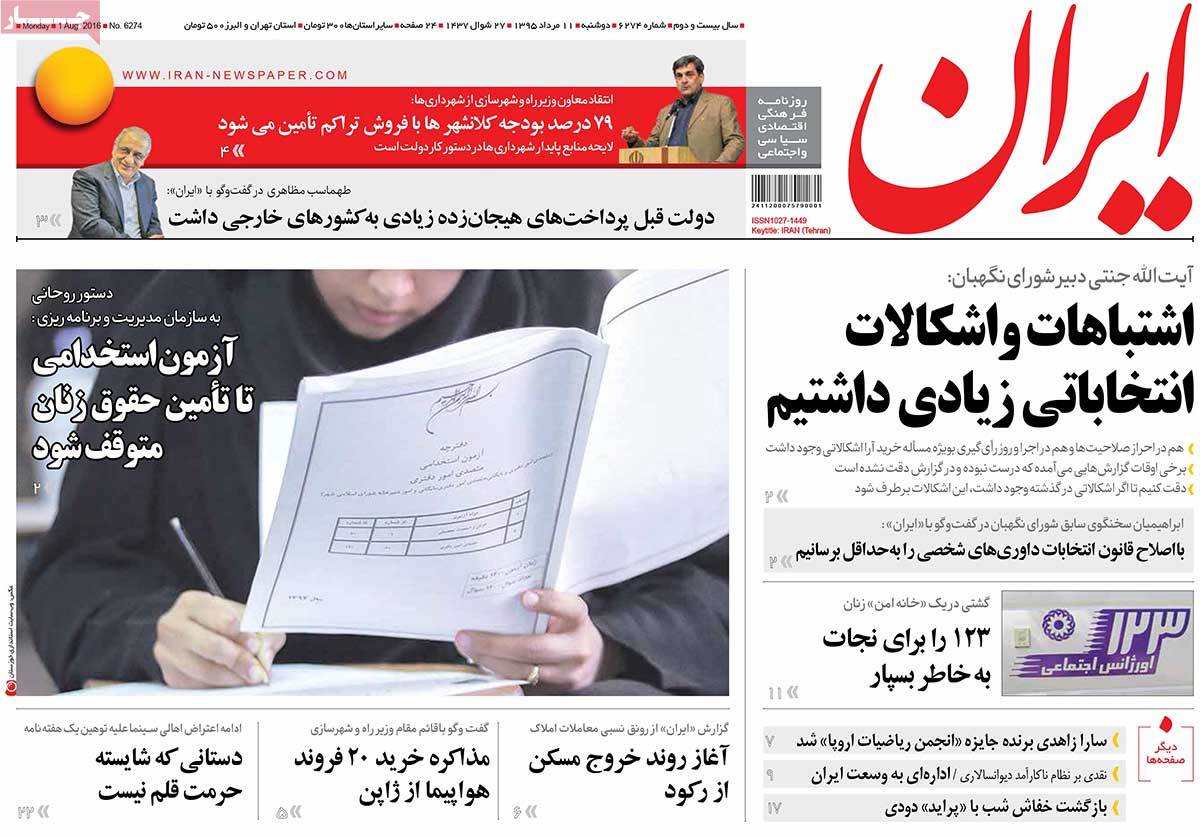 ---
Jame Jam:
1- Crossing Borders of Ethics: Prevalence of Unethical Channels in Cyberspace
2- Aleppo: One Step Left to the Dawn
3- Meeting of 2 Useless Players in Paris [Maryam Rajavi and Mahmoud Abbas]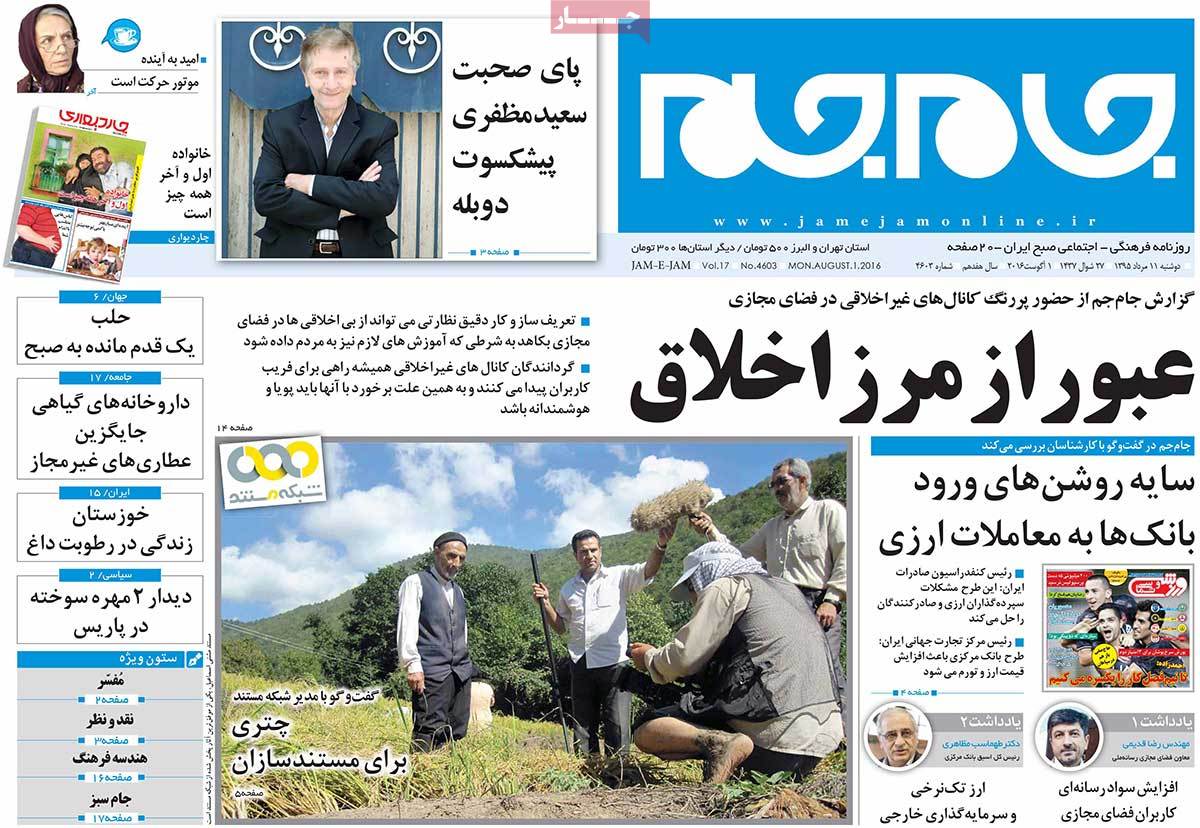 ---
Javan:
1- 'Compromise' [symbol of Palestinian Authority] and 'Discord' [symbol of MKO Group] Linked with Each Other Thanks to Saudi Petrodollars
2- Ex-MP Urges Rouhani to Confront Corruptors, Even If They're Closest People to Him
3- Iran's Army and IRGC, Both Are a Single Divine Troop [Editorial]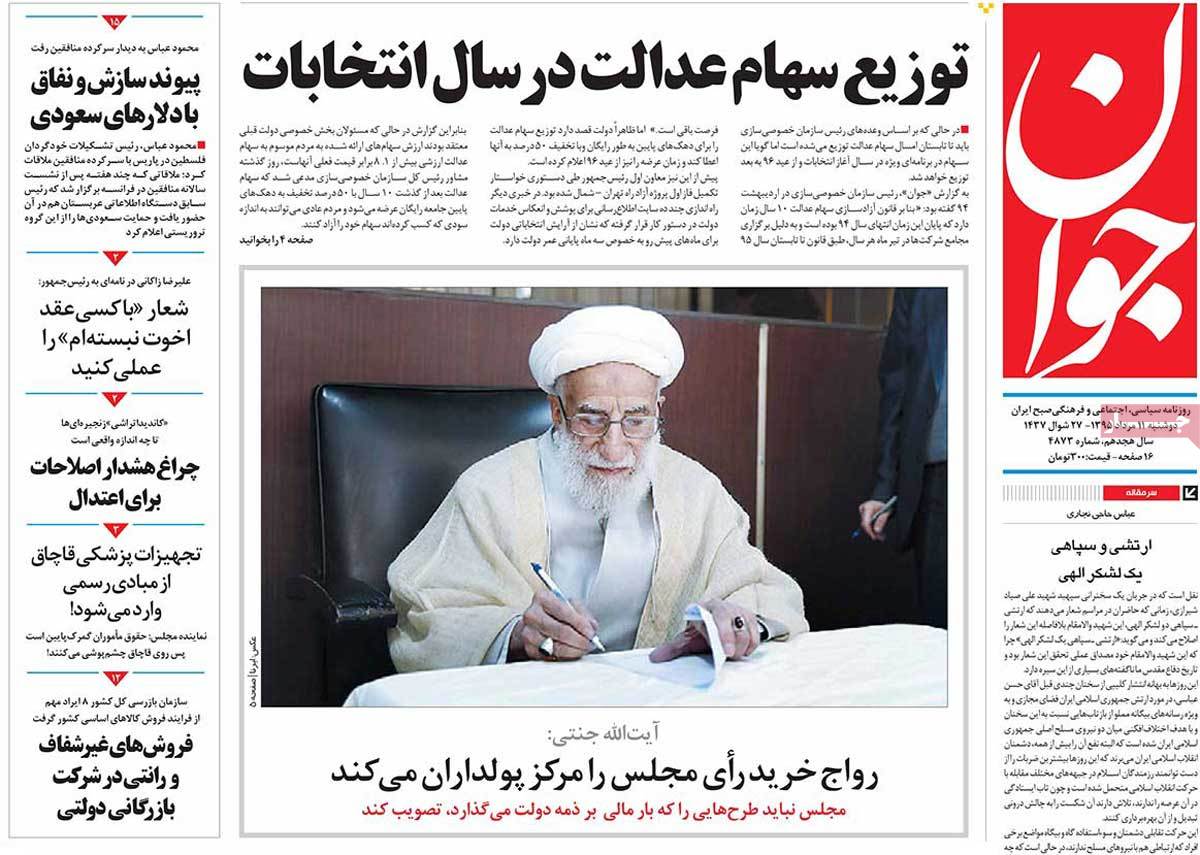 ---
Jomhouri Eslami:
1- US Cooperation with ISIS Terrorists in Aleppo Revealed
2- Iran to Cooperate with Any Solution Accepted by Syrian Gov't and Nation: Deputy FM
3- Iran's Foreign Ministry Warns a Number of Countries that Support Al Saud's Seditionist Policies
4- Refusing to Meddle in Politics and Economy Is a Strong Point for Iran's Army: Vice-Speaker
5- 240 Foreign Oil Tankers Berth at Iran's Kharg Island for 1st Time since JCPOA
6- Strategic Defeat of American Coalition in Aleppo [Editorial]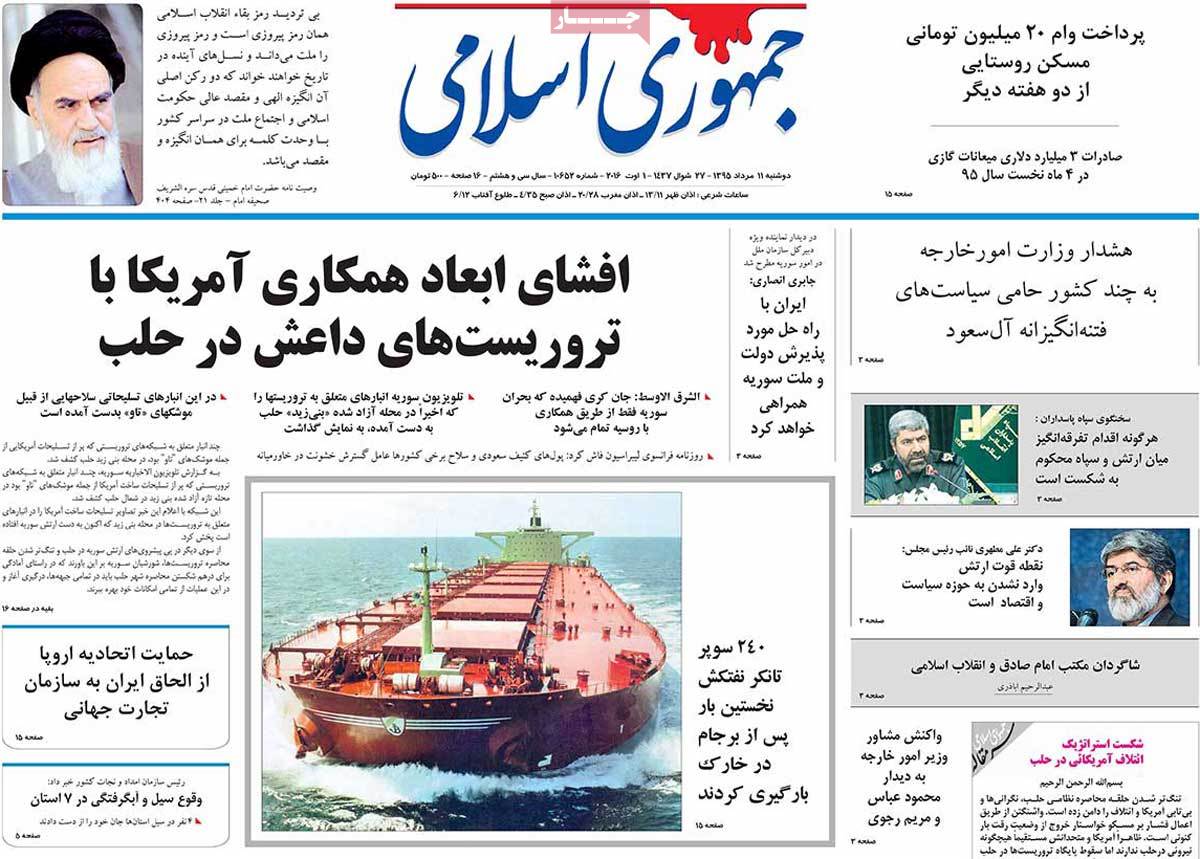 ---
Kayhan:
1- Weird Claims by CIA Chief: Who Will Show Reaction?
2- Muslim Black Man Beaten to Death by Canadian Police
3- JCPOA Is Aimed at Increasing Pressure on Iran, But Some Officials Still Ignore It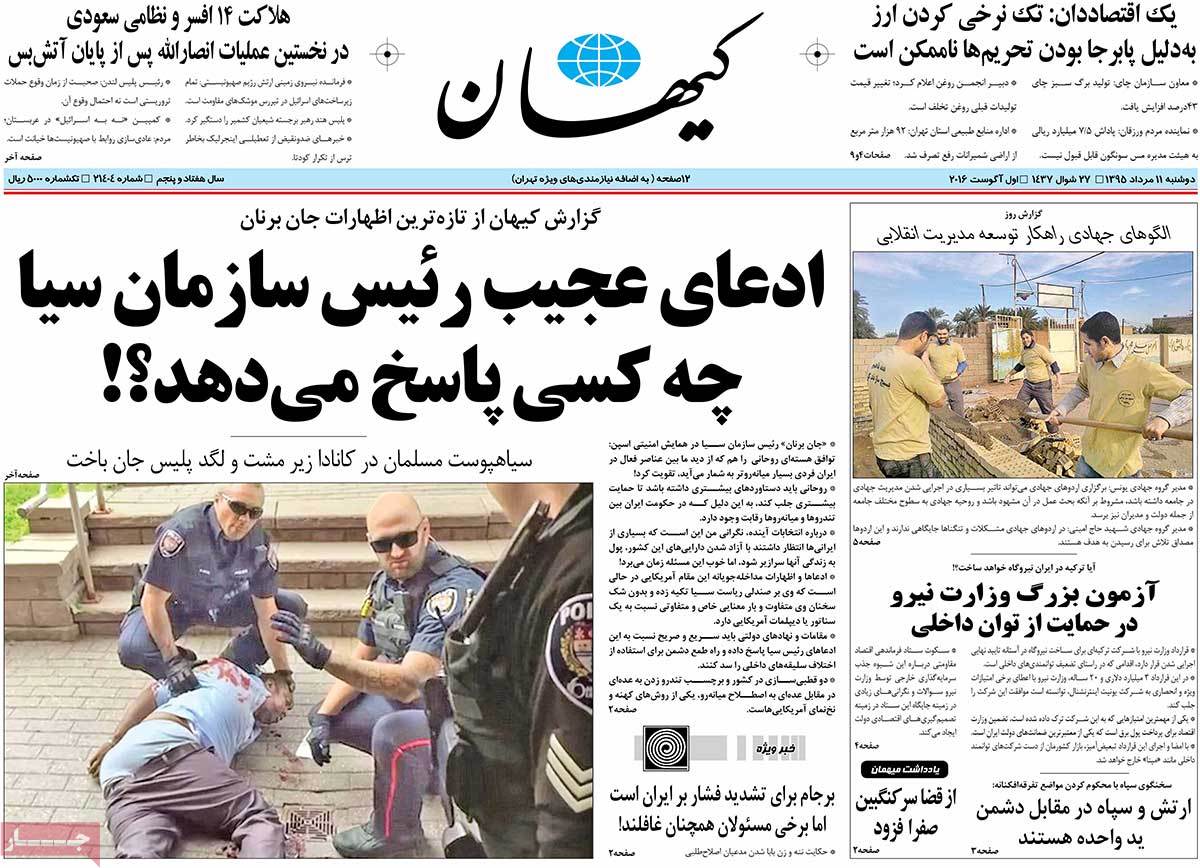 ---
Khorasan:
1- IRGC's Strong Support for Army
2- Continued Reactions to What Happened in Hafez Ceremony
3- Trade Ministry Joins Chamber of Commerce in Proposing to Change Iranian Weekly Holidays
4- In Which Times De Mistura Visits Iran?
5- $1.1m of Unconventional Salaries Returned to Government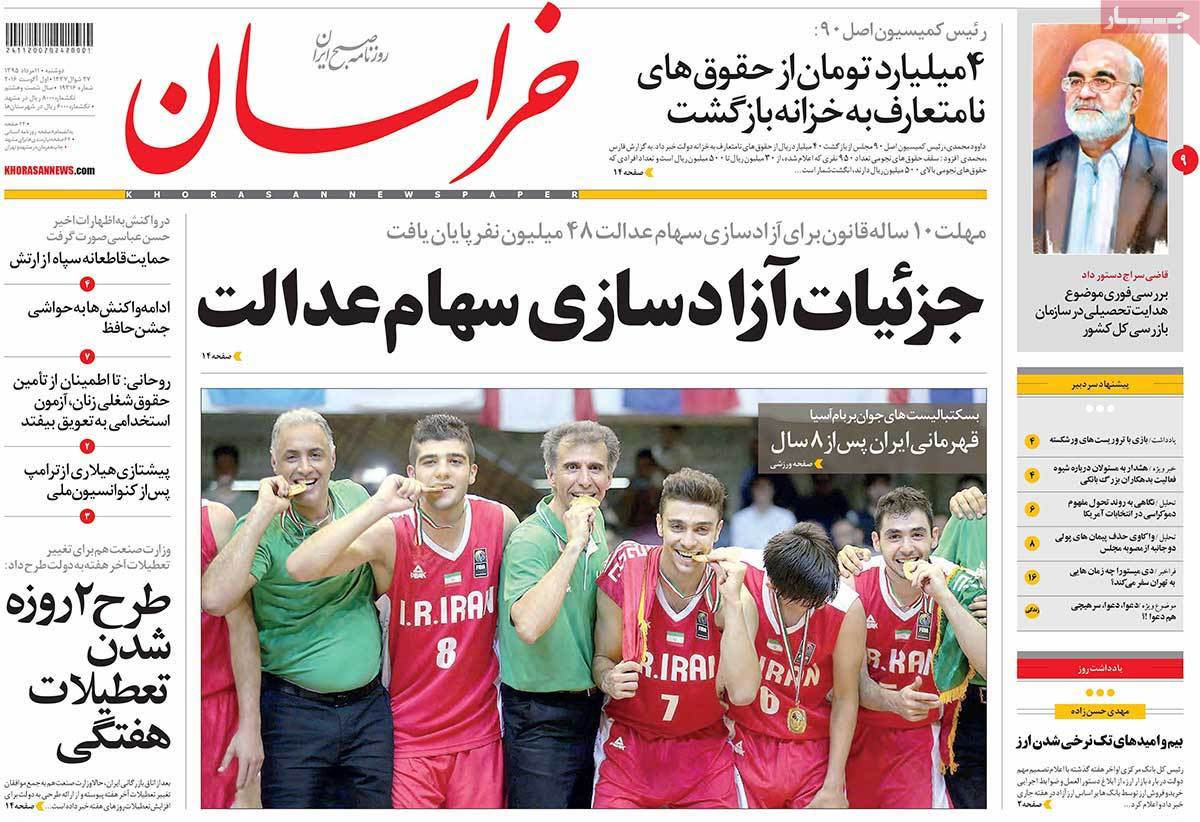 ---
Sepid:
1- Iranian Men Have Had the World's Greatest Increase in Height over a Century
2- Iran's Blood Reserves at Least 5 Times More than the Country's Need
3- There Is No Cure for Autism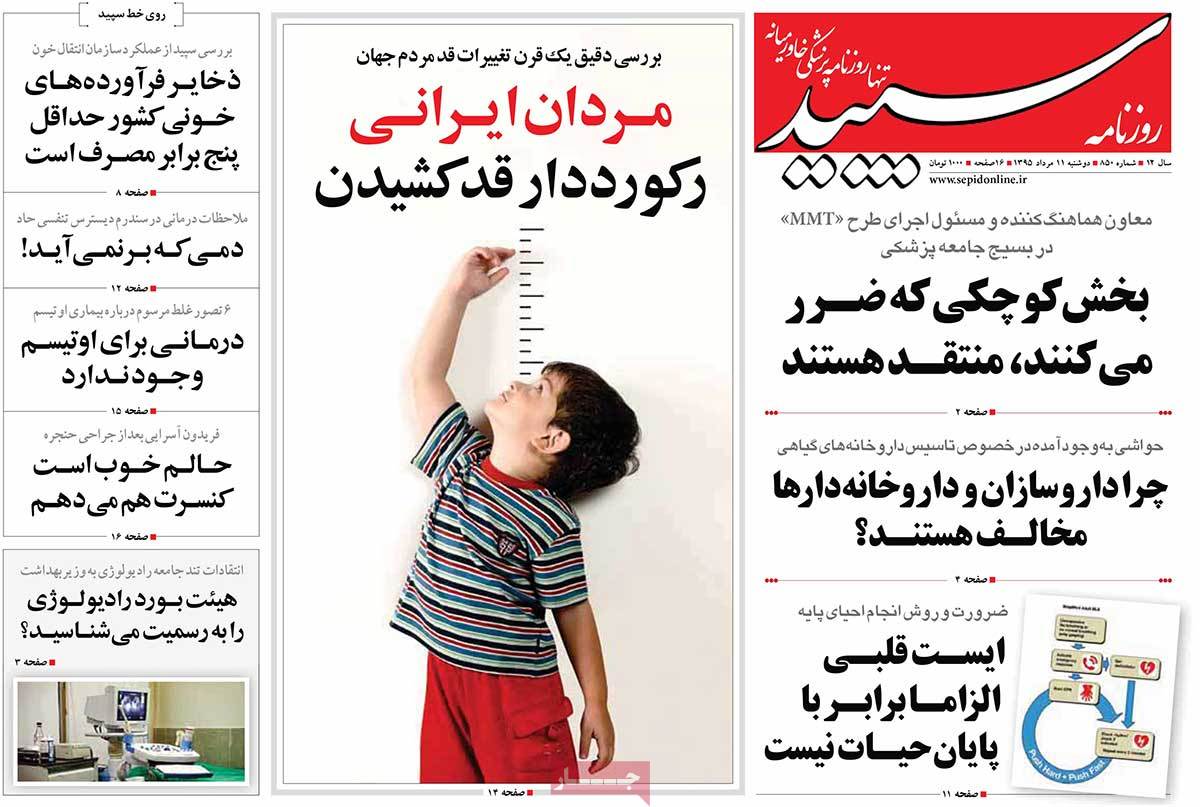 ---
Shahrvand:
1- The Tempting Spiders; In Spite of Unsuccessful Experiences: Iranians Are Still Interested in Network Marketing
2- 2 Years in Jail for Cheetah Hunter
---
Shargh:
1- An Interview with Kiarostami's French Doctor
2- More than 400 Artists and Cultural Figures Send a Message to Kiarostami's Family: You're Not Alone
3- JCPOA Once Again Bears Fruits: Mogherini Supports Iran's WTO Accession
4- Roles of 3 Countries in Leakage of Iran's Nuclear Data
5- Kayhan Newspaper Criticizes Ahmadinejad
6- Army and IRGC Are Iron Fist of Iranian Nation
---
Vaghaye Ettefaghieh:
1- Leader's Aide: Ankara Should Beware of Certain Countries' Role in Coup
2- Iranian Cinema Protests at an Insult
3- Iran Football Federation to Support Members of Malavan Football Team: Girls Accused of Having Sexual Relationships
---
Vatan-e Emrooz:
1- 2 Offending Saudi Officers Who Molested Iranian Teenagers Have Yet to Be Tried!
2- Iran's Human Rights Chief Criticizes Government's Diplomatic Inaction over Zakzaky's Case
3- Enters General Erdogan!