Almost all newspapers highlighted the powerful earthquake which hit areas near the north-eastern Iranian city of Mashhad. Fortunately, the 6-magnitude quake didn't have heavy casualties.
They also covered the imminent candidacy of Ebrahim Raeisi, a senior conservative cleric, in the upcoming presidential election.
Iran's condemnation of the use of chemicals in Syria, and British Prime Minister Theresa May's anti-Iran remarks during her visit to Riyadh also received great coverage.
Another top story today was the Iranian Transport Minister Abbas Akhondi's controversial reaction to a journalist who questioned his ministry's performance.
The above issues, as well as many more, are highlighted in the following headlines and top stories:
Abrar:
1- UNSC Holds Meeting on Idlib Chemical Attack
2- Theresa May Describes Iran as Threat to Regional Stability, Security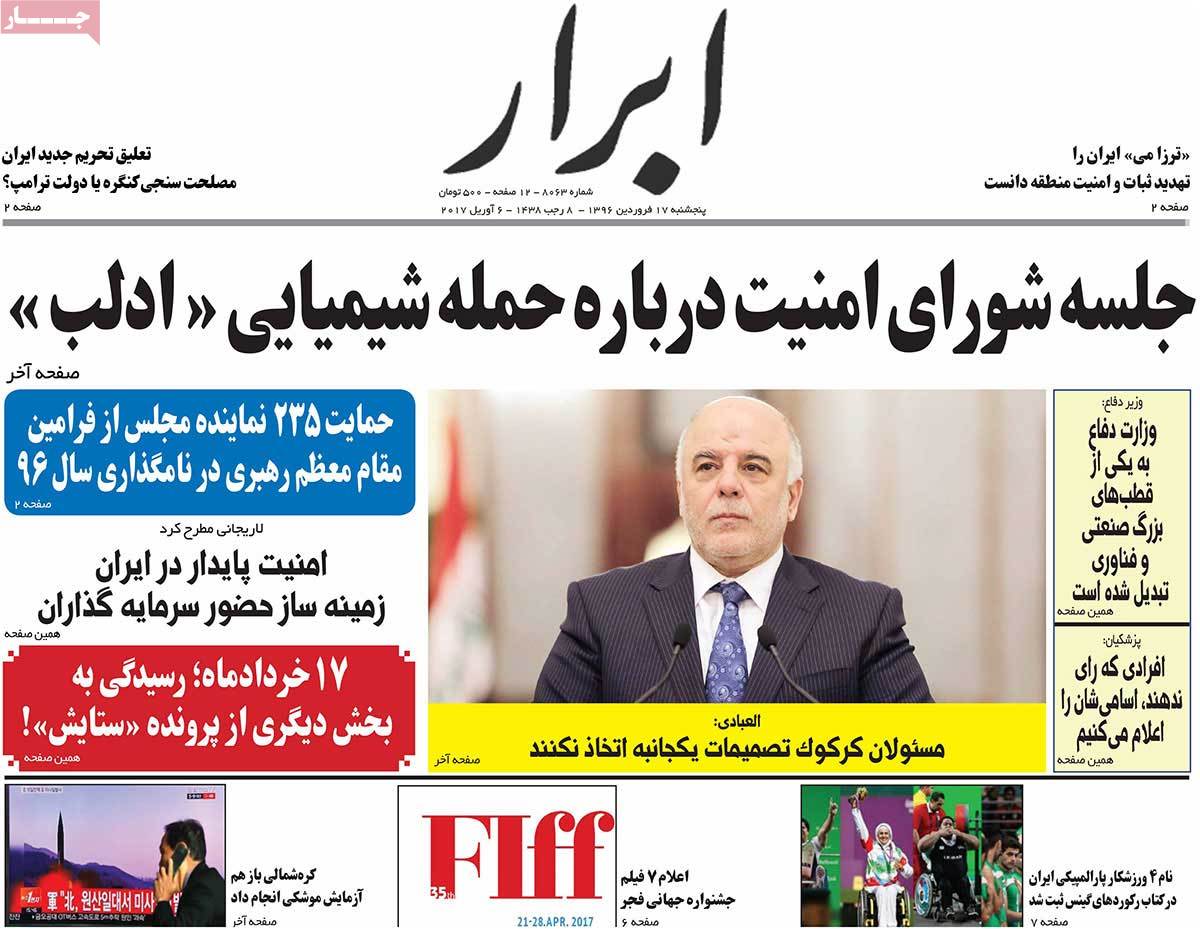 ---
Aftab-e Yazd:
1- Raeisi, the Candidate Supported by Ayatollah Mesbah Yazdi
2- Qalibaf Seeks to Become Raeisi's First VP!
3- Iran Strongly Condemns Any Use of Chemical Weapons
---
Ebtekar:
1- Khorasan Province Shakes
2- Will Raeisi Run for President?
3- Electoral Atmosphere Dominating Tehran Book Fair
4- Cabinet Members to Support Rouhani in May Election
---
Etemad:
1- Tehran Mayor Withdraws from Running for Presidency, Attacks Rouhani
2- Oil Minister's Response to Indians: Threatening Rhetoric Won't Help Contract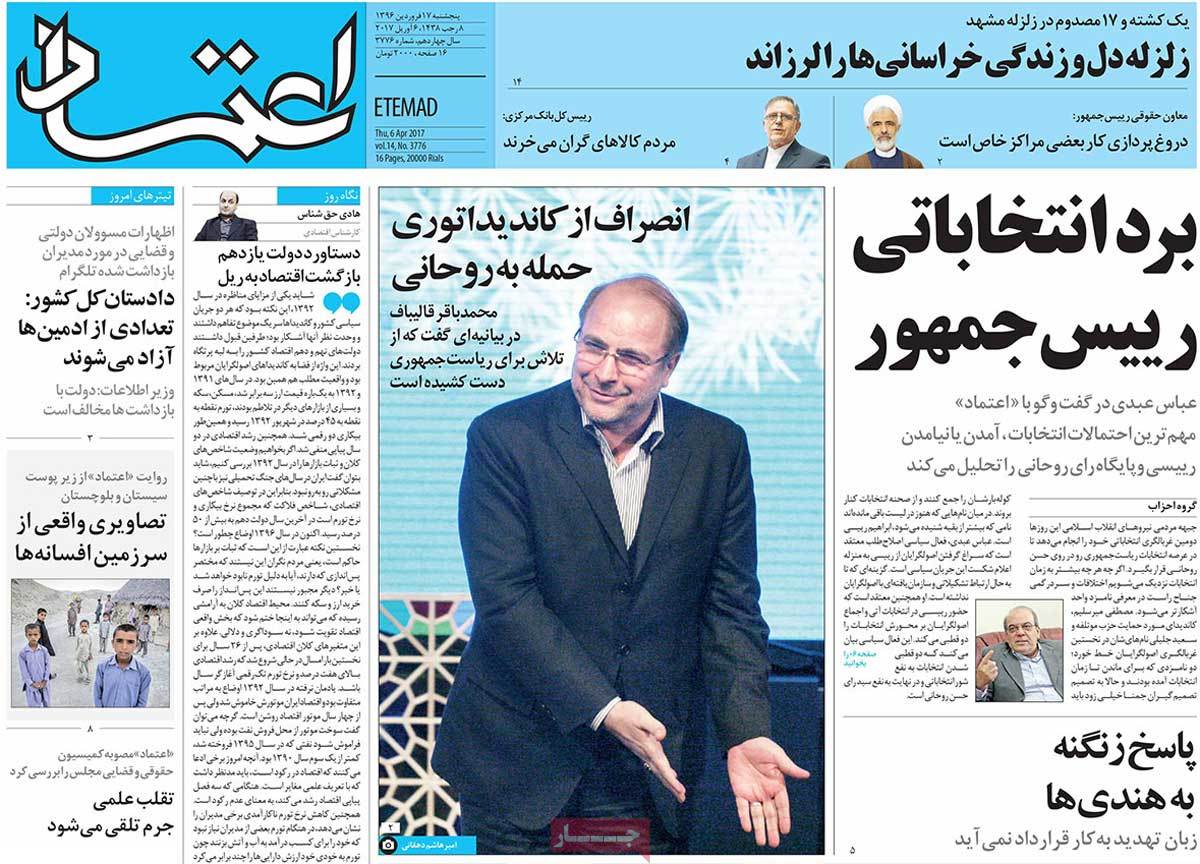 ---
Ettela'at:
1- Iran's Gates Should Be Close to Smugglers: Ayatollah Makarem Shirazi
2- Selling, Buying, or Using Old Cars Prohibited
3- Chomsky: US, Not Iran, Threatens World Peace
4- No Cabinet Member Will Run for President
5- Navy Commander: Iran's Leader Pleased with Our Military Achievements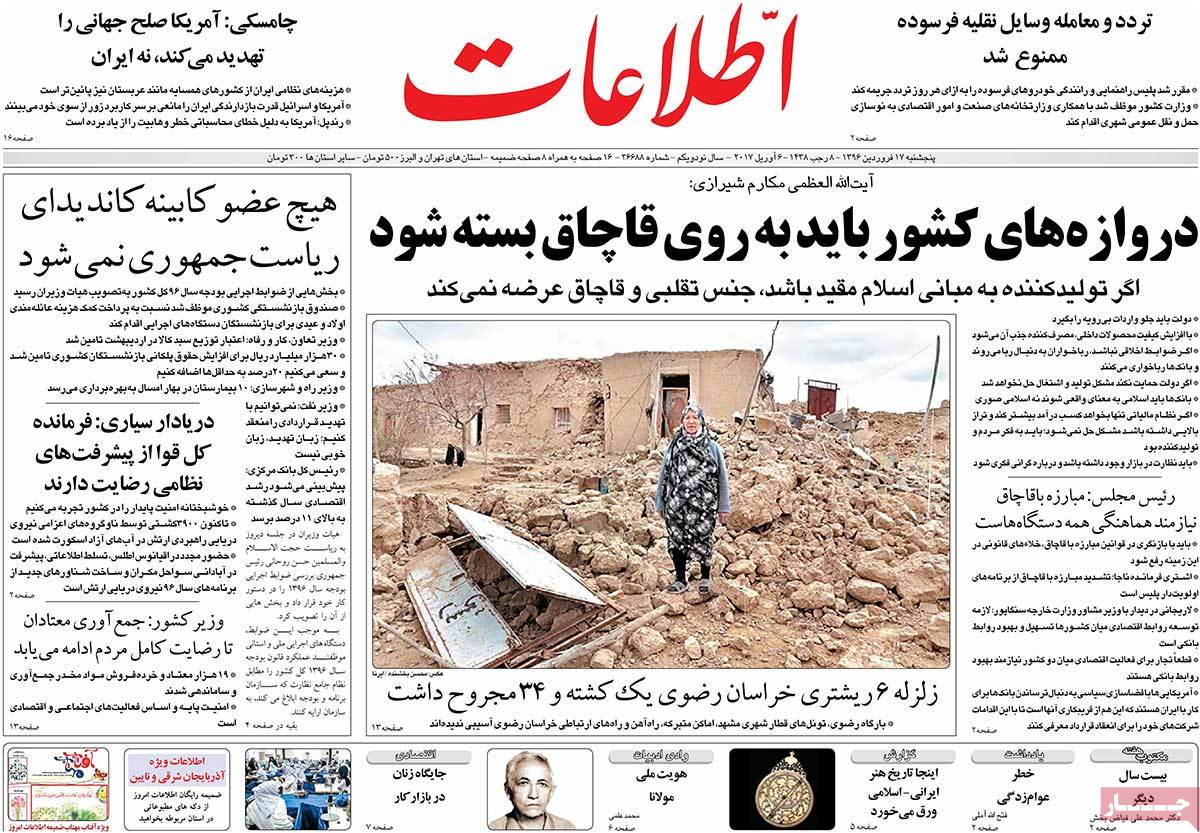 ---
Haft-e Sobh:
1- Powerful Quake near Mashhad Didn't Have Heavy Casualties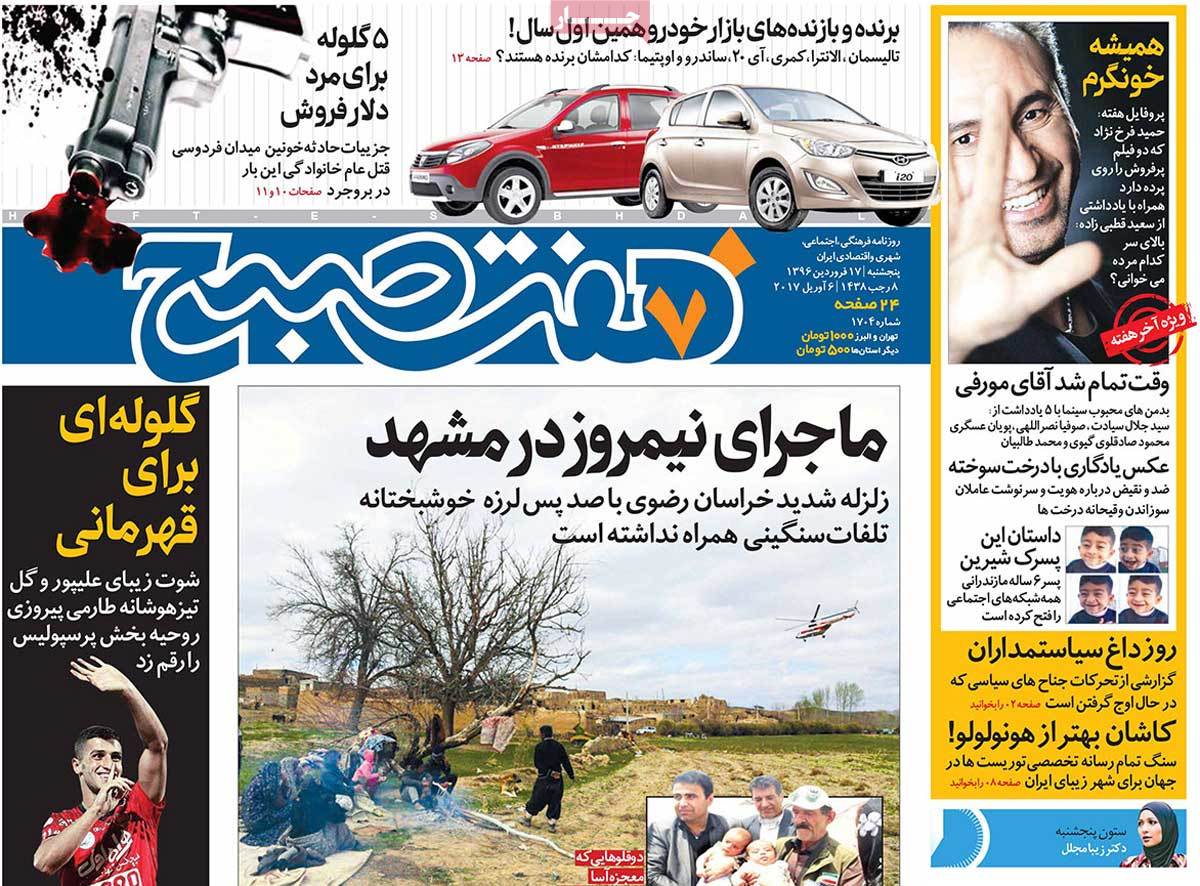 ---
Iran:
1- Conservatives to Introduce Their Final 5 Candidates
2- Storm Exposes 2,500-Year-Old Site in Fahraj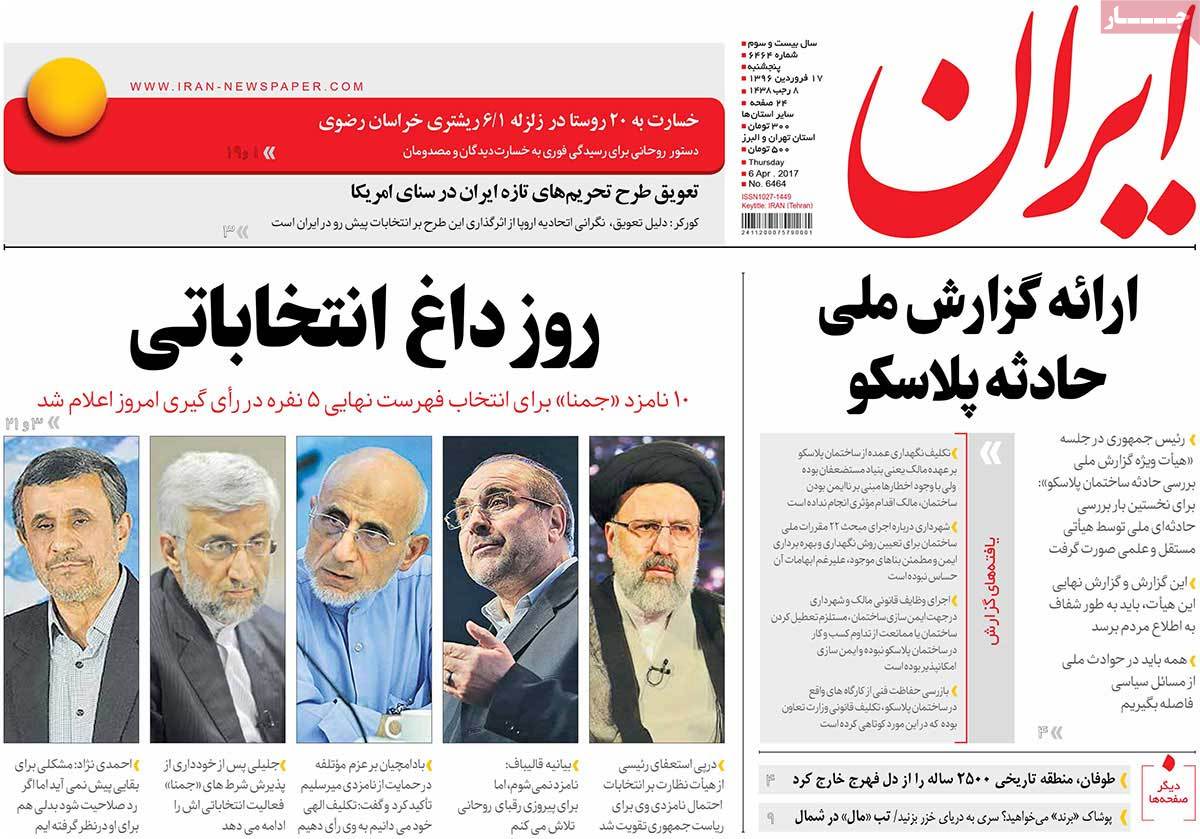 ---
Jame Jam:
1- Who Will Run for President?
2- The 6-Magnitude Shake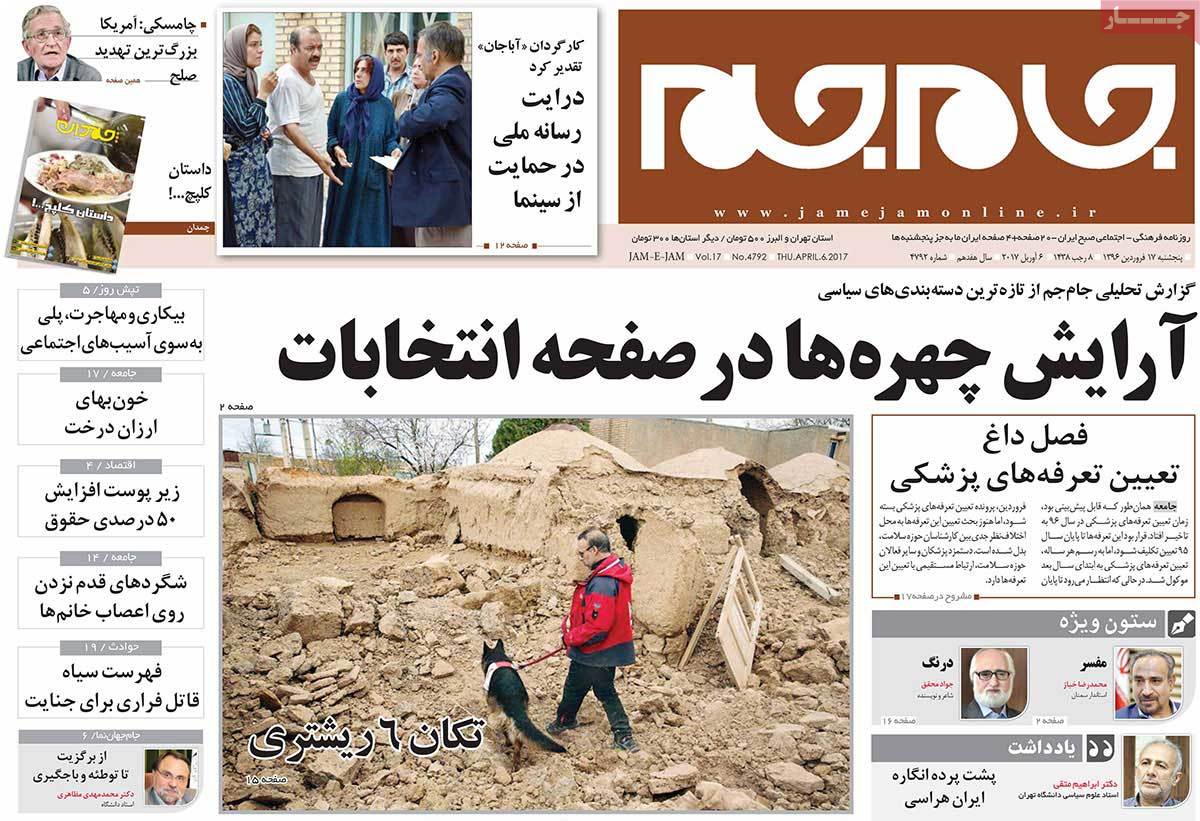 ---
Javan:
1- Tehran Mayor: I'll Help Change This Inefficient Government
2- IRGC's Excellent Work in Ending Deprivation in Kordestan, Kermanshah
IRGC's Resolve against Deprivation to Stop Trend of Immigration from Border Areas
3- Fresh US Sanctions Temporarily Stopped for Iran Election
US Senator: New Sanctions Postponed Due to EU's Concerns over Its Impact on Iran Election
---
Jomhouri Eslami:
1- Ahmadinejad, Qalibaf Simultaneously Attack Rouhani's Gov't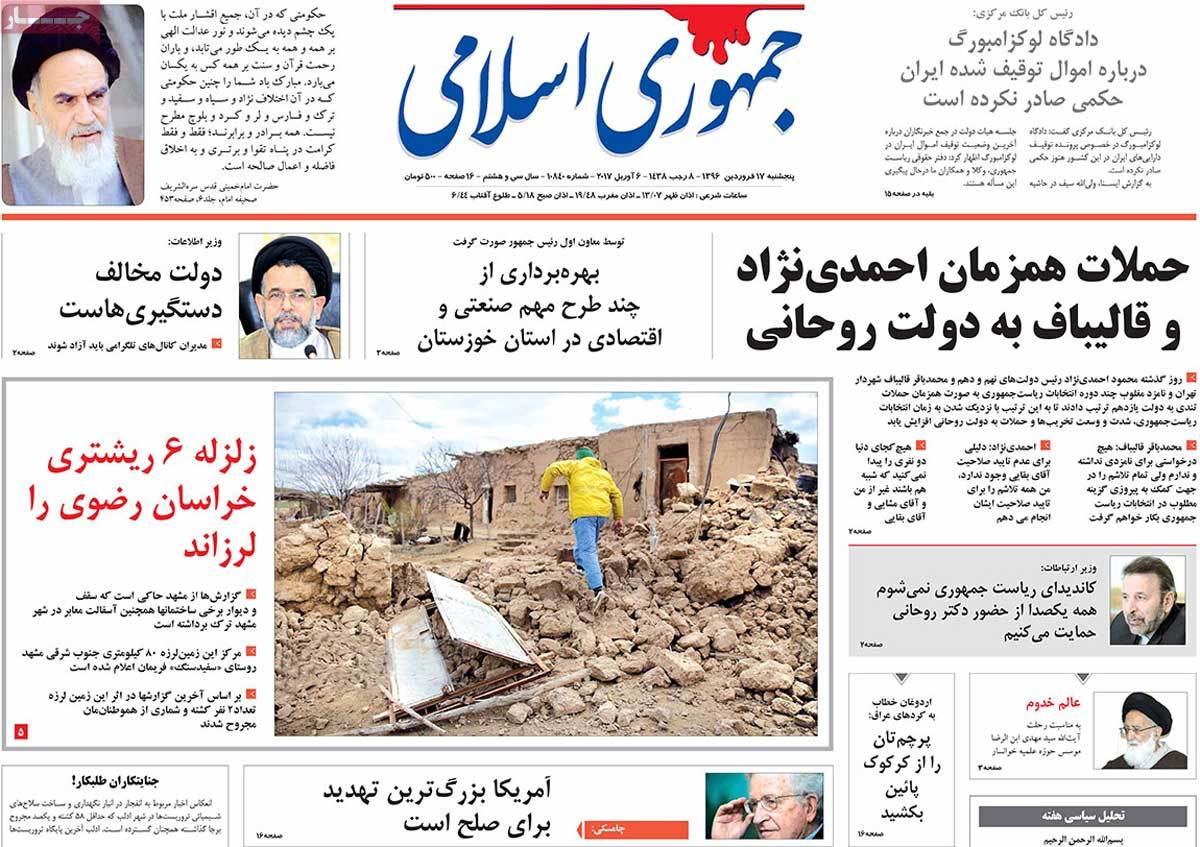 ---
Kayhan:
1- 43 Days to Election: Who Will Become Next President?
2- Mr Akhondi! Ministers Should Pay Some Respect to Citizens' Rights!
[Transport Minister Abbas Akhondi's clash with a reporter sparked controversy on Wednesday. The reporter asked him if it was true that the planes delivered to Iran were the ones earlier ordered by other countries. This made him angry and photos implied that he tried to seize the reporter's microphone.]
3- West, Takfiris [extremists] Taking Advantage of Explosion in Terrorists' Chemical Depot
4- MP: Value of Contraband Goods near $35 Billion
---
Khorasan:
1- 6-Magnitude Fear
---
Shargh:
1- Raeisi's Candidacy Imminent
2- Ahmadinejad Responds to Journalists' Questions after 4 Years
3- Iran Dismisses Reports on Luxembourg Court Ruling on Seizure of Assets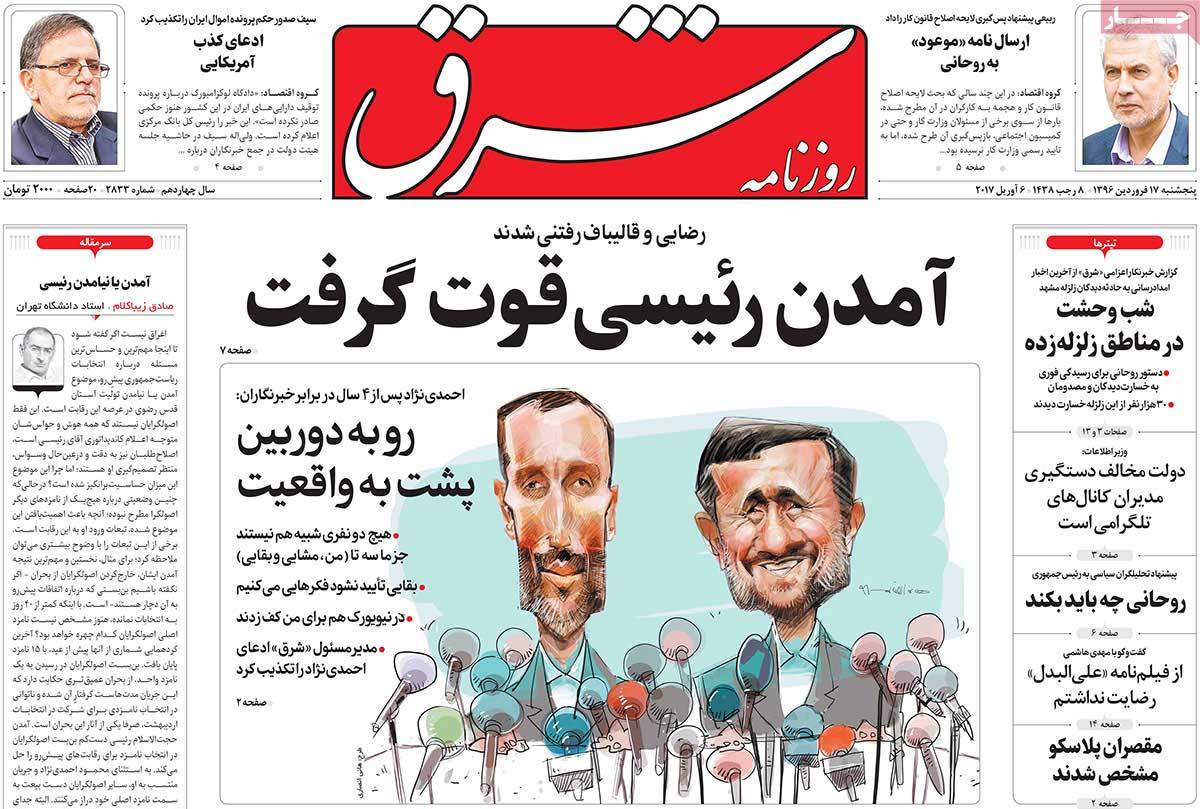 ---
Vatan-e Emrooz:
1- Transport Minister's Controversial Reaction to Female Journalist
2- Where's Diplomacy: From Erdogan's Sedition against Persian Nationalism to British PM's Anti-Iran Comments