Newspapers today mostly covered the speculations about the country's May presidential election and the possible competition between the incumbent President Hassan Rouhani and the conservative cleric Ebrahim Raeisi.
The deadly terrorist attack in St. Petersburg subway station, Russia, also received great coverage.
Another top story was Britain's violation of its commitments as per the nuclear deal between Tehran and world powers.
The above issues, as well as many more, are highlighted in the following headlines and top stories:
Abrar:
1- Rouhani: It's a Religious, National, Revolutionary Duty to Increase Production, Employment
2- Iran Interested in Purchase of 100 Sukhoi Planes: Russian Minister
3- Trump: I'll Resolve North Korea Issue Single-Handedly
---
Aftab-e Yazd:
1- Rouhani's Performance Is His Most Important Rival: Reformist Politician
2- National Mourning Declared in Russia
---
Arman-e Emrooz:
1- Conservatives Have Woken Up: Rouhani Is Ours, Not Reformists'!
2- Ahmadinejad May Run for President!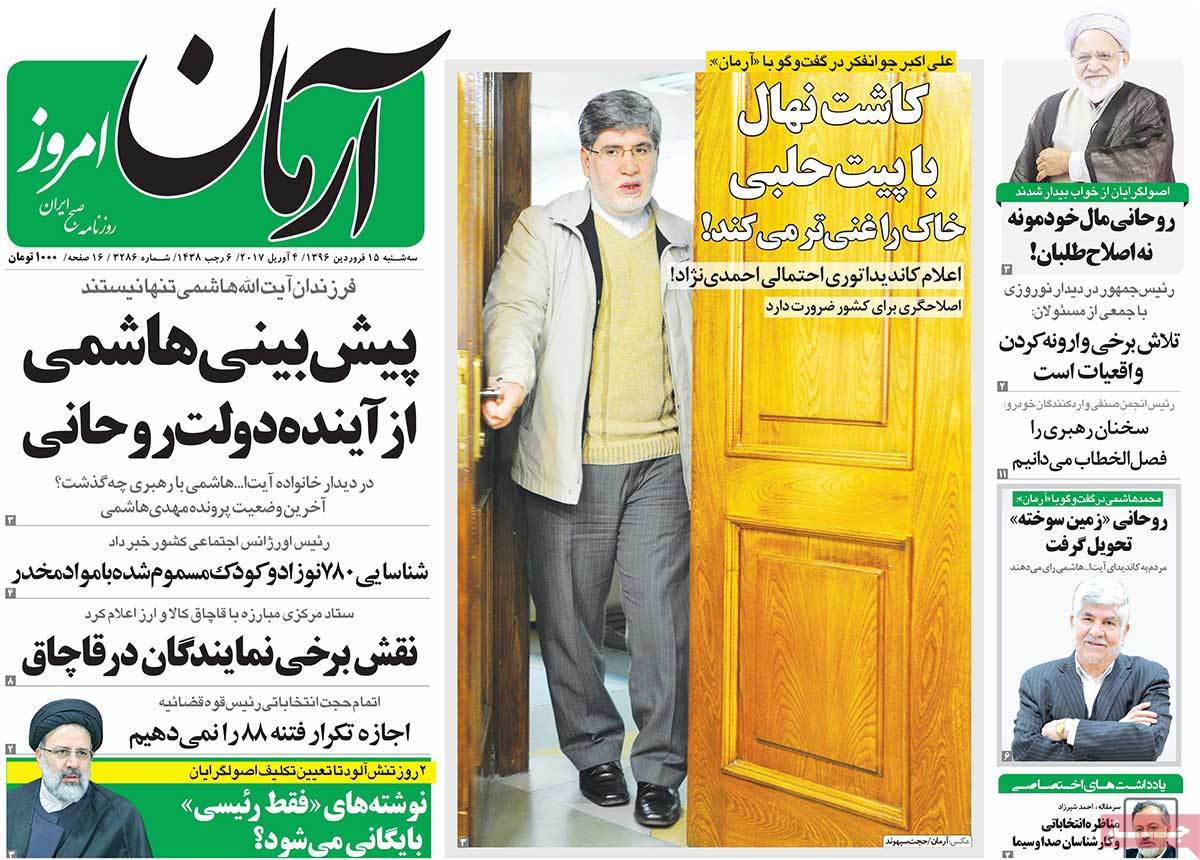 ---
Ebtekar:
1- Interior Ministry Fully Prepared to Hold May Elections: Minister
2- Saudi Arabia Playing Based on American Scenario
Saudis Looking for Regional Coalition against Iran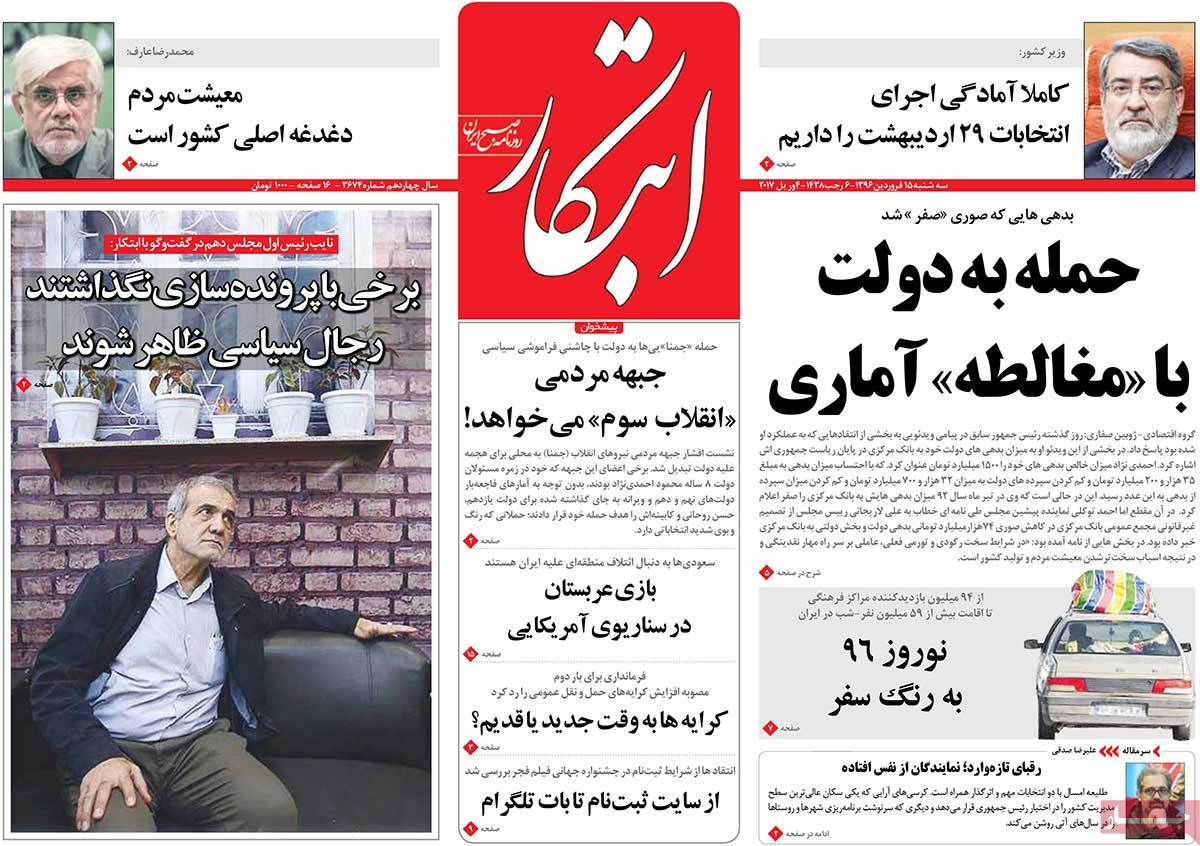 ---
Etemad:
1- Judiciary Chief: Not Every Good Man Is Appropriate for Presidency
2- Will These Two Compete with Each Other? [Rouhani vs Raeisi]
---
Ettela'at:
1- Terrorist Attack on Shiite Pilgrims in Iraq's Samarra Defused, 40 ISIS Elements Killed
2- Prosecutor-General Urges Those Active in May Election Not to Pollute Country's Atmosphere
3- Terrorist Attack in St. Petersburg Kills 10, Wounds 50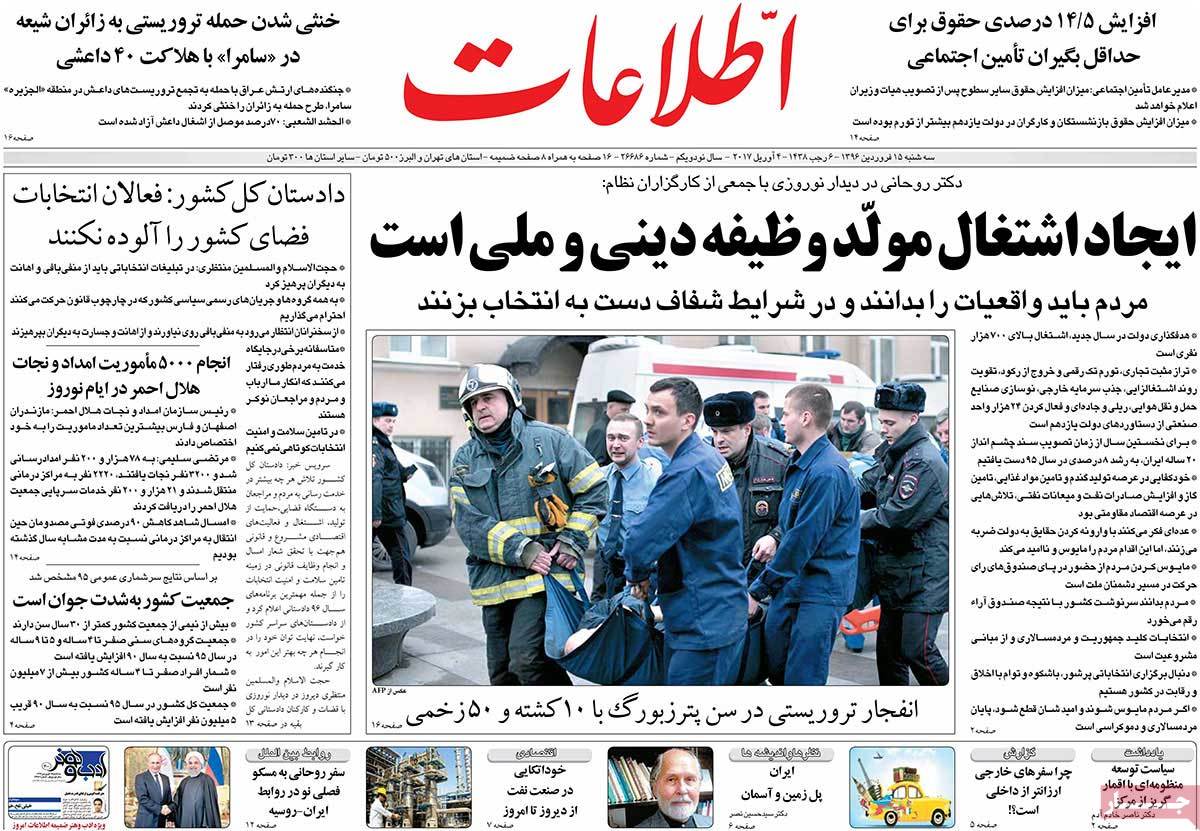 ---
Haft-e Sobh:
1- Fear in St Petersburg
2- Rouhani's Rivals Will Need 18 Million Votes
3- Secrets behind Brutal Attack on 17-Year-Old Iranian Refugee
London Police Has Arrested 8 Suspects So Far
---
Iran:
1- Rouhani: Giving up Hope on Ballot Boxes Is End of Democracy
2- Government to Create over 700,000 Jobs in New Year: President
3- Train of Terror Arrives in Russian Station
---
Javan:
1- Rouhani: All JCPOA Objectives Achieved!
Rouhani's claim is while fresh sanctions are being imposed and banking sanctions are still in place
2- Revenge for Aleppo Defeat Taken in St. Petersburg
3- Trump's Direct Message to Assad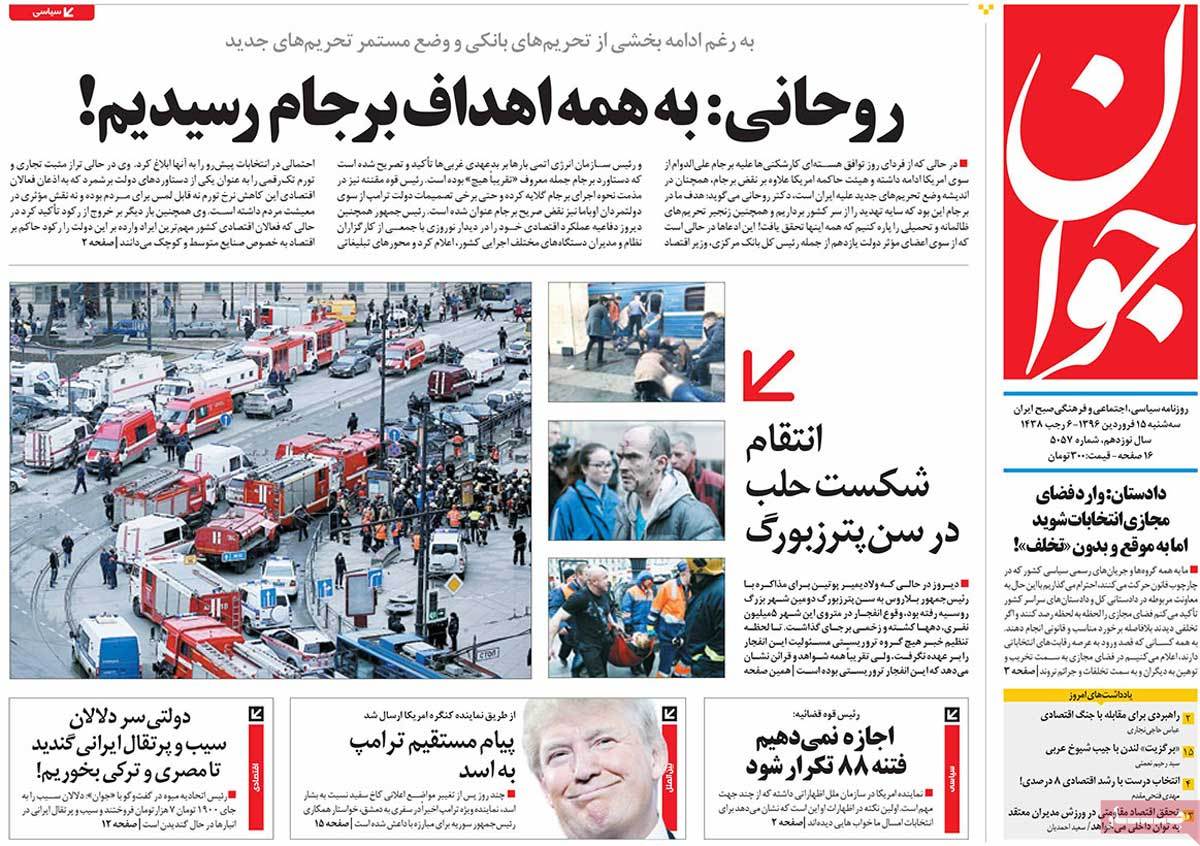 ---
Jomhouri Eslami:
1- British Forces' Aggression against Northern Syria on Pretext of Cooperation with Armed Groups
2- Iran's Oil Exports at Highest Level in 7 Years: International Energy Agency
3- Rouhani: We Want to Hold Glorious, Ethical Elections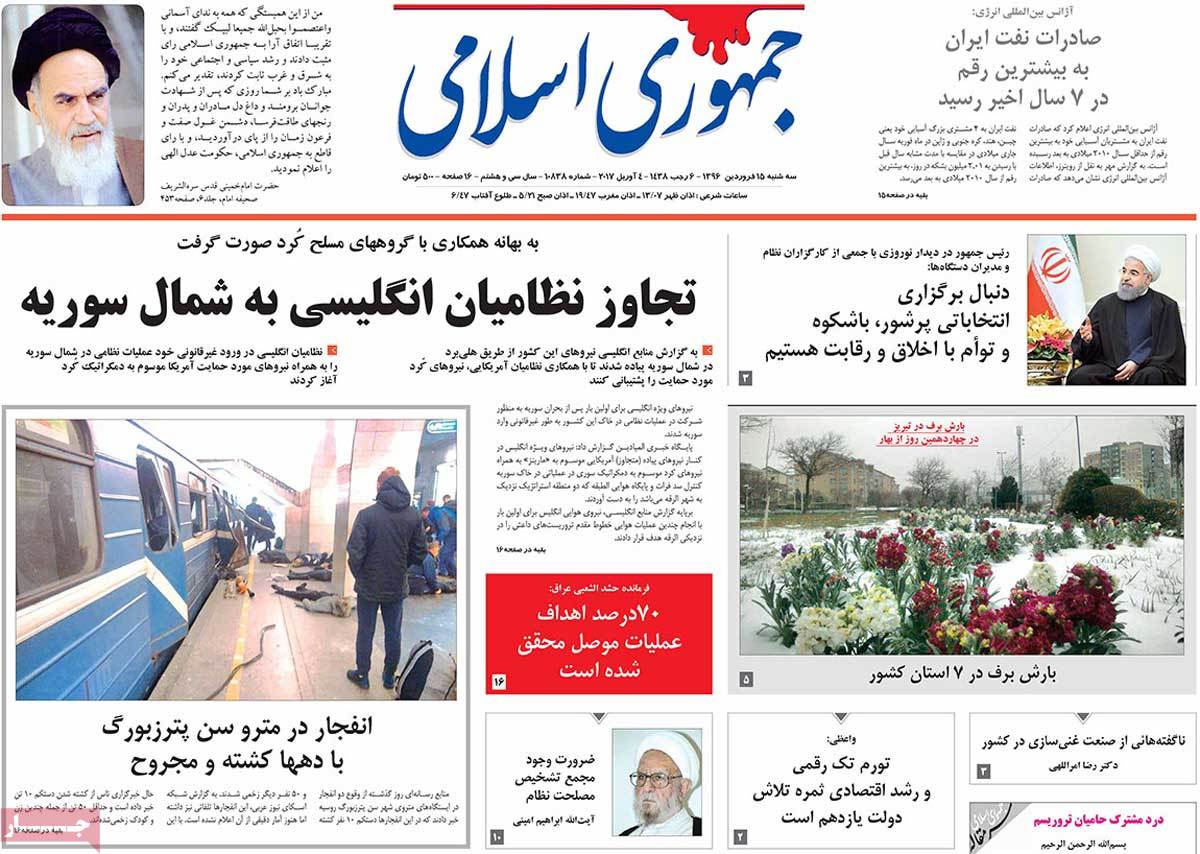 ---
Kayhan:
1- US Concerned about Iran's Economic Growth after Change in Status Quo
2- Gallop: 47% of American People Grappling with House, Living Problems
---
Resalat:
1- Judiciary Chief Urges Candidates, Fans to Observe Electoral Ethics
2- Britain Playing Nuclear Deal Game in US Ground
It's now London's turn to violate its commitments
3- Optimism towards Americans Is Ignorance: Senior Cleric
---
Shargh:
1- Russia's Brain Targeted
2- 12 Million People Took Trips during Nowruz without Own Cars