After two weeks of New Year holidays in Iran, newspapers were published once again on Monday.
The top story was the remarks made by the Leader of the Islamic Revolution Ayatollah Seyyed Ali Khamenei about the Iranian people's expectations from the government and the call for increased focus on employment and production.
The upcoming presidential and local elections in Iran and the number of those who have run for the local votes also received great coverage.
The end of Nowruz holidays and people's outdoor picnics on Sizdah Bedar or Nature Day was also a top story today.
The above issues, as well as many more, are highlighted in the following headlines and top stories:
19 Dey:
1- Iran Leader Calls for High Turnout in Election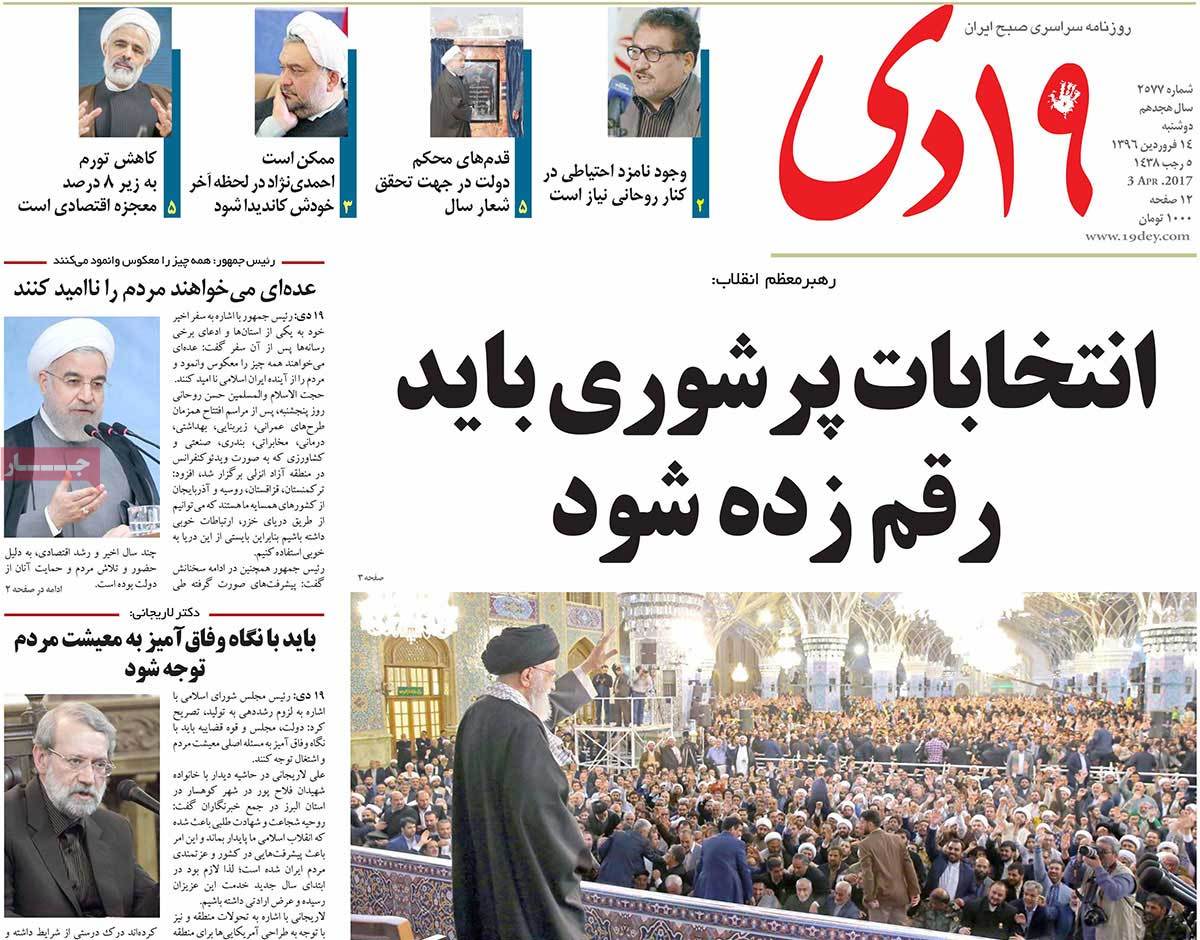 ---
Abrar:
1- Iraqi PM Hopeful about Normalisation of Iraq-Saudi Ties
2- 53% Increase in Number of Those Running for Tehran City Council Elections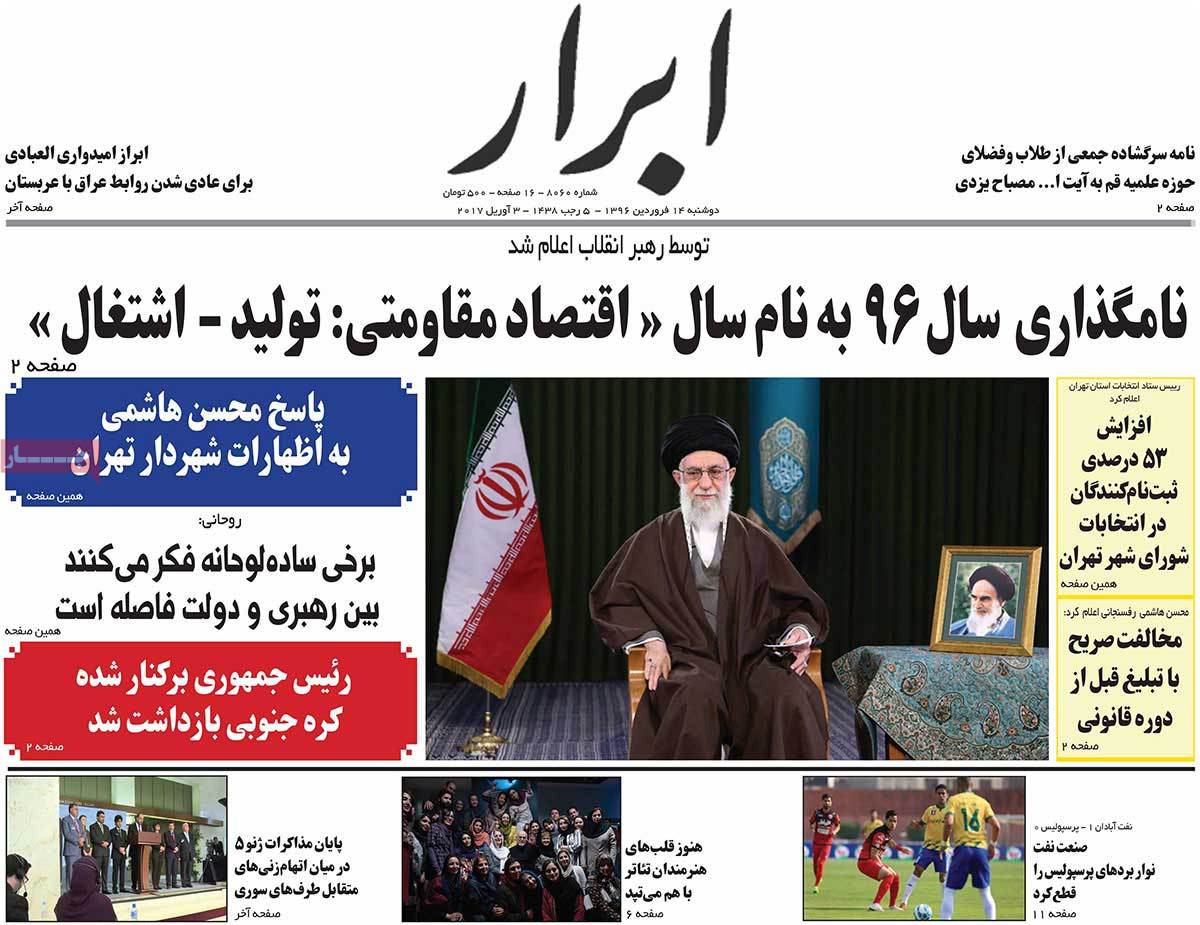 ---
Aftab-e Yazd:
1- Focus on Production, Employment Highly Demanded by Leader, People
2- Leader Names New Year 'Year of Resistance Economy: Production and Employment'
3- Germany Not to Give in to Trump's Pressures
---
Ebtekar:
1- Nowruz Influenced by May Presidential Votes
---
Etemad:
1- Leader: I Never Tell People to Vote for or against Any Specific Candidate
2- Ayatollah Khamenei Vows to Stand against Those Trying to Disrupt Votes
3- Rouhani's First Achievement in New Year: Flood of Russian Investments in Iran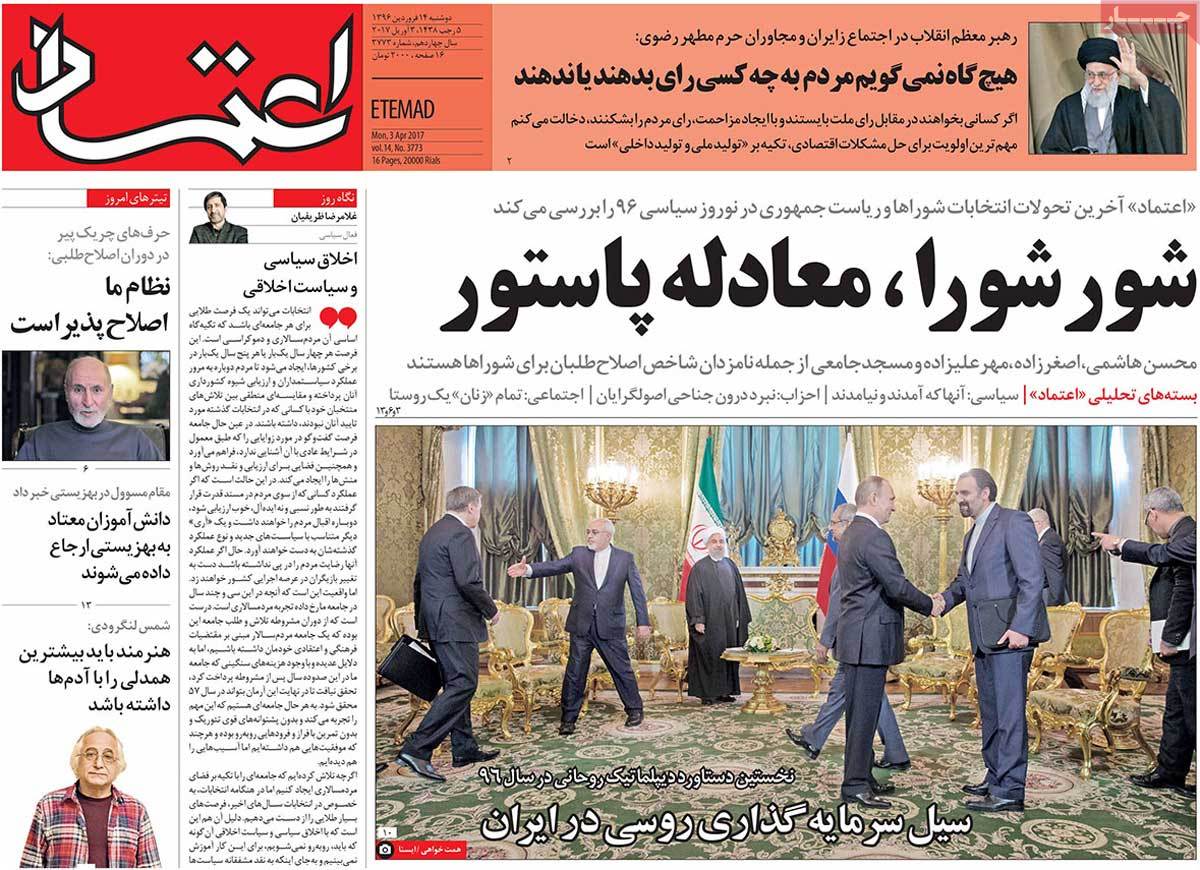 ---
Ettela'at:
1- Leader: There's No Deadlock in Iran
2- 63 Million Visits to Iranian Tourists Attraction during Nowruz
3- Lebanese PM: Israel Is Warmonger, Not Hezbollah
---
Haft-e Sobh:
1- Kudos to Iranian Airlines! Awful Experience of Using Foreign Airlines during Nowruz
---
Iran:
1- Iranians Picnic Outdoors to Celebrate Nature Day
2- Rouhani Calls on People to Go to Ballot Boxes to Determine Iran's Destiny
3- 4.5 Times Increase in EU's Imports from Iran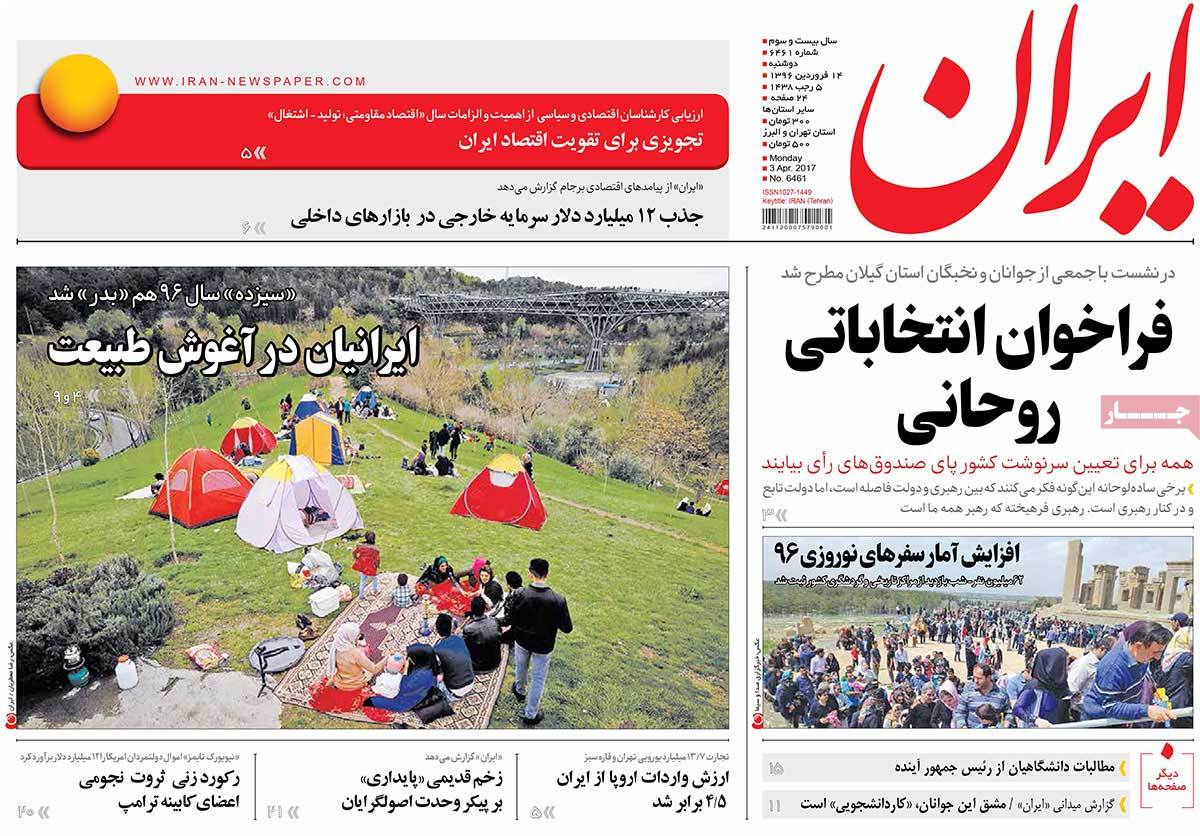 ---
Jame Jam:
1- Revolutionary, Efficient Management, Key to People's Problems: Leader
2- 8% Decrease in Number of Car Accidents
3- People Enjoy Nowruz by Watching IRIB TV Programs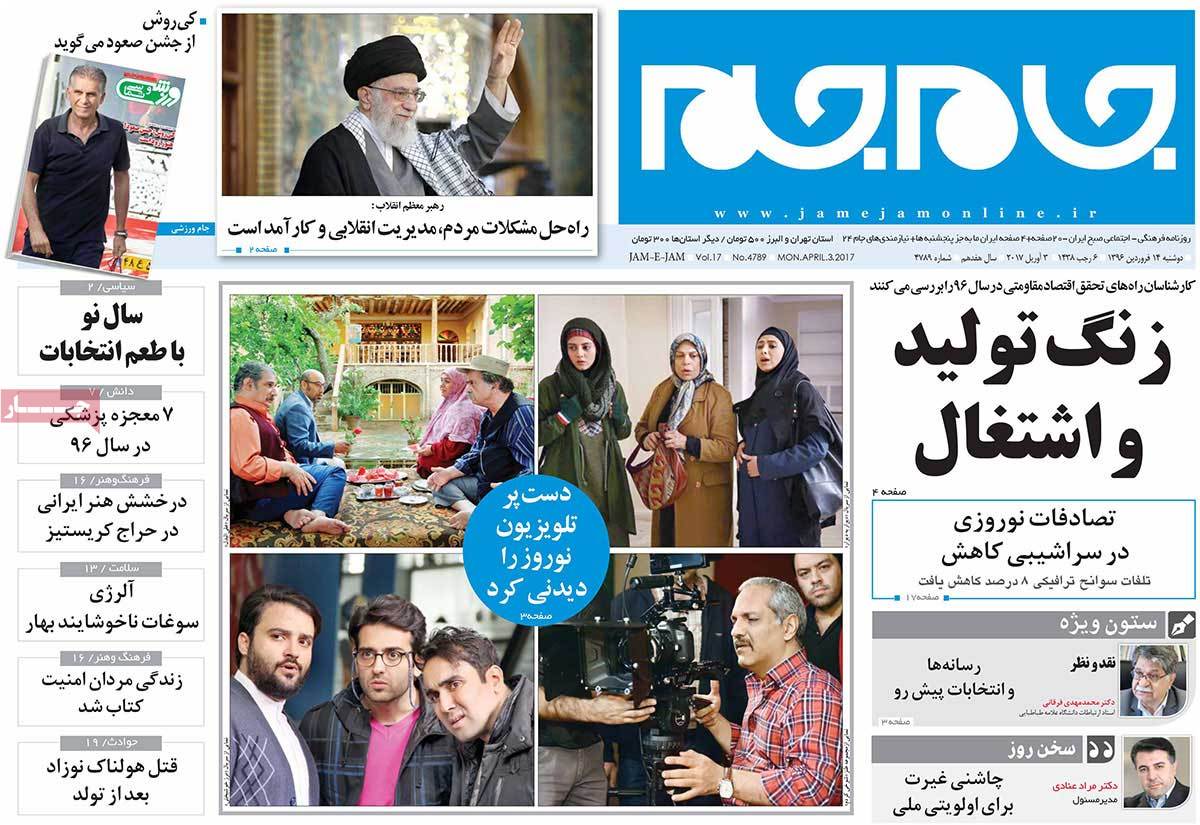 ---
Javan:
1- Obama Gov't Officials: New Senate Plan Violated Nuclear Deal
2- Outdoor Picnics Mark End of Nowruz Holidays
3- US Removes Overthrow of Assad from Its Priorities
---
Jomhouri Eslami:
1- Candidates Can Run for Presidential Election as of April 11
2- Yemen Has Worst Humanitarian Conditions in World: Int'l Bodies
3- Al Saud's Thirst for Achieving Atomic Bomb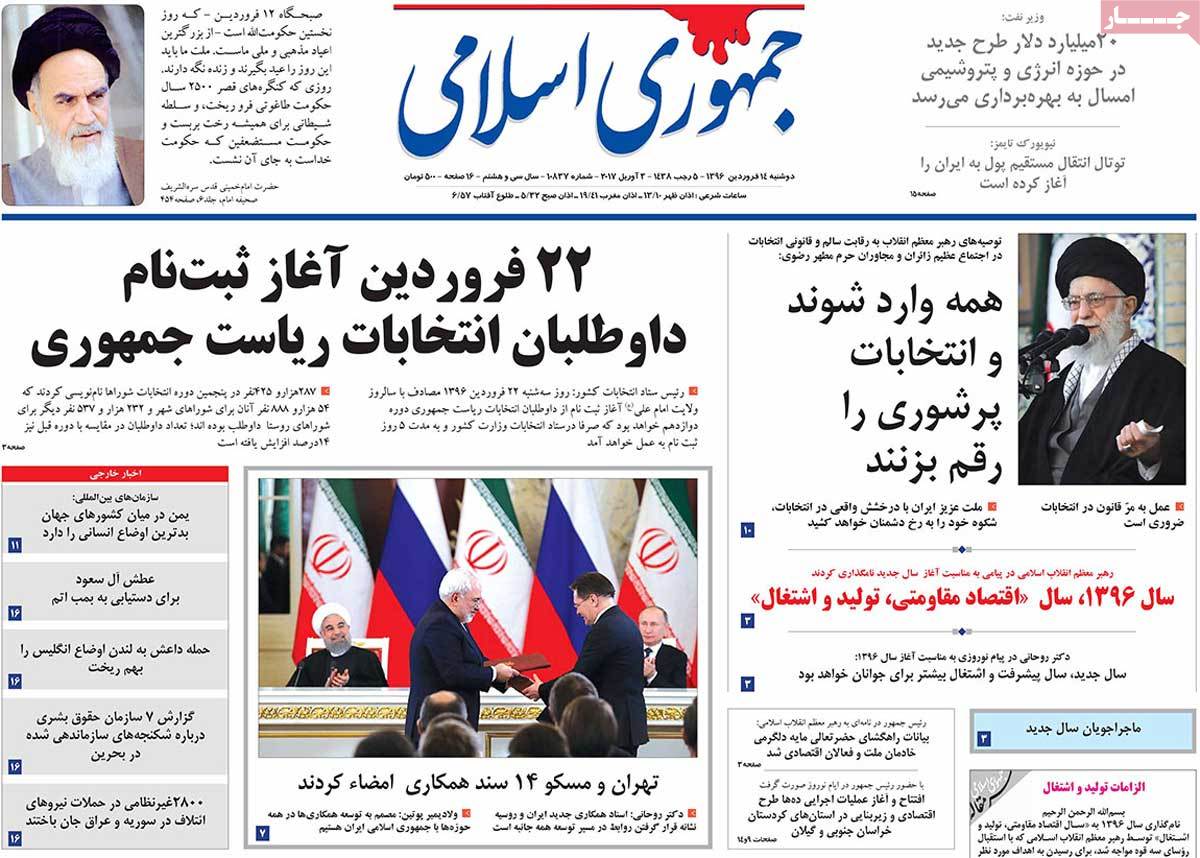 ---
Kayhan:
1- No Economic Deadlock with Revolutionary Management: Leader
2- White House: We Should Accept the Fact that Assad Is Syria President
3- White House, Congress Give Iranians Nowruz Gift: Fresh Sanctions
---
Resalat:
1- Parliament Speaker: Iran Won't Leave US Violation of JCPOA Unanswered
2- US Continues Hostility towards Iranian Nation: 30 Bodies Added to Sanctions List
3- Head of US Central Command Call for Military Action against Iran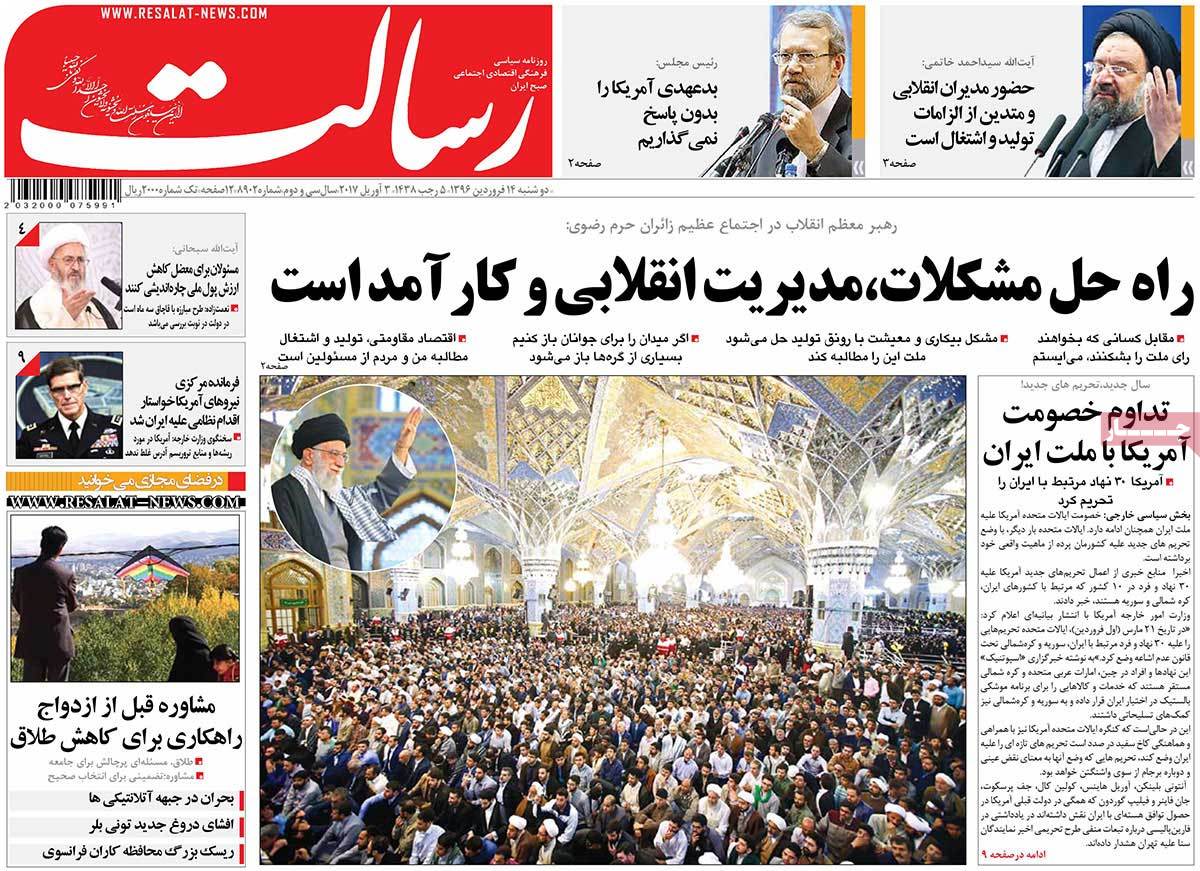 ---
Shargh:
1- 14% Increase in Number of City Council Candidates
2- President Warns against Violation of Civil Rights
---
Sobh-e Now:
1- Nowruz in Wonderland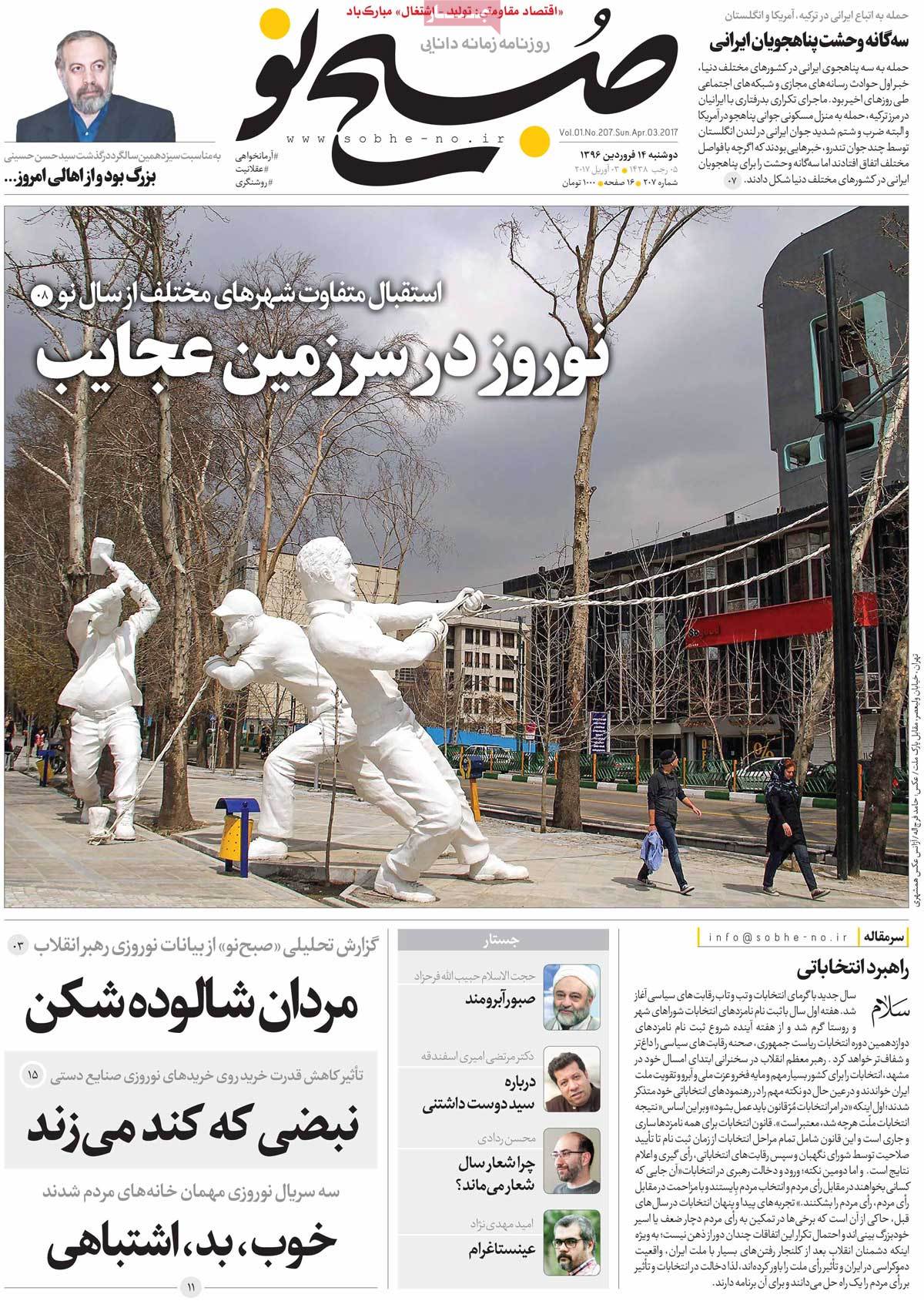 ---
Vatan-e Emrooz:
1- People, Leader Urge Officials to Focus on Production, Employment