Several paper particularly covered Iranian President Hassan Rouhani's reaction and the strong support shown by the European Union for the nuclear deal between Tehran and world powers.
The above issues, as well as many more, are highlighted in the following headlines and top stories:
19 Dey:
1- Larijani: Iran Not to Be Trapped in US Spider Web
2- Trump: We Don't, Won't Certify Iran's Compliance with Nuclear Deal
3- Zarif: You'll Later Find What Great Role Larijani Played in JCPOA
4- Putin to Visit Tehran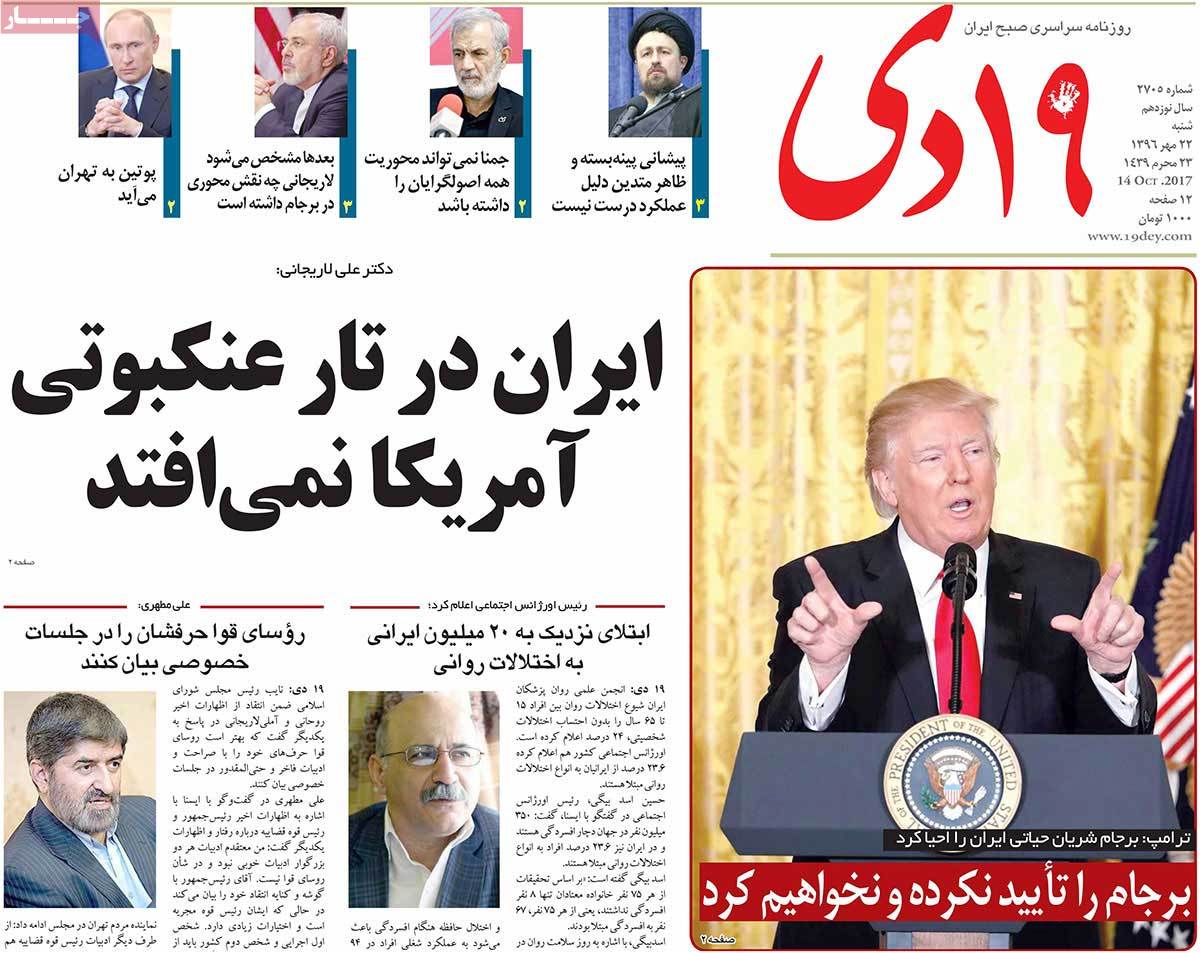 ---
Abrar:
1- Kremlin: Iran to Withdraw from Nuclear Deal If US Exits JCPOA
2- Iraq's Hakim: Iraqi Gov't to Show Peaceful, Legal Reaction to Kurdish Referendum
3- Defence Minister: Offending IRGC Equal to Offending Entire Establishment
---
Afkar:
1- Nuclear Deal without Clear Result: Iran's Time, Energy Still Wasted on JCPOA Conflicts
2- Velayati: European Countries Should Force US to Remain Committed to JCPOA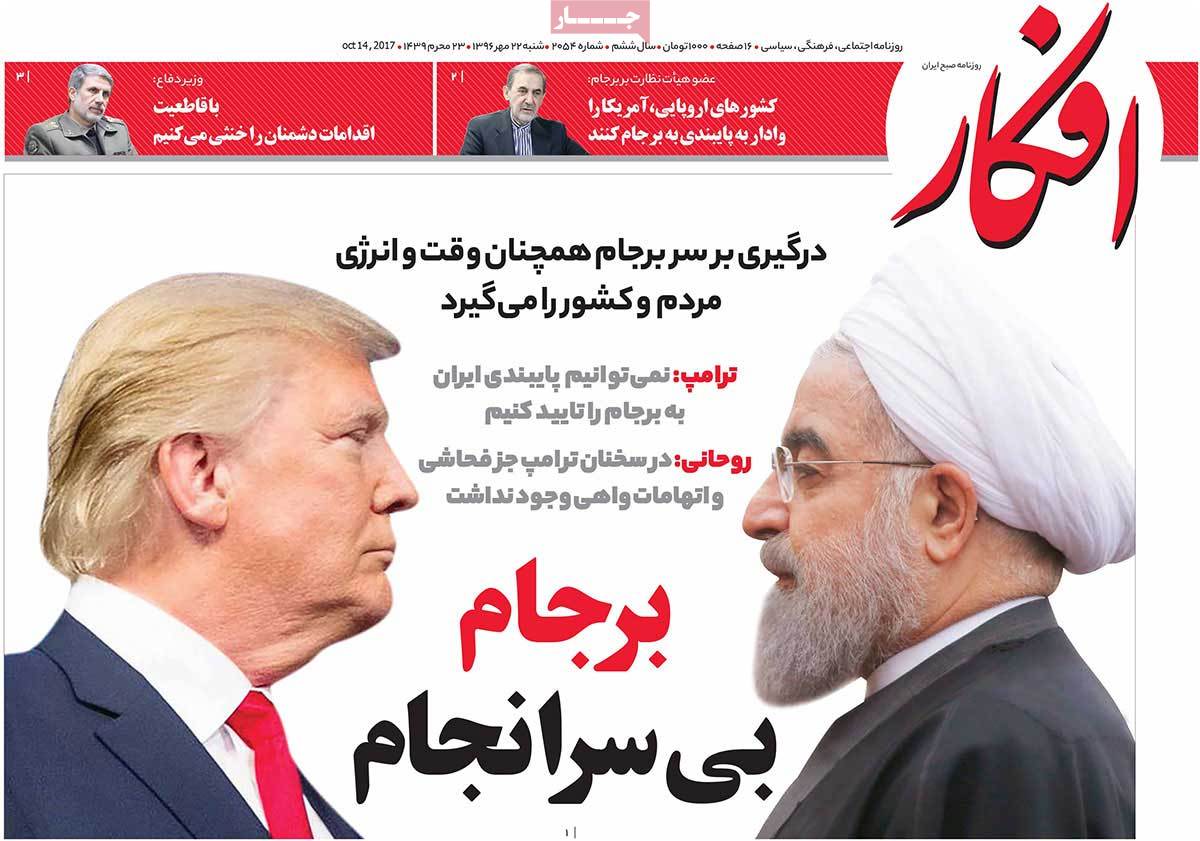 ---
Aftab-e Yazd:
1- He Just Nagged: Trump Delivers His Speech, Didn't Scrap Iran Deal
US Does Not Blacklist IRGC, but Imposes Further Sanctions against It
2- Rouhani: Not Surprised! Trump's Words Repetitive
---
Arman-e Emrooz:
1- Isolation of Mr Goofy! World's Reactions to US President's Immature Remarks
Twitter Storm against Trump's Use of Fake Expression for Persian Gulf
2- Mogherini: No Country's President Can Annul JCPOA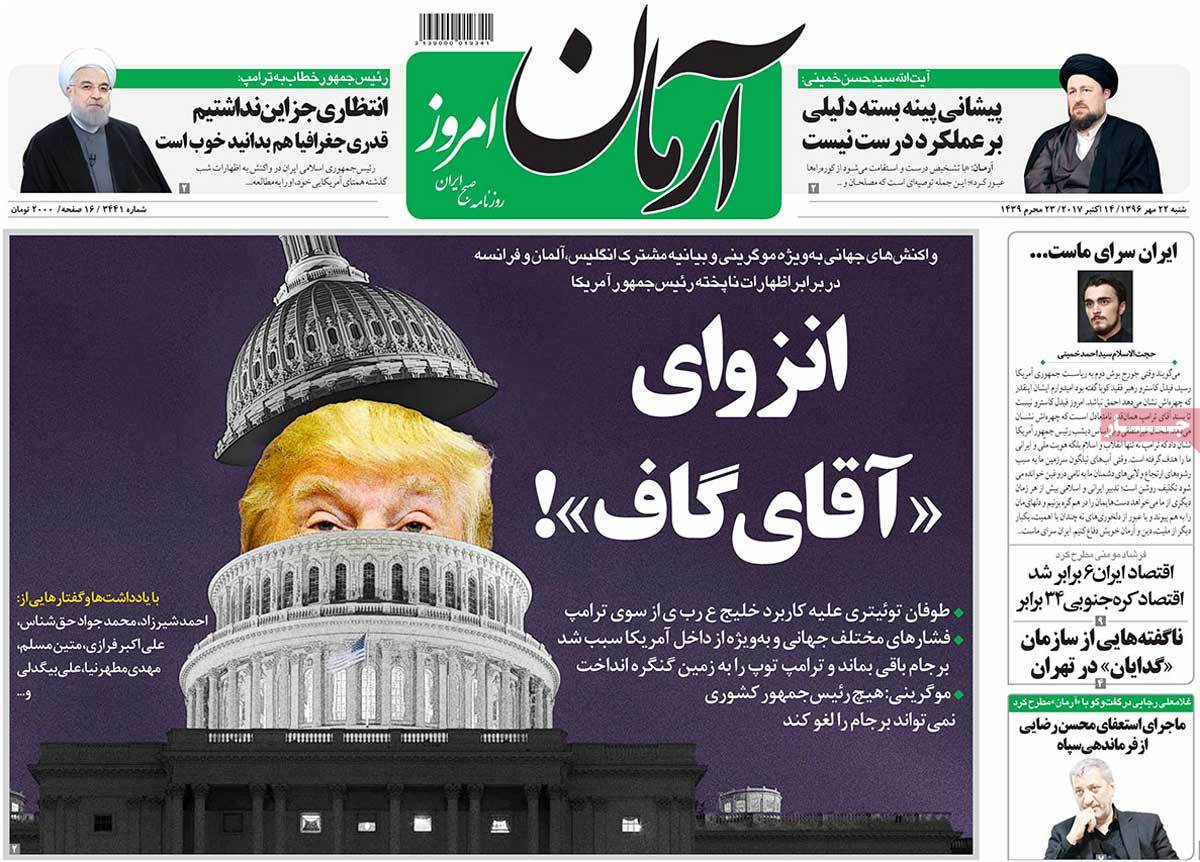 ---
Asrar:
1- Mogherini: No Country, President Can Scrap Iran Nuclear Deal
2- Larijani: US Playing with, Not Fighting against Terrorism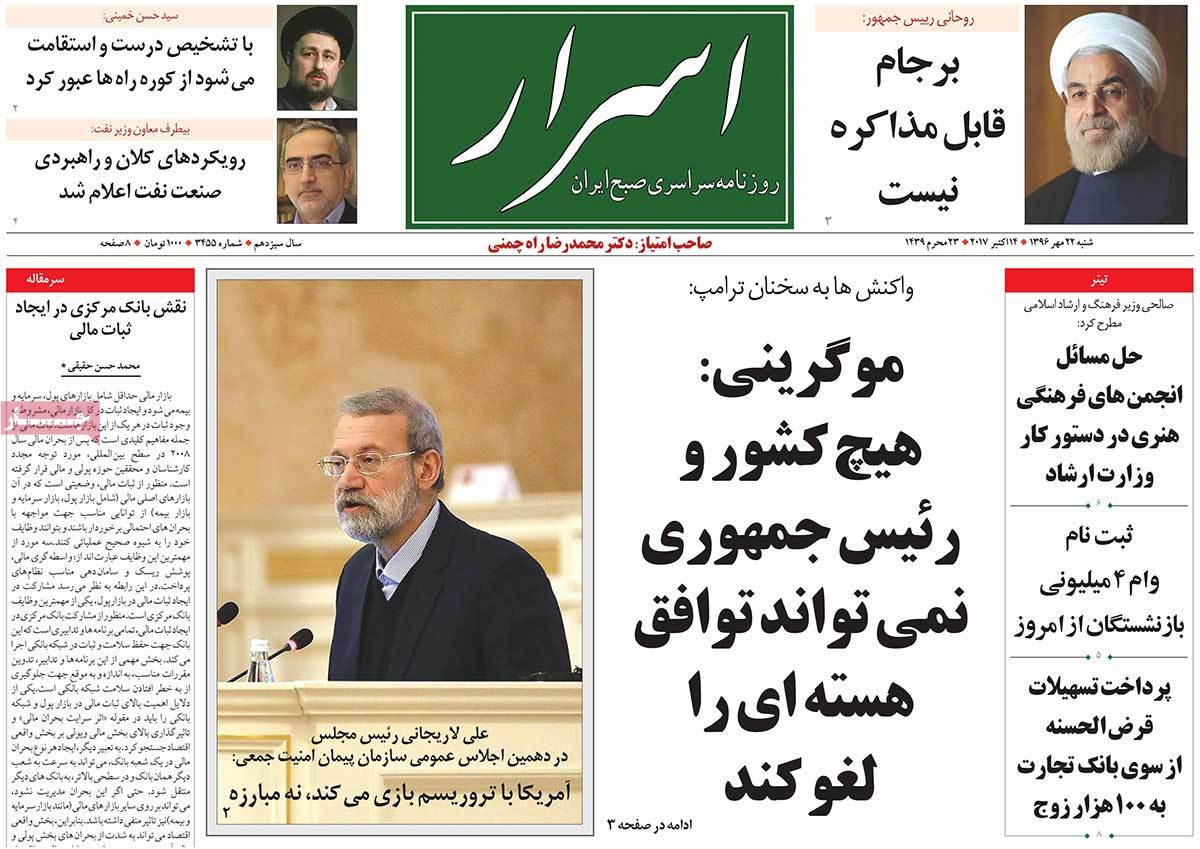 ---
Besharat-e Now:
1- Trump Destroys US Face instead of Iran Nuclear Deal
A Report on Global Reactions to Trump's Unbalanced Decisions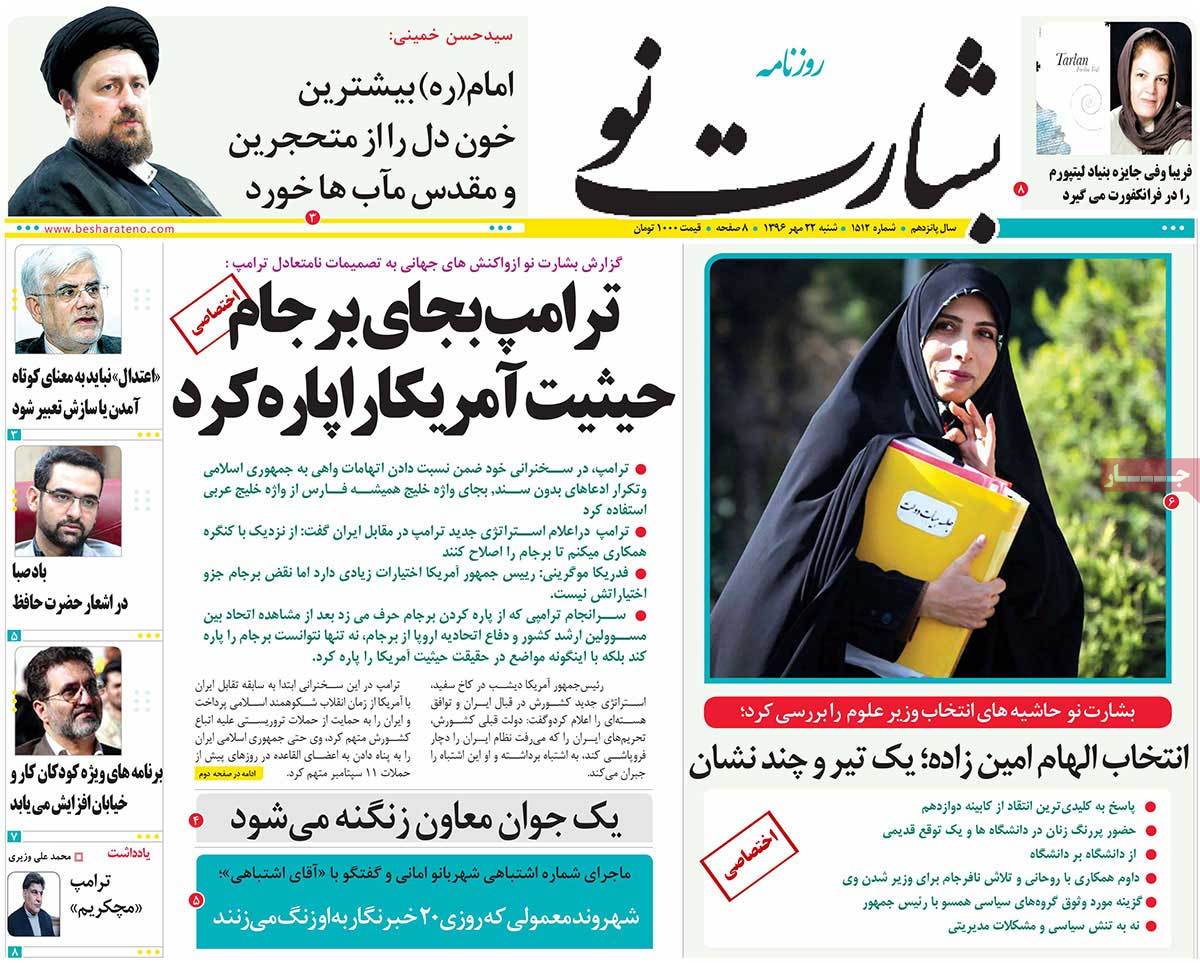 ---
Ebtekar:
1- Trump Defeated by JCPOA
2- Rouhani Reacts to US President's Remarks
Rouhani Teaches Trump Lessons of History, Geography
---
Emtiaz:
1- Iran Signs Deal to Cooperate with Russia on Int'l Payment Systems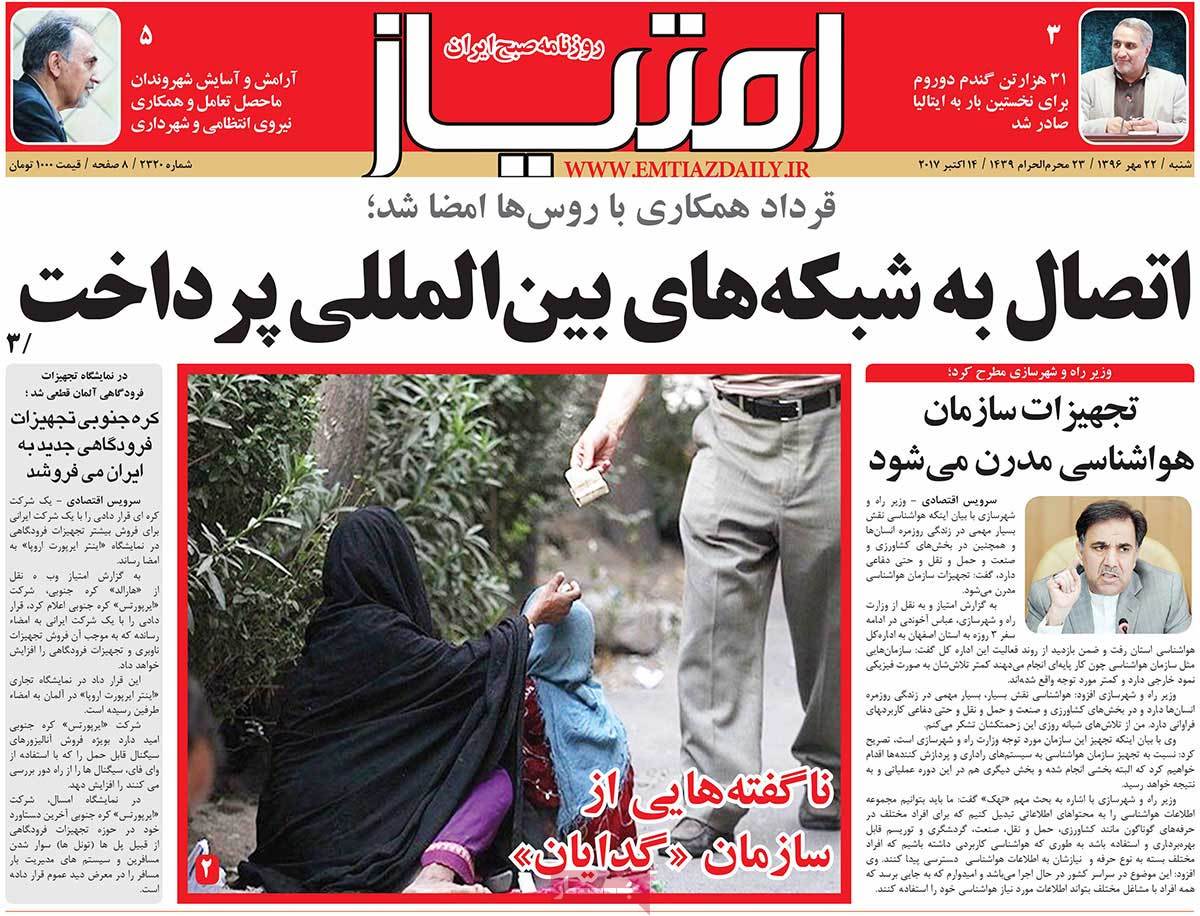 ---
Etemad:
1- Trump Didn't Say Anything New
2- Parties to JCPOA Underline Need for Maintaining Iran Deal
3- Rouhani: How Hasn't a President Learned Historical Name of Persian Gulf?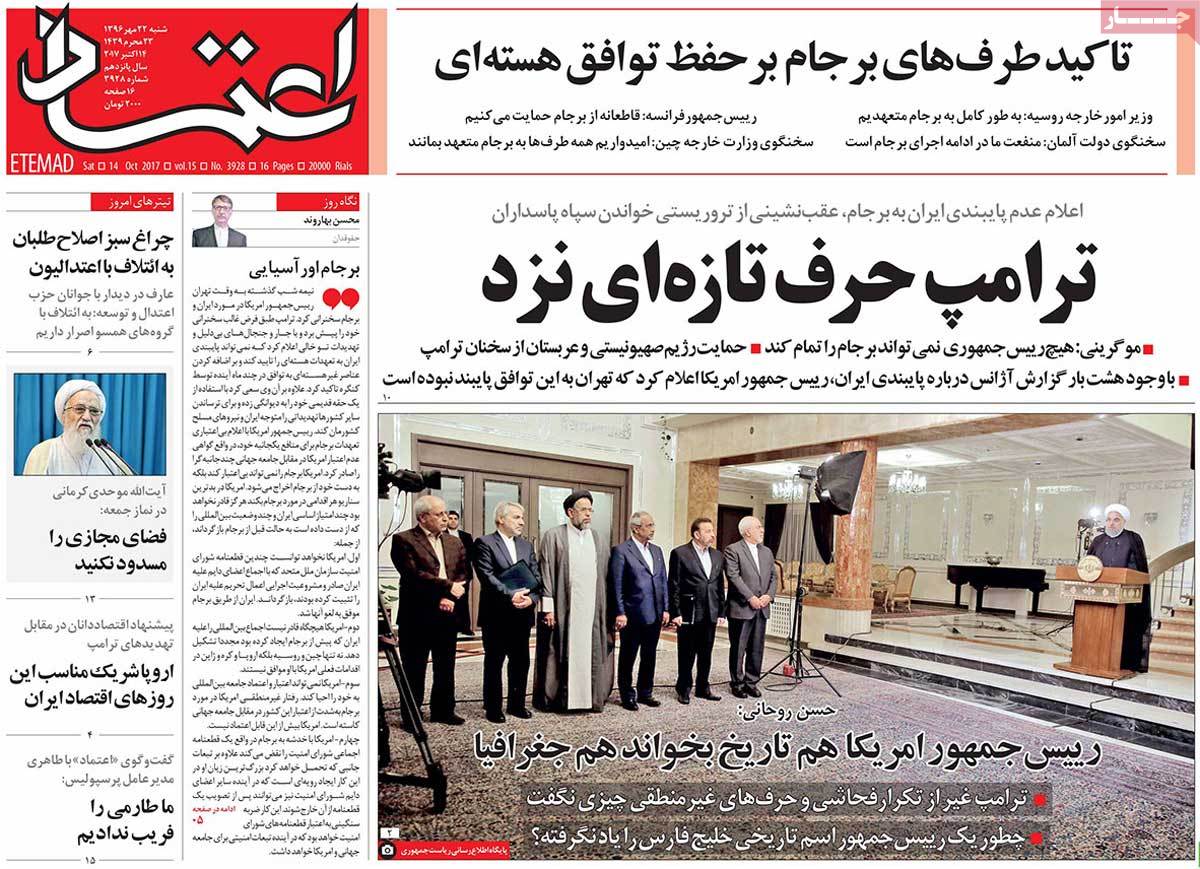 ---
Ettela'at:
1- Iran's Response to Trump's Anti-Iran Allegations
Iran Voice of Peace, US Sponsor of Terrorism
2- Trump's Remarks Pile of Delusional Claims, Insults
3- Parliament Speaker: US Behaviour towards JCPOA to Spread Int'l Chaos
4- Kurdistan Regional Gov't Calls for Ayatollah Sistani's Help in Resolving Kirkuk Crisis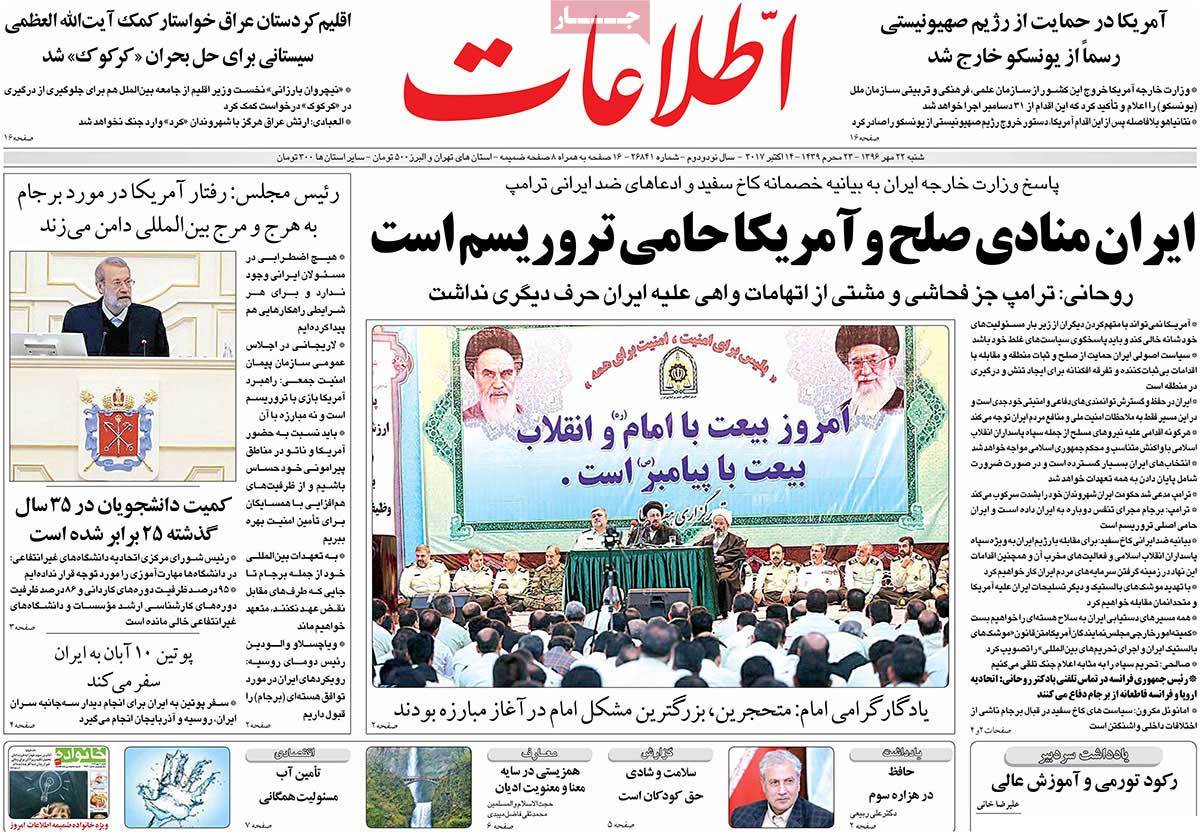 ---
Ghanoon:
1- Axis of Humiliation: World Reacts to US President's Remarks Made to Please Arabs, Israelis
2- Iranians Widely Condemn Trump's Use of Fake Expression for Persian Gulf
---
Haft-e Sobh:
1- We Don't Certify, We Don't Withdraw, Either!
In Uncontrolled Speech, Trump Raises Lots of Accusations against Iran
---
Hosban:
1- Larijani: Iranian Officials Not Worried about Trump Statements
---
Iran:
1- Rouhani Urges Trump to Study History
2- Washington's New Strategy: Worn-Out Iranophobia Scenario, Trump's Inefficient Strategy
3- Pointless Allegations Raised against Iran Nuclear Deal
4- Trump Backs Off from Scrapping Iran Nuclear Deal after Global, Domestic Pressures
---
Jame Jam:
1- American Shamelessness: Trump Unveils His New Anti-Iran Strategy
2- Trump Refuses to Certify Iran's Commitment to JCPOA despite IAEA Confirmation
3- Rouhani: US President Had Better Study History, Geography, Int'l Law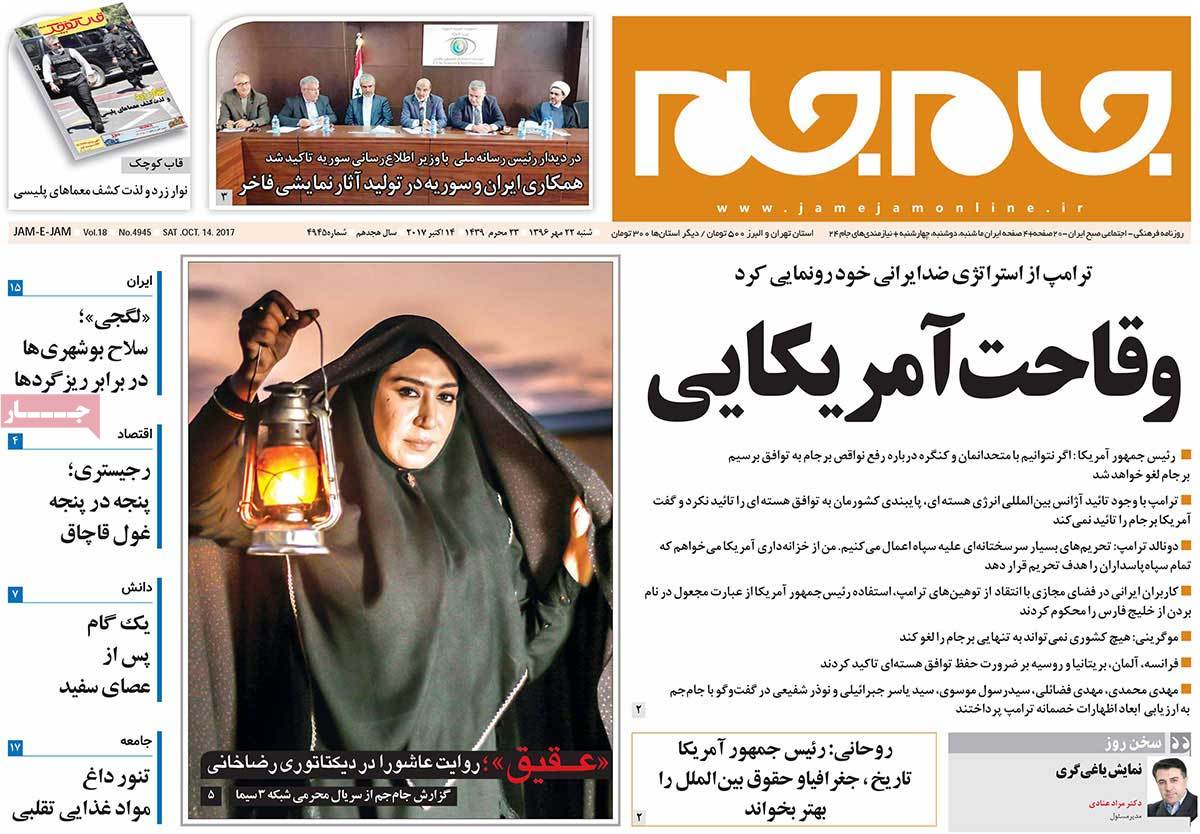 ---
Javan:
1- Trump Destroys Trust in US
2- Rouhani: Trump's Remarks Pile of Delusive Claims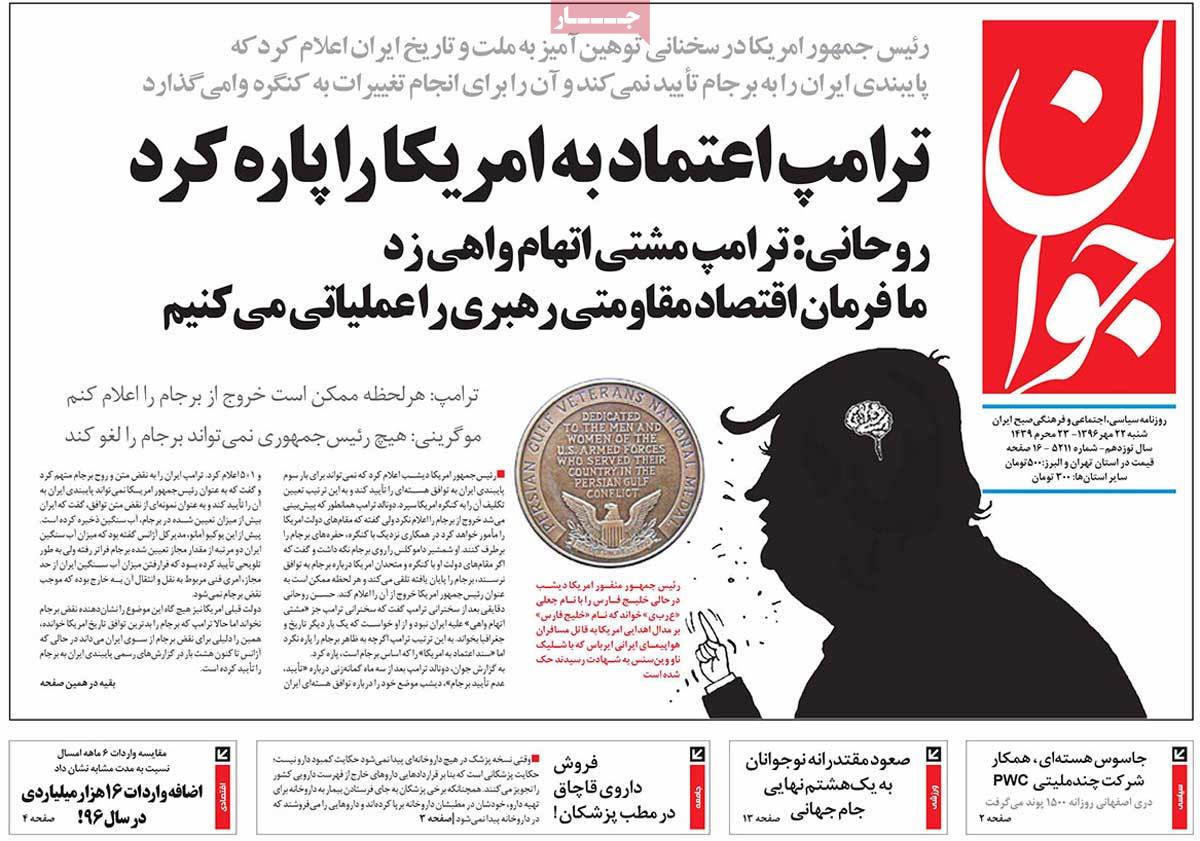 ---
Jomhouri Eslami:
1- Trump Not Capable of Annulling JCPOA, Asks Congress to Make Decision
2- Iran Air CEO: Deal Finalized for Purchase of 20 ATR Planes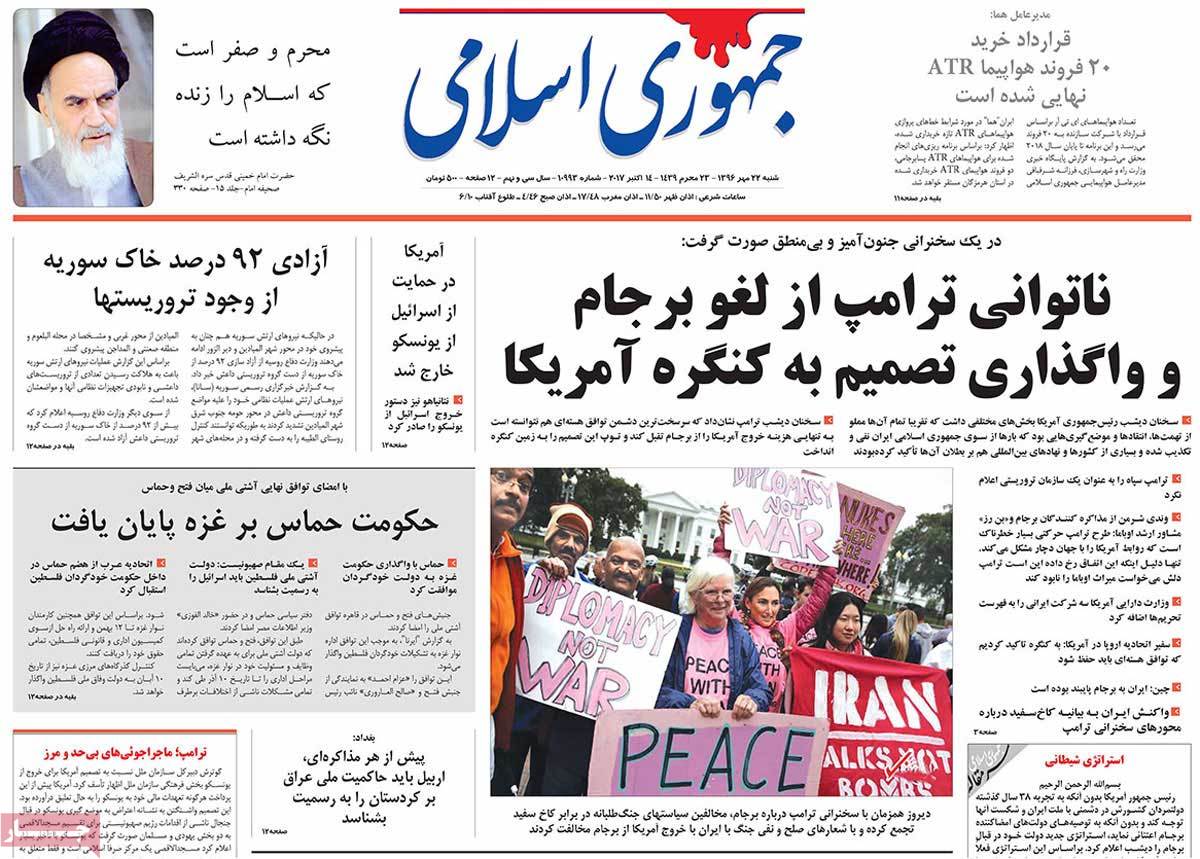 ---
Kayhan:
1- Trump Keeps Iran Nuclear Deal: Advantages for US, Constraints for Iran!
2- IRGC's Formula Works! Trump Did Not Dare to Put IRGC in List of Terror Groups
---
Khorasan:
1- Trump Unveils Strategy of Wounded Nuclear Deal
2- Iranian Users: Only Thing Iran Was Not Accused of Was Mass Suicide of Whales!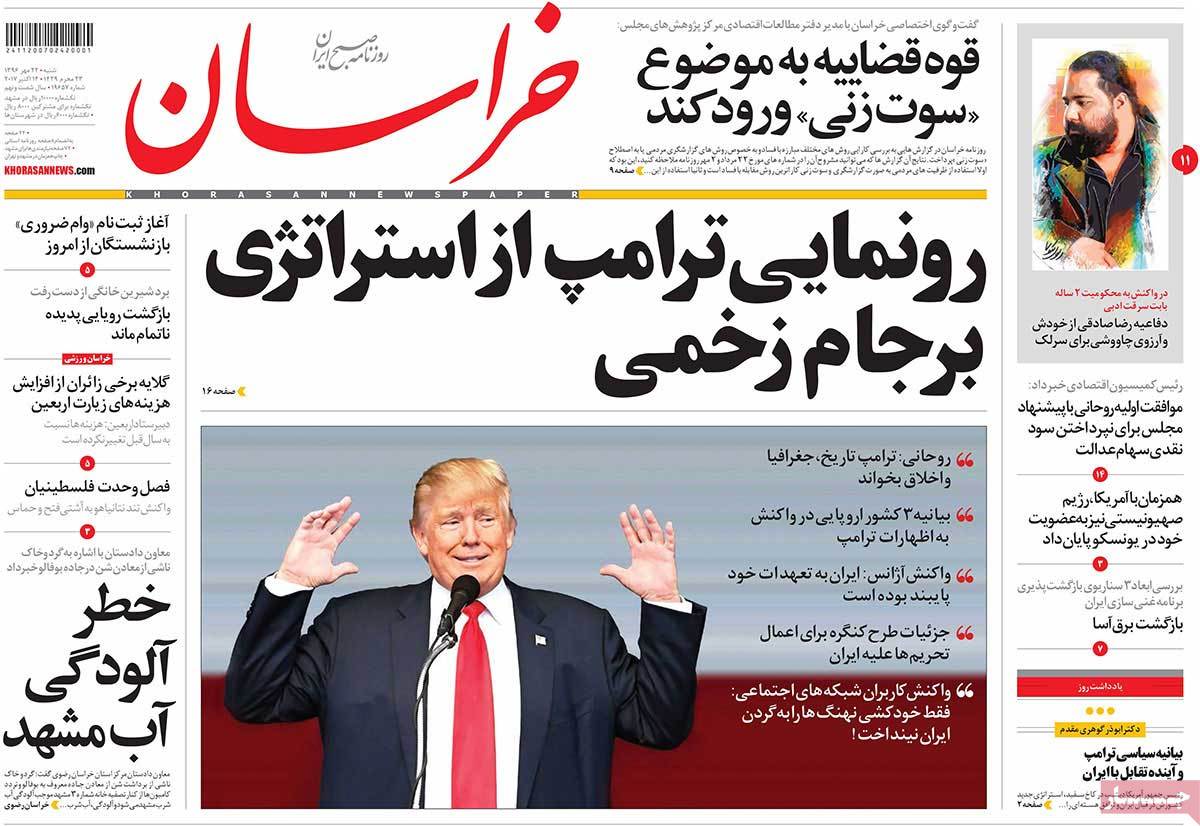 ---
Resalat:
1- Washington's Evil Face Revealed after Trump's Election: Ayatollah Movahedi Kermani
2- Iran Not to Stop Fighting against Global Arrogance: Ayatollah Nouri Hamadani
3- Maintaining Establishment's Dignity Hinges on Standing against Enemy: Ayatollah Mazaheri
4- US after Causing Rift among Muslim States: Ayatollah Makarem Shirazi
5- IRGC Blacklisting Tantamount to Declaration of War: Iran Nuclear Chief
6- Larijani: Nothing Will Be Left of JCPOA If US Withdraws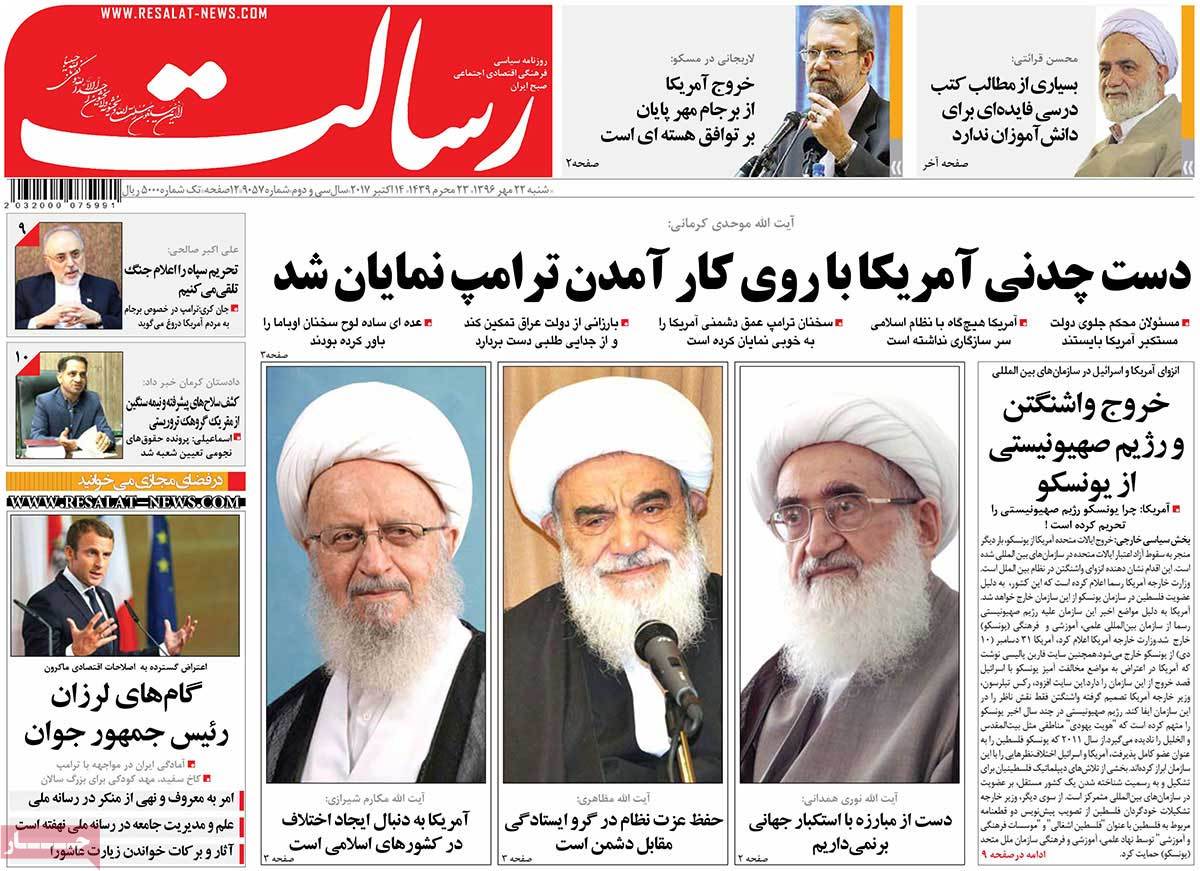 ---
Roozan:
1- US Wants to Be Both Player and Referee; It's Not Acceptable to World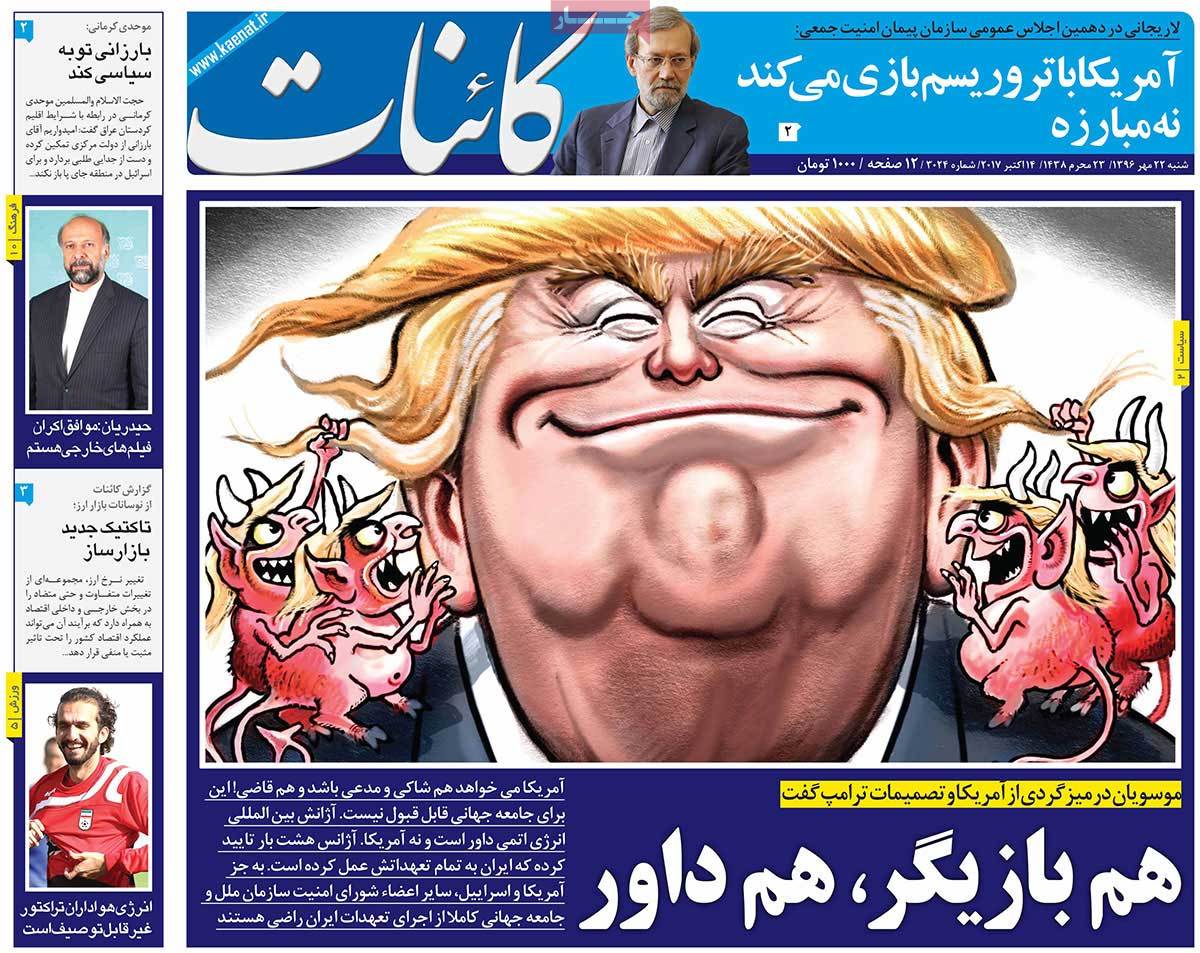 ---
Seda-ye Eslahat:
1- Trump's Dangerous, Dishonest Mischief against Iran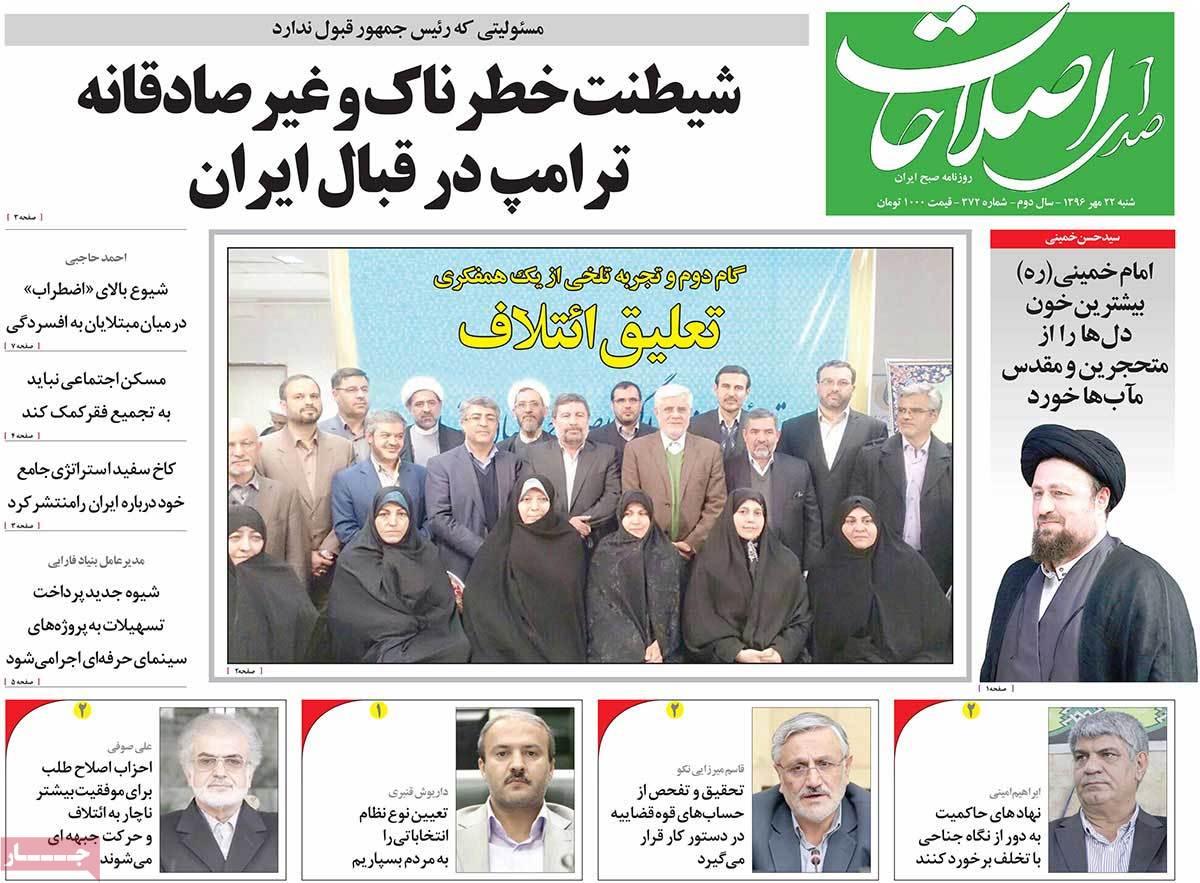 ---
Shargh:
1- Iran Is Standing: Trump's Remarks Widely Criticized in US, Other Countries
2- Rouhani: Iranian Nation Not to Give in to a Dictator with His Hatemongering Words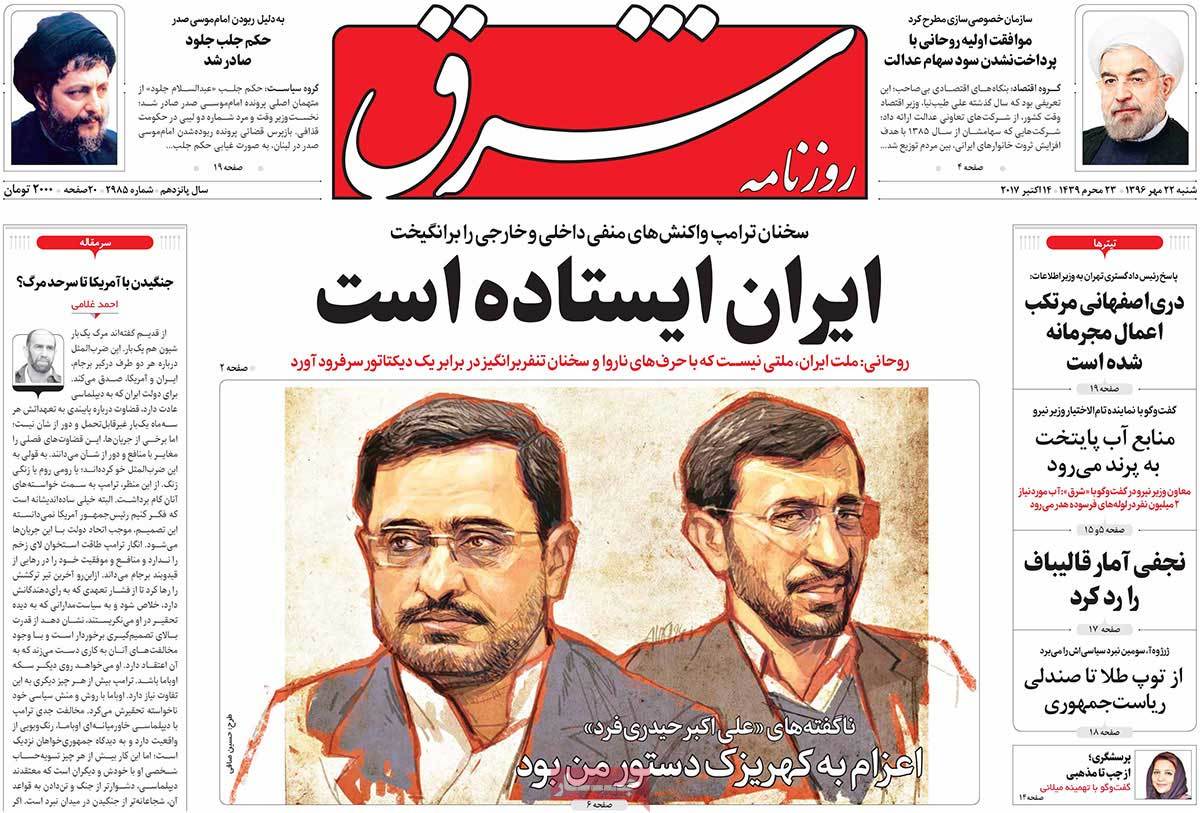 ---
Sobh-e Now:
1- Illiterate Dictator: Rouhani's Harsh Reaction to Trump's Remarks