Newspapers today covered the remarks made by Iranian government spokesman Mohammad Baqer Nobakht against critics, particularly the state broadcaster IRIB.
Another top story was a parliamentary motion to start probe into the corruption of Tehran Municipality, which was rejected by the majority of MPs.
A top EU court ruling to allow companies to ban Muslim women from wearing Hijab also received great coverage today.
The above issues, as well as many more, are highlighted in the following headlines and top stories:
19 Dey:
1- Gov't Spokesman: Special Team in State TV Tasked with Attacking Rouhani's Administration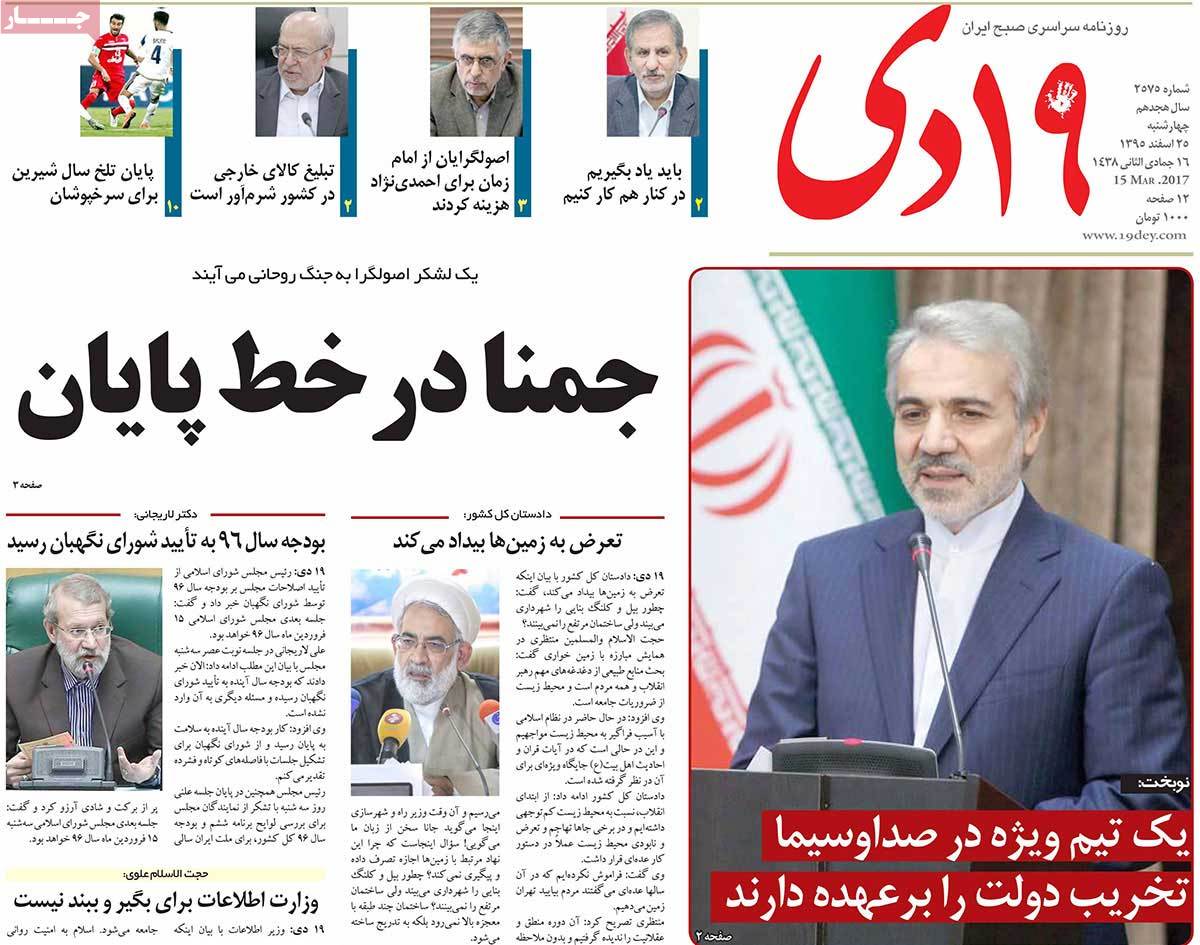 ---
 Abrar:
1- New Districts Liberated in West Mosul
ISIS Uses Chemical Weapons against Iraqi Forces in West Mosul
2- Call for Electronic Voting in Stations with -2,000 Voters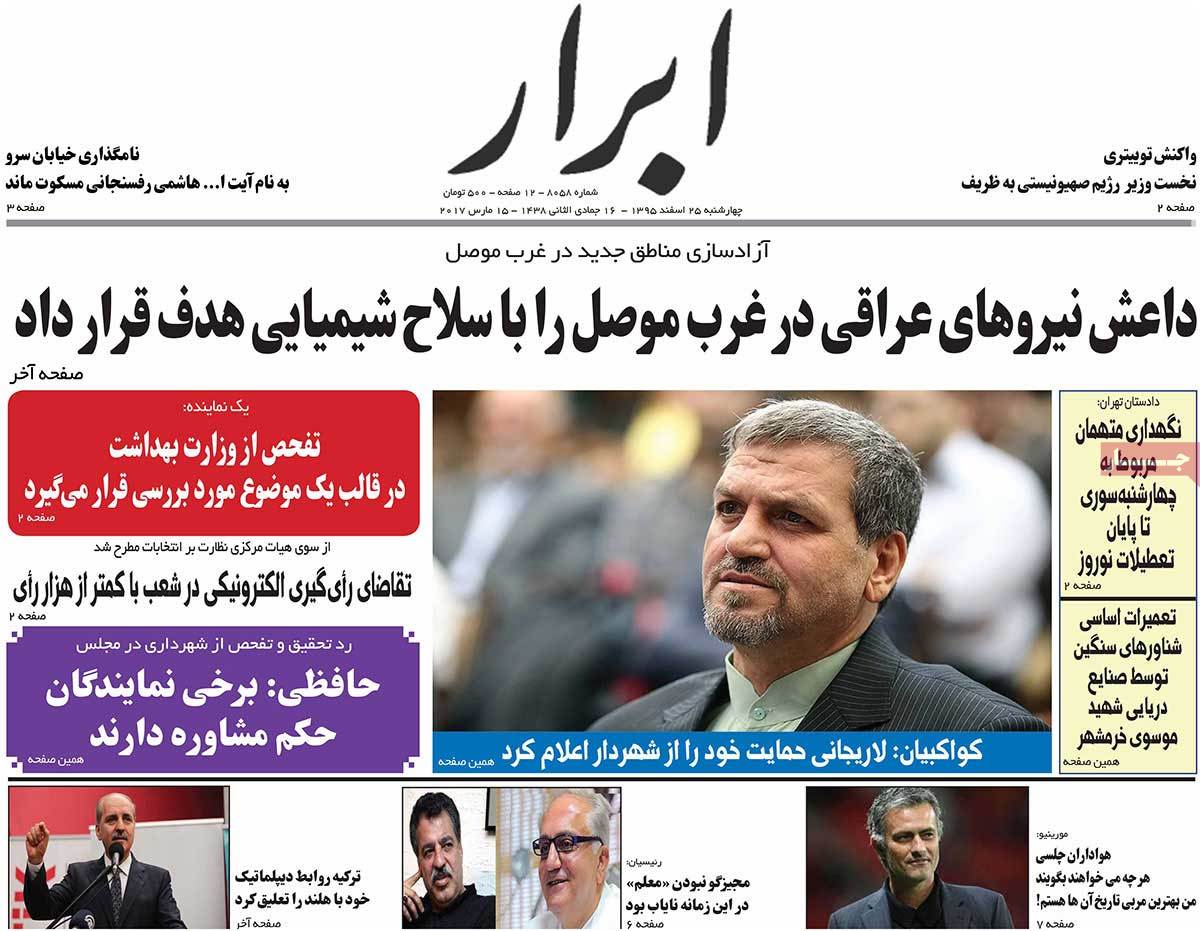 ---
 Aftab-e Yazd:
1- Parliament's Gift to Tehran Mayor Qalibaf ahead of Nowruz! [A motion to start probe into Tehran Municipality's corruption was not approved by Parliament]
2- We Have No Time to Answer Ahmadinejad's Letters: Gov't Spokesman
---
Amin:
1- Zarif: Foreign Relations Shouldn't Be Used for Domestic Political Games
2- Iran's Population Increases to 79.9 Million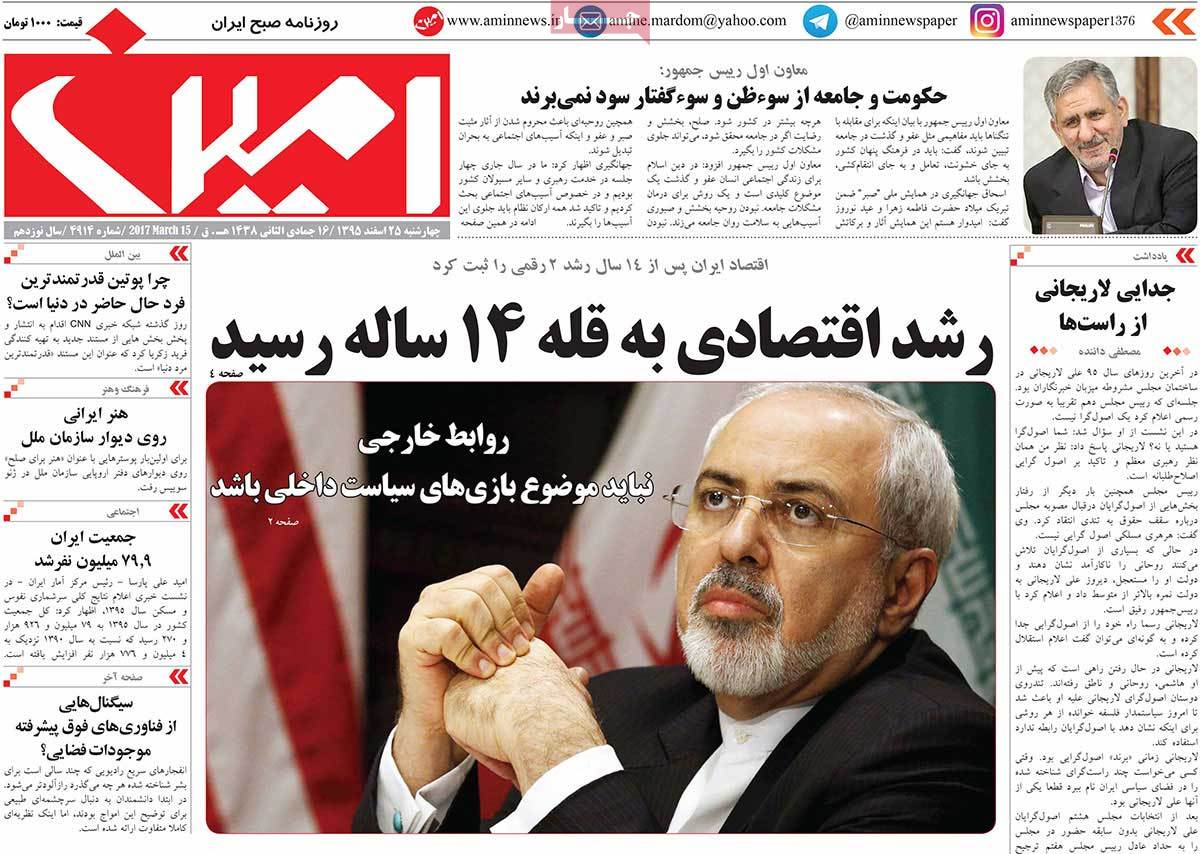 ---
 Ettela'at:
1- First VP: Amnesty, Tolerance Should Become Dominant Discourse
2- 500,000 Forces Deployed to Ensure Security during Nowruz Holidays
3- UNICEF: 1,500 Yemeni Kids Killed in Saudi Attacks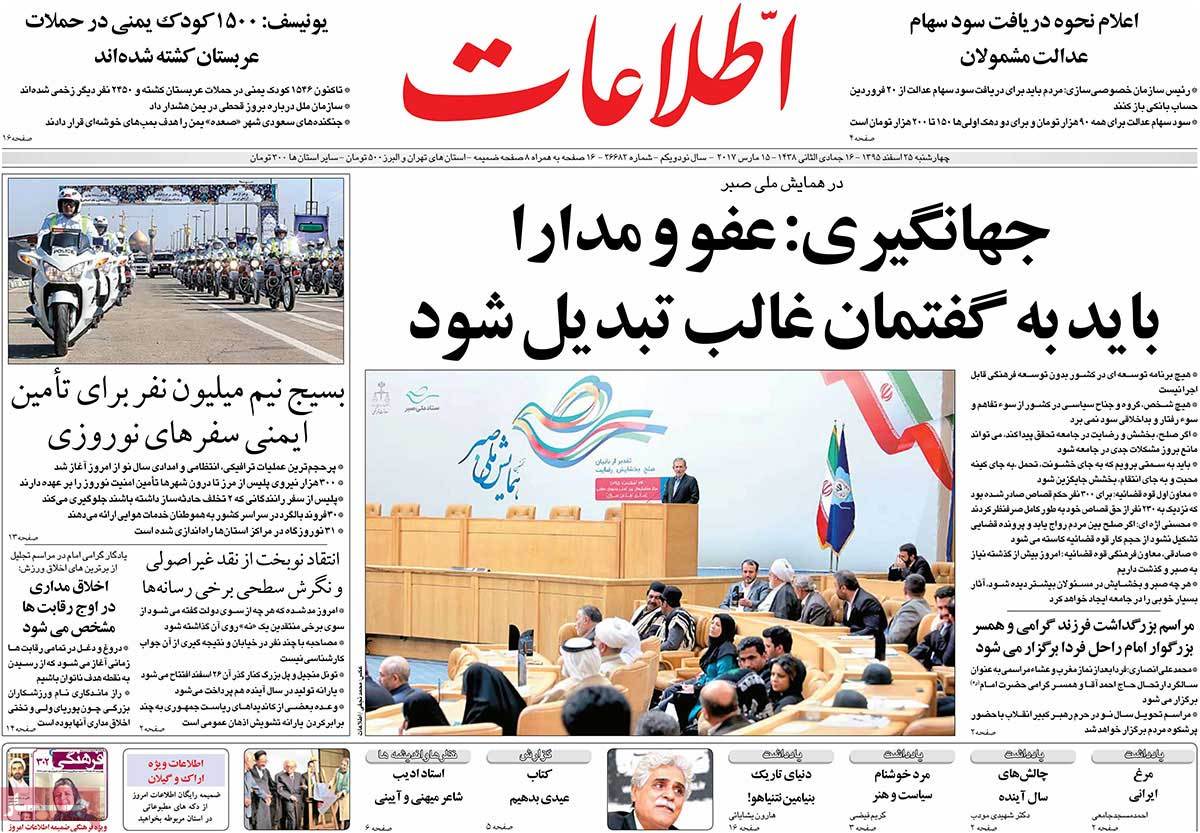 ---
Hamdeli:
1- Tehran City Council Still Undecided about Naming a Street after Ayatollah Rafsanjani
2- Oil Minister: We Won't Sacrifice National Interests for Hardliners
---
Hemayat:
1- Bahrainis' Widespread Support Leads to Postponement of Sheikh Qassim's Trial
2- Victims' Families Forgave 300 Convicts Sentenced to Death This Year
---
 Iran:
1- Don't Sacrifice Music for Political Games: Top Iranian Singer Shahram Nazeri
2- Iran Starts Producing 15,000 bpd from Joint Oilfield with Iraq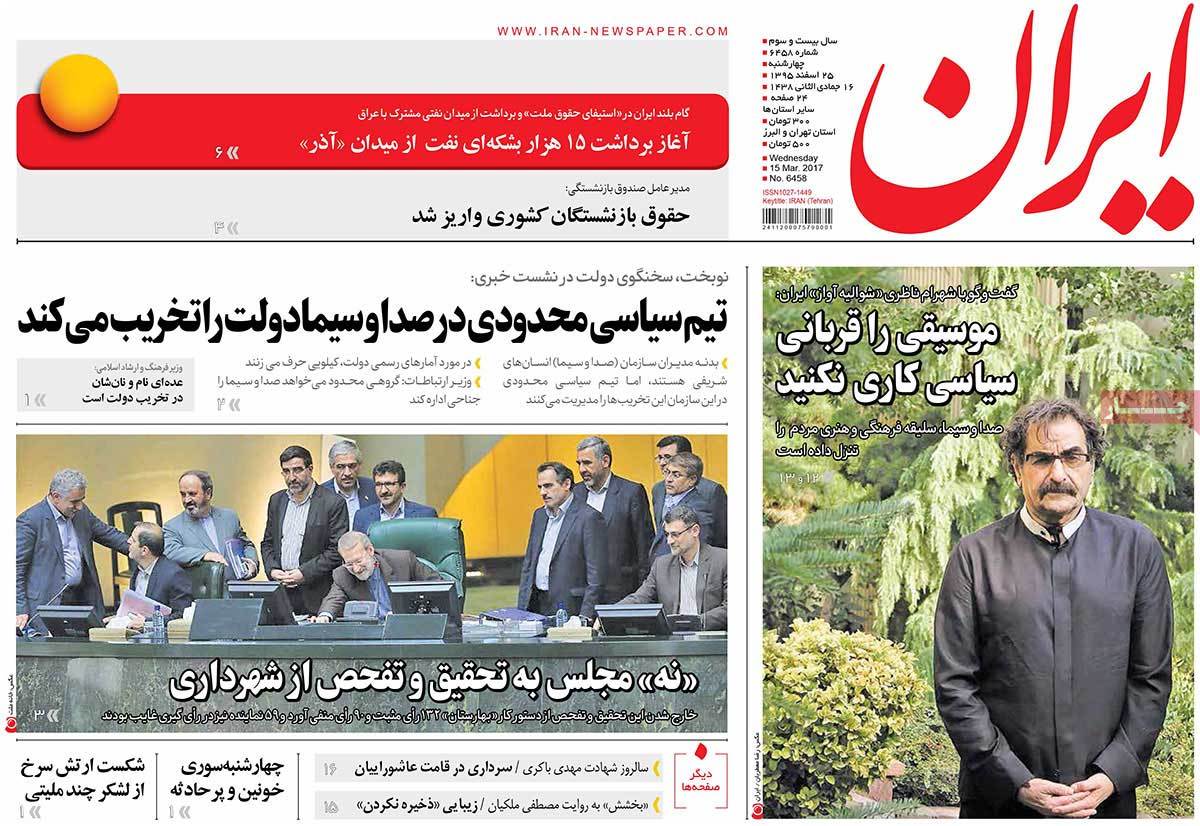 ---
 Jame Jam:
1- Friendly Conversation with Hezbollah Chief Nasrallah
2- Sports Minister: Iran Can Host AFC Asian Cup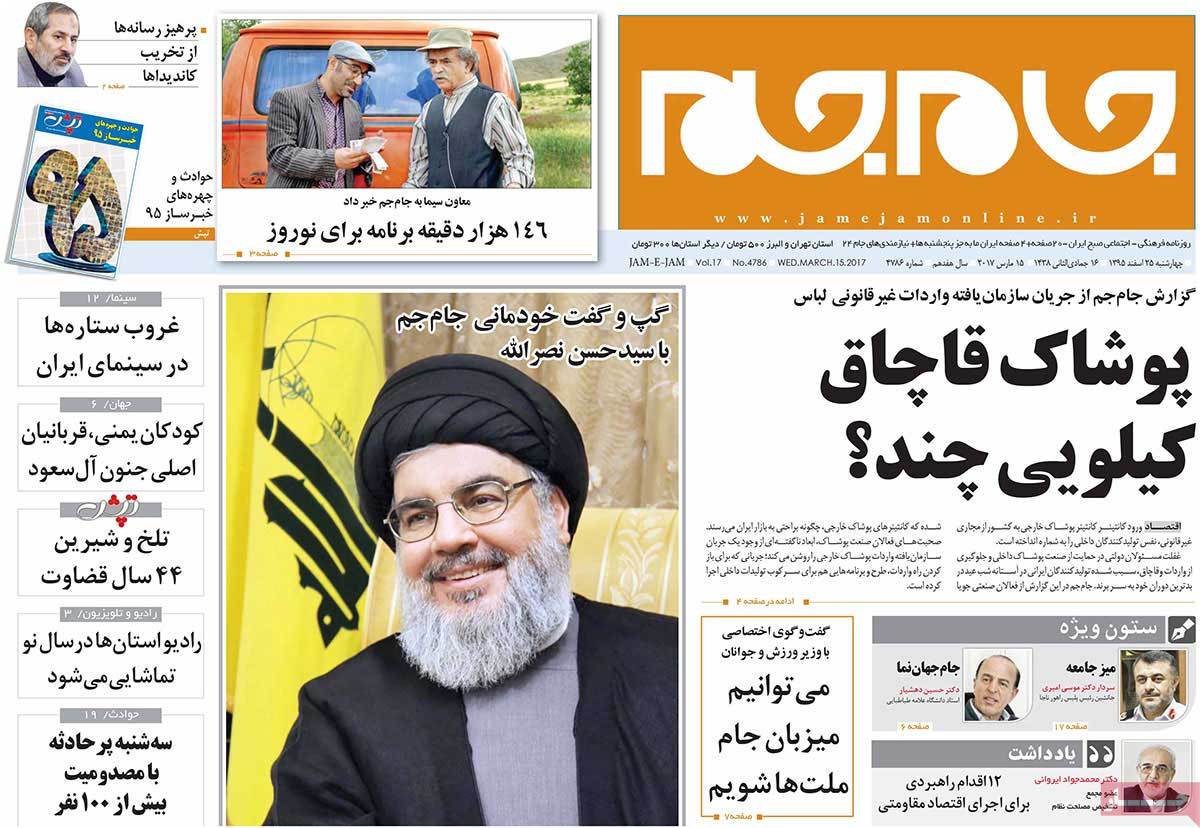 ---
Javan:
1- The Free Europe Allows Employers to Ban Hijab!
2- IRGC Trying to Fight Deprivation in Eastern Provinces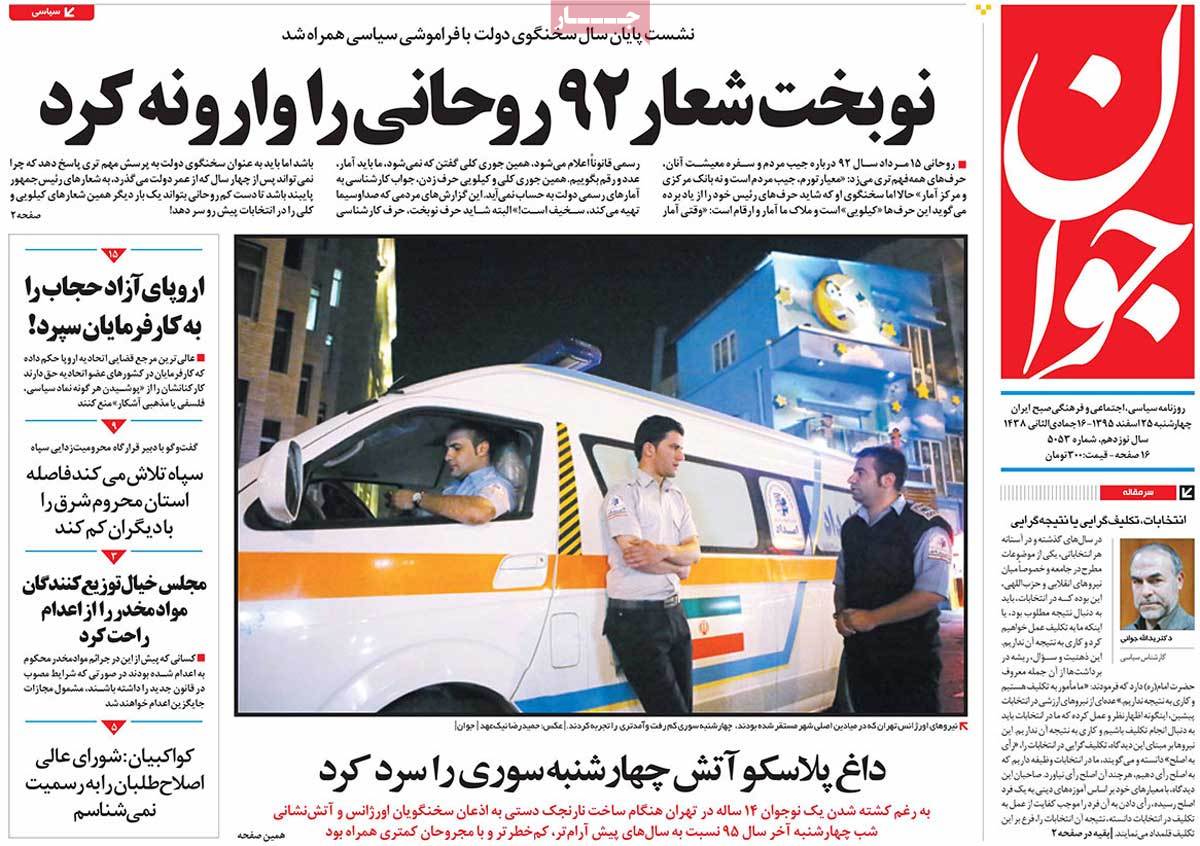 ---
Jomhouri Eslami:
1- Intelligence Minister: Ministry's Focus on Security Coupled with Happiness, Peace
2- 7 Million Yemenis Have Nothing to Eat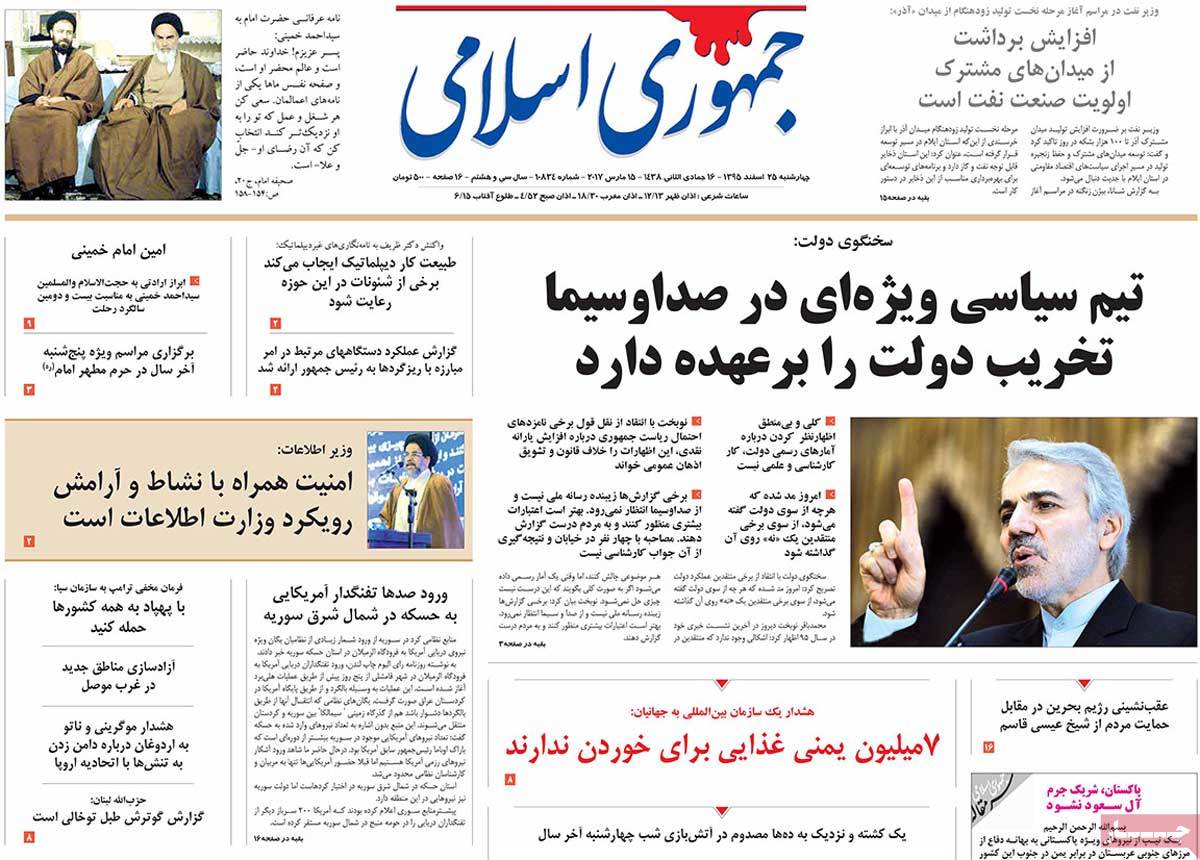 ---
Kayhan:
1- Government Spokesman Describes Critics' Remarks as Worthless!
Criticisms are not worthless; the government's promises and causes are!
2- 49% Increase in Import of Foreign Cars in Past Year
3- 2030 Document Is Educational-Cultural Capitulation: Analyst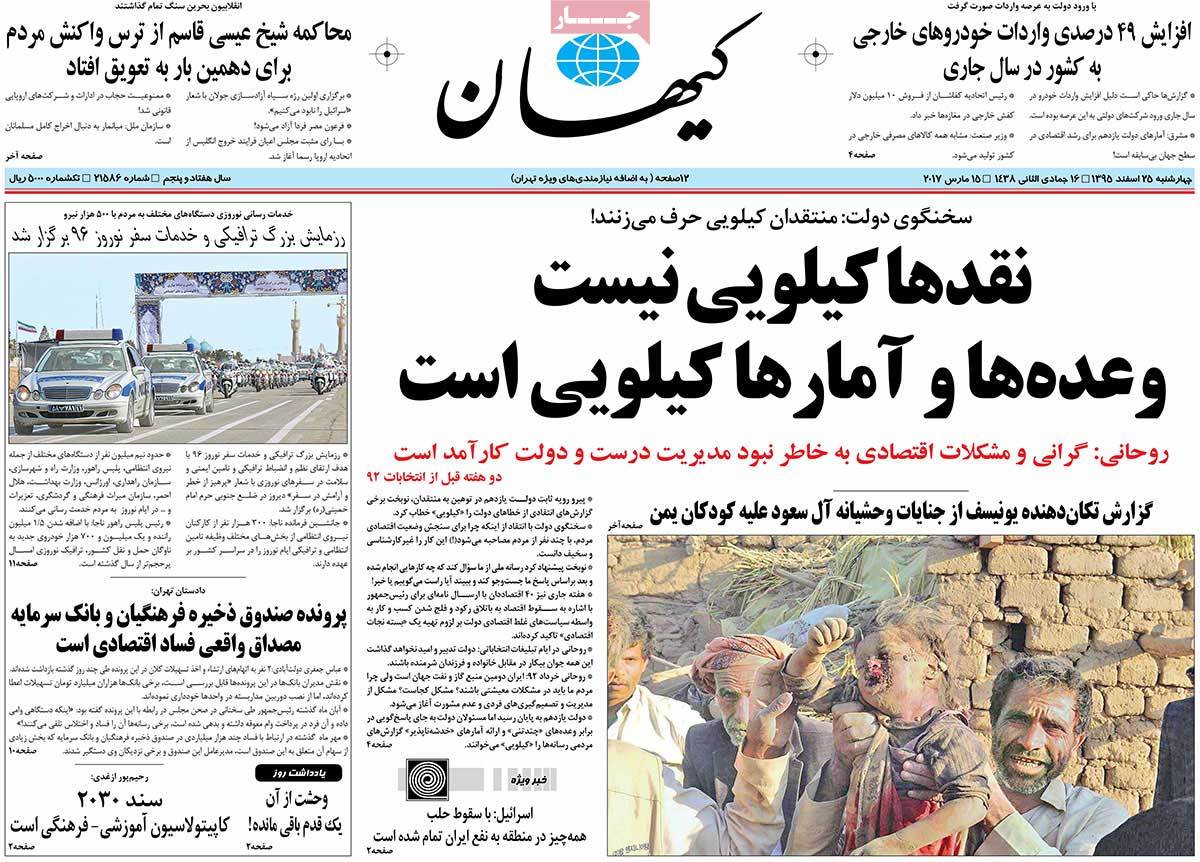 ---
Resalat:
1- A Bunch of Workers behind Plasco Fire: Prosecutor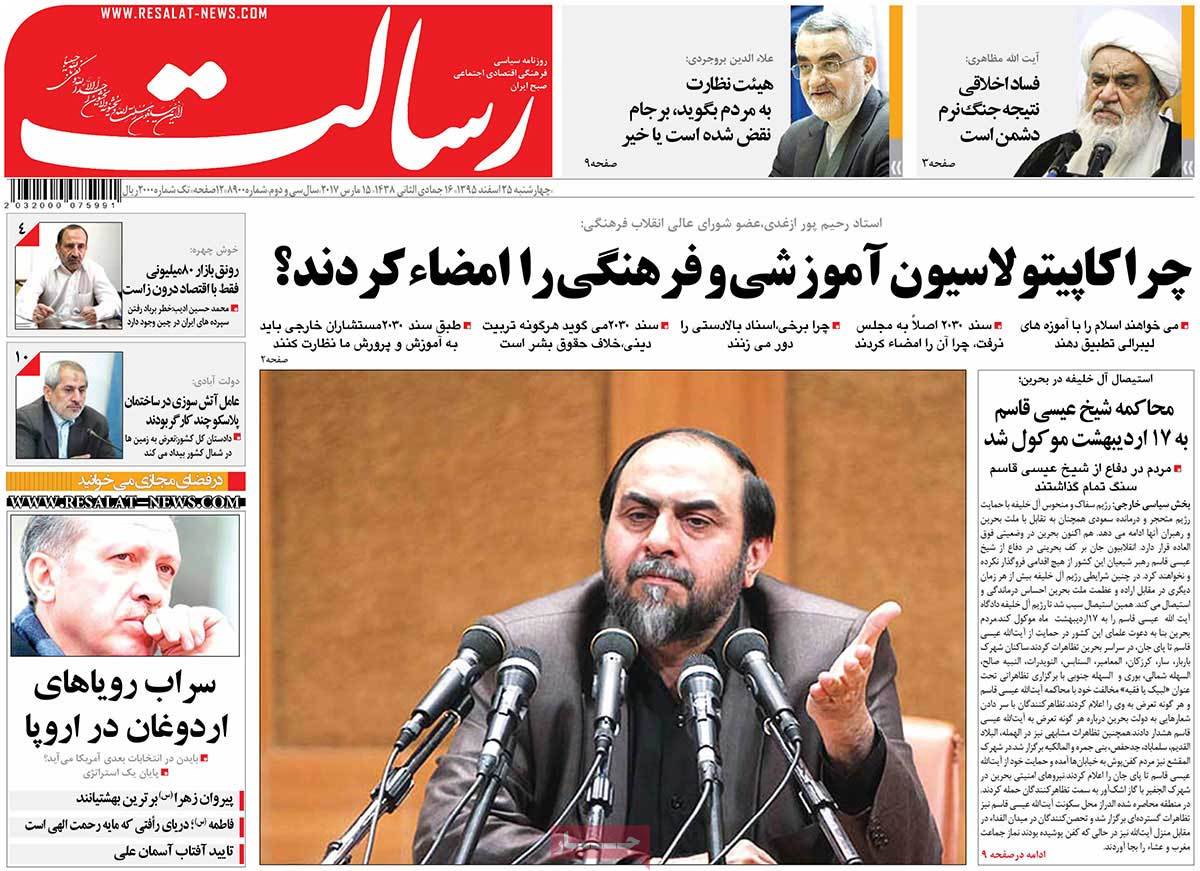 ---
Shahrvand:
1- Tourists Don't Have Enough Time to File Lawsuit [It's difficult for Iranian and foreign tourists to claim their rights by getting involved in judicial procedures]
2- Top Iranian Officials Hold 4 Sessions with Leader on Social Harms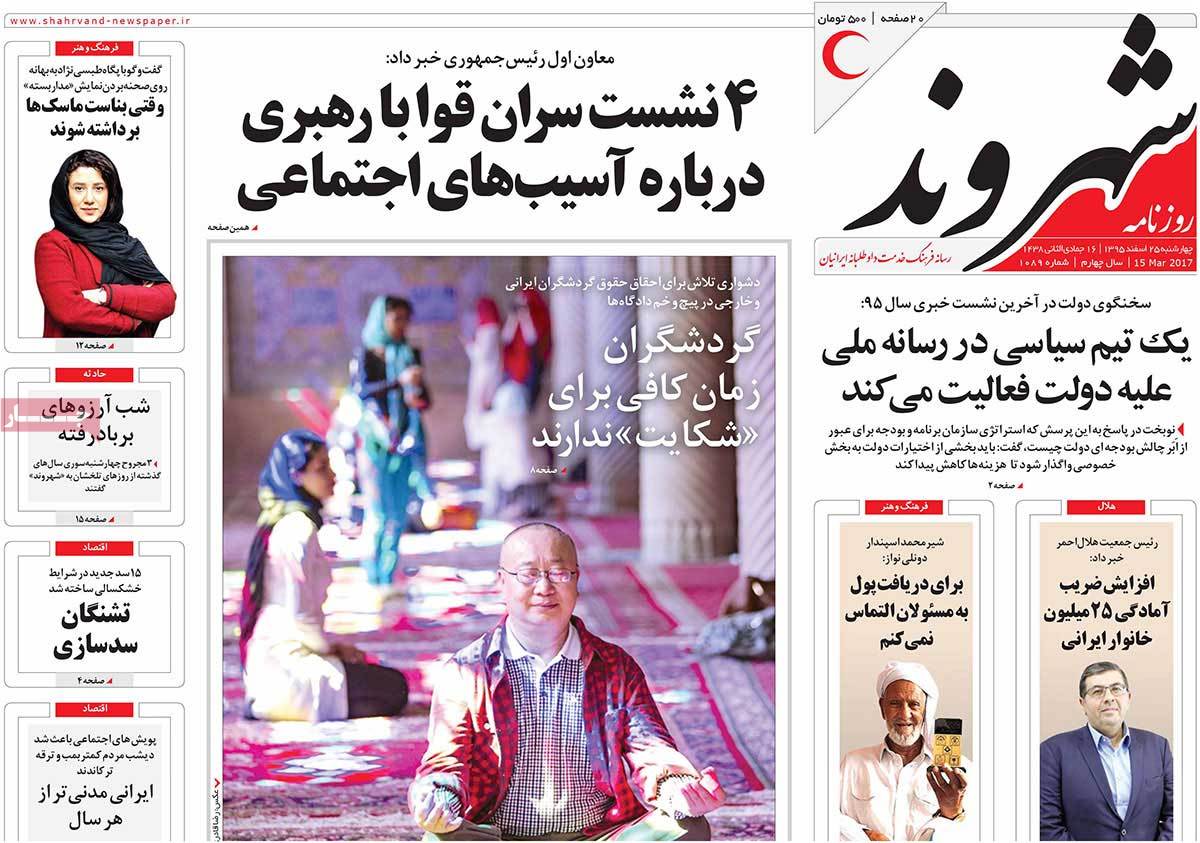 ---
Vaghaye Ettefaghieh:
1- Attacks against Rouhani's Gov't Similar to Those against Rafsanjani: Son
2- Government Spokesman: President Committed to His Promises
3- Removing Iran from Regional Equations Detrimental to Entire Mideast: Iraqi Politician