Newspapers today covered the reformists' move to choose Hassan Rouhani as their candidate for the upcoming presidential votes in May.
Many papers also covered the remarks made by Intelligence Minister Mahmoud Alavi about the security of upcoming election.
The homegrown tank 'Karrar' unveiled by Defence Minister Brigadier General Hossein Dehqan also received great coverage today.
The above issues, as well as many more, are highlighted in the following headlines and top stories:
Abrar:
1- 300 ISIS Families Flee Syria's Raqqa
2- Express: N. Korean Leader Calls for Assassination of 2 British, American Businesspeople
3- Pyongyang to Develop Small Nuclear Warhead
4- MP: Parliament Planning to Impeach Culture Minister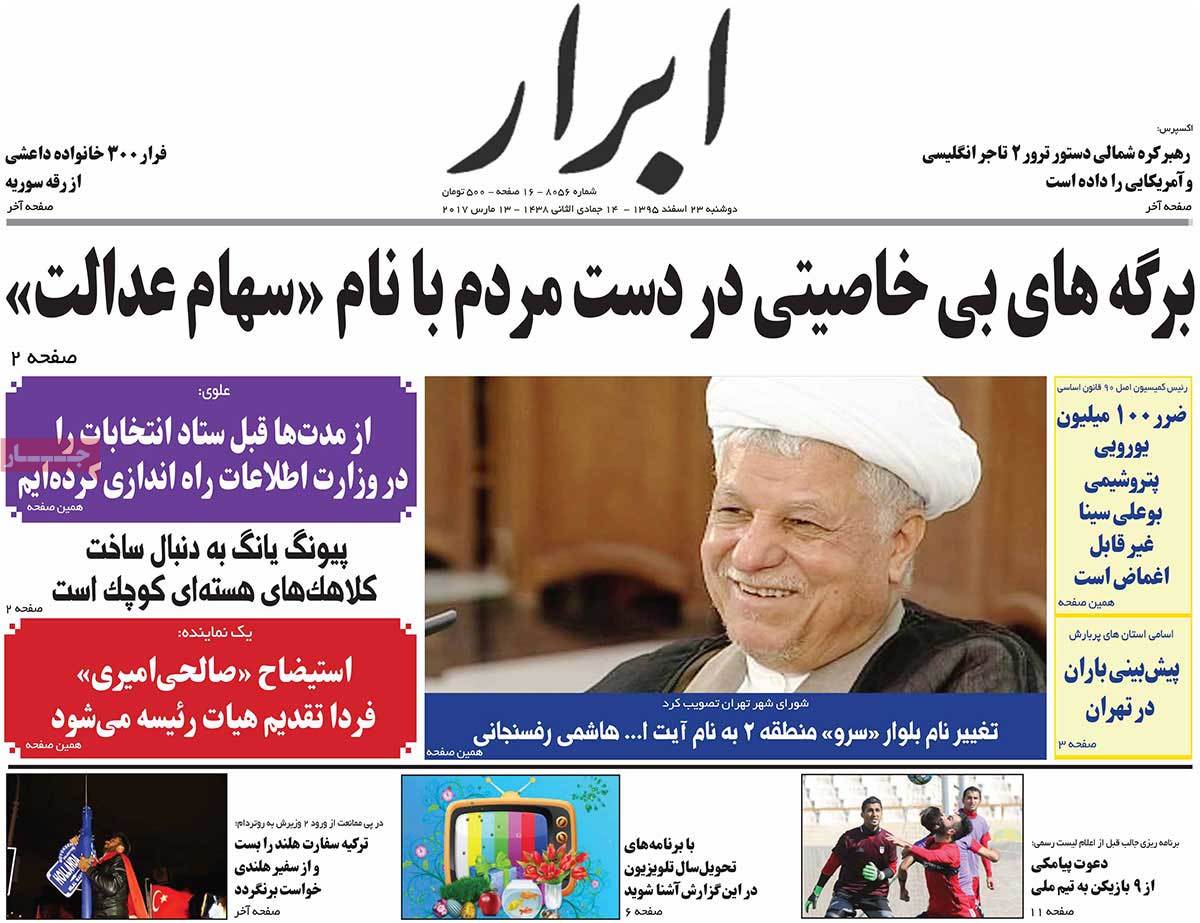 ---
Abrar-e Eqtesadi:
1- India to Exempt Oil Payments to Iran from Tax
2- Iranian Oil Tankers Navigating in European Waters without Problem
3- $1.7-Billion Deal with S. Korea for Dam Construction in Iran
4- Gov't to Guarantee 20-Year Purchase of Power from Renewable Plants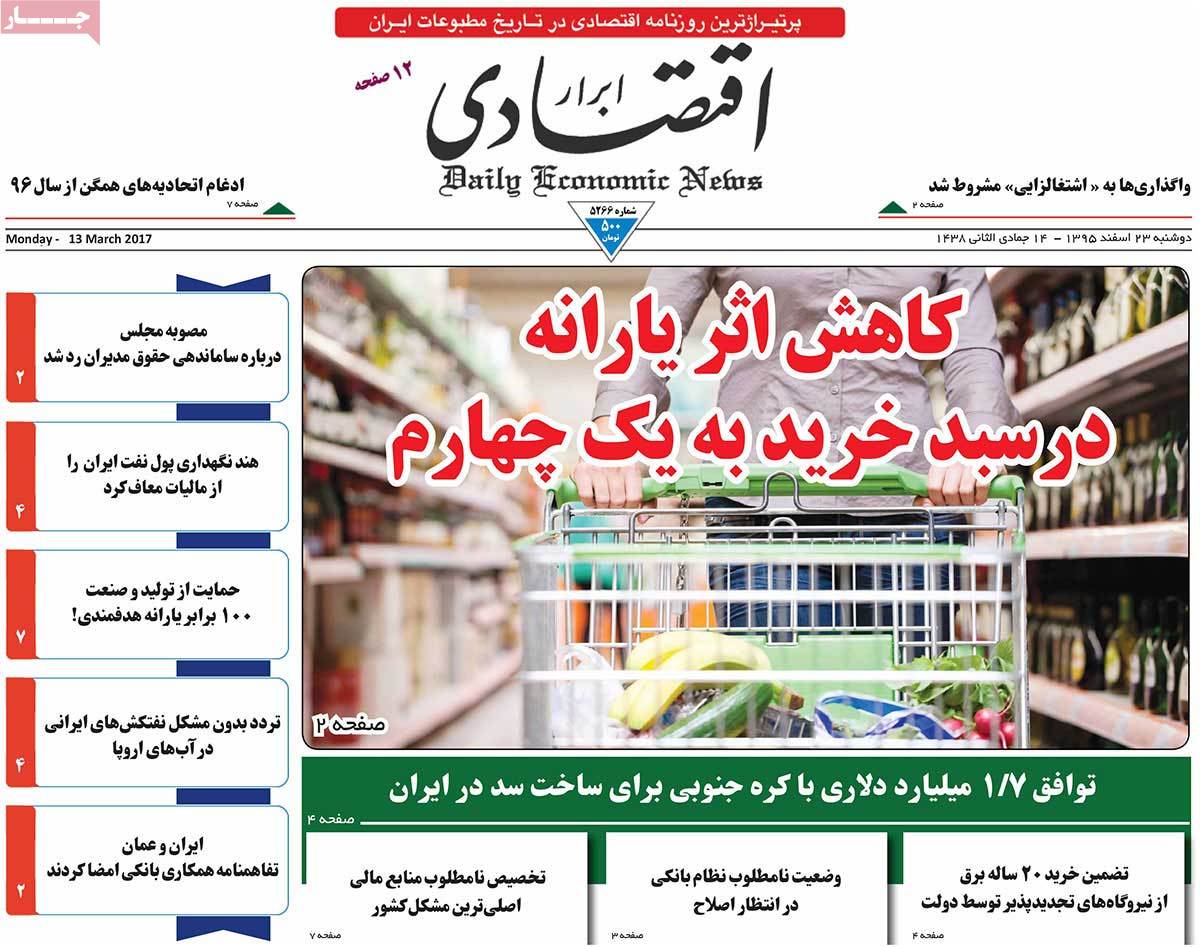 ---
Afkar:
1- Reuters: Iran's New Airbus Plane, Leftover of Columbia's Order!
---
Aftab-e Yazd:
1- Reformists Choose Final Candidate: Rouhani Once Again Trusted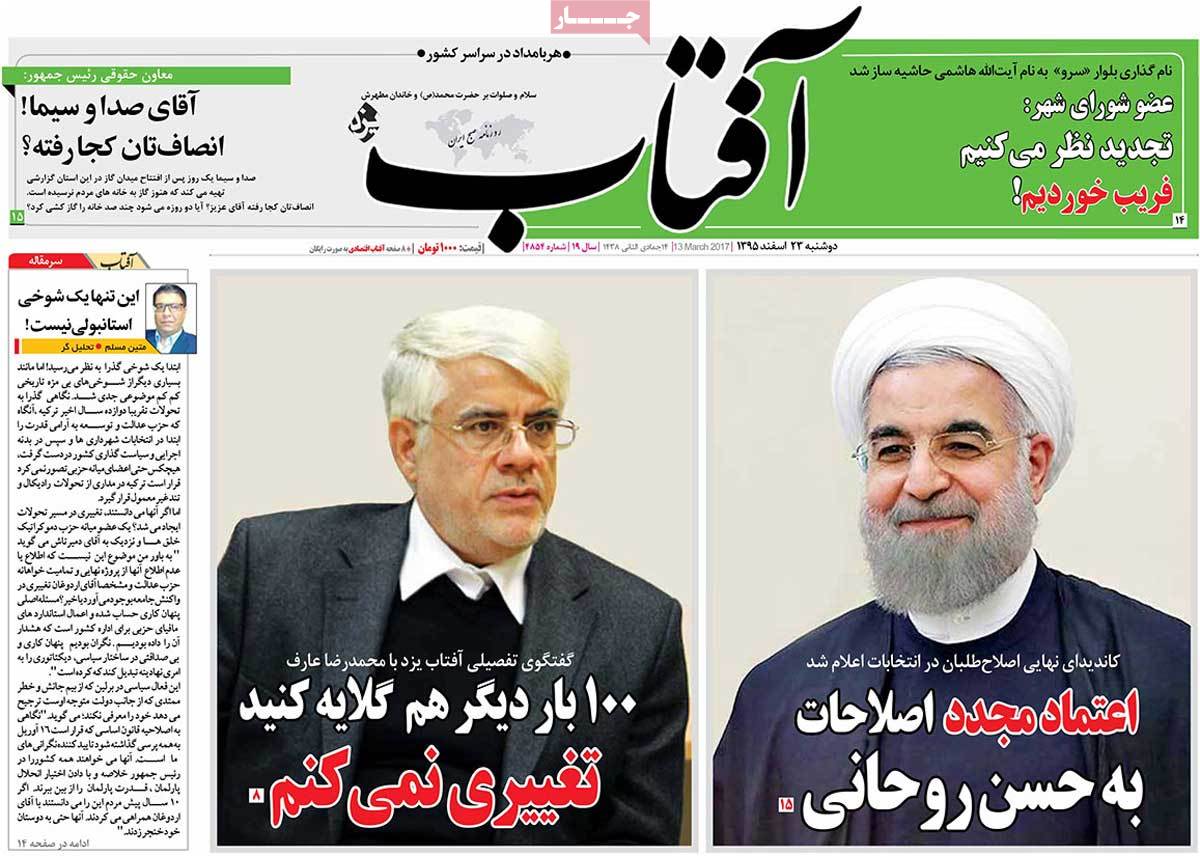 ---
Arman-e Emrooz:
1- Opponents of Gov't Trying to Imply There Are Conflict of Opinion
2- Intelligence Minister: HQ Formed in Ministry for May Election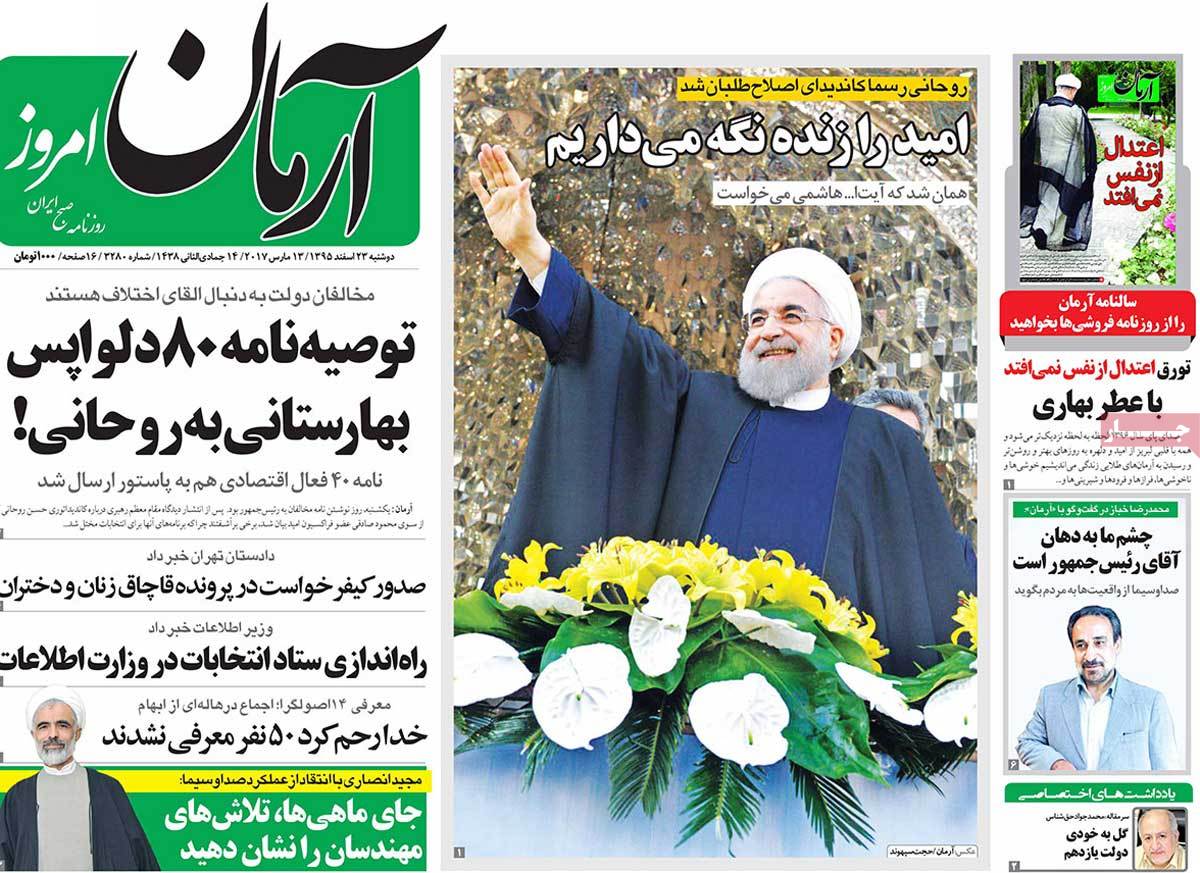 ---
Ebtekar:
1- Homegrown Tank 'Karrar', Symbol of National Might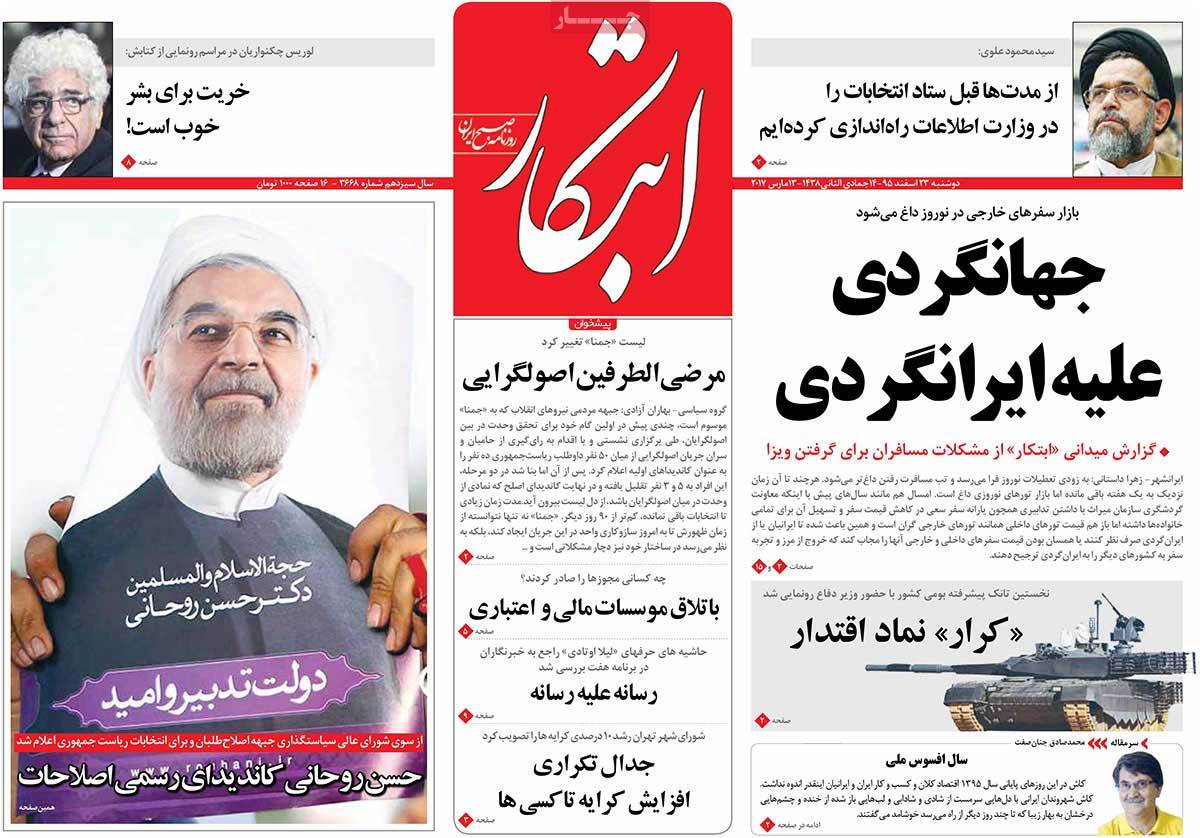 ---
Etemad:
1- Reformists Officially Choose Rouhani as Candidate
2- Reformist: Supporting Rouhani Is Most Prudent Action by Reformists
3- Judicial Purge in US: Trump Officially Fires NY Attorney
---
Ettela'at:
1- Building 500,000 Residential Units for Low-Income People
2- Erdogan's Minister Arrested in Netherlands: EU Cuts Turkey Budget
3- Intelligence Minister Vows Timely Action against Election Disrupters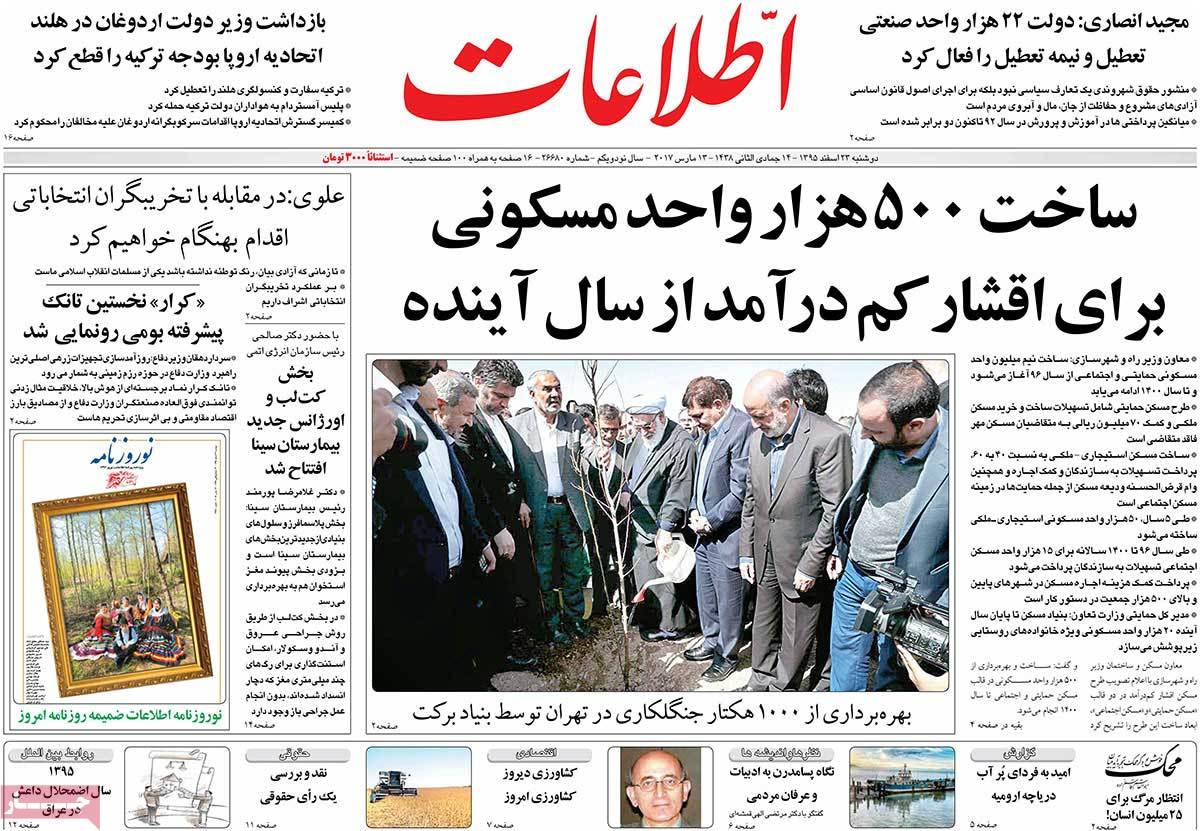 ---
 Iran:
1- Stamp Unveiled in Commemoration of Rafsanjani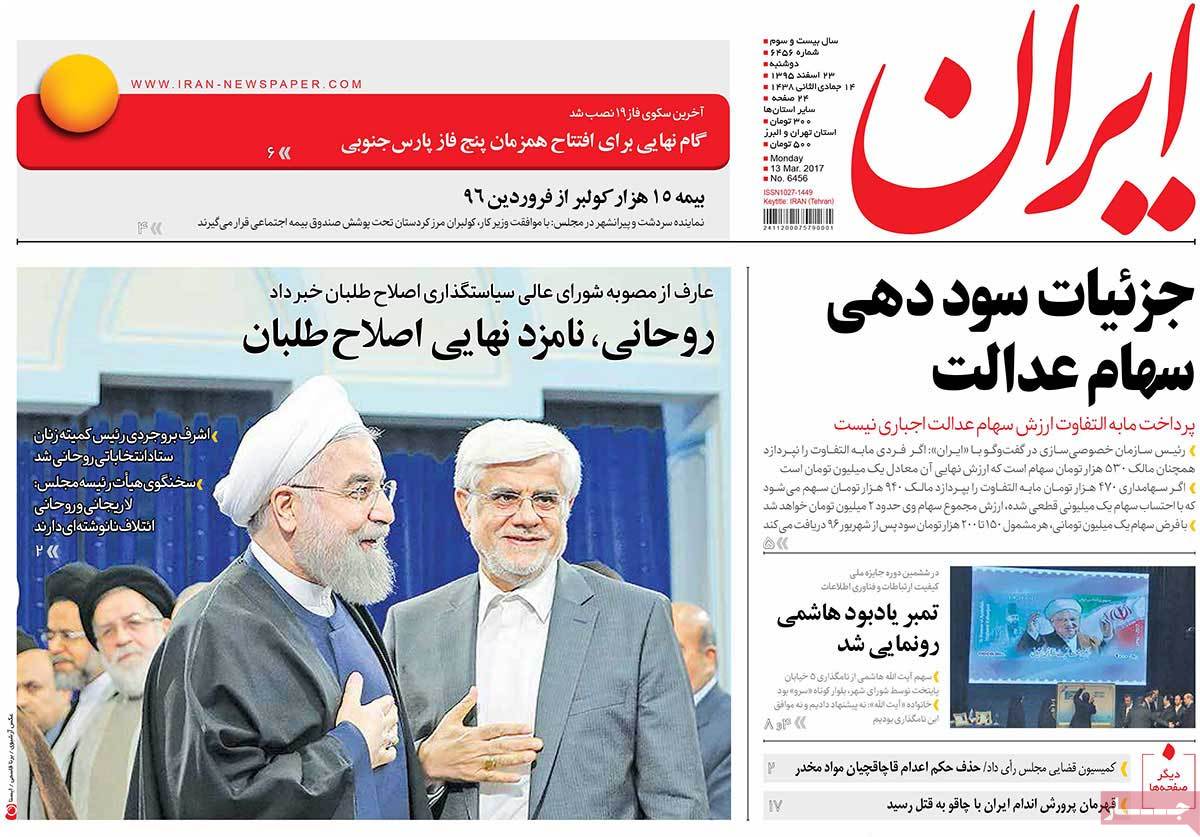 ---
 Javan:
1- 40 Academics, Economic Researchers Pen Letter to Rouhani: In the letter, Rouhani's efforts against transparency are criticised
2- Europe's Joint Campaign against 'Erdogan's Referendum'
3- Farhadi's The Salesman to Be Screened in Occupied Territories
---
Jomhouri Eslami:
1- Trees to Be Planted in 1,000 Hectares of Lands near Tehran
2- 134 American Figures Condemn Trump's Travel Ban
---
Kayhan:
1- A Report on People's Economy, Livelihood in Past Year
2- Protecting Civilians' Lives Prolongs Yemen War: Al Saud claims after claiming the lives of 14,000 civilians in Yemen
3- Government's Poor Performance in Fight against Corruption, Contraband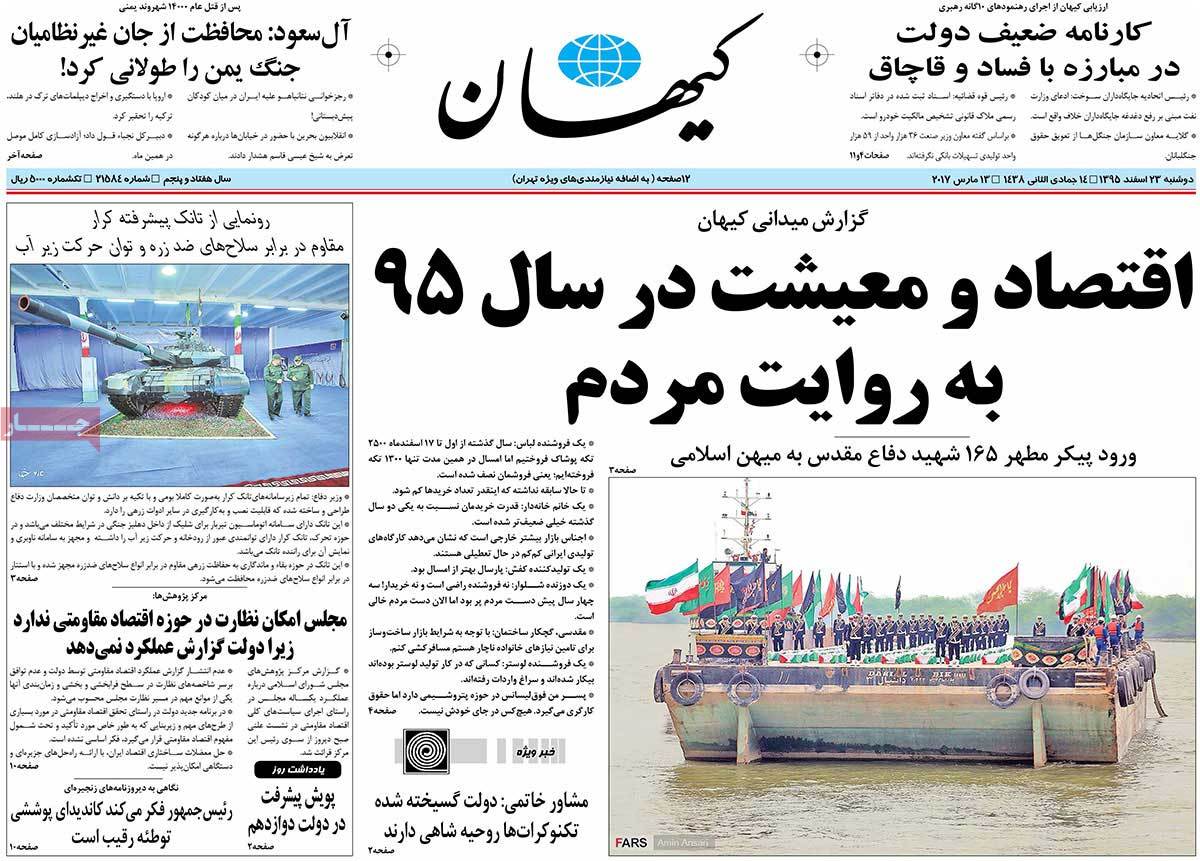 ---
Noavaran:
1- Rouhani's Popularity Has Domestic Origins, Not Foreign Ones: Analysts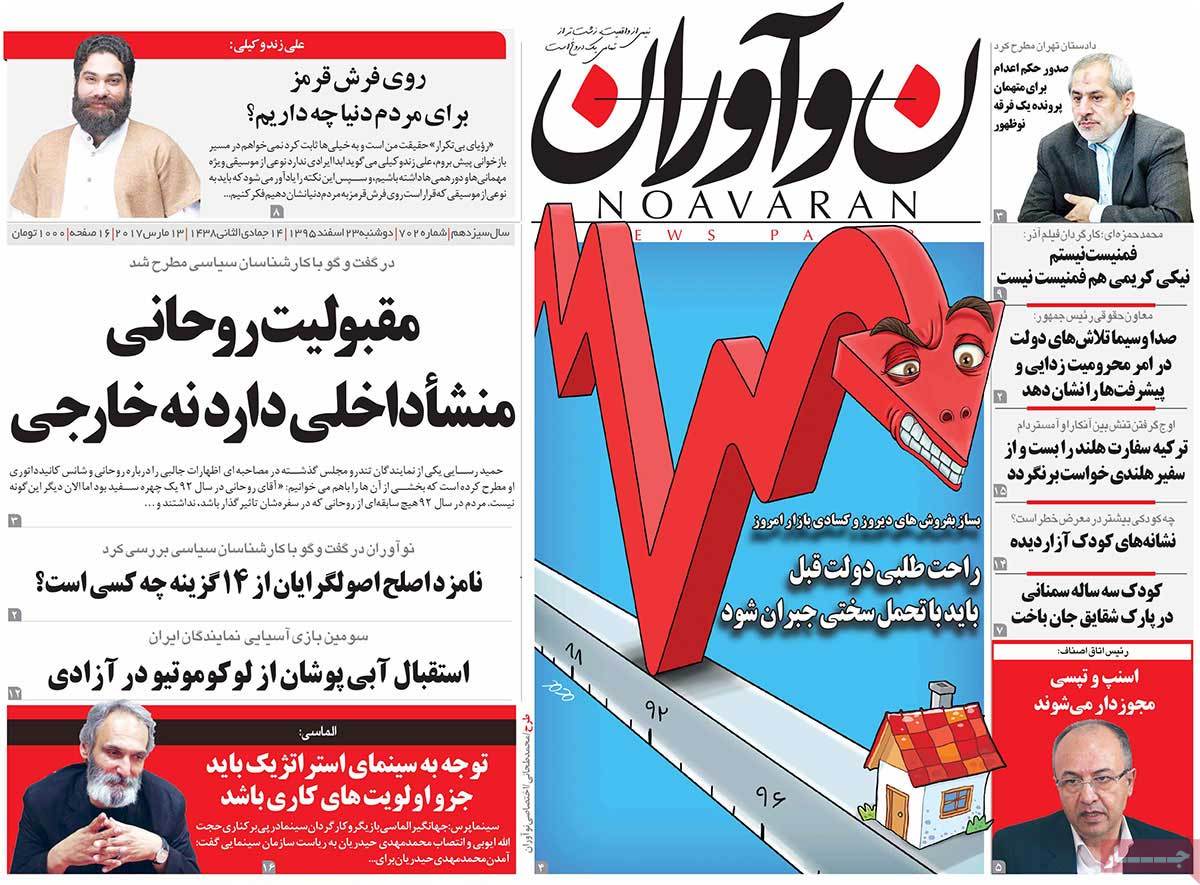 ---
Rooyesh-e Mellat:
1- Larijani: Israel behind Syria War
2- Emergence of Second ISIS in European Borders
---
Setareh Sobh:
1- Government under Critics' Sharp Blade
Mr President! Your administration promotes liberalism and capitalism
2- Europe against Erdogan Reforms
3- Dutch Ambassador Expelled from Turkey
4- Erdogan: Dutch Rulers Are Nazi and Fascist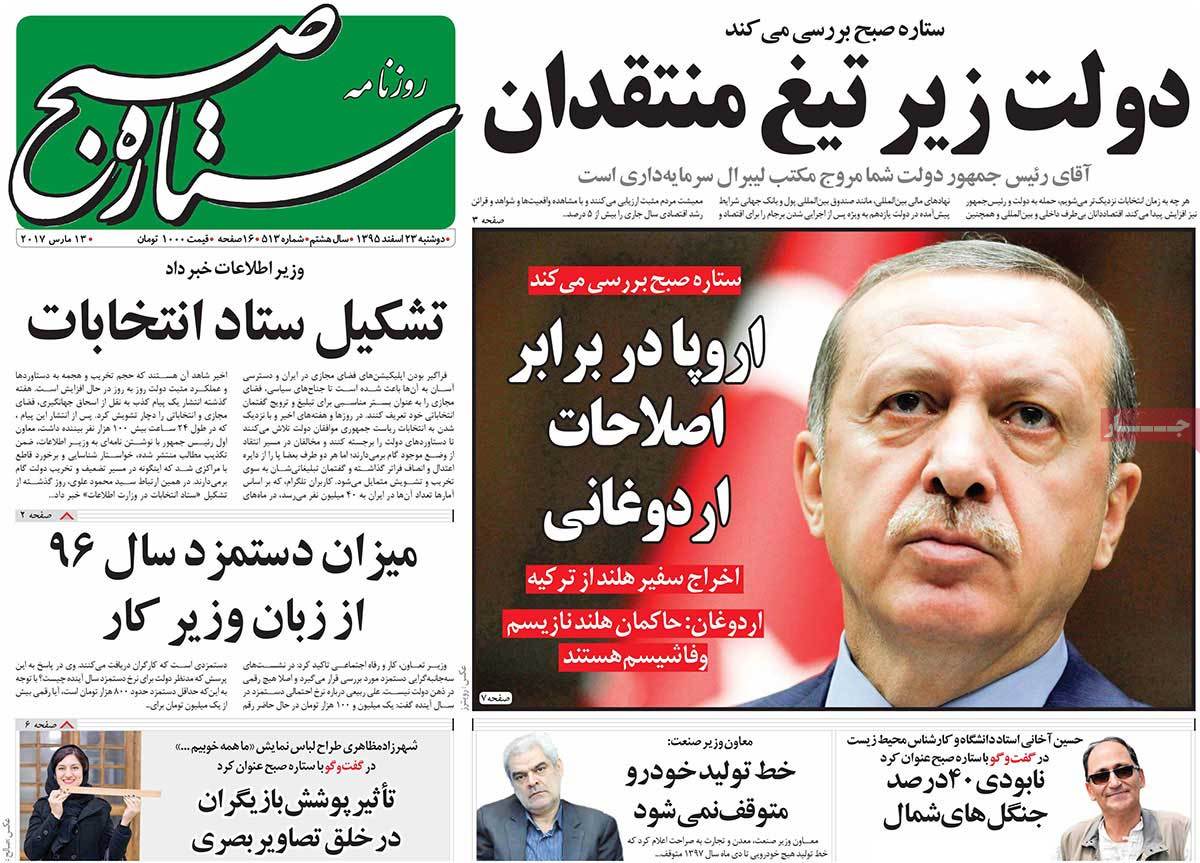 ---
Shahrvand:
1- Rescue Workers beside Army's Commandos
2- Death Penalty to Be Lifted for Those Carrying Narcotics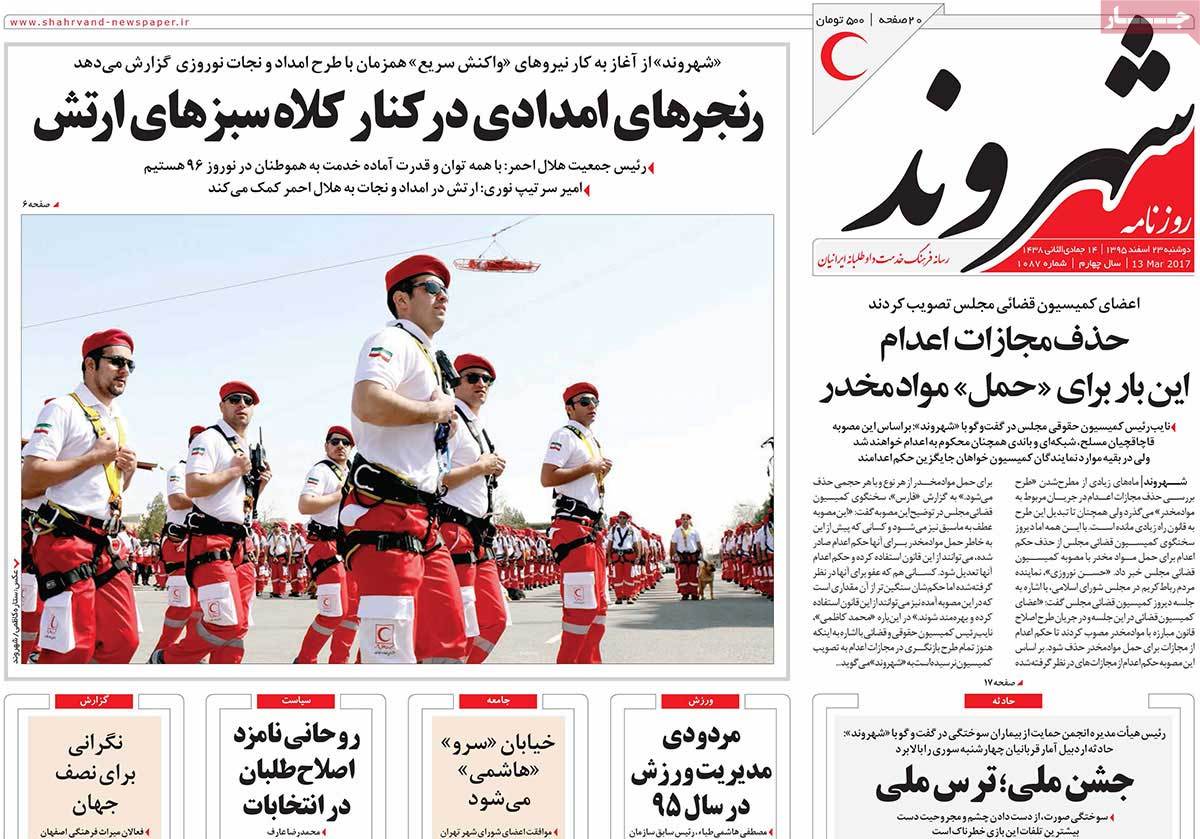 ---
Shargh:
1- Allegiance Renewed with Rouhani
2- Rouhani's Candidacy [Editorial]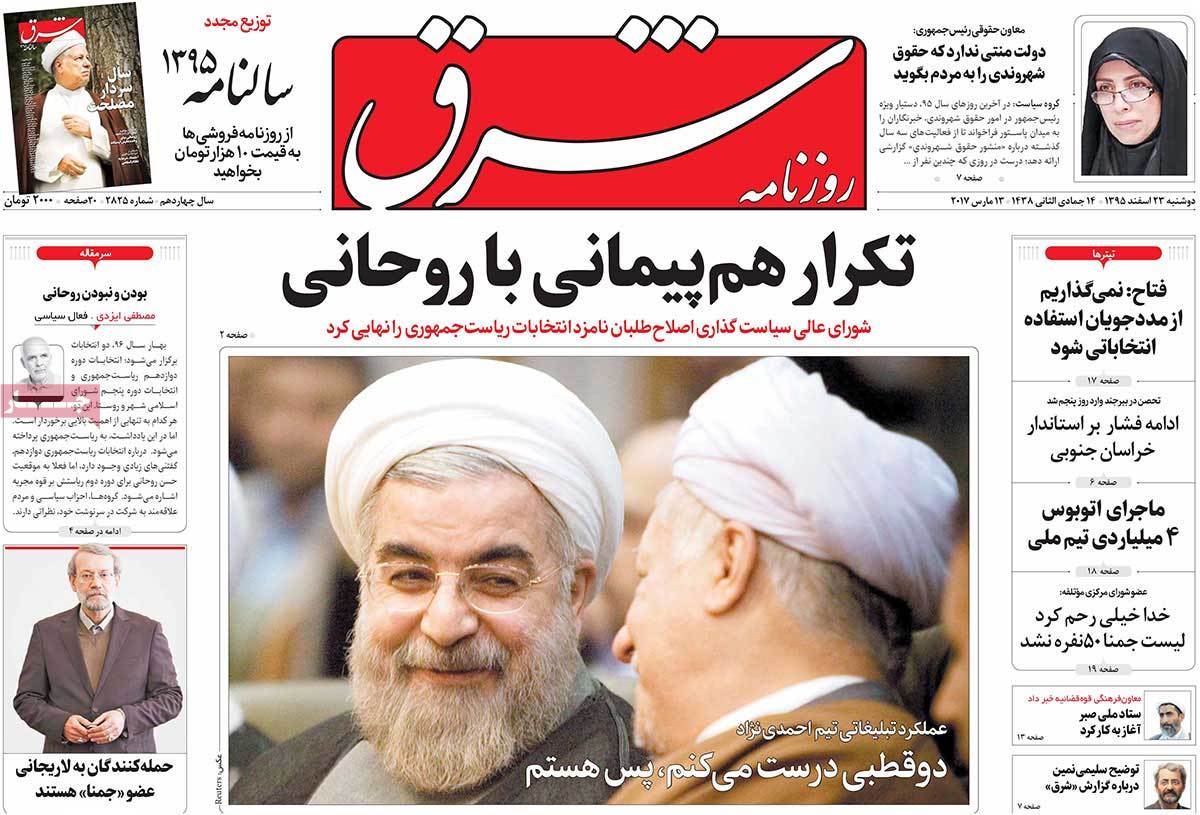 ---
Vaghaye Ettefaghieh:
1- A Look at US Attempts to Endanger Iran's Regional, Global Position: Zionist, Saudi lobbies behind Iranophobia project
2- Iran Being Pushed out of Syria Developments [Editorial]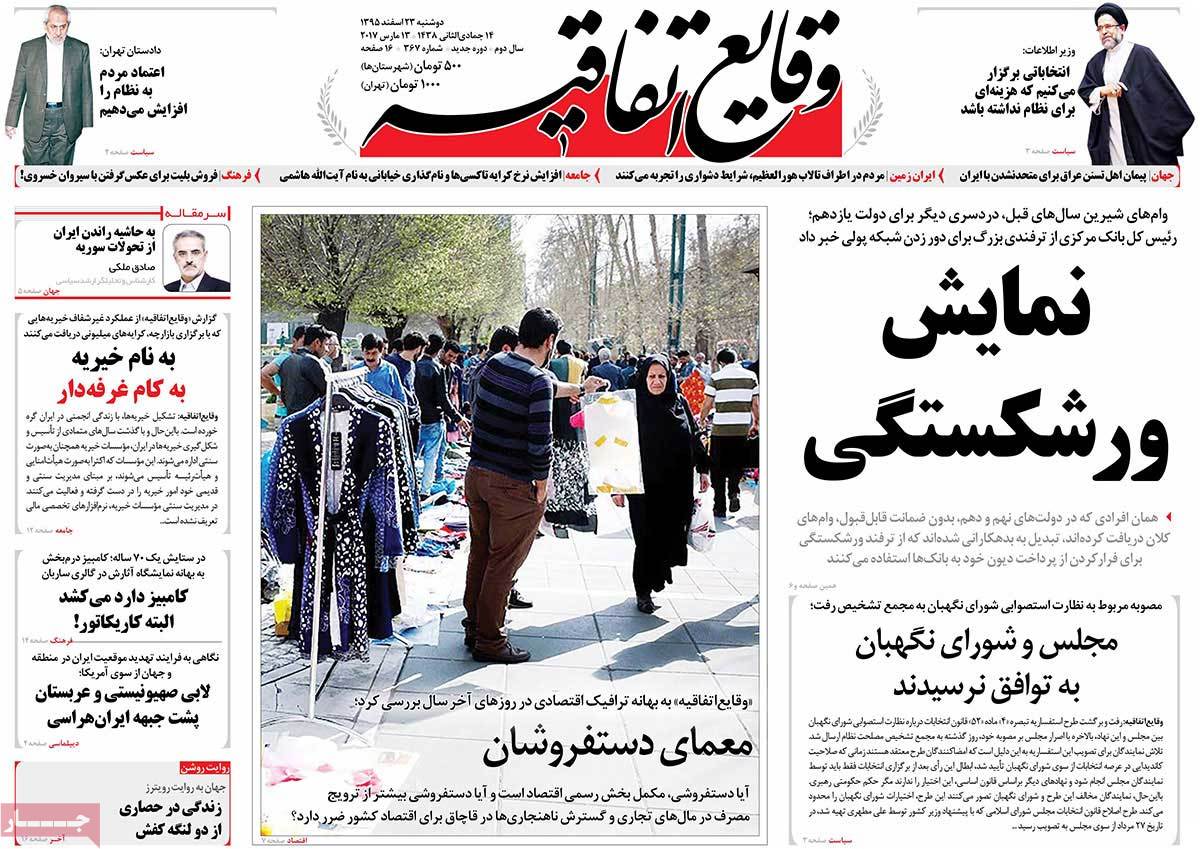 ---
Vatan-e Emrooz:
1- Government of One-Percenters: Rouhani's gov't ignoring Resistance Economy
2- Google, Apple's Goofs in Cooperation with CIA
WikiLeaks: WhatsApp, Telegram Are Apps for Espionage