Newspapers today continued covering the reactions to the US military attack on Syria and the possible confrontation between Moscow and Washington following the strike.
The report released by a committee tasked with probing into the deadly Plasco Building collapse also received great coverage.
The speculations and reviews about Iran's May presidential election also remained a top story today.
The above issues, as well as many more, are highlighted in the following headlines and top stories:
19 Dey:
1- Rouhani: Ballot Boxes Do Miracle
2- Nuclear Chief: JCPOA Was Divine Destiny
3- JCPOA Impossible If Iranian Negotiators Weren't Allowed to Hold Talks with US: Salehi
4- Zarif: US Missile Attack Sets Dangerous Precedent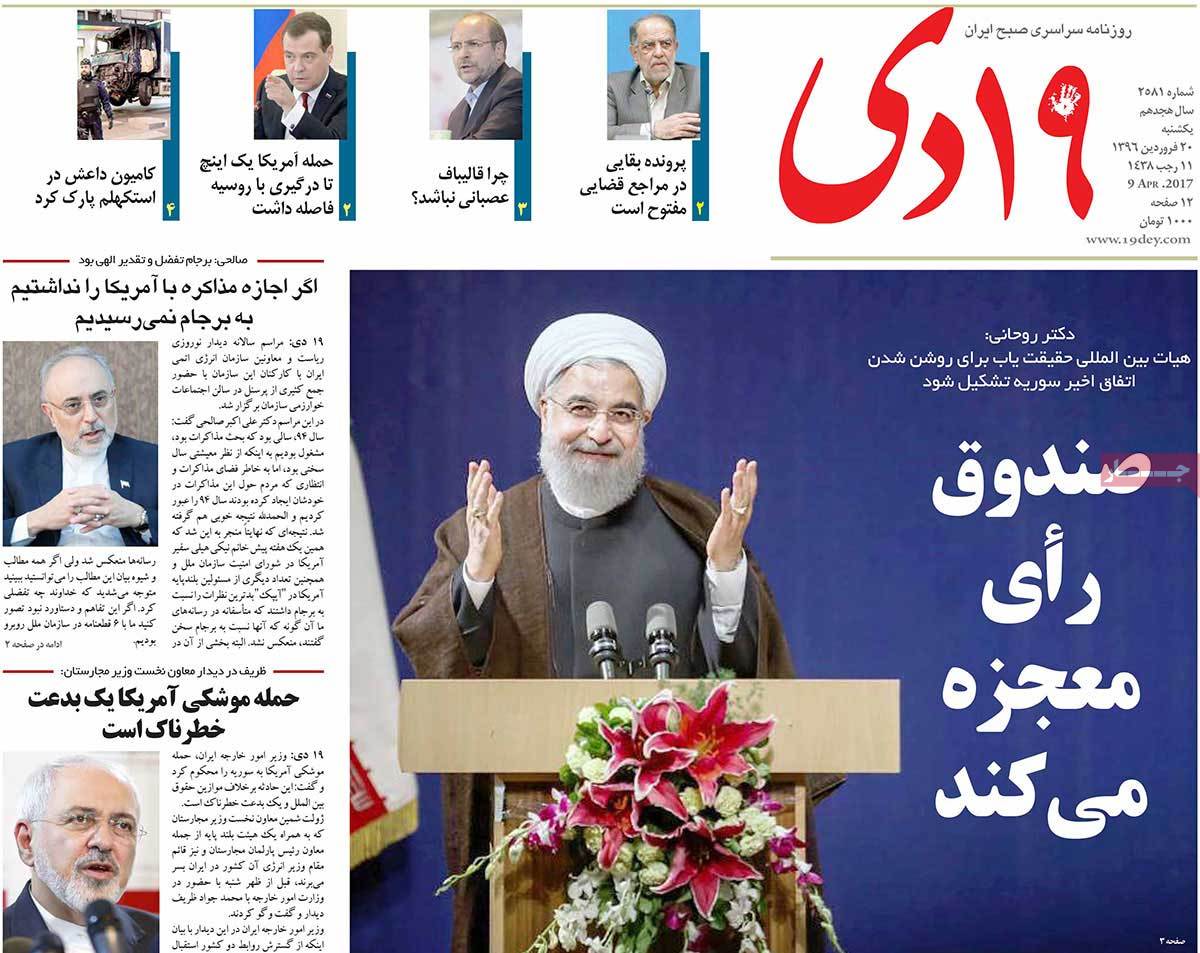 ---
Abrar:
1- New Crime in Mosul: ISIS Once Again Uses Chemical Gases
2- Rouhani Calls for Formation of Int'l Fact-Finding Committee for Syria
3- ISIS Threatens to Attack Turkey on Referendum Day
---
Aftab-e Yazd:
1- Ahmadinejad's Alternative Candidate
Rumours say Baqaei is not Ahmadinejad's main candidate. His economy minister Hosseini will probably run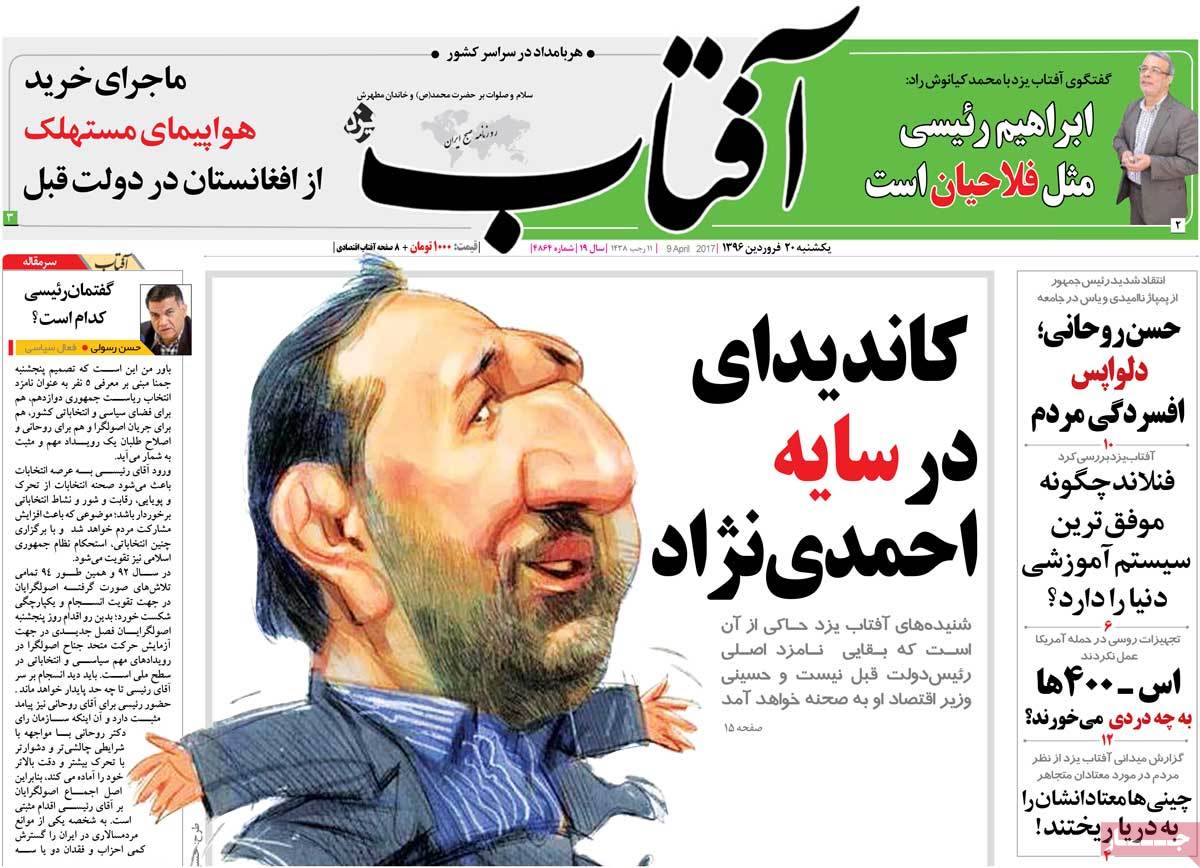 ---
Ettela'at:
1- President: You Can't Get to Roof of Justice Using Ladder of Lie
2- Iran to Run out of Water in 50 Years
3- Zarif: Common Understanding among Religions Needed for Fight against Terror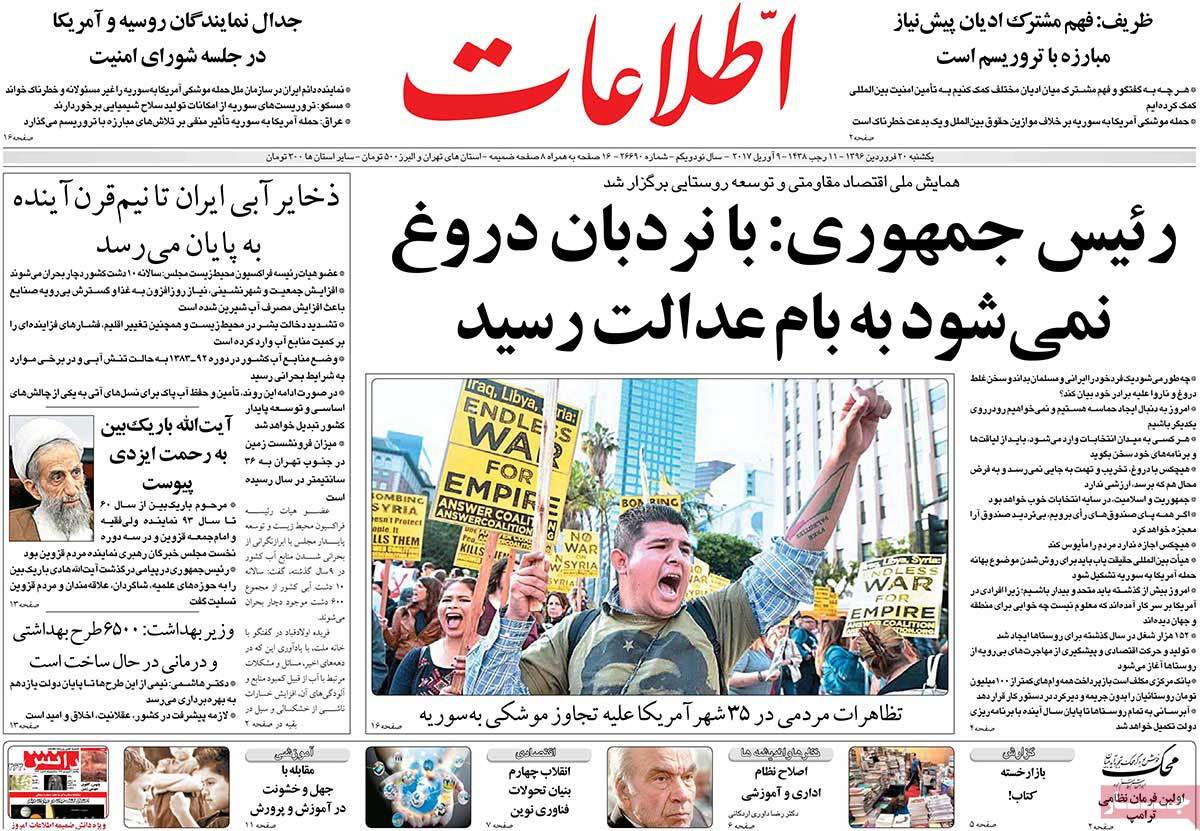 ---
Ghanoon:
1- Official: Russians Won't Get Engaged in Military Confrontation with US
2- 384 Drug-Addicted Babies Born Last Year
---
Iran:
1- IRIB's Attacks on Presidential Candidates Always Backfire: Rouhani's Aide
2- Tehran Mayor Was Obliged to Immunize Plasco Building: Investigation Team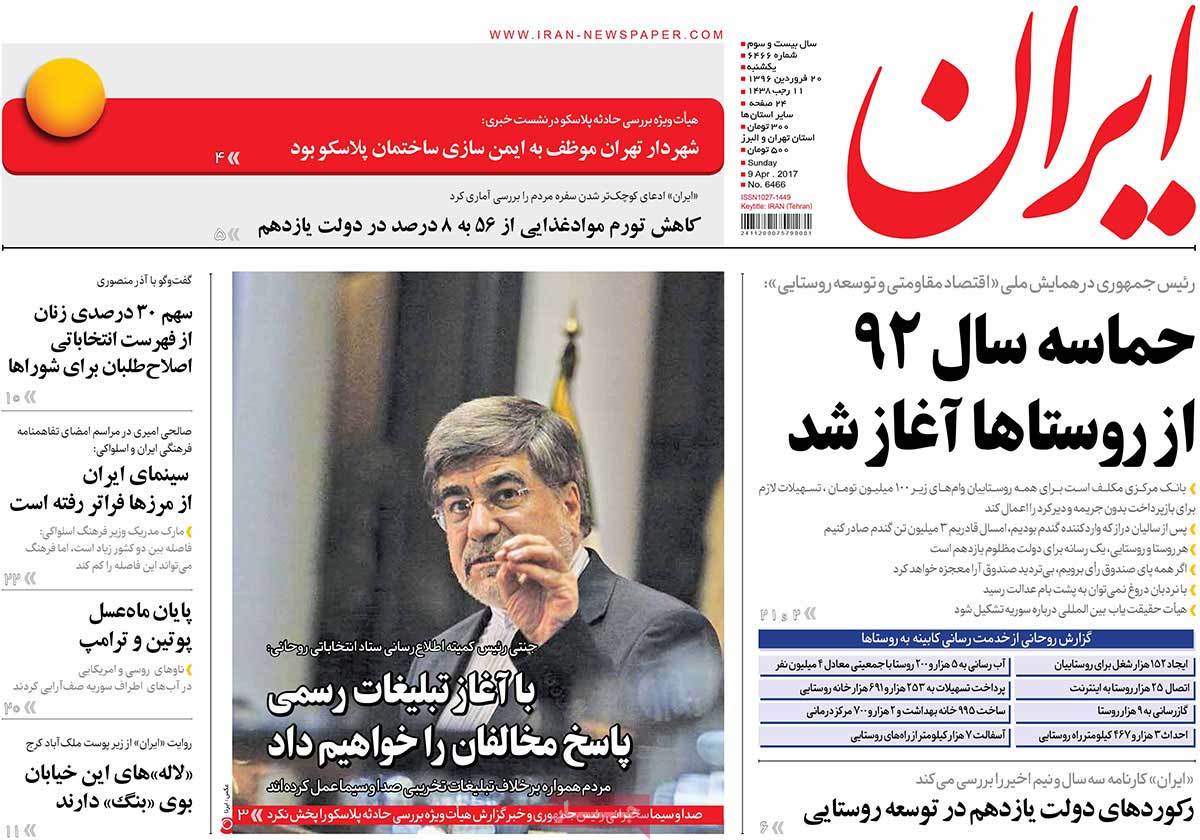 ---
Javan:
1- A Review of Rouhani Government's Poor Performance, Economic Statistics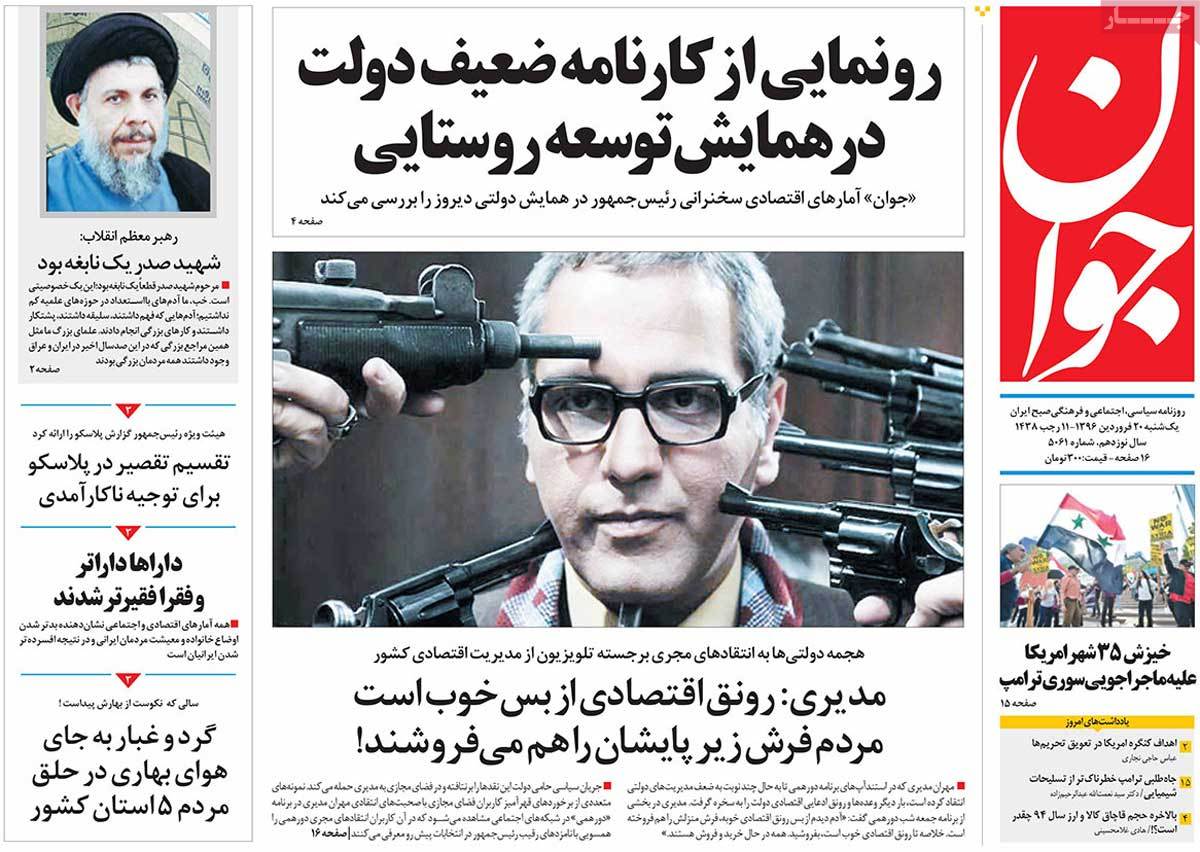 ---
Jomhouri Eslami:
1- Growing Trend of Worldwide Rallies, Reactions against US Invasion of Syria
2- Medvedev: US Very Close to Military Confrontation with Russia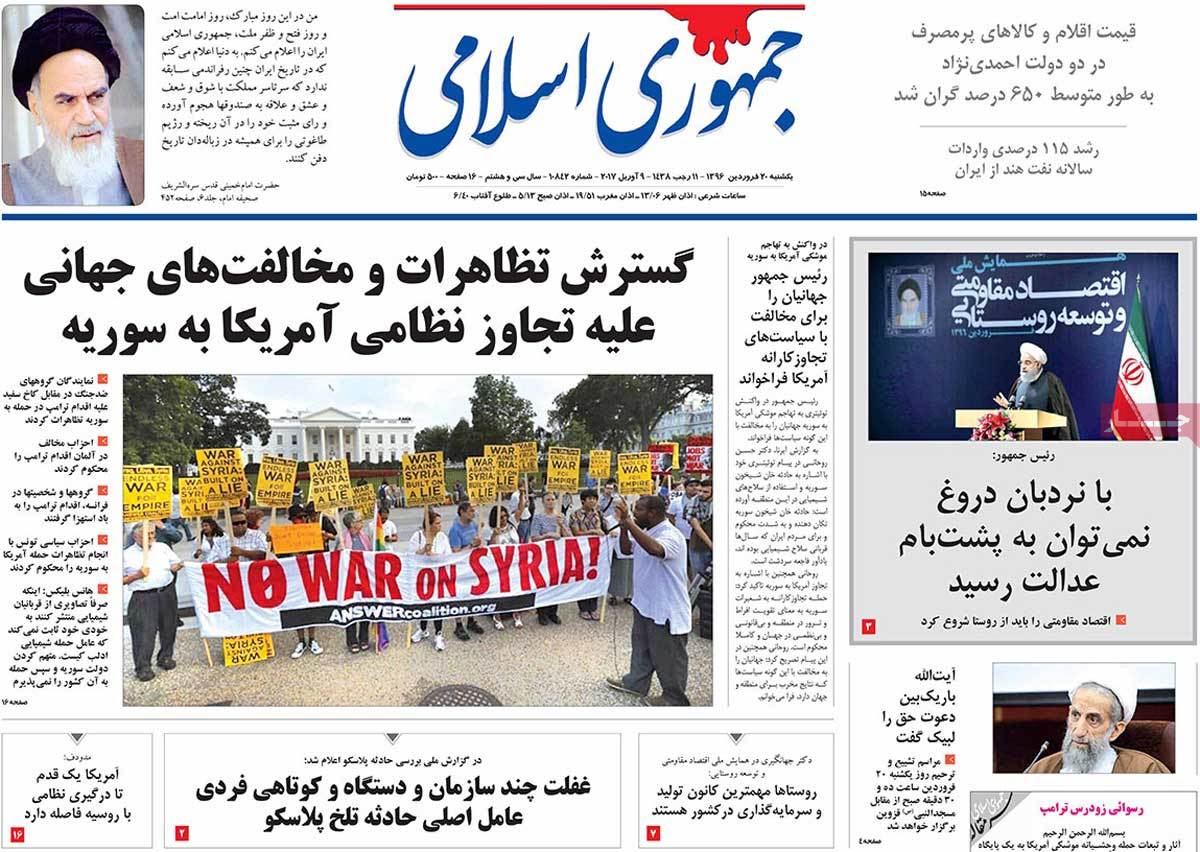 ---
Kayhan:
1- Daroogar Factory, Oldest Producer of Hygiene Products, Shut Down after Several Others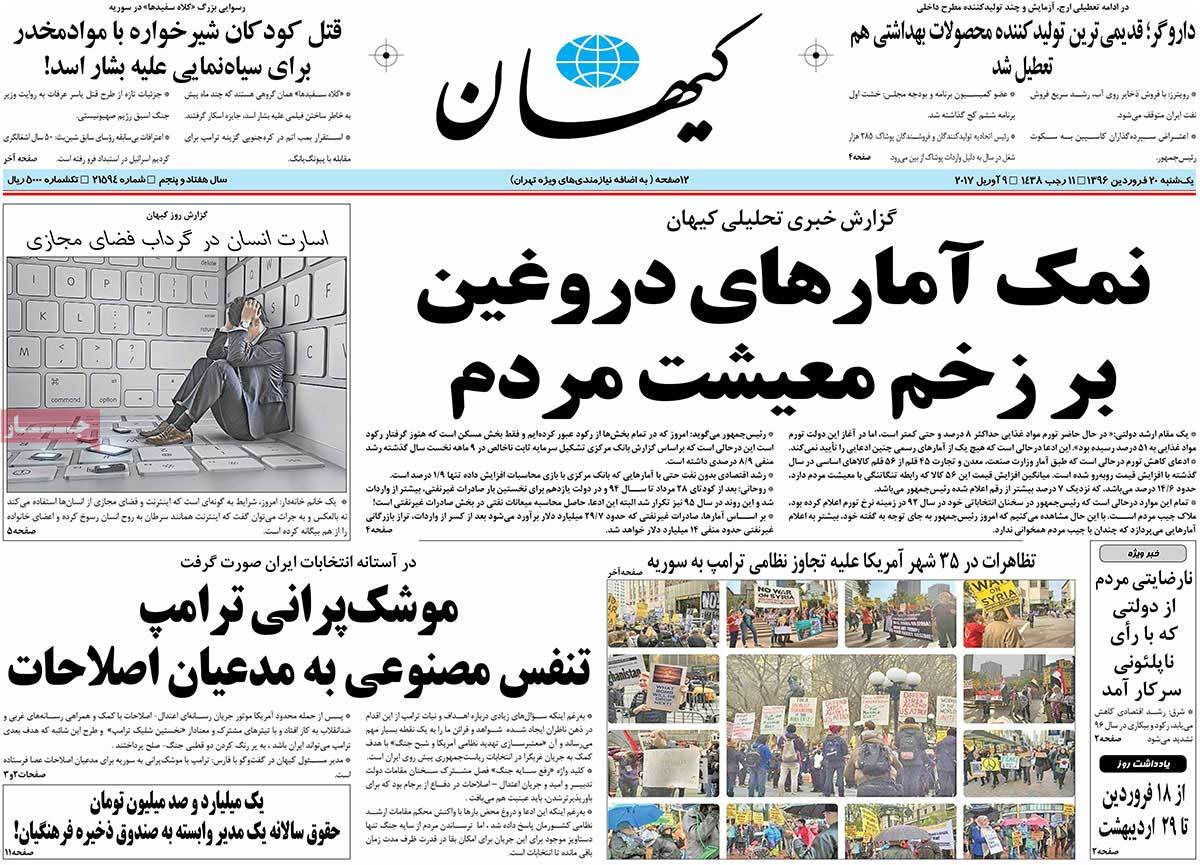 ---
Payam-e Zaman:
1- Rouhani: US Aggression on Syria Is Cruel
2- Protest Rallies in Front of White House against Syria Strike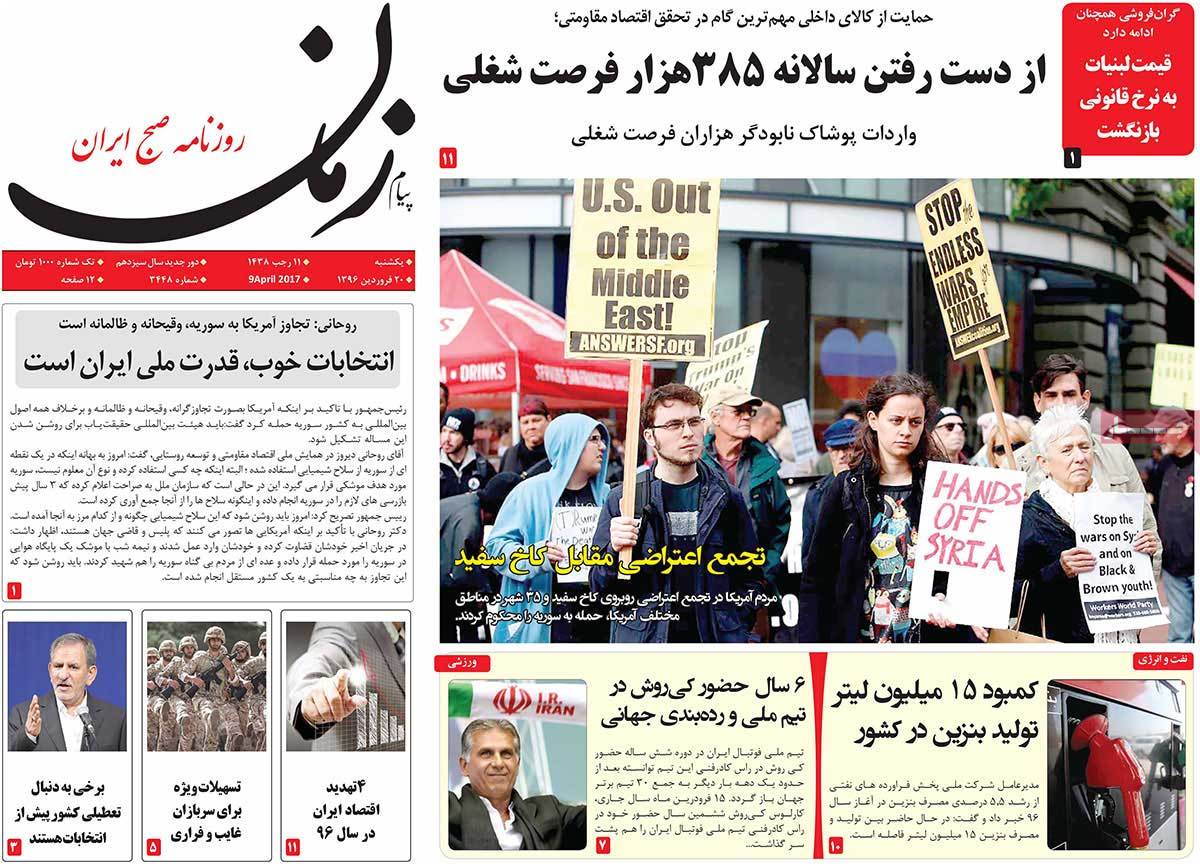 ---
Resalat:
1- President: What Permit Did Americans Use to Attack Syria?
2- Assad: US Attack on Syria Was Stupid, Irresponsible
3- Amir Abdollahian: US Syria Strike Encourages Terrorism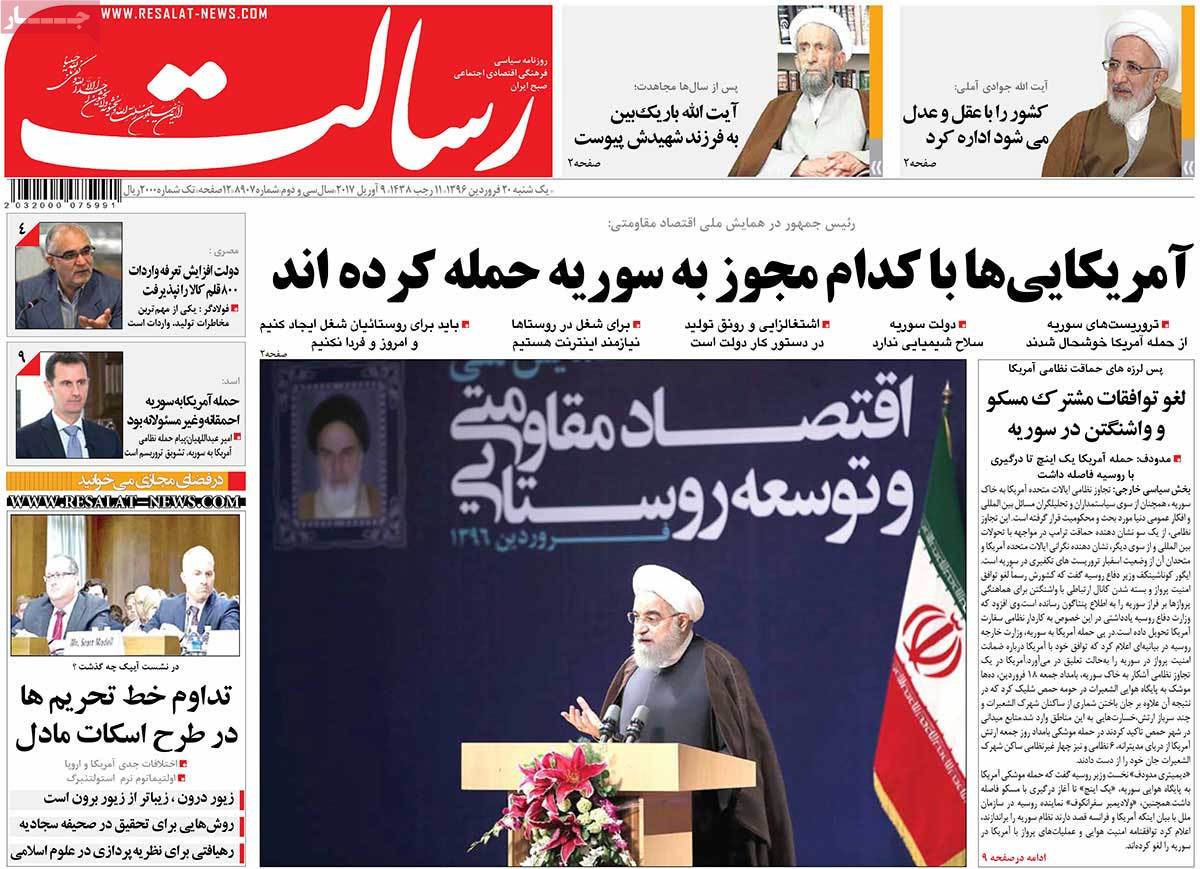 ---
Sayeh:
1- Nuclear Chief: No Sunset for Iran's Nuclear Energy Program
2- Merkel: US Missile Attack on Syria Is Understandable, Justifiable
3- Qualifications of Candidates to Be Reviewed Confidentially: Official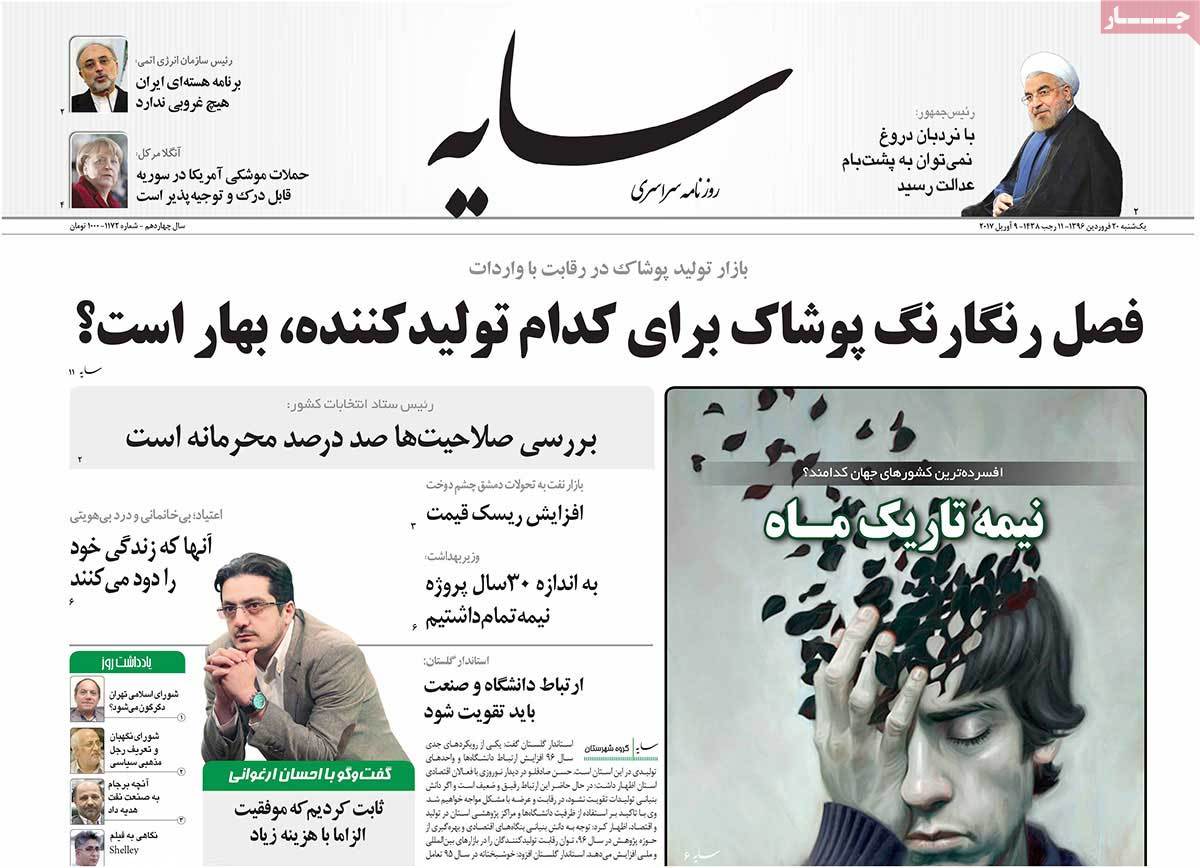 ---
Shargh:
1- Raeesi's Bid for Presidency to Serve Rouhani's Interests: Advisor
2- 1,700-Page Report on Plasco Incident Pending Rouhani's Opinion
---
Vaghaye Ettefaghieh:
1- Story of Alex Noori and His Unexpected Success in Bundesliga