IFP has taken a look at the front pages of Iranian newspapers on Saturday and picked headlines from 20 of them. IFP has simply translated the headlines and does not vouch for their accuracy.
After five days of vetting, the Guardian Council selected six presidential candidates from among over 1,600 applicants. All Iran newspapers today covered the beginning of competition between these six presidential hopefuls.
The live broadcast of presidential debates also received great coverage today. A headquarters composed of officials holding the upcoming presidential election has decided not to air the presidential debates live, but the decision has been protested by President Rouhani, Ebrahim Raisi, and a number of other candidates.
Iranian Foreign Minister Mohammad Javad Zarif's reaction to the US officials' anti-Iran accusations was also a top story today.
The above issues, as well as many more, are highlighted in the following headlines and top stories:
19 Dey:
1- Final Presidential Candidates: 3+3
2- Ahmadinejad is over
3- President Rouhani: I Support Freest Presidential Debate
---
Abrar:
1- EP President: New UK Gov't Can Return to Europe If It Wants
2- Trump Claims Iran is Not Committed to Spirit of JCPOA
3- US Defence Secretary's Visit to Occupied Territories to Discuss Iran
4- Egypt's Sisi Calls for Global Effort to Stop Financial Aid to Terrorists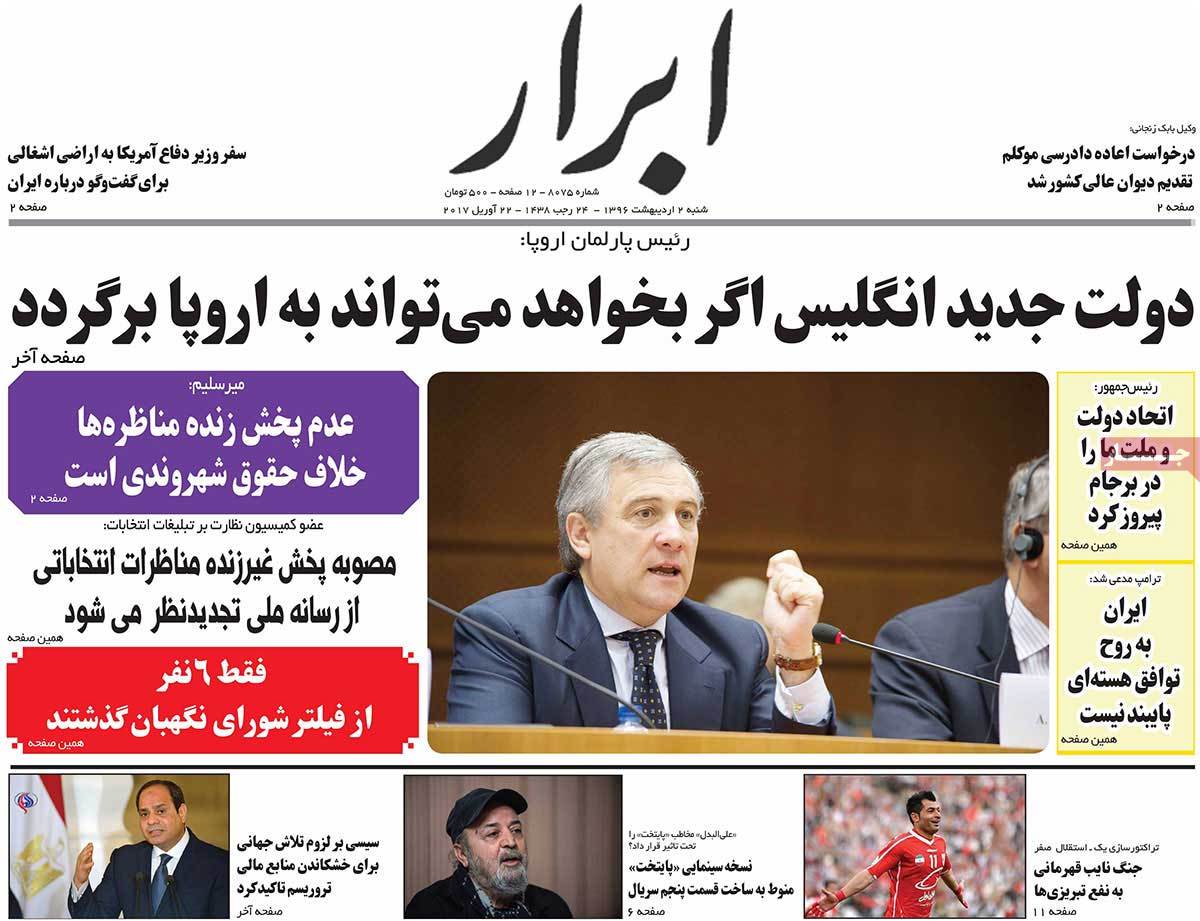 ---
Abrar-e Eqtesadi:
1- Central Bank Governor: Iran Moving over Economic Downturn
2- Italy's Saras Pays €400m Debts to Iran
3- Vietnamese President: Vietnam to Ease Visa Regime for Iranian Businessmen
4- Iran to Restore Trade Ties with Qatar, Kuwait, Saudi Arabia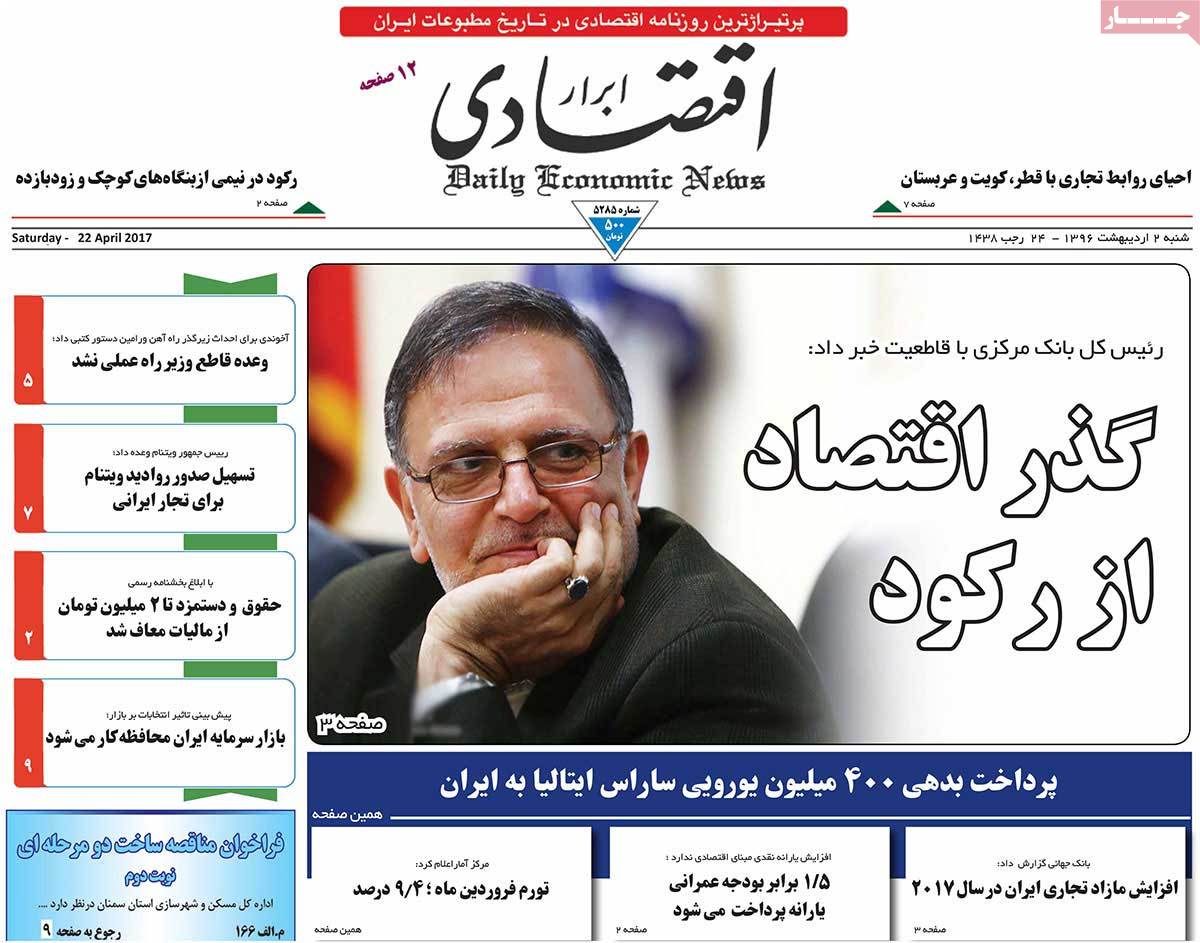 ---
Aftab-e Yazd:
1- Rouhani's Upper Hand
A review of the six presidential candidates' political background shows Rouhani is in better conditions for securing his second term
2- Putin's Special Representative Meets Raisi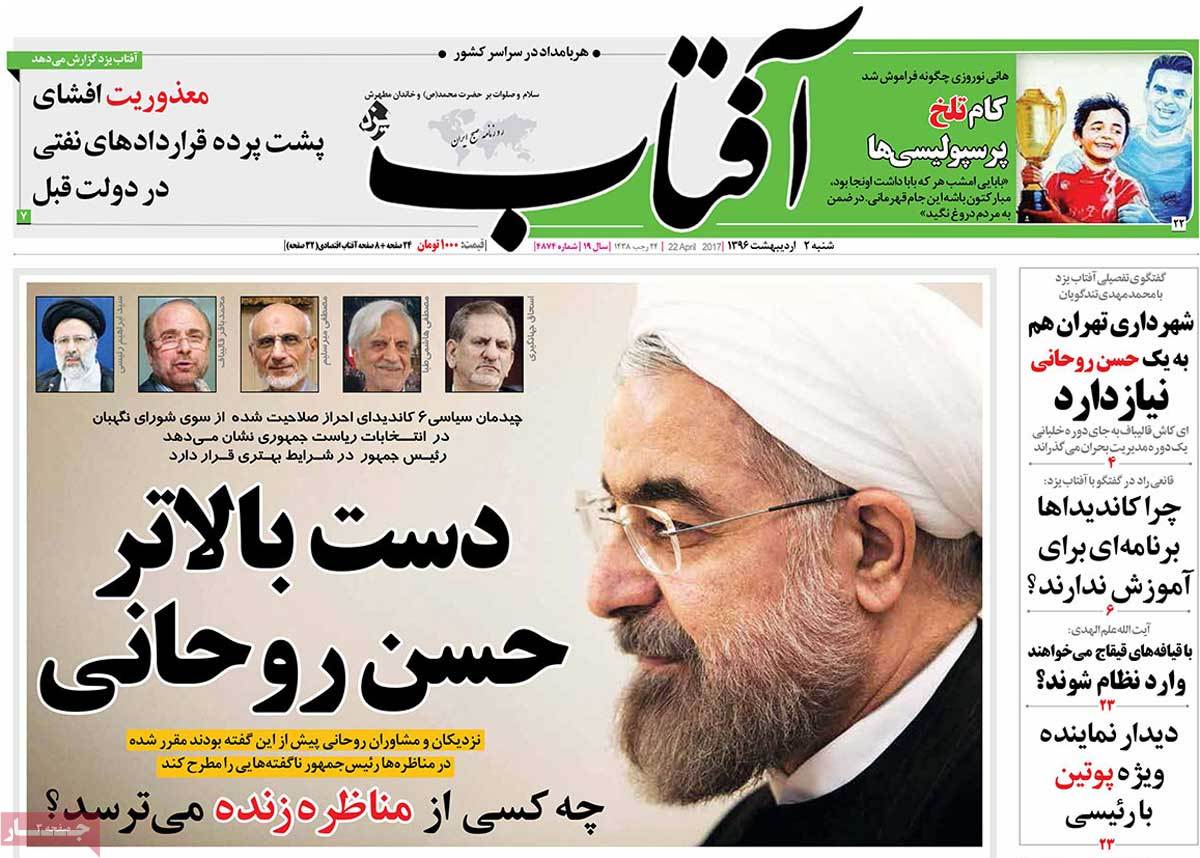 ---
Arman-e Emrooz:
1- 2017 Presidential Campaigns Begin with 6 Candidates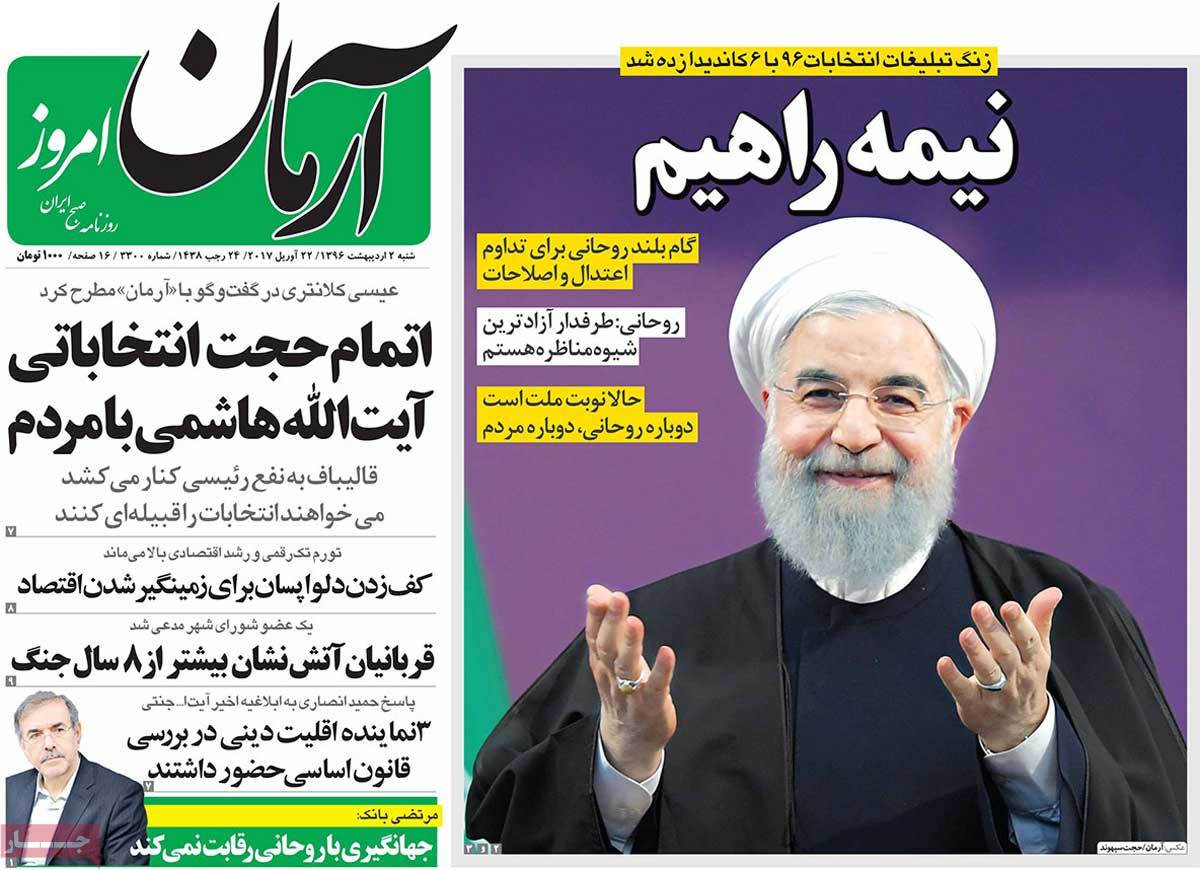 ---
Ebtekar:
1- People's Participation and Hope Can Improve Iran's Security: Larijani
---
Etemad:
1- Rouhani Starts Political Battle with Coalition of Raisi, Qalibaf, Mirsalim
2- Trump's Dangerous Play with Nuclear Deal
US President, Secretary of State Talk about Review of JCPOA
3- History Didn't Repeat Itself for Ahmadinejad
---
Ettela'at:
1- General Soleimani Selected as One of TIME's 100 Influential Figures
2- Zarif: US No Longer Able to Distract Int'l Community through Baseless Accusations
---
Iran:
1- Protests against Decision Not to Broadcast Presidential Debates Live
Presidential Candidates, IRIB, Senior Cleric among Protesters
2- Health Minister: Number of Hospital Beds Created in This Gov't Equal to that of Past 20 Years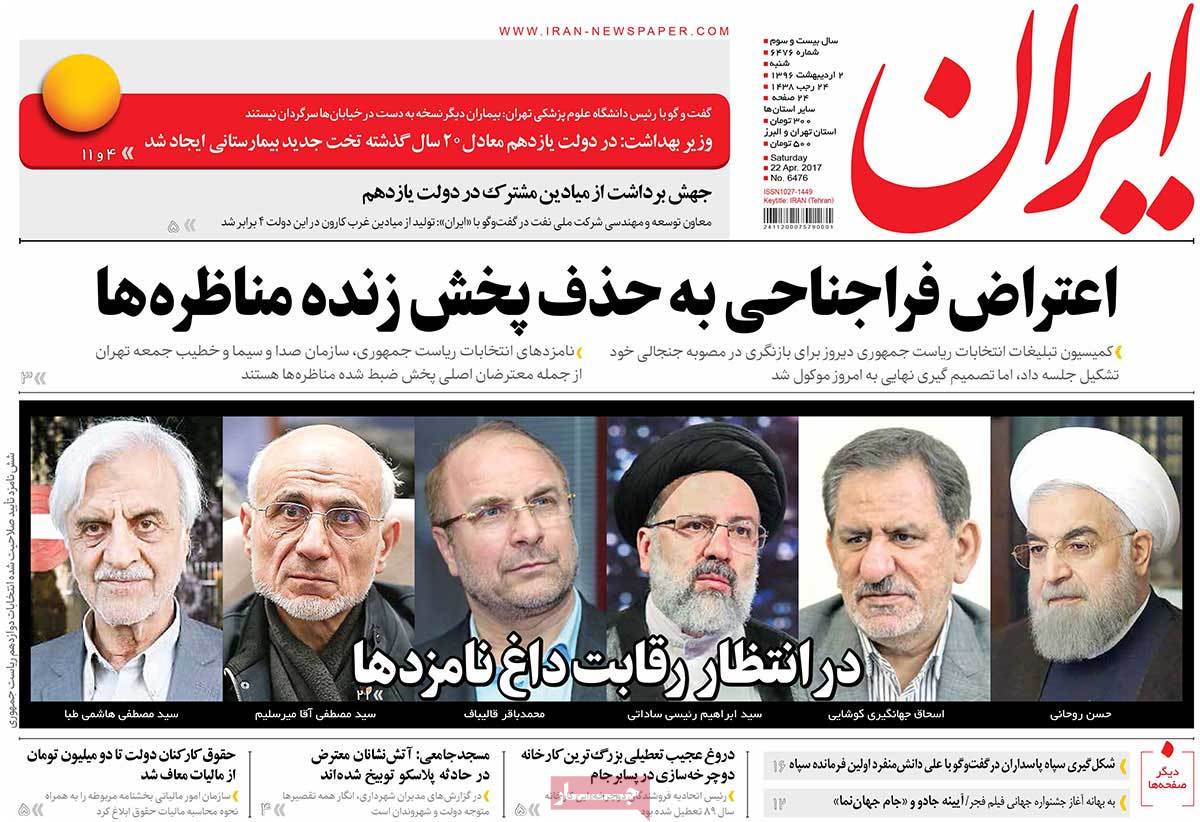 ---
Javan:
1- Clash between Supporters, Opponents of Status Quo: Final Presidential Candidates
2- Zarif's Reaction to US Officials' Anti-Iran Rhetoric: US Defied Spirit of JCPOA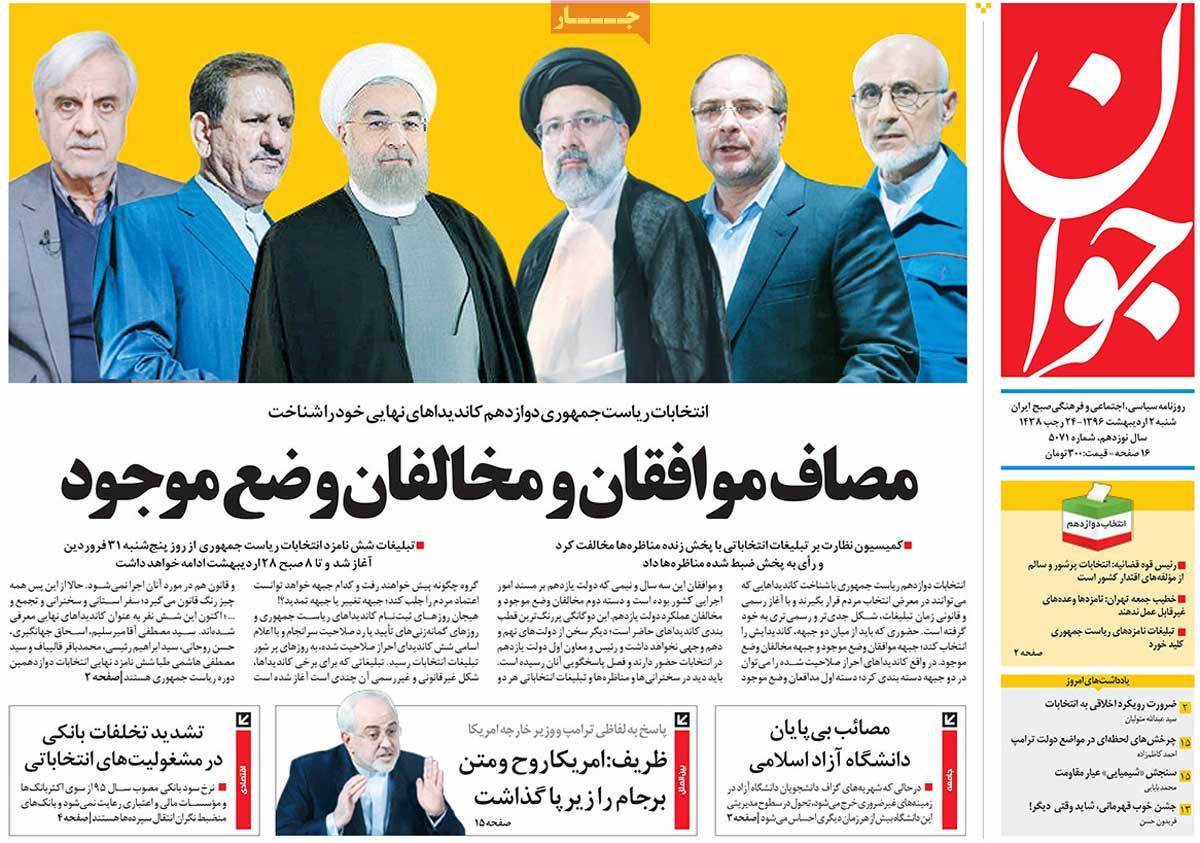 ---
Jomhouri Eslami:
1- Iraqi Nation, Gov't Respond to Erodgan's Rude Remarks
Iraqi VP Blasts Turkey's Remarks about Iraq Popular Forces
2- Rouhani Calls on IRIB to Broadcast Presidential Debates Live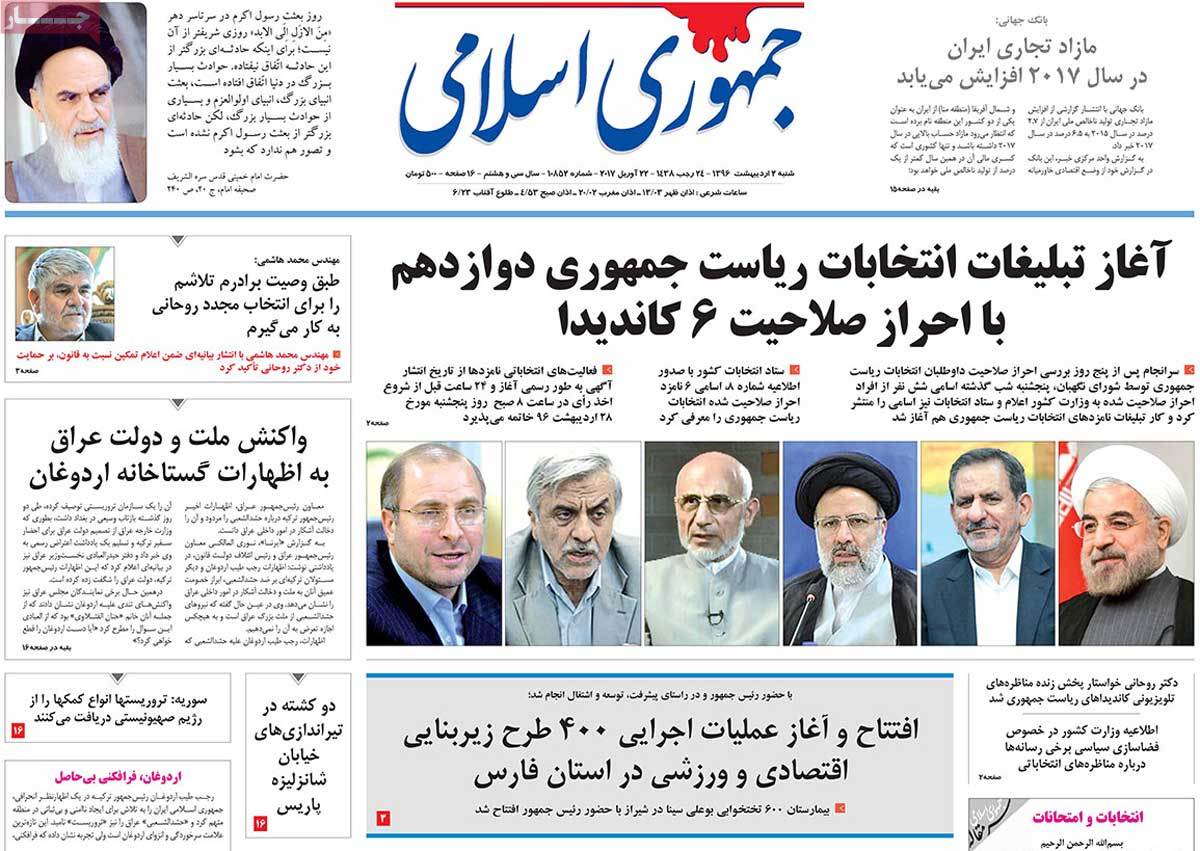 ---
Ka'enat:
1- All 6 Presidential Candidates Want to Save Iran's Economy
---
Kayhan:
1- People Need to See Live Presidential Debates for Choosing President
2- Russian Chinese Armies on Standby near N. Korean Borders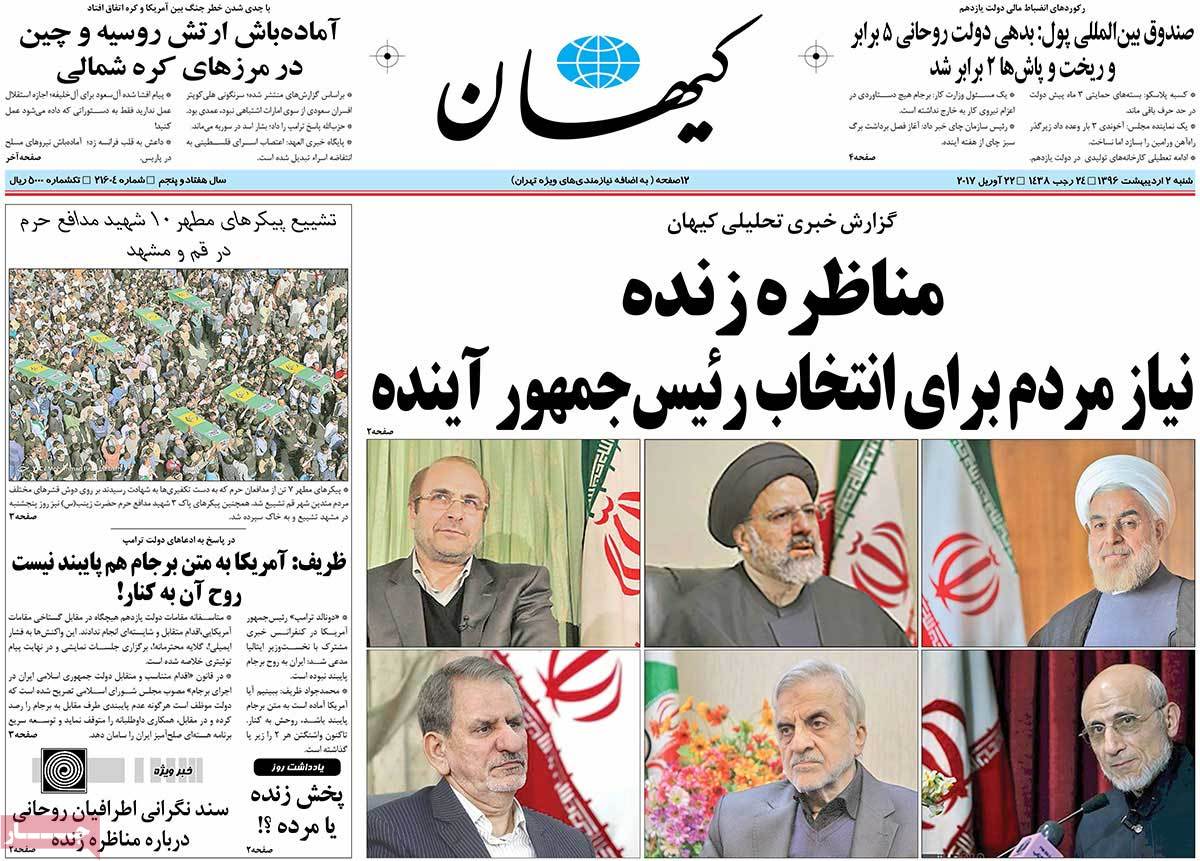 ---
Setareh Sobh:
1- JCPOA Targeted by US Officials
2- Economy Minister: Economic Growth Paves Way for Justice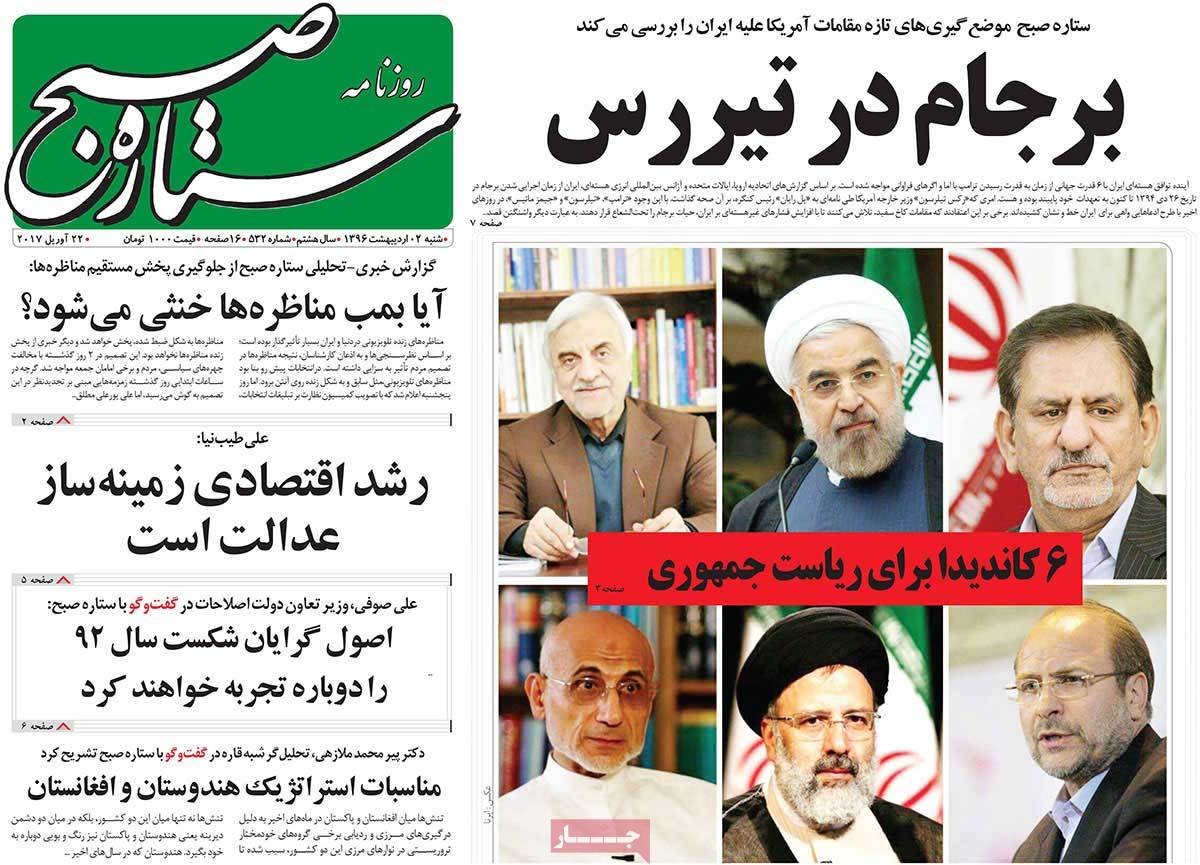 ---
Shahrvand:
1- 6 Opponents and Two Wings: Presidential Elections Officially Kicked Off in Iran
2- Political Debate about Live Broadcast of Presidential Debates
3- Made-in-Iran in European Factories: Candy, Zerowattt, Bosch Transfer Plants to Iran
---
Shargh:
1- These Six Candidates: Guardian Council Declares Final Options in Fastest Time Ever
2- Raisi's Encounter with Raisi [Editorial]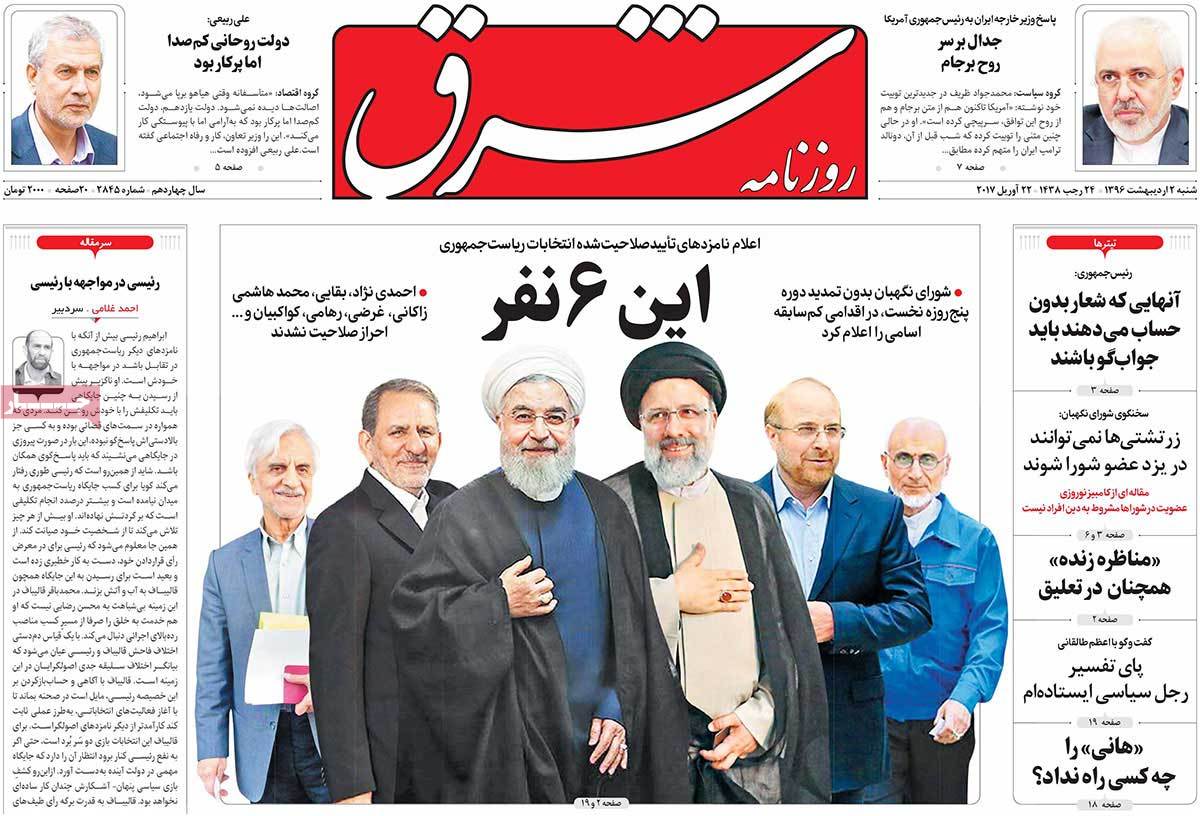 ---
Siasat-e Rooz:
1- Fear of Live Presidential Debates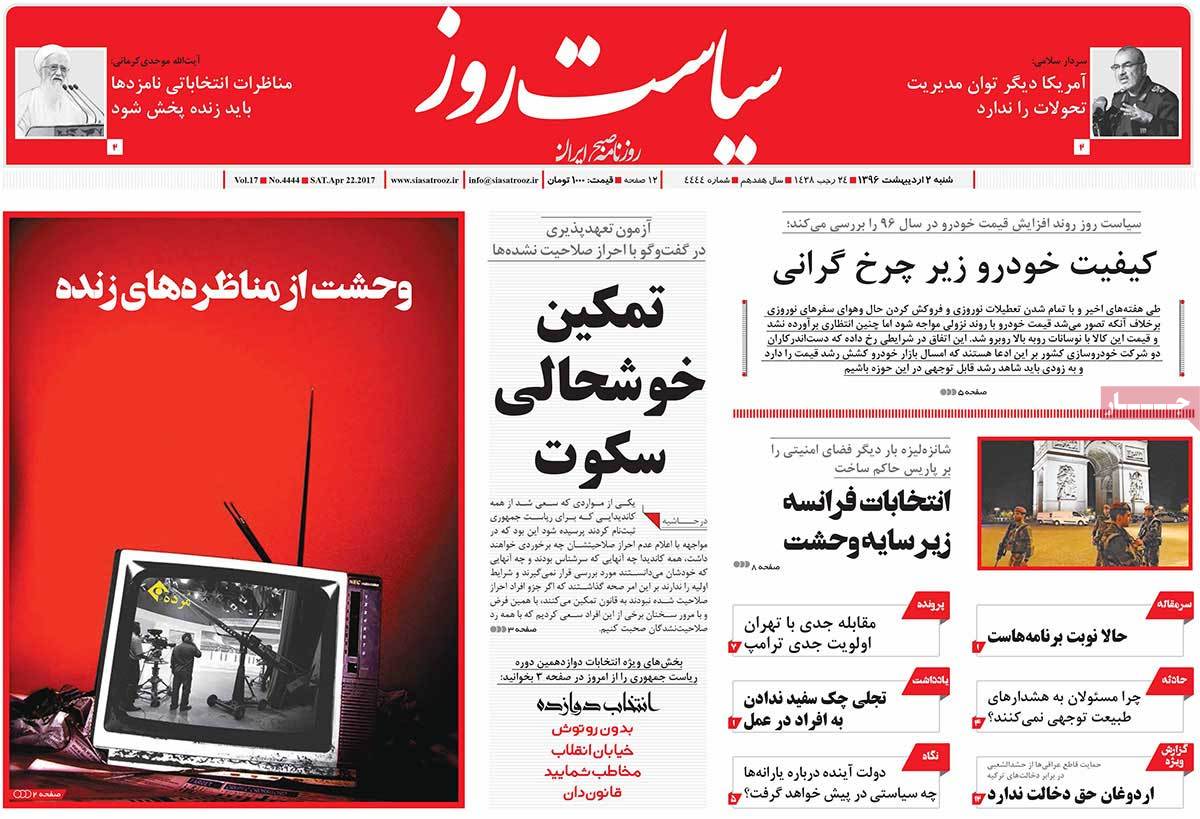 ---
SMT:
1- Zarif: US Statesmen Need to Show Placid, Rational Behaviour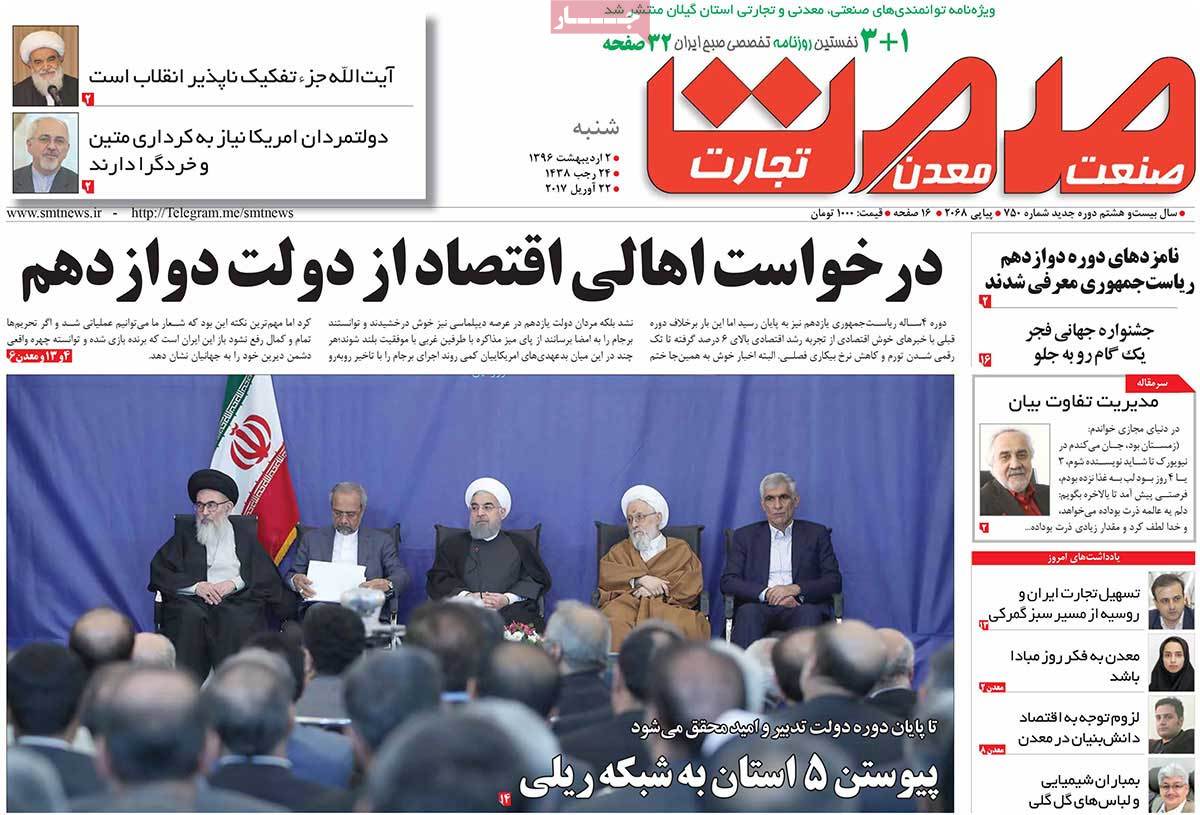 ---
Vaghaye Ettefaghieh:
1- Presidential Candidates Start Competition
2- Larijani Criticizes Great Amount of Negativism in Presidential Campaigns
3- Need to Avoid Political Impoliteness [Editorial]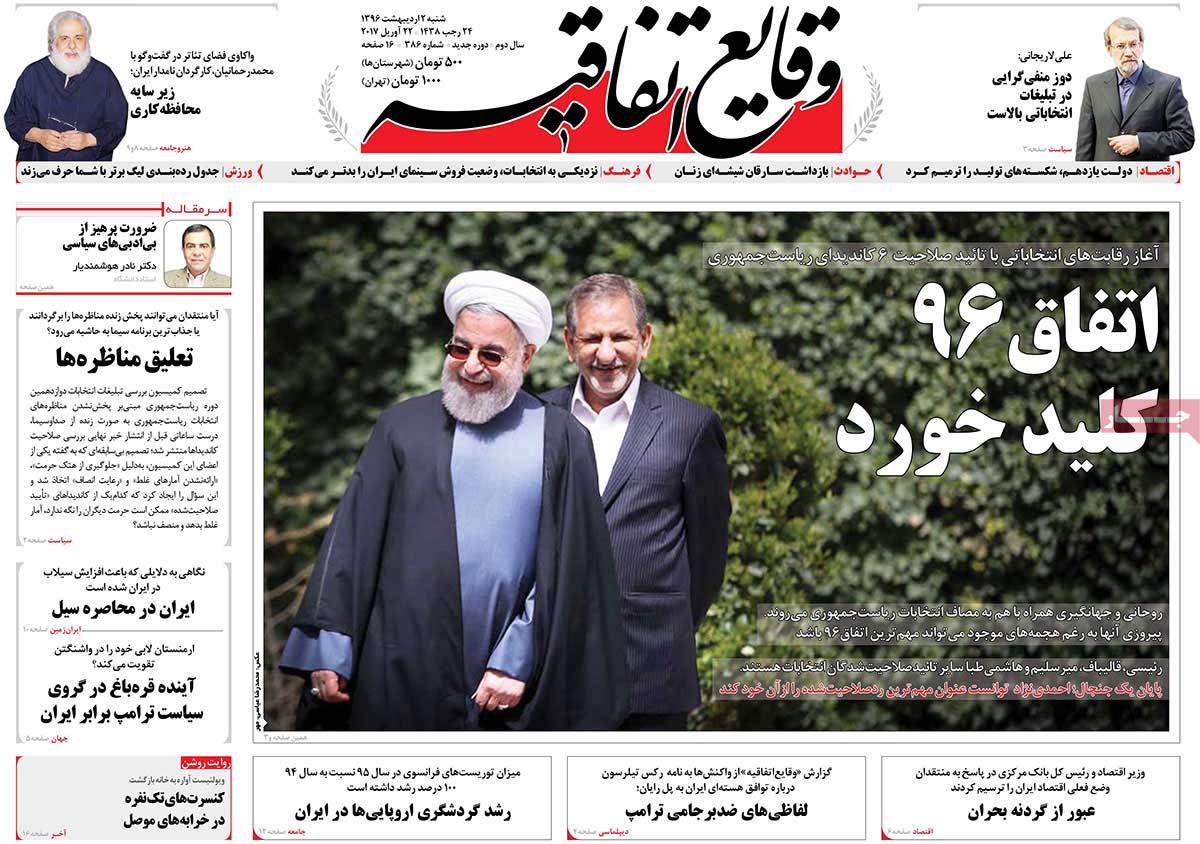 ---
Vatan-e Emrooz:
1- ISIS Enters French Presidential Election
Gunman Opens Fire on French Police ahead of Election