Turkey's referendum on constitutional changes and the worldwide reactions to its disputed results was widely covered by Iranian newspaper today.
The upcoming presidential and local elections, particularly the candidacy of Iran's First VP Es'haq Jahangiri as an alternative for incumbent president Rouhani, was also a top story today.
Several newspapers also covered the National Army Day and the military parades due to be held on Tuesday.
The above issues, as well as many more, are highlighted in the following headlines and top stories:
Abrar:
1- Iran's Strategy is to Destroy ISIS before It Reaches Our Borders: Army General
2- ISIS Beheads 17 Citizens in Iraq
3- Trump's Deputy: All Options on Table about North Korea
4- Iraqi Interior Ministry: ISIS Leader Still Alive, Hiding in Syria
5- We Won't Let Anyone Threaten Iran's Exemplary Security: IRGC on Army Day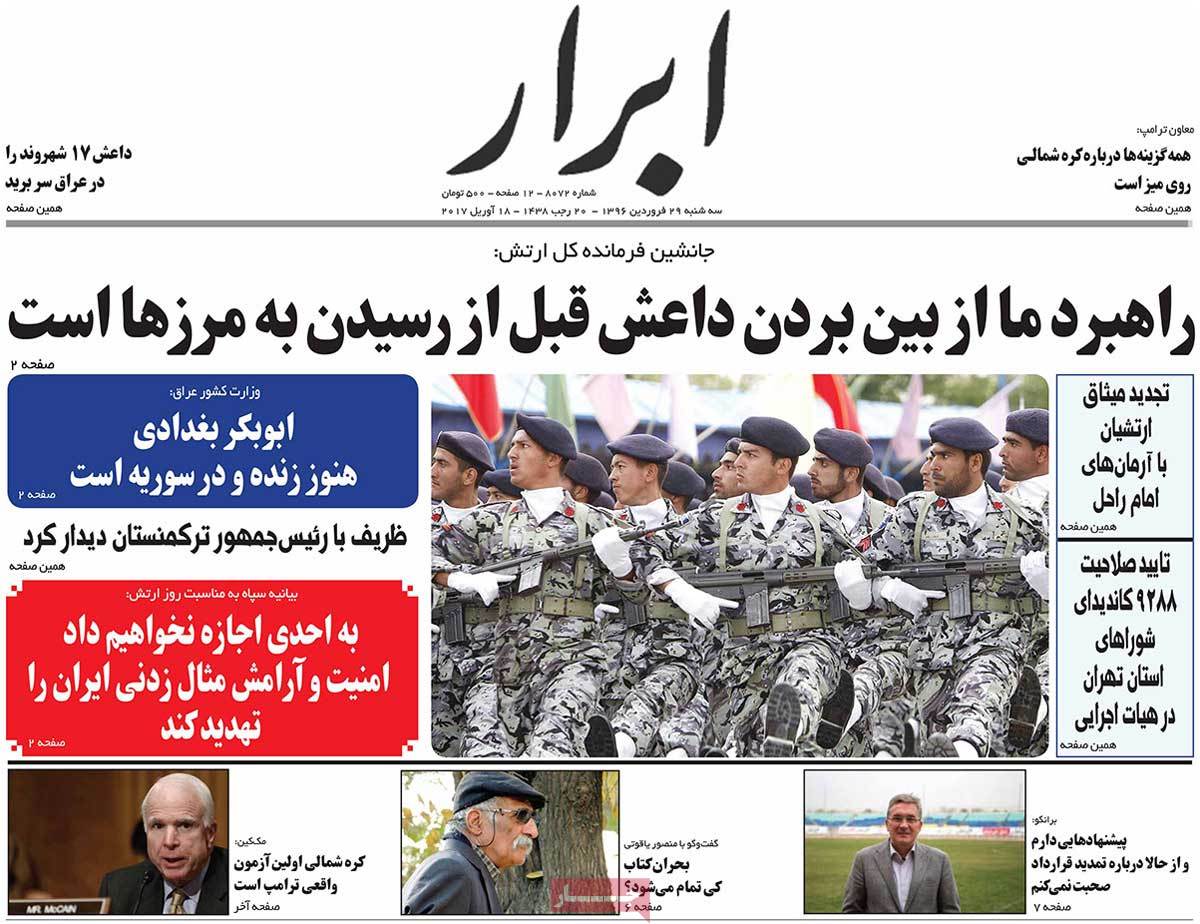 ---
Abrar-e Eqtesadi:
1- Britons Poised to Use Opportunity for Making $600-Billion Investment in Iran
2- Trend of Decrease in Iranian Families' Income Started under Ahmadinejad
3- 250-Billion-Toman ($67m) Investment in Iran's Oil-Rich Regions to Improve Welfare
4- Central Bank of Iran to Send Delegation to IMF Summit in US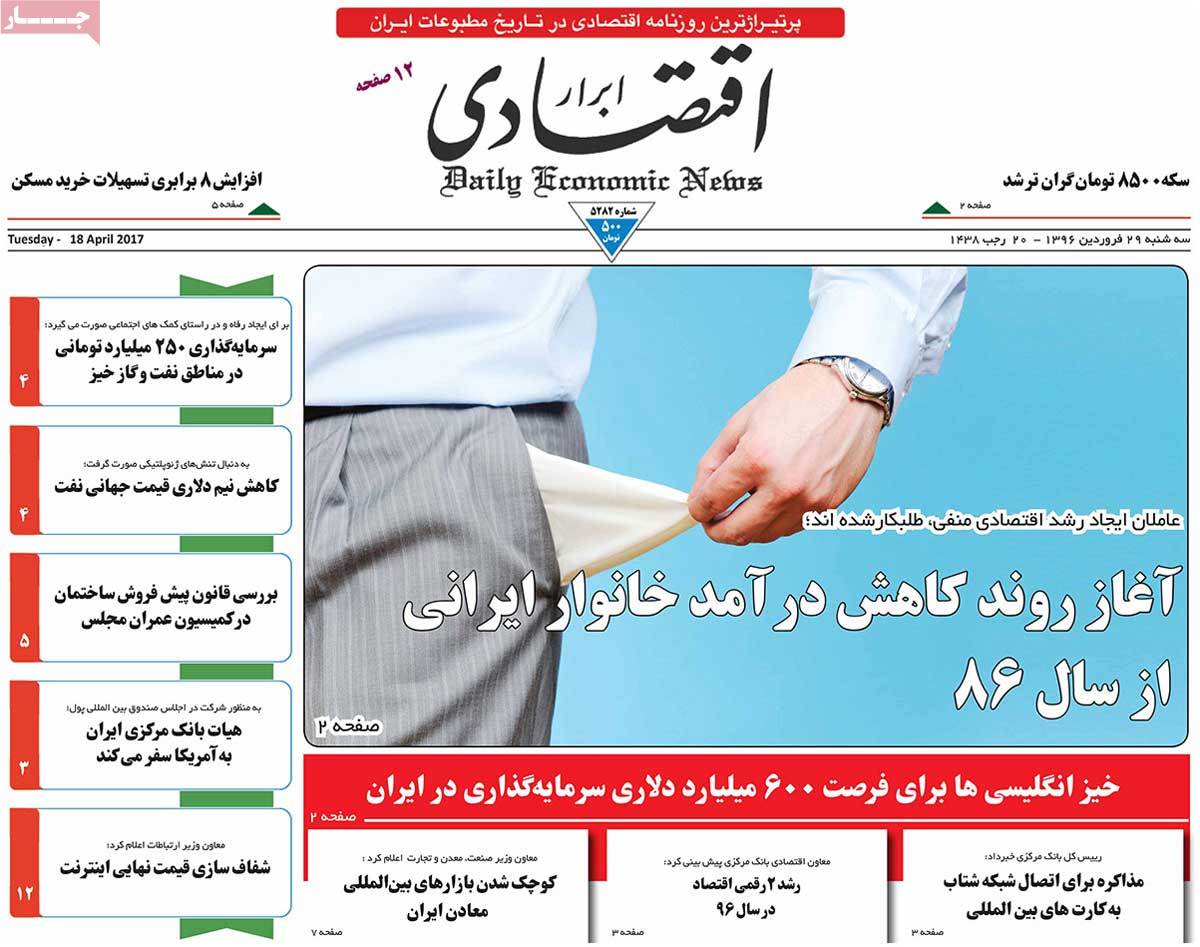 ---
Aftab-e Yazd:
1- Telegram Voice Call Totally Blocked in Iran
2- 10 Billion Tomans ($2.6m) Allocated to Decrease Divorce in Iran
3- Tehran-Ankara Ties Will Not Improve [Editorial]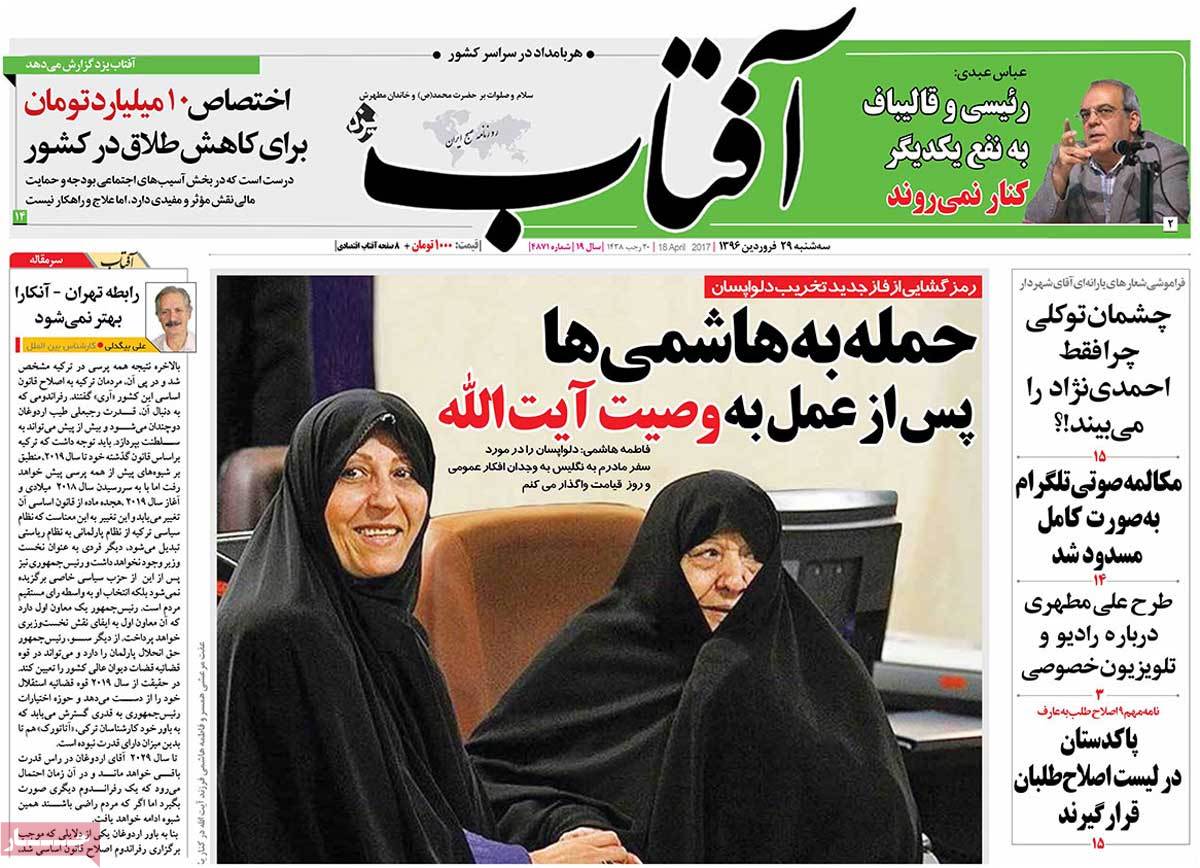 ---
Arman-e Emrooz:
1- Reformist Politician Urges Rouhani to Disclose Untold Stories
2- MP Once Again Raises Old Topic of [legalising] Private TV [which is now illegal in Iran]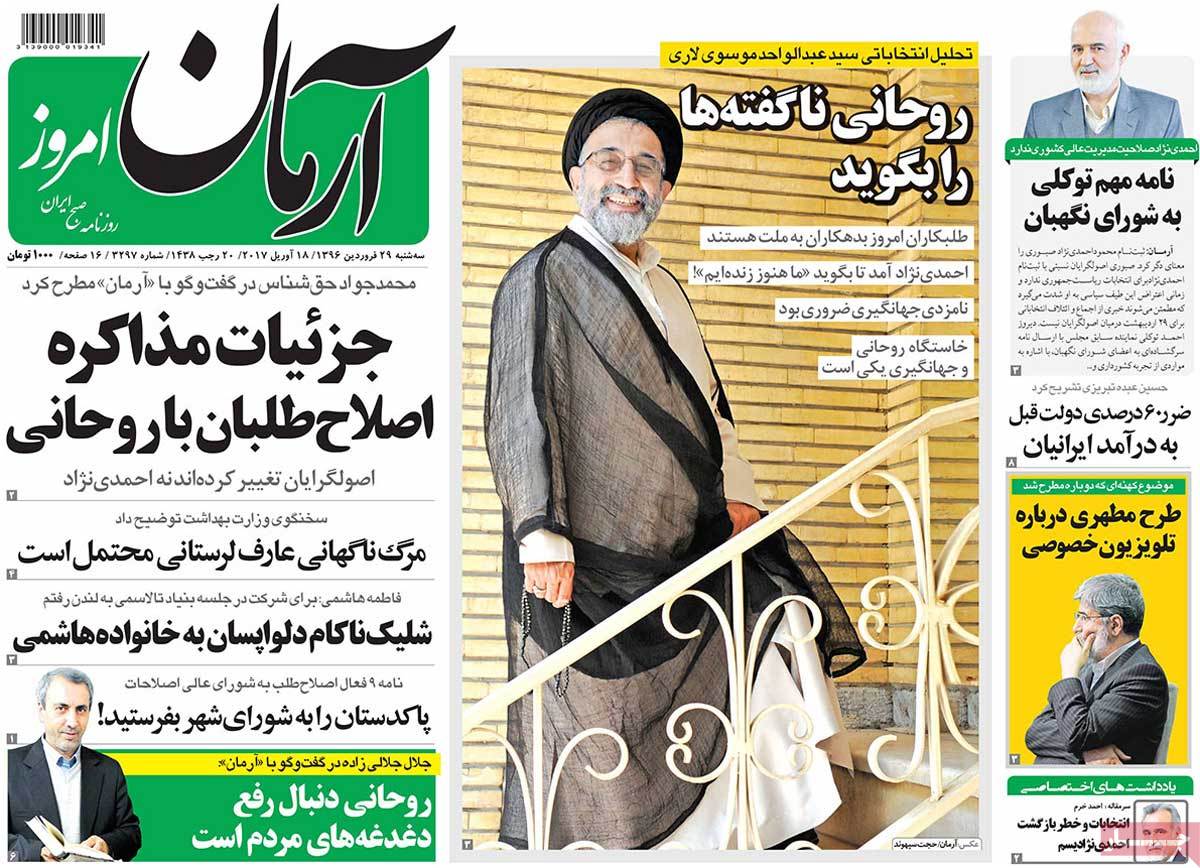 ---
Asrar:
1- Judiciary Chief: It's Illegal, Illegitimate to Attack Rivals in Election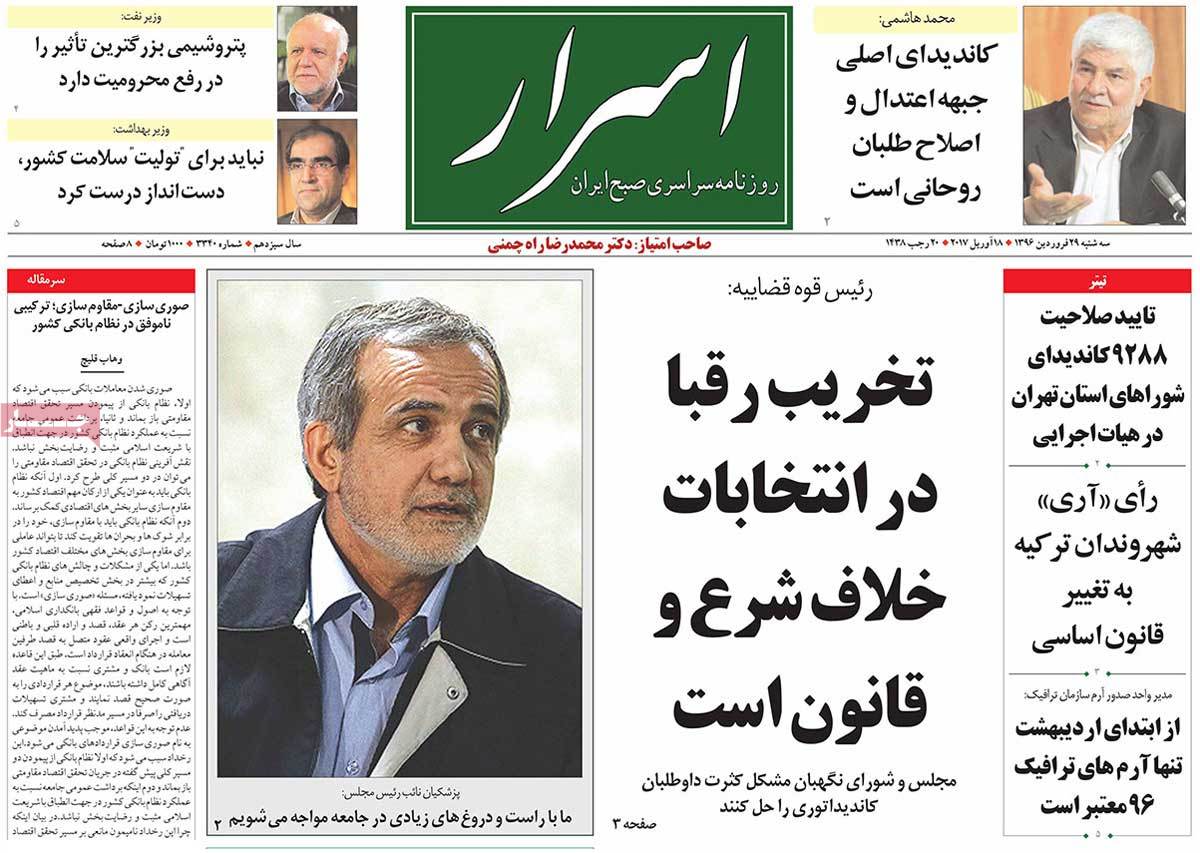 ---
Ebtekar:
1- Judiciary Chief Calls for Restriction of Registration in Presidential Race
2- Emergency Situation in Turkey after Disputed Referendum
3- Rafsanjani's Brother: Rouhani is Main Candidate of Moderates, Reformists
---
Emtiaz:
1- All Changes in Turkey Benefit Erdogan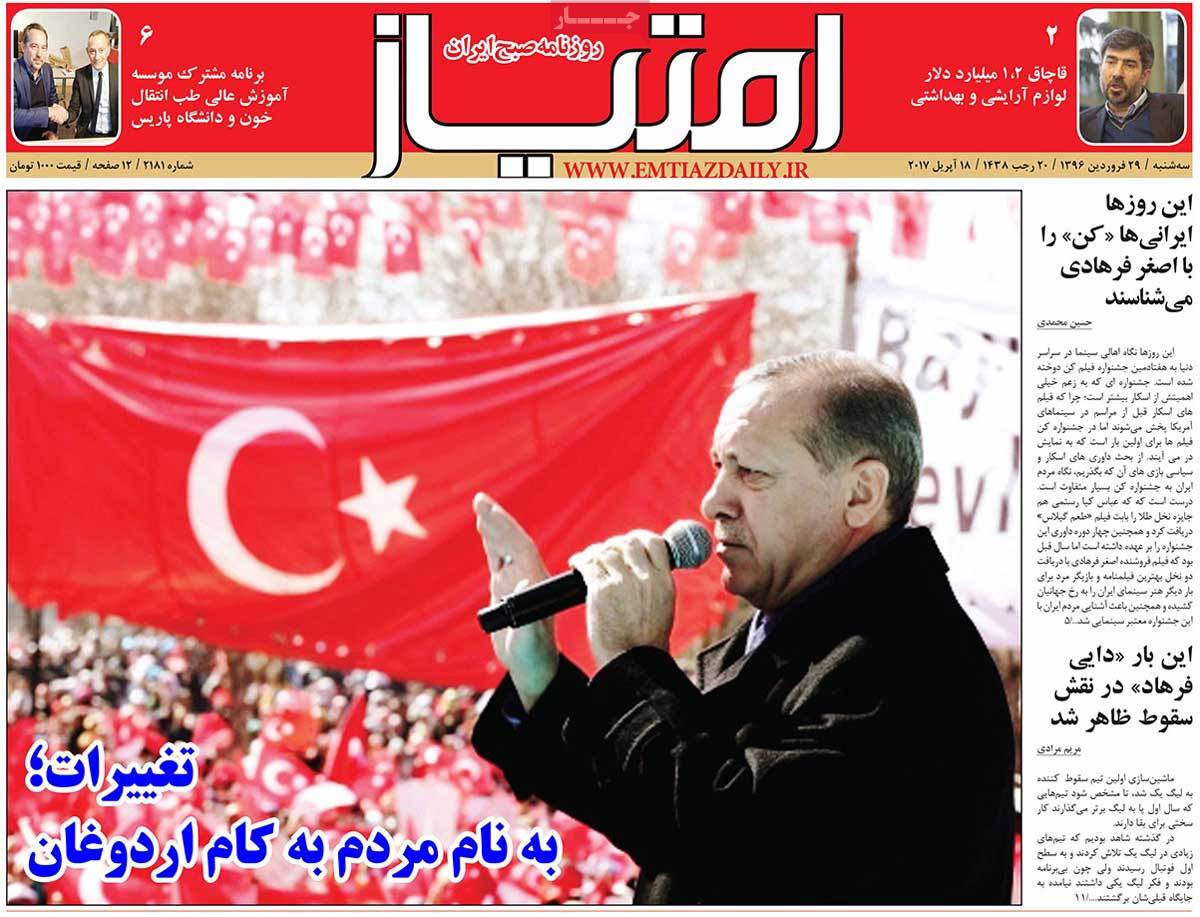 ---
Etemad:
1- Choosing Female Ministers is One of Rouhani's Promises: VP
2- Conservative Figure Calls for Ahmadinejad's Disqualification [from Running for President]
3- Bitter Victory: Turkish President Surrounded by Opposition Groups' Coordinated Protests
4- Erodgan to Increase His Interference in Syria, Iraq: Analyst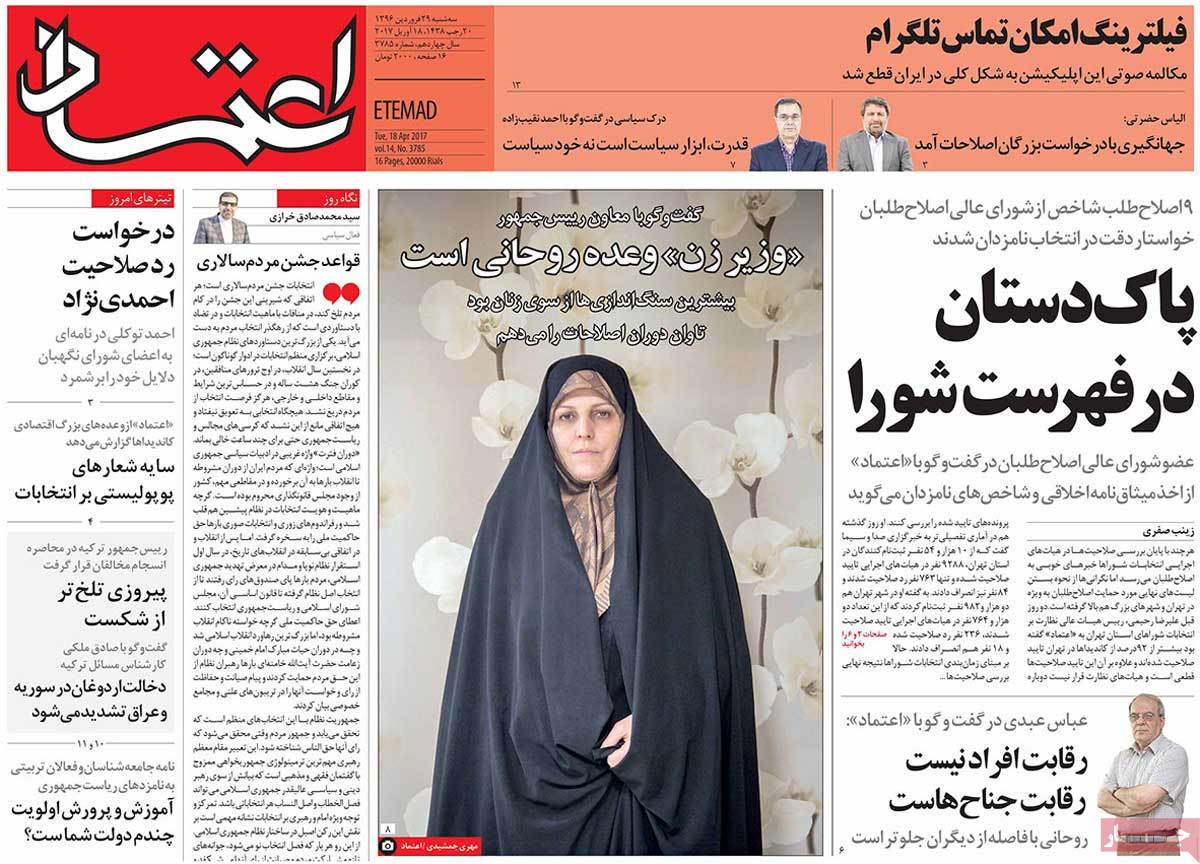 ---
Ettela'at:
1- In Unprecedented Move, US Deploys 3 Aircraft Carriers in Korea
2- Russia: We Won't Let Overthrow of Assad Happen
3- Iran Foreign Ministry: US Should Pay for Its Mistakes on Expansion of Terror
4- 9,288 Candidates Qualified to Run for Tehran City Councils Election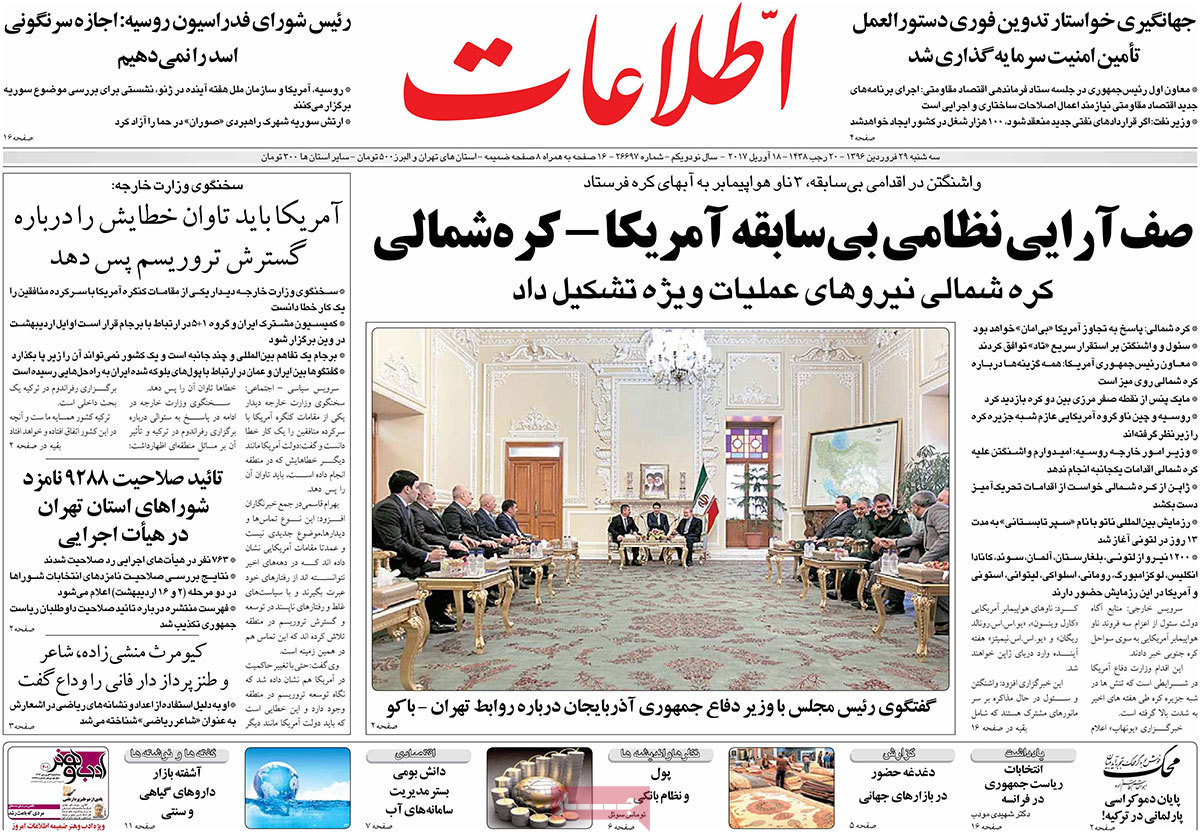 ---
Iran:
1- Turkey: Half Happy, Half Sad
Referendum Supporters, Protesters Pour into Streets
2- Nonstop Attacks against Rouhani's Gov't
Attackers Damaging National Interests by Spreading False Claims
3- Any Gov't in Iran Will Continue JCPOA Implementation: Foreign Ministry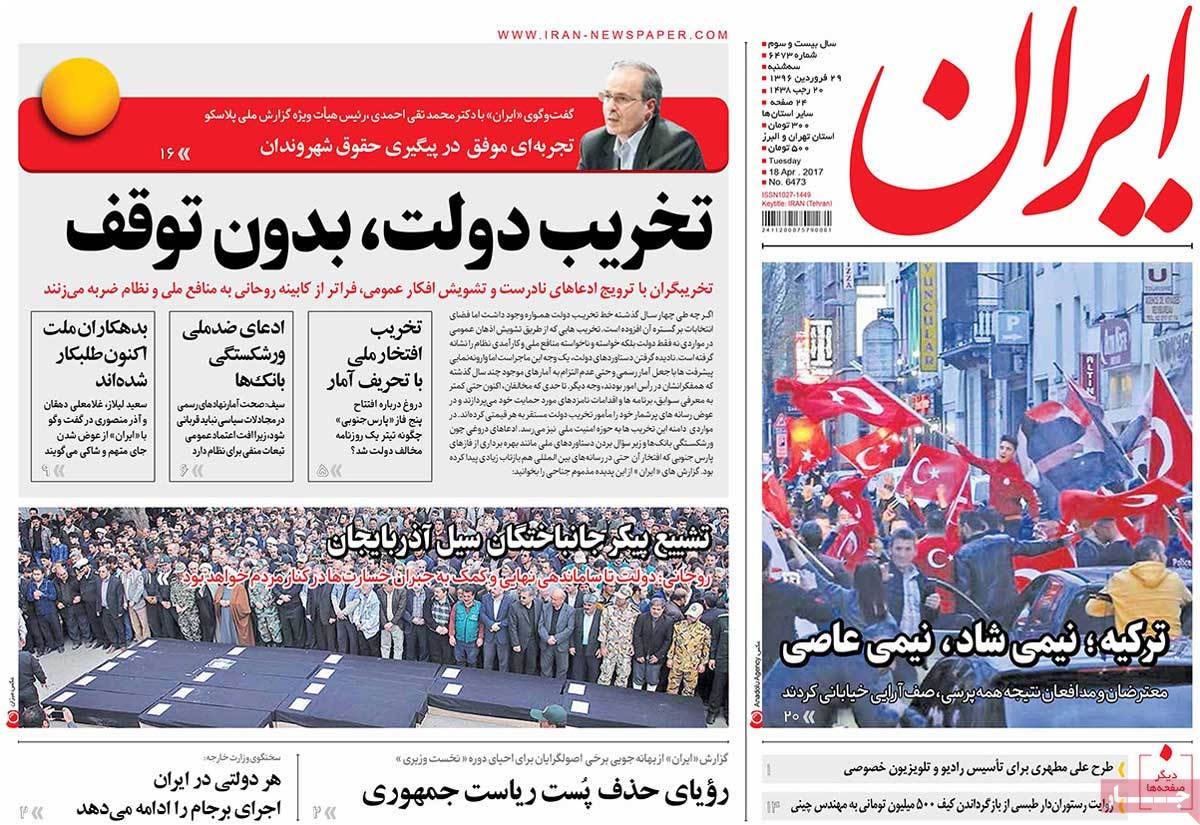 ---
Javan:
1- 'Alternative Candidate', a New Development in 2017 Election
2- 1,500 Palestinian Prisoners in Israeli Jails Go on Rare Hunger Strike
3- Rumours of Erdogan's Cheating in Referendum: Protesters Pour into Streets
---
Jomhouri Eslami:
1- Deputy Health Minister: Iran Self-Sufficient in Production of 98 Medical Goods
2- New Copper, Iron Ore Reserves Discovered in Iran
3- Turkey's Disputed Referendum Widely Covered in World Media
---
Kayhan:
1- Iran's Largest Bicycle Factory Shut Down
2- Supporters of Presidential Candidates Plunge Paris into Chaos
3- Turkish President's Narrow Victory in Referendum: Erdogan Dreams of Ottoman Empire!
4- Rouhani Government's Fiscal Discipline: From Slogan to Truth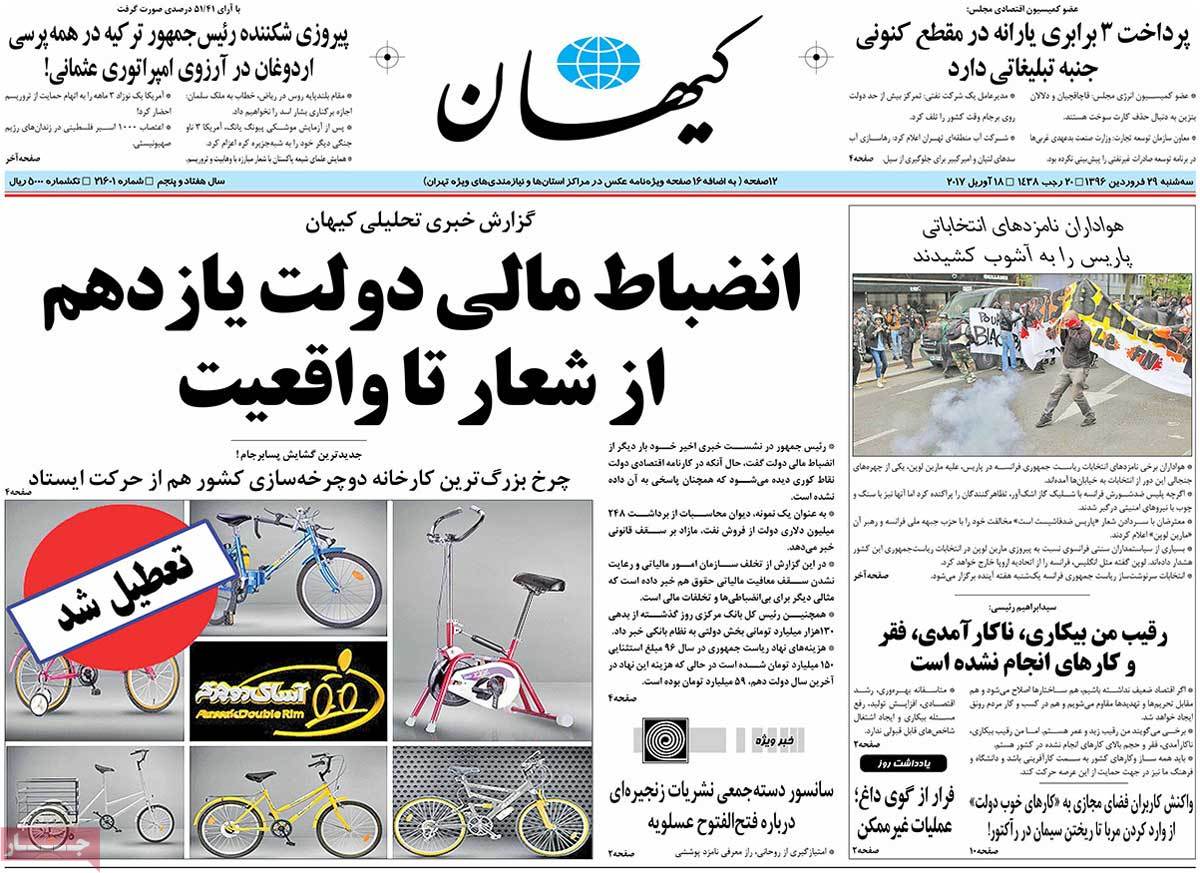 ---
Setareh Sobh:
1- Turkey Split into Two Parts after Sunday's Referendum
2- Erdogan's Neo-Ottomanism Wins: Analyst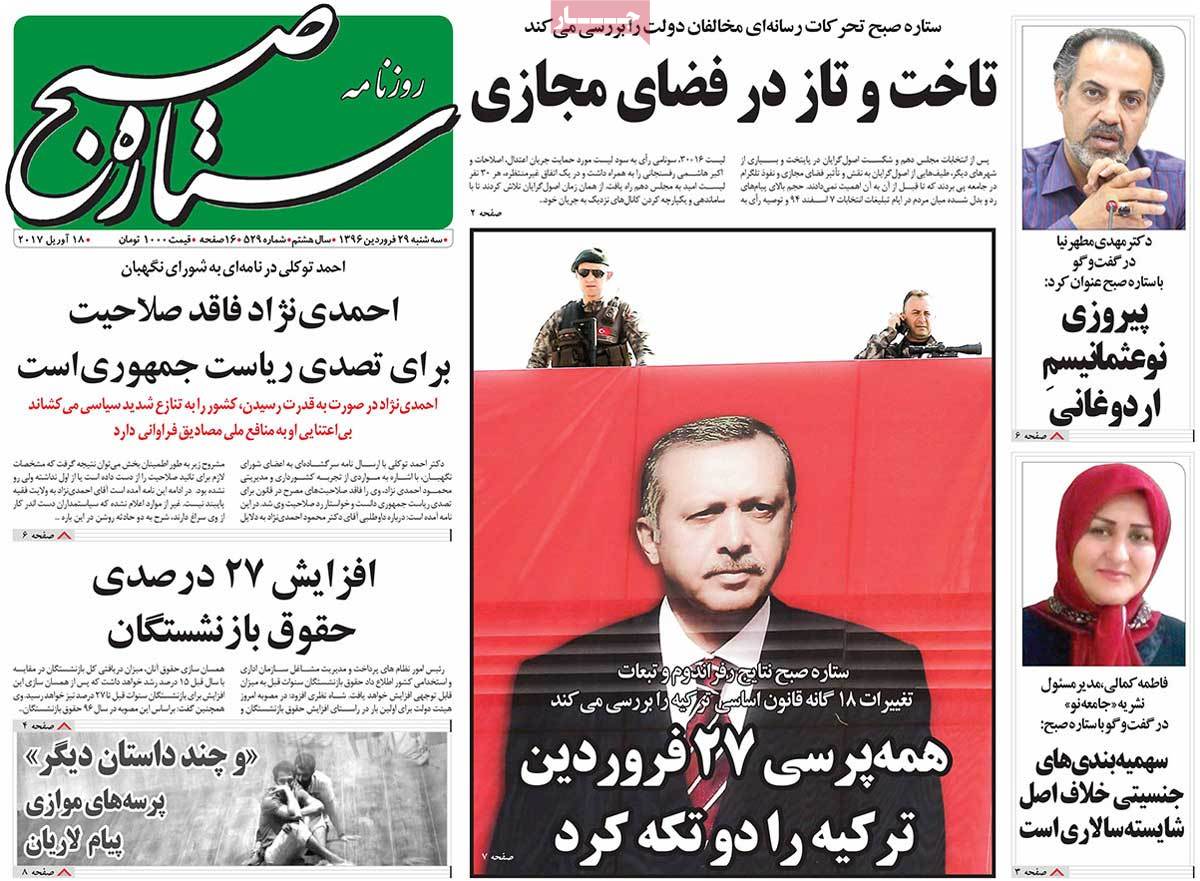 ---
Shahrvand:
1- Tehran Managed by Nouveau Riches: Councillor
2- In Grief of Flood: Survivors of Recent Flood in NW Iran Talk about Their Sad Stories
3- Gap within One Nation: A Report on Result of Turkey Referendum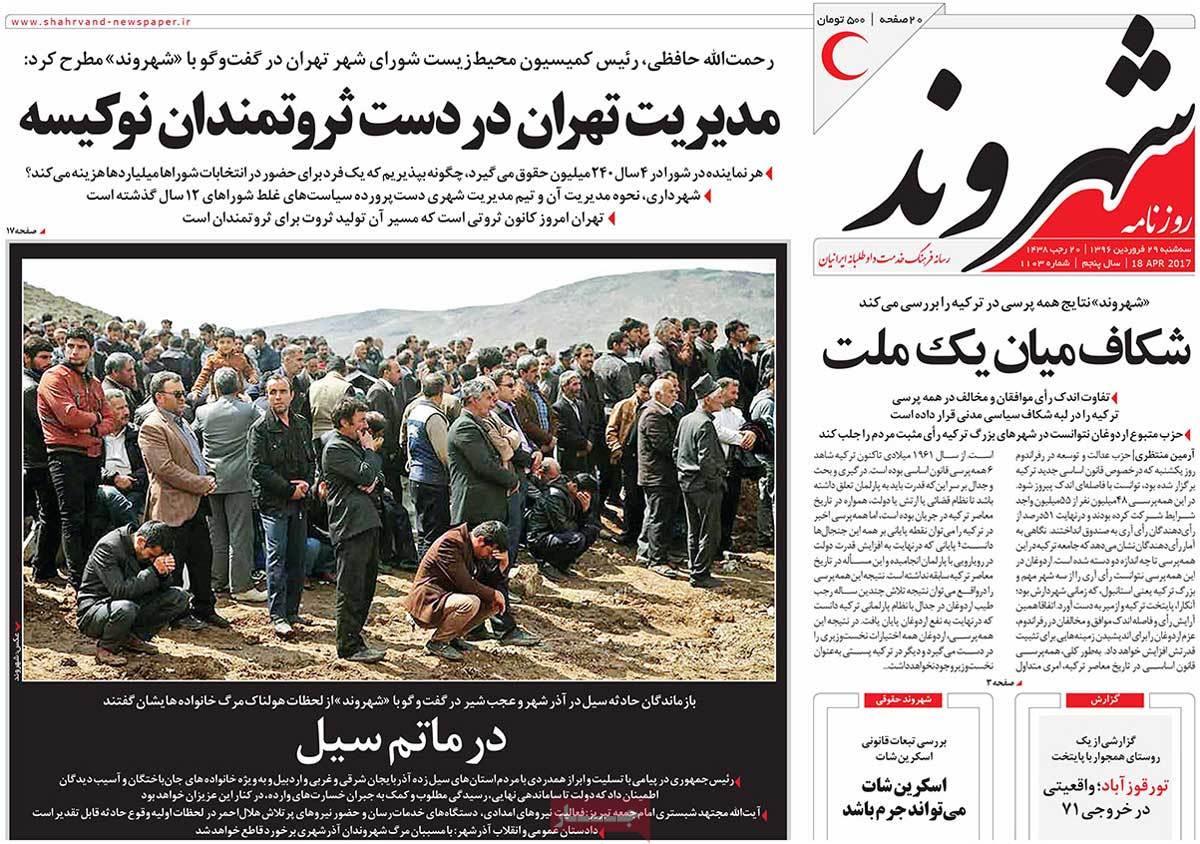 ---
Shargh:
1- President Rouhani Sympathises with Flood-Hit People
Government to Stand by Flood-Hit People until Final Relief
2- First VP Calls for Conditional Engagement of Armed Forces in Economic Plans
3- Conservatives Would Win Presidential Race in Run-Off Round
4- Army and Iran Revolution [Editorial on Army Day]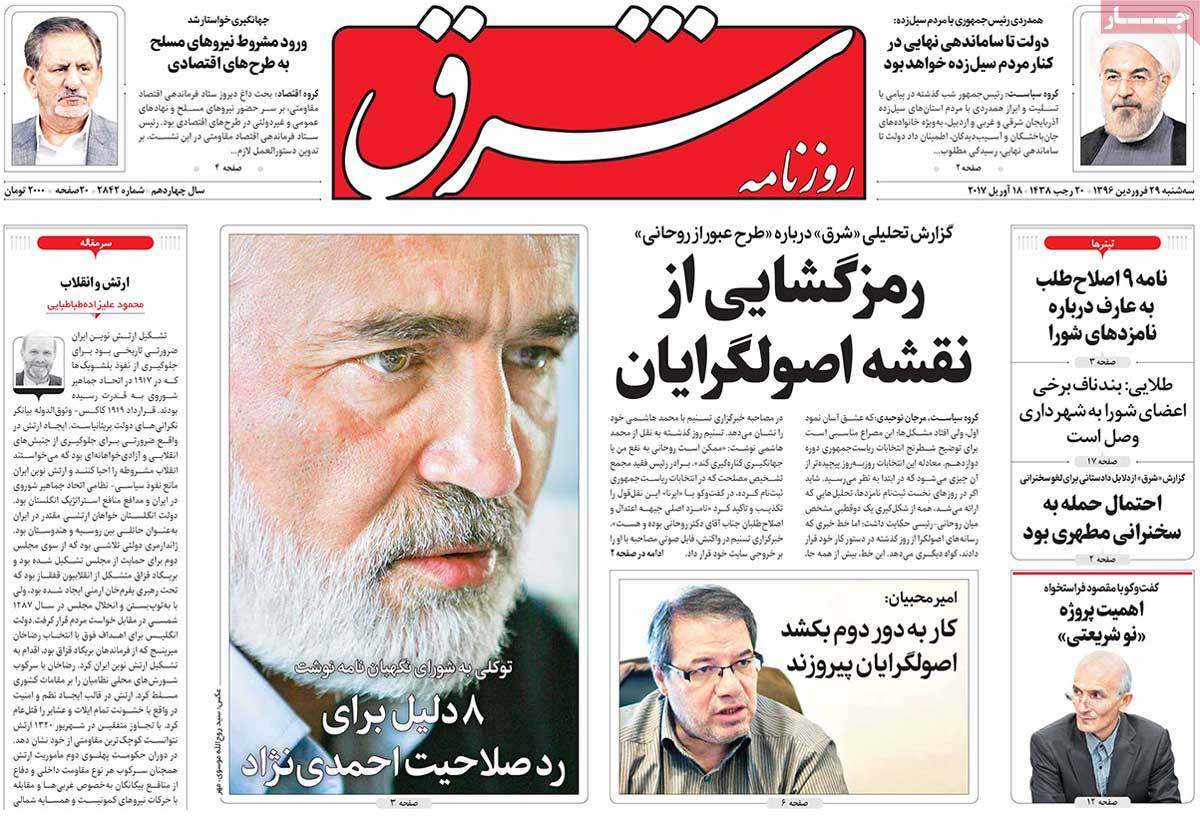 ---
SMT:
1- Iran, Turkmenistan to Use National Currencies in Mutual Cooperation
2- Iranian Ministers Banned from Getting Involved in Election Campaigns
3- Forex Reserves of National Development Fund to Reach $40bn
---
Vatan-e Emrooz:
1- What Reformists Say about First VP Jahangiri's Candidacy: Emergency Situation