The appointment by the Supreme Leader of a new police chief to replace Brigadier General Esmail Ahmadi Moghaddam dominated the front pages of Iranian dailies on Tuesday. A letter by a host of US Senators to the Iranian officials saying that any nuclear deal with Iran will last as long as President Obama is in office, and Foreign Minister Mohammad Javad Zarif's reaction to the letter were also in the news. Remarks by President Rouhani in a national gathering to honor martyrs also made headlines.
Abrar: The minister of sports and youth has said that the question of women's presence in sporting arenas has been raised in the Supreme National Security Council.
---
Abrar-e Eghtesadi: Pakistan will import natural gas from Qatar, not Iran.
---
Afkar: "Any [nuclear] deal with Iran will be valid as long as [President] Obama is in office," read an open letter by 47 US Senators to Iranian officials.
---
Aftab-e Yazd: "The government does not seek to reap revenues from [fines levied on] driving violations," said government Spokesman Mohammad Bagher Nobakht.
---
Arman-e Emrooz: [Ayatollah Akbar] Hashemi [Rafsanjani] has met with the Supreme Leader. The meeting focused on nuclear talks.
Arman-e Emrooz: "The letter by the US Senators is just a publicity stunt," said Foreign Minister Mohammad Javad Zarif [in reaction to the Senators' letter to Iranian officials].
---
Asia: President Rouhani will take 150 Iranian businessmen to Ashgabat on Tuesday.
Talks between Iran and Turkmenistan will focus on oil, gas, technical-engineering services, pharmaceuticals and food.
---
Asr-e Eghtesad: There has been a rise in the number of foreign arrivals in Maku Free Trade and Industrial Zone.
---
Asrar: A shattered dream
The United Arab Emirates will host the 2019 Asian Cup. [The Asian Football Confederation has selected the UAE over a bid from Iran to host the 2019 continental champions.]
---
Ebtekar: Music heavyweights have signed a petition in protest against "serial cancelations" of concerts.
---
Eghtesad-e Pooya: "The purchase of Iranian-made goods should be seen as a value [in the country]," said a member of parliament's Economic Committee.
---
Ettela'at: "Iran's heroes are now engaged in Jihad on the diplomacy front," said President Rouhani in a national gathering to honor the martyrs.
Ettela'at: The country's dependence on oil will decrease as of next year [starting March 21, 2015], said the government spokesman.
Ettela'at: The Iraqi army has closed in on the gates of Tikrit.
---
Hemayat: Judicial centers across the country have been ordered by the Judiciary chief to seriously pursue the Supreme Leader's demands as far as the protection of the environment is concerned.
---
Iran Daily: Unusual Senate intervention in US foreign policymaking
---
Jomhouri Islami: The Al Sauds has officially begun to hatch a plot to disintegrate Yemen.
---
Kar va Kargar: The defense minister has said that Iran will unveil highly-advanced giant vessels soon.
Brigadier General Hossein Dehghan made the remark in a ceremony Monday which saw Iran's newly-made destroyer Damavand join the country's fleet of warships in the Caspian Sea.
---
Kayhan: The Islamic Revolution Leader has named Brigadier General Hossein Ashtari as the new police chief.
Kayhan: Western experts have admitted that a breakdown of [nuclear] talks will sink the boat of sanctions.
---
Kayhan International: Republican Senators: US will revoke any deal after Obama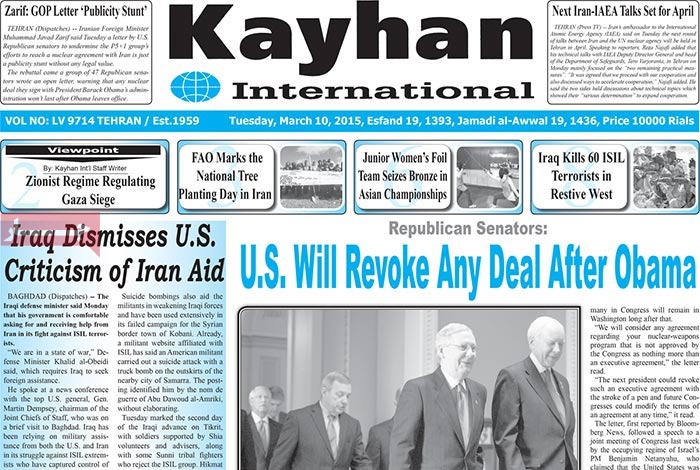 ---
Mardomsalari: [Former First Vice-President] Mohammad Reza Rahimi has returned to Evin prison.
Mardomsalari: Those involved in the distribution of [fake] Avastin [a drug injected into the eye to slow vision loss] have been arrested, announced the health minister.
---
Resalat: "We need to be vigilant about American-style Islam and British-modeled Shiism," said the secretary general of the World Forum for Proximity of Islamic Schools of Thought.
---
Rooyesh-e Mellat: "Dust storms do not know any [political] factions," said the president.
Rooyesh-e Mellat: Secretary of the Supreme National Security Council Ali Shamkhani has said that removal of all sanctions is the only way forward to clinch a nuclear deal.
---
Sharq: A planned speech by Ali Motahari, a Tehran MP, has been cancelled in Shiraz after he came under attack by unidentified individuals in the southern city.
---
Tehran Times: Iran's direct tax income rises %49
---
Tejarat: Iran and the International Atomic Energy Agency have agreed to continue their cooperation.