After two days of holiday (the martyrdom anniversary of Imam Hussein, the third Shiite Imam and the grandson of Prophet Muhammad), all newspapers on Monday published photos of huge mourning ceremonies held across Iran and other Muslims states on their front pages.
Having been closed for three days (the two holidays plus Friday), newspapers started covering the most important international events of the past few days on their front pages.
A top story was Iranian Foreign Minister Mohammad Javad Zarif's remarks about the nuclear deal between Tehran and world powers, and his prediction that Trump would refuse to confirm the Islamic Republic's compliance with its JCPOA commitments.
Zarif, who was busy meeting with officials from other countries on the sidelines of the UN General Assembly and delivering speeches and giving interviews in New York, once again asked Europeans to defy US in case of the nuclear deal. He also described the renegotiation of JCPOA an impossible myth.
A few days after the Iraqi Kurdistan's independence referendum, now newspapers are covering the plebiscite on Catalonia's secession from Spain and the brutal reaction of Spanish police forces, which wounded hundreds of protesters.
Newspapers particularly compared the peaceful reaction of Iraqi government to Kurdistan's illegitimate votes with Spain's brutal and oppressive reaction to Catalonia referendum.
The above issues, as well as many more, are highlighted in the following headlines and top stories:
Afkar:
1- Game of Referendums: After Iraqi Kurdistan, Now Catalonia Seeks Independence from Spain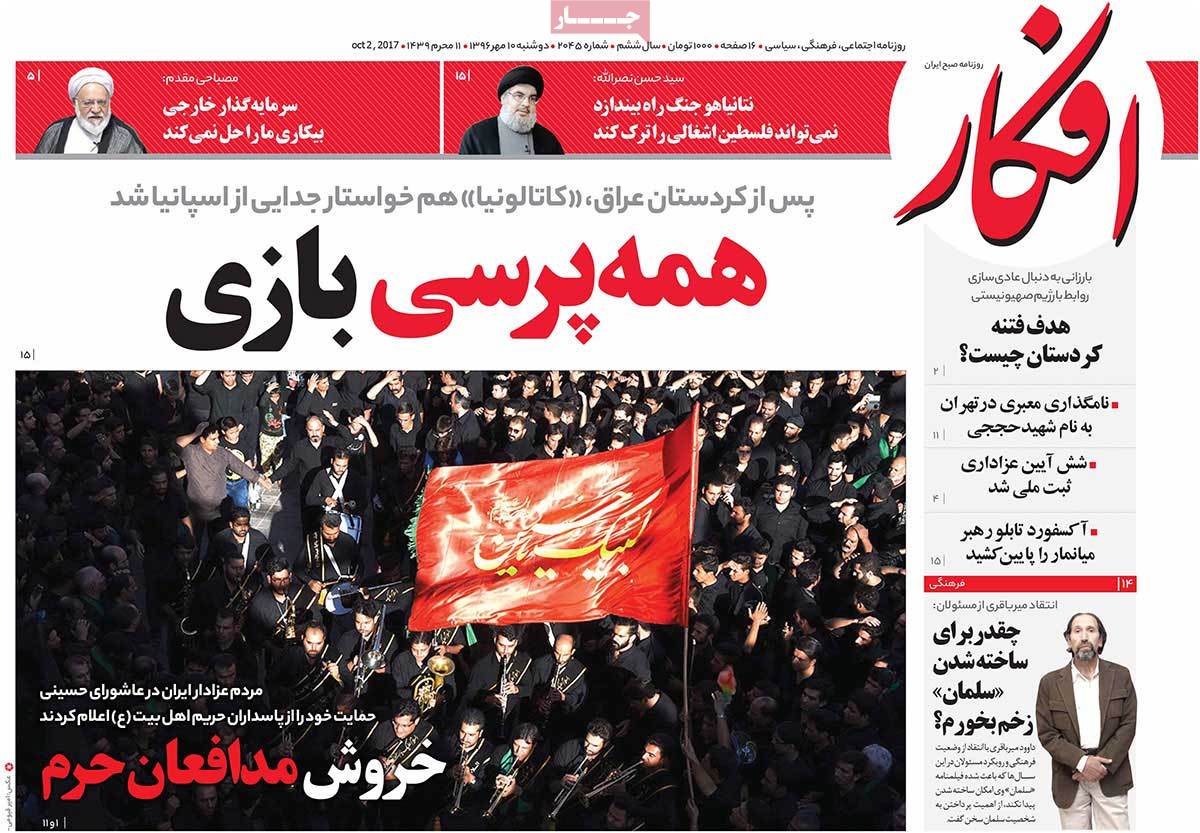 ---
Arman-e Emrooz:
1- US Finally Accepts to Negotiate with North Korea
Tillerson to Meet North Korean FM Soon
2- Zarif, Mogherini Nominated for Nobel Peace Prize
3- Two Newly-Purchased Planes Arrive in Iran: 8th and 9th Planes after JCPOA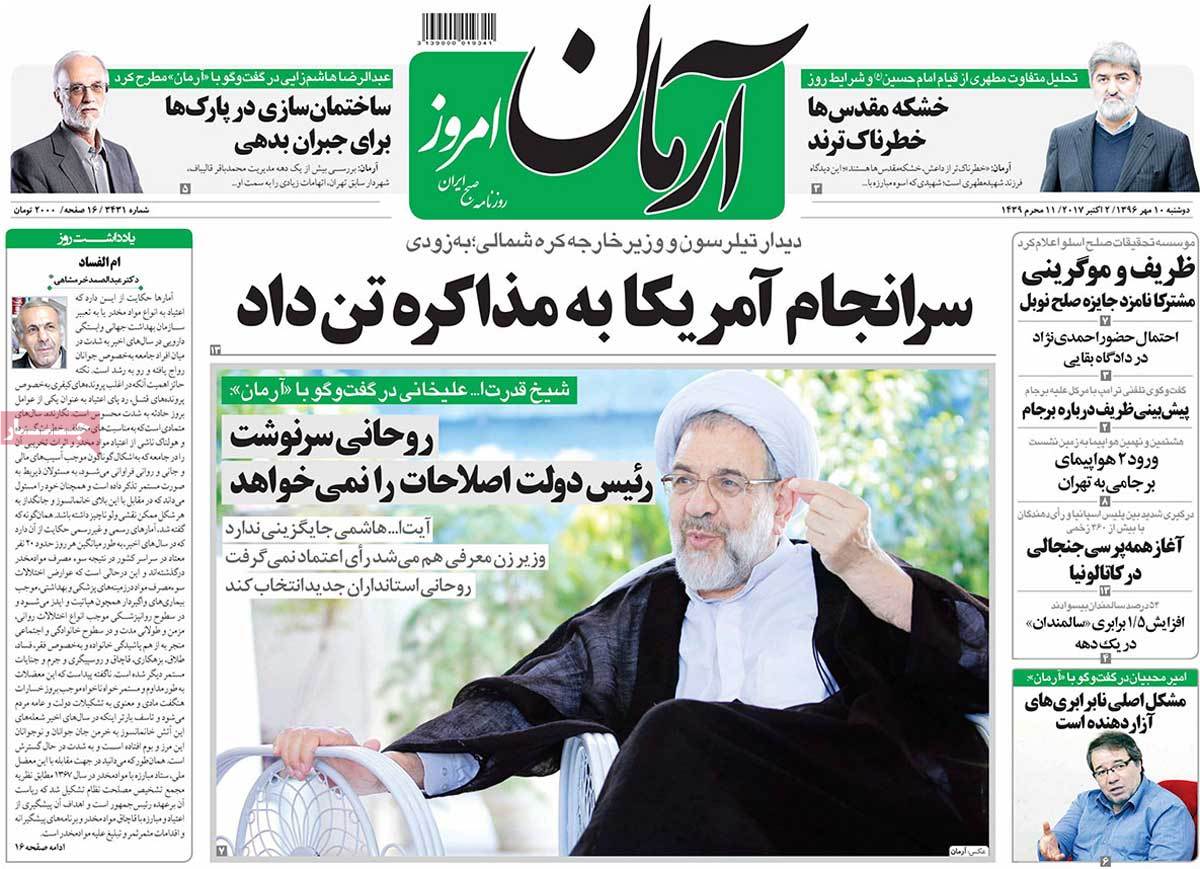 ---
Ebtekar:
1- Rouhani: Imam Hussein Was Imam of Peace, Kindness
2- Shadow of Secession over Matadors' Head
Catalonia Independence Referendum Held amid Pressures, Clash with Police
2- Every Day Is Ashura: People across Iran Mourn Imam Hussein's Martyrdom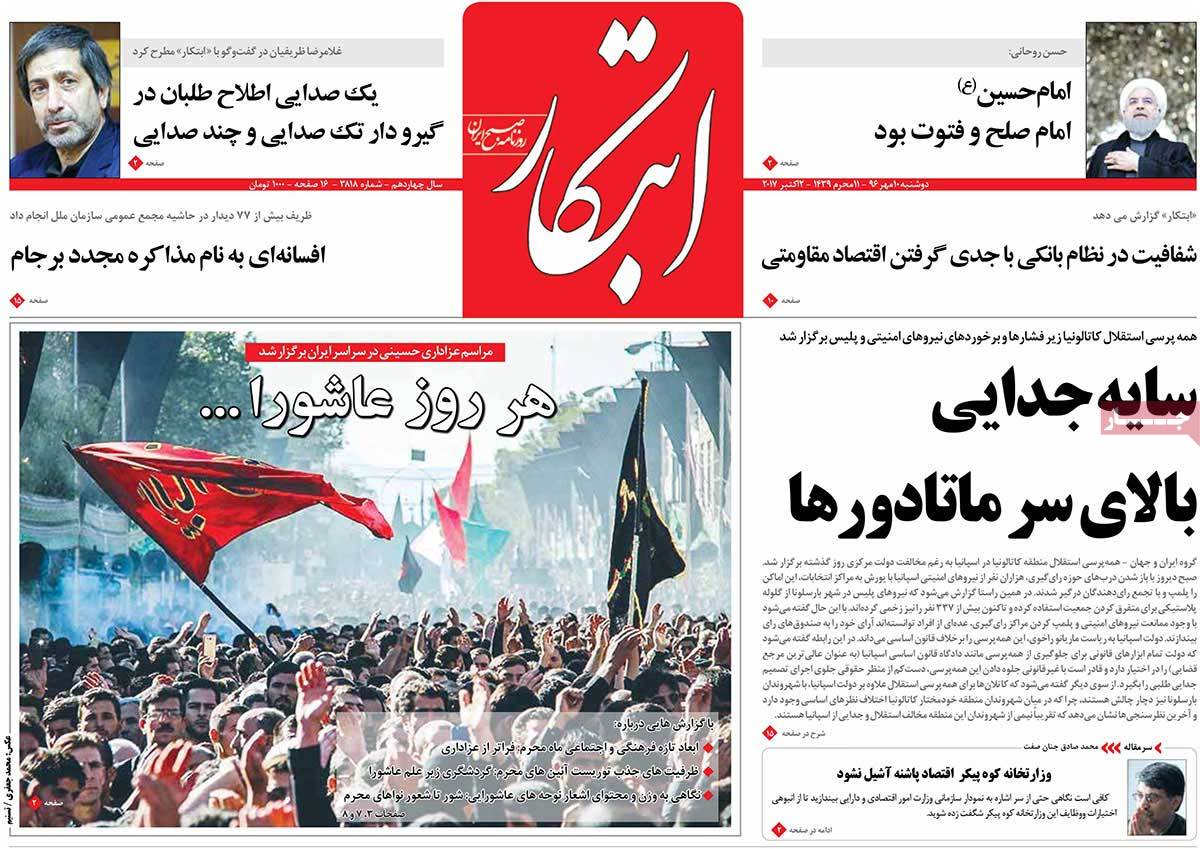 ---
Etemad:
1- Tasu'a, Ashura Mourning Ceremonies Held with Iran Leader in Attendance
2- Zarif Warns EU against Following Trump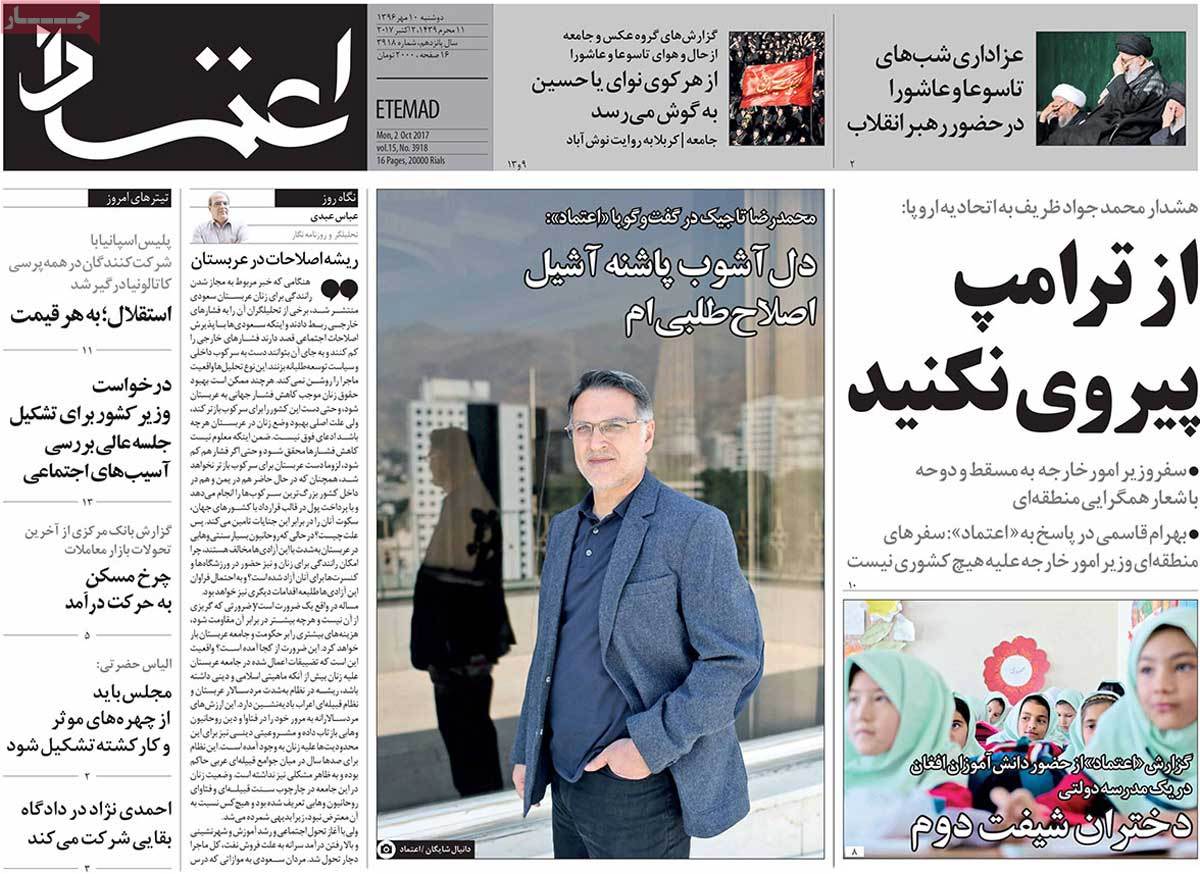 ---
Ettela'at:
1- Zarif: Trump Has Violated All Aspects of Iran Nuclear Deal
2- Spain Police Attacks Catalonia Independence Referendum Stations: 460 Wounded
3- Ayatollah Sistani Explicitly Voices Opposition to Iraqi Kurdistan's Independence
4- Hezbollah Chief: Zionists Won't Have Chance to Leave Palestine If Wages New War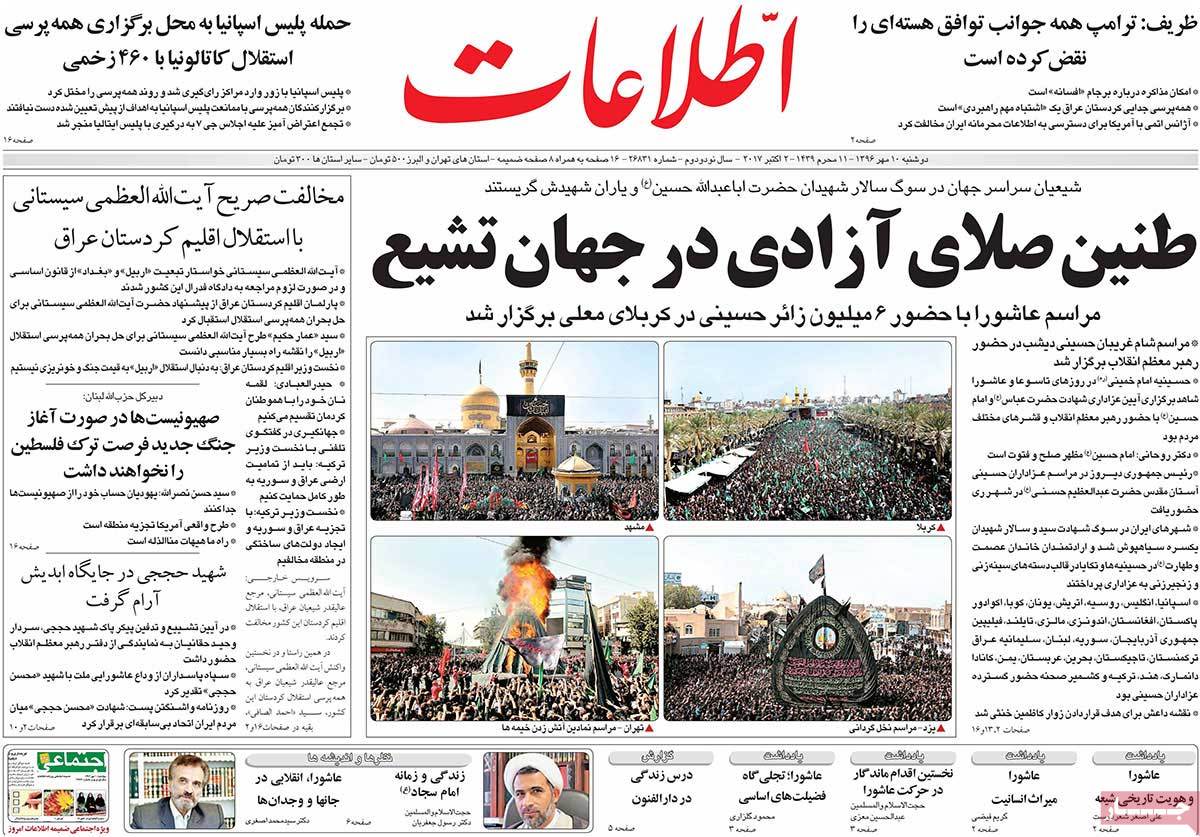 ---
Iran:
1- Zarif: Repetition of JCPOA Talks Is Sinking in Swamp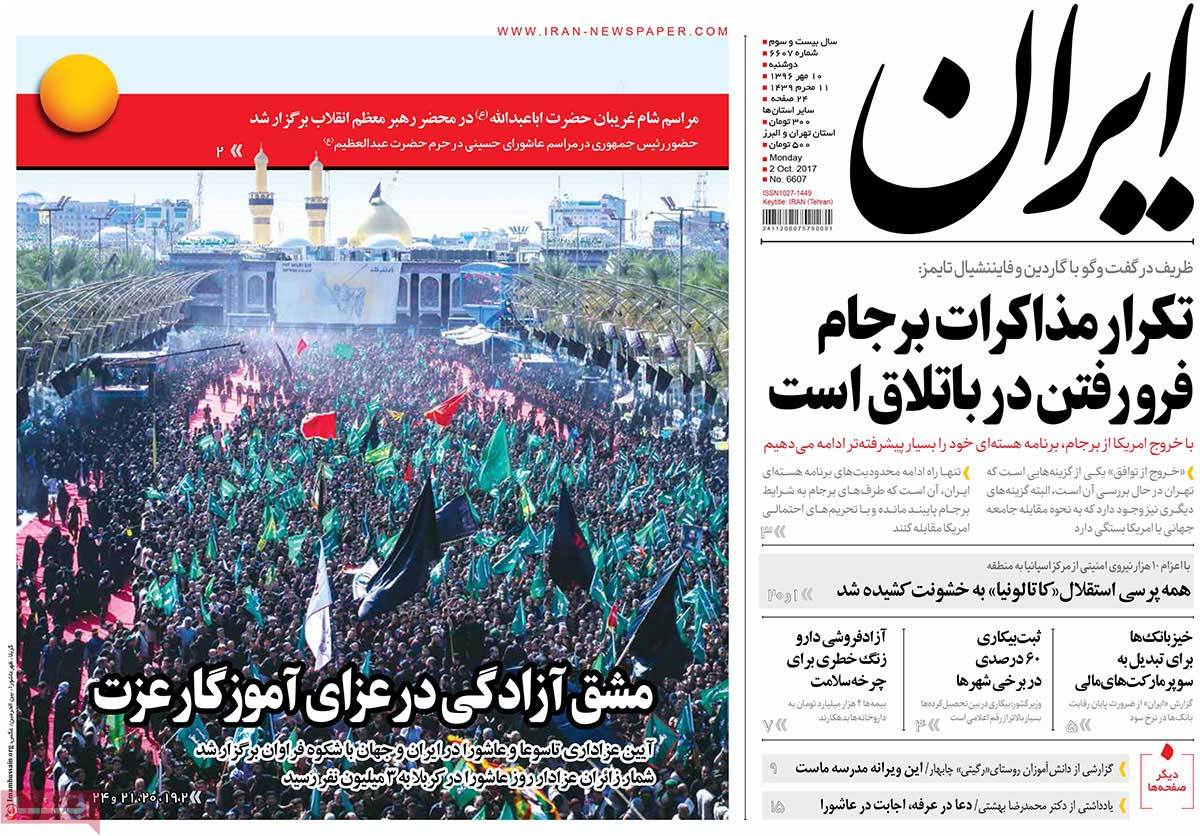 ---
Javan:
1- Spain Responds to Secession with Bullets
2- Iraqi Army Deployed in Kurdistan's Borders with Iran, Turkey
3- 7 Murderers Temporarily Escape Death in Respect for Ashura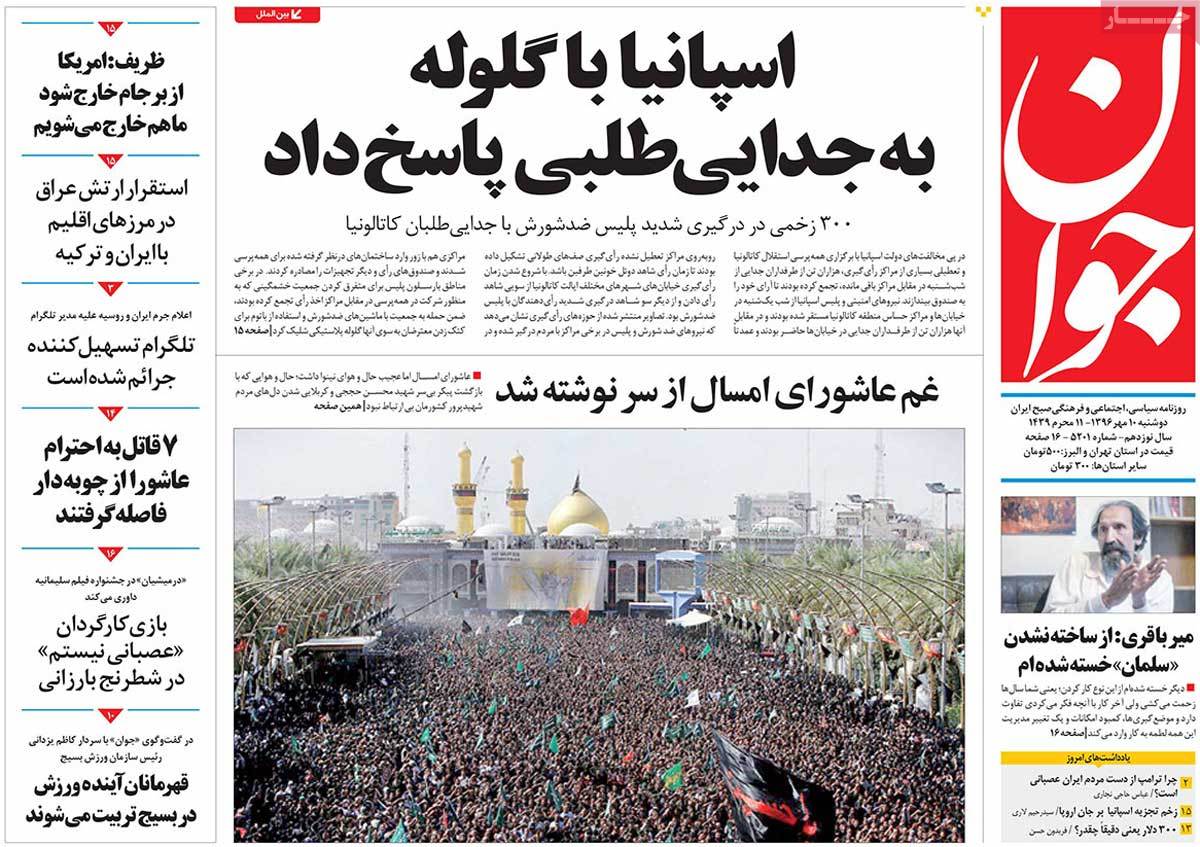 ---
Jomhouri Eslami:
1- Iran, Turkey, Iraq Join Hands to Resolve Issue of Iraqi Kurdistan's Independence
2- Mourning Ceremonies Held for Imam Hussein in Various Parts of World
+6 Million Mourners, 400,000 Foreign Pilgrims Attend Ashura Ceremony in Karbala
3- Developments of Oil Market Following Tension in Iraqi Kurdistan
---
Kayhan:
1- Kerry: In JCPOA, Iran Has Given All Concessions in Advance
2- Oil Spokesman: No Bank to Return to LC after Nuclear Deal
3- Hezbollah Chief: Plot to Disintegrate Iraq to Hurt All Regional States, Including Saudi Arabia
---
Resalat:
1- Ayatollah Sistani: Constitution Should Be Referred to Resolve Erbil-Baghdad Conflict
2- Europe Amazed by Iran's Missile Power: The Power that Grows on Daily Basis
---
Rooyesh-e Mellat:
1- Qassemi: Trump's New Plan in Afghanistan Blatant, Strategic Mistake
2- German FM: US Withdrawal from Nuclear Deal to Damage Washington's Reputation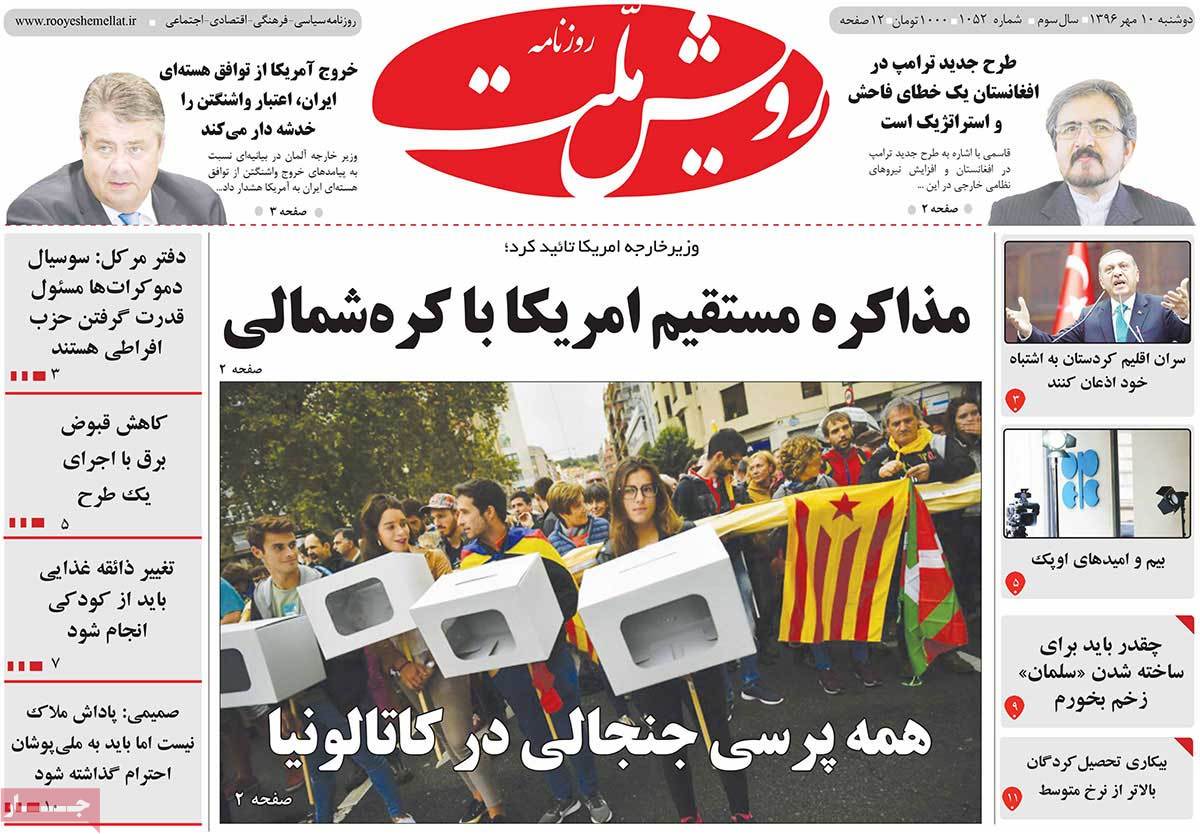 ---
Shargh:
1- Zarif Predicts US President Won't Confirm Iran's Compliance with JCPOA Commitments
2- Iran-Iraq Joint Military Drill in Border Areas
3- 'Looking Inside' Strategy, Best Way to Confront Trump [Editorial]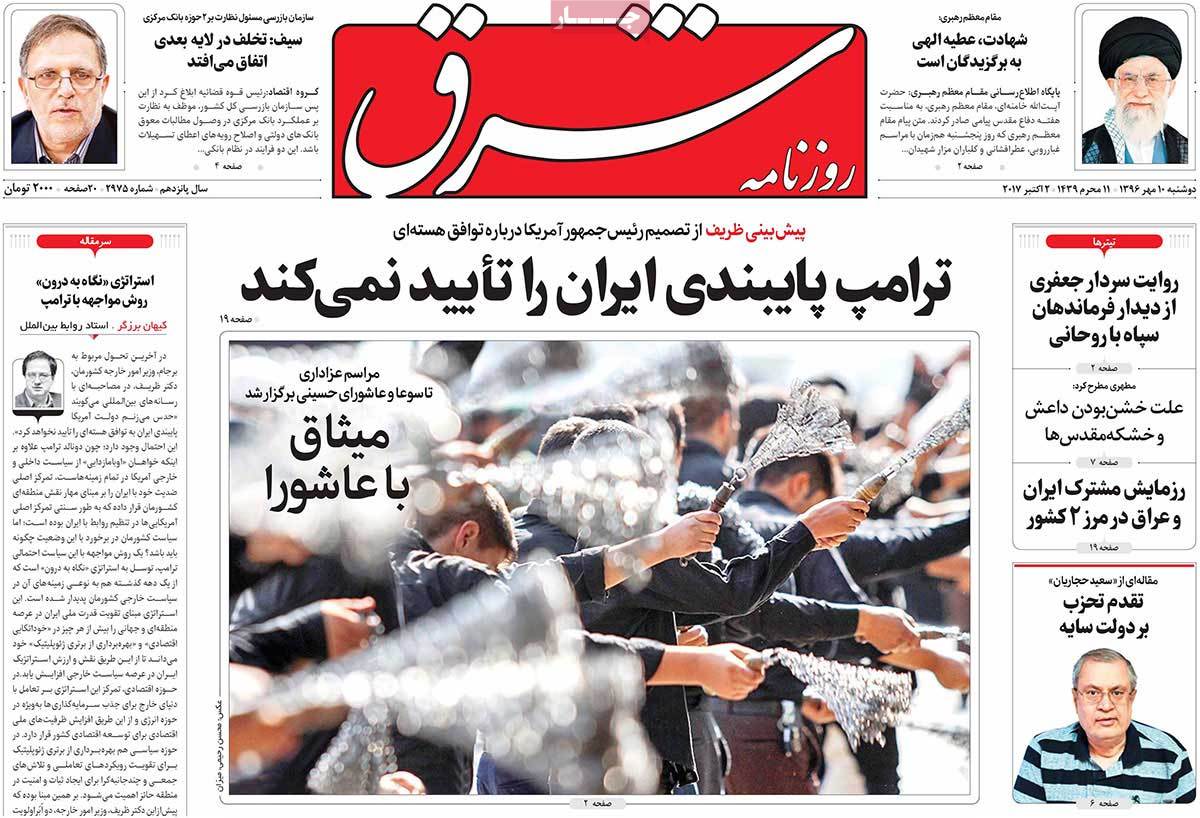 ---
Vatan-e Emrooz:
1- Republic of Imam Hussein
Ashura 1439, Global Mourning for Imam Hussein More Glorious than Ever