In the first day of autumn, the top story in Iranian newspapers was the remarks made by the Leader of Iran's Islamic Revolution Ayatollah Seyyed Ali Khamenei in a meeting with members of the country's Assembly of Experts.
Papers also hailed President Hassan Rouhani's comments in a nationwide military parade, where he vowed to strengthen the country's missile capabilities.
The above issues, as well as many more, are highlighted in the following headlines and top stories:
Abrar:
1- Rouhani: We'll Reinforce Our Missiles, Support People of Yemen, Syria, Palestine
2- Iranian Army Naval Forces, IRGC Boats Display Their Might in Persian Gulf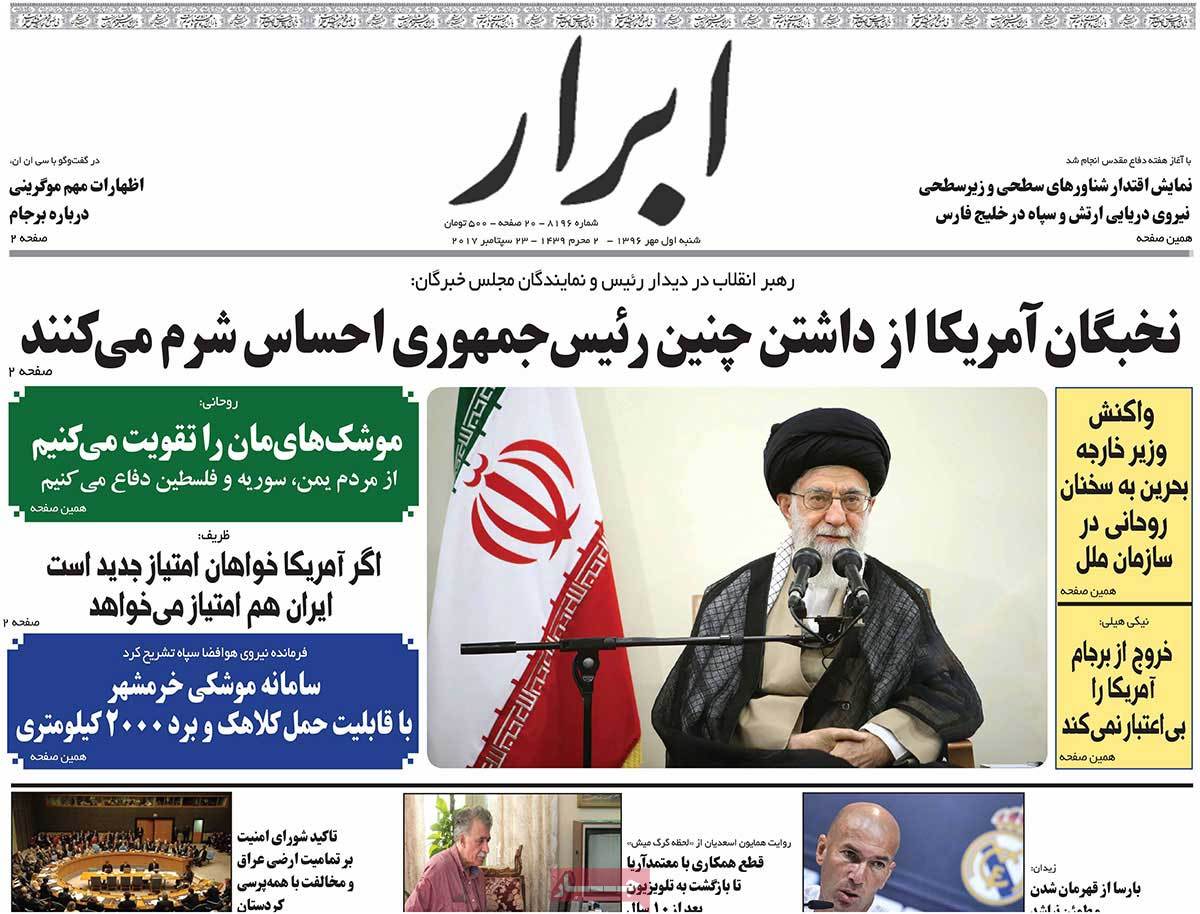 ---
Aftab-e Yazd:
1- Iran Leader: American Elites Feel Embarrassed for Having Such President
2- Rouhani: We Support Palestine Whether You Like It or Not
3- General Soleimani: We'll Celebrate ISIS Destruction in 2 Months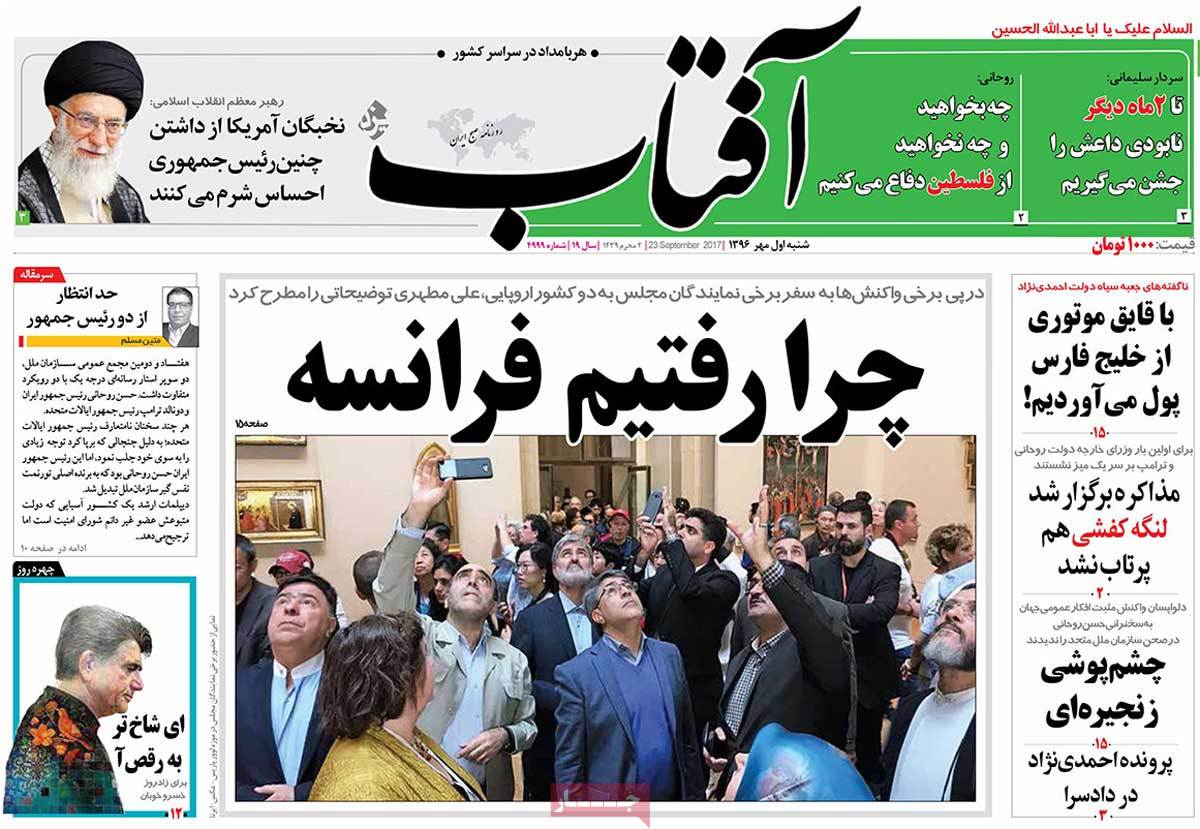 ---
Arman-e Emrooz:
1- Zarif to Trump: If US Wants Concessions, Iran Also Wants Its Enriched Uranium Back!
2- Leila Hatami Named among Best Actresses in the Past Century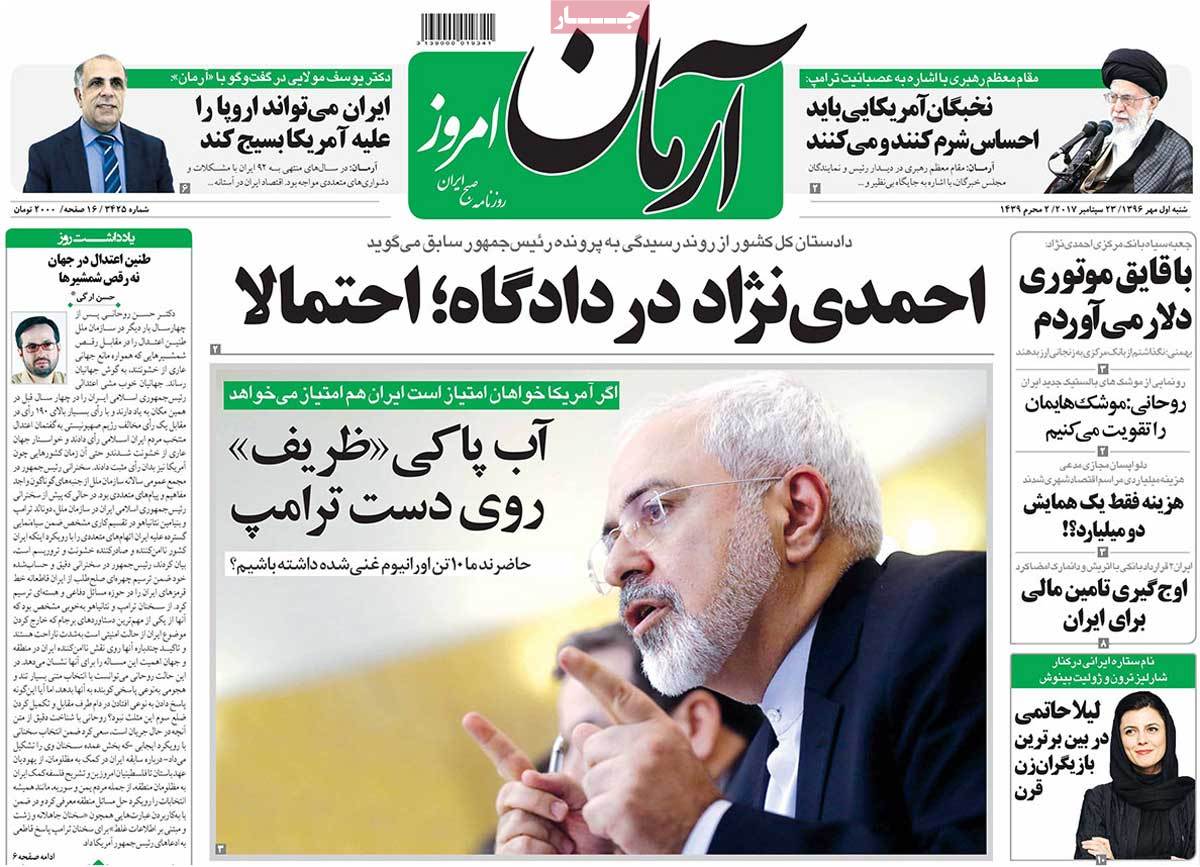 ---
Asrar:
1- Zarif: Negotiation with US Pointless
2- Iran Oil Minister: We Won't Let Decrease in Oil Output Happen
3- Rouhani: We Won't Wait for Any One's Permission in Defending Territory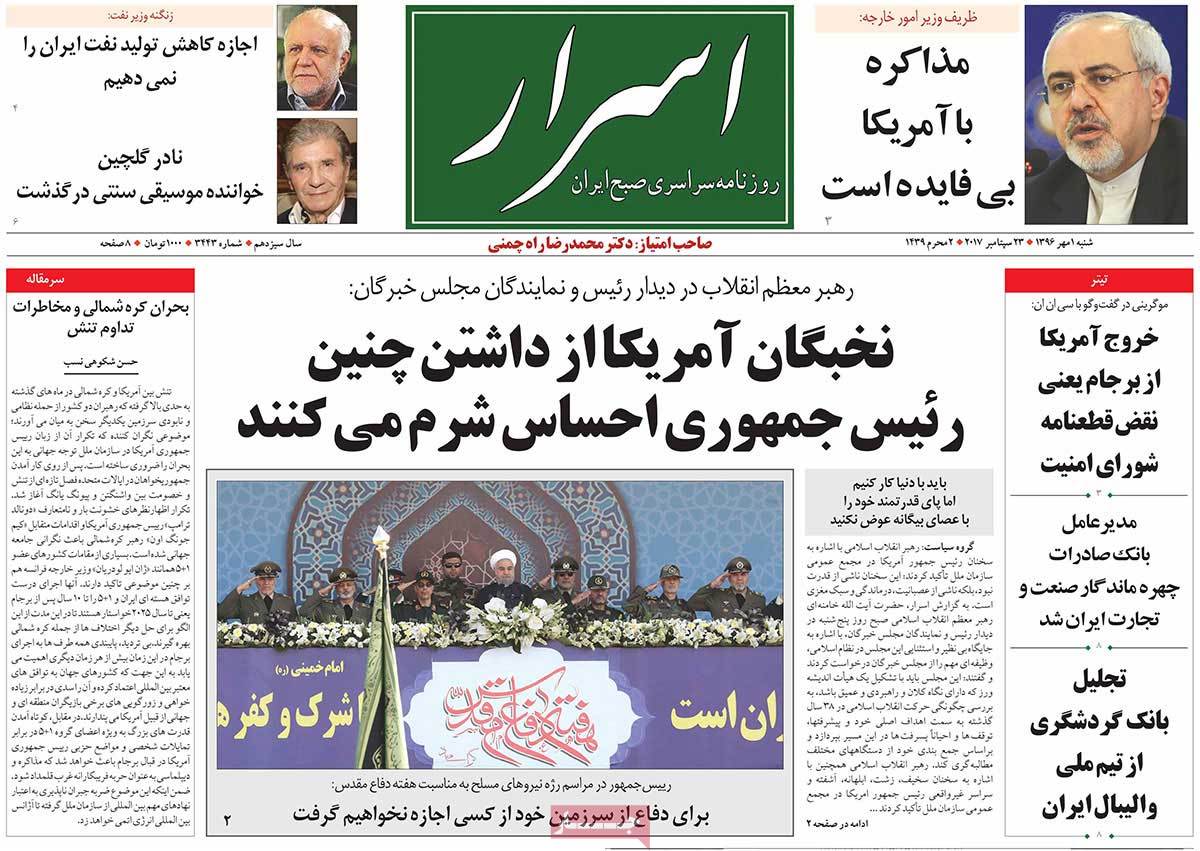 ---
Emtiaz:
1- Beginning of New School Year in Iran with 13m Students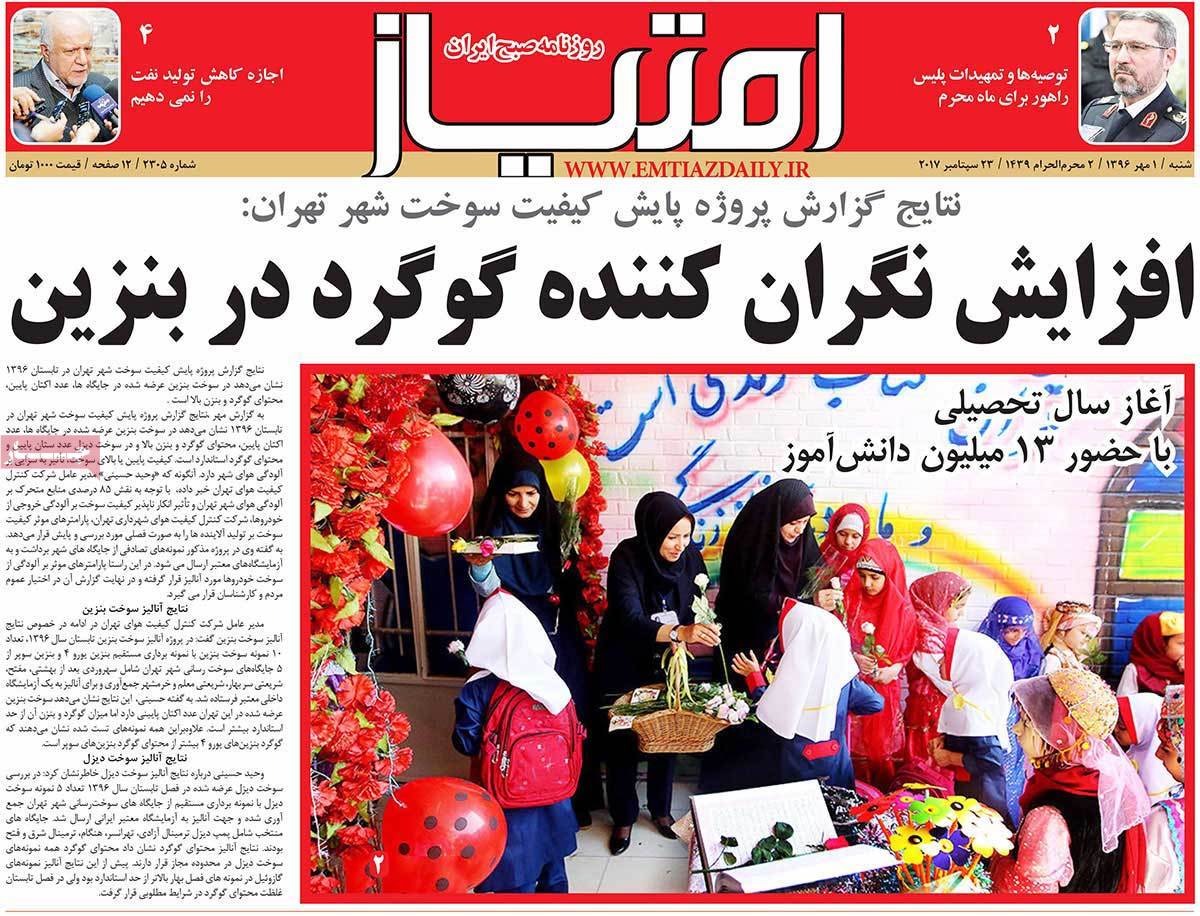 ---
Etemad:
1- Iran Foreign Ministry Spokesman: Trump Only Knows Mideast's Oil, Dollar, Sword Dance
2- Iran's Business Ties with Europe Enter New Stage
Iran Signs €5 Billion Banking Deals with Austria, Denmark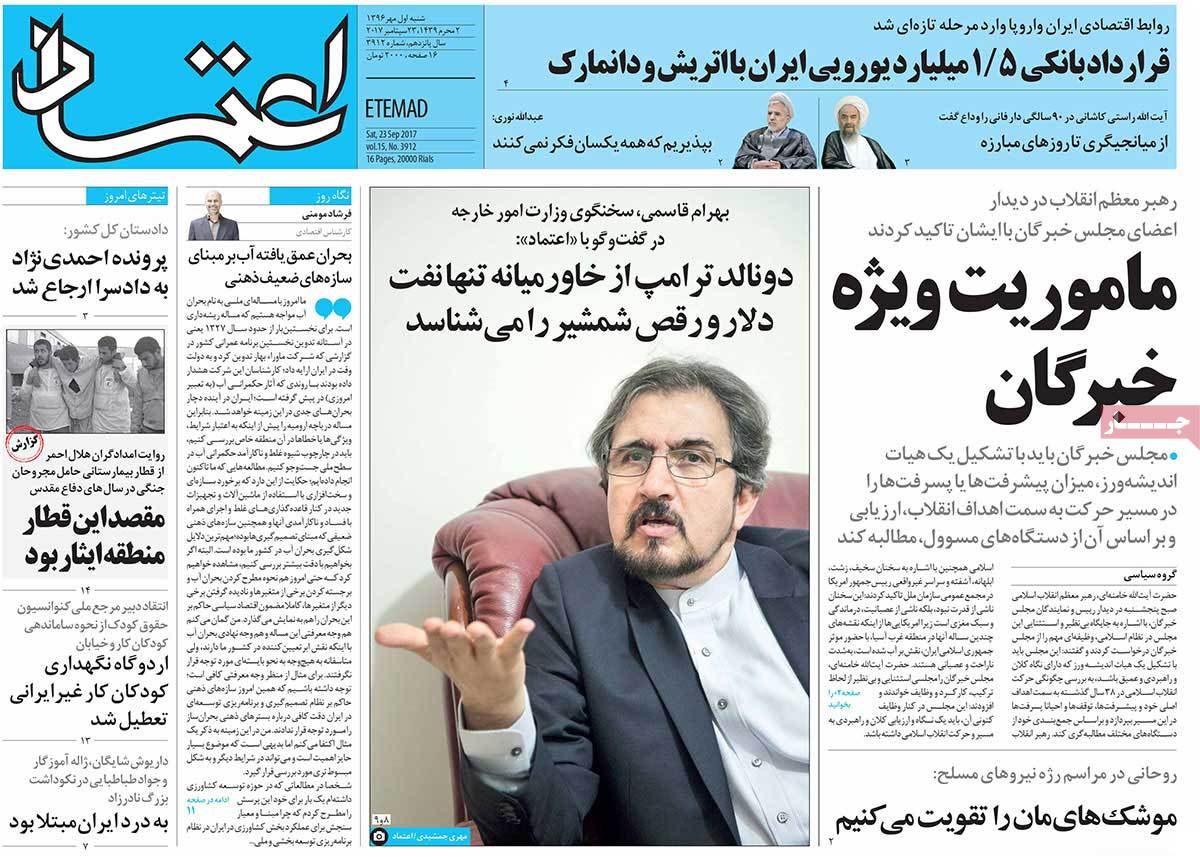 ---
Ettela'at:
1- Iran Leader: US President's Remarks Out of Anger, Frustration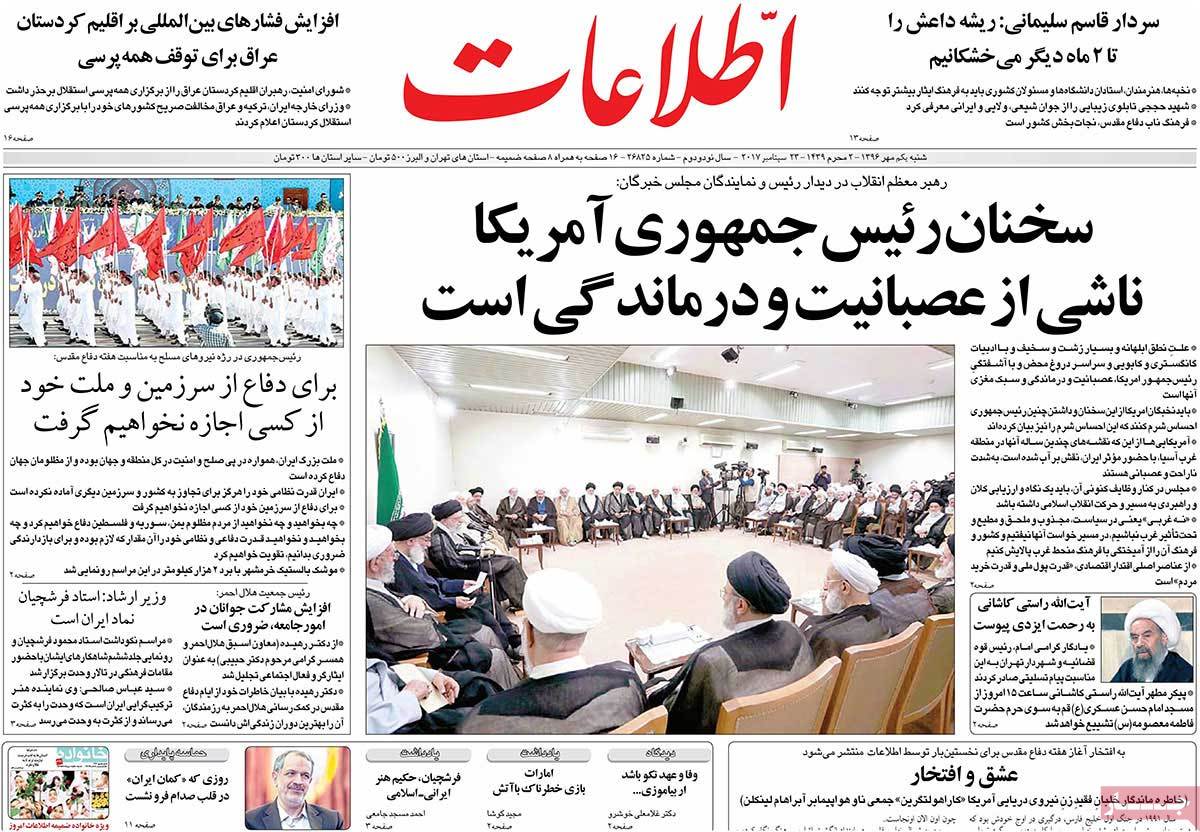 ---
Javan:
1- Iran Leader: US Anger Caused by Being Defeated by Iran in Iraq, Syria, Lebanon
2- 20 Clear Lies in Trump's Comments Show His Anger, Desperation: Leader
3- Rouhani to West: We'll Reinforce Our Missiles Whether They Want It or Not
---
Jomhouri Eslami:
1- Iran Leader: US President's Unreal, Ugly Remarks Show His Anger, Desperation
2- Iranian People Hold Nationwide Anti-US Demonstrations
3- North Korea Leader: We'll Control Trump Using Fire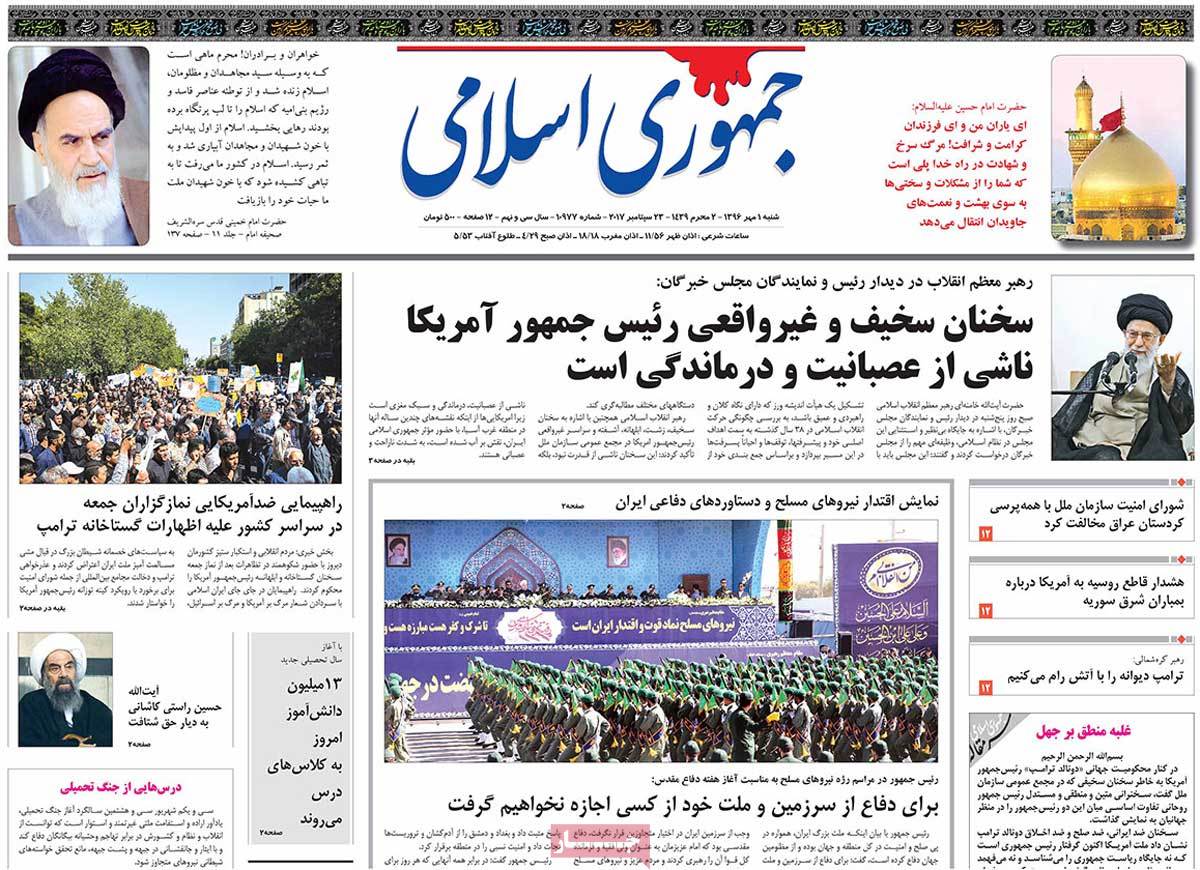 ---
Kayhan:
1- Mogherini's Account Shows Iran Hasn't Protested Violation of JCPOA Commitments!
2- Rouhani in Glorious Parade of Armed Forces
We'll Reinforce Not Only Our Missile Power, but Our Military Forces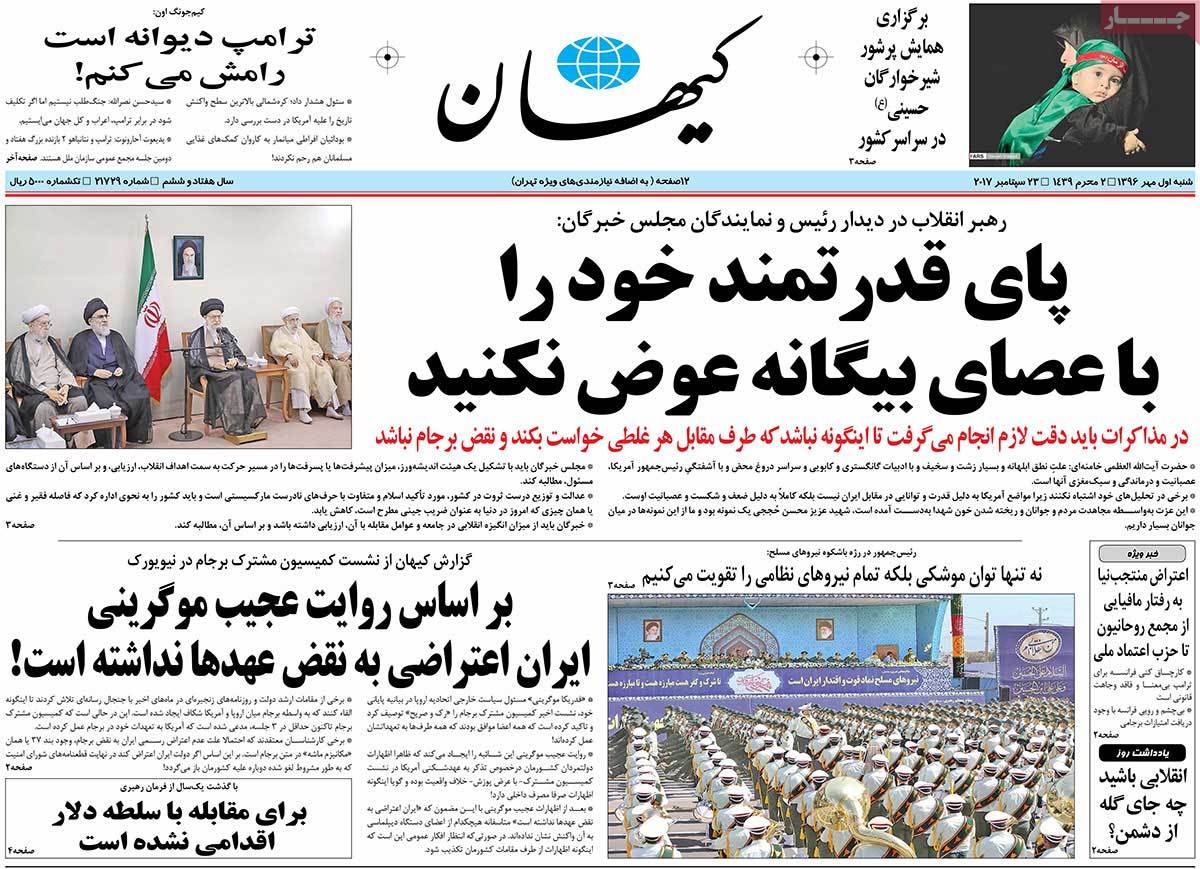 ---
Resalat:
1- Iran Leader: Don't Exchange Your Powerful Leg for Foreigners' Cane
2- Rouhani: We're Expecting Trump to Apologize to Iranian Nation
3- Nasrallah: We'll Fight against Trump If Ordered to
4- Ayatollah Amoli Larijani: US Should Know We Give Decisive Response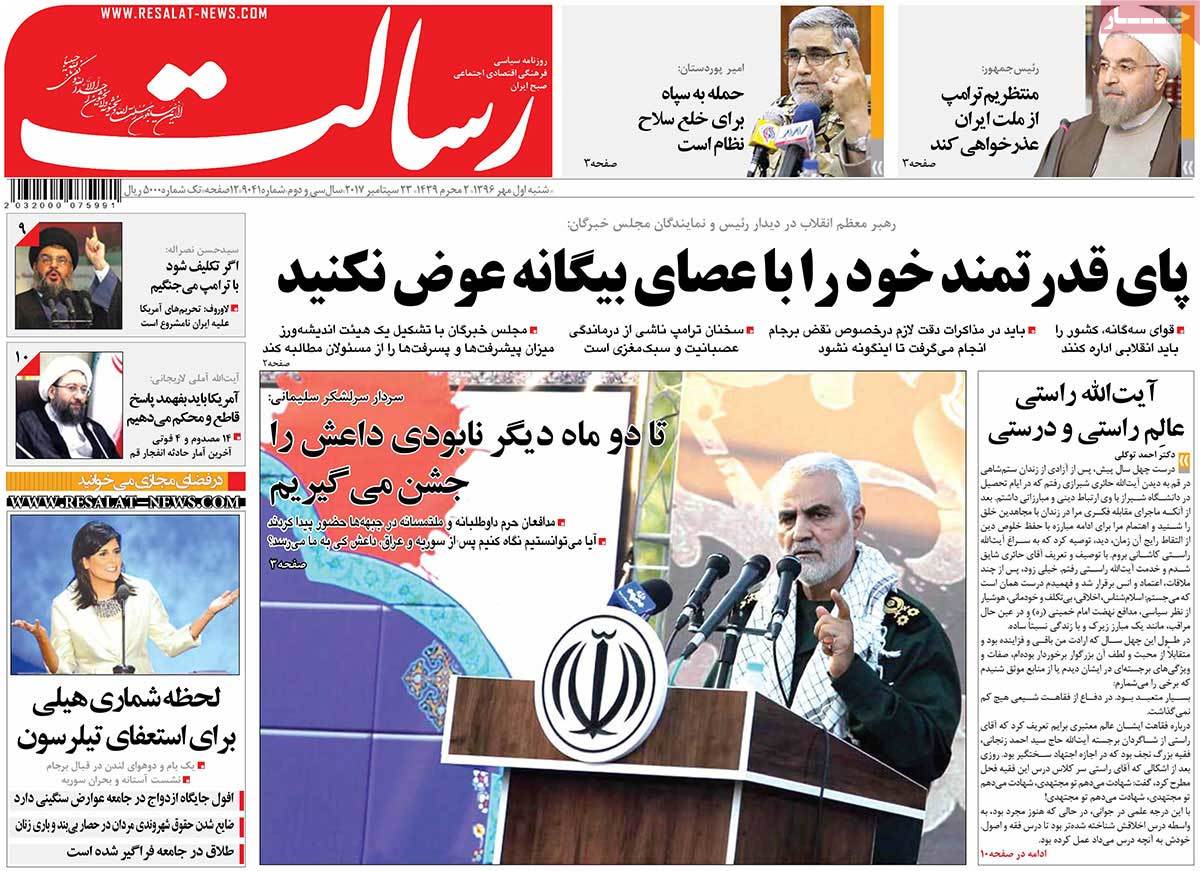 ---
Shargh:
1- Prosecutor General: Ahmadinejad's Case in Court