The top story today was the remarks made by Ayatollah Seyyed Ali Khamenei, the Leader of Iran's Islamic Revolution, in a letter to Hajj pilgrims.
Newspapers also covered a tragic bus crash in southern Iran in which several elite schoolgirls lost their lives and several others were seriously injured.
Another top story today was the latest report by the International Atomic Energy Agency (IAEA) on the implementation of a nuclear deal between Tehran and world powers. In this report, the IAEA once again confirmed Iran's compliance with its JCPOA commitments.
The above issues, as well as many more, are highlighted in the following headlines and top stories:
Abrar:
1- Rouhani: Tehran Ready to Deepen Ties with Qatar
2- IAEA: No Need for Inspection of Iran's Military Sites
3- American Commander: ISIS Leader Al-Baghdadi Still Alive
---
Abrar-e Eqtesadi:
1- 17% Increase in Asian Countries' Purchase of Iran's Oil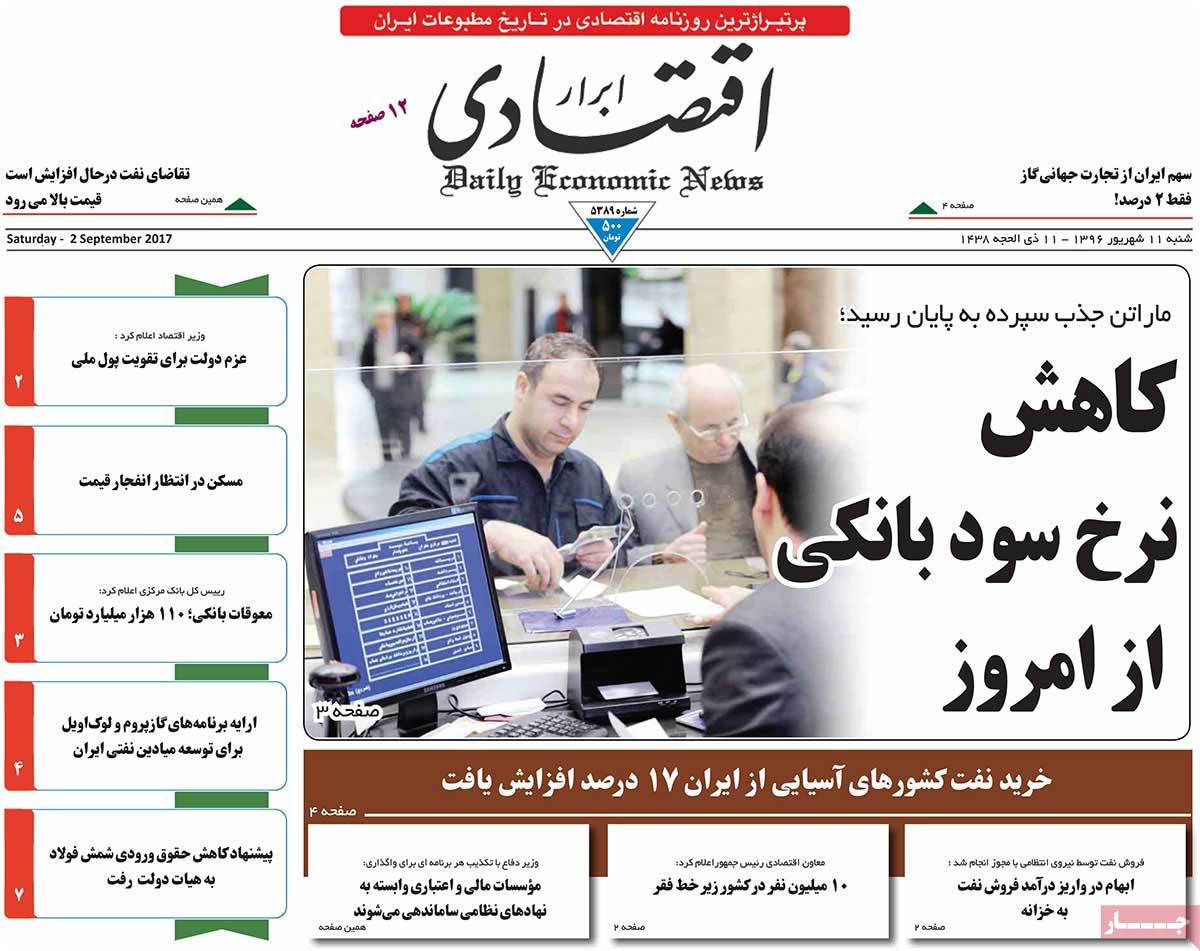 ---
Aftab-e Yazd:
1- Camp of Death! Iran Mourning Deaths of 9 Schoolgirls in Bus Crash
Four of Wounded Girls Sustain Spinal Cord Injuries, Lose Organs
2- Iran Leader: Defending, Saving Palestine Definite Duty of Islamic Society
3- Intelligence Minister: Security Is People's Right, We Shouldn't Expect Them to Thank Us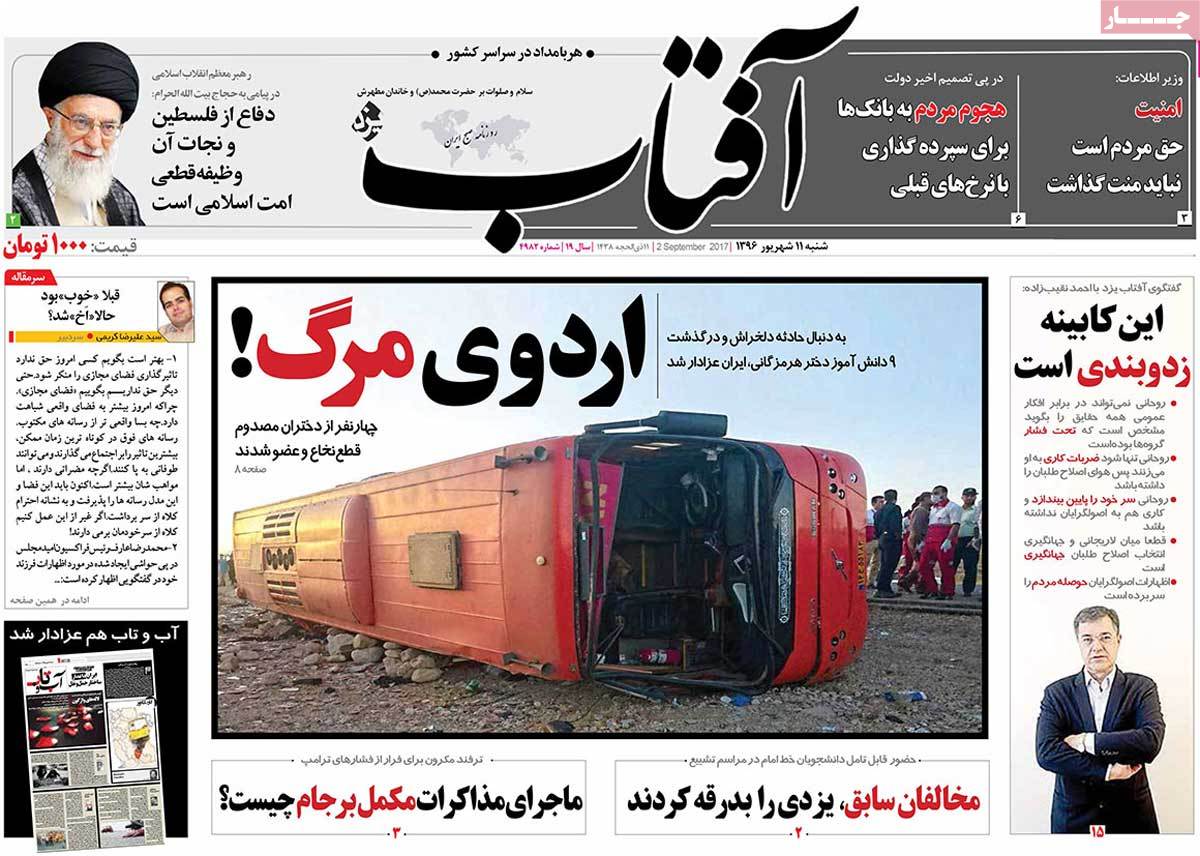 ---
Arman-e Emrooz:
1- Disaster Not Going to End: How Elite Schoolgirls Died in Bus Crash
2- Ayatollah Jannati: Obeying 'Guardian Jurist' Compulsory Just Like Obeying Imam Mahdi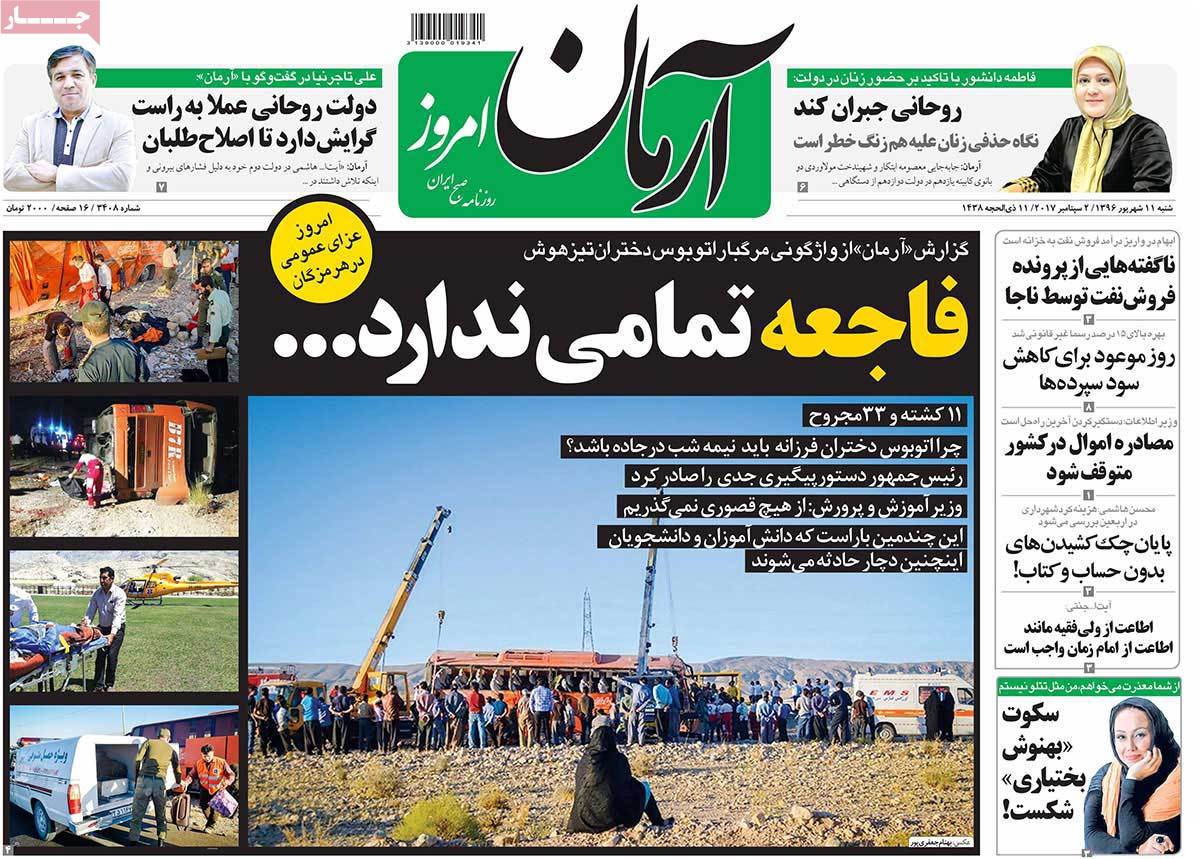 ---
Ebtekar:
1- Iran Leader: Domestic Conflicts in Muslims World Should Be Immediately Stopped
2- Trump's Anti-JCPOA Structure Collapses: IAEA for Eighth Time Confirms Iran's Compliance
---
Ettela'at:
1- Iran Leader: Global Hegemony Turning Islamic Countries into Hell of Insecurity, Split
2- Rouhani: Secessionist Tendencies in Mideast Not in Interests of Regional Peace, Stability
3- Nasrallah: Iran Shoulders Heavy Burden of Countering US-Israeli Plots in Mideast
---
Iran:
1- Continued Interaction between Gov't, Senior Clerics in Qom
Rouhani's Chief of Staff, Culture Minister Visit Qom
---
Javan:
1- Iran Leader: Disastrous Events in Muslim States Should Be Immediately Stopped
2- New Pain for Patients: Surgery without Anaesthesia!
After decrease in wages, some anaesthesiologists threaten patients to do surgery without anaesthesia!
3- Nasrallah's Explanations about Prisoner Swap with Terrorists
Hezbollah Won't Evade Responsibility of Fighting ISIS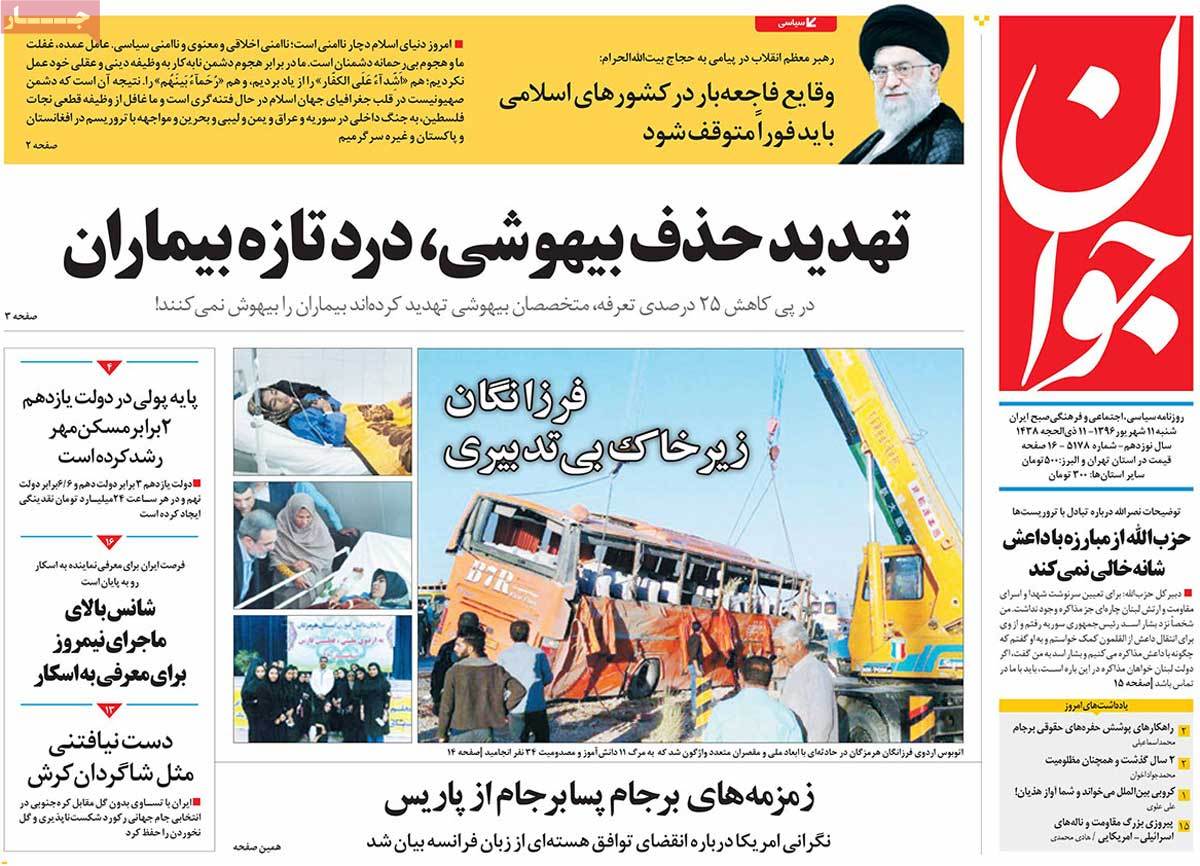 ---
Jomhouri Eslami:
1- Rouhani Orders Cabinet to Seriously Pursue Deadly Bus Crash
2- Over 2m Hajj Pilgrims Finish Pilgrimage Rituals
---
Kayhan:
1- Iran Leader: Hajj Pilgrimage Solution to Global Hegemony's Materialism, Warmongering
---
Noavaran:
1- Nuclear Chief: Iran Not to Give Up on JCPOA Easily as It's Not Achieved Easily
2- Rouhani: Violence, War, Terrorism Legacy of World Powers for People in Crisis-Hit Areas
---
Resalat:
1- Iran's Armed Forces Have Great Power to Support Resistance Front: DM
2- Iran Leader: Zionism Creating Sedition in Heart off Islamic Geography