The top story in all newspapers today was the remarks made by the Chief-Commander of Islamic Revolution Guards Corps (IRGC) Major General Mohammad Ali Jafari against the possible designation of IRGC as a terrorist organization. The IRGC Commander warned the US against such move, and said if blacklisted, the IRGC forces will view the US troopers anywhere in the world like ISIS terrorists.
Newspapers also covered the comments made by Sayyid Hassan Nasrallah, the Secretary-General of the Lebanese Resistance Movement Hezbollah, about a Saudi-American plot against Iran.
Also a top story today was a ceremony held in commemoration of Ayatollah Akbar Hashemi Rafsanjani, the late former president of Iran, which was attended by senior politicians and diplomats including Foreign Minister Mohammad Javad Zarif.
The above issues, as well as many more, are highlighted in the following headlines and top stories:
Abrar:
1- IRGC: US Implementation of CAATSA Means Its Unilateral Withdrawal from JCPOA
2- Zarif: Iran to Give Appropriate Response to Trump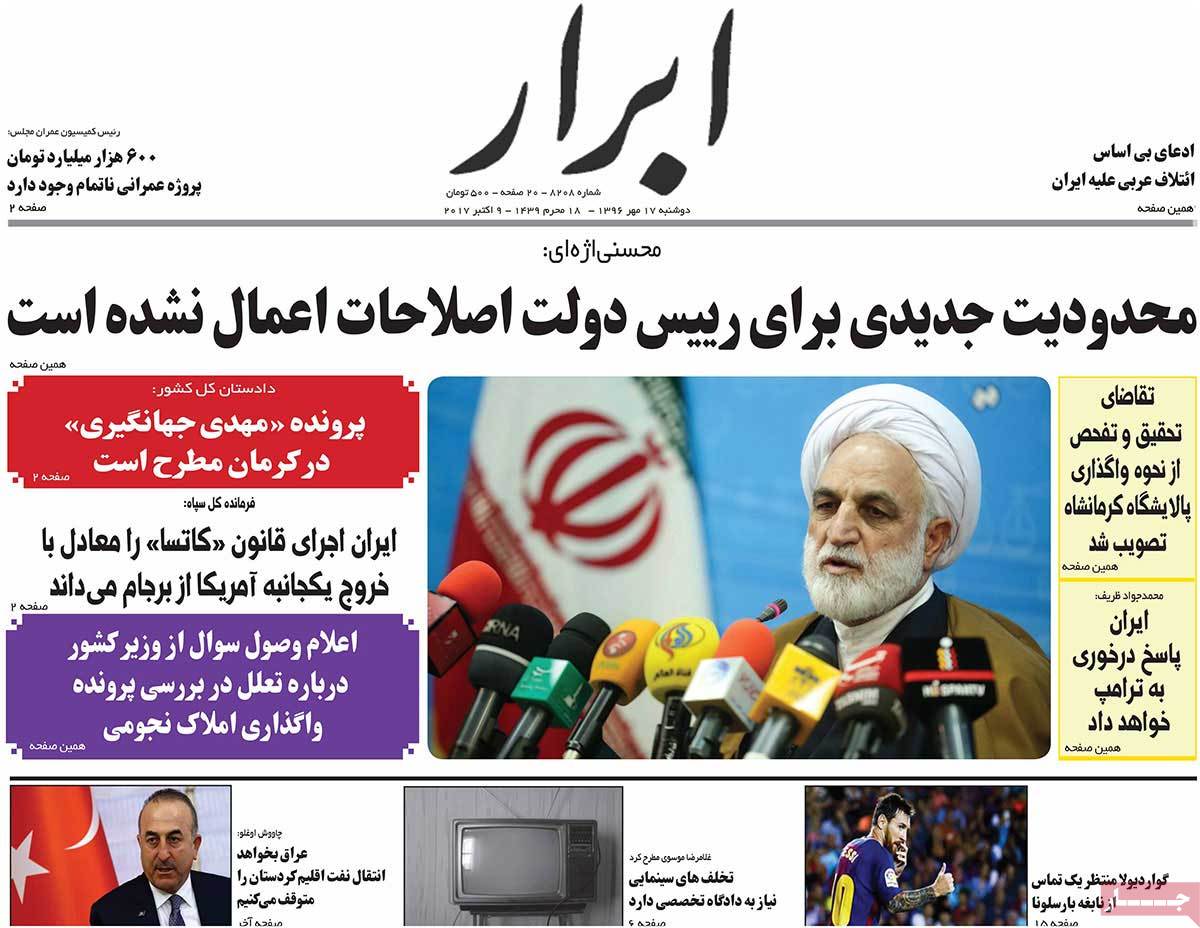 ---
Aftab-e Yazd:
1- Iranian Politicians Praise Efforts of Late Ayatollah Hashemi Rafsanjani
Zarif: I Learned from Hashemi that Courage Doesn't Mean Radicalism
Nateq Noori: Whatever Steel, Cement, Petchem Plants We Have Built in Hashemi's Time
2- Prosecutor-General: We'll Soon Make Decision about Telegram Messaging App
---
Ebtekar:
1- IRGC Chief-Commander: We'll Resolve Regional Issues in a Place Other than Negotiating Table
2- Judiciary Spokesman Denies New Restrictions for Former President Khatami
---
Etemad:
1- IRGC Chief-Commander's Remarks Widely Covered in Domestic, Foreign Media
Iran to View US Army like ISIS If IRGC Blacklisted
2- Official: 800 Elites Repatriated to Iran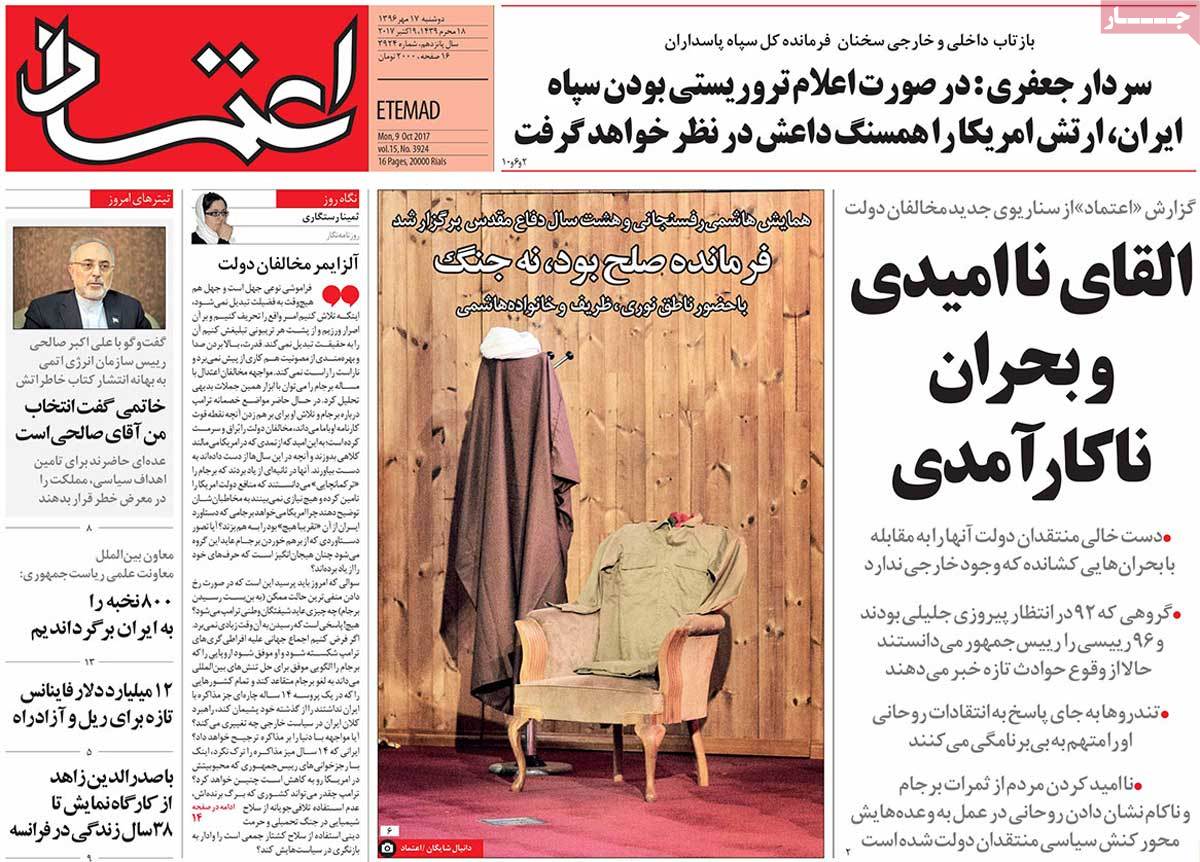 ---
Ettela'at:
1- Ayatollah Rafsanjani Helped IRGC, Army Reach Unity
2- Rouhani's Economic VP: Trump Wants to Damage Stability of Iran's Economy
3- Iran Thwarts Saudi-American Plot in Region: Hezbollah Chief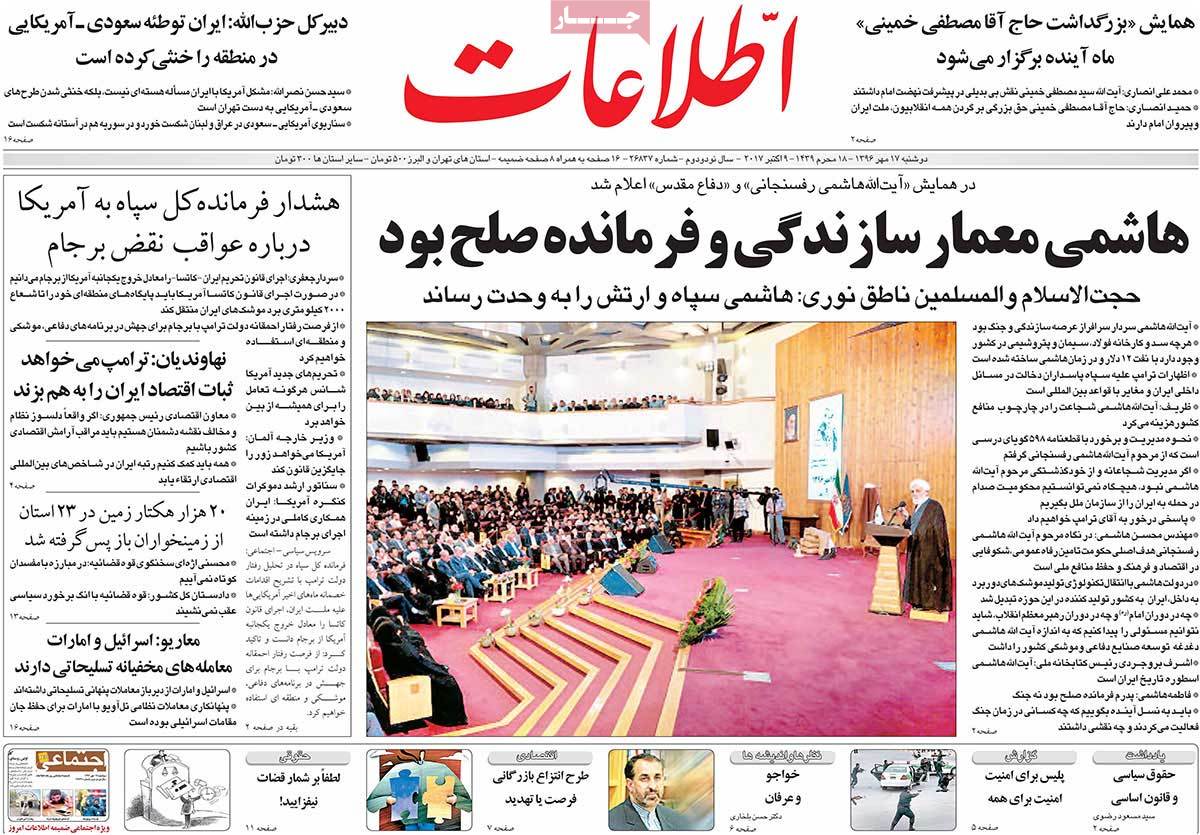 ---
Iran:
1- 1,431 Unfinished Construction Projects Handed over to Private Sector
2- Labour Minister: Chemotherapy, Radiotherapy Will Become Free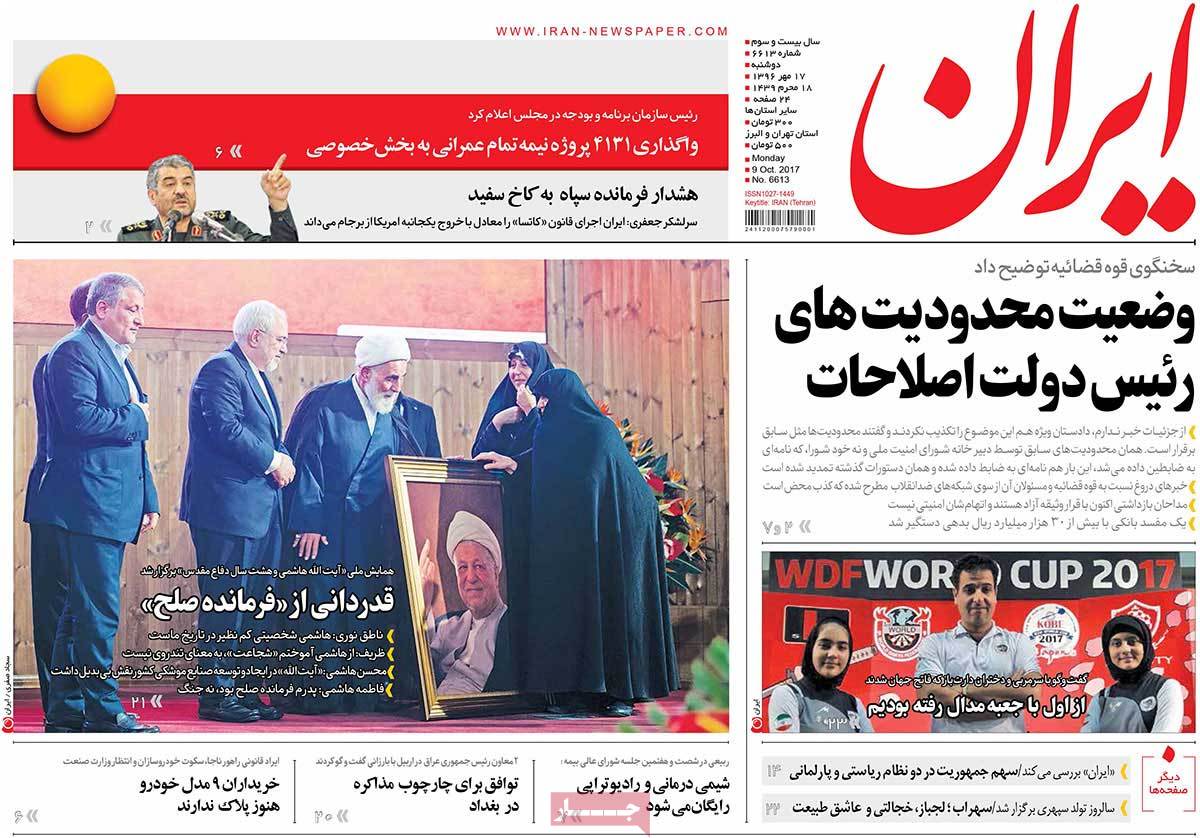 ---
Javan:
1- Prosecutor Hits Back at First VP's Reaction to His Brother's Arrest
2- Nasrallah: New US-Saudi Plot against Iran Started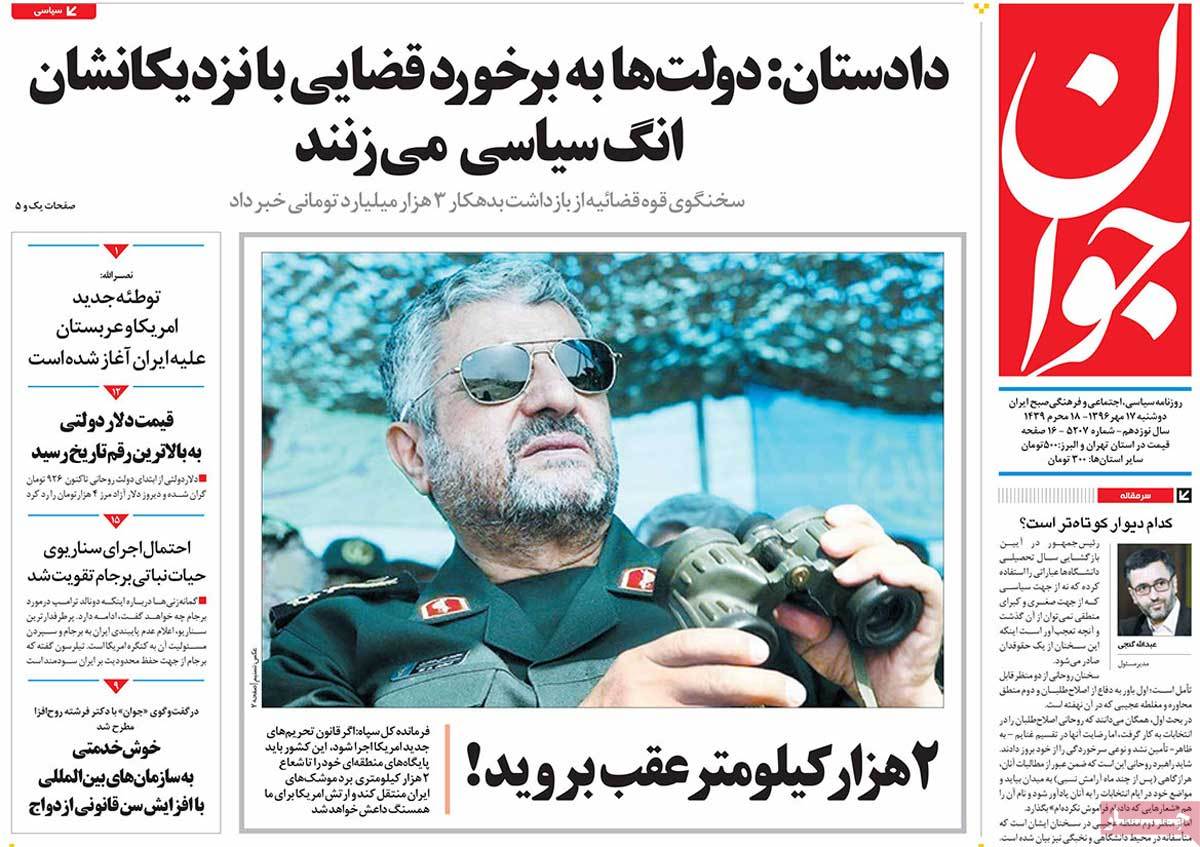 ---
Jomhouri Eslami:
1- Health Minister: Universities Not Feeling Well
2- Nasrallah: US Strongly Trying to Protect ISIS
3- Ayatollah Sistani Praises Talabani's Role in Iraq's Unity
---
Kayhan:
1- Judiciary: Ex-Member of Iran Nuclear Negotiating Team Had Links with 2 Foreign Spy Agencies
2- IRR 68,000 Billion Spent in Six Months on Fuel Imports: Statistics
---
Resalat:
1- IRGC Urges US to Move Its Bases to Somewhere Outside Striking Range of Iran Missiles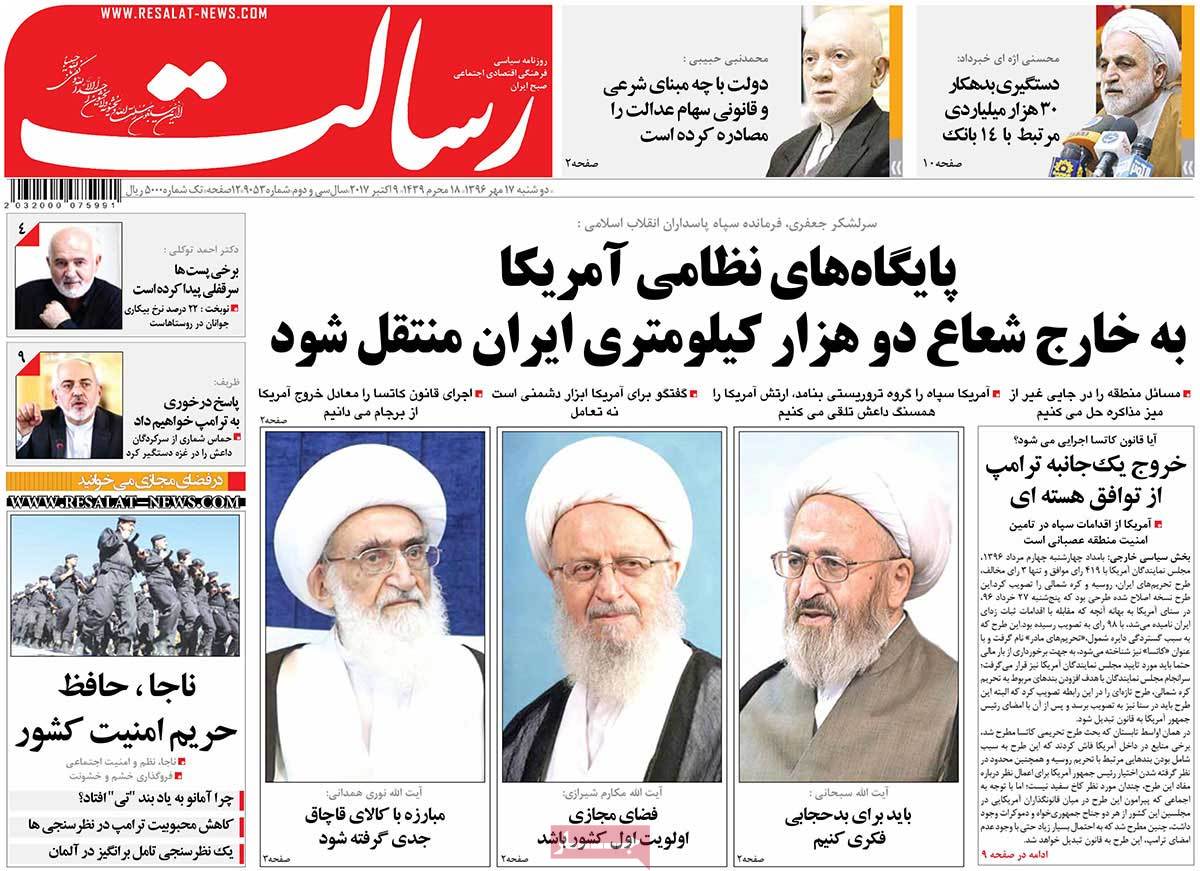 ---
Rooyesh-e Mellat:
1- Nasrallah: War to Go on until Eradication of ISIS
2- Iran Exporting 90% of Its Crude Oil from Kharg Island