Newspapers today widely covered the beginning of Tehran Press Exhibition and the remarks made by First Vice-President Es'haq Jahangiri in the opening ceremony.
The remarks by IRGC Chief Commander Major General Mohammad Ali Jafari about the unity of Armed Forces in Iran also received great coverage.
The resignation of Masoud Barzani, the president of Kurdistan Region Government (KRG), was also a top story today.
The above issues, as well as many more, are highlighted in the following headlines and top stories:
19 Dey:
1- Rouhani: Terrorism, a Big Global Problem, Should Be Eradicated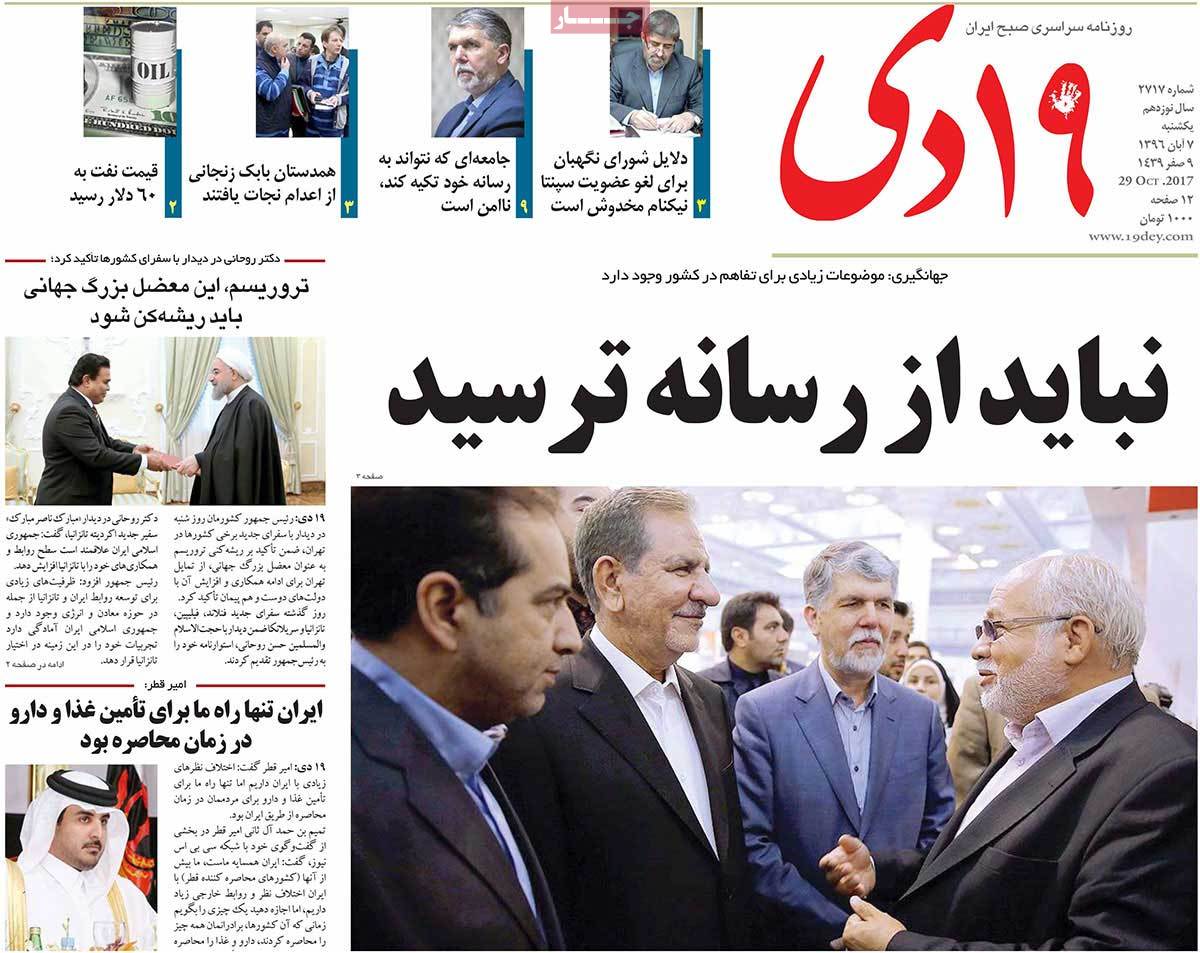 ---
Abrar:
1-GOP Senators in Letter to Haley Call for Tougher Inspections of Iran Nuclear Sites
2- Erbil, Baghdad Military Delegations Hold Talks in Mosul
3- IRGC Chief-Commander: Unity of IRGC, Army Strong Combination to Defeat Enemies
---
Aftab-e Yazd:
1- 13 Top Executives in the World Are under 40 Years Old: Iran Should Learn Lesson
2- Conservative Figure: Right Wingers Like Rouhani's Current Behaviours
3- Is Doha Moving towards Riyadh?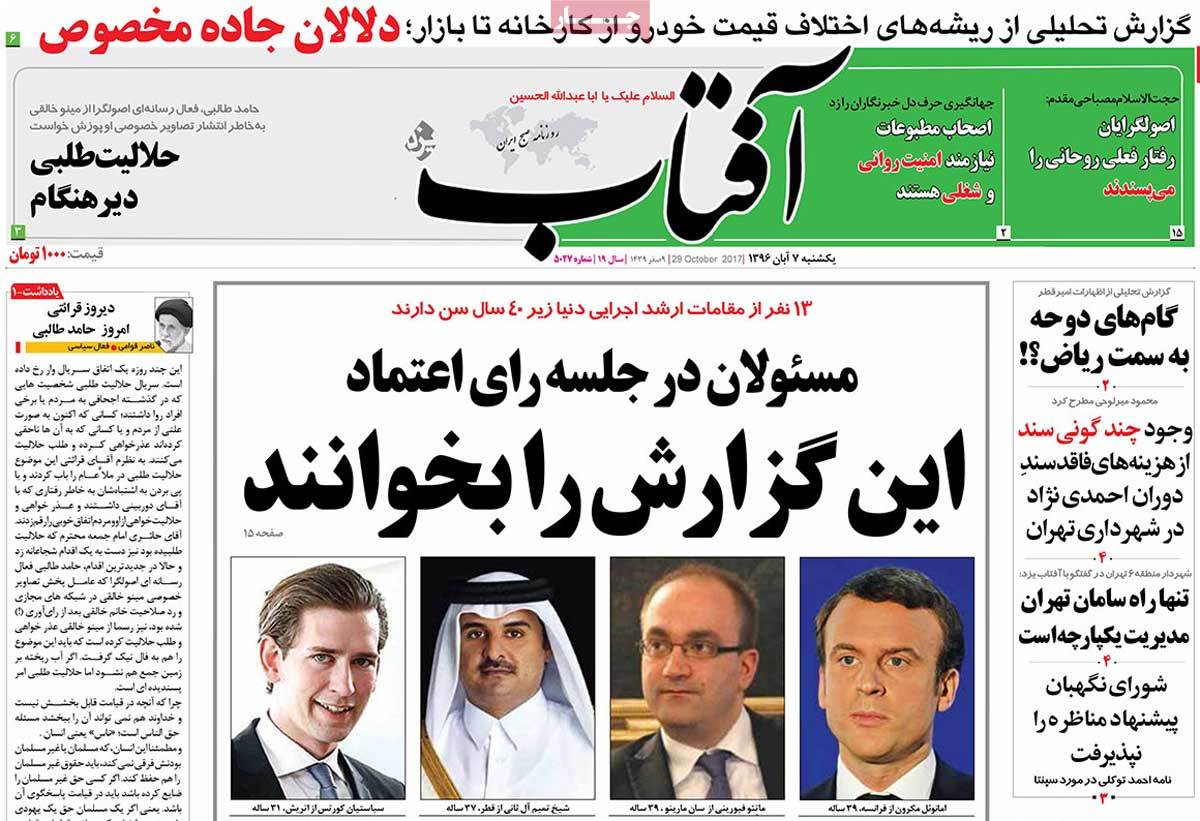 ---
Arman-e Emrooz:
1- IRGC Training Syrian, Iraqi Forces: Official
2- Analyst: Trump Looking for Military Action
---
Ebtekar:
1- Catalans' Challenge, Threat for United Europe
2- Good Capacity Exists for Investment in Iran: Rouhani
---
Etemad:
1- Strategy of Silence: All Rumours about Jahangiri's Decreased Role in Gov't
2- ISIS in Search for another Paradise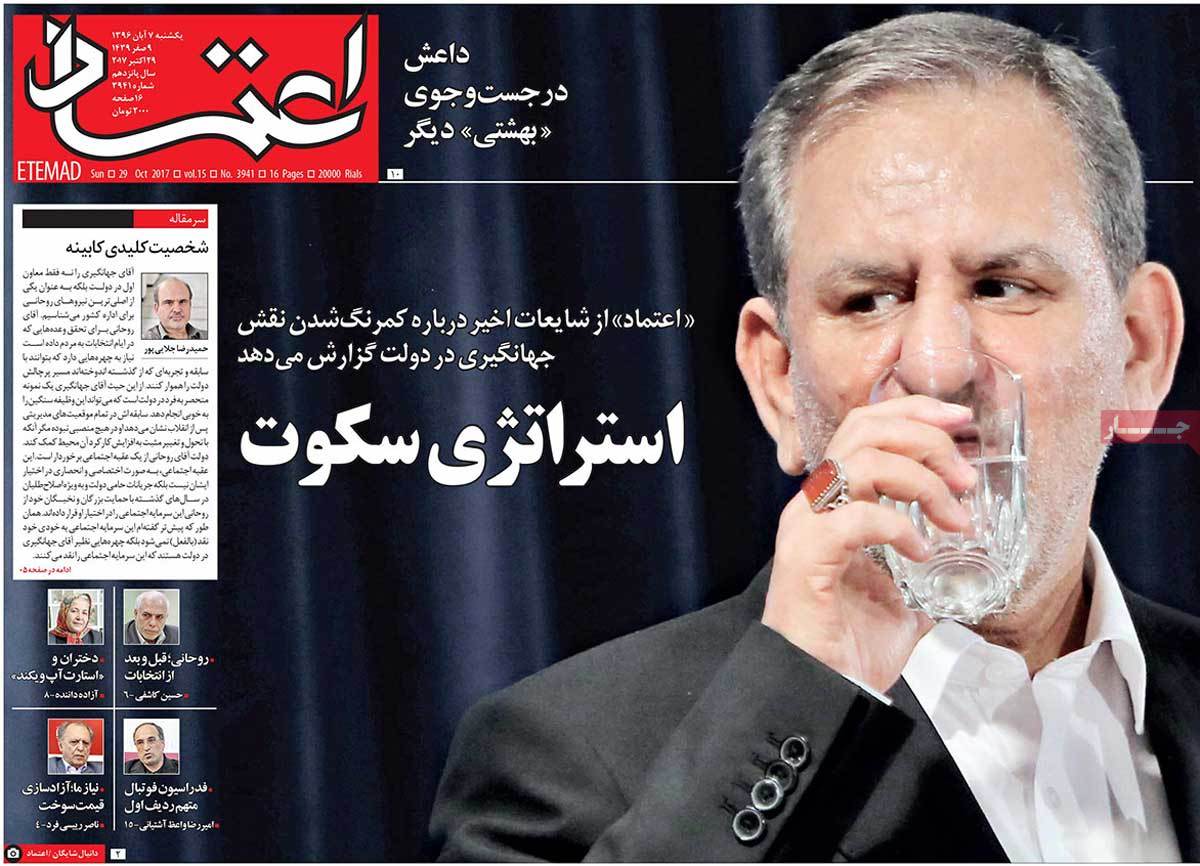 ---
Ettela'at:
1-Barzani Resigns from Presidency of KRG
2- Iranian Spokesman: Case of Inspecting Iran Nuclear Sites Closed Forever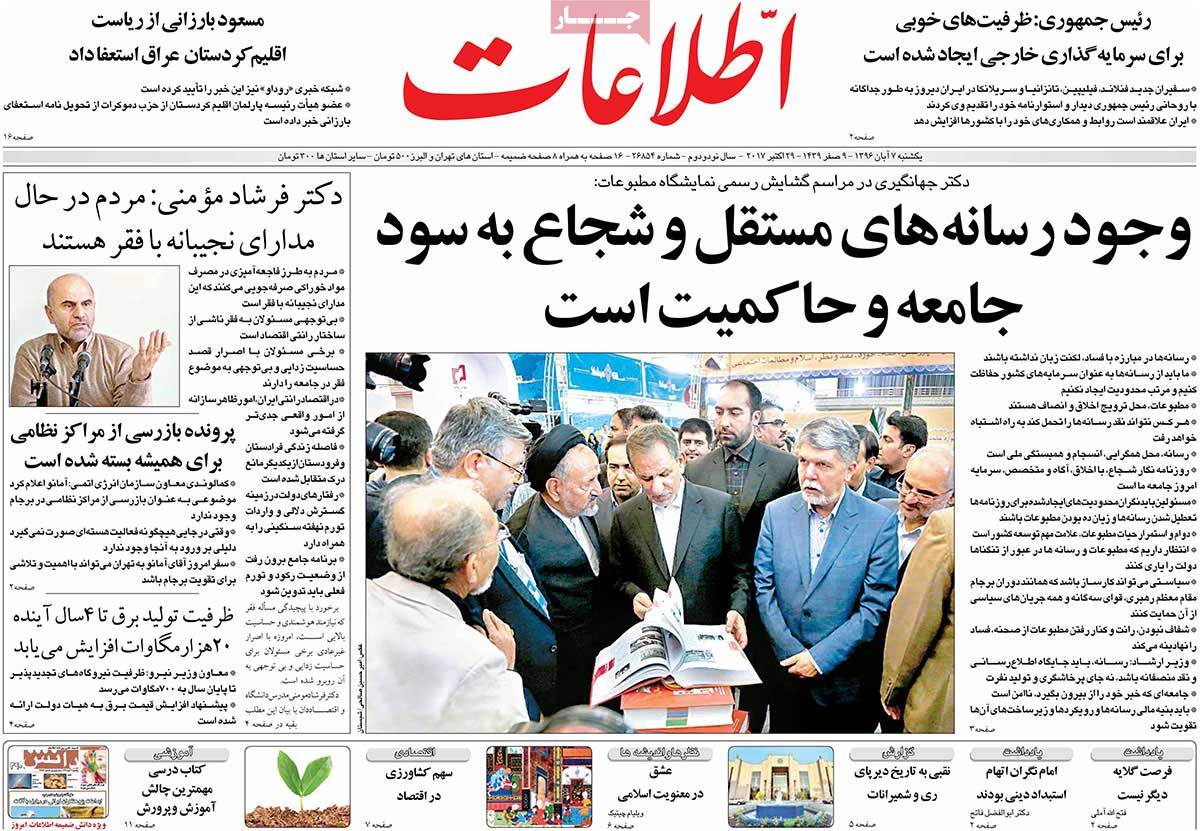 ---
Iran:
1- Gov't Waiting for Completion of Cabinet Line-up
2- First VP: Gov't Supports Brave, Independent Media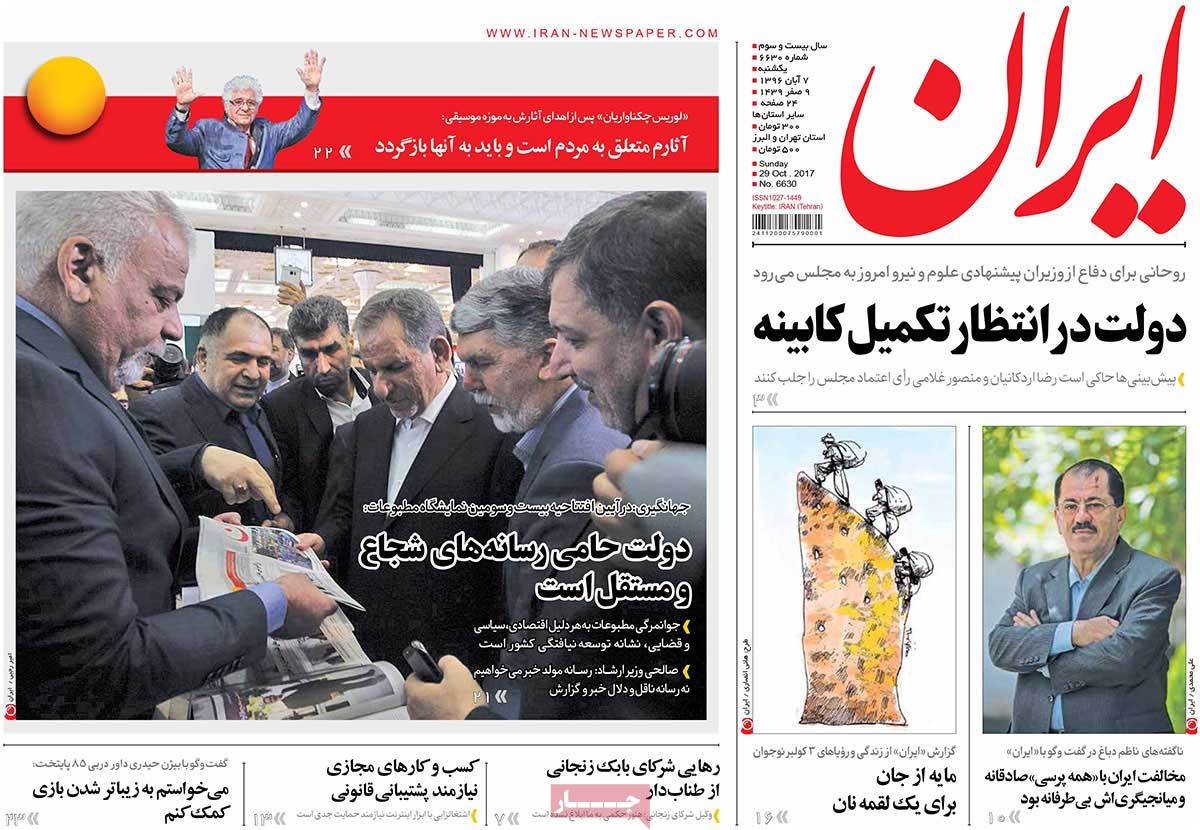 ---
Javan:
1-Fourfold Increase in Unnecessary Imports from France in Post-JCPOA Era
2- Industry Ministry Threatens Chinese Carmakers
3- Four Envoys Hand Over Credentials to Rouhani
Iran President Call for Enhanced Ties with Philippines, Finland, Tanzania, Sri Lanka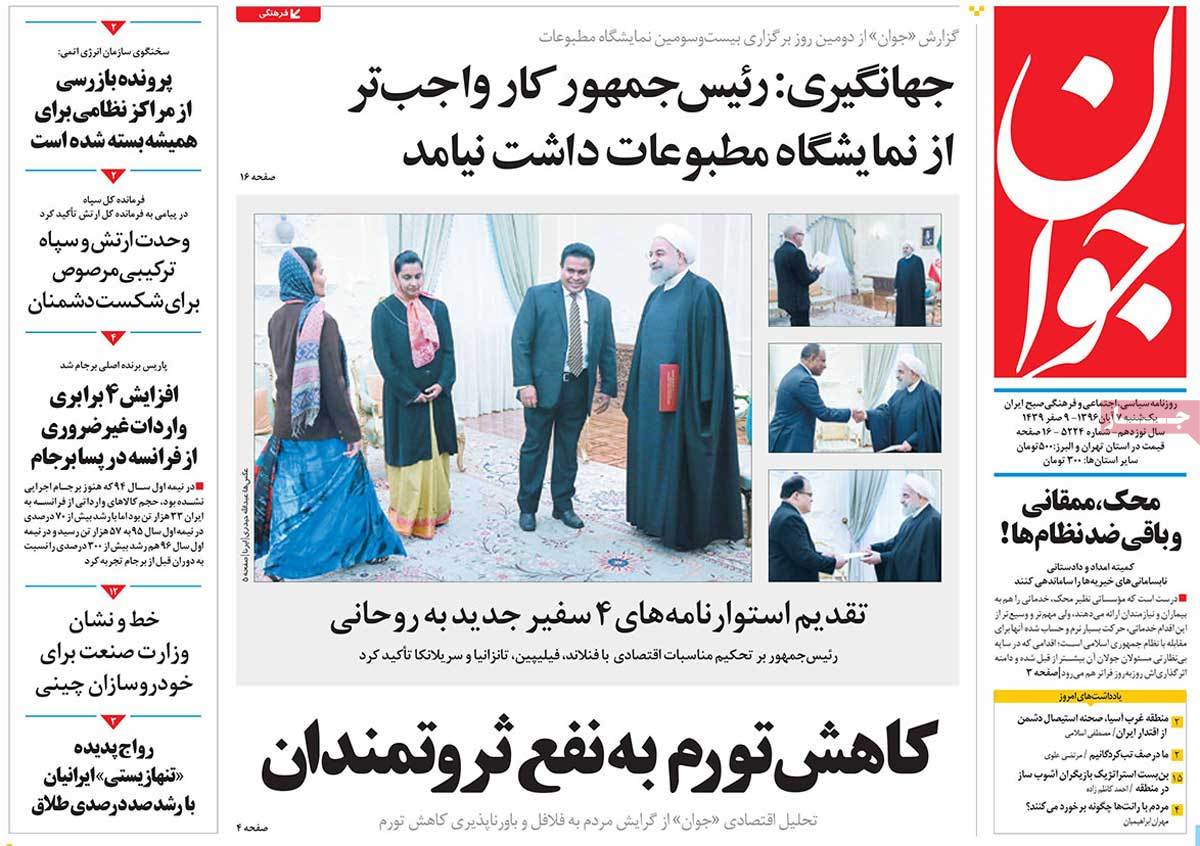 ---
Jomhouri Eslami:
1- Increased Pressure of Kurdish Groups for Removal of Barzani
2- Producers in Britain Call for Enhanced Economic Ties with Iran
3- European Foreign Relations Councils Urges Increased Efforts to Maintain JCPOA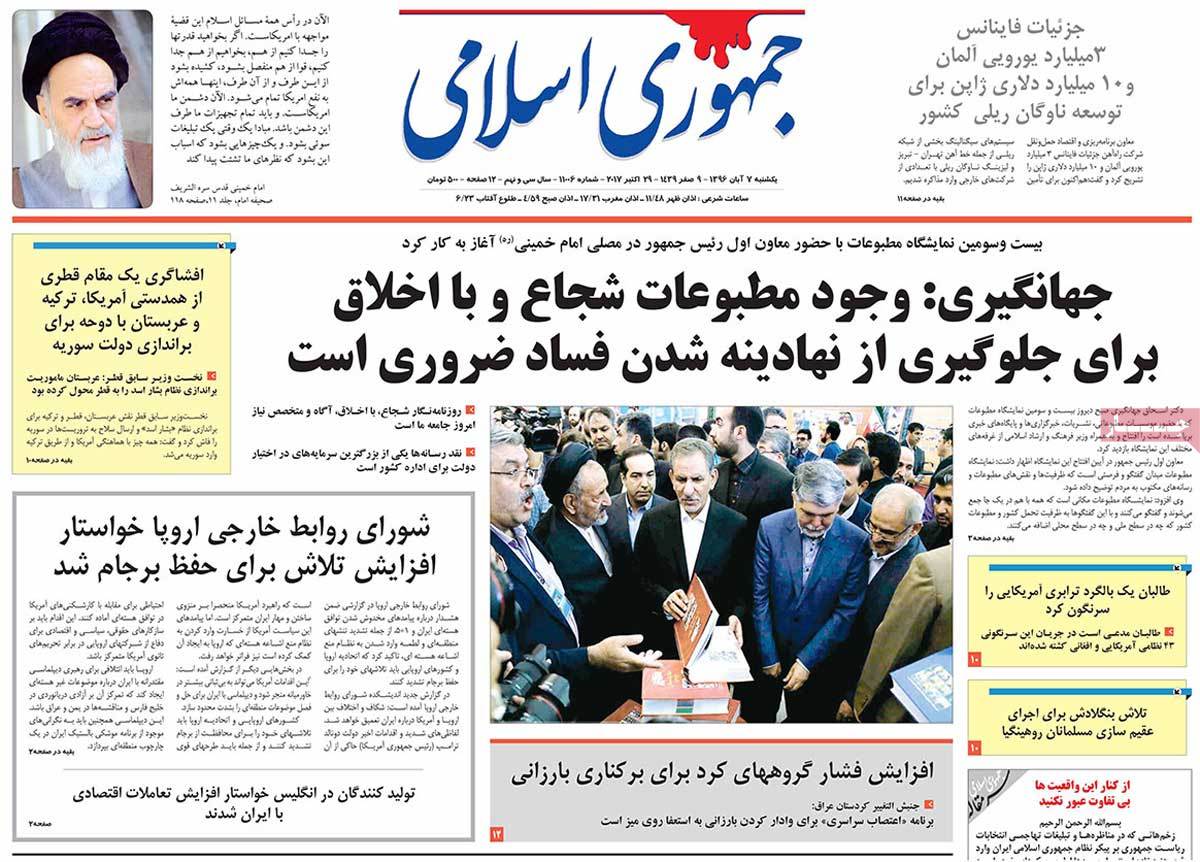 ---
Kayhan:
1- US Congress Busy Imposing Sanctions, Iran Parliament Busy with Trivial Issues
2- Role of Growing Dependence on Oil in Economic Insecurity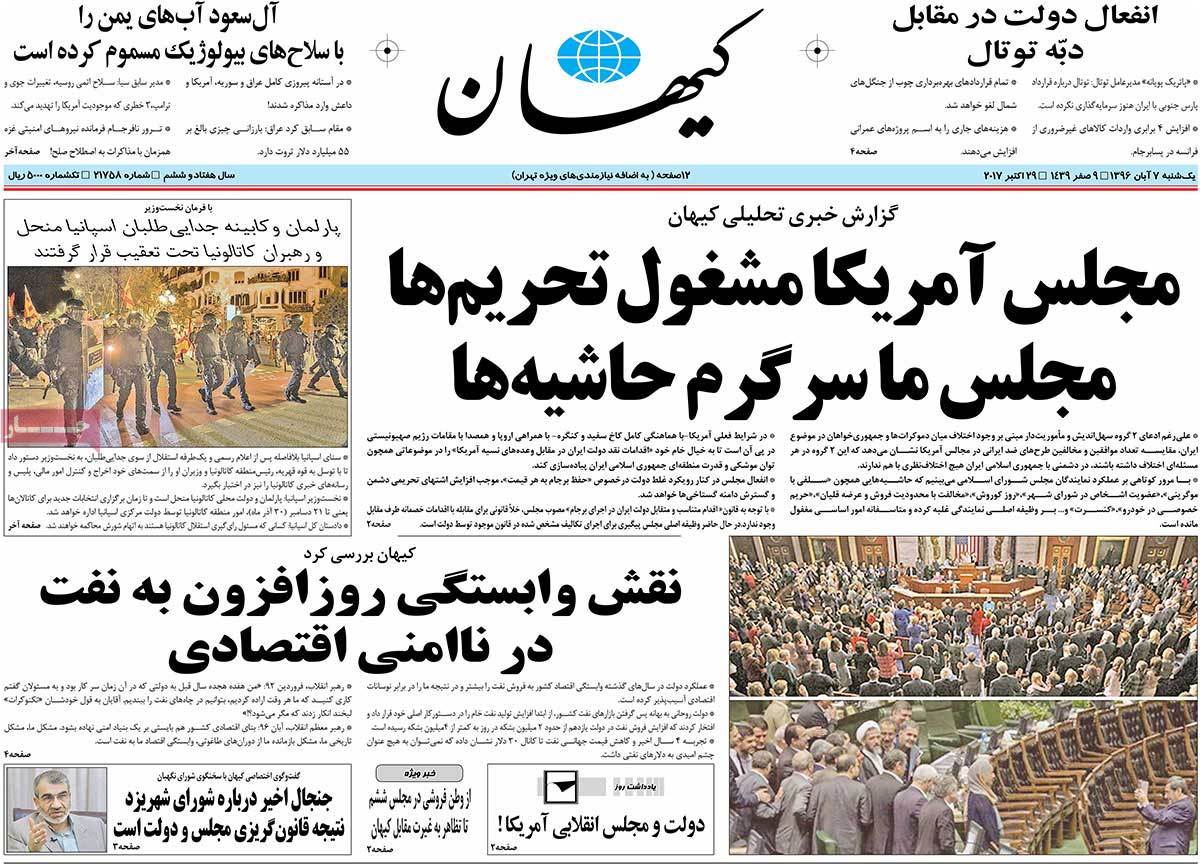 ---
Resalat:
1- US Spokesman: We Want to Stop Iran's Influence in Mideast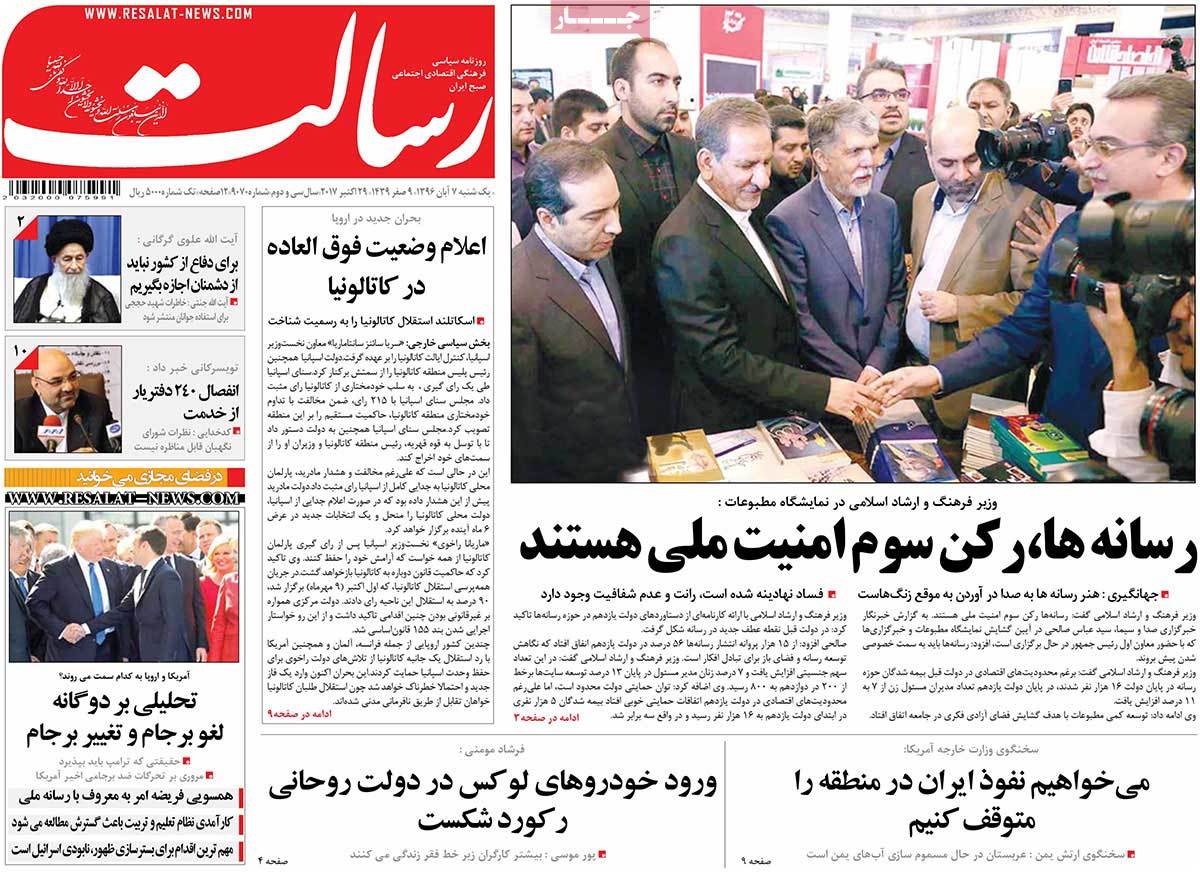 ---
Seda-ye Eslahat:
1- Iran First VP: We Shouldn't Be Afraid of Media despite Their Harsh Criticisms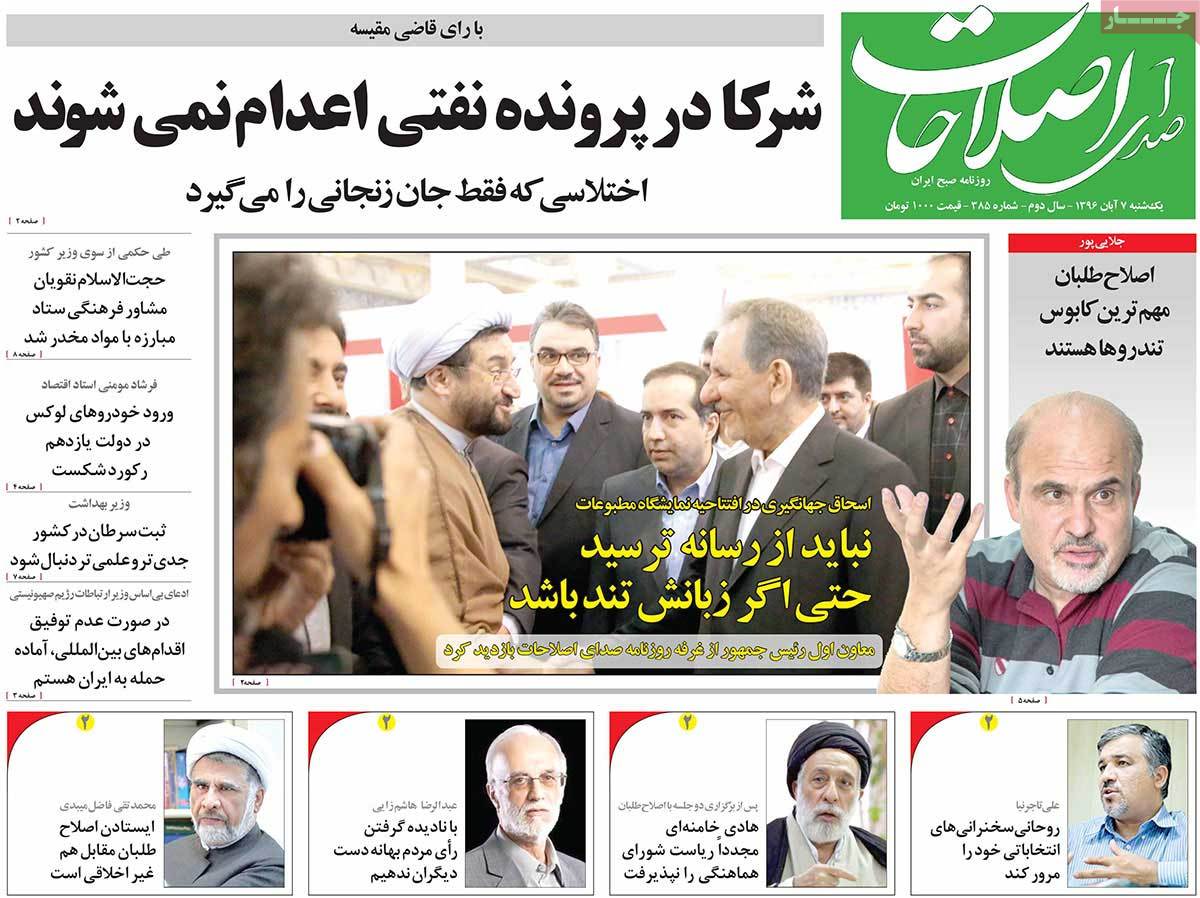 ---
Shargh:
1- Analyst: What Trump Sells and Saudi Arabia Buys
2- Iran Nuclear Official Tells Untold Stories about Makran Nuclear Power Plant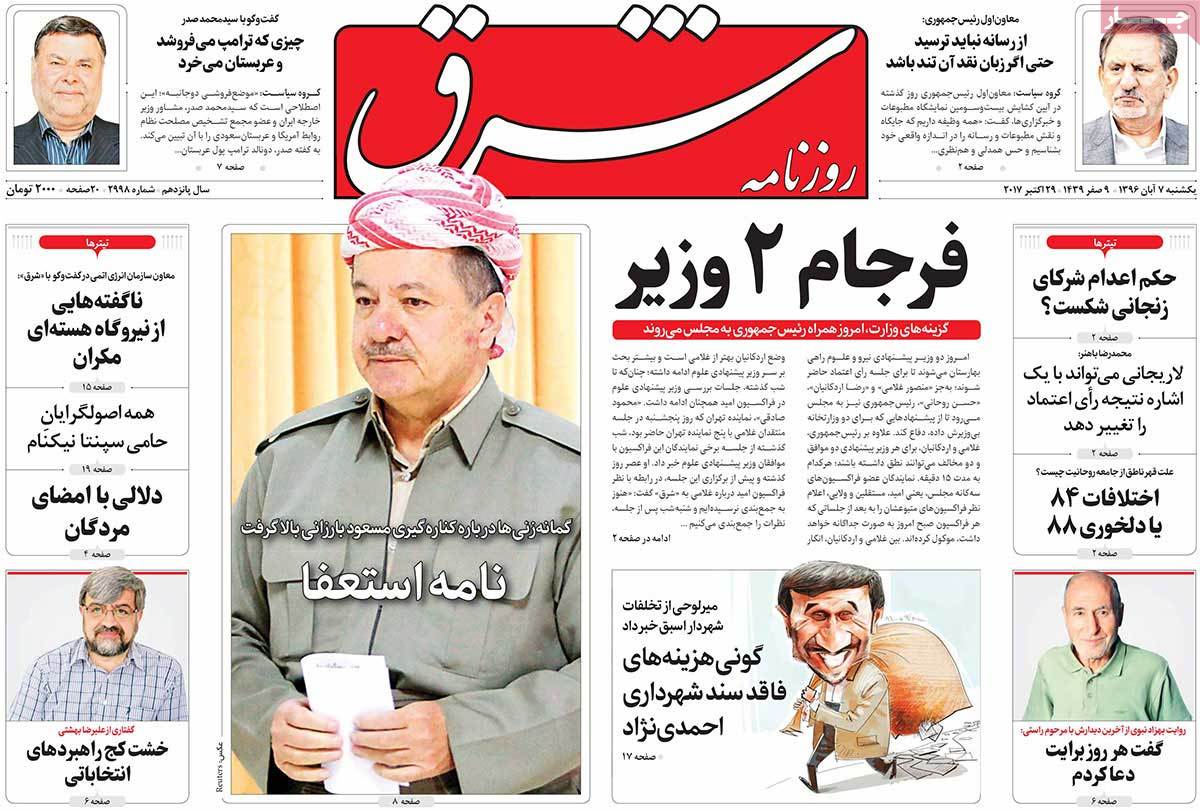 ---
Siasat-e Rooz:
1- IRGC Official: US Administration Wants to Fully Destroy Iranians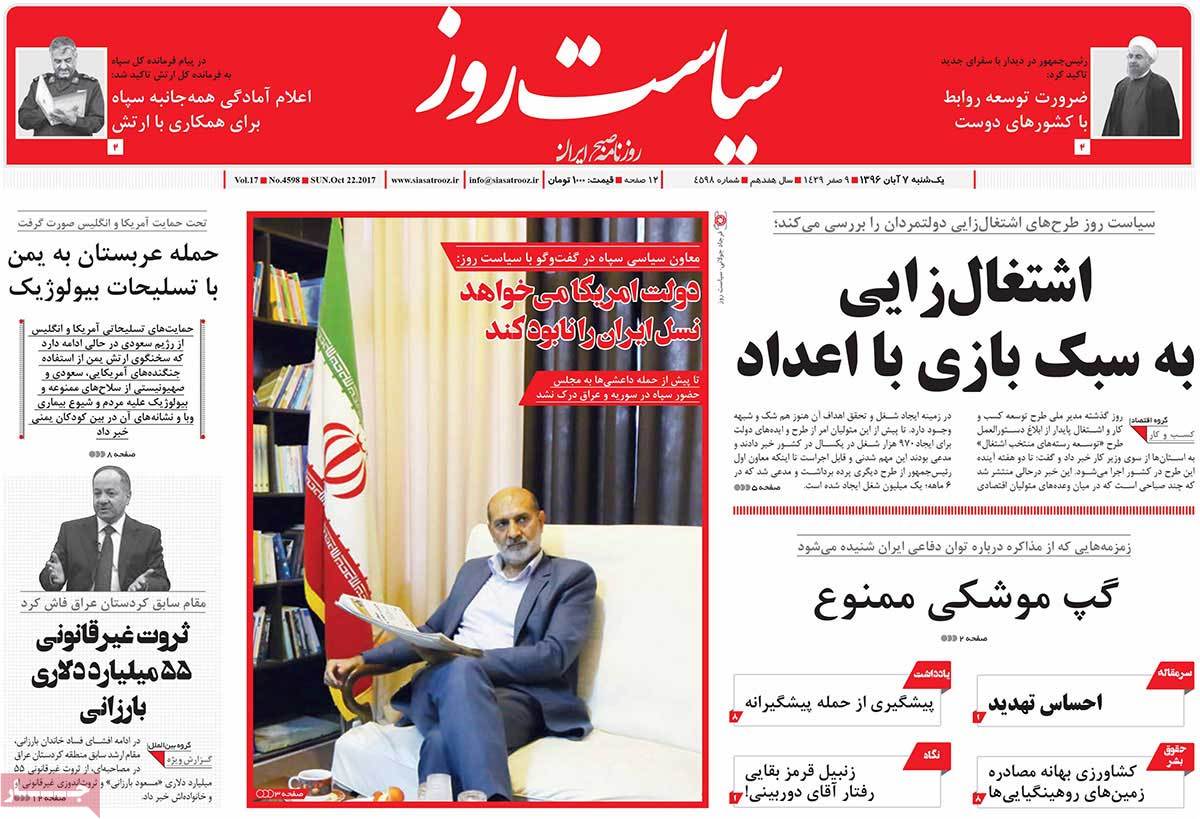 ---
Sobh-e Now:
1- FATF Deadlock: China Playing with Iran over Bank Accounts
2- Project to Remove Islamic Nature of Iran Establishment
Zoroastrian Councilor, Pretext for Attacking Guardian Council