The top story in all Iranian newspapers today was the remarks made by the Leader of Iran's Islamic Revolution Ayatollah Seyyed Ali Khamenei about US President Donald Trump's anti-Iran rhetoric, Europe's stances on Iran's regional presence and missile program, and the nuclear deal between Tehran and world powers.
This was Ayatollah Khamenei's first official reaction since the Trump administration's efforts to undermine the Joint Comprehensive Plan of Action.
Several newspapers, particularly the pro-government ones, widely covered the comments by European officials about their resolve to continue trade ties with Tehran. However, Iran's Leader noted that paying lip service is not enough and they should show their support in action. Ayatollah Khamenei also urged Europe to refrain from interfering in Iran's defensive program and regional presence.
Almost all pro-government and reformist papers also covered the financial charges against former president Mahmoud Ahmadinejad.
Economic papers, meanwhile, covered the Chinese president's remarks about Beijing's efforts to create new era of Chinese Socialism and turning into the world's number one economic power.
Newspapers also continued covering the allegations about Iranian General Qassem Soleimani's mediation between the Iraqi central government and the Iraqi Kurdistan region.
The above issues, as well as many more, are highlighted in the following headlines and top stories:

Abrar:
1- Central Bank Governor: We Have No Illegally Operating Financial Institute
2- Rouhani: Iran Welcomes Promotion of Ties with Uzbekistan
3- Former Iraqi Intelligence Official: Iran's Mediation Prevented Bloodshed, Destruction
4- Trump: We'll Counter Iran, North Korea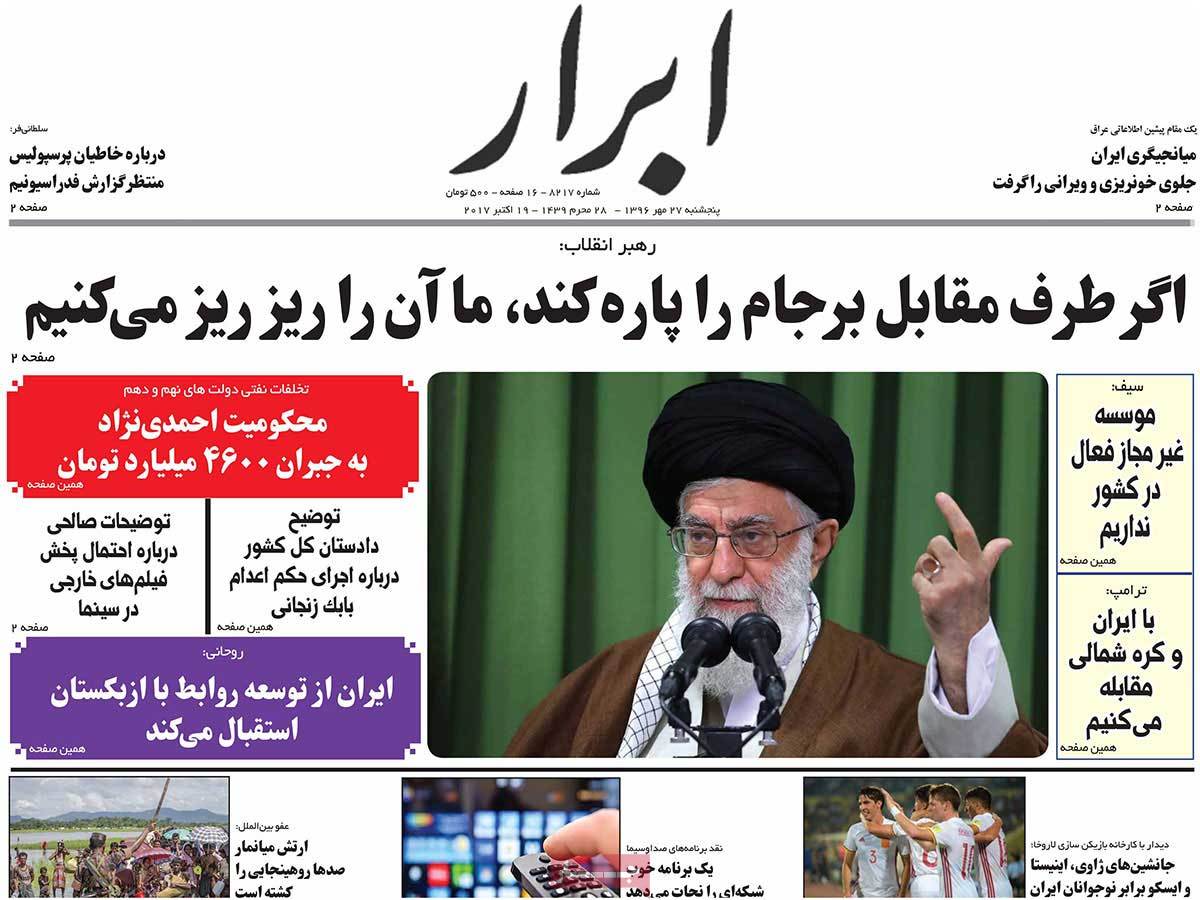 ---
Afkar:
1- Shamkhani: Europe Just Paying Lip Service after JCPOA
2- IRGC General: Continued Implementation of Dead Nuclear Deal Not Beneficial
---
Aftab-e Yazd:
1- Aref Trying to Hold Reformists Accountable
2- Foreign Ministry Spokesman: Iran to Continue Cooperation with North Korea
---
Arman-e Emrooz:
1- Leader: We Won't Scrap Nuclear Deal If Others Don't Do It
2- Parliament Speaker: Suspension of Zoroastrian Councillor Illegal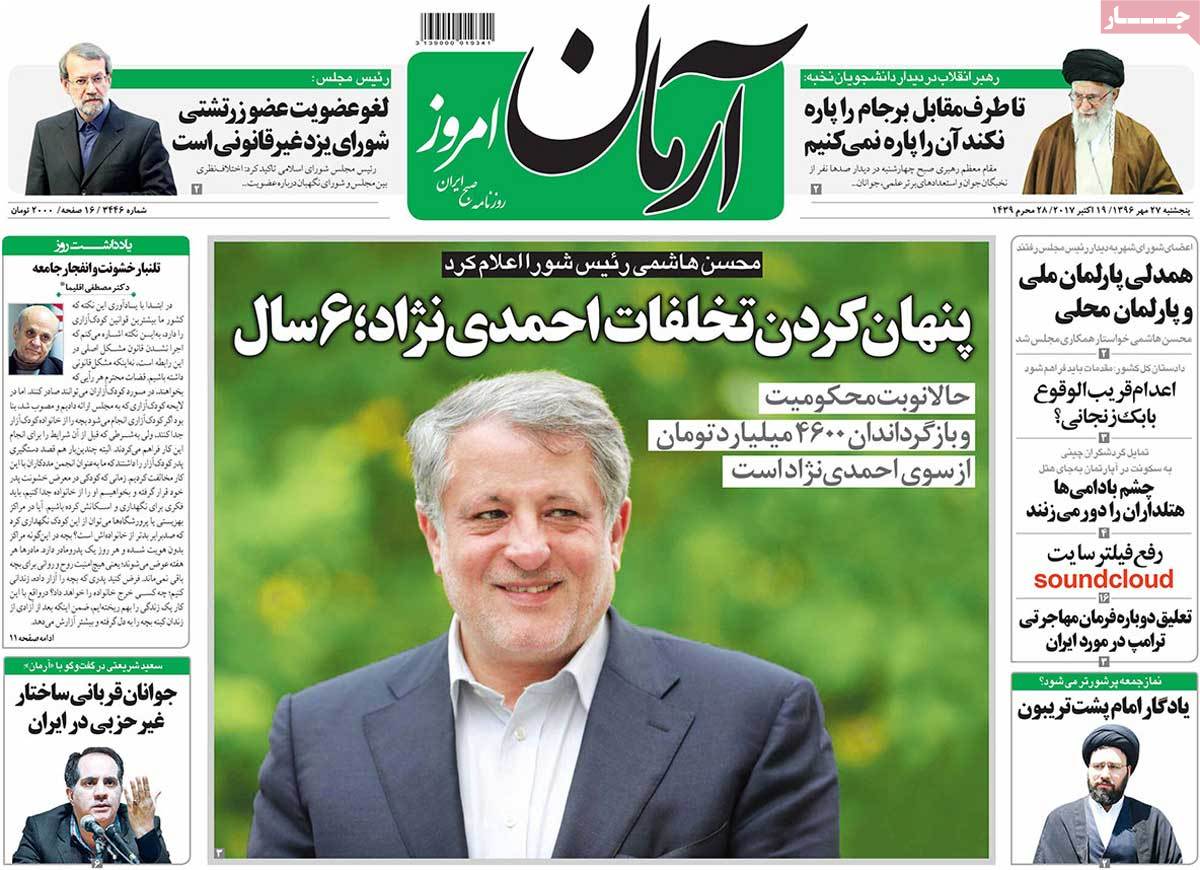 ---
Ebtekar:
1- Shamkhani: Europe Should Take Practical Steps against US Gov't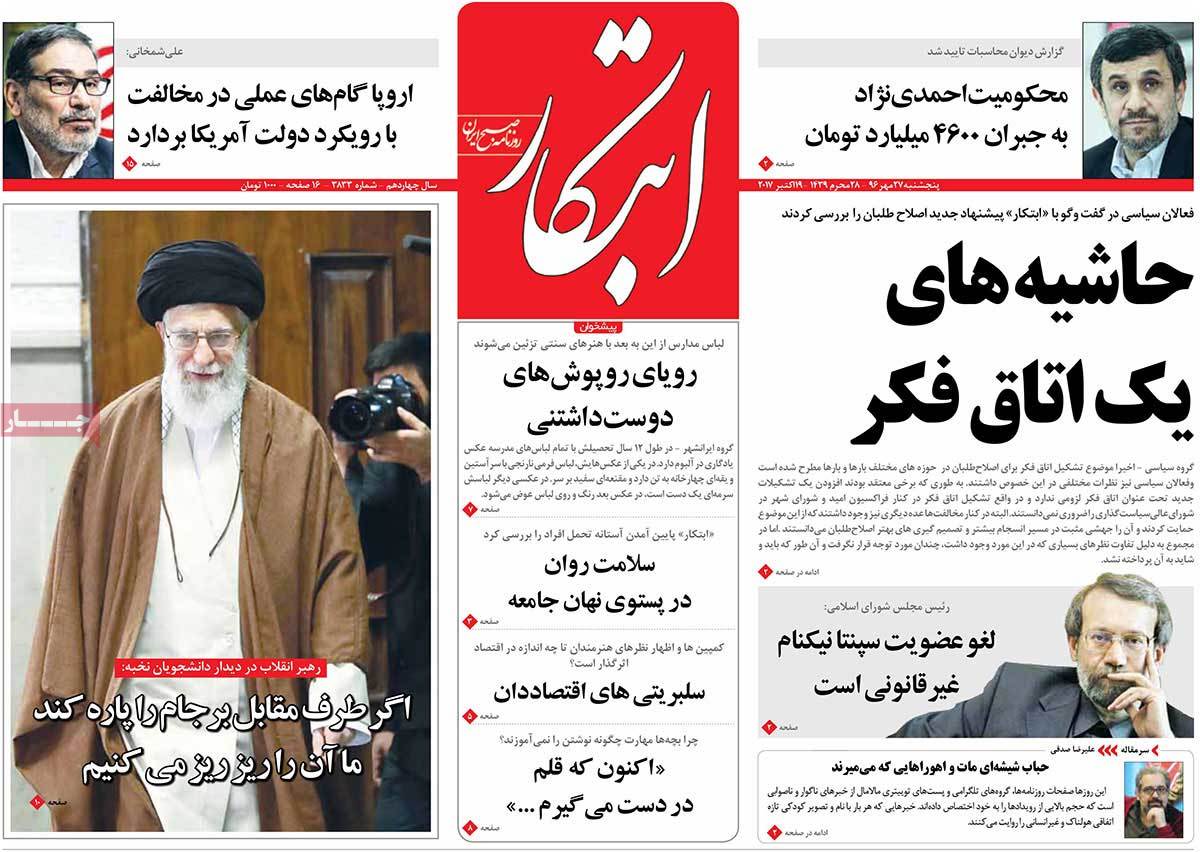 ---
Etemad:
1- Iran Leader: Europe Should Stand against US
2- Larijani Defends Zoroastrian Member of Yazd City Council
3- Details of Ahmadinejad's IRR 46,000 Billion Offence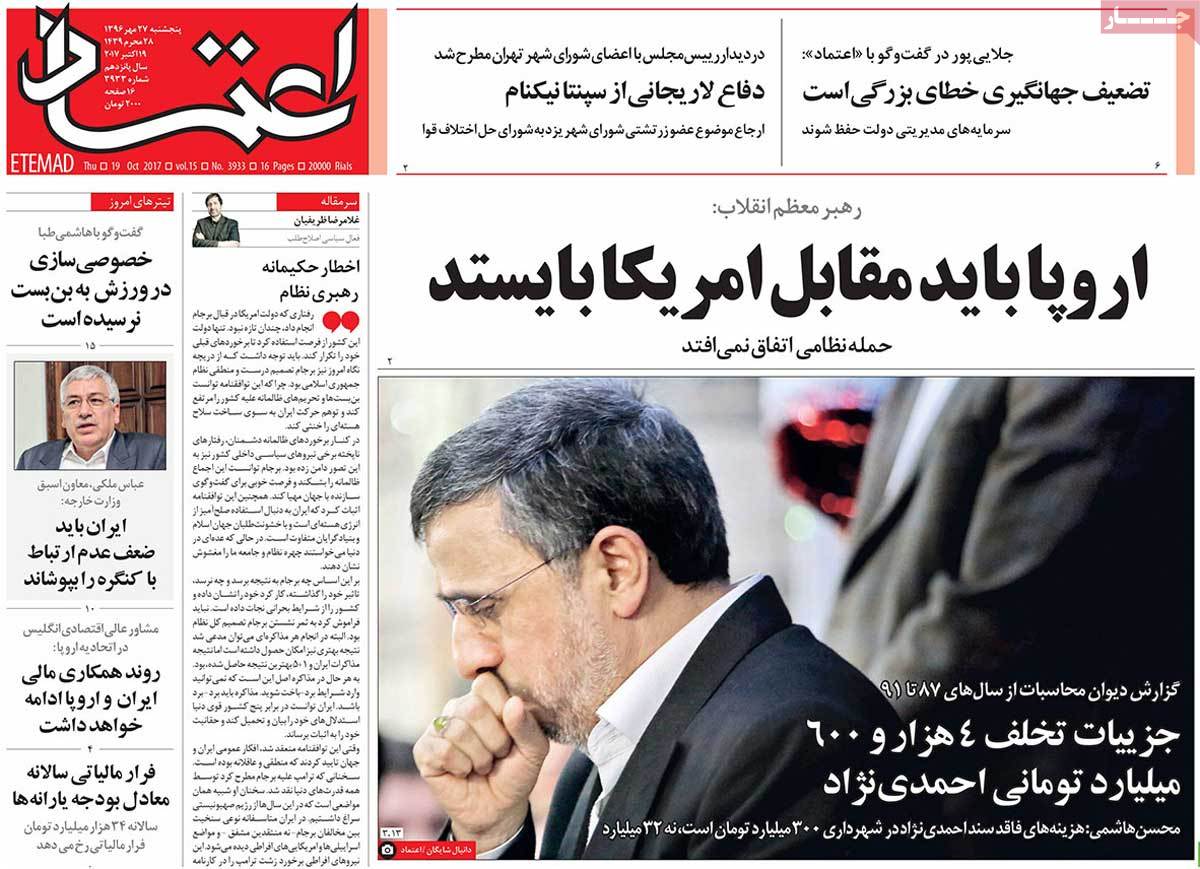 ---
Ettela'at:
1-Acting Energy Minister: Iran to Fertilize Clouds in Areas with Low Precipitation
2- Iran Leader: Europeans Should Stand against US Anti-Iran Stances
3- Biden: European Leaders Comparing Trump to Mussolini
4- Rouhani: Collective Efforts Needed for Maintaining Mideast Peace, Security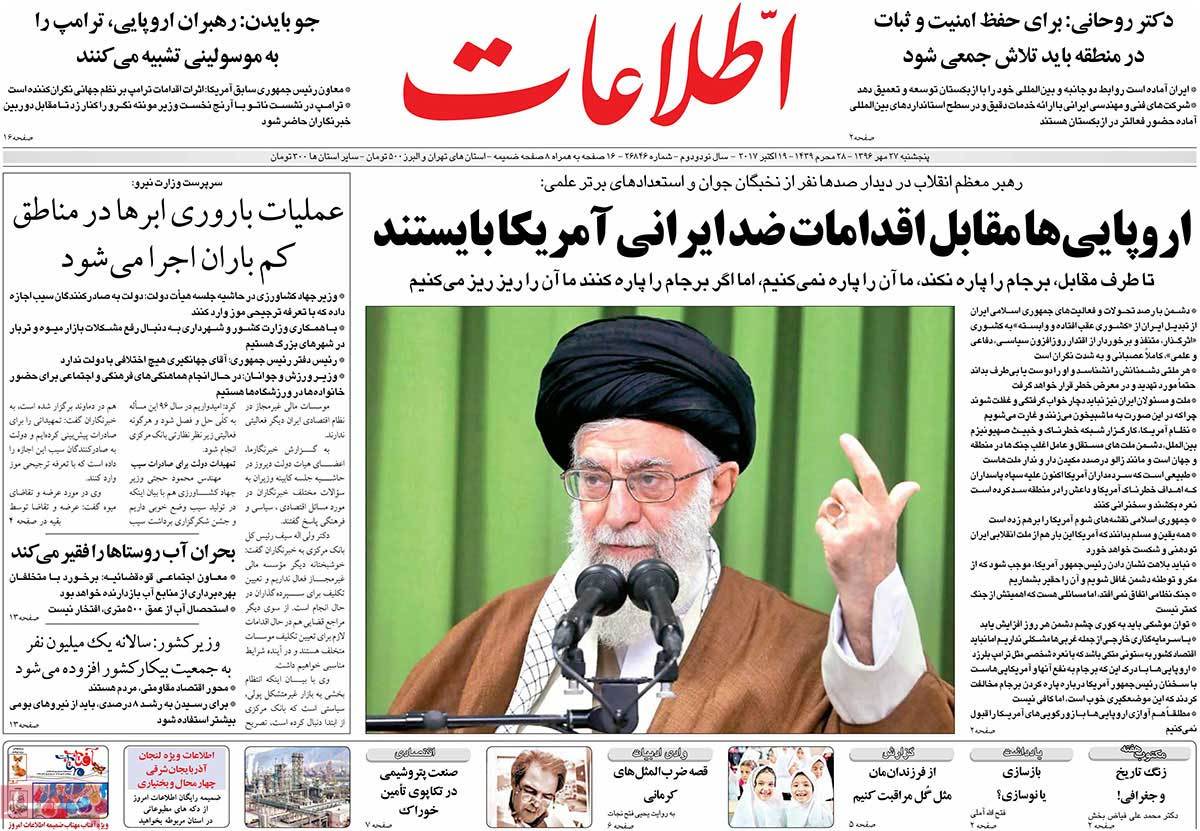 ---
Jame Jam:
1- Iran Leader: If They Tear Apart JCPOA, We'll Shred It
2- Barzani, the Big Loser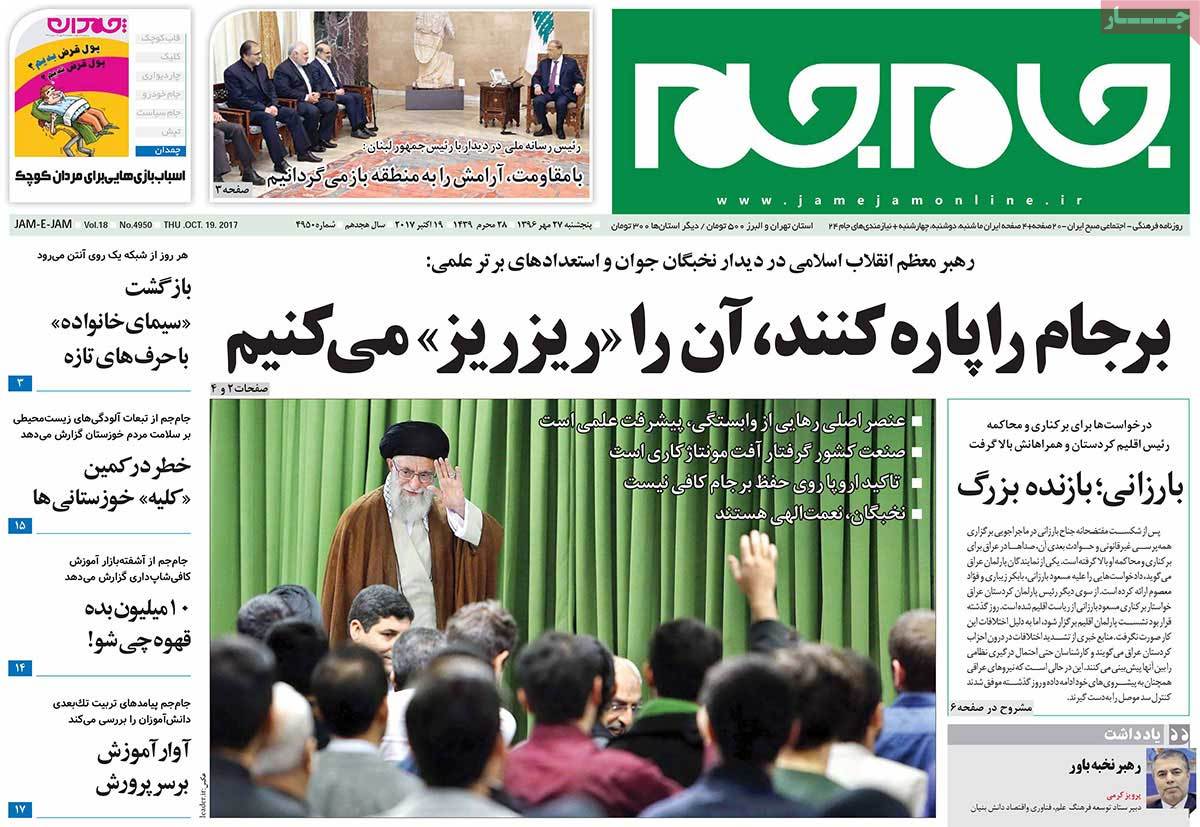 ---
Javan:
1-Iran Leader: I Don't Waste My Time by Responding to Rude US President
2- Iran's Missiles None of Europe's Business: Ayatollah Khamenei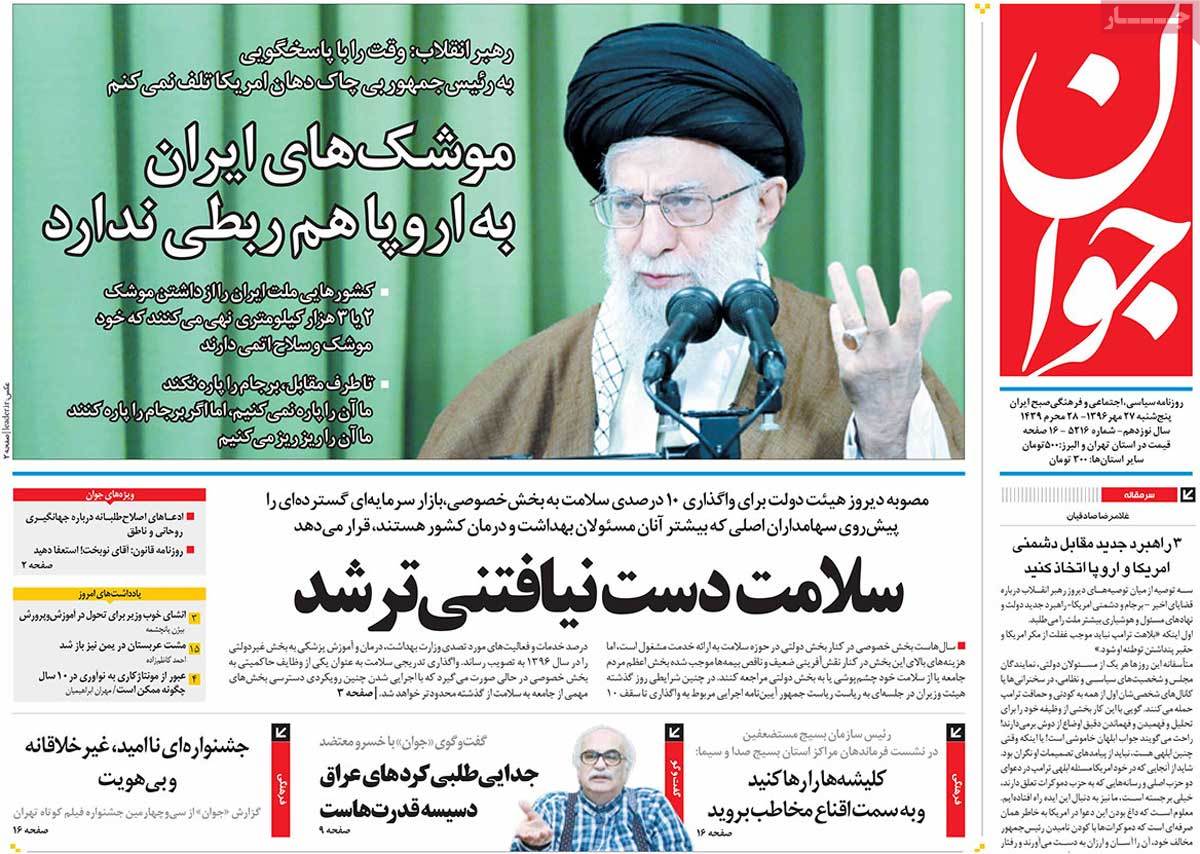 ---
Jomhouri Eslami:
1- Iran Leader: US Will Once Again Be Defeated by Iranian Nation
2- Iran, Norway Sign €2 Billion Energy Deal
3- Iraqi Kurdistan's Parliament Speaker Call for Barzani's Resignation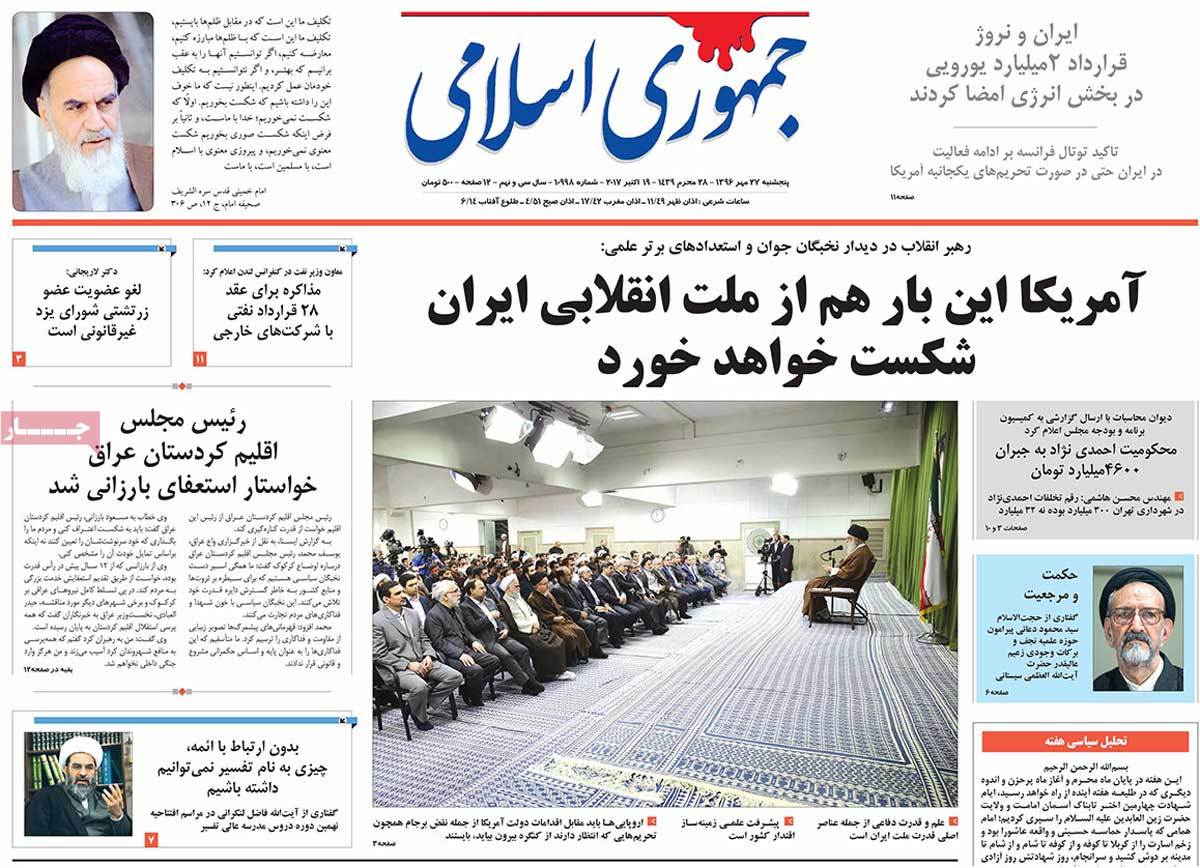 ---
Kayhan:
1- Iran Leader: JCPOA Is to US Benefit; If They Tear It Apart, We'll Shred It
2- Syrian Army's Legendary Man Martyred
3- British Security Official: We've Never Been Faced with Terrorist Threats as We Are Today
4- New Yorker: Most Serious Opponents of Iran Back JCPOA
---
Shargh:
1- We've Never Turned Our Back to Negotiation
2- PUK Representative in Iran: Iraqi Kurdistan Accepted General Soleimani's Plan