The top story in today's newspapers was US President Donald Trump's upcoming declaration of his new Iran strategy, particularly his possible decertification of Iran nuclear deal.
Newspapers also covered President Hassan Rouhani's support for the Islamic Revolution Guards Corps ahead of Trump's expected designation of IRGC as a terrorist organization. Iran has warned that such move will receive crushing responses.
The latest report by the International Monetary Fund (IMF) about Iran's economy in 2016 also received great coverage. Reformist and pro-government papers highlighted its positive aspects, including the economic growth rate of over 12% and the single-digit inflation rate, and conservative ones covered the high unemployment rate reported by the international body.
The above issues, as well as many more, are highlighted in the following headlines and top stories:

Abrar:
1- MP: Maybe Parliament Speaker Believes It's Not Appropriate to Summon President
2- Zarif: Iran Ready to Take Any Reciprocal Measure against US JCPOA Decision
3- Iran's Economy Big Enough Not to Be Influenced by a Foreign Dignitary's Remarks: VP
4- Moscow: JCPOA Withdrawal from JCPOA to Worsen Mideast's Situation
5- 95,000 People Displaced in 8 Days in Deir ez-Zor: UN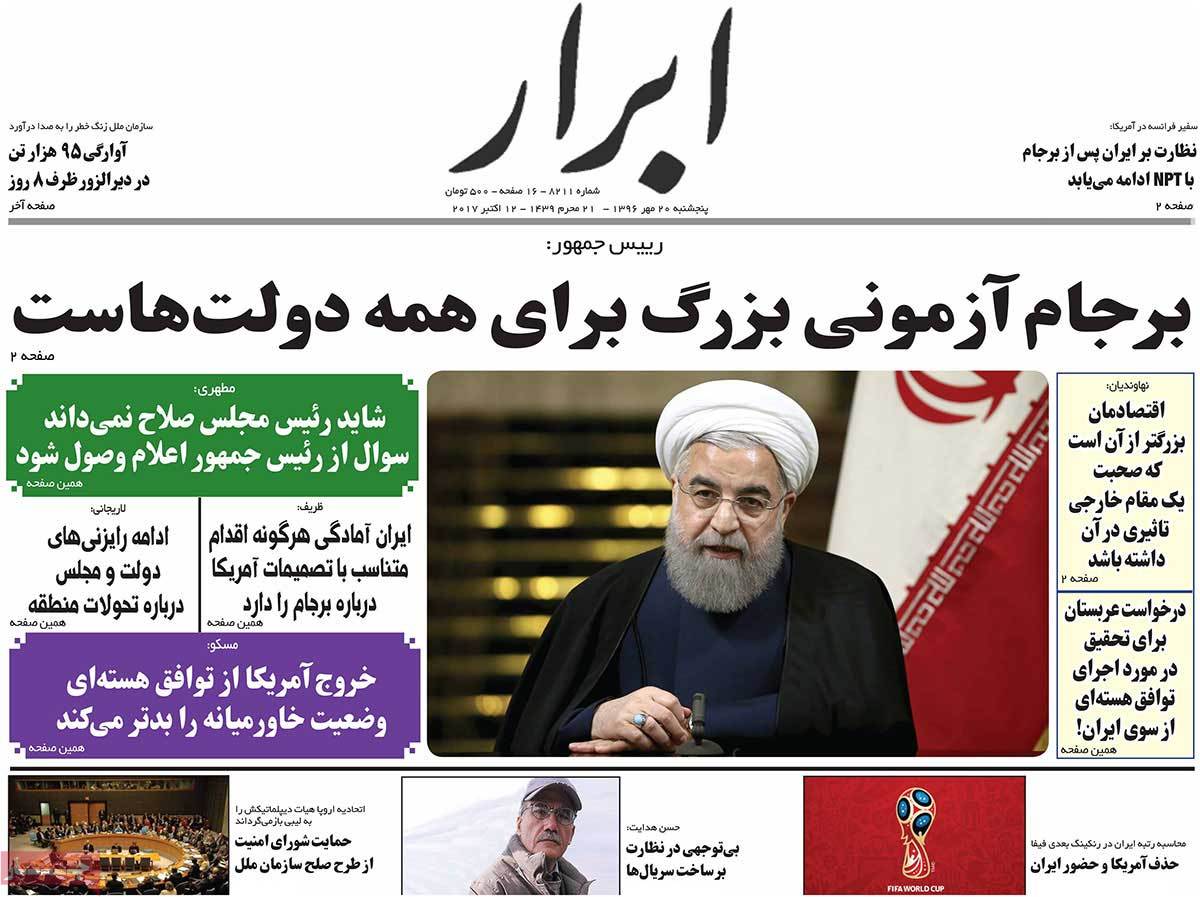 ---
Afkar:
1- IRGC Humiliated ISIS, Hence US Anger with IRGC: Rouhani
2- British Ambassador: No Major Bank Working with Iran
3- General: IRGC Has Given Good Lessons to People Crazier than Trump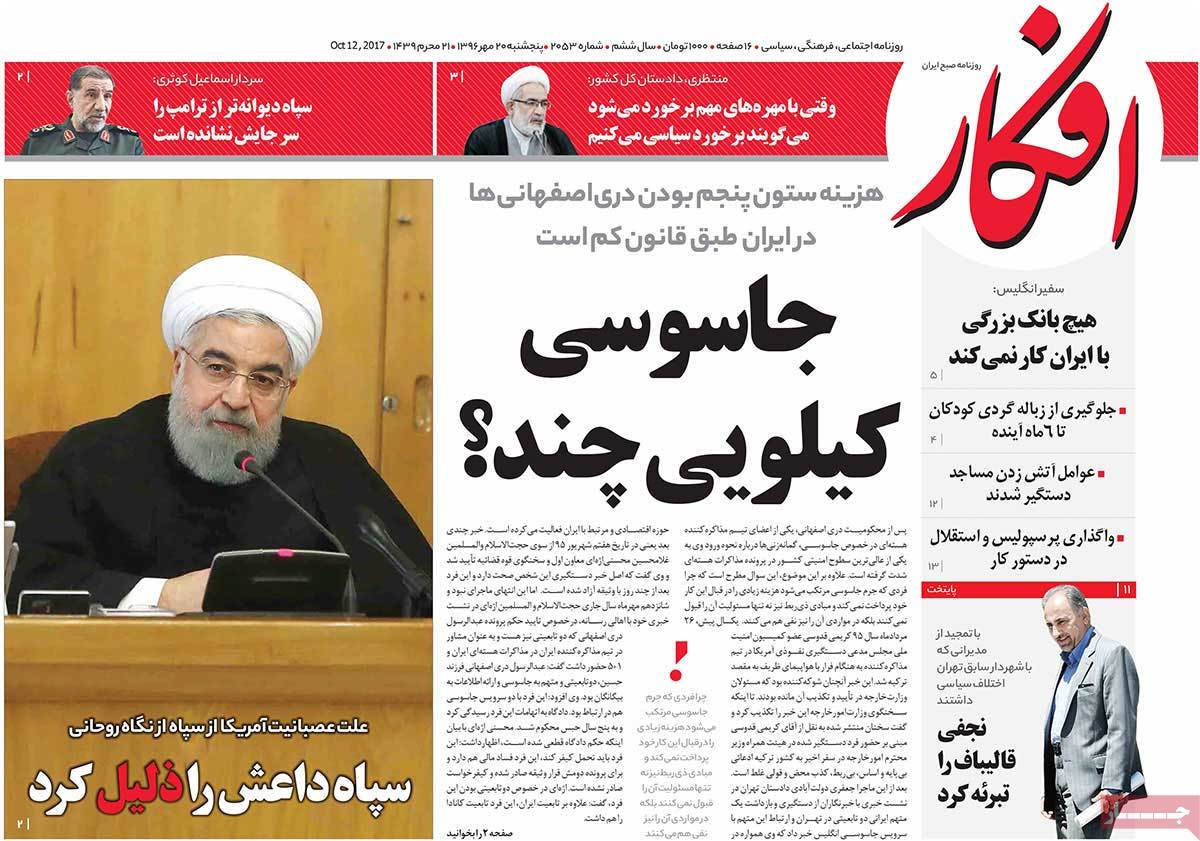 ---
Aftab-e Yazd:
1- US to Declare Decision on Iran Nuclear Deal: Decisive Day for JCPOA
2- Tehran Mayor Defends His Picks: Some of Qalibaf's Managers Were Good Ones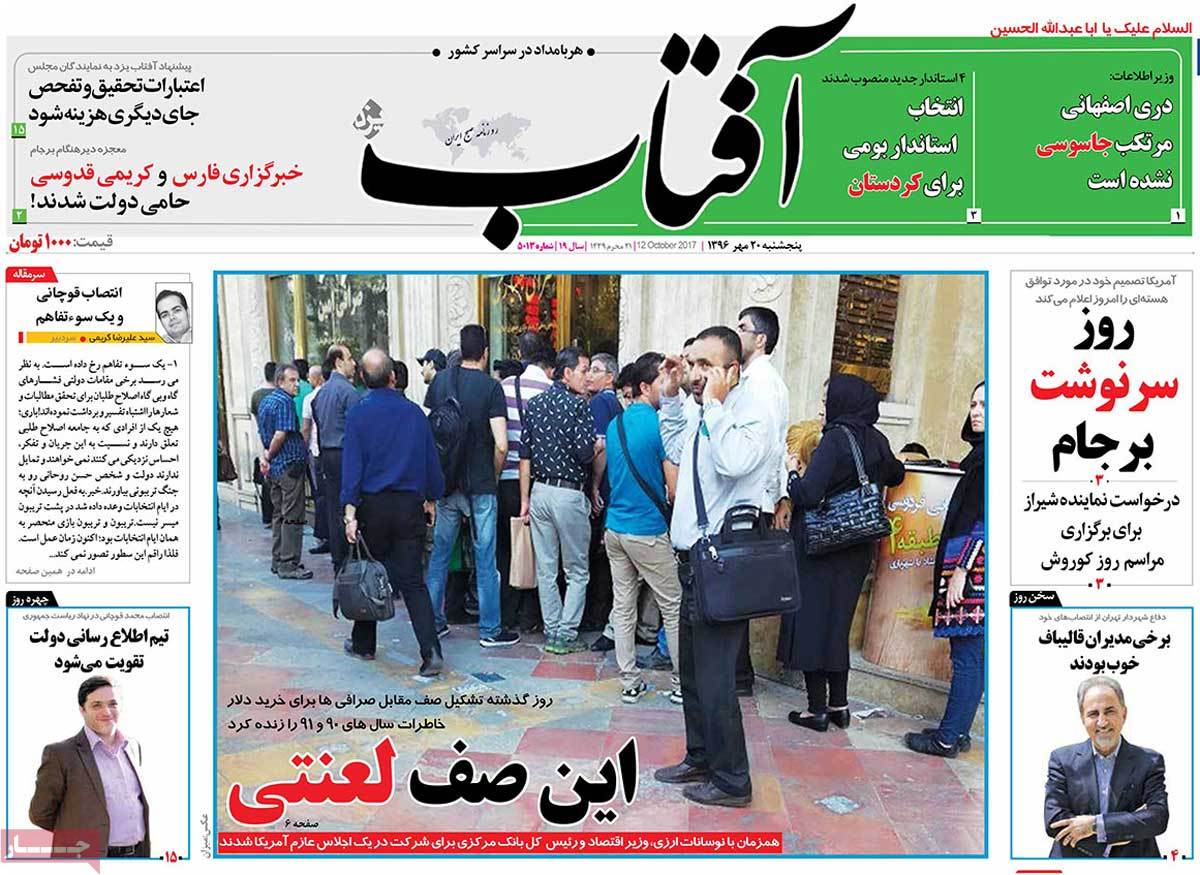 ---
Arman-e Emrooz:
1- MP Urges Minister to Set National Day for Commemoration of Cyrus the Great
2- Rouhani: Iran Nuclear Deal Big Test for All Governments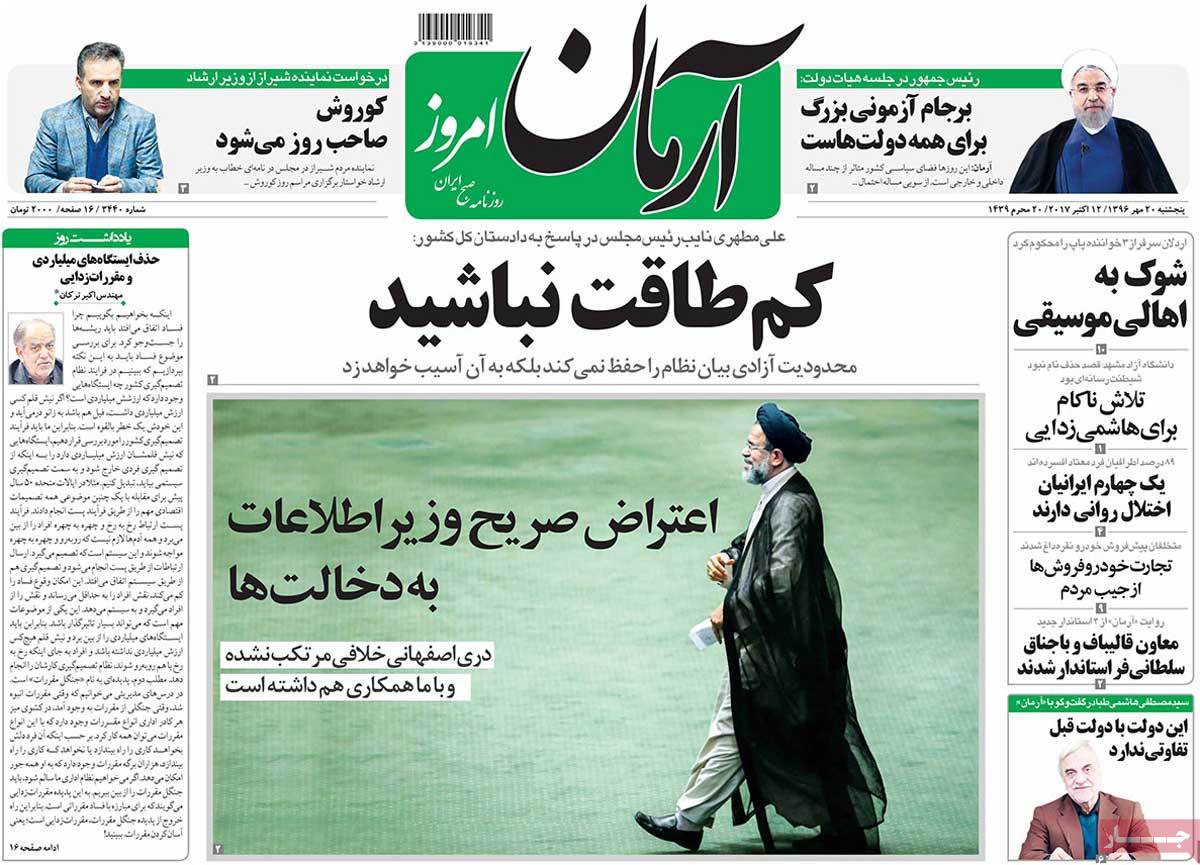 ---
Ebtekar:
1- Rouhani: Withdrawing from JCPOA Defeat for Them Not for Us!
2- Iranian Nation, Government, Parties, Military United against Enemy
3- Last Consultations Aimed at Saving JCPOA from Trump
4- Ifs and Buts of Parliament's Question from President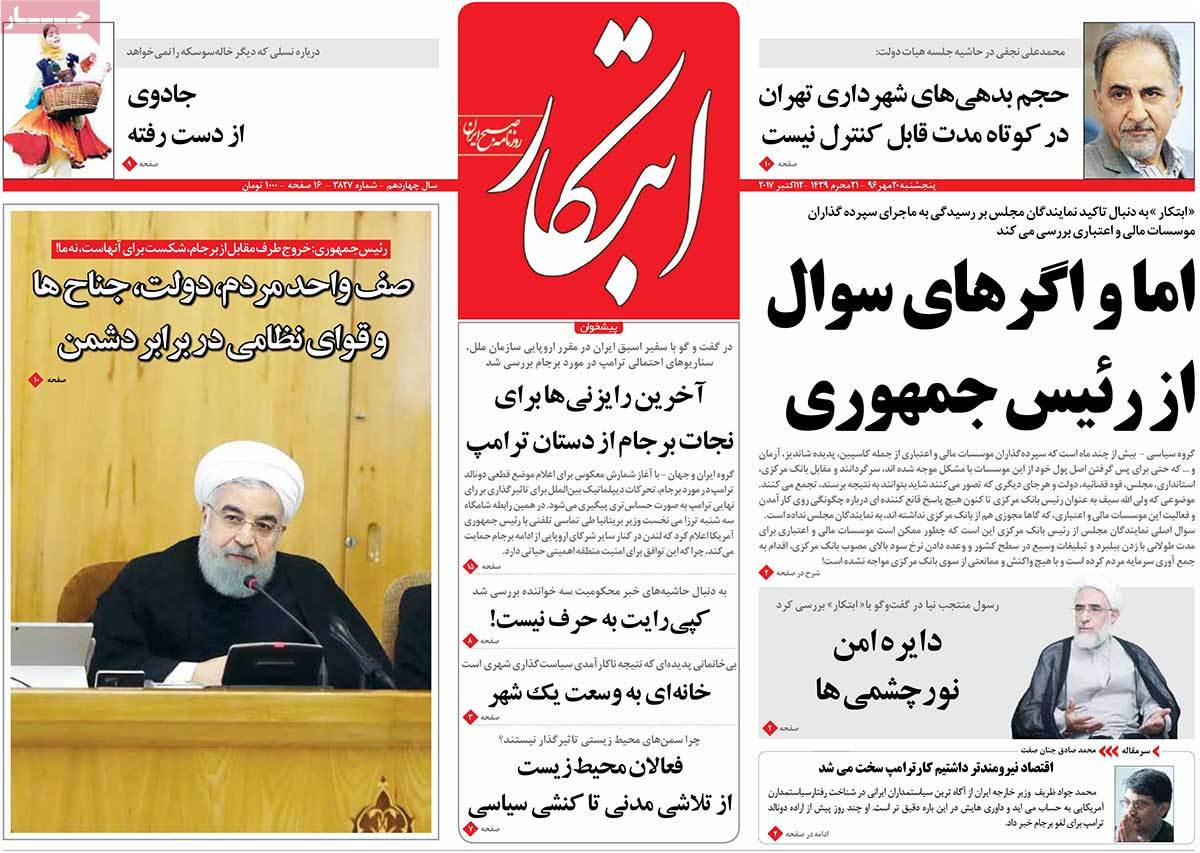 ---
Etemad:
1- Iran's Prosecutor General Criticizes Judiciary
2- British Foreign Secretary: London Trying to Protect Iran Nuclear Deal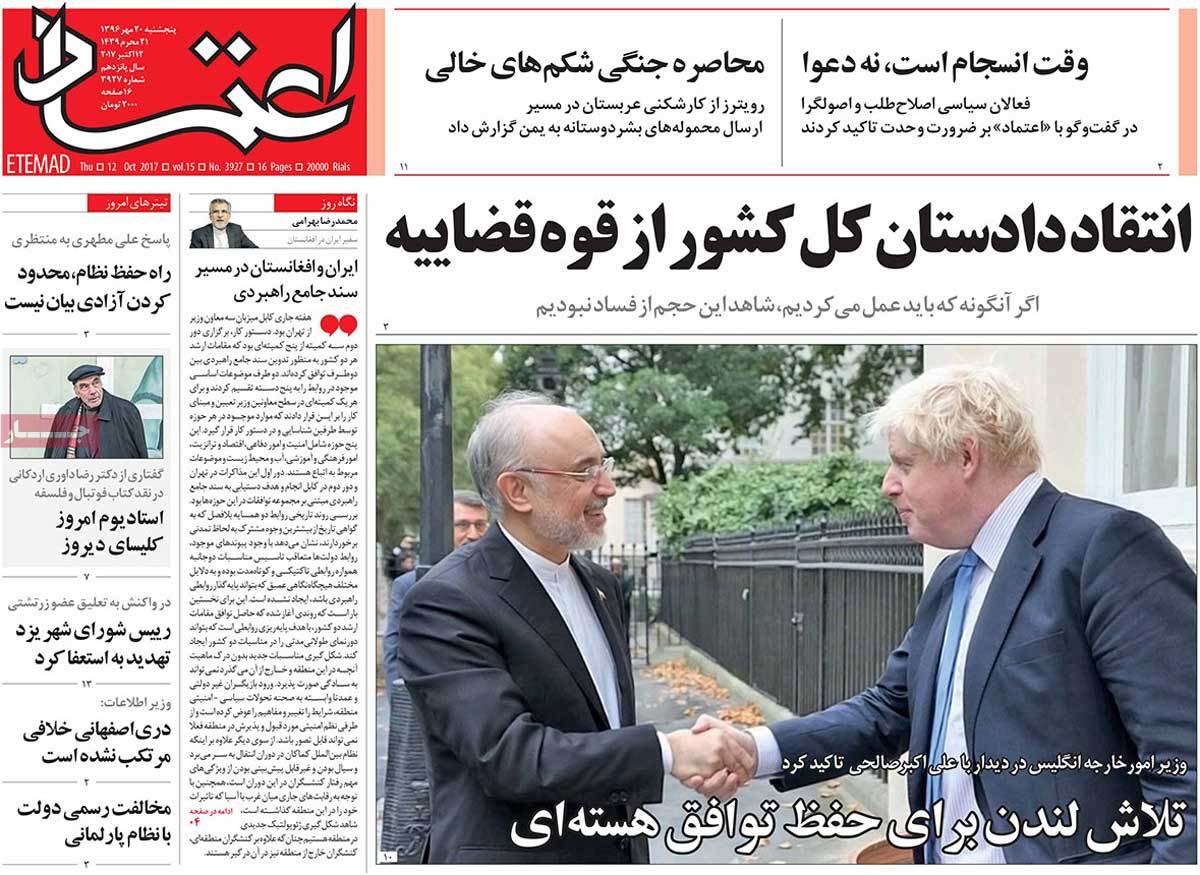 ---
Ettela'at:
1- Rouhani: No Difference between Parties in Countering Enemies
2- Zarif: Trump's Anger Caused by Iran's Regional Power
3- Netanyahu: Israel's Existence Declining
4- Larijani: Foreign Investment Crucial to Completing Iran's Railway System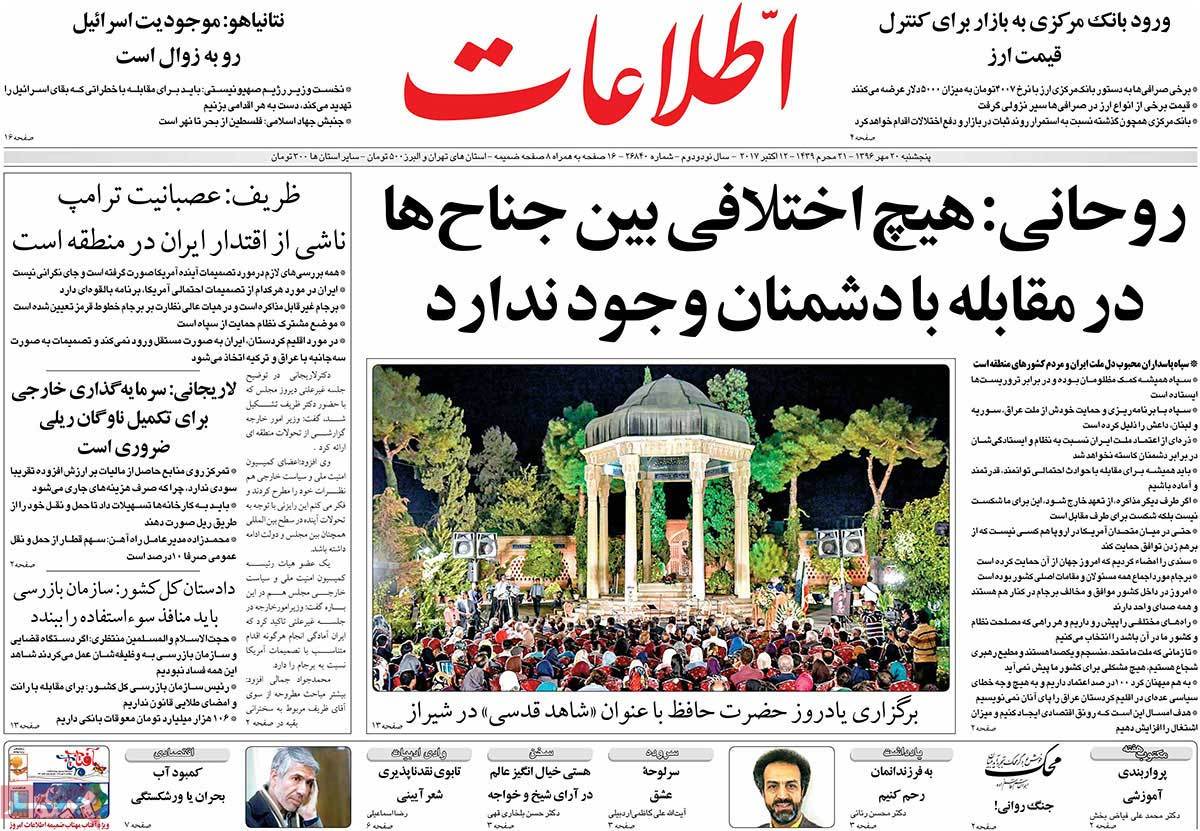 ---
Iran:
1- IMF 2016 Report Confirms 12.5% Economic Growth, Single-Digit Inflation Rate
2- CEO: Renault Not to Leave Iran
3- Catalonia Parliament Endorses Independence Document
---
Jame Jam:
1- Rouhani: IRGC Popular in Iran, Middle East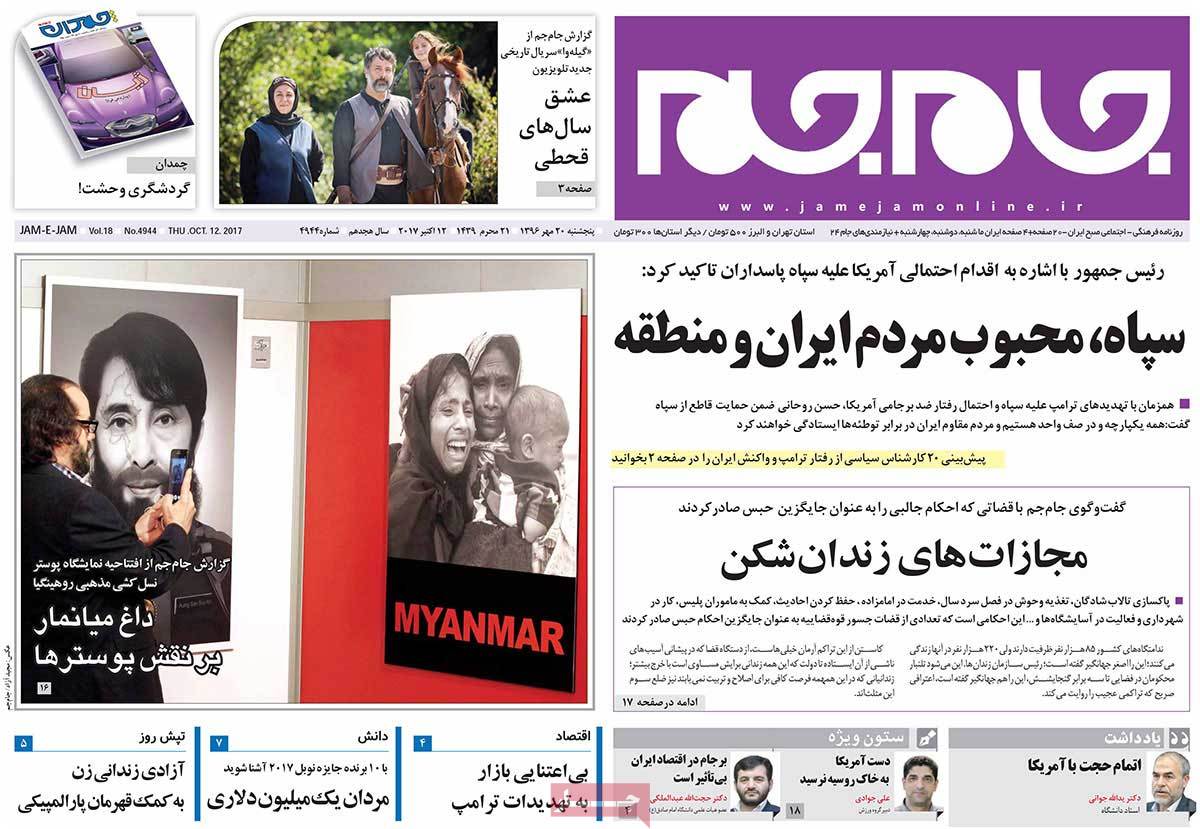 ---
Javan:
1- US President to Talk about JCPOA with Iranian People
2- Moscow: Iran Has Every Right to Withdraw from JCPOA If US Imposes New Sanctions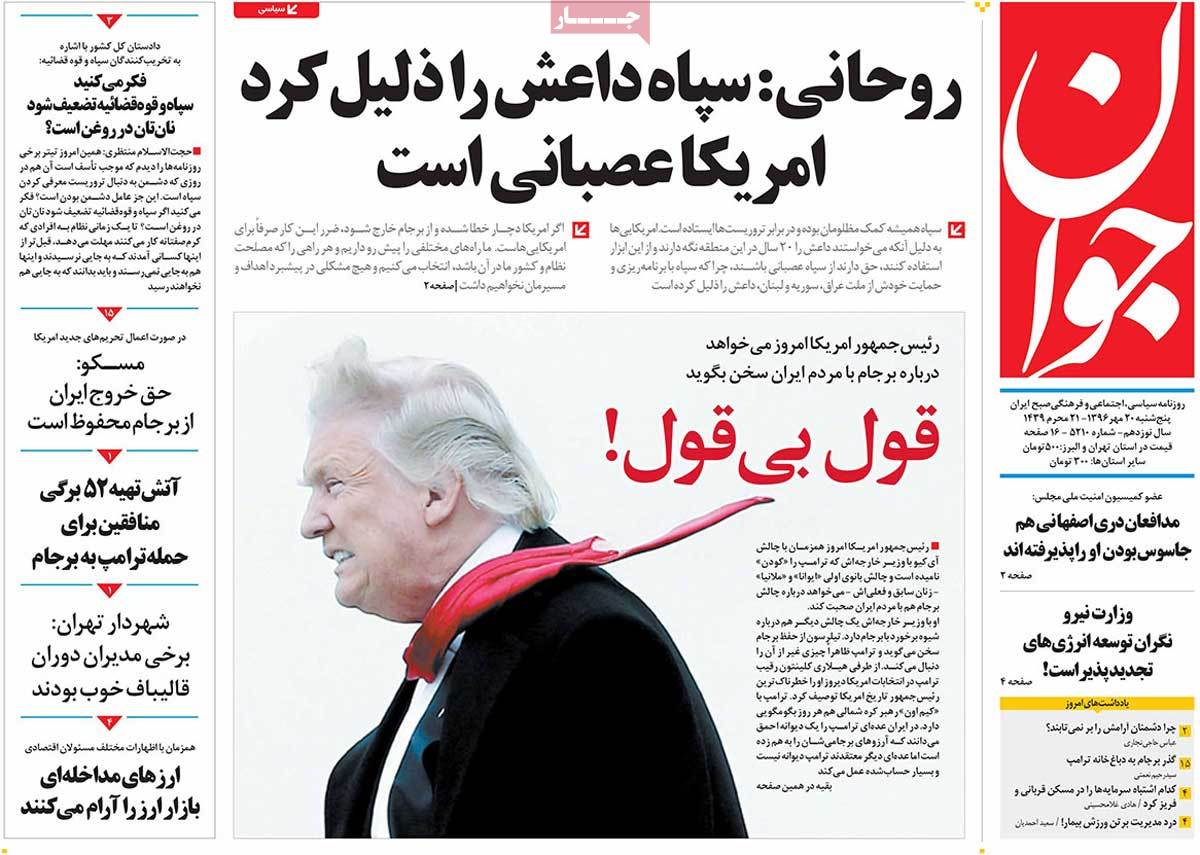 ---
Jomhouri Eslami:
1- Germans Make $120m Investment for Construction of Solar Power Plant in Iran
2- International Community Continues Warning Trump about JCPOA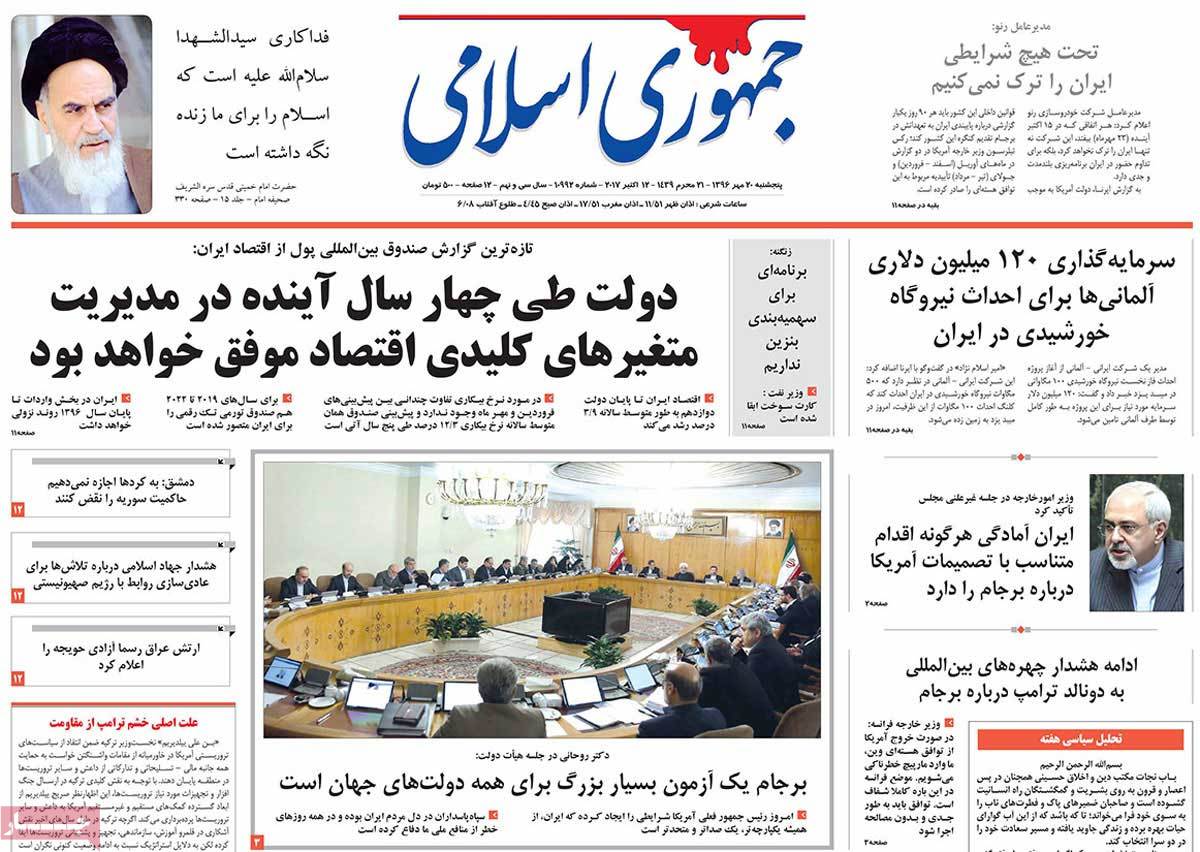 ---
Kayhan:
1- UN: Yemeni People Suffering from Worst Cholera Epidemic in History
2- According to IMF, Unemployment in Iran 10 Times Worse under Rouhani
3- Trump's Plot, Half-Dead JCPOA, Iran's Passivity
4- Trump, Tillerson Involved in Challenge of Who's More Stupid!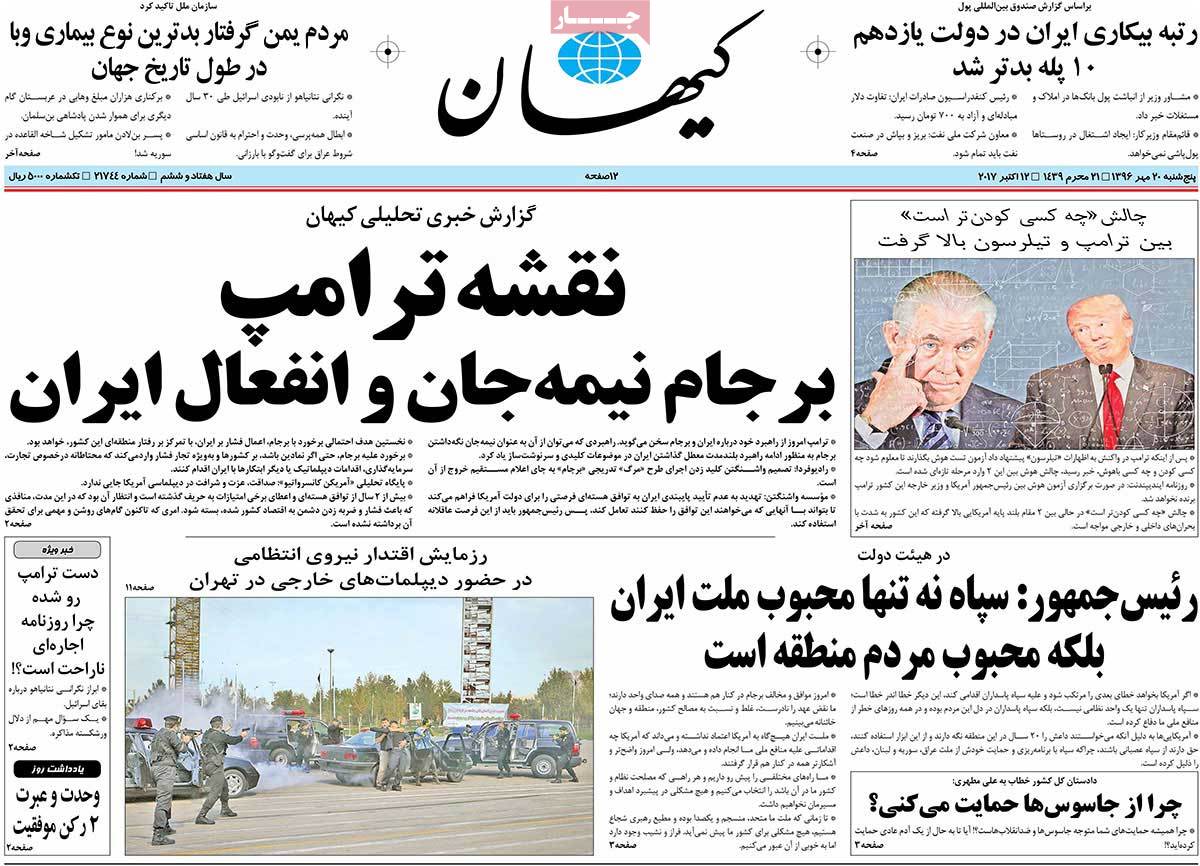 ---
Khorasan:
1- Rouhani Expresses Full Support for IRGC, Gives Strong Warning to US
2- First Phase of Iran's Biggest Oceanic Port Ready for Operation