The issue of Iran nuclear deal, also known as JCPOA, has remained a top story in Iranian newspapers amid the recent verdict issued for a former member of Iran's nuclear negotiating team, the US stonewalling in JCPOA implementation, and the possibility of Trump's withdrawal from the deal.
On Wednesday, several papers tried to predict Trump's decision about his new Iran strategy and provide suggestions for Iran's possible reaction to the US violation of the nuclear deal.
The conservative paper Kayhan, in its op-ed, said the US president is trying to intensify anti-Iran sanctions and deprive it of JCPOA benefits while keeping the nuclear deal.
Reformist papers also tried to introduce Abdol-Rasoul Dorri Esfahani, the former member of Iran's nuclear negotiating team sentenced to 5 years in prison for espionage, as someone unrelated to the Foreign Ministry's negotiating team.
Also on domestic issues, newspapers continued to warn about the increase in dollar rate and the country's economic situation, while also releasing reports on the possibility of a change in Iran's Constitution.
The above issues, as well as many more, are highlighted in the following headlines and top stories:
Abrar:
1- Iran Army Has Plans to Counter Soft War: Senior General
2- Gov't Spokesman: World Should Acknowledge IRGC's Defence against ISIS Terrorists' Invasion
3- Zarif: Iran's Defensive Capabilities Not Open to Negotiation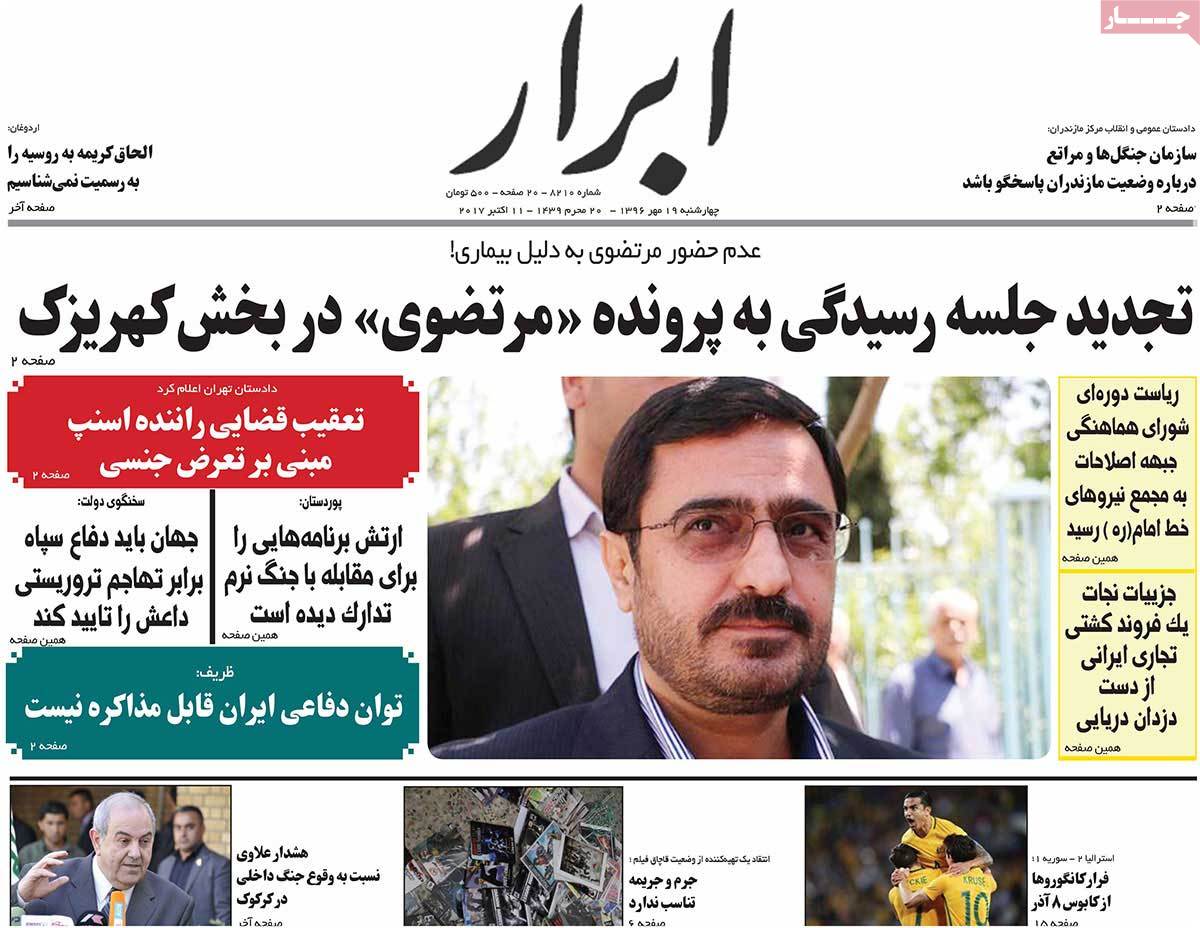 ---
Aftab-e Yazd:
1- What Zoroastrians Have Done for Yazd
An Interview with Representative of Zoroastrian Community in Iran Parliament
2- Dorri Esfahani Not Member of Iran Nuclear Negotiating Team: Former Negotiator
3- Don't Call Trump a Crazy Man: Conservative Journalist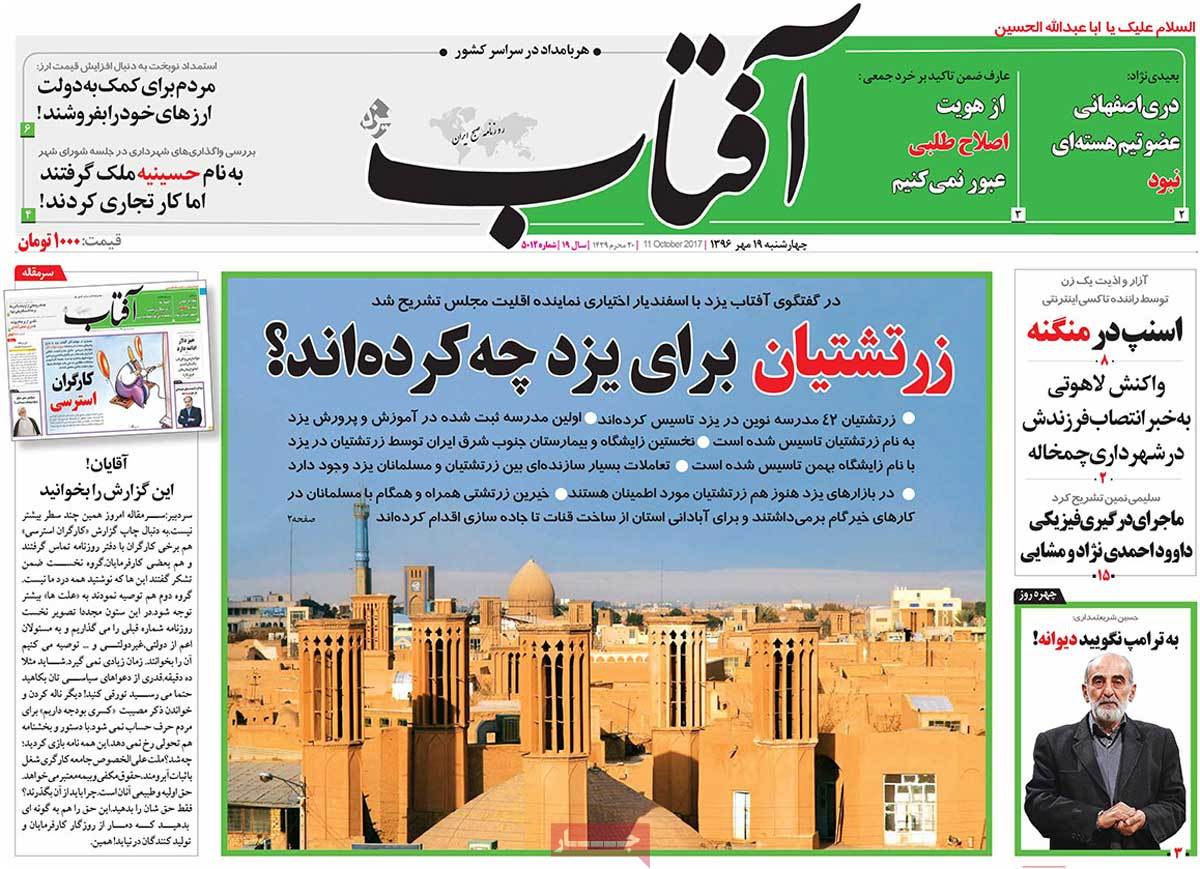 ---
Asrar:
1- Zarif: No Country Should Be Afraid of Iran's Military Power
2- Rouhani: War, Exacerbation of Regional Conflicts Not in Any Country's Interests
---
Ebtekar:
1- Rouhani: Iran Resolved to Expand Friendly Ties with Neighbouring States
2- Spokesman: Arrest of First VP's Brother Has Nothing to Do with Rouhani's Gov't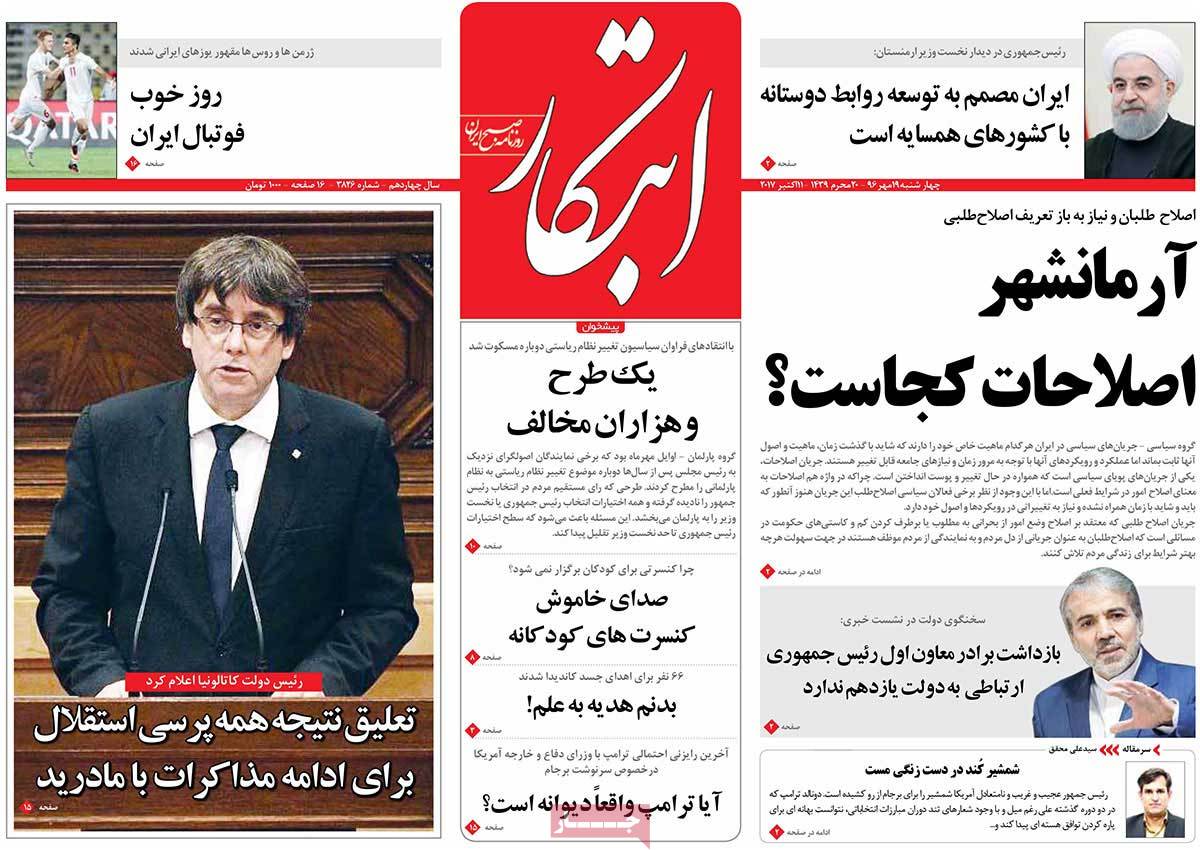 ---
Ettela'at:
1- Iran's Nuclear Chief Warns US against Trying to Scrap Nuclear Deal
2- IRGC One of Components of Iran's Power, National Defence: Gov't Spokesman
3- General Soleimani: Iraqi Kurdistan Crisis Caused by Absence of Talabani
---
Hemayat:
1- Gov't, Parliament, Officials Warn US against IRGC Blacklisting
All Options on Table for Reciprocation
Russia Criticizes White House's Possible Move against IRGC
---
Iran:
1- Spokesman: Gov't Opposed to Increase in Dollar Rate
2- We've Forgotten Joy of Persian Words: Senior Novelist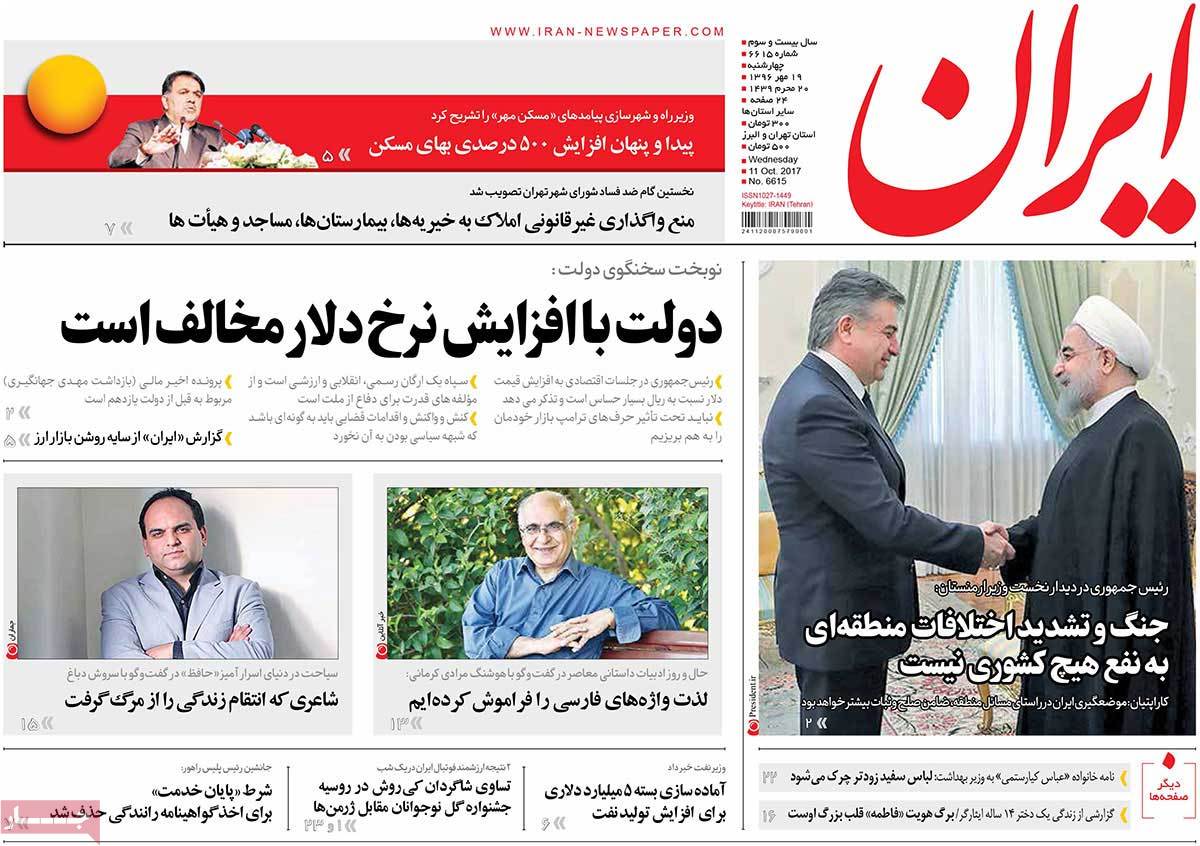 ---
Javan:
1- Gov't, Parliament Strongly Support IRGC against American Terrorism
IRGC Defending Nation, Attacking Terrorists: Gov't Spokesman
---
Jomhouri Eslami:
1- Increased Warnings against Trump ahead of His Expected Move to Decertify JCPOA
2- Central Bank Governor: Iran Has Good Banking Relations with Entire World
3- Iran Preparing $5bn Investment Package to Increase Oil Output: Minister
4- Gov't Spokesman: We Need to Have Common Language to Counter Trump's Rhetoric
---
Kayhan:
1- Trump to Maintain Outer Layer of JCPOA, Increase Anti-Iran Sanctions
2- German Ambassador's Ridiculous Show in Tehran
JCPOA Maintained by Living Up to Commitments Not Installing Posters in Embassy Wall!
---
Resalat:
1- US Administration Sentenced by Iranian Courts to Pay Tehran $110 Billion
Iran Has Issued 300 Verdicts against US Gov't
2- Zarif: We've Developed Defensive Capabilities to Prevent another Saddam from Attacking Iran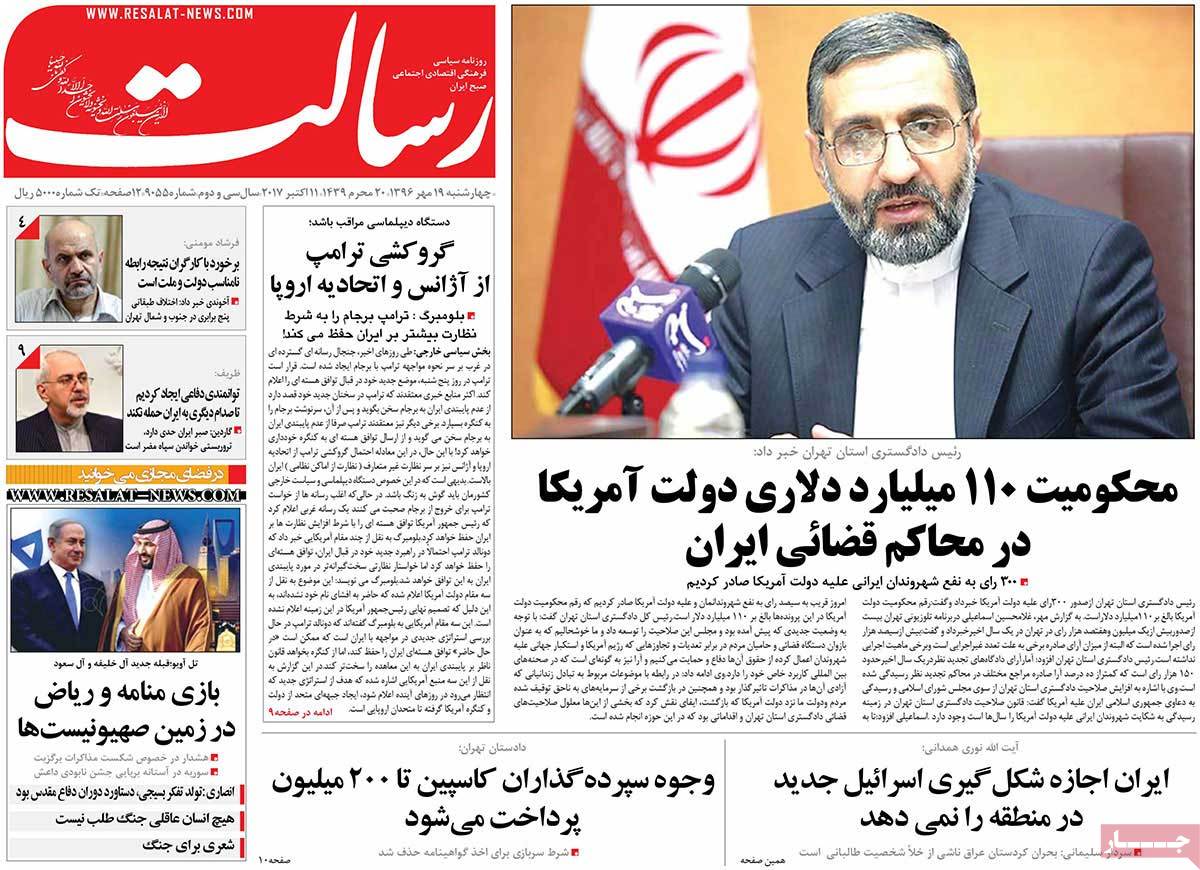 ---
Rooyesh-e Mellat:
1- Iran Parliament: IRGC Has Right to Counter US Troopers as It Fights Terror Groups
2- Velayati: US Too Small to Make Any Move against IRGC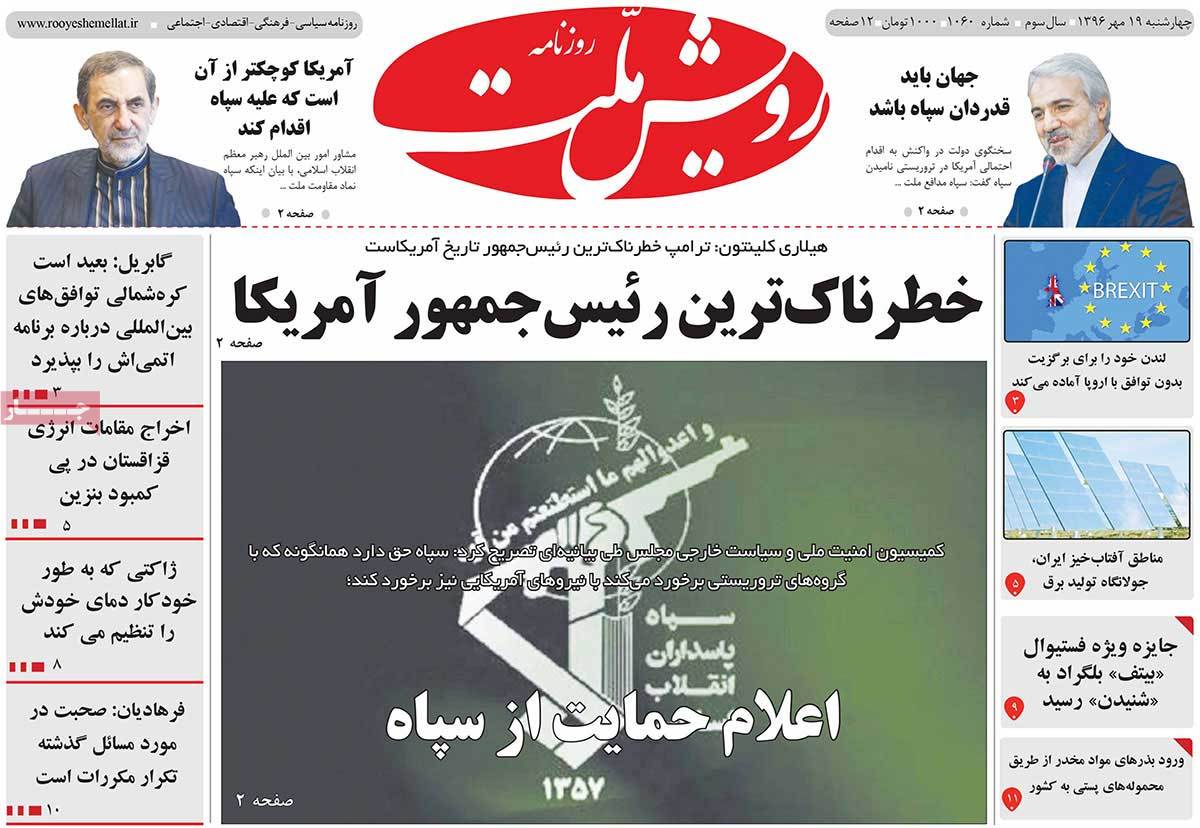 ---
Shahrvand:
1- Donating One's Body
66 People Say Ready to Donate Their Bodies amid Shortage, Import of Body
2- Iran to Pave Way for Providing Myanmar Rohingyas with Humanitarian Aid
Red Crescent Chief to Visit Bangladesh at Head of Delegation