All newspapers today covered the separate meetings of Russian and Azeri presidents with the Leader of Iran's Islamic Revolution Ayatollah Seyyed Ali Khamenei in Tehran.
They also widely covered the implications of the two presidents' visit to Tehran and the agreements they signed with Iran in a trilateral meeting with President Hassan Rouhani.
The remarks my Deputy Foreign Minister Seyyed Abbas Araqchi about the Iran nuclear deal in an address to the Parliament also received great coverage.
The above issues, as well as many more, are highlighted in the following headlines and top stories:

Abrar:
1-Deputy FM: Iran Prepared to Counter Any US Scenario
2- Larijani Urges State TV to Know Iran Nuclear Deal a National Issue
---
Aftab-e Yazd:
1- Putin's Special Escort: Over 20 Cars Protect Russia President in Tehran Streets
2- Iran Dignified: US Confirms Rouhani Has Rejected Trump's Request for Meeting
3- Iran Leader to Russia President: No More Use of US Dollar to Neutralize Sanctions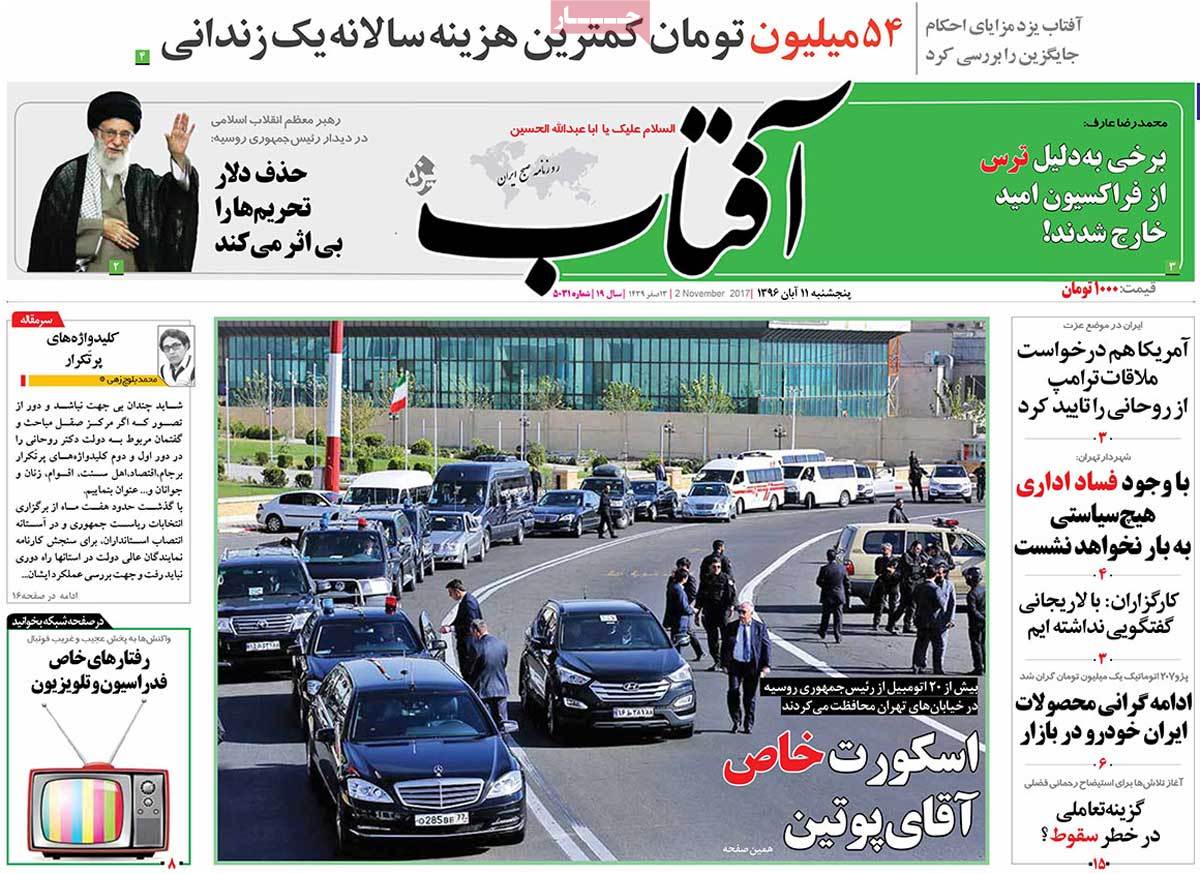 ---
Arman-e Emrooz:
1- Putin, the Bridge of Middle East
2- Rouhani: Russia Is Iran's Strategic Partner
3- Intelligence Minister: Shutting Mouth of Media to Open Mouth of Corruption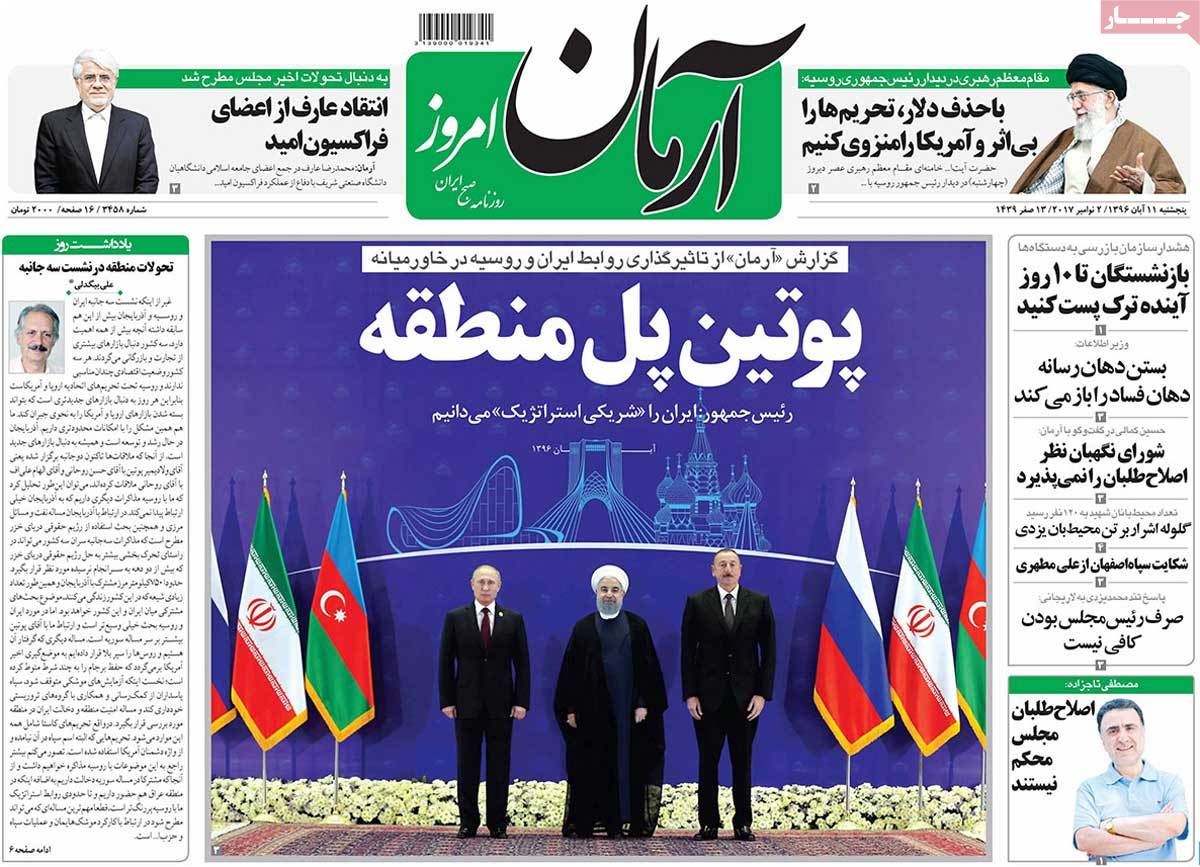 ---
Asrar:
1- Iran Leader: Good Experience of Syria Shows Iran, Russia Can Realize Common Goals
2- Deputy FM: Iran Not to Let US Hostility Damage Nuclear Deal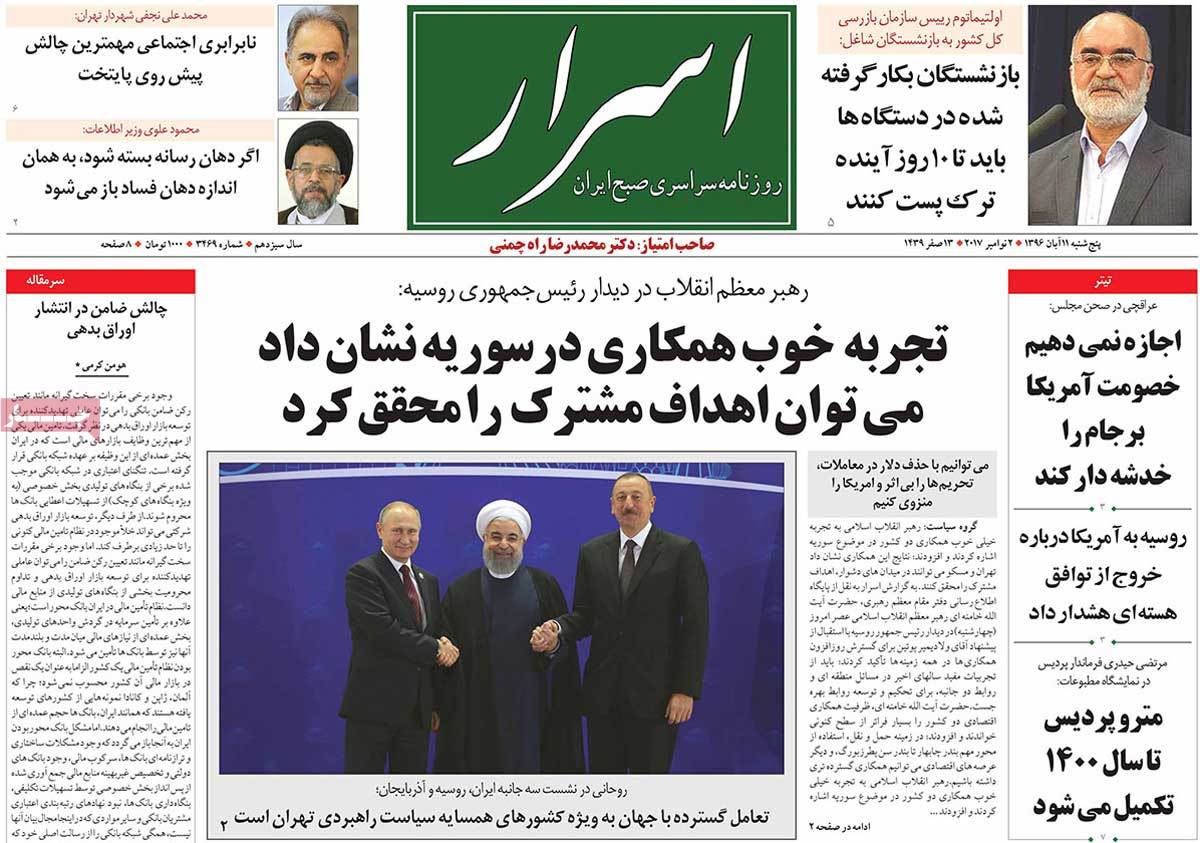 ---
Ebtekar:
1- Meetings with Economic Flavour: Iran Leader Meets Putin, Aliyev
2- Post-ISIS Requirements in Syria: A Report on 7th Round of Astana Talks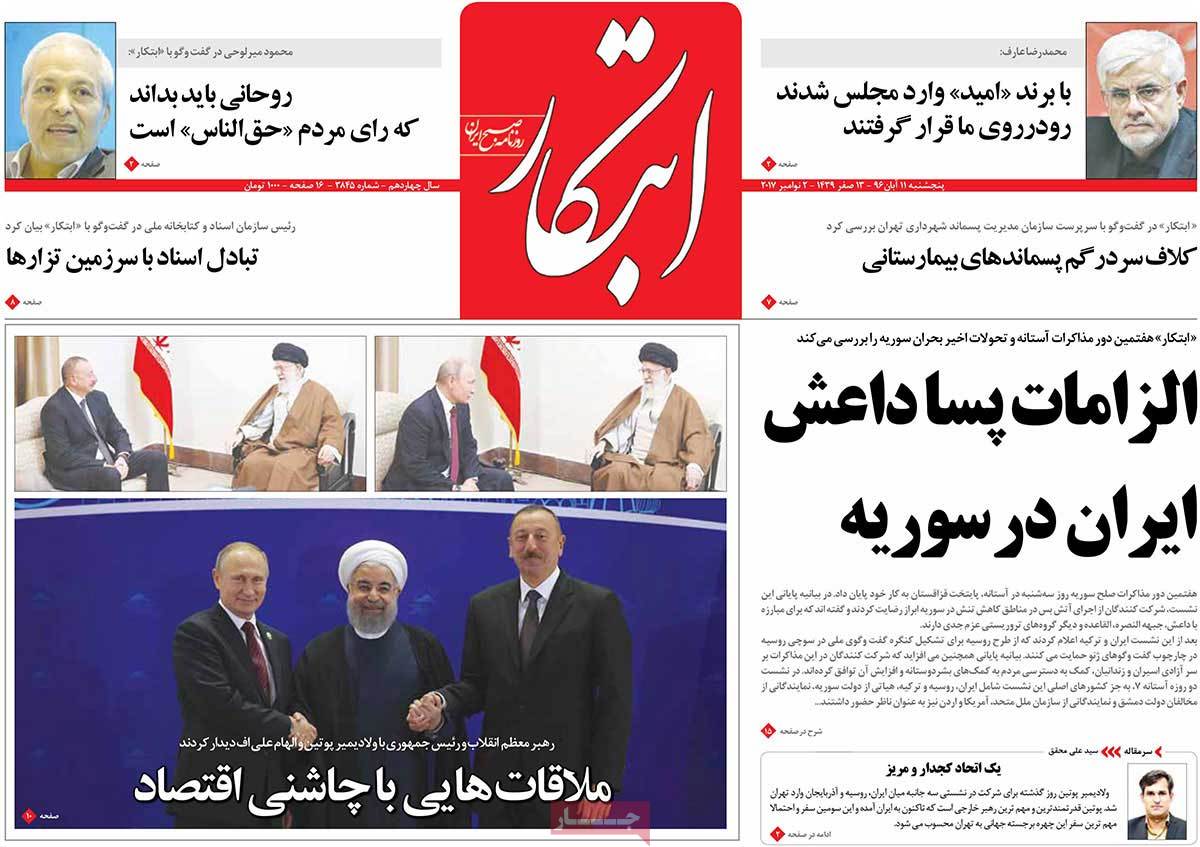 ---
Emtiaz:
1- 8 Million Children, Young Adults Spend 6 Hours a Day in Cyberspace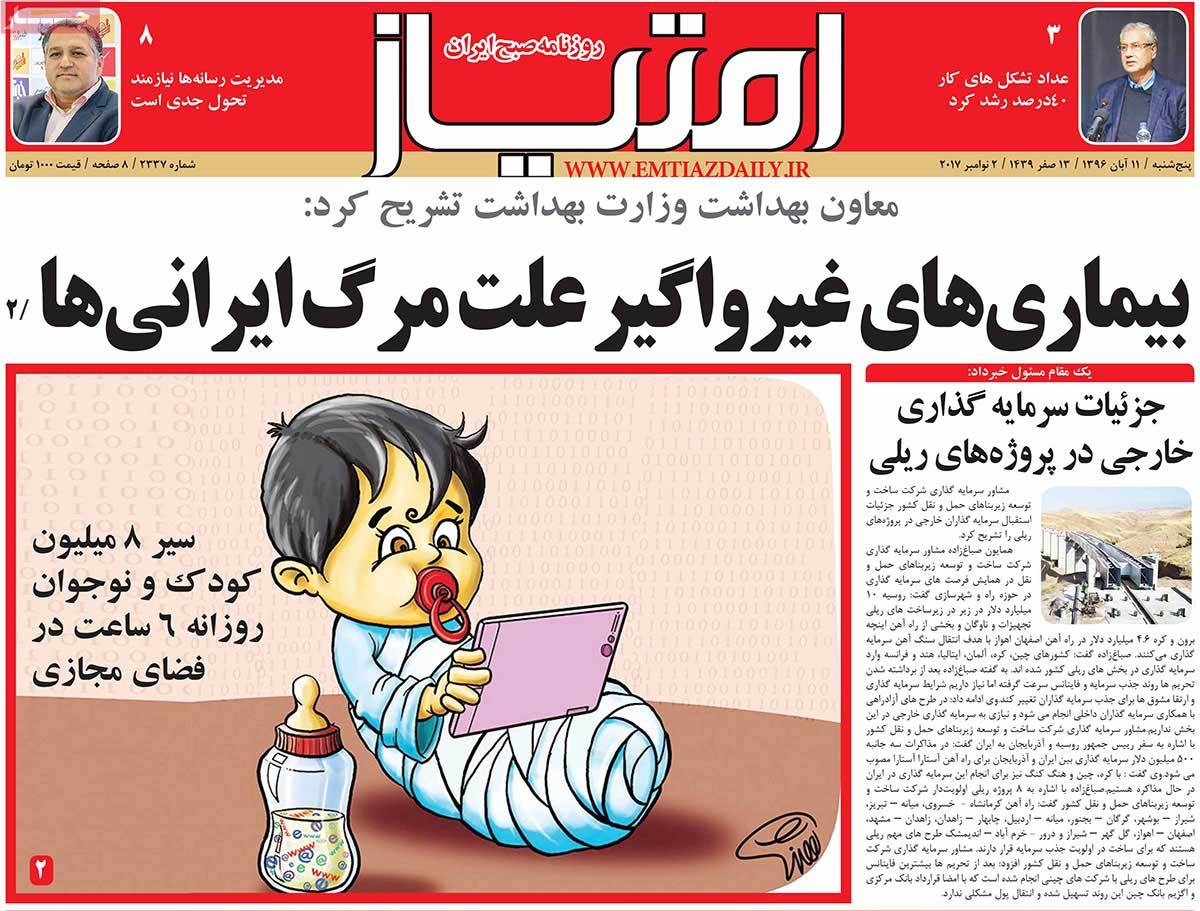 ---
Ettela'at:
1-Rouhani, Putin Described Iran, Russia as Strategic Partners for Each Other
2- Rouhani: Tehran-Moscow-Baku Interaction to Create New Opportunities in Region
3- Tehran Mayor: Iranian Capital Threatened by Social Inequality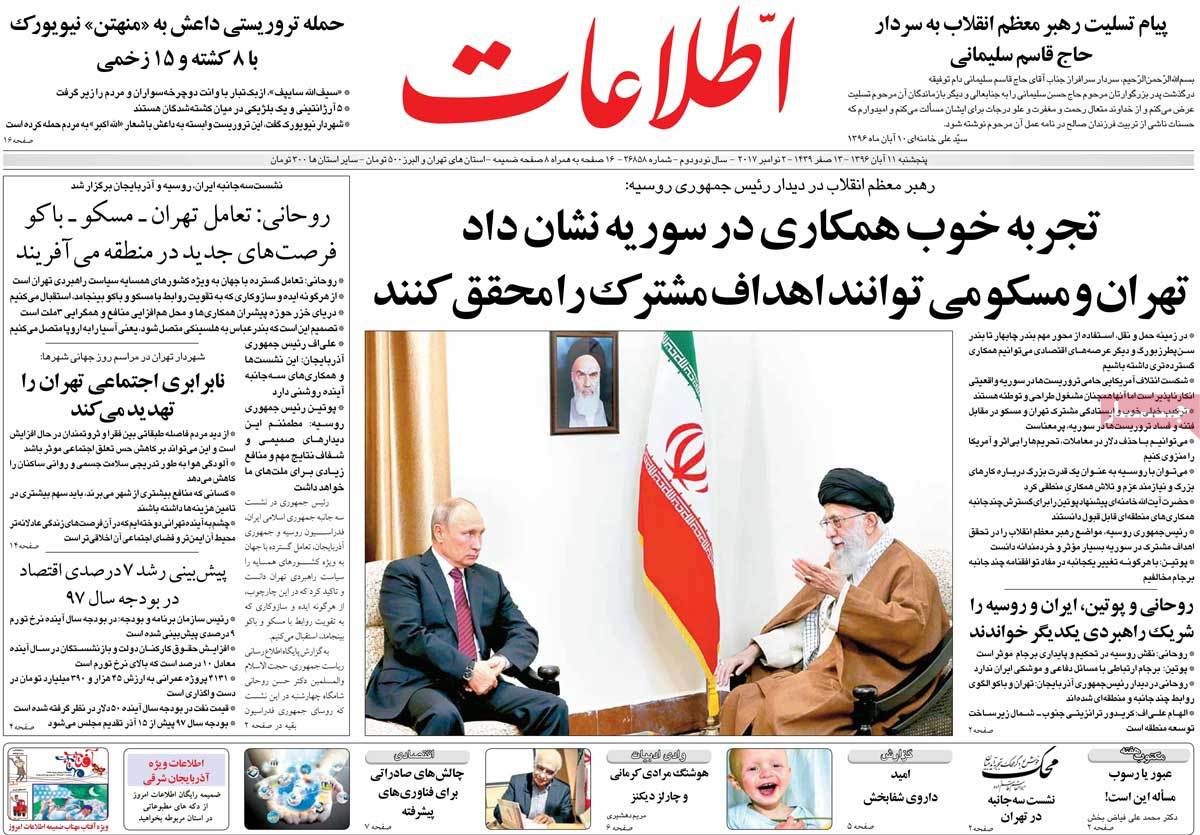 ---
Iran:
1- Rouhani: Russia Is Iran's Strategic Partner, Friend
2- Putin: Iran Nuclear Deal Has Nothing to Do with Its Defensive, Missile Issues
3- Azeri President: Iran Playing Key Role in Regional Security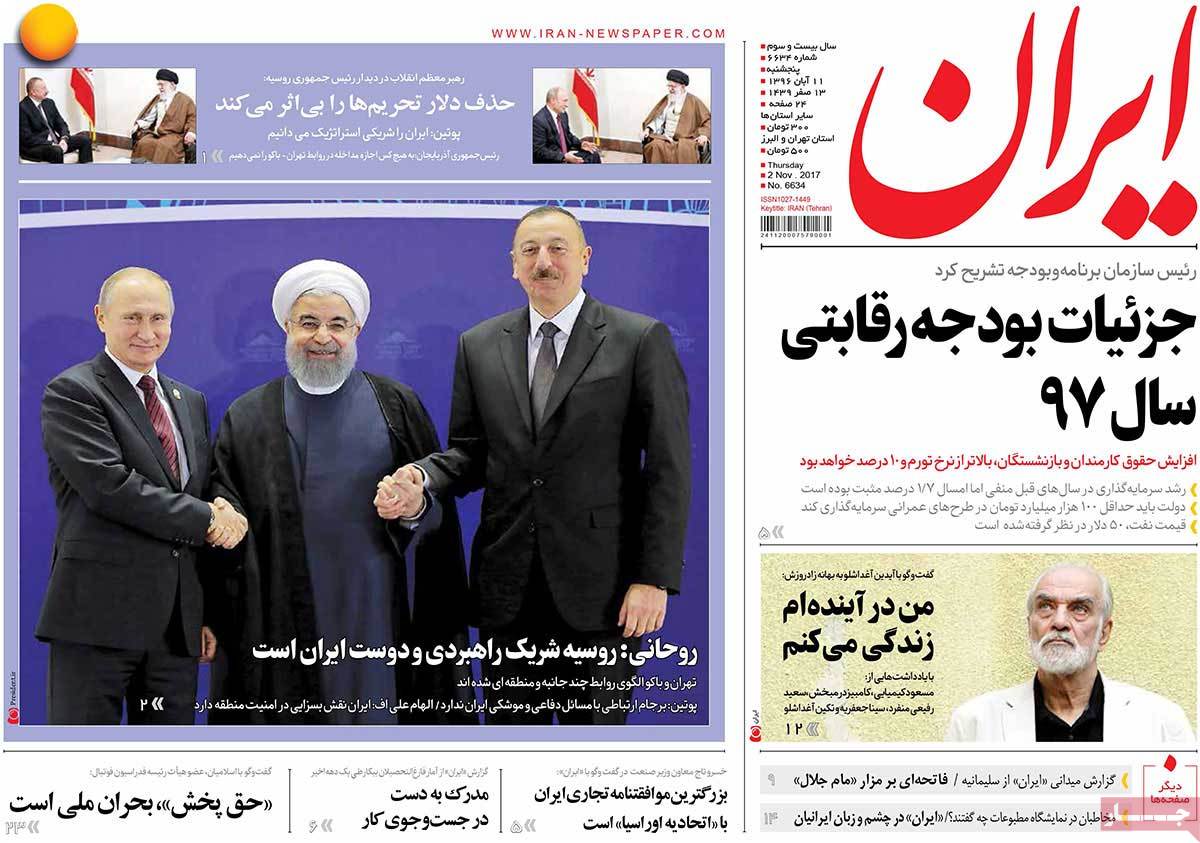 ---
Javan:
1- Russian, Azeri Presidents Meet with Iran Leader
2- Ayatollah Khamenei: We Can Neutralize US Sanctions, Isolate Washington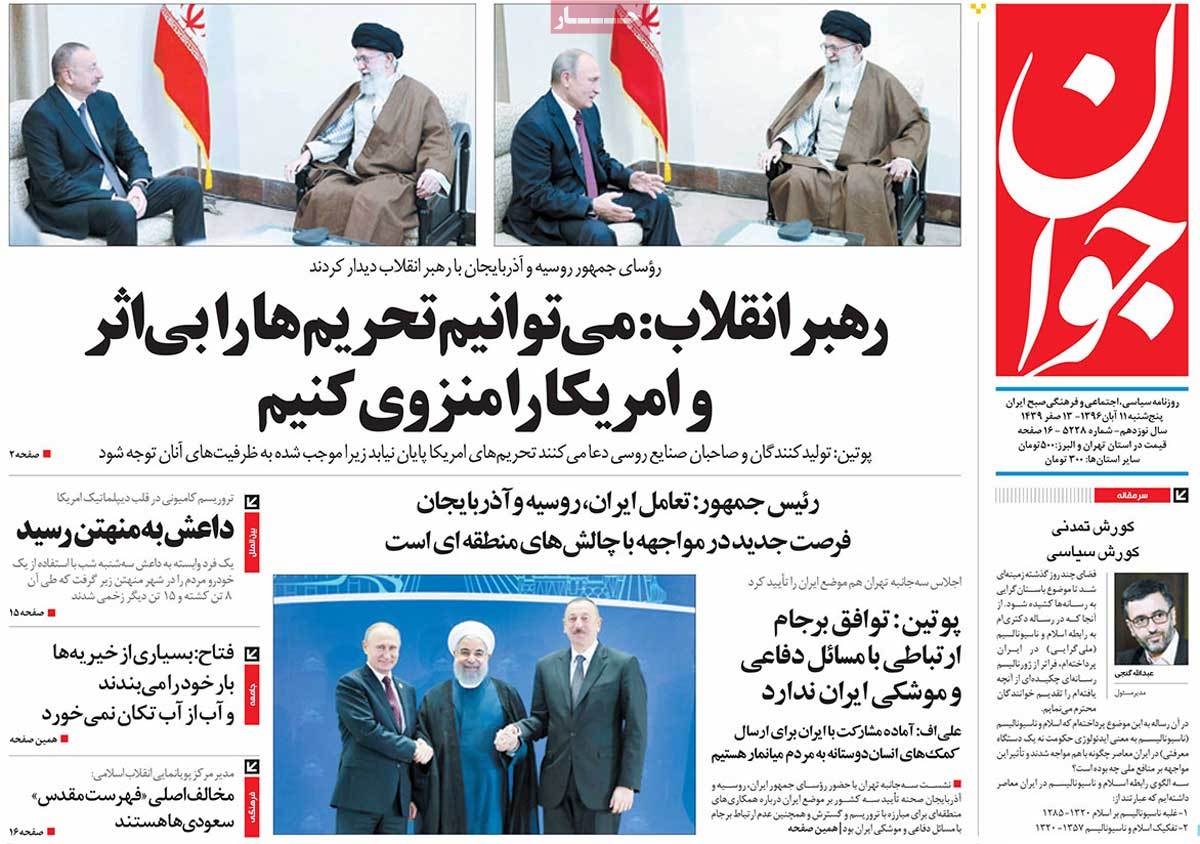 ---
JomhouriEslami:
1- Trilateral Meeting of Iran, Russia, Azerbaijan Held in Tehran
Regional Convergence, Main Theme of Trilateral Summit
2- Iran Leader: God Has Promised Decisive Victory in Fight against Zionist Regime
3- Secretary-General of (P)GCC: Resolving Qatar Crisis Not My Responsibility!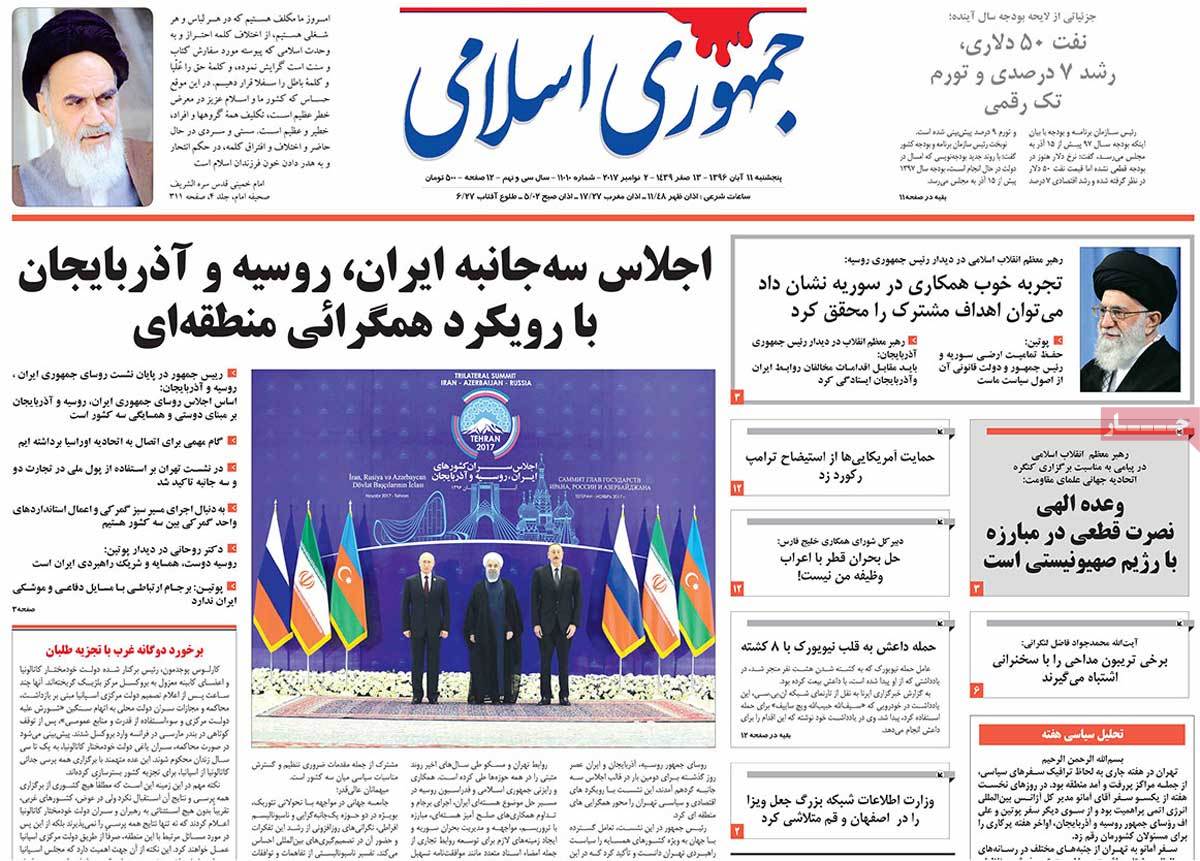 ---
Kayhan:
1- Iran Leader: US Bullying Should Be Countered
2- Russian Manufacturers Pray US Sanctions Would Continue Forever: Putin
3- Kayhan Chief: Damages Caused by Iran Nuclear Deal Not to Be Compensated Soon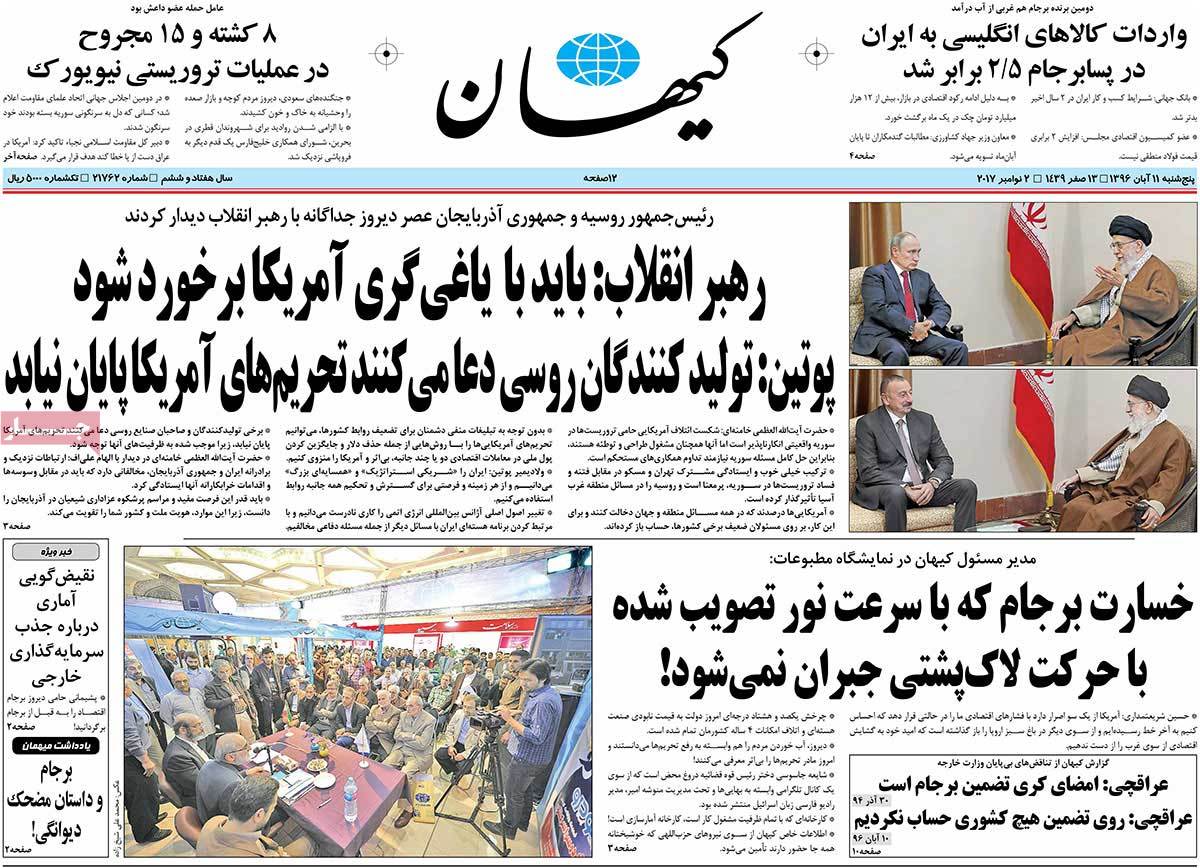 ---
Resalat:
1- Resistance Front to Survive, Israel to Decline for Sure: Palestinian Sheikh
2- Deputy FM: Biggest JCPOA Challenge Is Ill Intention of Previous, Incumbent US Administrations