The Sunday night's deadly earthquake, which has so far killed over 435 and wounded nearly 10,000 people, remained a top story today, with several newspapers covering the relief and rescue efforts and the budget allocated by the government to the reconstruction of the quake-hit areas.
A security conference held in Tehran and the remarks made by Iranian Deputy Foreign Minister Seyyed Abbas Araqchi on the 'worrying' proliferation of arms in the Middle East also received great coverage.
Among other top stories were Iran's reaction to a UN human rights resolution against the Islamic Republic and a coup against Zimbabwean President Mugabe.
The above issues, as well as many more, are highlighted in the following headlines and top stories:
19 Dey:
1- Latest Earthquake Death Toll: 474 Killed, 9388 Wounded, 40,000 Houses Damaged
2- Huffington Post: End of Saudi Ruling System Imminent
3- 1,900 Quake-Hit Villages Suffered Huge Damages: Rouhani's Chief of Staff
---
Abrar:
1- Zarif: Iran, US Issued $60 Billion Worth of Verdicts against Each Other
2- Netanyahu: We'll Take Unilateral Action against Iran If There's No Other Choice
3- Gov't to Give Over $70 Million Grants to Quake-Struck People
4- Saudi Arabia Invites Arab Foreign Ministers to Hold Anti-Iran Summit in Cairo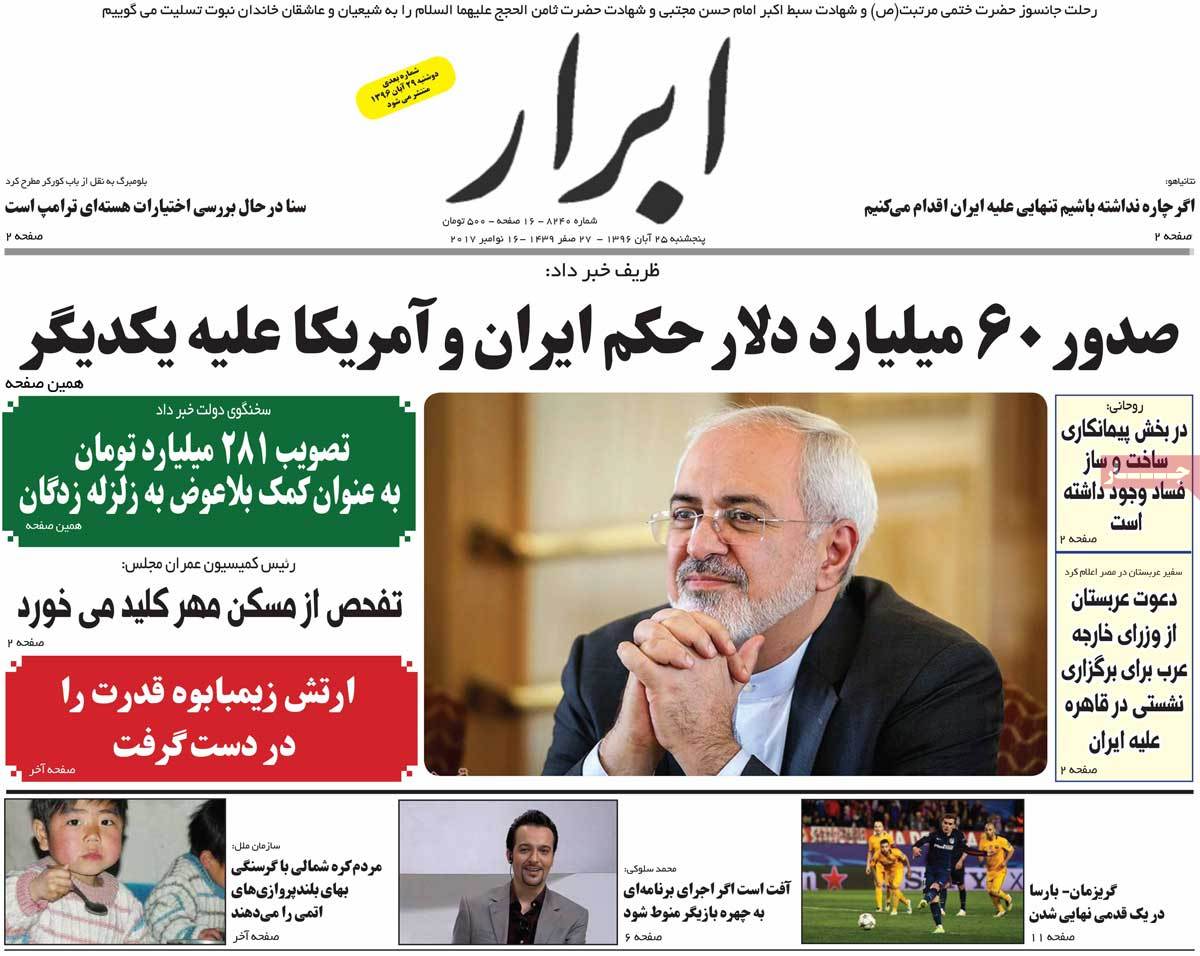 ---
Aftab-e Yazd:
1- Rouhani: Collapse of Public Buildings Show There Has Been Corruption
2- Diplomat: Europe's Support for Iran Nuclear Deal Not for Economic Reasons
3- North Korea Condemns Trump to Life in Prison
---
Arman-e Emrooz:
1- Only One of His Three Children Taken Out of Rubble Alive; Wife Also Dead
I'll Be Both Father and Mother for You Son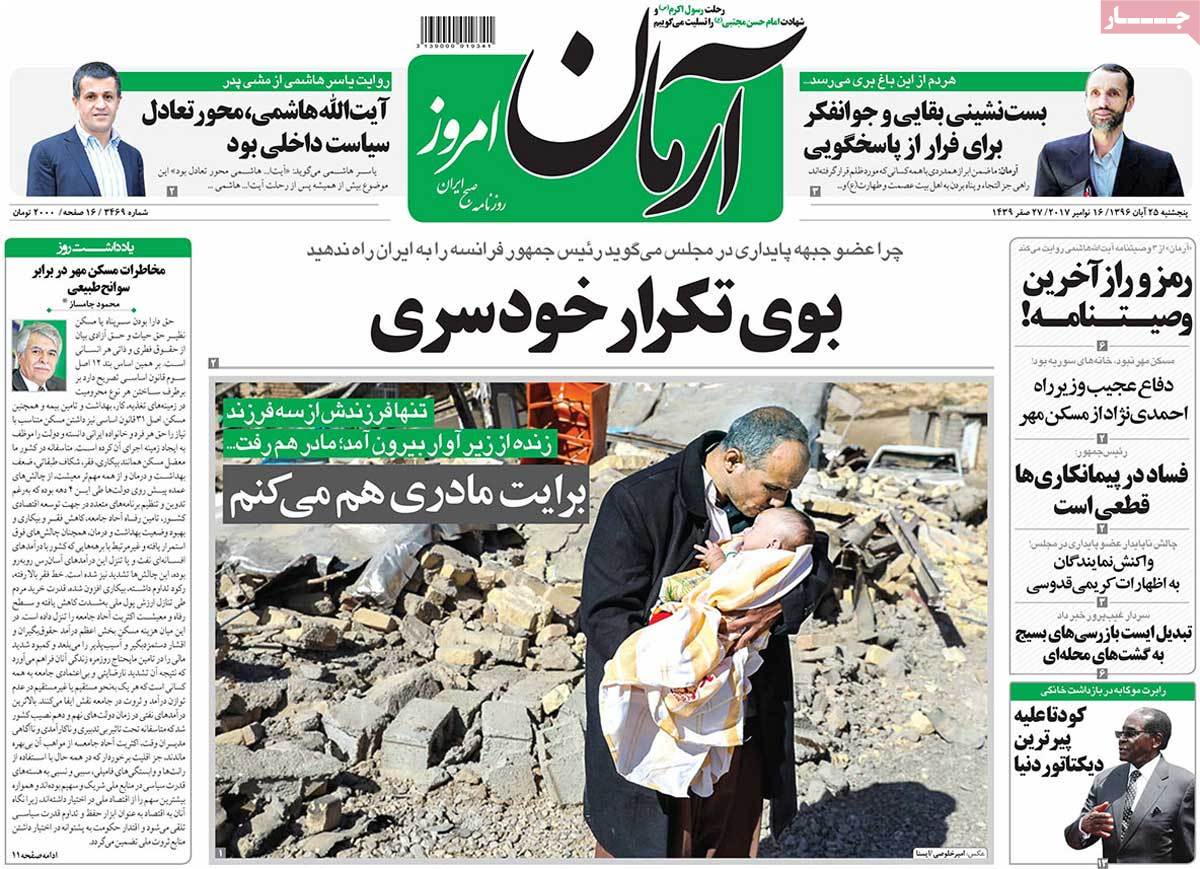 ---
Ebtekar:
1- Ruined Houses, Dead Hearts
2- Proliferation of Arms in Mideast, West Asia Worrying
3- Rouhani: We'll Pursue Problems of Quake-Hit People Seriously
---
Ettela'at:
1- Zarif: Expansion of Iran-Russia Ties Important Factor in Regional Security
2- Zimbabwean Army Ends Mugabe's 30-Year Rule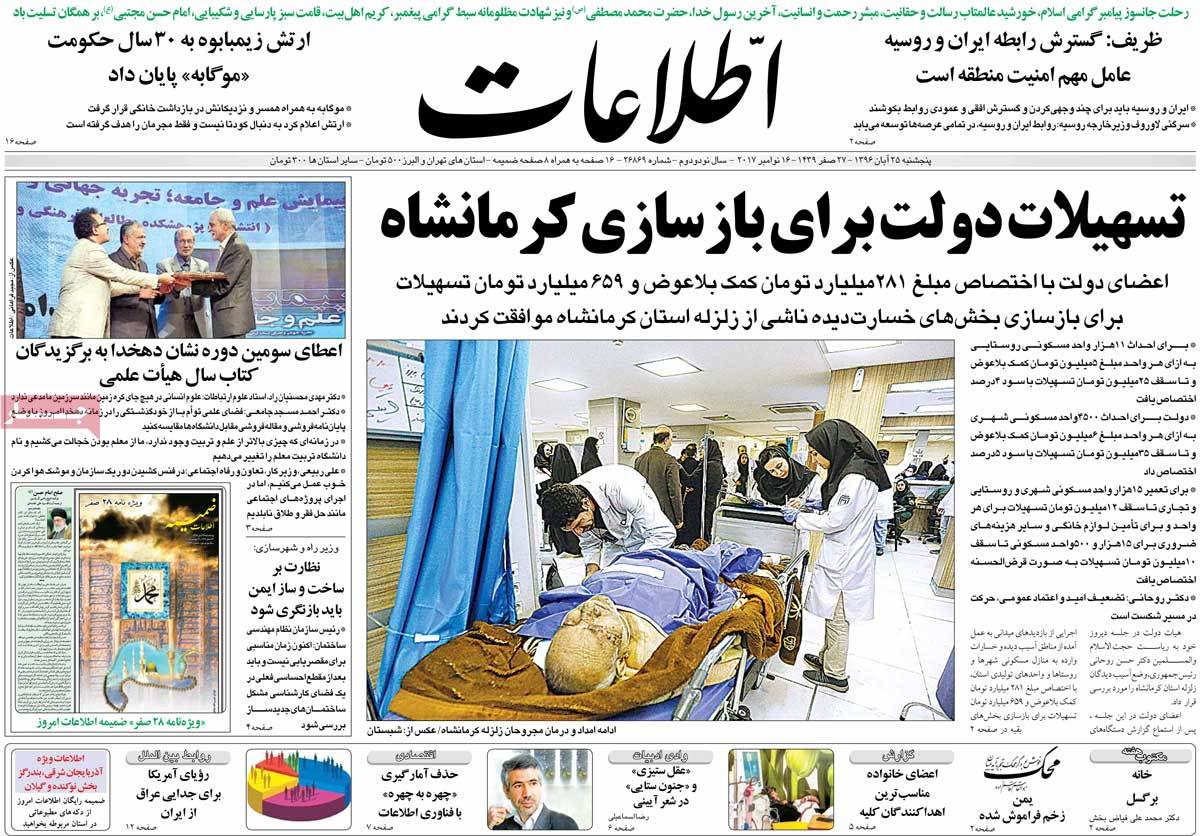 ---
Hemayat:
1- Sponsors of Terrorism Back Human Rights Resolution against Iran!
2- Iran's Human Rights Criteria Based on Islamic Rationality: Official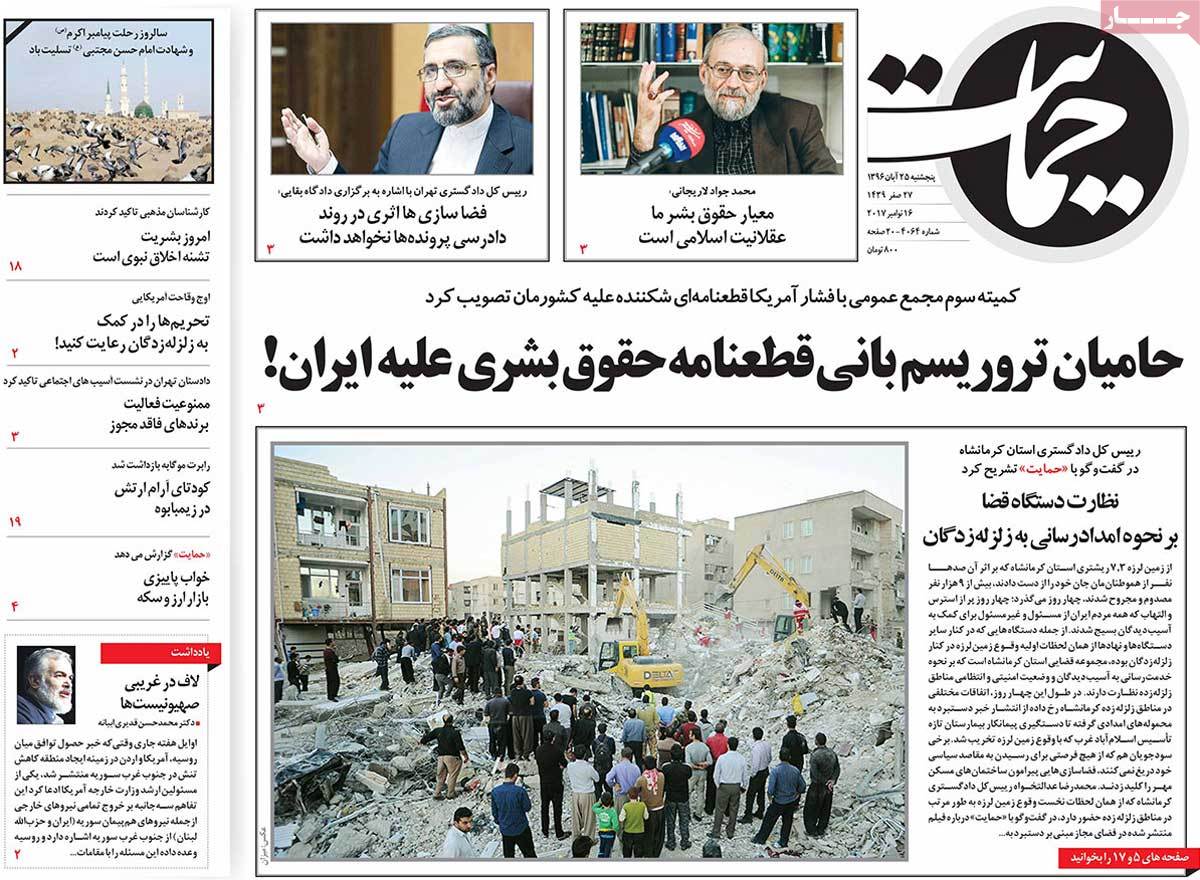 ---
Iran:
1- People's Great Support for Those Hit by Earthquake
2- Gov't Allocates $735 Million in Credits to Earthquake-Hit People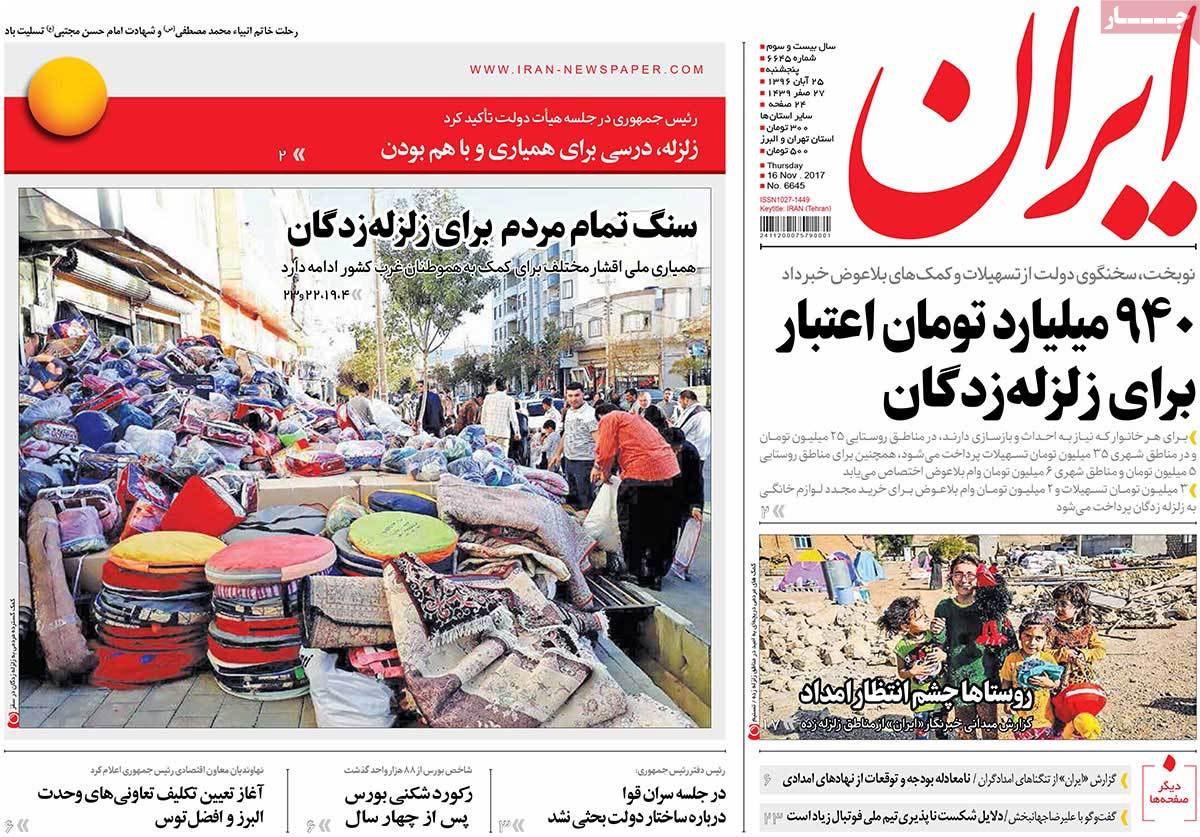 ---
Jame Jam:
1- Rhythm of Life in Heart of Rubble
Trucks Carrying Water, Food to Quake-Hit Areas in Western Iran
2- Iranian Traditional Singer Seraj to Sign for Earthquake
3- Saudi Arabia Breaks ISIS' Record of Killing People: Iranian Official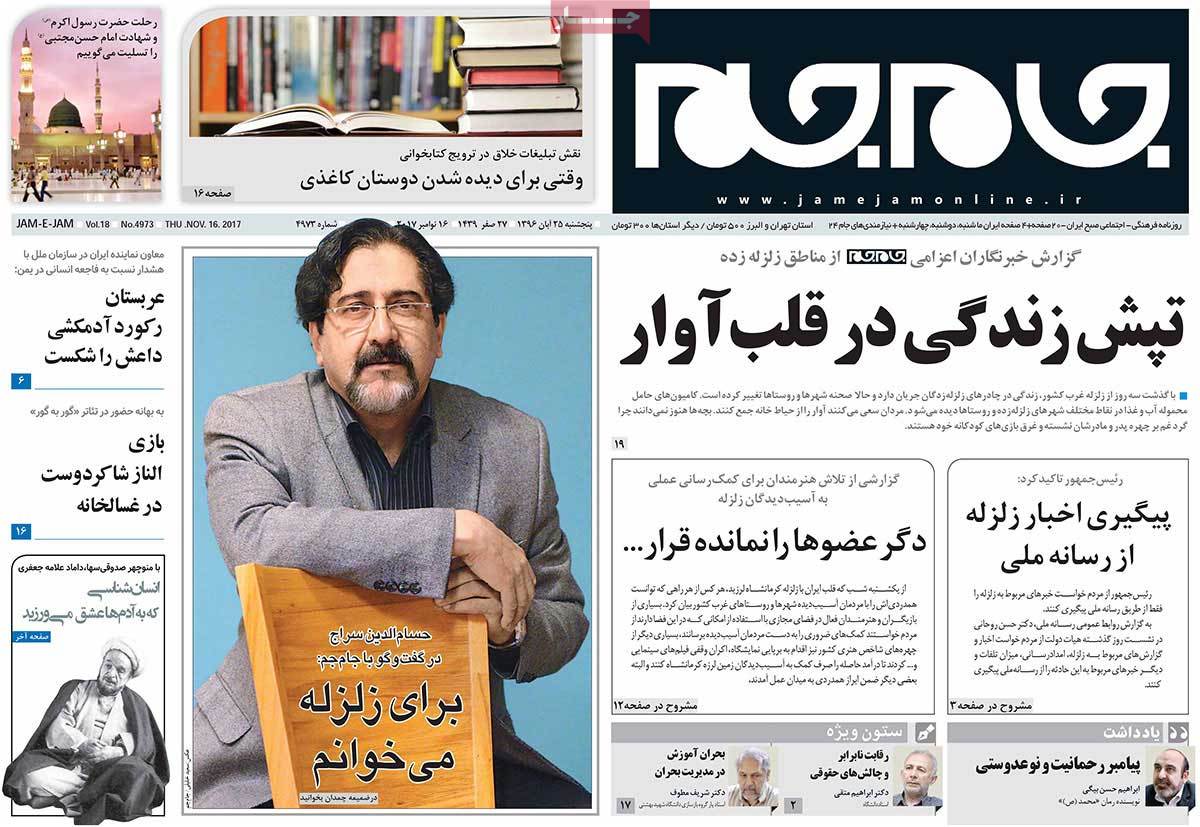 ---
Javan:
1- IRGC to Rebuild Houses of Quake-Hit Villagers
2- All Facilities of IRGC, Army Deployed to Help Quake-Hit People
3- Total Playing with Iranian Oil Company on Implementation of Phase 11 Deal
4- British Coup in Zimbabwe
---
Ka'enat:
1- 10,000 Active Groups Working to Rebuild Quake-Hit Areas
---
Kayhan:
1- Heat of Hope in Cold Nights of Kermanshah: Rescue Operations Organized
2- Ahmadinejad's Urban Development Minister: Earthquake Could Be Disastrous without 88,840 Resistant Houses We Built in Kermanshah
3- A Report on Black Record of EU's Office in Creating Security, Economic Crises
4- Top Saudi Mufti: Killing Zionists Forbidden, Hamas a Terrorist Group!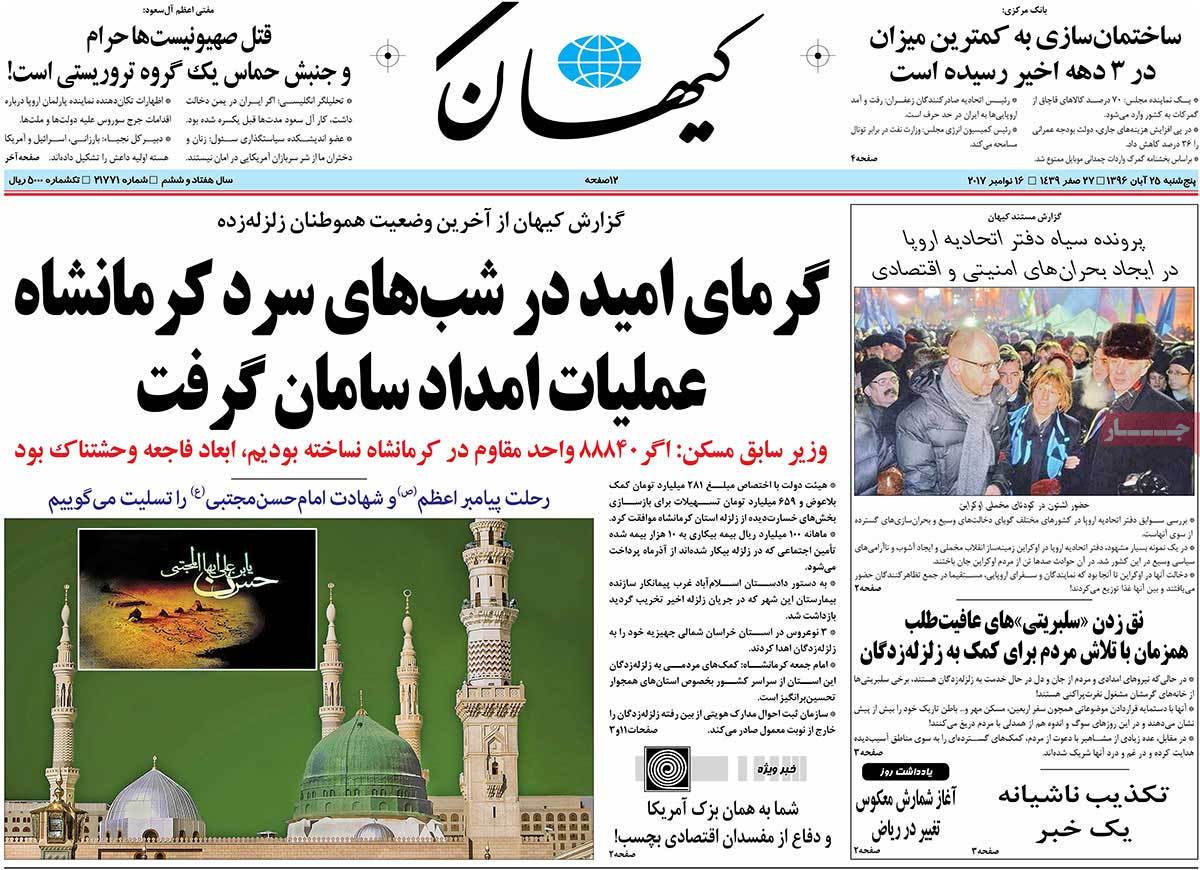 ---
Shahrvand:
1- Red Crescent Society on Front Line of Rescue Efforts