The deadly earthquake in the Western Iranian province of Kermanshah was the top story in all Iranian newspapers today. The earthquake has so far killed over 433 and wounded nearly 8,000 people.
At least seven papers today used Kurdish words in their headlines to offer condolences to the Kurds of Iran's Kermanshah, who suffered the biggest damage in the earthquake.
Almost all papers covered a message by the Leader of Iran's Islamic Revolution Ayatollah Seyyed Ali Khamenei to condole with the nation over the earthquake and to order the officials to accelerate their rescue and relief efforts.
They also highlighted the Leader's remarks about the splendour of Arba'een pilgrimage and his thanks to the Iraqi nation and government for organizing the mass pilgrimage and hosting the pilgrims.
The above issues, as well as many more, are highlighted in the following headlines and top stories:
19 Dey:
1- Sorrow of West
2- Rubble of Death on Iranian People in Western Areas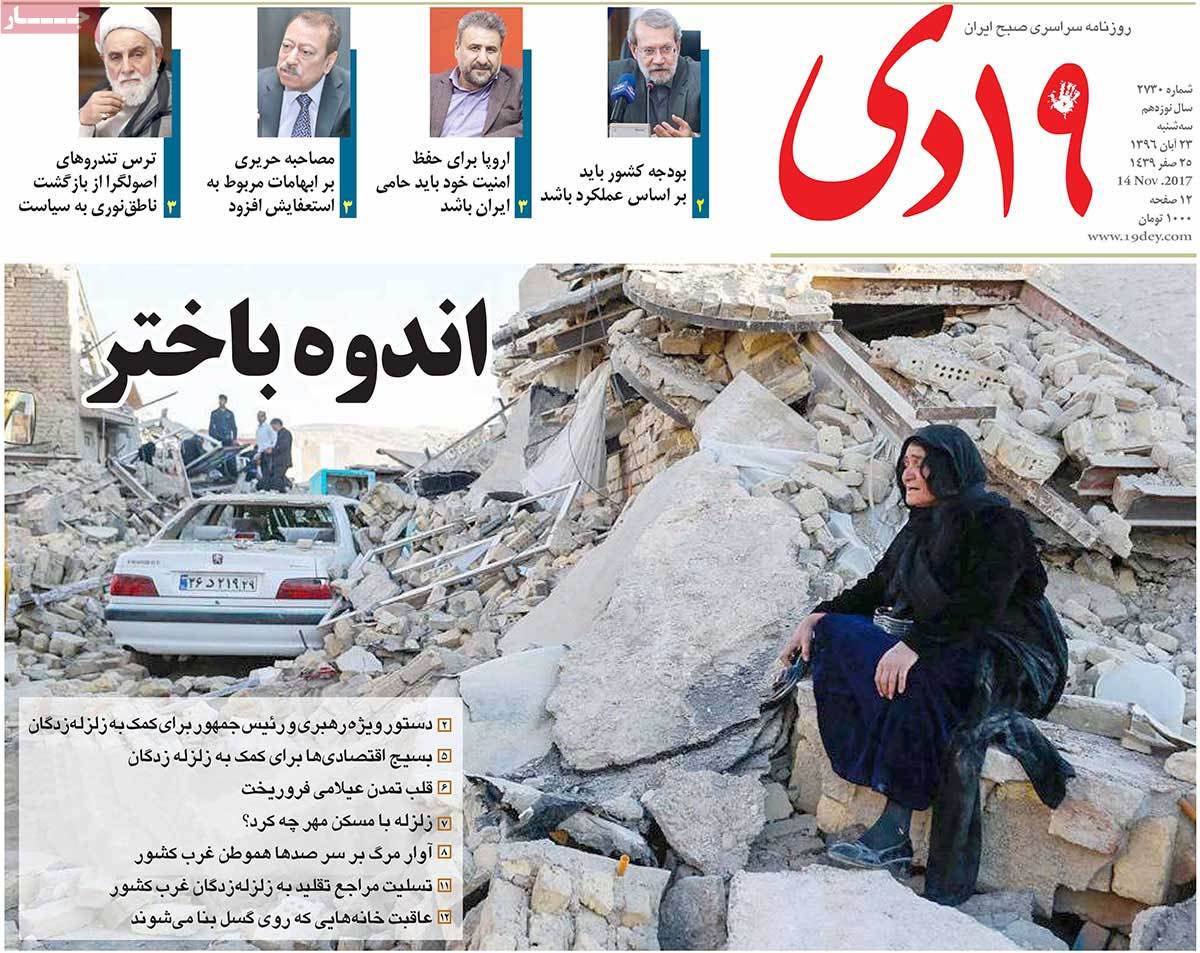 ---
Abrar:
1- Iran Leader: Arba'een Great Phenomenon that Shows Spirit of Martyrdom
2- Ayatollah Khamenei Urges All Bodies to Immediately Help Quake-Hit People
3- British Foreign Secretary Condoles with Iranian People over Earthquake
4- Israeli Minister Extends Condolences to Iran, Iraq after Earthquake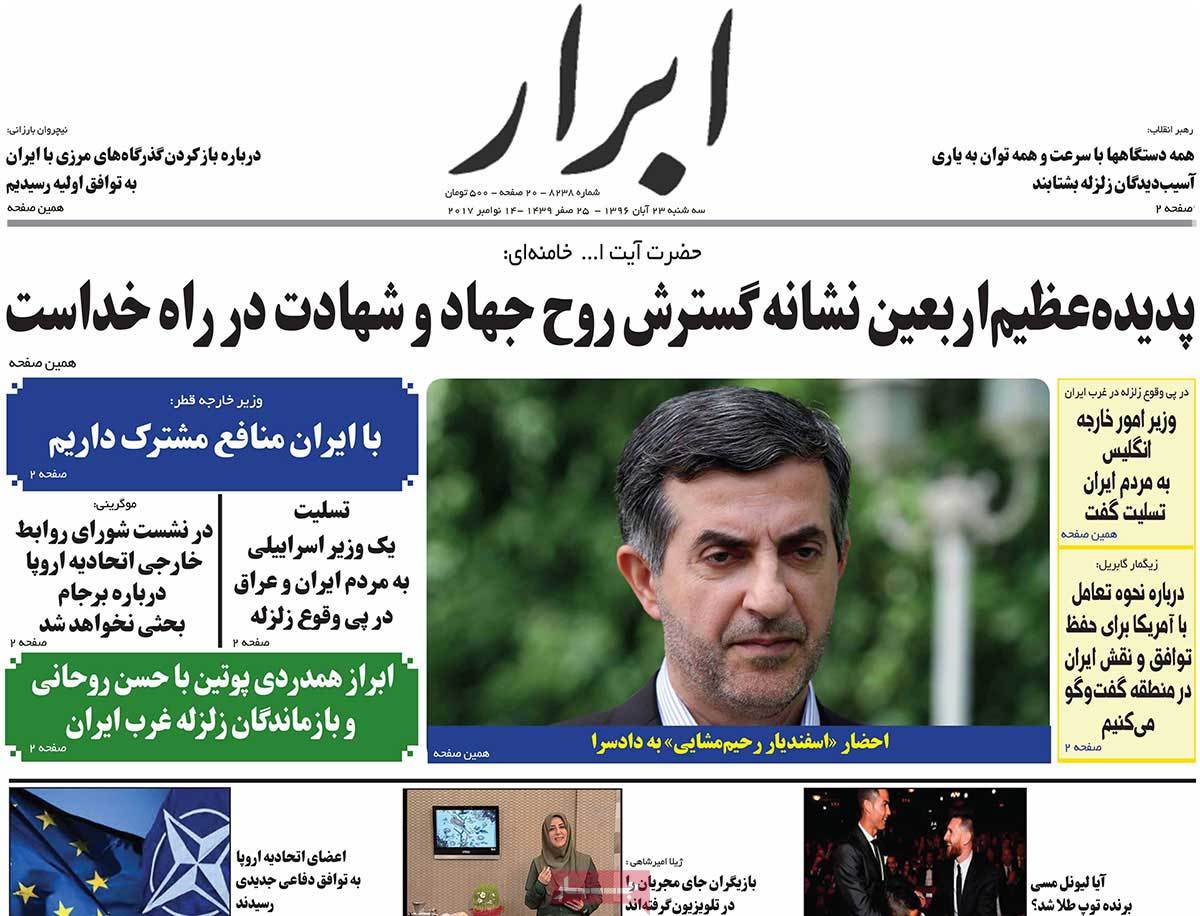 ---
Abrar-e Eqtesadi:
1- Central Bank: Prosecutor to Supervise Bitcoin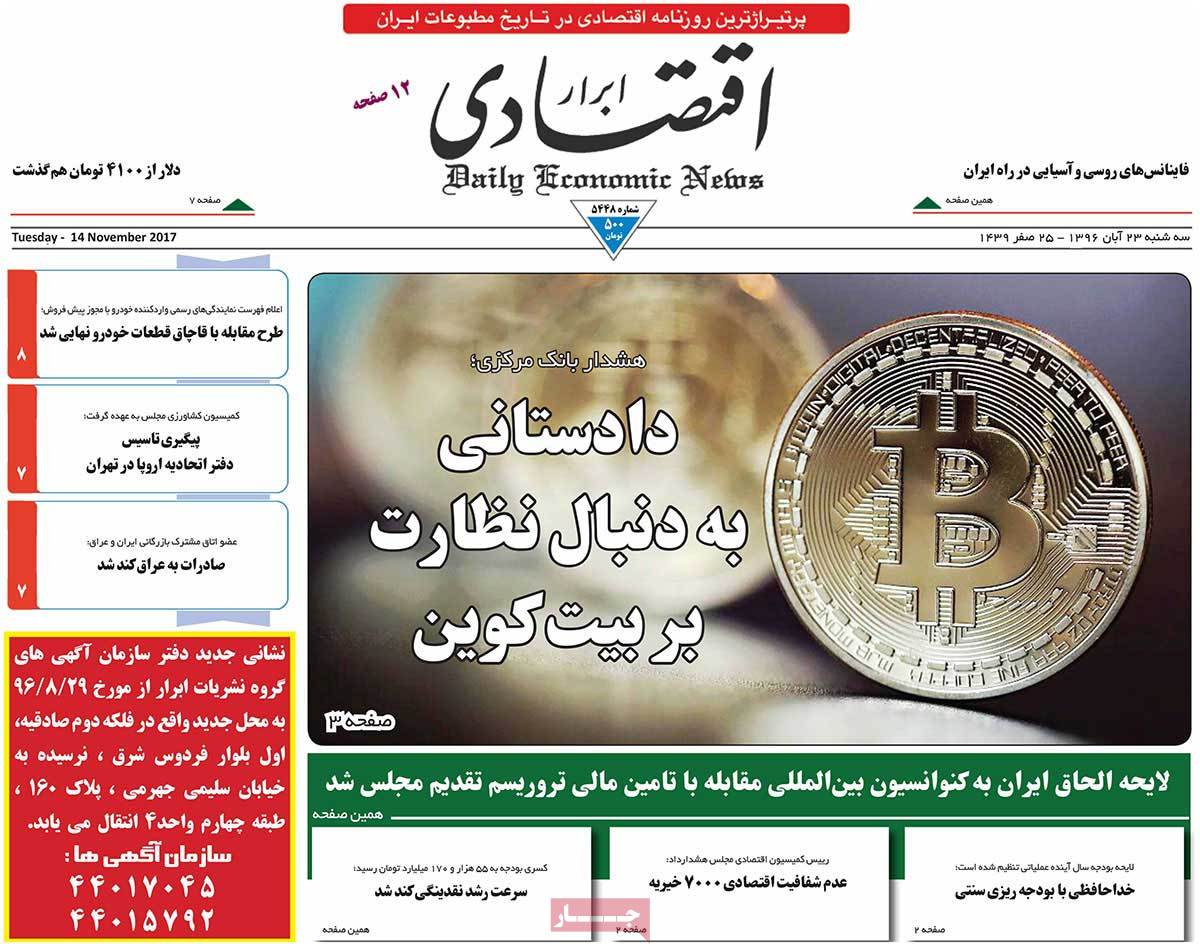 ---
Afkar:
1- Iranian People in Grief over Deadly Earthquake
2- 63% of Village Houses Prone to Earthquake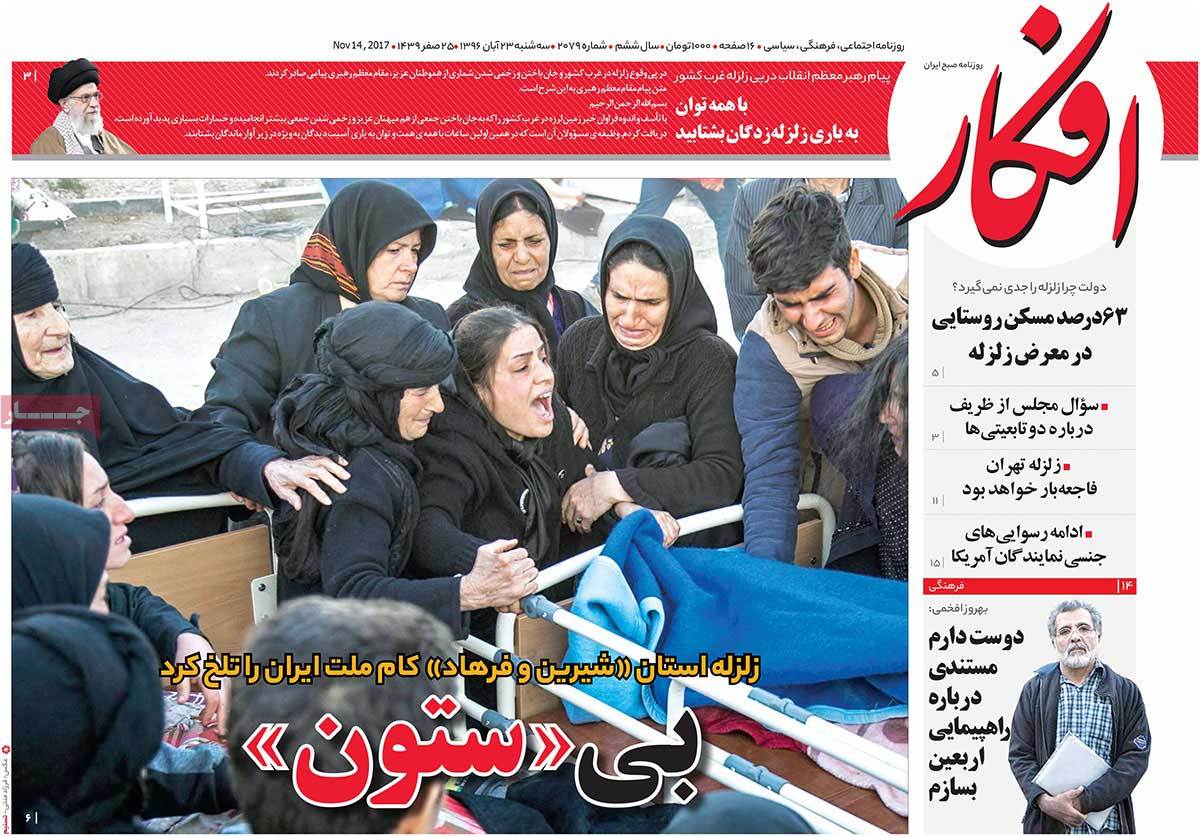 ---
Aftab-e Yazd:
1- Iran Cries: Over 1,000 Killed, Wounded in Kermanshah Earthquake
---
Arman-e Emrooz:
1- Scream of Aftershocks: People Complaining in Western Provinces
2- 70,000 People Displaced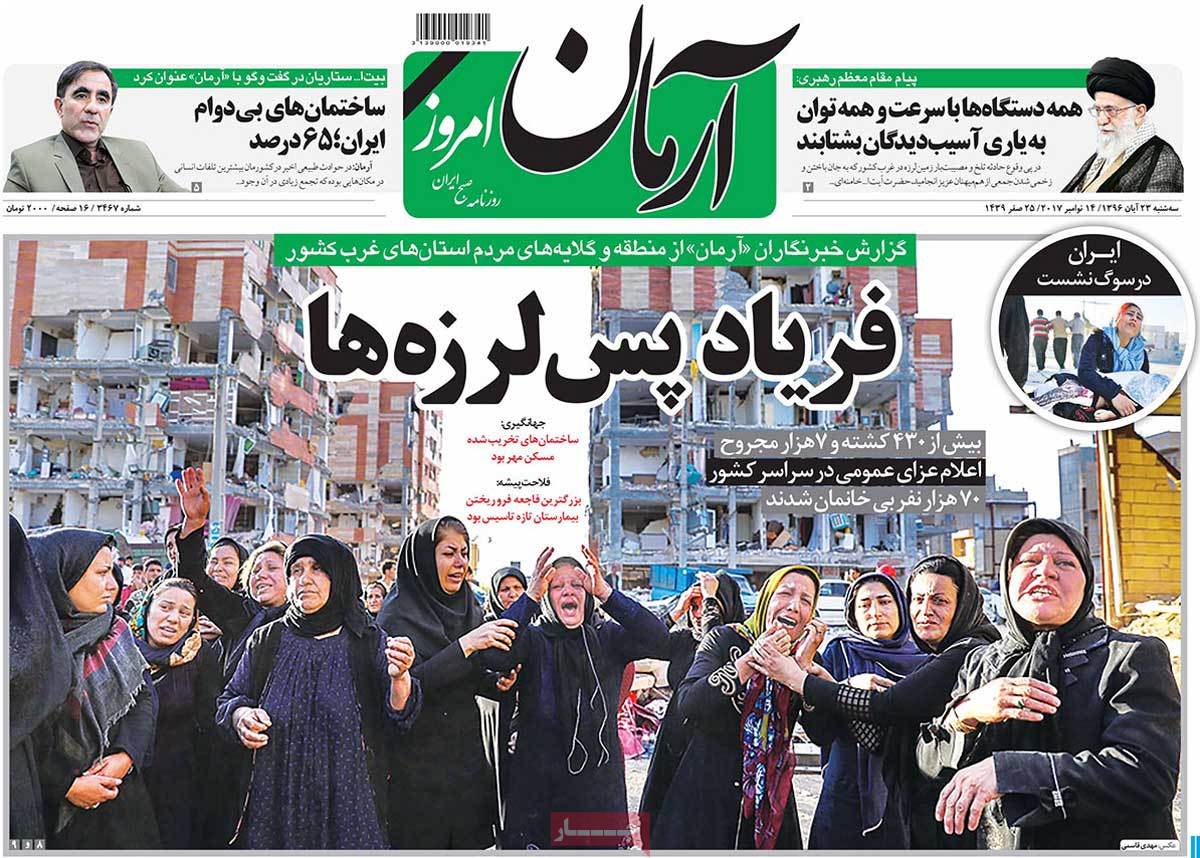 ---
Donya-ye Eqtesad:
1- How Big Was Kermanshah Earthquake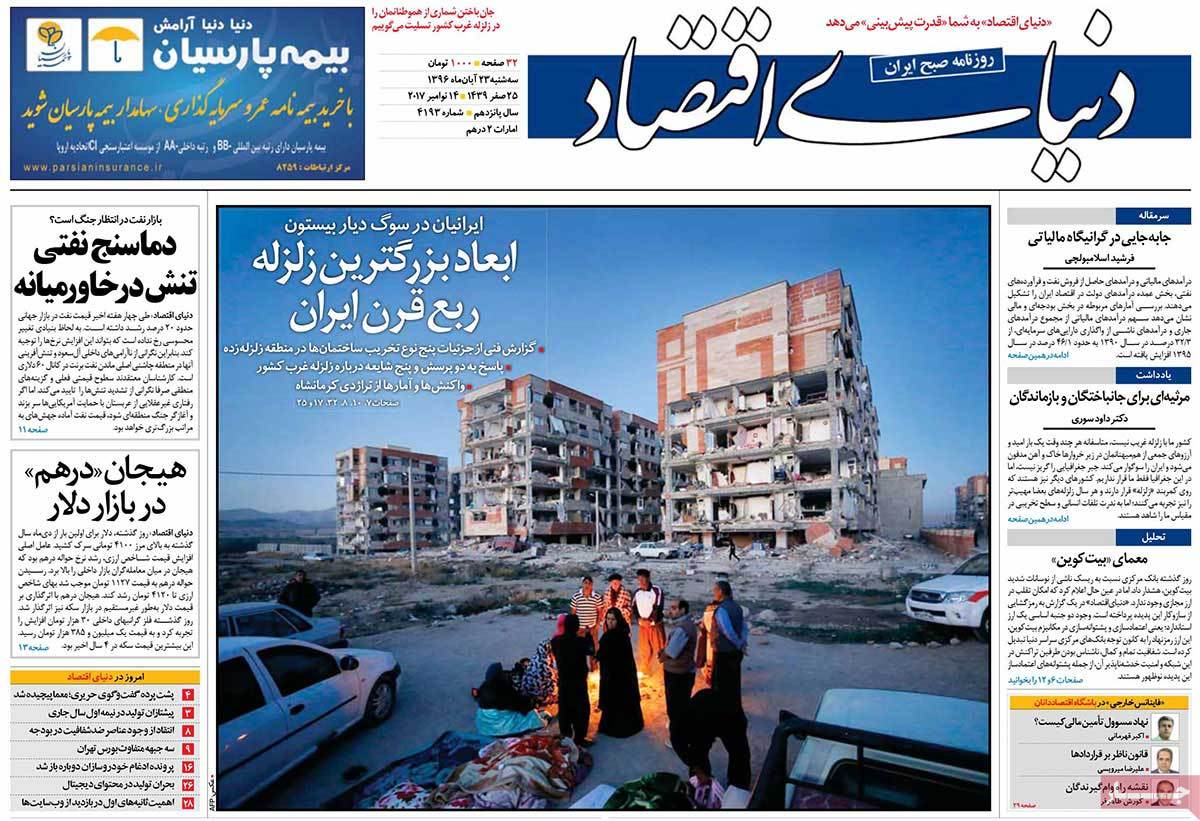 ---
Ebtekar:
1- Iran Grieving for Kermanshah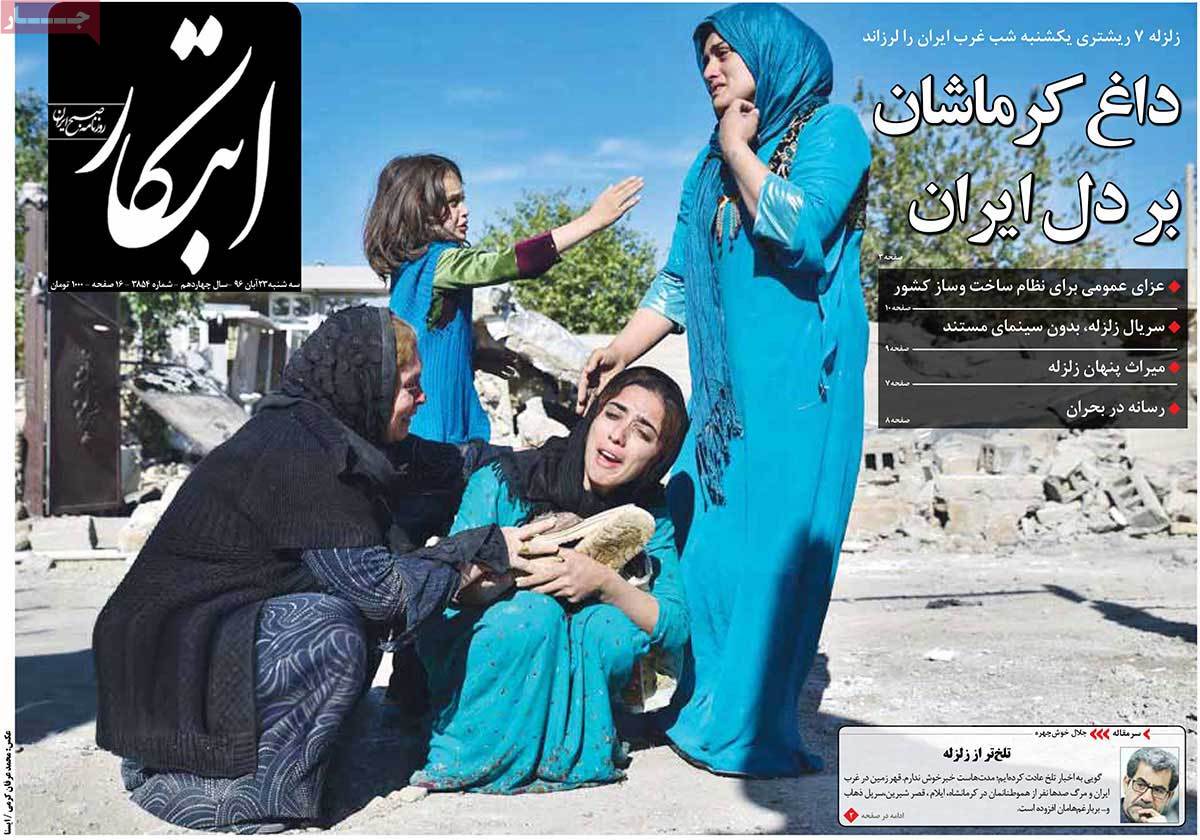 ---
Etemad:
1- You're Not Alone Kermanshah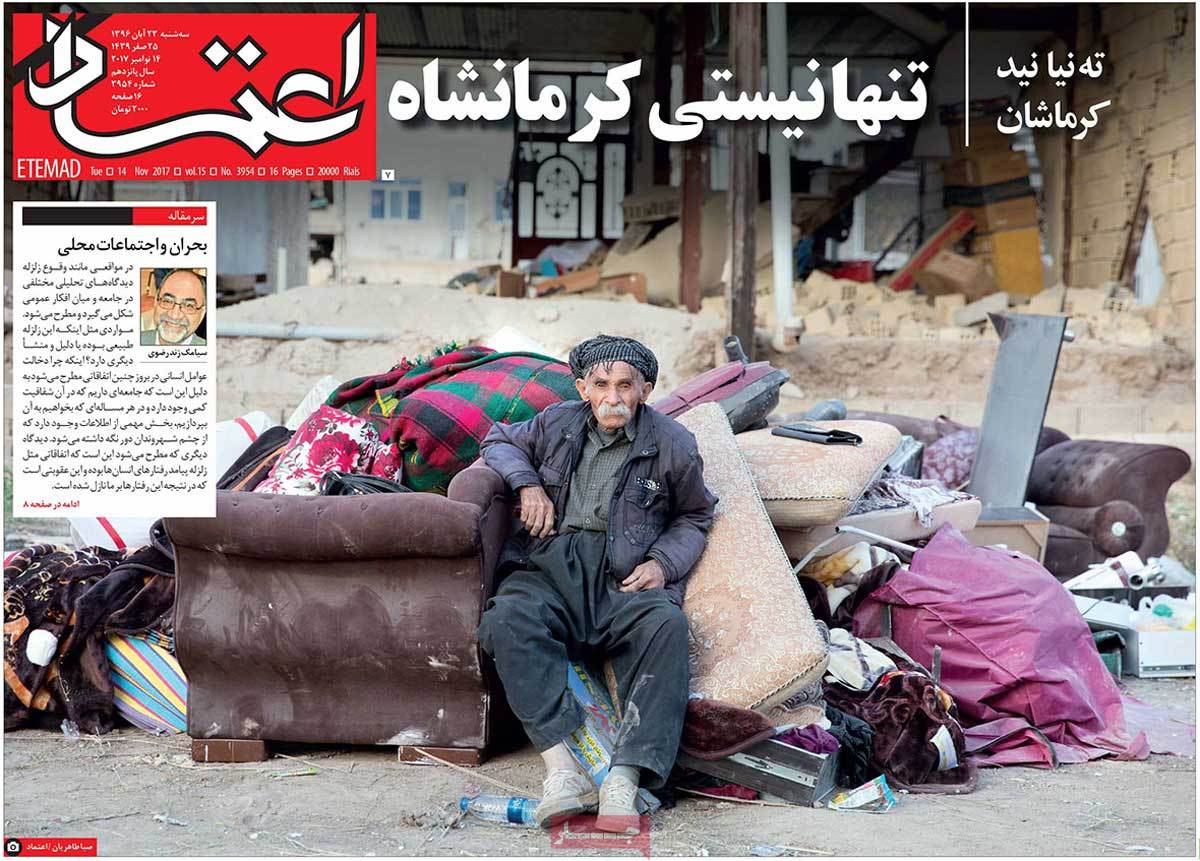 ---
Ettela'at:
1- Huge Earthquake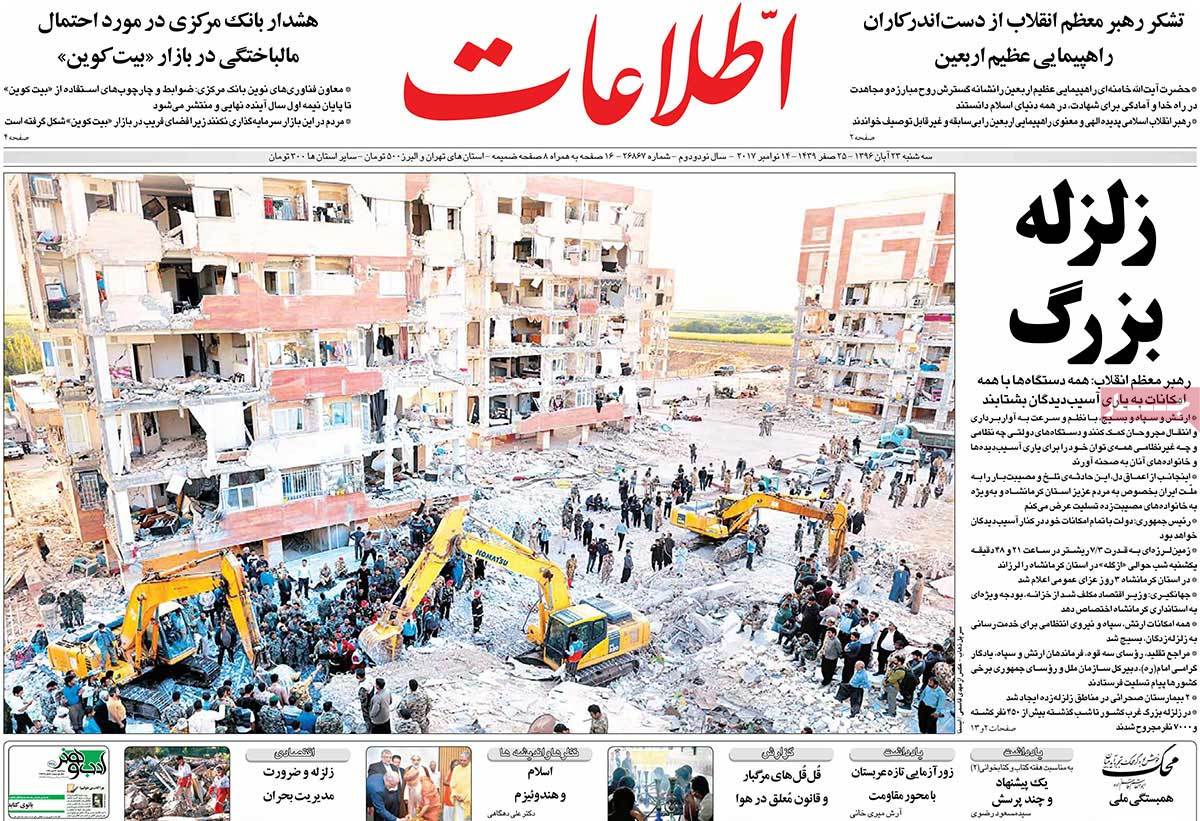 ---
Farhikhtegan:
1- Damn This Rubble
2- MP: Biggest Disaster Happened When Newly-Built Hospital Collapsed before Other Buildings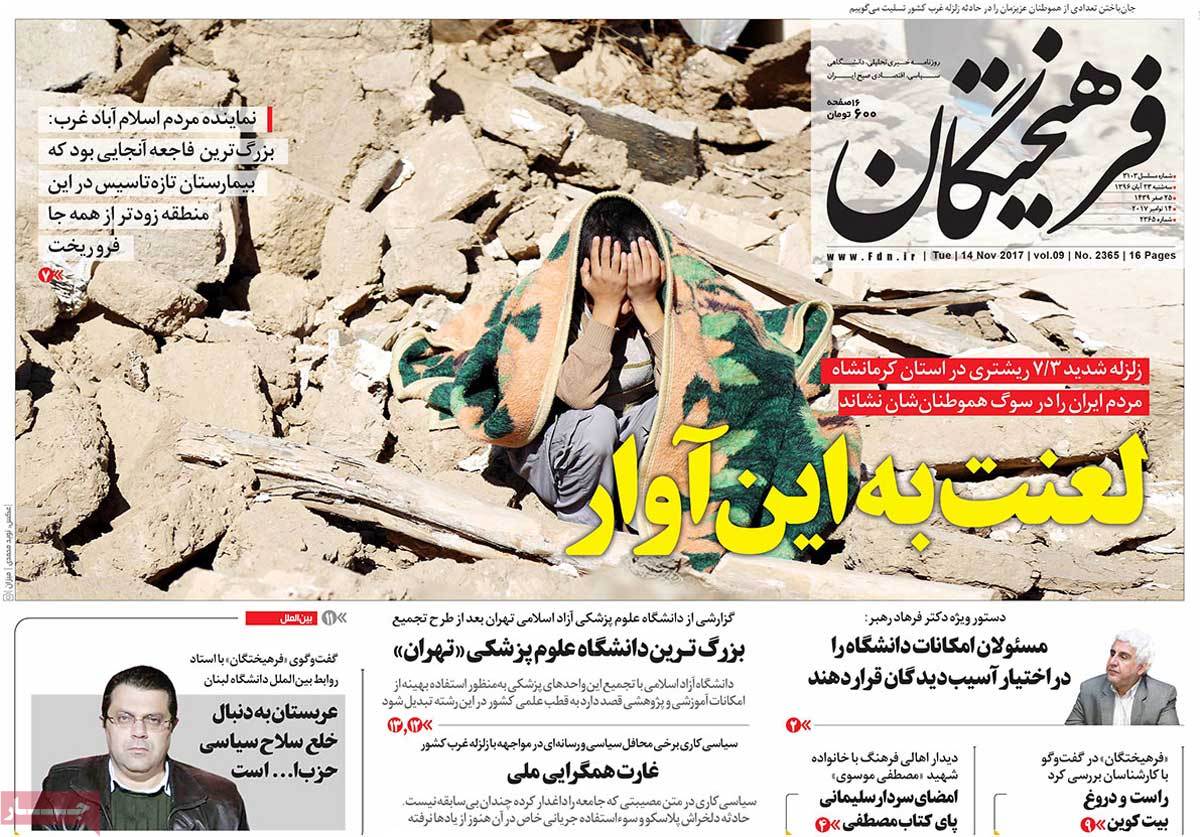 ---
Iran:
1- Iran Saddened by Kermanshah Earthquake
2- Iran Government Declares Tuesday as Day of National Mourning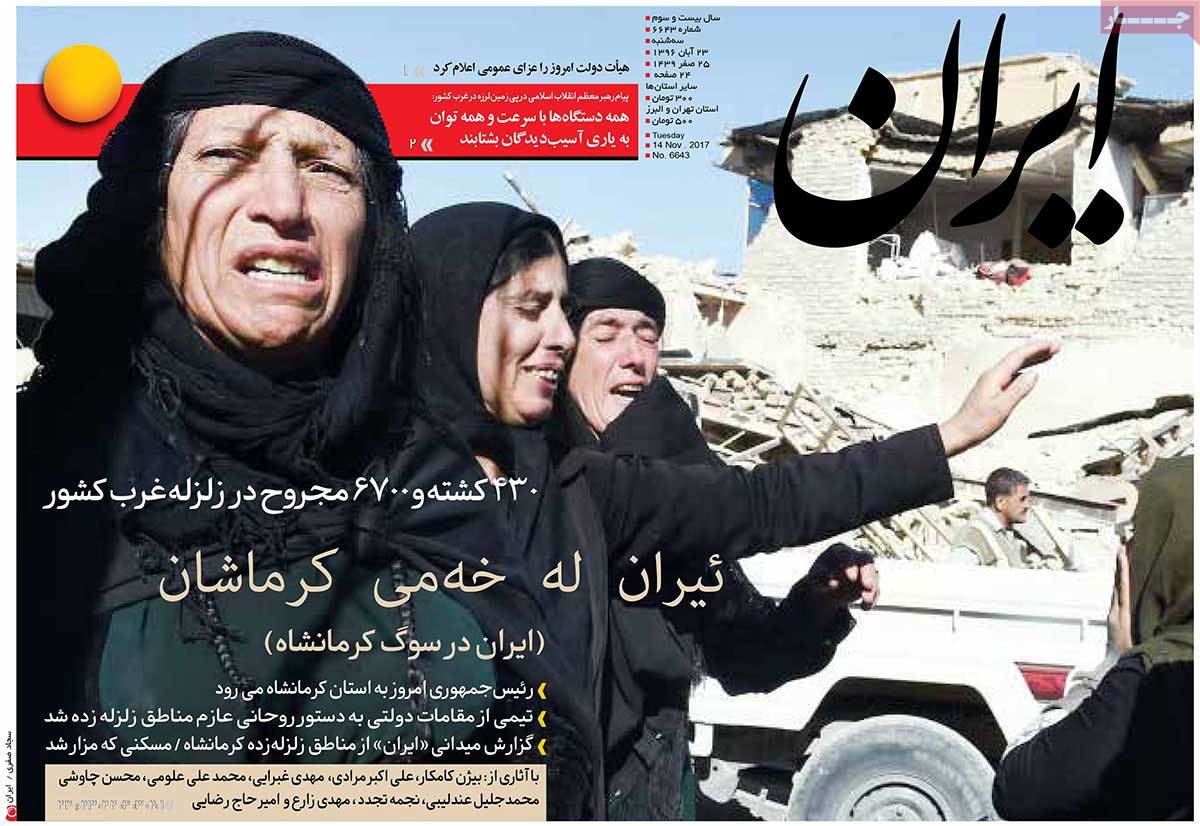 ---
Jame'eh Farda:
1- Cry of Iranian Mothers
2- Second Disaster: Warning about Crisis after Earthquake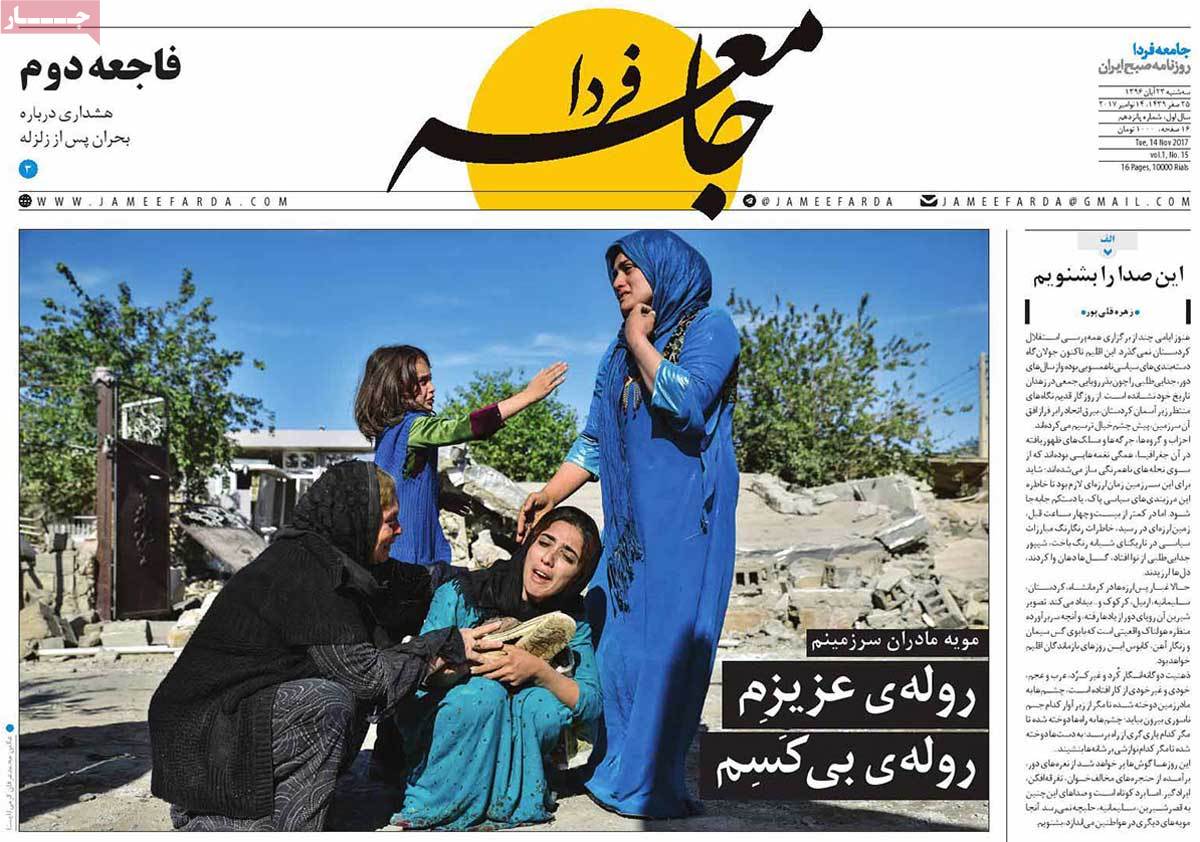 ---
Javan:
1- Pain of the Land of Champions
2- Iran Leader Orders Military Forces, Officials to Expedite Rescue, Relief Efforts
3- Government Submits Bill Similar to FATF to Parliament
---
Jomhouri Eslami:
1- President: Gov't to Stand by Quake-Hit People with All Facilities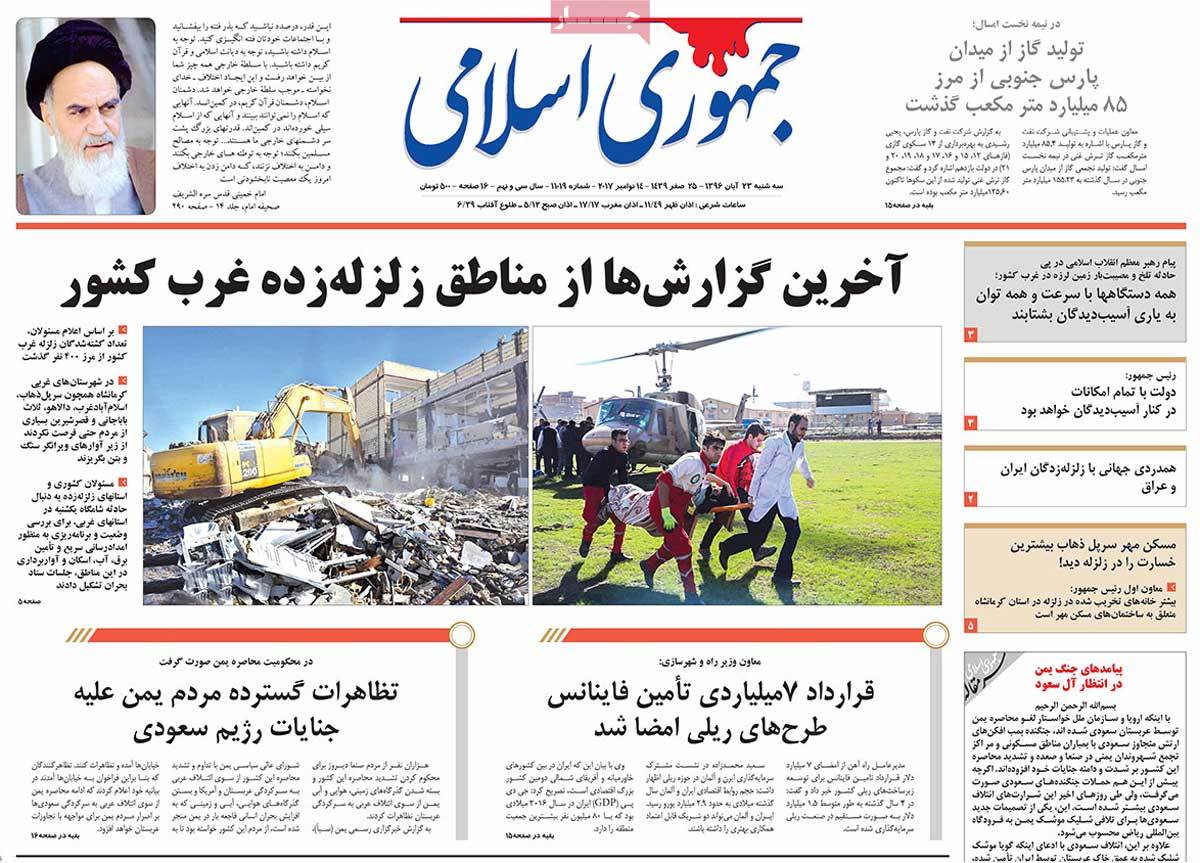 ---
Kayhan:
1- Latest News of Huge Quake in Western Iran
2- A Report on Saudi Internal Crisis: New Wave of Purge to Come
Saudi Arabia May Be Disintegrated
3- EU's Office in Tehran Tasked with Creating Security, Economic Crises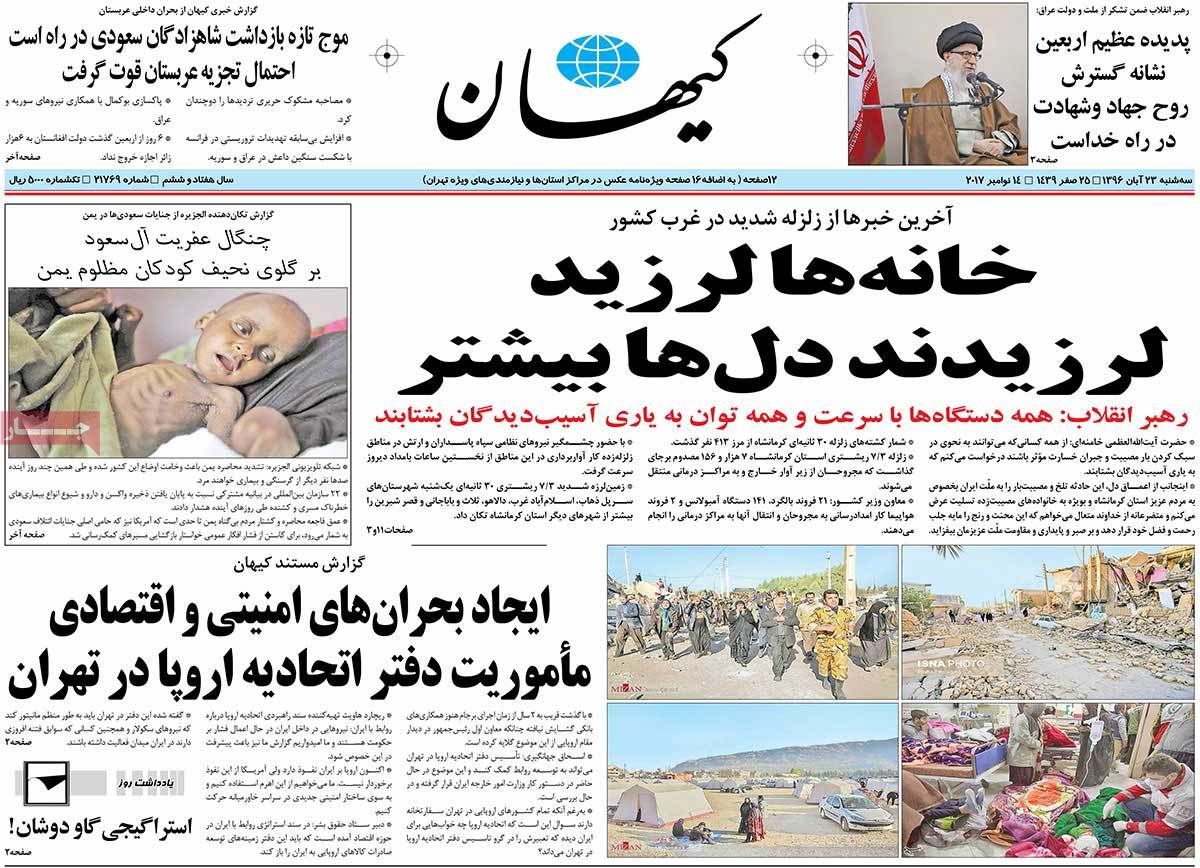 ---
Khorasan:
1- I Cried with You
2- Controversies over Hariri's Distressed Interview
3- People Queue Up in Donation Stations to Give Blood for Quake-Hit People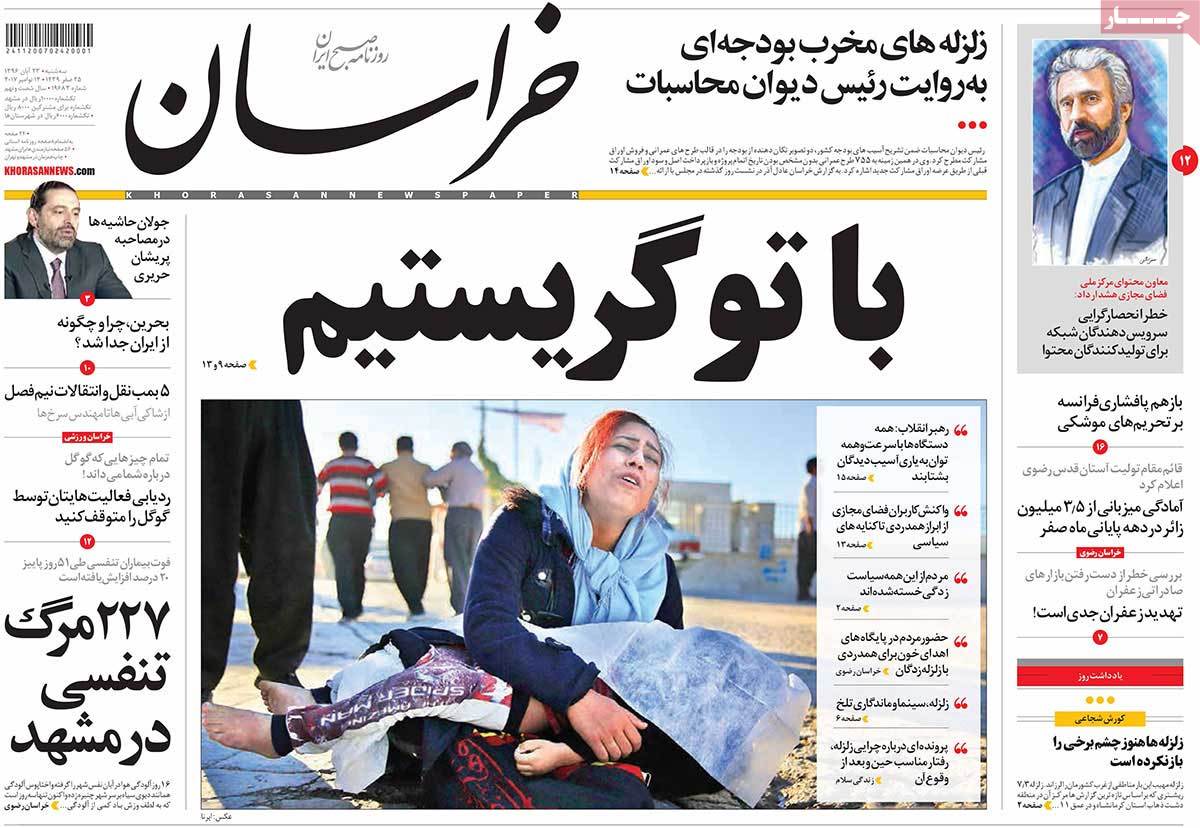 ---
Seda-ye Eslahat:
1- Iran Loses Its Dear Ones: Crisis in Crisis Management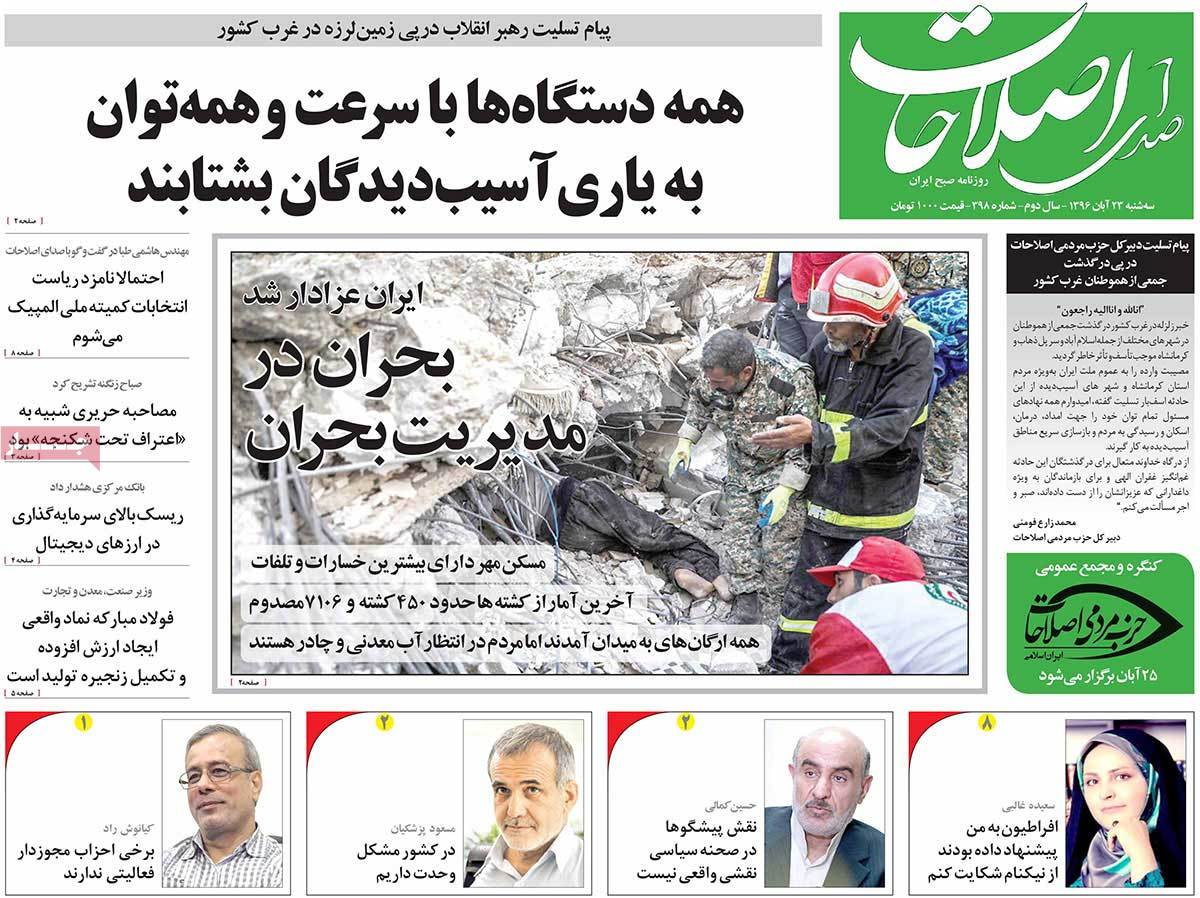 ---
Shahrvand:
1- Unfinished Pain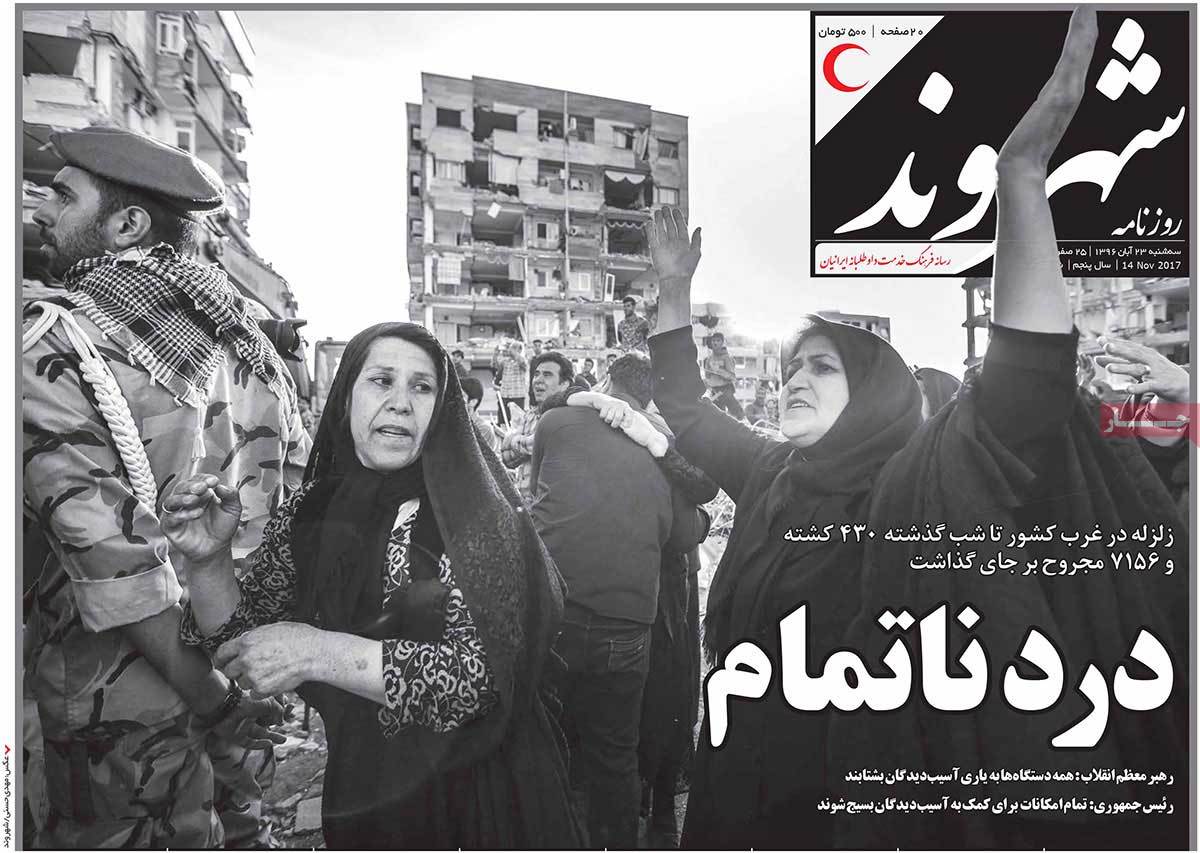 ---
Shargh:
1- Palace of Grief: Second Complex of Mehr Housing Project Couldn't Resist Earthquake
2- Foreign Ministry Spokesman: We Don't Export Any Weapon to Yemen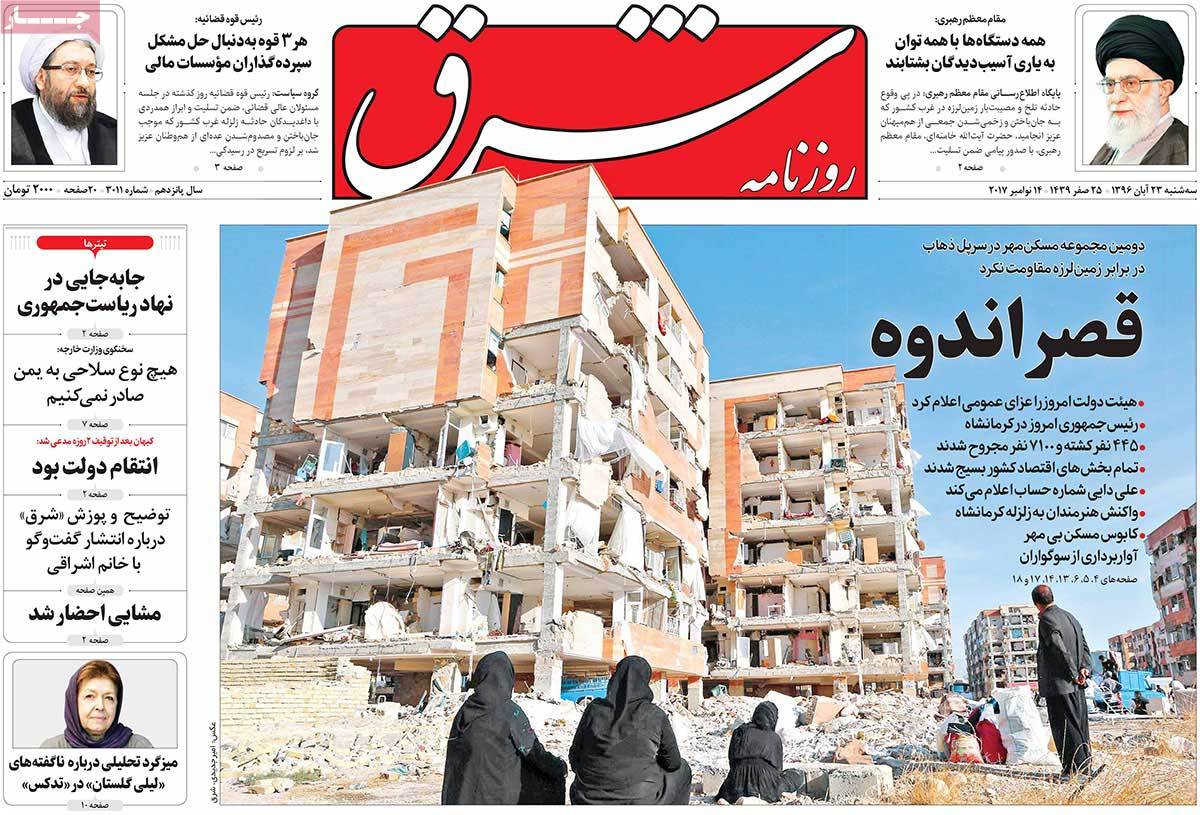 ---
Siasat-e Rooz:
1- Iran Mobilized to Help People of Kermanshah
2- US Tired of Israel: Analyst