The tragic explosion in a coal mine near the northeastern city of Azadshahr in Golestan province was the story today. Labour Minister Ali Rabiei says at least 35 miners have lost their lives, and efforts are underway to rescue the trapped workers or recover the bodies.
The second presidential debate due to be held on Friday also received great coverage. Many newspapers discussed whether the debate will once involve a clash between Rouhani and Qalibaf.
Newspapers also covered Iranian Foreign Minister Mohammad JavadZarif's visit to Pakistan and his talks with top Pakistani officials over the security of shared borders.
The above issues, as well as many more, are highlighted in the following headlines and top stories:
Abrar:
1- Over 50 Miners Trapped in Depth of 1,800m
2- US to Impose Heavier Sanctions on North Korea
3- Amano: North Korea Nuke Tests Extremely Worrying
4- Israel Seeks to Attack Iran Centres in Syria
---
Aftab-e Yazd:
1- Qalibaf Outpaces Raisi
2- Mr Rouhani! Please Don't Be a President in Friday Debate
3- Jahangiri's TV Speech Widely Welcomed by People
He'll Make a Good President after Rouhani's Second Term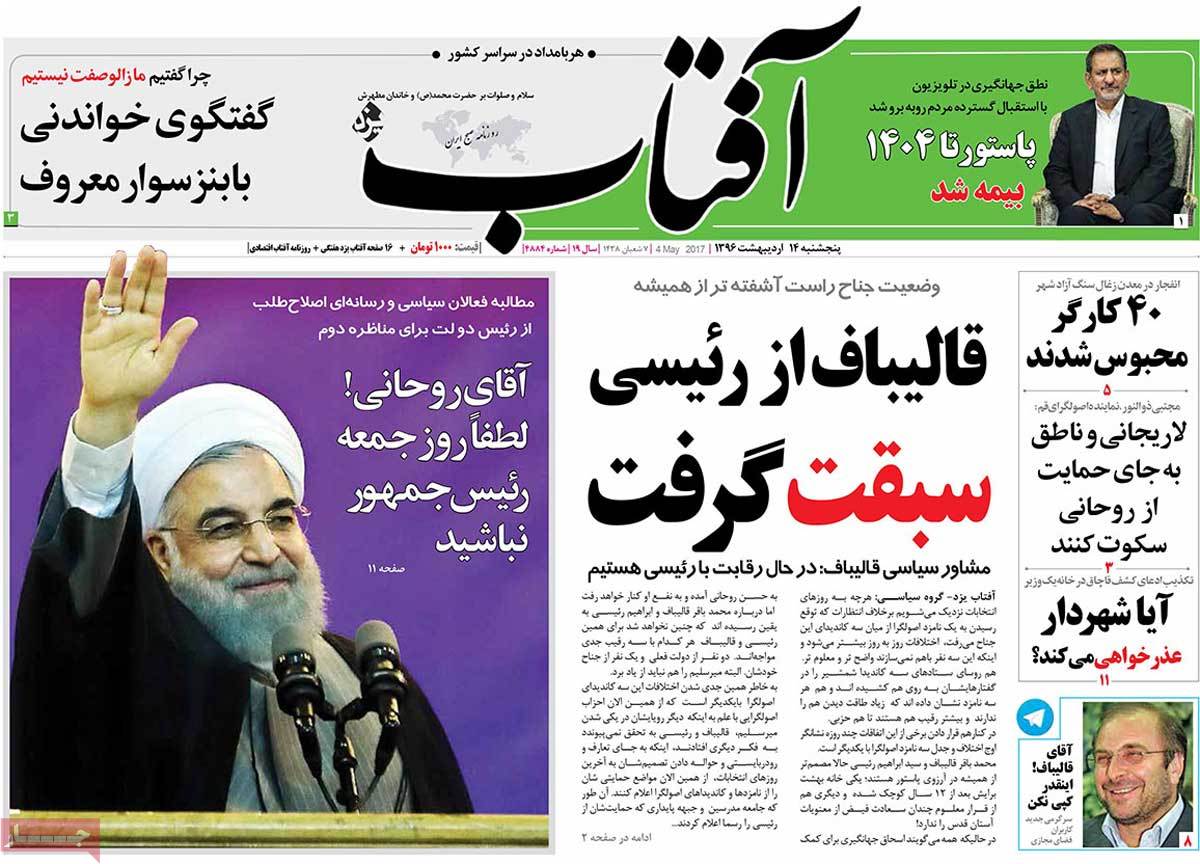 ---
Arman-e Emrooz:
1- Rouhani, Jahangiri on Top of Poll Results
2- Rouhani: Being Revolutionary Doesn't Mean Interfering in People's Lives
3- Raisi Fans Unhappy to See Him Overshadowed by Qalibaf in Debates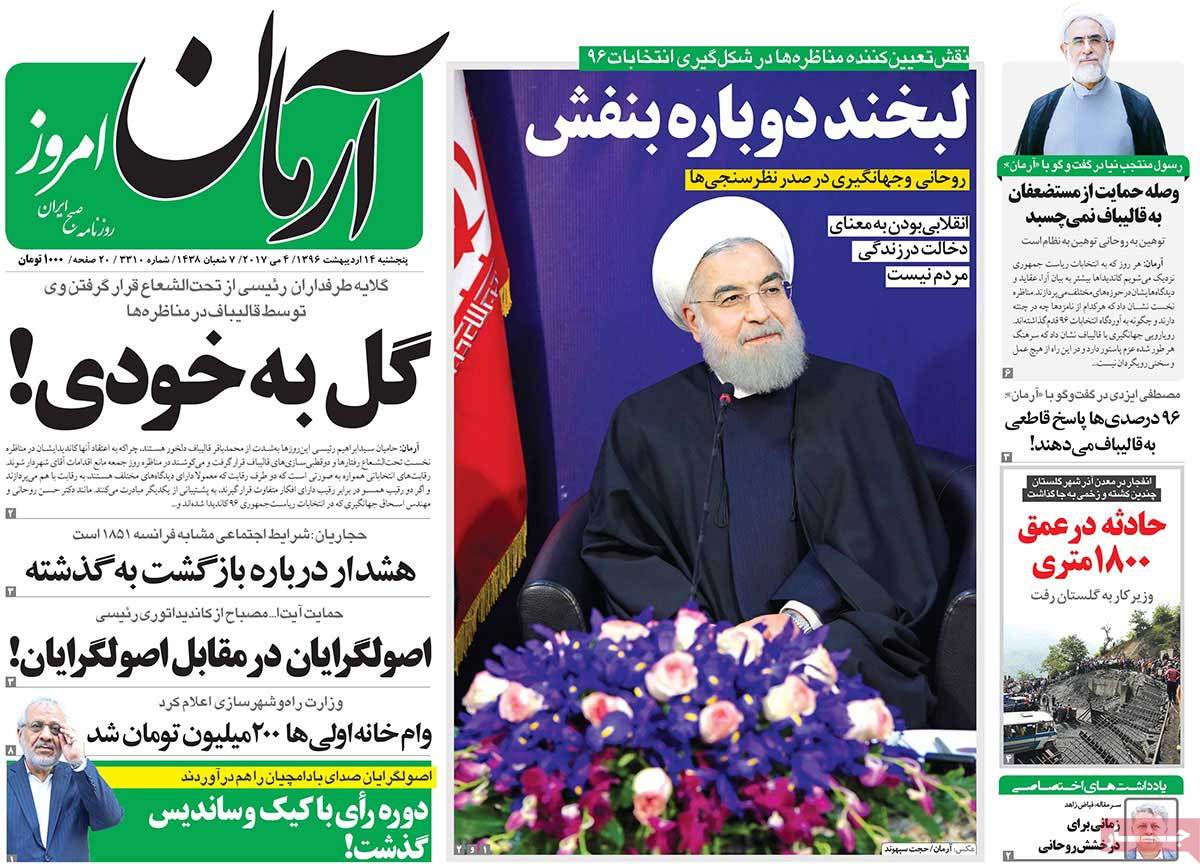 ---
Arman-e Melli:
1- Rouhani: We Won't Return to Past, We Won't Stay in Middle of Our Path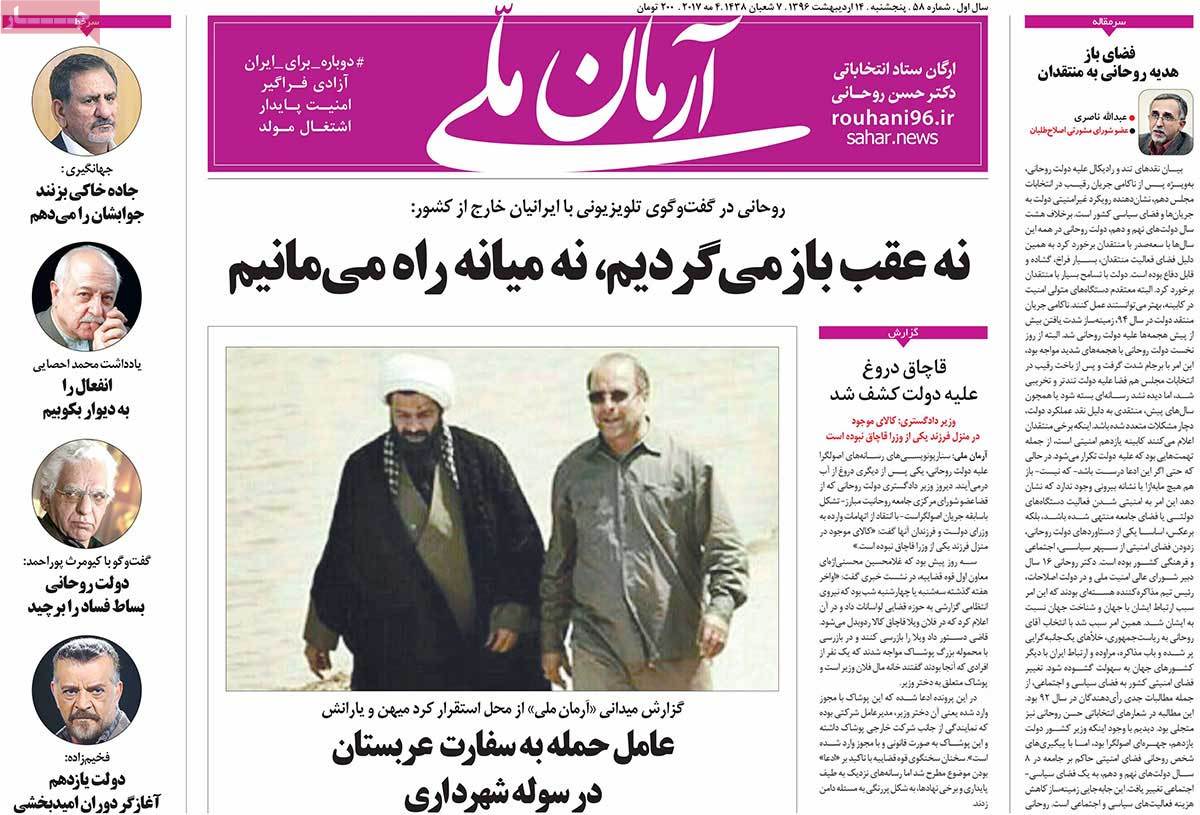 ---
Ebtekar:
1- Debate: Second Round
2- Justice Minister Rejects Claim about Contraband Goods in Minister's House
3- Iran's Eyes Waiting for Miners
4- Bobby Sands in Burger Shop: Eat Hamburger in Memory of Irish Revolutionary!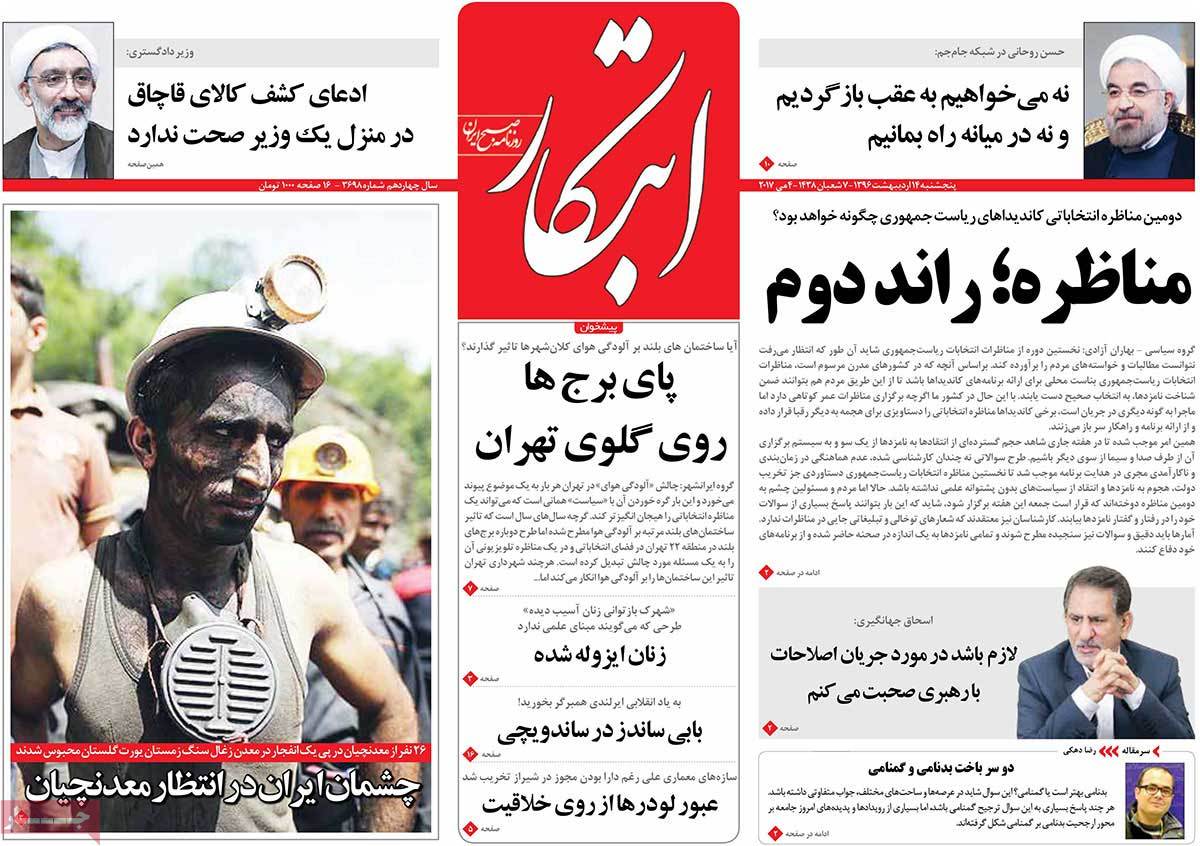 ---
Emtiaz:
1- Decrease in Number of Patients Diagnosed with Air Pollution Related Diseases
Euro-IV Petrol Distributed in 40 Cities
2- 2.6m Houses Are Empty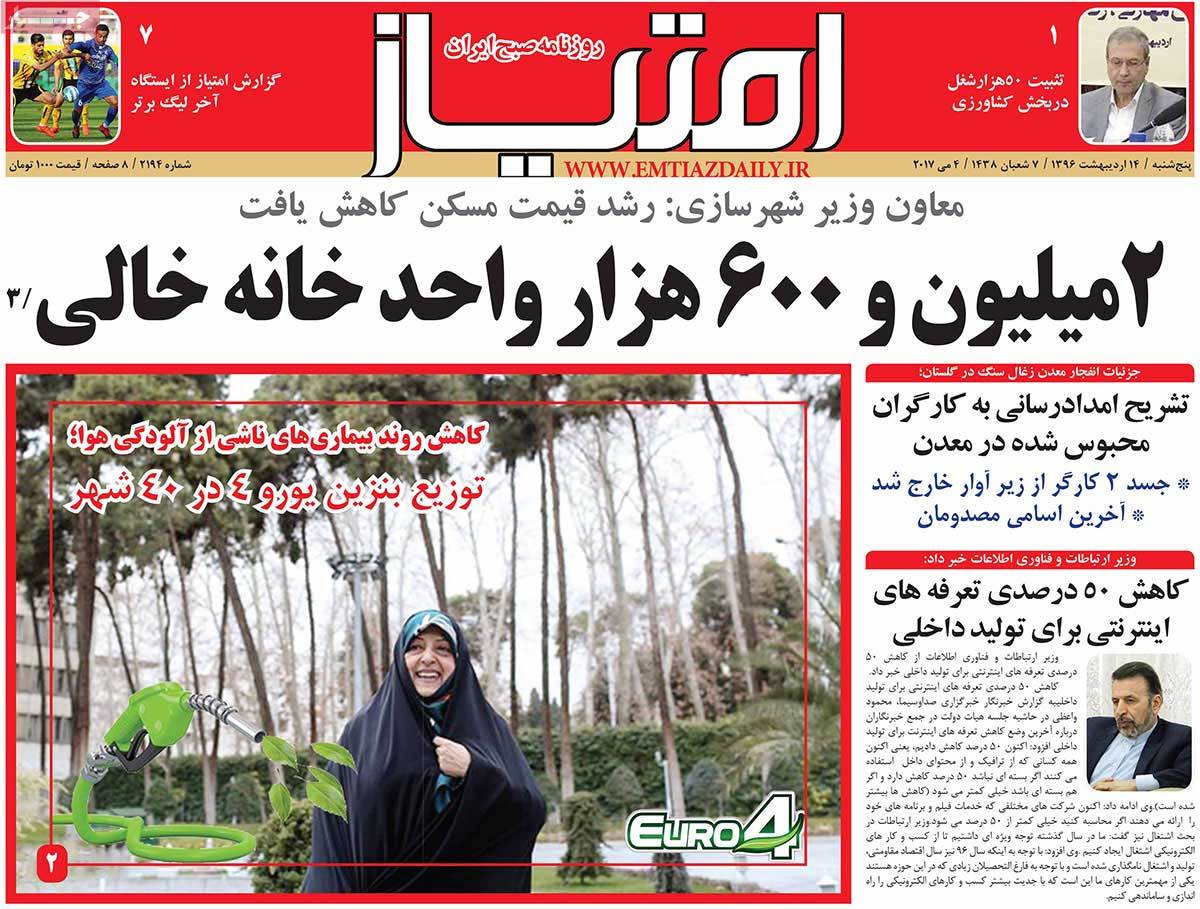 ---
Etemad:
1- Death is Our Business: Azadshahr Coal Mine Explosion Kills Several People
Bodies of 21 Workers Taken Out of Rubble
2- Human Error Was behind Explosion: Governor General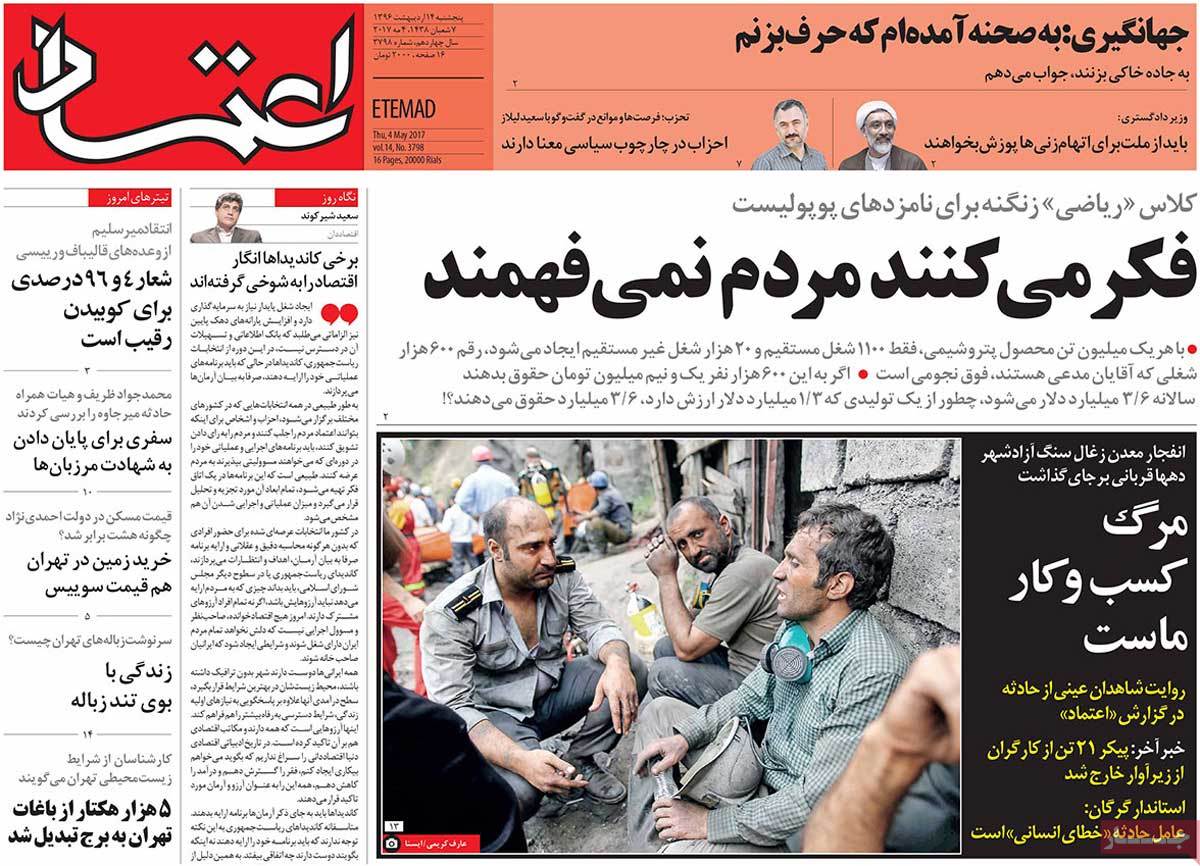 ---
Ettela'at:
1- Zarif Calls for Punishment of Terrorists in Meeting with Pakistani PM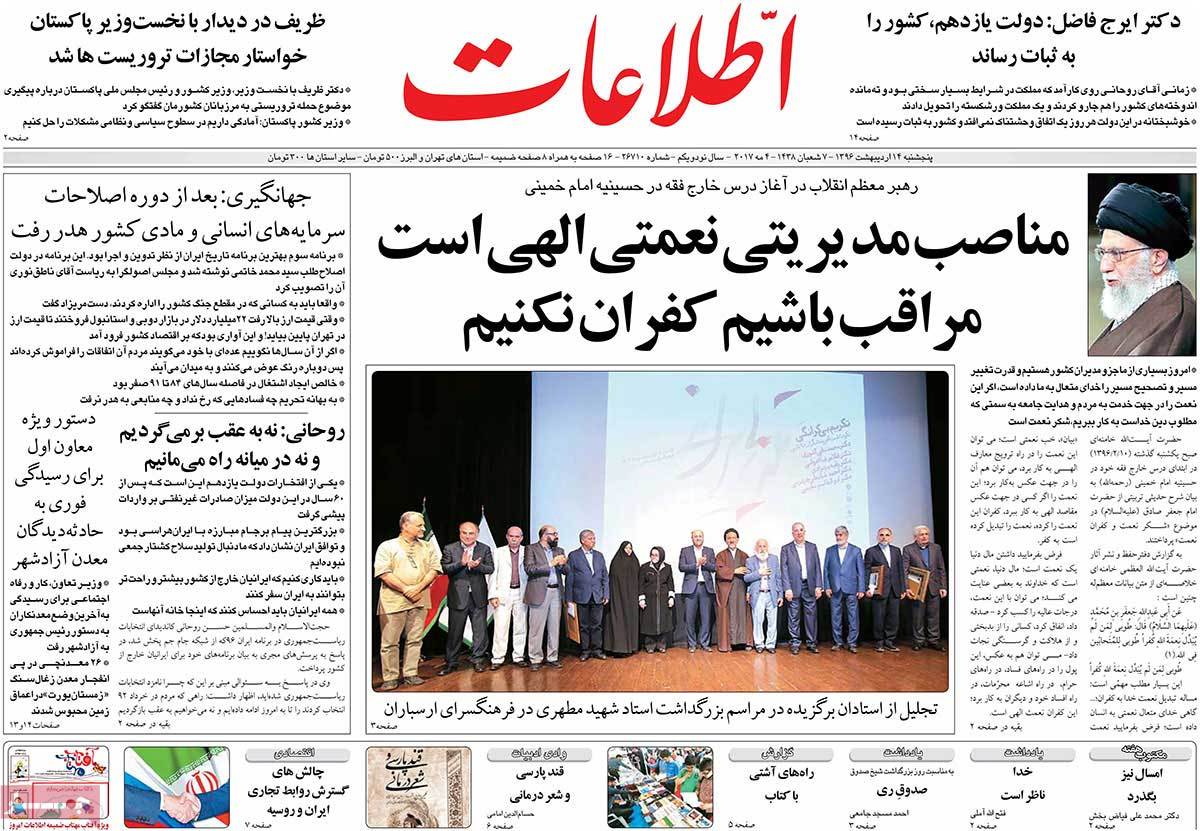 ---
Haft-e Sobh:
1- Increase in Maximum No-Deposit Loans
2- National Anxiety for 26 Miners
---
Iran:
1- Tragedy in Golestan
2- Iranian Couples Can Receive 120m-Toman [$32,000] Mortgage
3- Smoke of Populism in Eyes of Caracas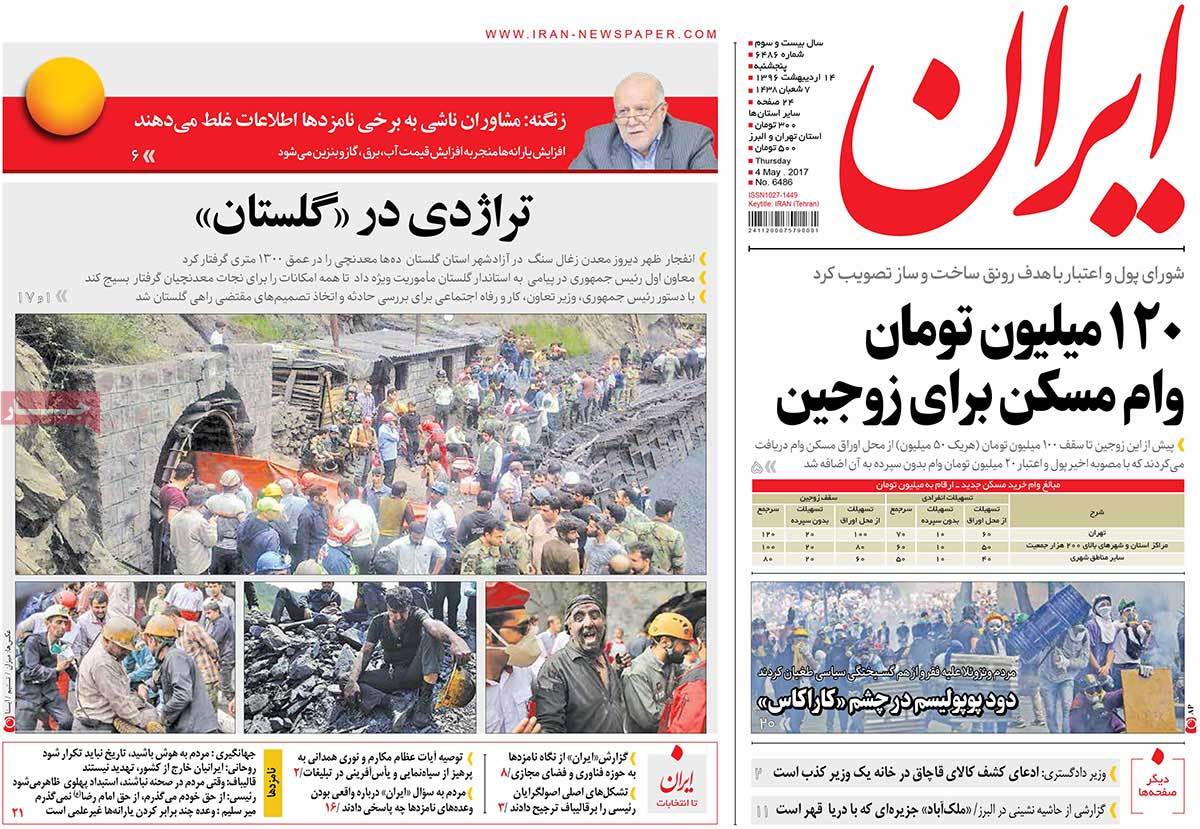 ---
Jame Jam:
1- Second Clash between Presidential Candidates
2- Tragedy in 1,800-Metre Depth
---
Javan:
1- Paradise of Iranian Workers!
2- Rescued Miner: We Smelt Gas since Previous Day, but Officials Didn't Pay Attention
3- Zarif Used for Domestic Conflicts
4- Decrease in Government's Votes, a Serious Challenge for Rouhani
5- Jahangiri Deceiving People about Past Oil Incomes
6- Storm of Diplomacy for Peace in Syria
Russia Holds Talks with US, Germany, Turkey, Saudi Arabia, Qatar to Restore Peace to Syria
---
Ka'enat:
1- Debate
2- Labour Minister Hails Value of Workers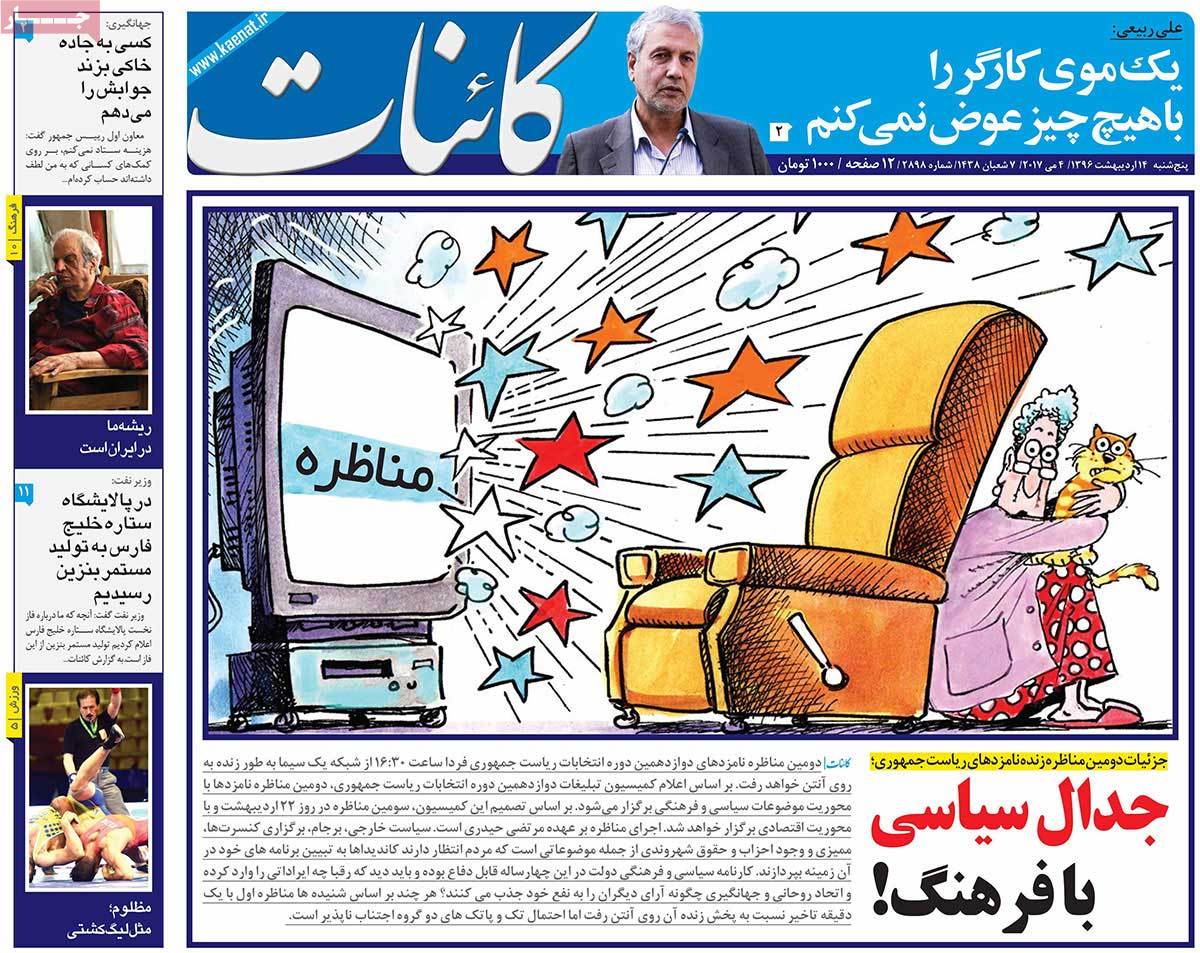 ---
Kayhan:
1- How We Deceived People
Shocking Confessions of Director of Rouhani's Campaign Video
2- Lebanon's Current Security Achieved by Resistance, Not Negotiation: Nasrallah
3- 7-Year-Old Yemeni Kid Dies of Starvation after 2 Years of Siege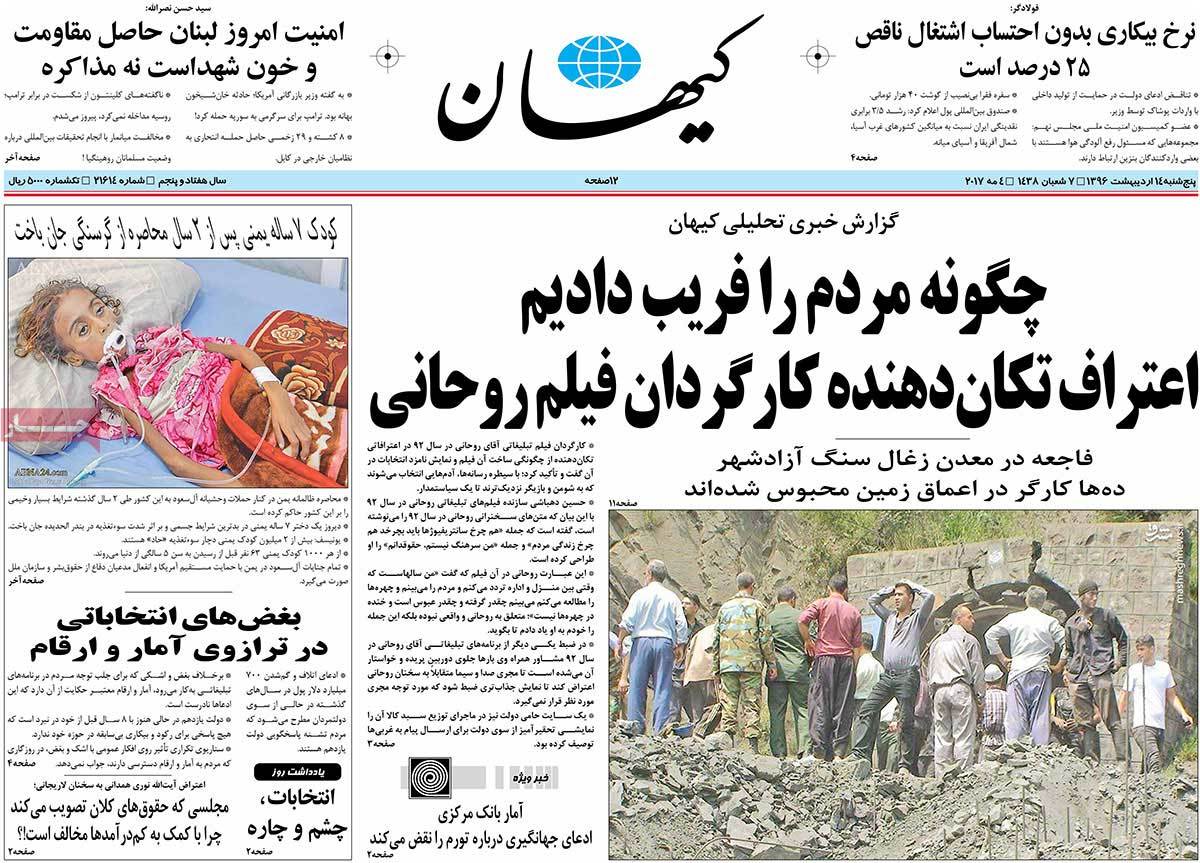 ---
Khorasan:
1- Debate before Debate: Candidates' Representatives Clash ahead of 2nd Debate
---
Resalat:
1- Ayatollah Nouri HamadaniCriticize Parliament:
How come parliament is OK with increasing high wages, but is opposed to helping low-income people
2- Qalibaf: People Paying Price for Election of Incompetent Governments
3- Raisi: Ministers Should Not Be Businessmen
4- Mirsalim: Government Has Stopped 40 National Plans
5- Rouani's Gov't Failed to Use Women's Potentials: Academic
6- Raisi's Campaign Official: No Inflation in an Economy Similar to Graveyard
---
Seda-ye Eslahat:
1- Goodbye Mr Mayor! Conservatives Support Raisi
2- Jahangiri: I'll Respond to Attacks in Debate
3- Ayatollah MakaremShirazi Urges Candidates to Pay Attention to Non-Economic Issues as Well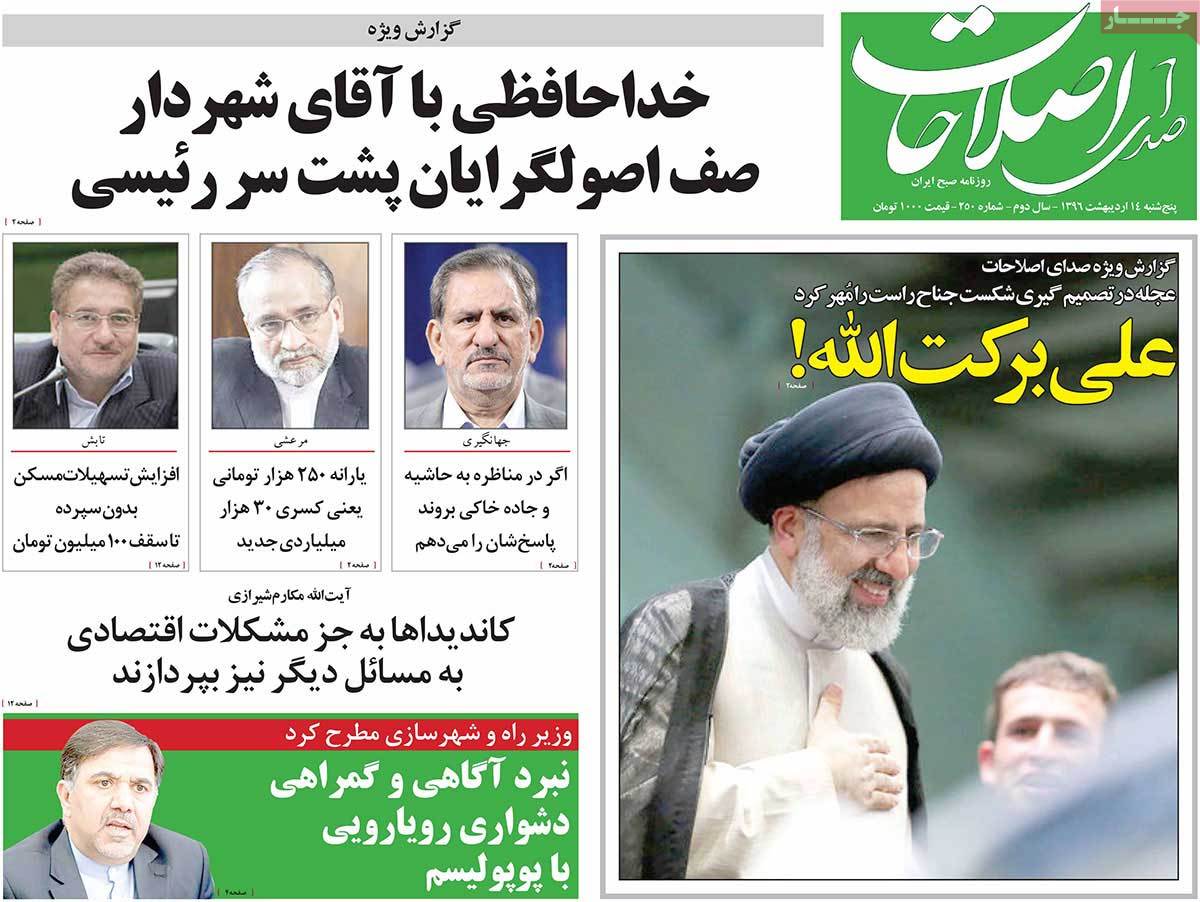 ---
Siasat-e Rooz:
1- Aftershocks of Increase in Number of US Troops
Kabul Terror Attack Kills, Wounds Dozens of People
2- Riyadh Trying to Survive Regional Swamp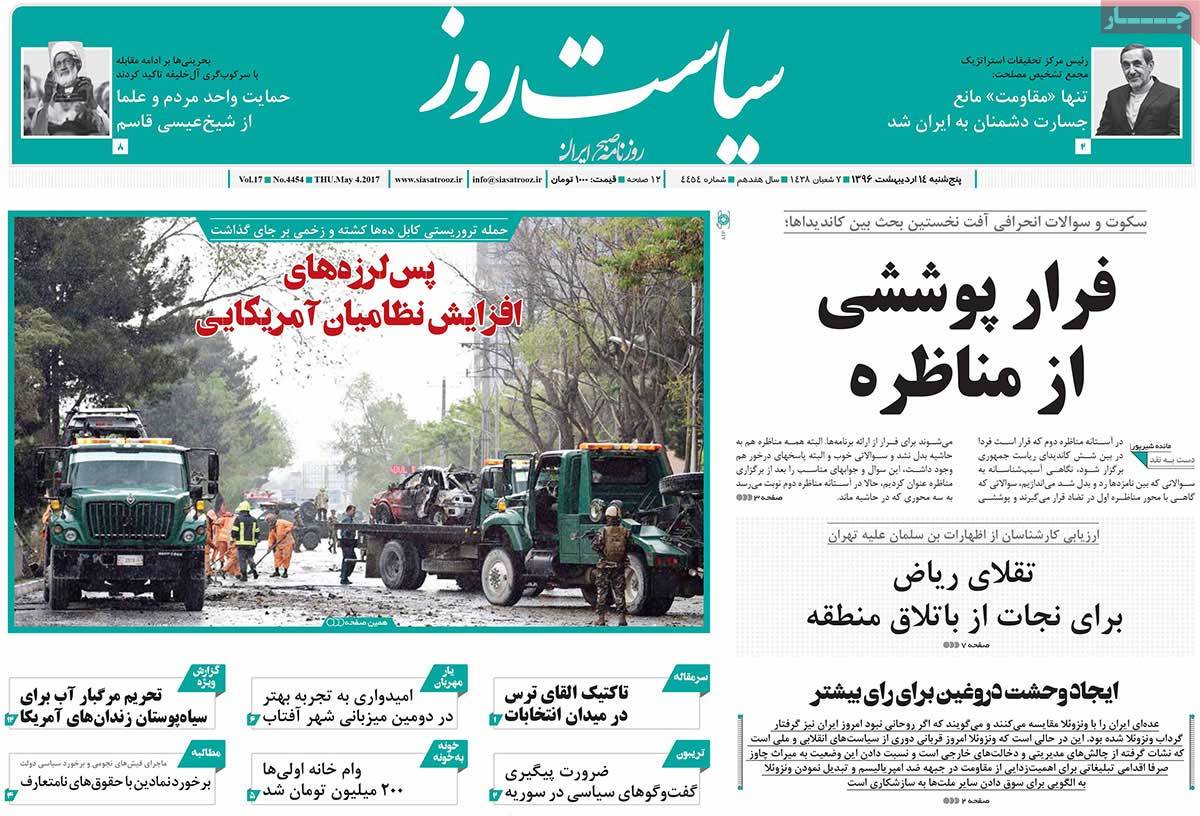 ---
VaghayeEttefaghieh:
1- Tehran Mayor Longs for a Victory
2- President to Continue with Second Victory
3- Will Second Debate Turn into Rouhani-Qalibaf Clash Once Again?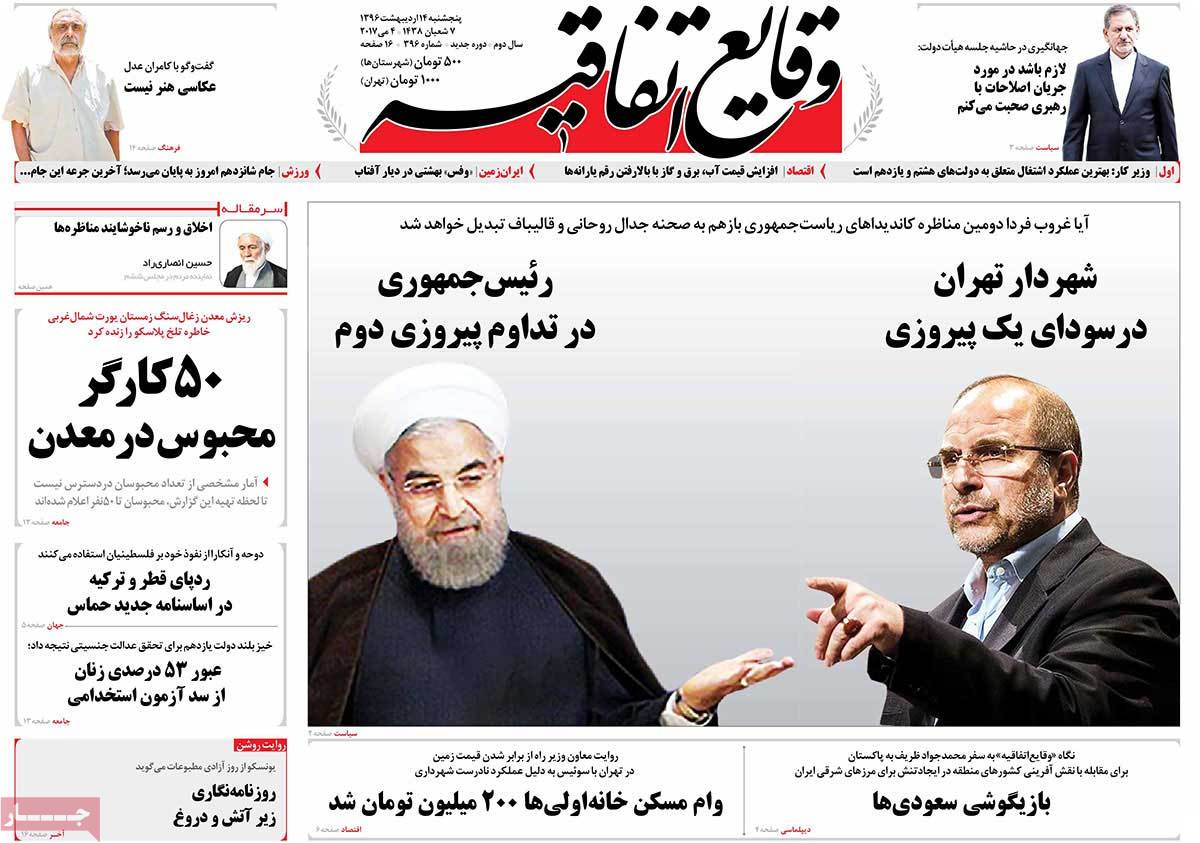 ---
Vazn-e Emrooz:
1- They've Even Made the Economy Secret: Raisi
2- Qalibaf: Factories Are Being Shut Down, Middlemen Getting Richer