Iranian newspapers today widely covered the remarks made by Major General Mohammad Ali Jafari, the commander of the Islamic Revolution Guards Corps (IRGC), and IRGC Quds Force Commander Major General Qassemi Soleimani about the significance of the military organization's efforts to ensure Iran's security.
The reactions to a huge gas deal signed between Iran and France's Total also received great coverage today. Conservative papers strongly denounced it as being against the country's interests, while reformists and pro-government media hailed it as a historic deal that breaks the wall of sanctions.
Many papers also marked the first anniversary of the demise of prominent Iranian filmmaker and photographer Abbas Kiarostami.
The above issues, as well as many more, are highlighted in the following headlines and top stories:
Abrar:
1- Iran Parliament Speaker Hails Ayatollah Sistani's Role in Iraq Victories
2- Iran Gov't Spokesman: JCPOA's Fruits Emerging One after another
3- Without Iran's Support Iraq Couldn't Achieve Today's Results: Iraqi General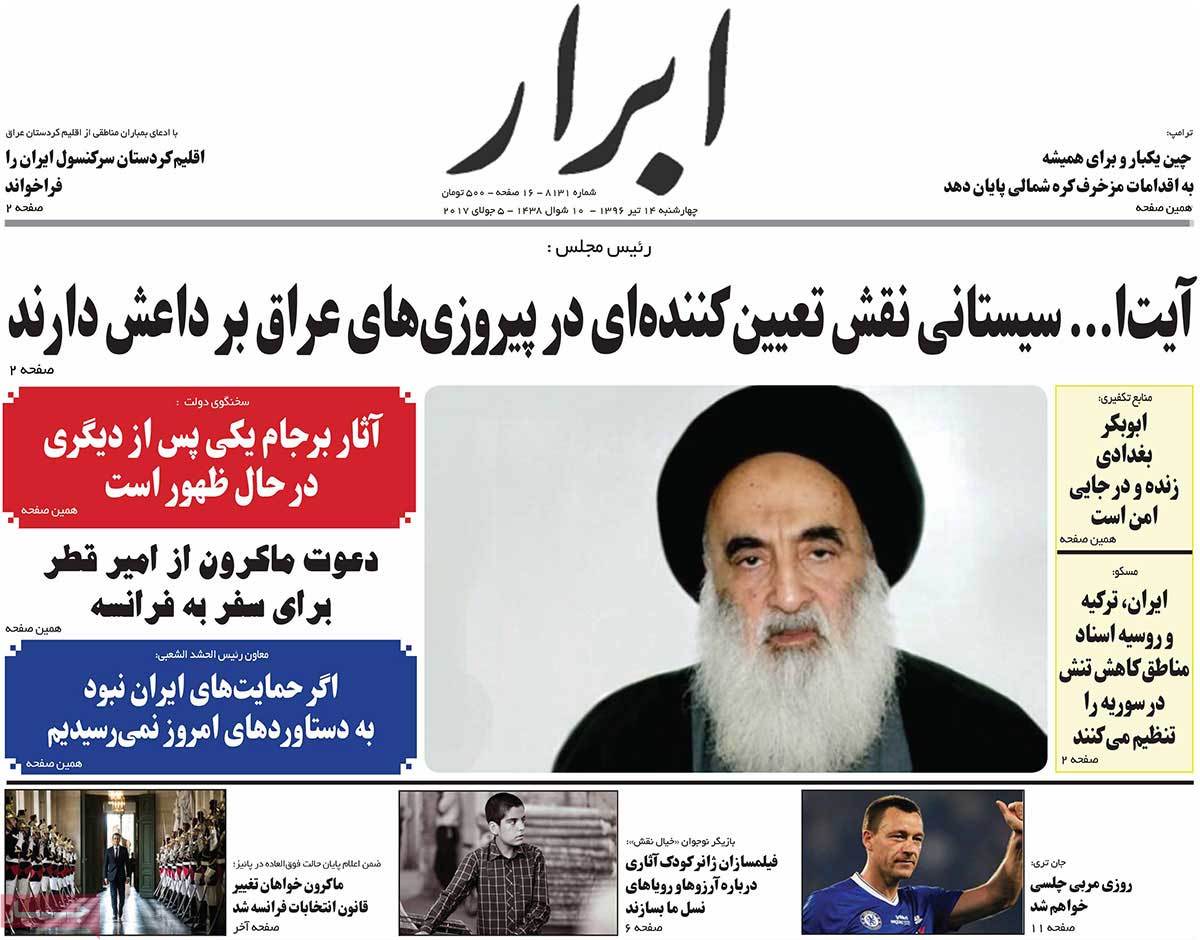 ---
Aftab-e Yazd:
1- Rouhani's Rational Turn
Iran Prefers Cooperation with Europe as Long as Trump Holds Office in US
2- Nothing against Iran Leader's Words Should Be Uttered: General Soleimani
3- Iran Police: Inside People's Cars Not Their Private Space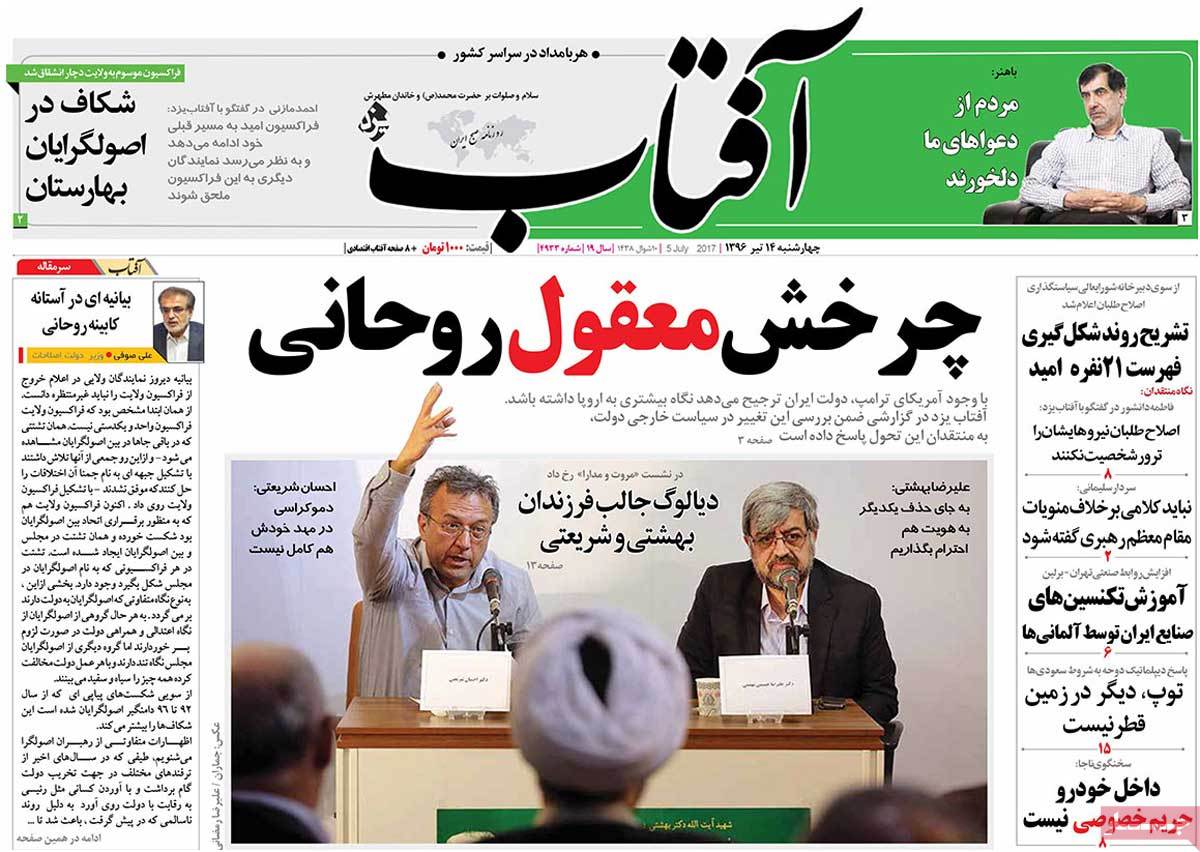 ---
Arman-e Emrooz:
1- Gov't Spokesman: Wall of Sanctions Collapses after Oil Giants' Arrival in Iran
2- Top Human Rights Official: Iran Has No Political Prisoner
3- Conservatives Renouncing Radicals: Senior Right-Winger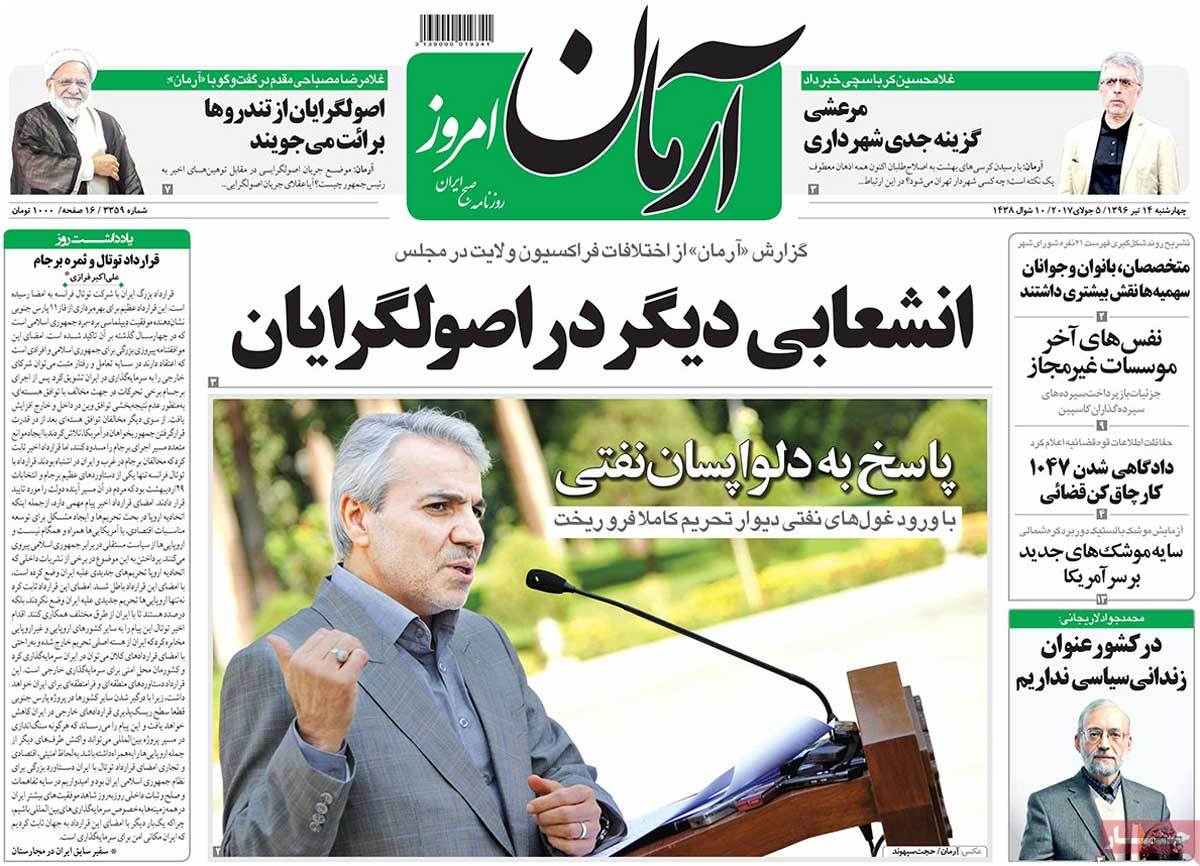 ---
Asrar:
1- General Soleimani: Do Not Weaken IRGC
2- Interior Minister: Mayors in 42% of Cities to Be Changed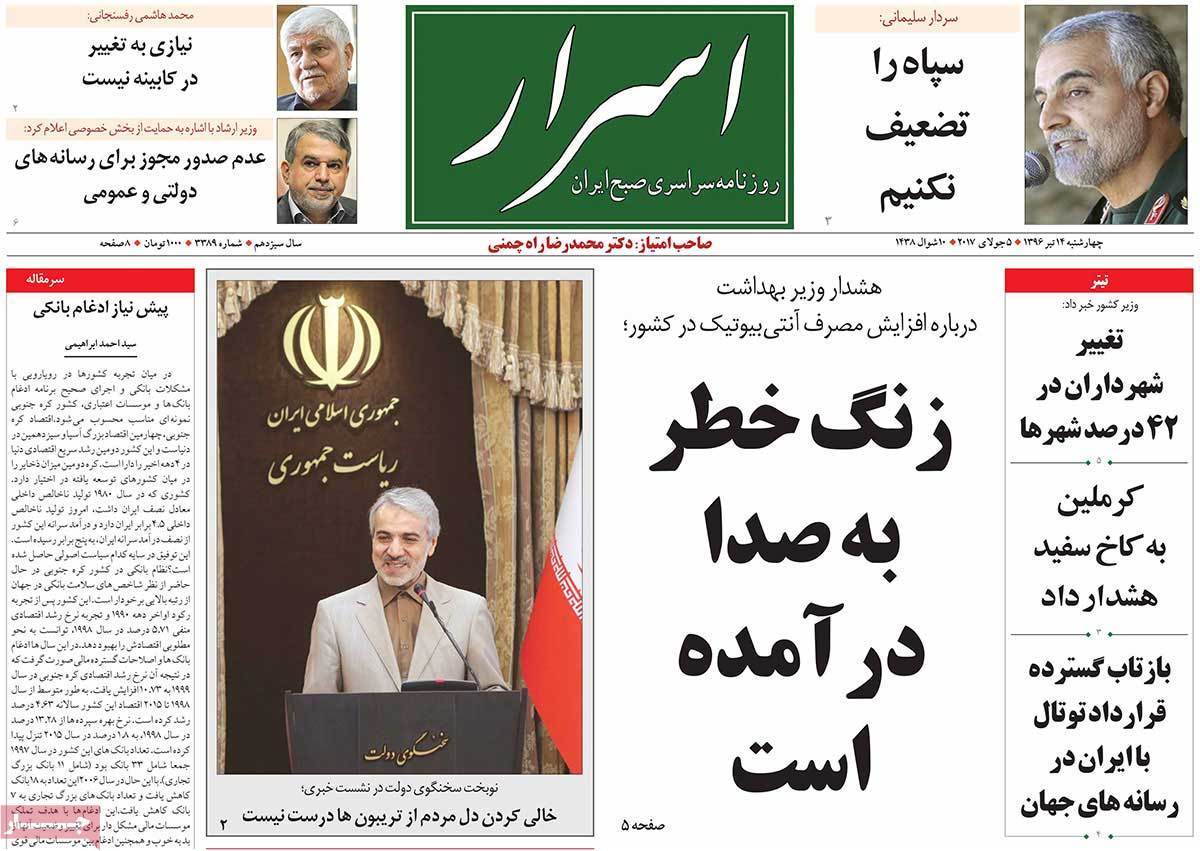 ---
Etemad:
1- Different Account of Total's Deal with Iran
Total CEO: Your Negotiators Well Defend Your Interests
2- IRGC Commander to Remain in Office for 3 More Years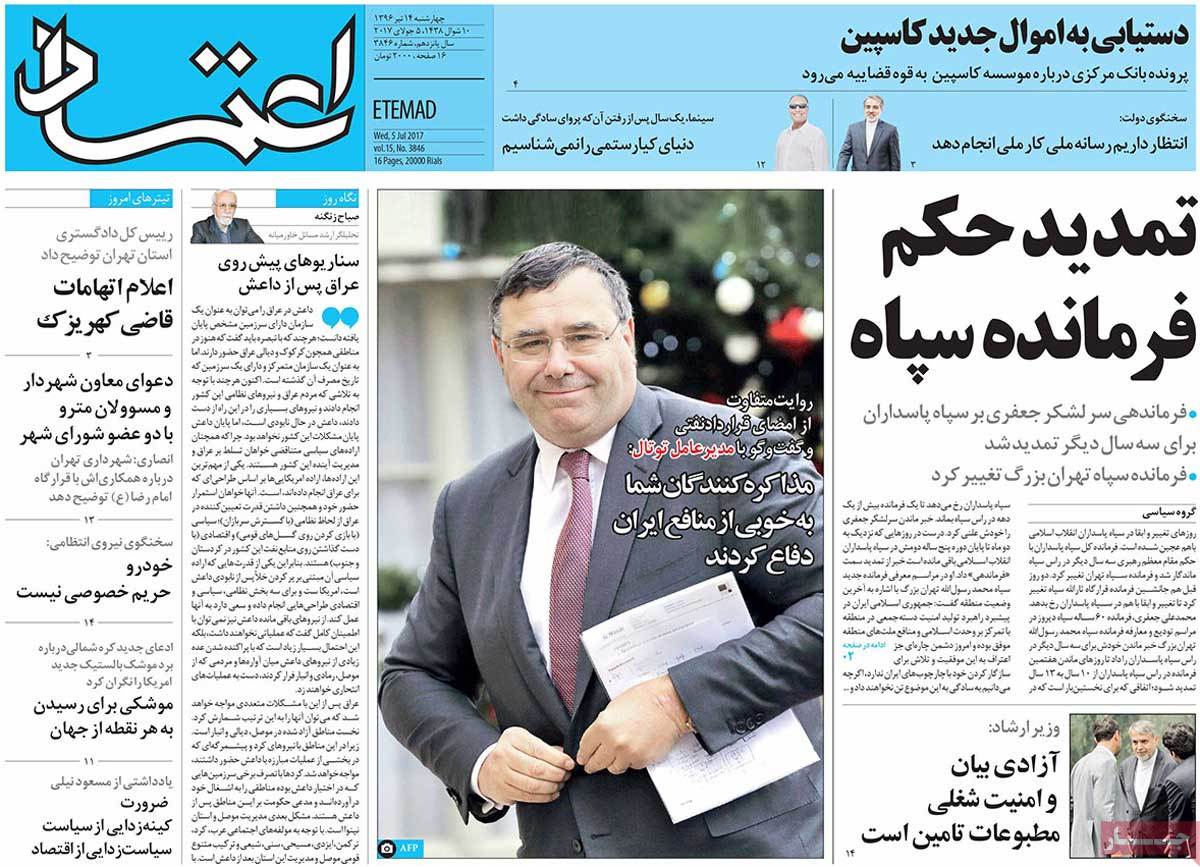 ---
Ettela'at:
1- President: Iran Supports Stable, Integrated Iraq
2- General Soleimani: Unity on Values Main Source of Iran's Power
3- Resolving Super-Challenges in Iran Needs Unity, National Resolve: First VP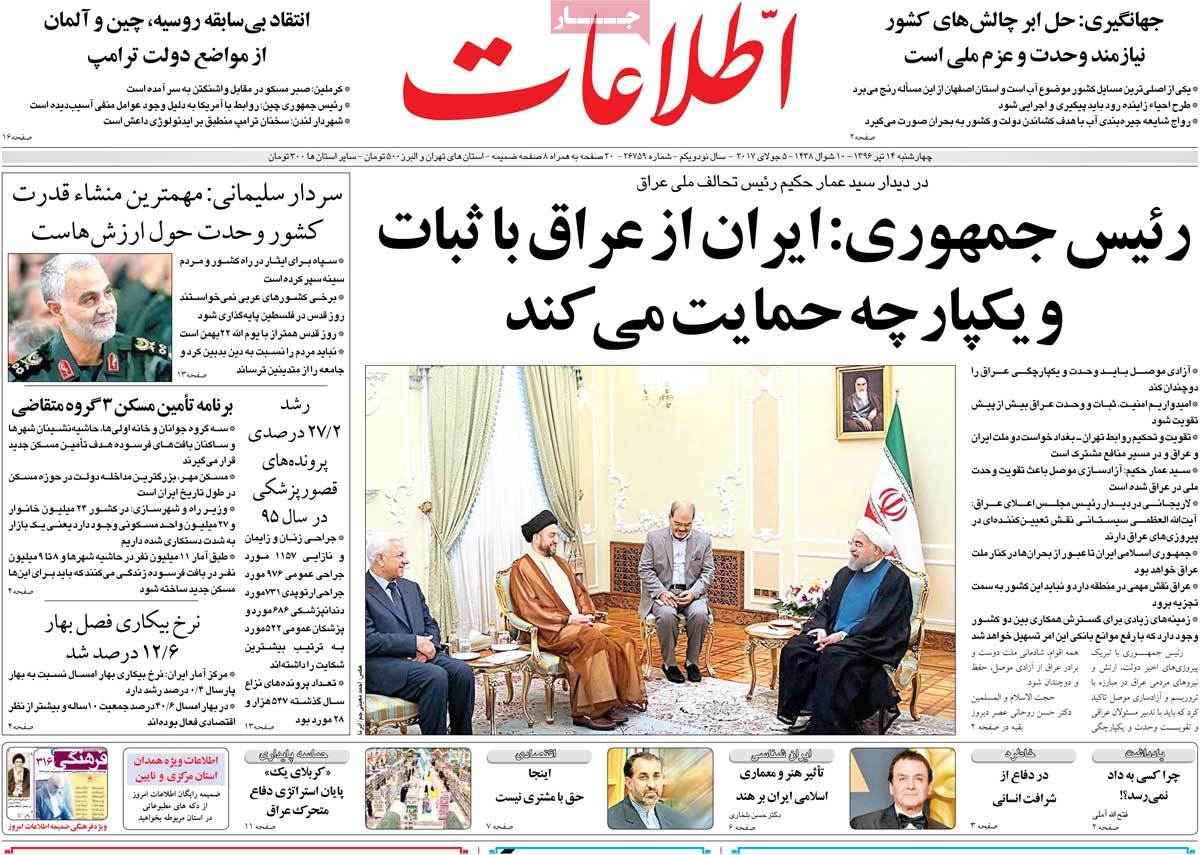 ---
Iran:
1- Global Efforts to Harness North Korean Leader
After Trump's Criticism, Russia, China Urge Pyongyang to Stop Nuclear Tests
---
Javan:
1- Commander: IRGC Looking for Peace by Making Enemies Afraid of Waging War
2- General Soleimani: Attack Me, but Don't Attack IRGC
3- IRGC Has Saved Governments' Bankrupt Businesses
---
Jomhouri Eslami:
1- Iran's Big Deal with Total Widely Covered by World Media
French Oil Giant Ignores US
2- UNICEF: Millions of Yemeni Children in Urgent Need of Int'l Help
3- Iran, Russia Should Cooperate against US Interference in Syria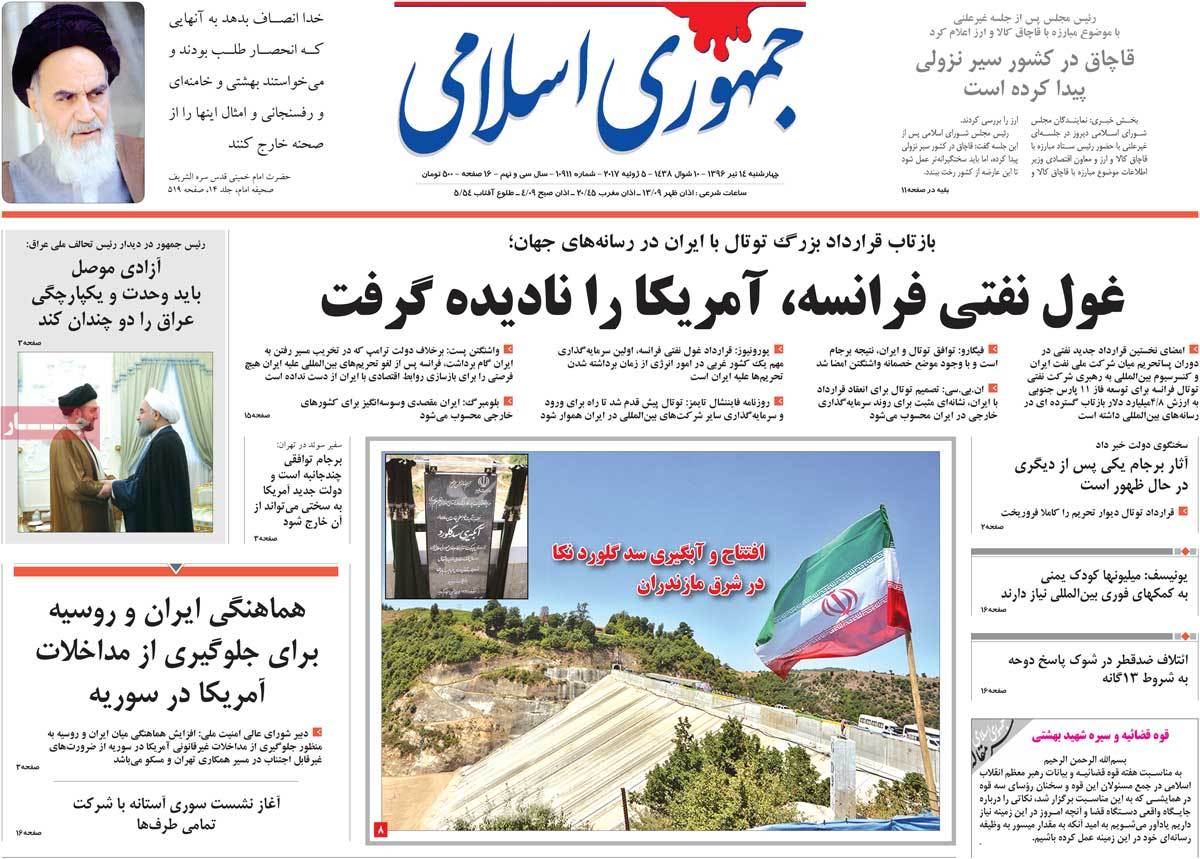 ---
Kayhan:
1- Total Smells Like Crescent; Government Should Be Transparent
2- 70% of Apparel in Iranian Markets Have Been Smuggled into Iran
3- Government's Debts to IRGC Exceed IRR 230 Trillion [over $6bn]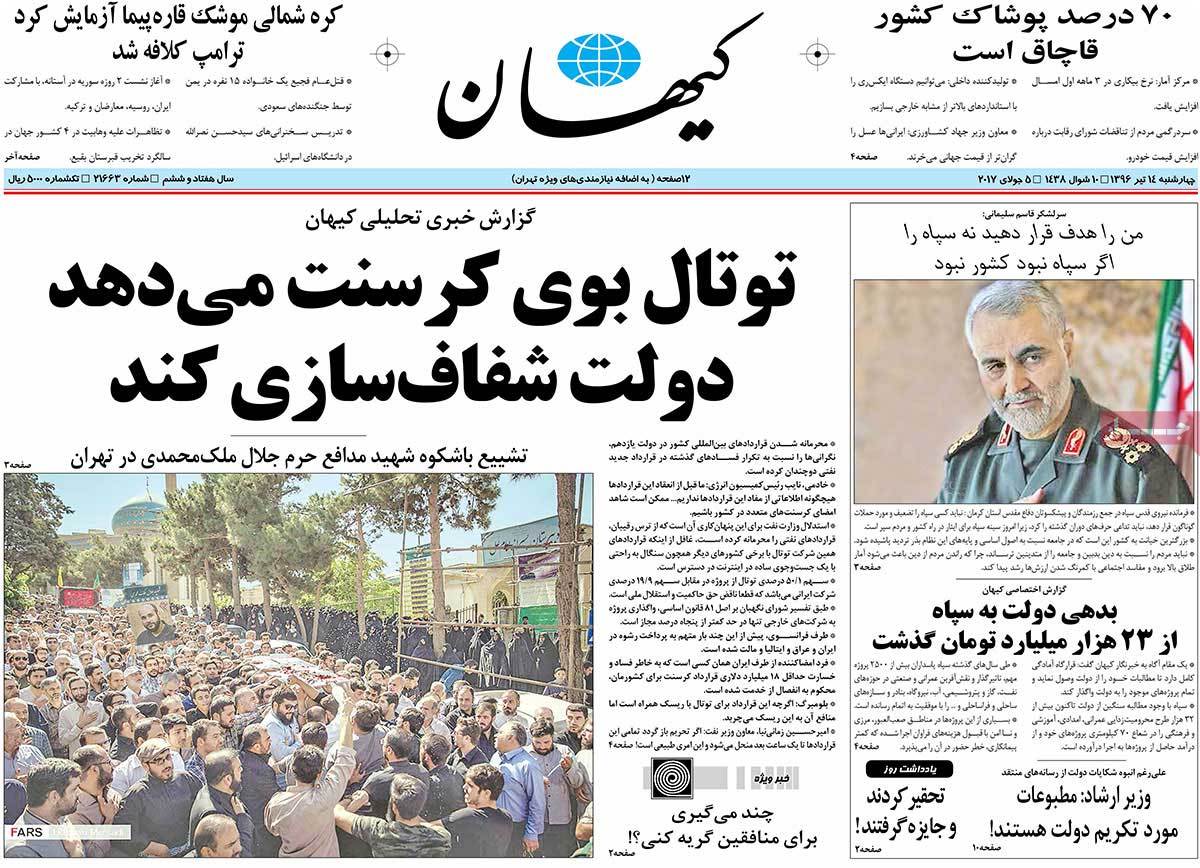 ---
Resalat:
1- General Soleimani: We'll Support Whoever Raises Banner of Quds Liberation
2- Ayatollah Jannati: Why Advocates of Human Rights Are Silent towards MKO Crimes?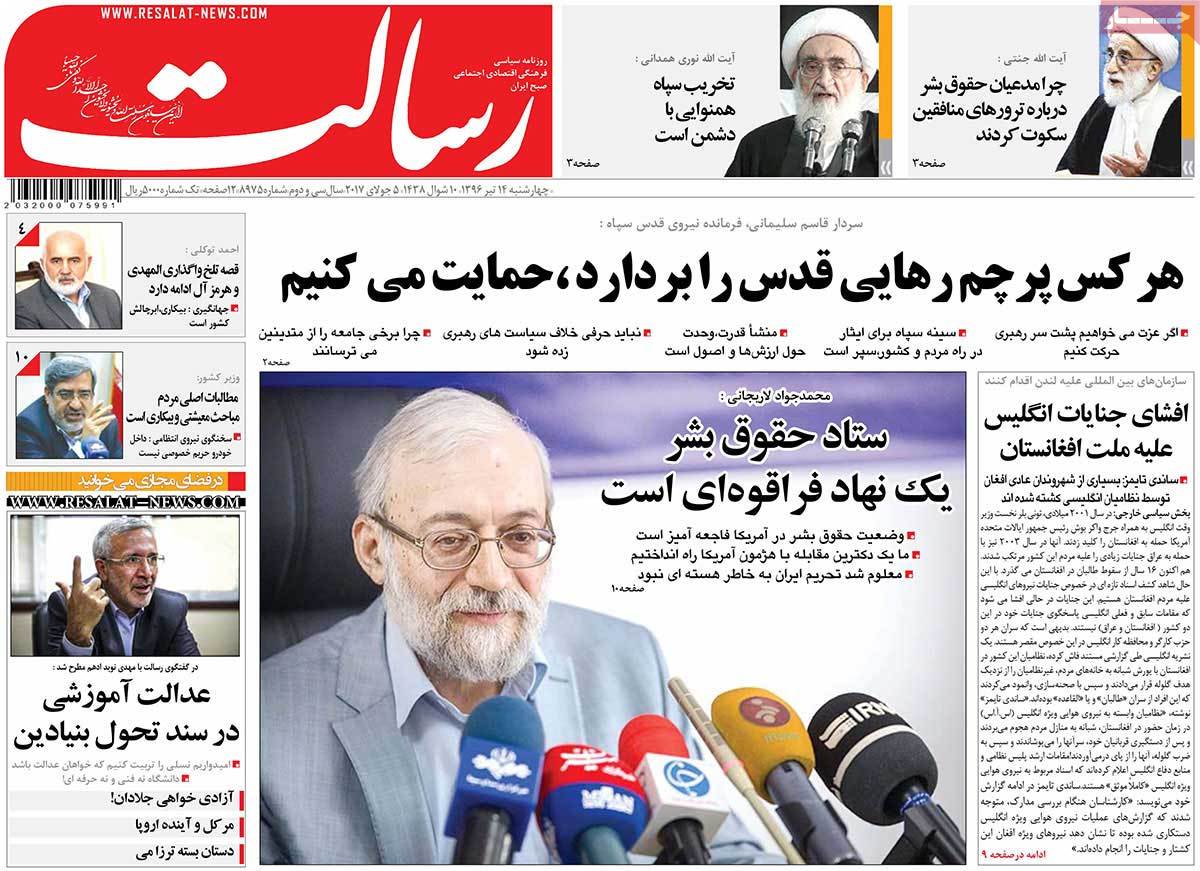 ---
Shargh:
1- Iranian Connection with a French Woman
Three Pictures of Binoche beside Kiarostami
2- Entire Establishment, Not Just Gov't, Has Decided to Send Pilgrims to Hajj